First, I don't want to assume you know how to boil perfect eggs. 😱 If you do, you can skip the next few steps. But, if you have problems with a firm yolk or getting the peel off, this is for you.
I always use 15 eggs. Why 15???? Well, my carrier totes 24, which would require a minimum of 12 eggs. I like to have extra eggs for more yolk to have 'testers', and some replacement eggs.
THIS IS EXTREMELY IMPORTANT: Fresh eggs are very difficult to peel -- no matter what you do. The BEST eggs to use are at least one week to ten days old. Ok, now you know the most important info...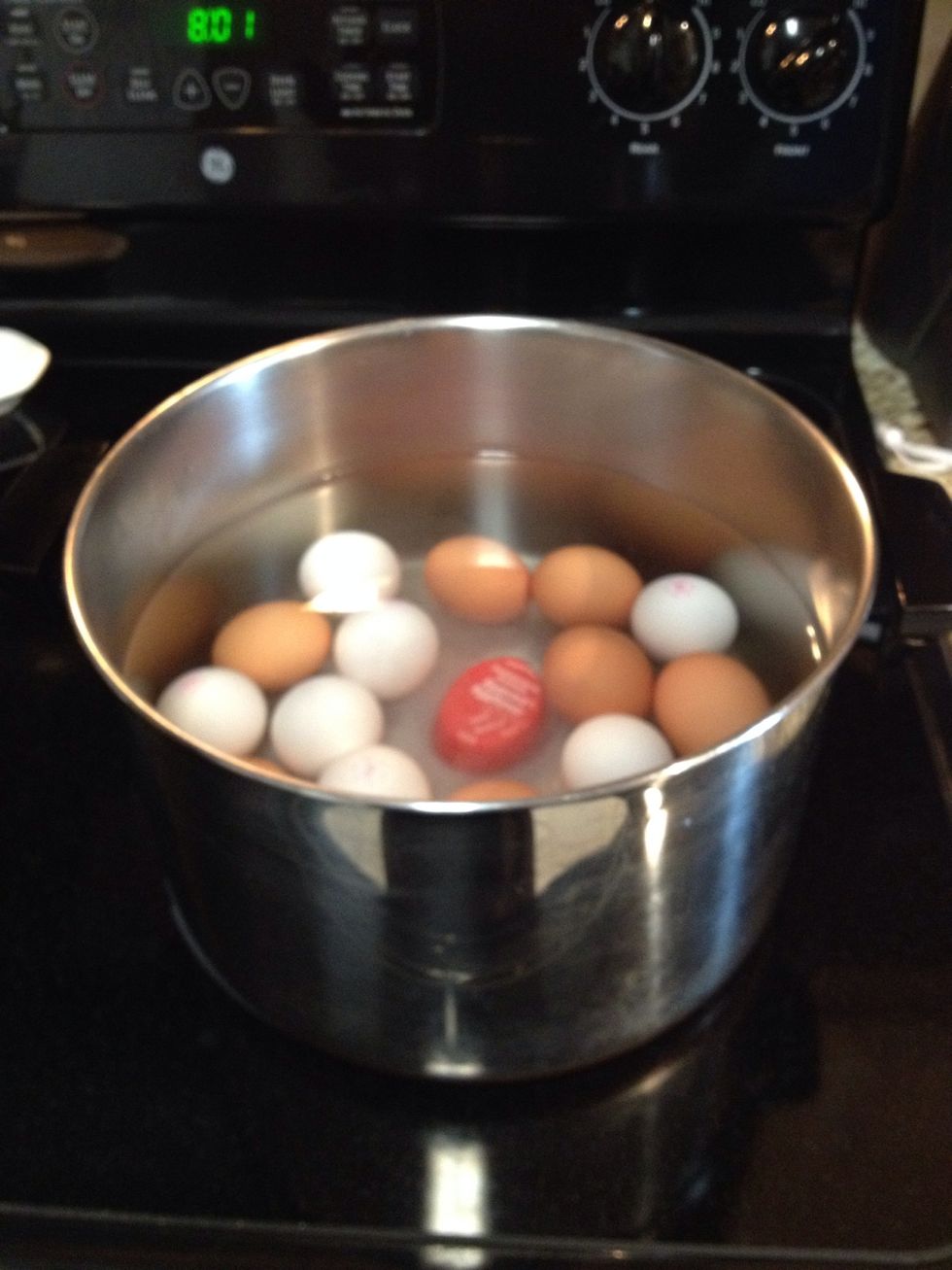 Place your eggs in pan large enough to cover with at least two inches of COLD water. Add 1 Tbsp Salt. Turn on high heat UNTIL it starts to boil. I have an egg timer in the bottom (not necessary).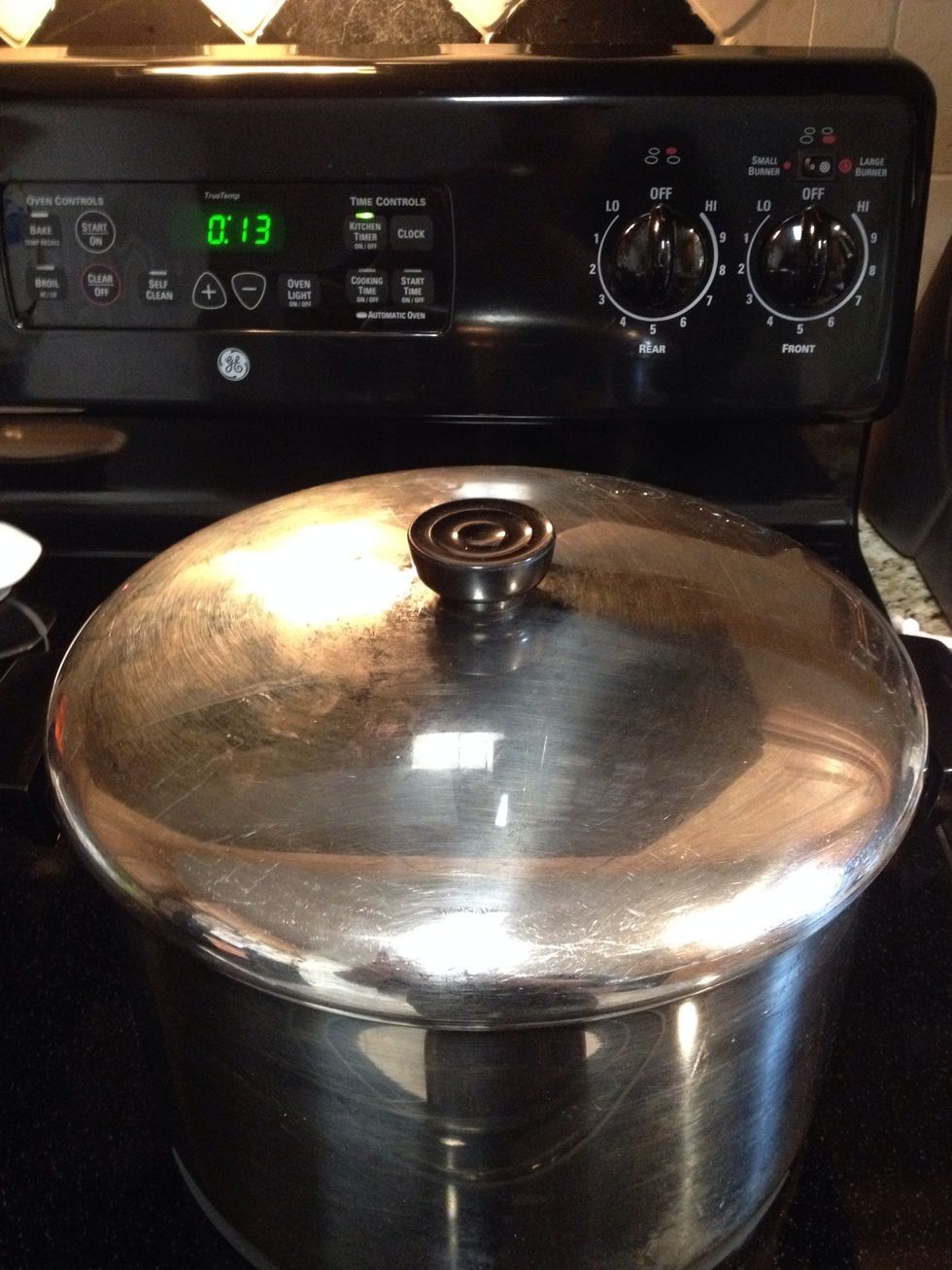 As soon as your water starts to a rolling boil, turn off the heat, COVER, and let it sit for exactly 13 minutes.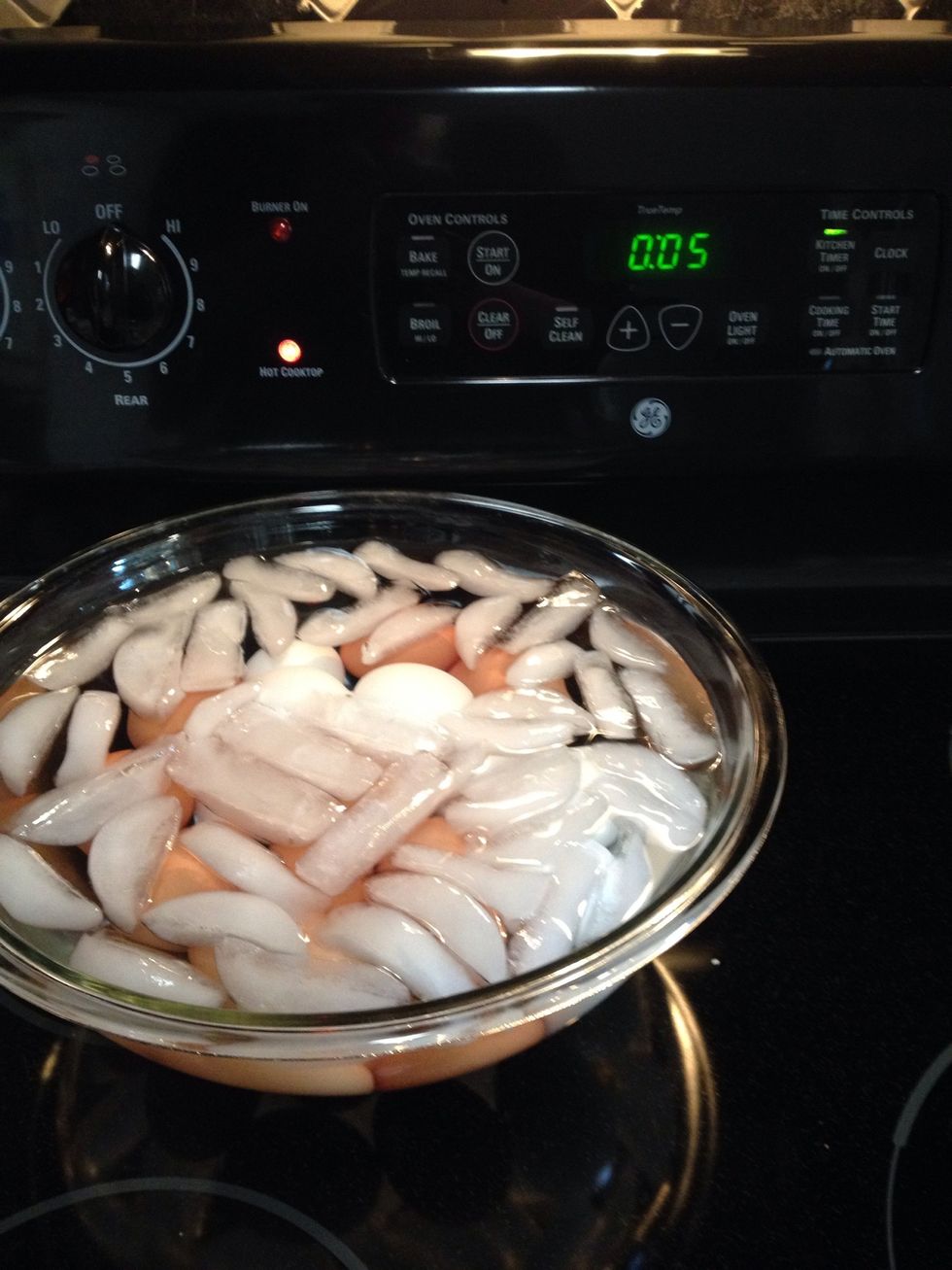 Next, we're going to shock the eggs in a COLD water ice bath to separate the membrane from the shell. So, remove the eggs from their hot water and put them in a bowl of ice water for five minutes.
Now, you're ready to remove the eggs from the shell! Gentle crack the egg around the majority of the shell, and begin peeling. I always rinse my egg to clean any small shell pieces or membrane.
Once cleaned, I take a knife with a sharp, thin blade, and cut the egg long-wise through the center and separate the two halves. Use your deviled egg carrier to store the egg halves.
To remove the egg yolk, I usually gently pull back the sides away from the yolk, invert the egg half over a bowl and tap it and the yolk will fall out. If there is any left, simply use a spoon.
ONE LAST TIP: If you are getting a grey-green color between your yolk and your egg white, you are over-cooking your eggs. This makes a harder yolk and your deviled egg mix will not be as good.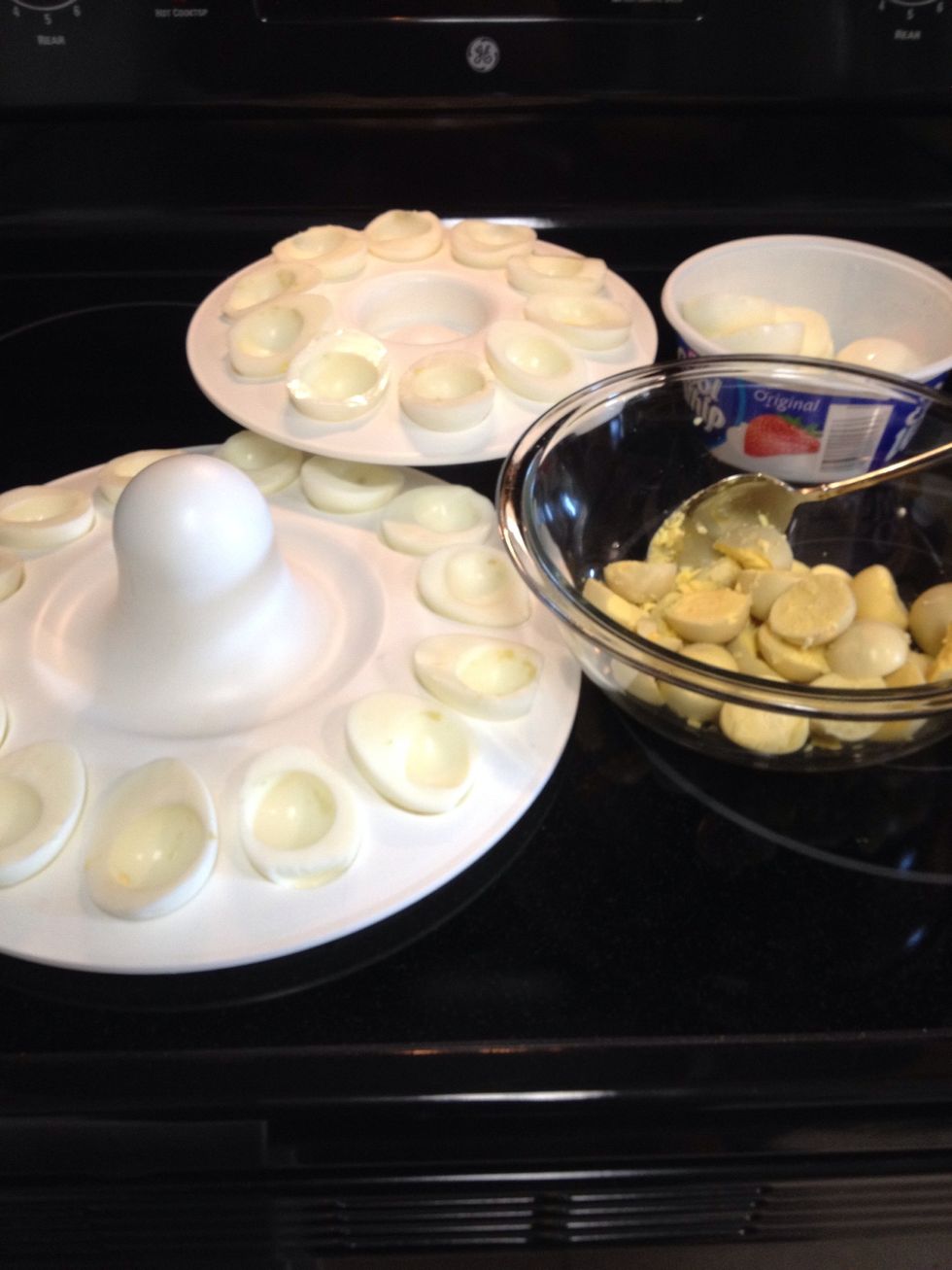 Here, you see I have my egg halves in my carrier, my egg yolks in my bowl (ready to be deviled), and my egg extras. 😊
Dry mustard is the secret that gives this recipe it's unique flavor and a little 'kick'. Most people use regular mustard, but I have found this seasoning to be a wonderful and pleasing replacement!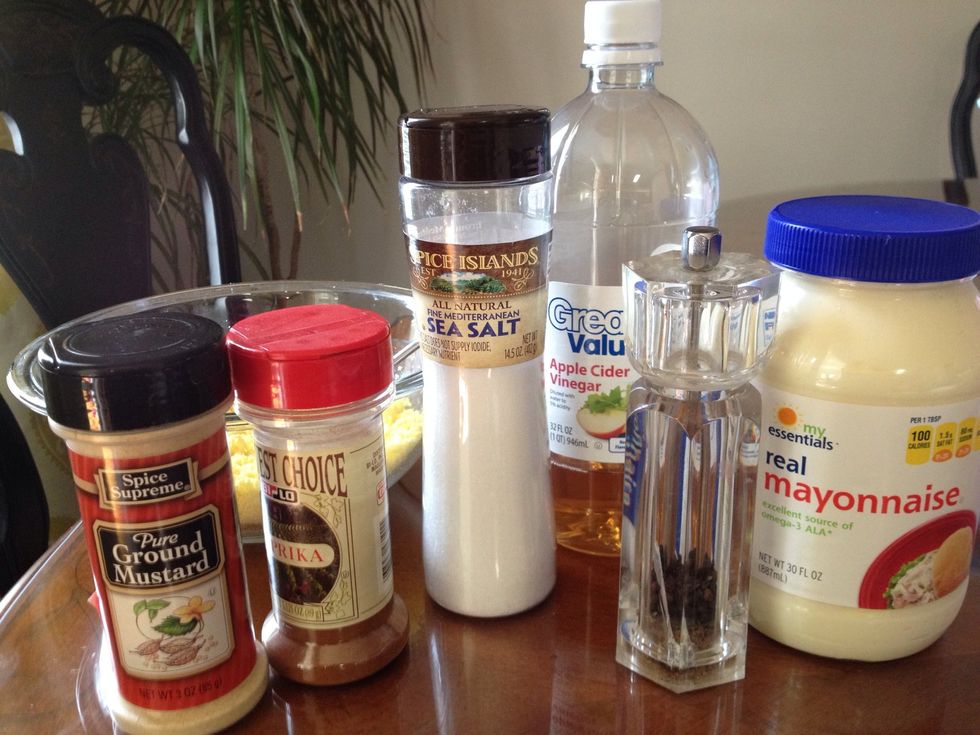 Here are all the ingredients ready to make our deviled eggs! I have mashed the egg yolk with a fork. Add to the bowl and mix: mayonnaise, vinegar, dry mustard, salt (to taste) and pepper (to taste).
At this point, there is a dance between tasting and balancing flavors - salt and pepper, is a sensitive balance. Too much salt will ruin, so be careful. My hubby and kids always have to test!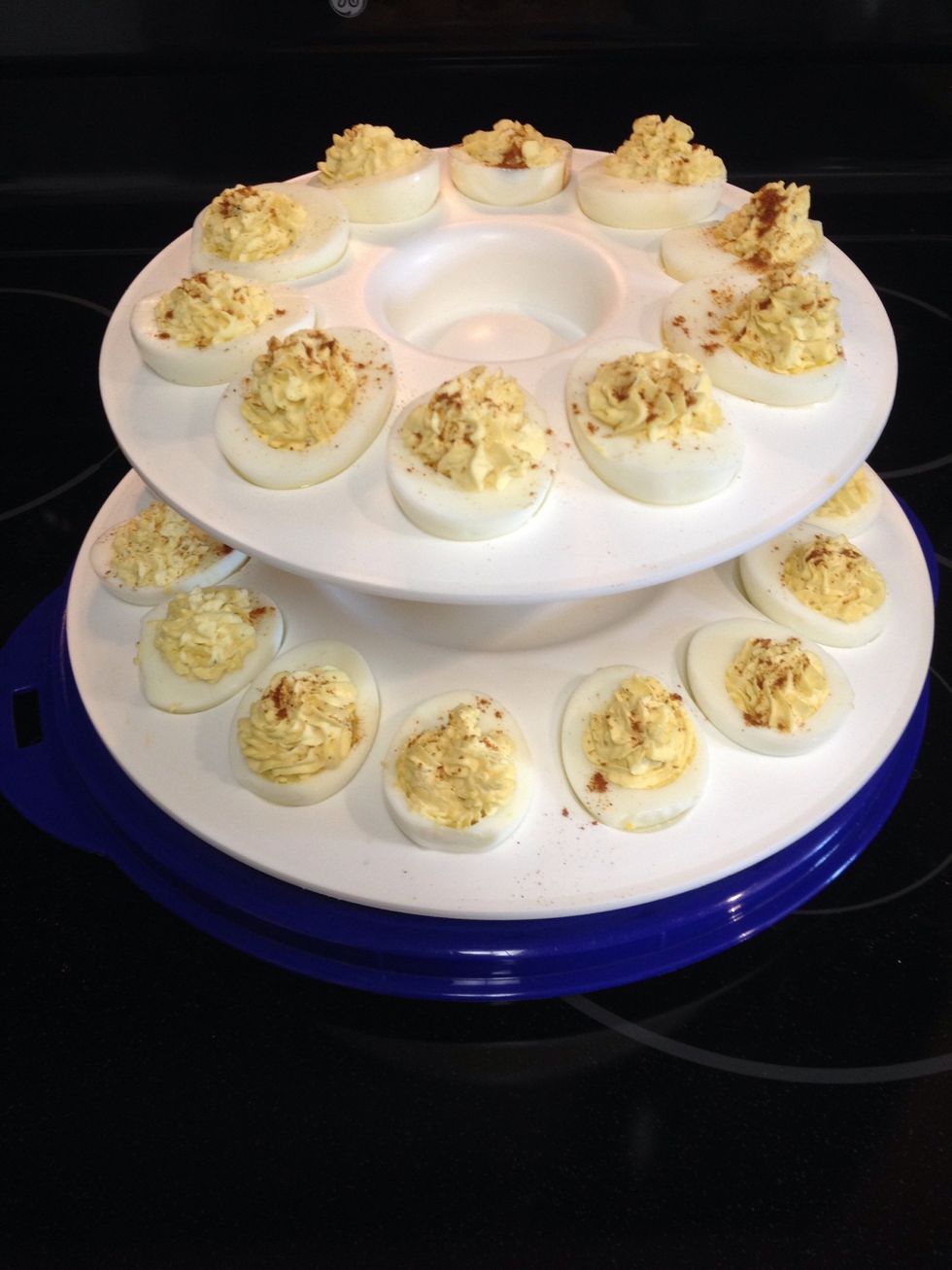 Fill the egg yolks either using a cake decorator, bag piping, or just a spoon. Top off with a dusting of paprika. Store in the refrigerator until your dinner. HOPE YOU ENJOY!
15.0 Eggs
0.0c Mayonnaise
0.0c Apple Cider vinegar
2.0tsp Dry Mustard
Salt
Pepper
Paprika
Angela Pitts
Creative and artistic, devoted wife and mother of two lovely teenage daughters. I have over 20 years experience in the IT Software Industry.
Snow Camp, North Carolina