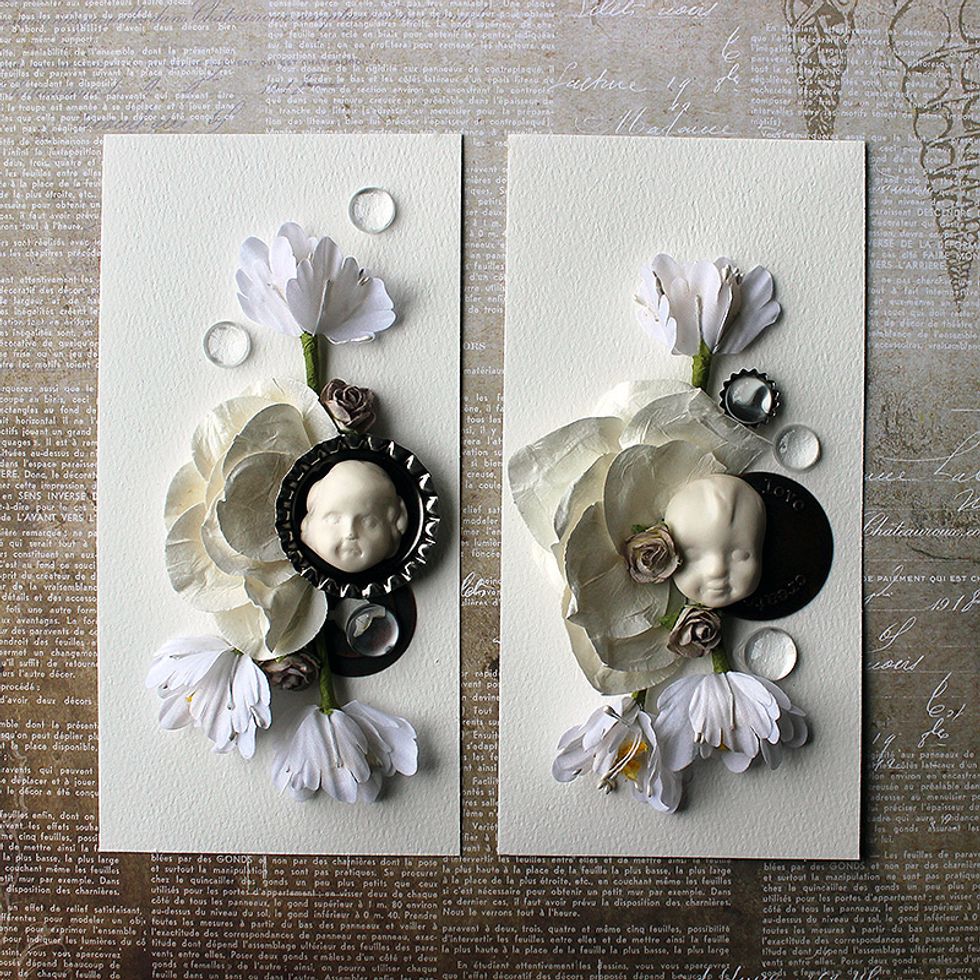 First, make your composition using some Prima blooms and embellishments. Use a piece of watercolor paper as your background.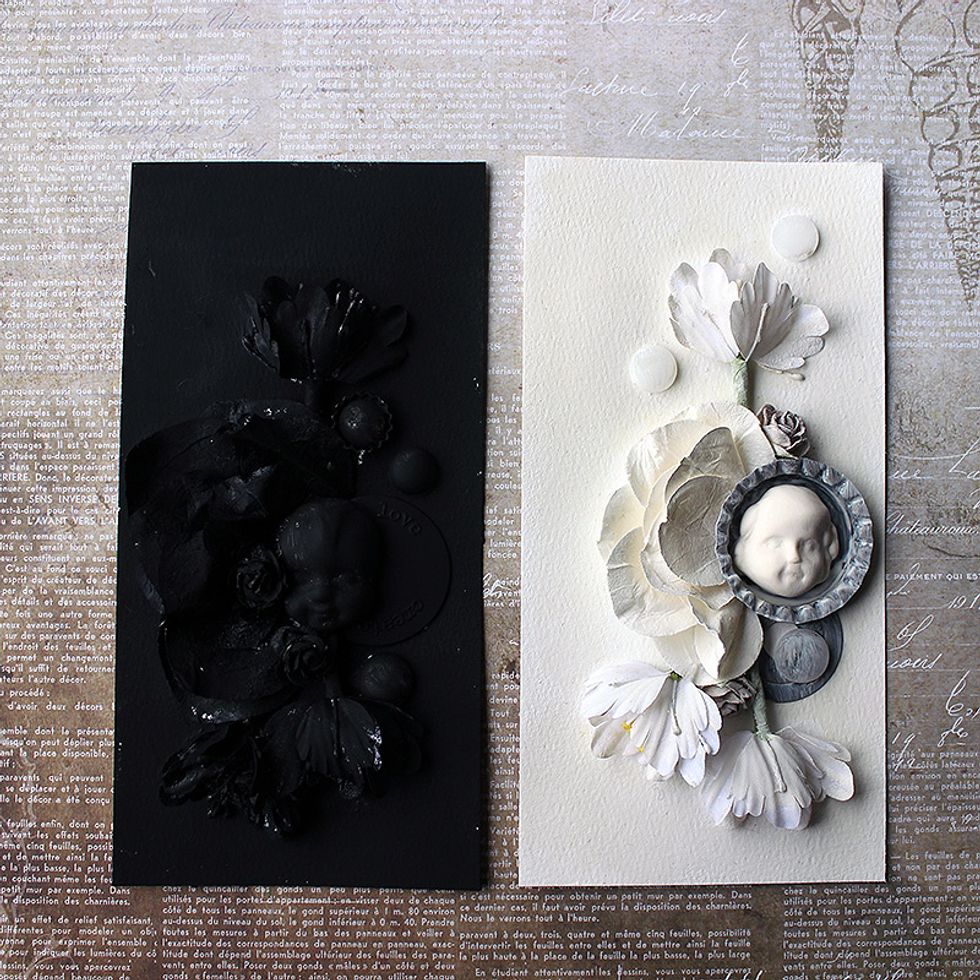 Paint the cards with gesso. To demonstrate the magic of the Opal Magic paints, I painted the other one with black and other one with white gesso.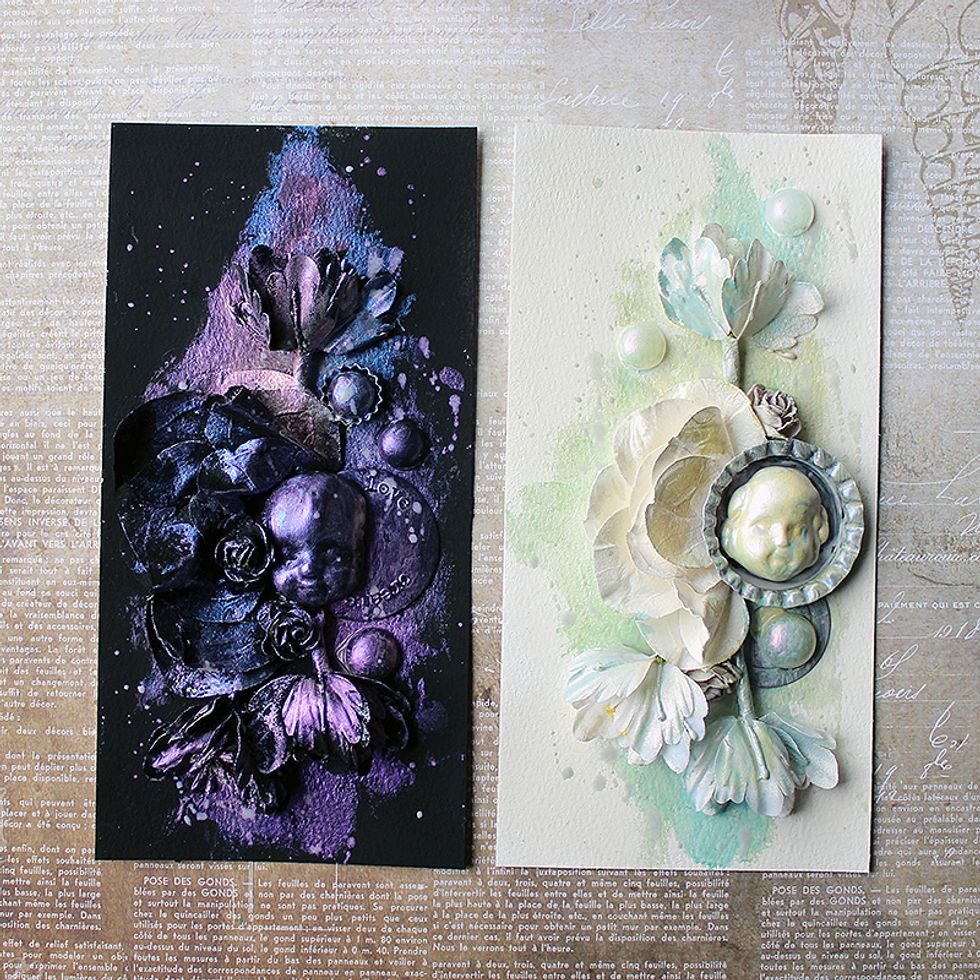 Then apply the paints. See how different the cards look and they are both done with same paints! On white surface the Opal Magic is a romantic, pearly shine and on top black it bursts into color!
Finish your cards with some additional details. Lace and crystals for the sweet look and Glass Beads and crystals for the metal look. Use a slightly bigger piece of patterned paper to mount the cards.
963668 – Art Alchemy Opal Magic Pink Blue
963644 – Art Alchemy Opal Magic Violet Green
963606 – Art Alchemy Opal Magic Blue Yellow
847739 – 8x8 Watercolor Paper Pad
961374 – Heavy Gesso White
961459 – Heavy Gesso Black
583262 – Norma (resin faces)
590024 – Flower Bundle White
PE-067-41/1P – Light Grey 100 pcs
960391 – Mechanicals Bottle Caps
960346 – Mechanicals Washers 1
963323 – Melangé Art Pebbles
583026 – Trim Plumeria
961688 – Glass Beads Licorice
991579 – Sweet Peppermint SIIC
847784 – Rossibelle 12x12 Nostalgic
Prima Marketing
Prima Marketing, Inc. is an established leader in flower embellishments in the scrapbooking and crafting industries!