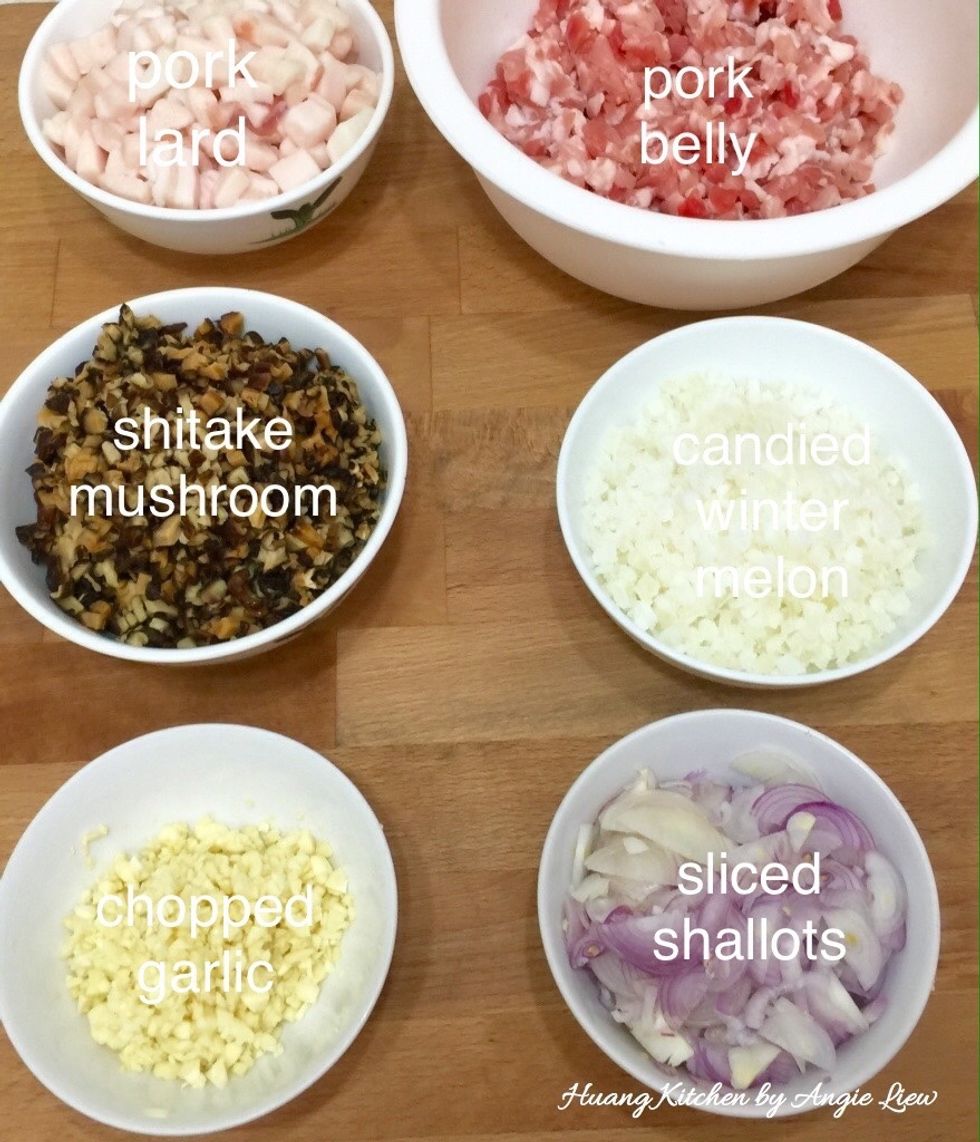 First prepare the filling. So finely chopped garlic and shallots. Wash, drained well and cut pork and pork fats into small pieces. Dice soaked mushrooms & candied winter melon into small pieces.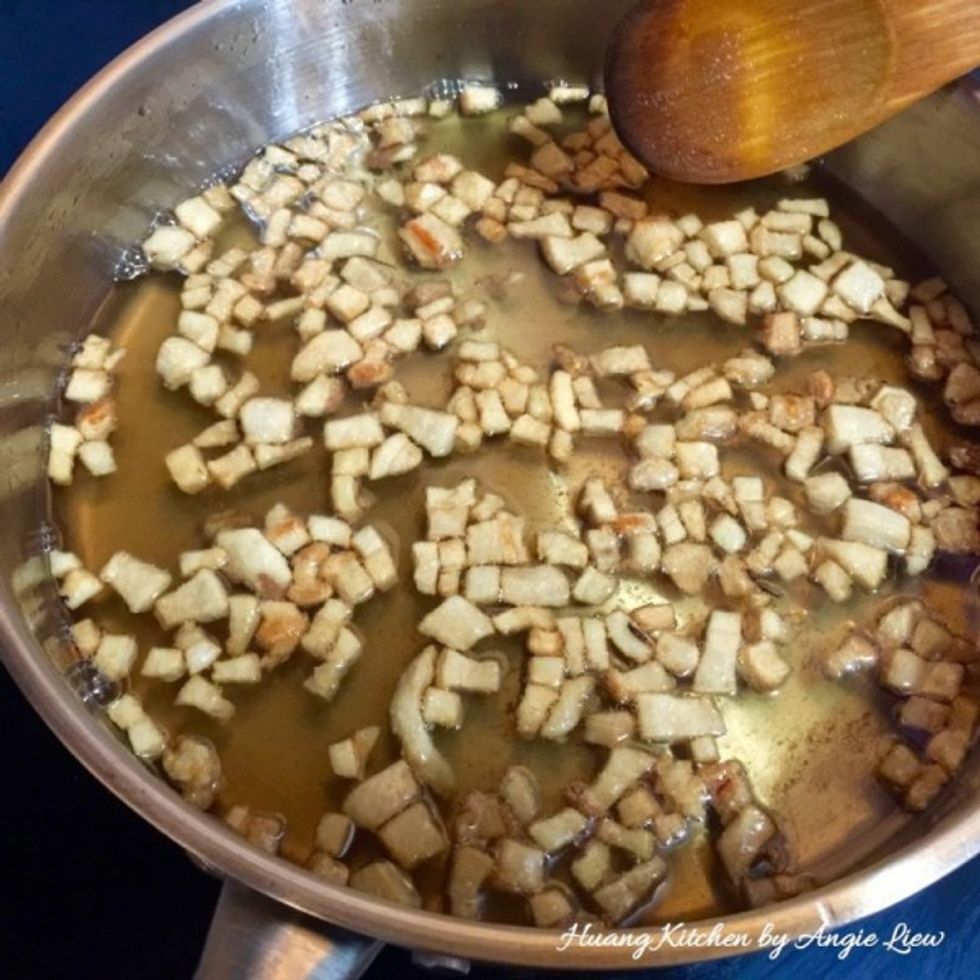 Heat up pork fats over low heat. Stir and flip the lard pieces in the sizzling oil until the lard pieces turn golden brown. Then filter to separate the lard pieces and oil. Set aside.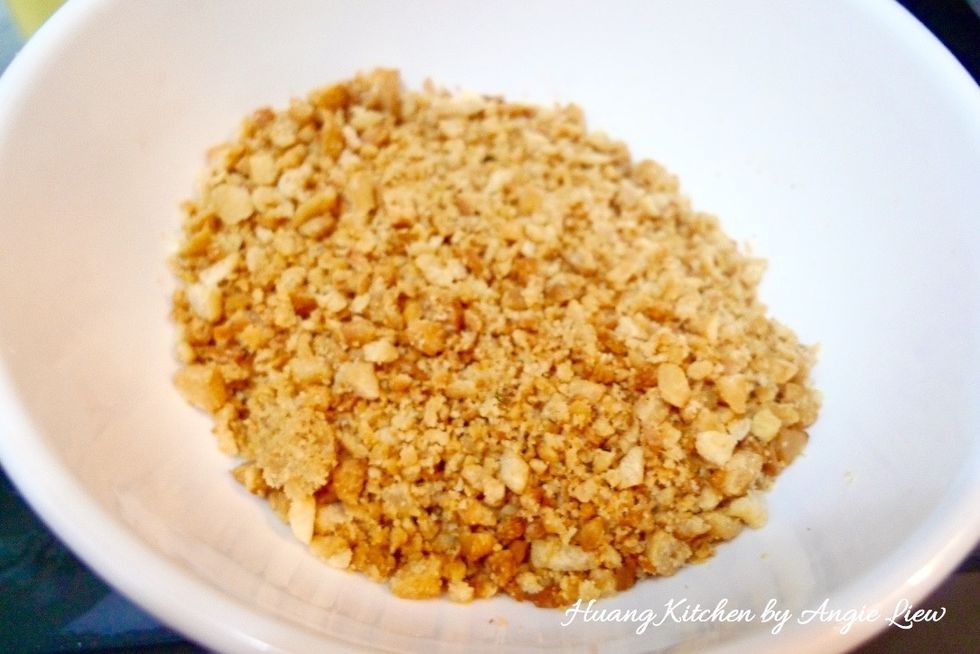 Chop the pork lard pieces into smaller pieces.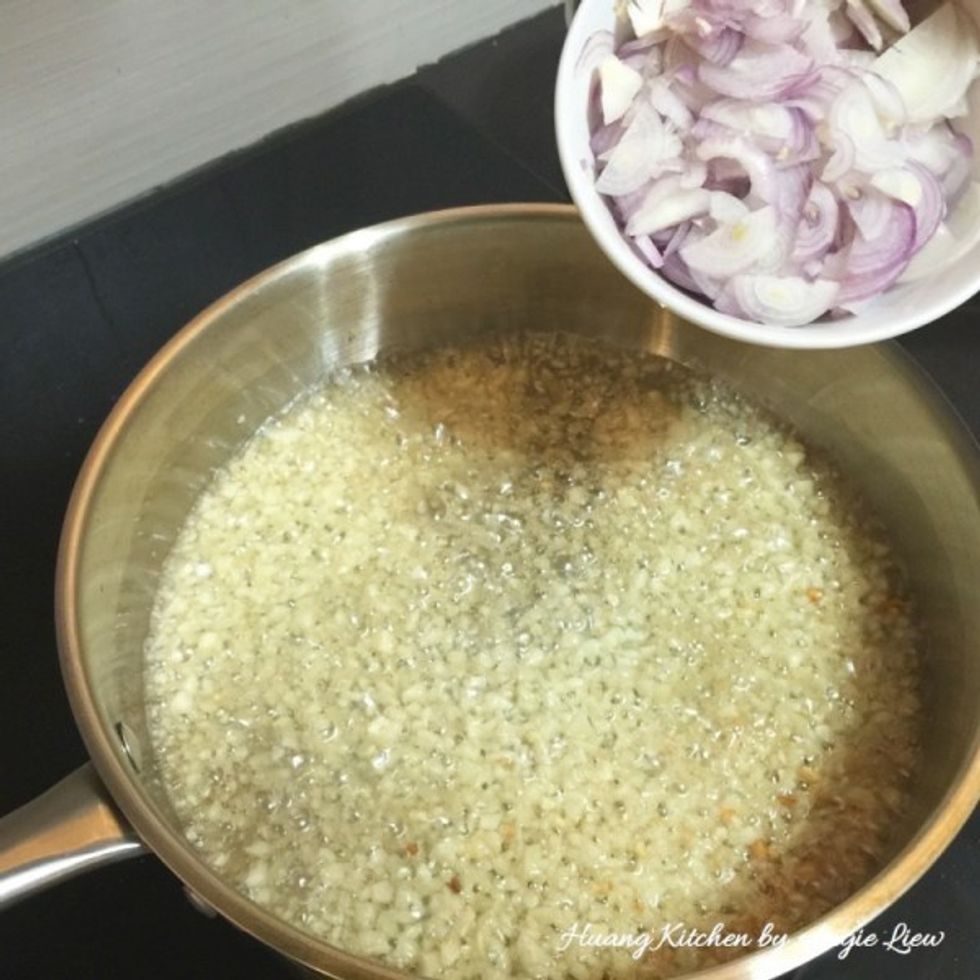 In the same wok/pan, heat up some lard oil. Retain some oil to season soaked glutinous rice. Saute chopped garlic and shallots till golden brown and fragrant.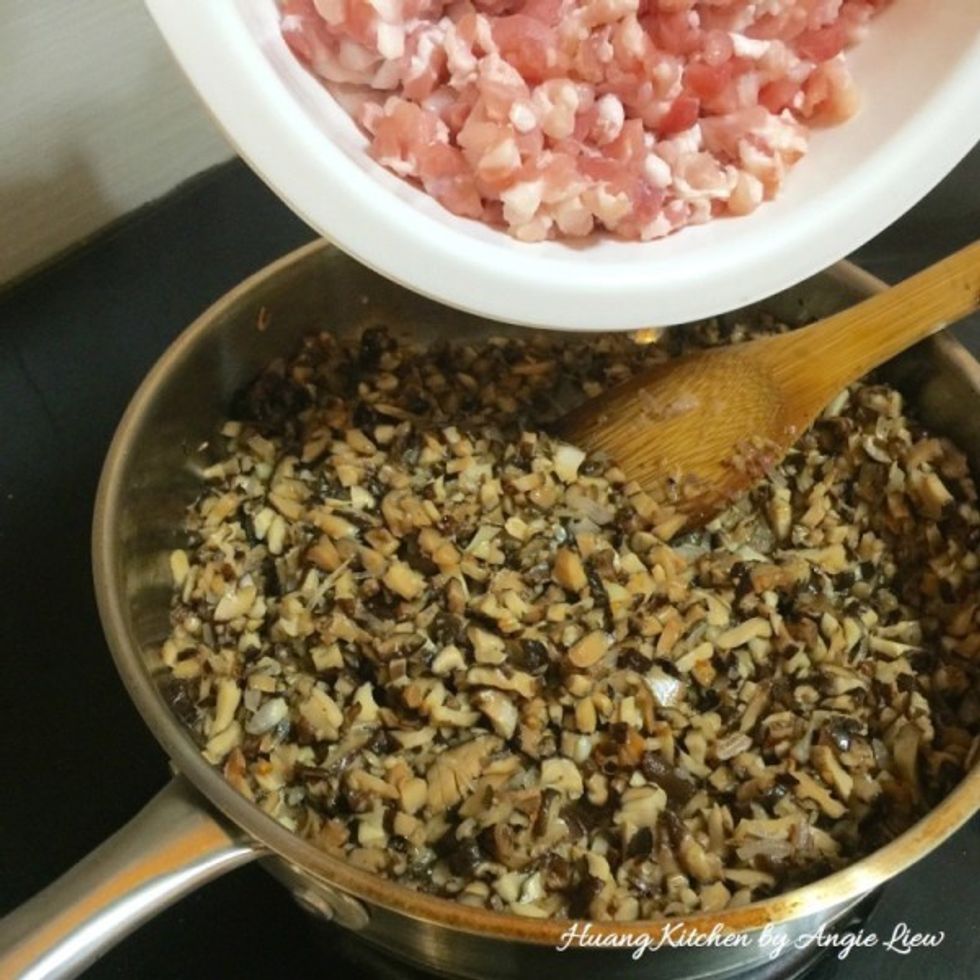 Add in diced mushrooms and pork.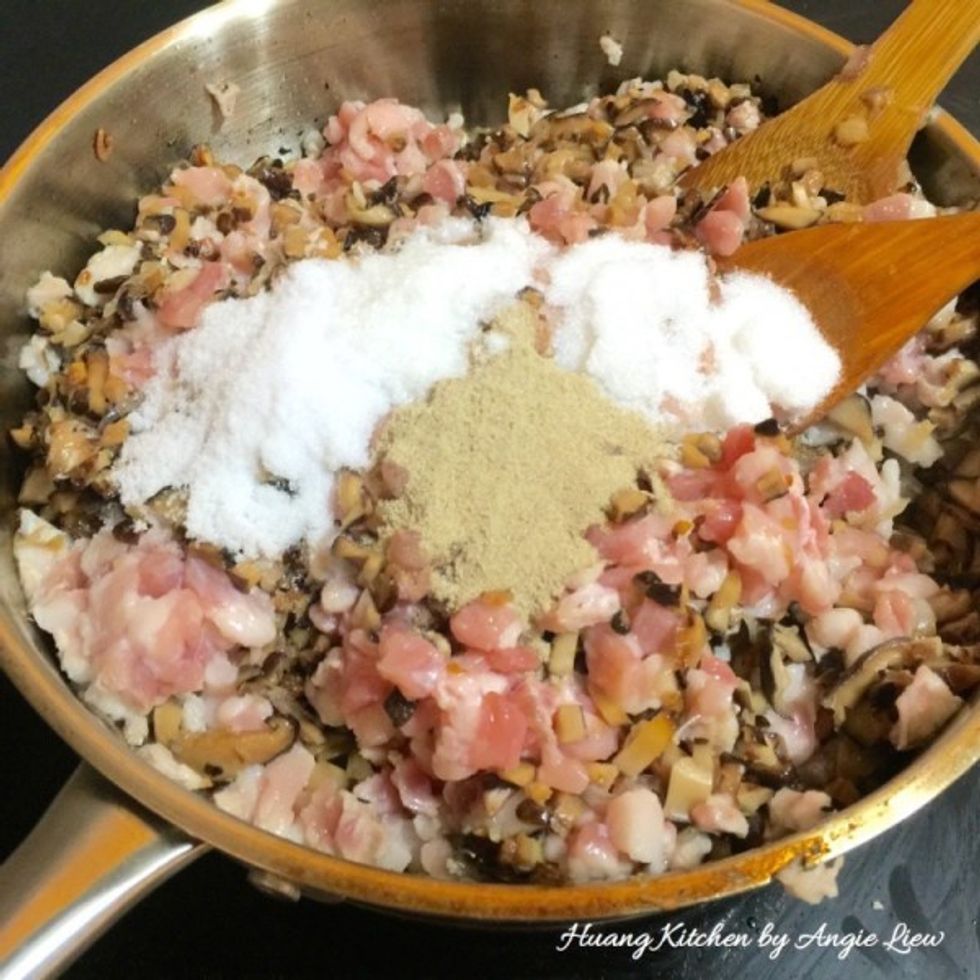 Add in pepper, salt and sugar as well. Stir fry until the pork turns opaque.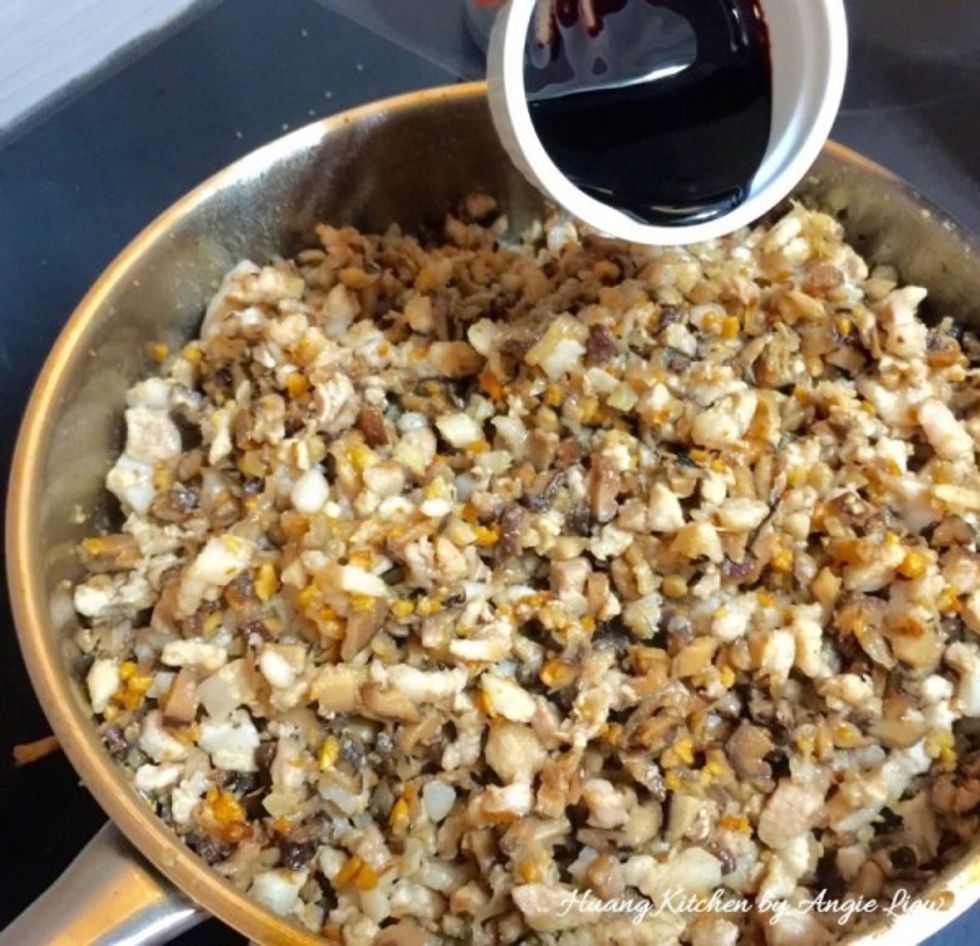 Then add in the chopped pork lard and dark soy sauce. Stir to evenly mixed all ingredients.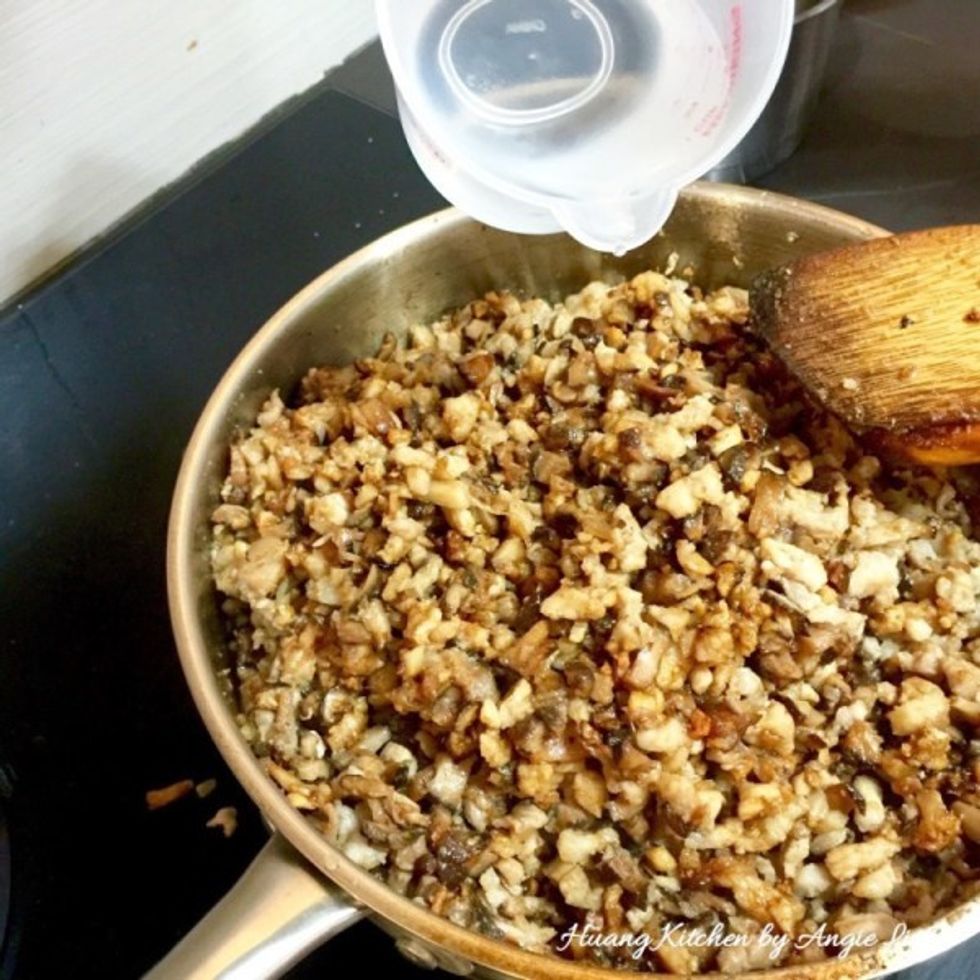 Add in water.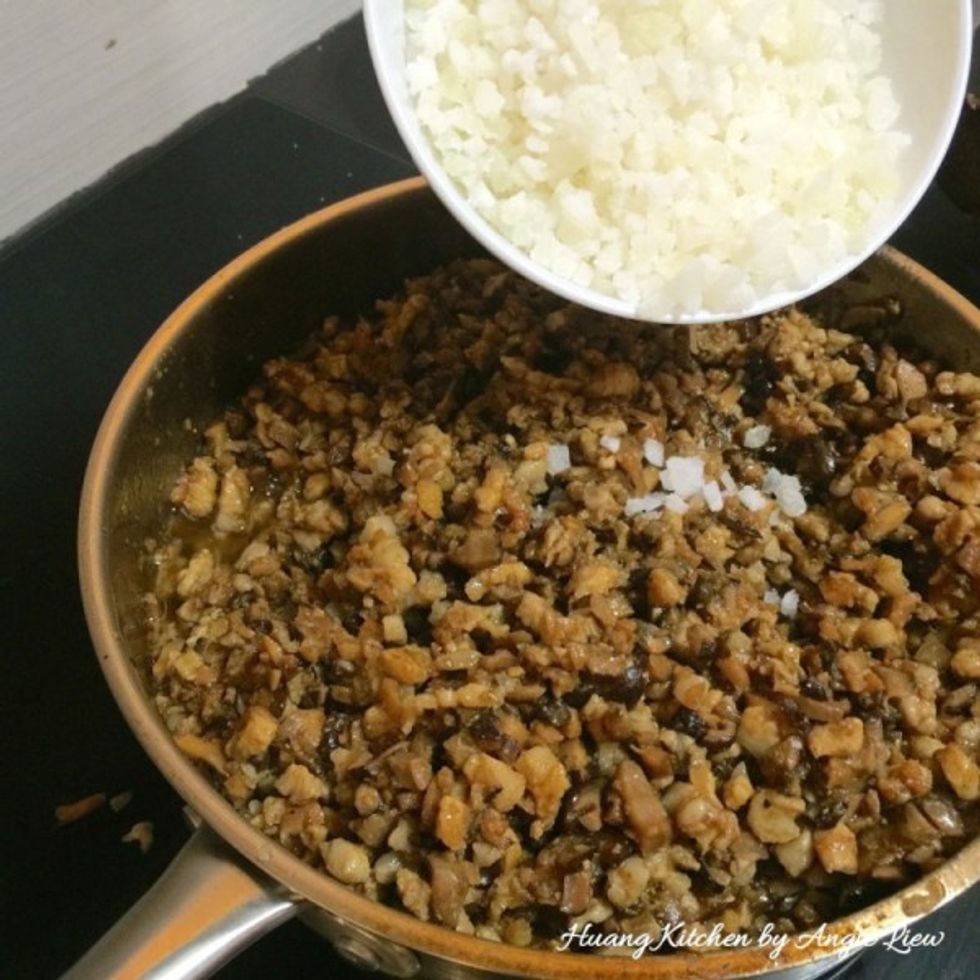 When everything is well mixed, stir in the cubed candied winter melon.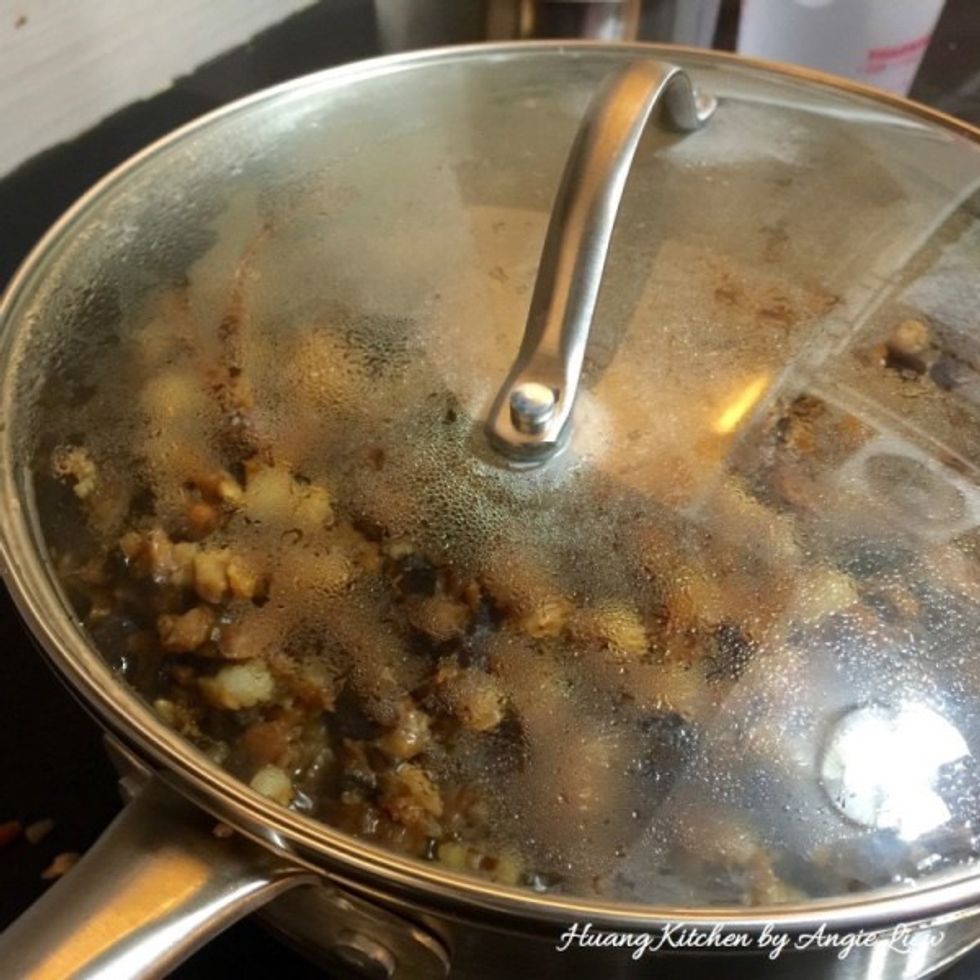 Cover and leave to simmer over medium low heat till the flavours are combined and the filling is not too wet, about 10 minutes.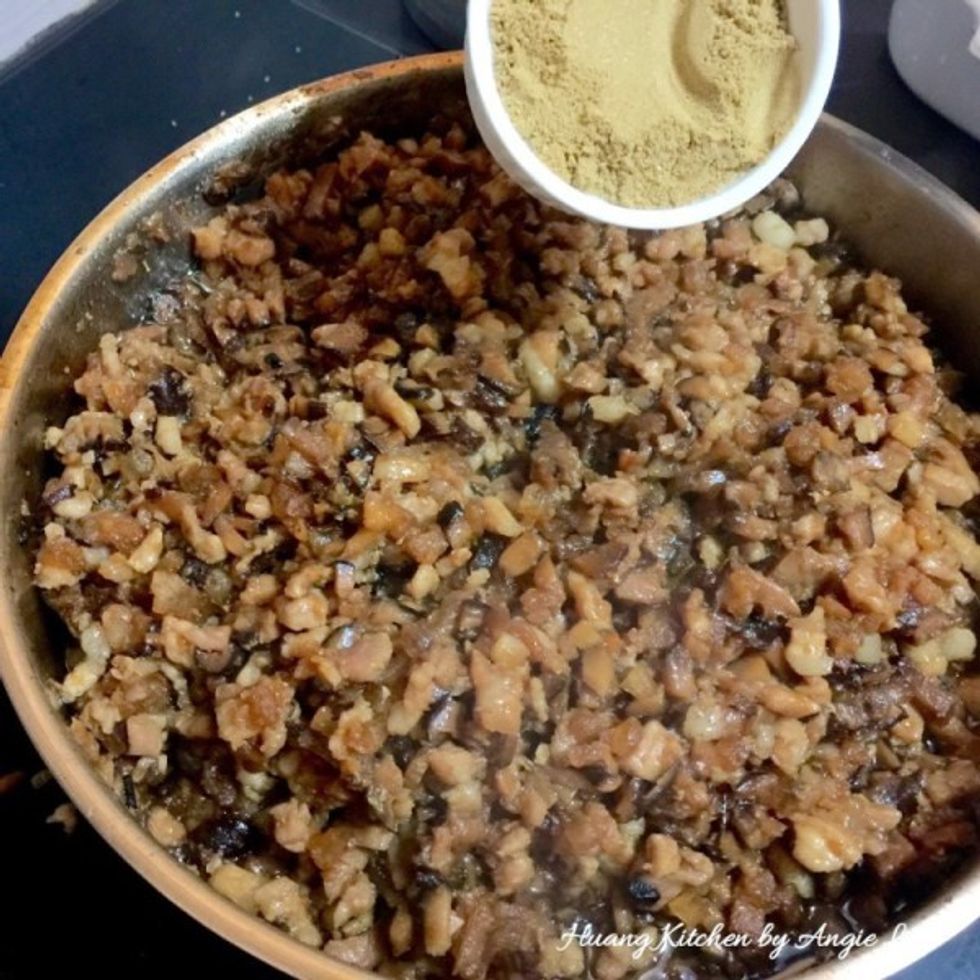 Lastly stir in the coriander powder and mix well. Season to taste. Dish up and once cooled, keep refrigerated until ready to use.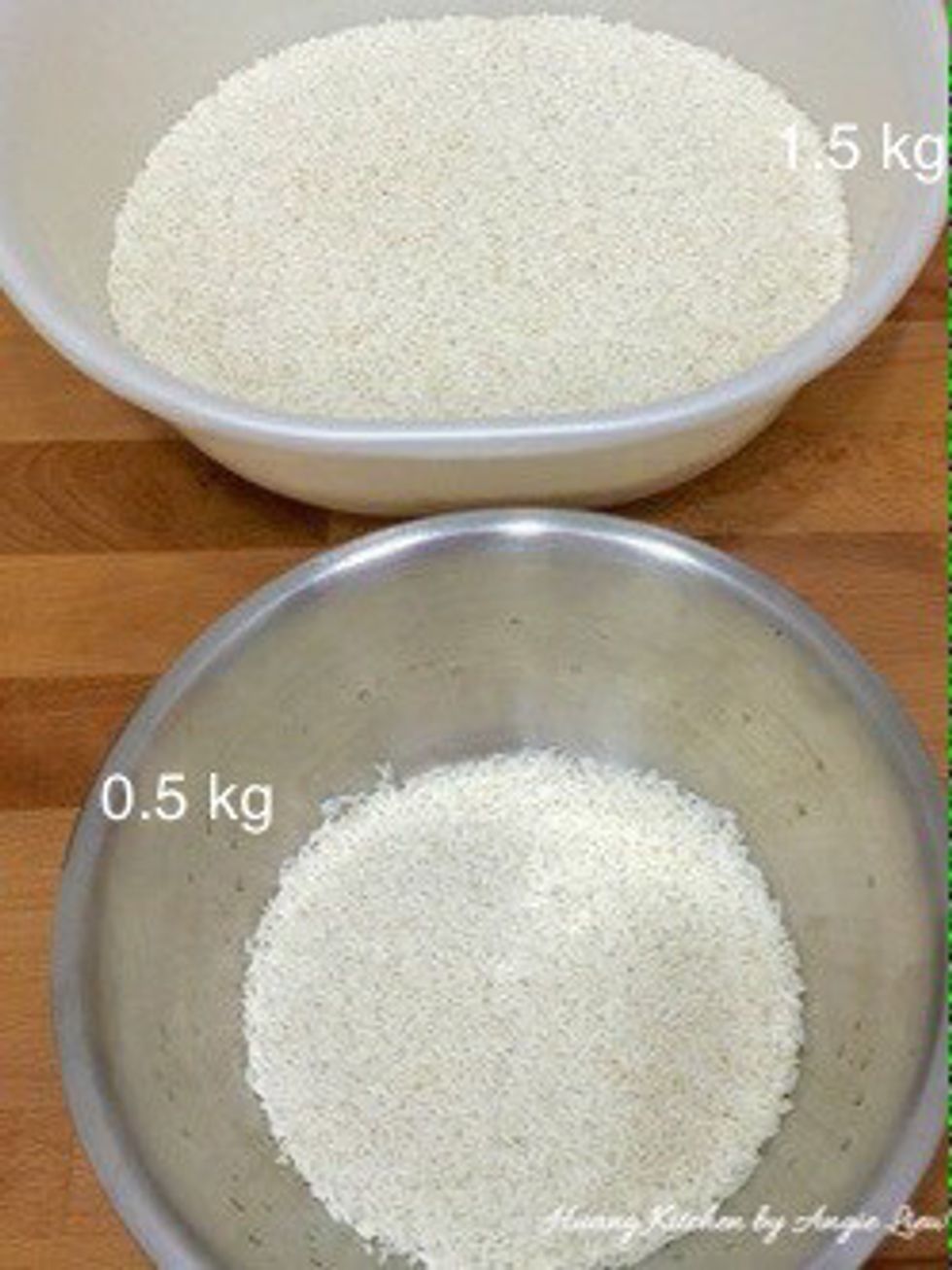 Next, wash glutinous rice until water runs clear. Divide the rice into 2 portions.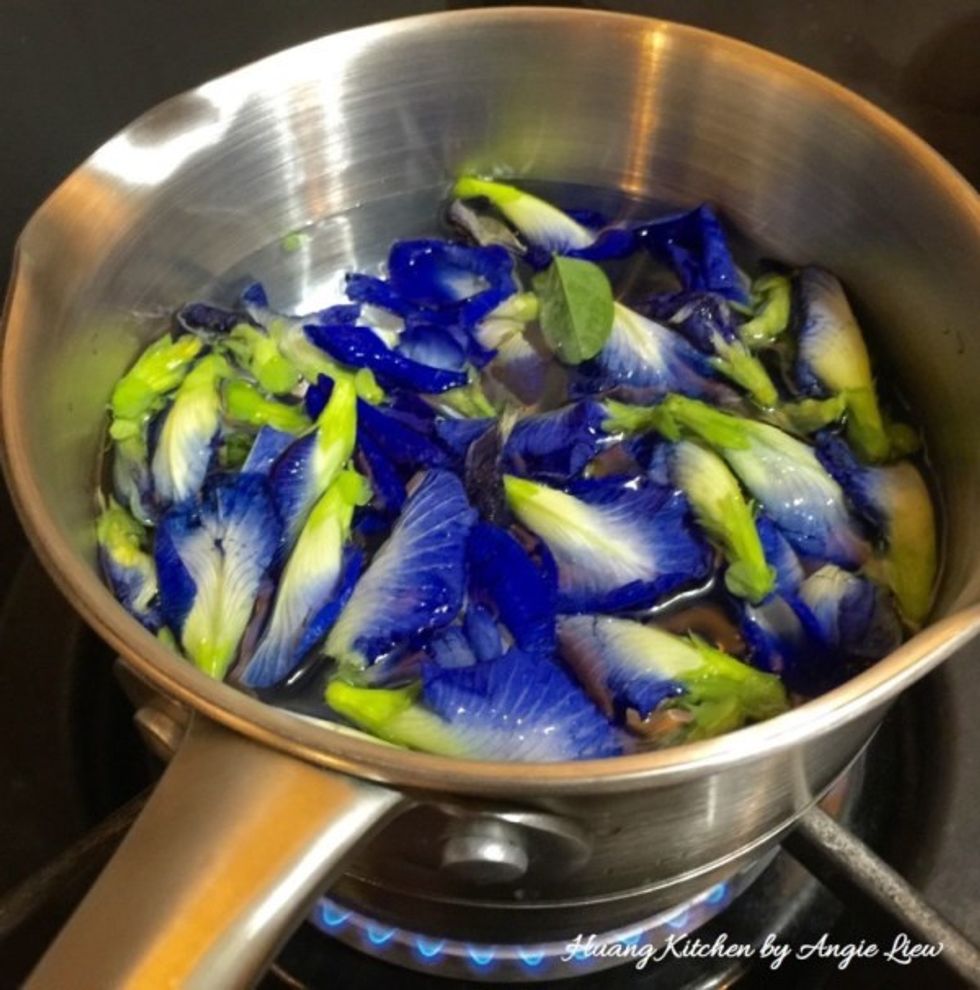 Put blue pea flowers and water into a pot and boil till the water turns blue. Leave the blue coloured water to cool and strained.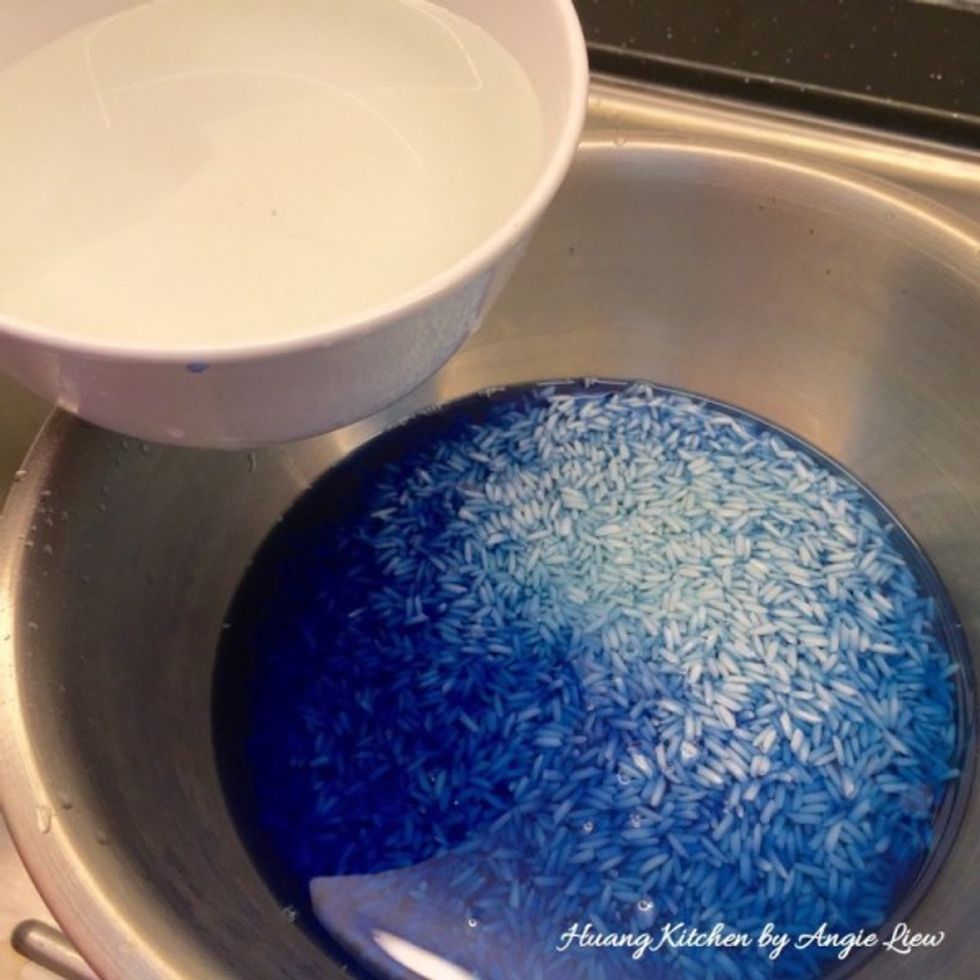 When cooled, add the blue coloured water into the smaller portion of the rice. Add more water to ensure the rice is fully submerged. Leave to soak overnight.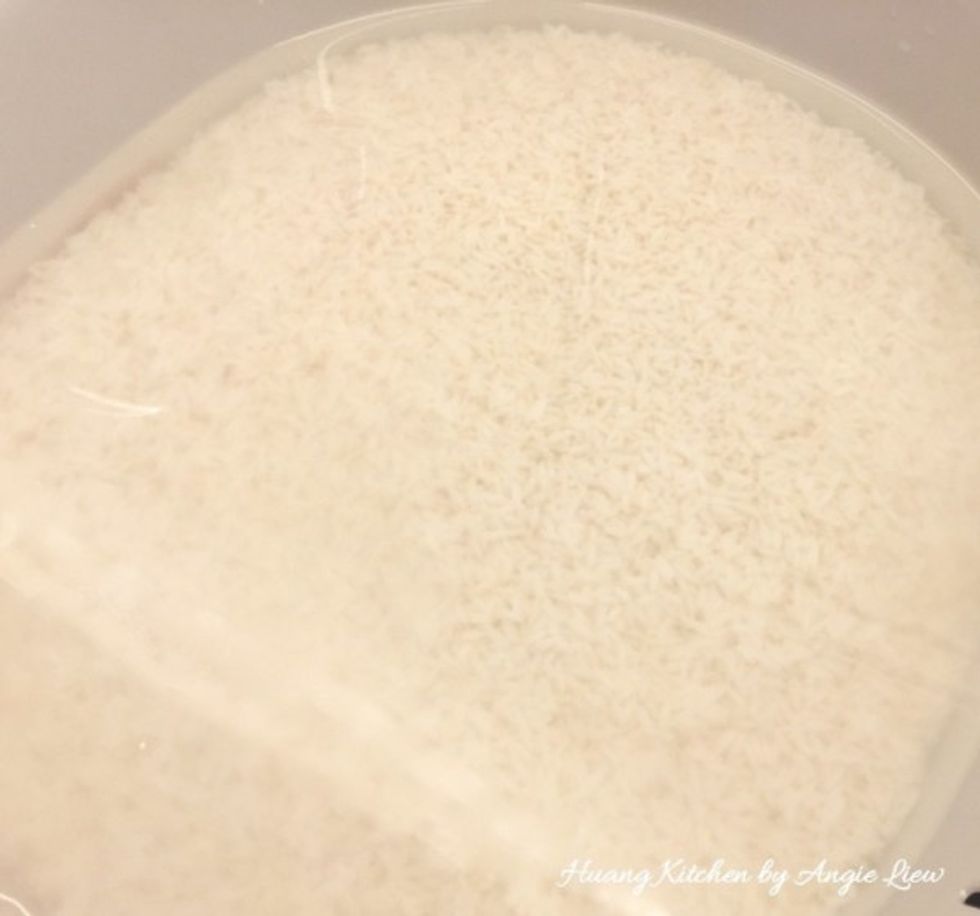 Add also enough water to the bigger portion of rice and leave to soak overnight.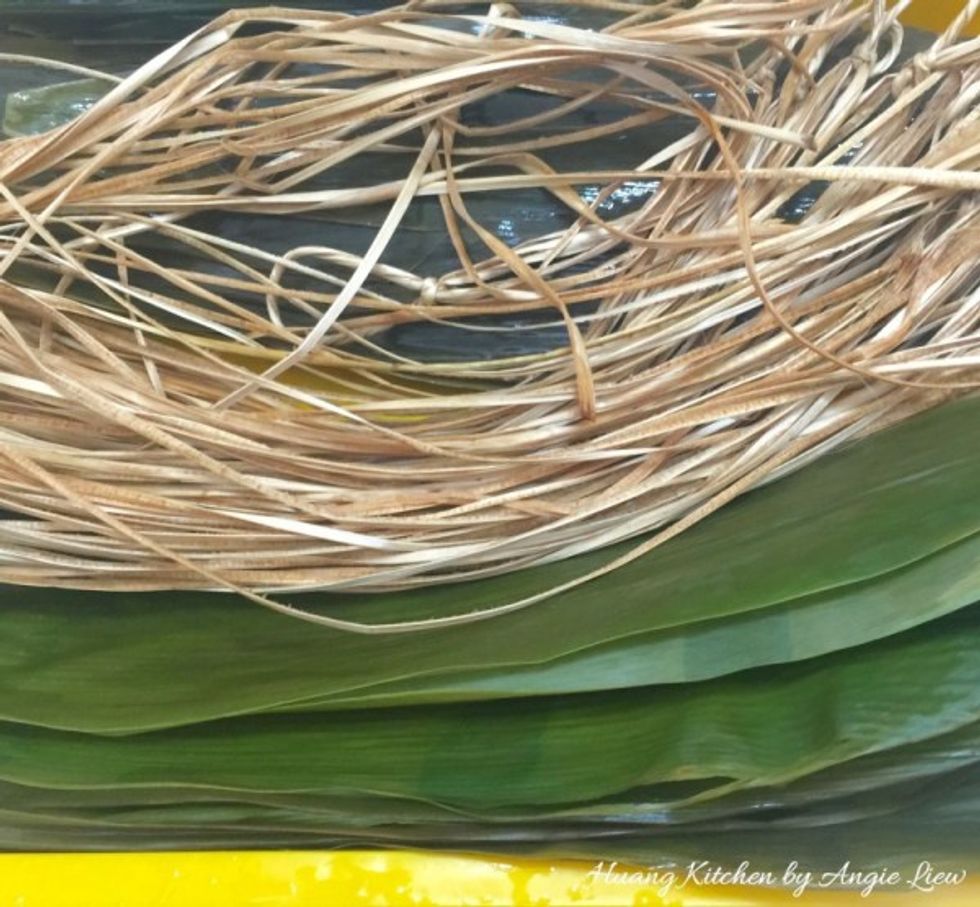 Next prepare the bamboo leaves by first boiling them for 5 to 10 minutes. Then rinse gently with water and leave to soak overnight together with bamboo strings.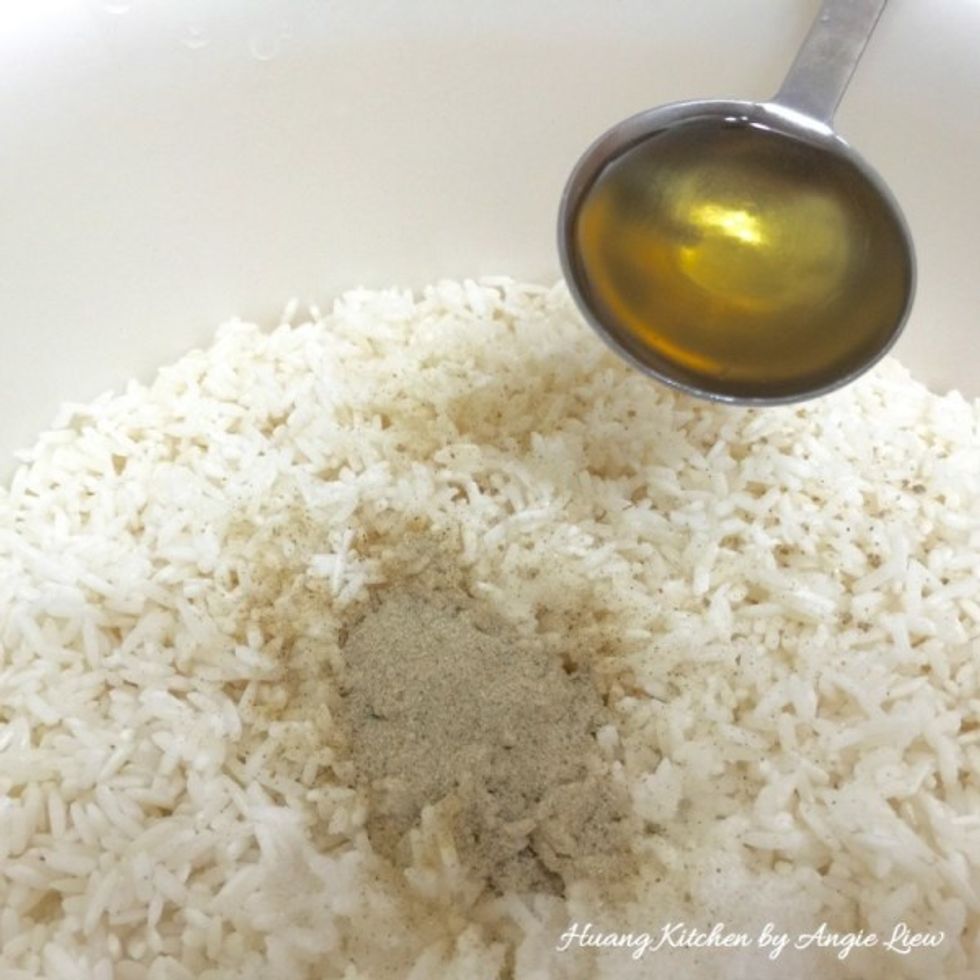 The next day, after the glutinous rice has been soaked, drained well and season with salt, white pepper,msg and lard oil. Mix well.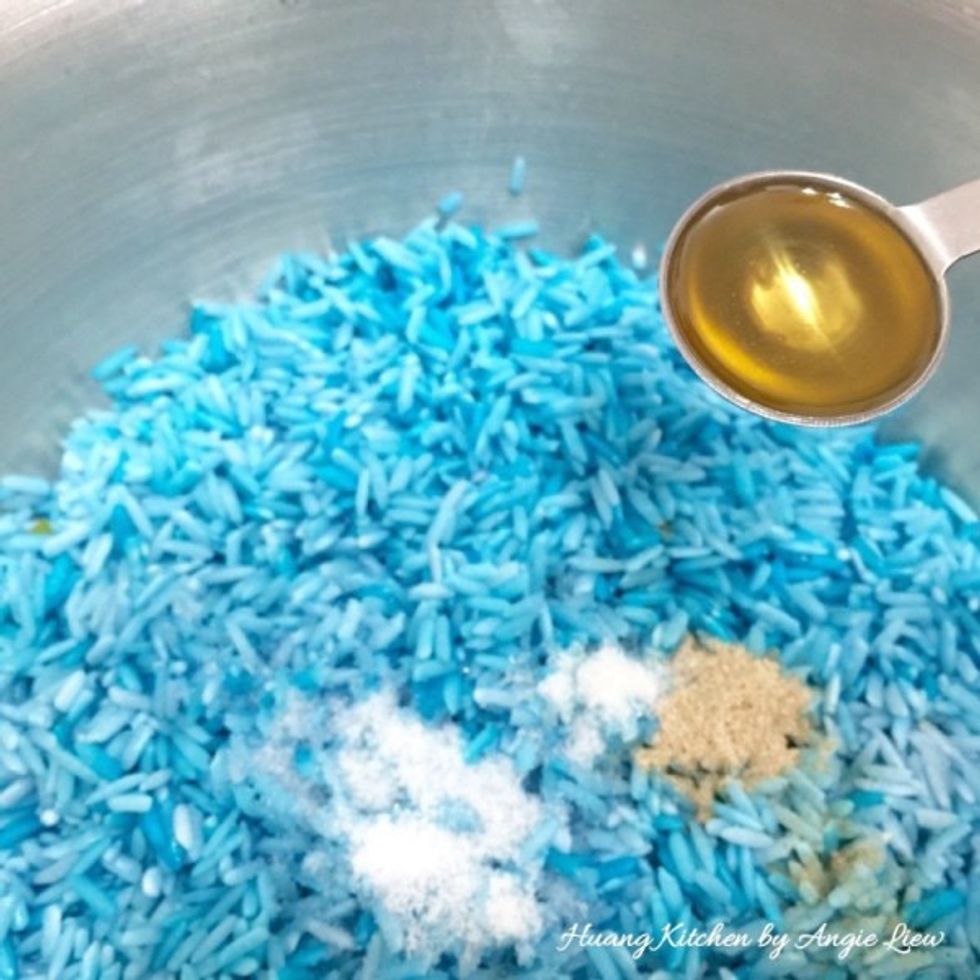 Then drained well the soaked blue coloured rice, add seasonings and mix well.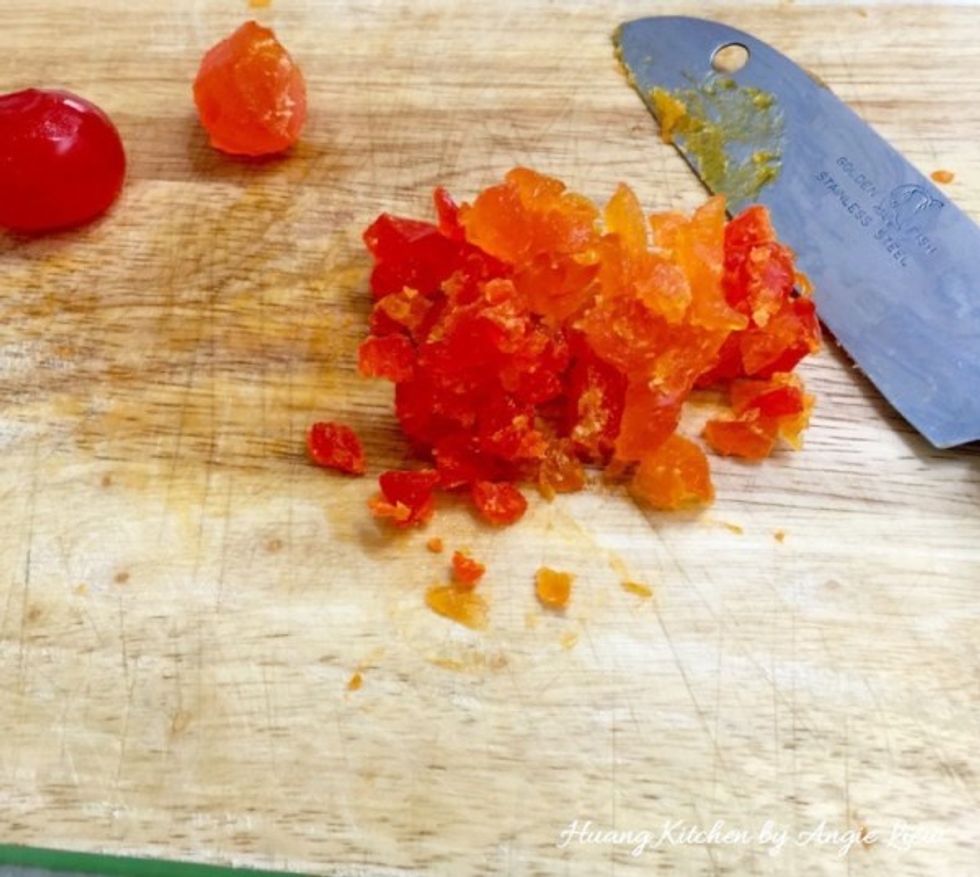 Coarsely chopped salted egg yolks.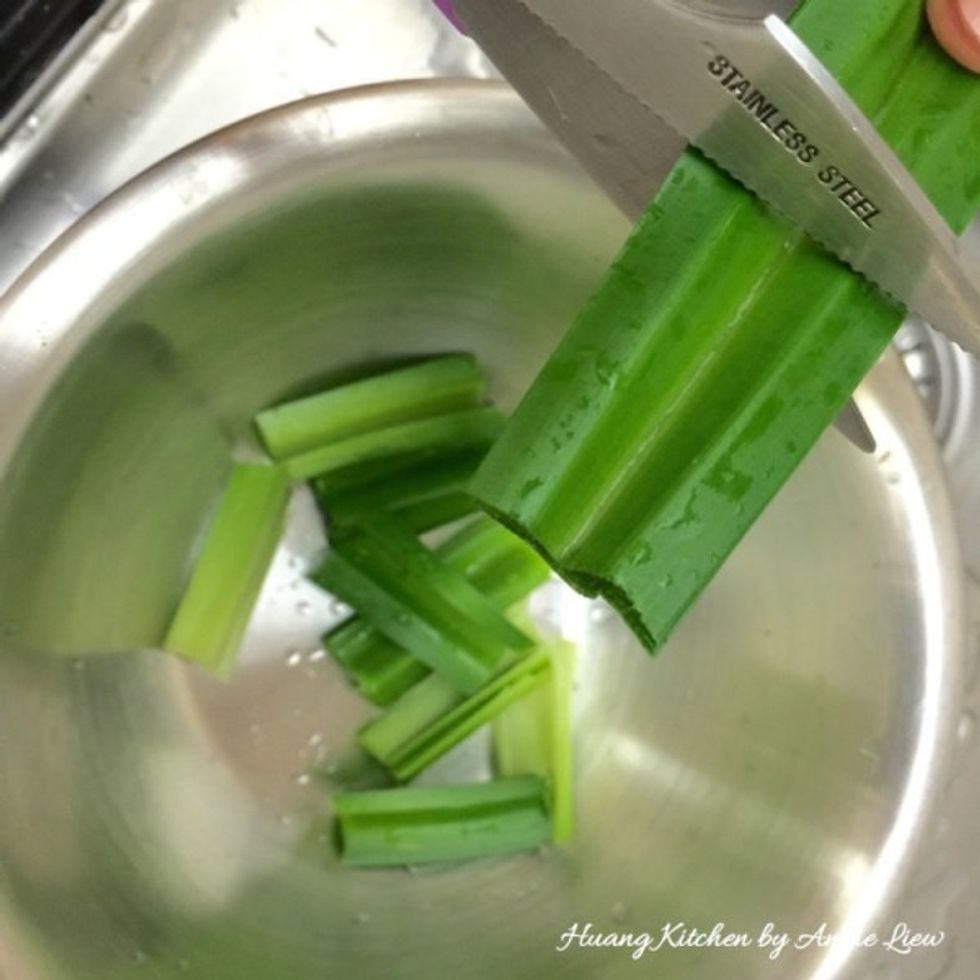 Rinse and cut pandan leaves (screw pine leaves) into 2 inch long.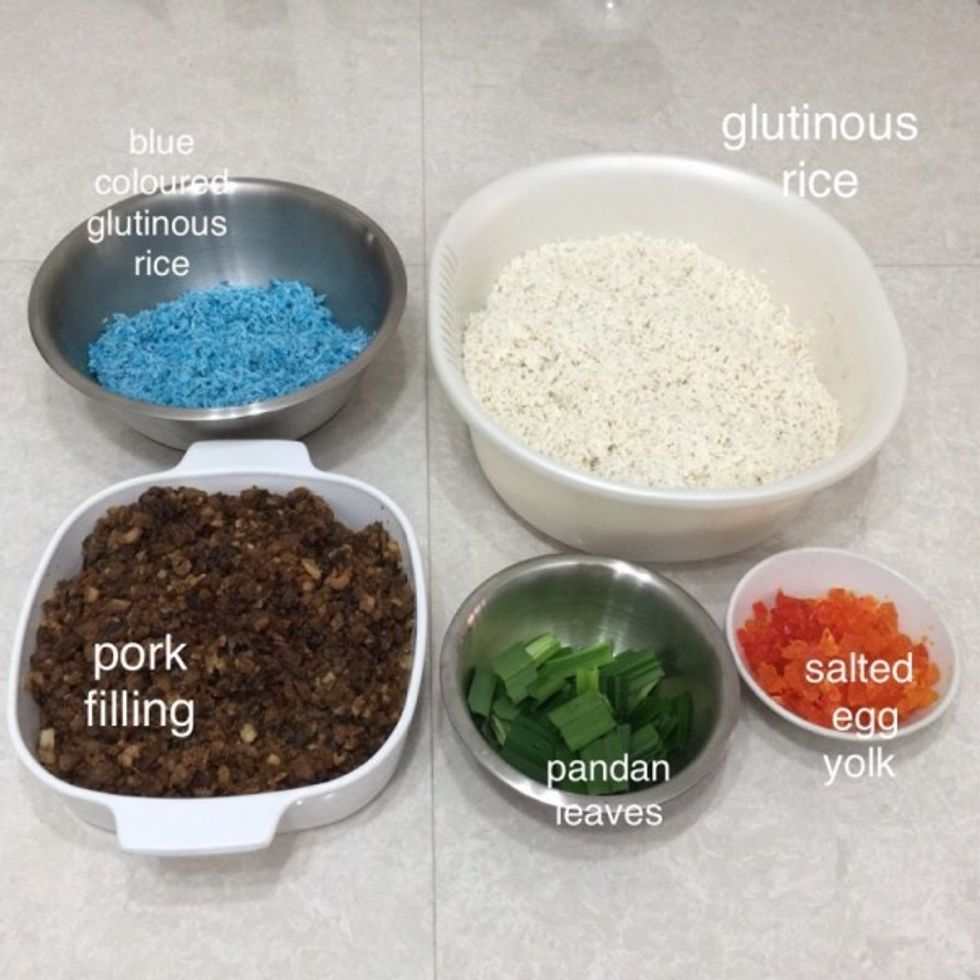 And we're ready to wrap the rice dumplings.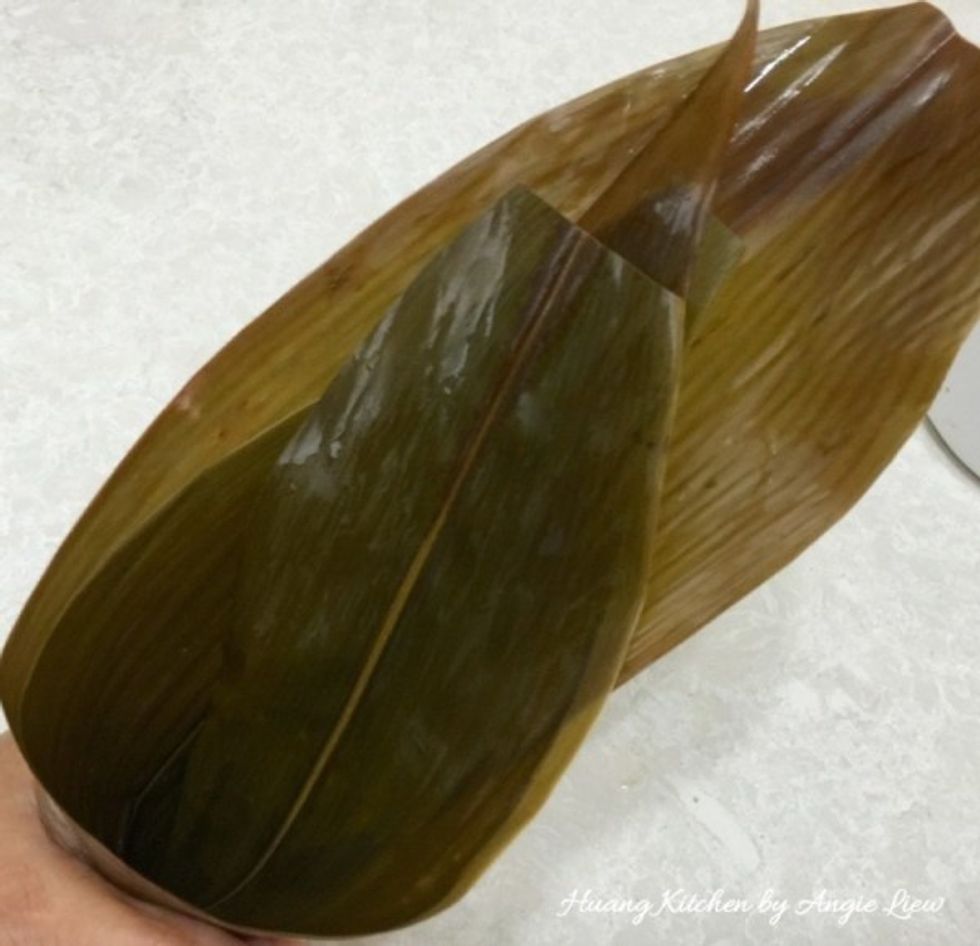 To wrap the rice dumplings, first overlap 2 bamboo leaves by about 80% of the area. Then fold from the centre to form a cone.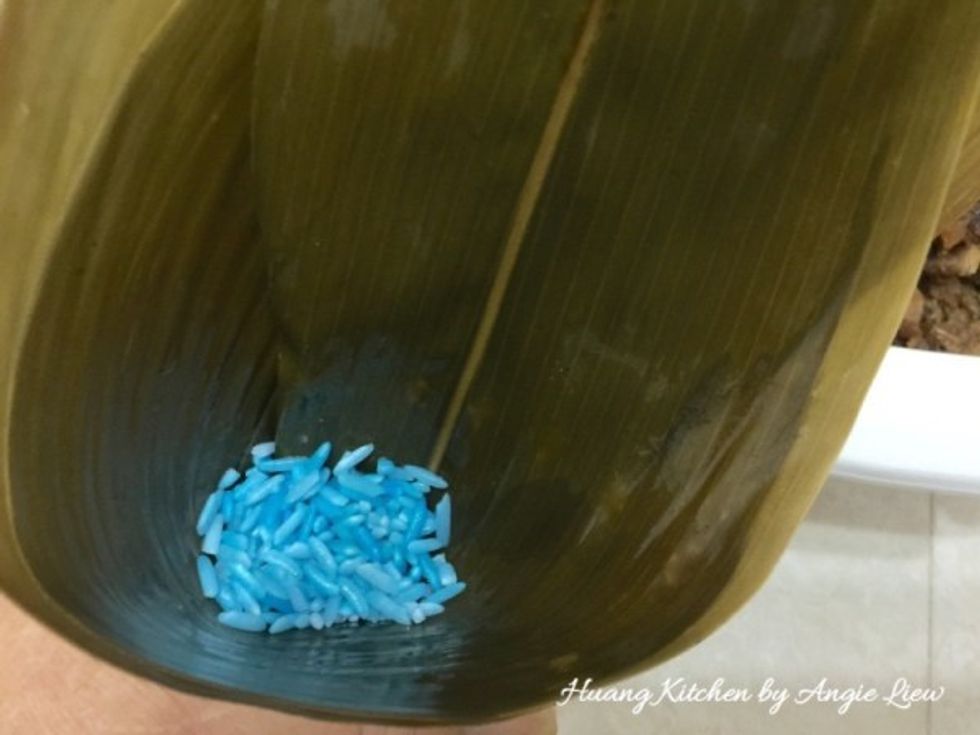 Form a well in the cone by filling with 1 tsp of blue tinted coloured rice.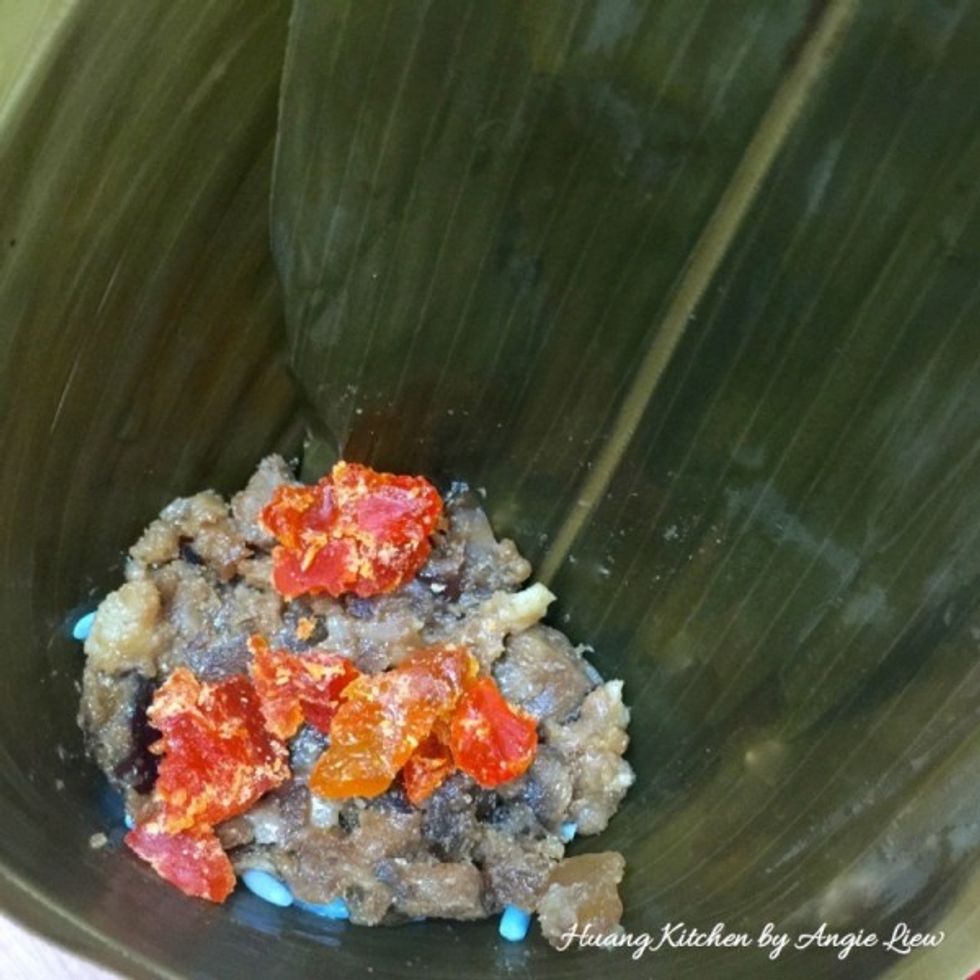 Then put 1 tbsp of pork filling and 1 tsp of chopped salted egg yolk to form a layer of filling.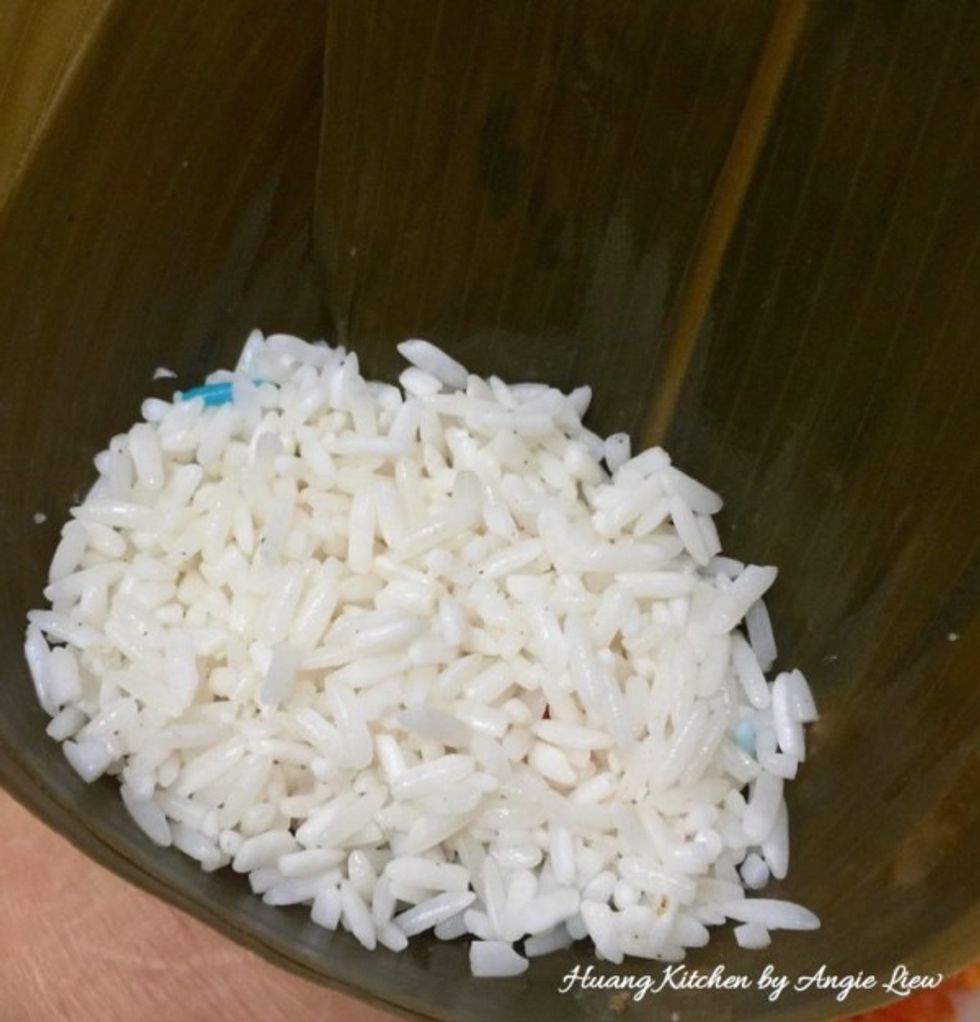 Cover neatly with 1 tbsp of white glutinous rice. Press it down gently.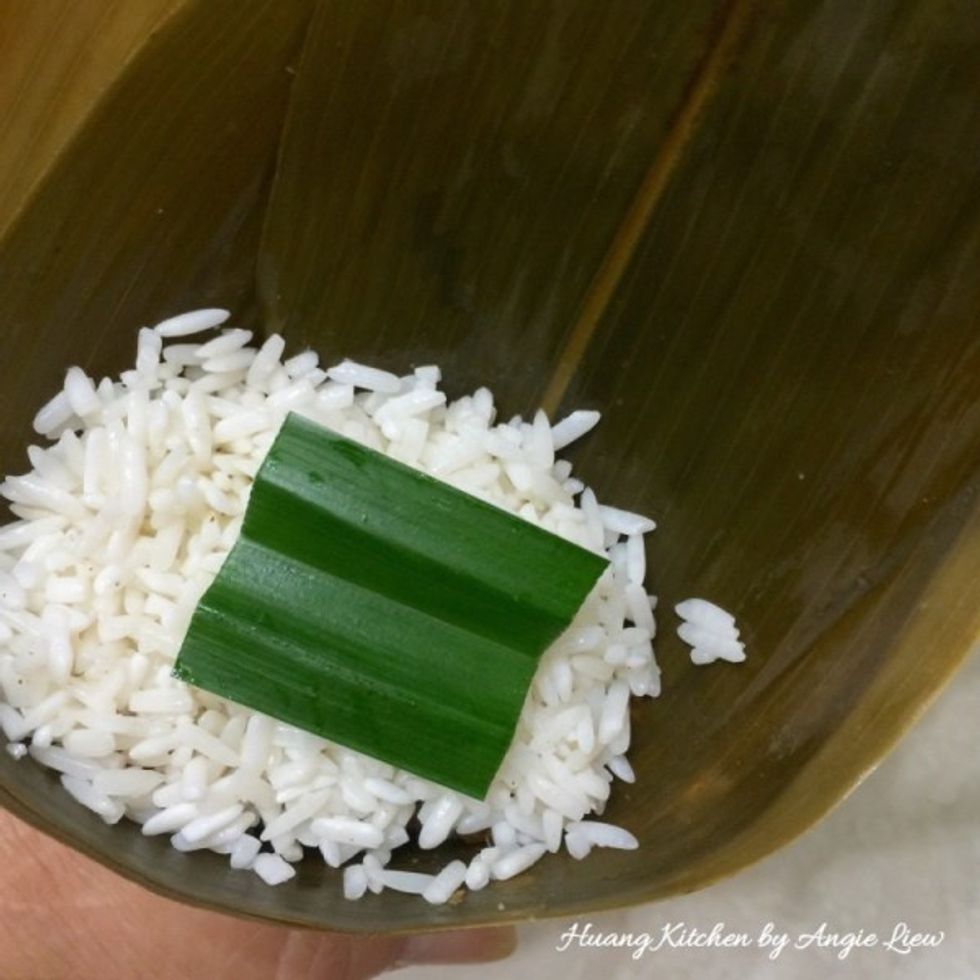 Next top with a piece of pandan leaf for extra fragrance.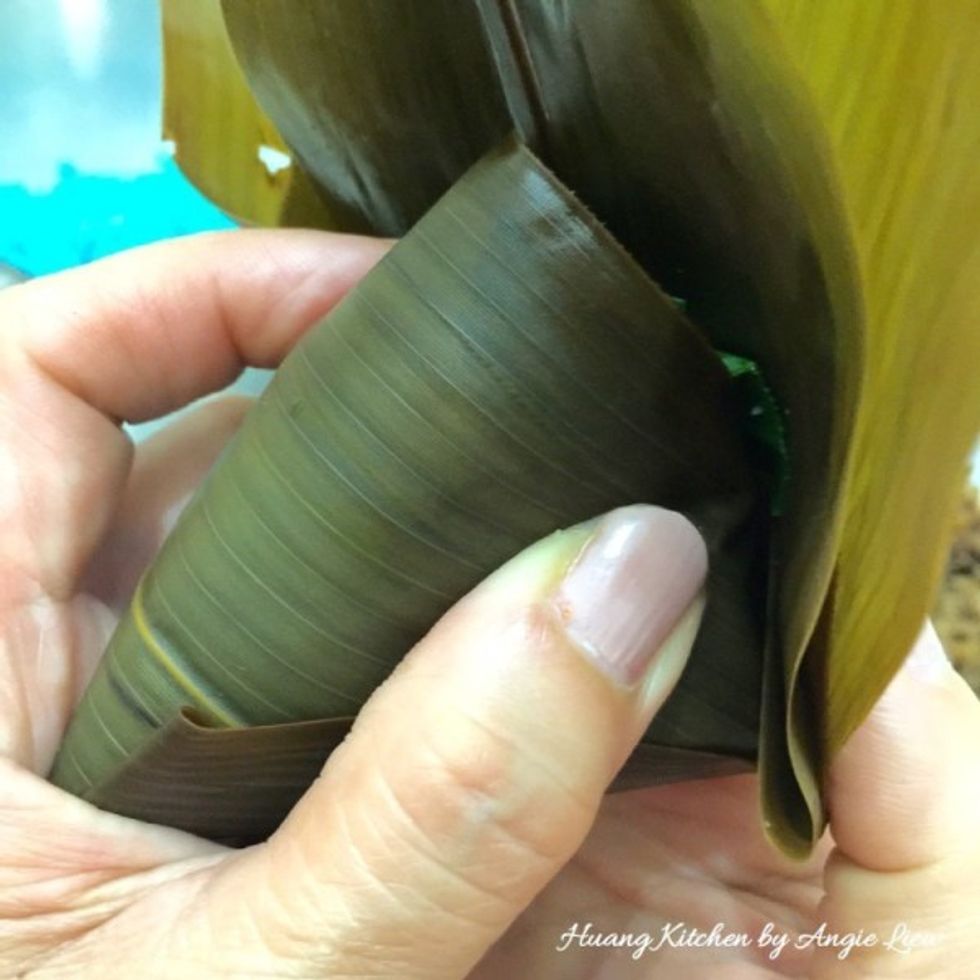 Fold the leaf over to cover the top completely and press down to partially cover the sides.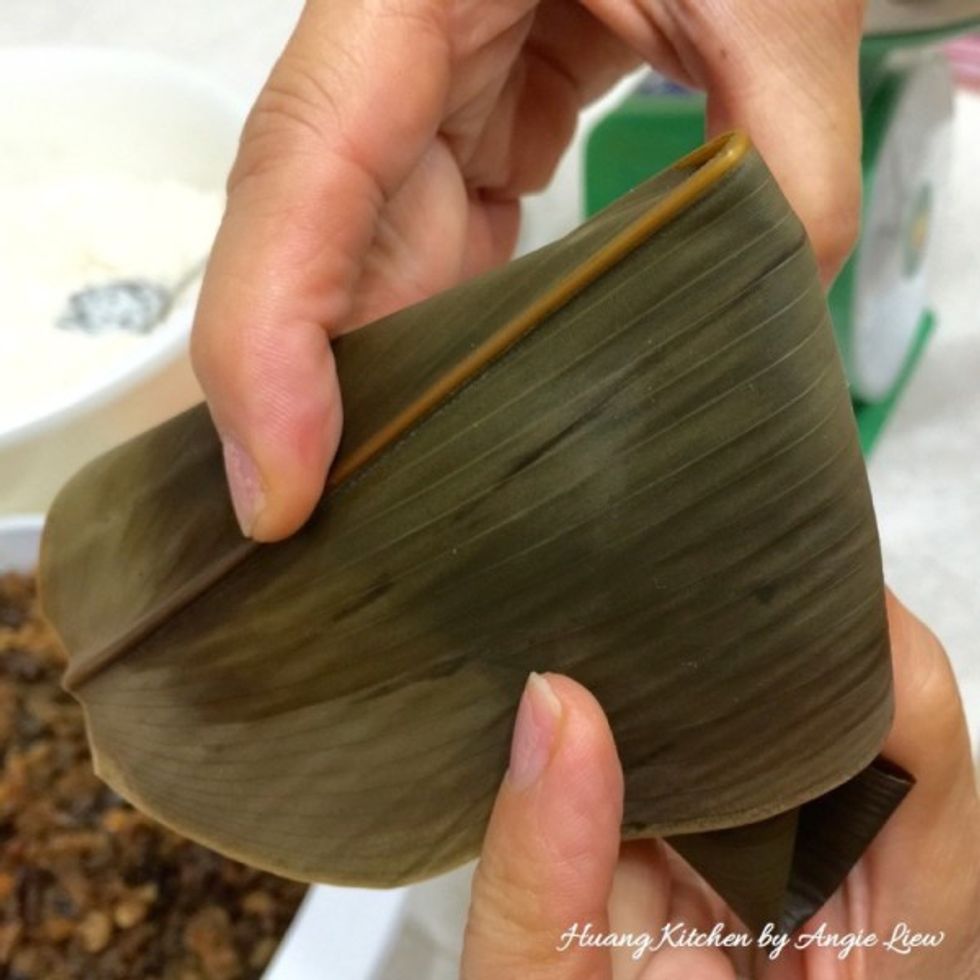 Wrap the edge of the leaves to either left or right side of the rice dumpling. And we're ready to tie it up with a bamboo string.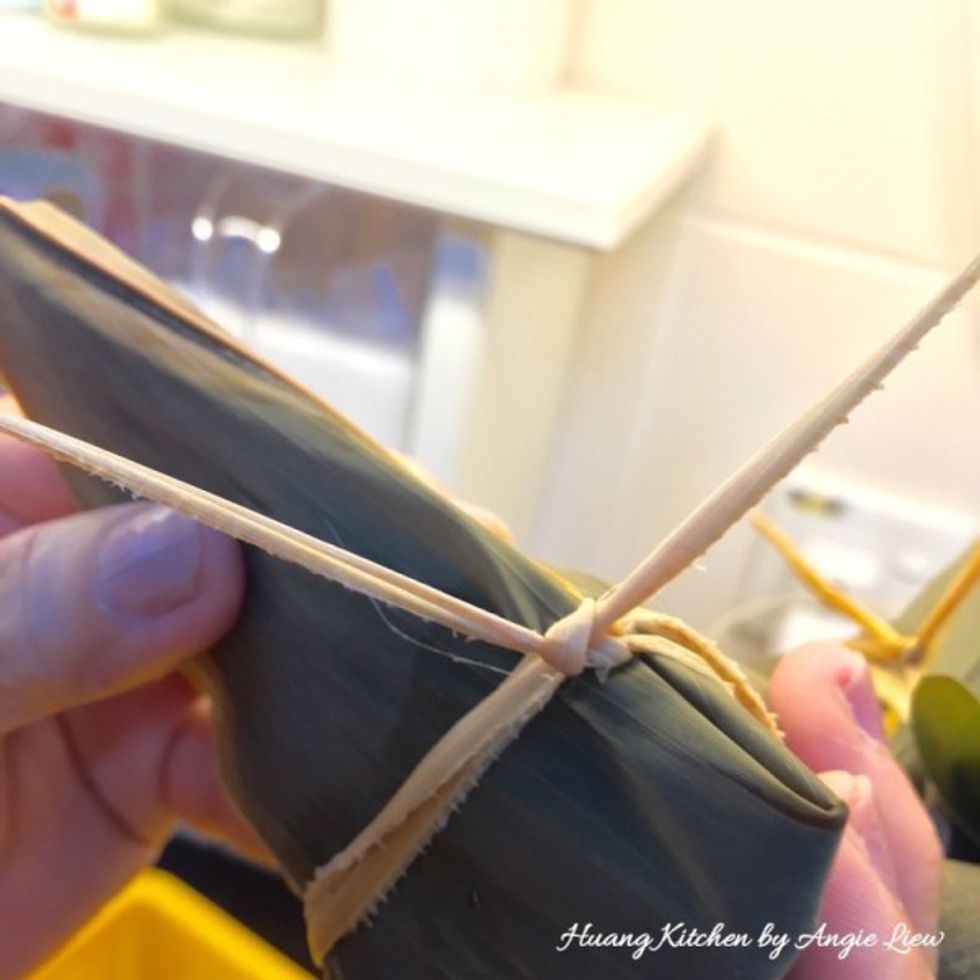 To tie the dumpling, wrap it with the bamboo string twice, each time with an easy knot to ensure no loose ends. Tie the dumplings in groups of ten and we're now ready to cook them.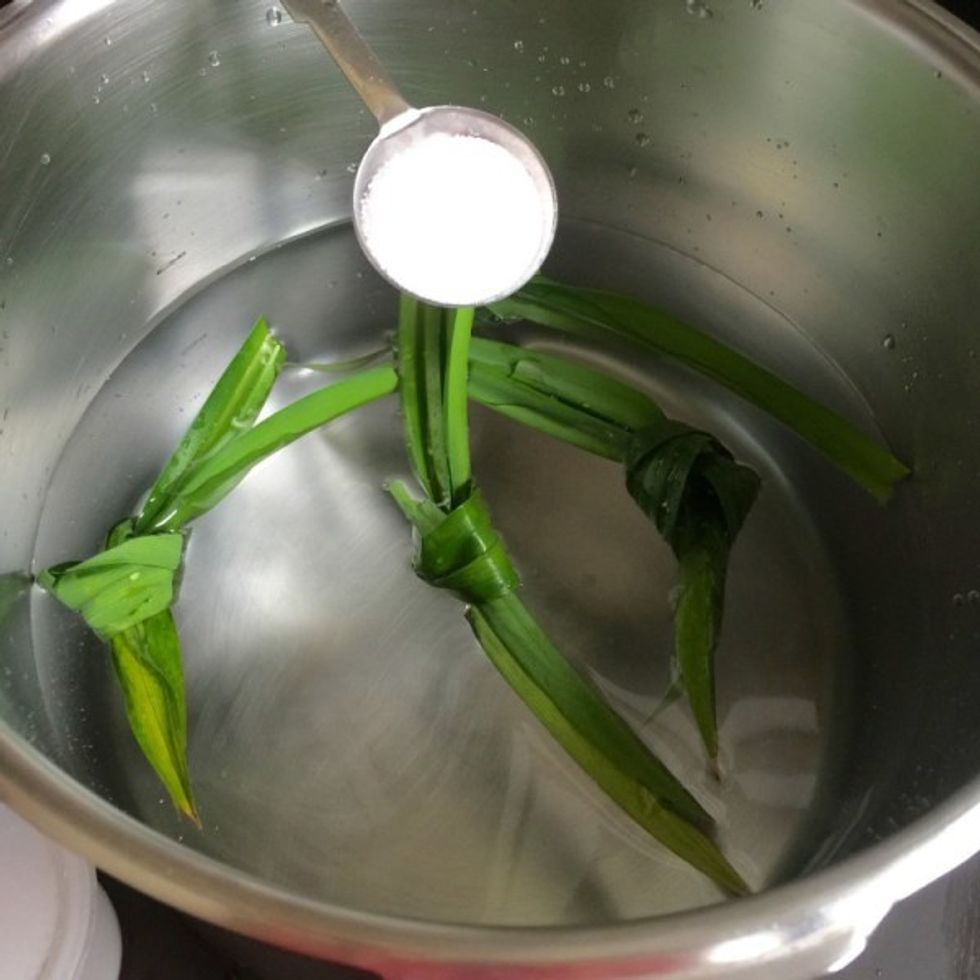 To cook the dumplings, first bring a pot of salted water to a rapid boil over high heat. (You can add a few knotted bunches of pandan leaves for extra fragrance).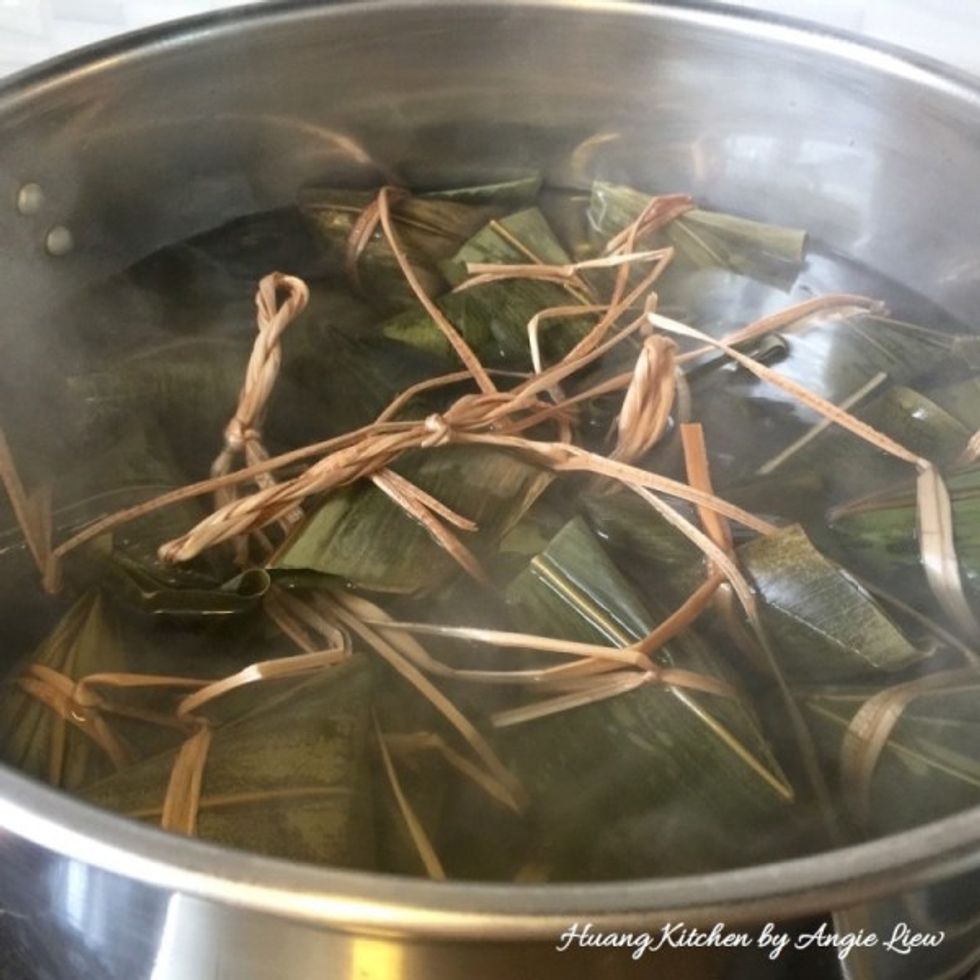 Then slowly place the dumplings into the water, making sure they are fully submerged. Cover and cook slowly over medium heat for about 2 hours, depending on size.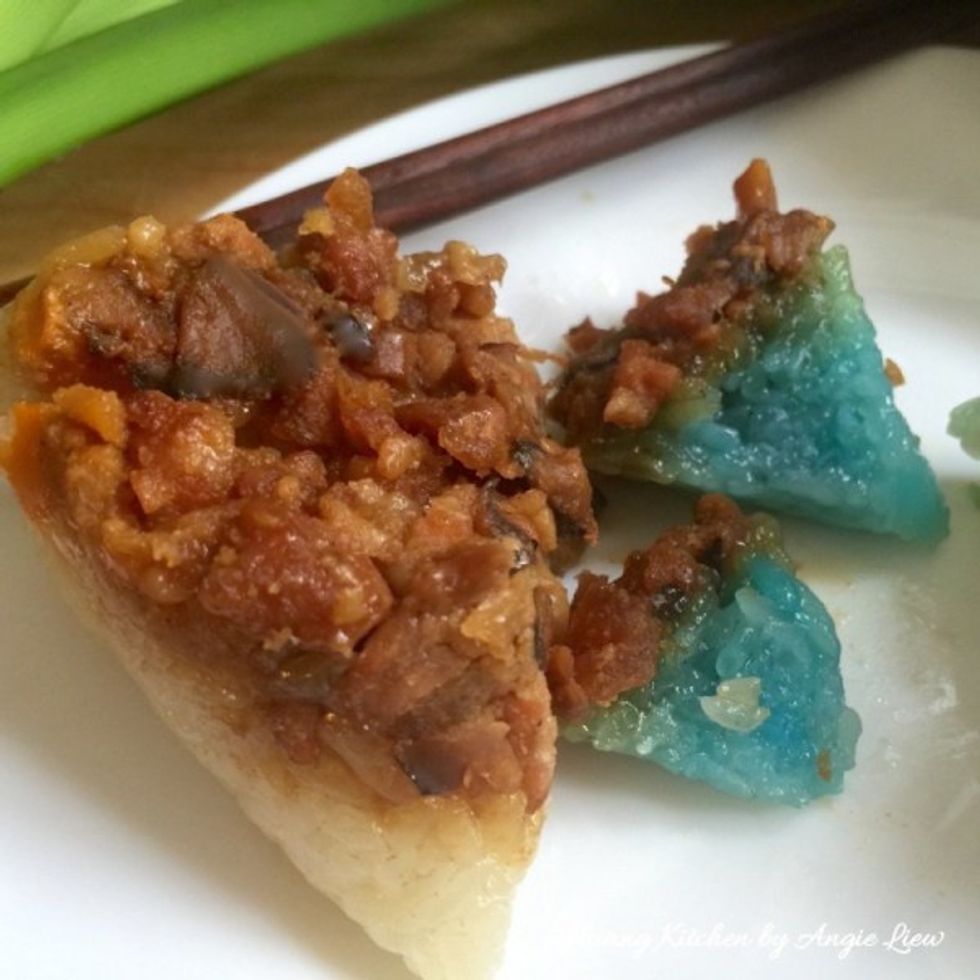 Make sure they are cooked through by unwrapping one of the dumplings in the pot to check for doneness and to taste it.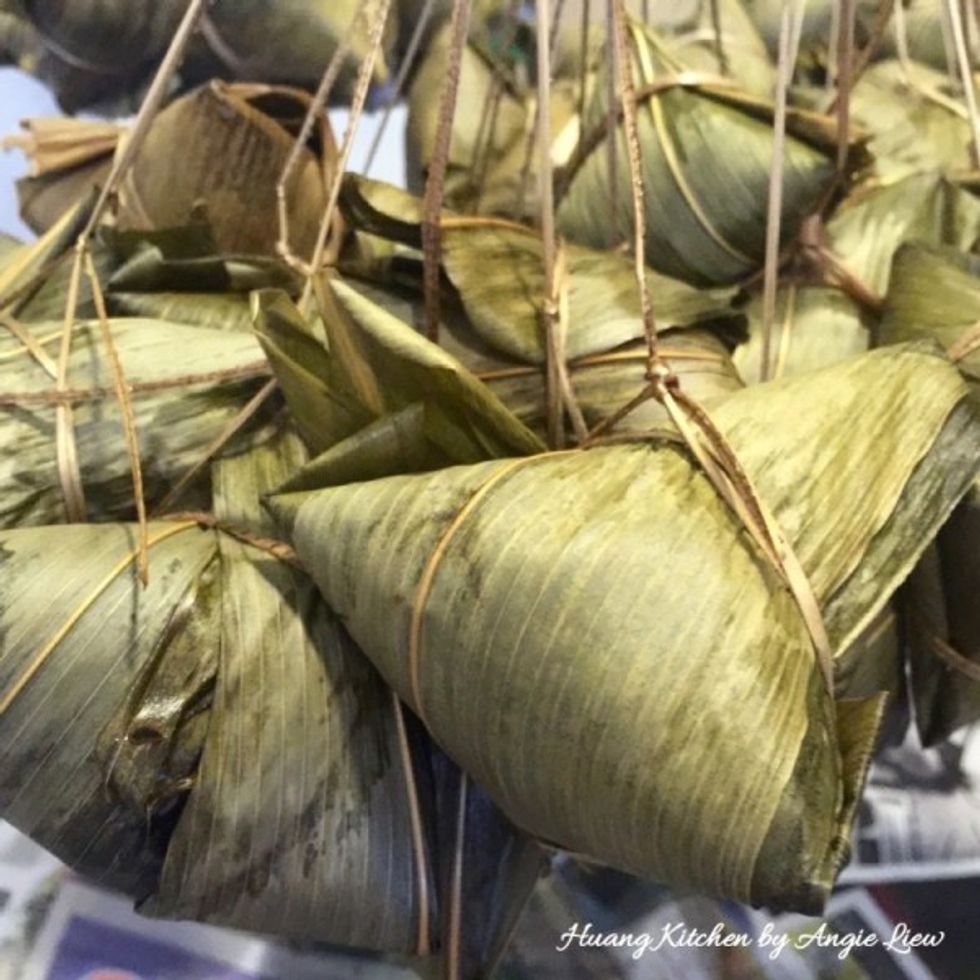 Once they are cooked, remove from the pot immediately and hang them to remove excess water and cool to room temperature. And we're done!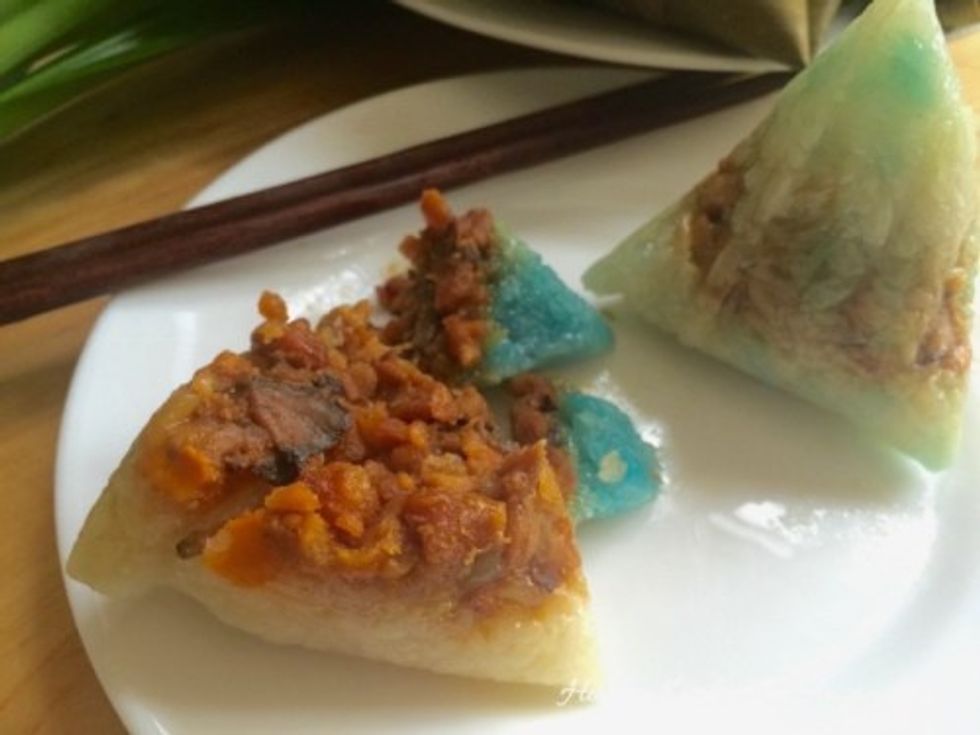 These dumplings are best eaten hot. For more instant updates on latest recipes, like us on Facebook at www.Facebook.com/huangskitchen Link to my video at https://www.youtube.com/watch?v=hjV3ZU3SUIA
1.0kg glutinous rice, white
2.0Tbsp salt, white pepper, msg, lard oil
0.0kg glutinous rice, blue coloured
2.0tsp salt, white pepper, msg, lard oil
15.0 blue pea flowers, for the colour
300.0ml water, to boil with flowers
130.0 bamboo leaves
70.0 bamboo strings
5.0 pandan leaves, cut to 2 inch long
3.0 pandan leaves, knotted, to cook dumplings
1.0kg pork belly, skinless, cut into small cubes
400.0gal pork fats, cut into cubes
100.0g shitake mushrooms, soaked and cubed
250.0g candied winter melon, cubed
70.0g garlic, chopped
150.0g shallots, finely sliced
2.0Tbsp salt, sugar, white pepper, dark soy sauce
200.0ml water
30.0g coriander powder
Huang Kitchen
For more step-by-step recipes and cooking tips, visit my website at \nhttp://www.huangkitchen.com