Make Nutella Chocolate Cake With Ferrero Rochers
67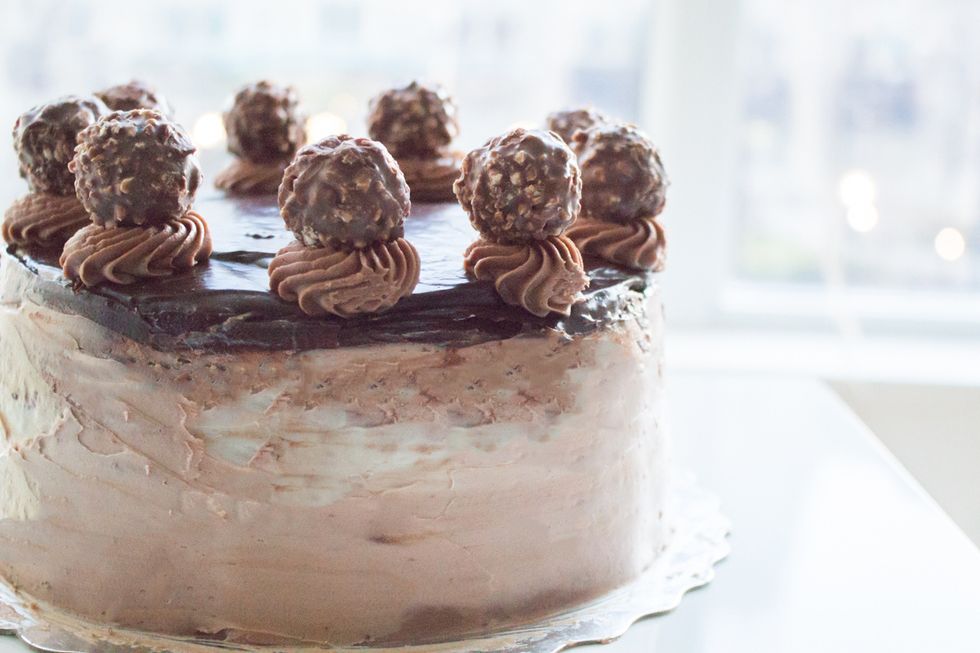 This is the cake we'll be making! Be sure to read the steps carefully as we go through this guide. Full list of ingredients are at the bottom, but I've also included ingredients throughout the recipe.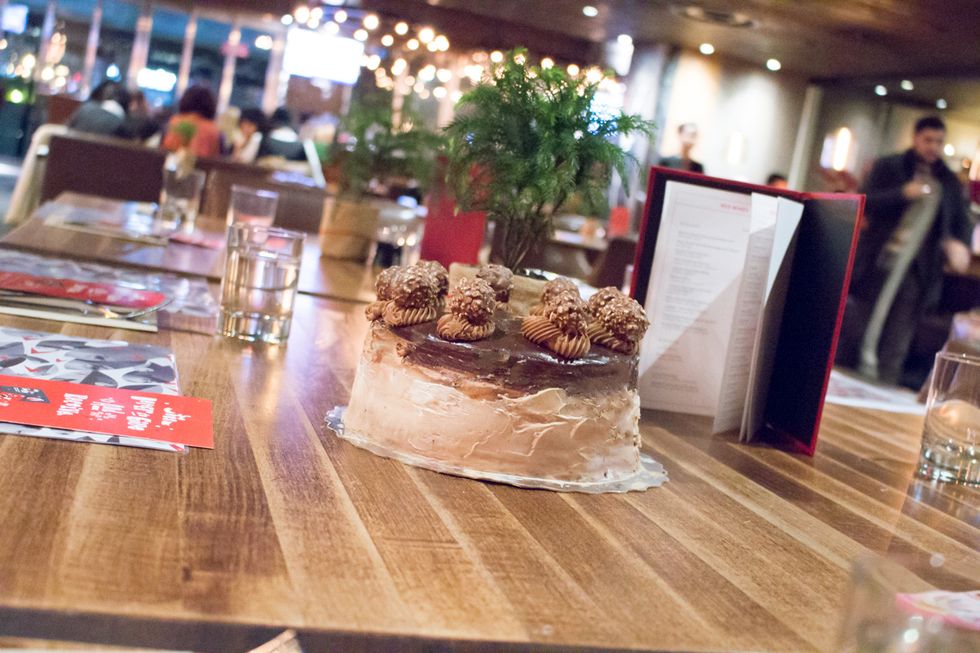 I actually made this cake for my birthday! Read on to see how to make it. See it on my blog too: http://annezca.blogspot.ca/2015/12/nutella-chocolate-cake.html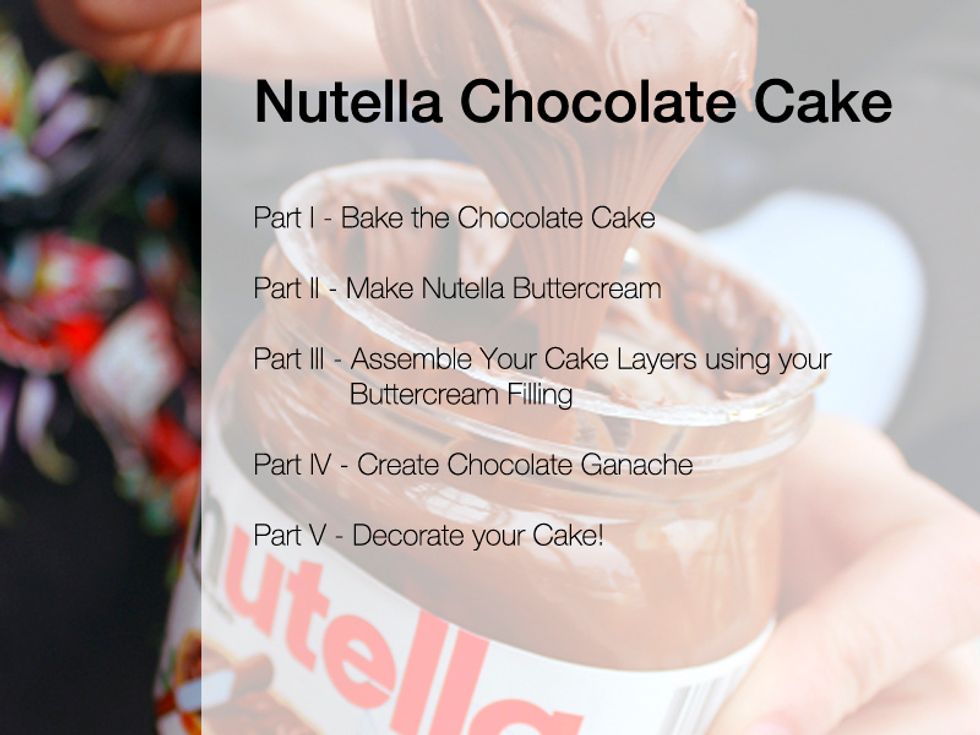 These are the steps we'll follow in this recipe!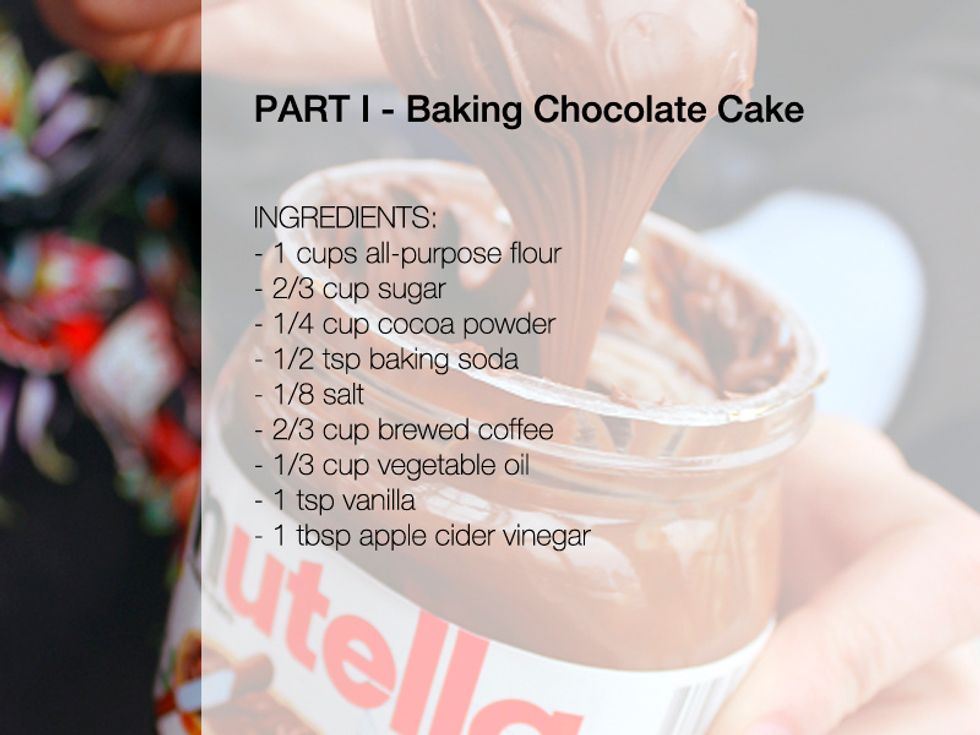 Gather your ingredients to bake the chocolate cake.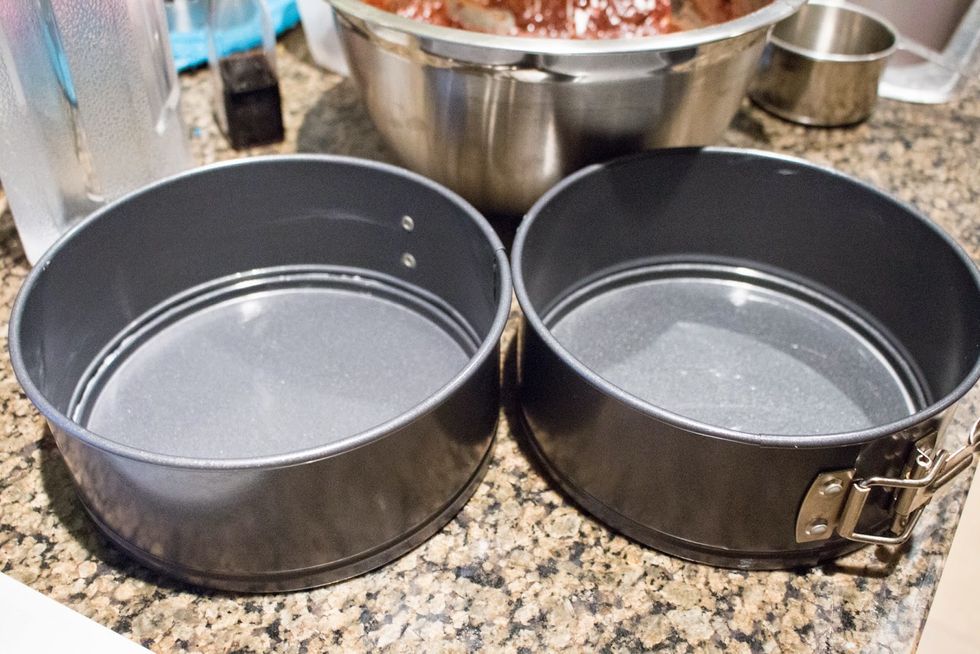 Preheat your oven to 350 degrees F (180 degrees C) and grease your cake pans.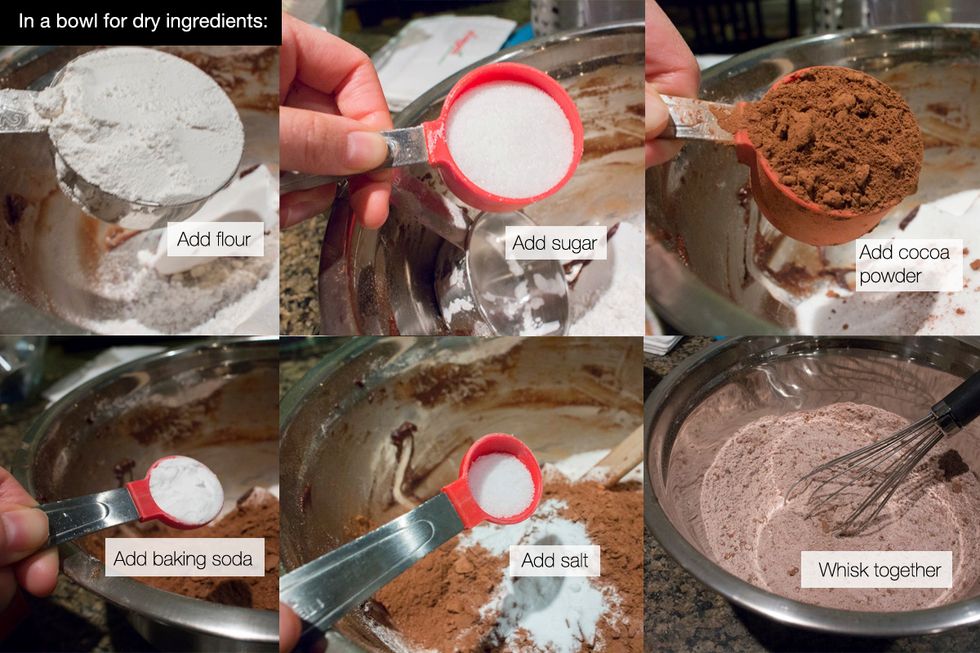 In a bowl designated for dry ingredients, whisk together flour, sugar, cocoa powder, baking soda and salt.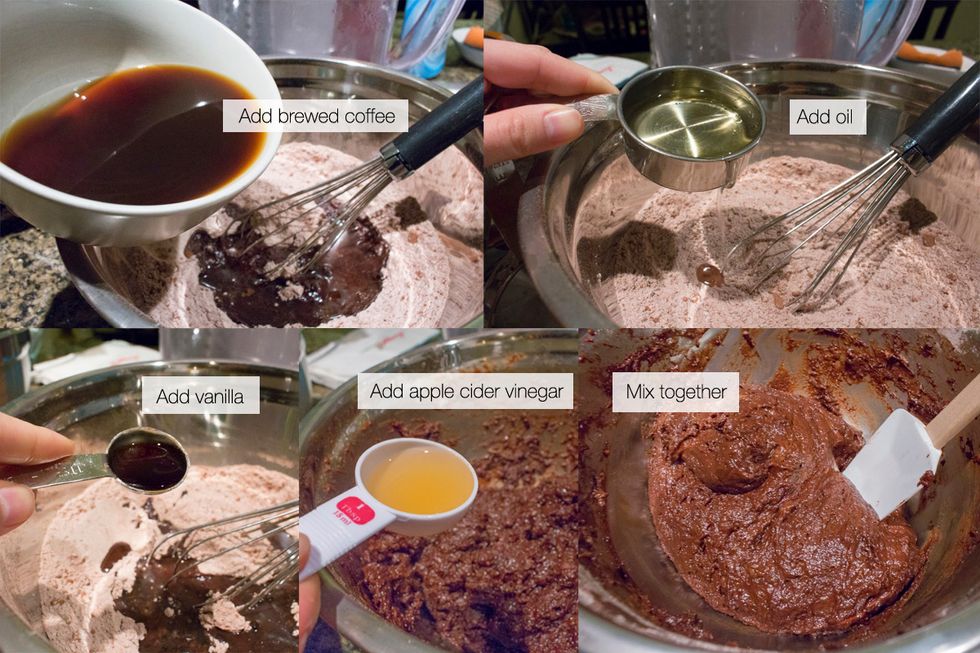 Next to your chocolate mixture, add brewed coffee, oil, vanilla, and apple cider vinegar. Mix together until well blended.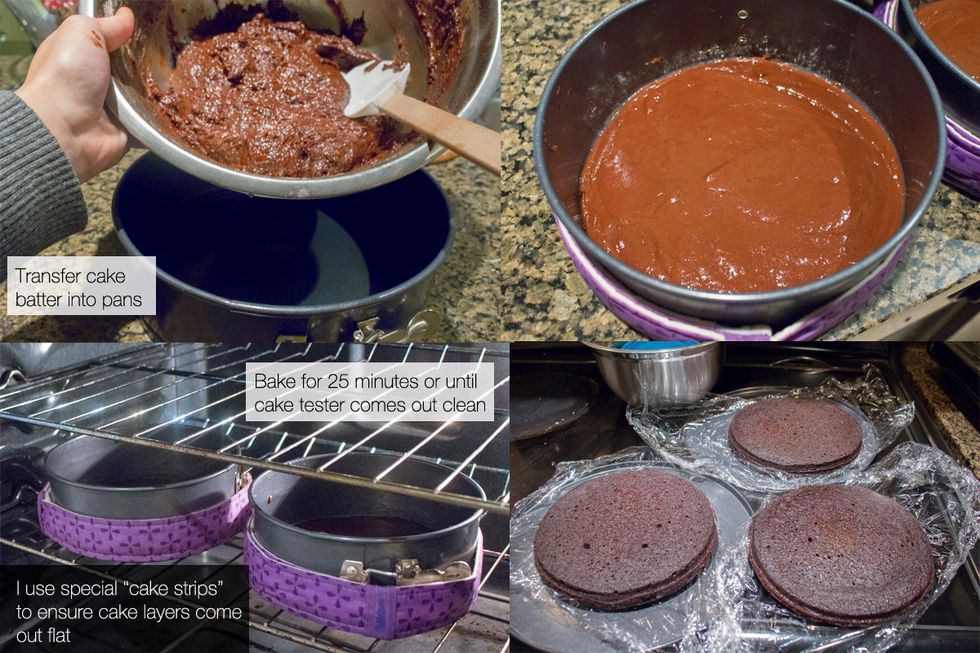 Transfer cake batter to pans, bake for 25 mins or until cake tester comes out clean-set aside. To learn about cake strips: http://annezca.blogspot.ca/2014/12/baking-tip-bake-flat-cakes-every-time.html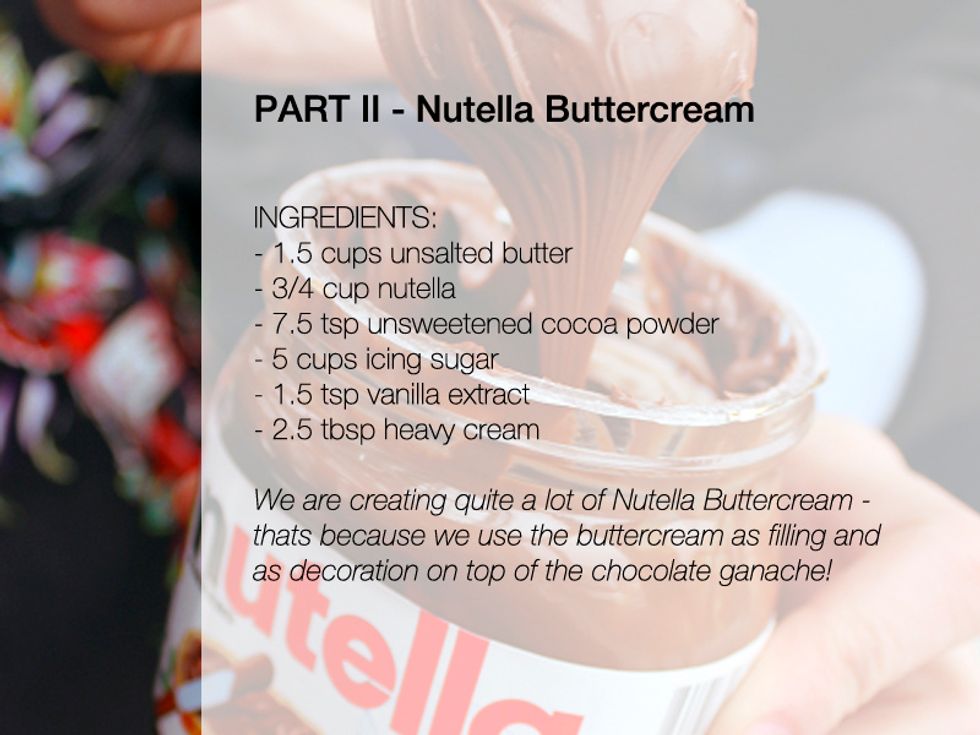 Gather your ingredients to make Nutella Buttercream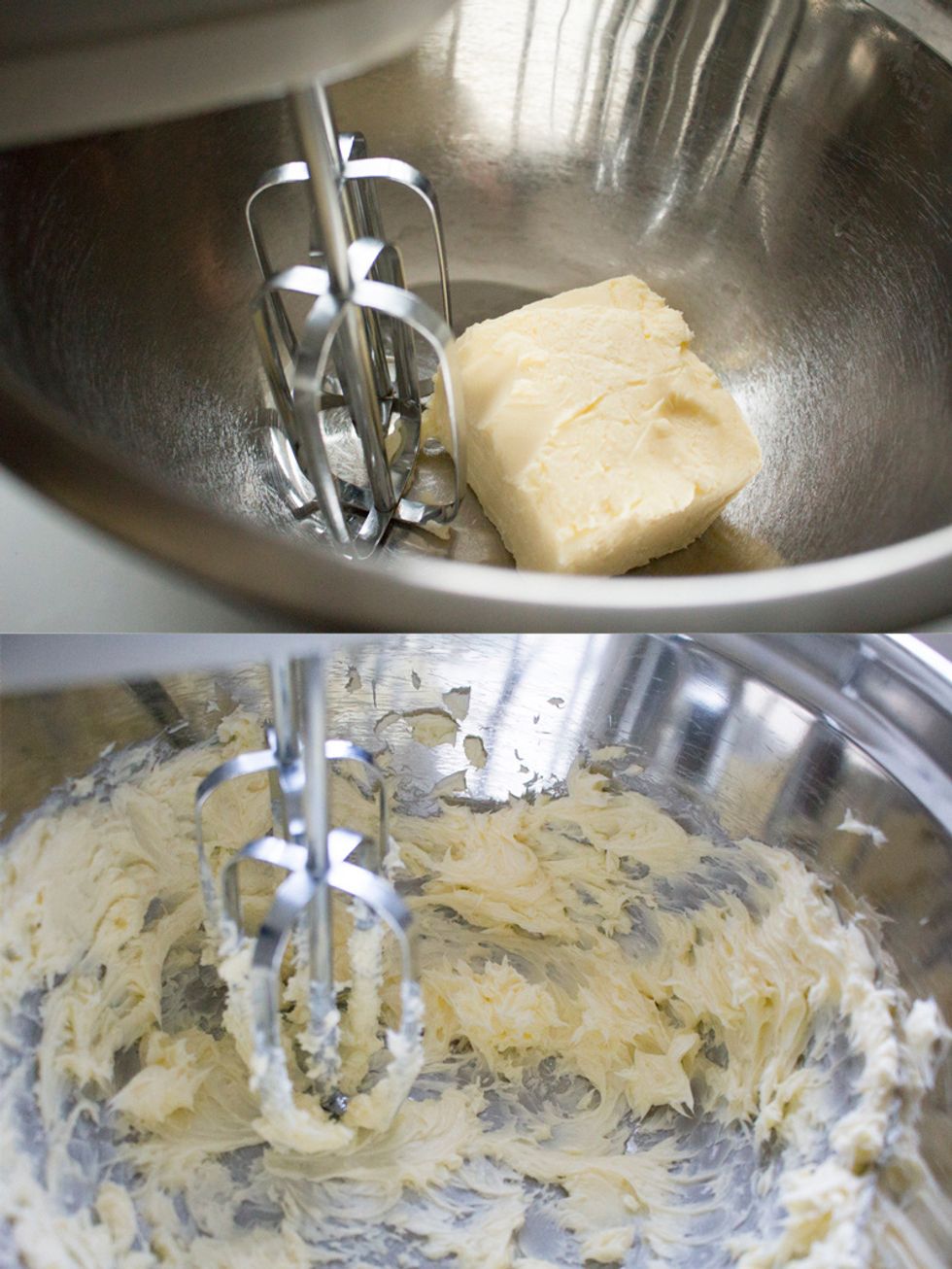 Beat 1.5 cups of unsalted, room temperature butter until pale and fluffy.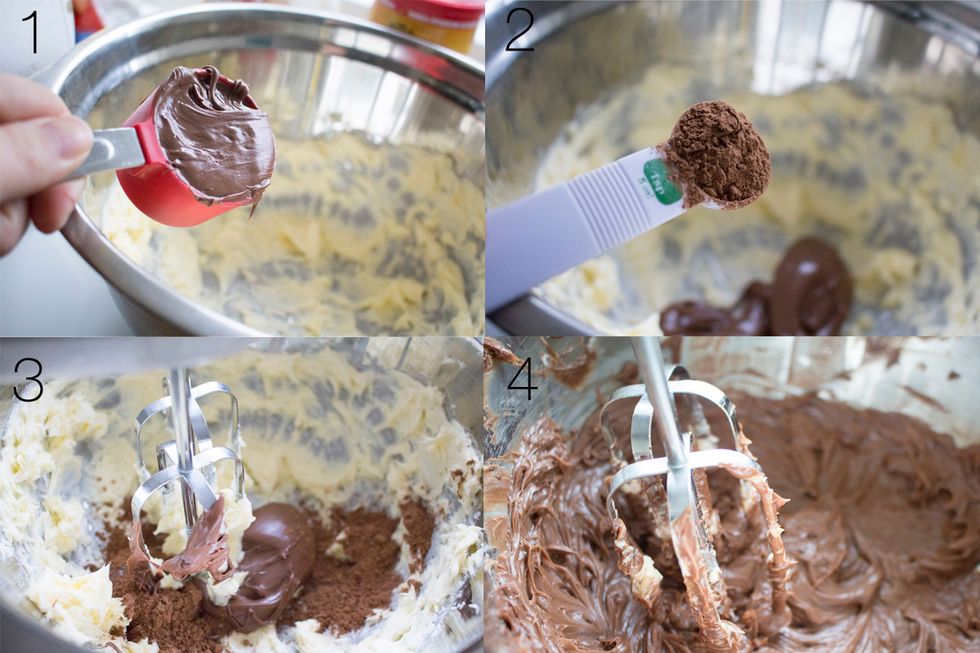 Add 3/4 cup of Nutella and 7.5 tsp of cocoa powder to the butter mixture, beat until well combined, scraping down sides with a spatula as necessary.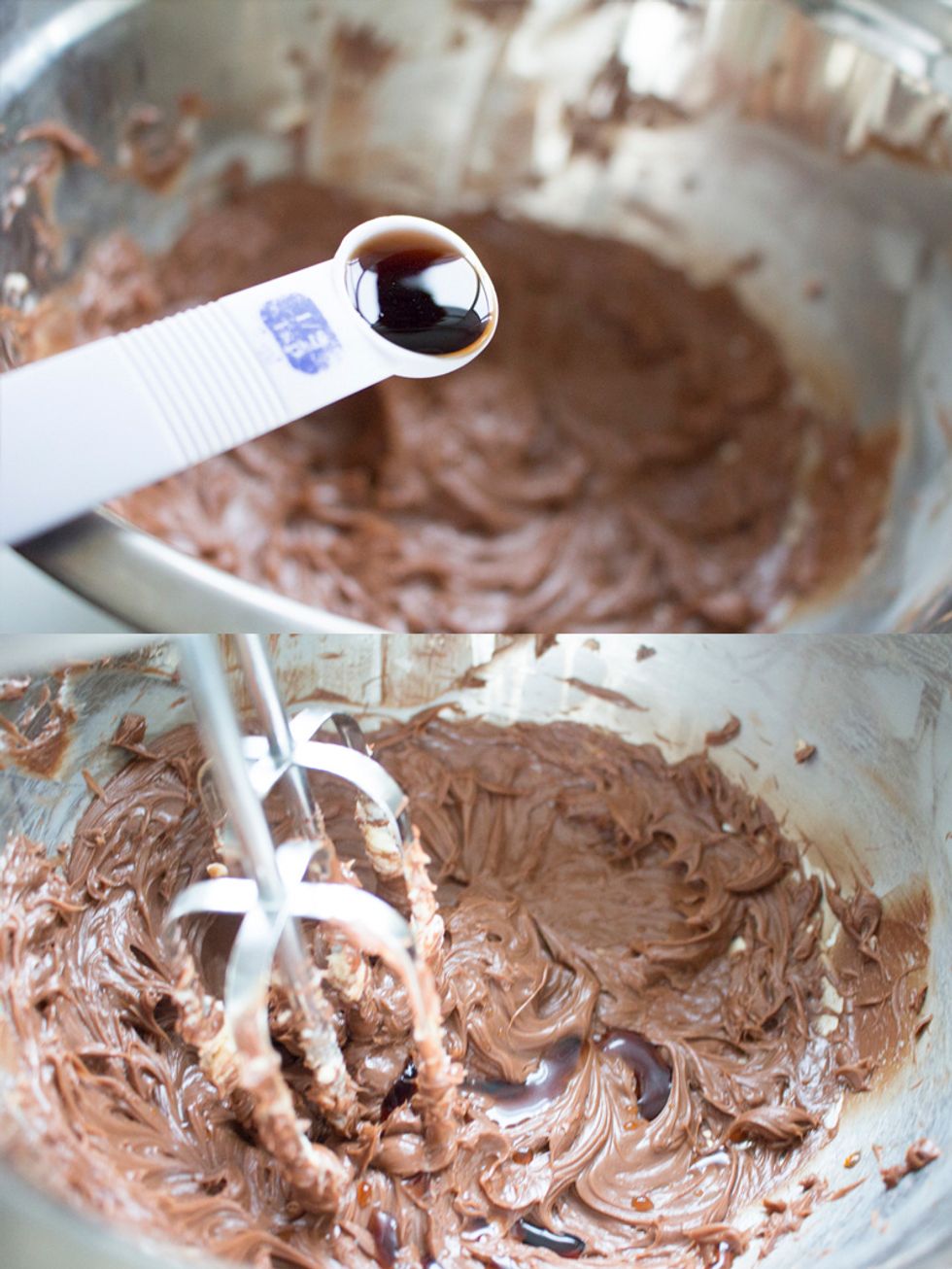 Beat in 1.5 tsp of vanilla extract.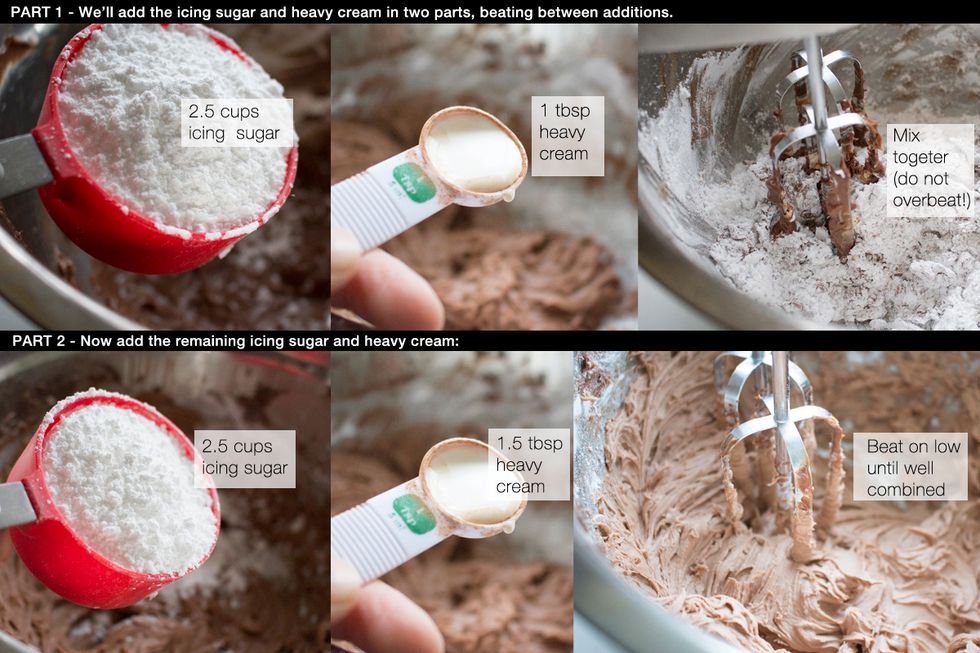 Add 2.5 cups of icing sugar & 1 tbsp of heavy cream, beat on low, then add 2.5 cups of icing sugar & 1.5 tbsp of cream beating on low until well combined. Do not overbeat or else it will be too runny!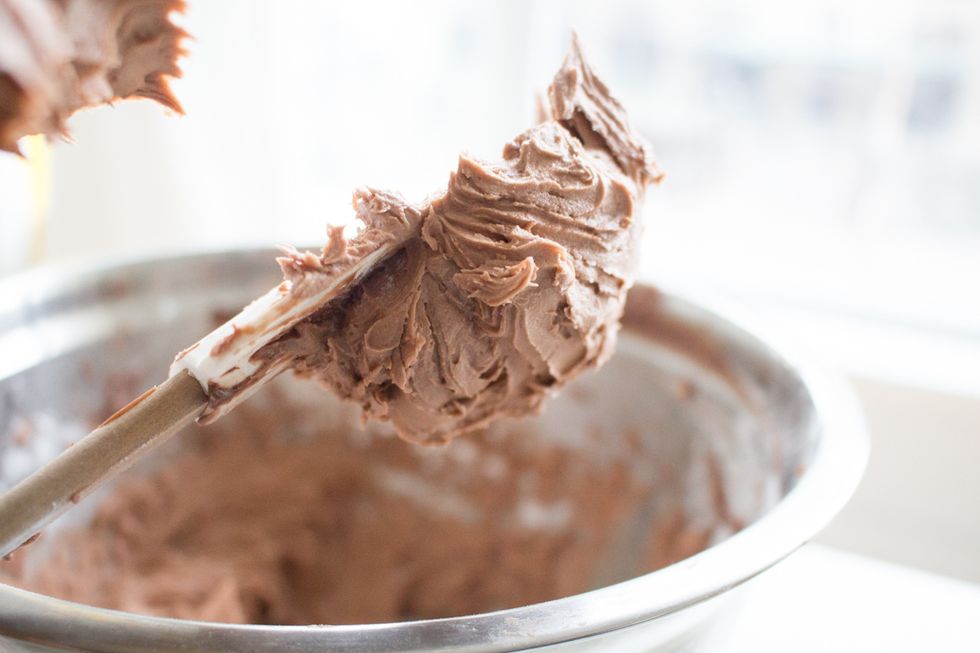 This is what your icing should look like once done!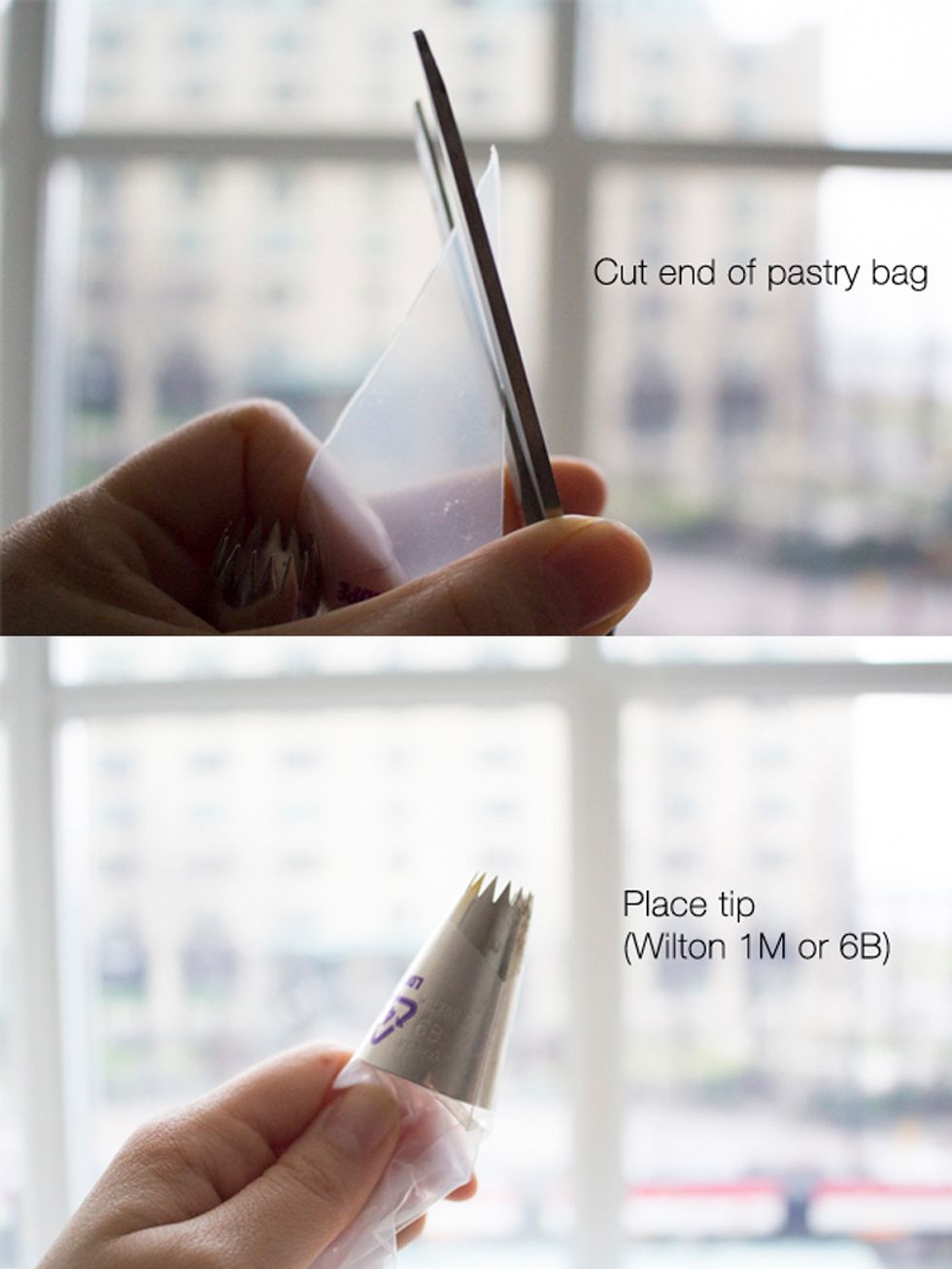 Prepare your pastry bag (or use a sandwich bag). Cut off the pointed end and place a Wilton 1M or 6B tip at the end.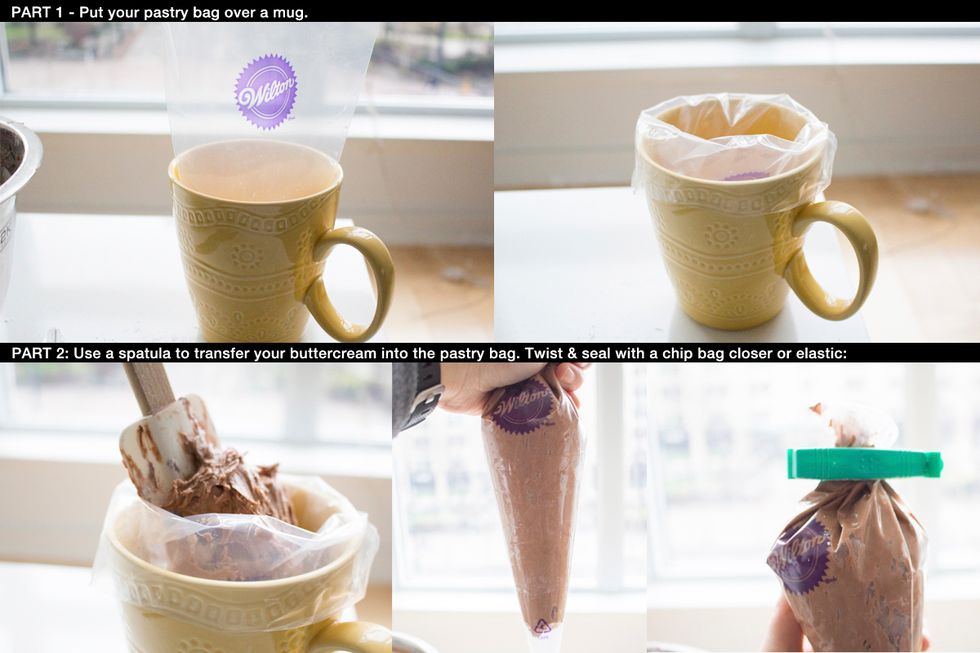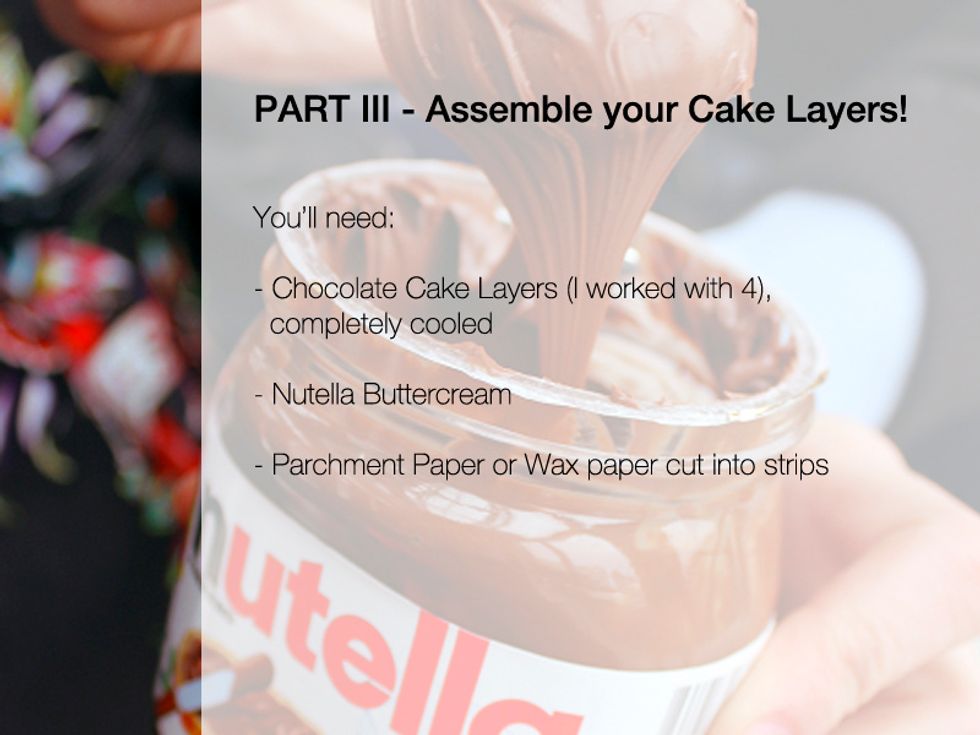 Get your materials ready to assemble the cake layers.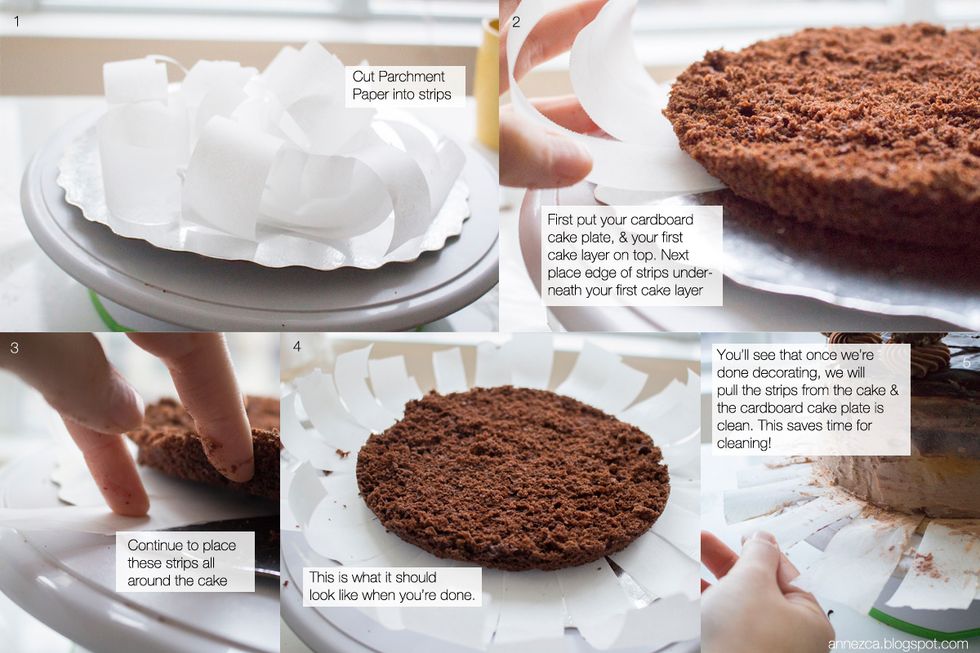 Optional step: Cut parchment paper into strips, & place edge of strips between cardboard cake plate & first cake layer all around. After we're done decorating we'll remove these for easy cleanup!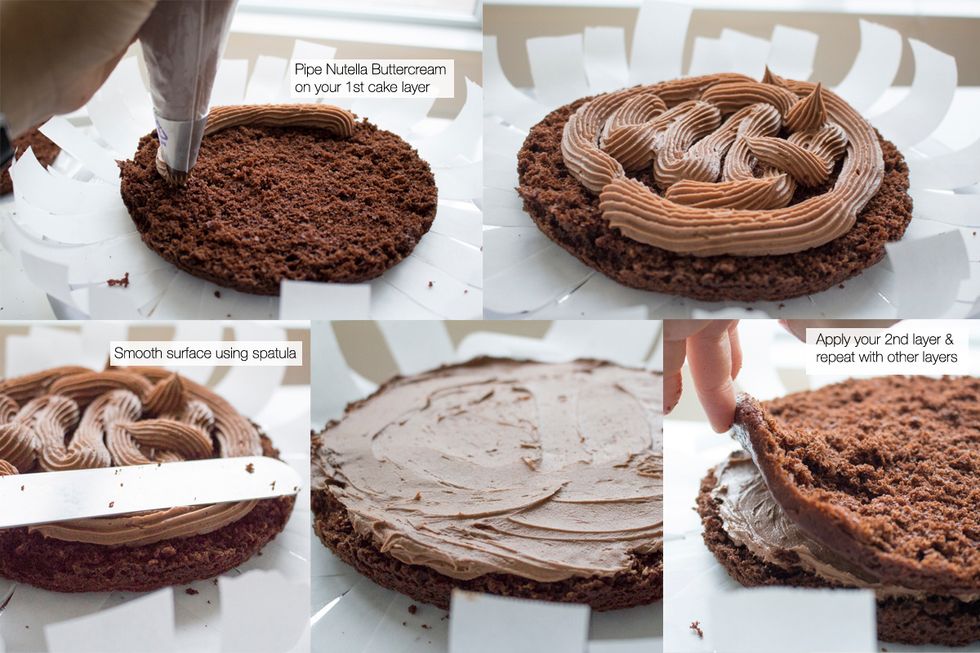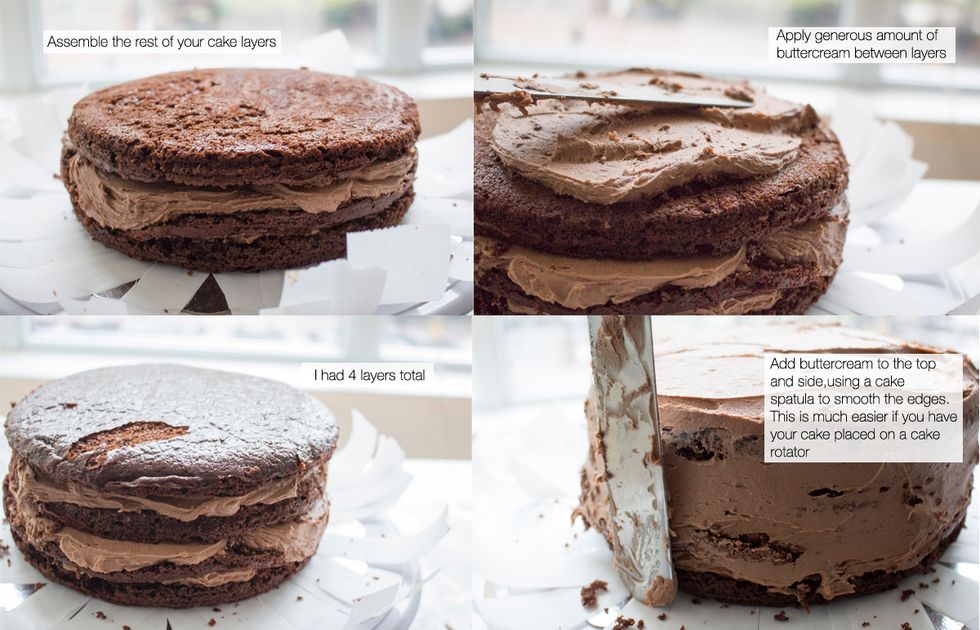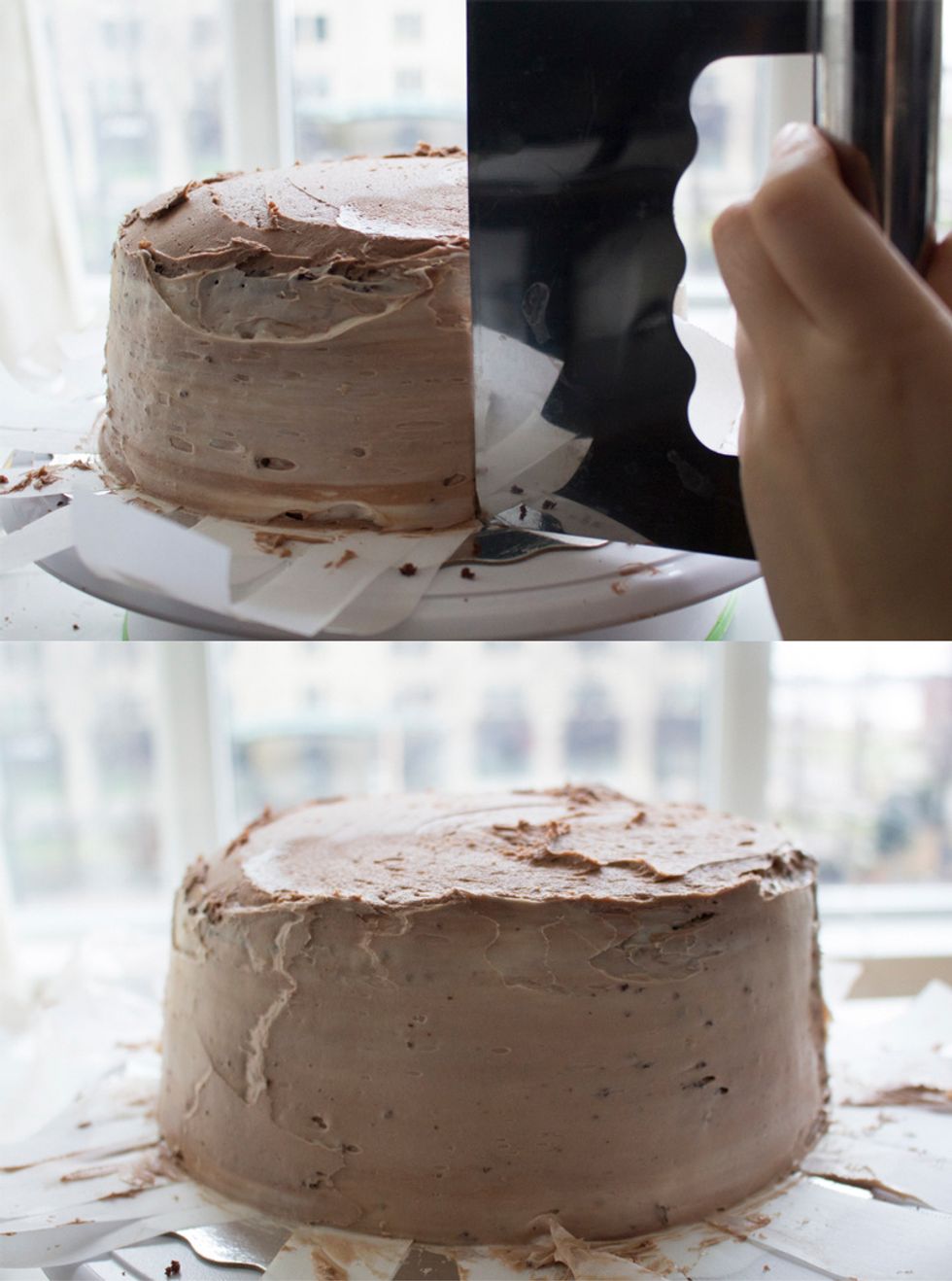 If you have this, use a bench scraper to smooth your buttercream layer (or cake spatula will suffice).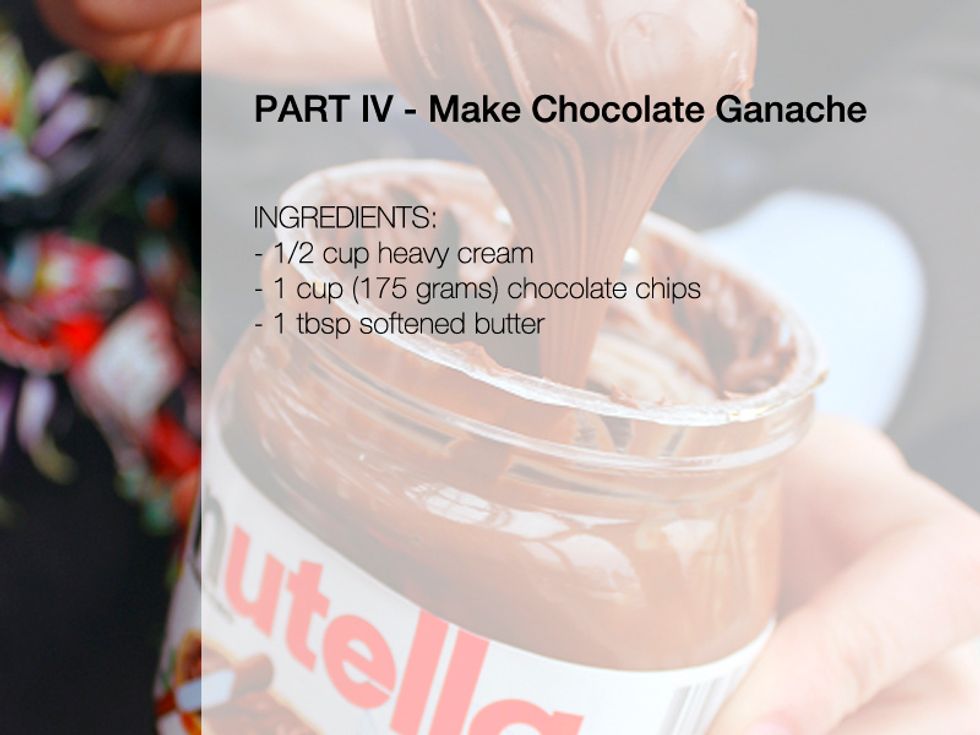 Gather your ingredients for Chocolate Ganache.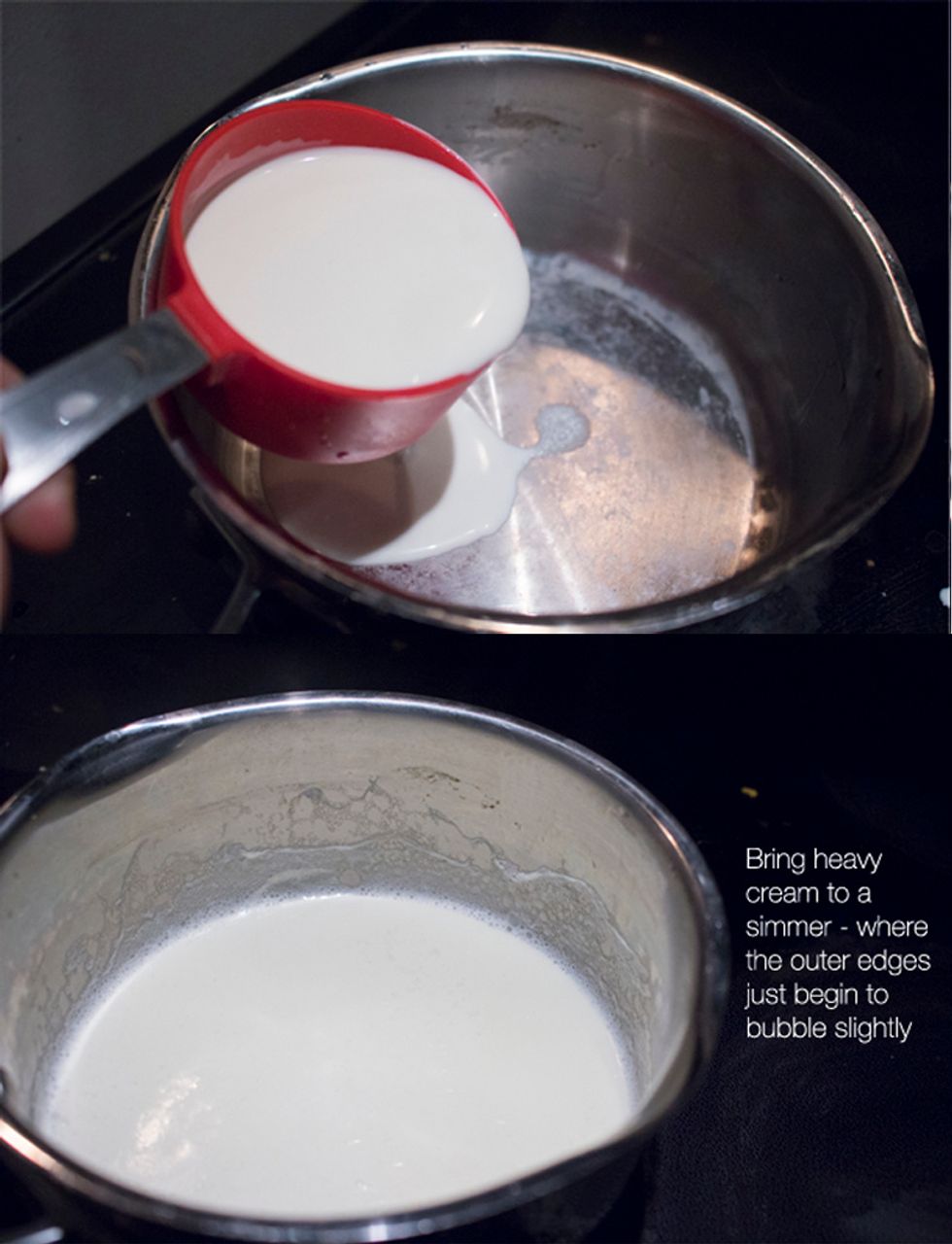 Pour heavy cream into pot and bring to a simmer on low to medium heat - where the outer edges just begin to bubble.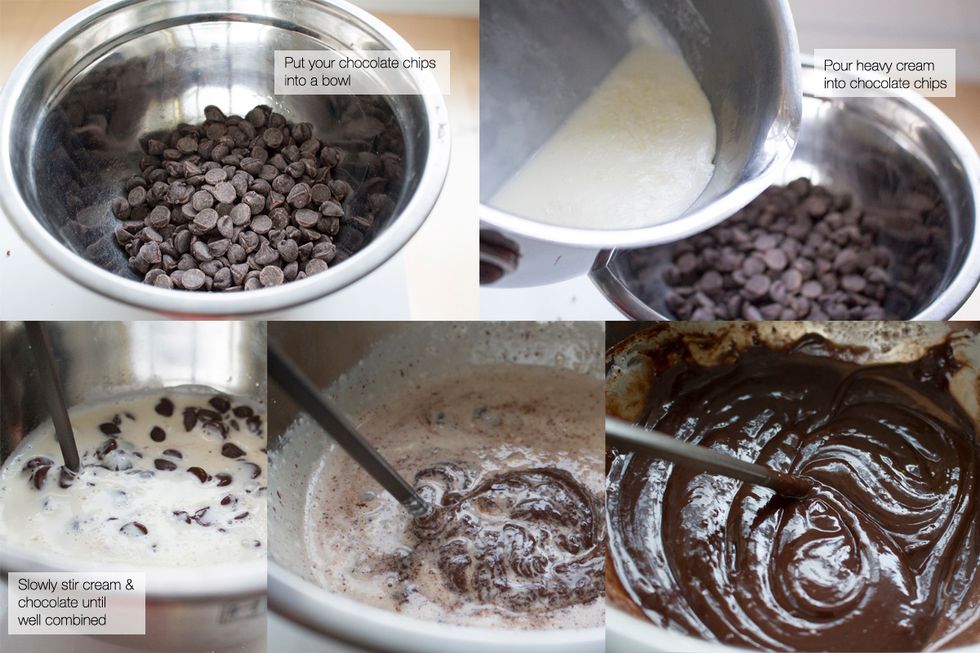 Measure your chocolate chips into a separate bowl, and pour the heavy cream into the bowl. Stir the chocolate chips and heavy cream together until you have thick chocolate mixture - this is ganache!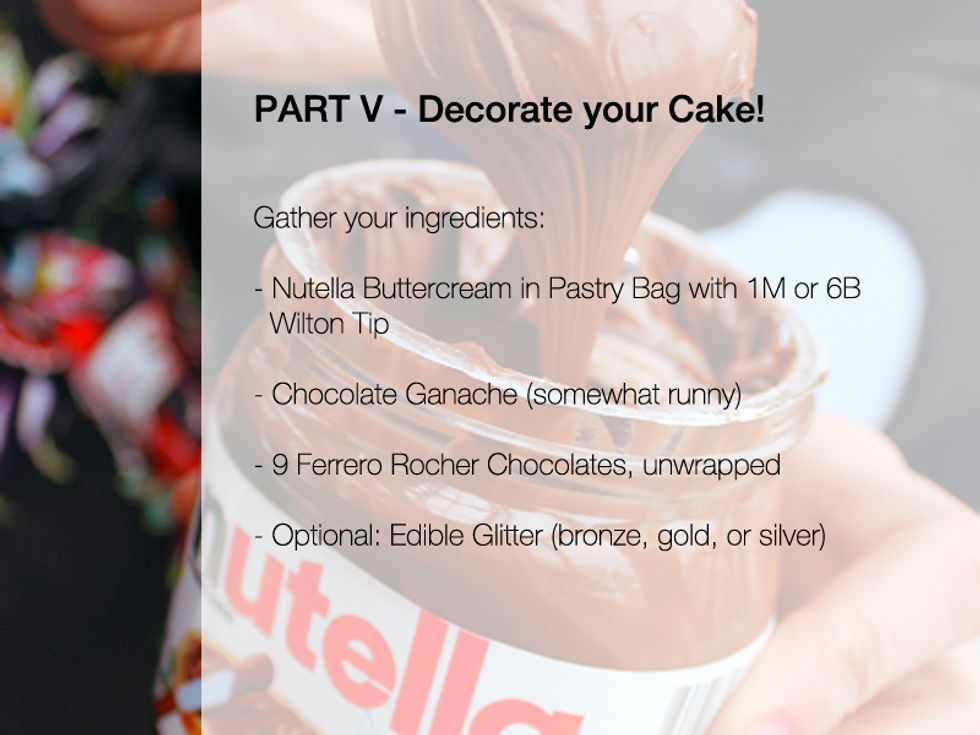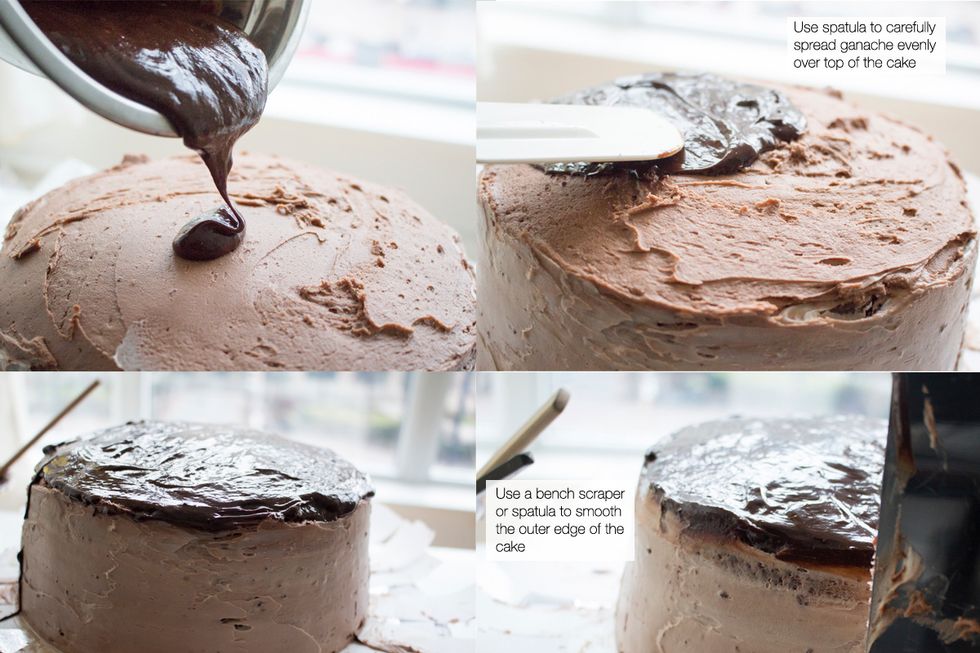 Pour Chocolate Ganache over the cake, using a cake spatula to spread evenly. Use a bench scraper (or spatula) to smooth the edges. If it drips over the side, thats ok too! Just use spatula to smooth.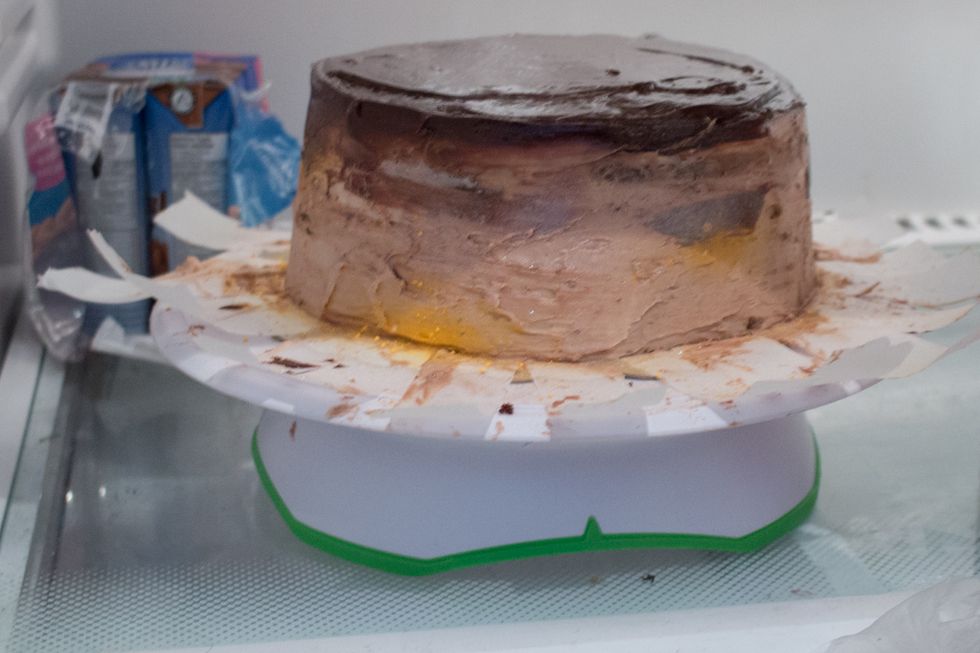 Refrigerate your cake for 5-10 minutes just so the ganache has a chance to harden.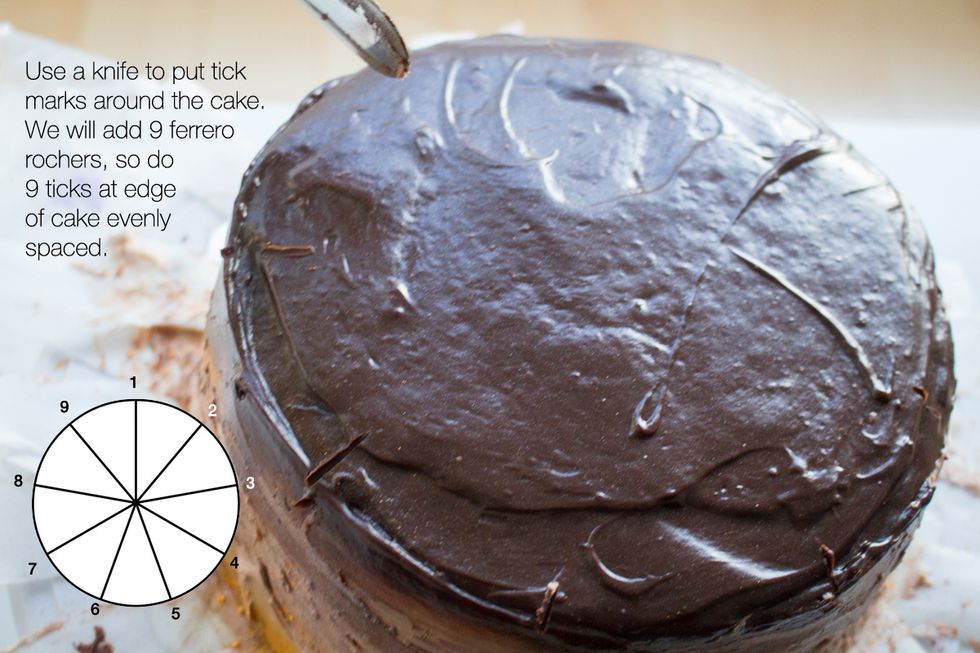 Once you remove cake from fridge, take a knife and lightly tick the cake in 9ths. This is because we are marking where we are going to add the ferrero rochers.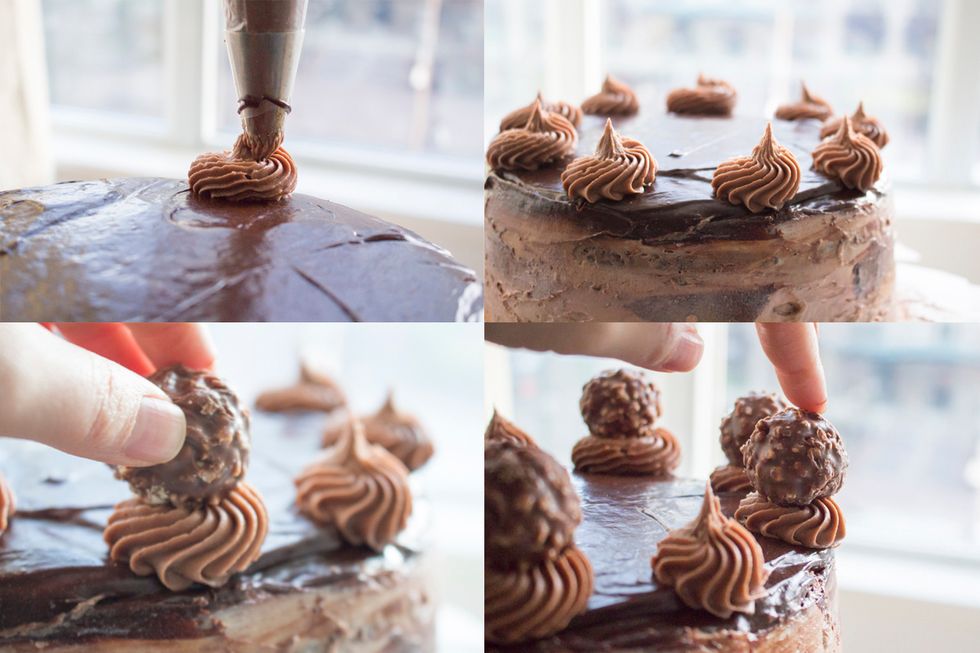 Take nutella buttercream (with 6B or 1M Wilton Tip) & pipe over the tick marks we made in the previous step in a small circular motion. Then add the ferrero rochers on top of each rosette we piped.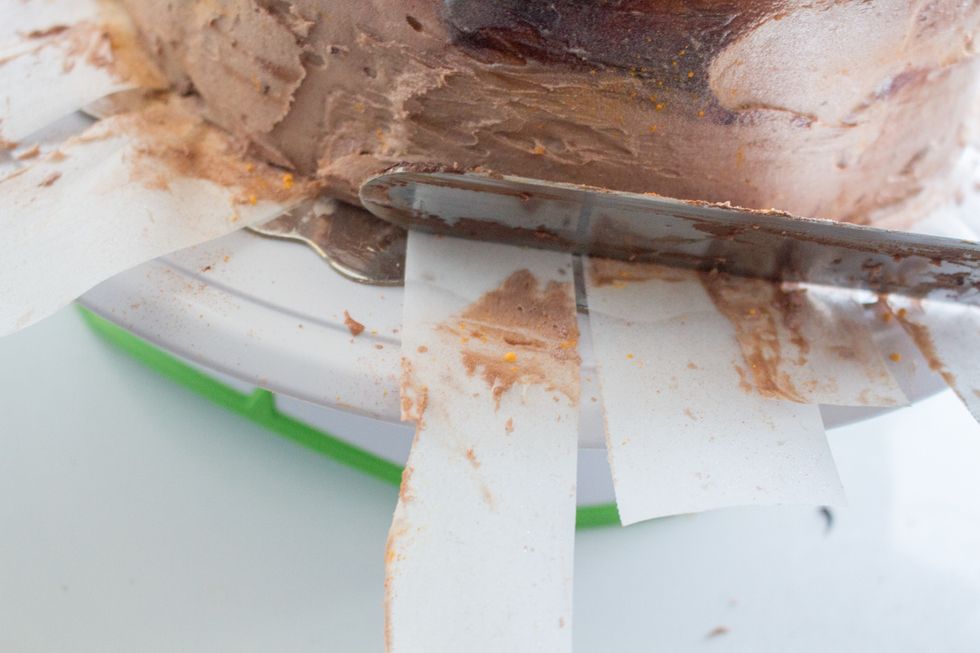 Now we remove the parchment paper strips. I used a cake spatula to stabilize the bottom edge of the cake to prevent icing on the bottom from pulling when you pull away the strips.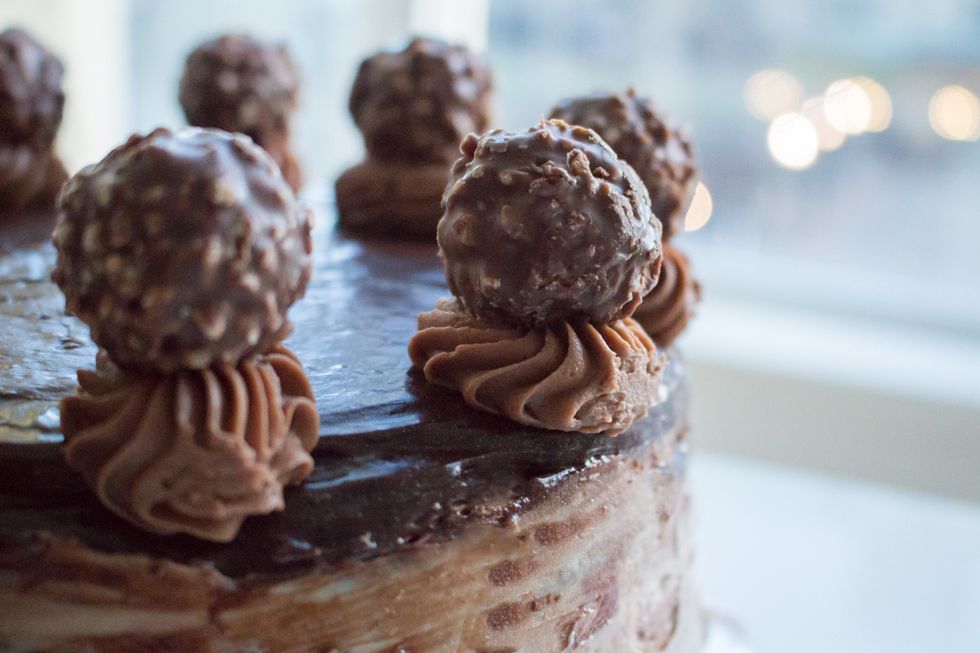 See more pics on my blog: http://annezca.blogspot.ca/2015/12/nutella-chocolate-cake.html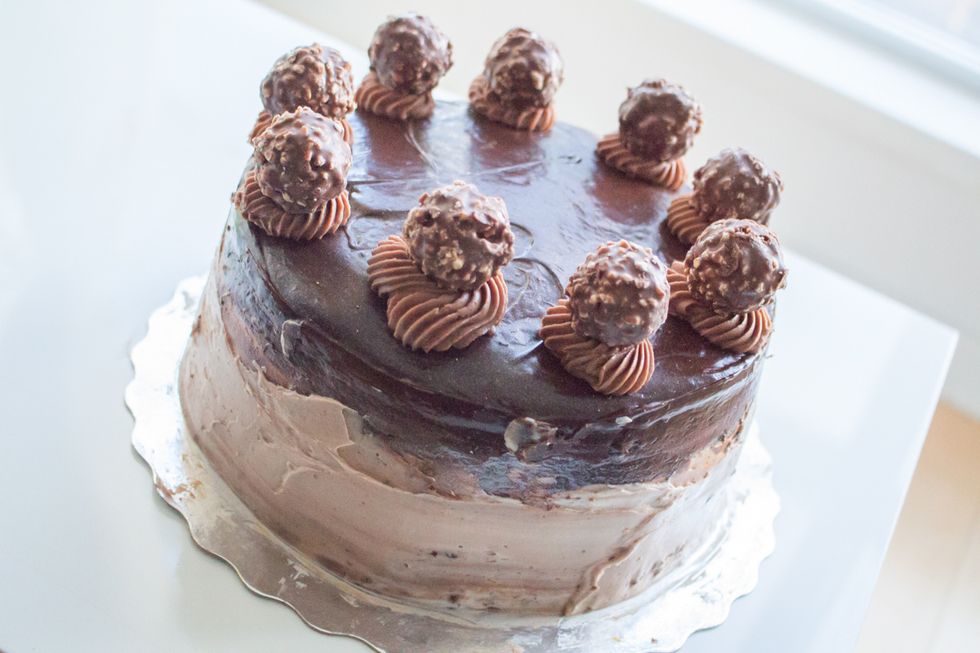 See it on my blog: http://annezca.blogspot.ca/2015/12/nutella-chocolate-cake.html
1.0c all-purpose flour [for cake]
0.0c sugar [for cake]
0.0c cocoa powder [for cake]
0.0tsp baking soda [for cake]
0.0tsp salt [for cake]
0.0c brewed coffee [for cake]
0.0c vegetable oil [for cake]
1.0tsp vanilla [for cake]
1.0Tbsp apple cider vinegar [for cake]
0.0c heavy cream [for chocolate ganache]
1.0c chocolate chips [for chocolate ganache]
1.5c unsalted butter, room temp [nutella buttercream]
0.0c nutella [nutella buttercream]
7.5tsp cocoa powder [nutella buttercream]
5.0c icing sugar [nutella buttercream]
1.5tsp vanilla extract [nutella buttercream]
2.5Tbsp heavy whipping cream [nutella buttercream]
Annie Ai
Canadian girl that loves travel, dance, cooking and baking! I used to eat out a lot before I realized homemade was easy, fun & MORE delicious to do!