How to make no pastry quiche using a pie maker
A mighty little treat for using up leftover meat, cheese, spices and of course eggs. Follow me for fun and exciting new recipes from the red heart of our amateur kitchen, with love.
8701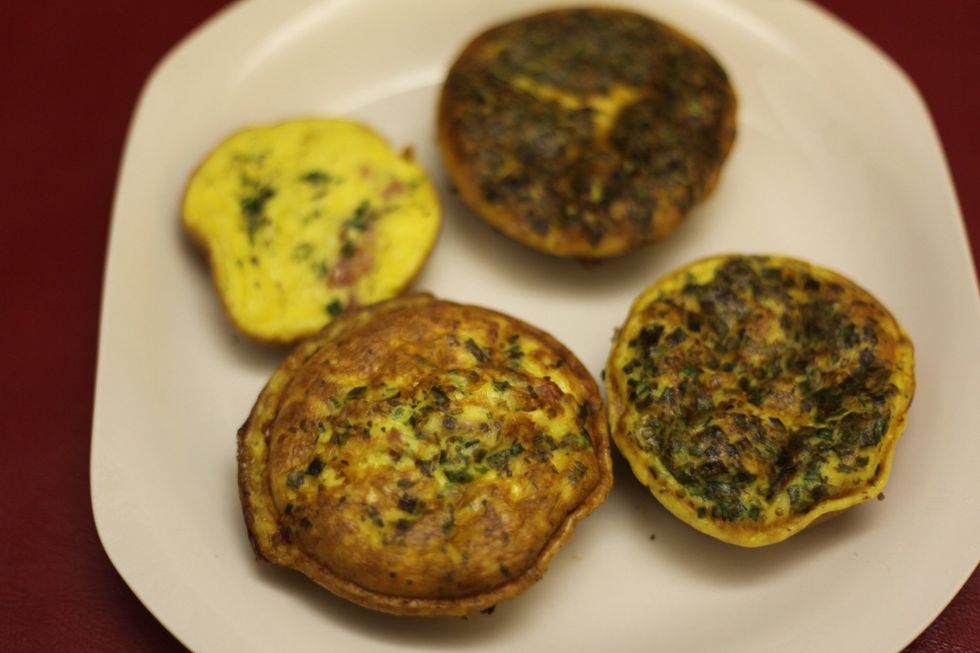 So this is what we're making today. Full of Italian flavour and so easy to make. It's a mix between a quiche and a pie. So to avoid confusion let's just call it an egg tart.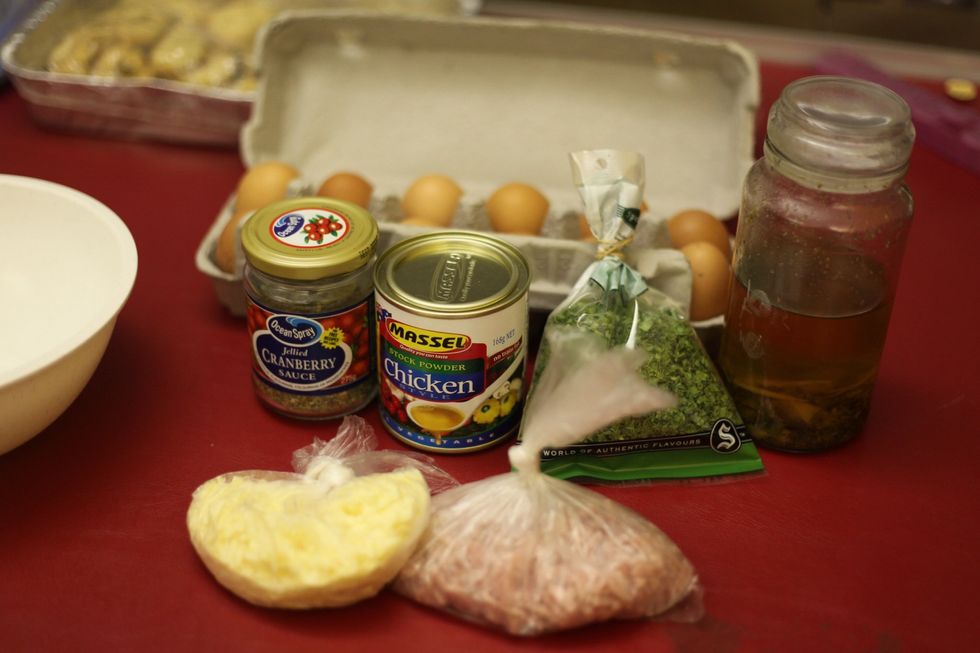 So these are the ingredients I used and some were left overs from previous nights' pizza etc and you might remember the chives from the dumplings. They're back for day 2.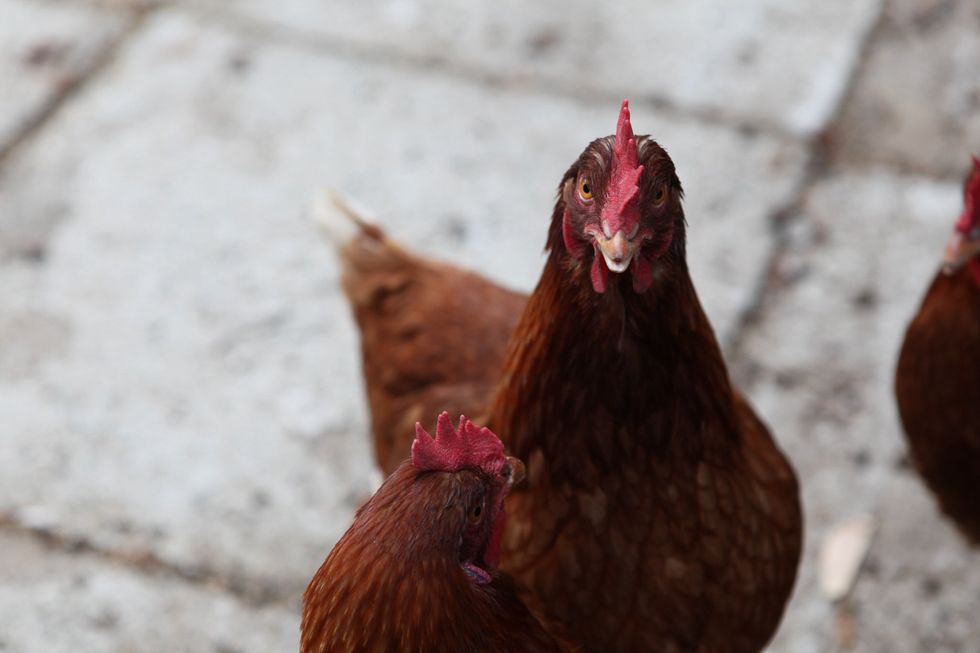 Did you miss me? 3 eggs coming right up.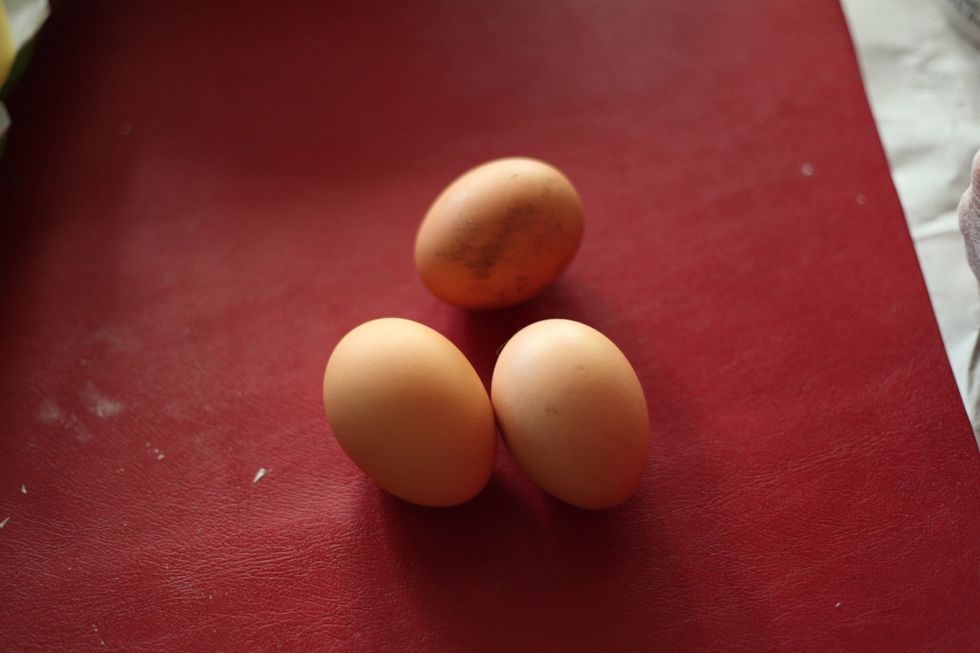 You need 3 eggs. In the supply list it states 4 but it depends on the size of your eggs and the filling size into the pie machine.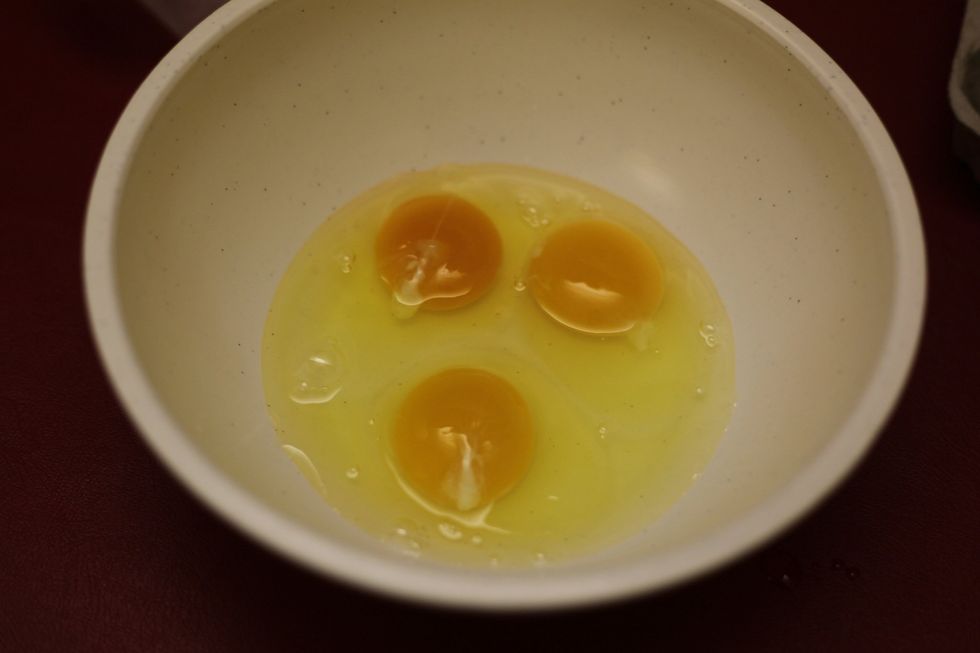 A fairly obvious step. Place the eggs into your mixing bowl.
Add 1 teaspoon of powdery goodness of your choice. I used chicken stock here.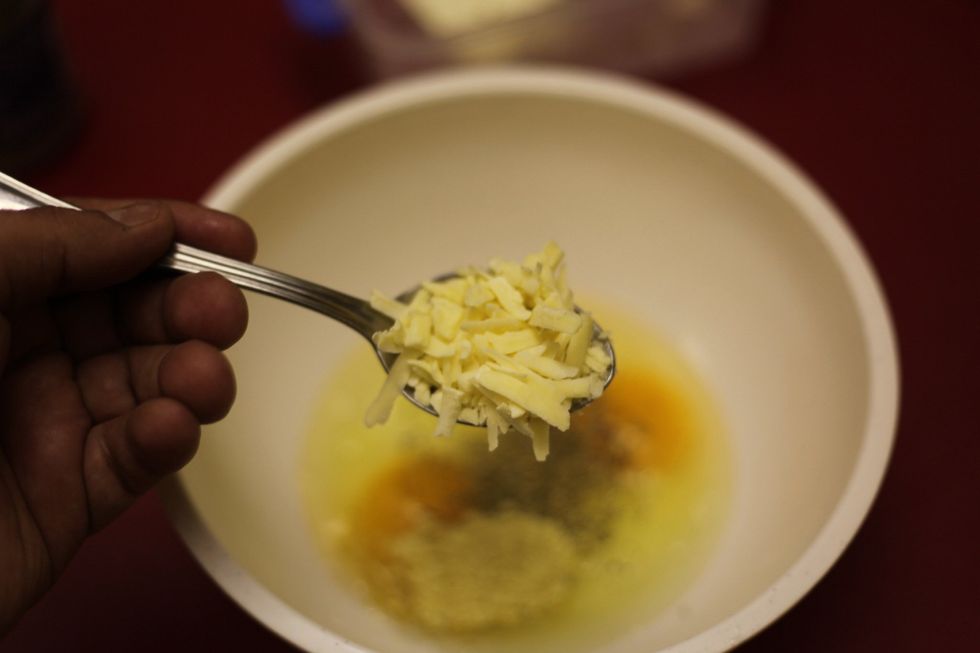 Add as much or as little of your processed block cheese. We are not responsible for cholesterol. Lol.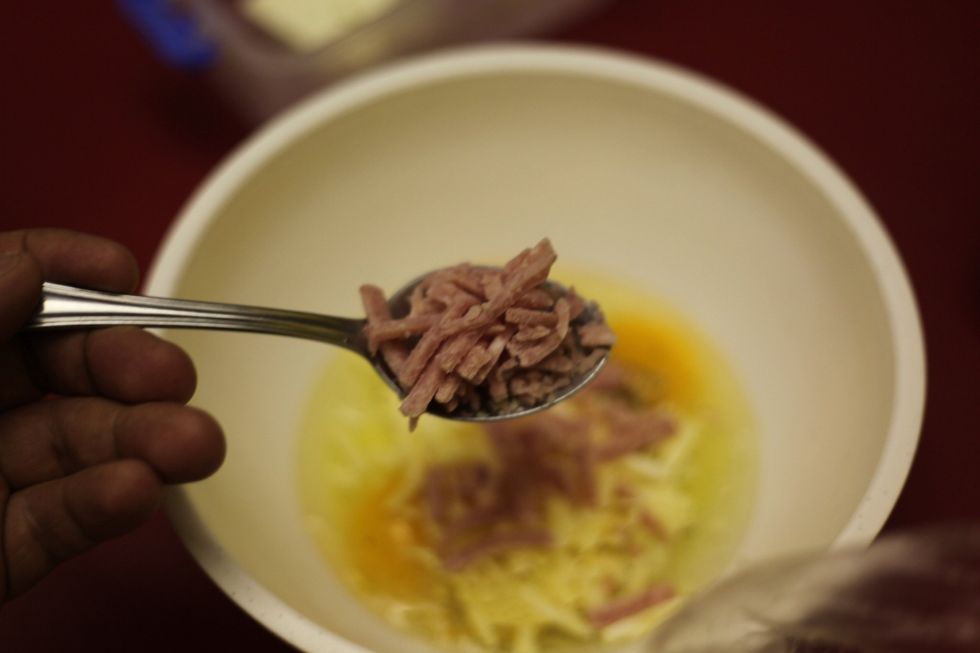 Love bacon? I do too but since there weren't any leftover bacon, the shredded leg ham will have to do. Psst secret tip: crispy fried bacon is 100 times better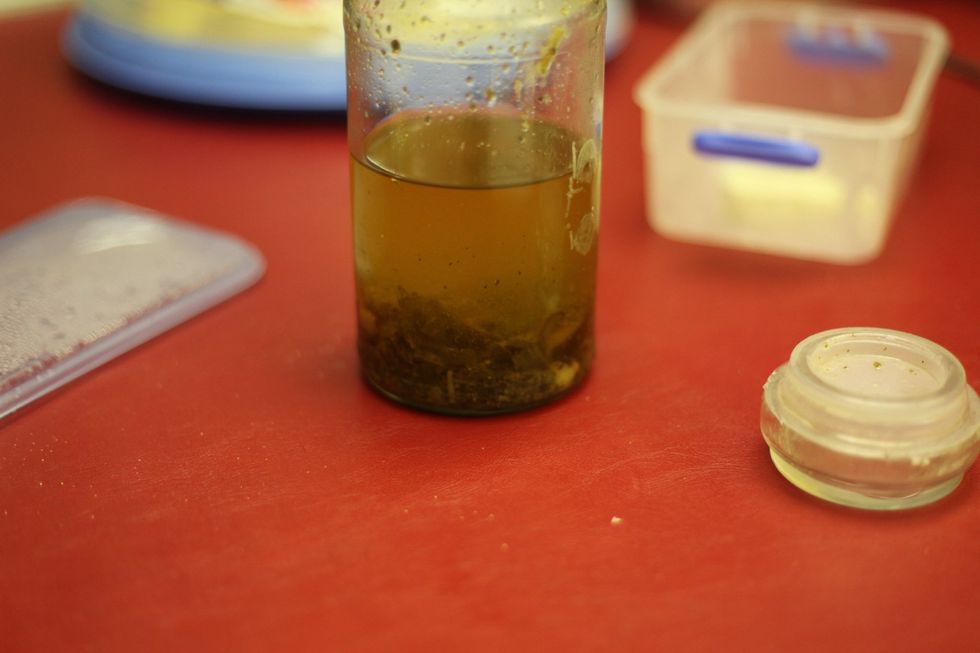 Well this is the olive oil I personally made, infused and left on a shelf for 4 months. For me it was experimental and it turned out divine. Recipe for olive oil infusion coming soon. Looks weird??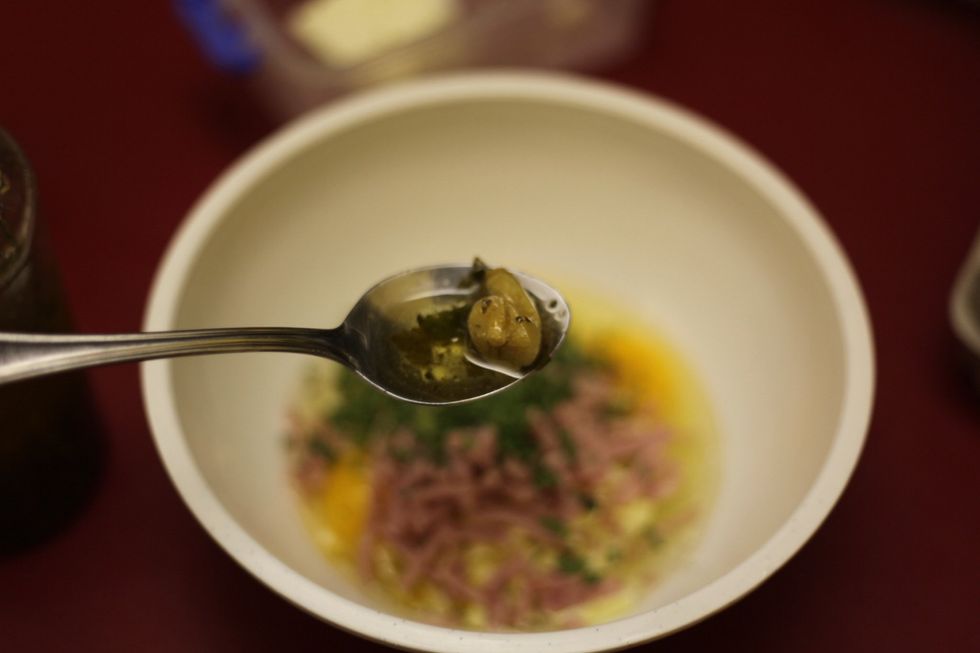 Well it's not that weird. It's just herbs, garlic, chilli, salt and fresh leaves from dads garden. But that's another guide altogether. Don't he afraid to experiment. Anyway add 1 spoon of olive oil.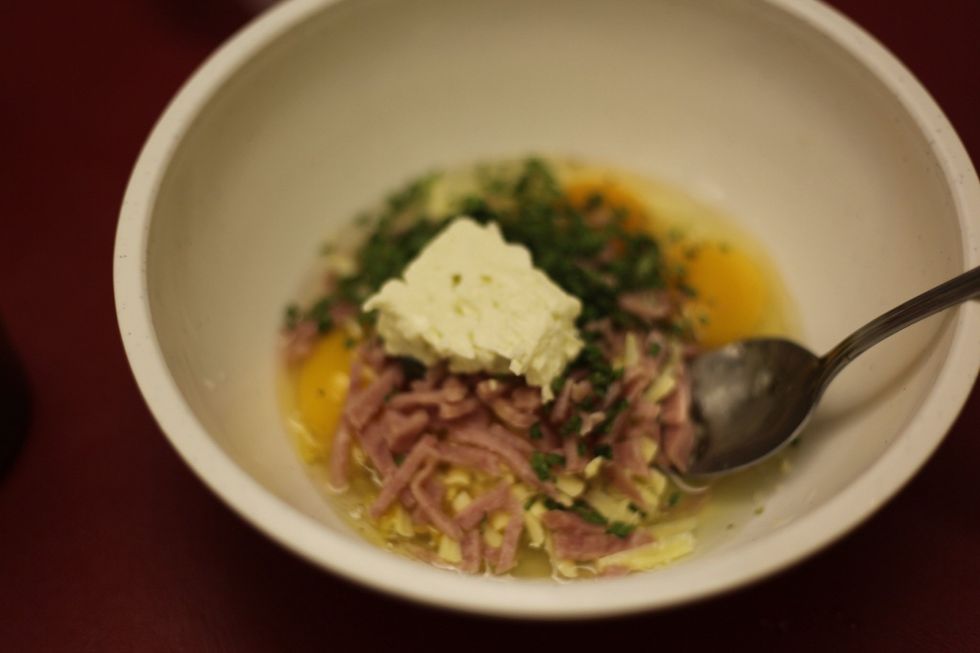 Add more cholesterol. Oops I mean goats fetta cheese. As much as you like.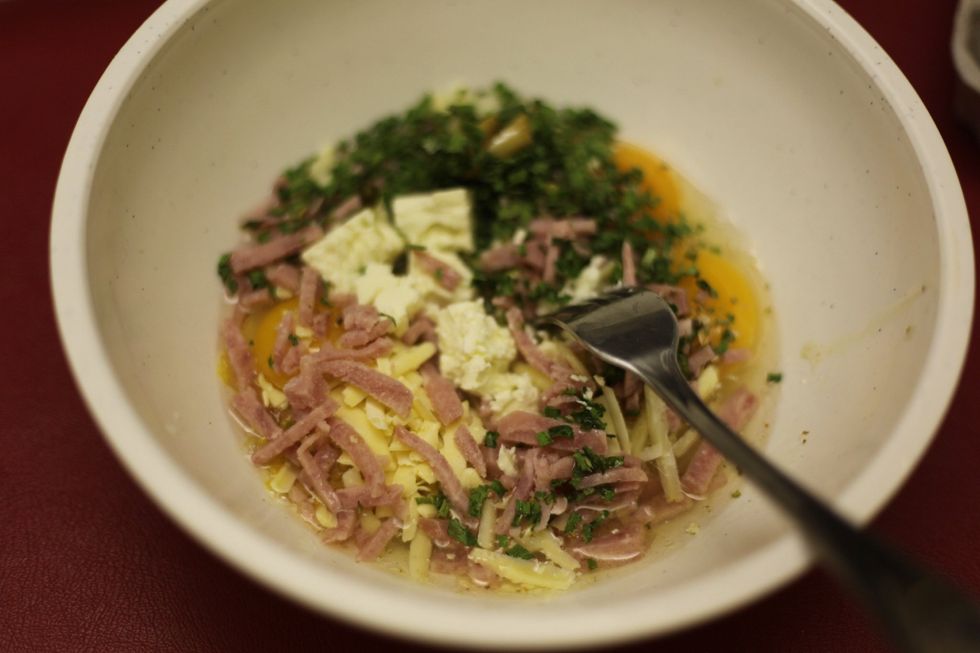 You know the deal! Wash your hands and mash it all up or be civilized and whisk with a fork or whisk lol. I prefer hands.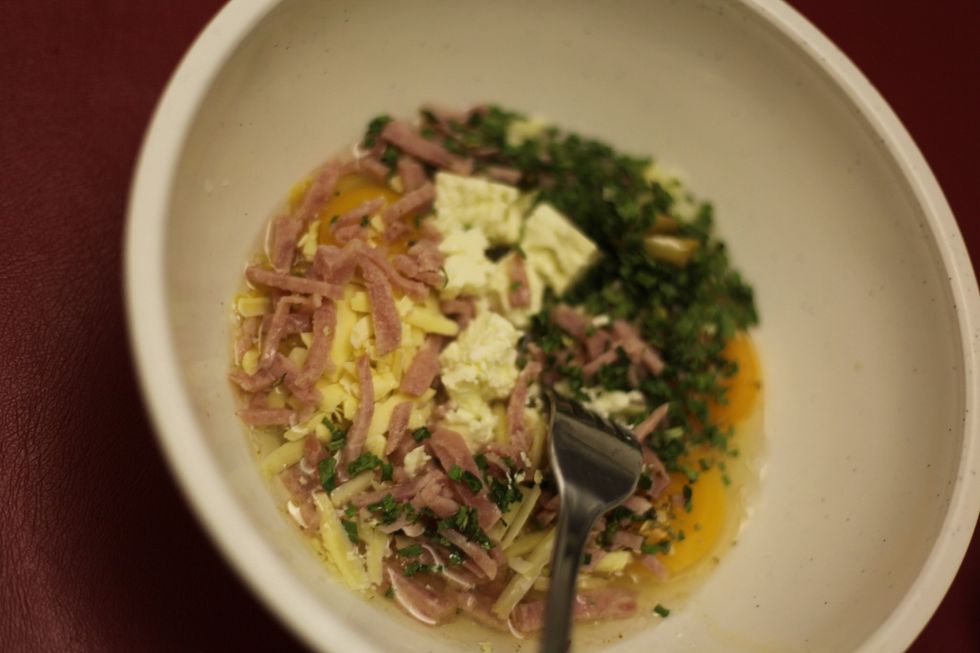 Ensure you've mixed all the eggs and cheese thoroughly.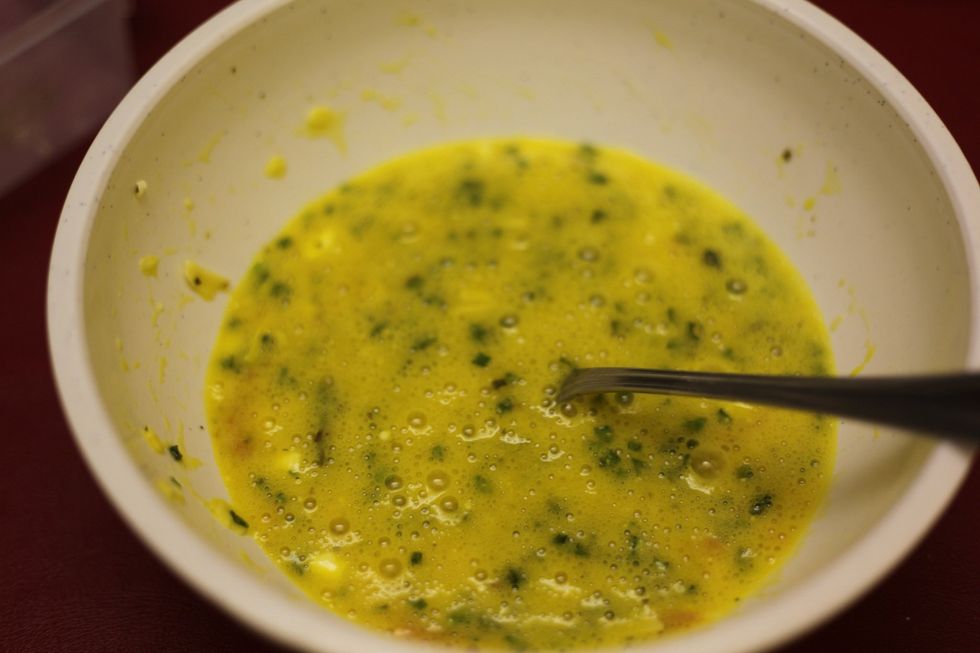 And this should be a smooth liquid golden colour.
Add the cream. Don't feel guilty now. The guilt should have set in a long time ago. But we only live once add 1/2 cup of cream.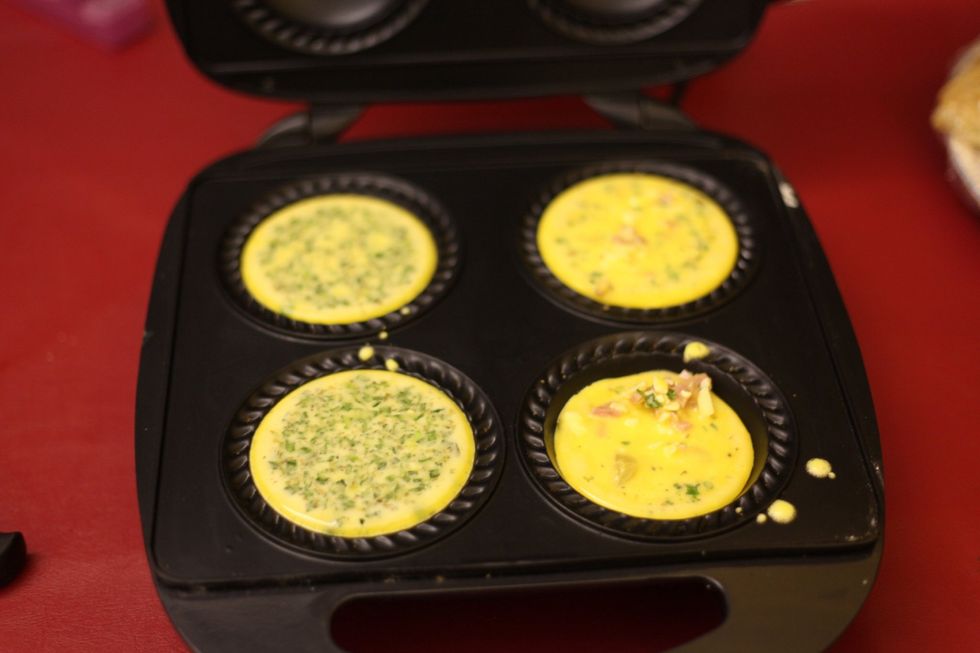 Poor the mixture into the magic pie maker or your muffin tin. It's all possible at my amateur kitchen. In an oven preheated. Bake for 12-15 minutes on 180 degrees Celsius. Until golden brown.
Completely uneven mess in my pie maker. Never mind. Try and get even filling. As long as it tastes good. I should have added that extra egg but this is about learning right?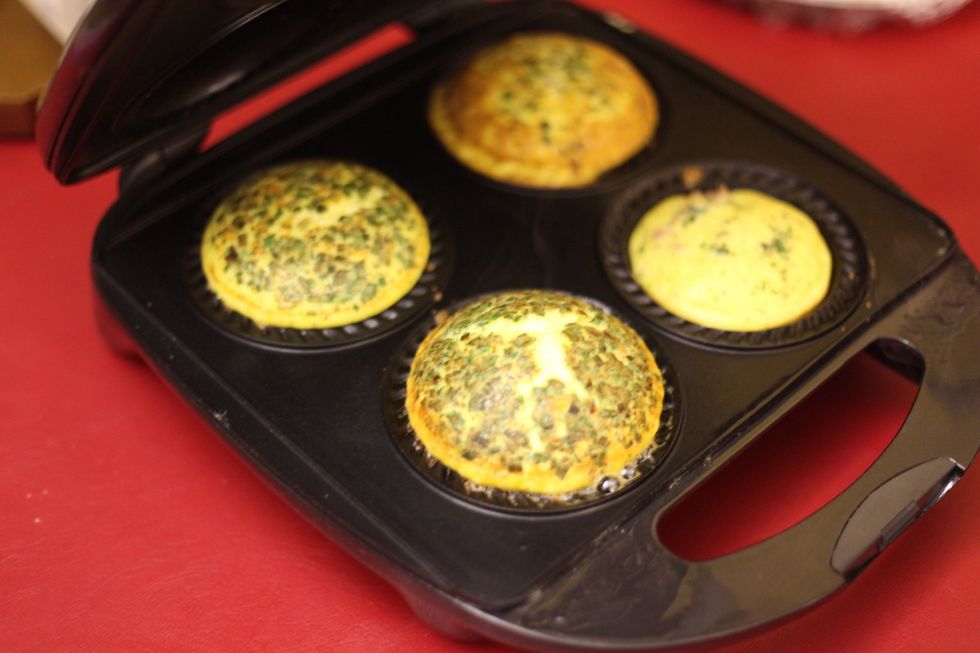 My psychotic chickens would be scared to see this!! Aren't they amazing? Done!!!!
As you can see I've avoided to take a pic of the back egg tart. Lol. There wasn't enough mixture but it cooked fine. The front 2 risen perfectly.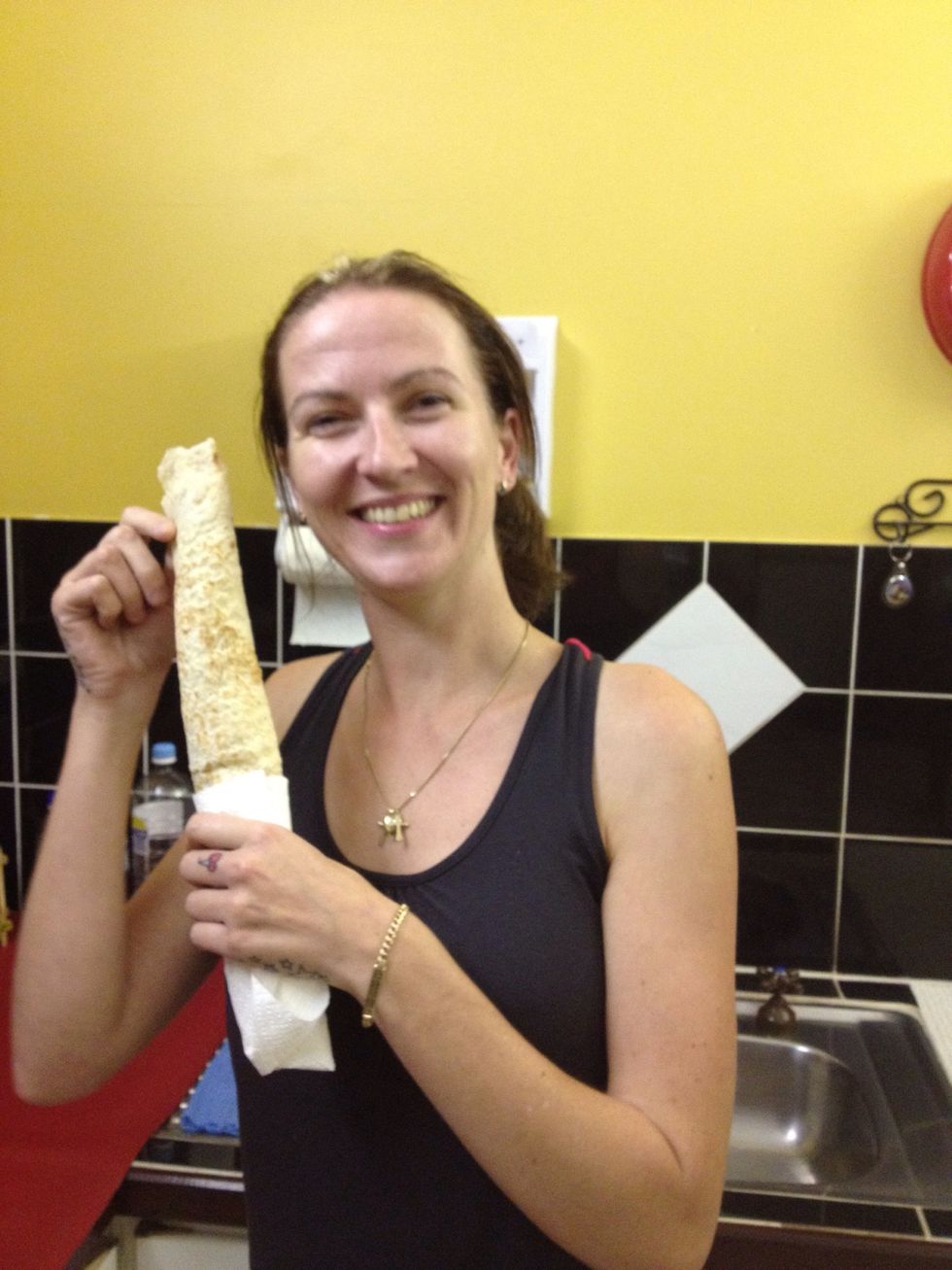 Cut up the egg in a home made Lebanese bread, roll it up and give it to your skinny best friend and Bon Apetit. This is best served with fresh tomato.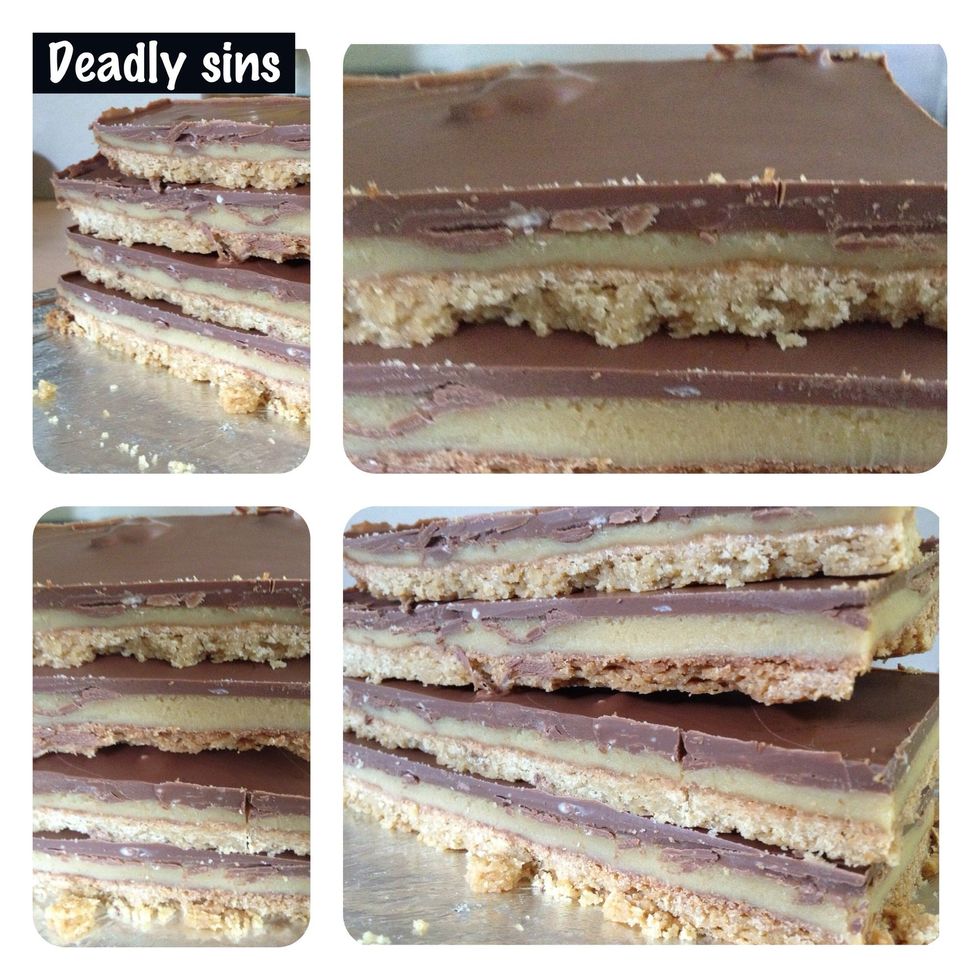 And start day dreaming about next weeks kaluha and pistachio caramel slice. Follow me for more love from my amateur kitchen.
Just a huge thanks to all my followers and new friends here. Look forward to more surprise dishes in the coming weeks. Have a pleasant weekend. Love from our amateur kitchen. Micho
4.0 Eggs
1.0tsp Stock powder chicken or beef
3.0Tbsp Block cheese shredded (your choice)
100.0g Fetta cheese
2.0Tbsp Home made olive oil
150.0g Shredded Ham or crispy bacon pieces
1.0Tbsp Dry or fresh chives
1.0Tbsp Mixed Italian herbs
1/4c Cream
Michel Daher
Micho here. Amateur experimental chef and lover of food. Thanks for all your support. Join my Food Journey www.naturallygoodfood.com