This isn't your reg burger recipe!!
67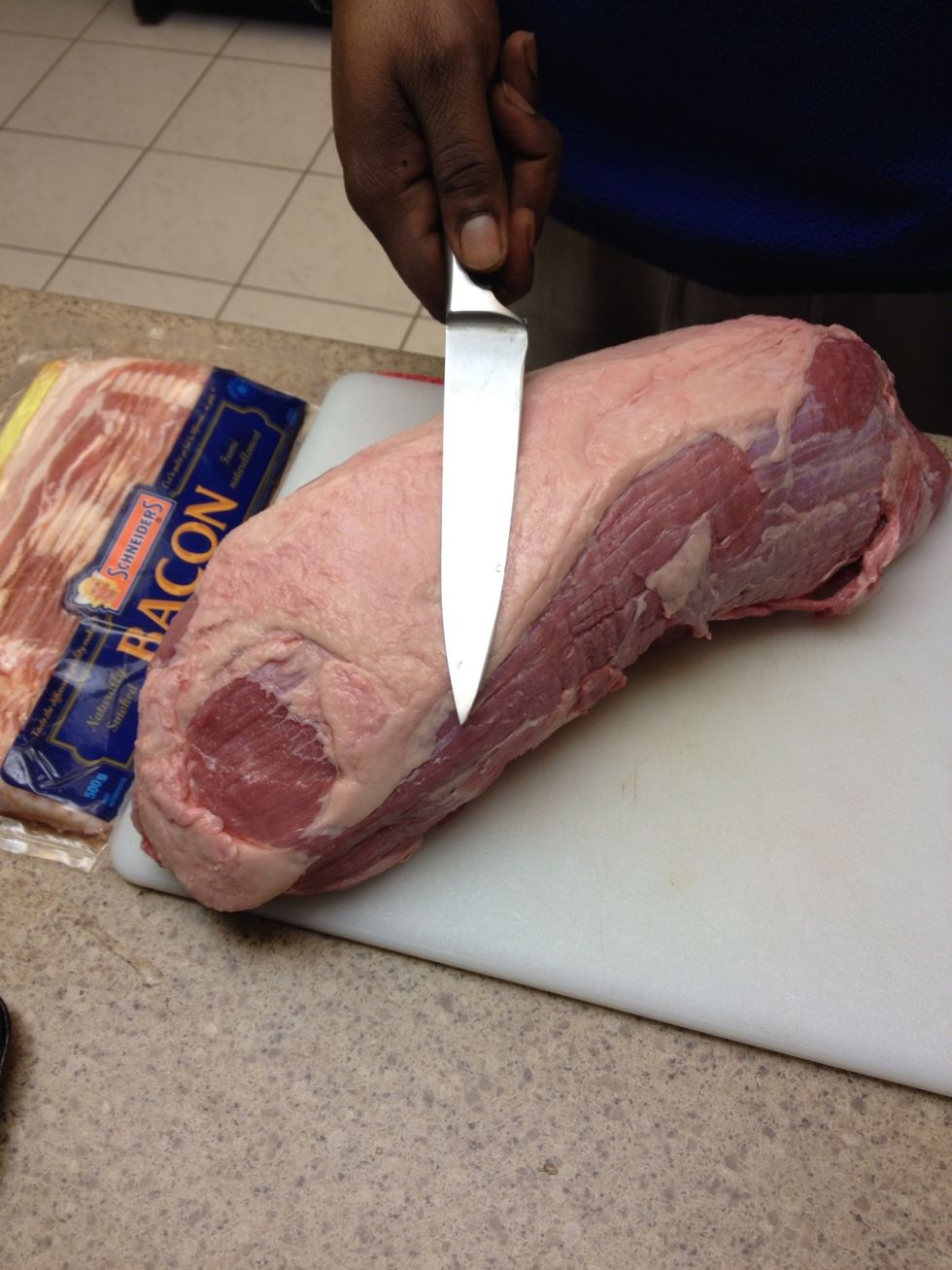 Wash and pat dry your beef roast. Cut off most of the fat and put it aside. Cut the roast in to smaller workable sections. I cut this one into four chunks.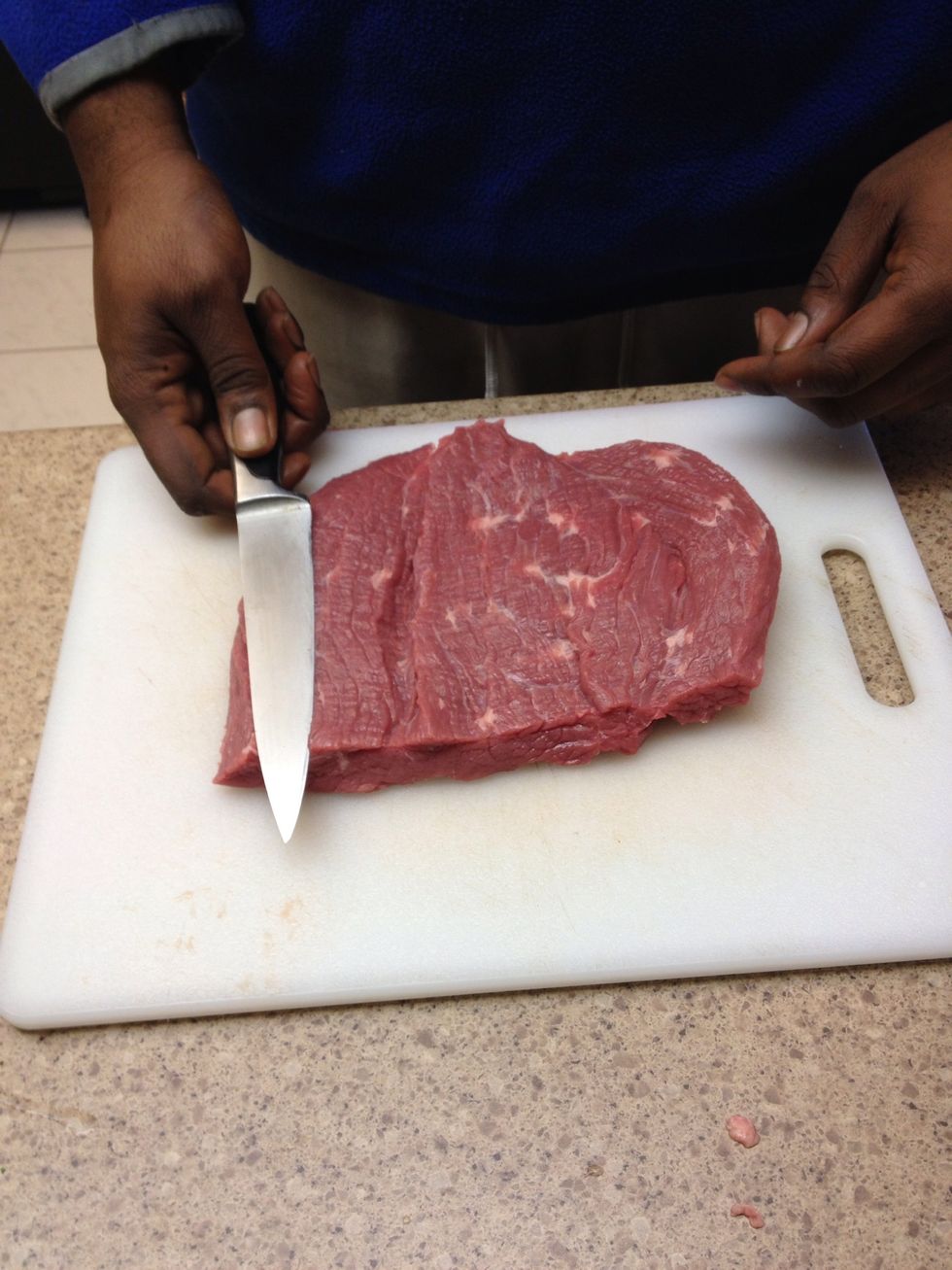 Cut open each chunk of meat into flat square portions.
Then cut beef into long strips. This is going to make it easier to grind.
I am using the grinder attachment for my kitchenaid stand mixer. *NOTE: if you try to grind the beef with the fat cap on, it might jam your grinder.
*NOTE cont: if u have a high power/industrial meat grinder you may be able to get away with out removing the fat.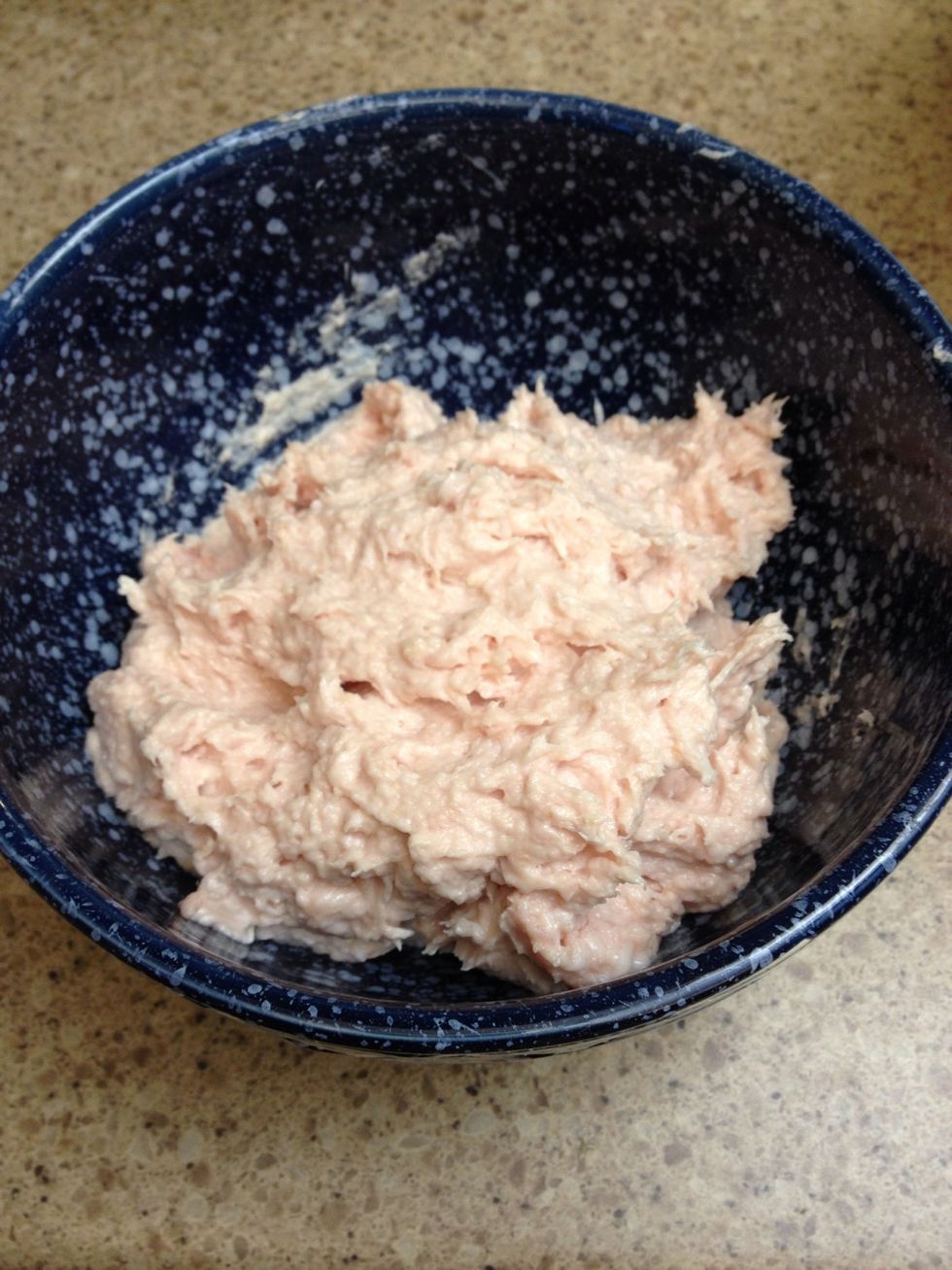 Take 3/4 of the package of bacon and add it to the food processor. Process the bacon until it is smooth and free of chunks or stringy prices of bacon. This will be worked into the beef later.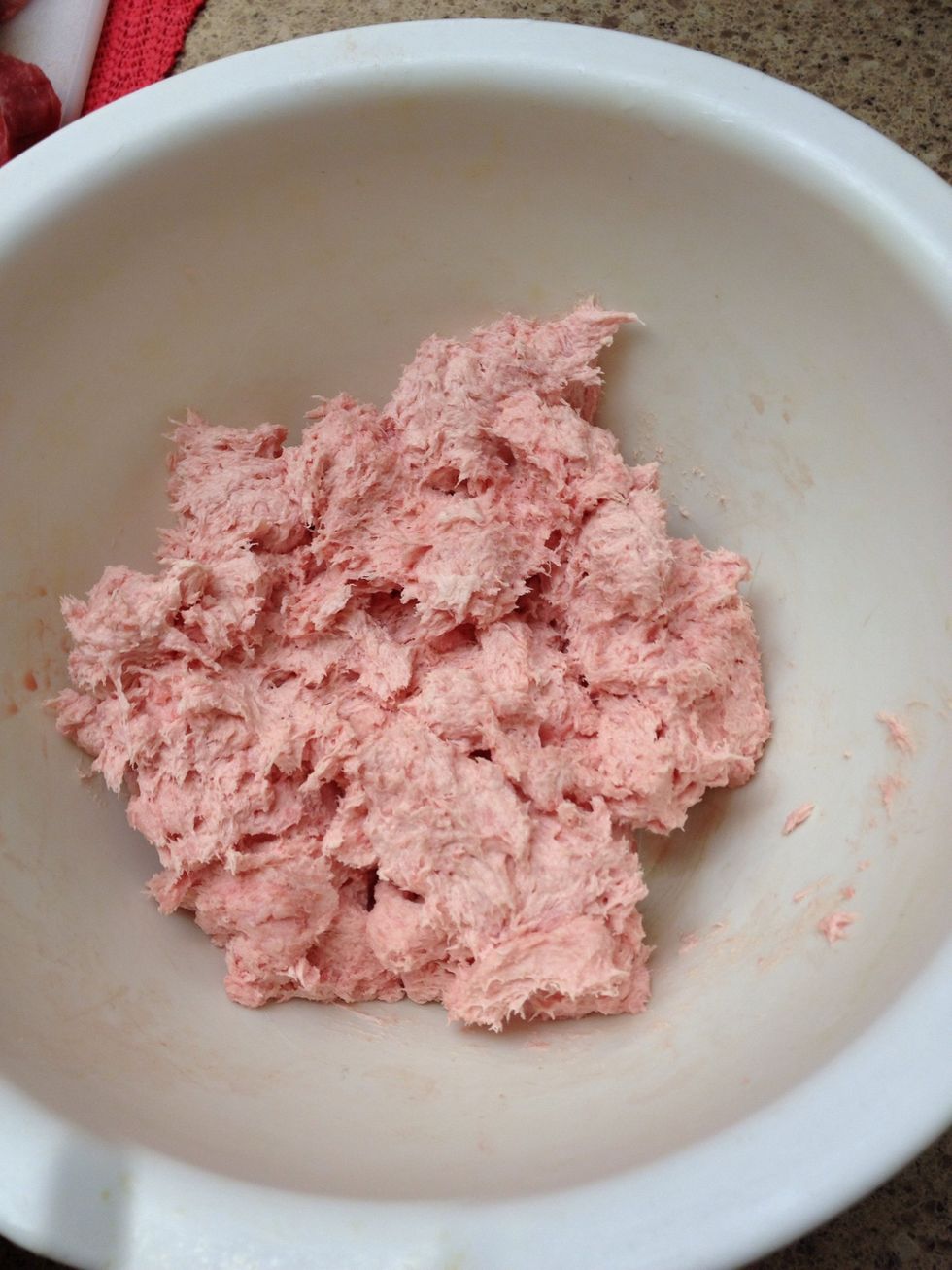 OPTIONAL: Grind the beef fat like you did the bacon. Make sure that it is very smooth and there are no chunks or stringy pieces.
NOTE: some of the fat on the beef wont break down during normal cooking time. This is why I puréed it until smooth. To keep the beef flavour while not worrying about the fat not breaking down.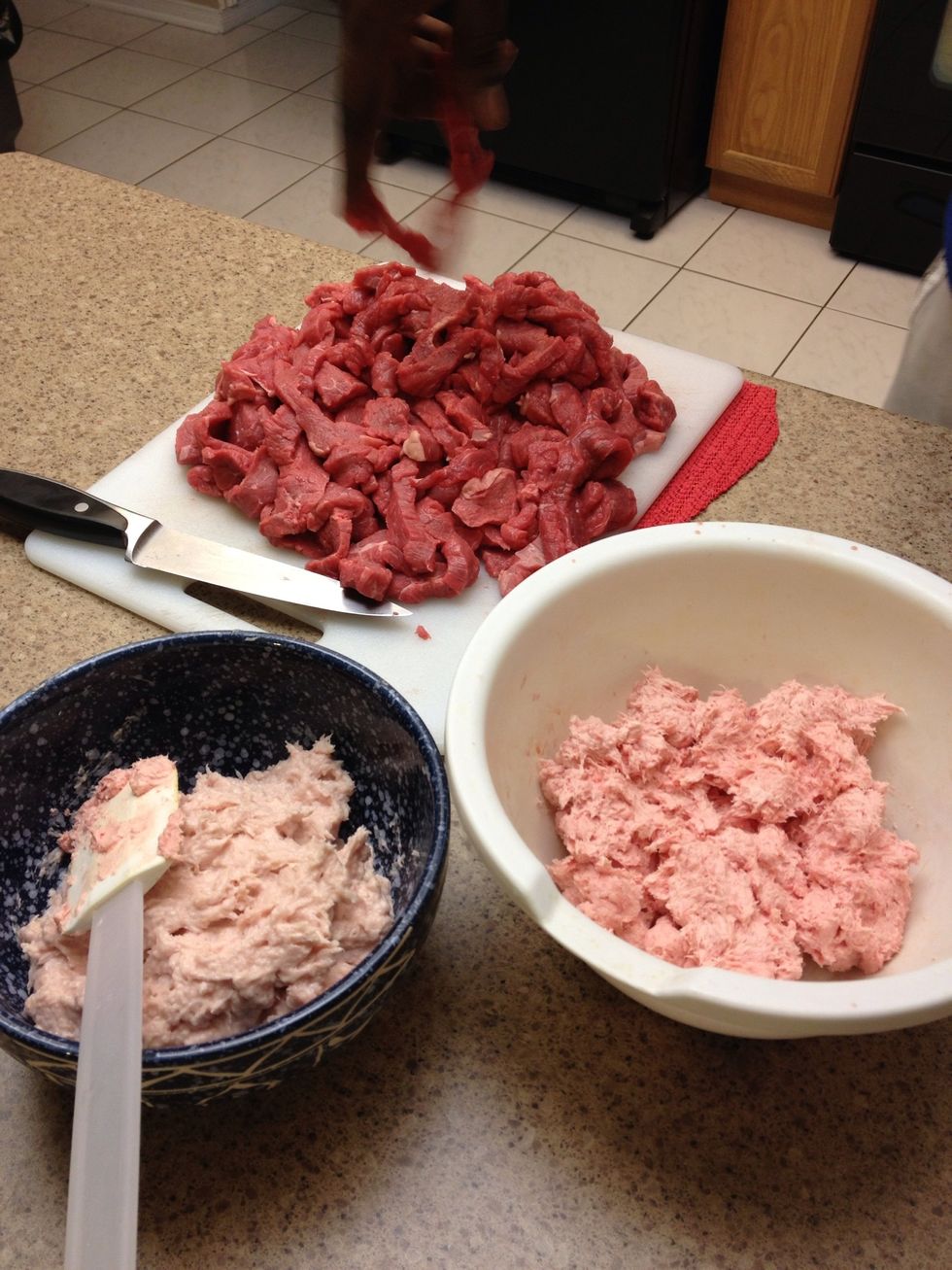 Here we have our bacon, beef fat and beef strips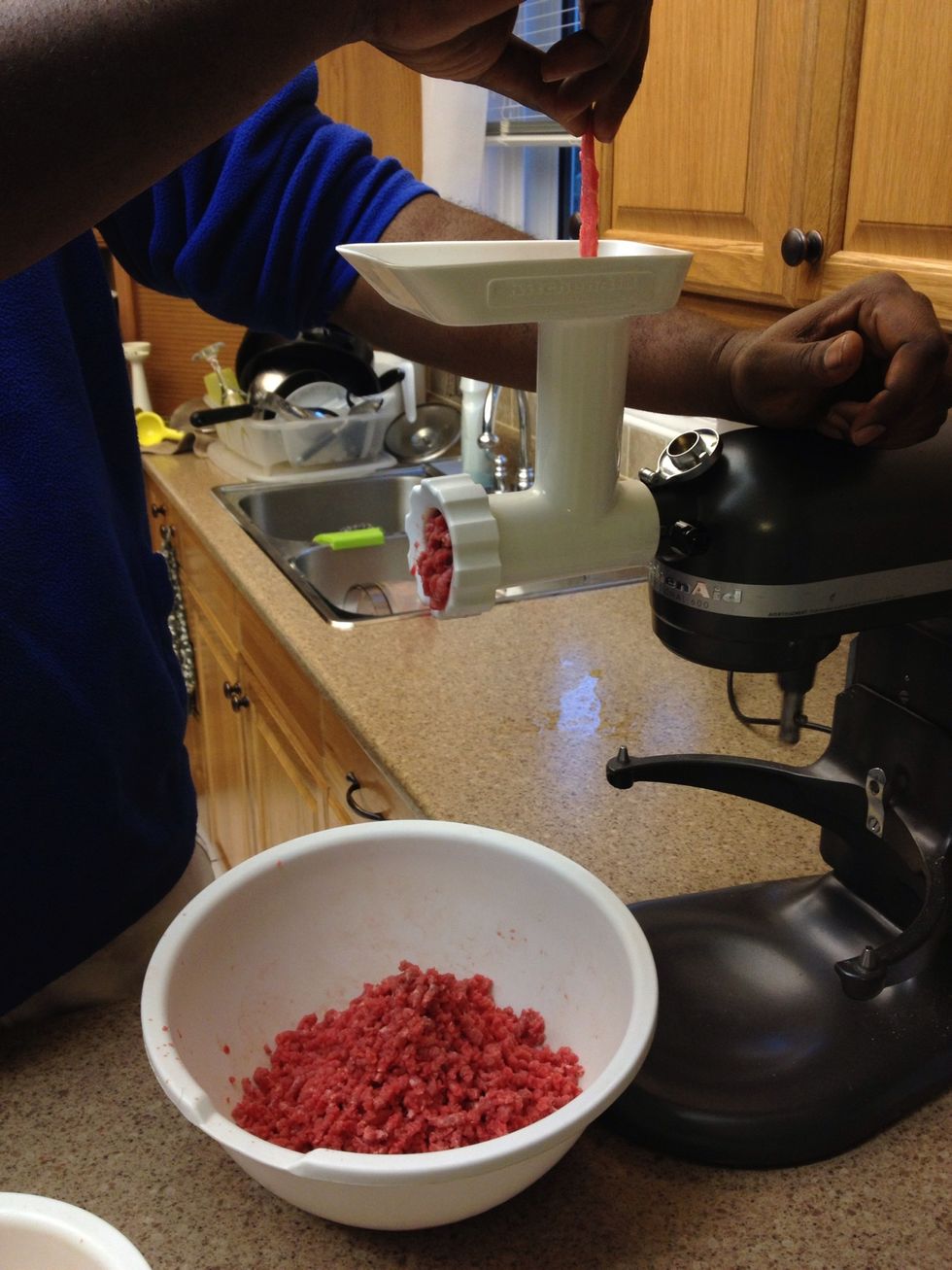 Place the beef strips in the grinder one at a time. This helps the grinder not get clogged. U can place some plastic wrap over the grinder spout to help keep the mess contained. Don't forget the bowl!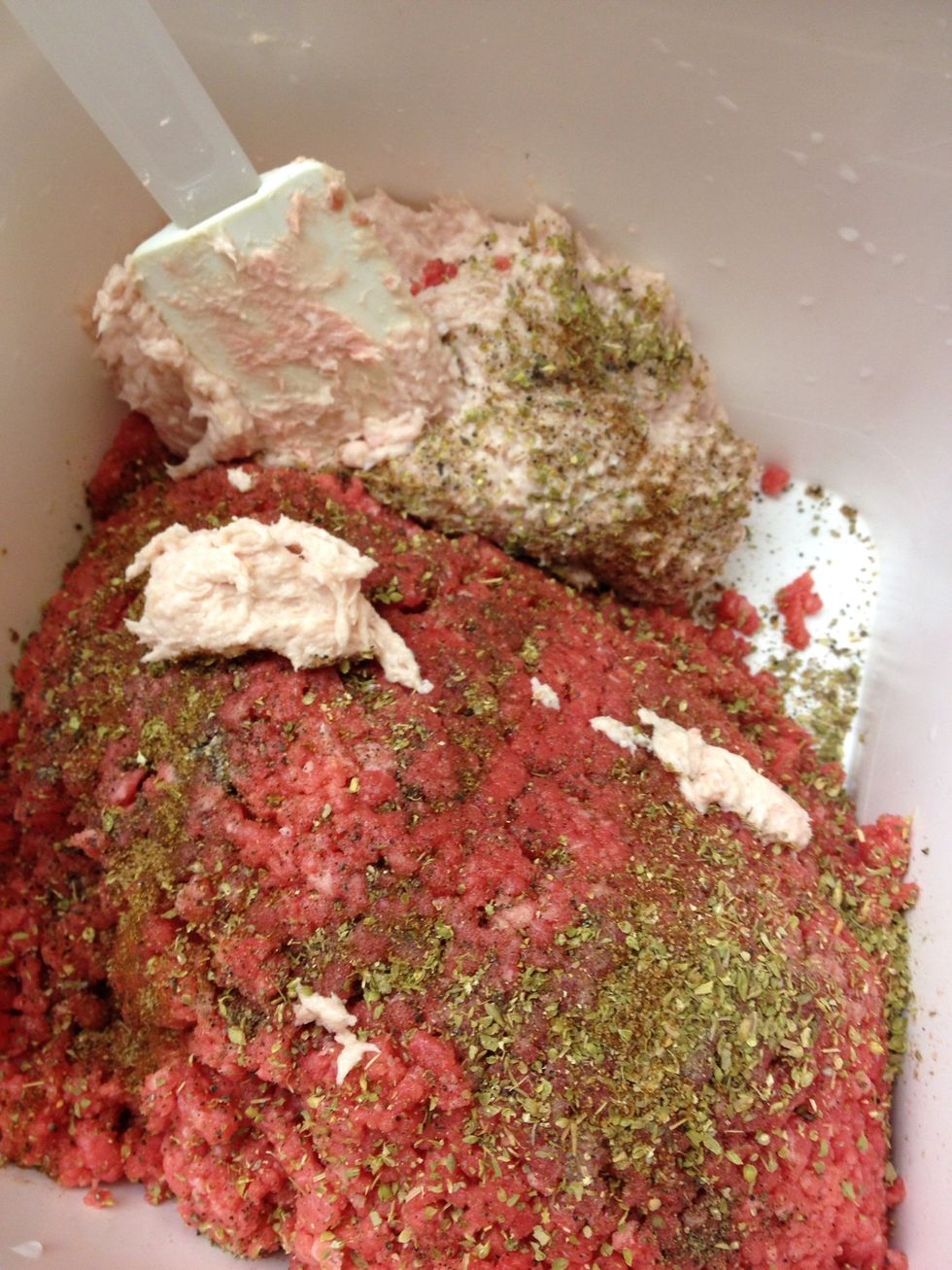 Add all your spices, bacon and beef fat to the ground beef, and mix thoroughly and evenly!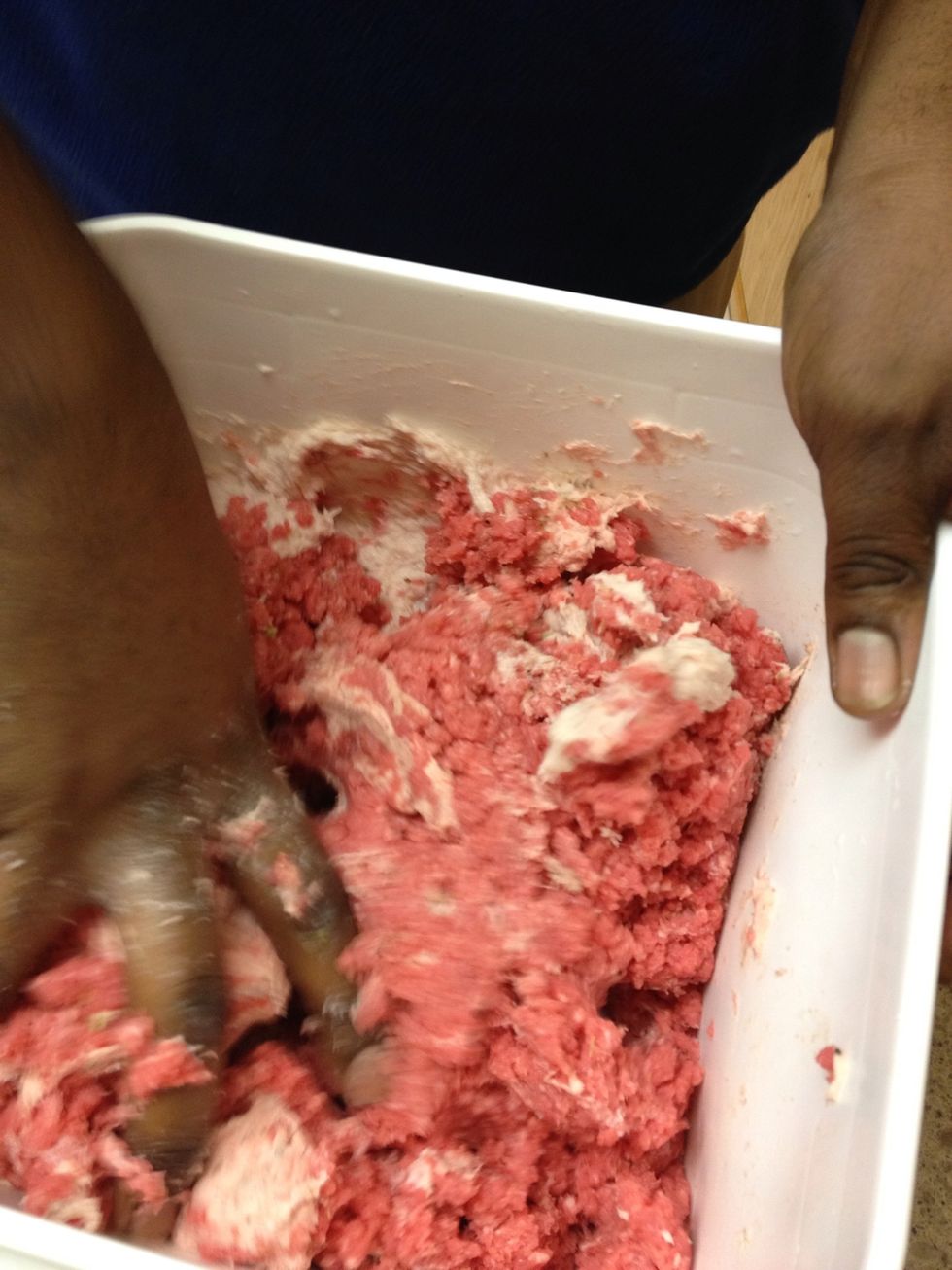 Mixing! Mixing! U can use gloves if you don't want to get your hands messy, or if you just got your nails did and want to keep them pretty!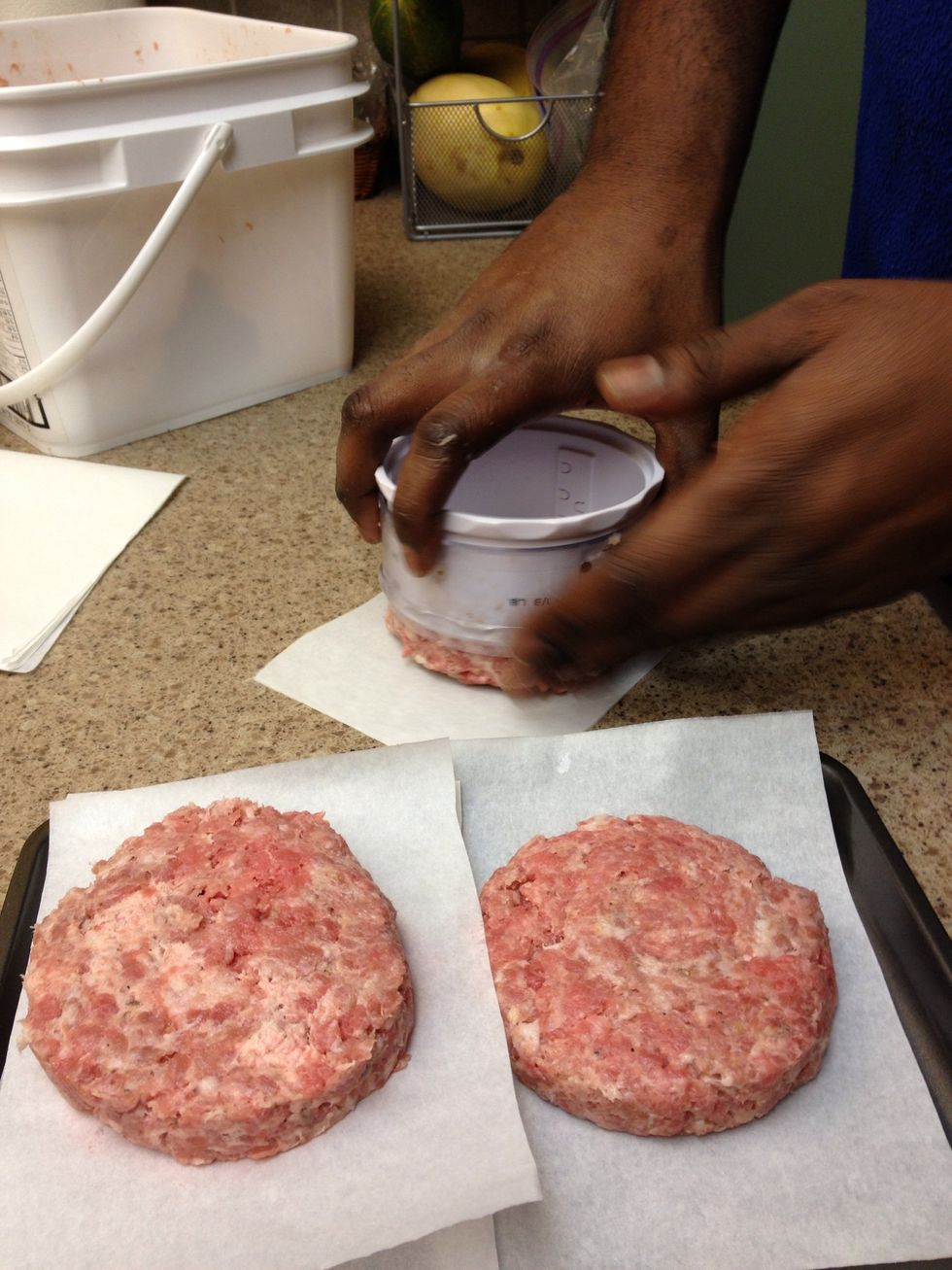 Now the fun part! Forming your burgers! I have a mini burger press that gives me the option of 1/2,1/4 and 3/4 lb patties. I'm a big guy, 1/2 lb it is!
If you don't have a press, form the meat into balls. Sandwich them in between two sheets of parchment paper and press down with a large can to make the burger patty.
After forming the burgers let them "set" in the fridge for about 15-20 mins at least before cooking.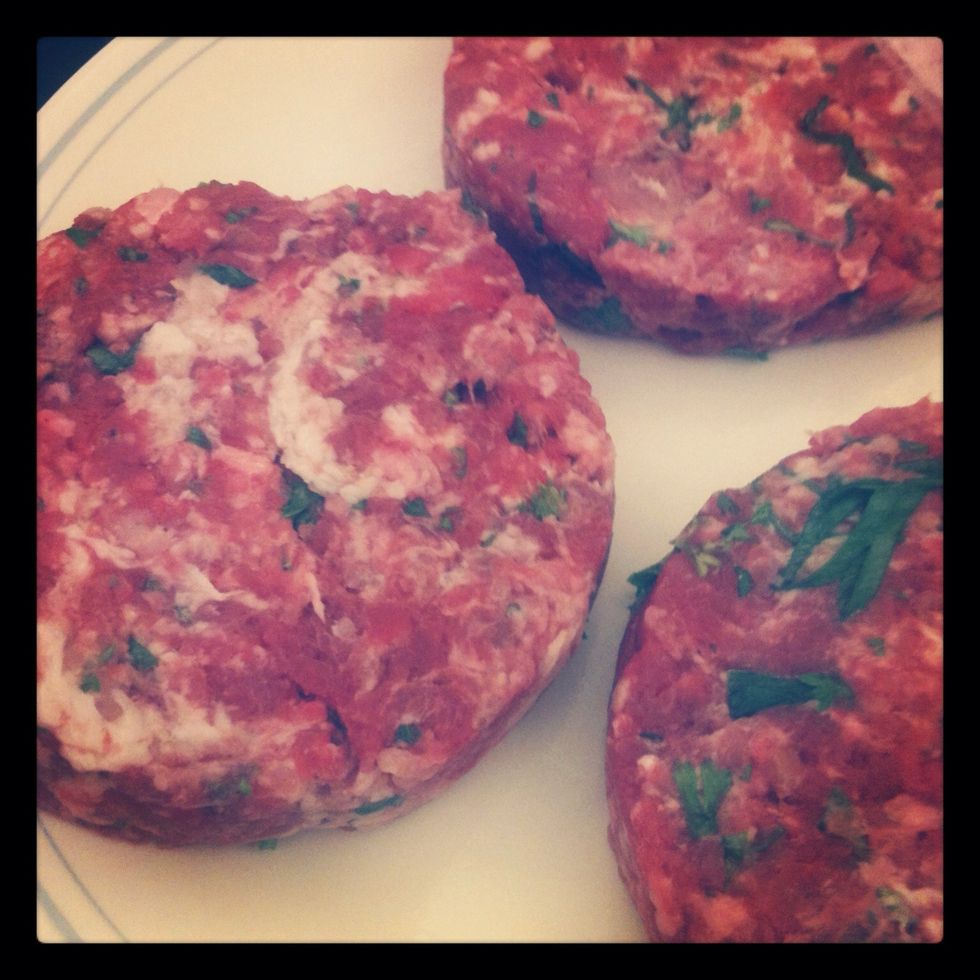 To store burgers, pack them by fours, with parchment paper in between. Use plastic wrap and completely cover them.
For freezing add a layer of foil over the plastic wrap. This will help against freezer burn.
You will notice I used no bread crumbs or eggs. No fillers. The eggs and bread crumbs are used to bind the burger, keep it from falling apart during cooking...
But if you have a high enough fat content ( ratio of fat to lean meat), you won't need binders. The fat will help the burgers "set", and keep the burgers from falling apart during cooking.
Burgers are one of those meals that will always be a fav of mine. For me it's not the speciality bun or crazy toppings that makes the burger. It's the patty. Hope you all enjoy these as much as me!!!!
Cutting board
Sharp Knife
Meat grinder
Food processor
Large bowl
1/2kg Eye of round beef roast
1.0 Pack of bacon
2.0Tbsp Fresh thyme
2.0Tbsp Dried Oregano
2.0Tbsp Garlic Powder
1.0tsp Salt
1.0tsp Ground black pepper
2.0tsp Montreal steak spice