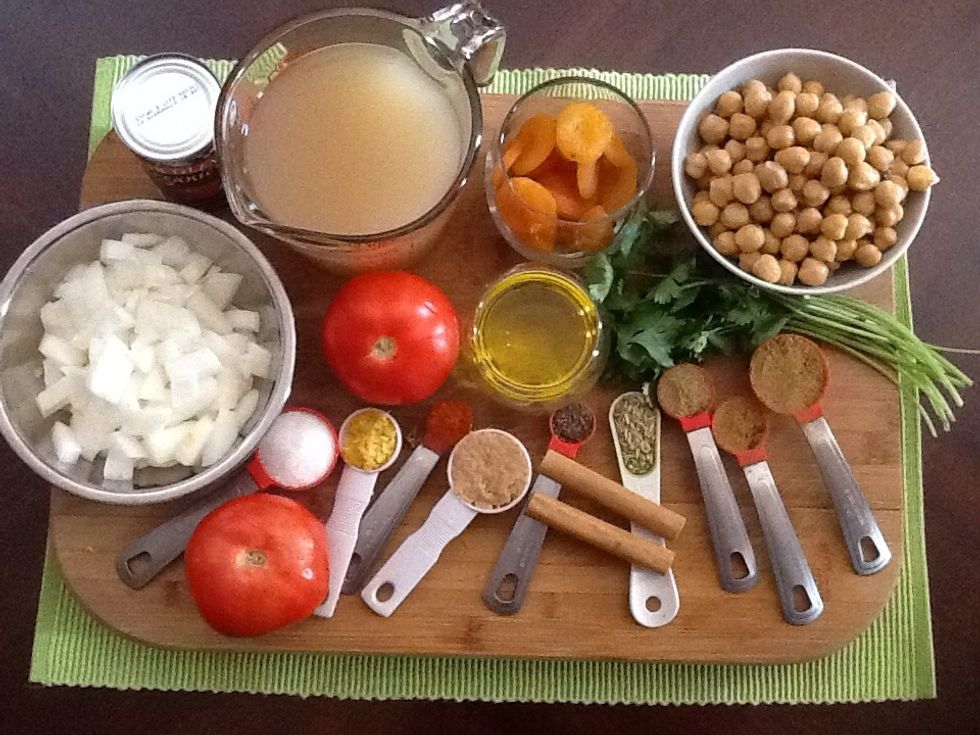 First assemble all the ingredients. There is quite a lot.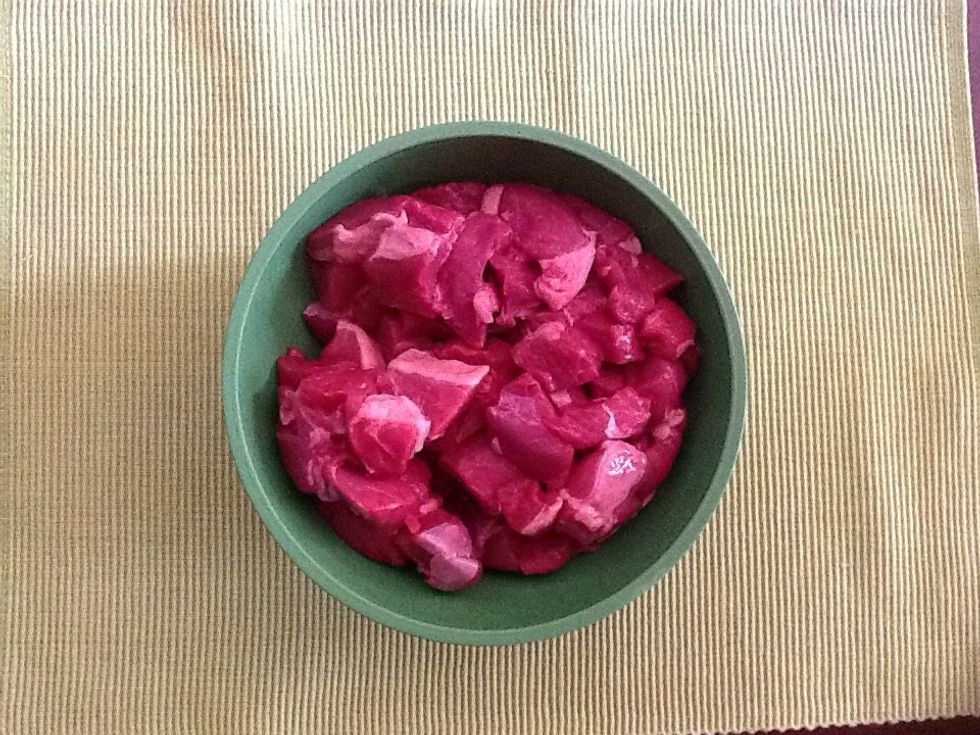 Cut the lamb. If you wash it make sure you pat it dry afterwards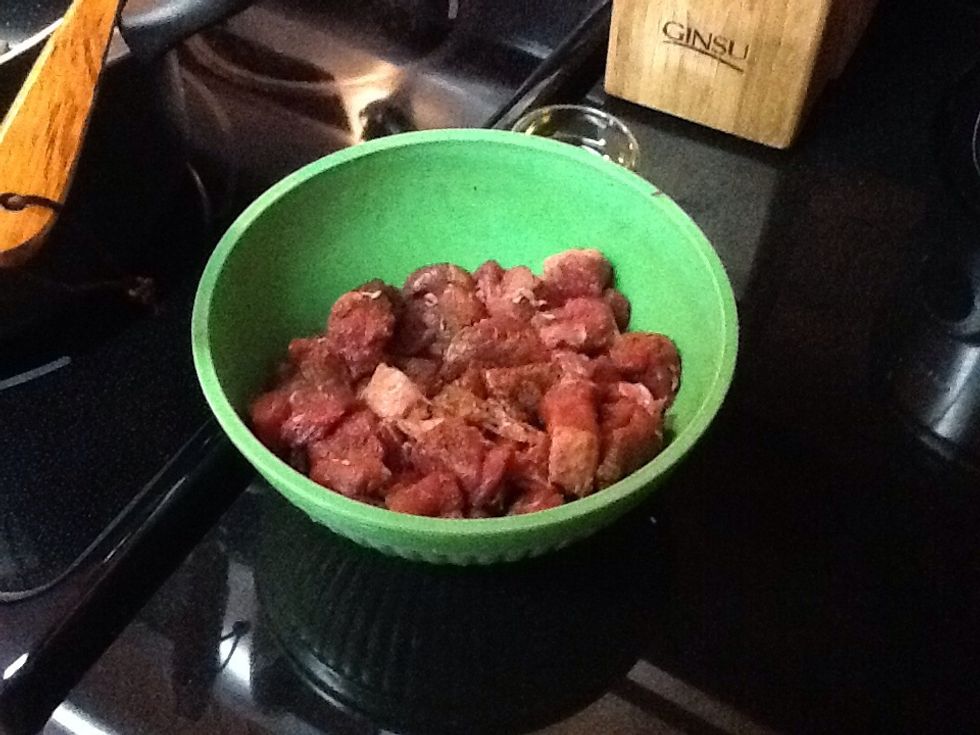 Mix the first six ingredients together with the lamb. Let it sit for 30 minutes if you wish to marinate it really well. It certainly makes it better.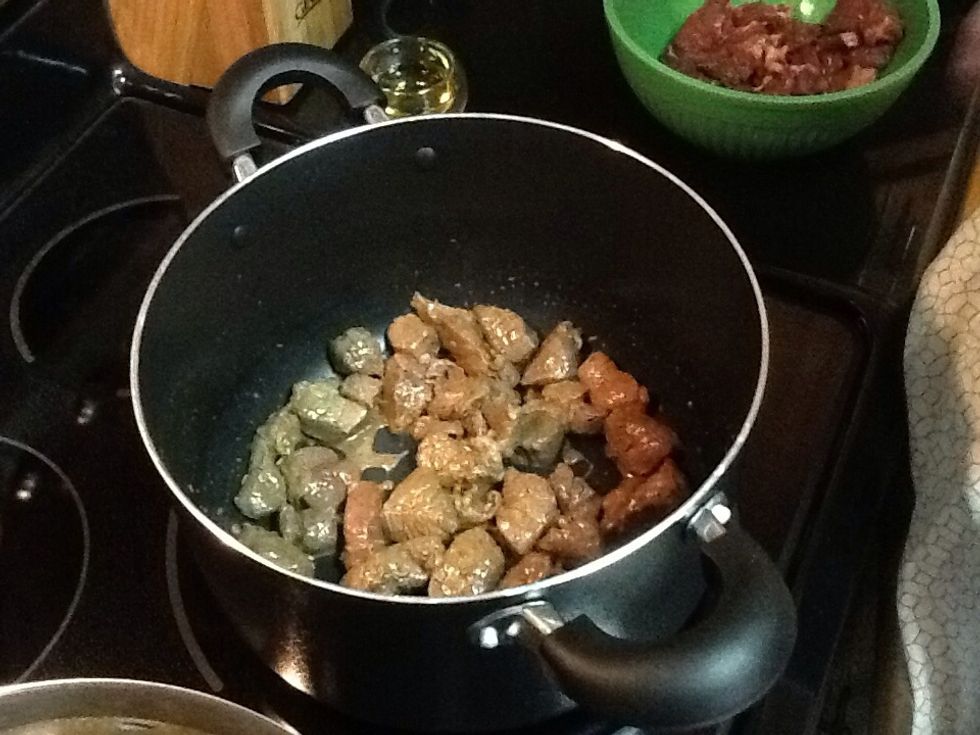 Heat 1 tablespoon of oil. Working in small batches fry the lamb pieces on medium high heat. Make sure the oil is hot before you start.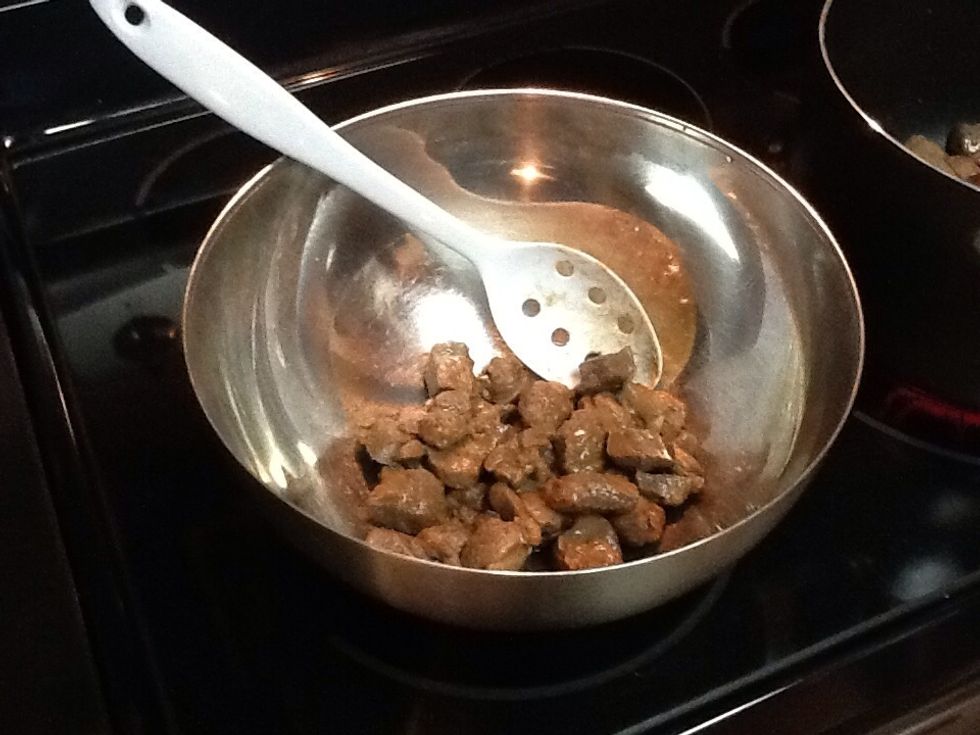 Transfer the fried lamb into a separate bowl for use later. We fried in 5 batches.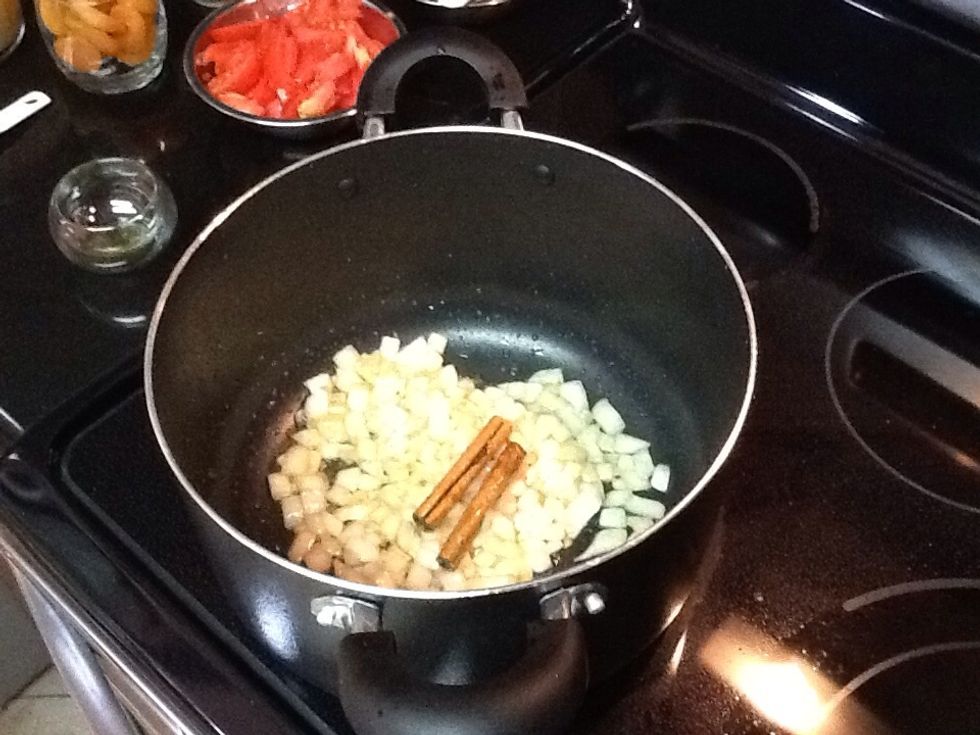 Add 2 tablespoons of oil, heat and then add the onions, Ceylon cinnamon sticks and ginger and sauté for 5 minutes or until the onions are soft.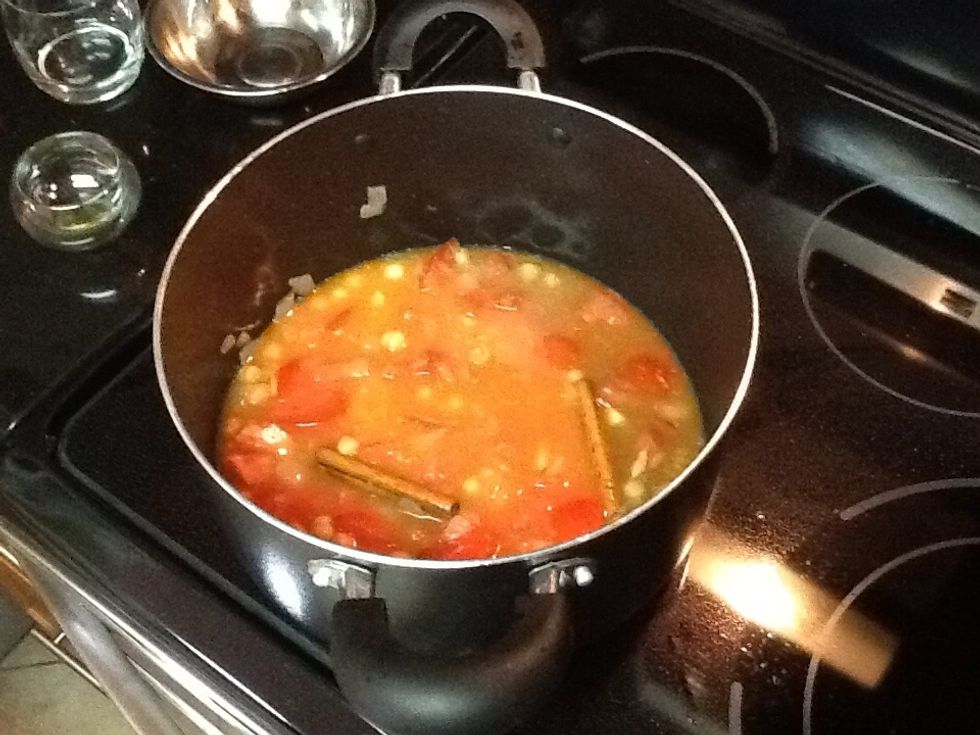 Add the tomato paste, garbanzo beans, chicken broth, grated lemon peel. dried Apricots, fresh chopped tomatoes and bring to a boil. This takes about 7 minutes.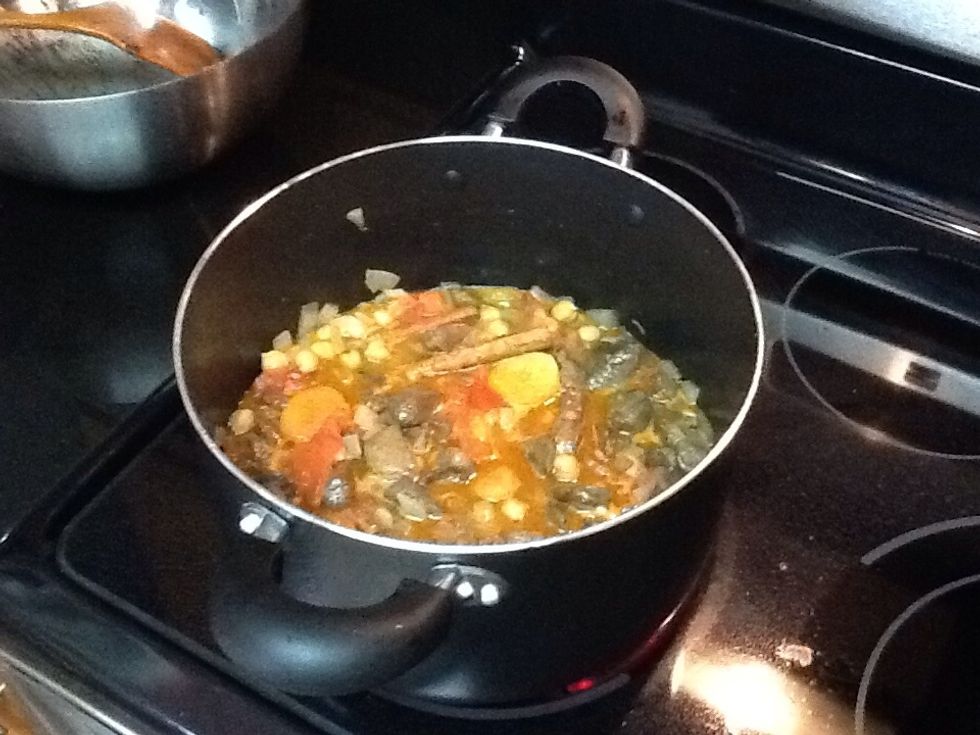 Once the broth starts bubbling add the fried lamb, cover with a lid and cook for one hour. Stir occasionally and add half a cup of water if you want more gravy in the dish.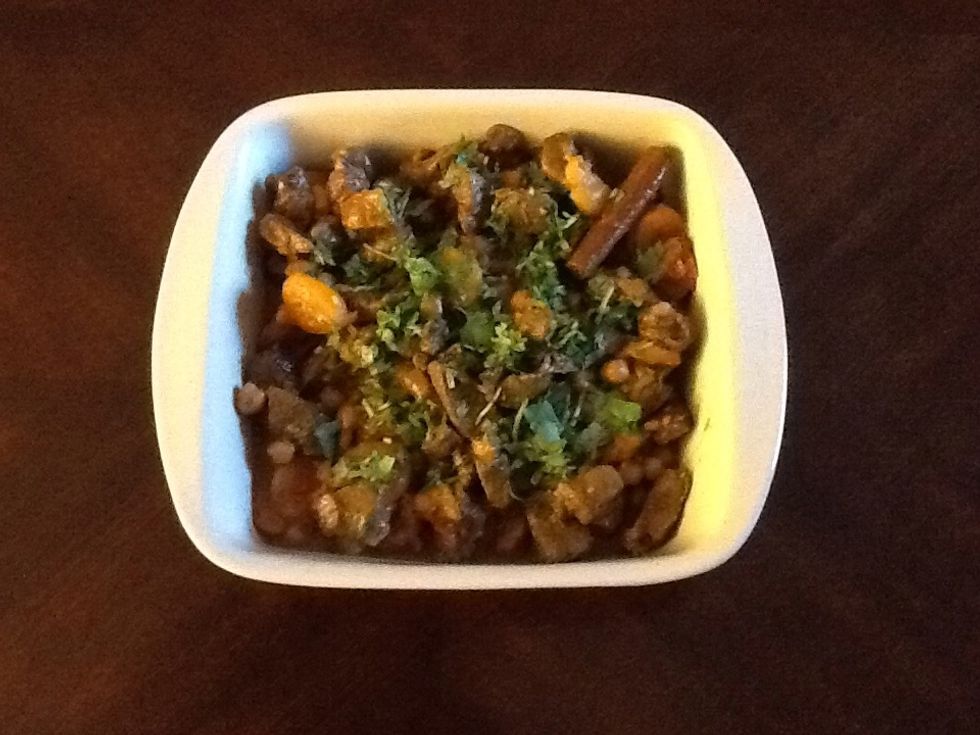 Transfer to a dish and serve with rice or bread. This thing is out of the World. Make you use Ceylon Cinnamon and not the cheap Cassia Cinnamon. The flavor and taste is exotic and mouth watering.
2.5 lbs lamb leg cut into 1 inch square pieces
1 Tablespoon ground cumin
2 teaspoons ground coriander
1.5 teaspoons salt
1 teaspoon fennel seeds
1/2 teaspoon cayenne pepper
1/2 teaspoon ground black pepper
4 tablespoons olive oil
1 large finely chopped onion
1 tablespoon tomato paste
2 cups low salt chicken broth
15 oz garbanzo beans
1 cup (5oz) dried Apricots
2 fresh ripe tomatoes chopped
2 Ceylon cinnamon sticks (not cassia cinnamon)
1tablespoon minced ginger
1/2 teaspoon grated lemon peel
2-3 tablespoons chopped fresh Cilantro
Cinnamon Vogue
The taste and health of Ceylon Cinnamon. http://www.cinnamonvogue.com, http://cinnamonvogue.com/blog/