Make Mini Cover Using G45's Voyage Beneath the Sea
15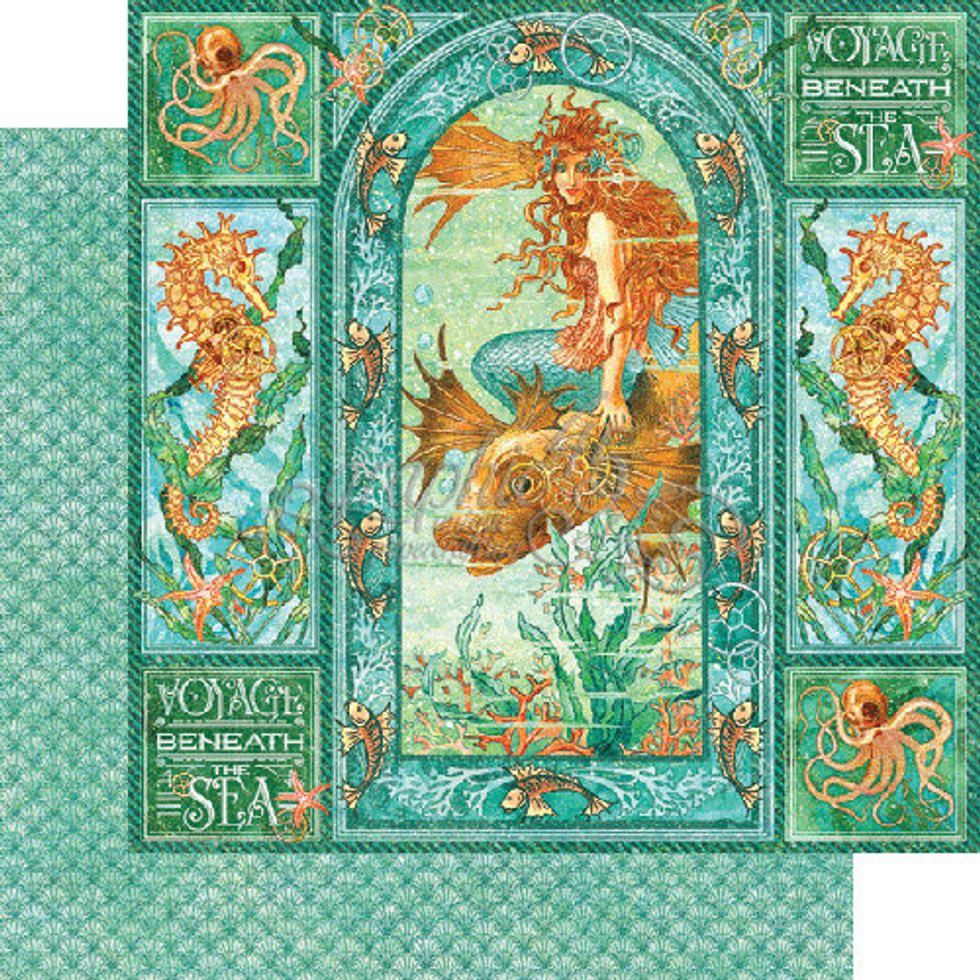 To prepare, begin with the 8x8 sheet of Voyage Beneath the Sea. Fussy cut the arch & mermaid, the left facing seahorse, & the starfish. See steps 11 & 12 to see exactly what I fussy cut.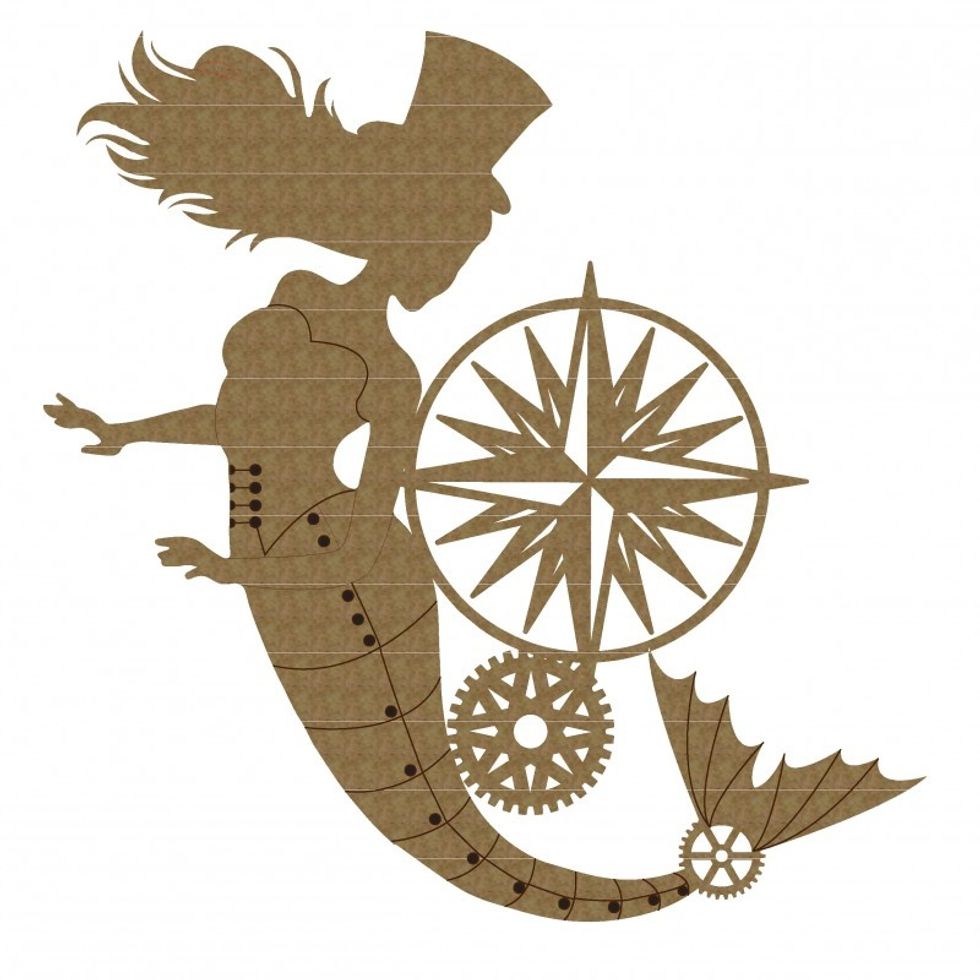 Now let's color the mermaid. Paint her arms, neck area & face with flesh colored paint. Paint Frosty Forest Green mist on her body. Paint liquid embossing ink onto the compass & gears. Con't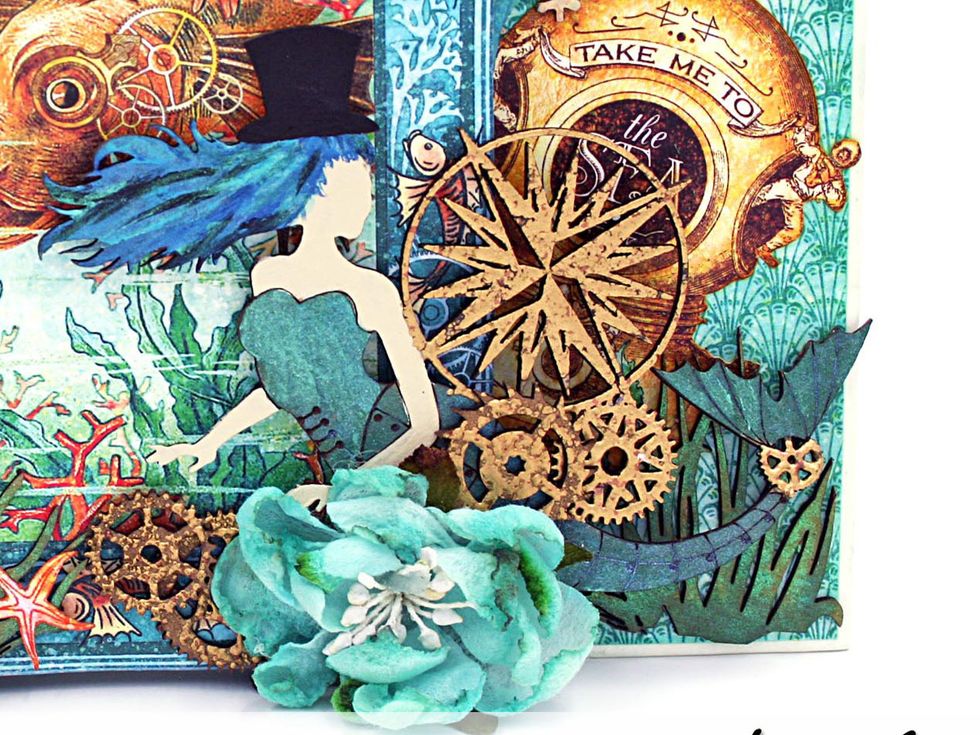 Sprinkle the gears & compass with aged gold embossing enamel & heat emboss. Paint her hat black. For the hair paint on streaks with black paint & Silks in African Jade, Bolivian blue, & Teal Zircon.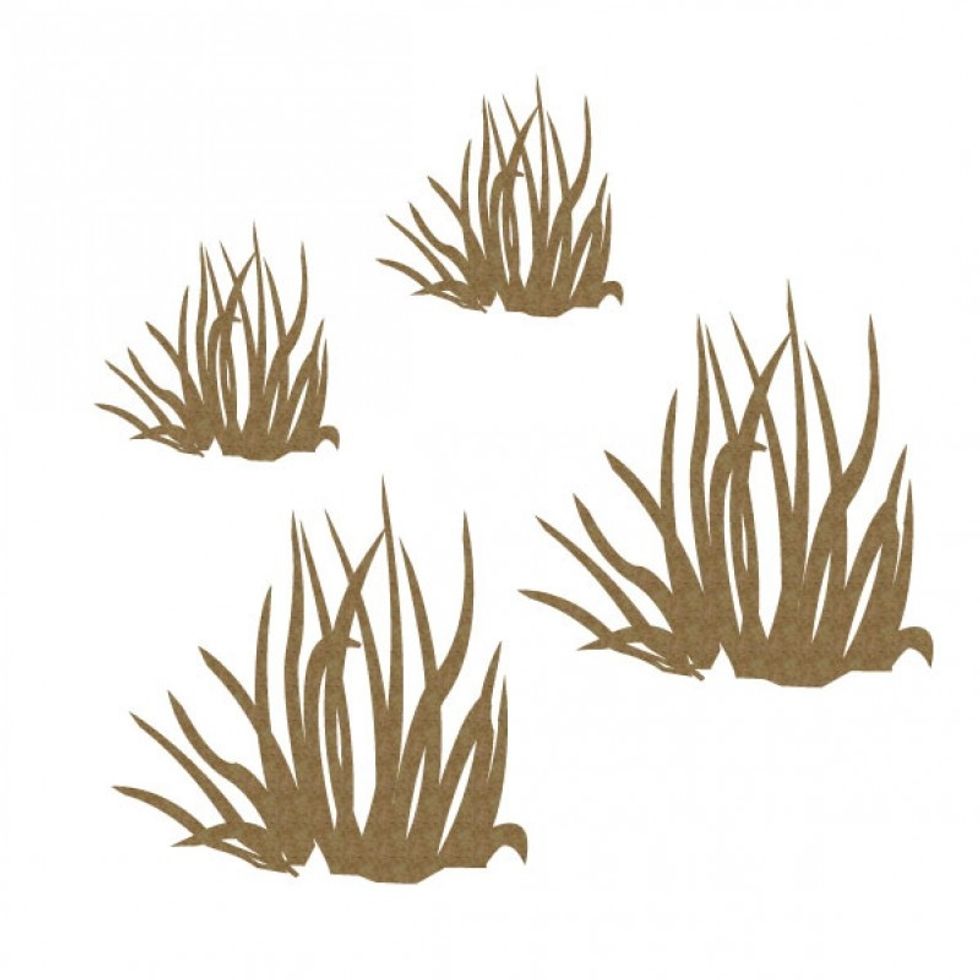 Mist the Seagrass with Lindy's Frost Forest Green, dry and then mist with Sea Mint Green.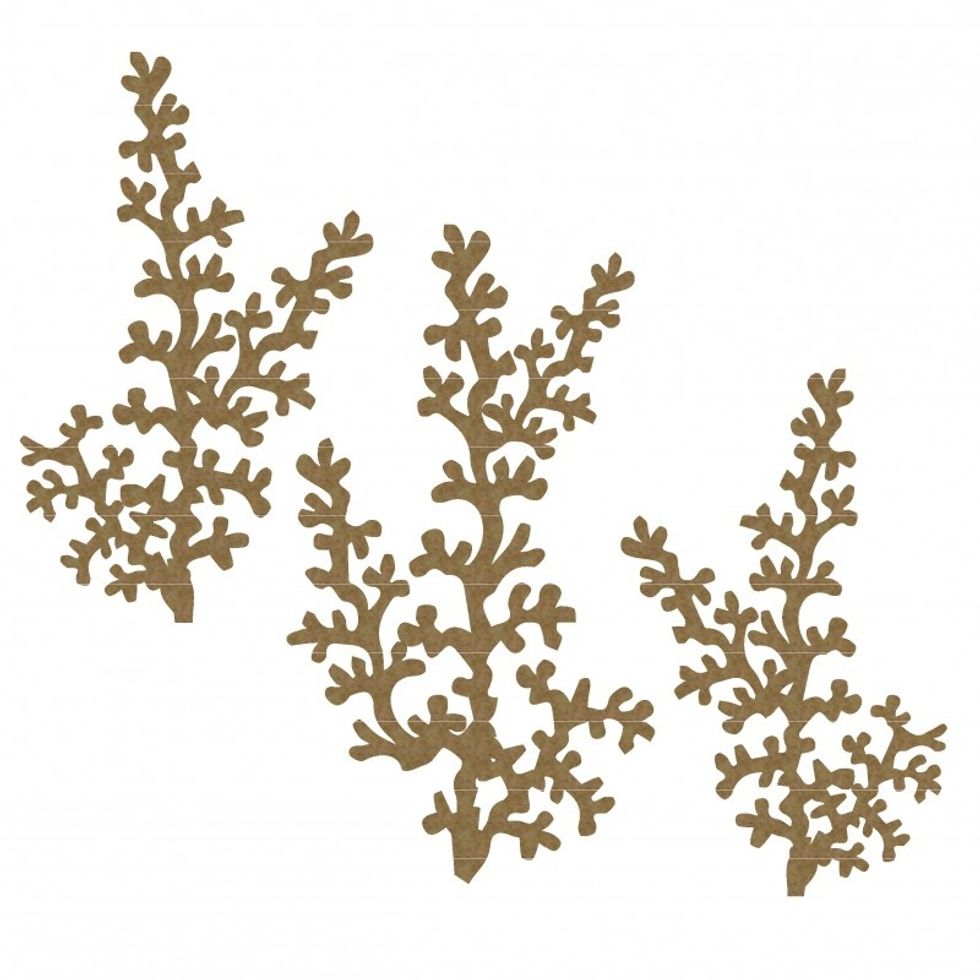 Color these by first misting with Lindy's Creme Brulee Cream, dry and then touch with cajun Carnelian Red.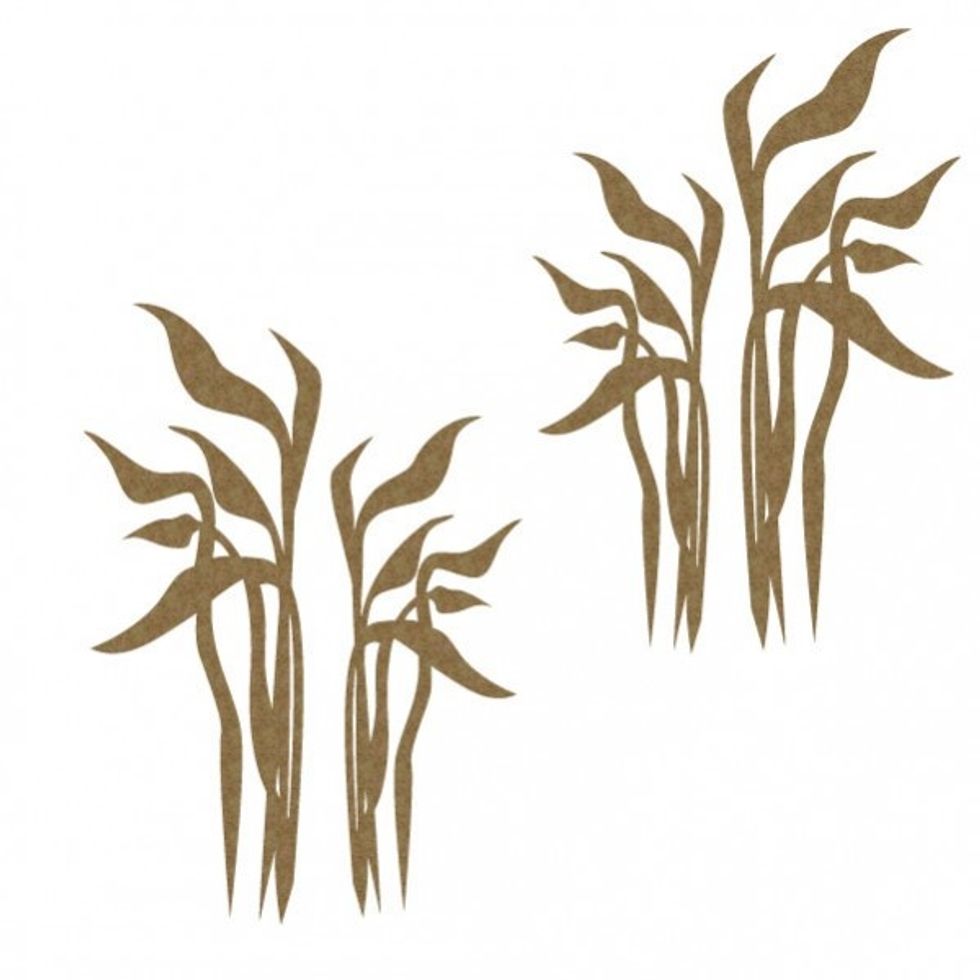 Use Silks in Teal Zircon and African Jade. Brush the light color on first and then while that is wet go back and blend in some Teal Zircon so that the color is varied.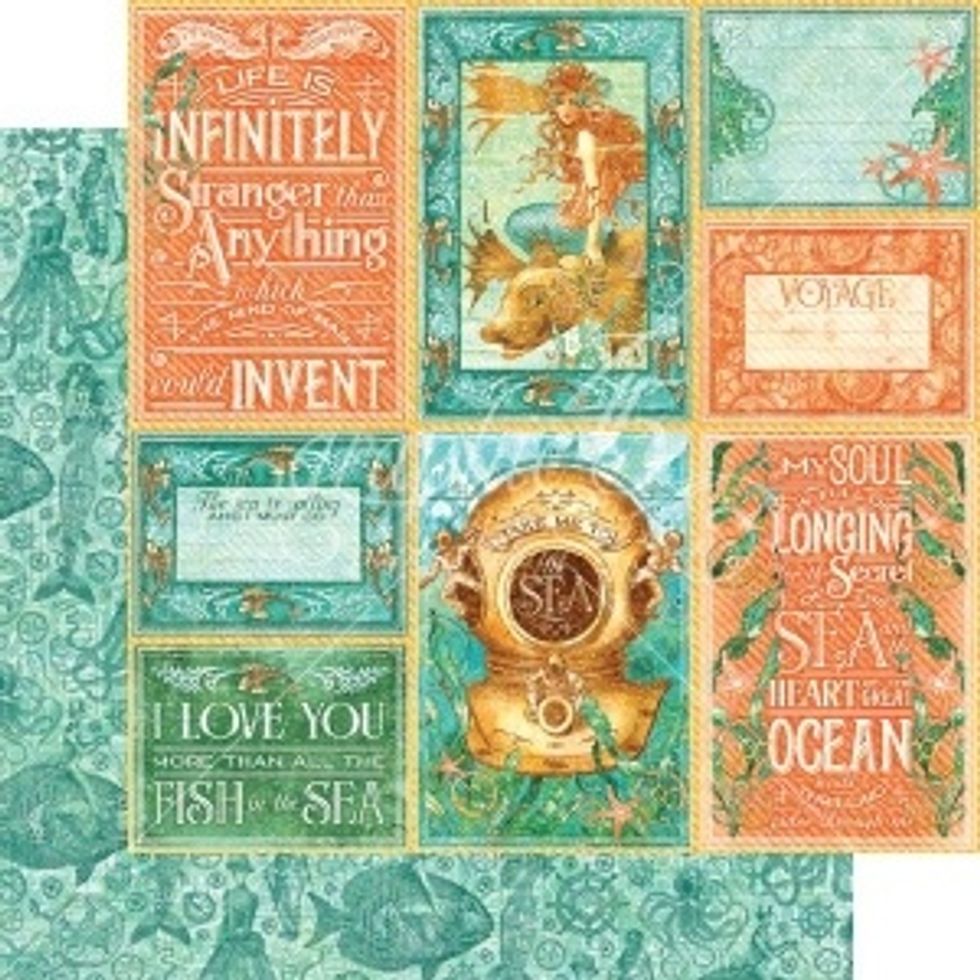 Fussy cut the sea helmet from the 8 x 8 sheet of Wild Wild Waves.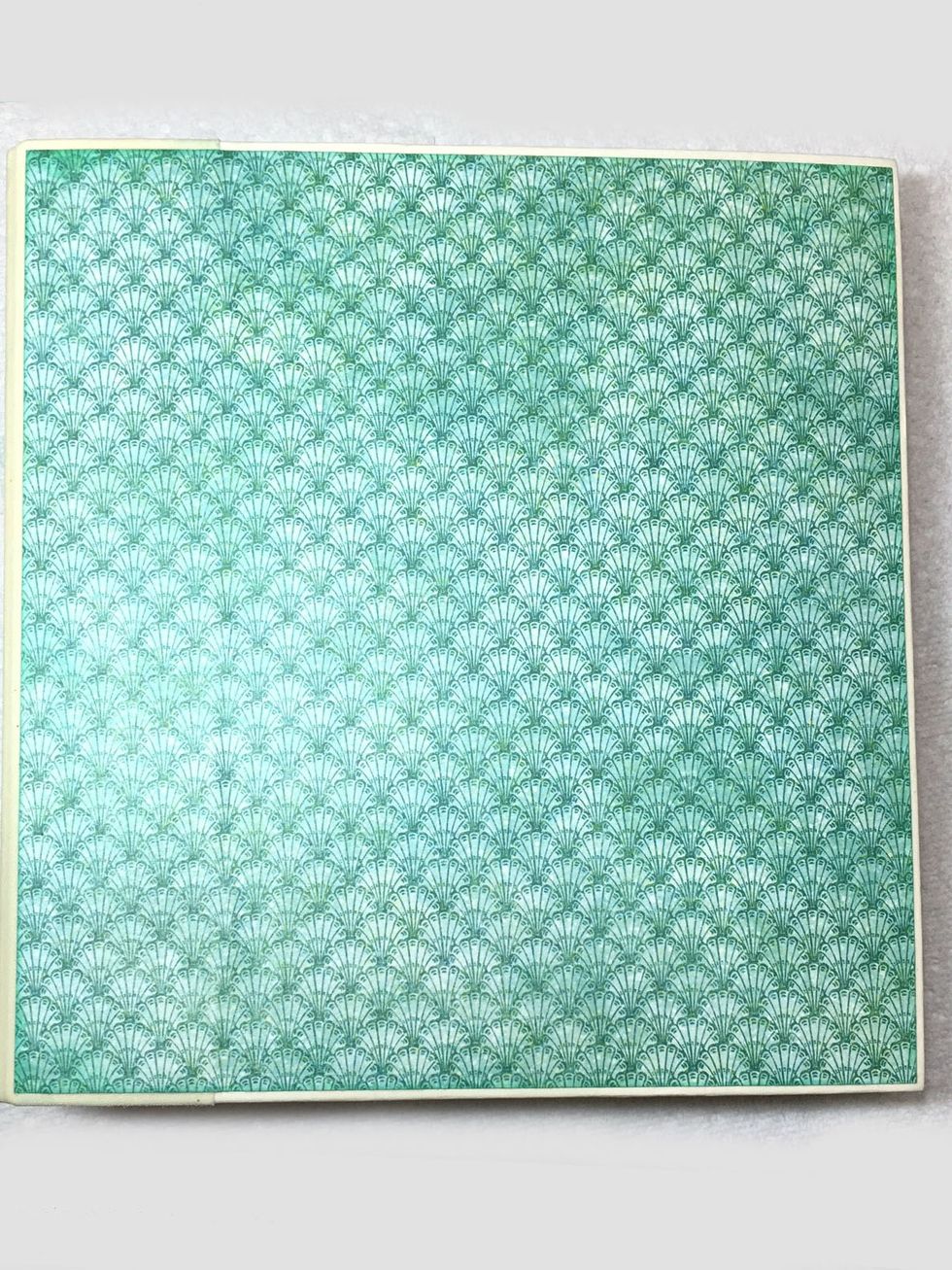 Ok time to put this all together. Trim the 12x12 paper shown to 8"w x 8.5"h. Adhere to the album front using matte medium. Be sure to apply matte medium to both the album and the back of the paper.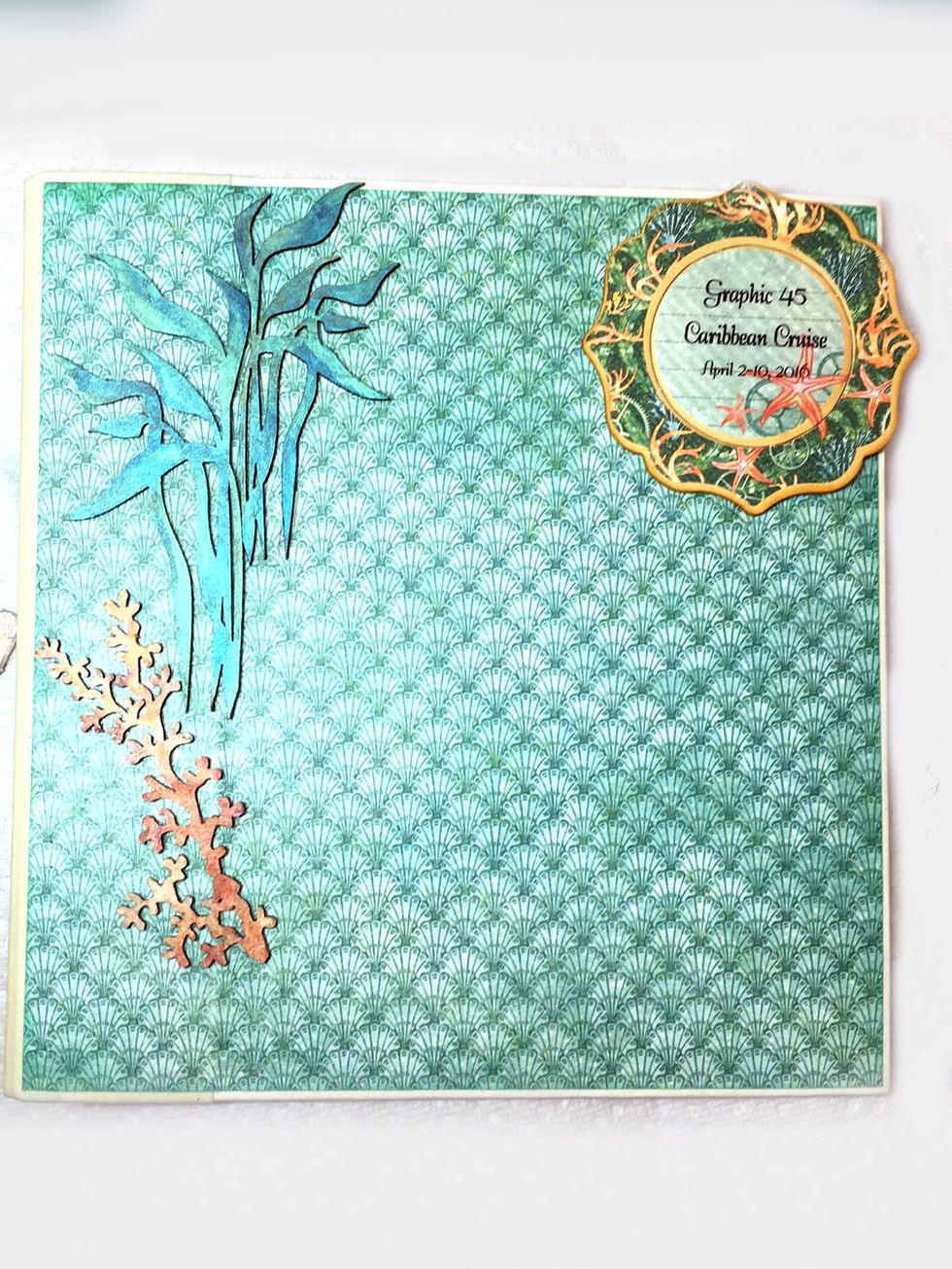 Add a title of your choice to the round chipboard piece and adhere in the upper right corner. (I printed my title on transparency paper and glued with clear drying glue) Add the seaweeds as shown.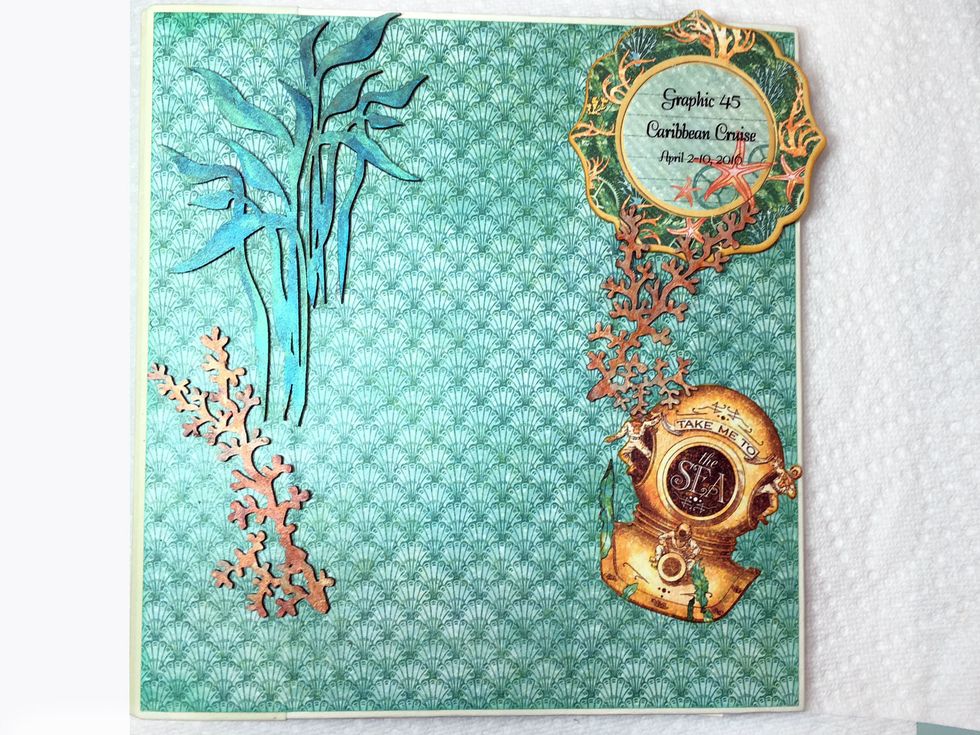 Add more seawheed as shown and adhere the helmet with matte medium.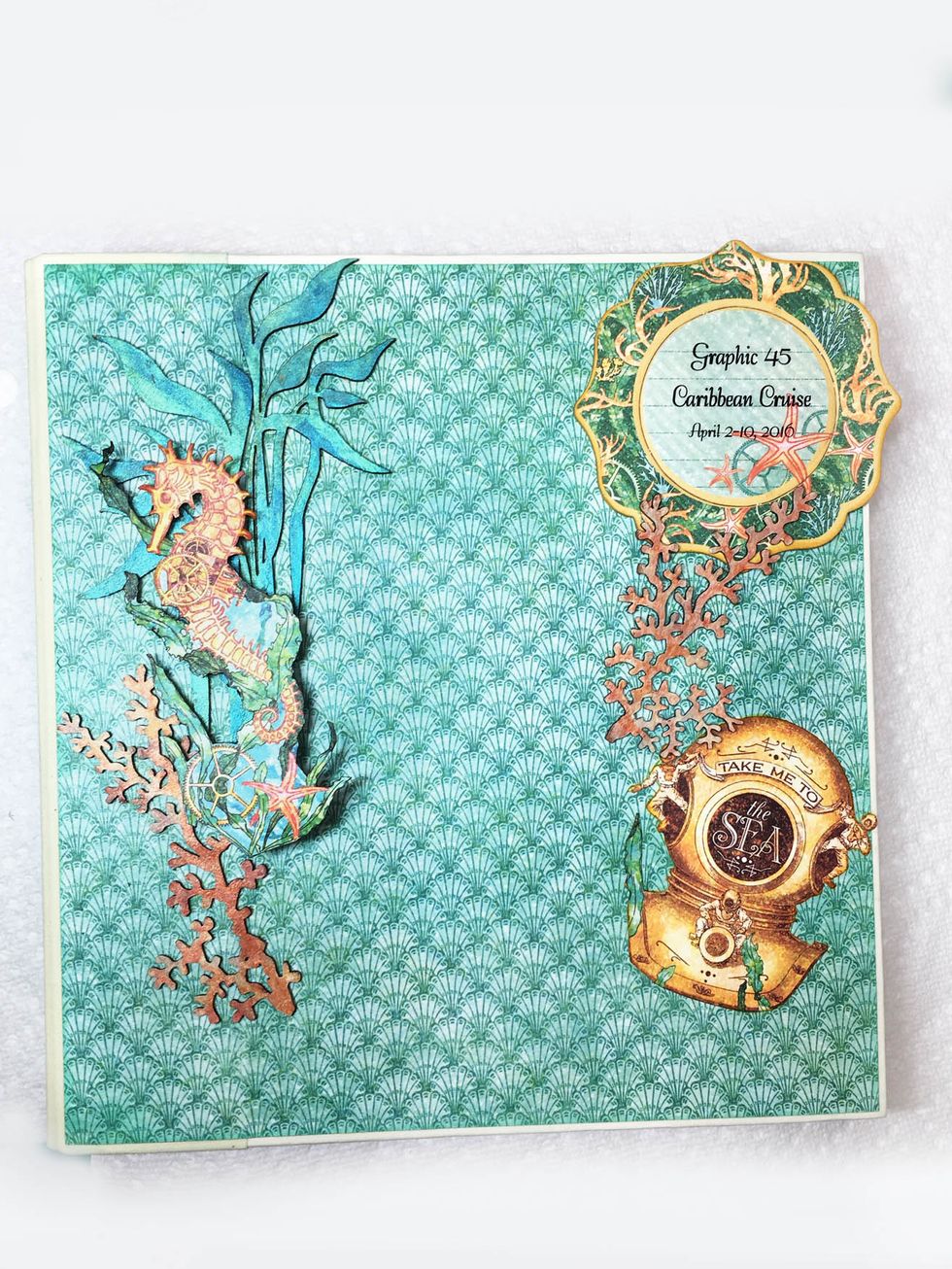 Paint the seahorse with matte medium to strengthen and then use pop up foam to adhere where shown.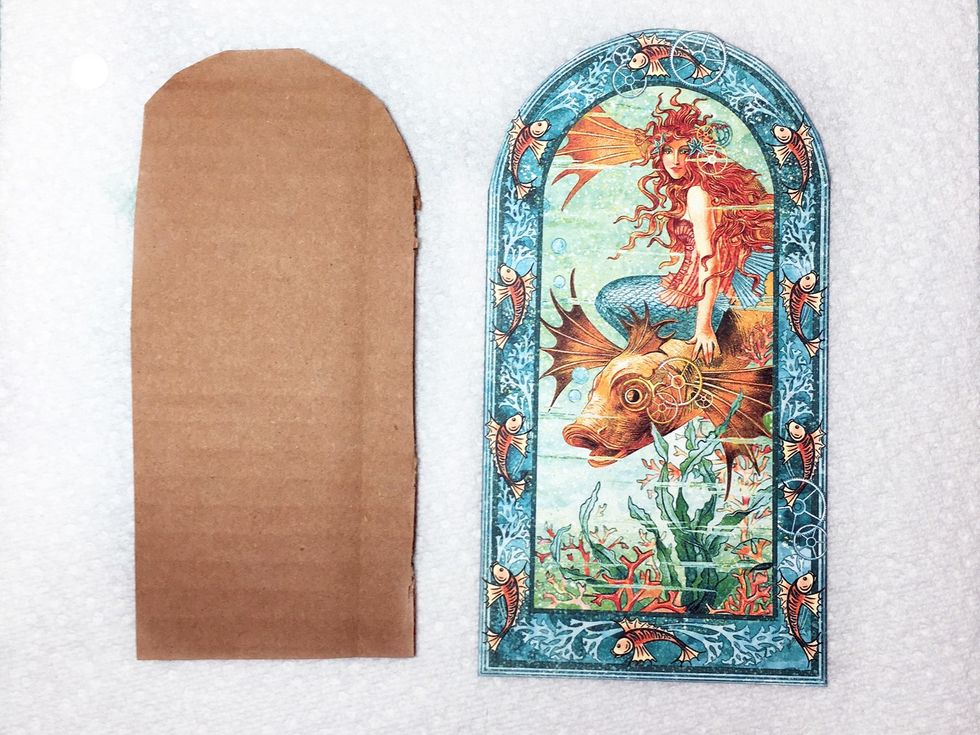 Cut a piece of cardboard slightly smaller to fit under the arch.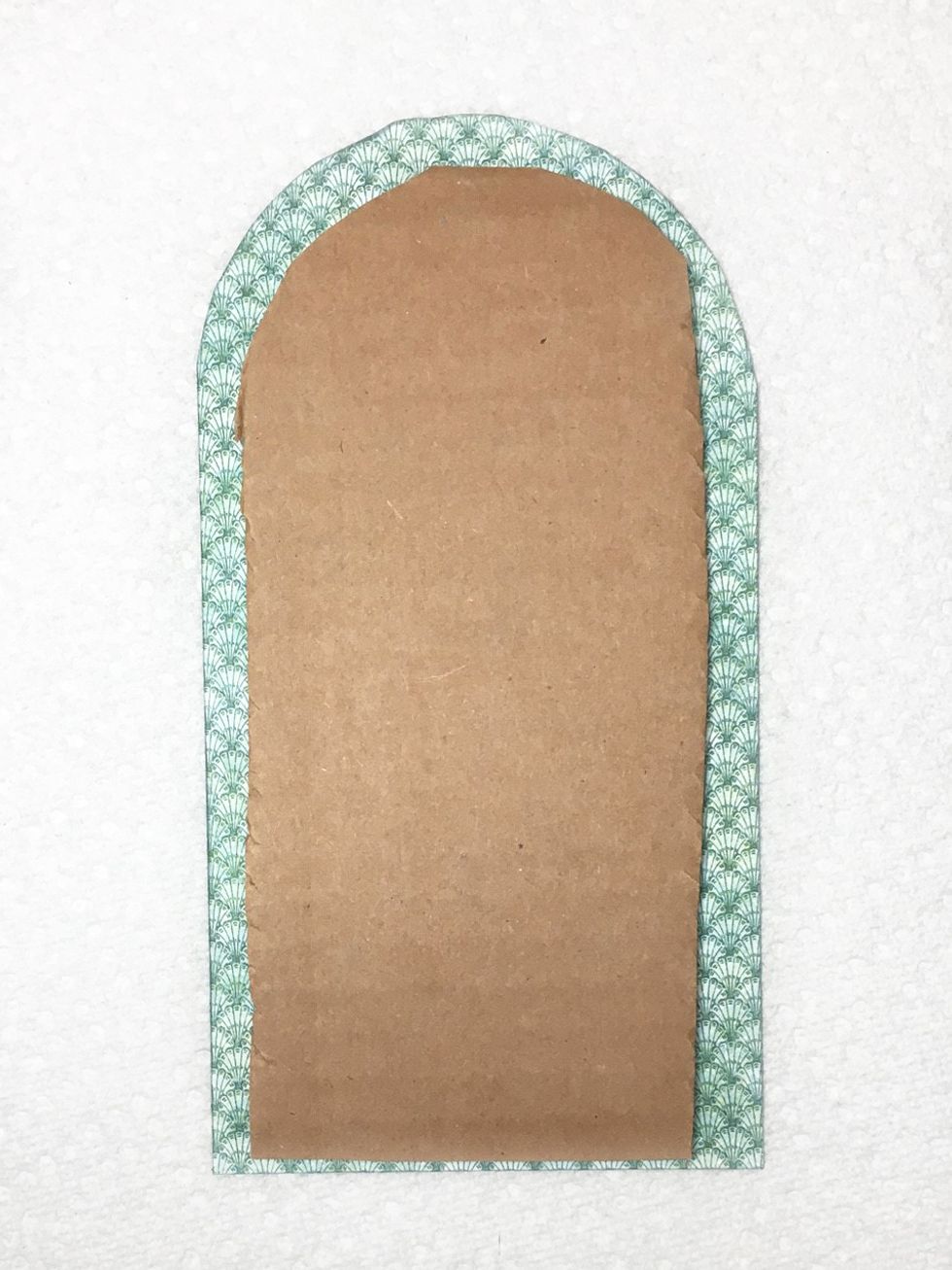 Adhere to the back of the arch.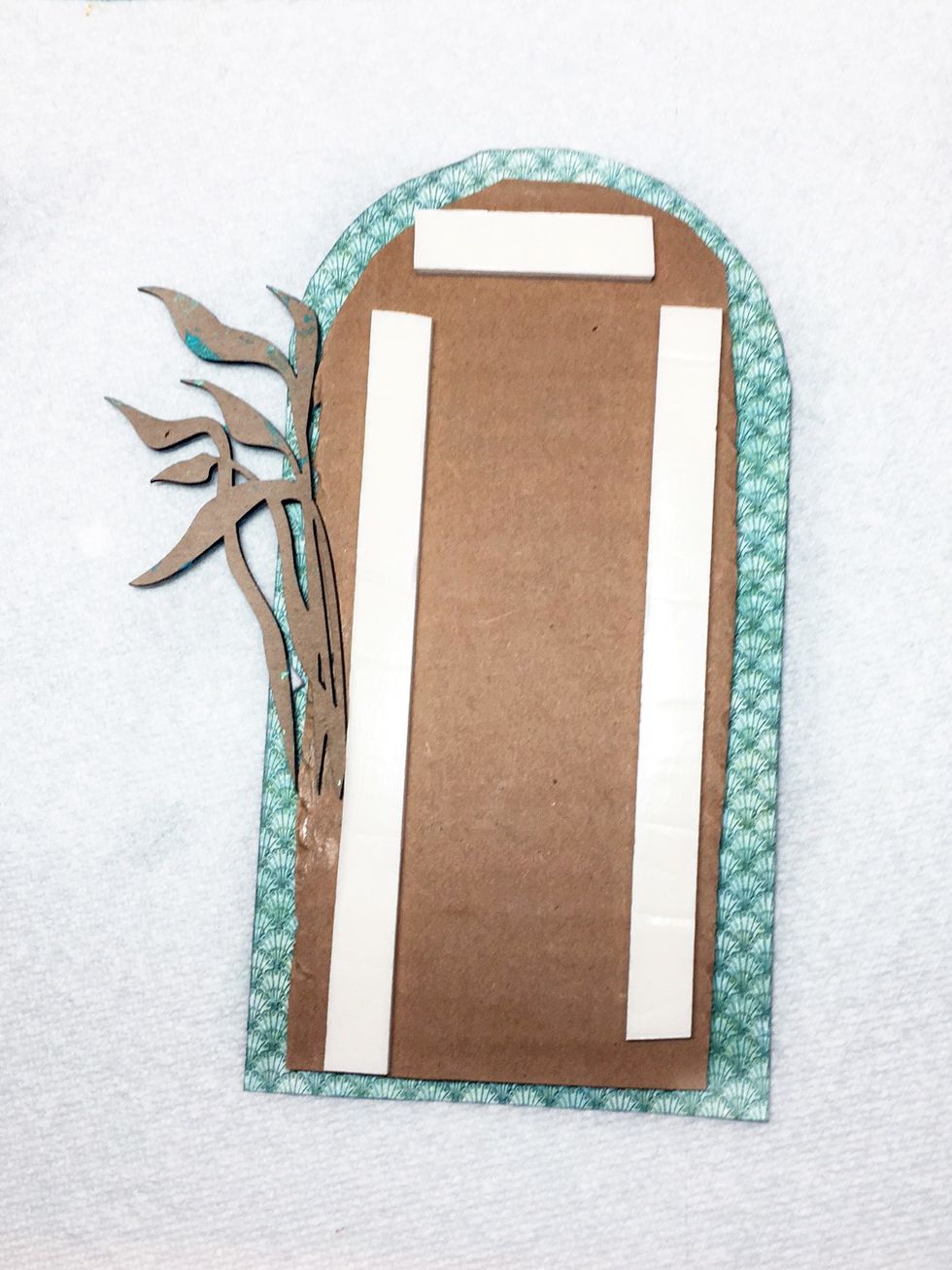 Add foam tape to the back to pop up another layer. Glue a piece of seaweed as shown.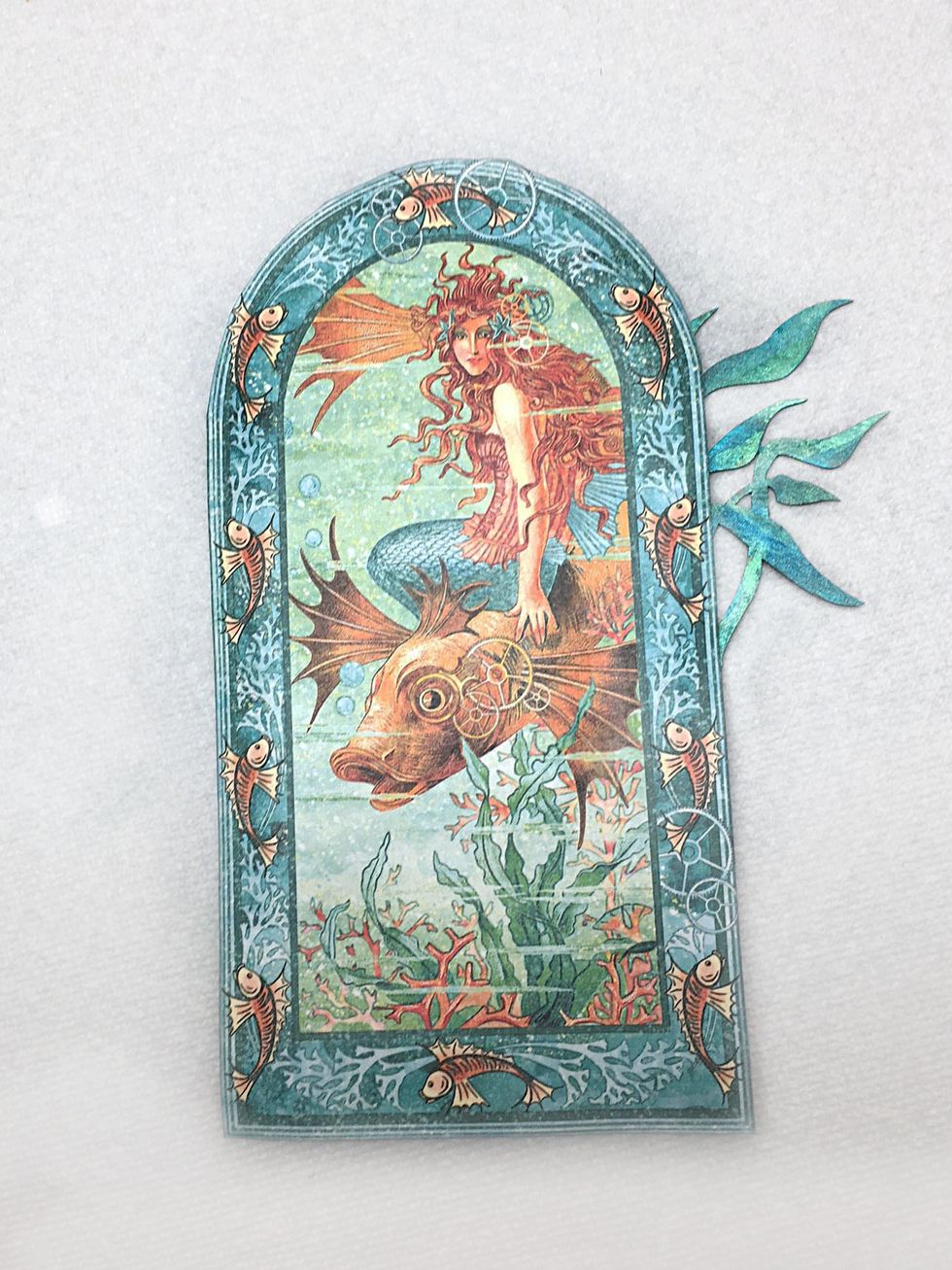 This is how it should look before adhering to the front of the mini. Add a coat of matter medium to protect the paper.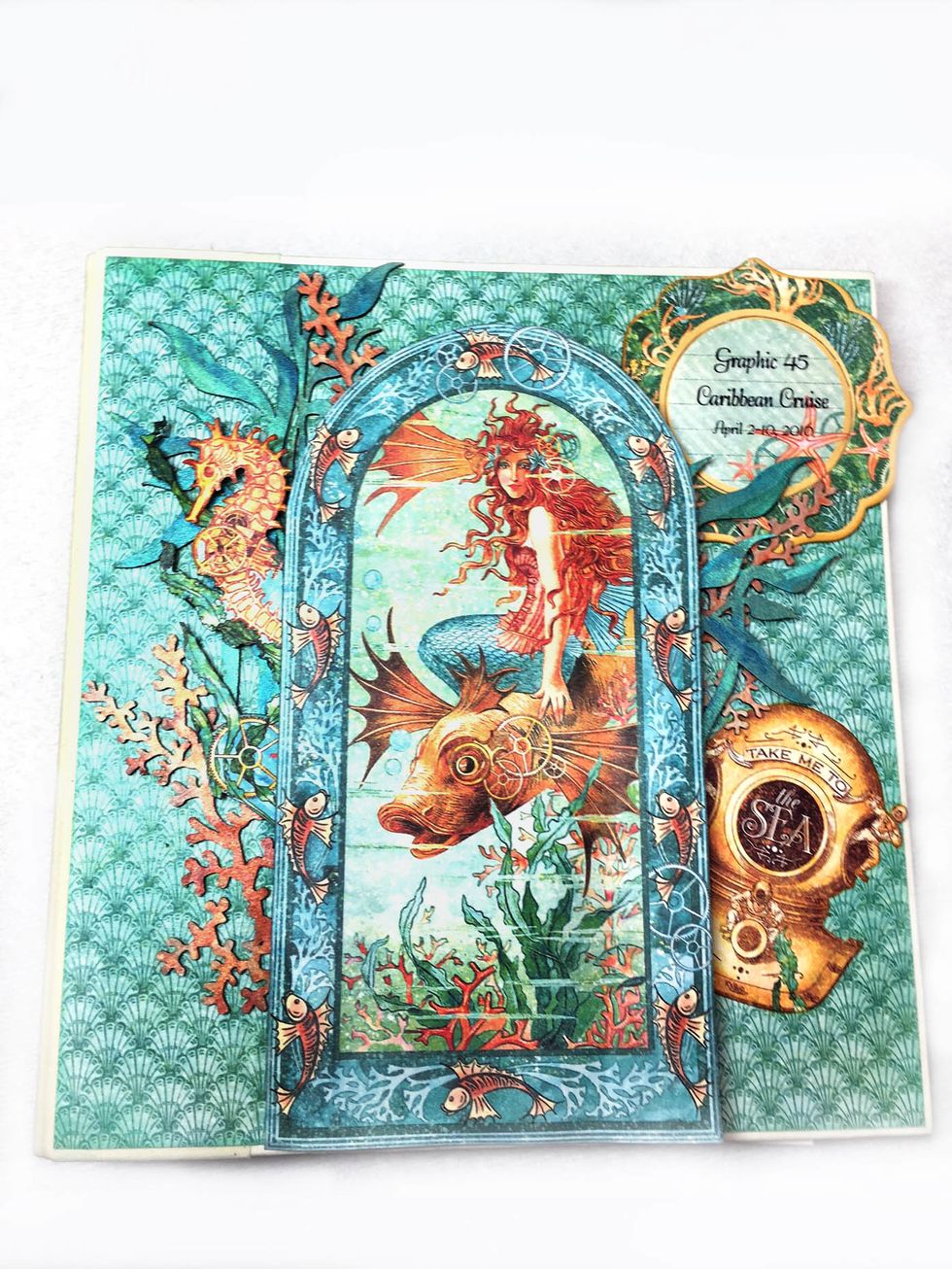 Adhere to the front of the mini as shown.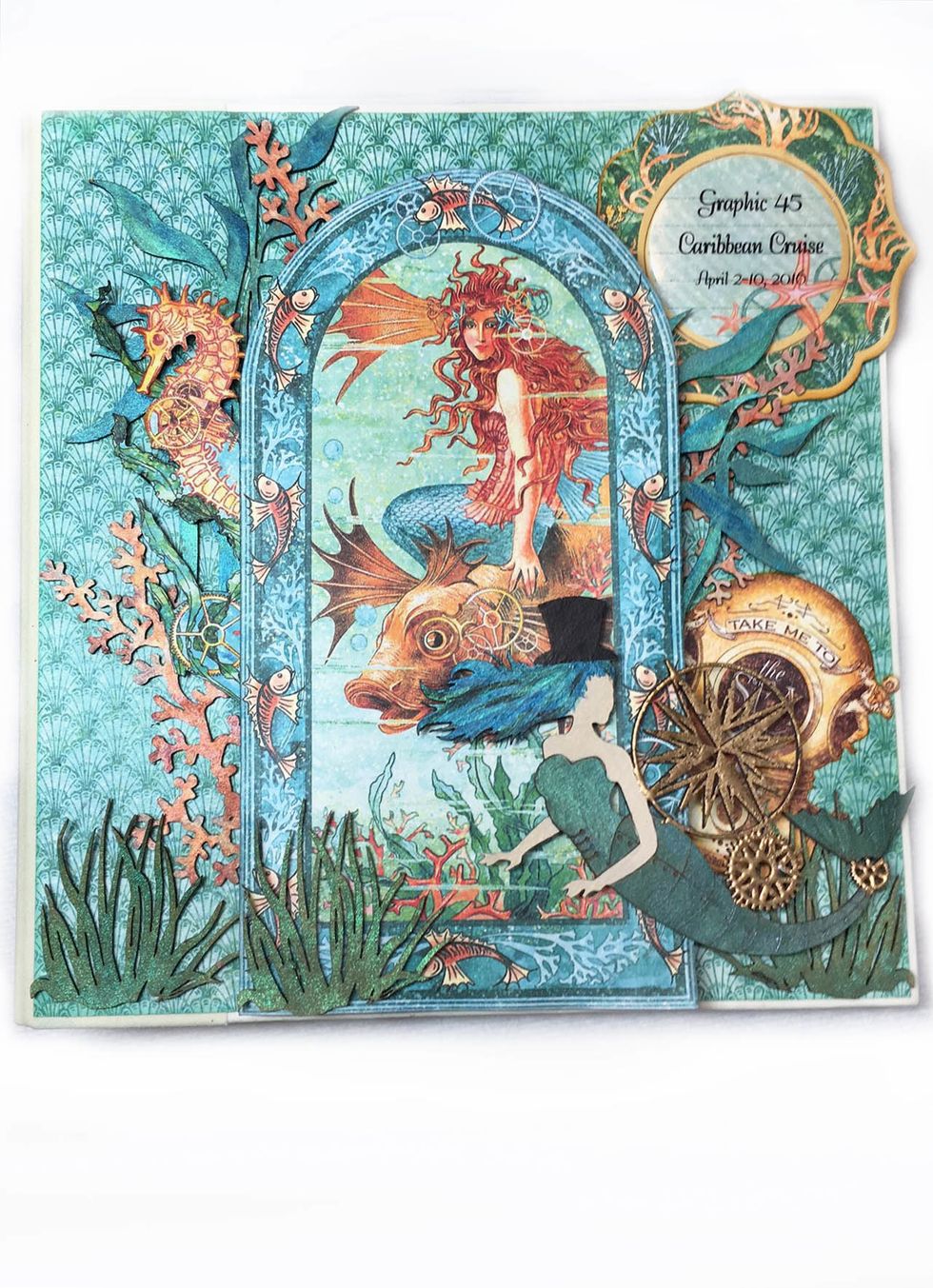 Adhere the mermaid and other seagrasses.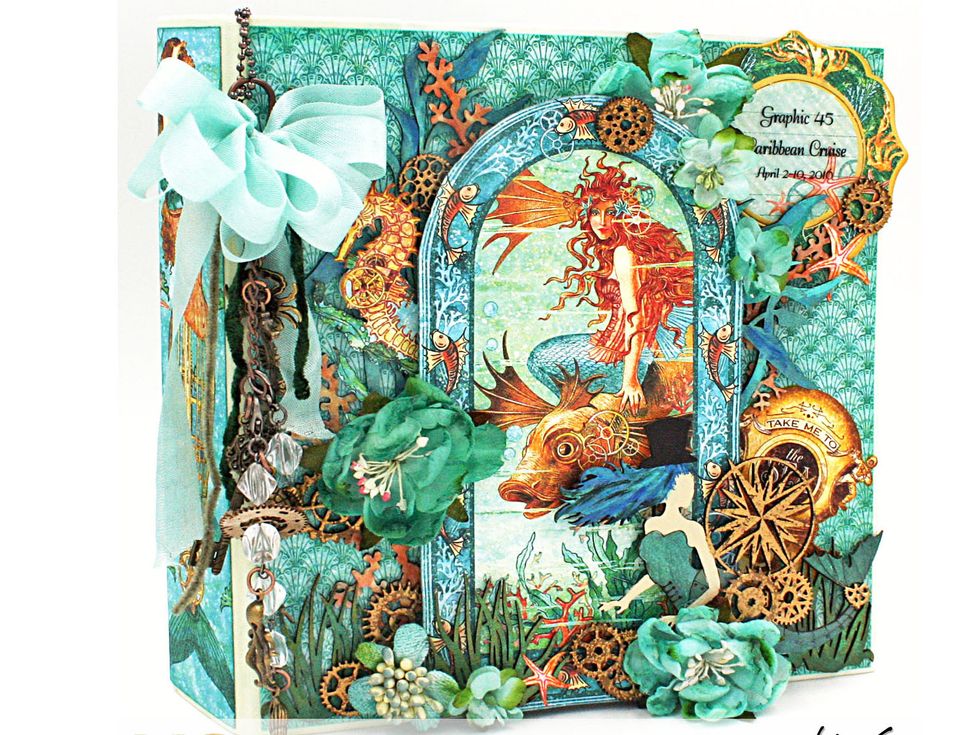 Now finish up by added flowers however you like. Tuck in some heat embossed gears here and there over the front cover.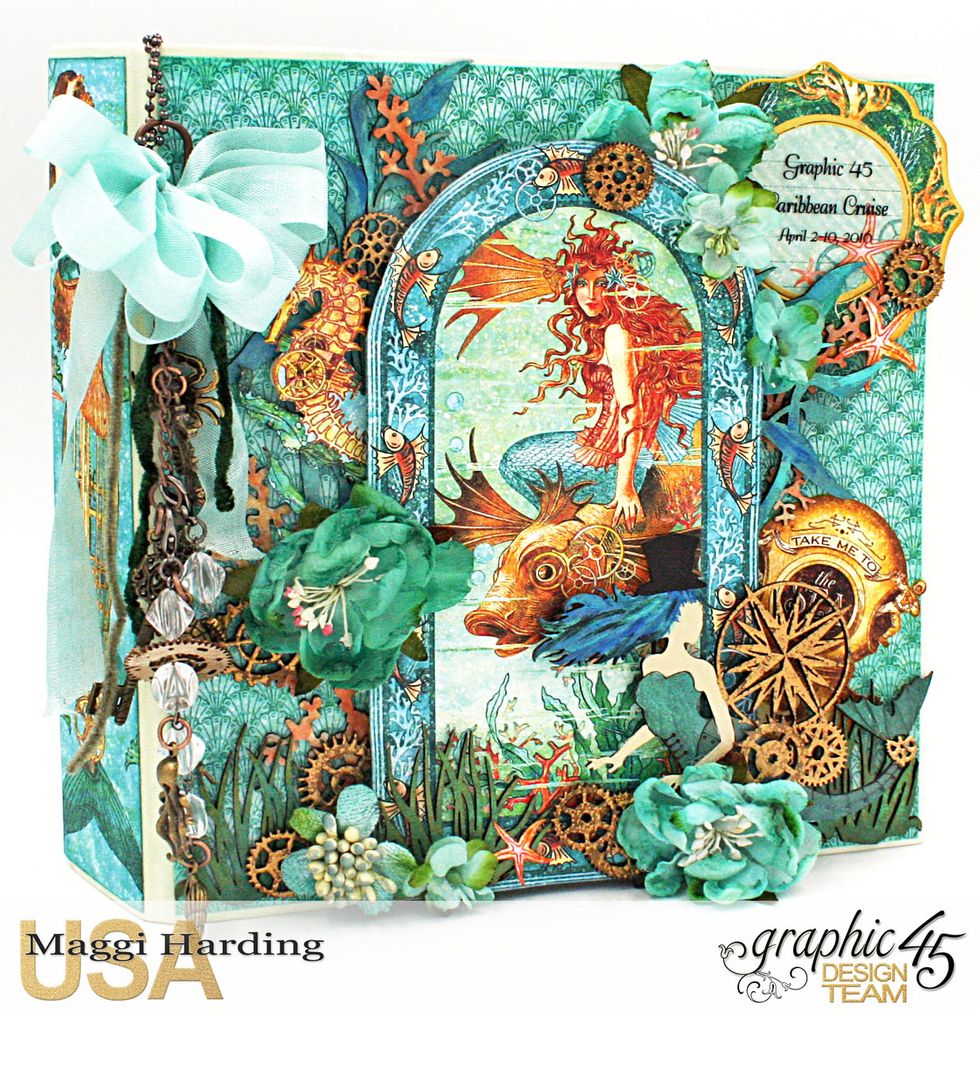 Finished front cover.
Spine, finished with the mermaid image from 12 x 12 Mermaid Melody.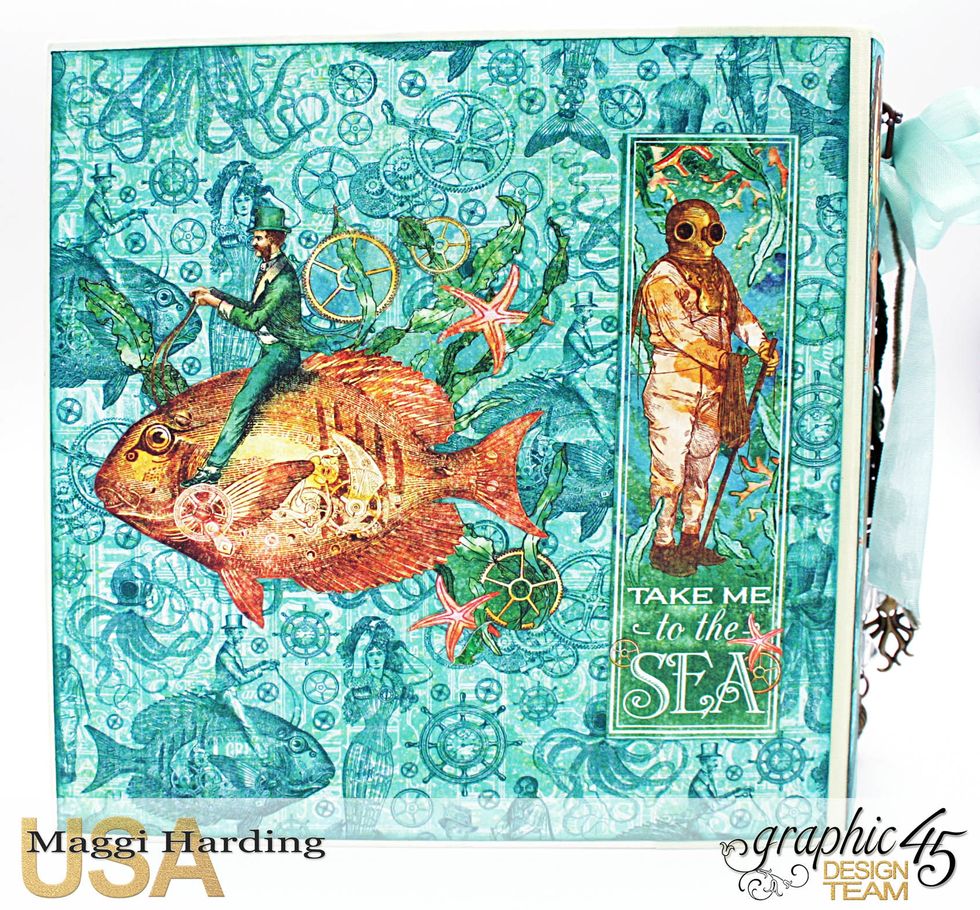 Back of mini, images from 12 x 12 Mermaid Melody, base paper is Wild Wild Waves cut to 8 x 8.5"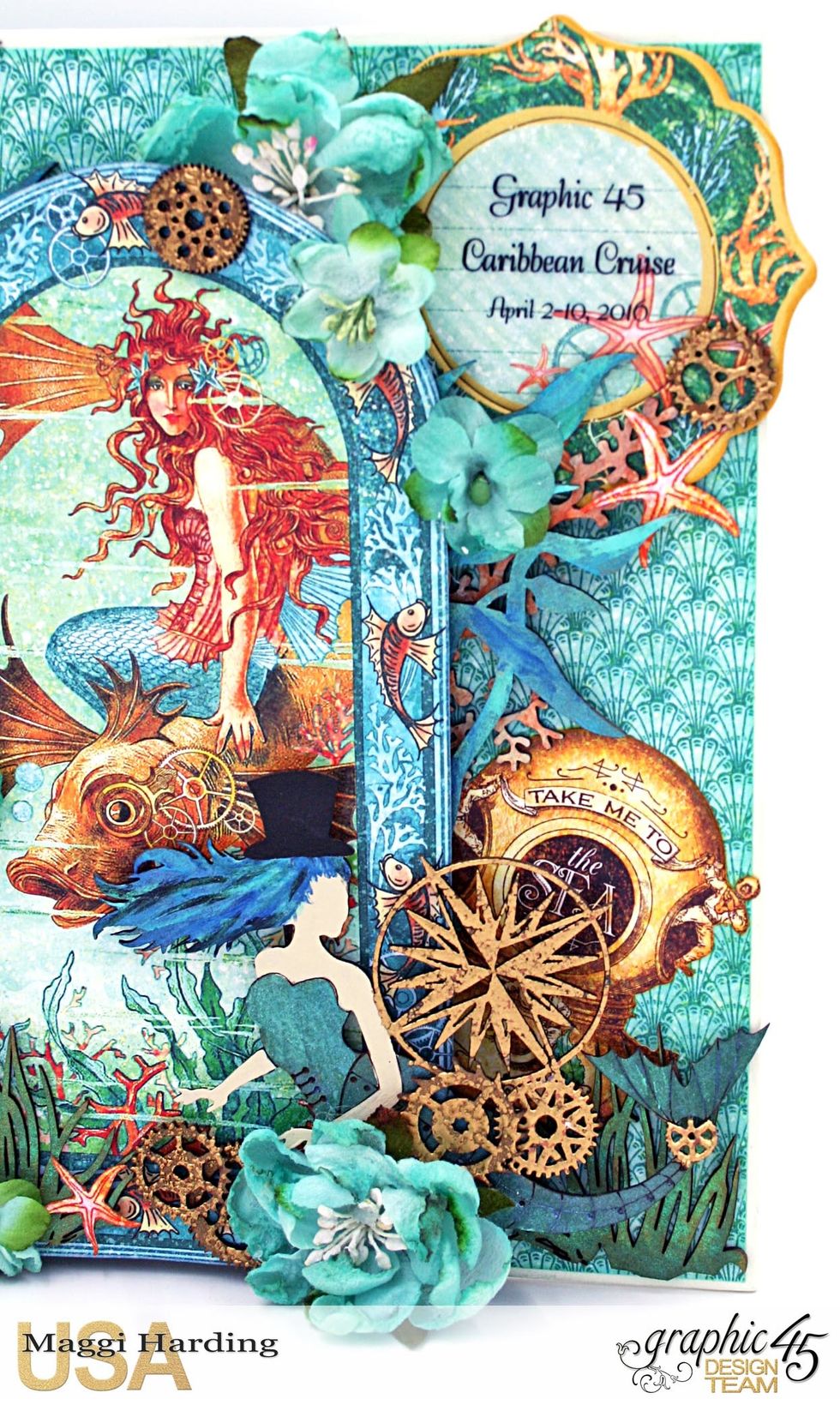 Detail of front cover.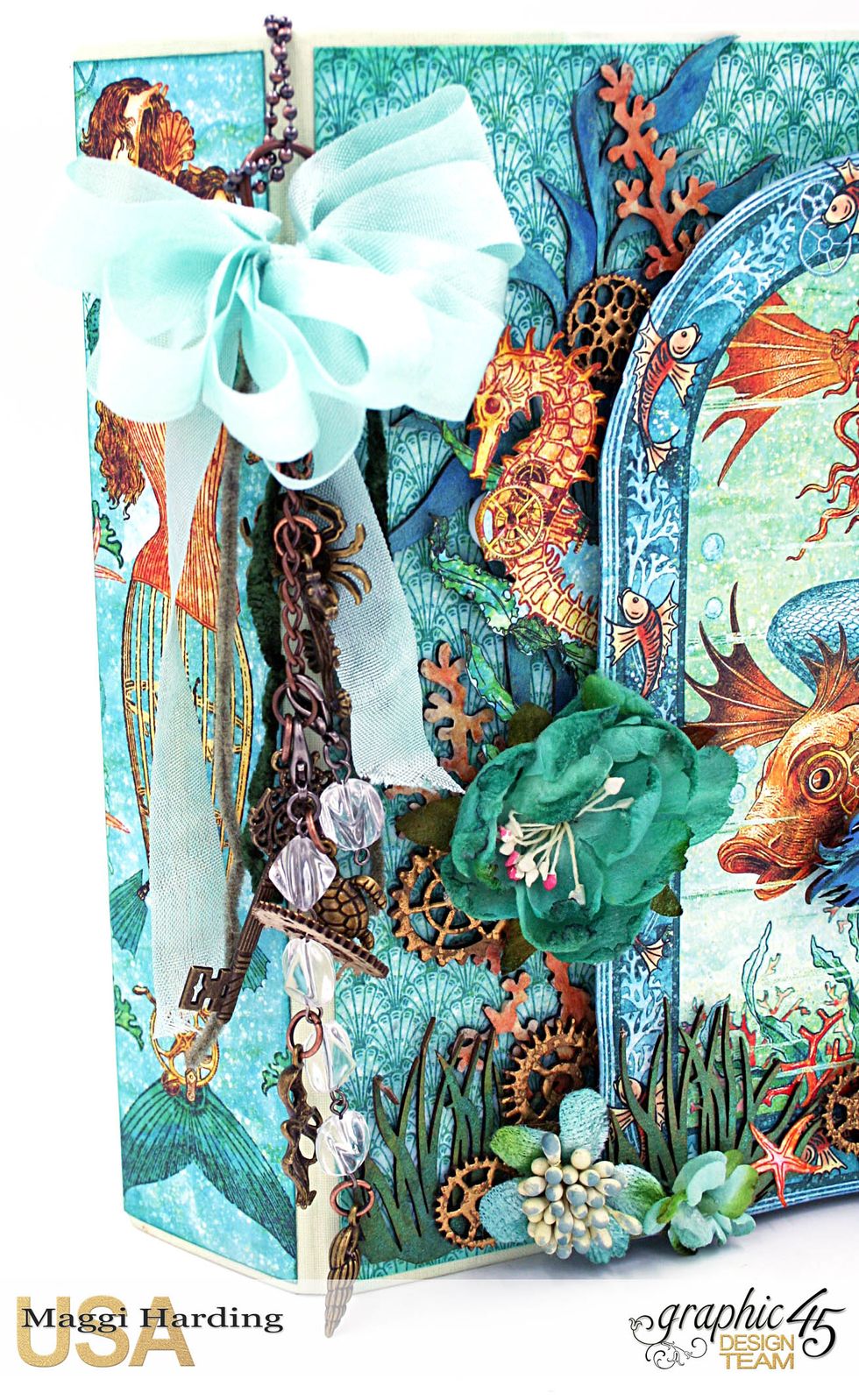 Detail of front cover. I used some charms and a Tim Holtz chain and charms to make the dangly "thingy" and tied a seam binding ribbon to the top.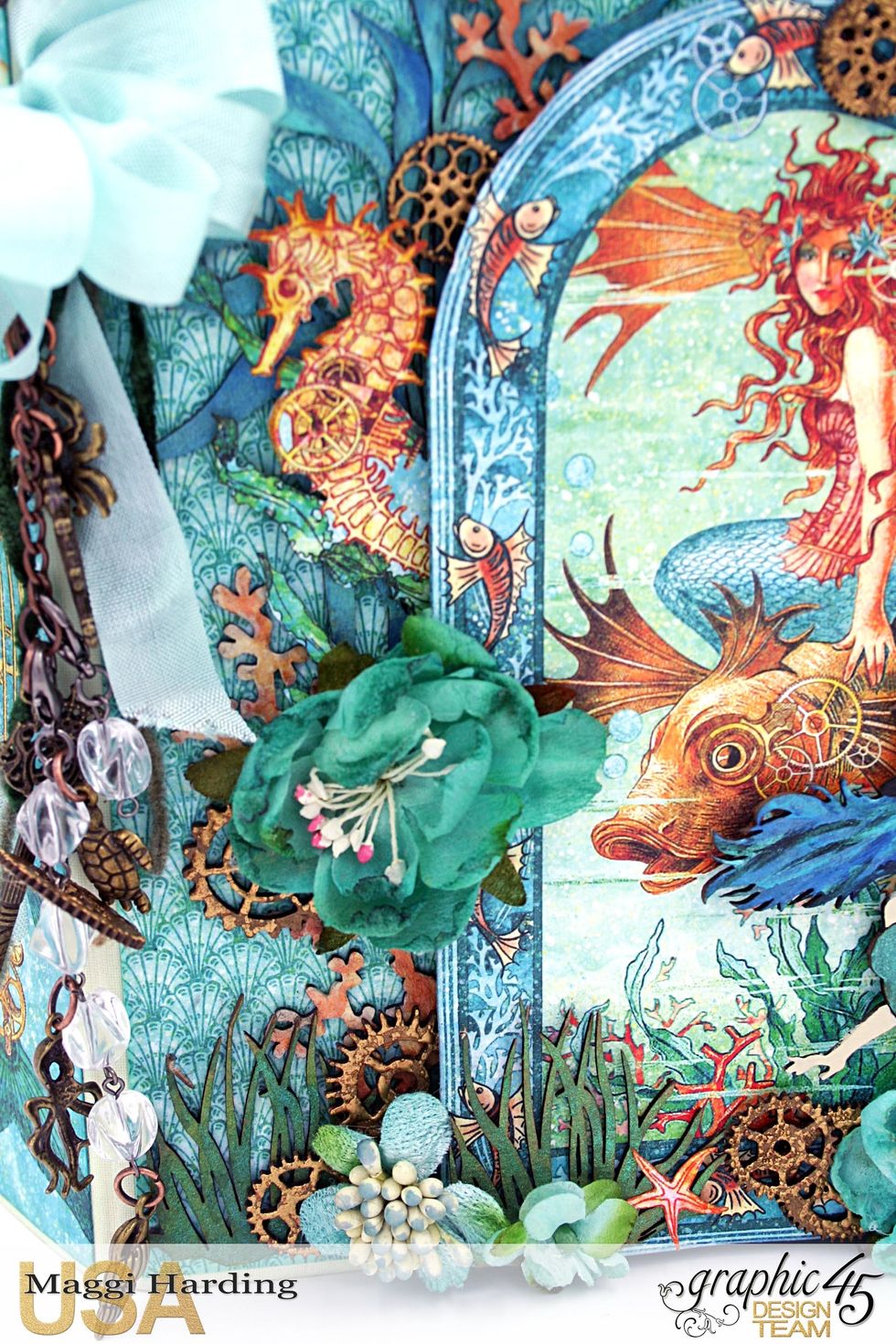 Detail of front cover.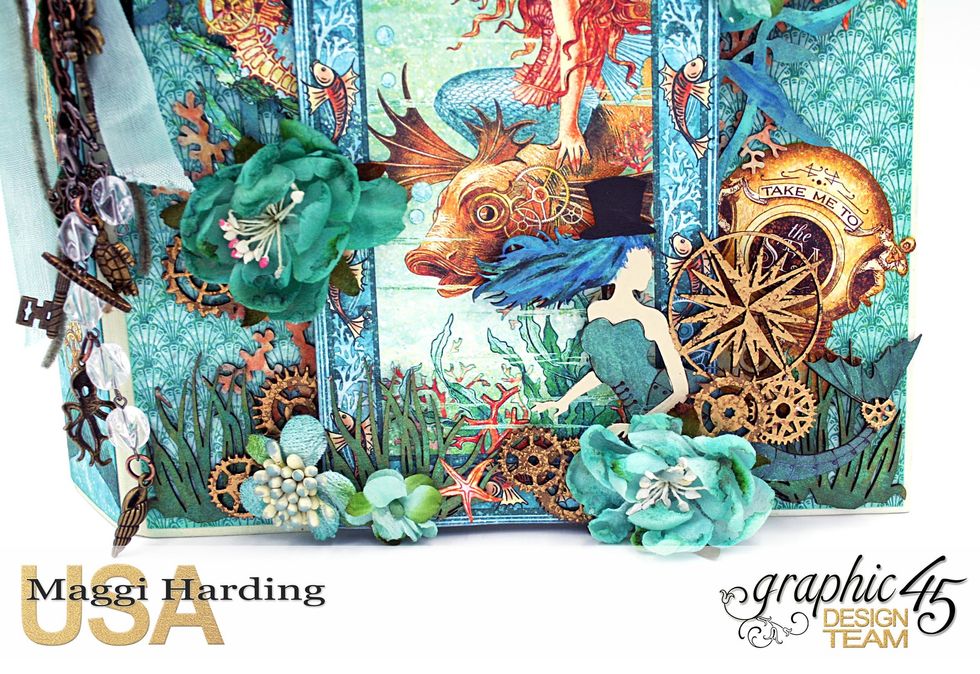 Detail of front cover.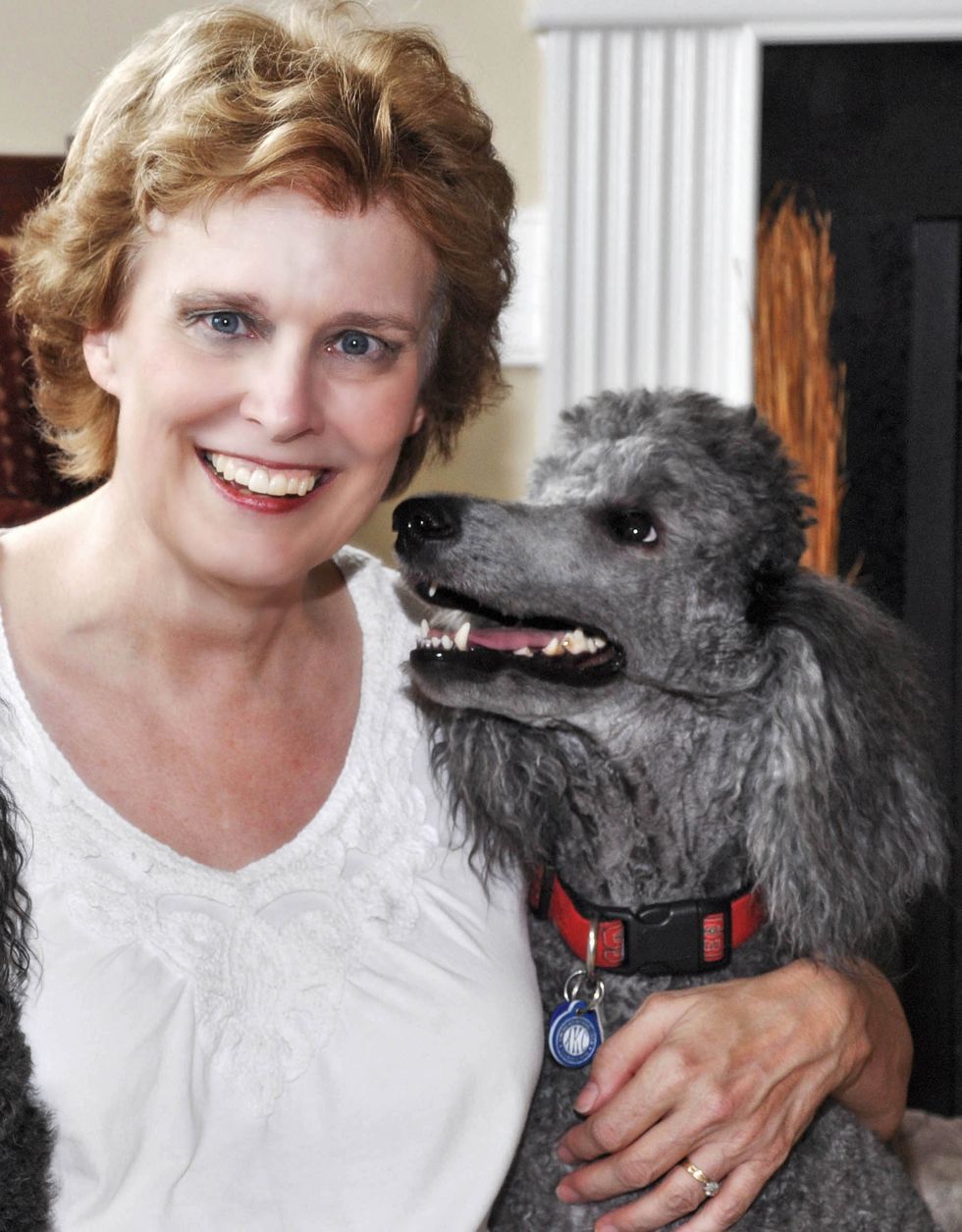 I currently design for Graphic 45, Creative Embellishments, Petaloo, & Flying Unicorn. Tutorials on my blog:bit.ly/1Sem2J0. Follow me on Pinterest:bit.ly/1HhWvOxThanks so much!
Graphic 45 Voyage Beneath the Sea
Voyage Beneath the Sea 12 x 12
Voyage Beneath the Sea 8 x 8
Wild Wild Waves 8 x 8
Voyage Beneath the Sea Journaling Chipboard
Graphic 45 Mixed Media Album - ivory
Creative Embellishments (CE) Steampunk Mermaid
CE Gear Sets
CE Seaweed
CE Seagrass
CE Seaweed 3
Petaloo Botanica Blooms Teal 1102-104
Petaloo Botanica Minis Teal 1101-104
Lindy's Frosty Forest Green Mist
Lindys Cajun Carnelian Red Mist
Lindy's Creme Brulee Cream Mist
Siks-Teal Zircon, African Jade, Bolivian Blue
Stampendous Aged Gold Embossing Enamel
Black Acrylic Paint
Mermaid Melody 12 x 12 for spine and back cover.
Wild Wild Waves 12 x 12 for back cover.
Maggi Harding
I am a paper crafter and I like to do it all, tags, layouts, cards and altered art. Follow me on Pinterest: https://www.pinterest.com/maggi43/