How to make marvellous creations at home with wrapper
This is a very long guide 81 pages to be exact if you cant look at it now like it now and look later😉
17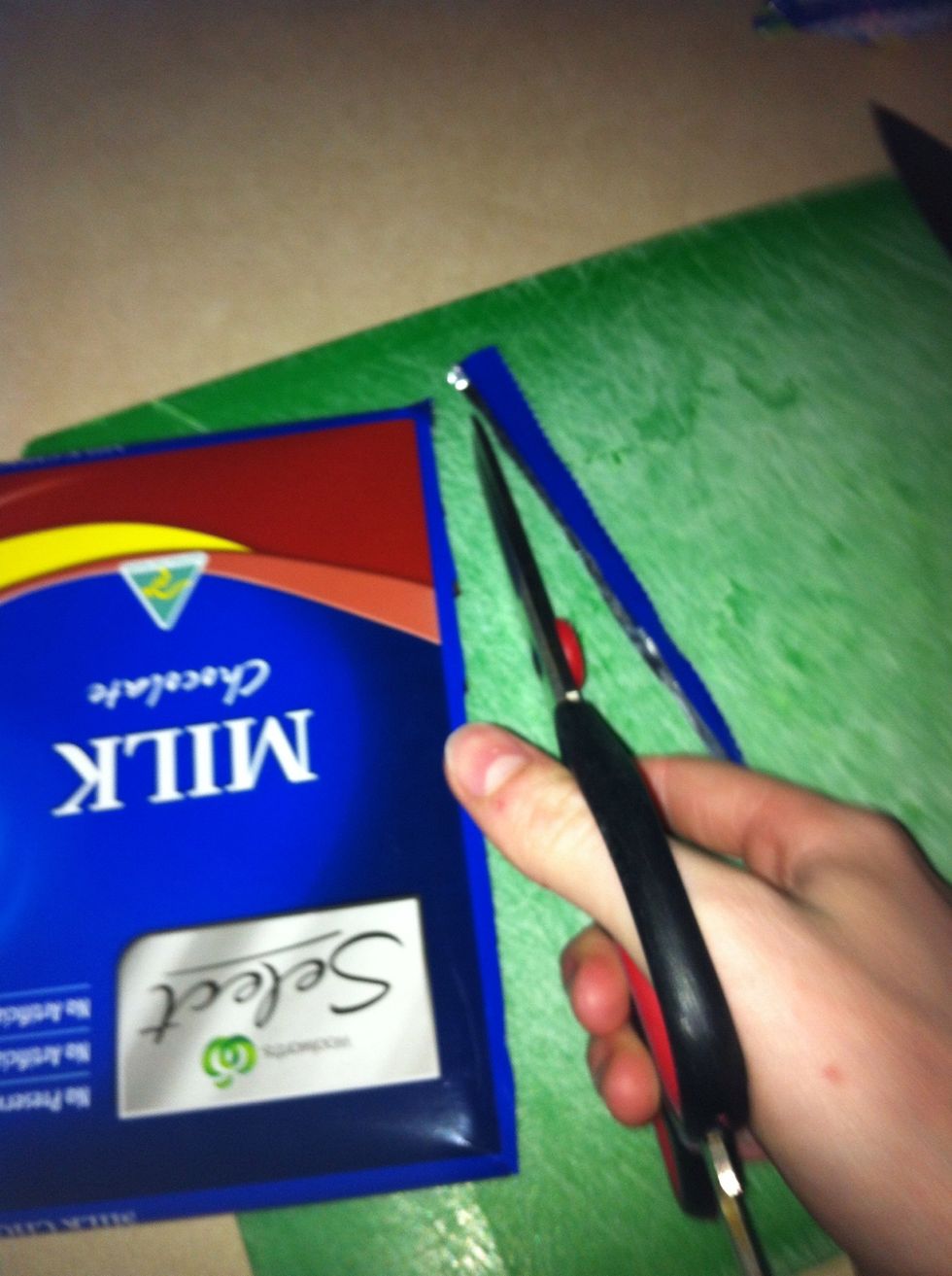 First cut open the chocolate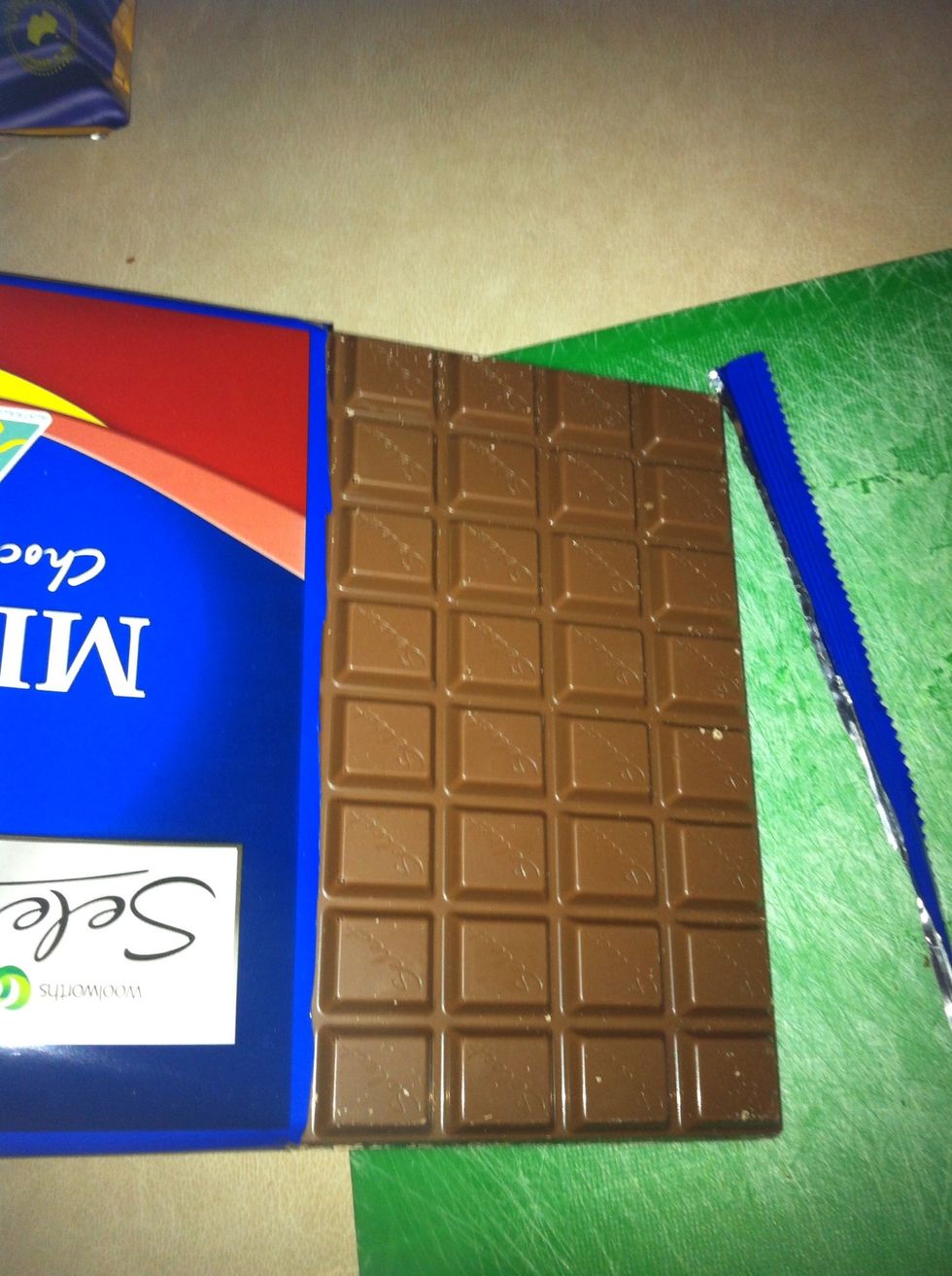 Put it on the chopping board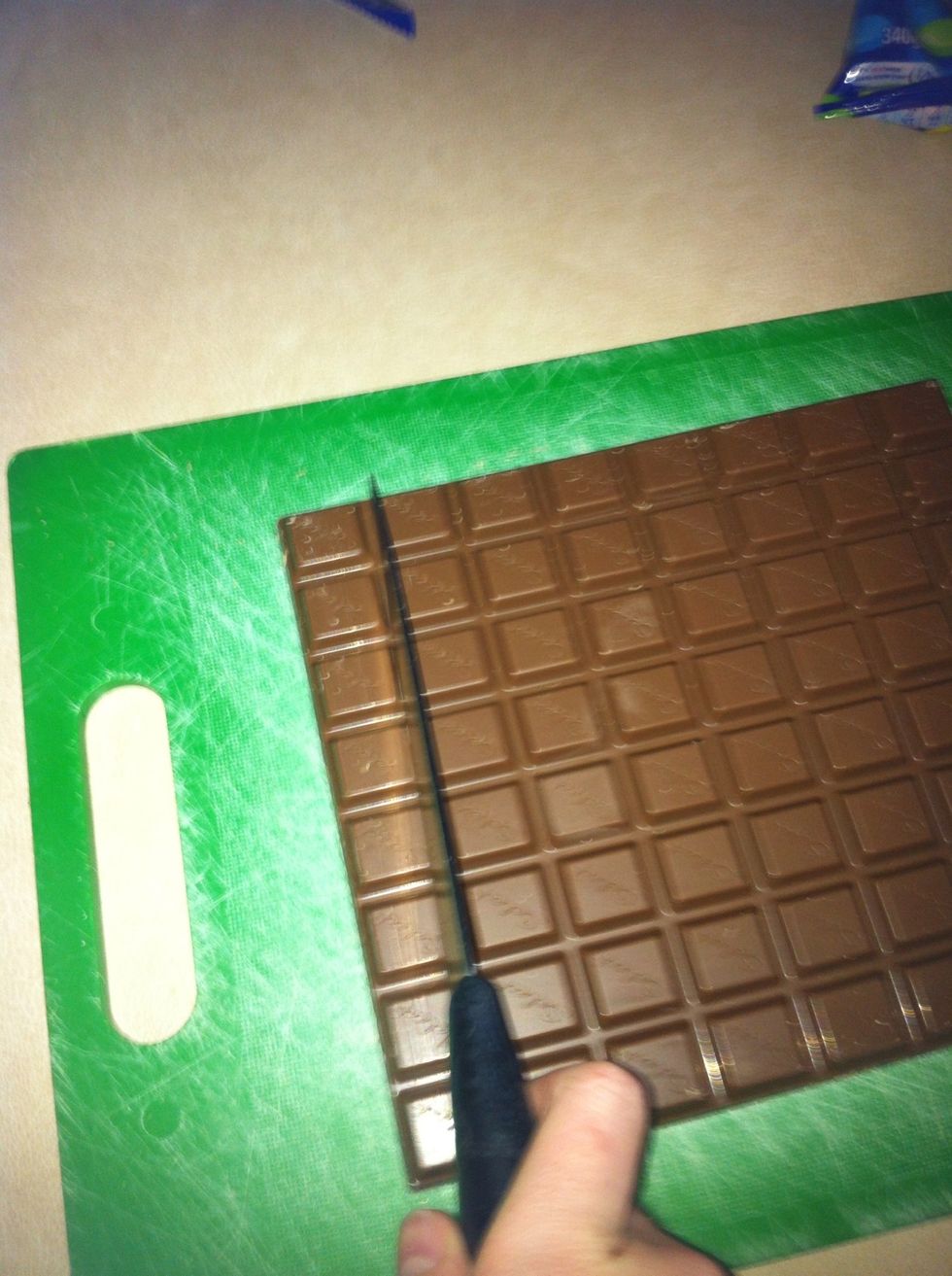 Now start chopping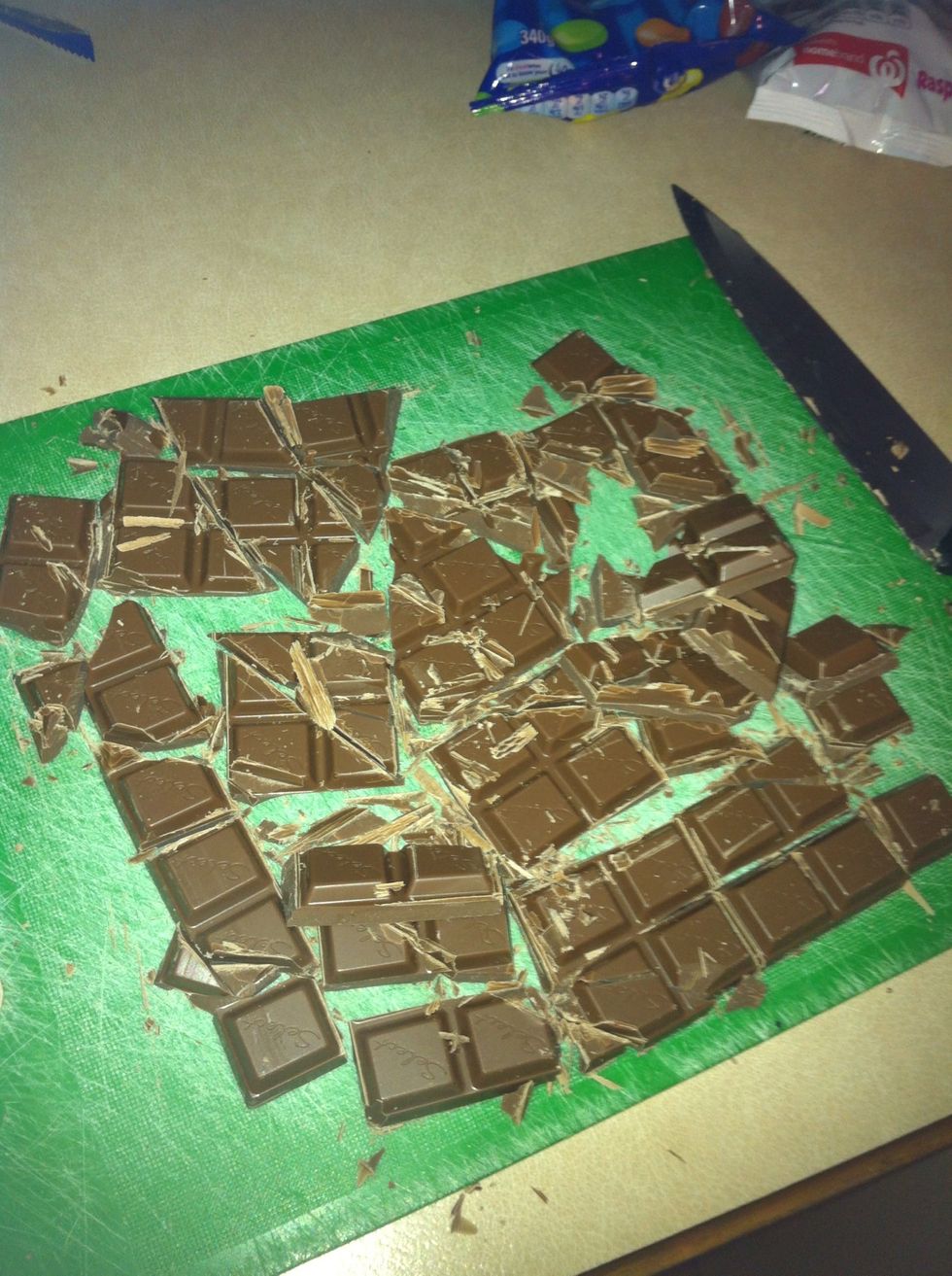 Doesnt matter what it looks like try not to get big chunks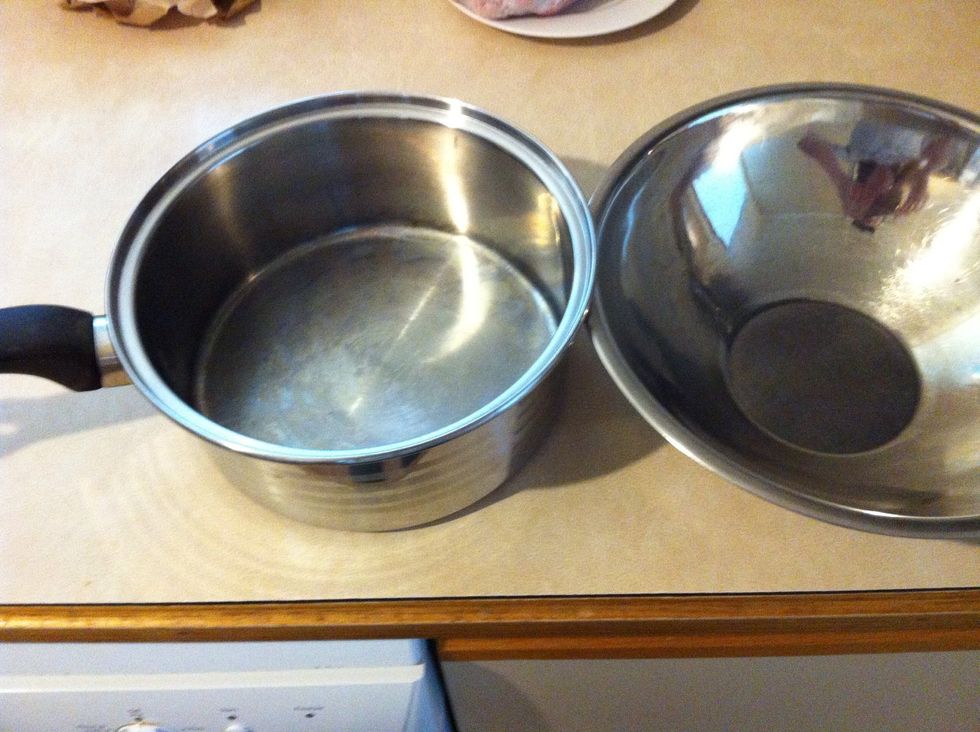 Now get a saucepan and a heat proof bowl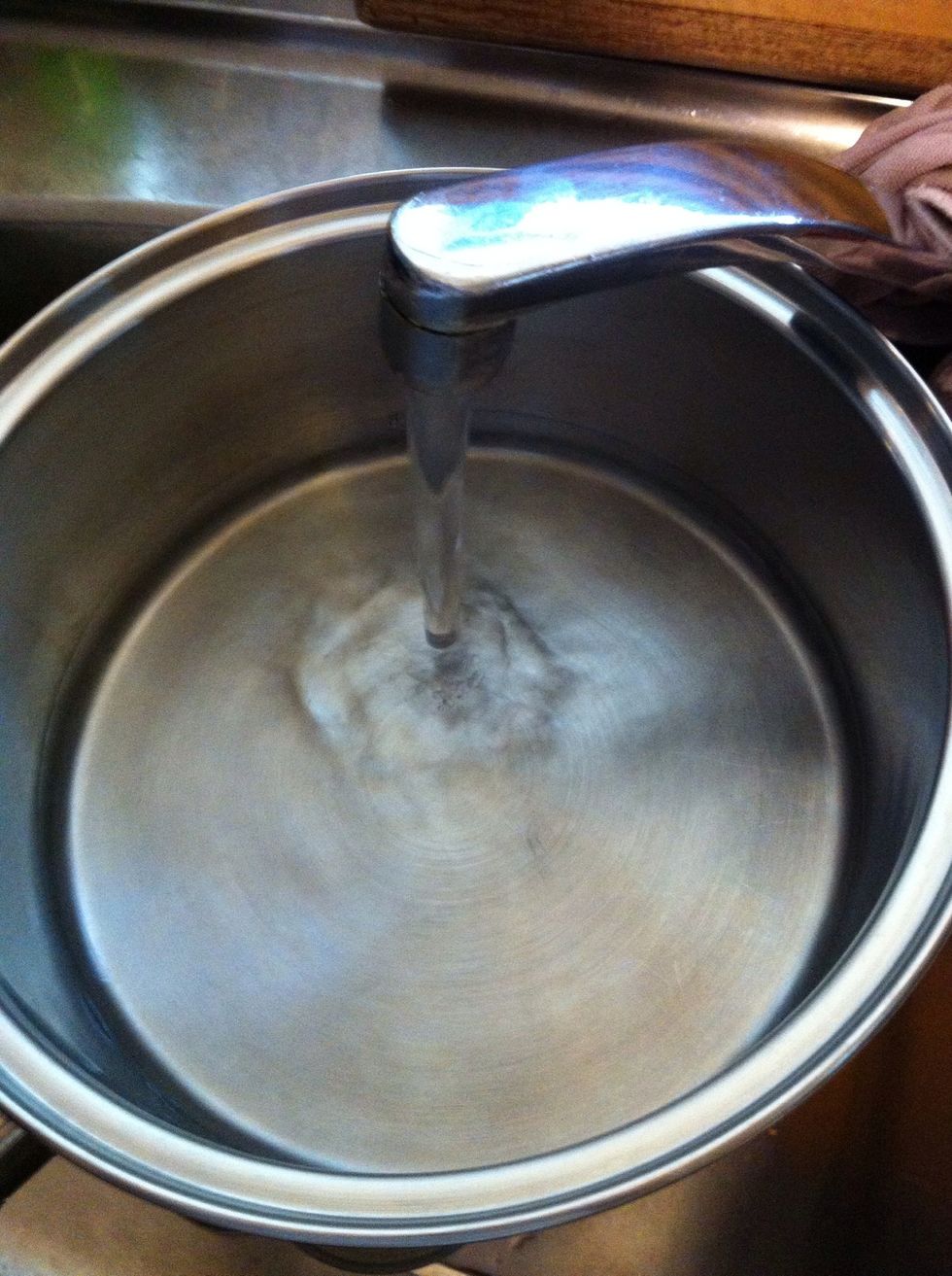 Fill this saucepan with water only a bit so when you sit the heat proof bowl it won't touch the water.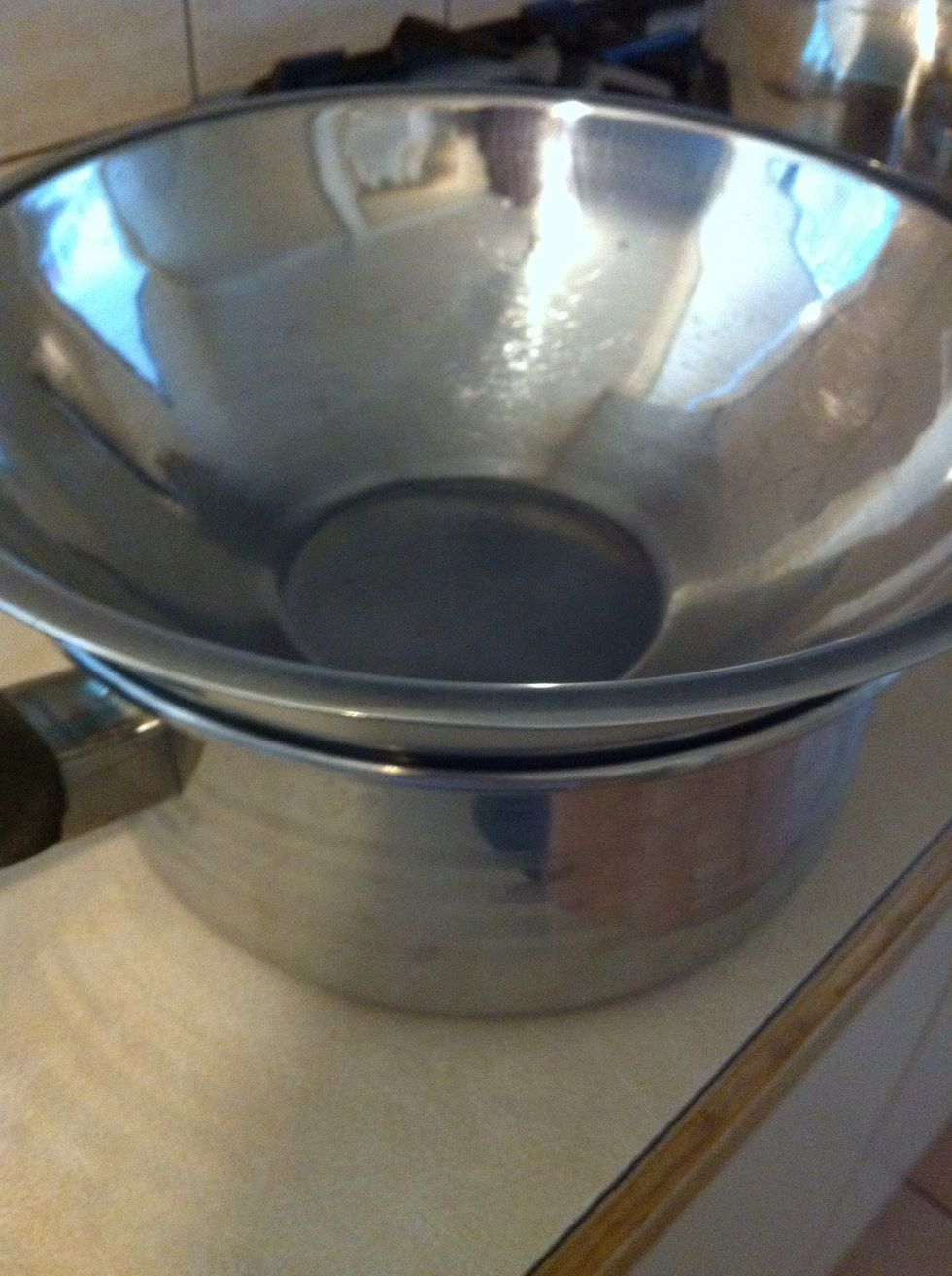 Like so if the bowl is very close to touching or touching tip some water out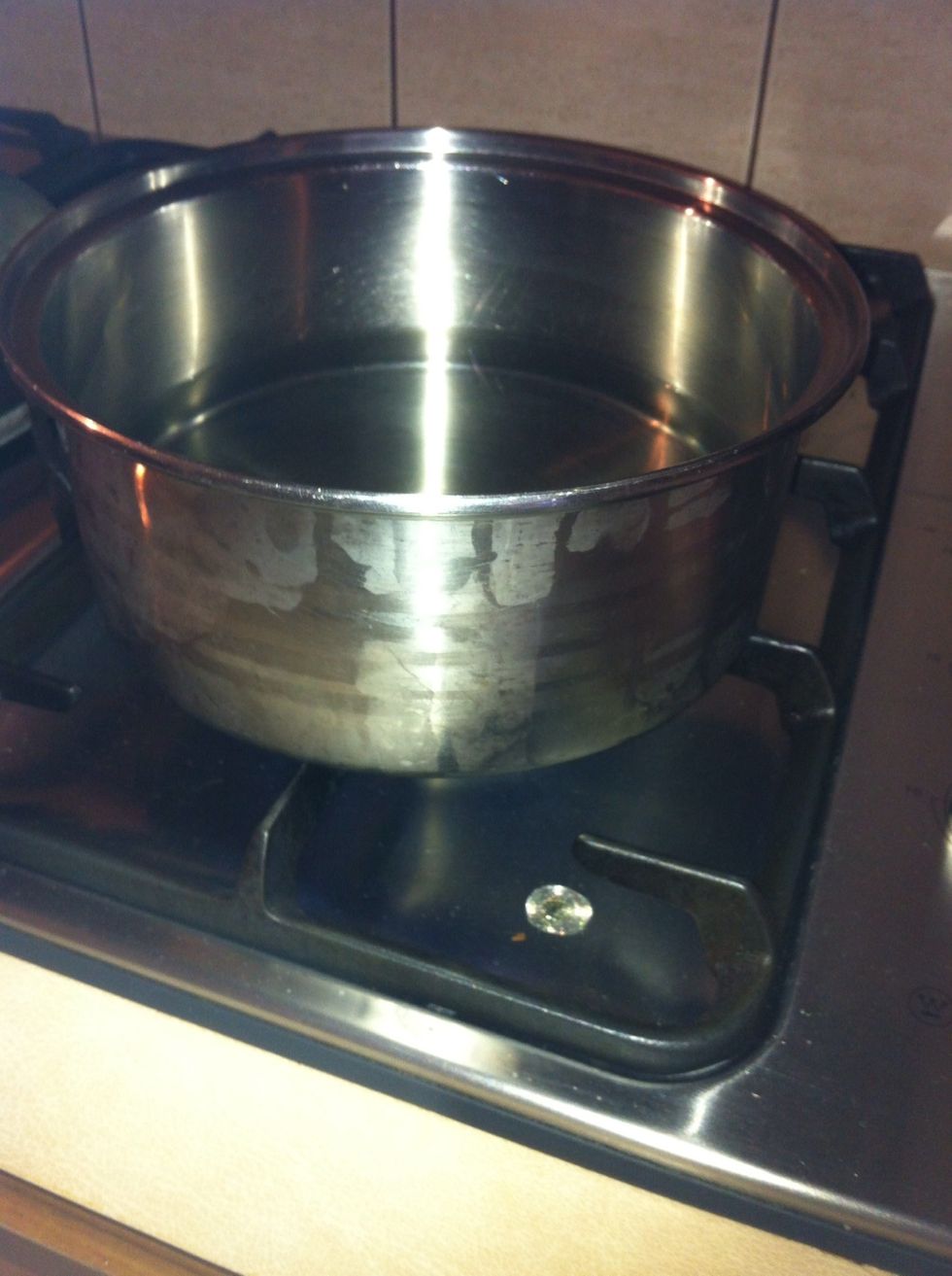 Now take the bowl off and heat the water on low heat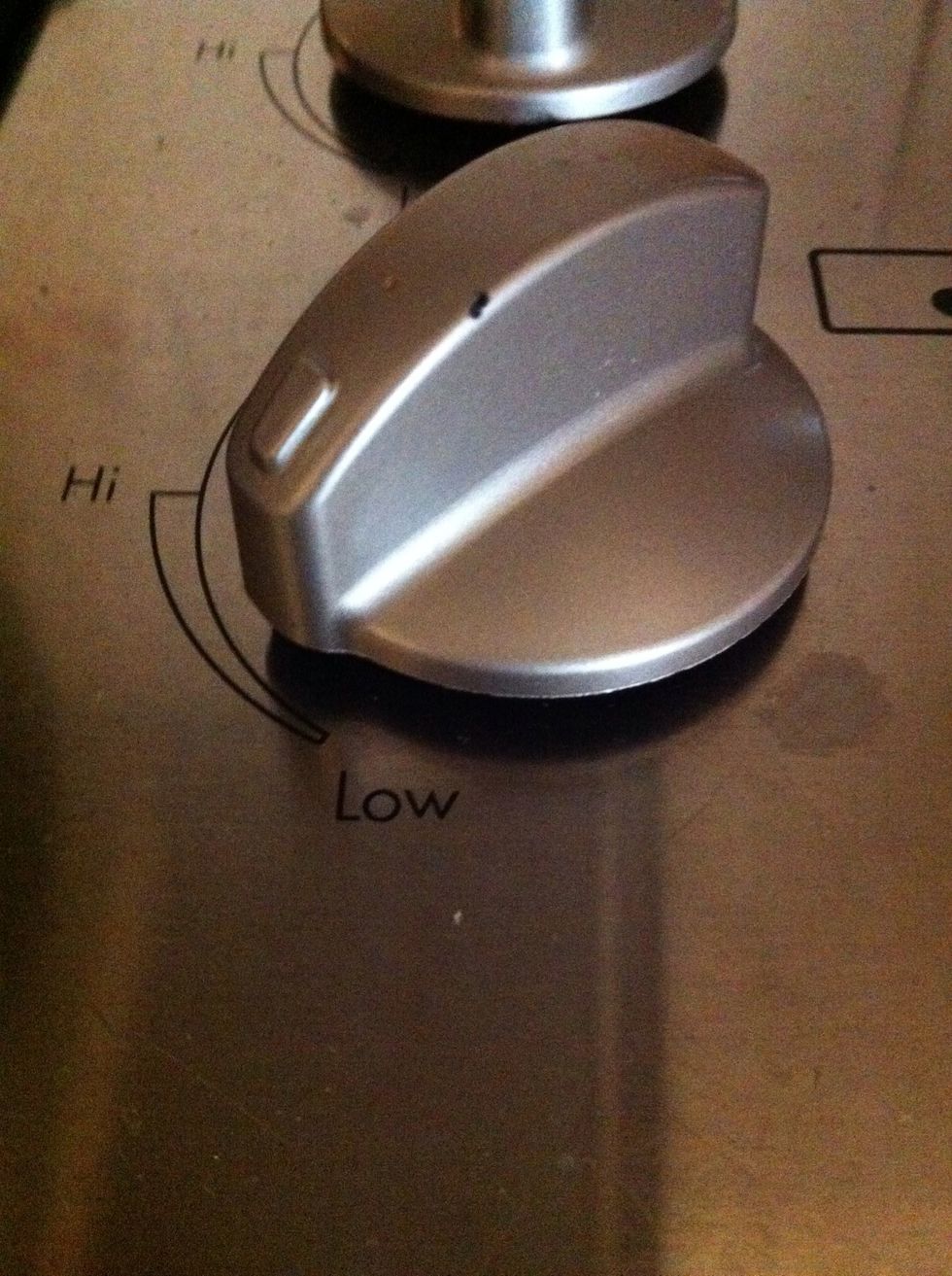 Low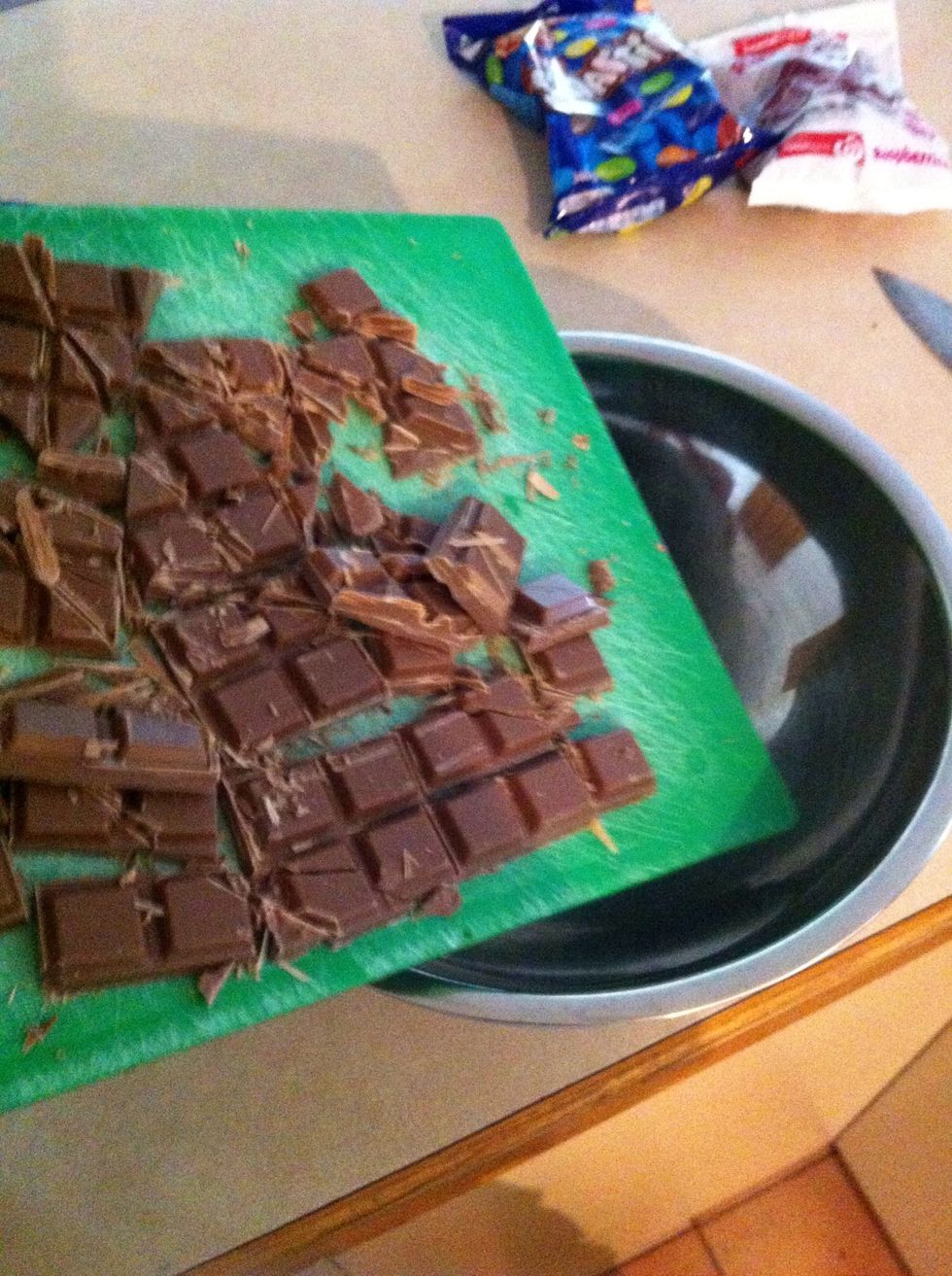 While the water is heating up put the chopped chocolate into the heat proof bowl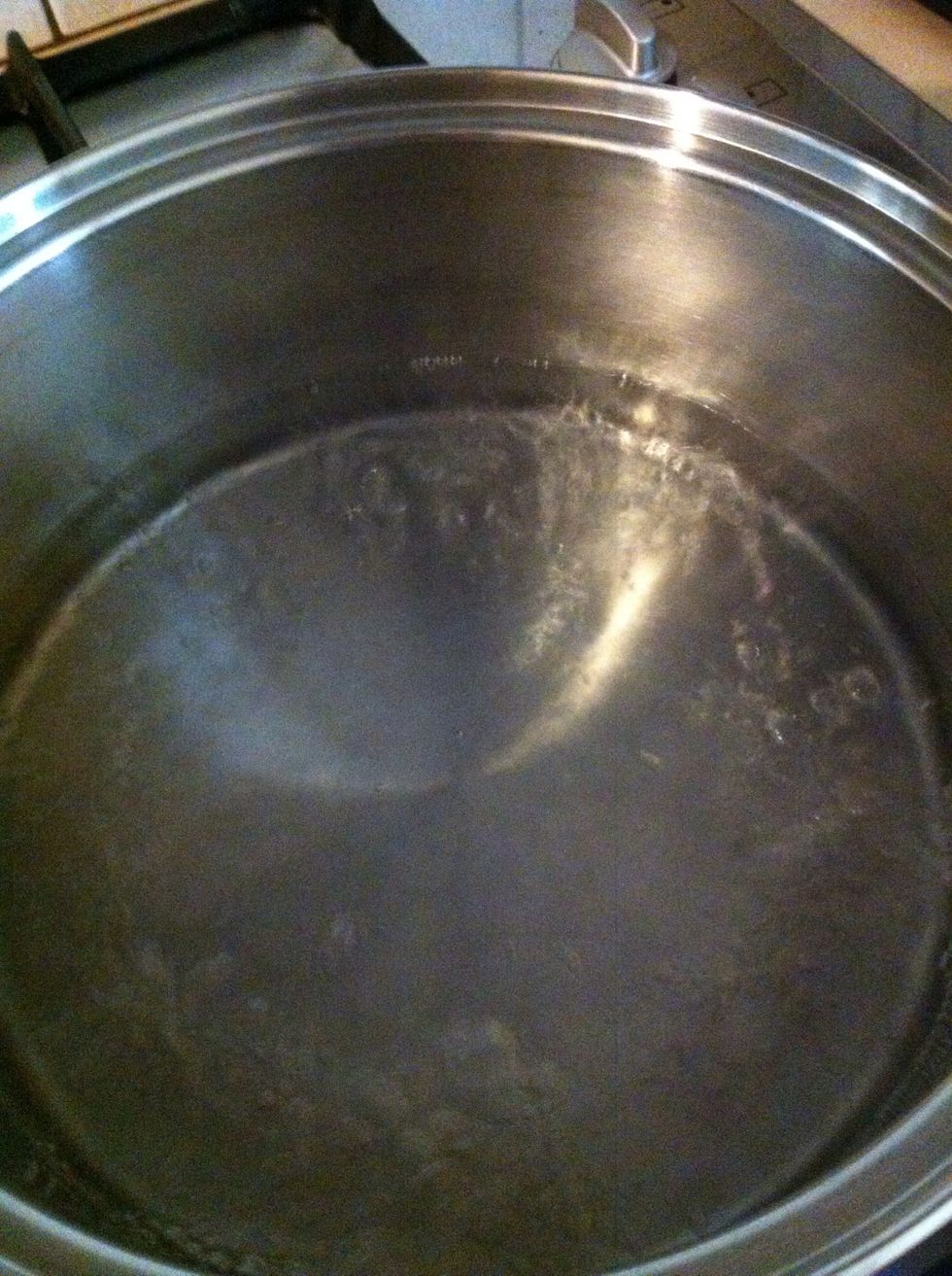 When the water is bubbly and boiling its done
Put the bowl on top! low heat all the time ok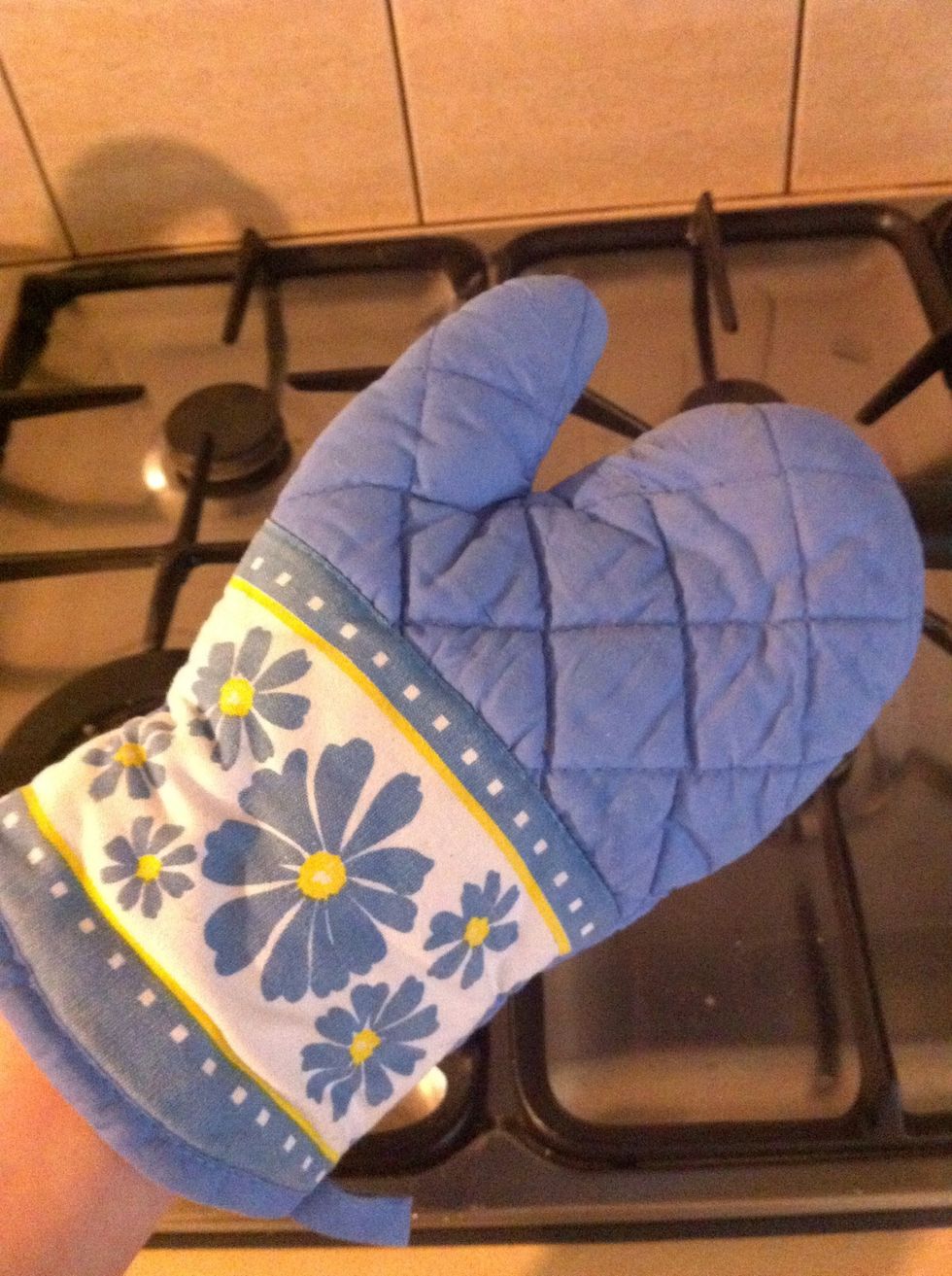 Get your oven mit because you wont be able to hold the bowl still when its hot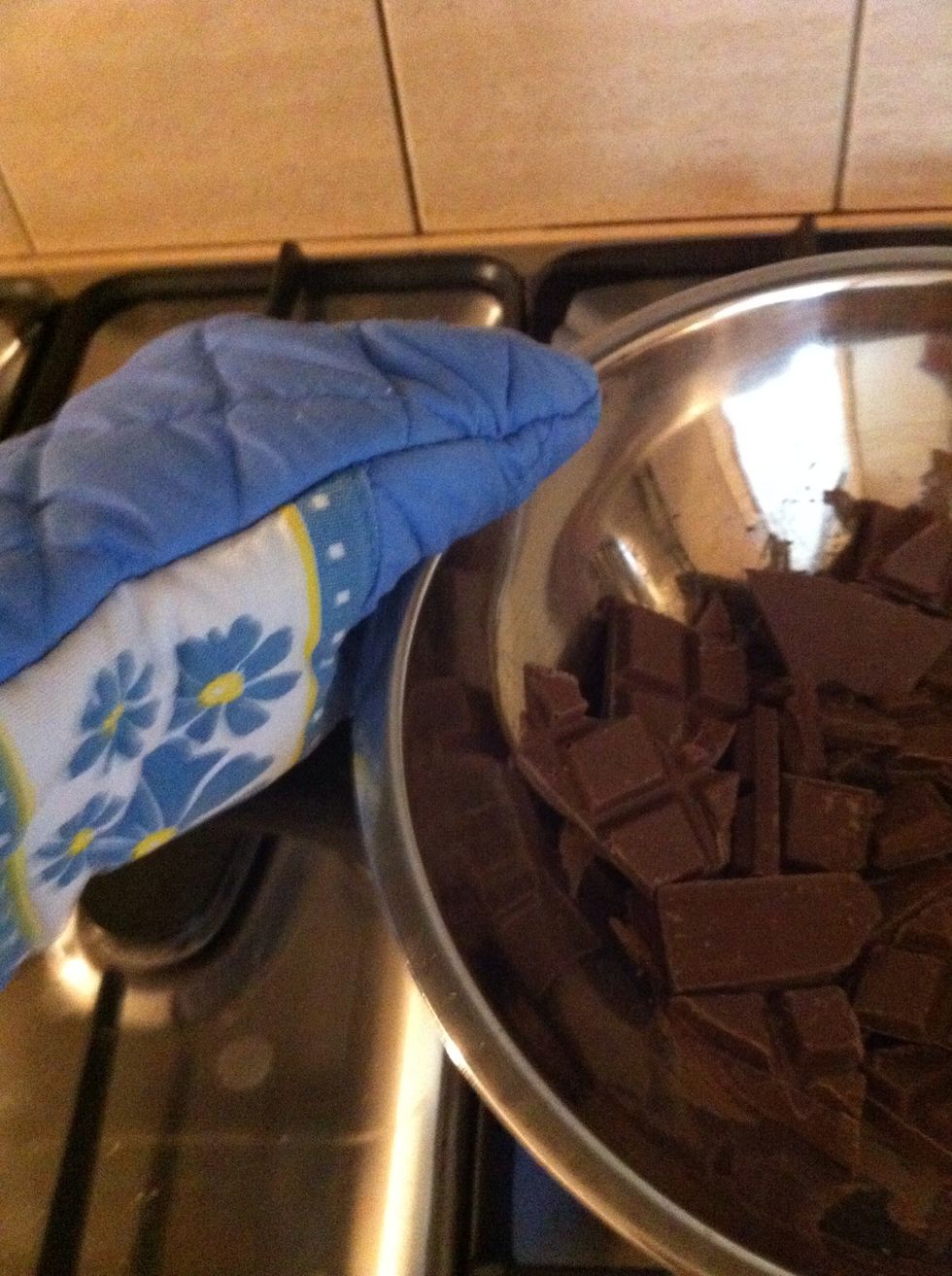 Hold the bowl like this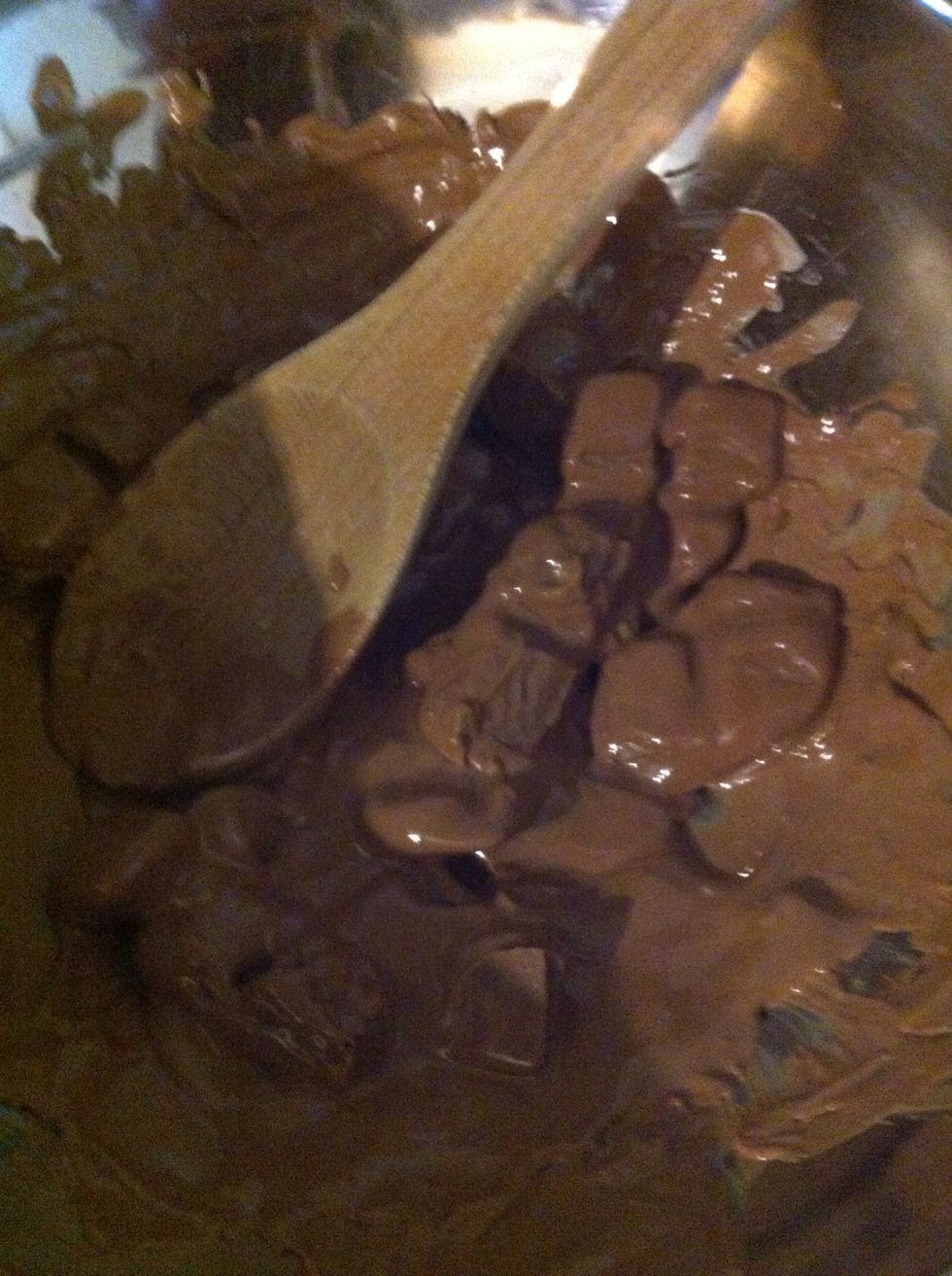 Contantly stir the chocolate
Nearly done!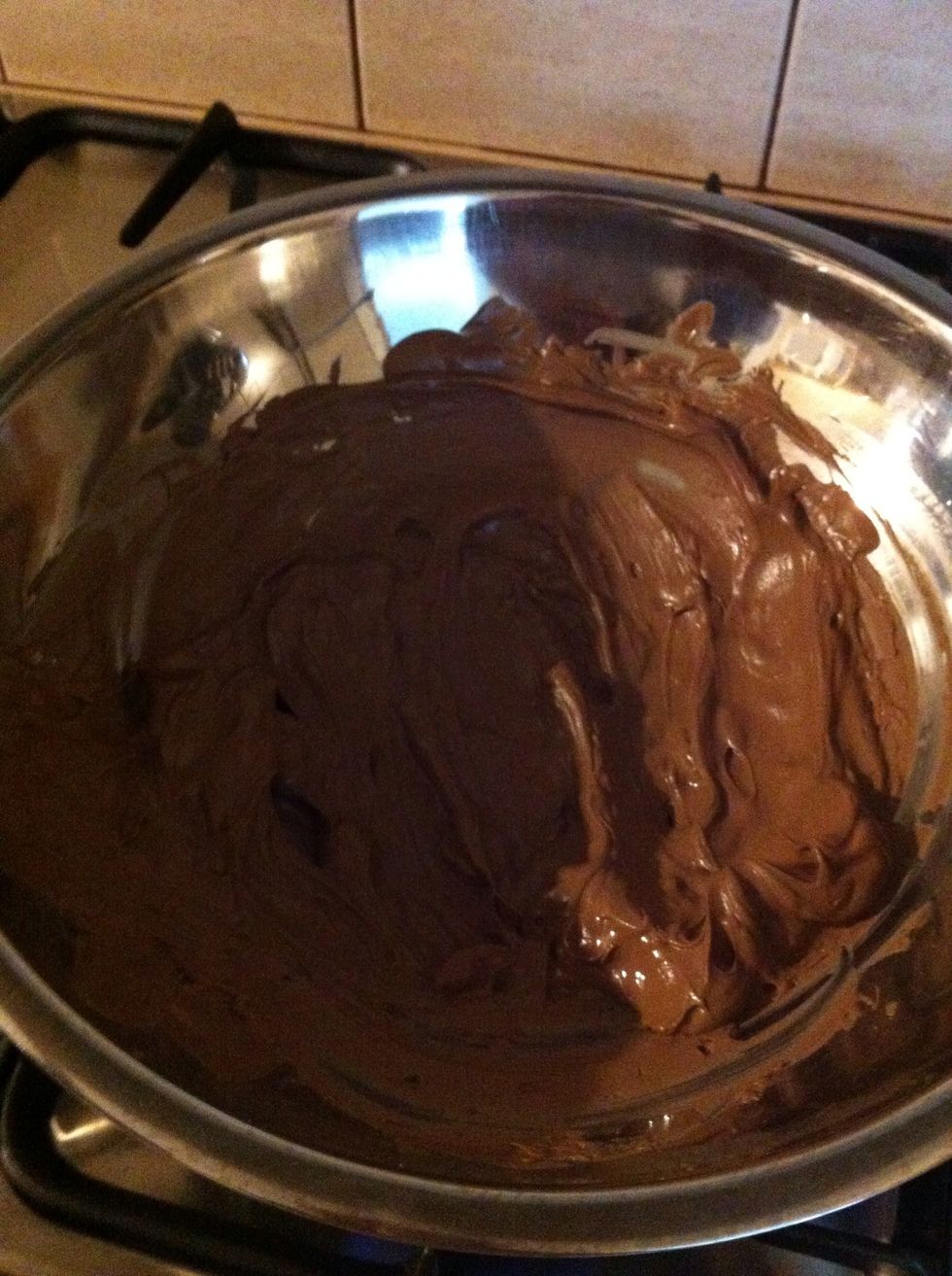 Straight after all the big lumps of chocolate have melted take off we dont want to burn it
Perfect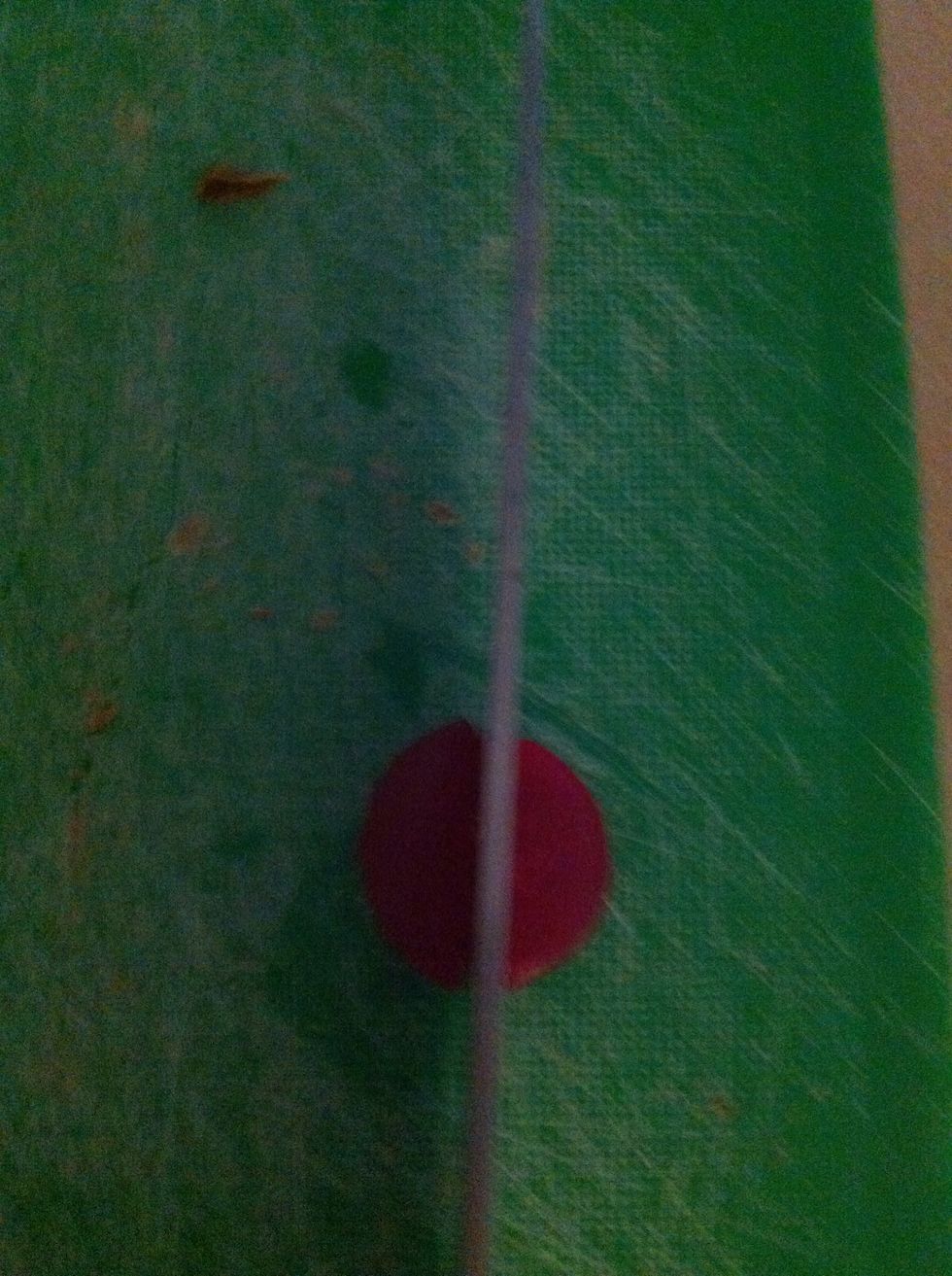 Sorry for bad quality photos but cut the rasberry jubes into quatres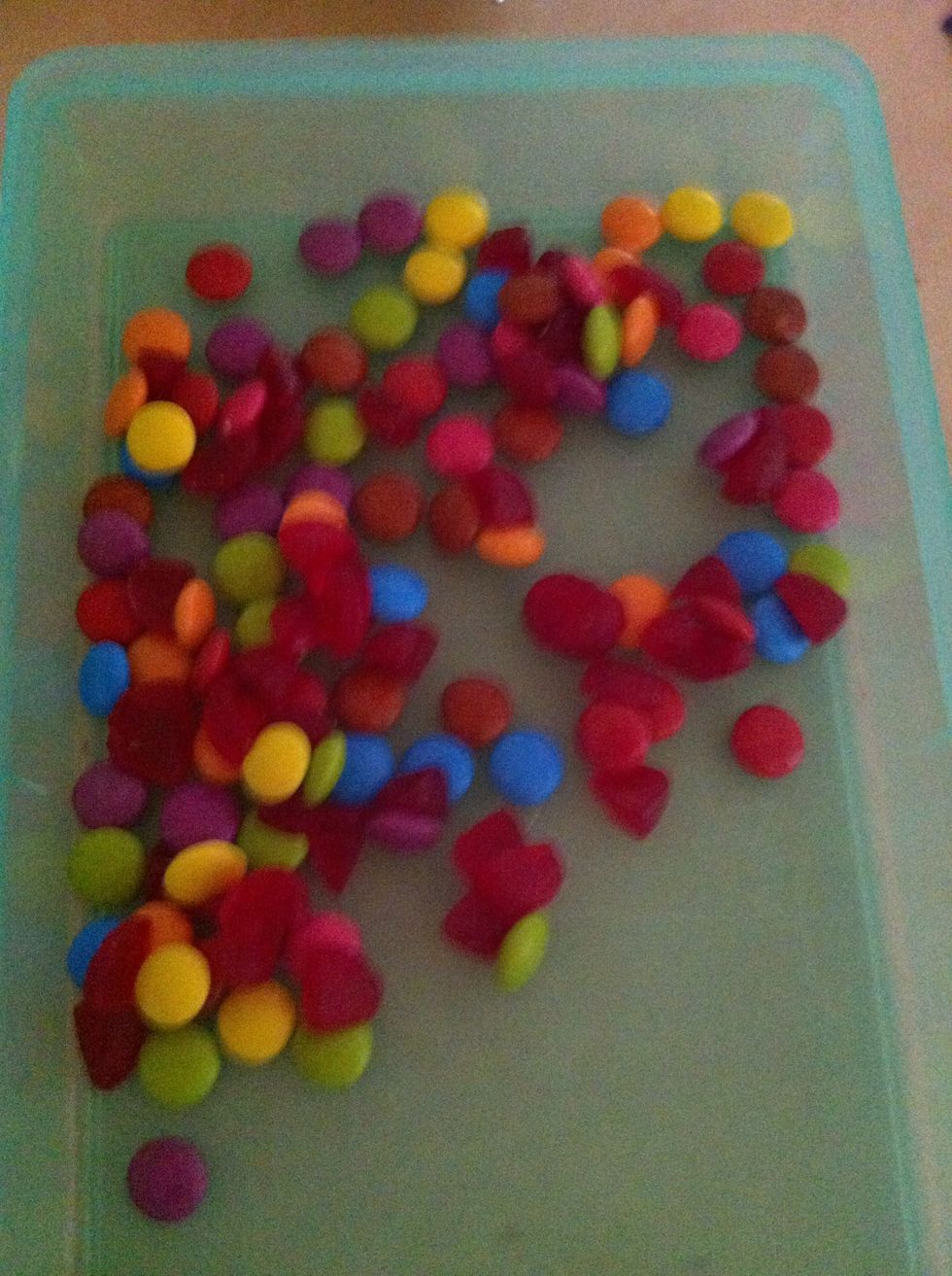 Put in a tray or bowl with some smarties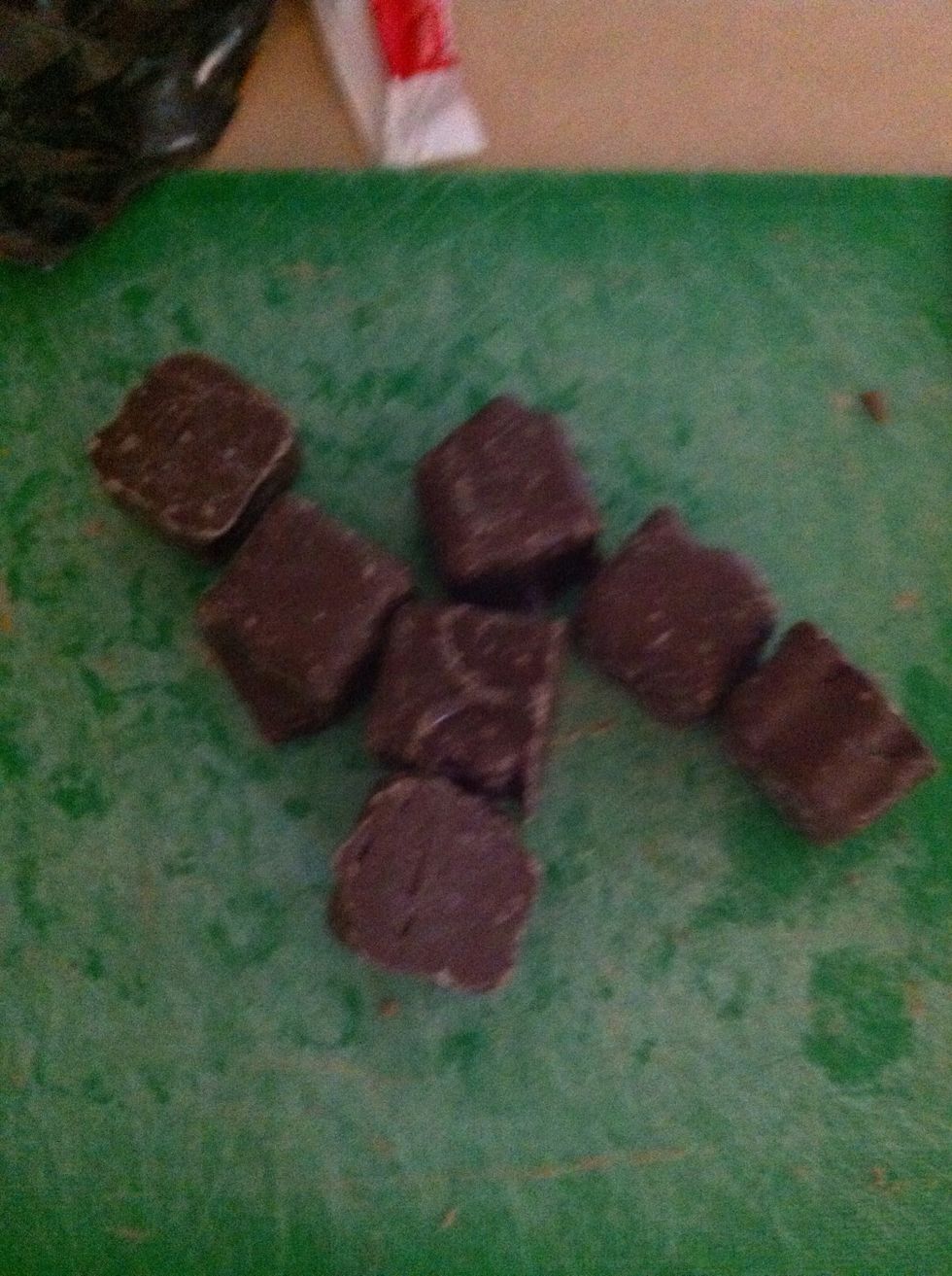 Now put some honey comb bricks on your chopping board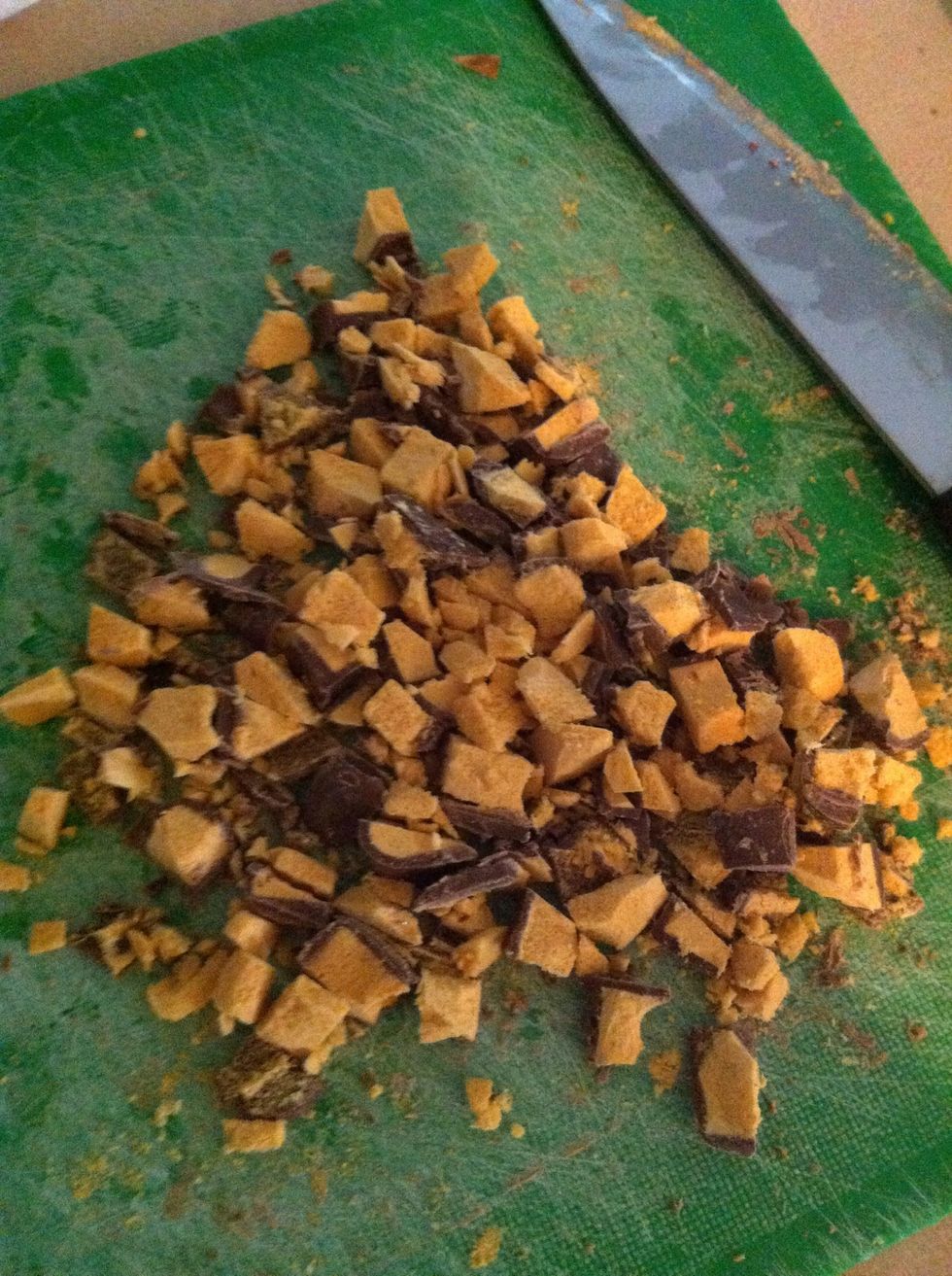 chop it up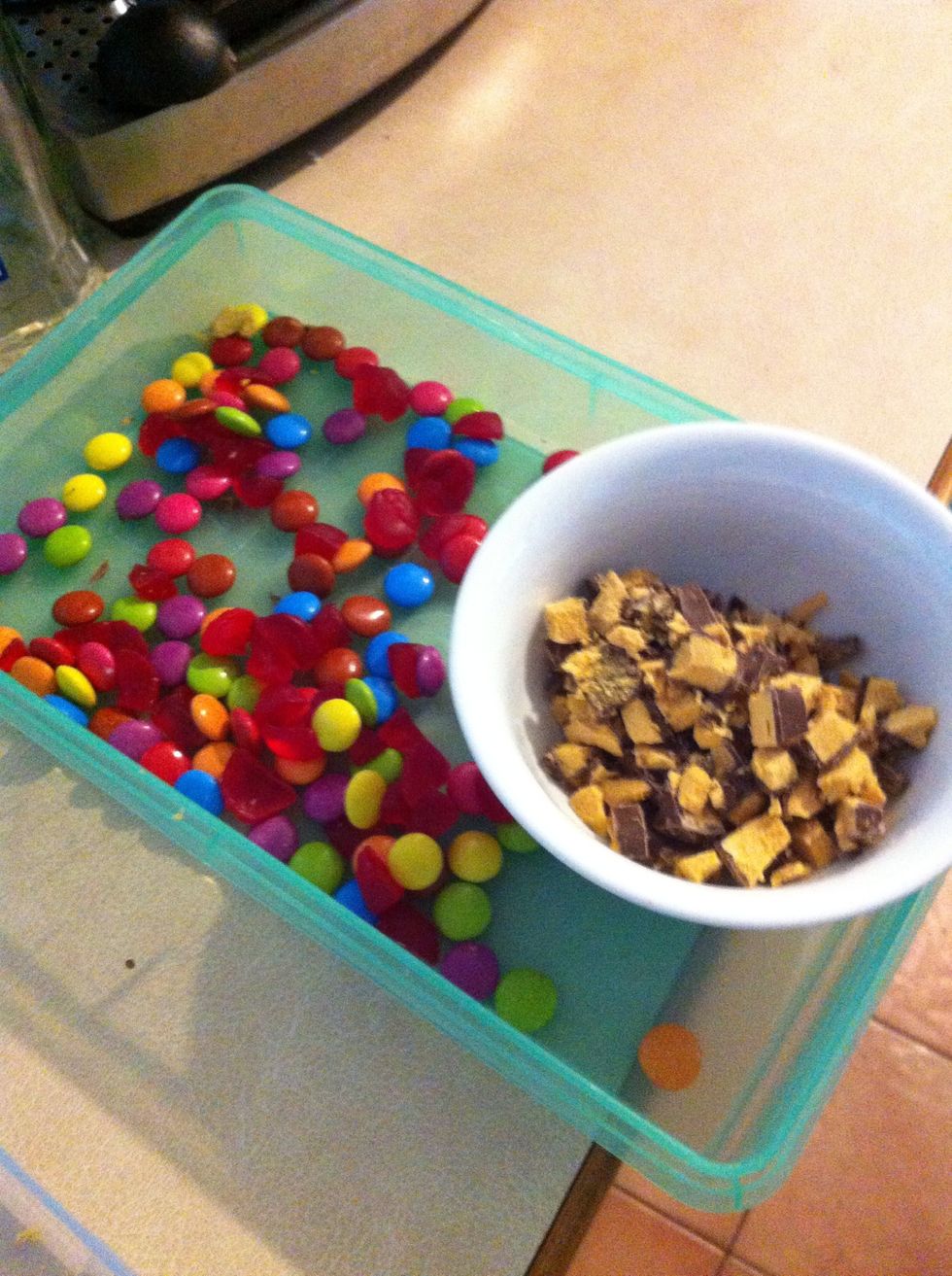 There!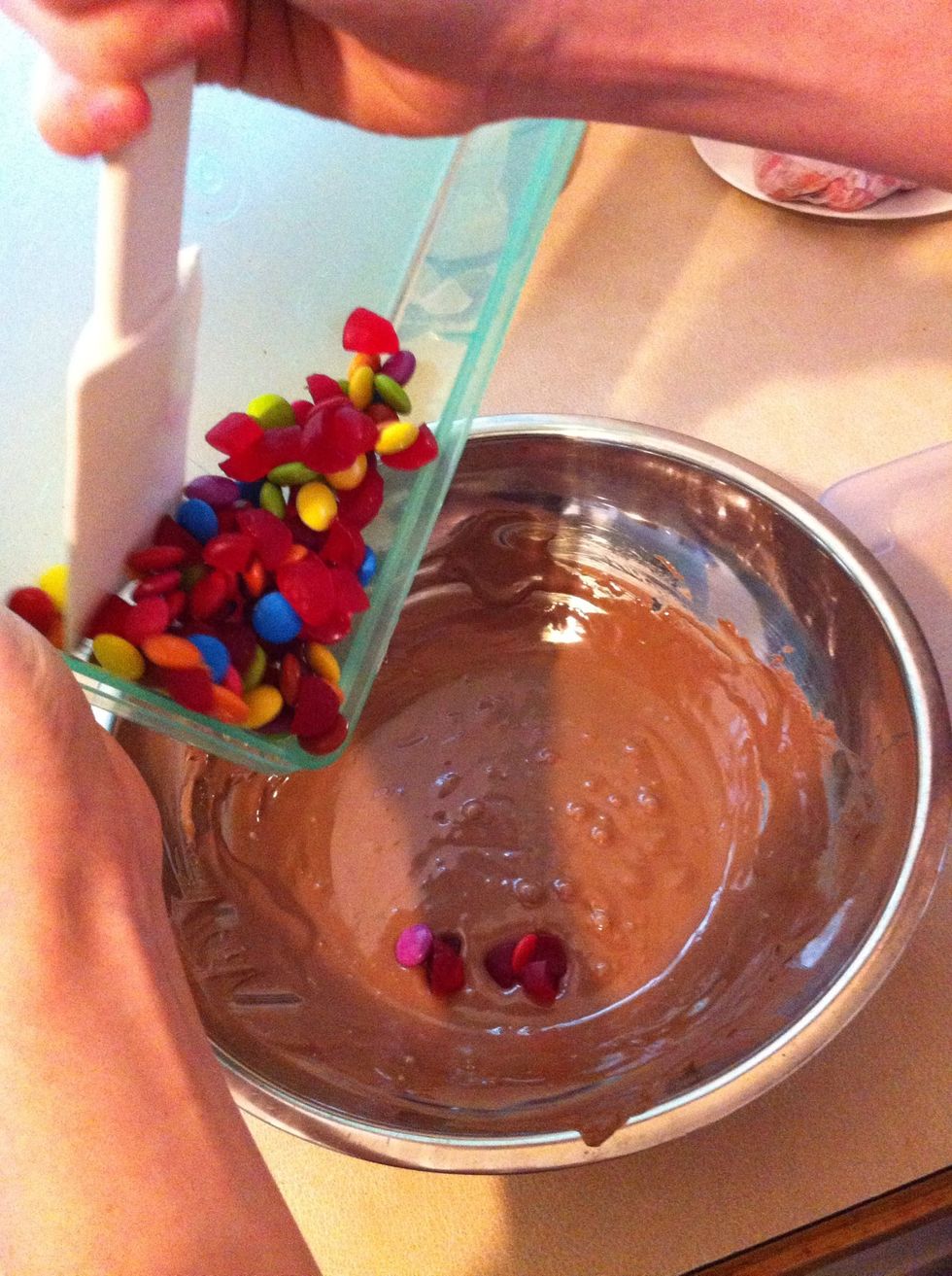 Now in the mildly warm chocolate pour the smarties, jubes and honey comb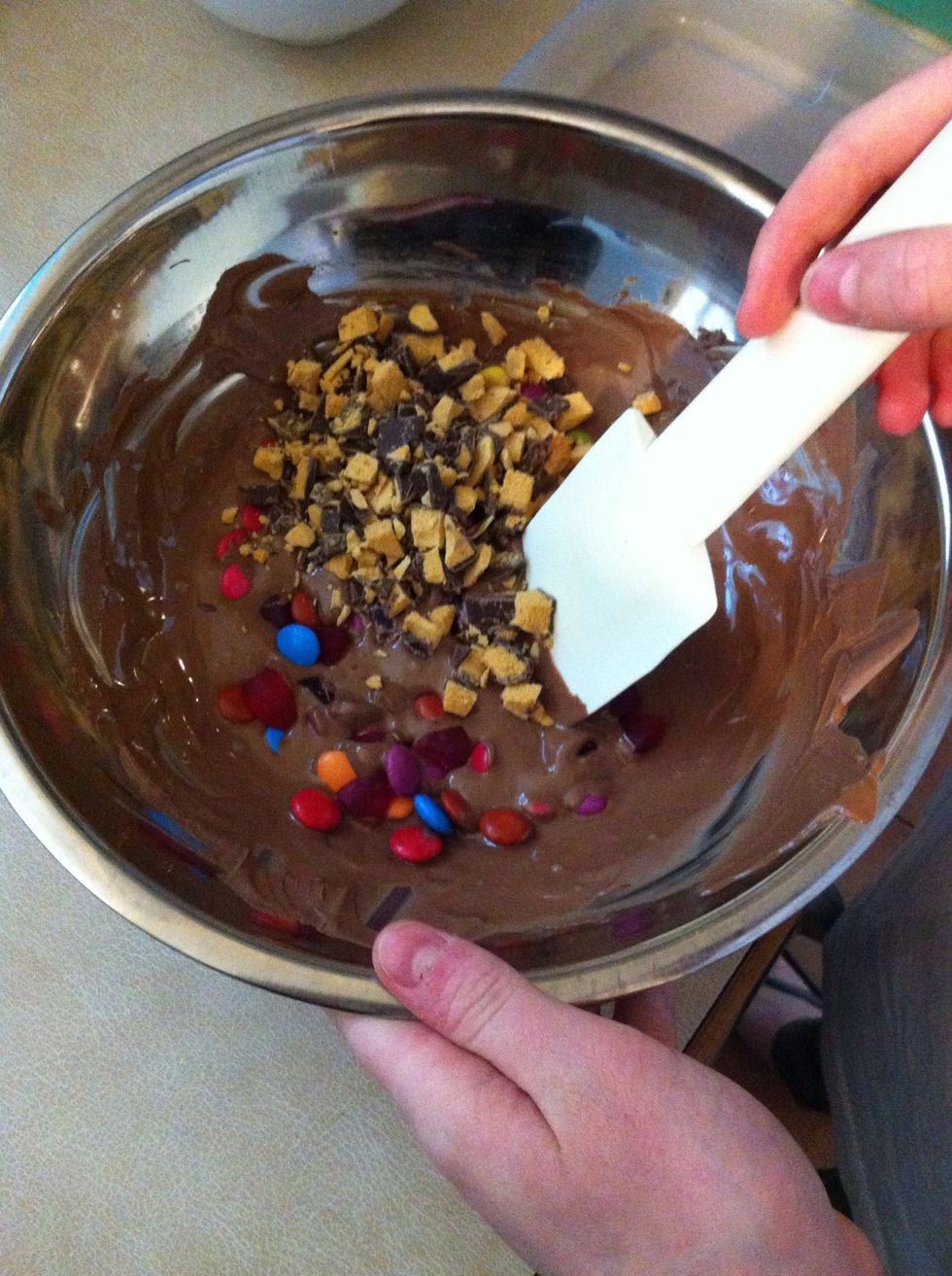 Now mix it up with the spatular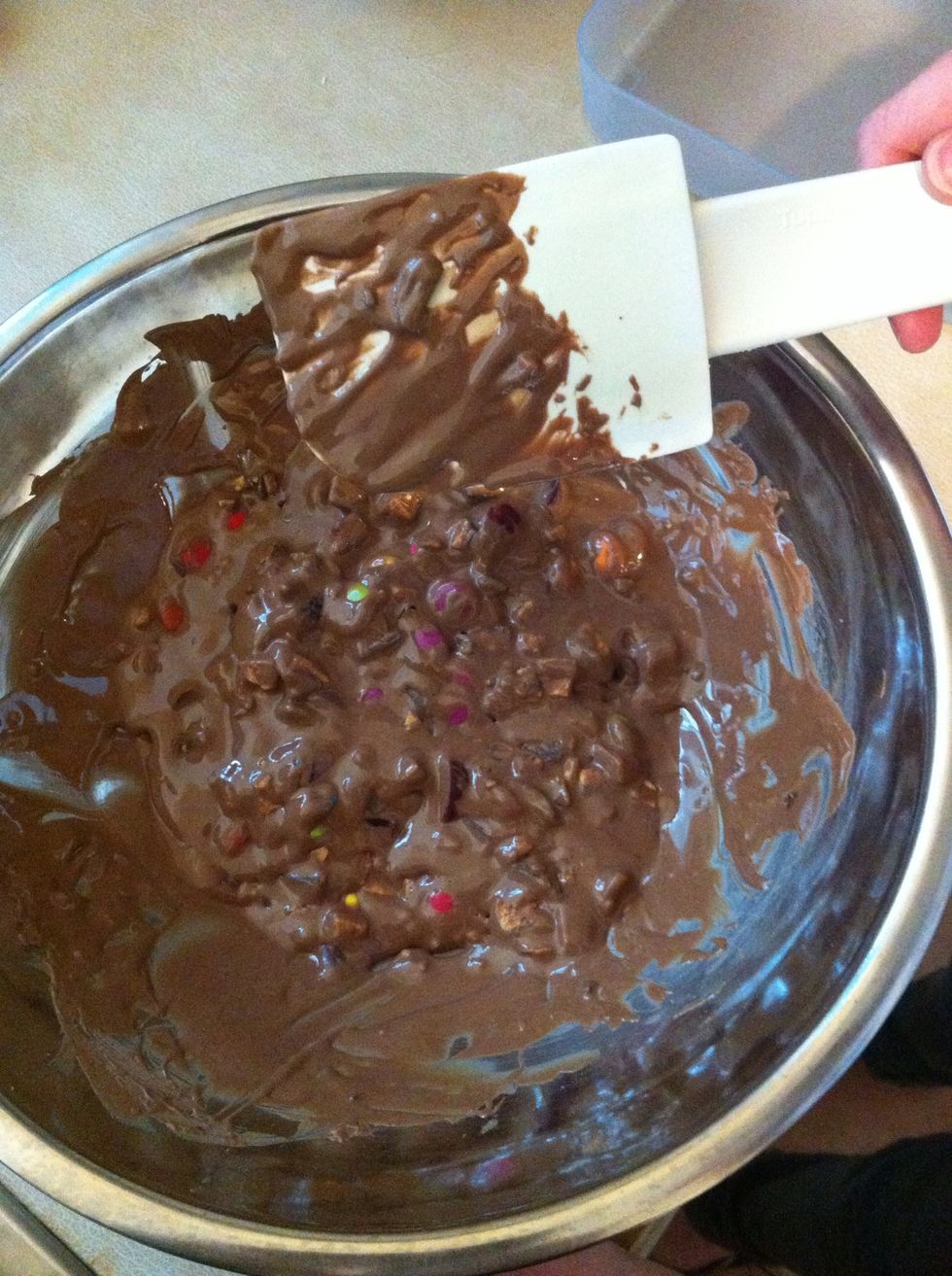 Done it looks gross😁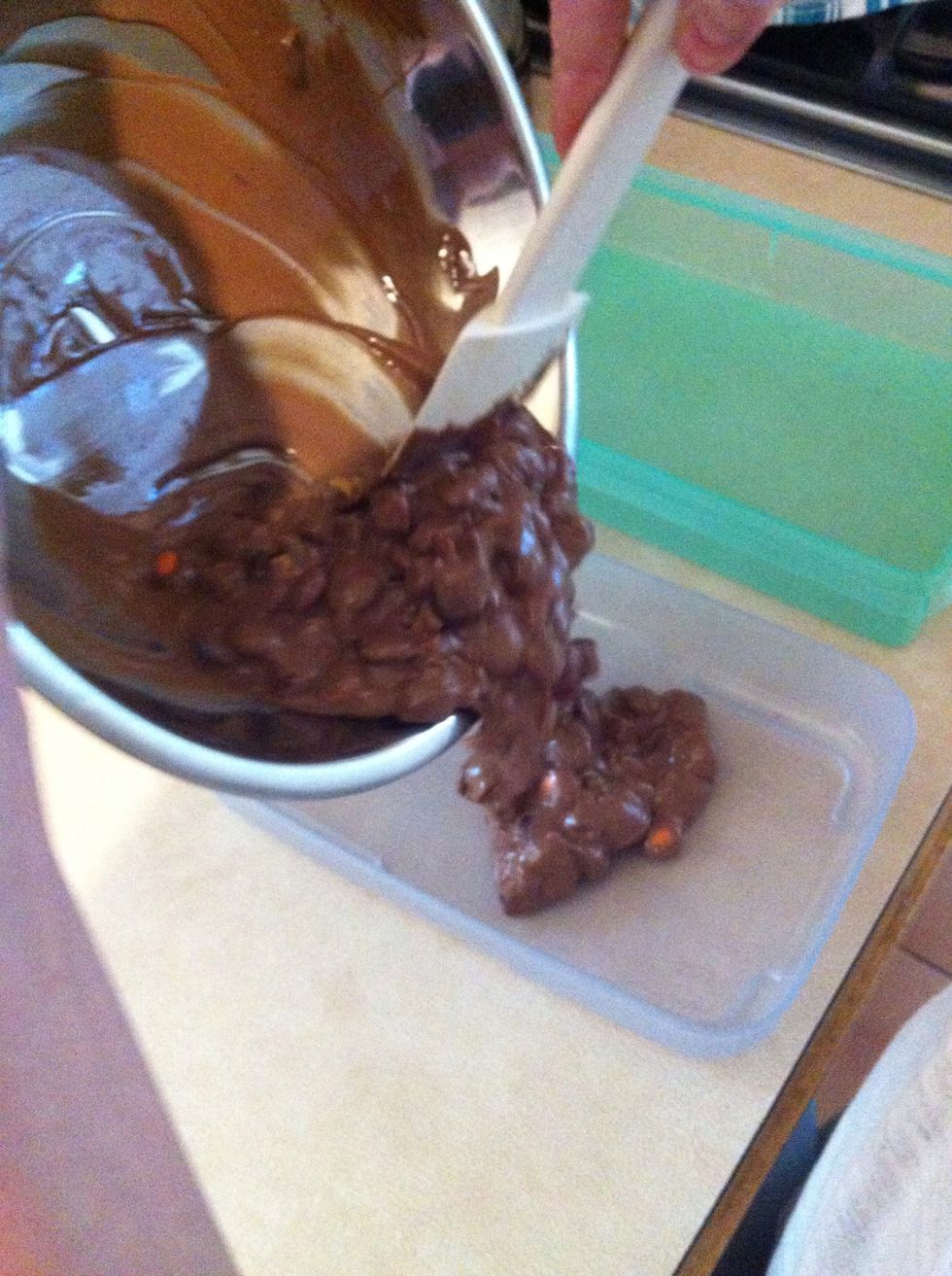 Now in a smaller container pour the mixture in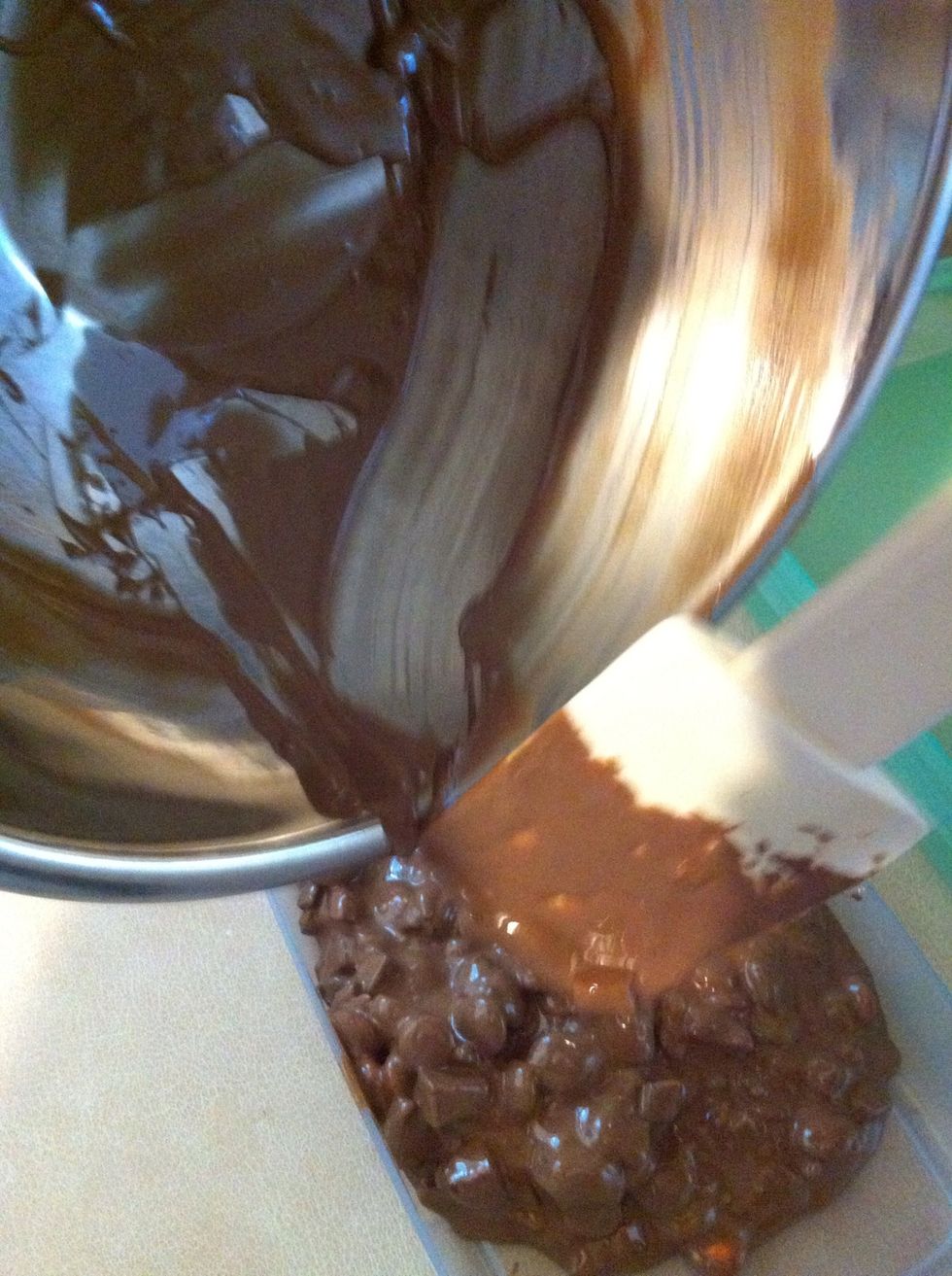 Make sure to scrape it all out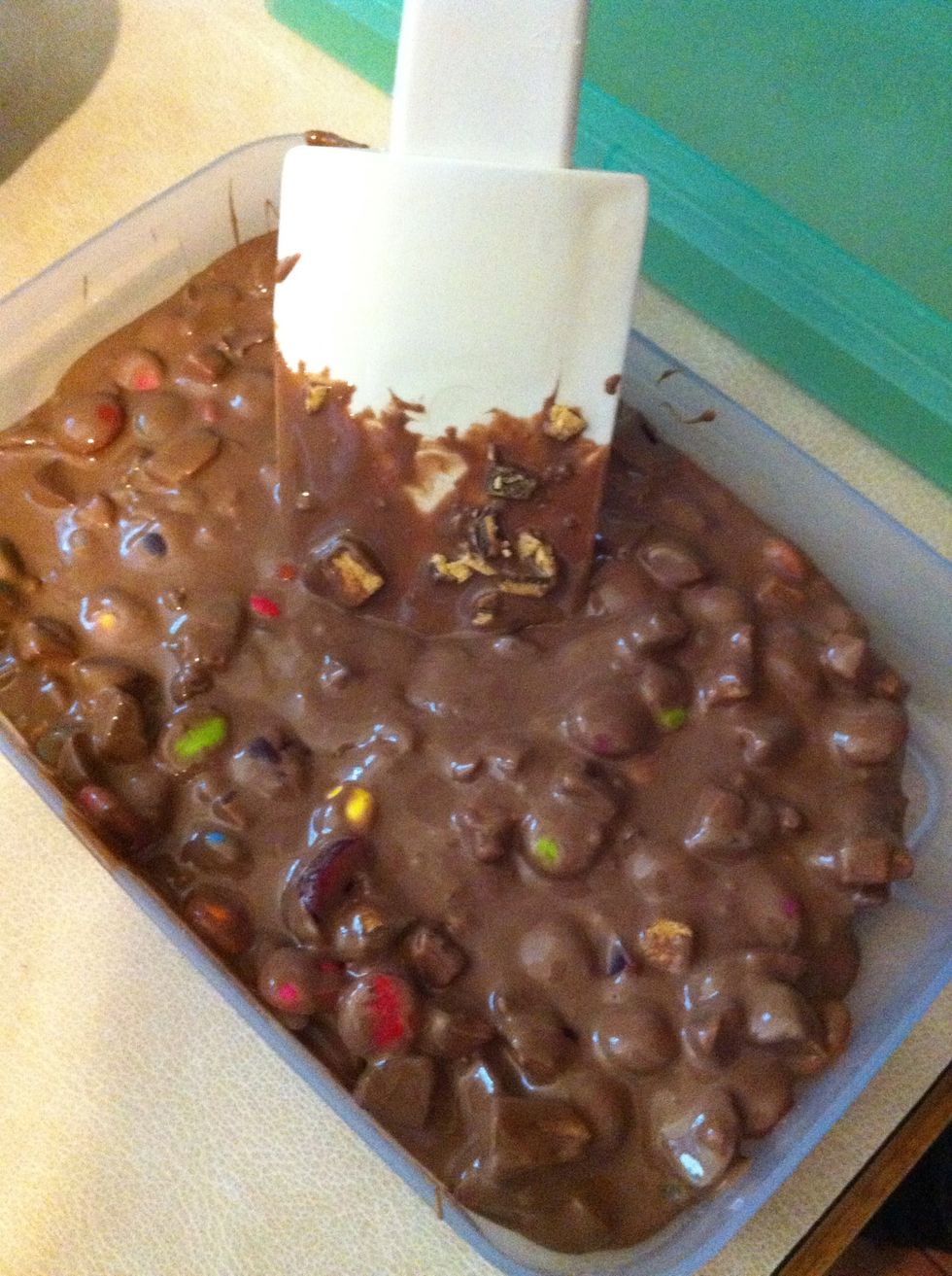 Flatten it down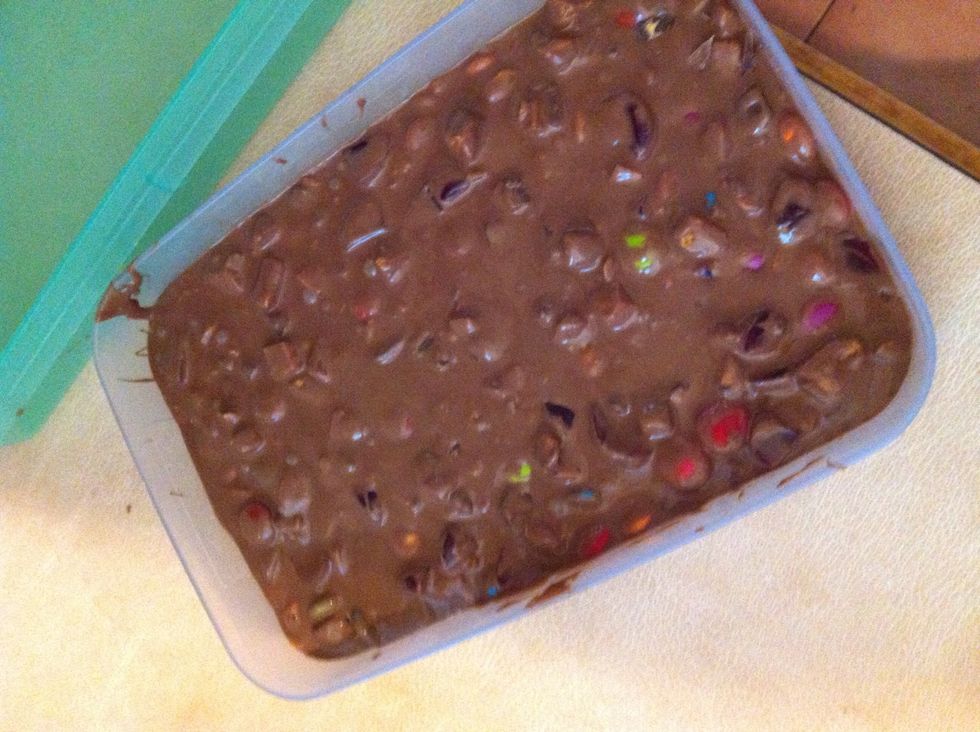 All done
Put bigger container and leave out do not put in the fridge as it ruins the texture and flavour and gets too hard.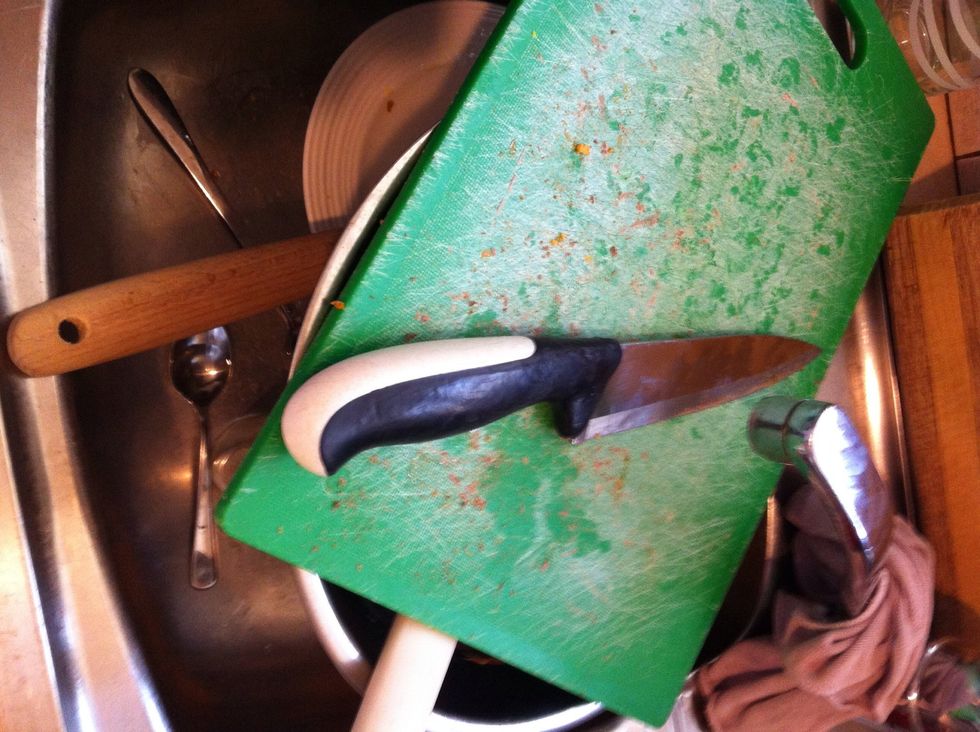 Now wash up😖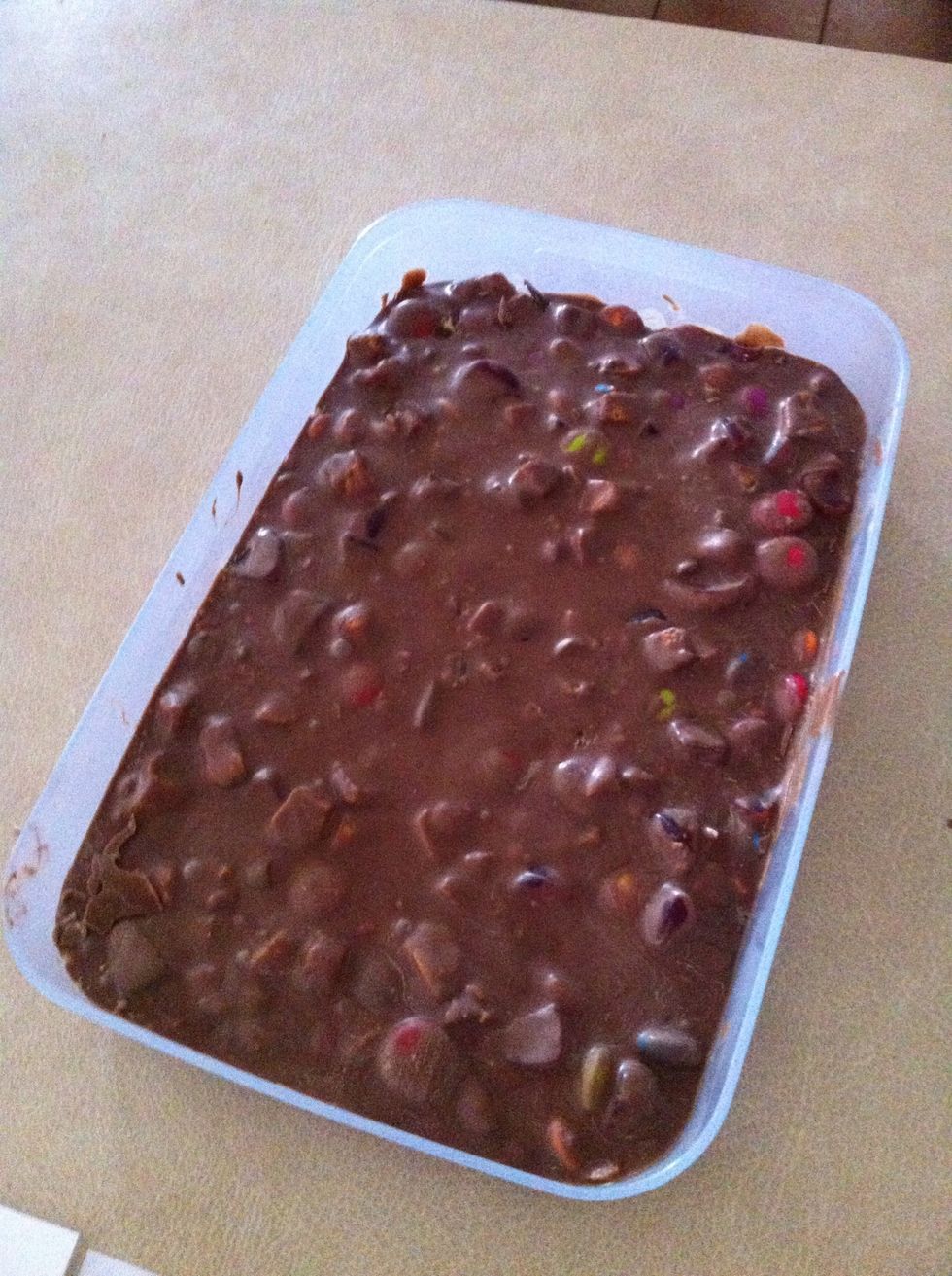 Its been 2 hours now so its done
Gentley push the chocolate from the bottom of the container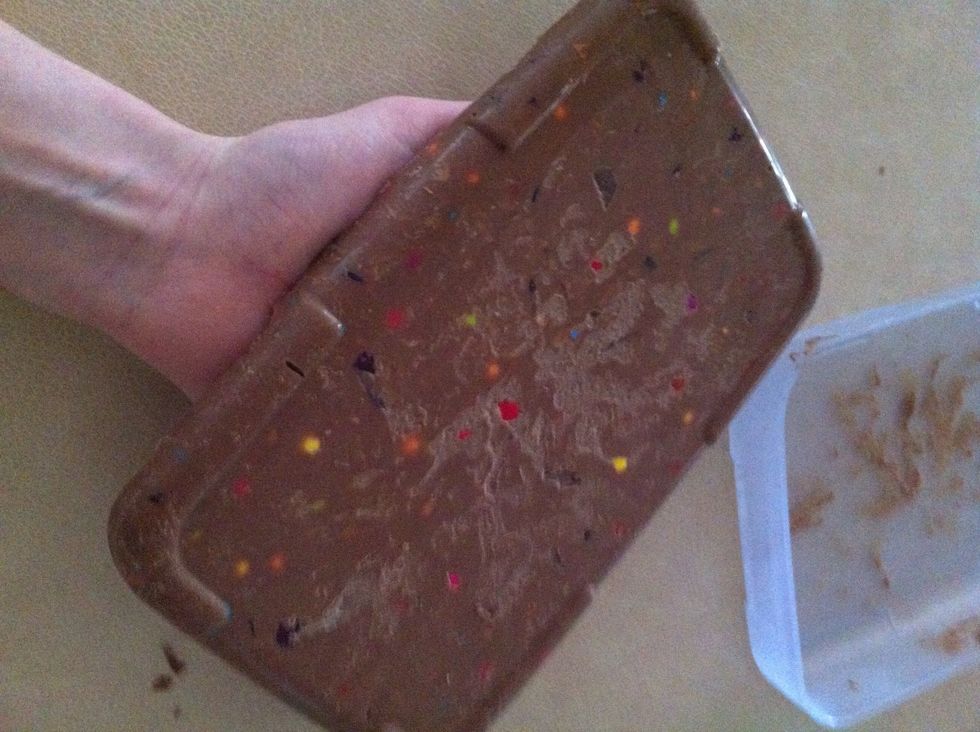 Yay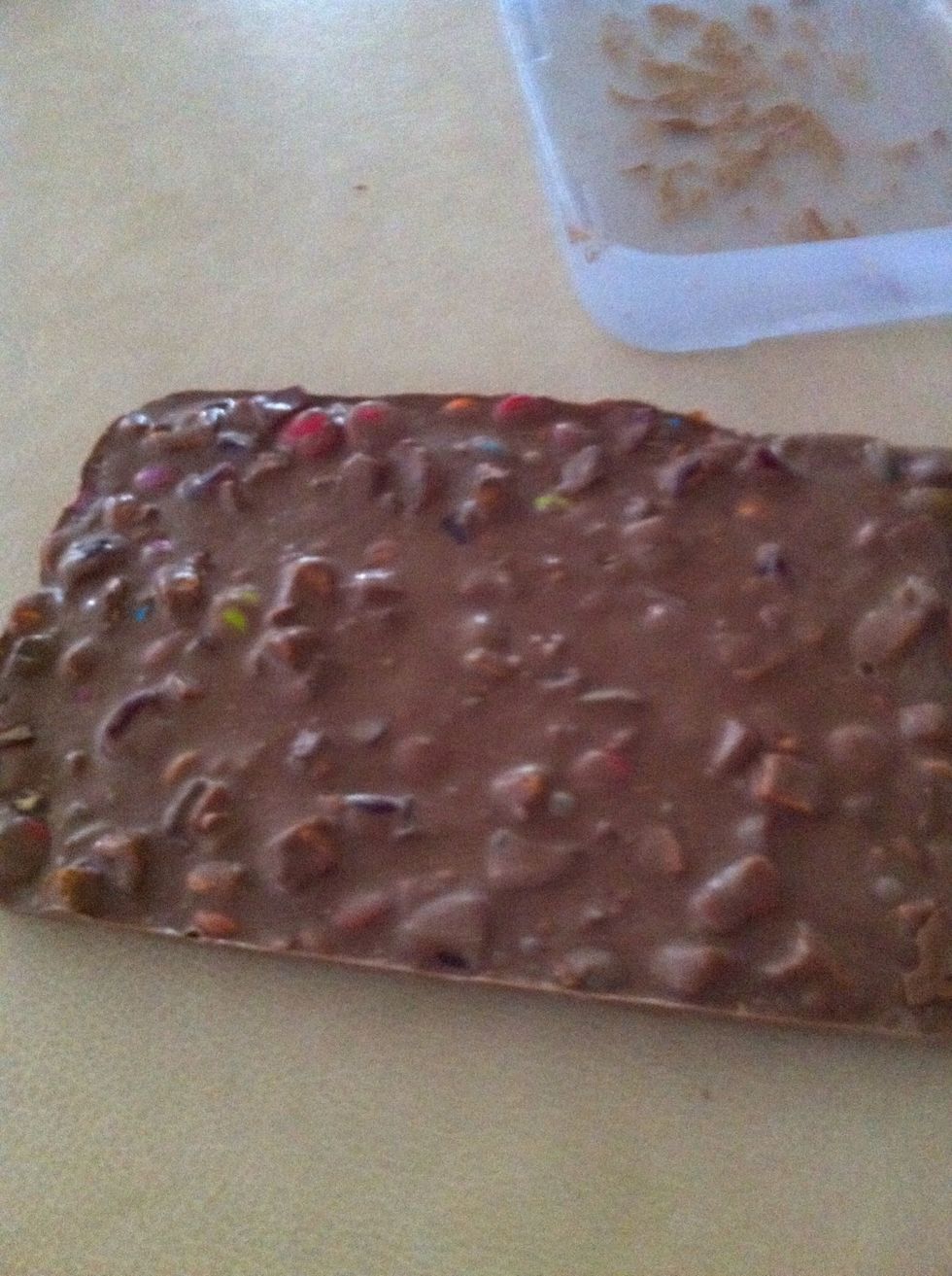 Put it on bench
This isn't nessasay but i thought it would be fun! continue looking though ➡➡➡ if you would like to see how to make the wrapper!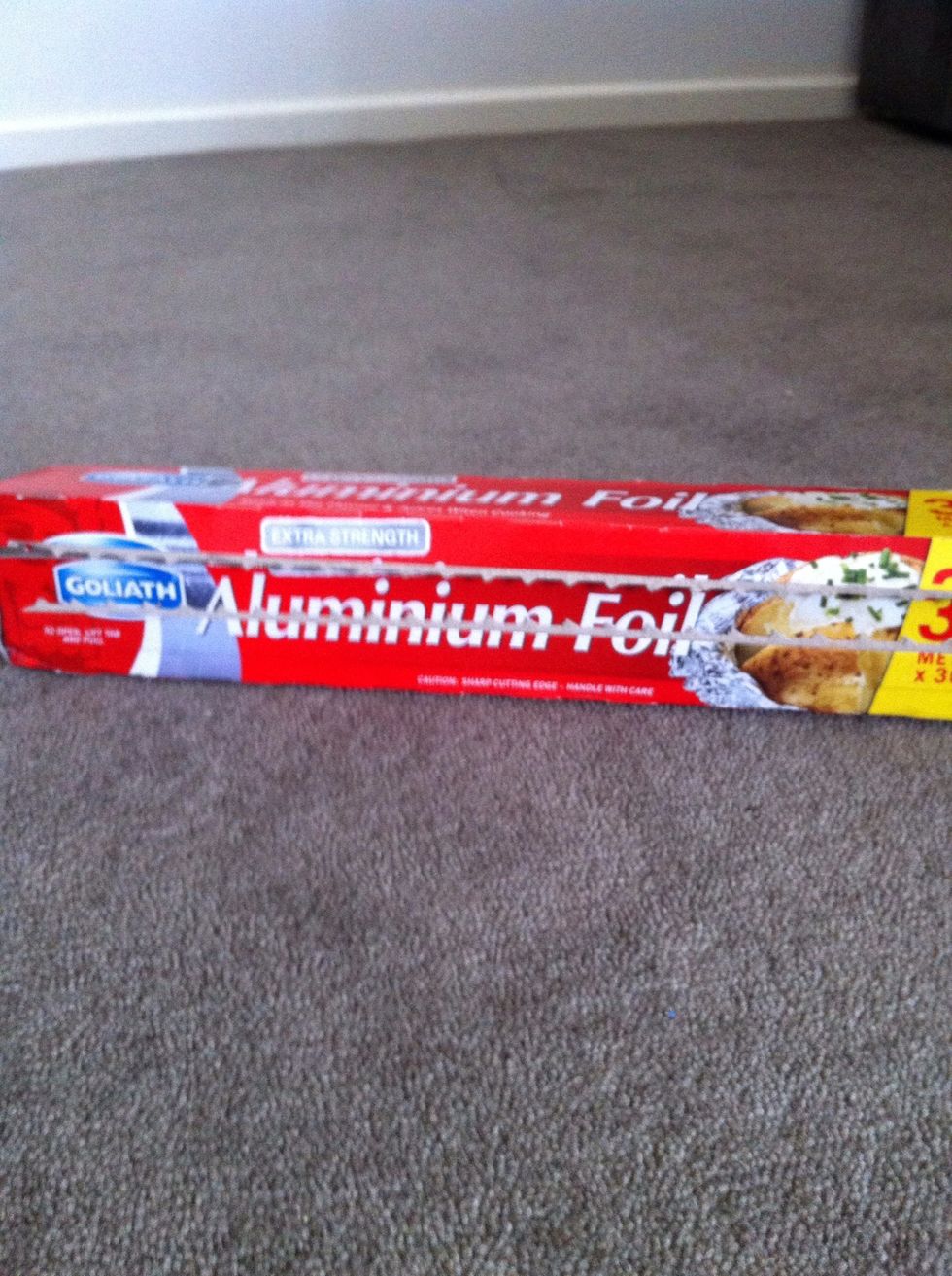 Get your foil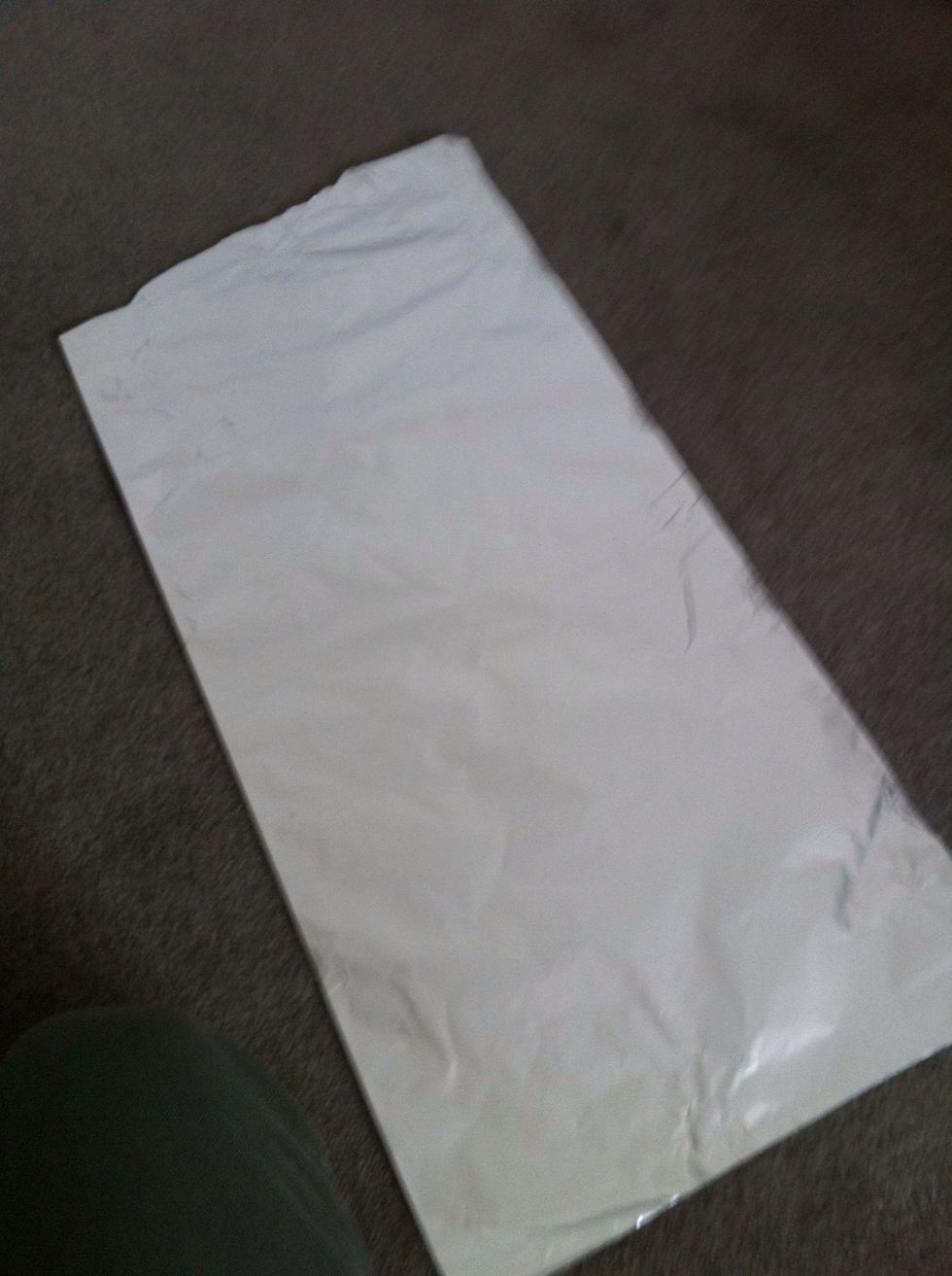 Lay a peice out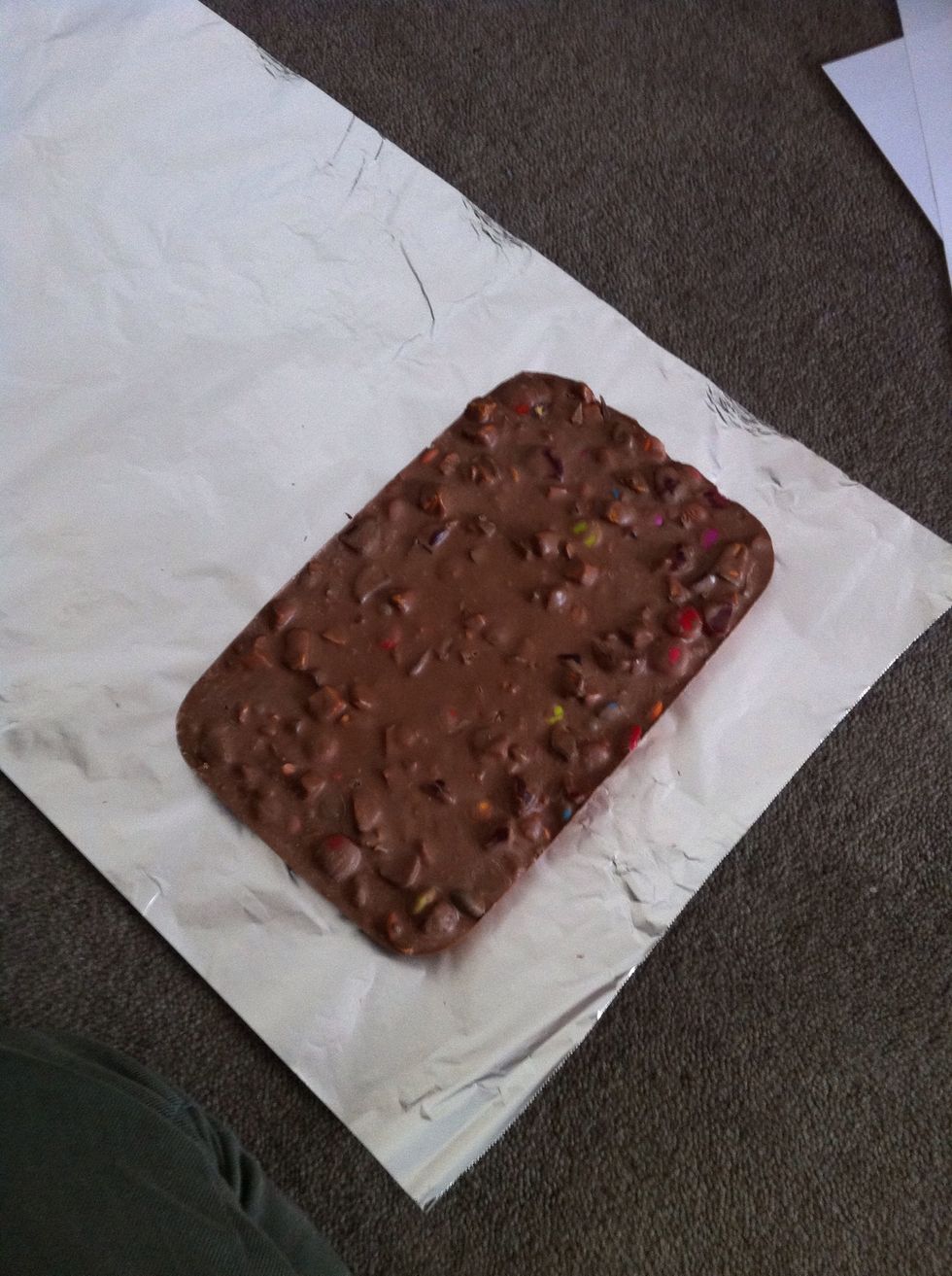 Put chocolate there and measure what size you will need to wrap it up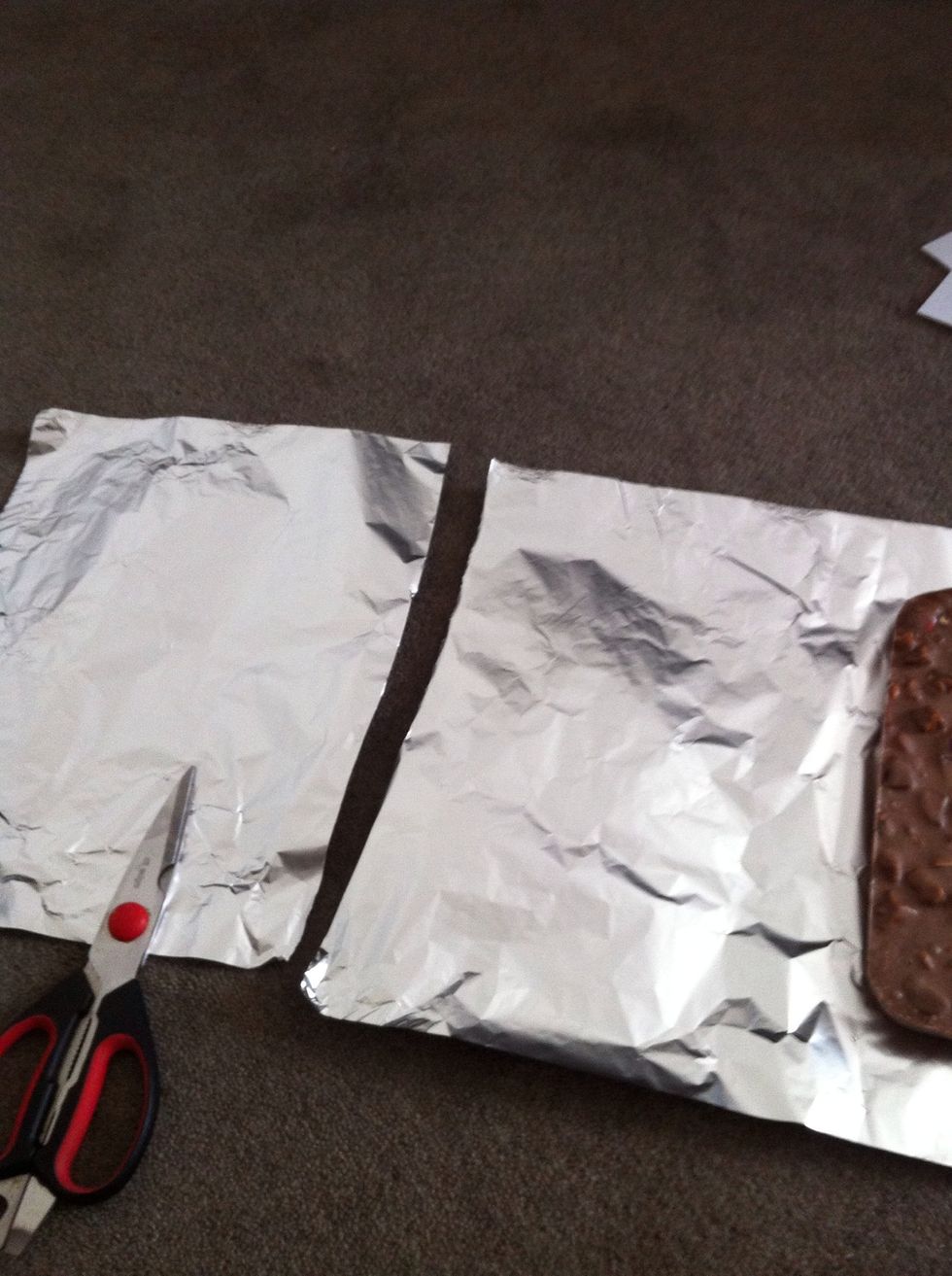 Cut if nessasary
Lay chocolate in the middle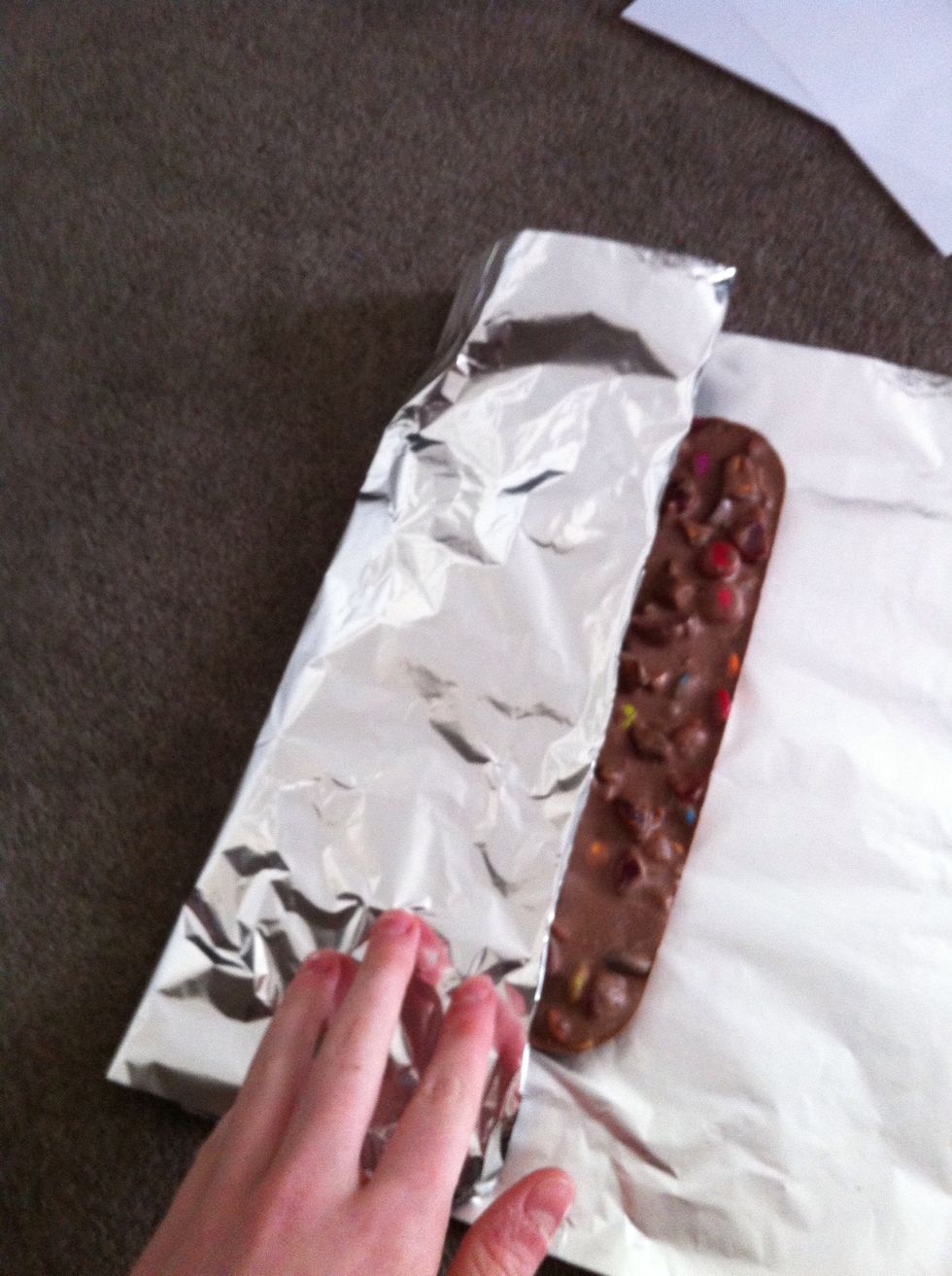 Fold on side over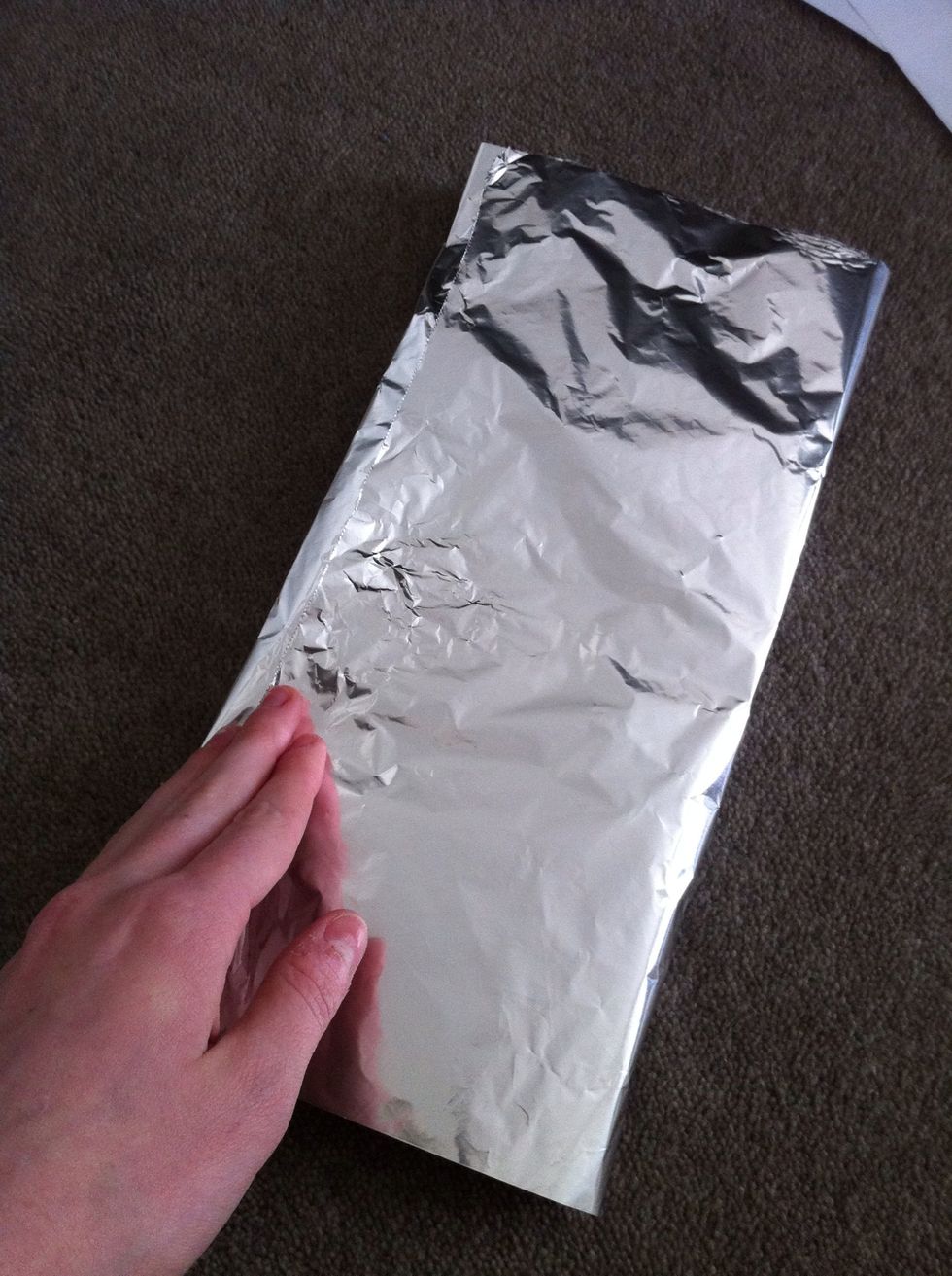 Fold other side over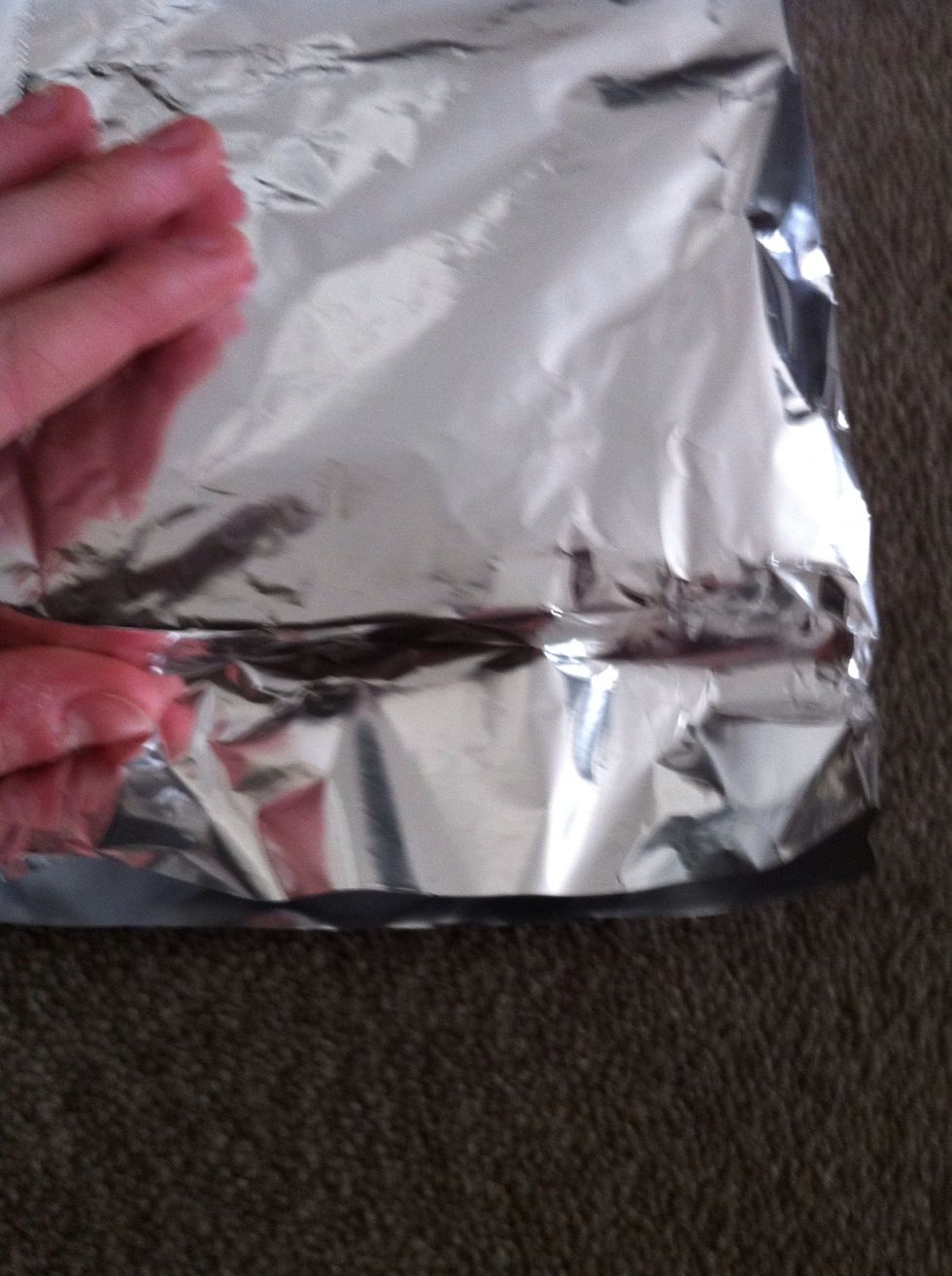 On one end push down where the chocolate ends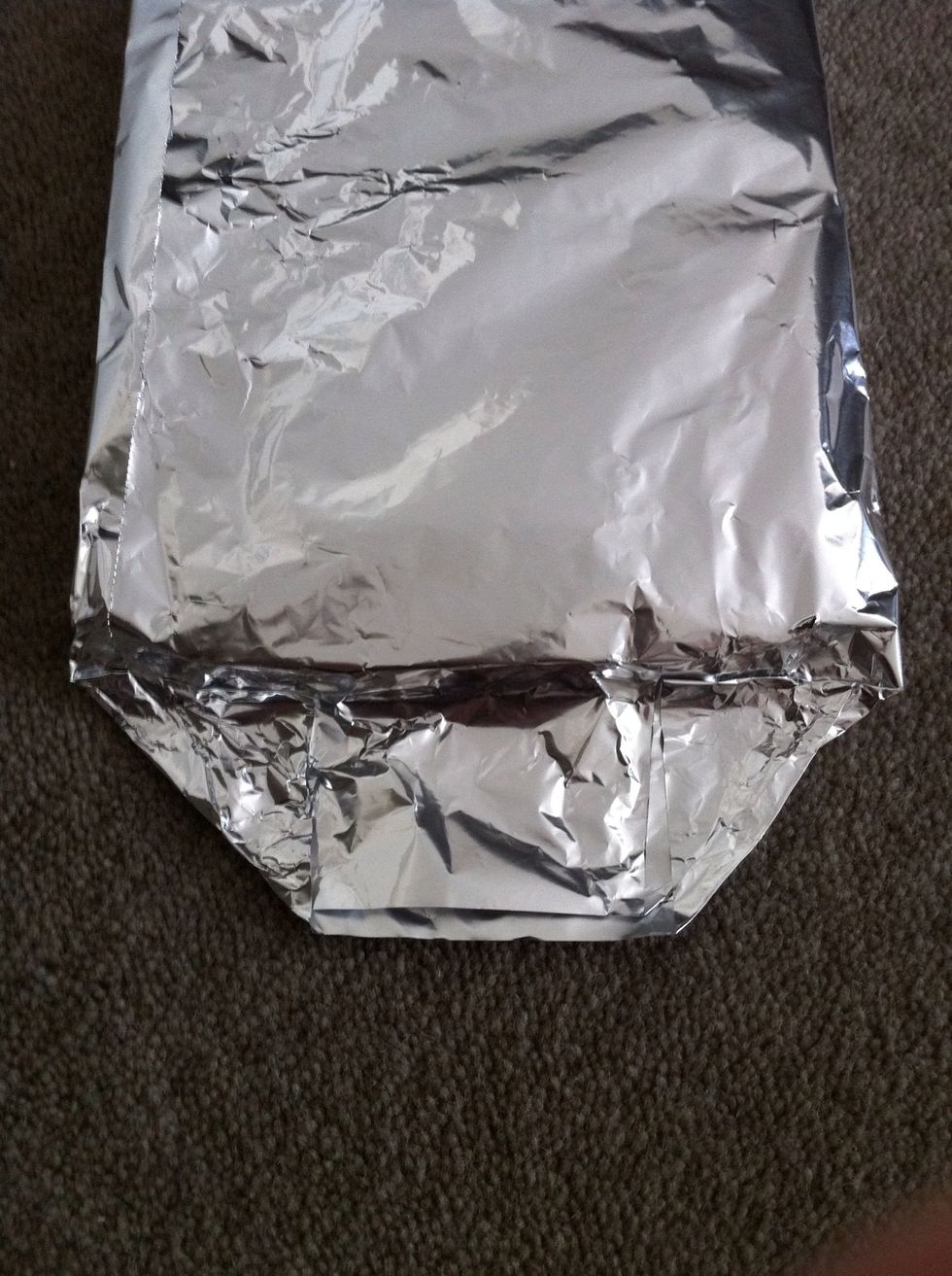 Fold the two corners in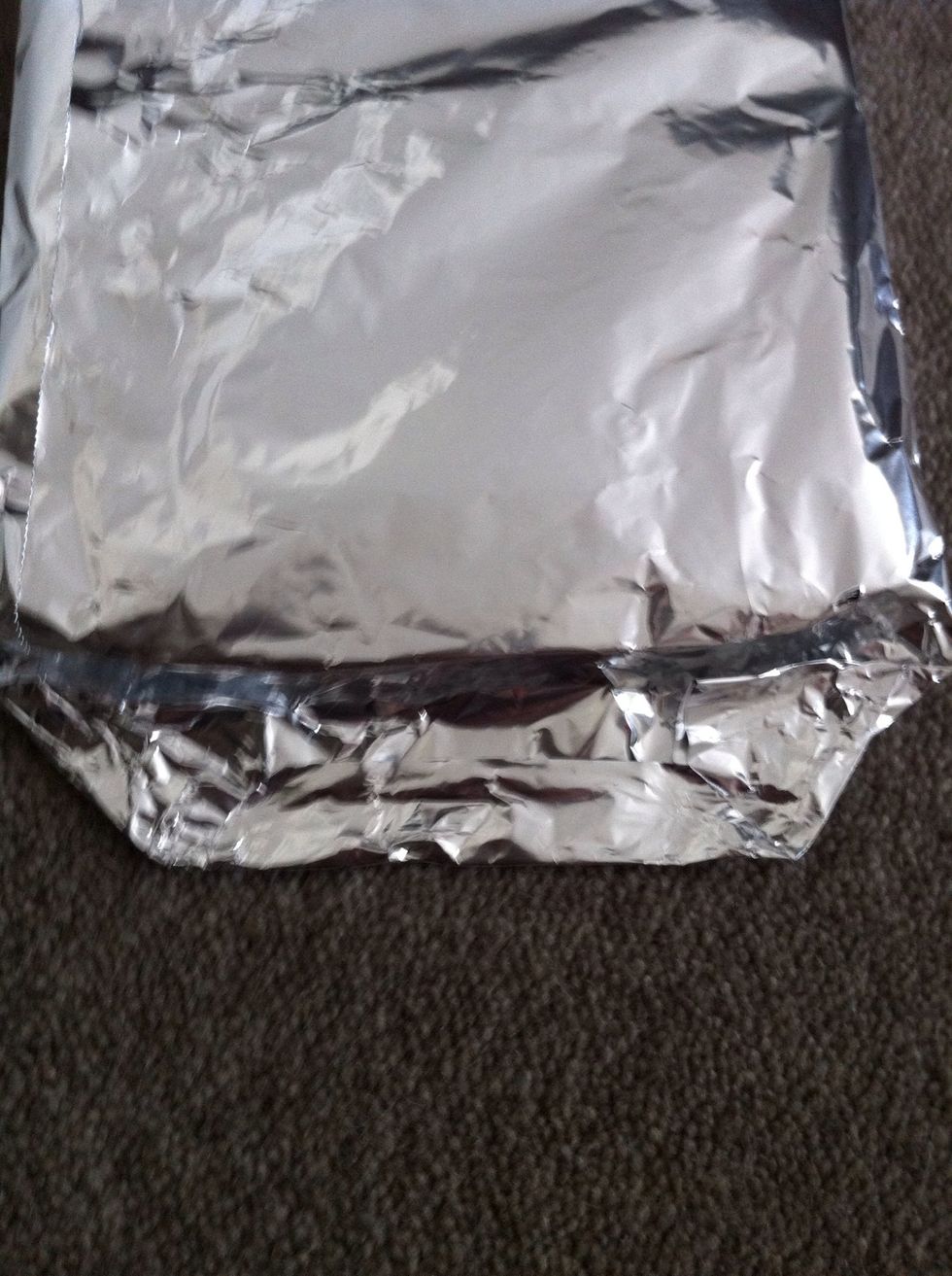 Fold the tip down a bit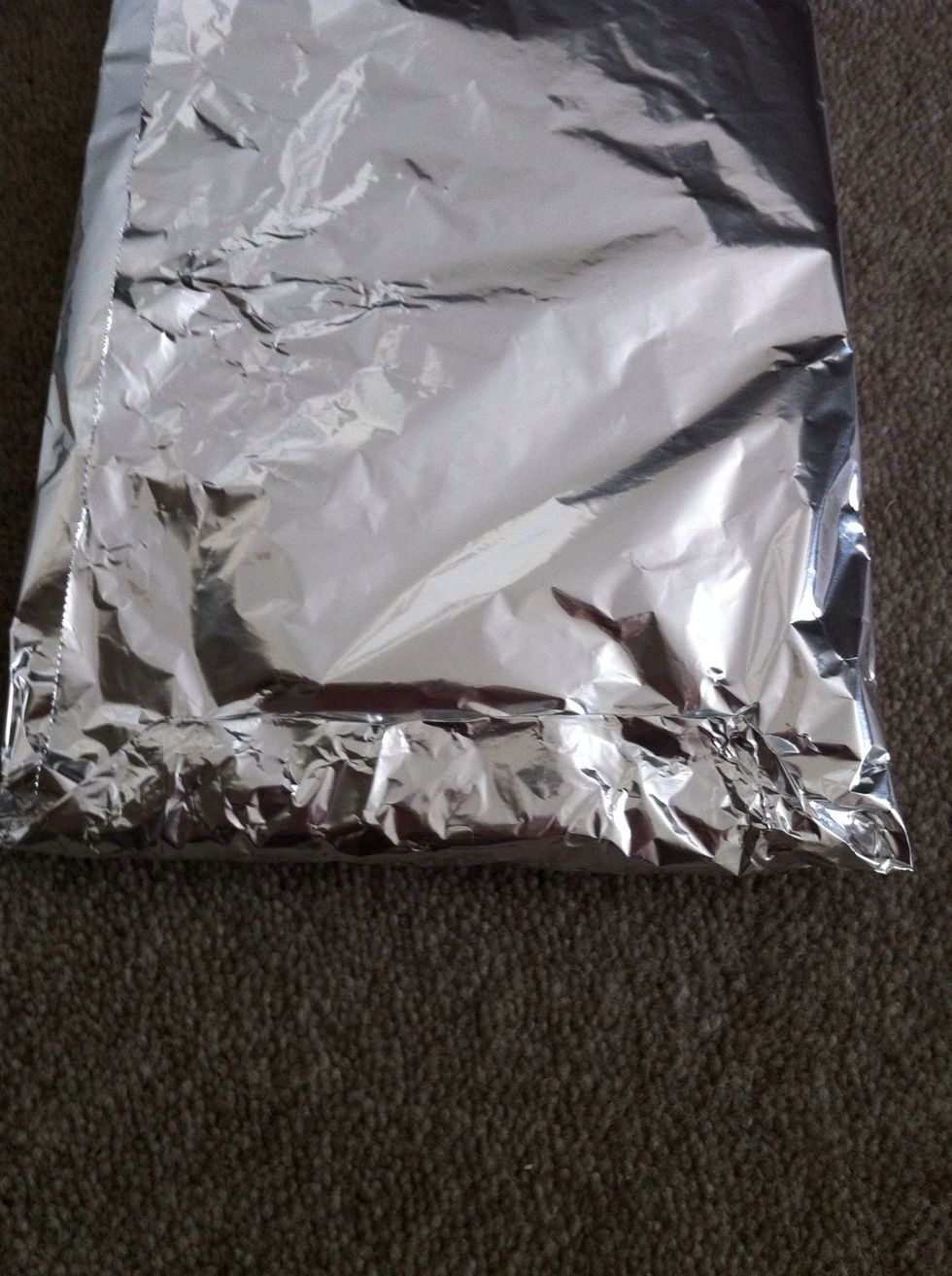 Now fold the flap onto the chocolate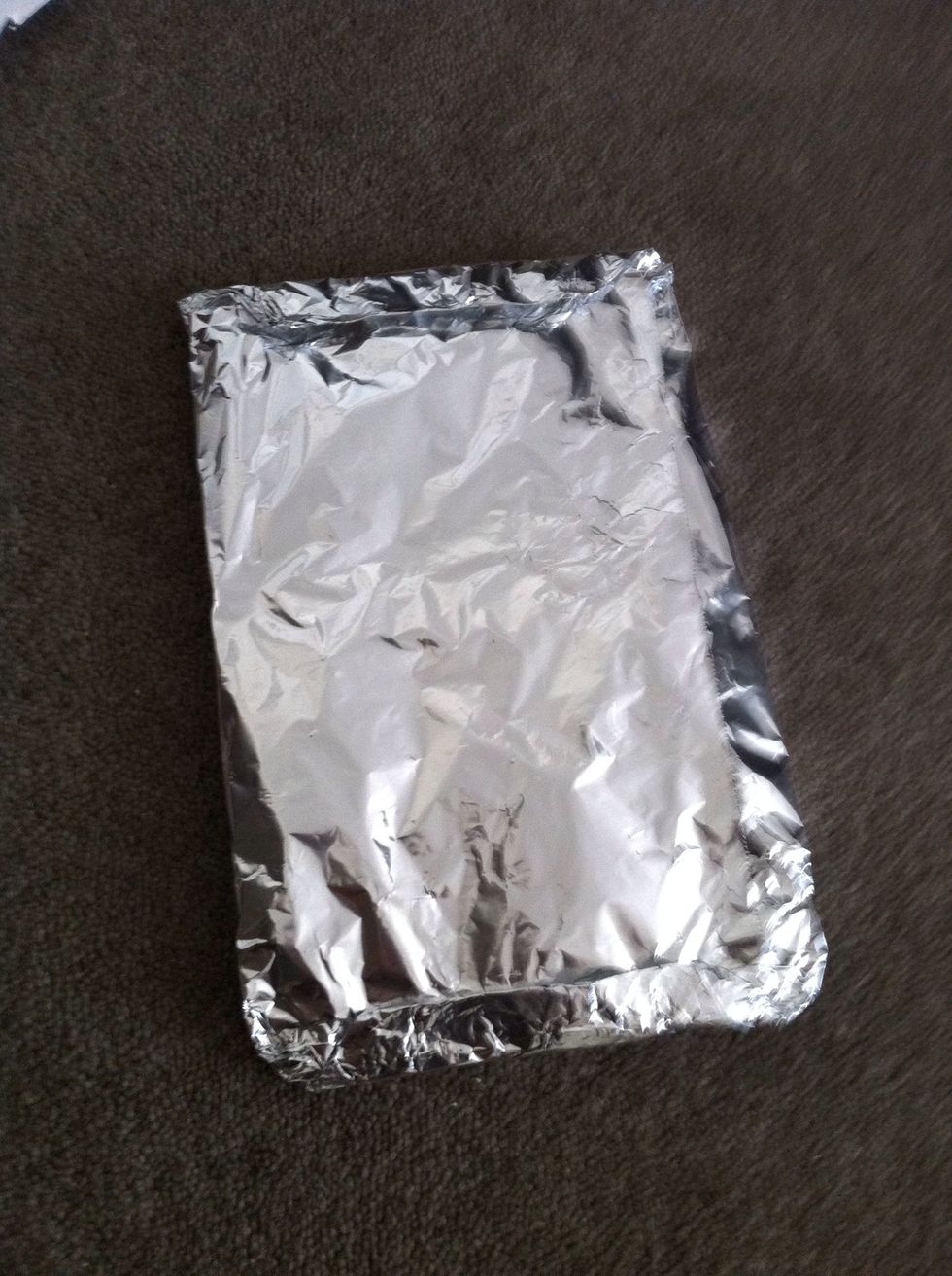 Do the same with the other end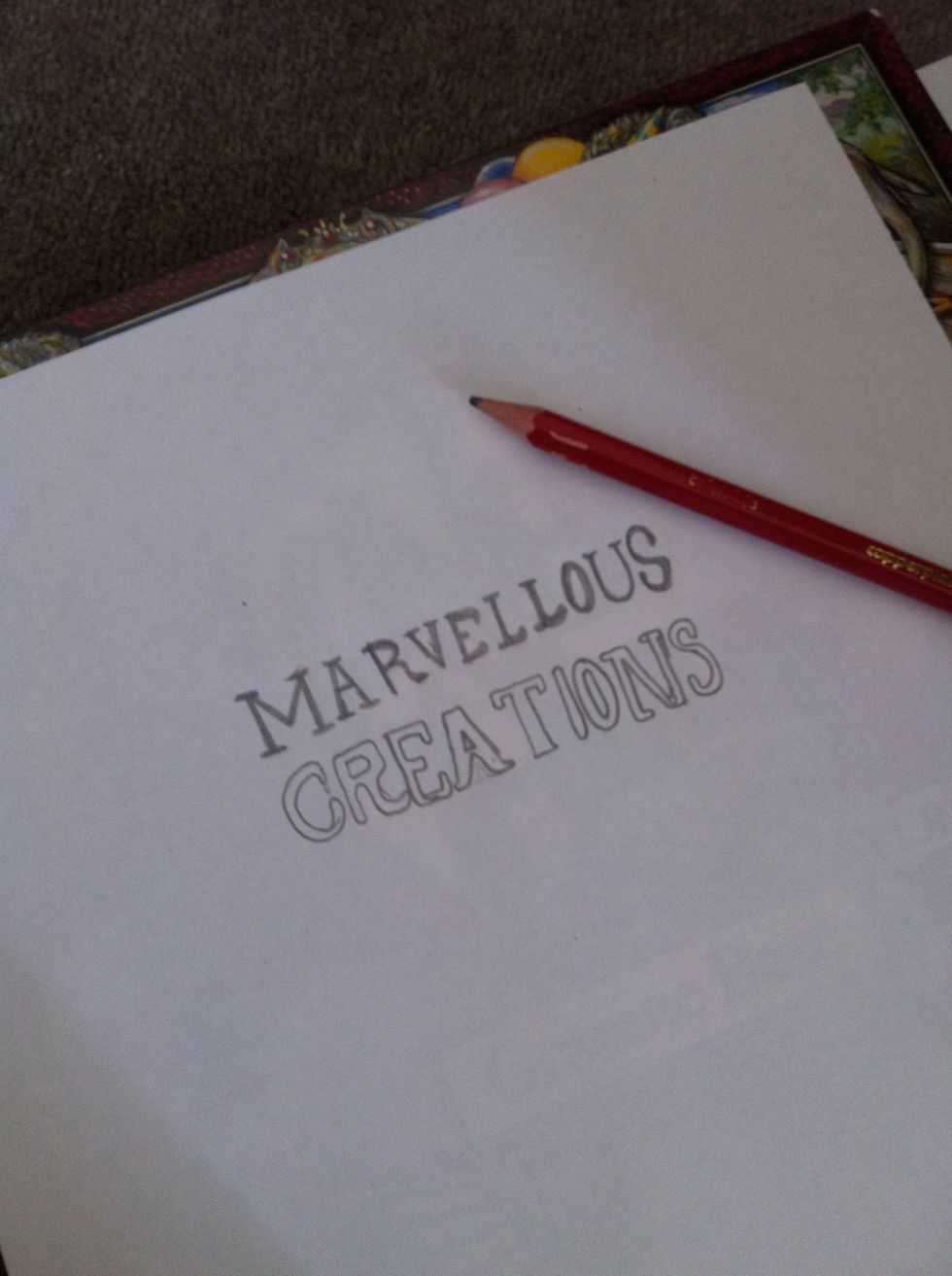 Now draw the heading: marvellous creations in this font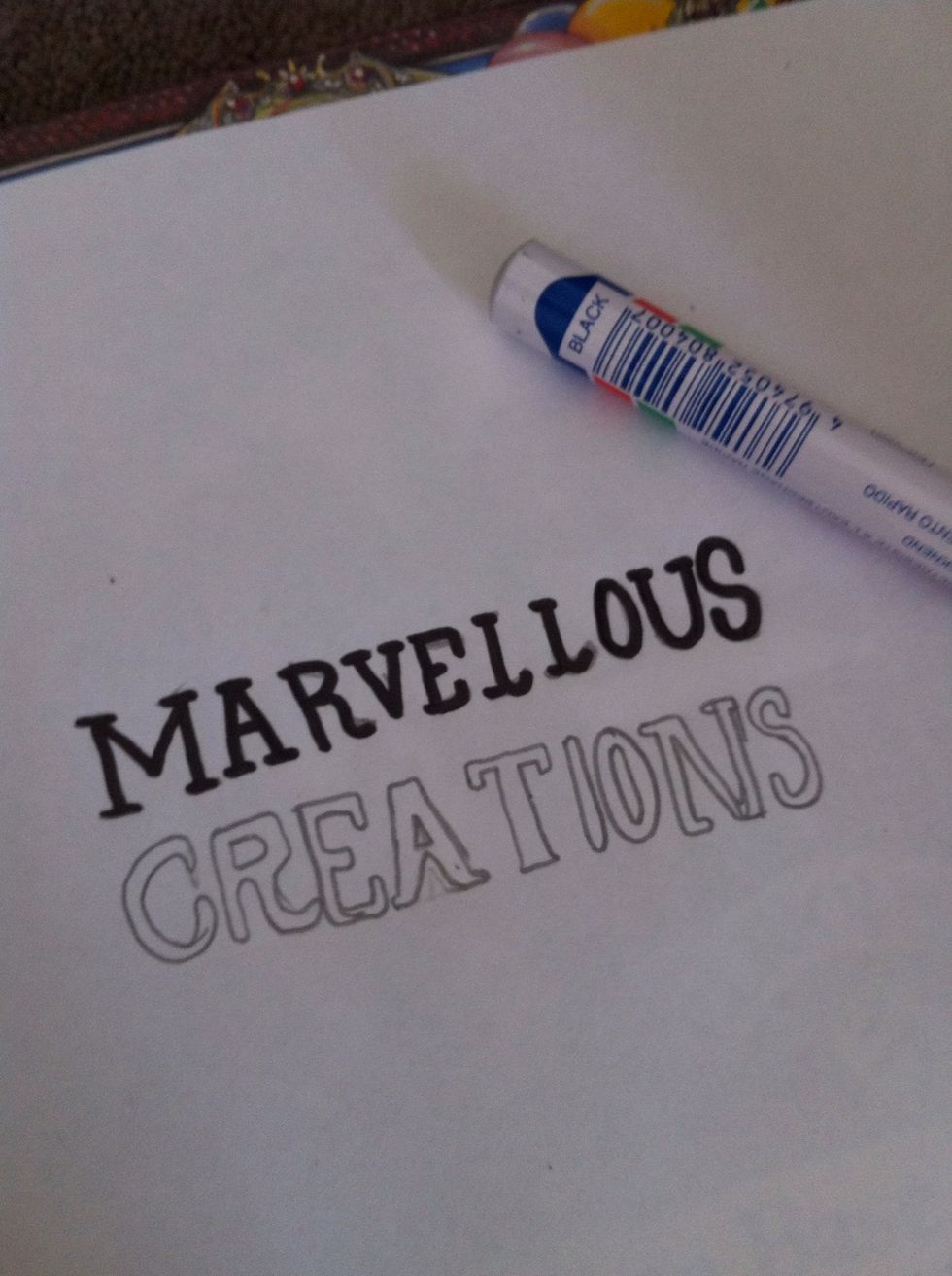 Now go over marvellous with a black permenent texta. I forgot to take a picture but out line the heading creations with a fine liner. Erase and grey led that is showing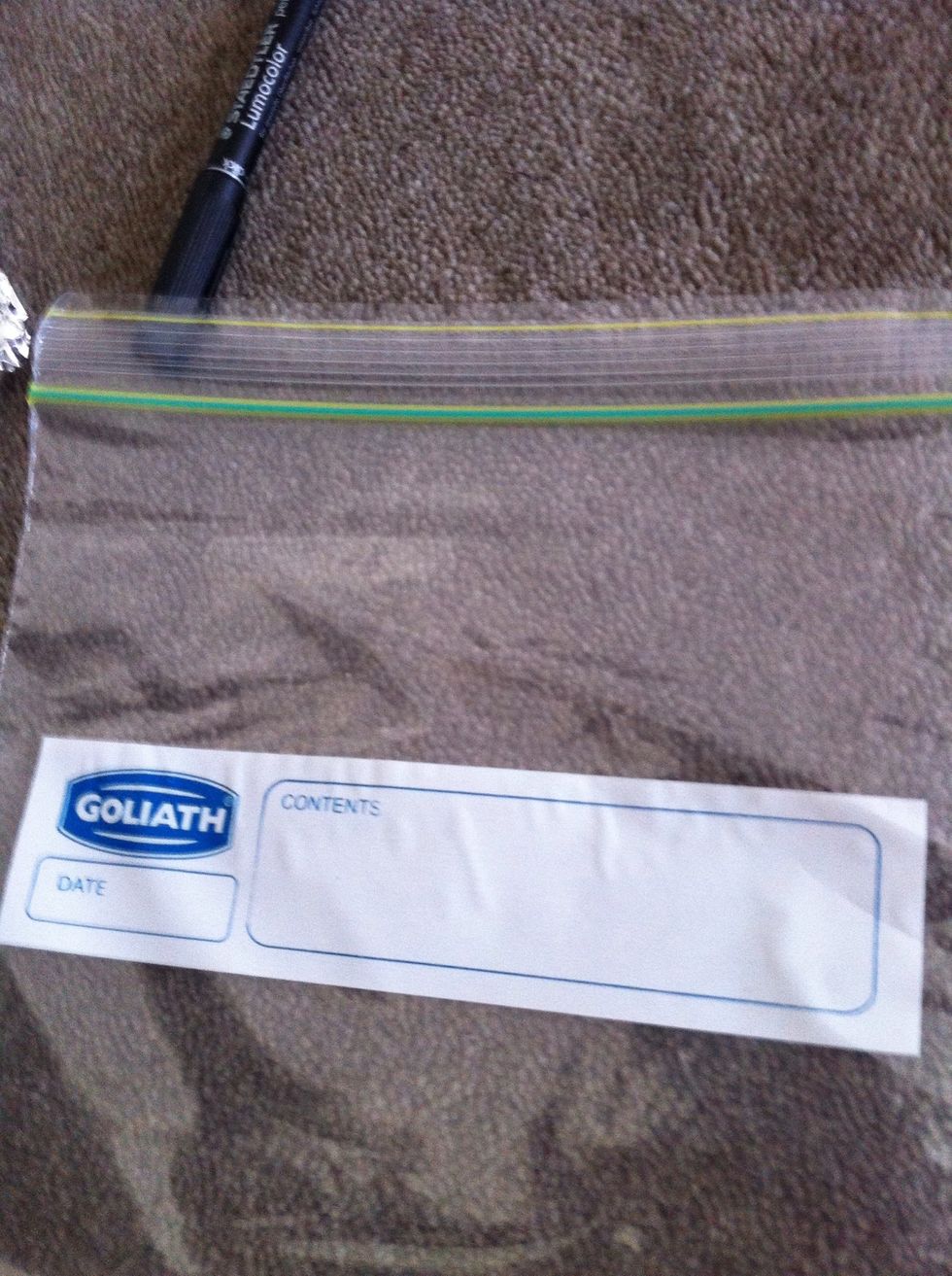 Now get two big size zip lock pockets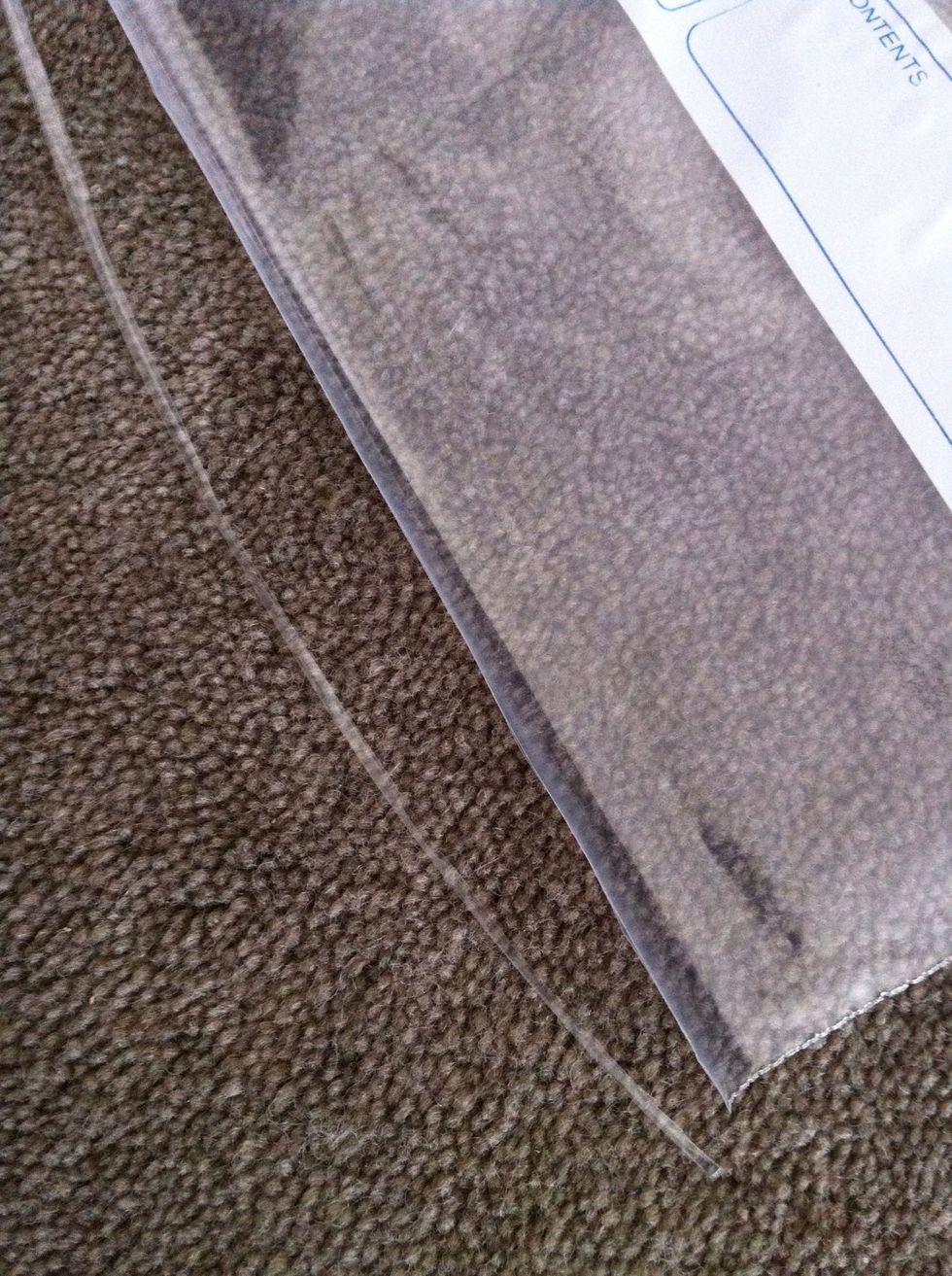 Cut the skinnest strip off the bottom on one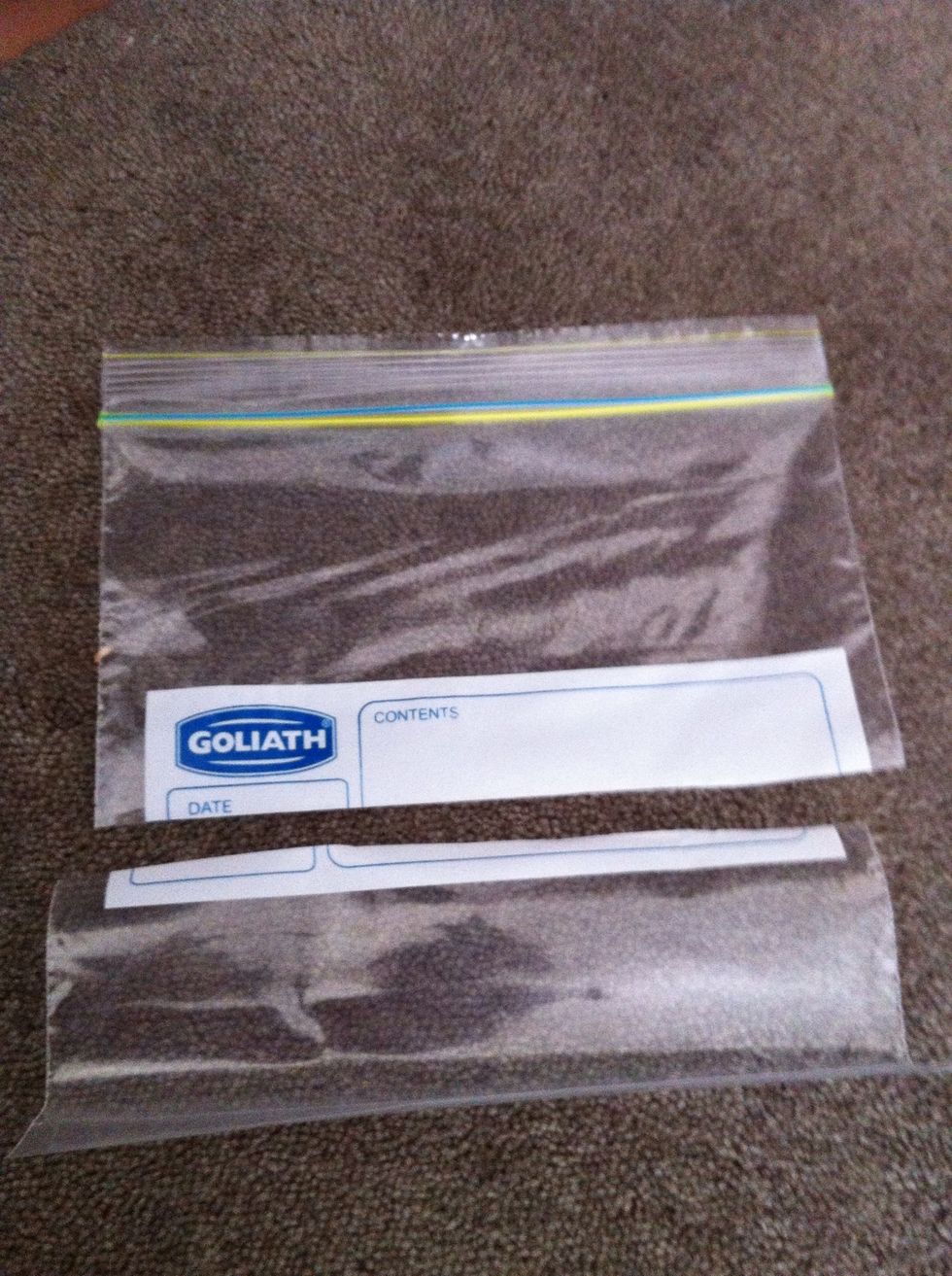 On the other cut it in half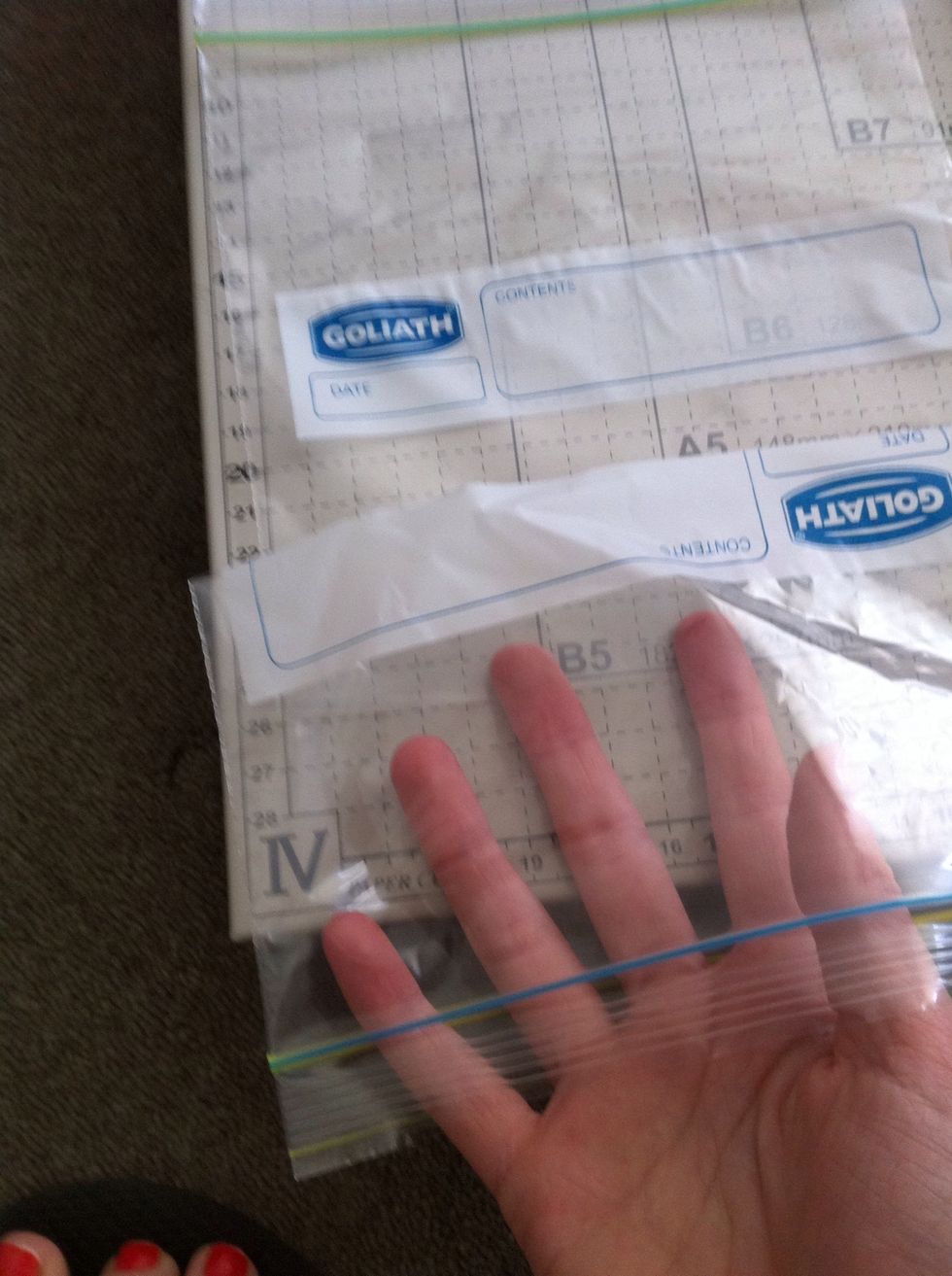 Now them inside each other overlapping a bit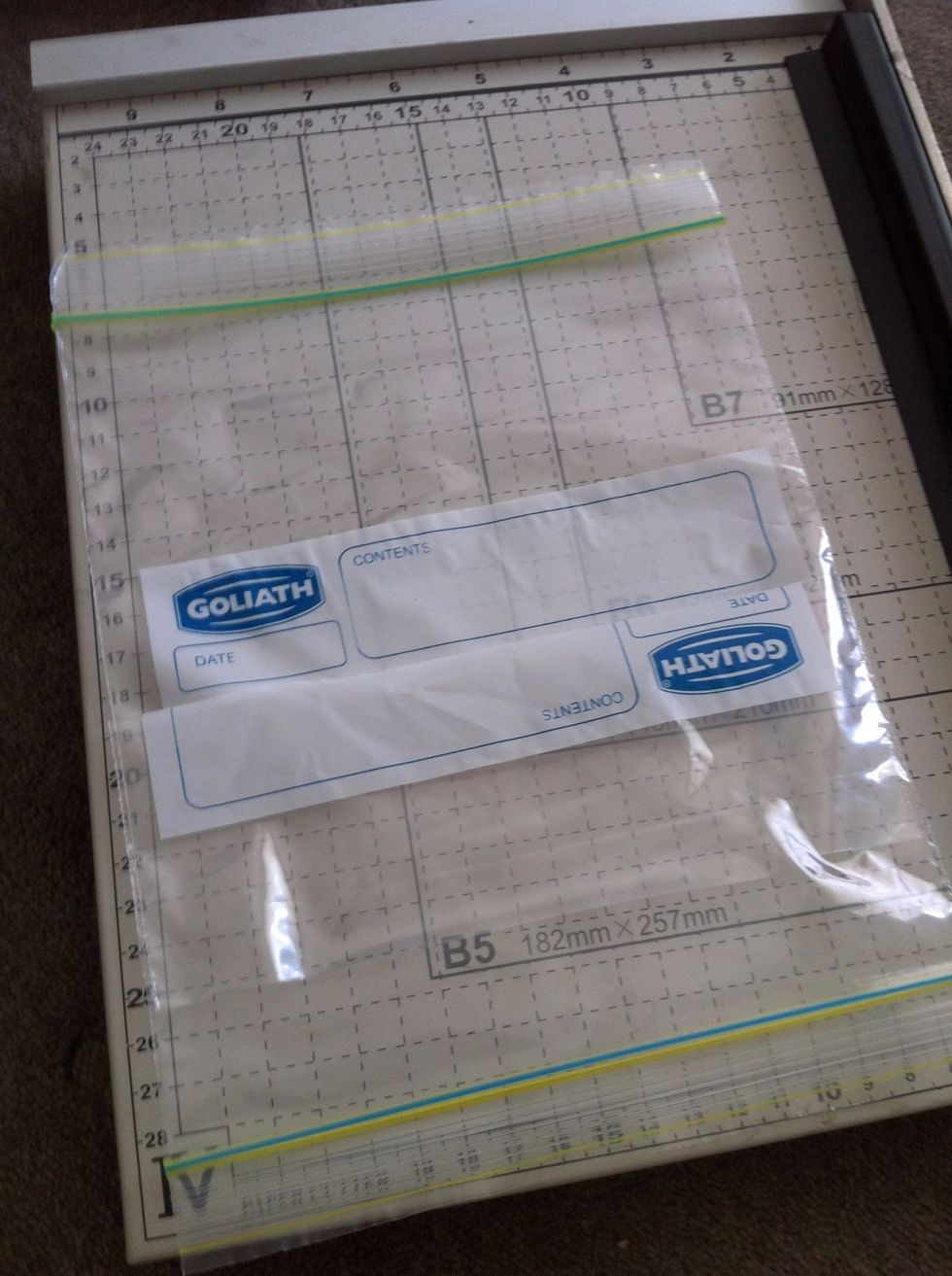 All good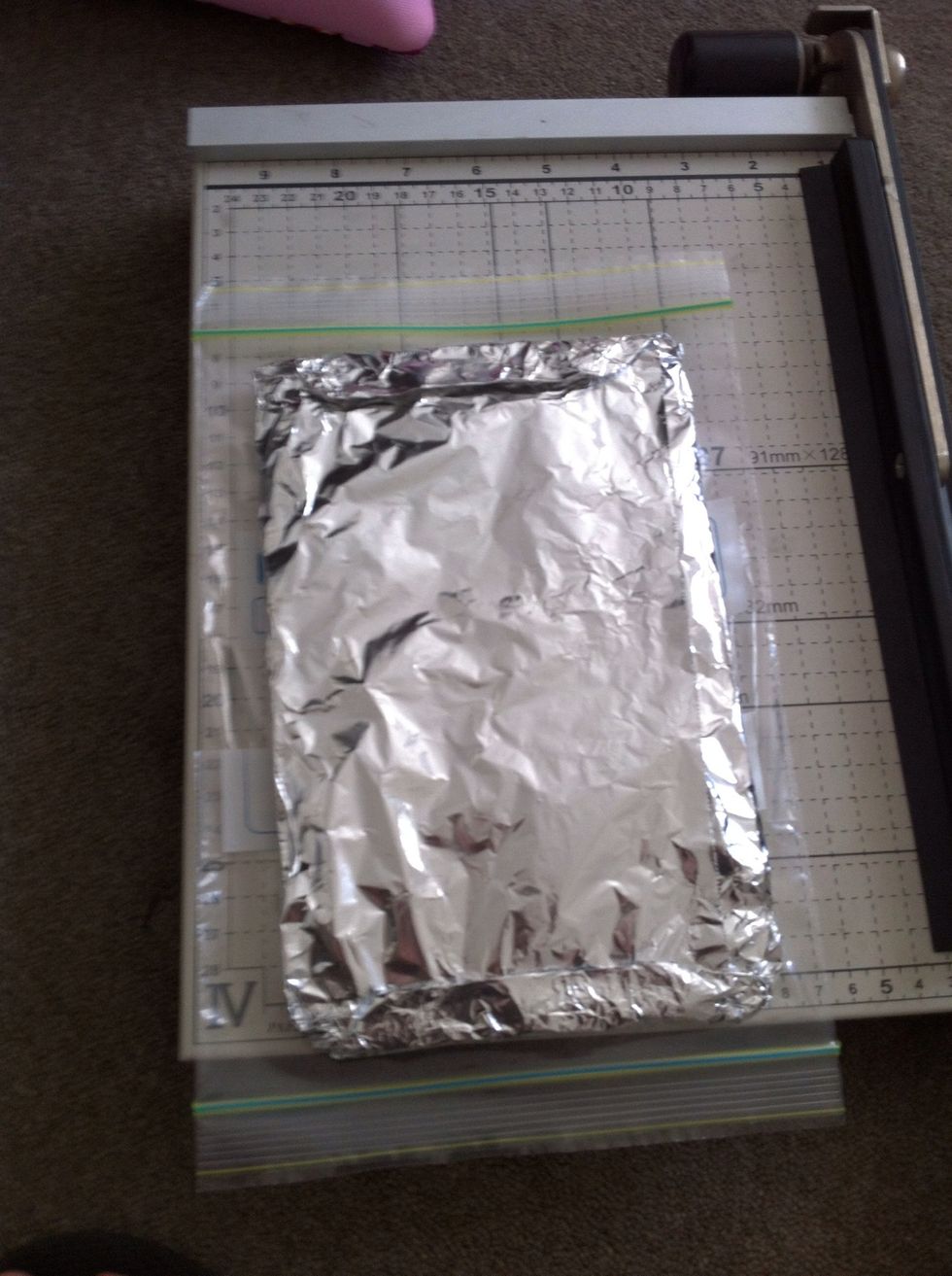 Now check if the chocolate fits in if not just ajust it a bit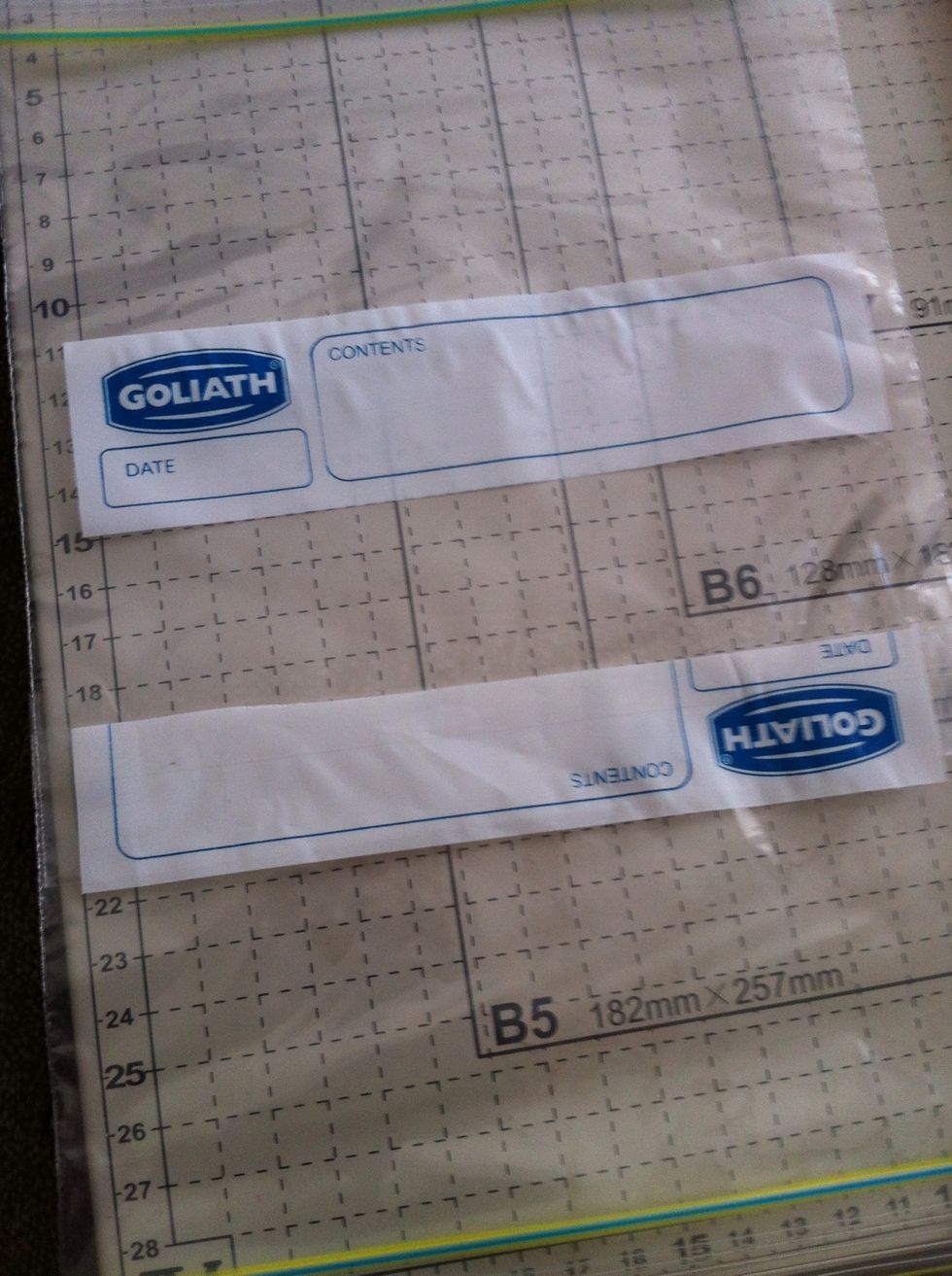 Now where it is joined sticky tape it front and back and the insides too so when you put the chocolate in it wont get caught
Perfect
Now measure the size of the front of the zip lock pocket and cut the paper to that size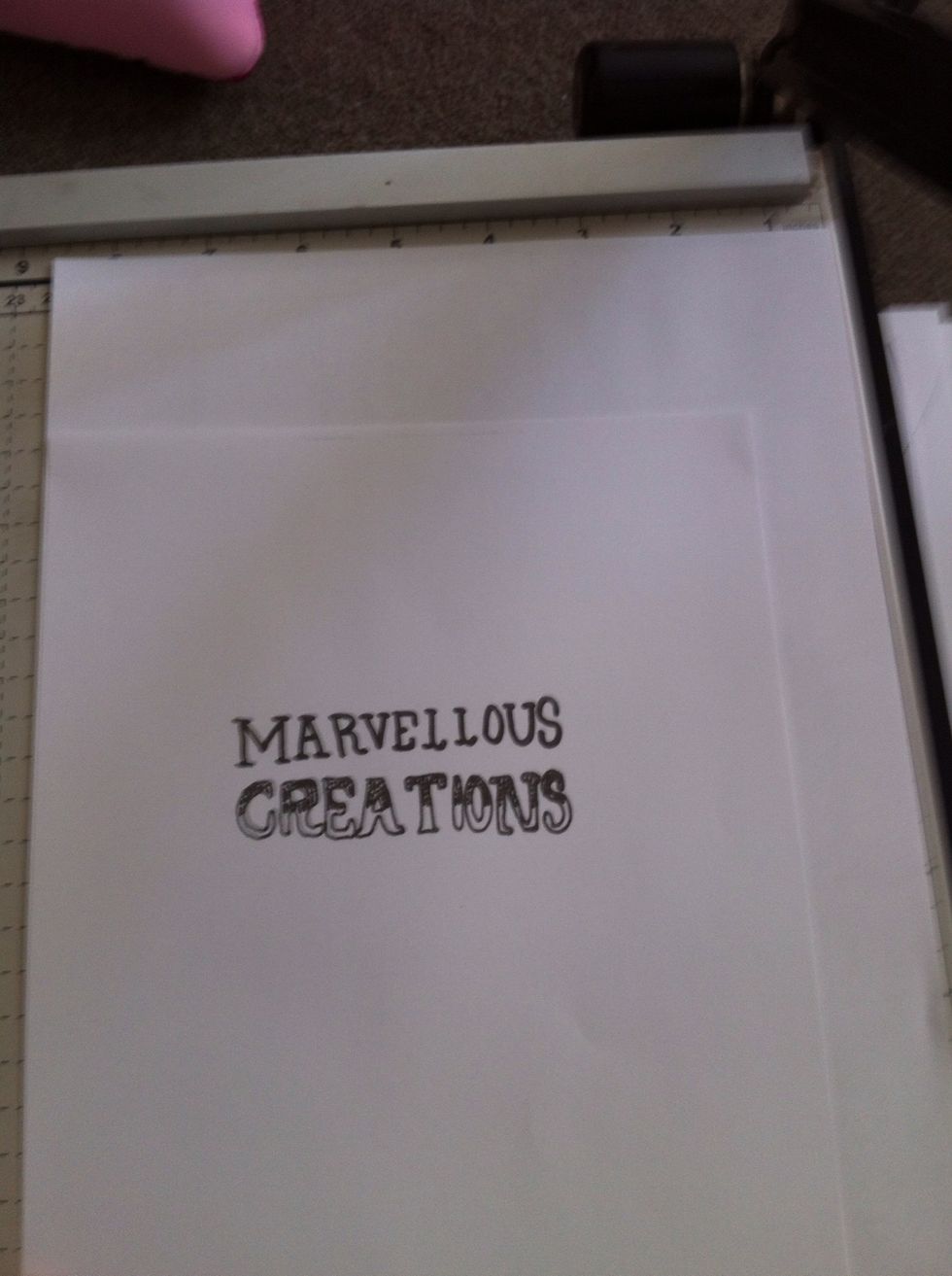 Now cut another peice the same size to be the back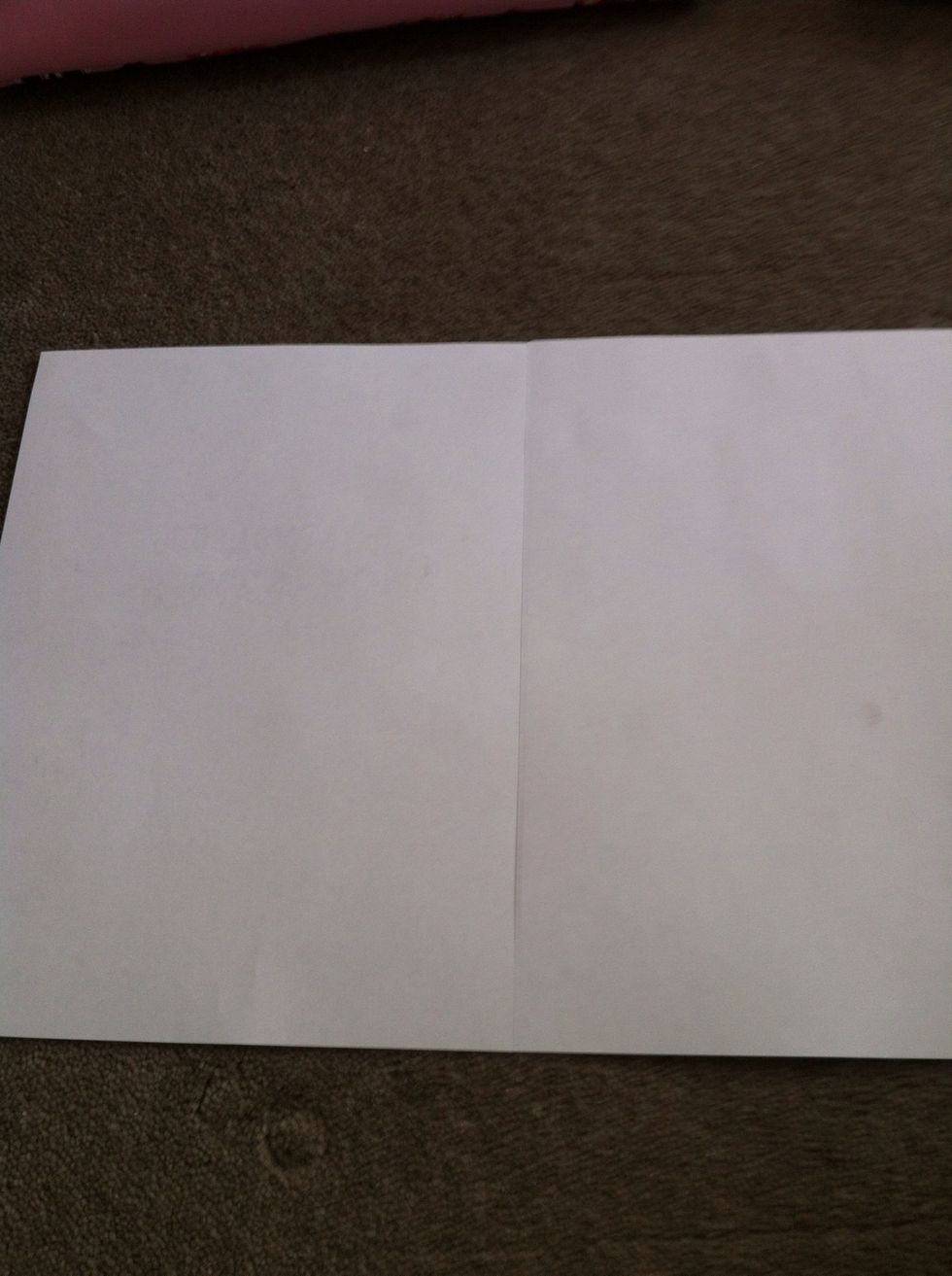 Now put them side by side facing down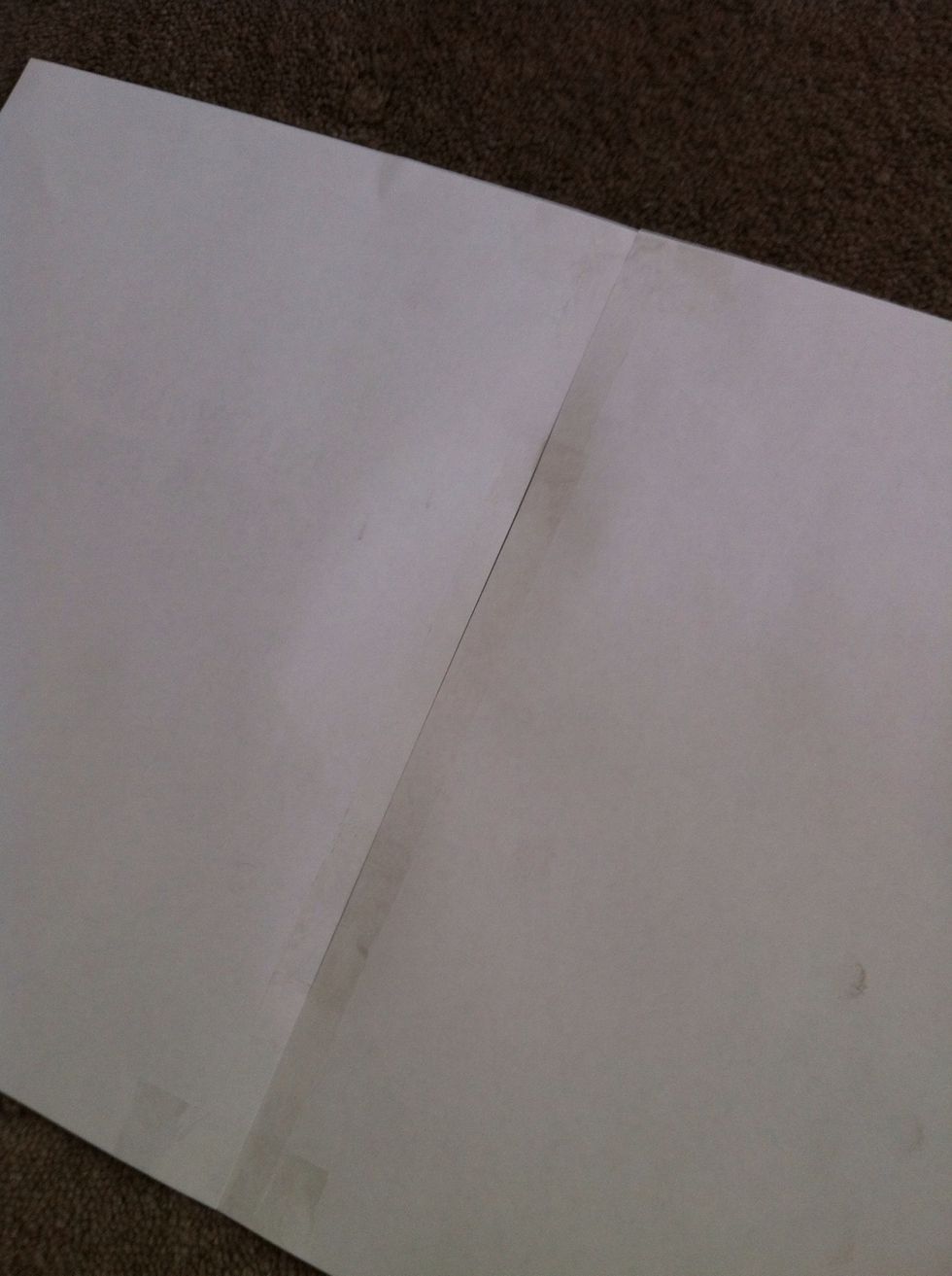 Now put tape all along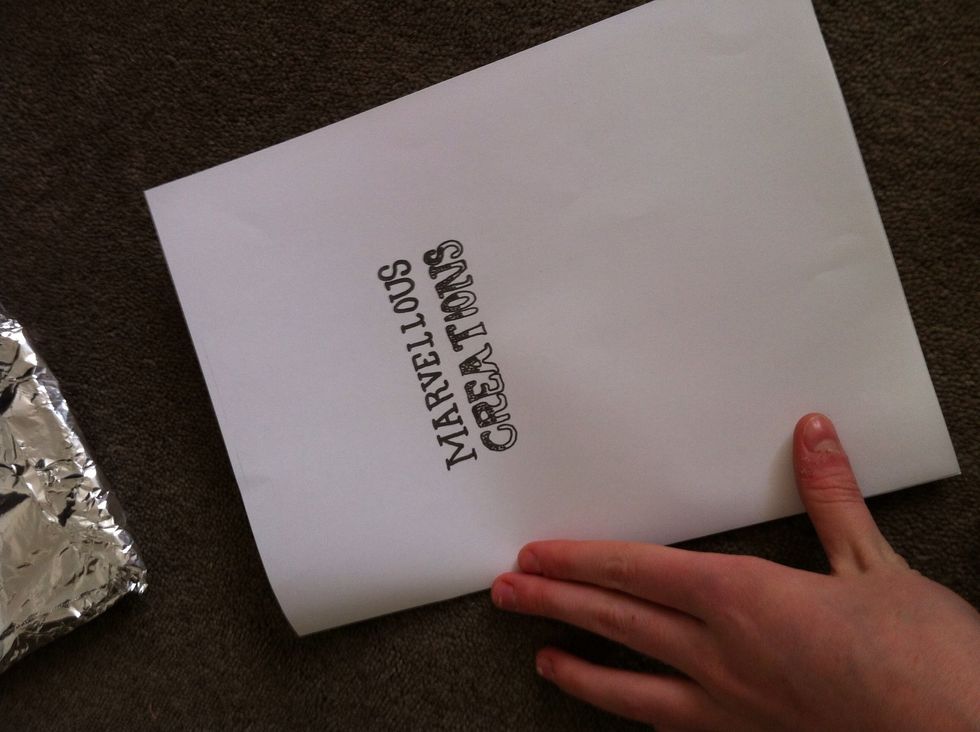 Fold it over
Draw a crooked box arouung the heading in pink texta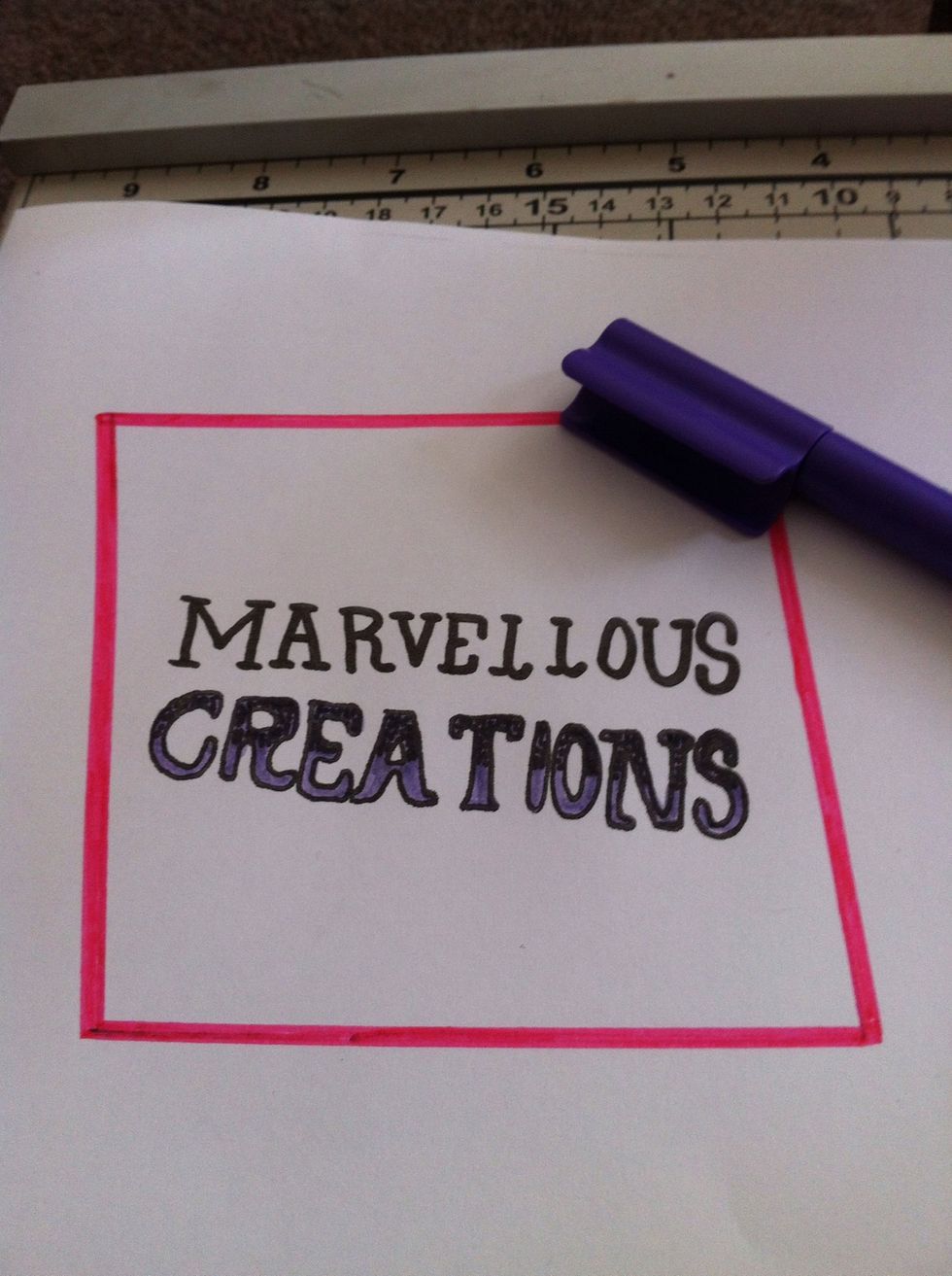 Now colour in the creations heading in in light purple texta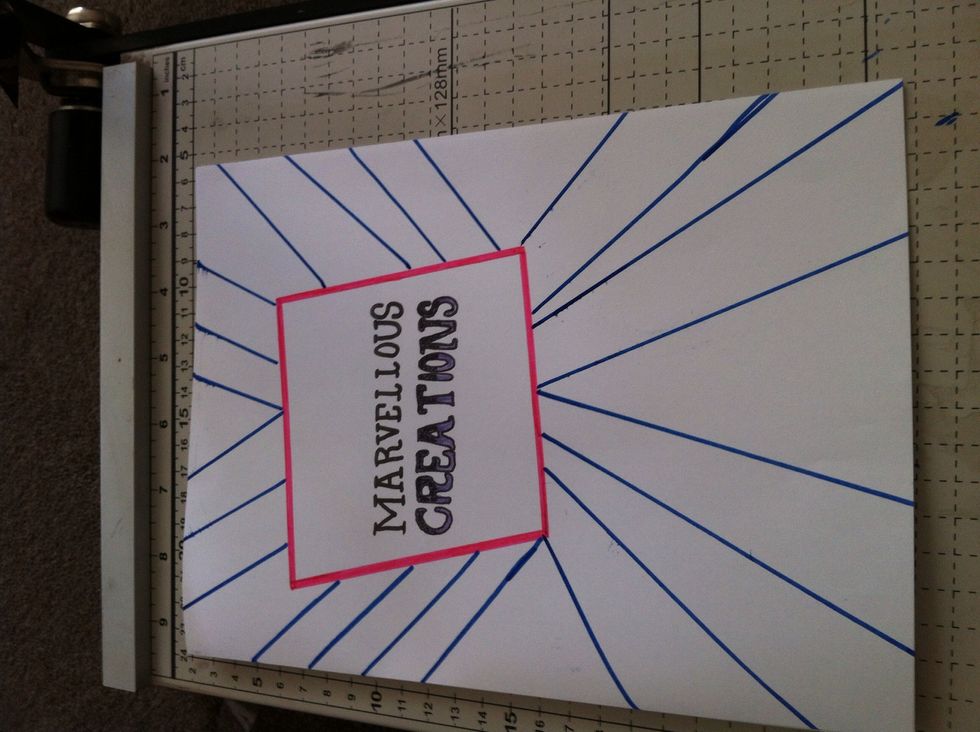 In blue texta draw diagnal lines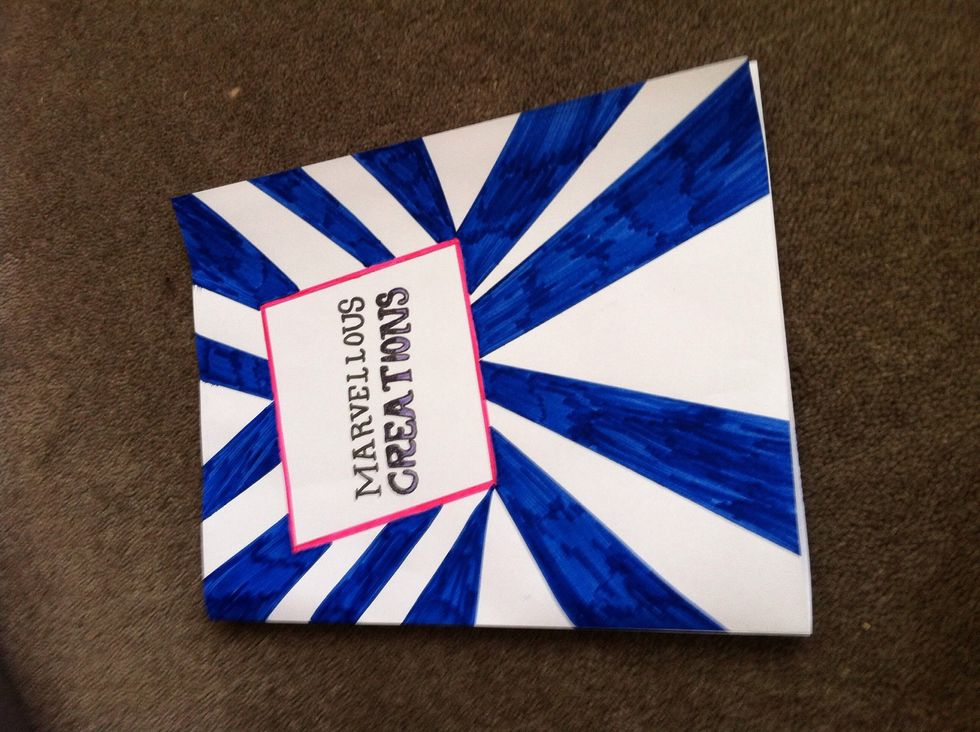 Now colour them in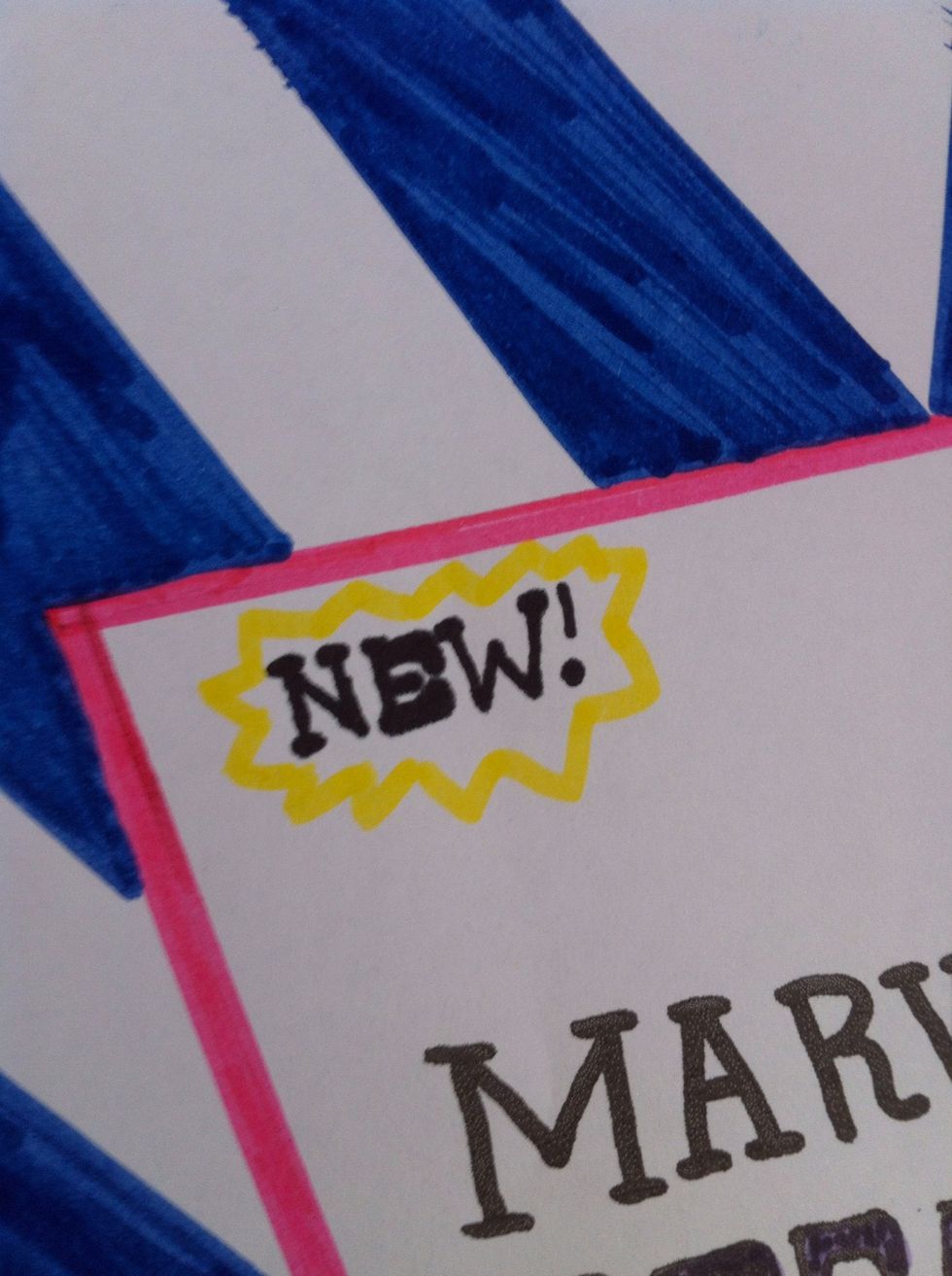 Now draw new! In fine liner and a star box around it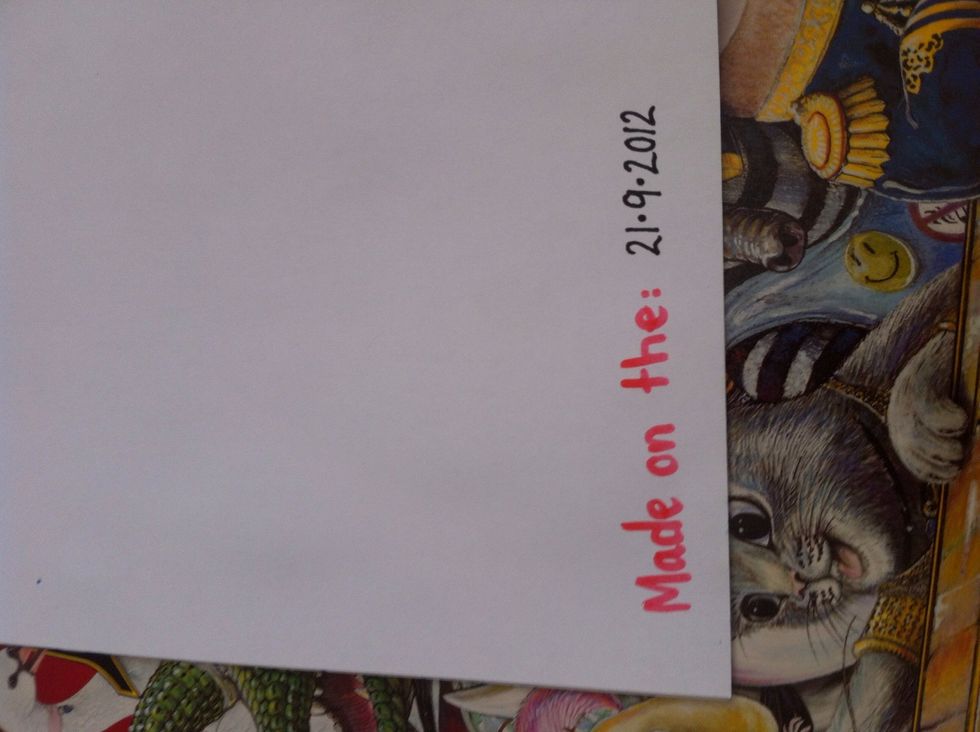 Turn over to the back and in the bottom left corner write ehen it was made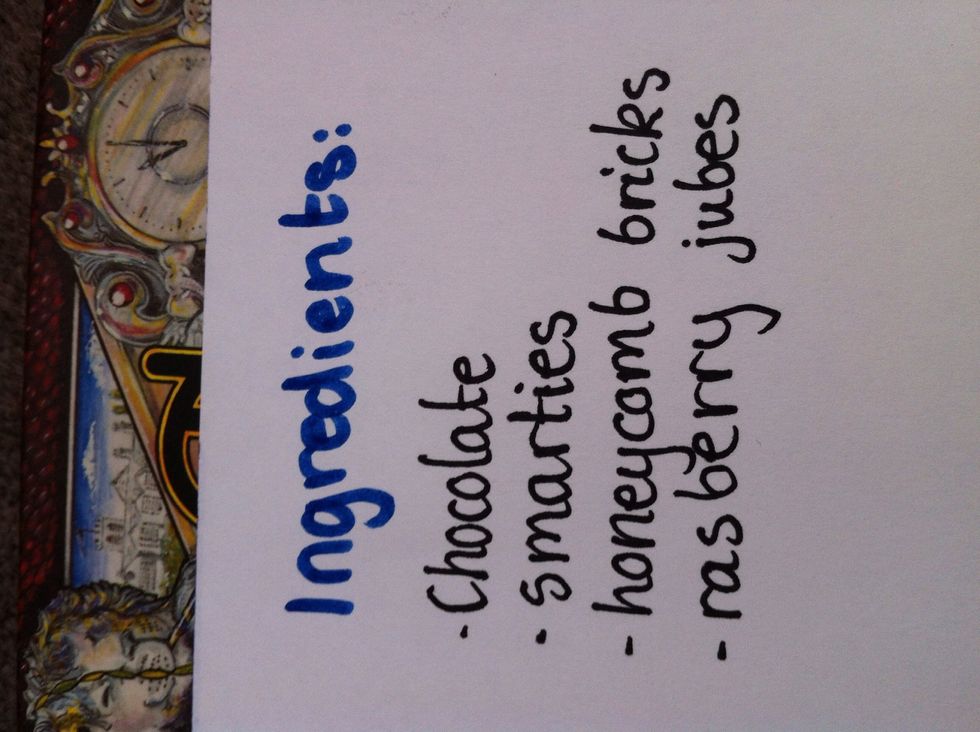 Now in the top left corner write what ingredients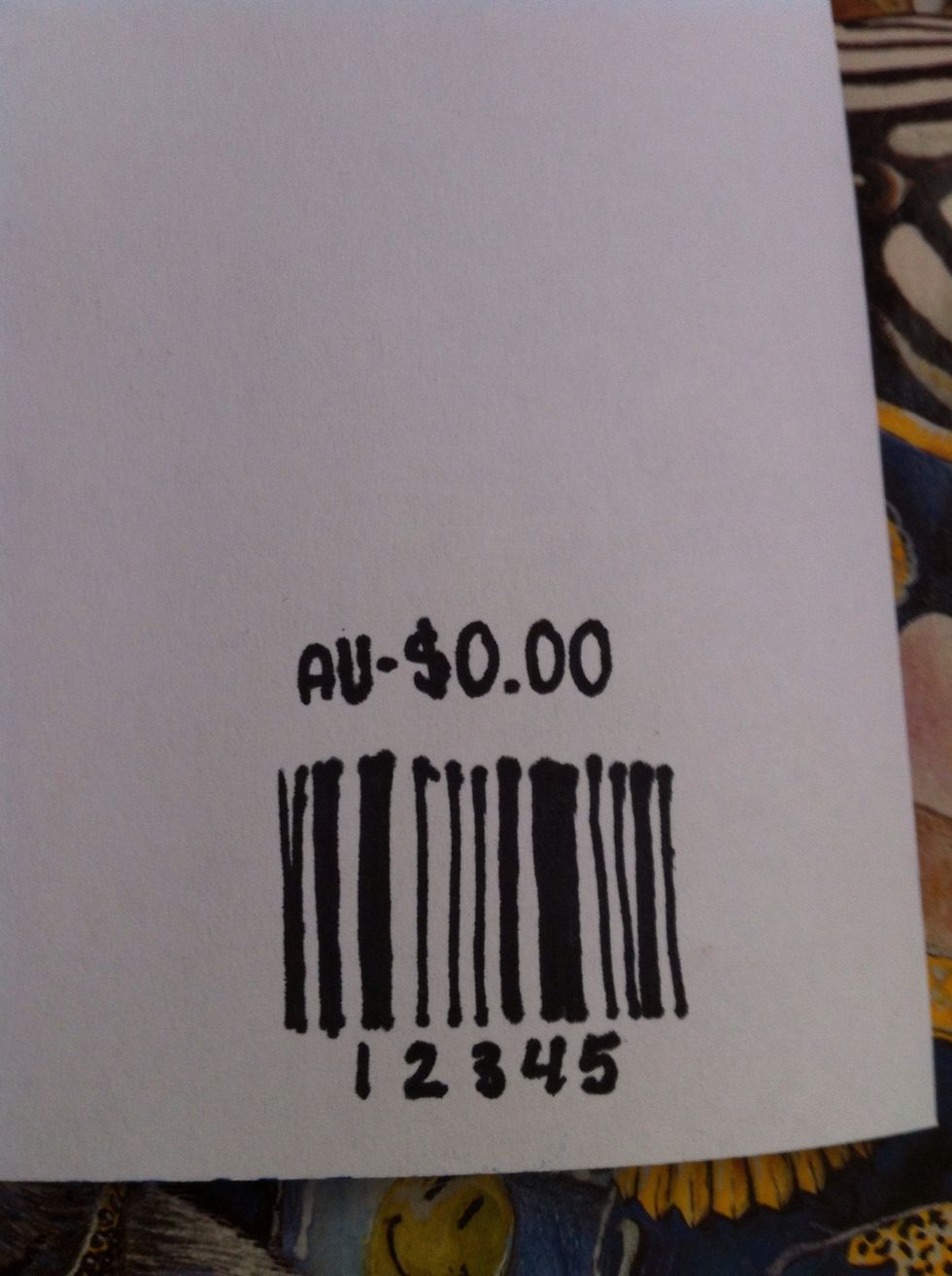 In the bottom right corner draw a barcode and the price on top😝
Get a peice of card stock
Cut it to size and stck down in the middle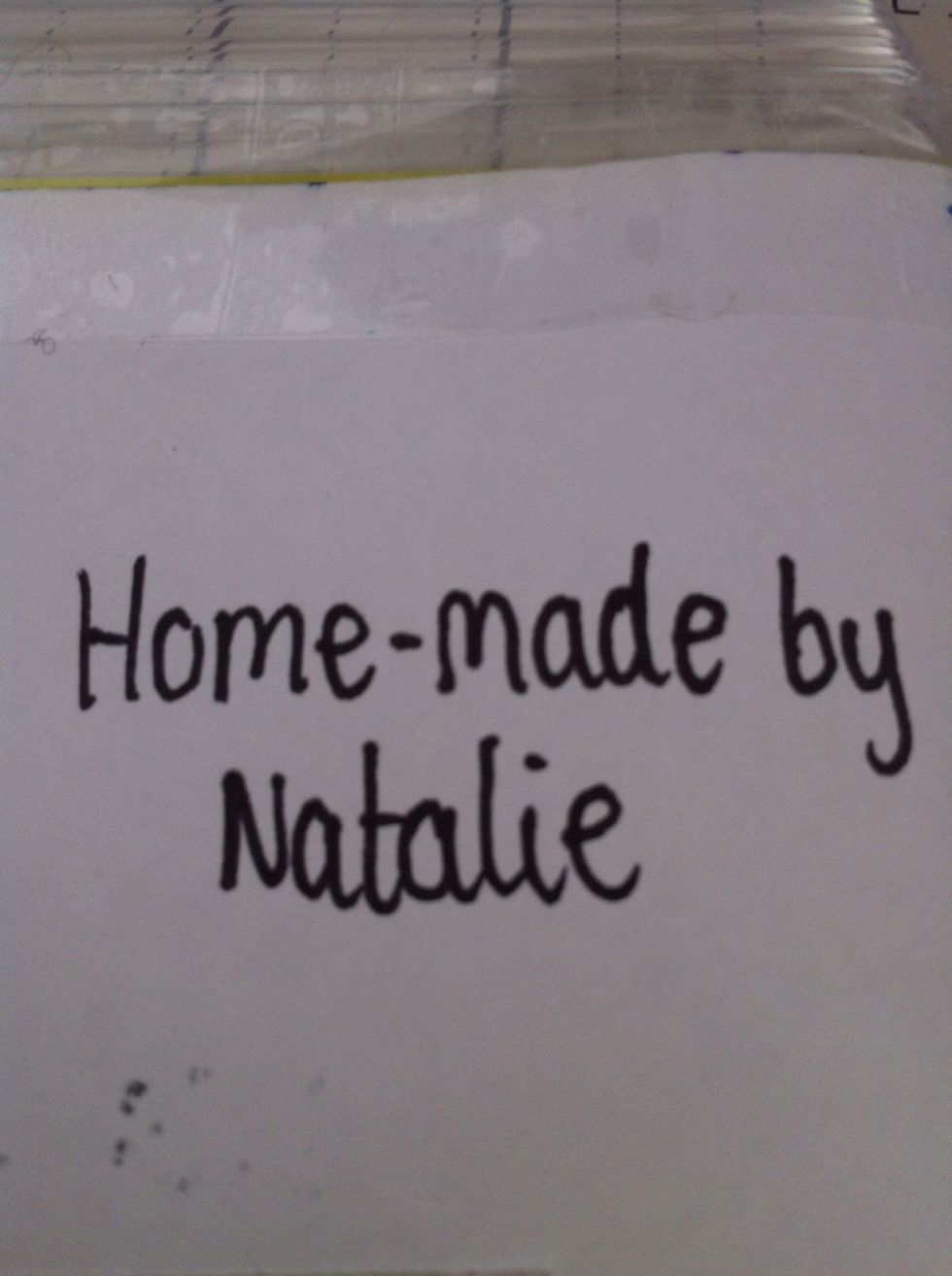 In the top right hand corner write home made by _____ you or whoever made it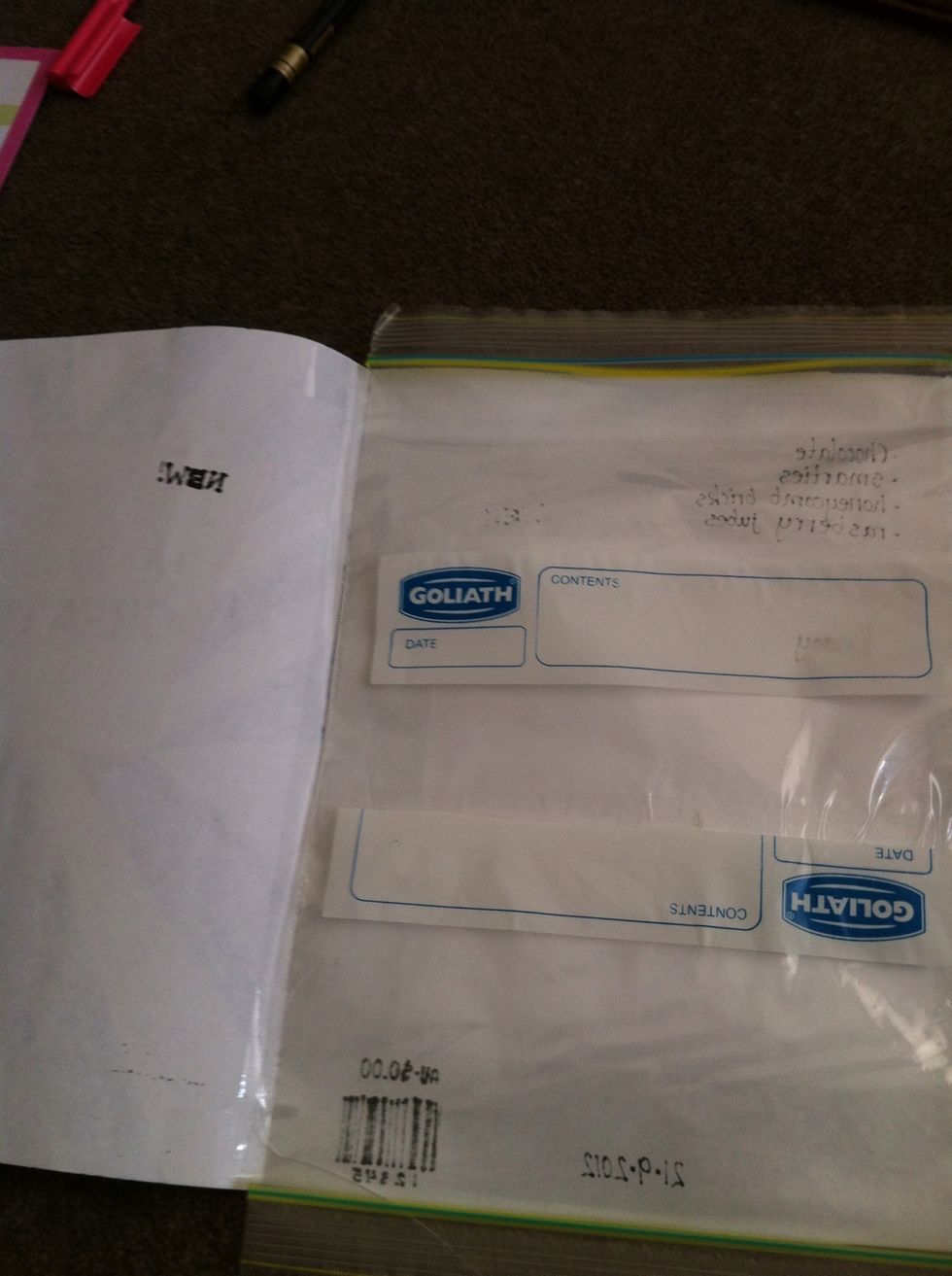 Now open it up and put the zip lock pocket in and sticktape it to the fold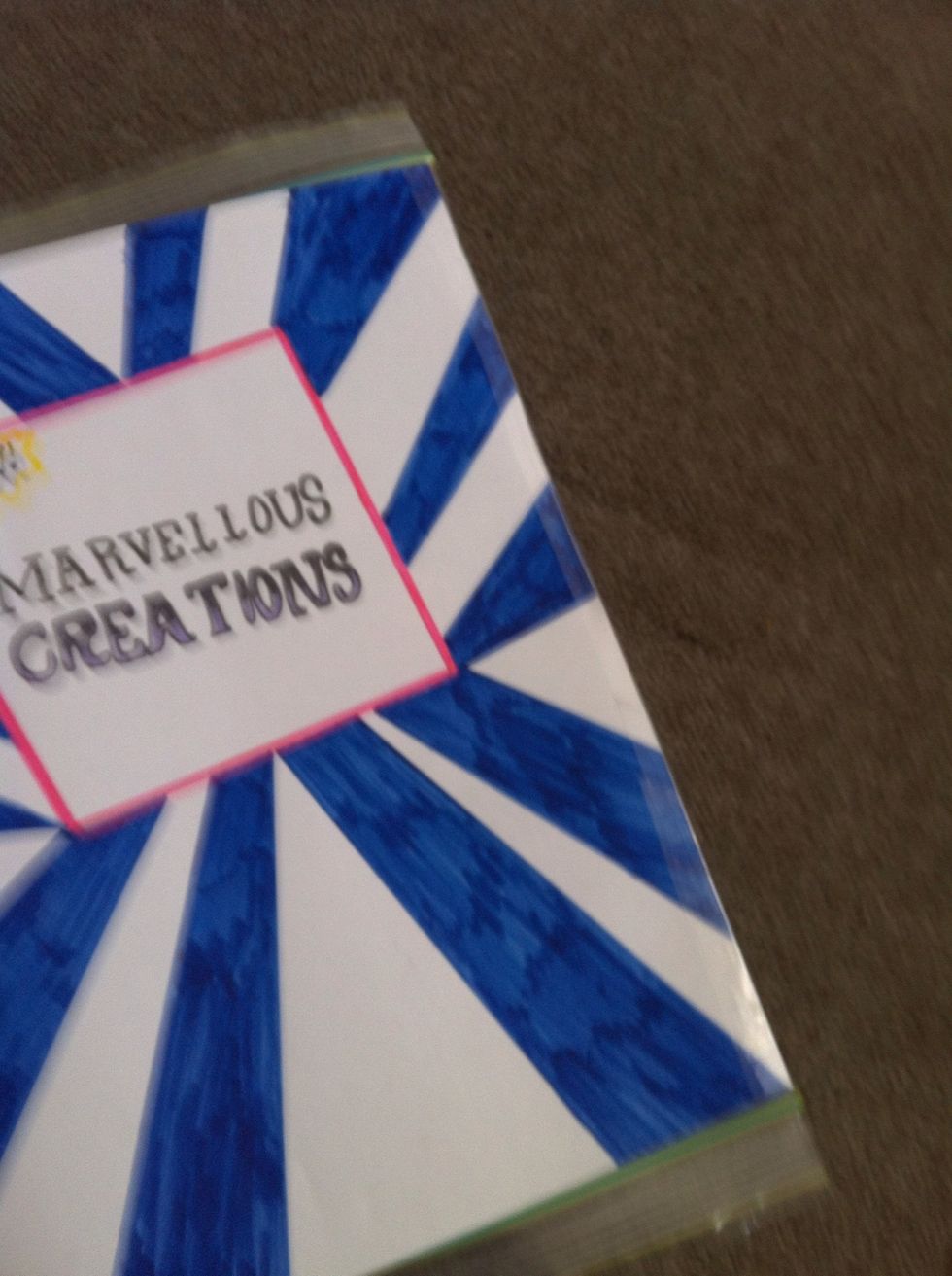 Now close the paper and sticky tape the other side shut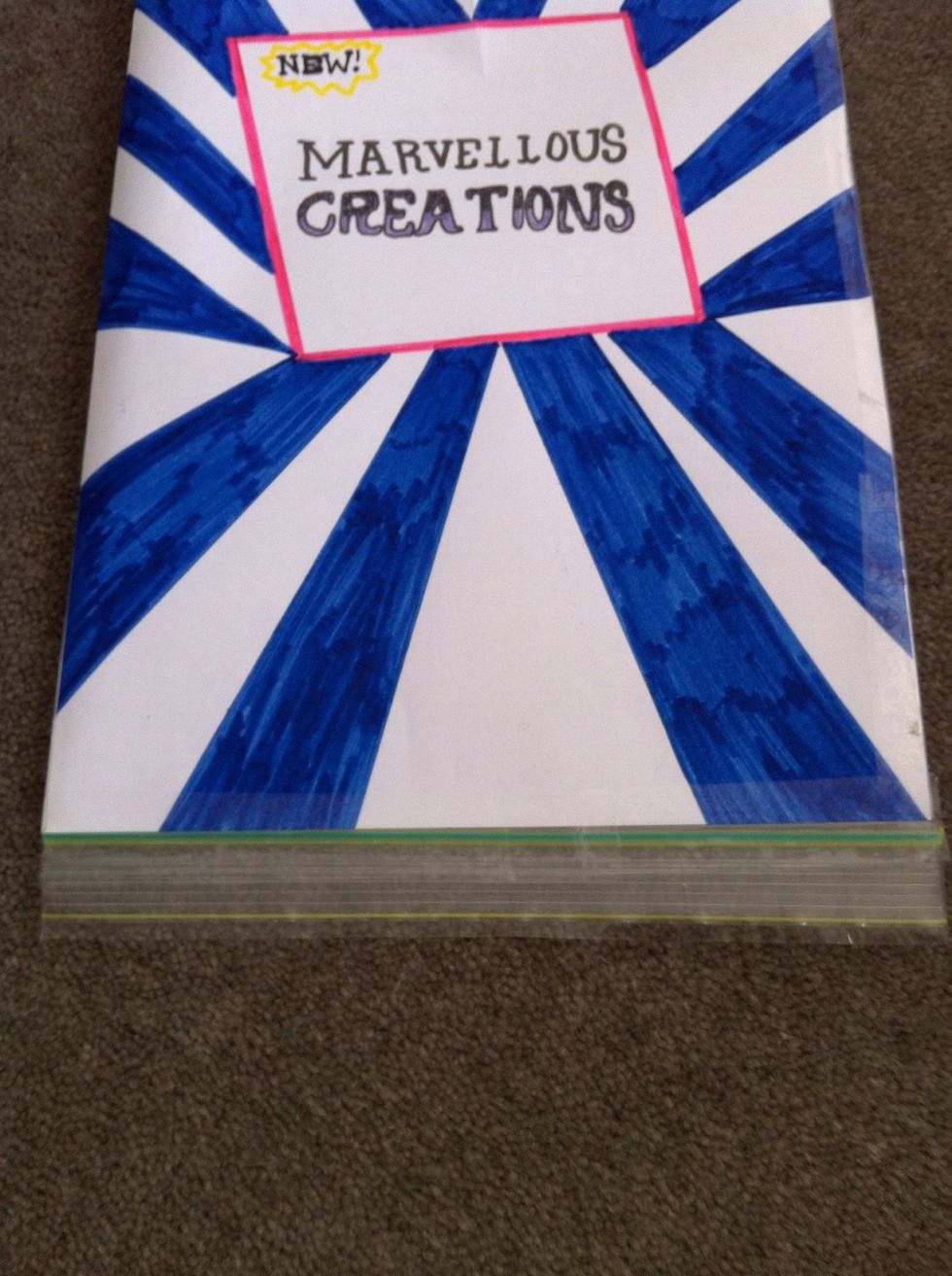 Next put stickytape around the front and back of the bottom
Same with the top
Now put the foil wrapped chocolate in and zip lock it shut. It can be opened from either end
You can take it out somewhere or give it as a gift! Who likes my idea? Comment below⬇
Chocolate
Smarties
Red jubes
Honeycomb
1.0 Knife
1.0 Chopping board
2.0 Flat container 1 bigger than the other
1.0 Scissors
1.0 Saucepan
1.0 Heatproof bowl
1.0 Woodern spoon
1.0 Spatular
1.0 Oven mit
1.0 Foil
Textas
1.0 Black fineliner
1.0 Pencil
1.0 Eraser
1.0 Gillotine(you can use scissors)
1.0 Ruler
1.0 Sticky tape
1.0 Glue stick
1.0 Peice of card stock