The secret is how easy it really is! Shh! Don't tell. You need biscuits, cornbread, broth, fat, seasonings and eggs. The details are really just however your taste buds like it!
12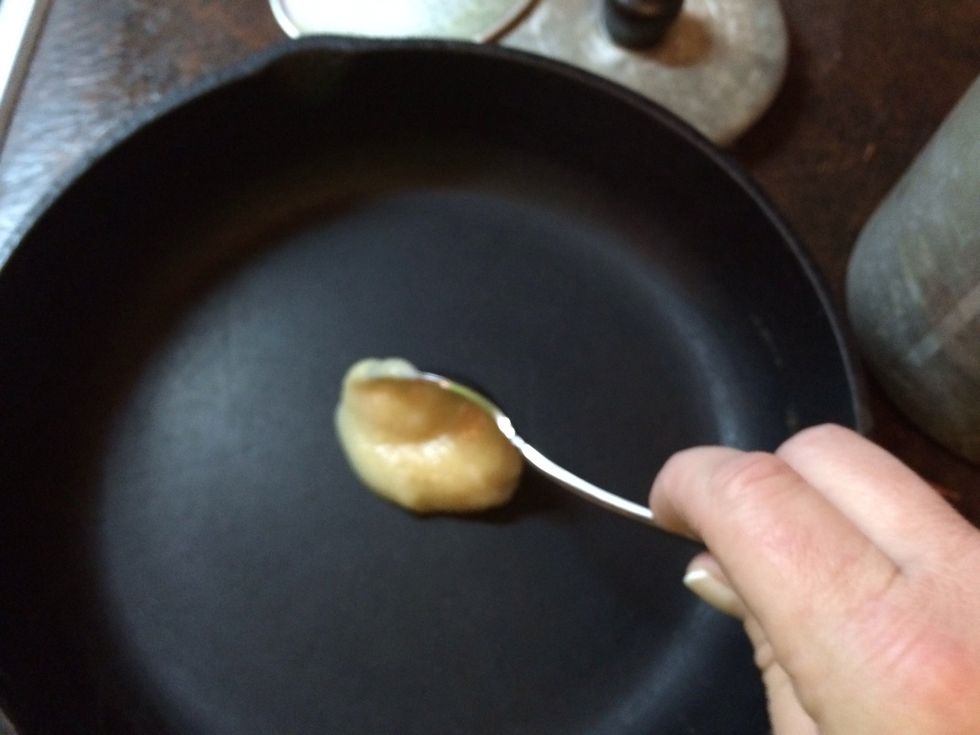 Let's prepare the iron skillet for your cornbread, so it won't stick...Grab your iron skillet and dump 1 Tablespoon of fat (I'm using bacon grease) into the pan.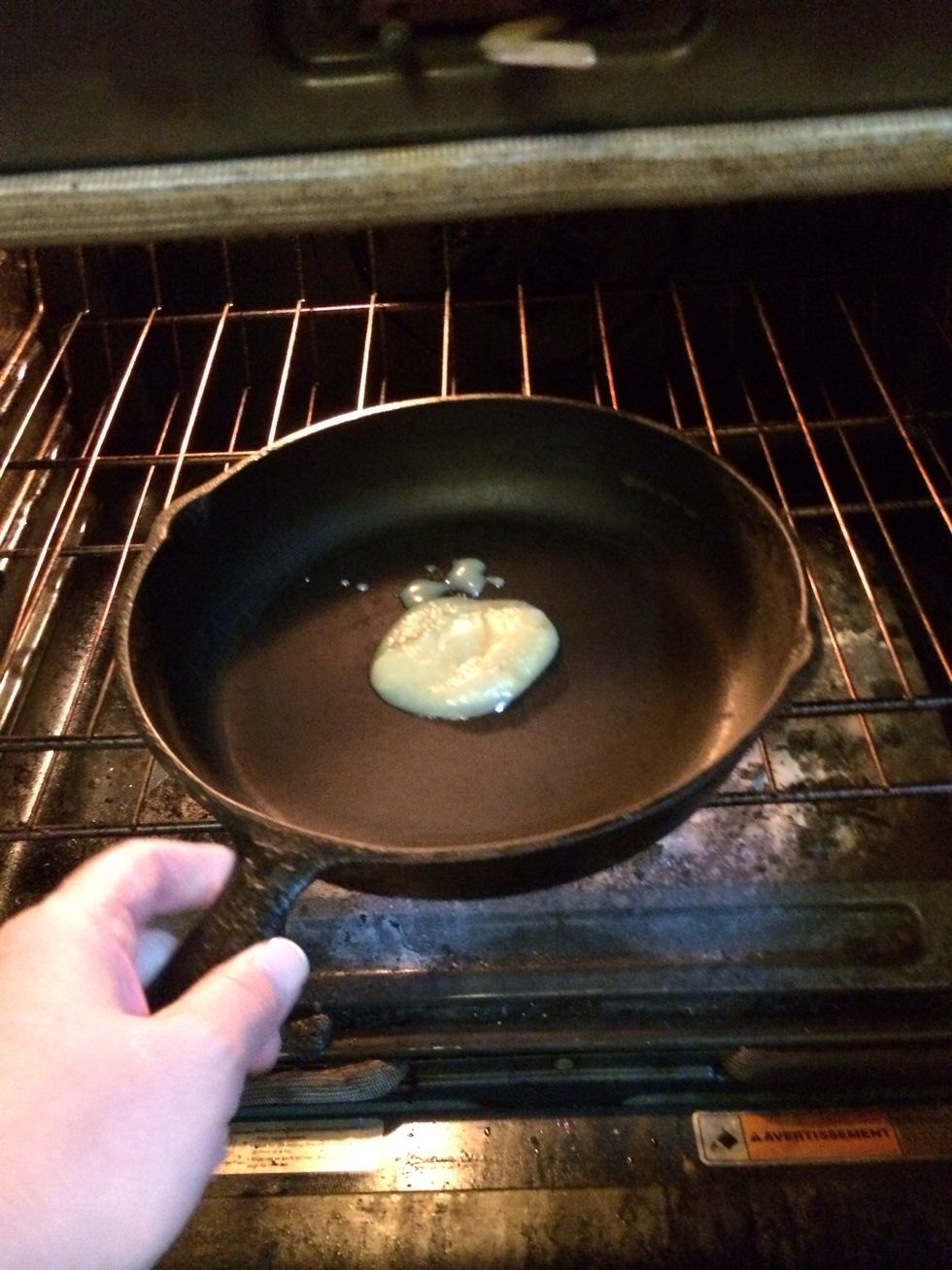 Place in cold oven. Preheat oven to 450. Again this is for the cornbread.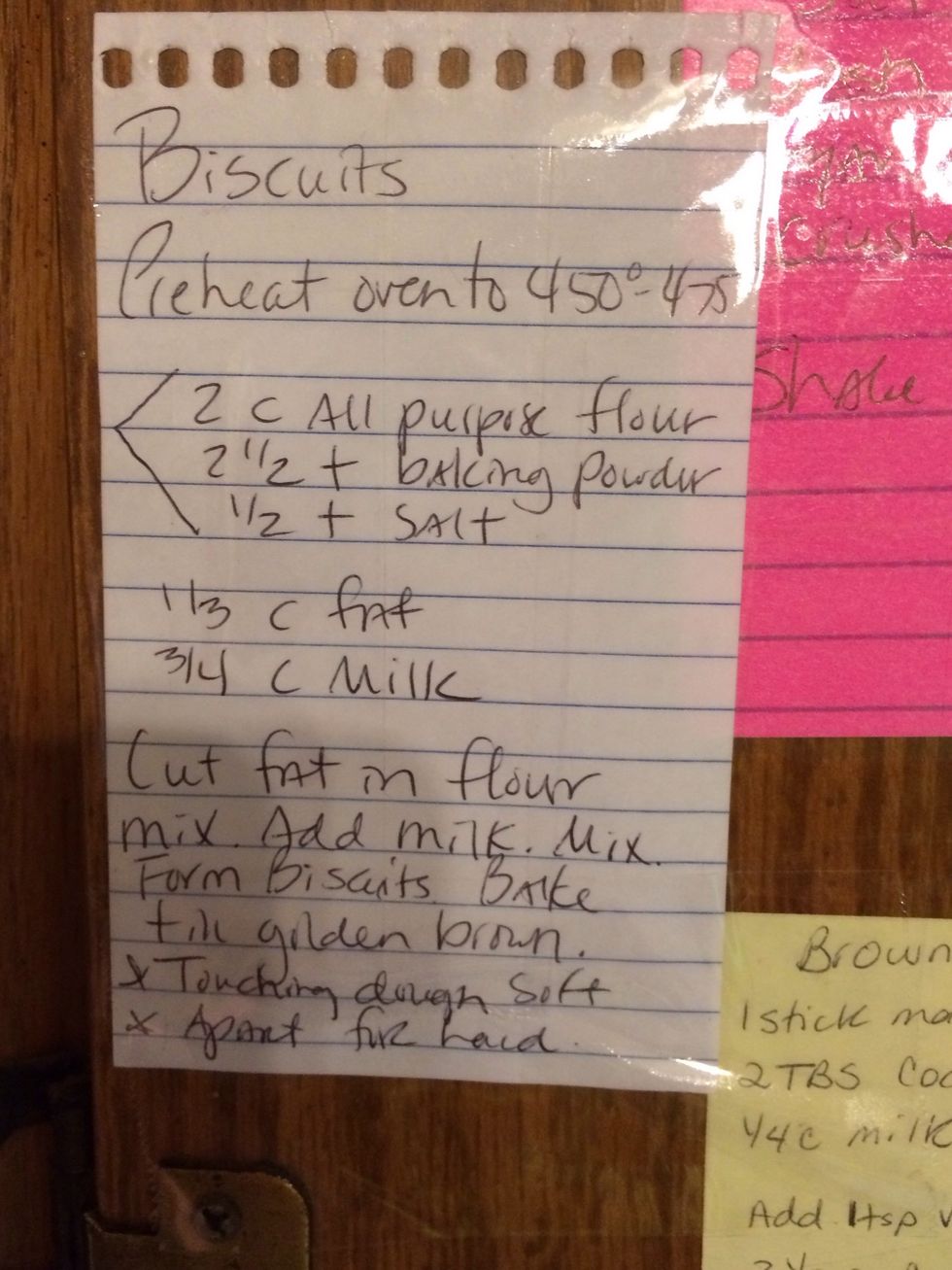 Start out making the biscuits. I make my own. I also keep my recipe taped to inside my cabinet door for easy access. Now you can use these or canned or just plain light bread.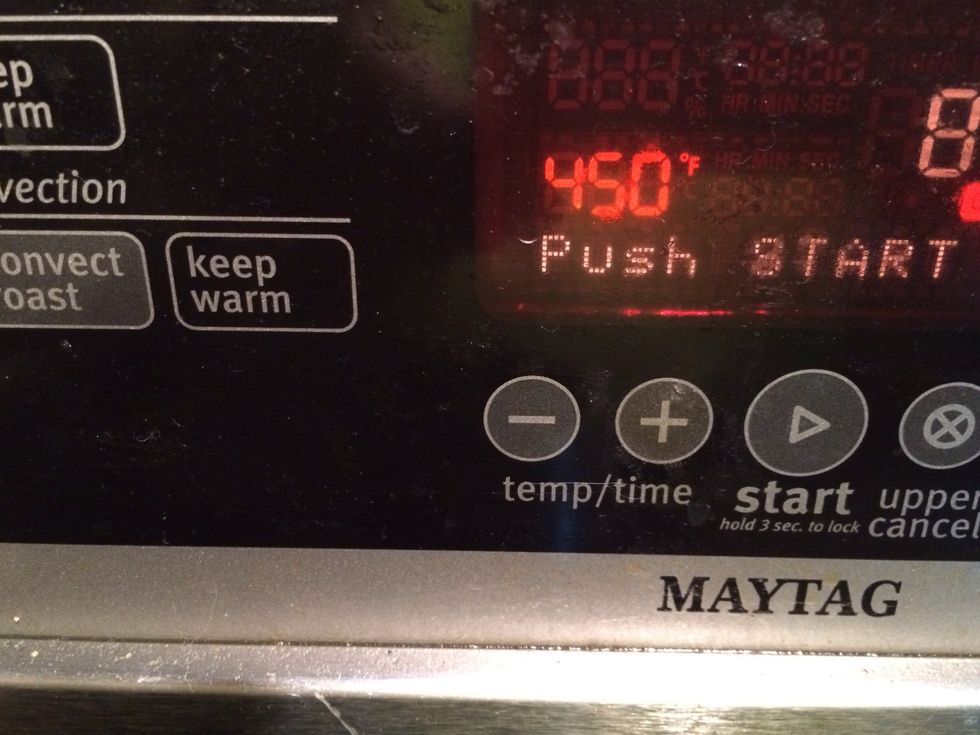 Preheat oven to 450.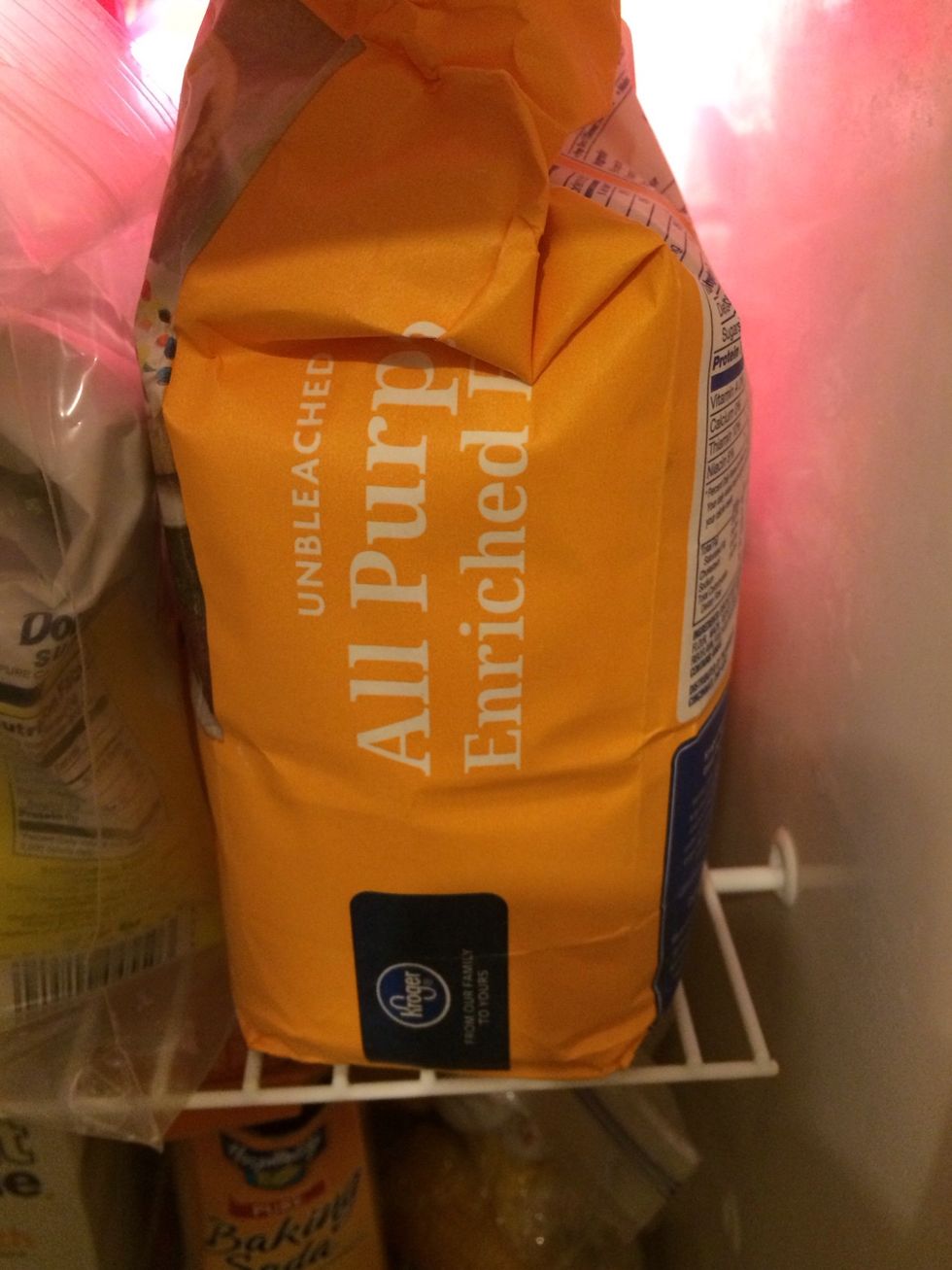 Grab all-purpose flour. I keep mine in the freezer. I buy extra when they are on sale and keep in the deep freeze. I like the unbleached. It cuts down on some of the processing.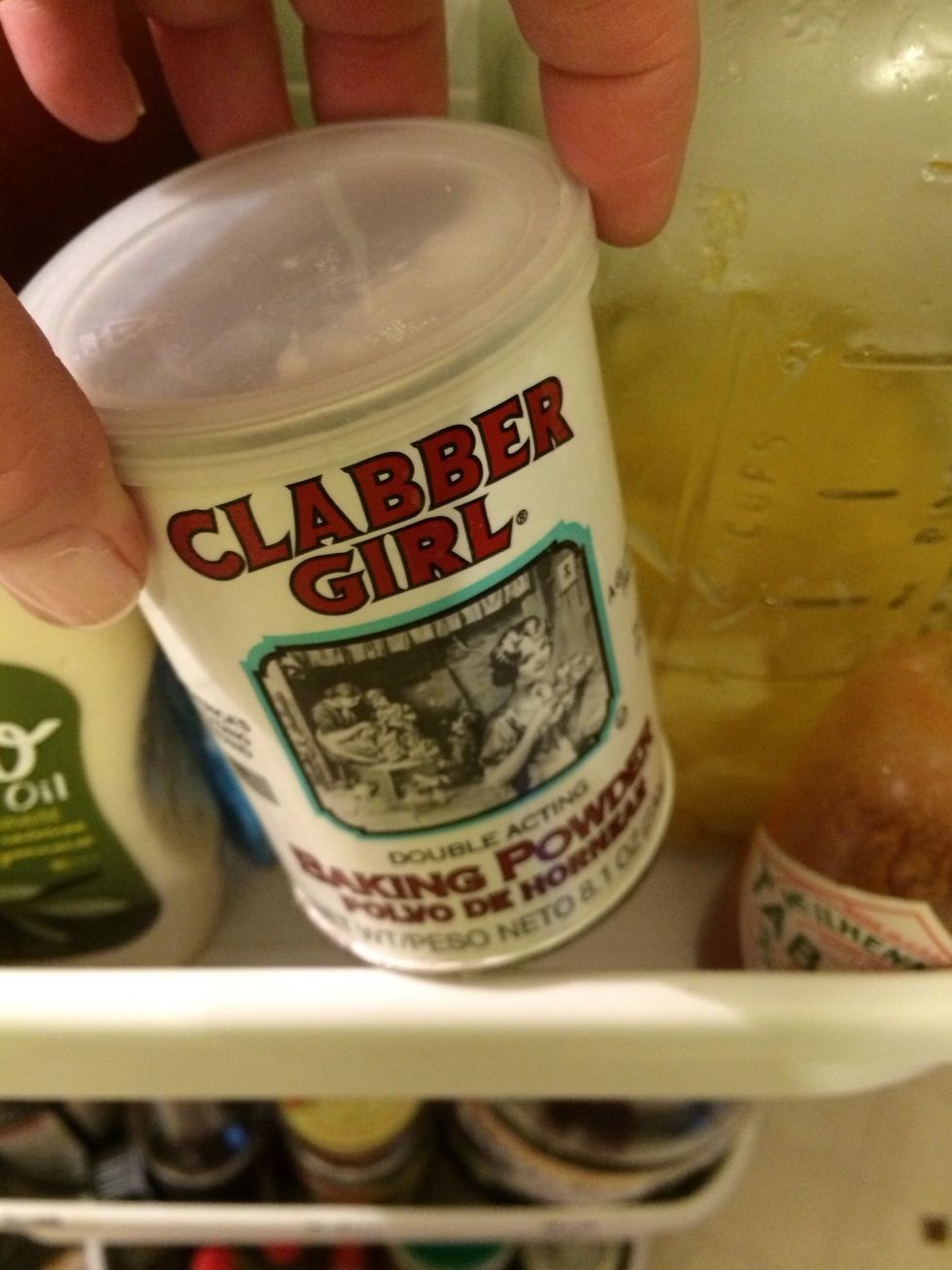 Grab the baking powder. I keep this in the fridge. It won't stay loose in the freezer. It freezes up.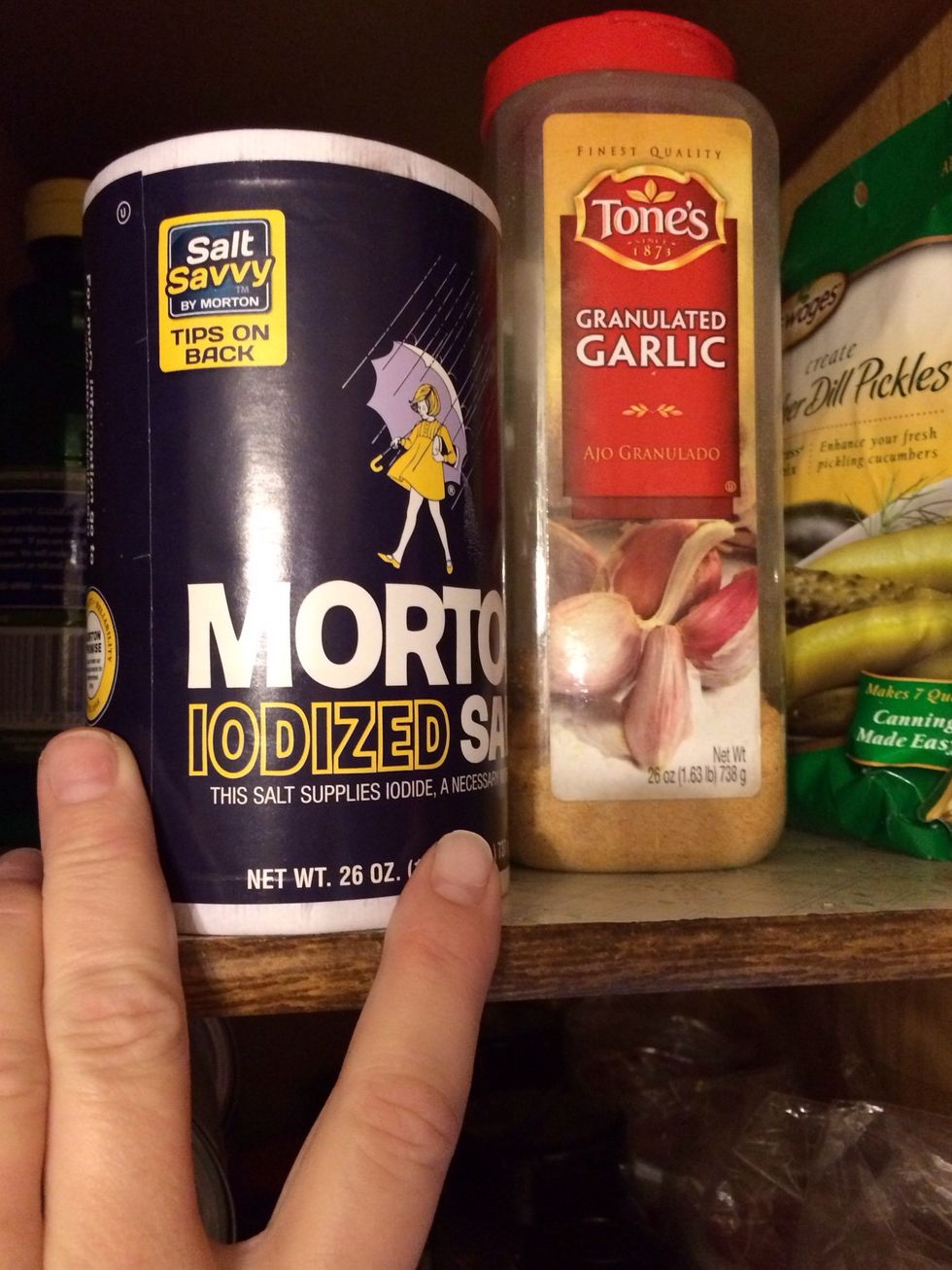 Grab the salt. For baking I like to use the Iodized. Gotta get our iodine!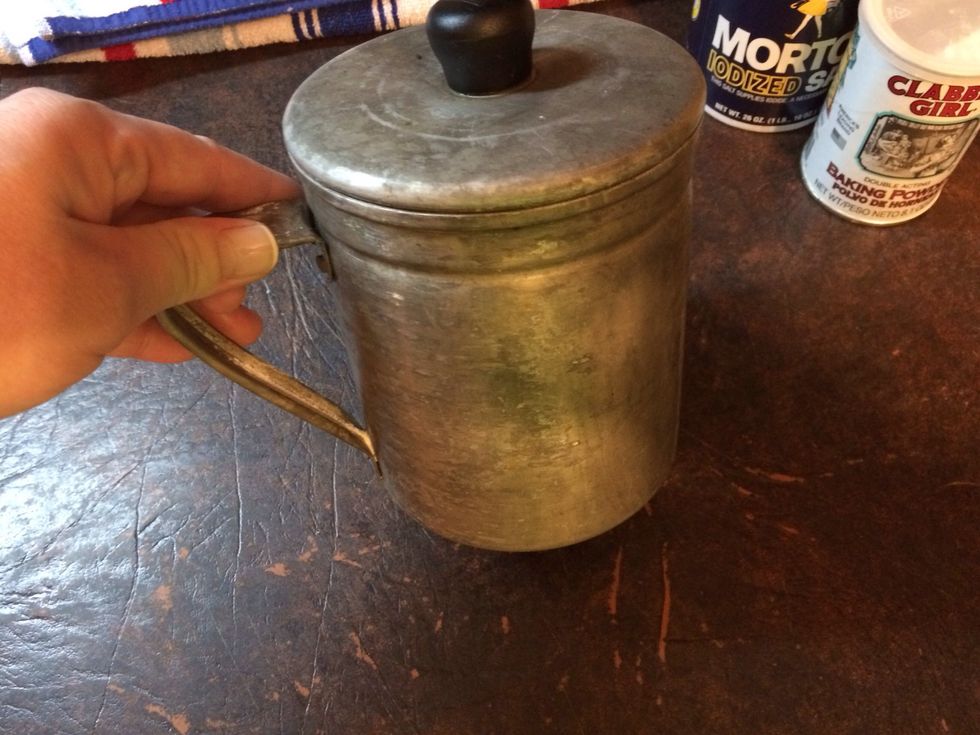 Your choice of fat. This is our container for bacon grease. You can use shortening, coconut oil (my fave), butter or a cooking oil. The texture and flavor will be different to which fat you use.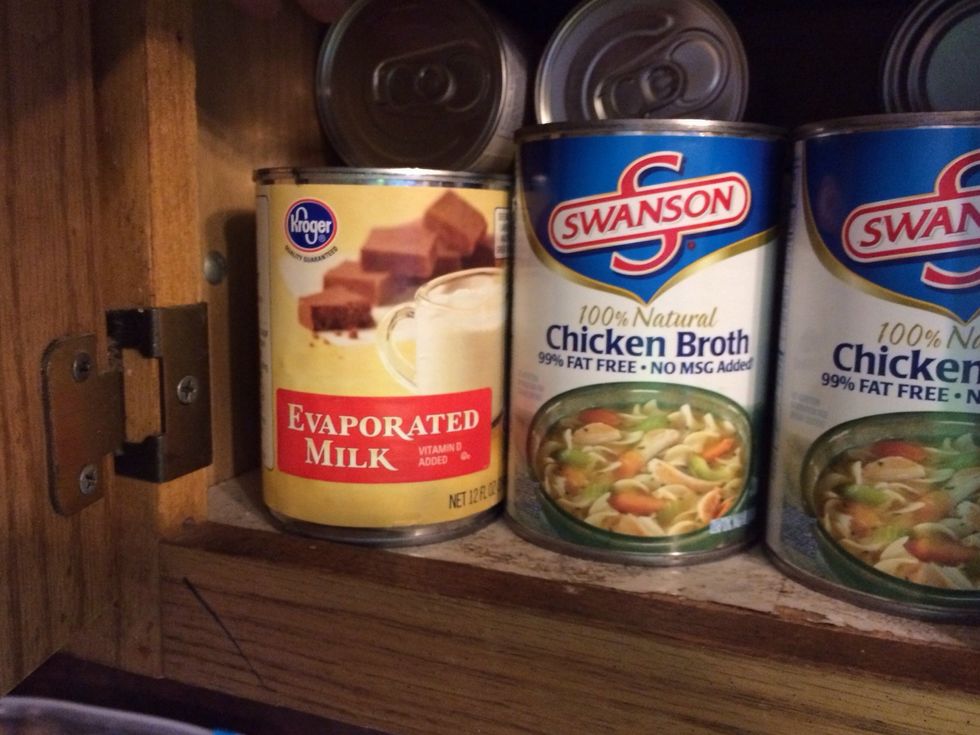 Dairy product. I prefer evaporated milk. But also use cream, regular milk, buttermilk or made up powder milk.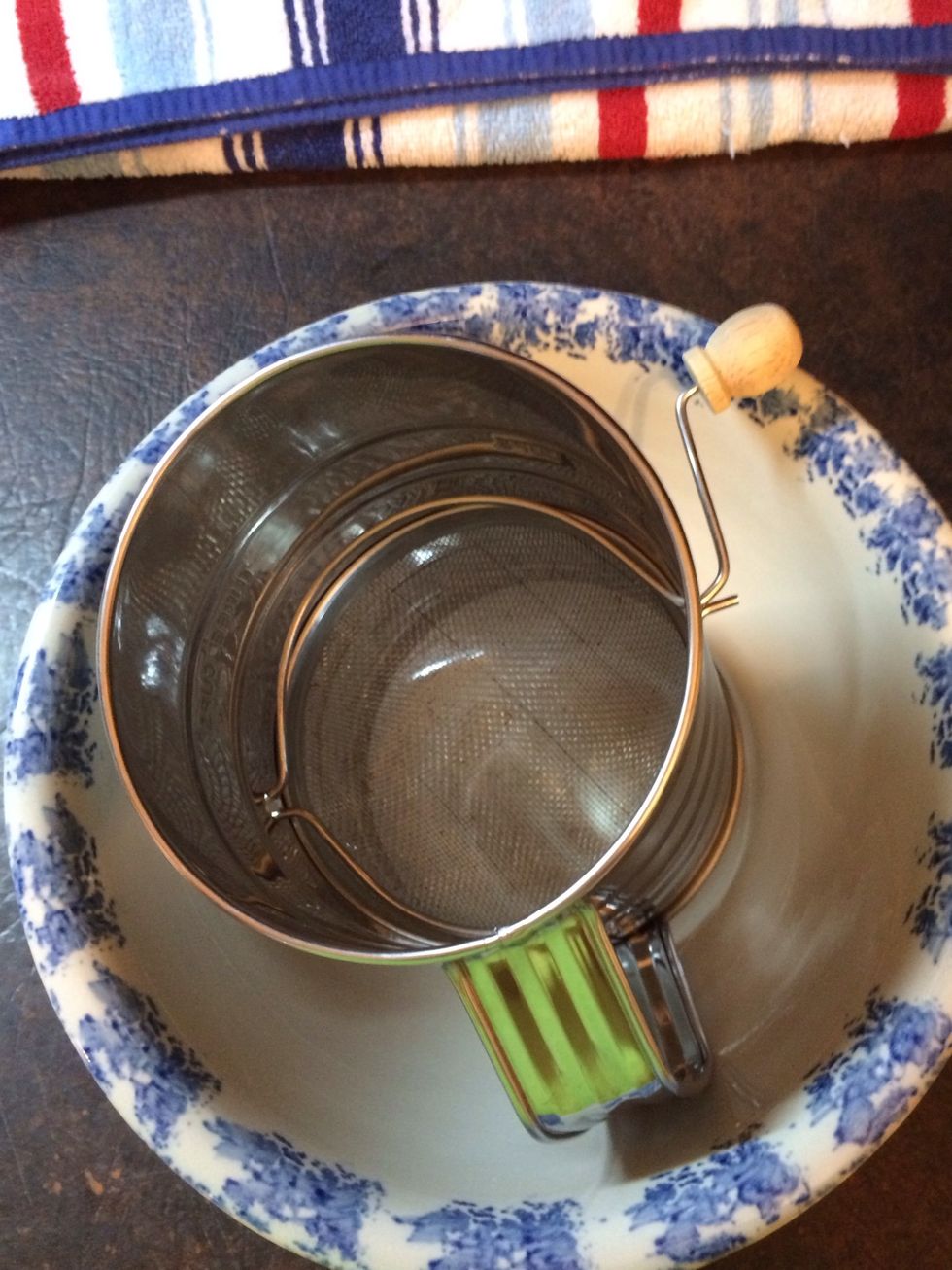 Grab your fav sifter.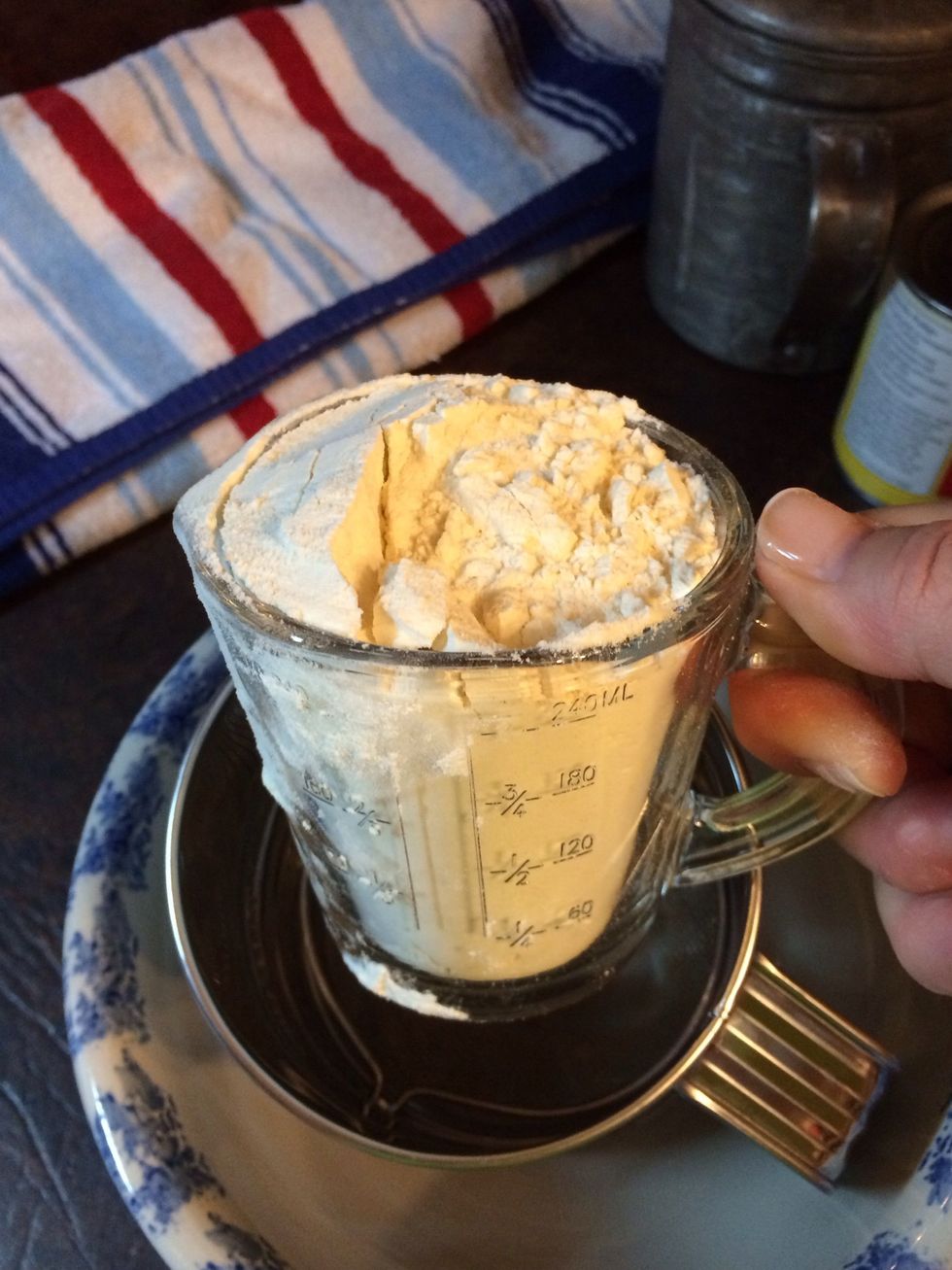 Measure out 2 cups of all purpose flour.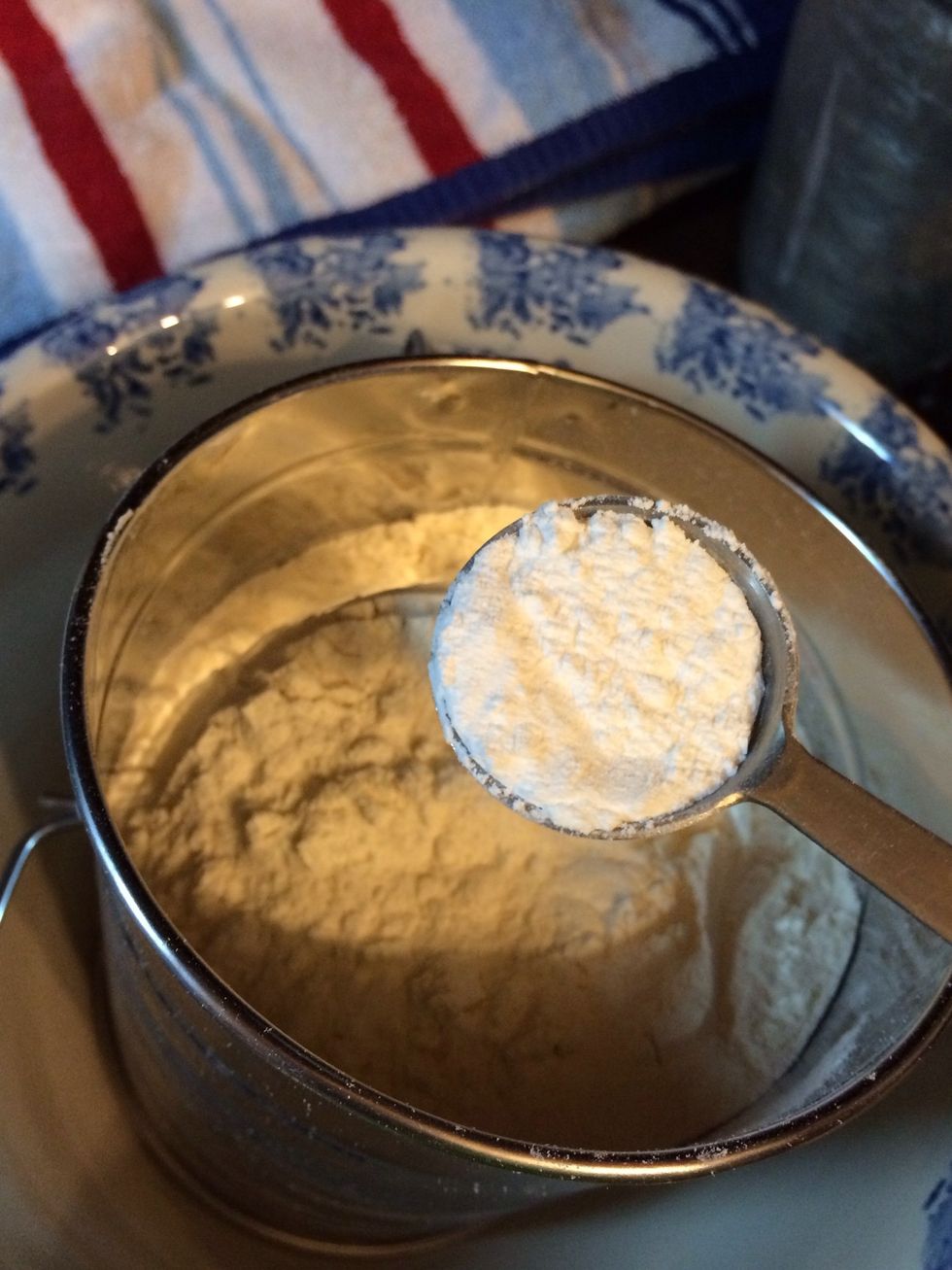 2 1/2 tsp baking soda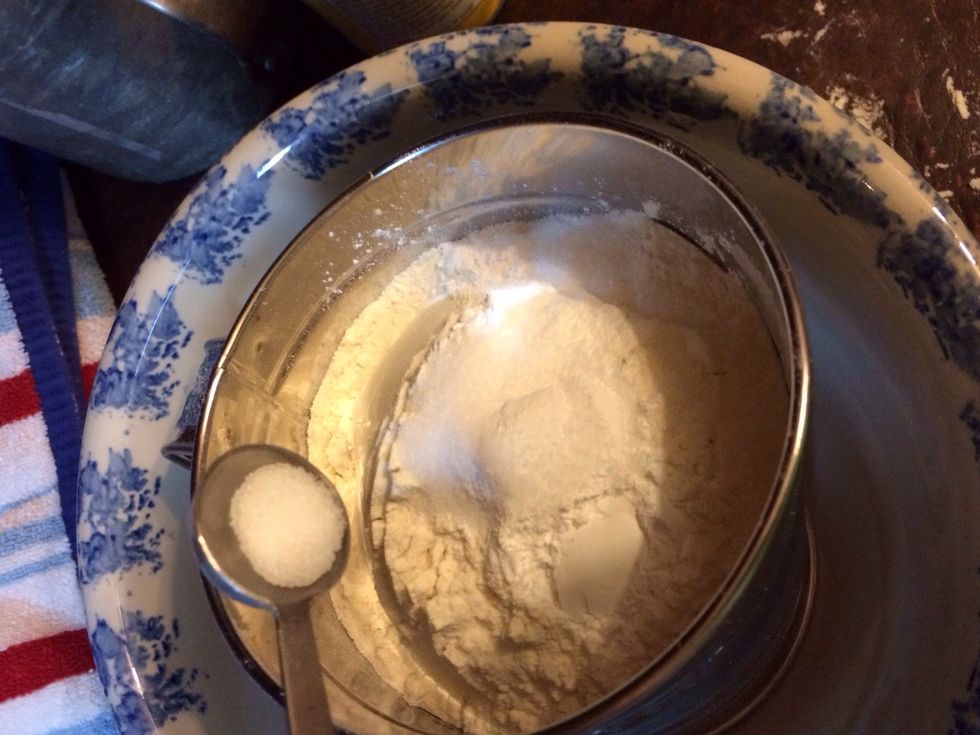 And 1/2 tsp salt.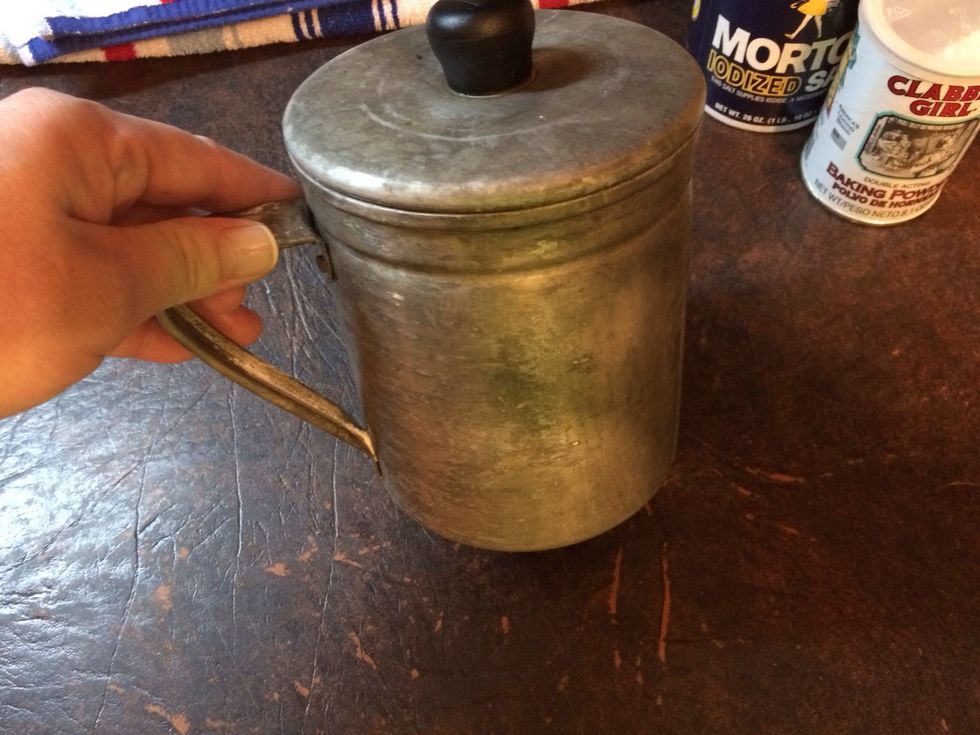 Now to add the fat. Let's take a closer look at the bacon grease. When you cook up some bacon, you can pour into one of these to use later. We use in recipes to add that bacon flavor. Yum!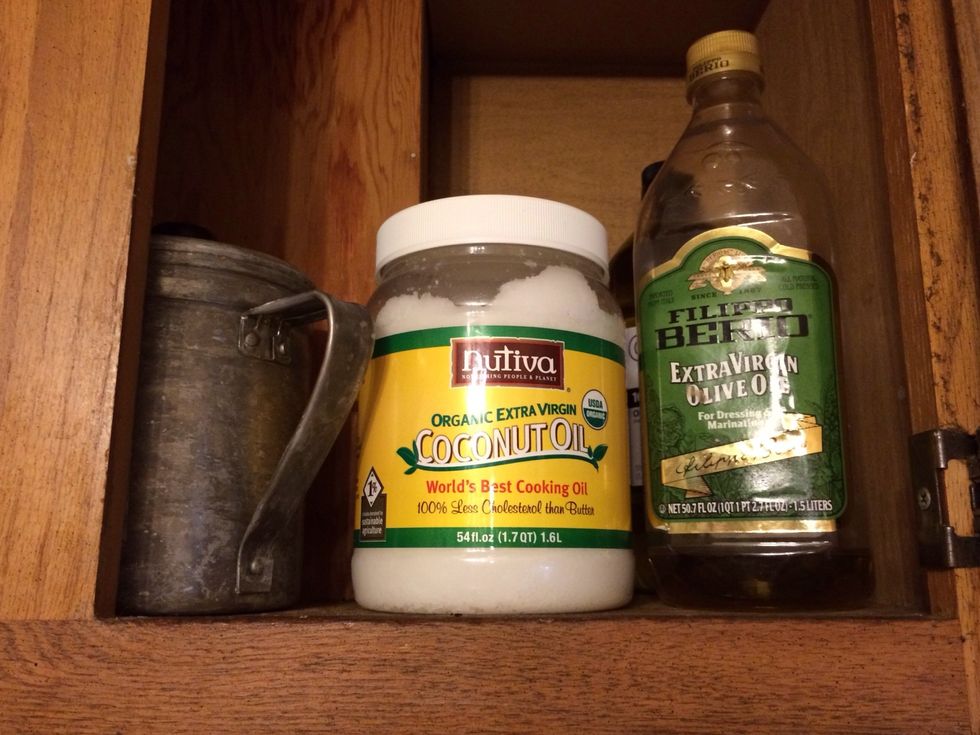 I keep the bacon grease in the dry cabinet next to my other fav fats...coconut oil and olive oil.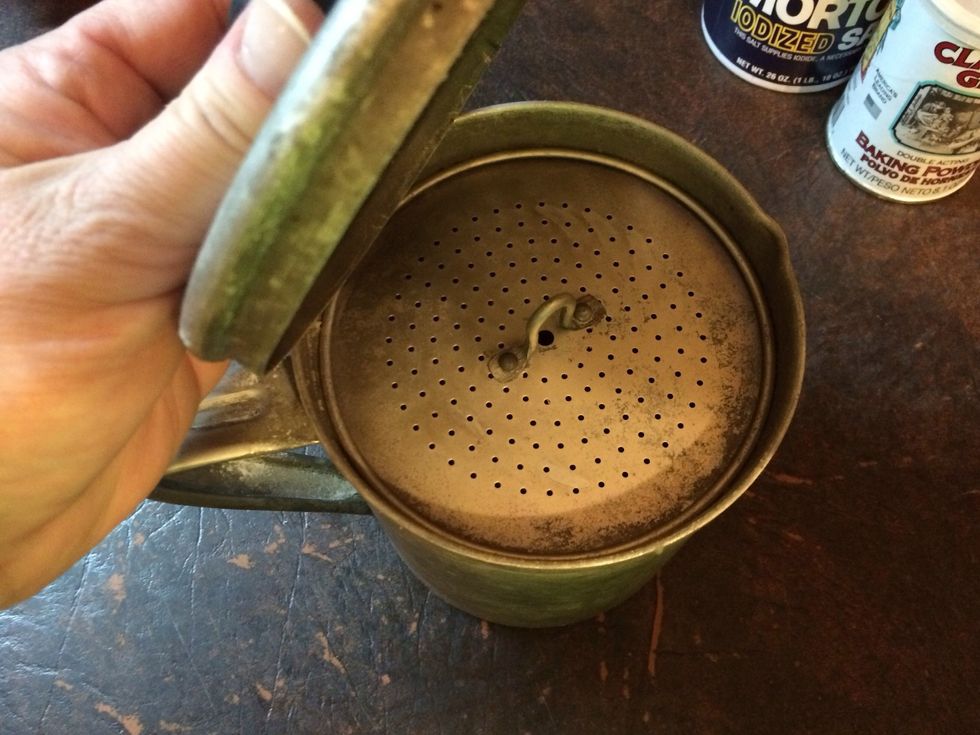 When lid is lifted you can see there is a strainer to allow only the fat to get through. Pour through when you pull bacon out from frying and fat is hot. Allow to cool before touching.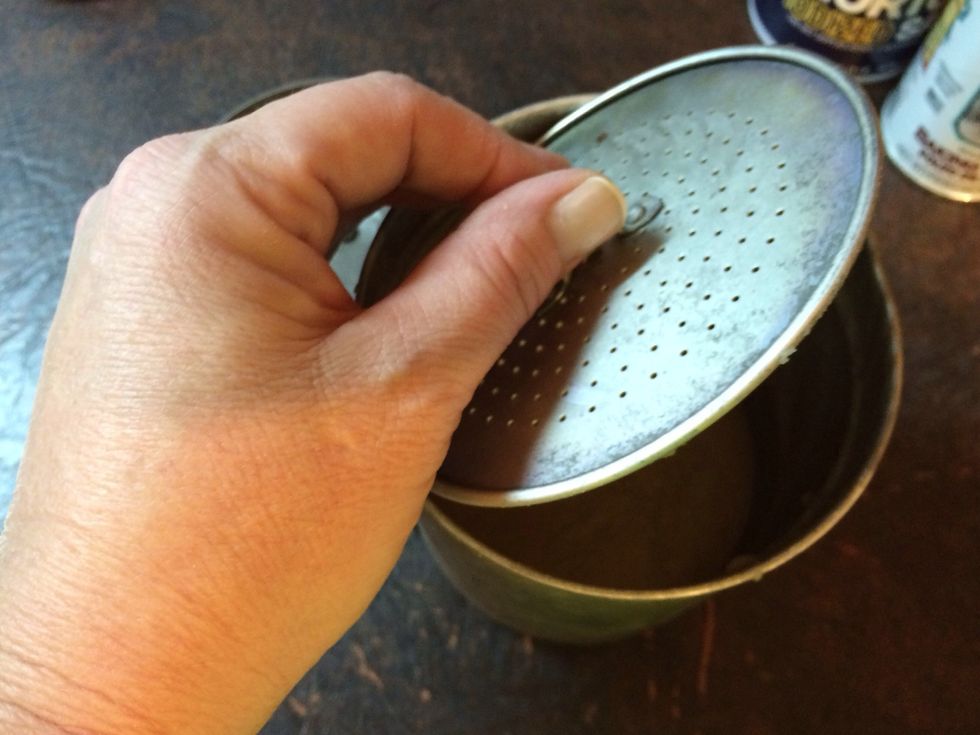 Be sure after cools to clean the strainer so ready for next use. Now let's pull up the strainer.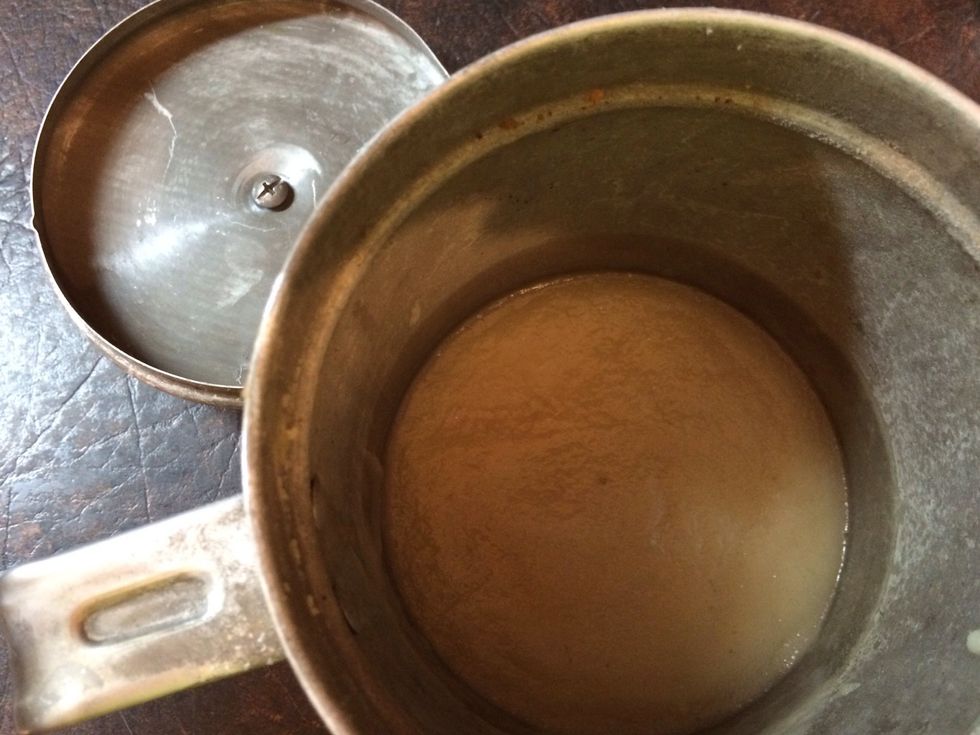 See the cooled bacon grease? This can be used in place of shortening or oil.
We need 1/3 cup of fat and 5 1/3 tablespoons is the same amount. So add that to flour mix.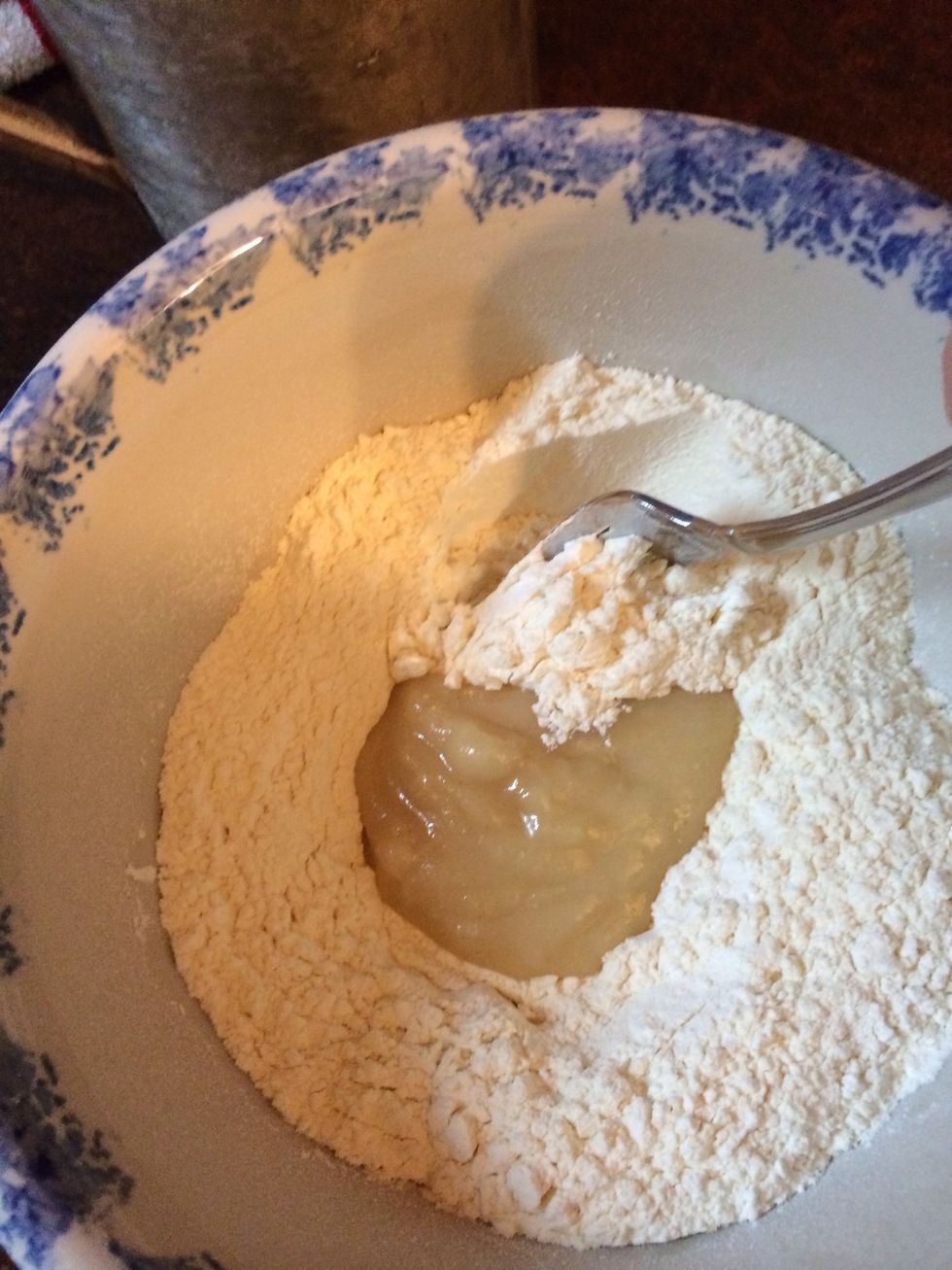 Like so.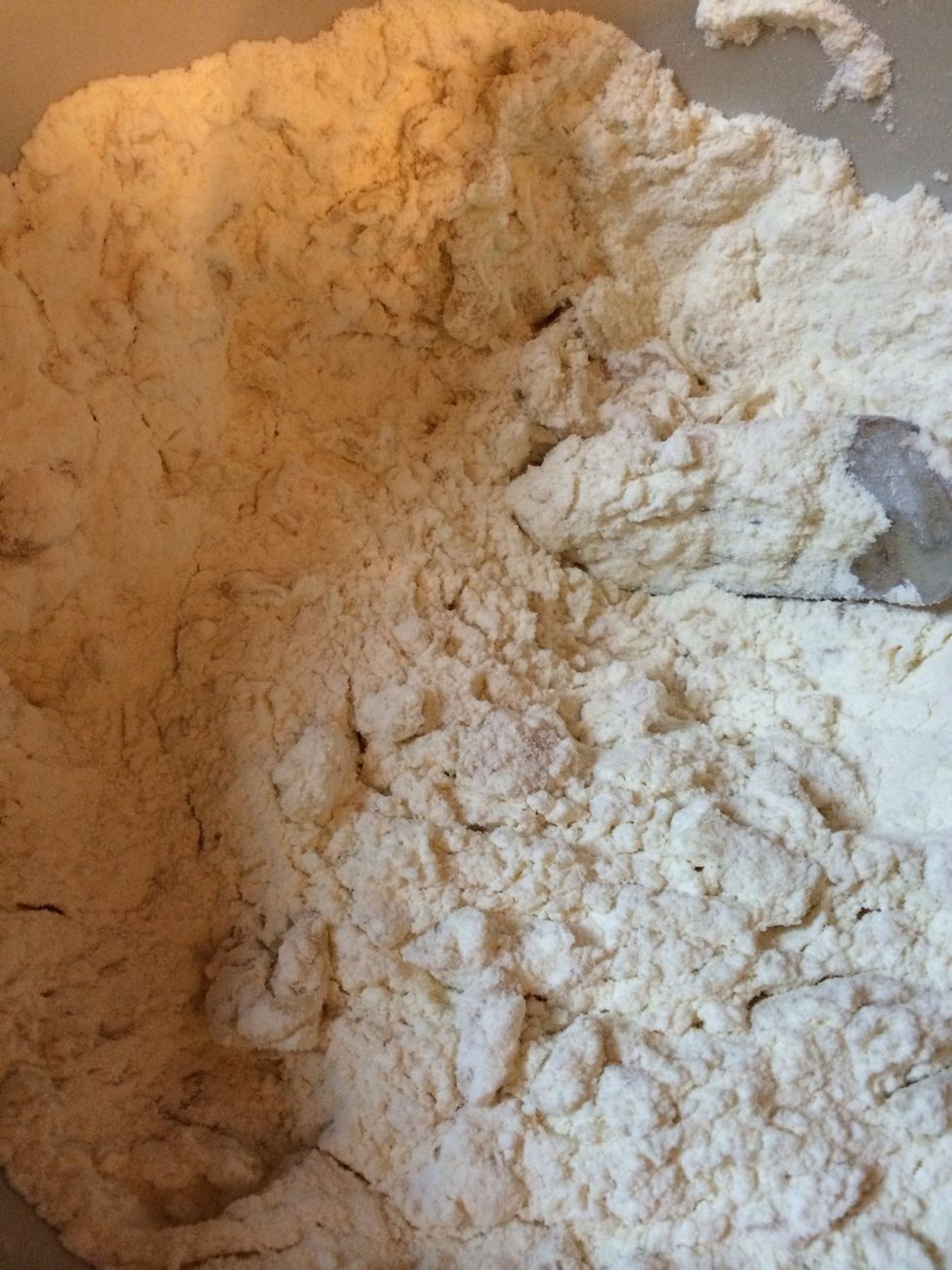 With fork mash the fat into the flour. See the flour starts to create these pebbles?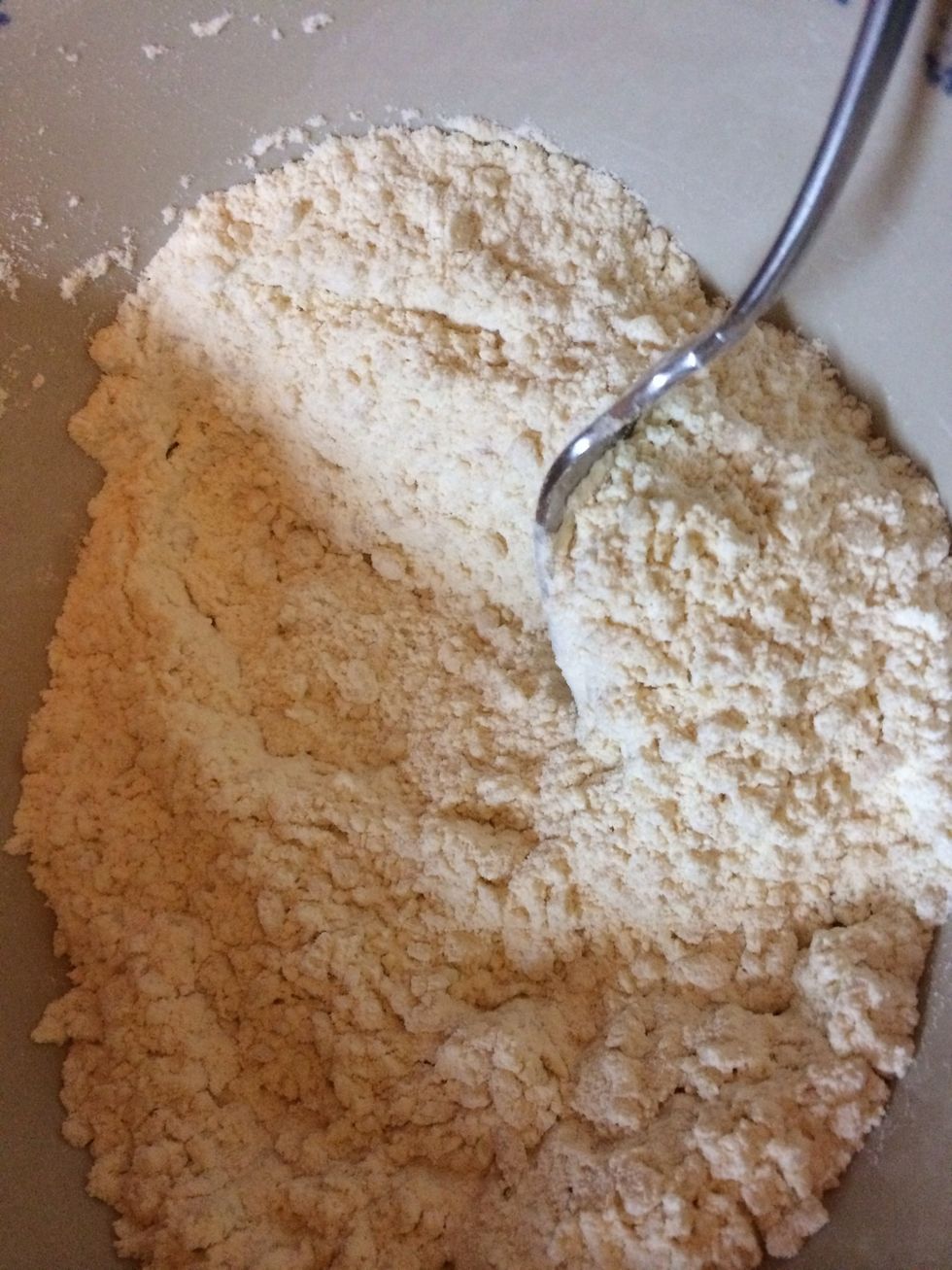 Keep mashing those until fine texture again.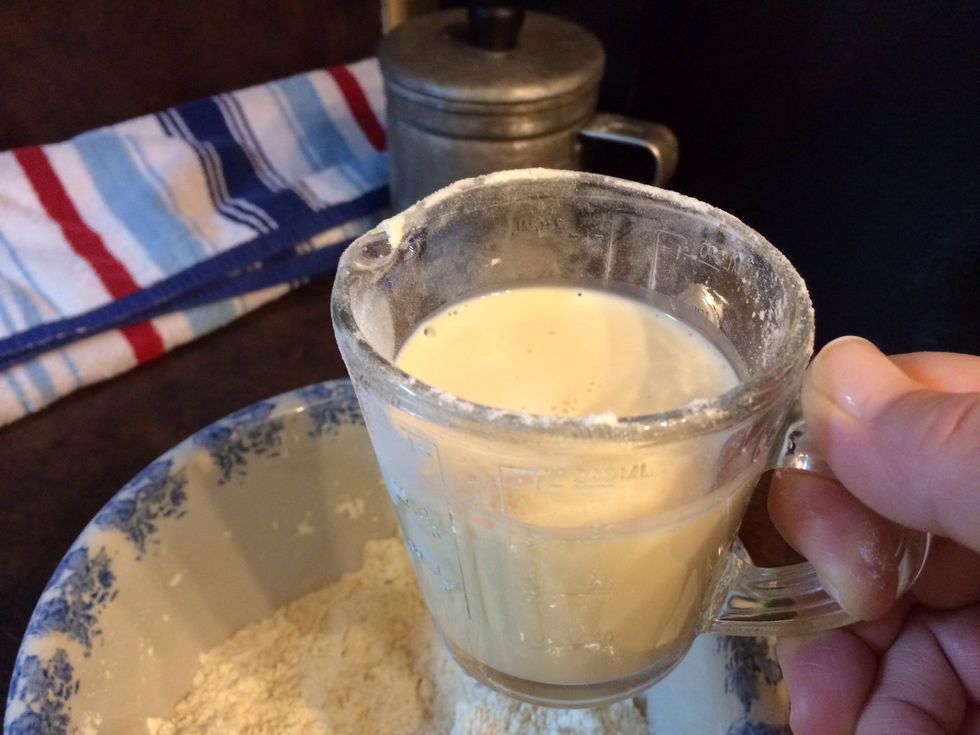 Now add the dairy...3/4 cup.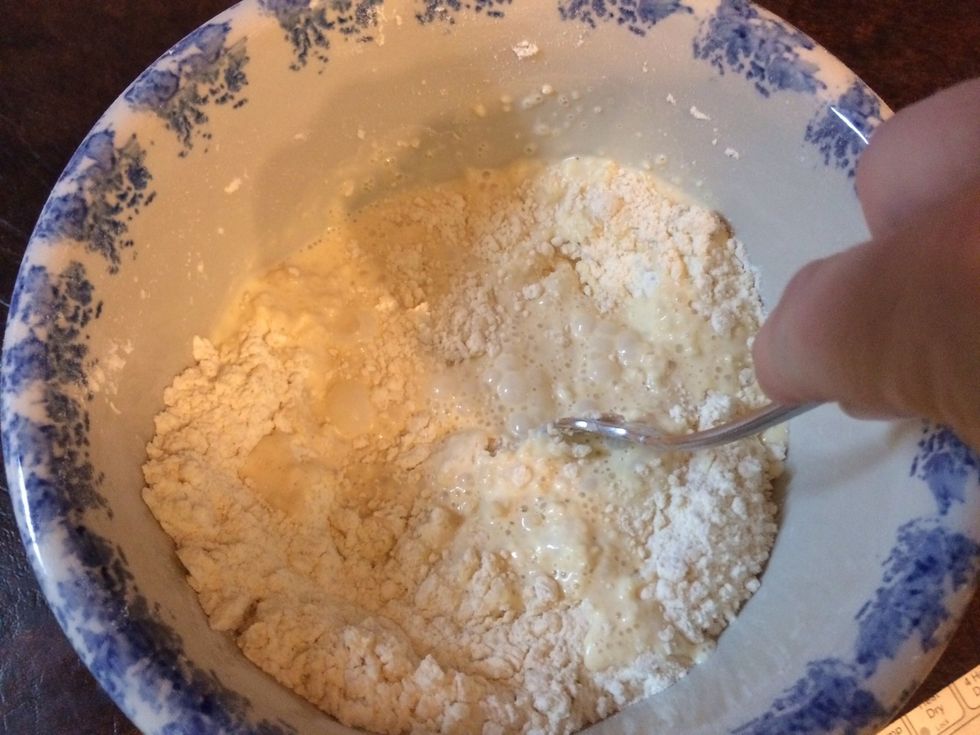 Like so.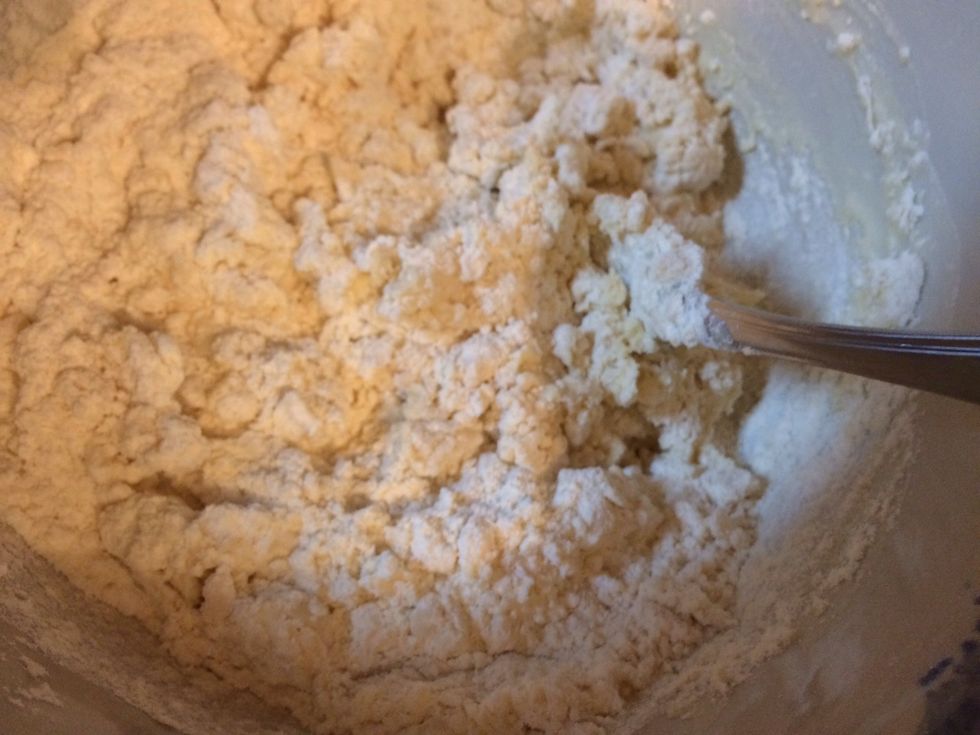 Stir until all flour is moist. It will start out like this. Depending on the weather you may need more to get all to come together.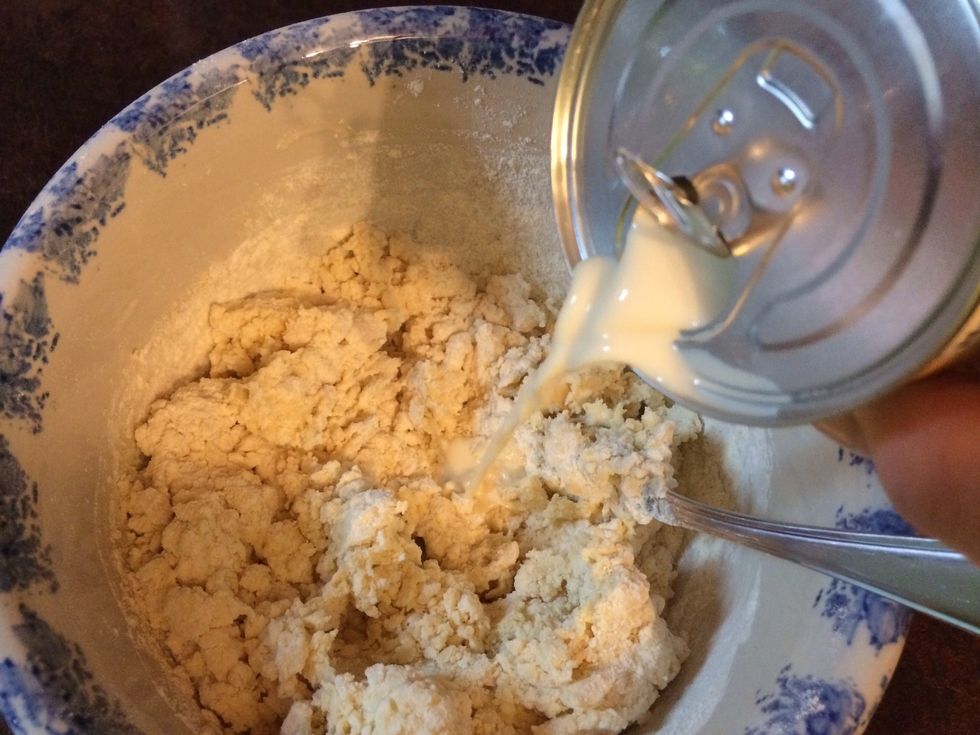 Add in.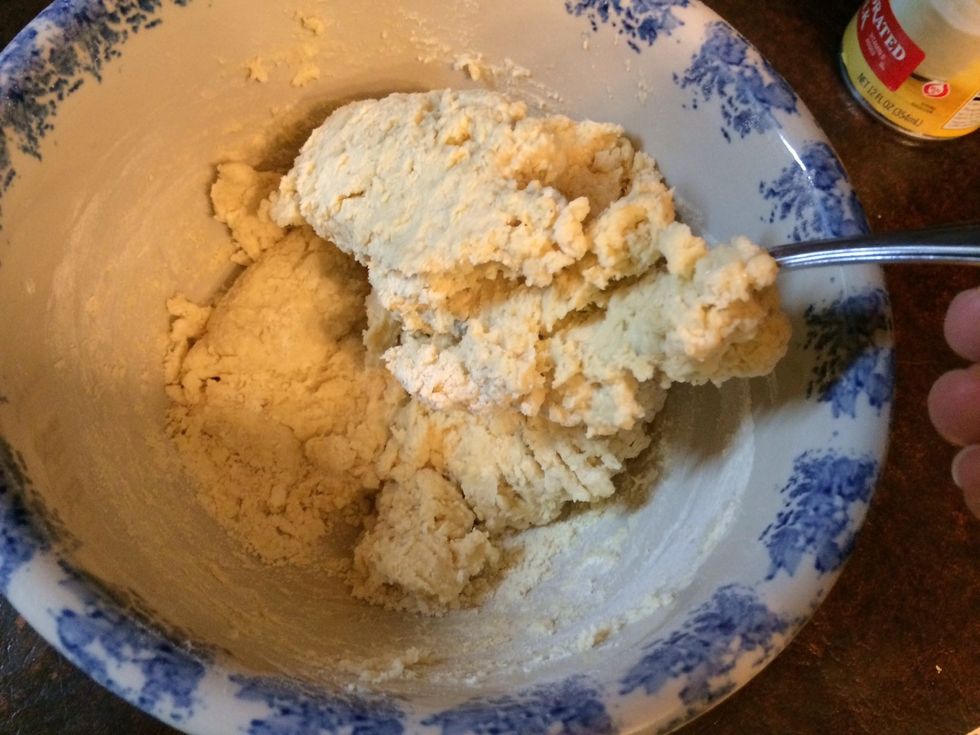 Stir again. Yep there's how we want it. It will naturally come together like this.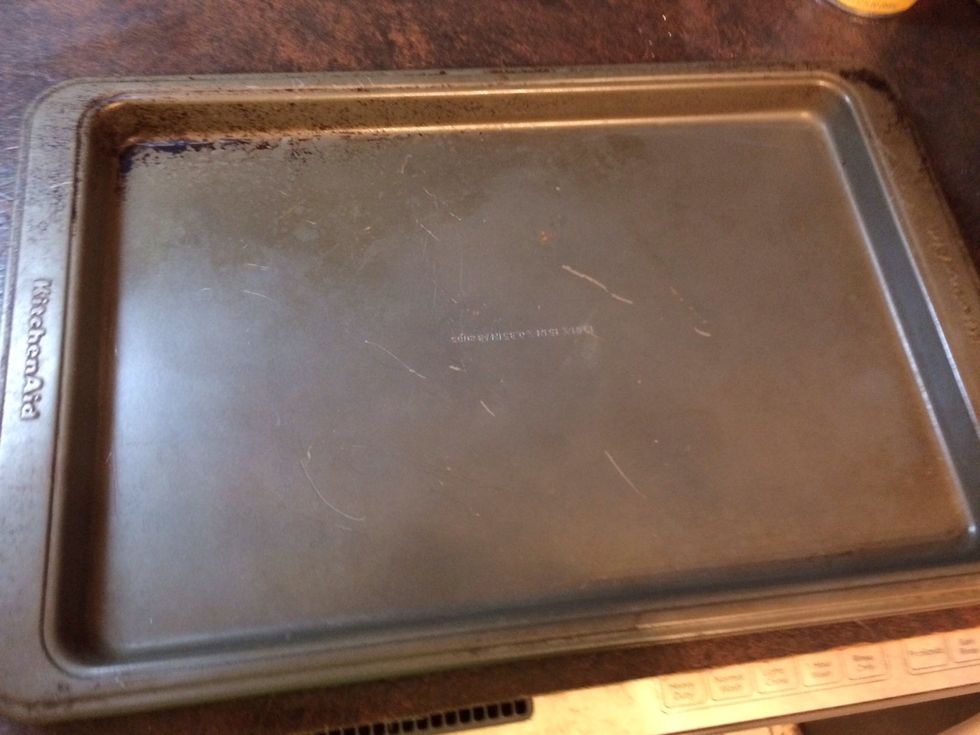 Grab your cookie sheet.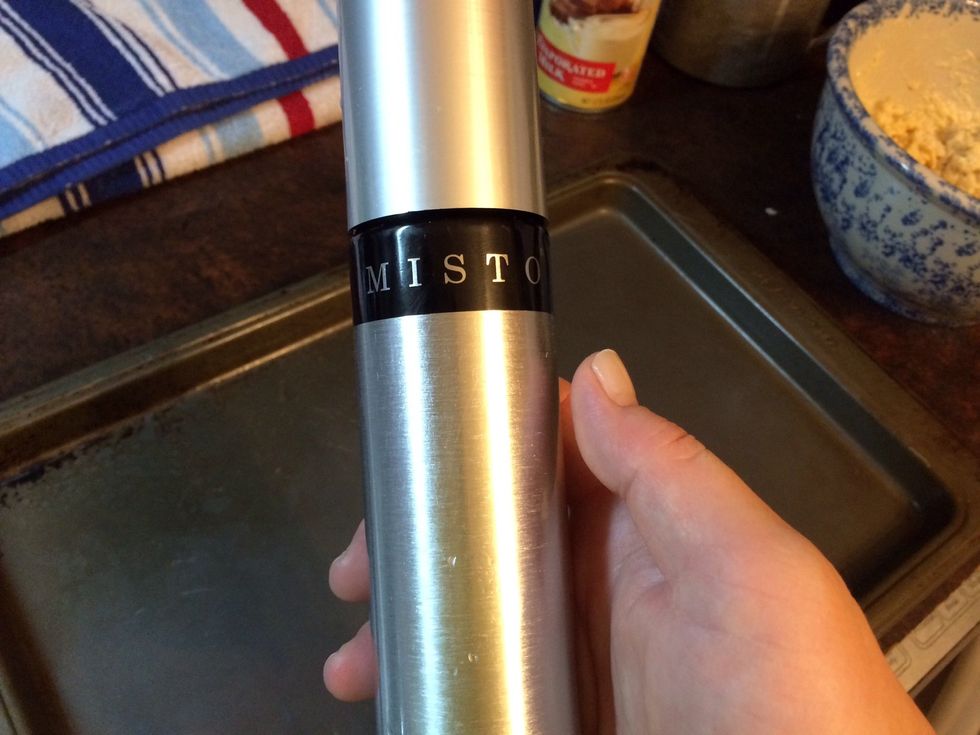 And your oil mister. I love this. You fill it with your own oil.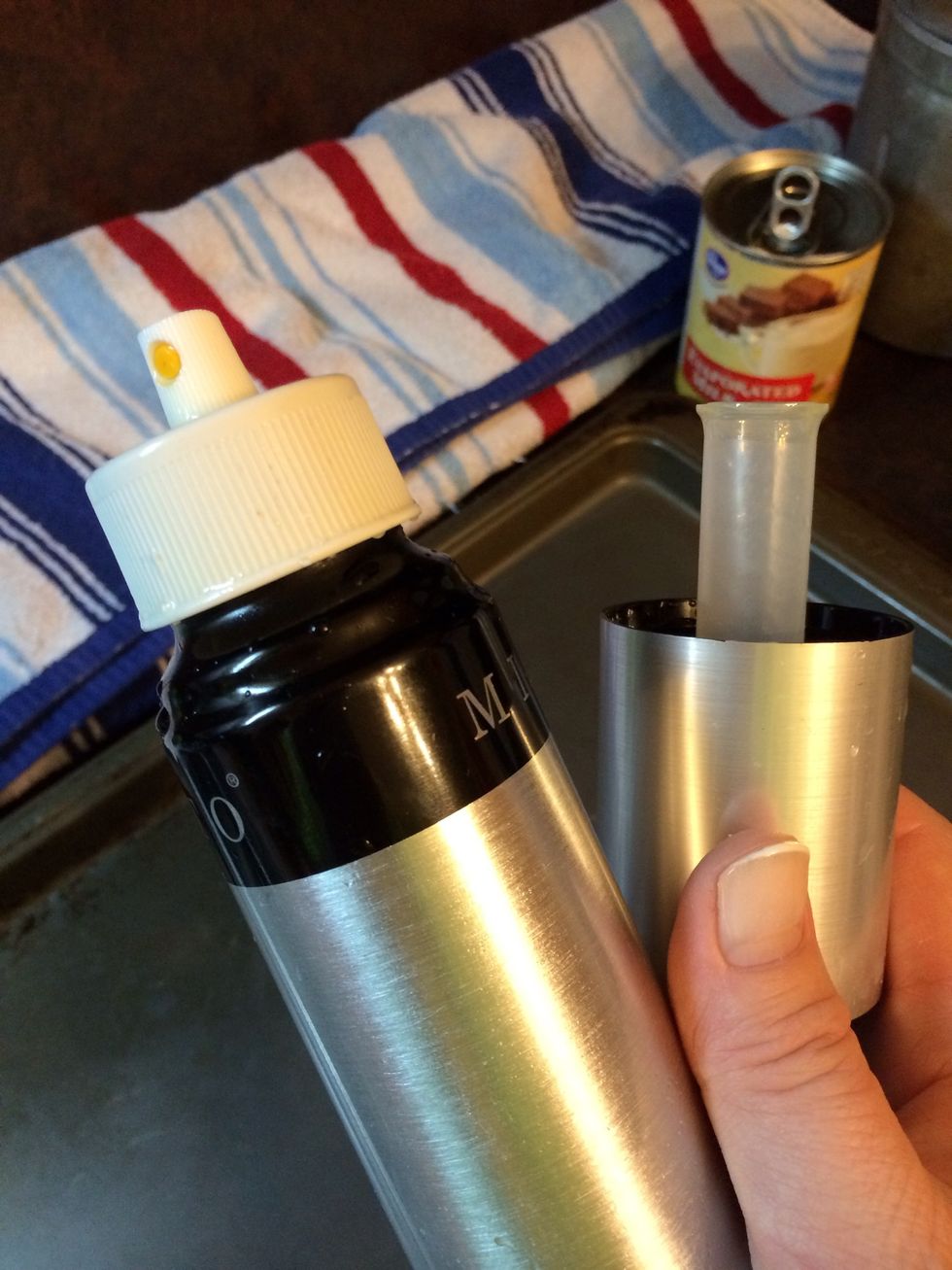 Inside the cap is a pump to allow you to spray.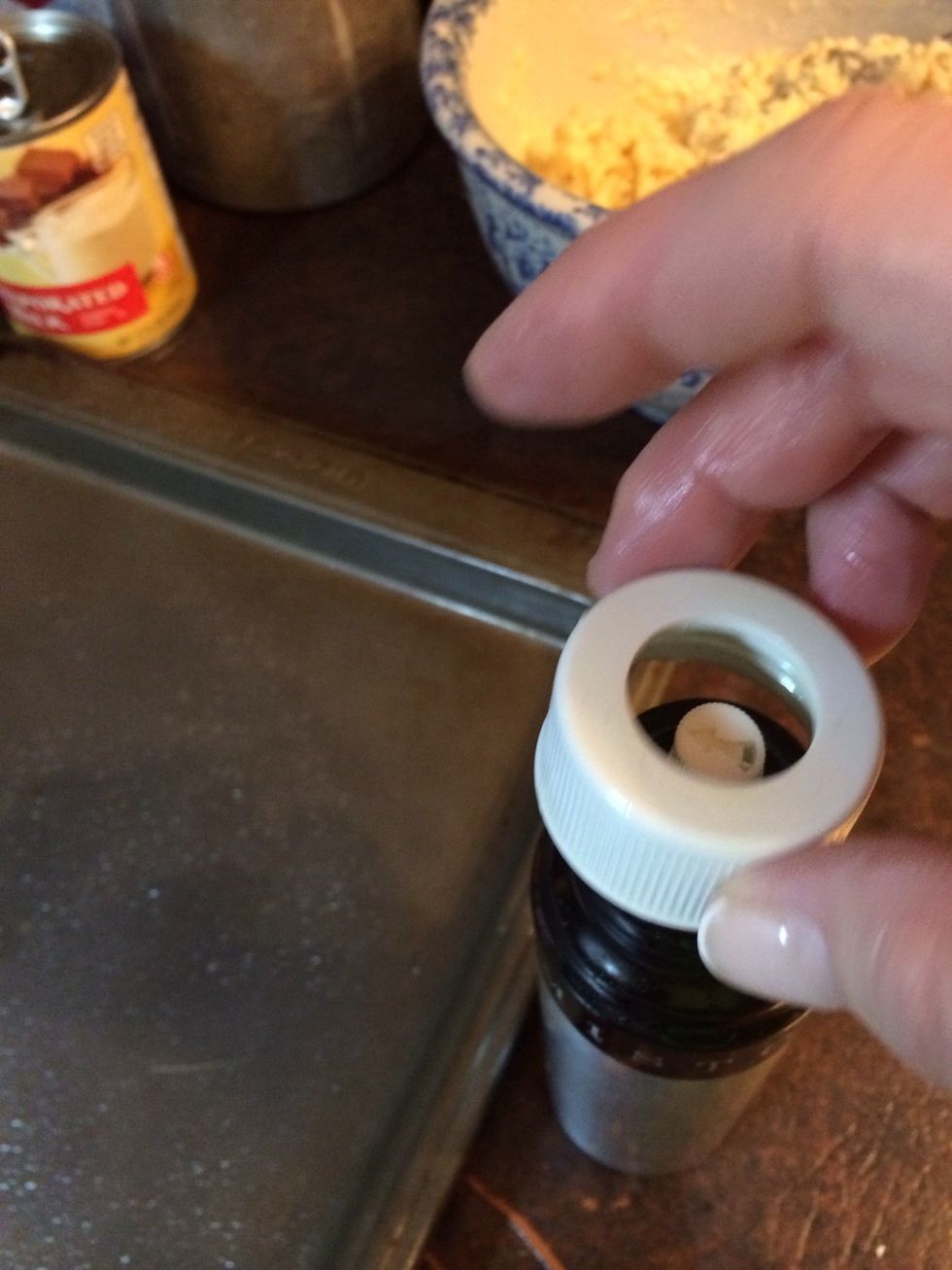 See the ring just untightens off.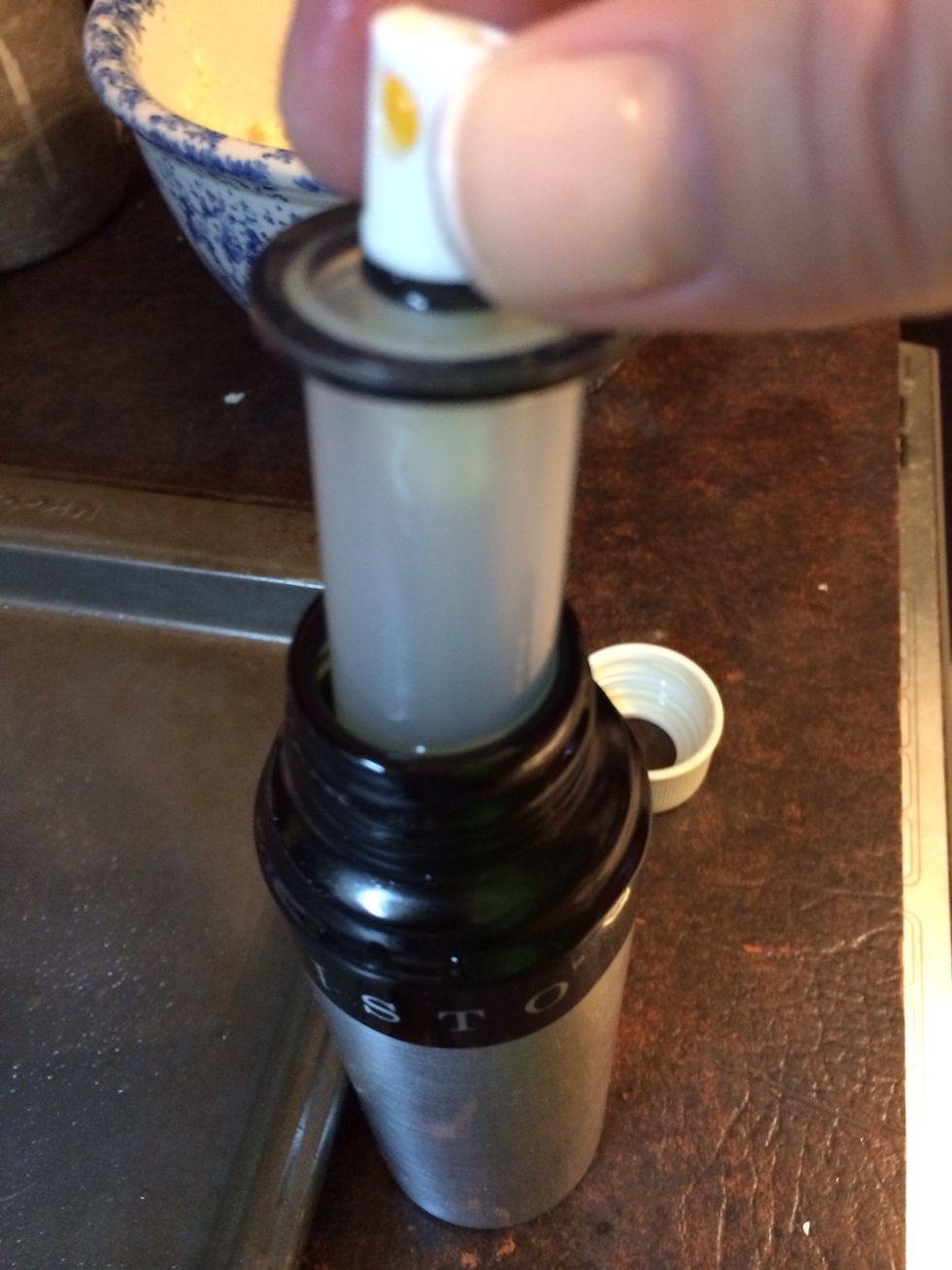 Pull up the sprayer.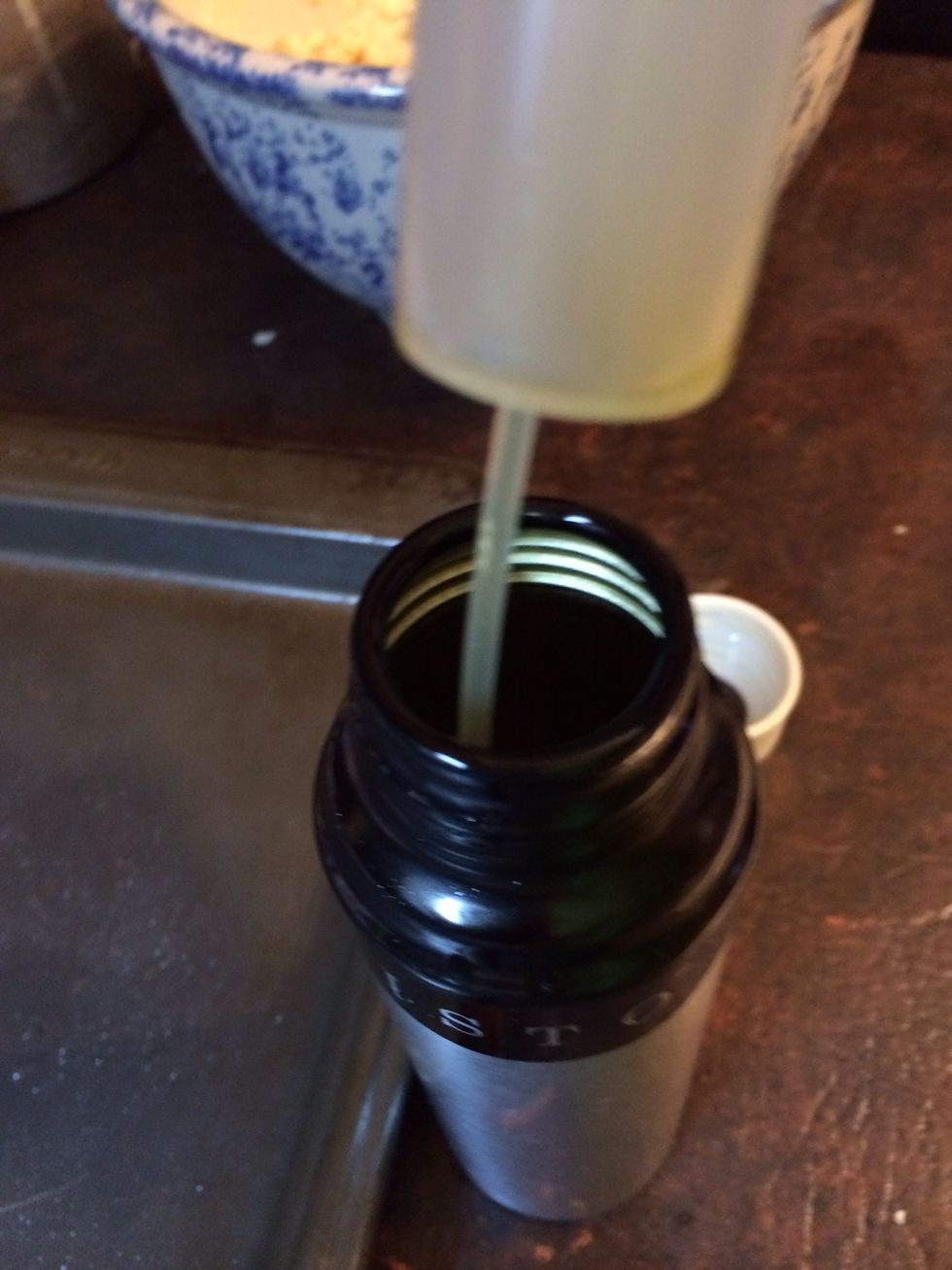 And fill as needed with your favorite oil. I use olive oil.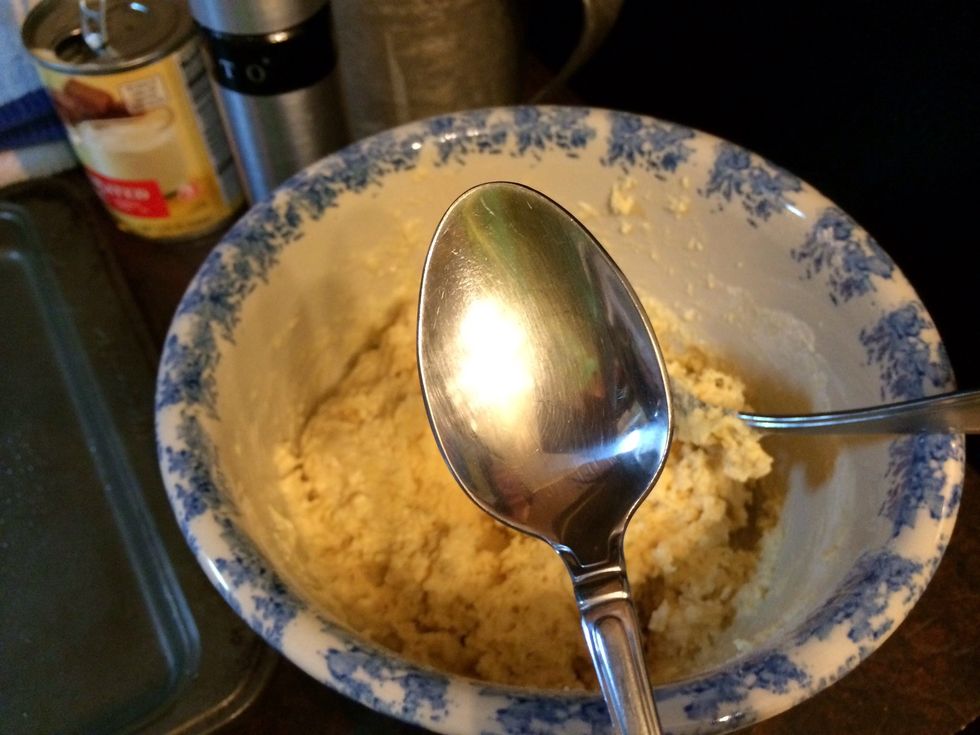 Now these biscuits are going straight into a dressing. So I'm make Cathead biscuits. This is where you don't roll them out you just drop them with a spoon. So grab a spoon.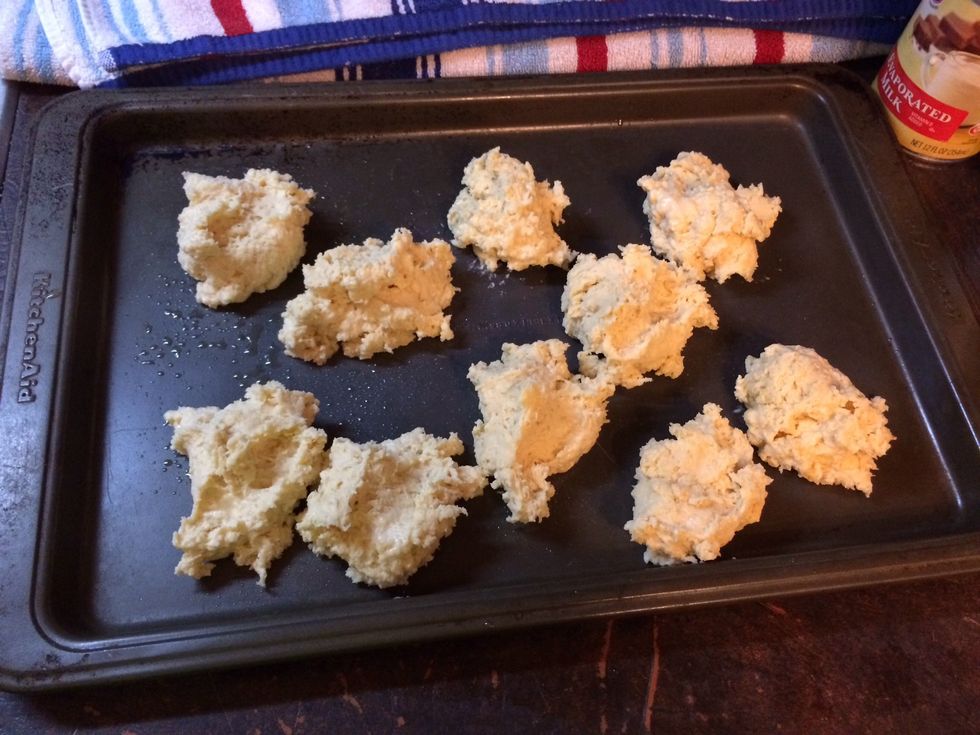 Till pan is full.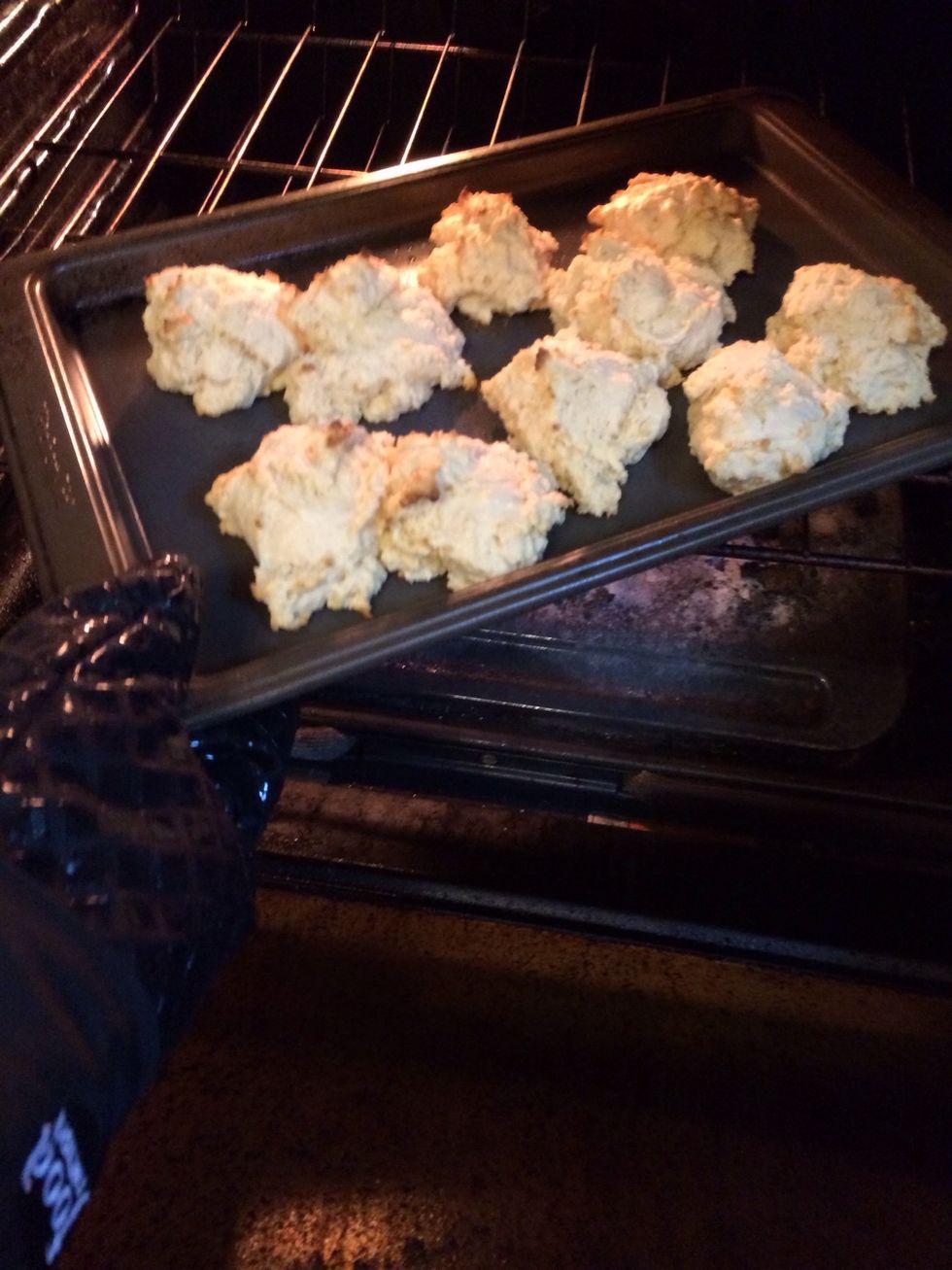 Into the oven at 450 till set and brown.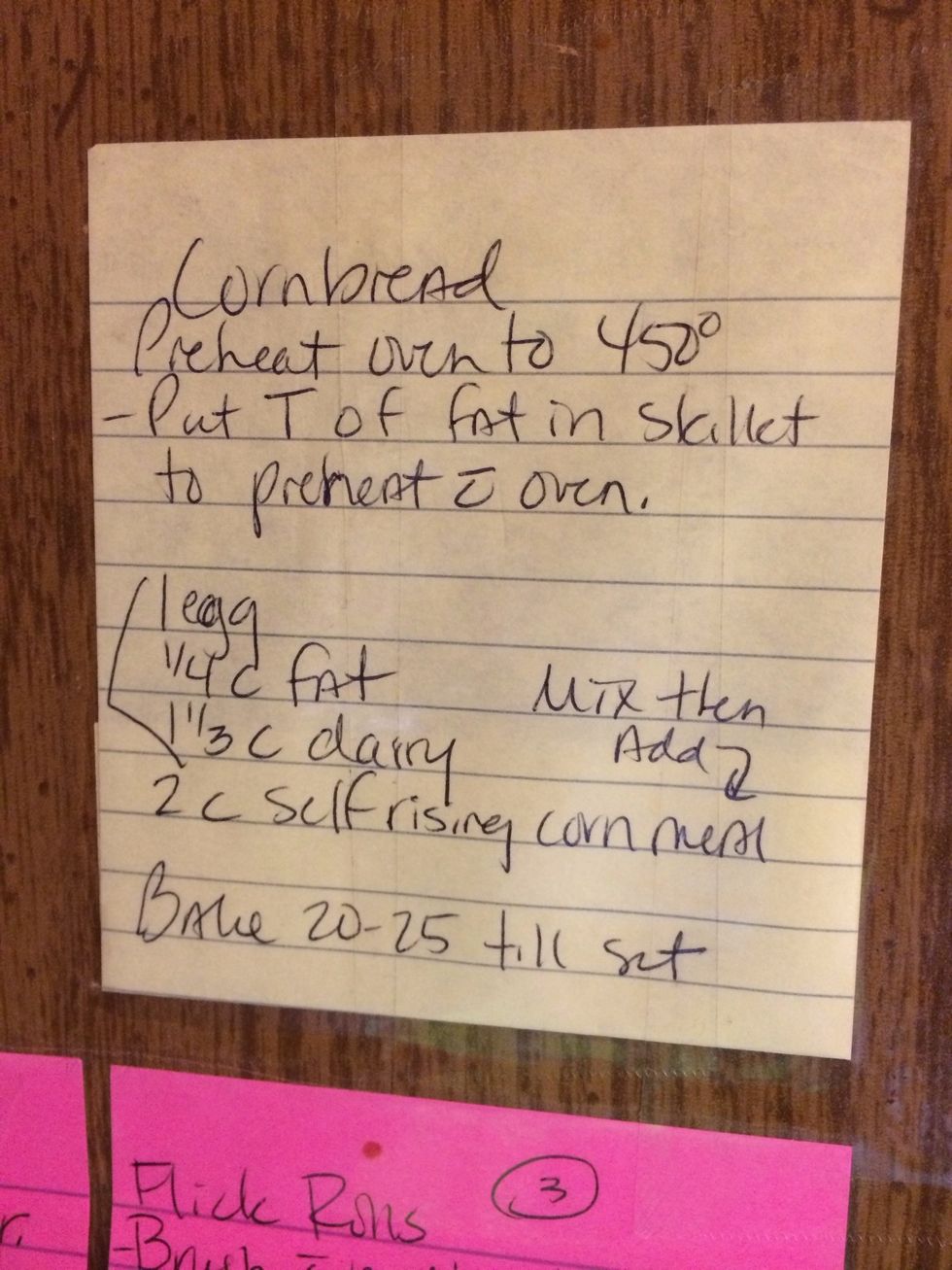 Now let's start on cornbread. Now remember we already started the iron skillet preheating with the oven. Leave in there until ready to pour in mix.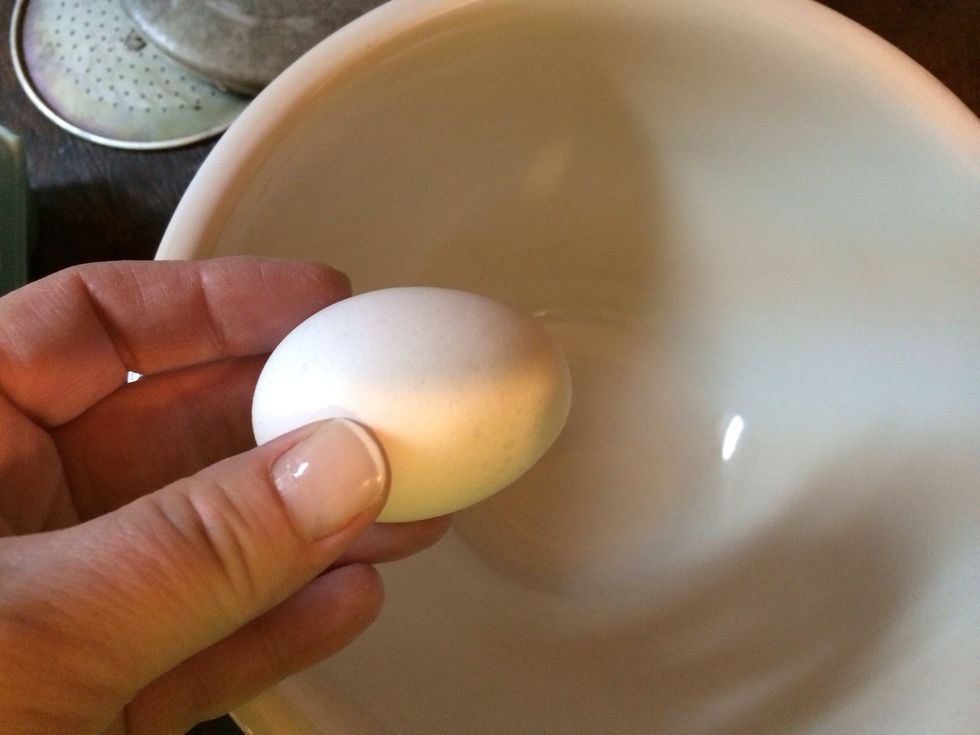 Start with one egg.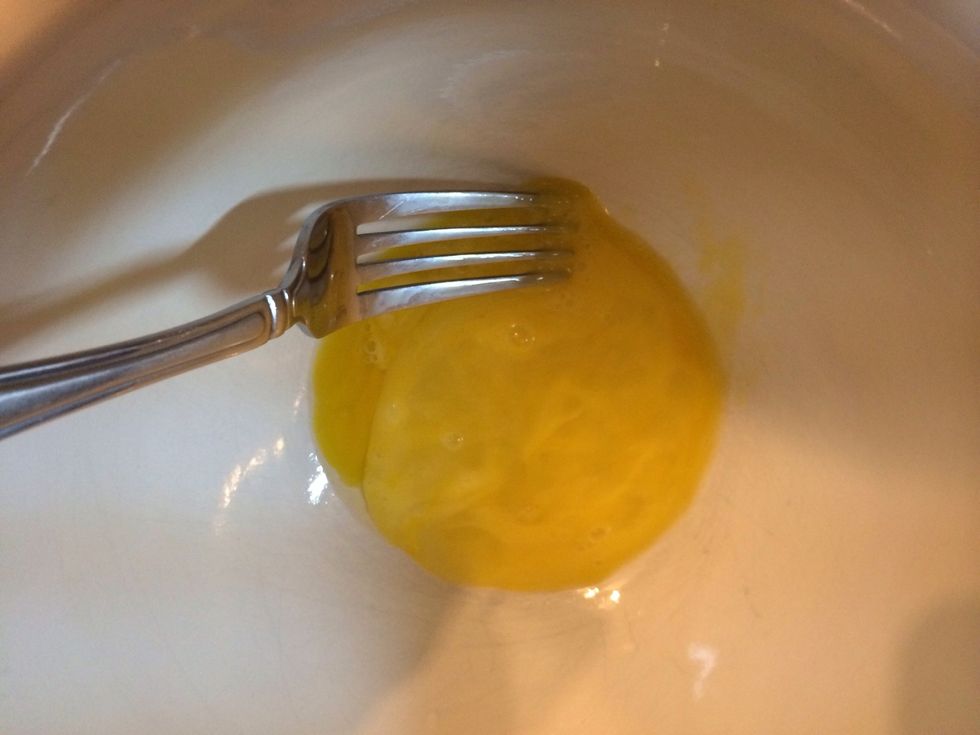 Scramble it.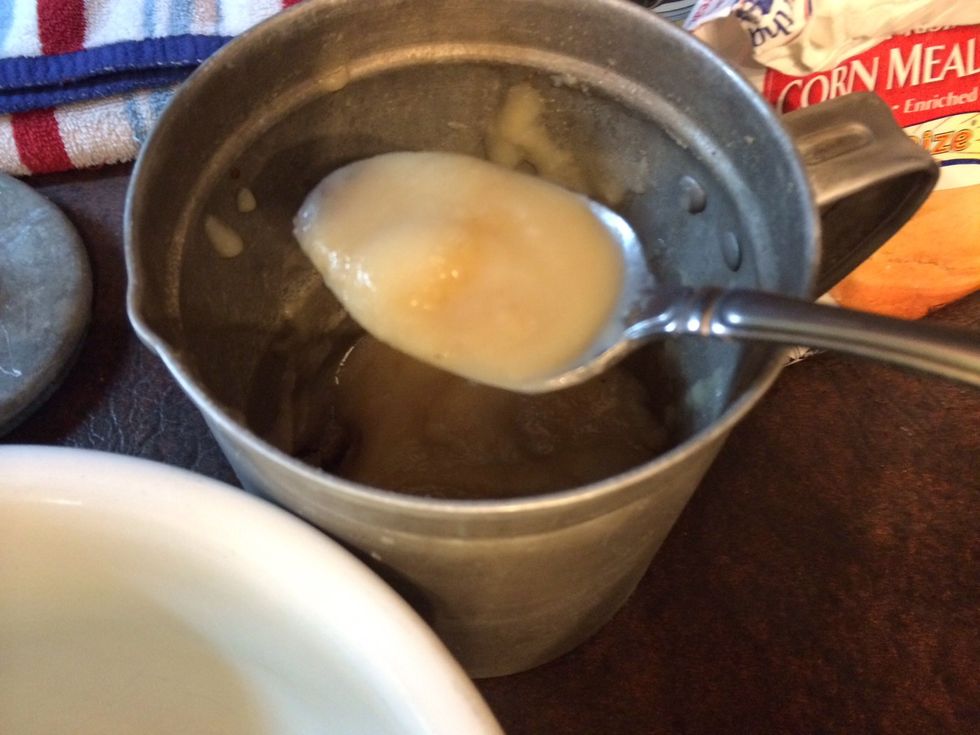 Need 1/4 cup of fat so I'm adding 4 Tablespoons to equal that of bacon grease.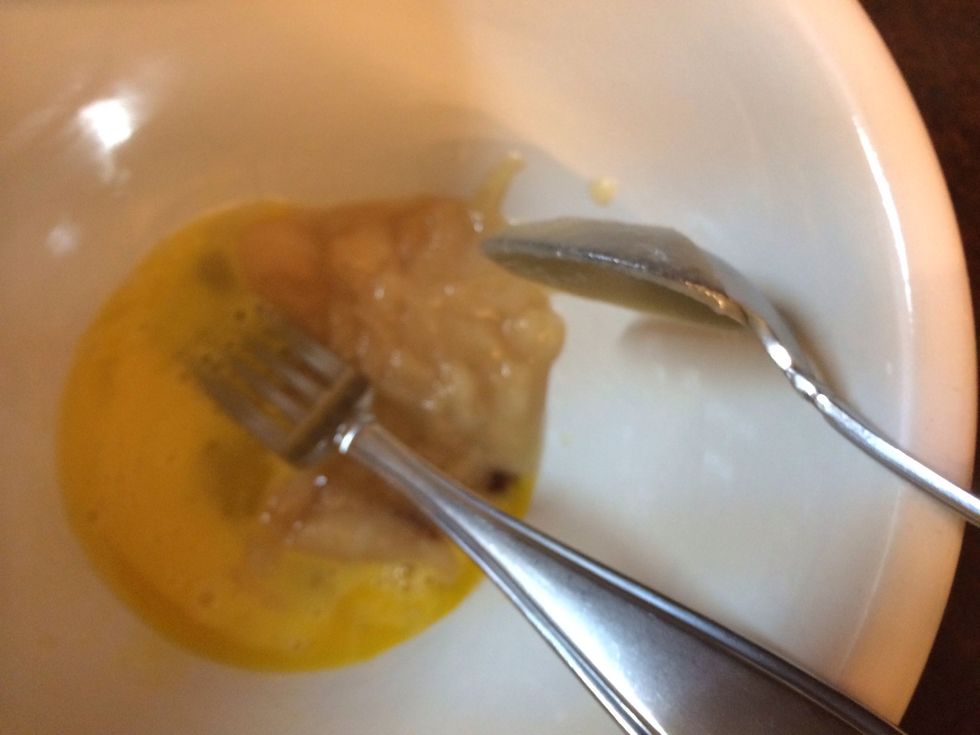 Add to egg.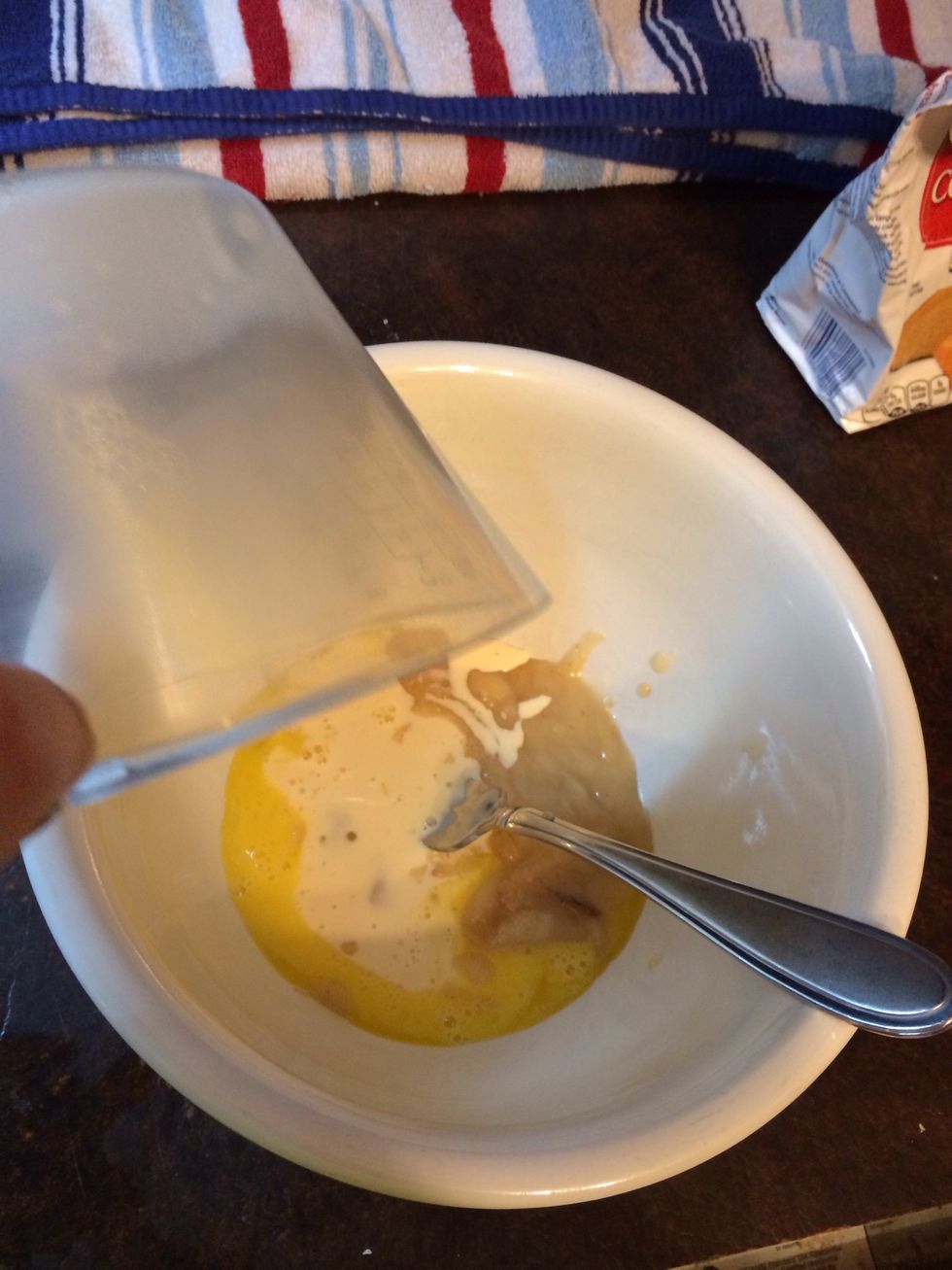 Add dairy product of 1 1/3 cup. I'm using evaporated milk.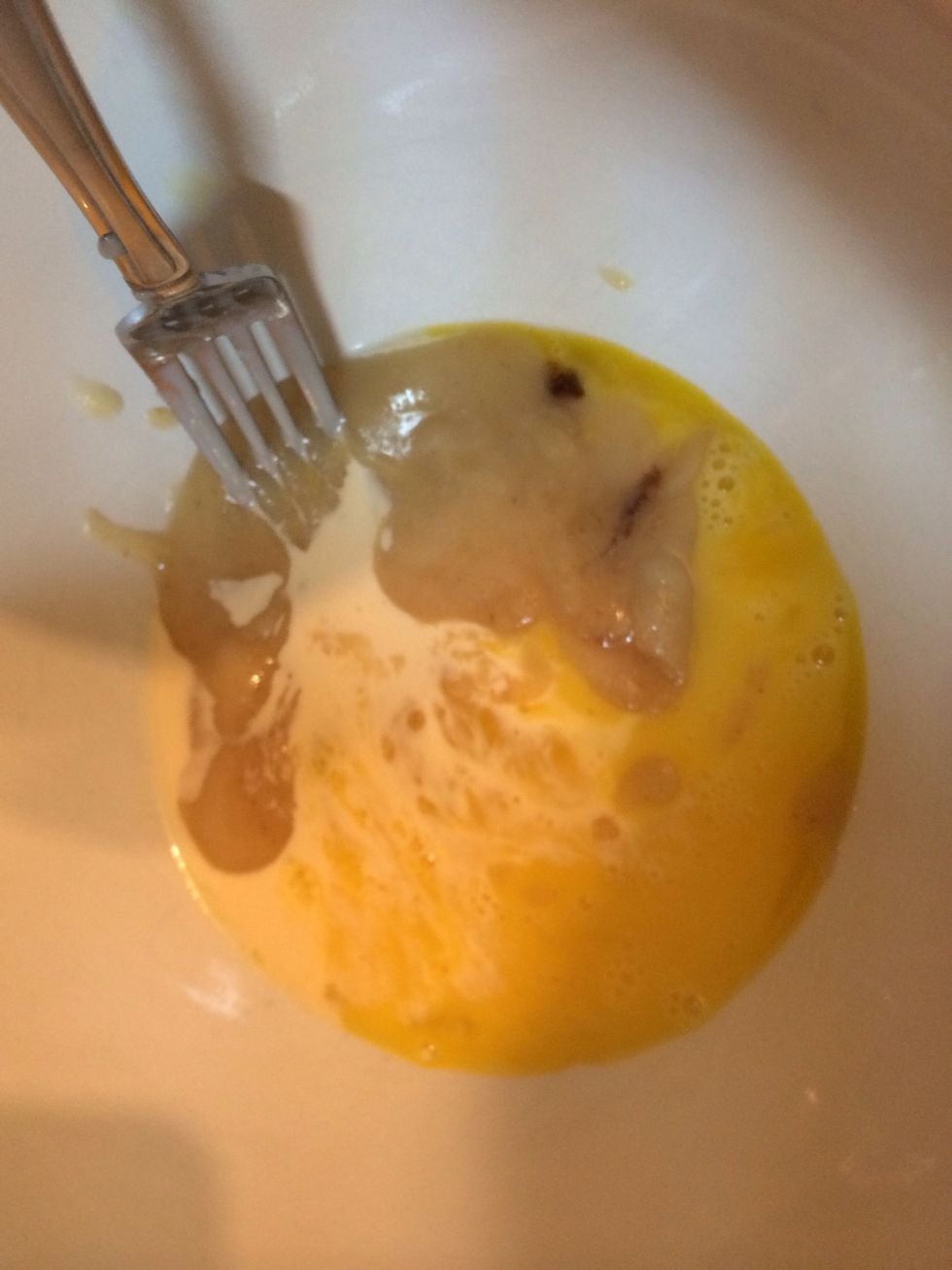 Like so.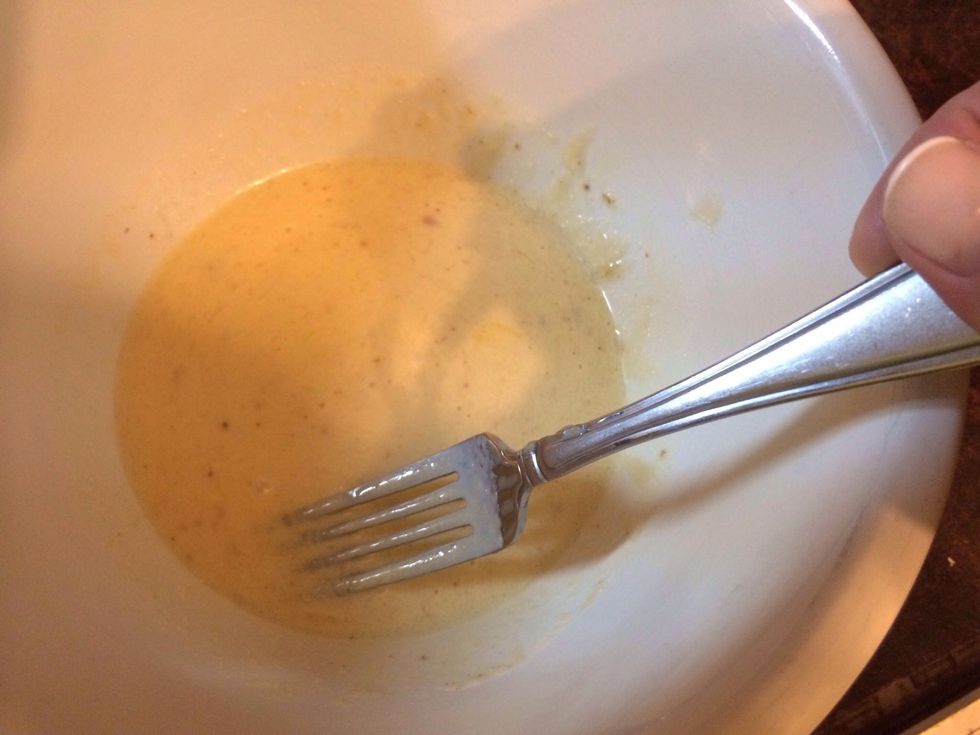 Mix wet ingredients well.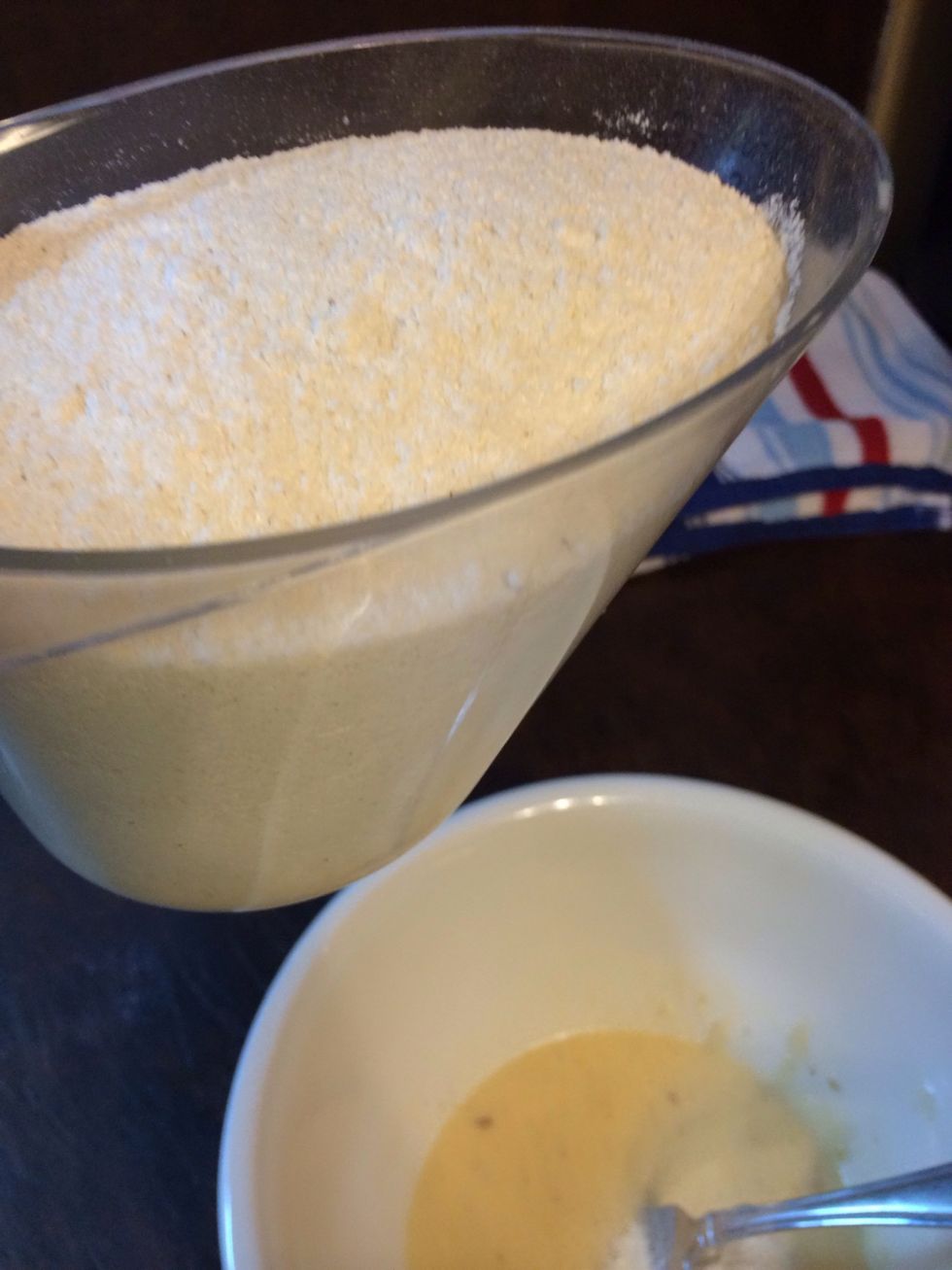 Now get your self rising corn meal. Measure and add 2 cups.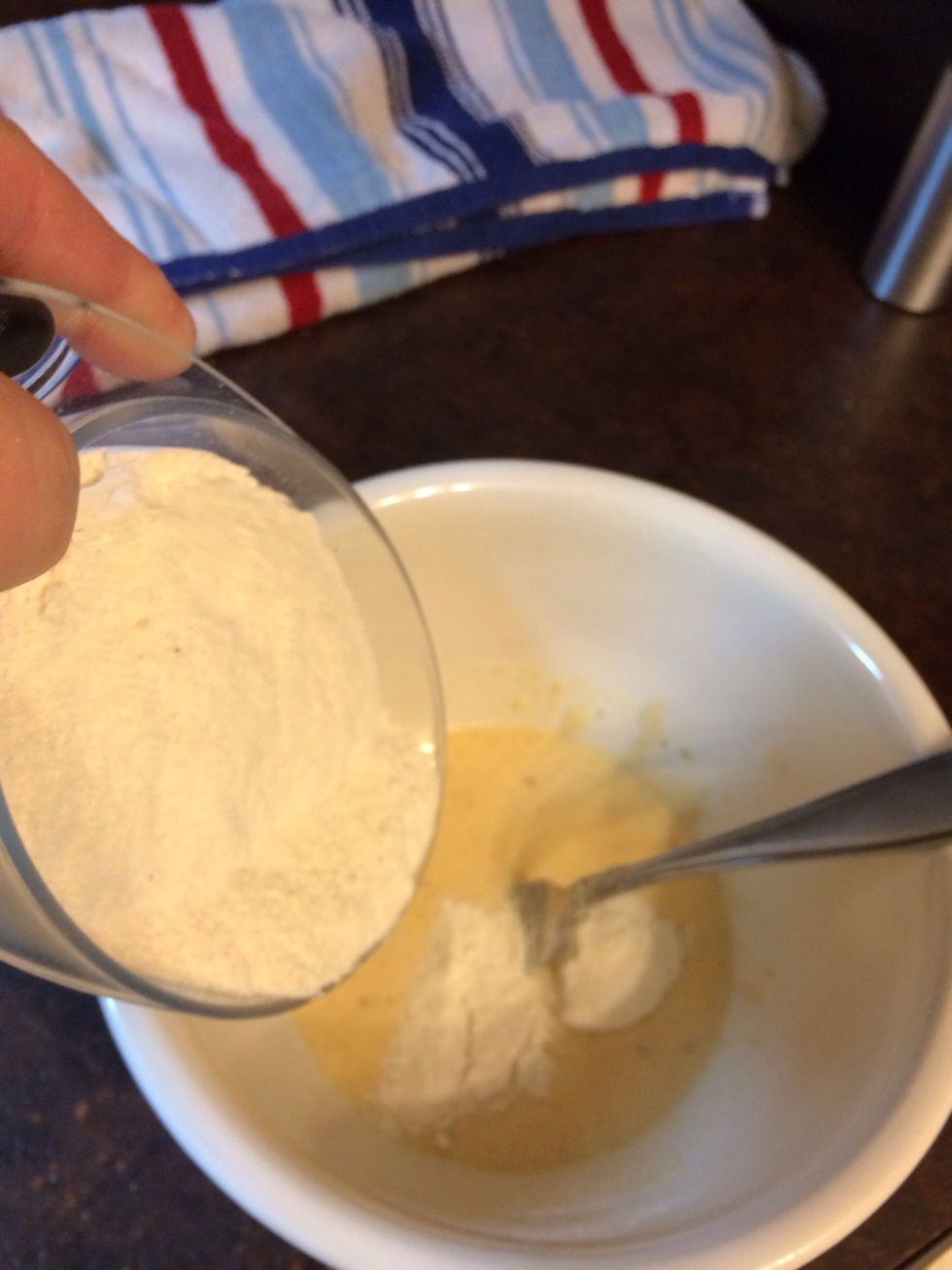 Into the wet mix.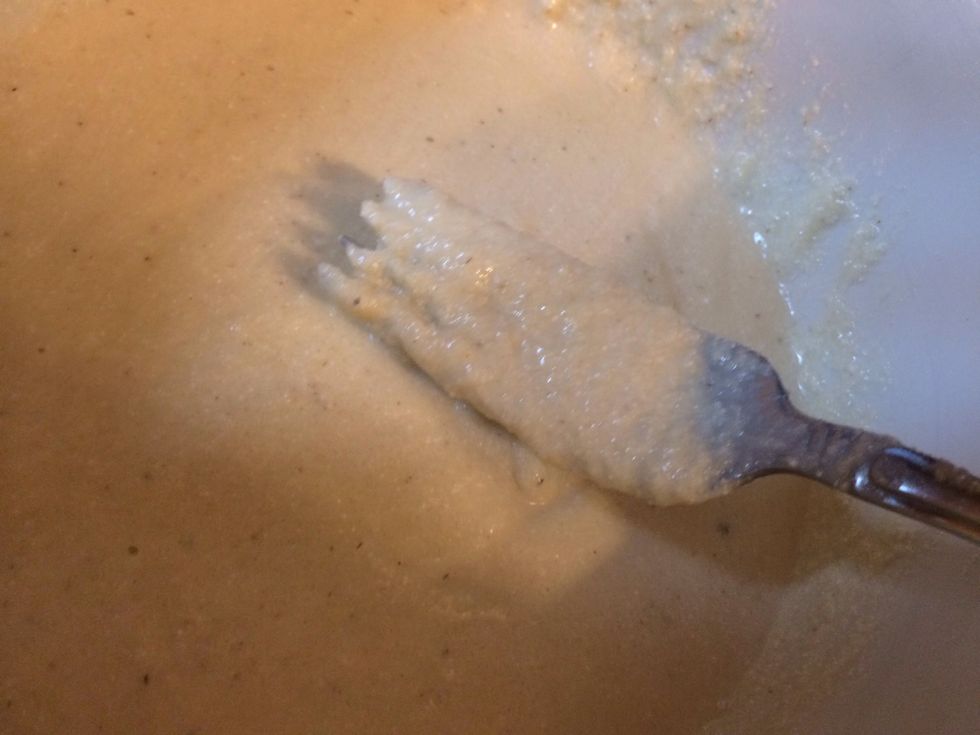 Stir well until no lumps.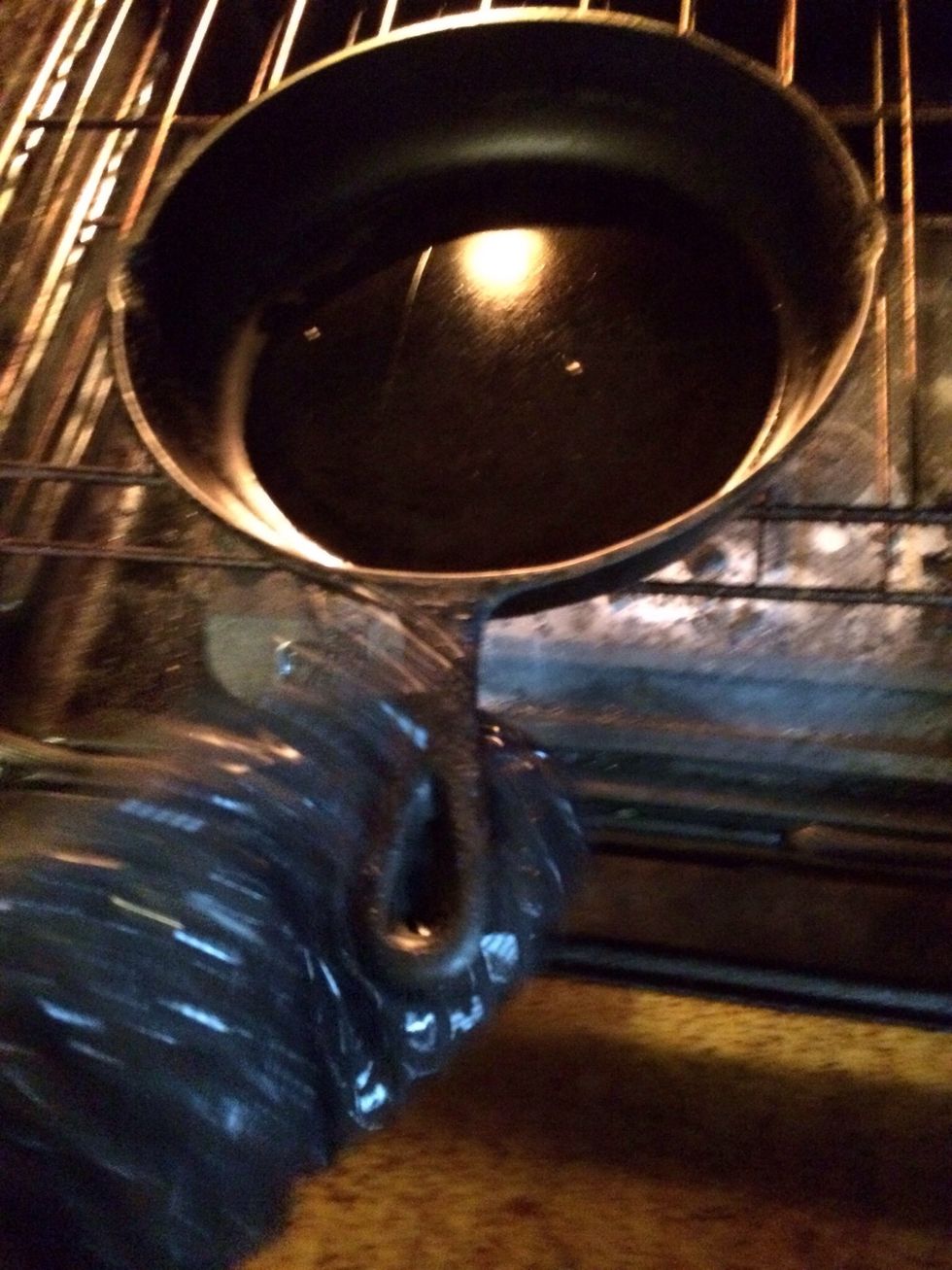 Grab hot skillet out of oven.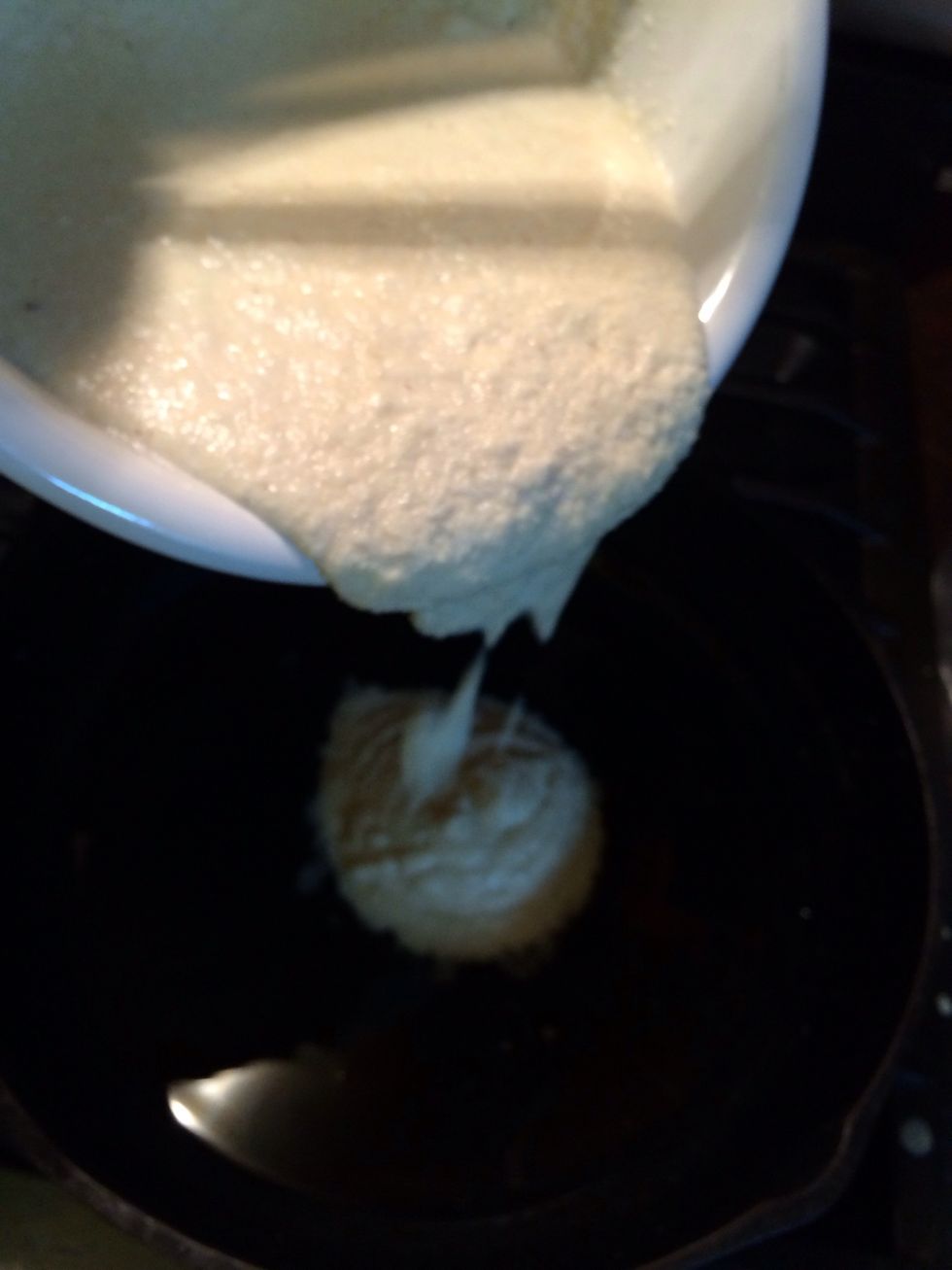 Pour in the batter.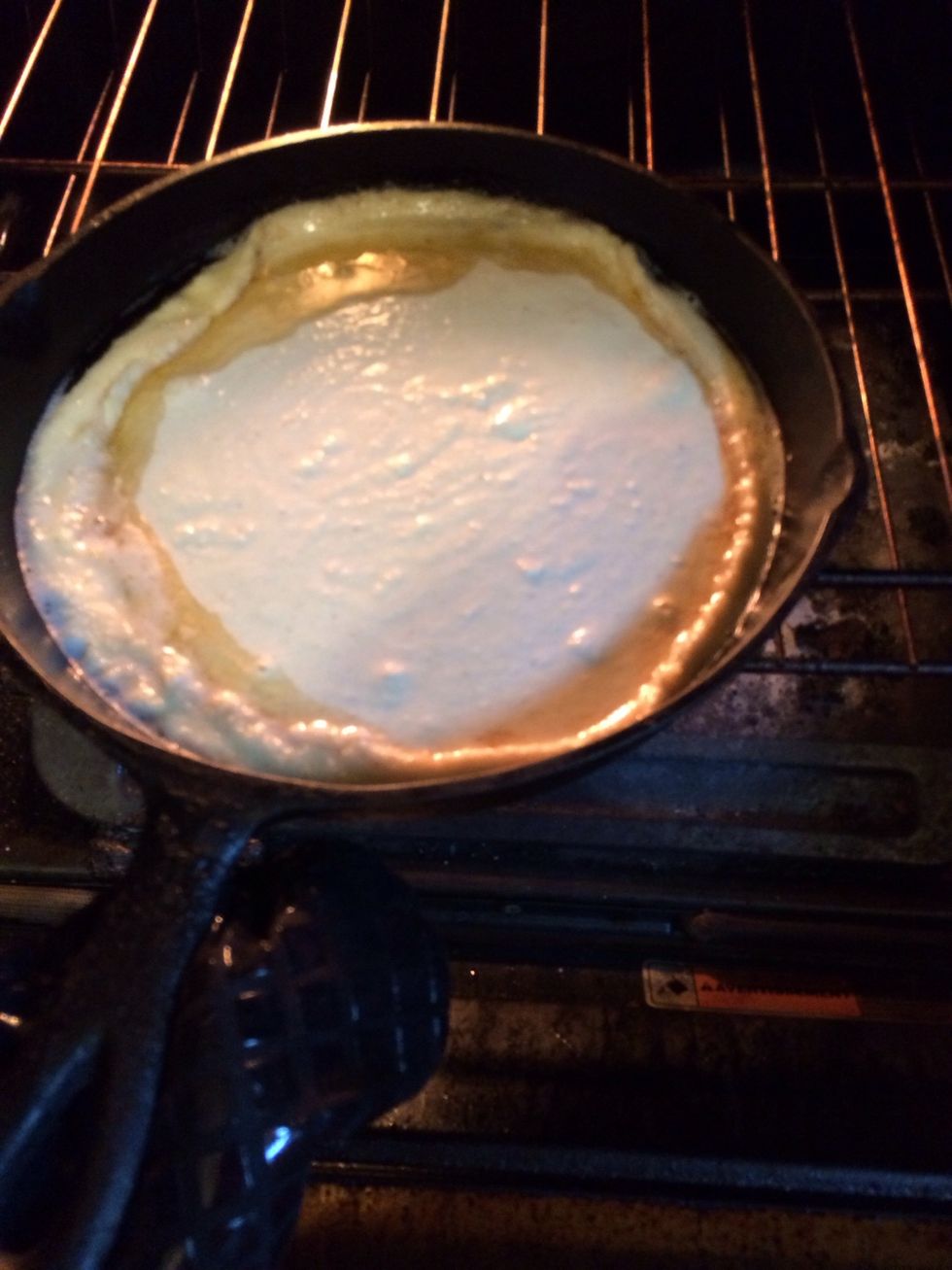 Like so. And back in the oven.
Check biscuits for set. Remember they don't have to be pretty because they are going straight into stuffing. Allow to cool.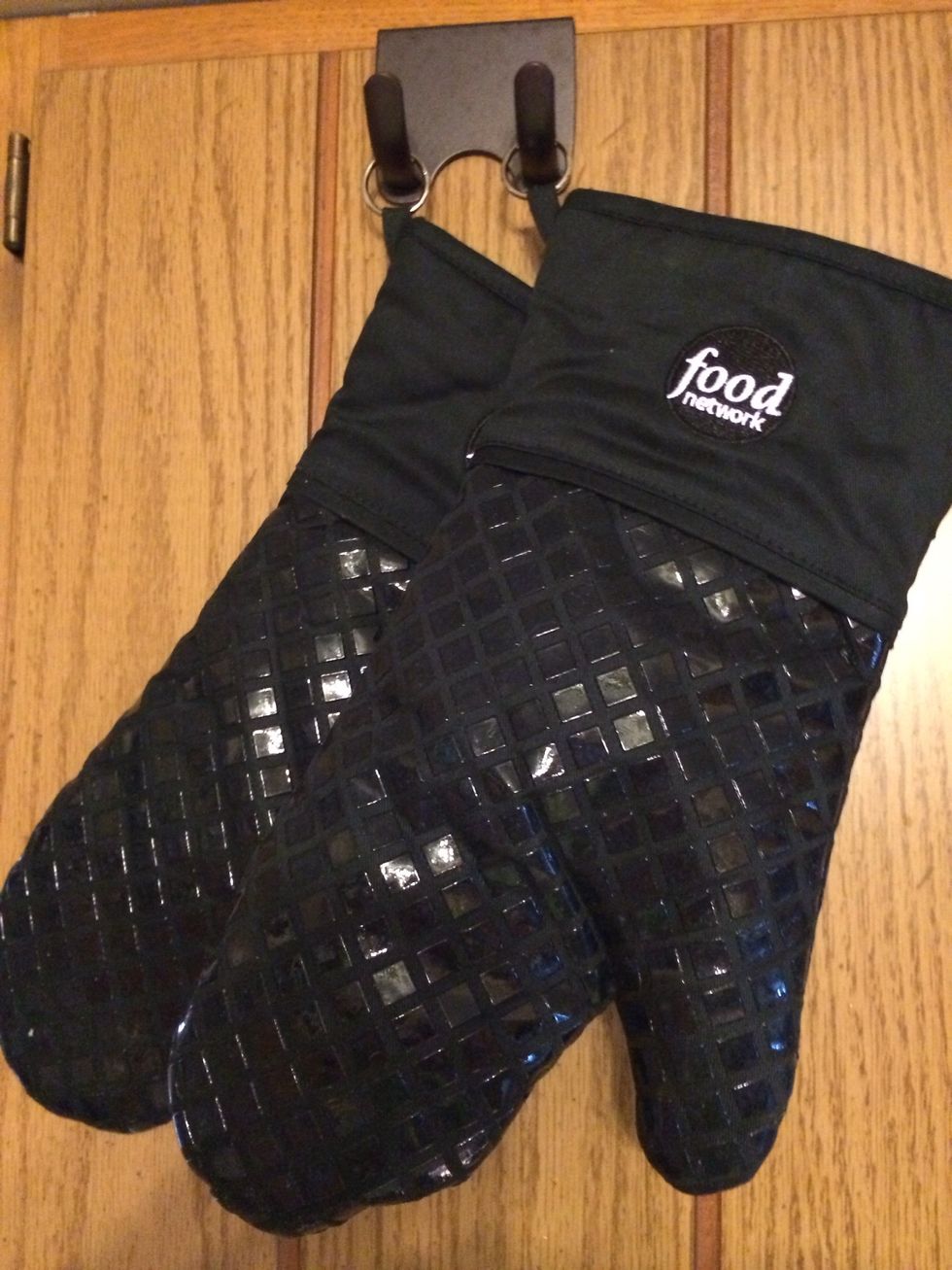 By the way check out my new oven mitts. They have these nice size rings attached for hanging.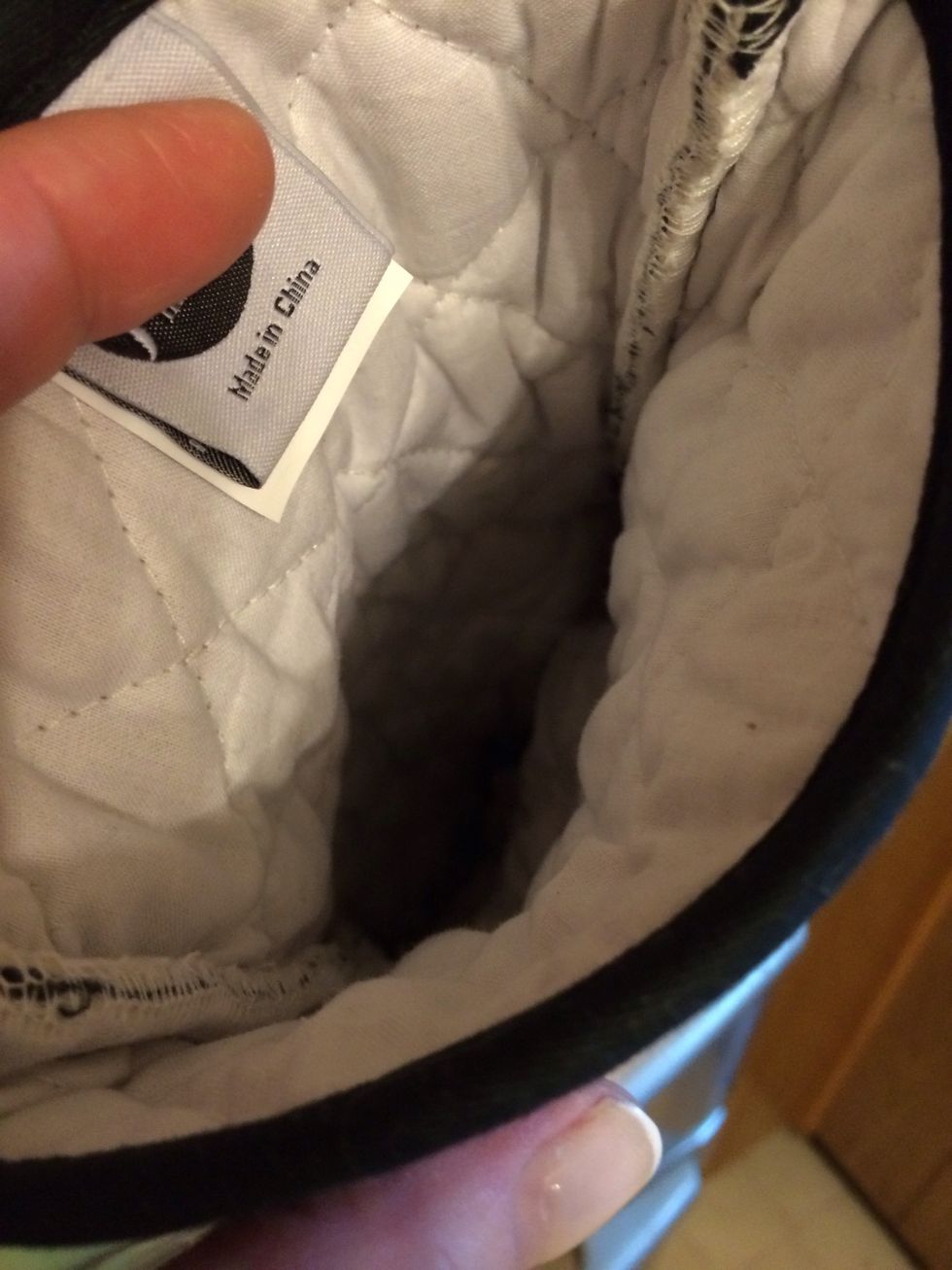 They are well padded to keep the heat off my hands.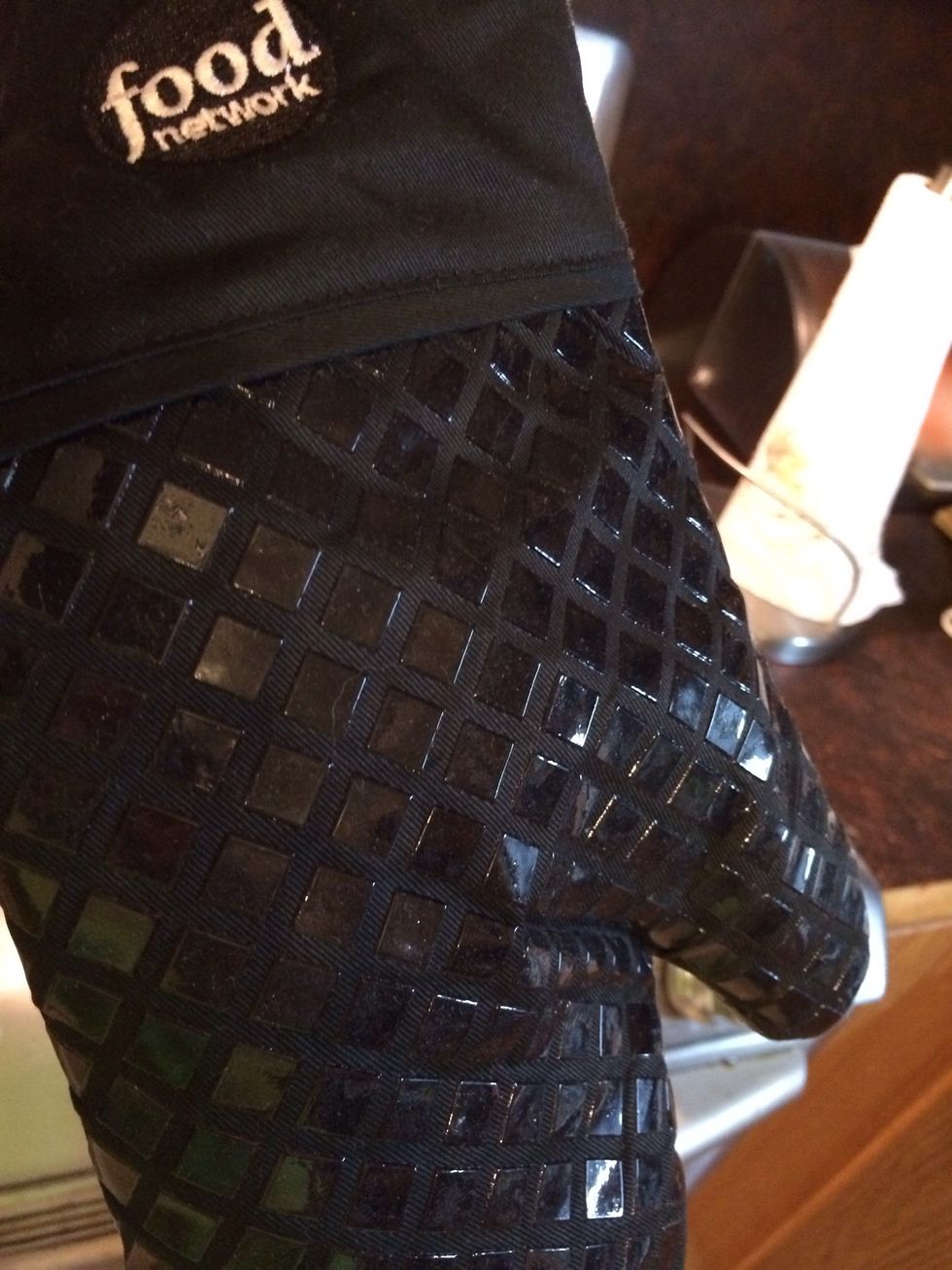 And they also have this silicone resistant blocks that add protection. Did I say they come from Food Network? Yeah and they come in many colors too!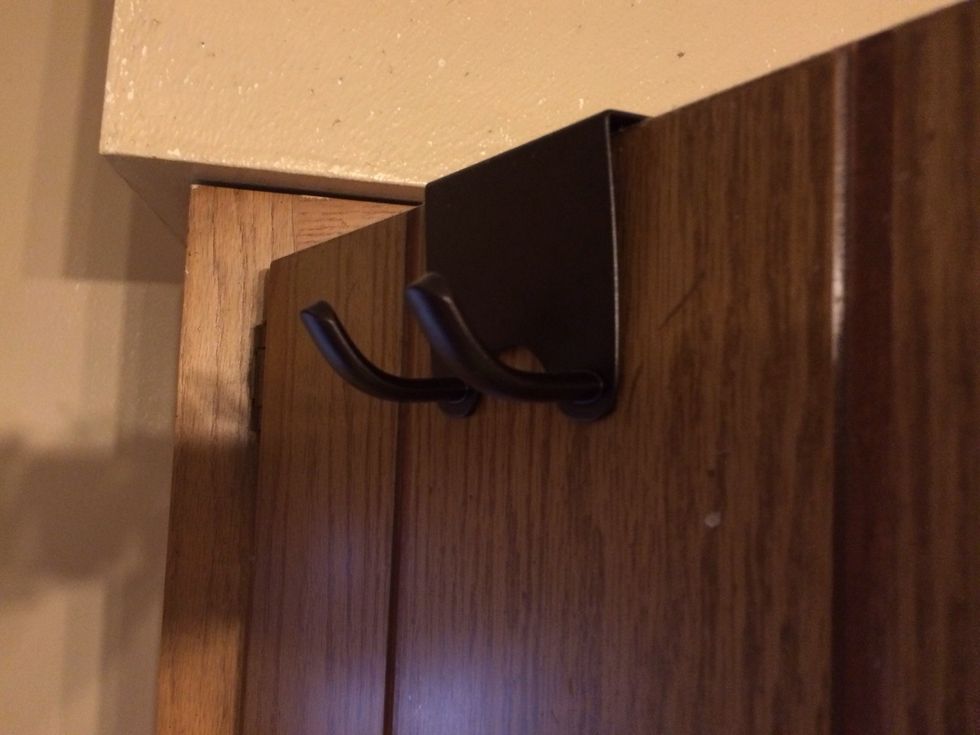 I seen you eyeing my hook. I loove these! It's like the over the door hooks but for cabinets.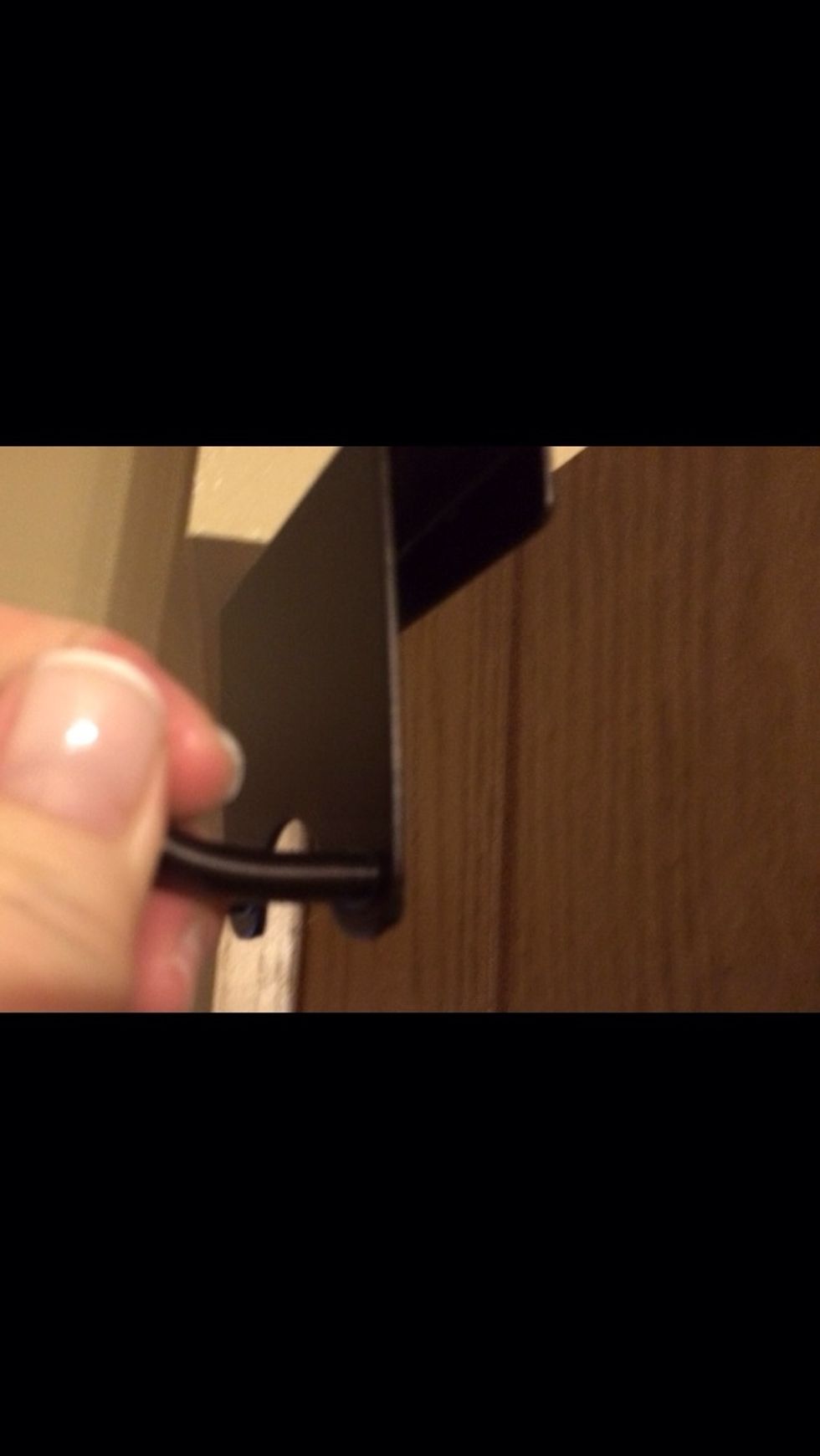 They just lift up.
They gently hook on. See the inside?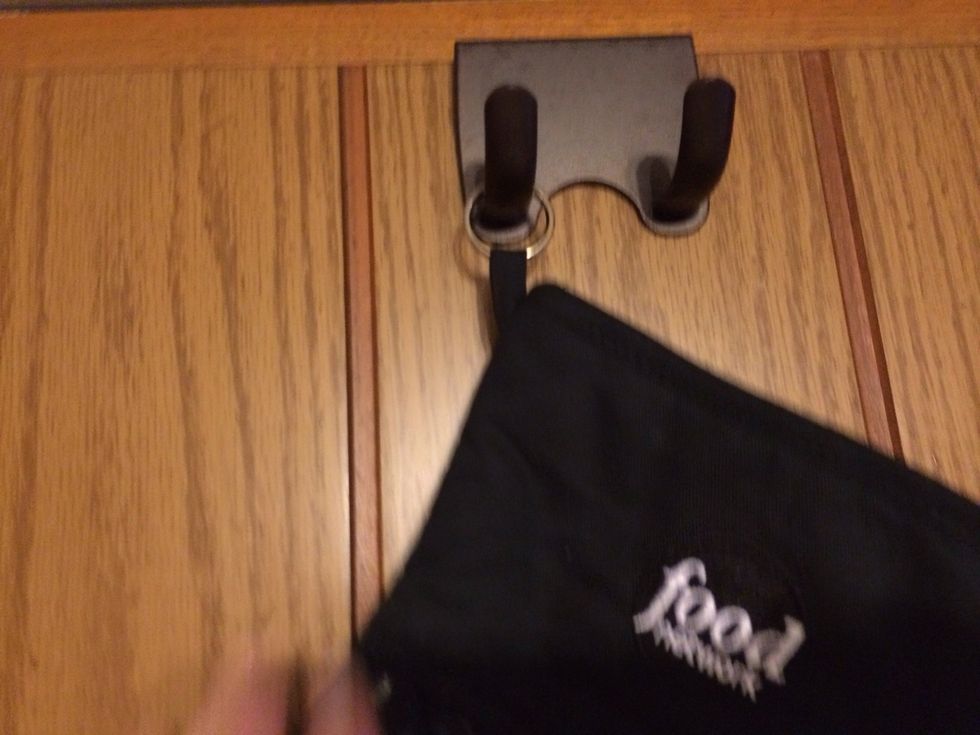 Nice size hook for my mitts.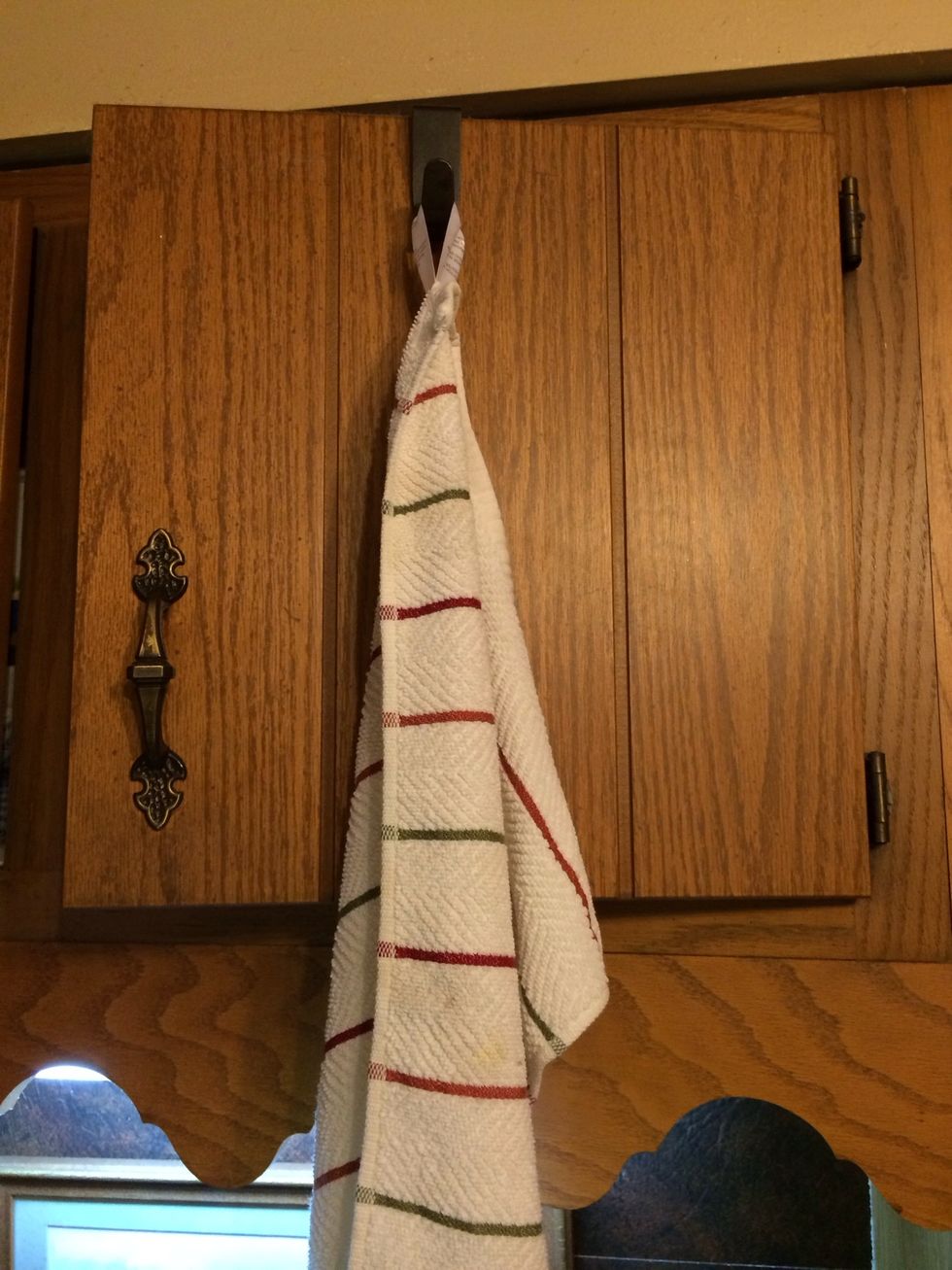 I also love the single hooks for my kitchen towels.
My kitchen towels don't have hooks so I use the tag. Open it up....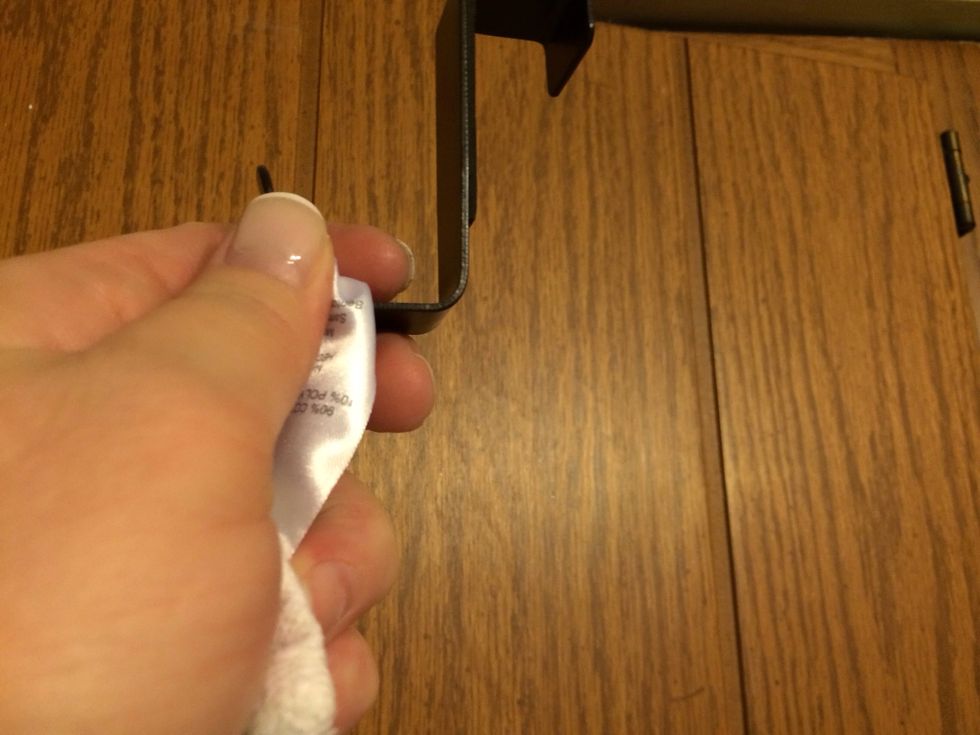 Put right on the hook.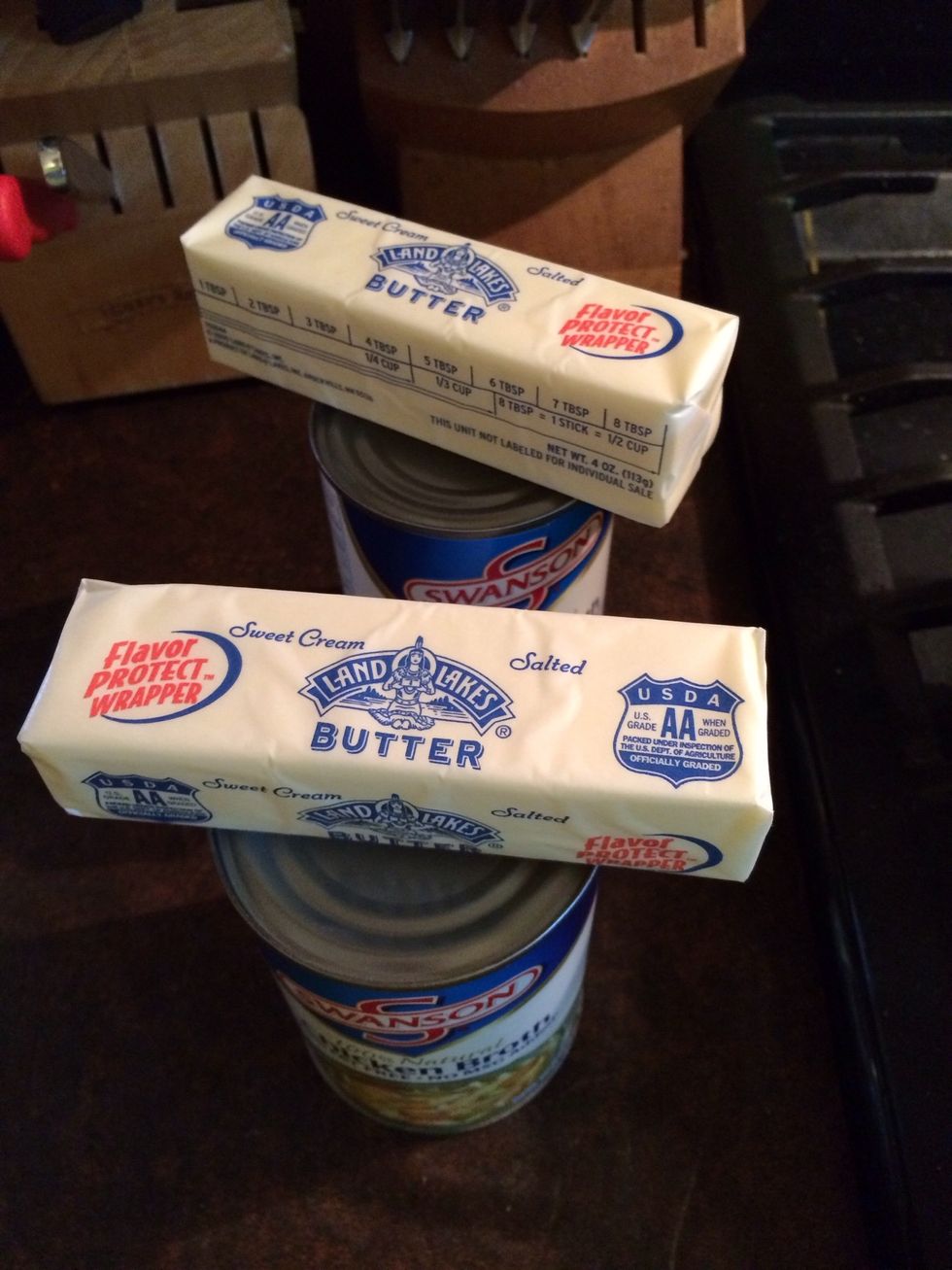 Use broth from a cooking turkey or chicken if have it. Or can use stock from giblets with onion and celery. I'm out so I keep backup canned stock. To add flavor I add one stick of butter to each can.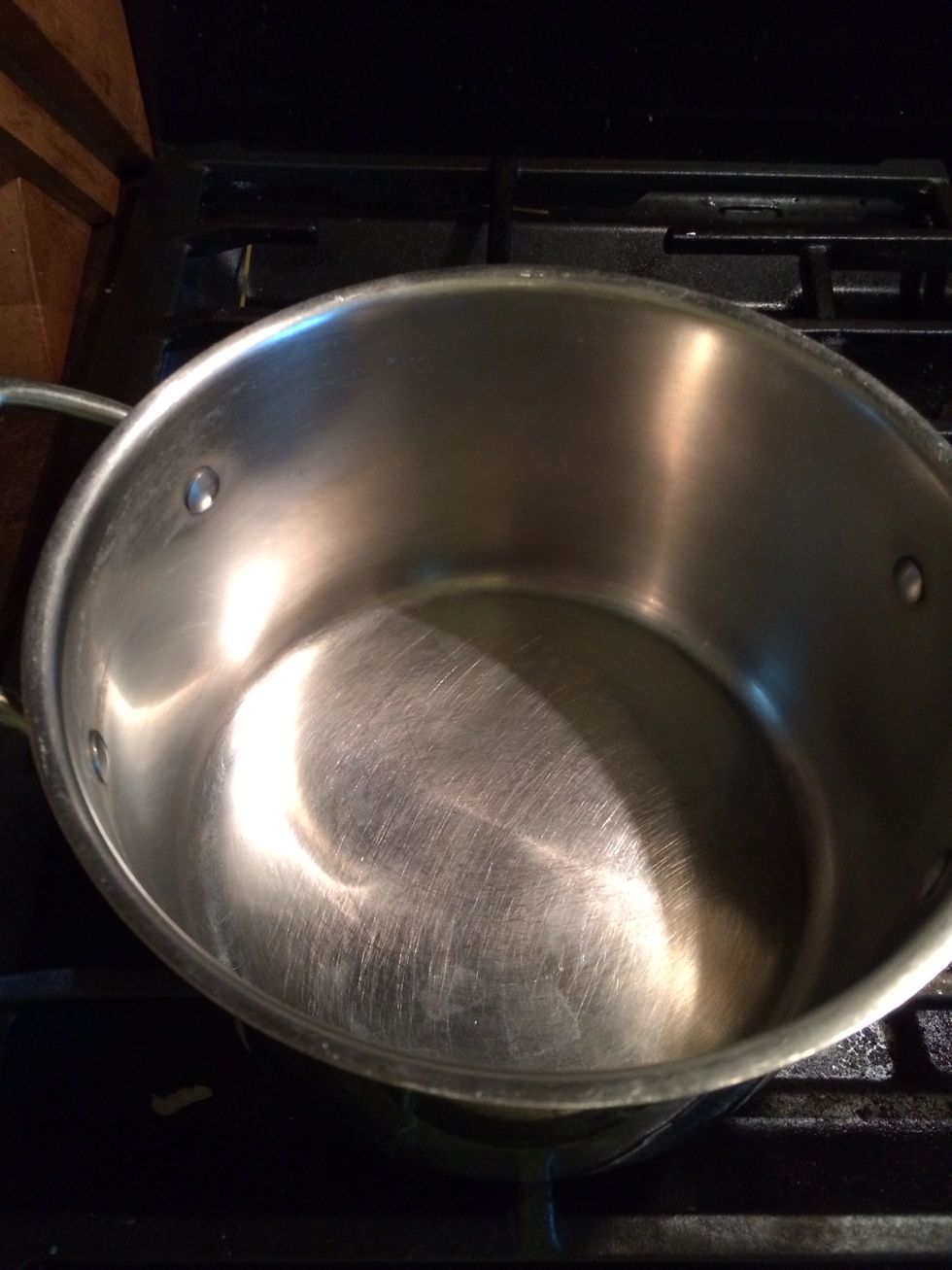 Grab a pan.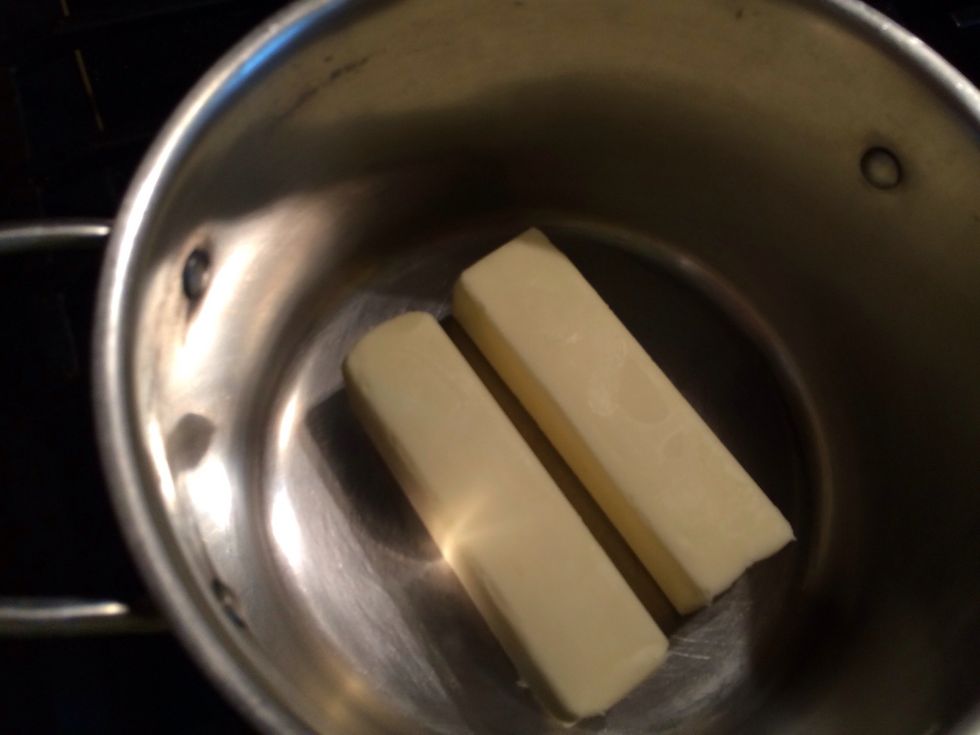 Butter in on low.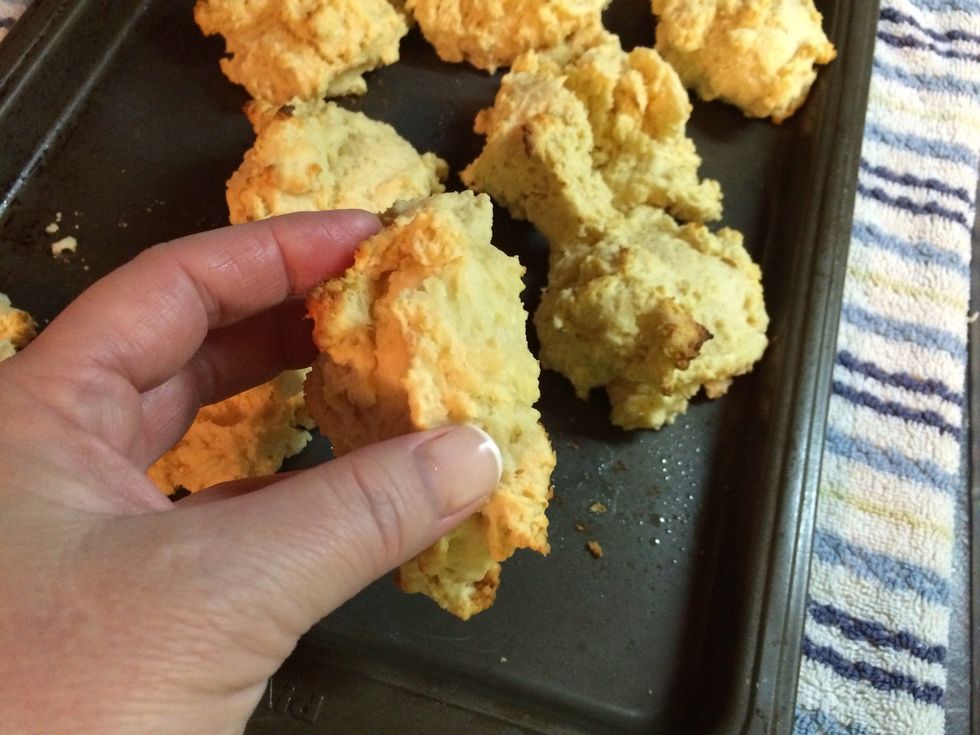 Go back to the biscuits. Are they cool to touch? Great!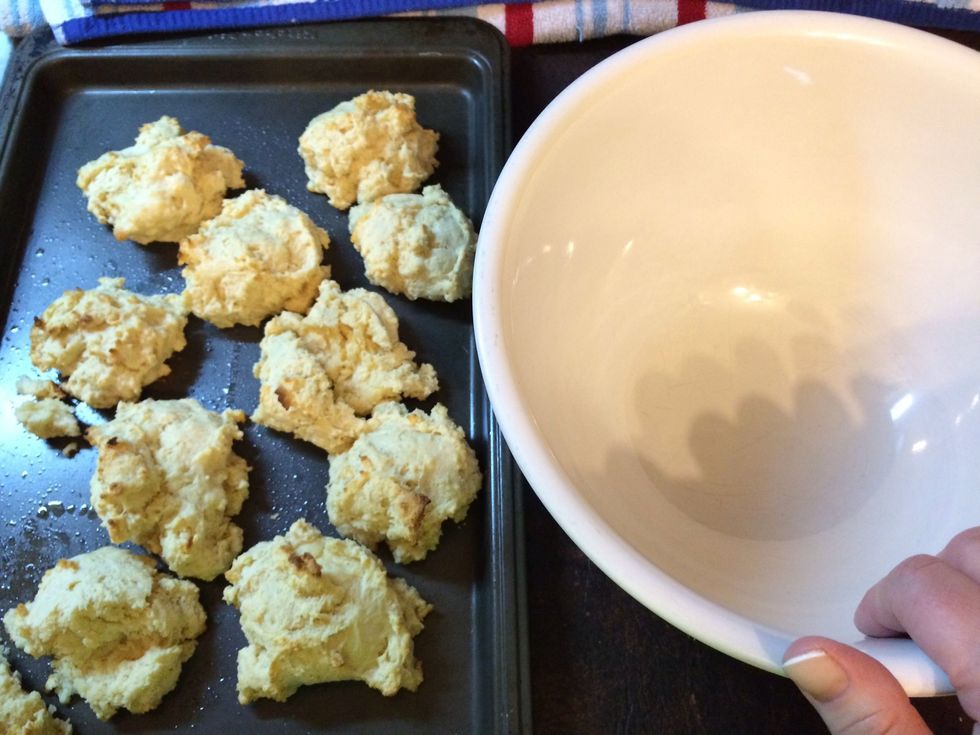 Set up next to your bowl.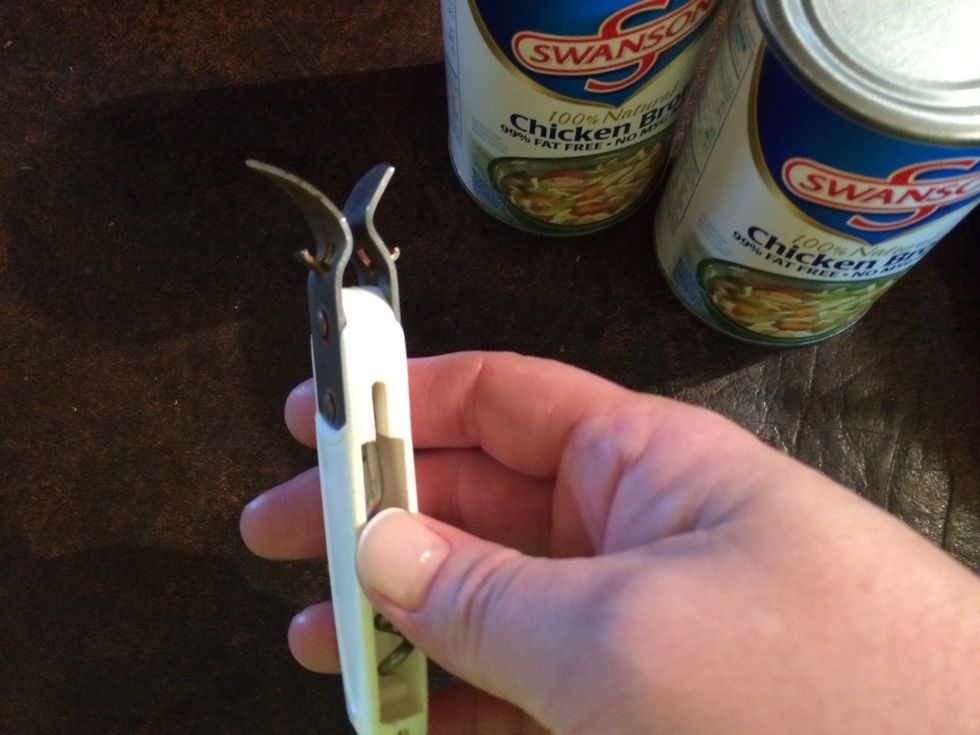 Grab a can opener.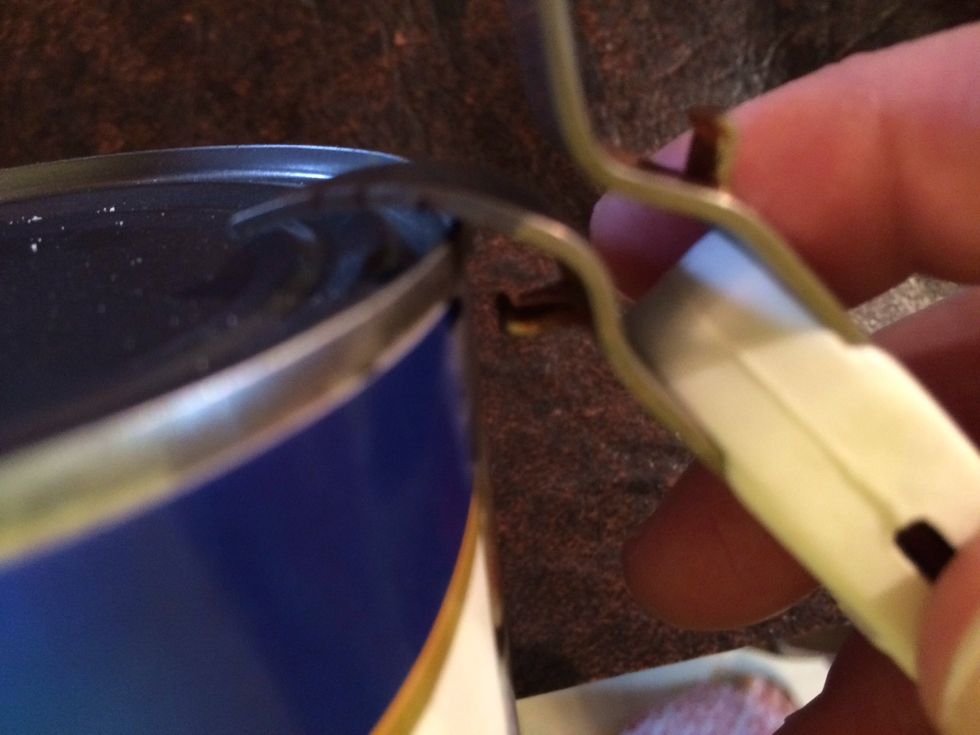 For those that are unfamiliar with these. The bottom is set up against the lip of the can.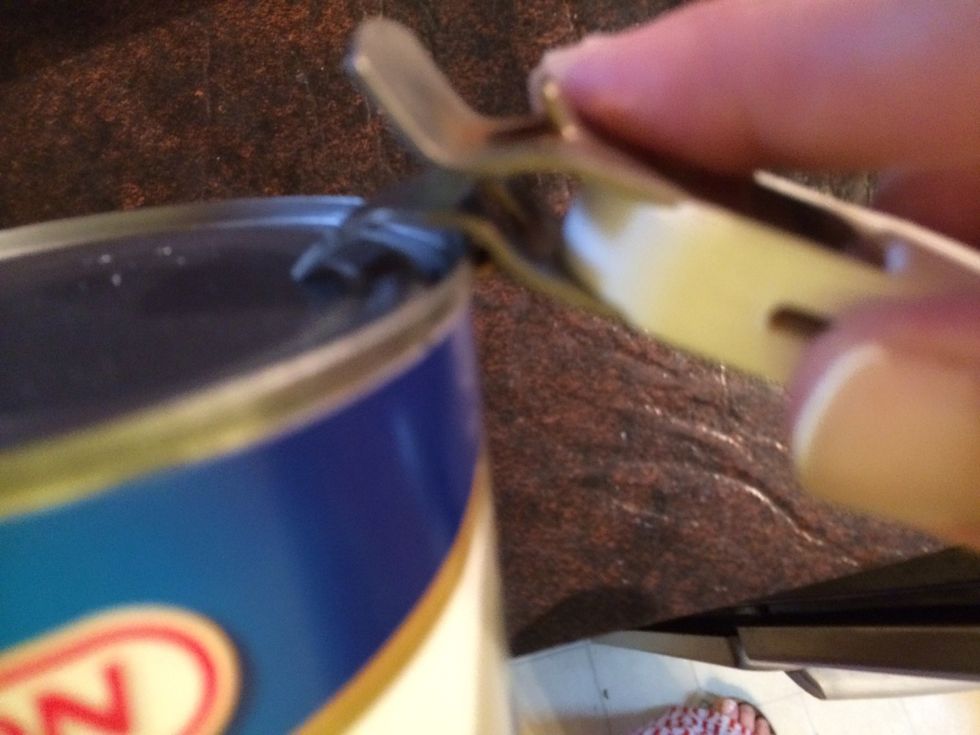 Now pull up and against the can.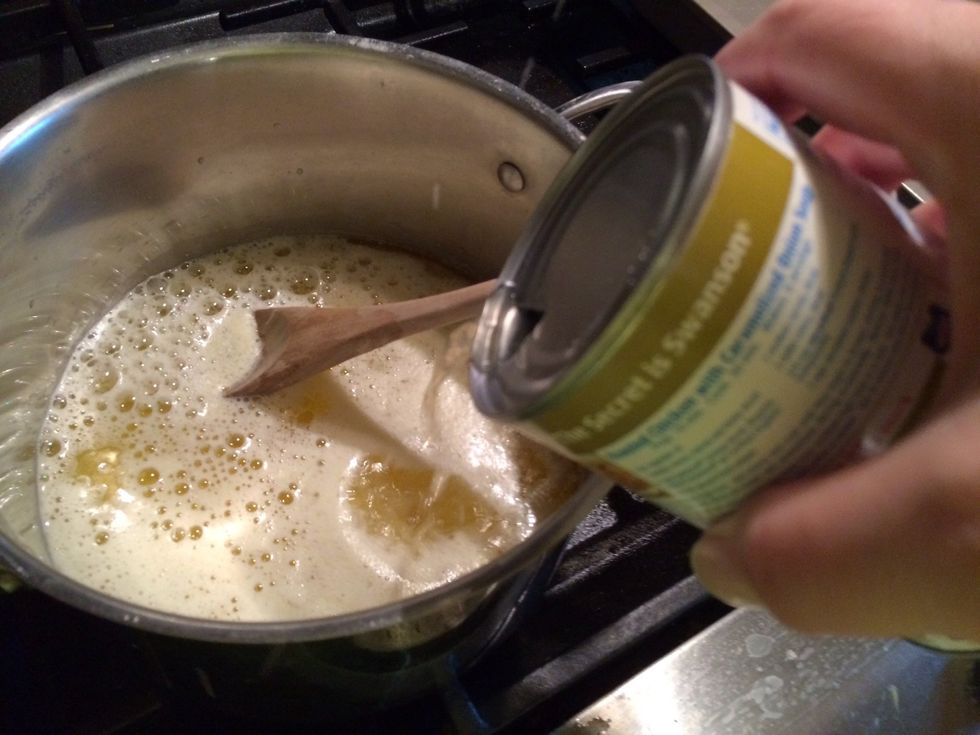 Now be sure to pop open both sides. If you only do one side it will glug and splash.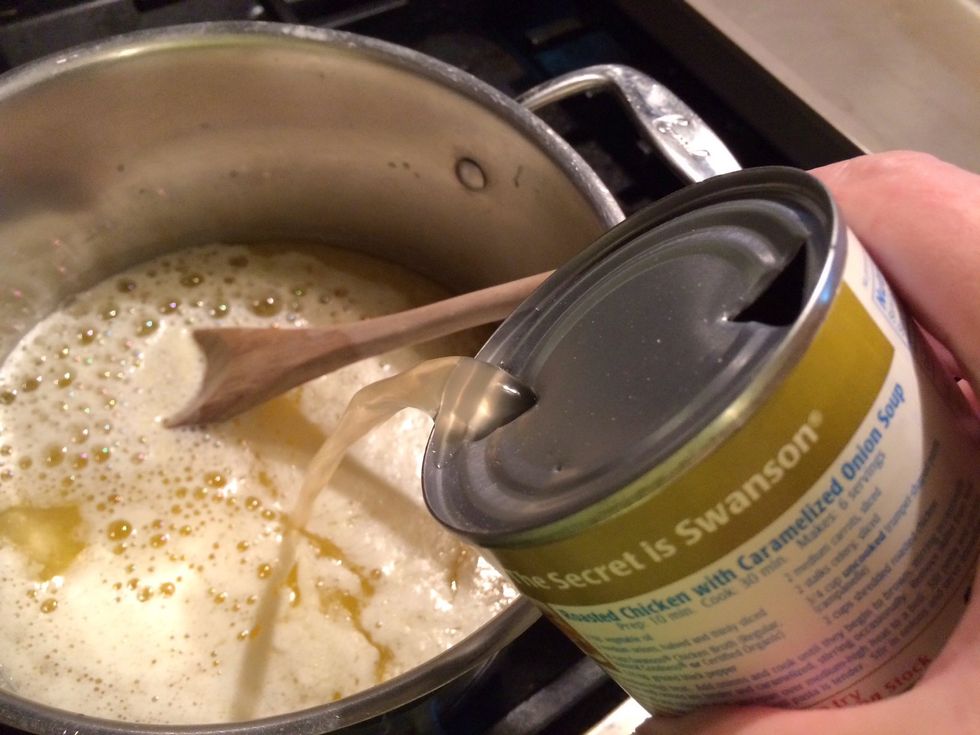 When pop both sides it streams out quickly. Allow this to heat up and stay on low till ready to use.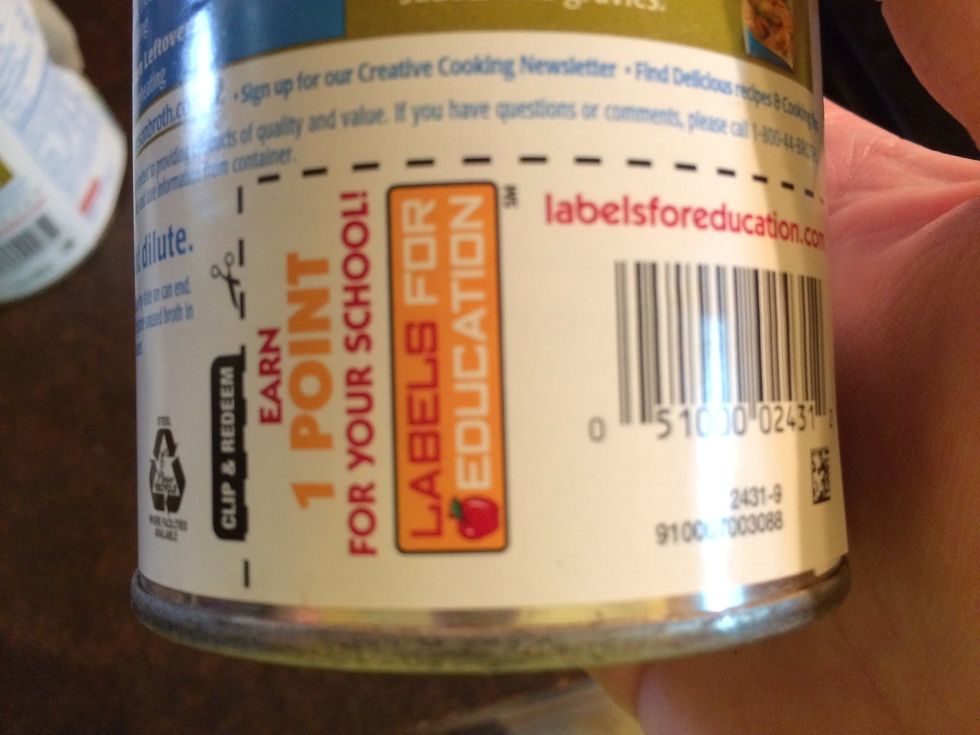 If your can has this on it. Labels for Education. Be sure to keep those labels.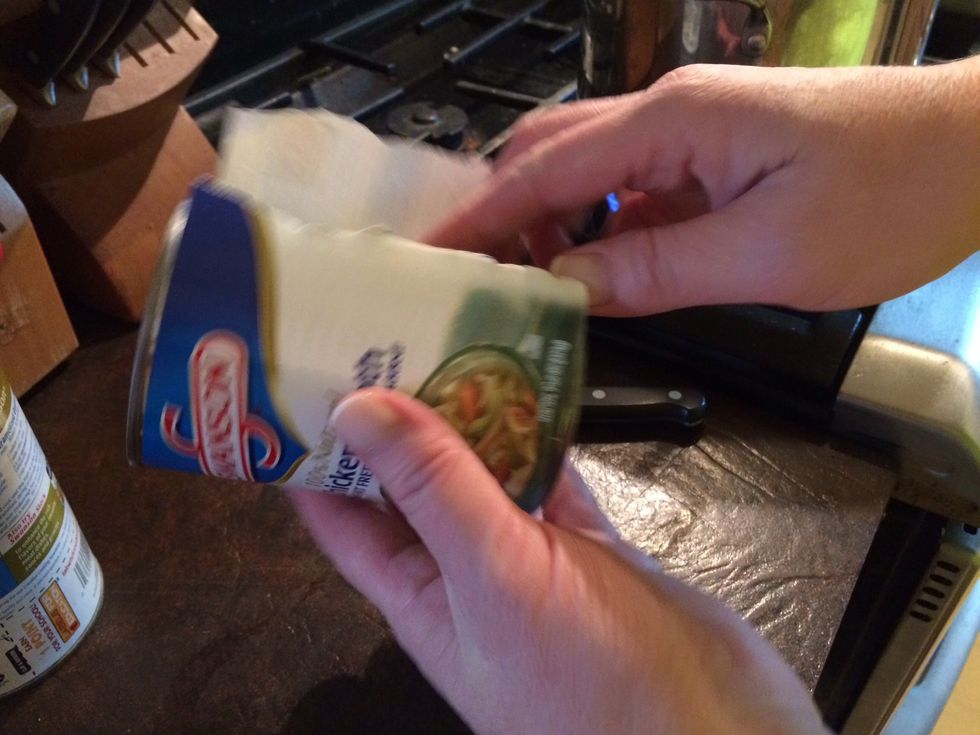 Peel back the labels.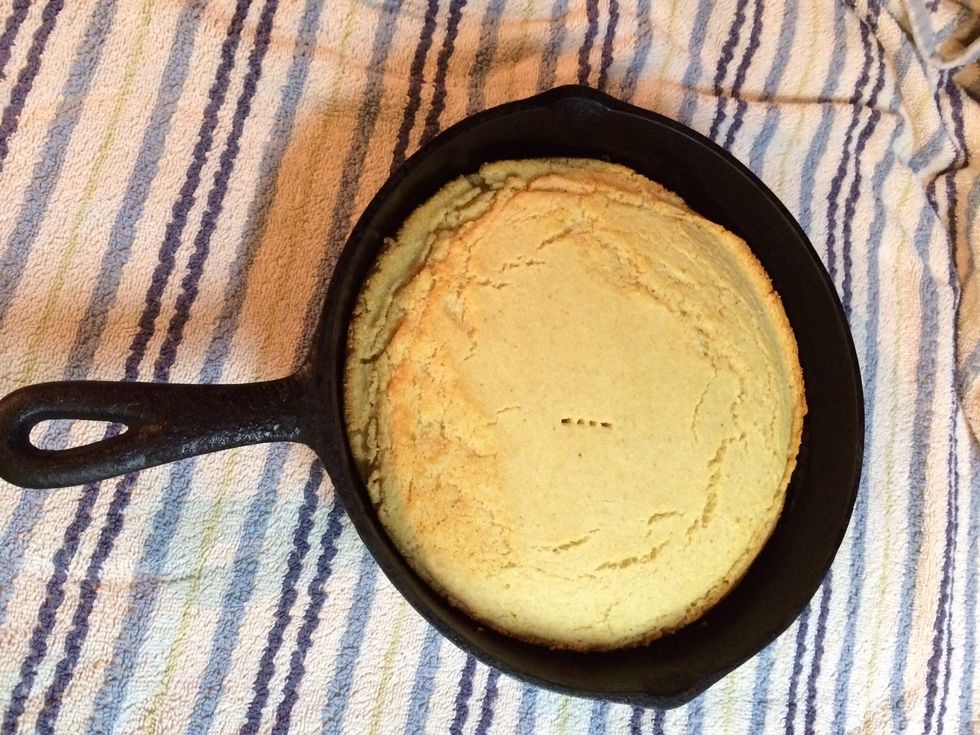 Lay out to cool.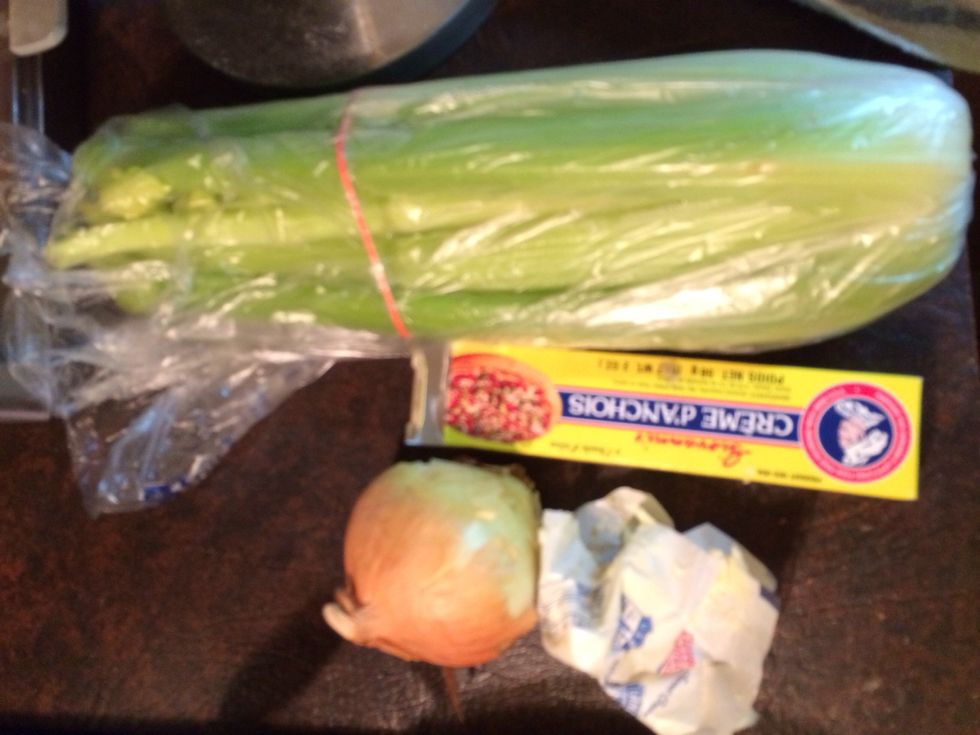 I like fresh celery and onion with some anchovy paste. Grab what fresh seasonings you like.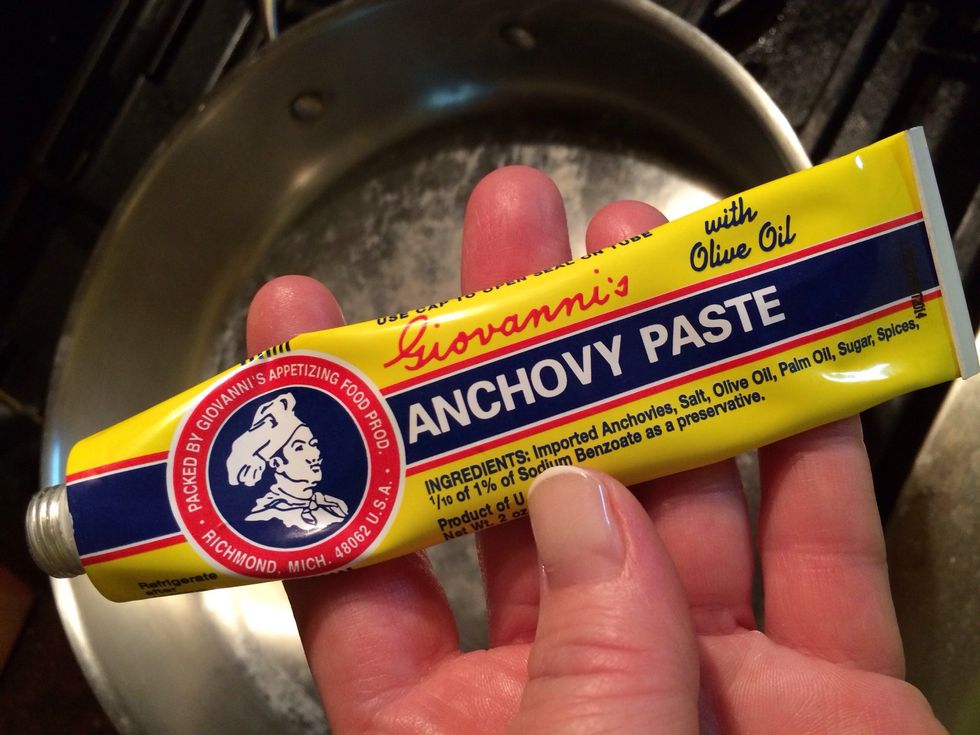 Grab a pan and anchovy paste.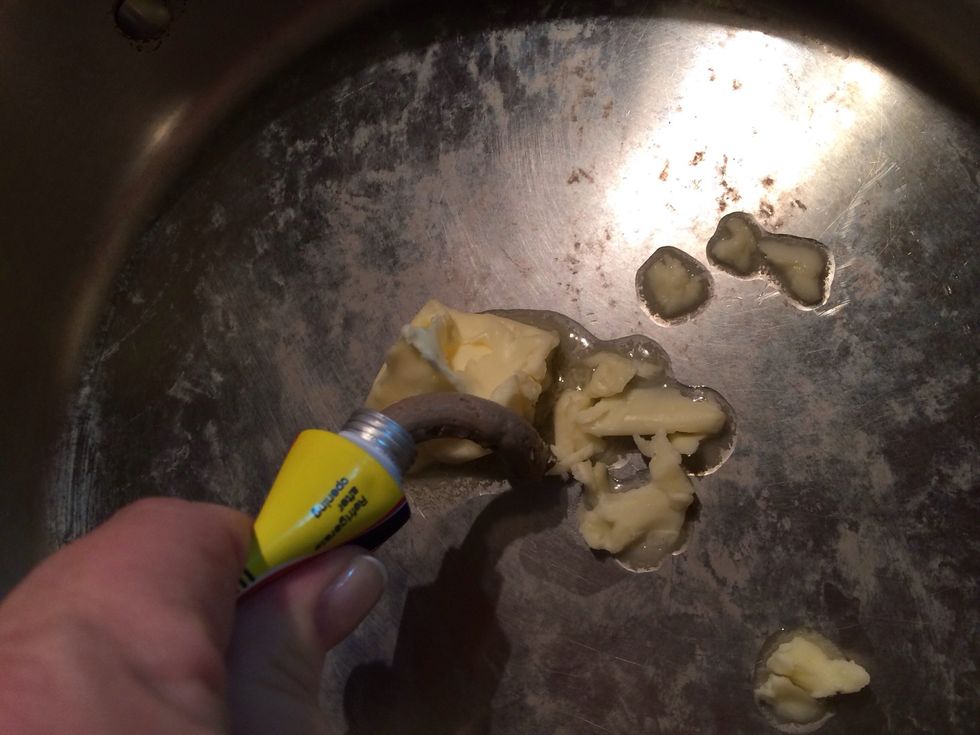 With a knob of butter. (A knob is about 2 T.) Squeeze out about an inch of paste. Now you do not have to use this. But the flavor it adds is great!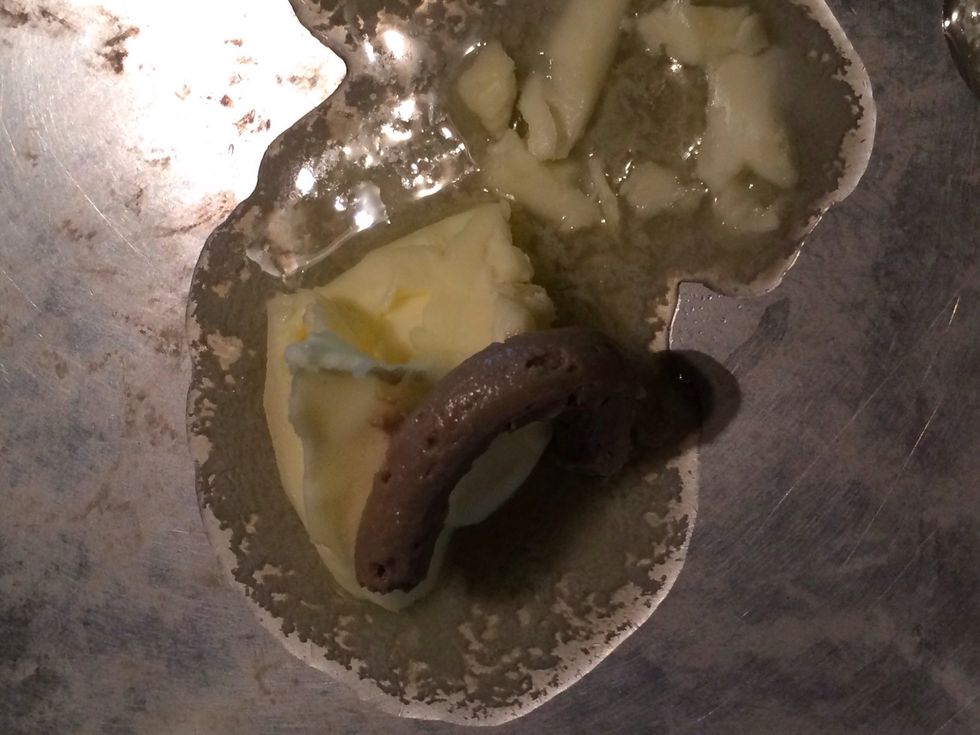 Like so.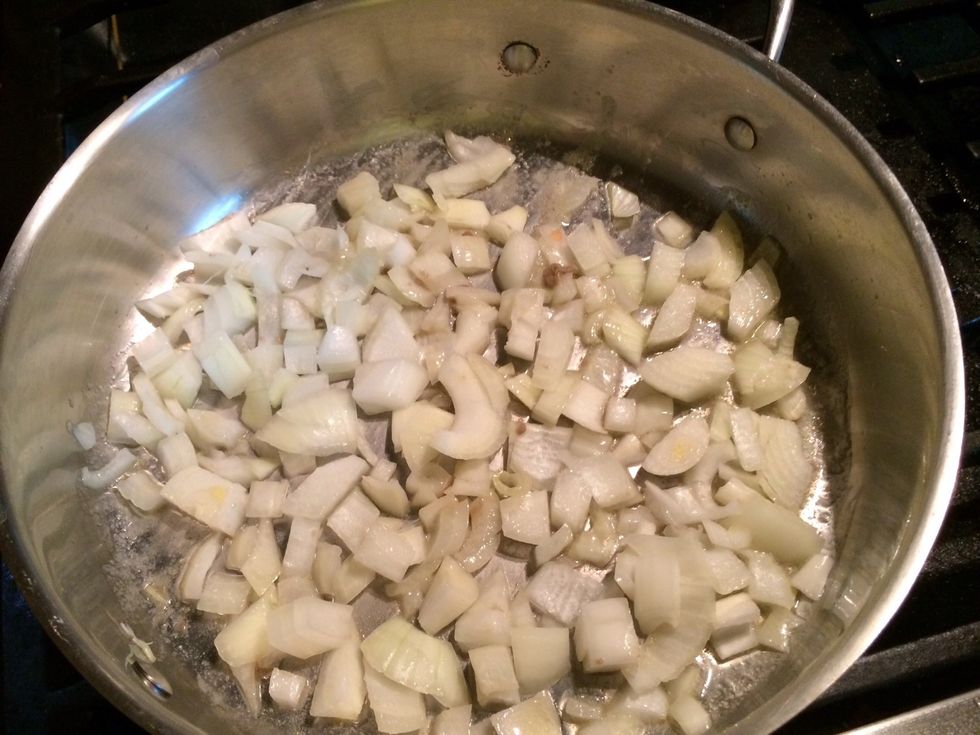 Pour in one diced onion.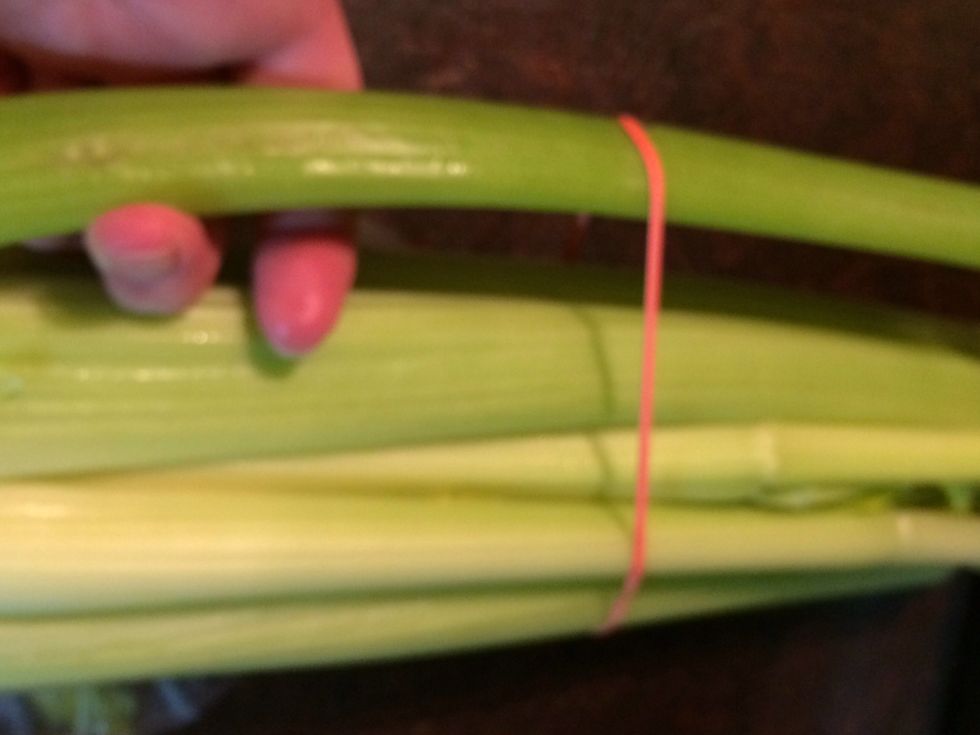 Grab 1 stalk of celery. A stalk or rib is each one. The whole group of stalks or ribs is called a head.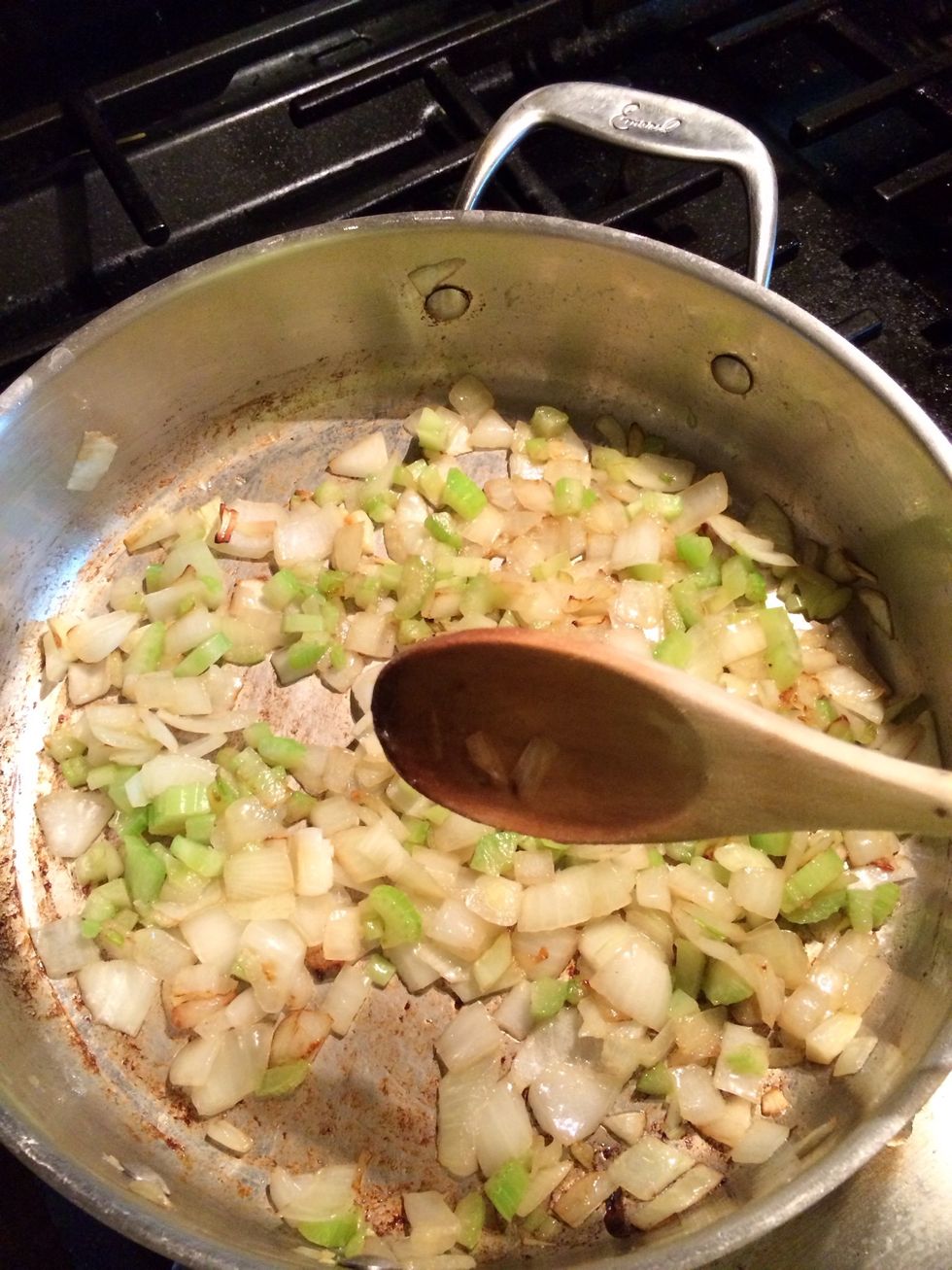 Dice up the celery and mix. Allow to cook to liking of crunch. Then pour into the simmering broth till ready.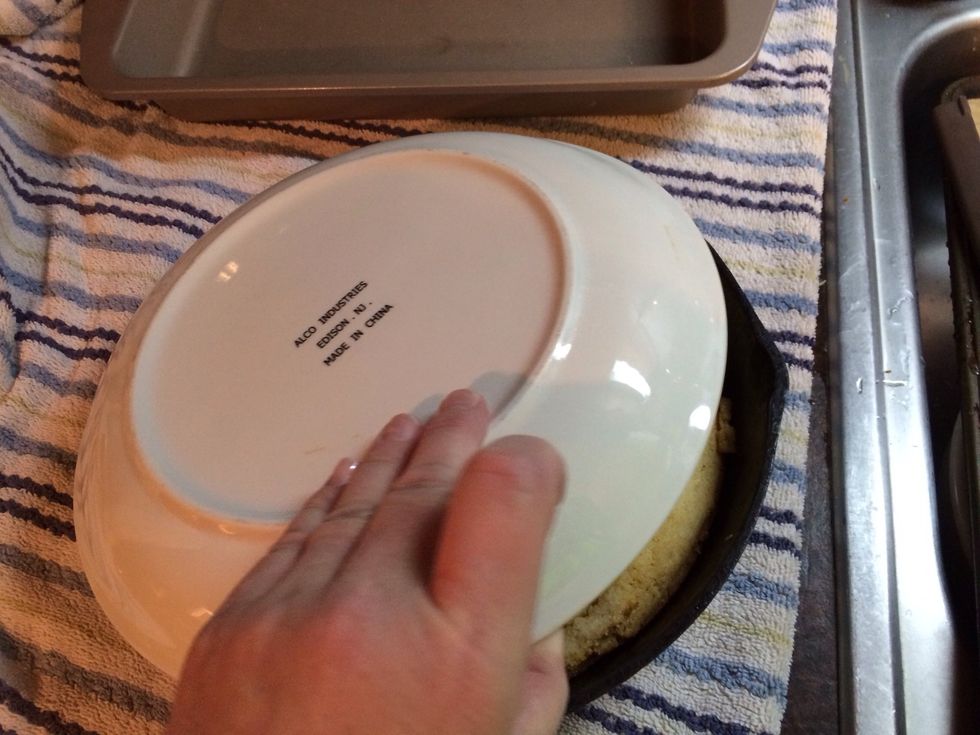 The cornbread is cool. Place a plate over.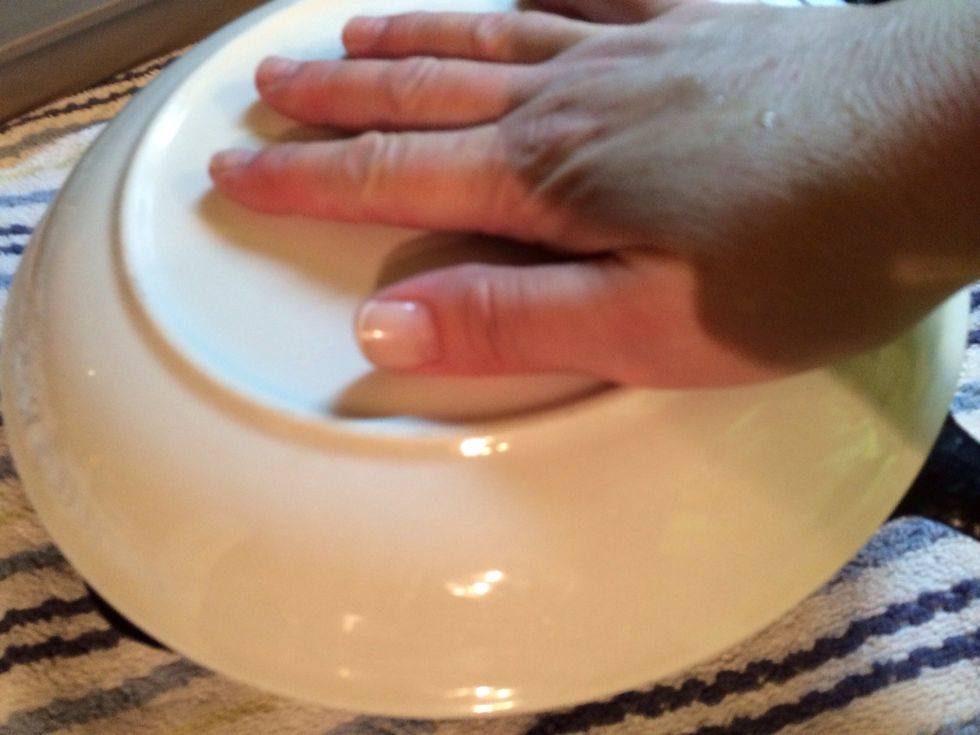 One hand on plate.
With oven mitt hand on handle flip.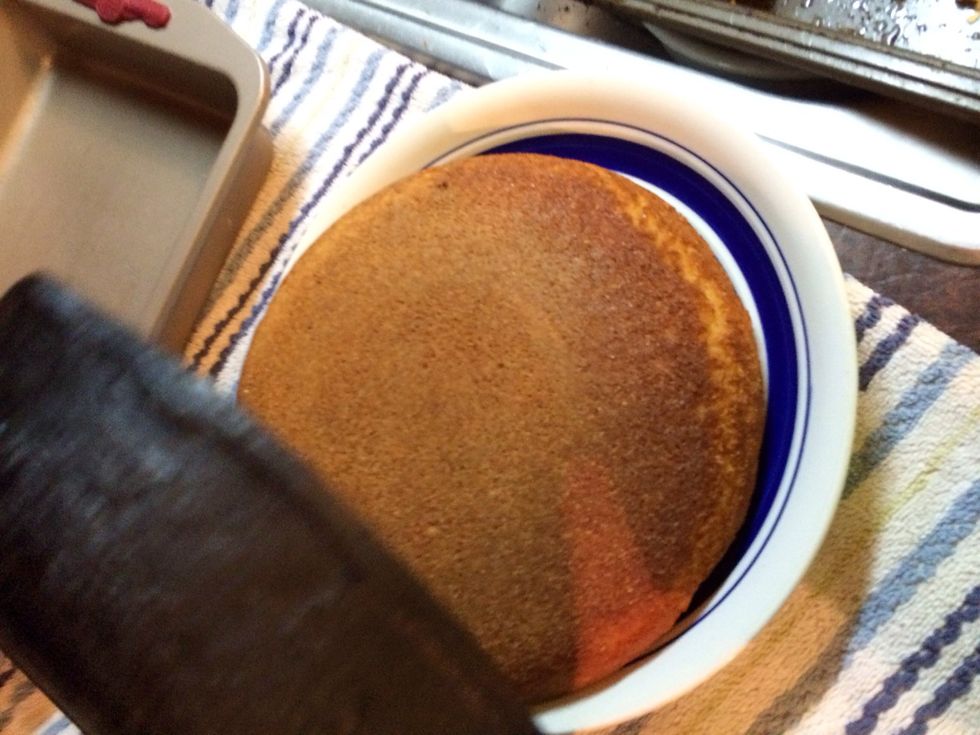 And lift!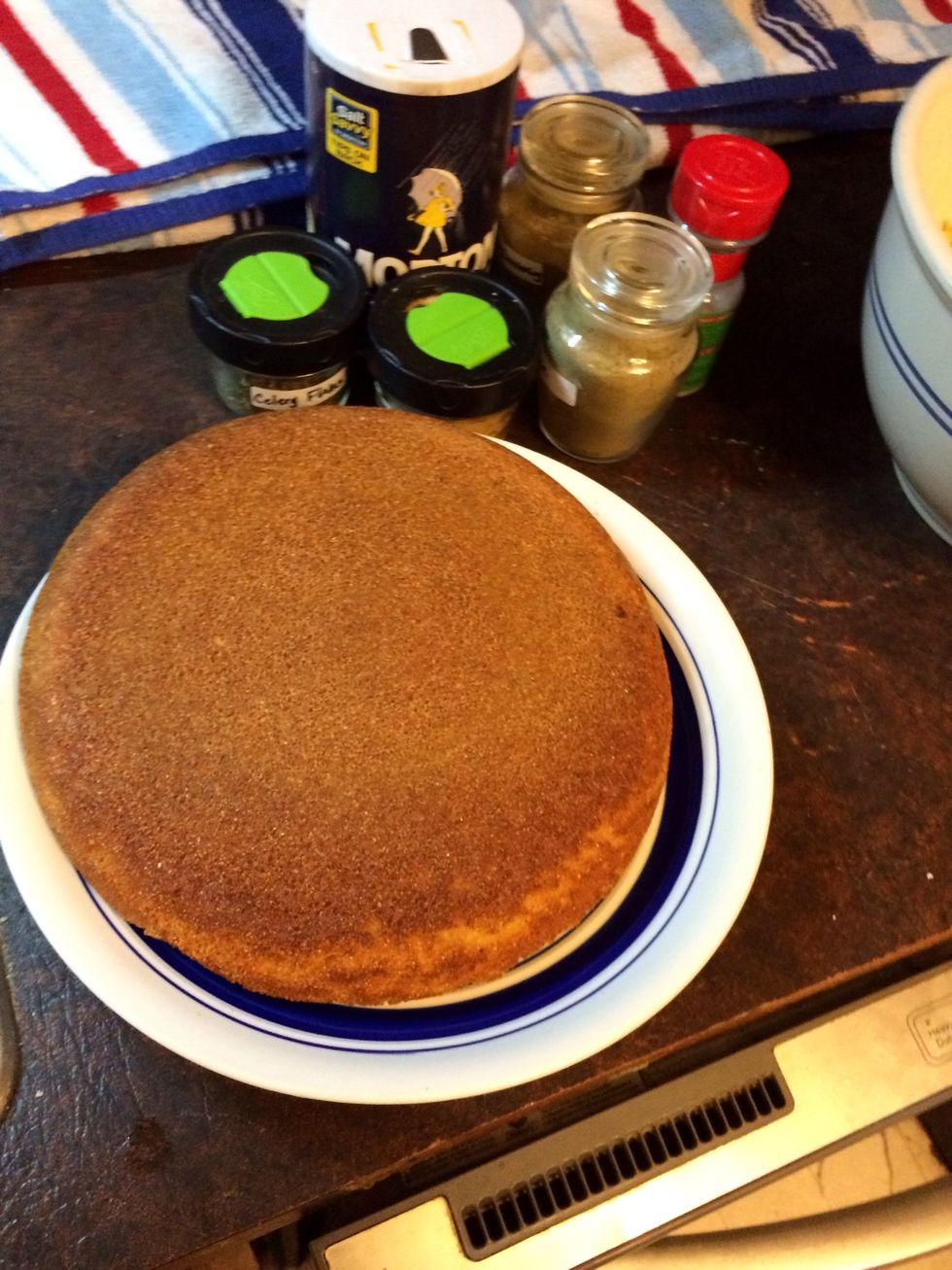 Viola! Perfect cornbread.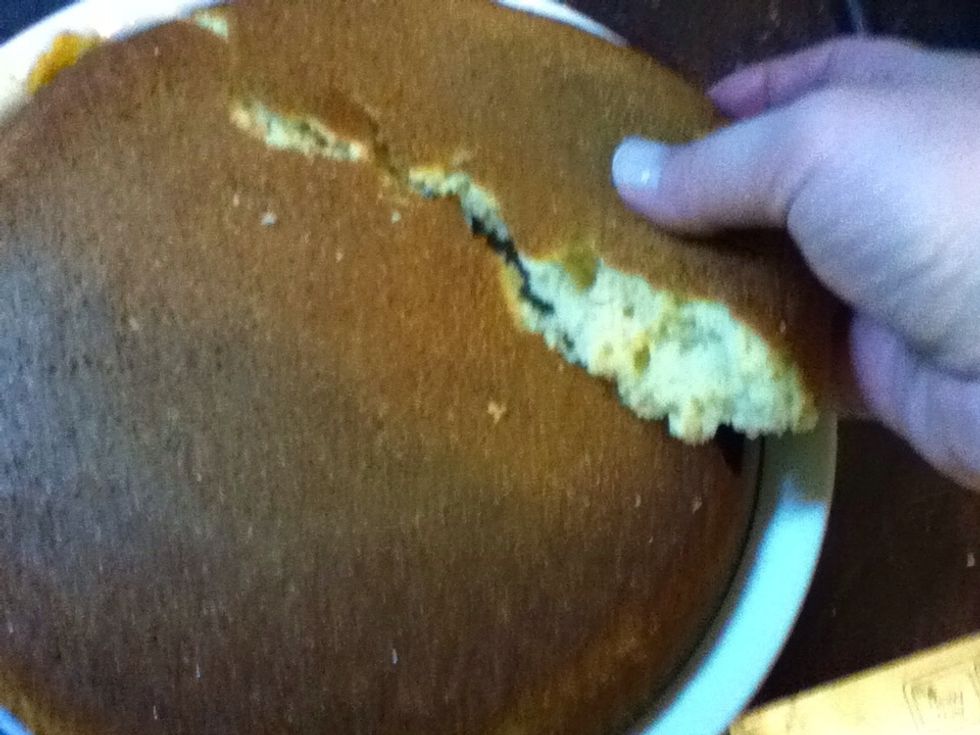 Break bread and crumble.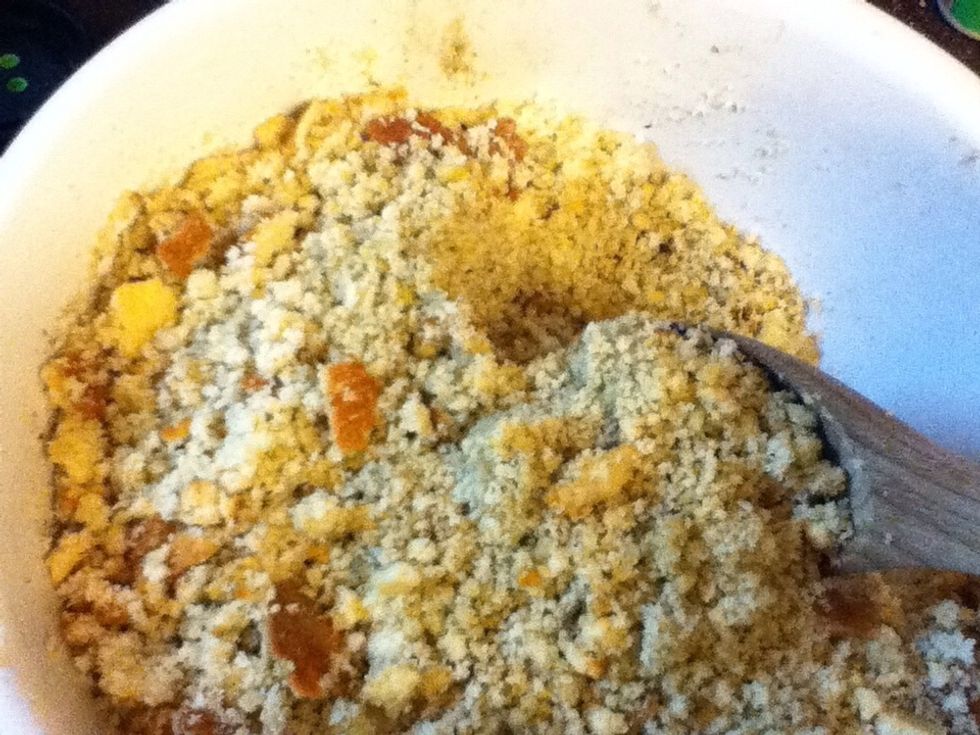 Mix well with the crumbled biscuits.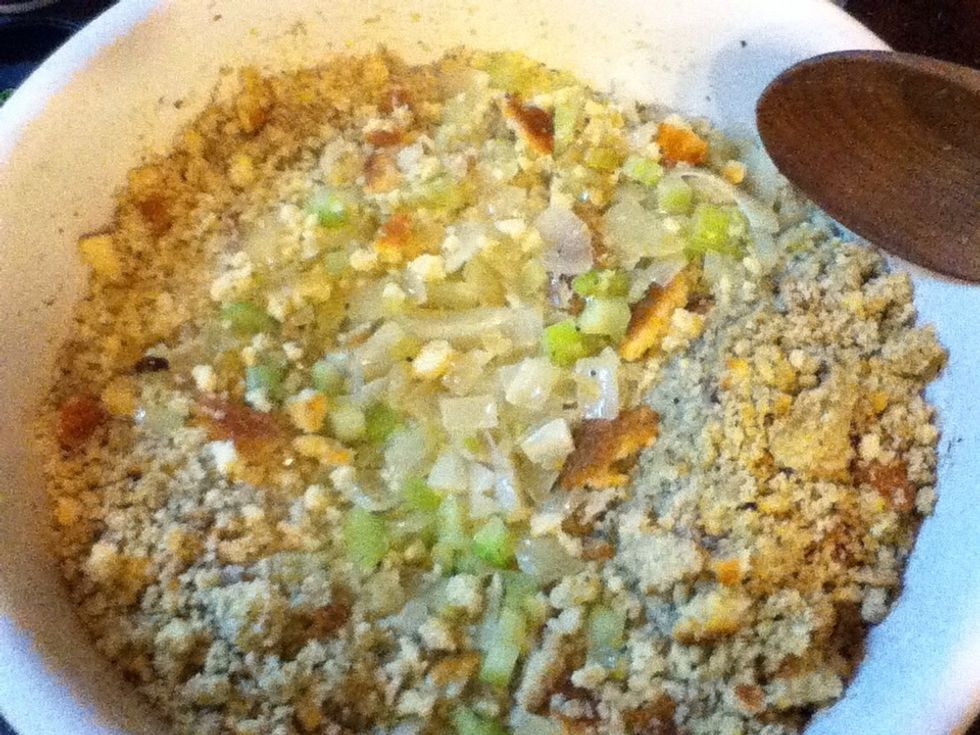 Like so.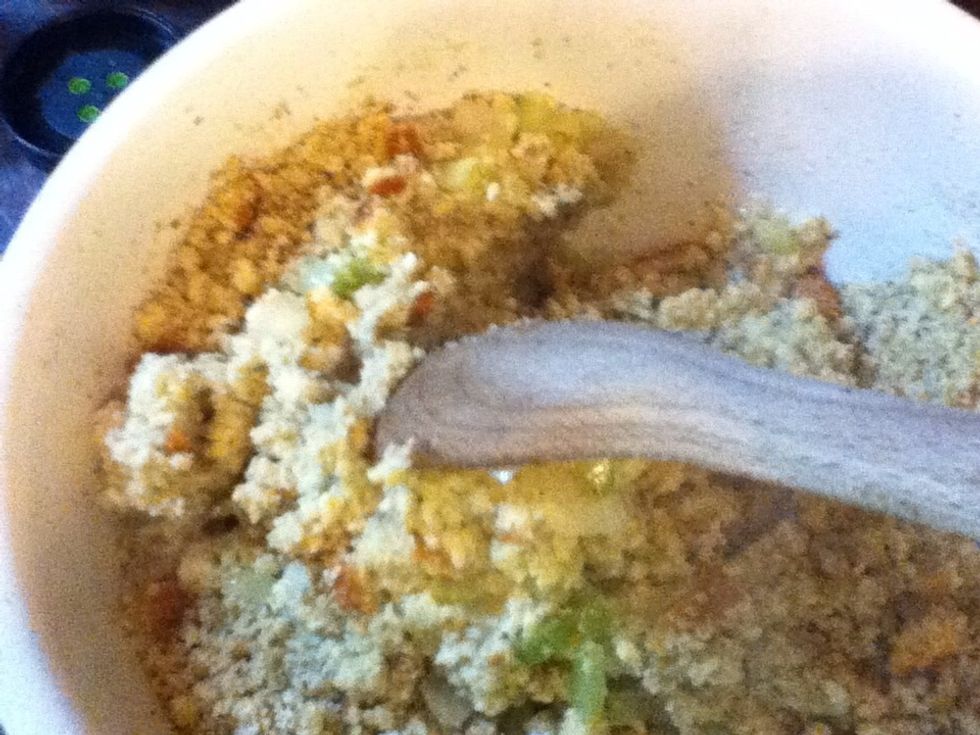 Now stir well.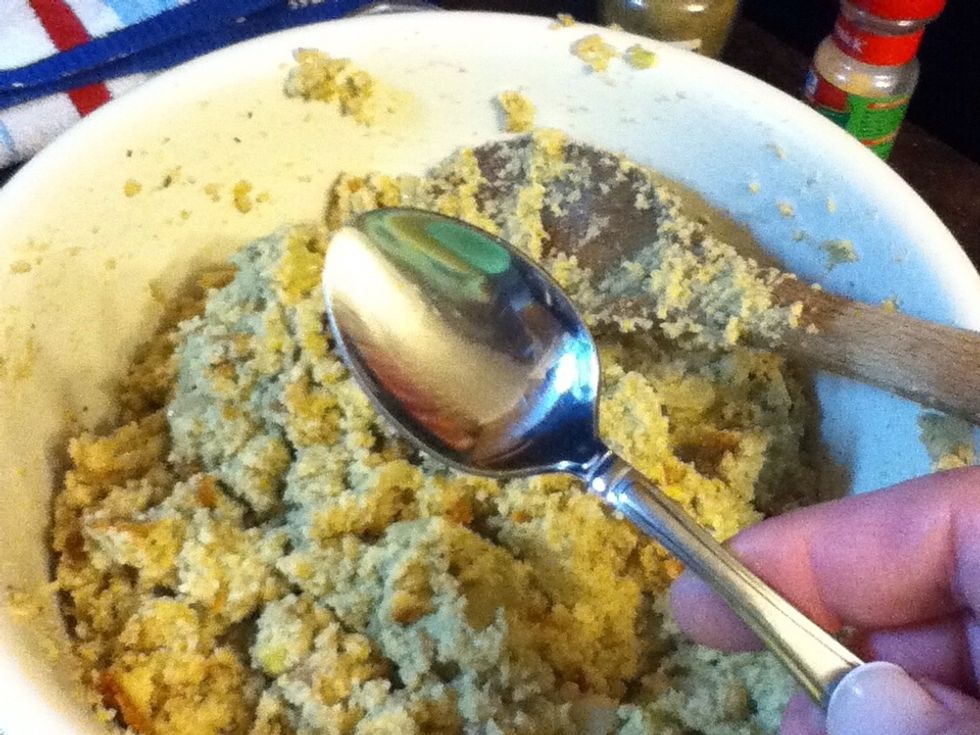 Taste. Know where you began.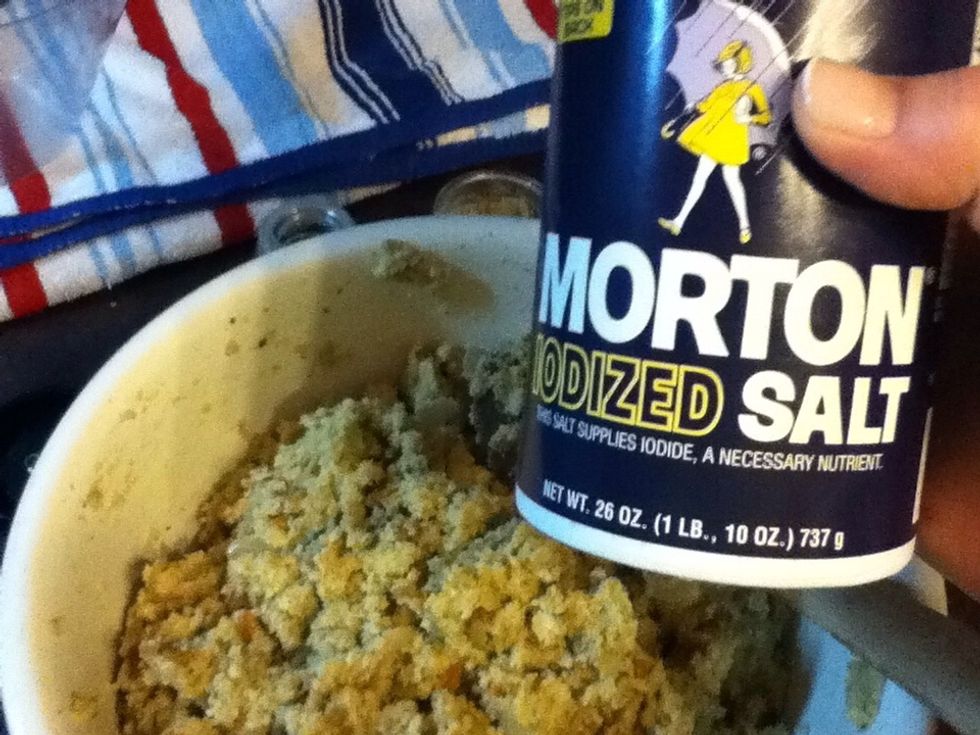 Start with salt. Sprinkle on. Stir. And taste.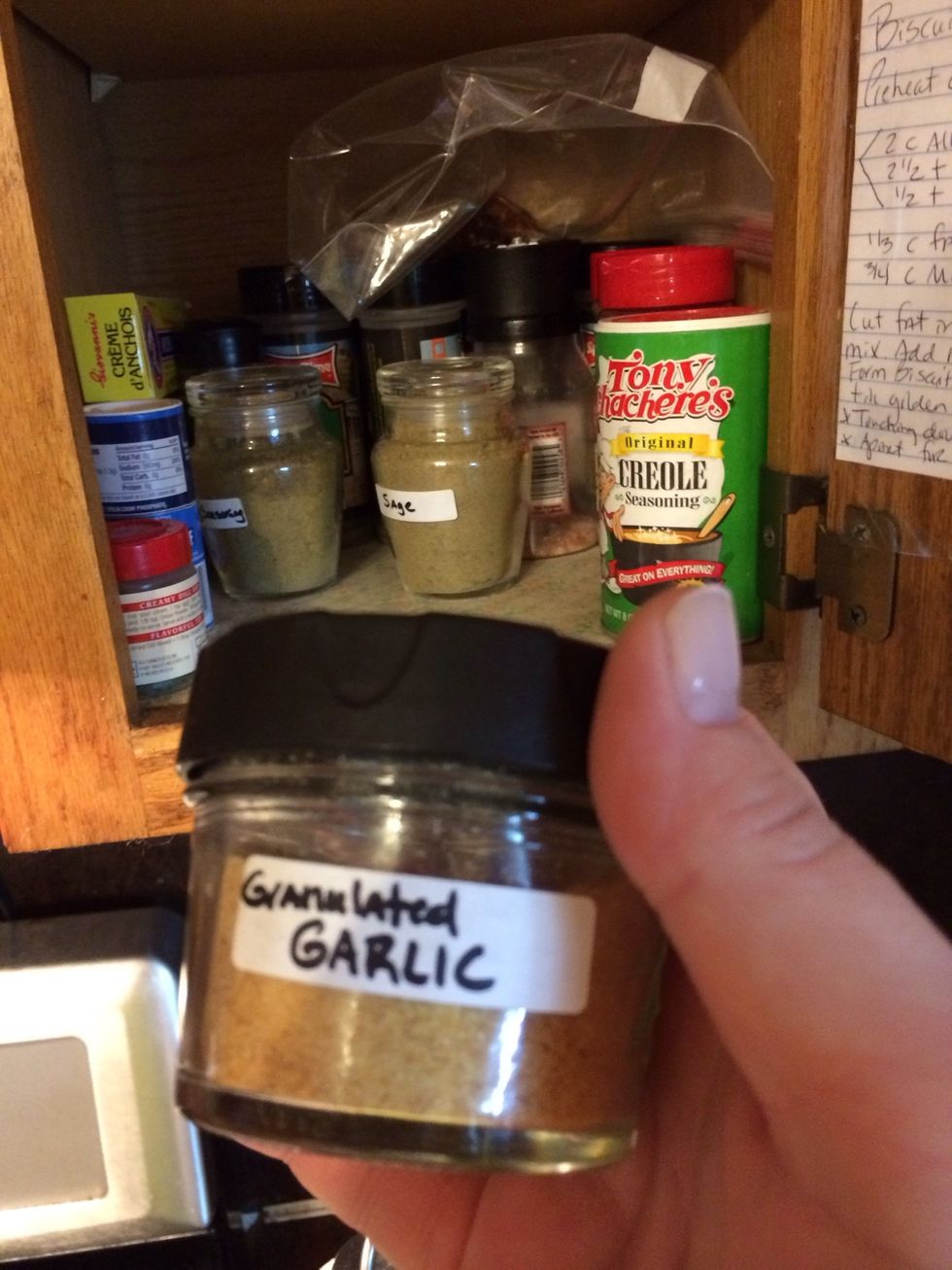 Move on to next seasoning. I grab what I like. You grab what you like. ...Garlic Sprinkle in, stir and taste.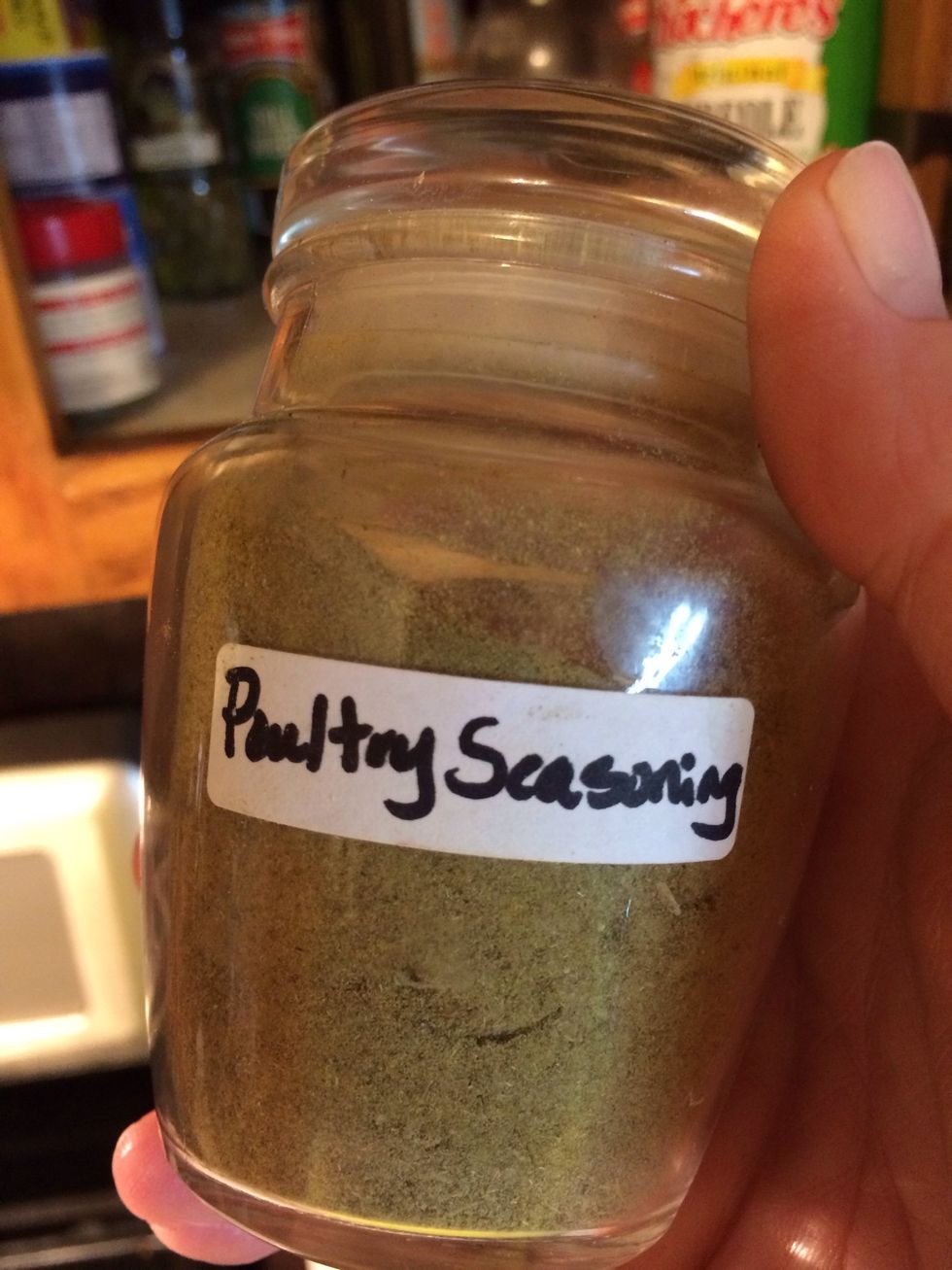 Poultry seasoning..I know sage is in this. But I like extra sage. ;)
Sage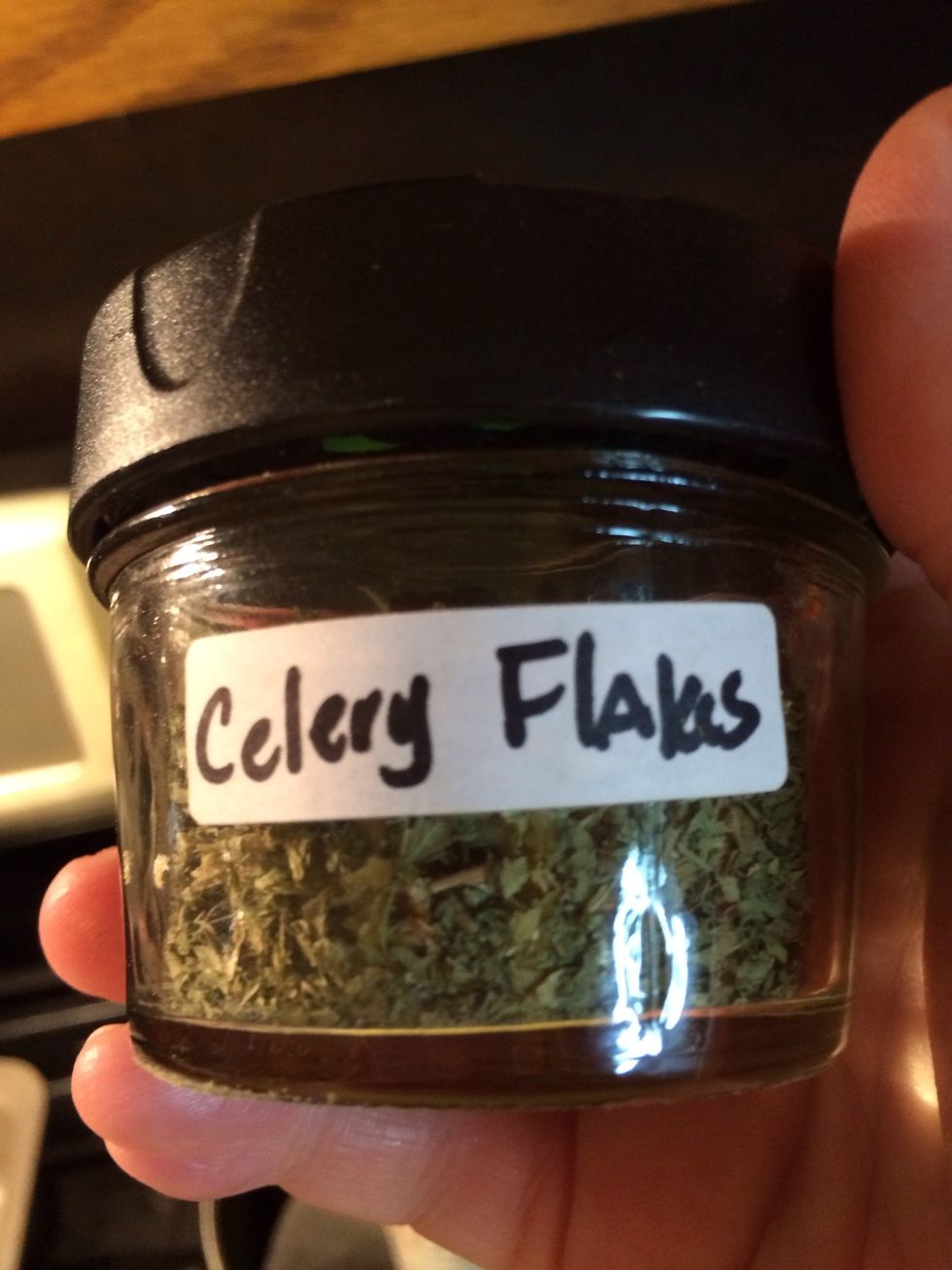 Celery flakes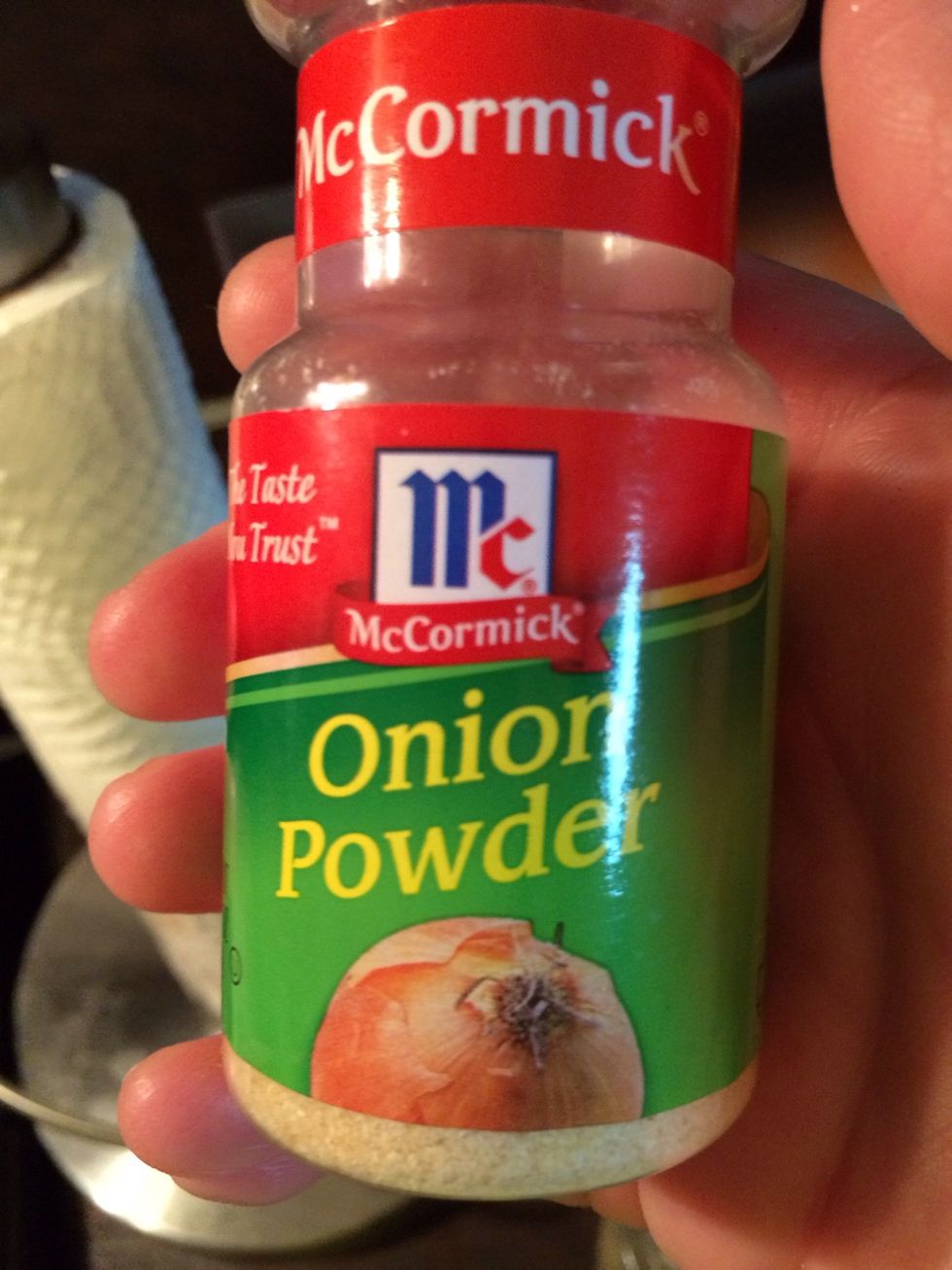 Onion powder... Each time you add a seasoning, stir and taste. Add what you like till it taste to your liking. When you think it's good.. Holler at the picky eater.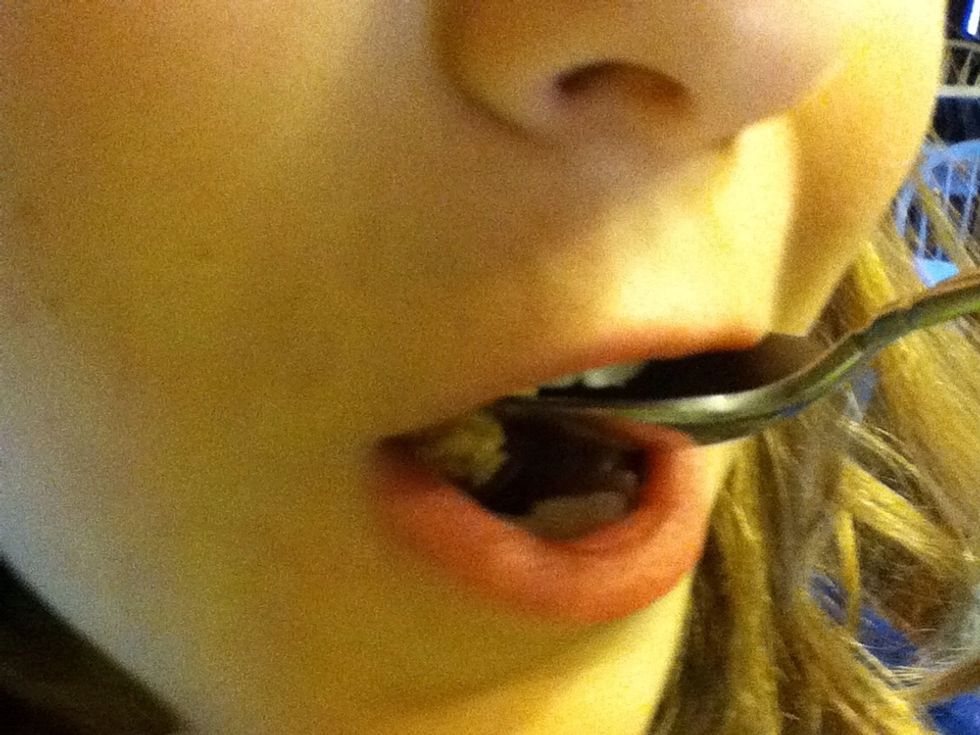 Give her a bite...wait for it...wait for it...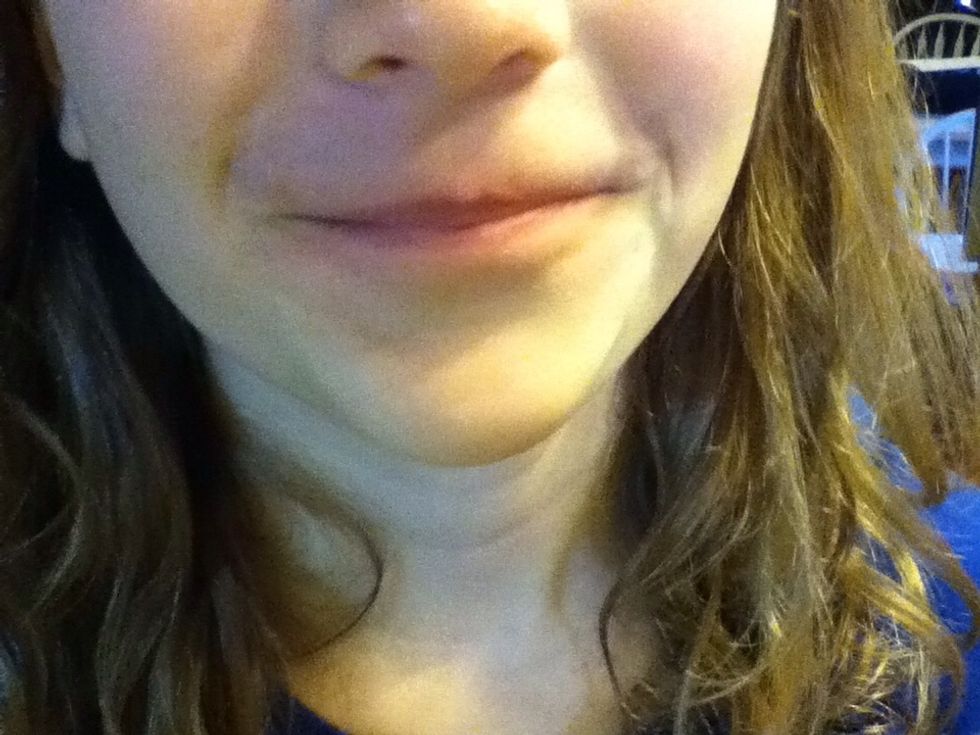 Bam! There it is. She likes it. It is ready.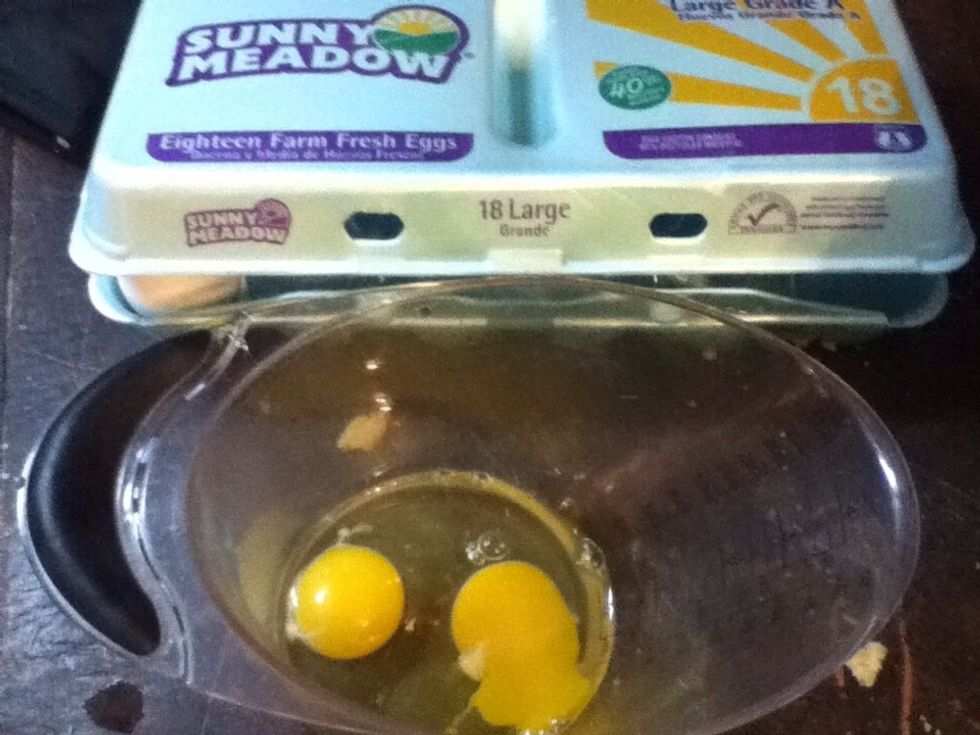 Now for a binder. Grab 2 eggs.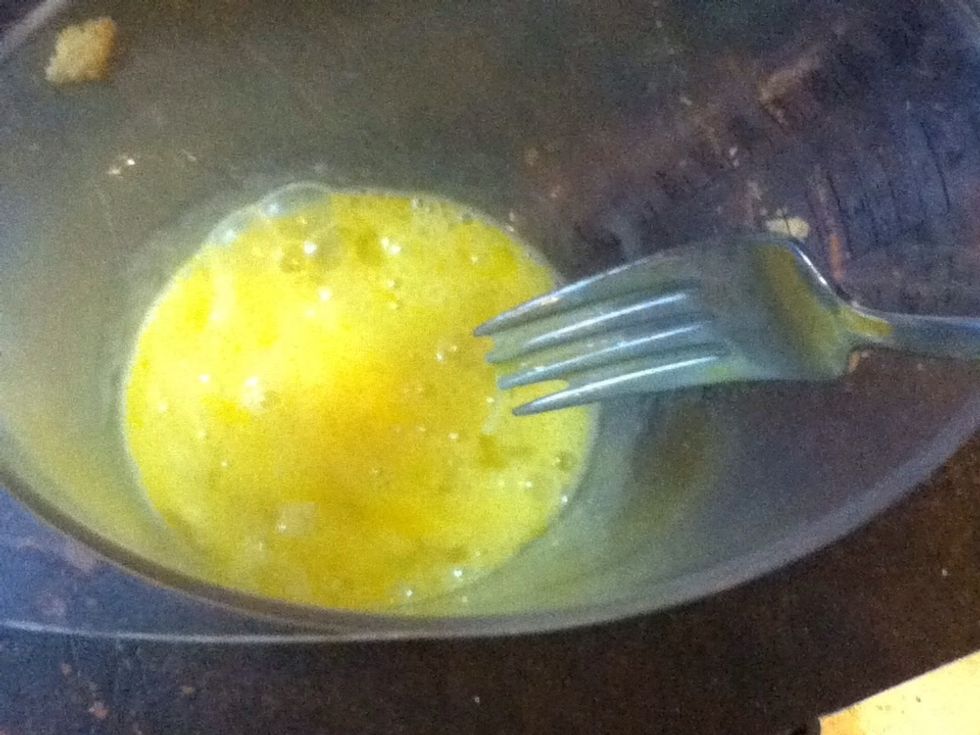 Stir well.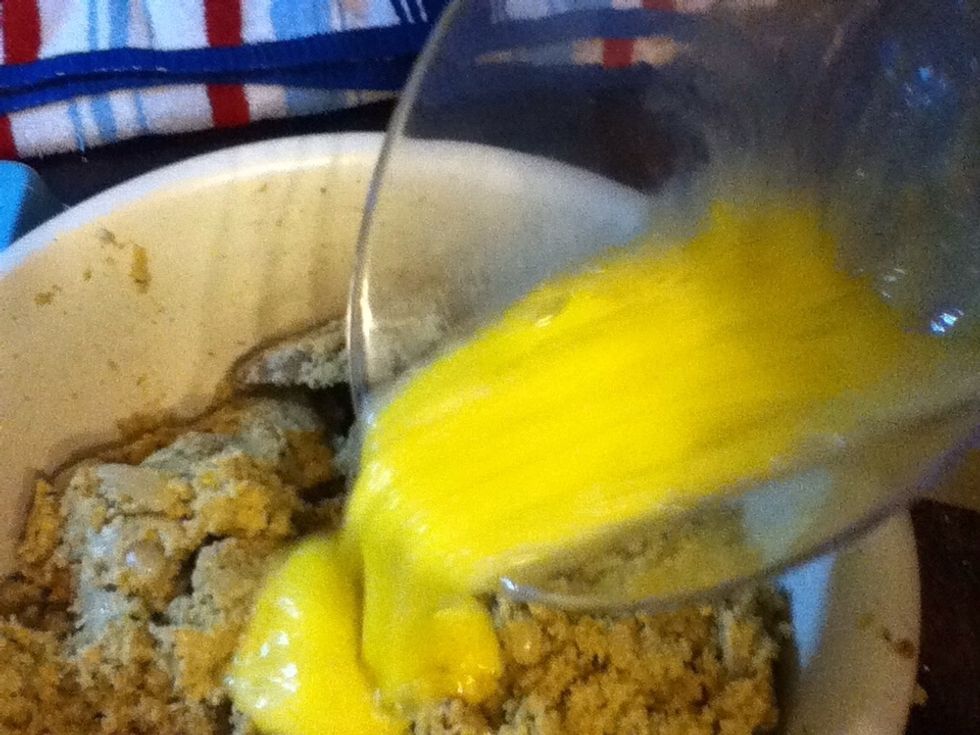 Pour over your seasoned mix.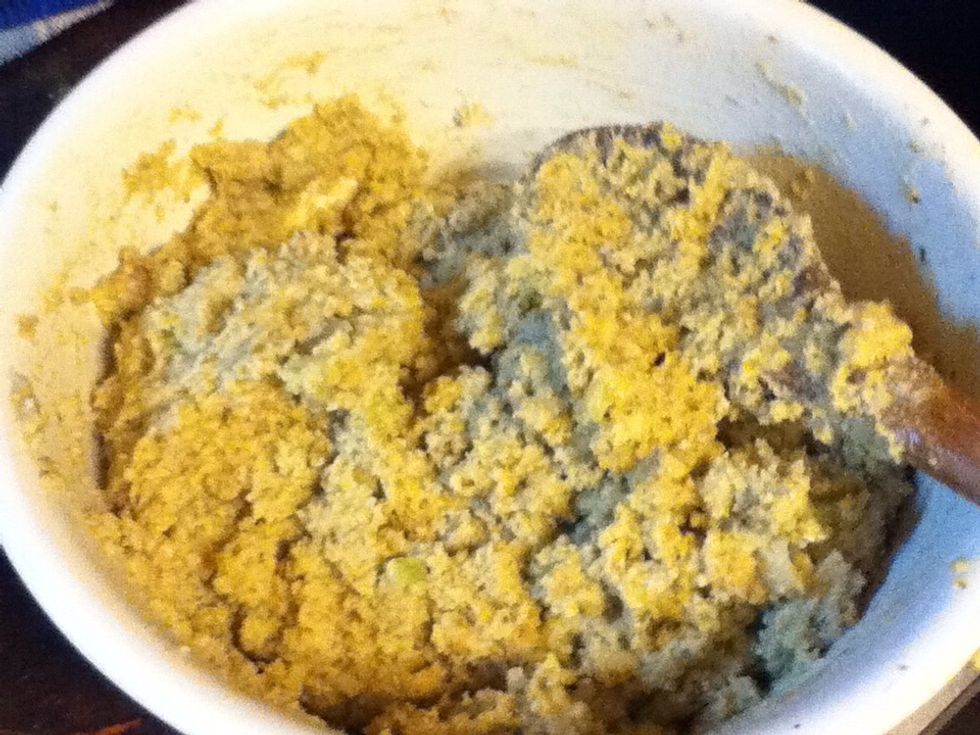 Stir in well.
Pour into 13 x 9 pan.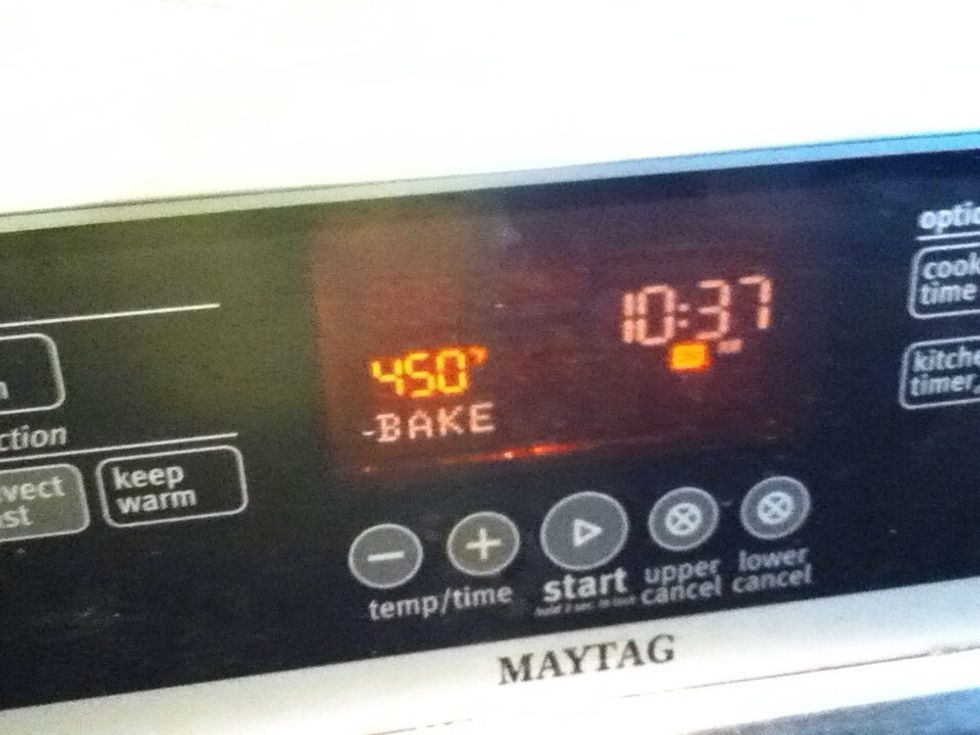 Oven should be at 450 degrees.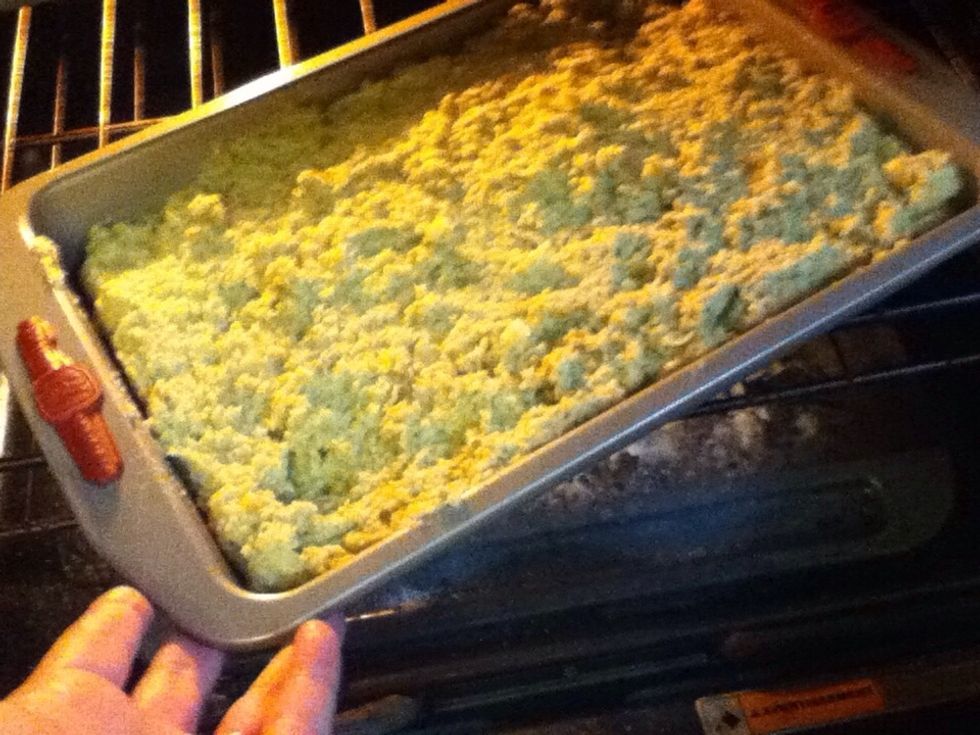 In the oven till set and browned.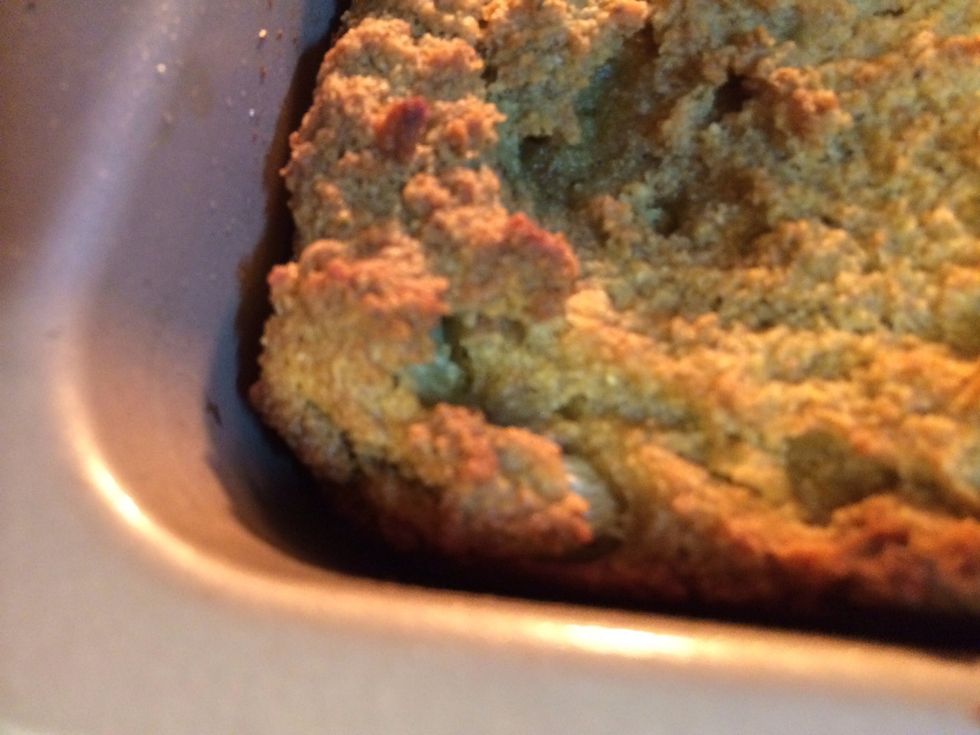 When set the dressing will pull from the sides. Like this.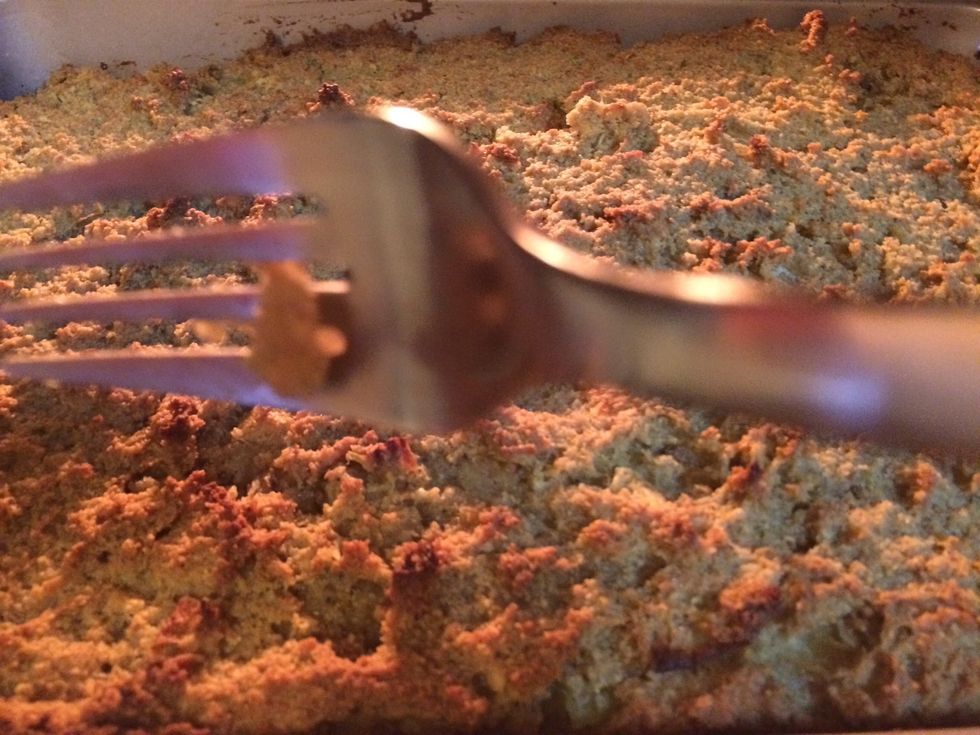 And your fork will come out clean.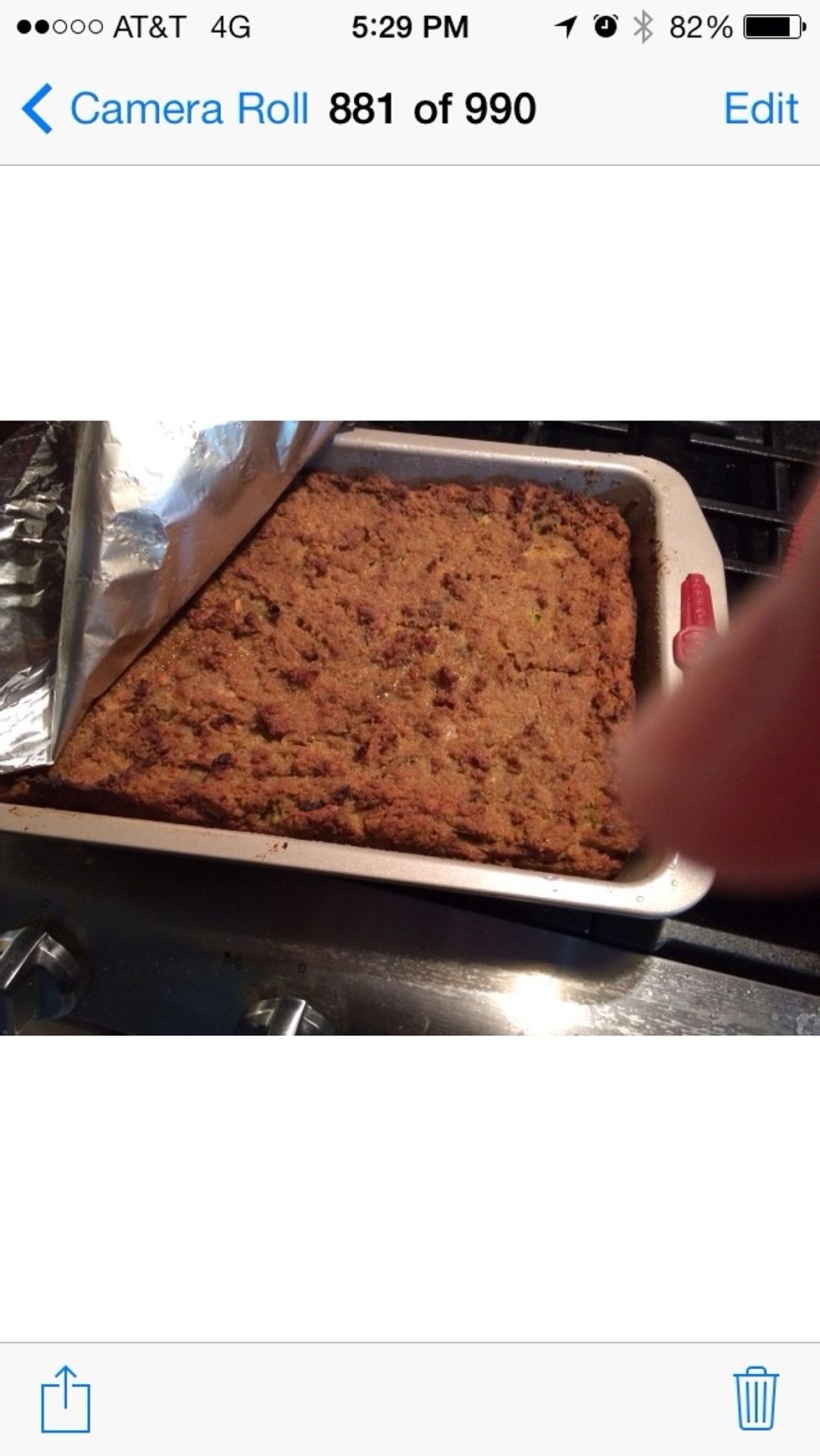 Yum! Grab the foil to cover.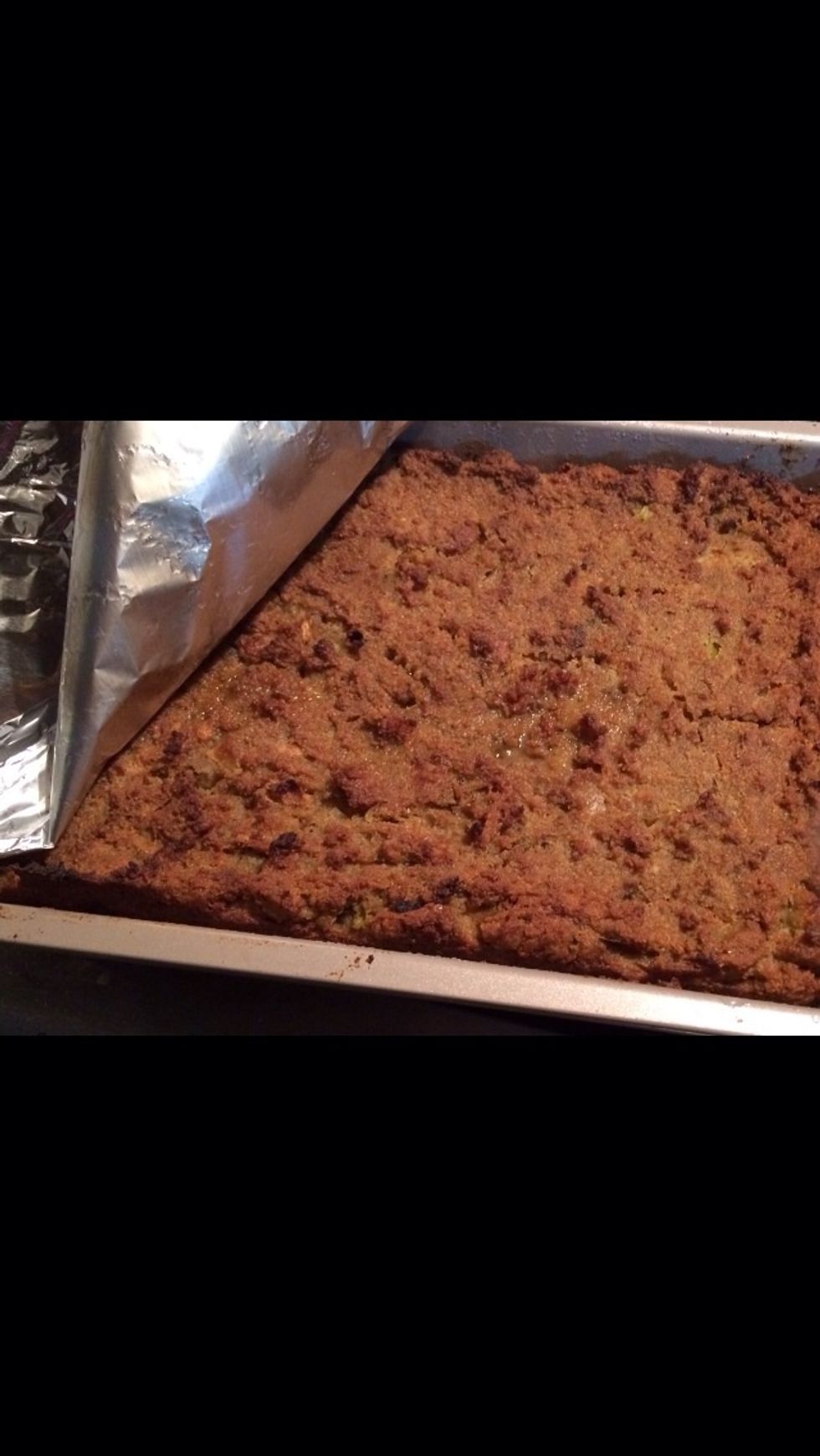 Cover in foil. Take to your sister's for Thanksgiving. Wash empty pan at sister's before bringing home. 😉 Enjoy!
Biscuits
Cornbread
Broth
Fat
Seasonings
Eggs
Lucy Hudnall
If you can't explain it to a 6 year old, you don't understand it yourself. -Albert Einstein