Servings: 8 • Size: 1/8th portion Calories: 296 • Fat: 7 g • Protein: 16 g • Carb: 44 g • Fiber: 5.5 g • Sugar: 5 g Sodium: 524 mg
Preheat oven to 375°F. Spray a 9x13-inch baking pan with oil spray.
In a large pot of salted water, cook pasta according to instructions until al dente. Drain and return to pot.
Meanwhile, in a medium saucepan, add olive oil and sauté garlic. Add chopped spinach, salt pepper and crushed tomatoes. Season with basil, oregano, salt and pepper.
Add sauce to the pasta and combine the ziti. Add half of the mozzarella, Parmesan cheese and ricotta. Mix well then transfer to the baking pan.
Pour the pasta mixture into the prepared pan and spread evenly. Top with the remaining mozzarella.
Bake for 30 minutes, or until mozzarella is melted and the edges are lightly browned. Let it cool 5 minutes, then cut it into 8 equal portions.
This can be made up to a day in advance and stored, tightly covered, in the refrigerator. Let sit at room temperature for 30 minutes before baking.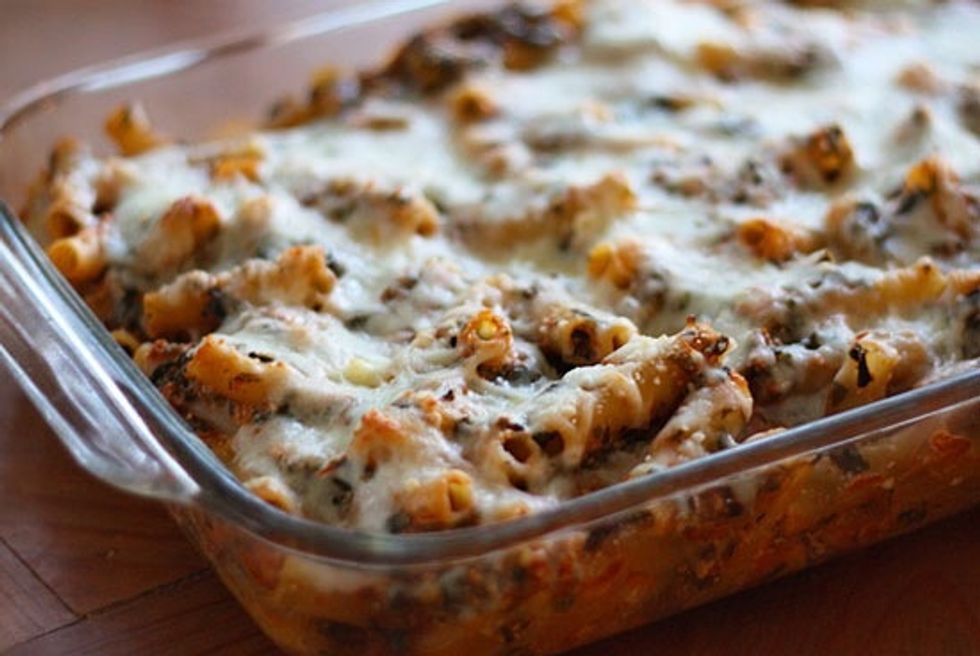 12 oz uncooked pasta such as ziti
28 oz crushed tomatoes (I recommend: Tuttorosso)
1 tsp olive oil
3 cloves garlic, minced
10 oz frozen spinach, thawed
1 tsp oregano
2 tbsp chopped fresh basil
salt and fresh pepper to taste
8 oz fat-free ricotta
1/4 cup grated Parmesan cheese
2 cups (8 oz) shredded part skim mozzarella
I recommend Polly-O
olive oil cooking spray (I used my Misto)
Anasvision A+
Busy University Student who is eager to learn everyday!\nPlant based dishes, pie, baking, everything optimistic lover ))\n