Vi börjar med att göra kuddfodralet. Först ska du välja om, och i så fall vilket motiv du vill använda. Jag valde Stewie Griffin från family guy!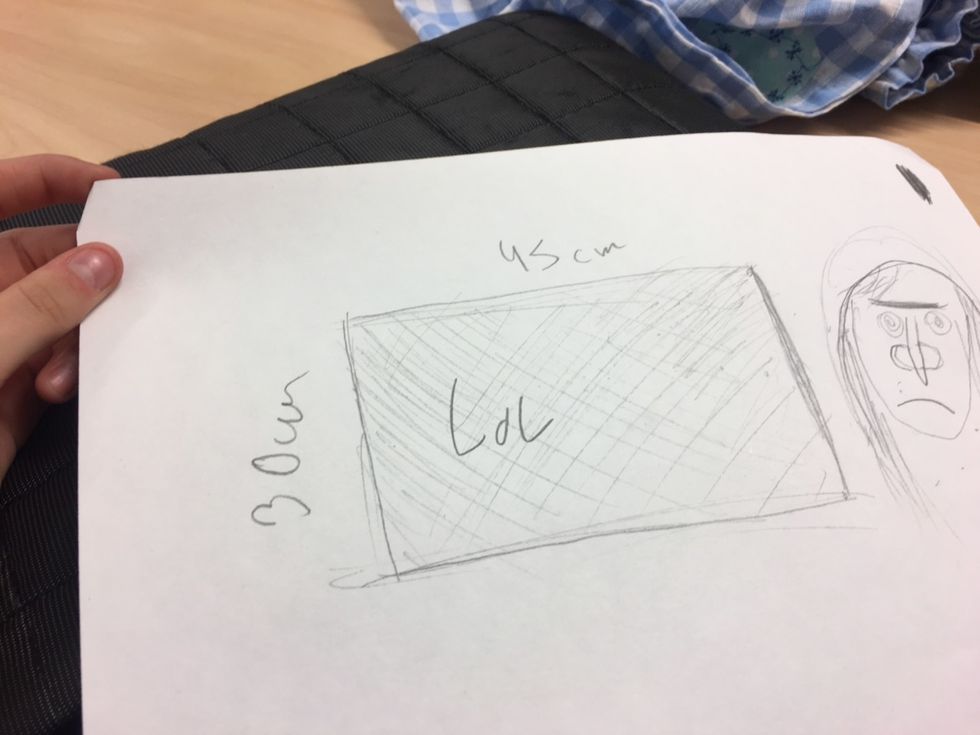 Efter det väljer du tyg. Jag valde att använda ett kraftigt bommulstyg som inte är stretchigt. Du kan själv välja hur stor tygbiten ska vara. Jag valde 45x30 cm.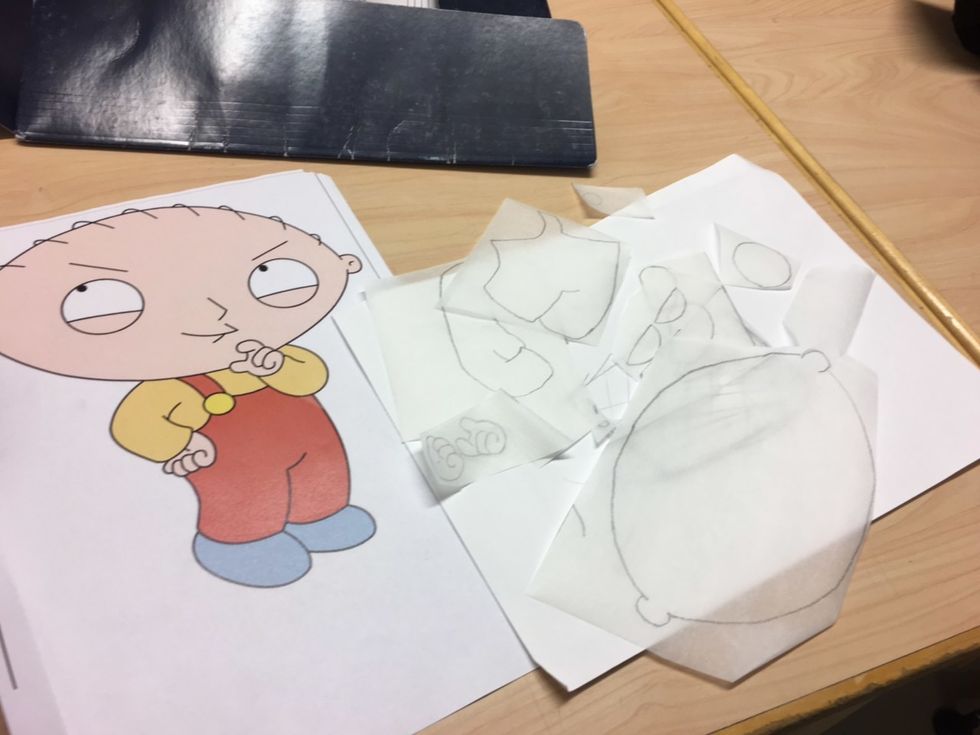 Efter det skriver du ut bilden. Sedan ska du ta lite fliss och fix och rita av alla delar med olika färger på fliss och fix papperet. Efter det klipper du ut alla olika delar du ritat av.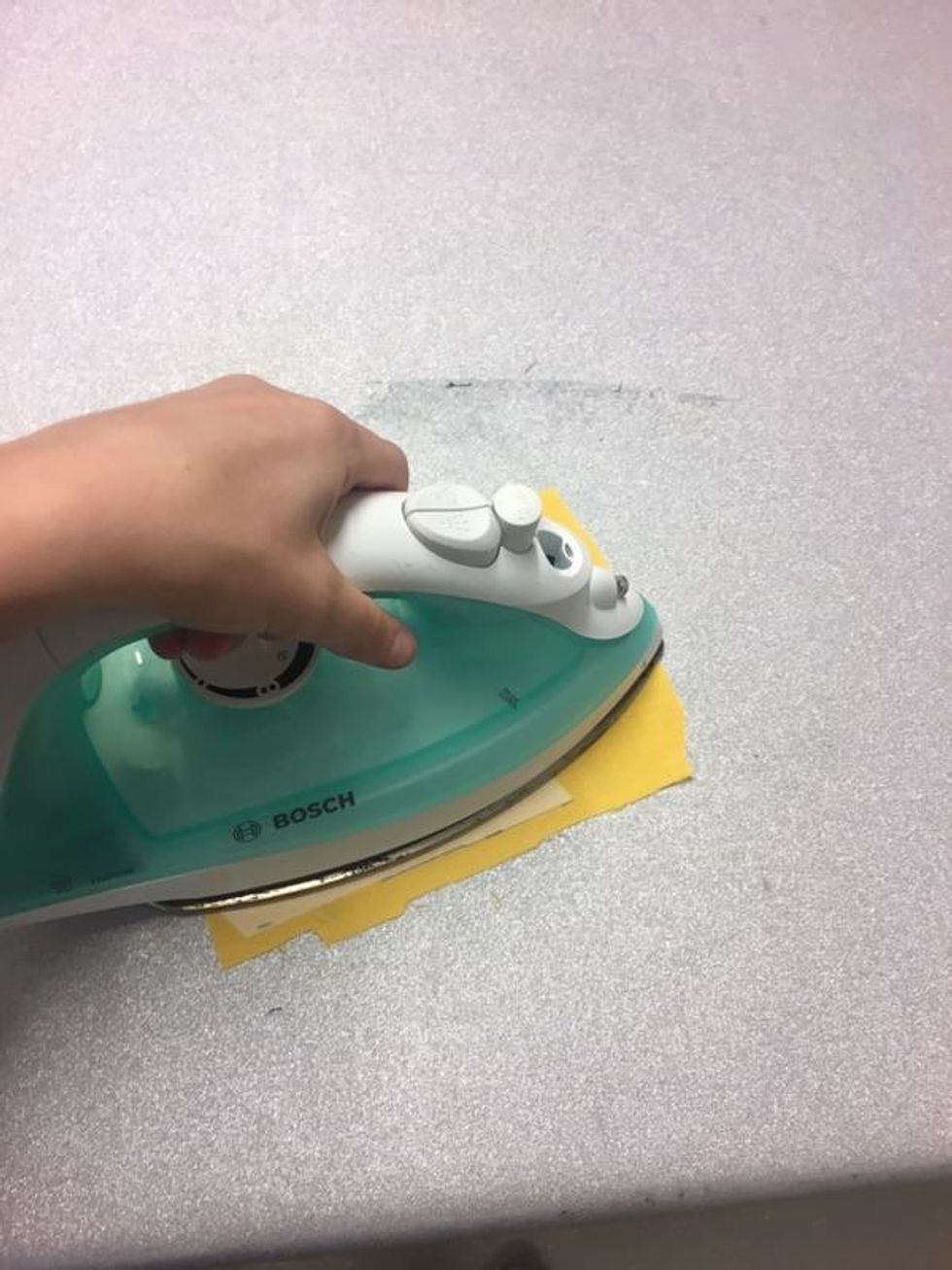 Efter det stryker du fast delarna på en tygbit med den färgen du vill använda på just den biten. (Tex. stryk fast huvudbiten på ett hudfärgat tyg)
När du strykt på alla bitar på tyg ska du klippa ut dem.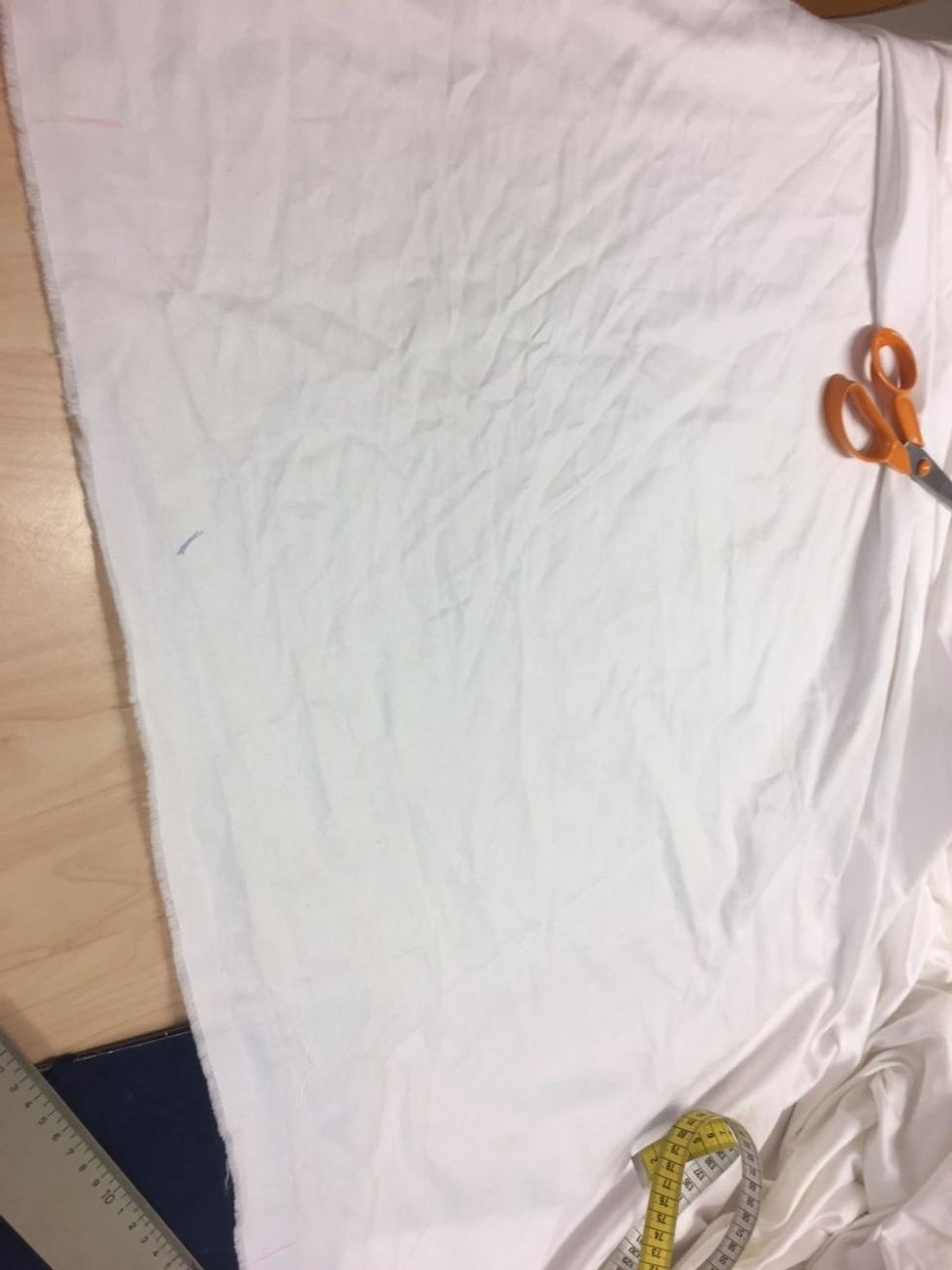 Nu klipper du ut tyget du valt att använda för kuddfodralet. Jag valde att använda storleken 45x30 cm, men du kan välja hur stor du vill att kudden ska bli själv.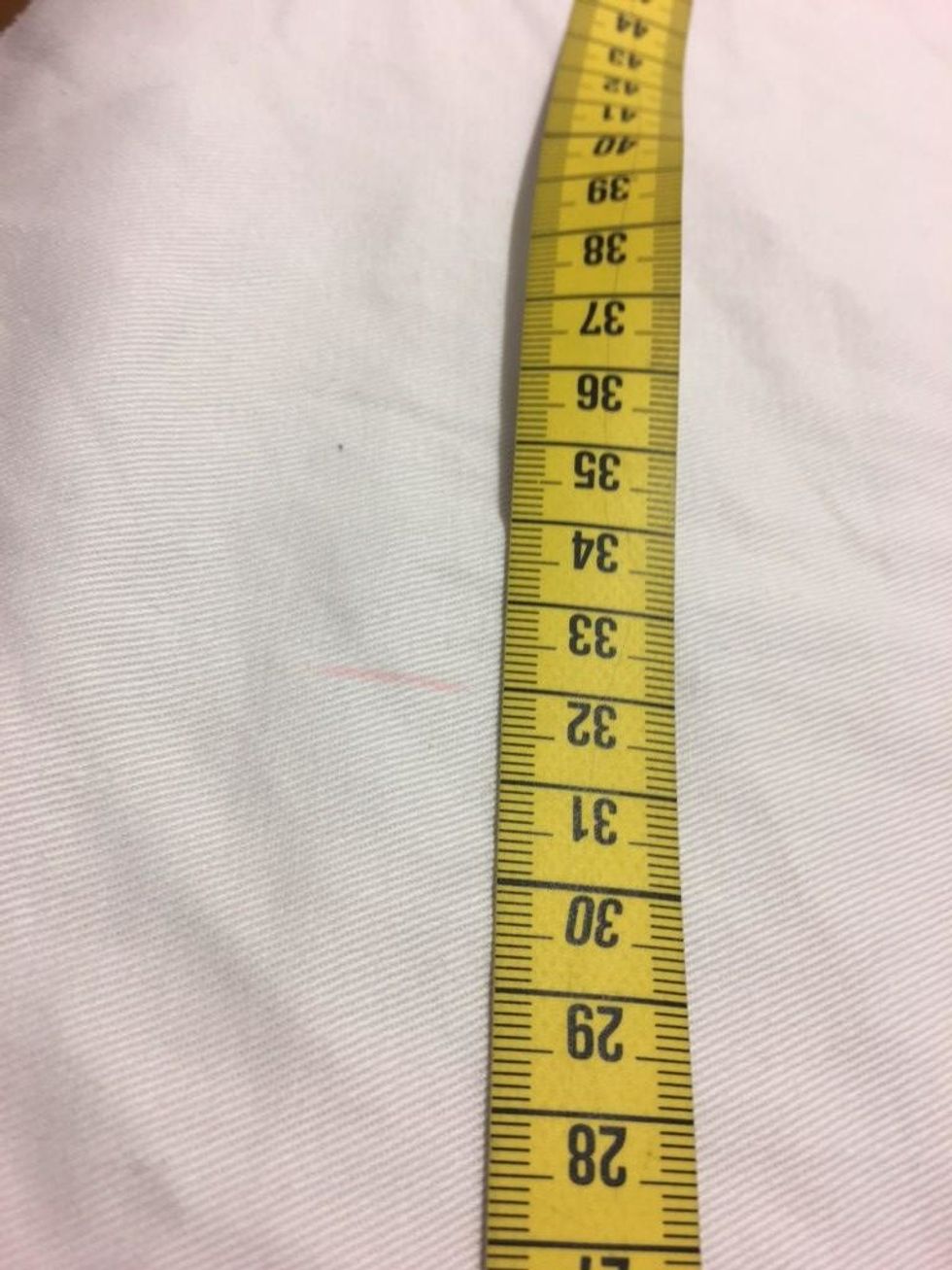 Efter du klippt ut tygbiten ska du mäta ut var mitten är.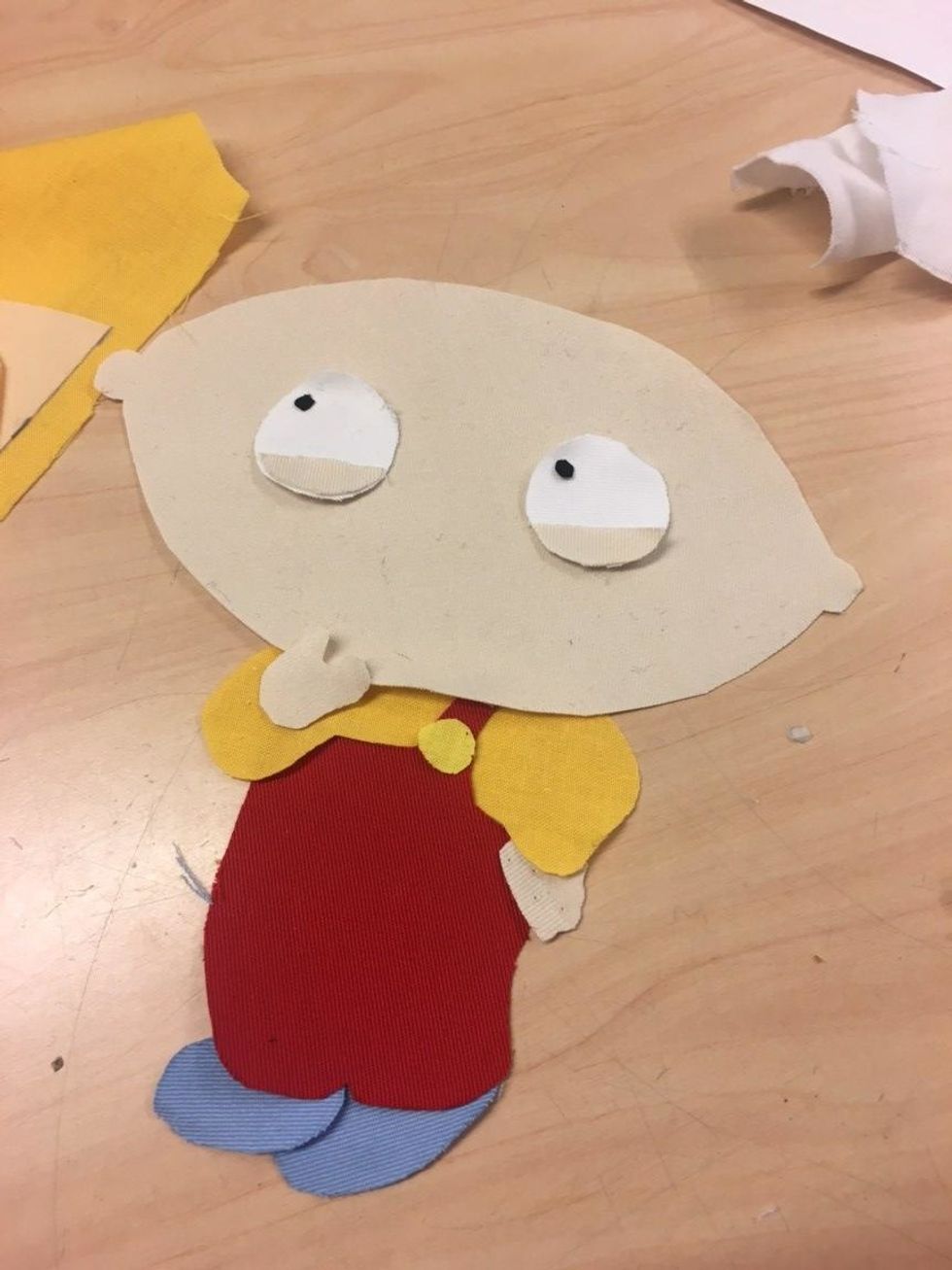 Efter de placerar du ut bitarna du klippte ut på den stora tygbiten. Se till så bitarna ligger i mitten innan du går över till nästa steg.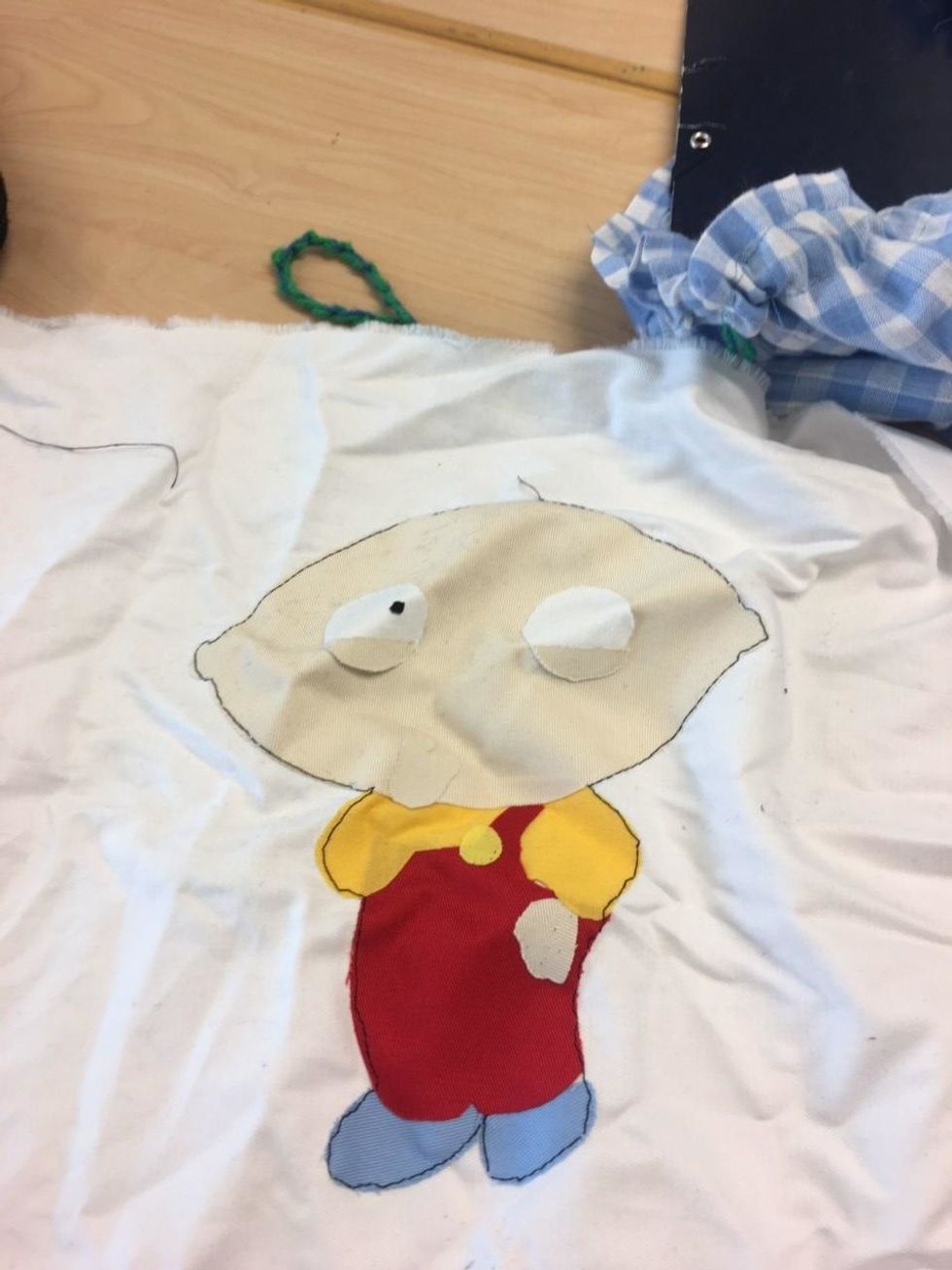 Sedan syr du fast alla bitar på tyget. Jag valde att sy med en svart tråd för att få han att se så lik ut som möjligt till hur han ser ut i family guy.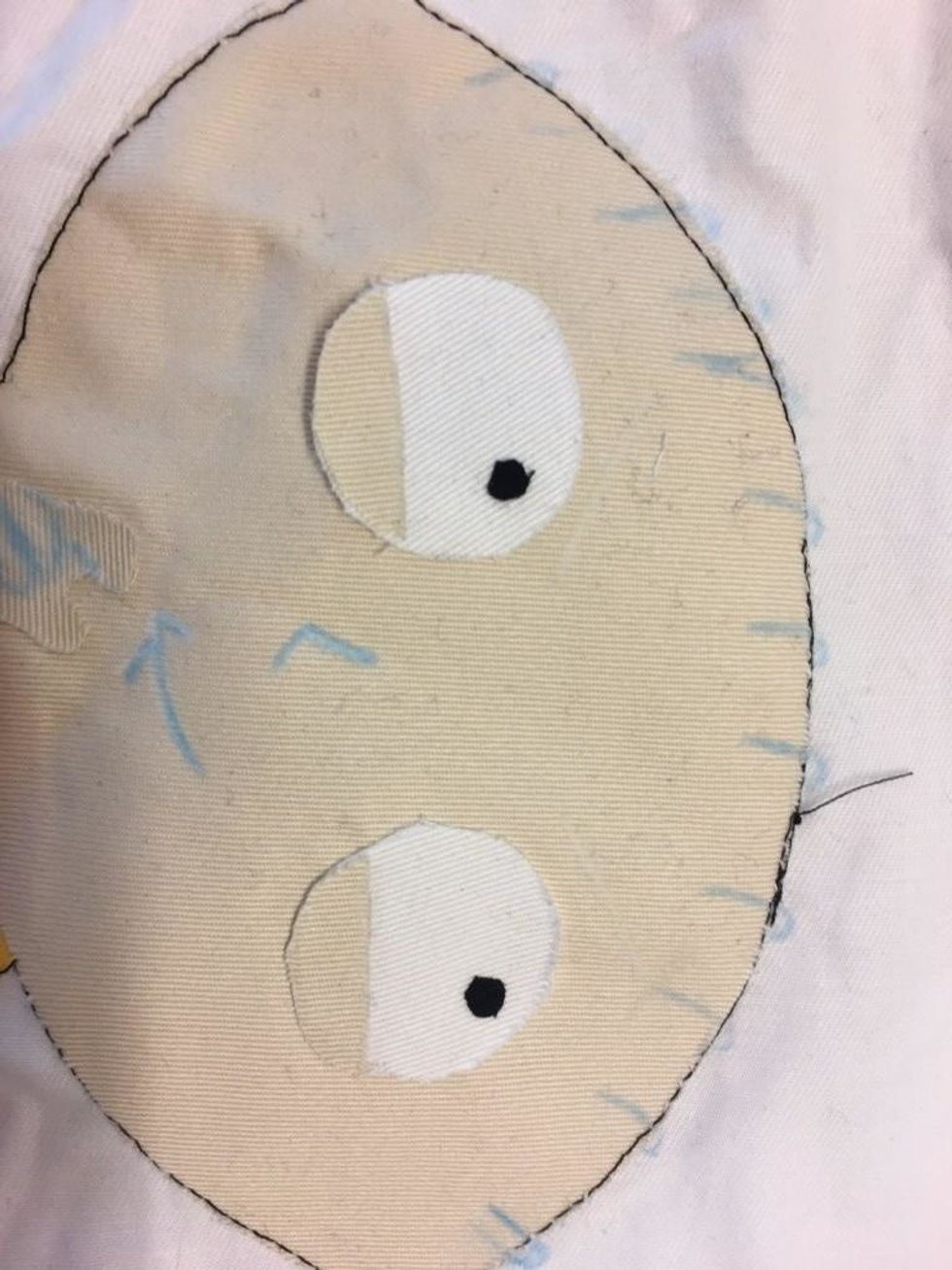 Efter det ritar du ut de små detaljerna du ska sy i svart tråd med en tygpenna.
Sedan syr du i de du ritat med tygpenna med en svart tråd. Den bör se ut såhär när du är klar.
Efter det klipper du ett till tyg som är lika stort som det första tyget. Detta kommer bli baksidan av kuddfodralet.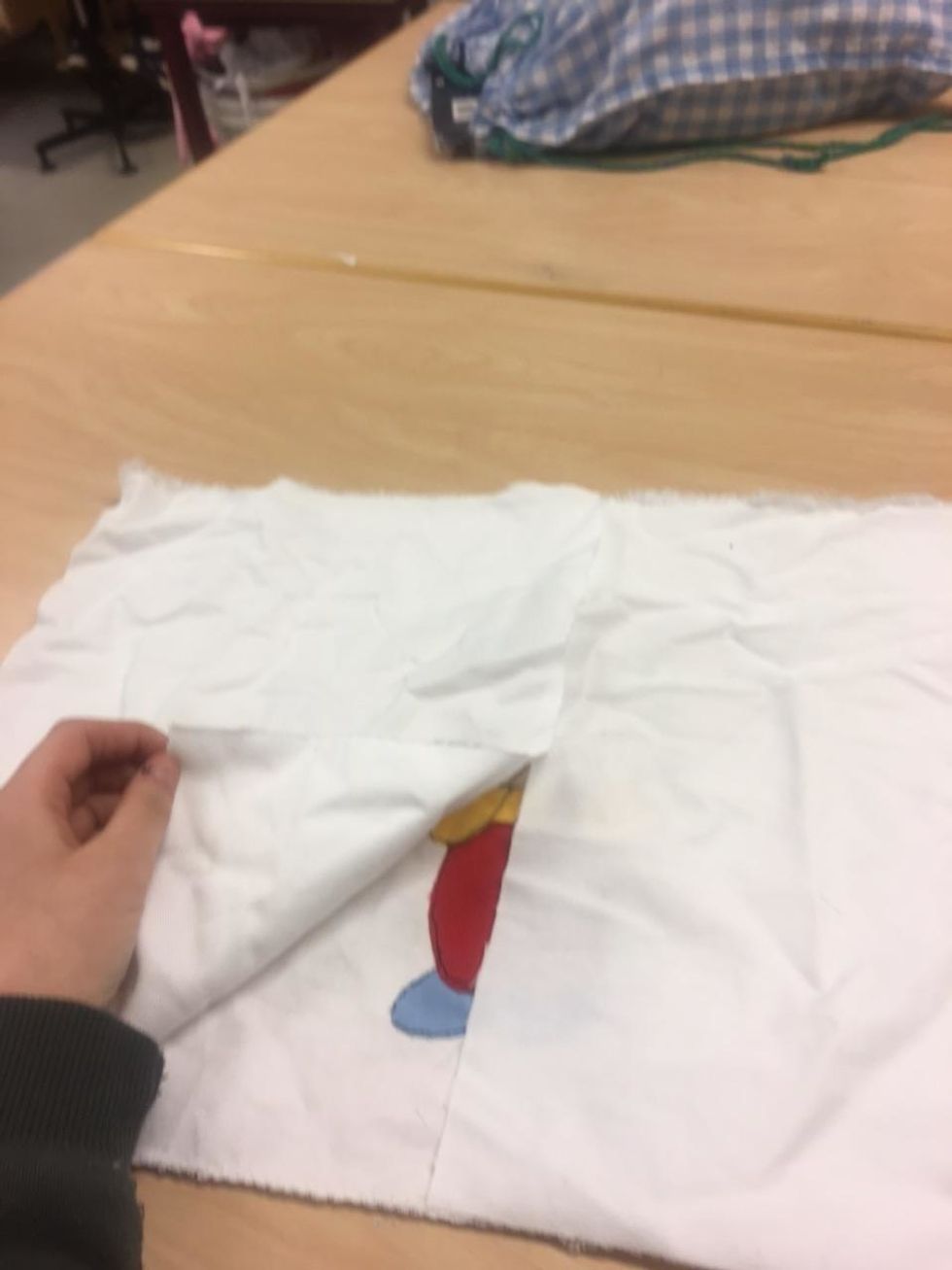 Efter det klipper du tyget på hälften. Här ska sedan vara en dragkedja. Se till att de fina sidorna ligger inåt mot varandra .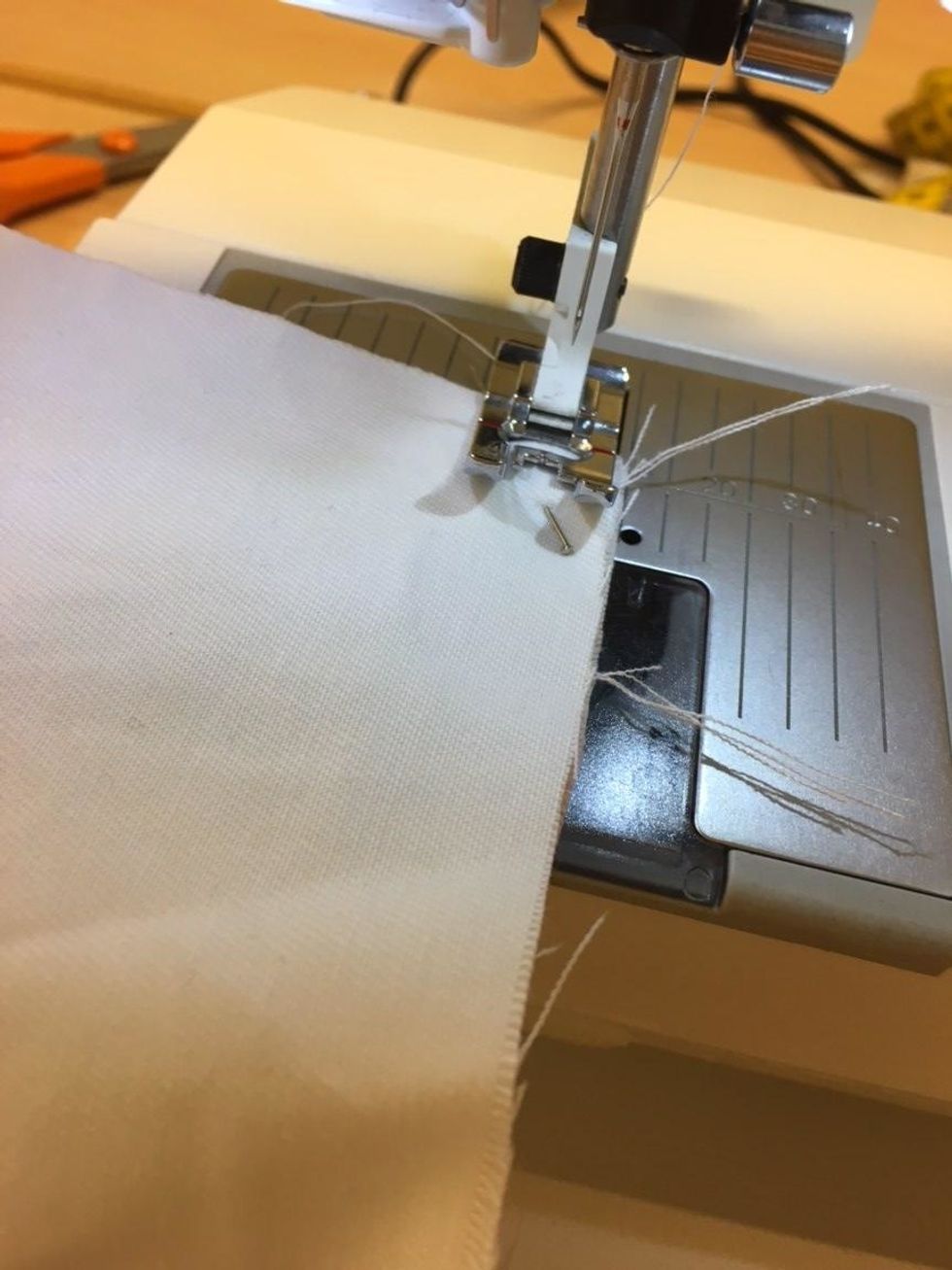 Nu ska du sy ihop de två tygen. Sy inte ihop de du klippt i mitten av det andra tyget, det finns där så man sedan ska kunna sy fast en dragkedja.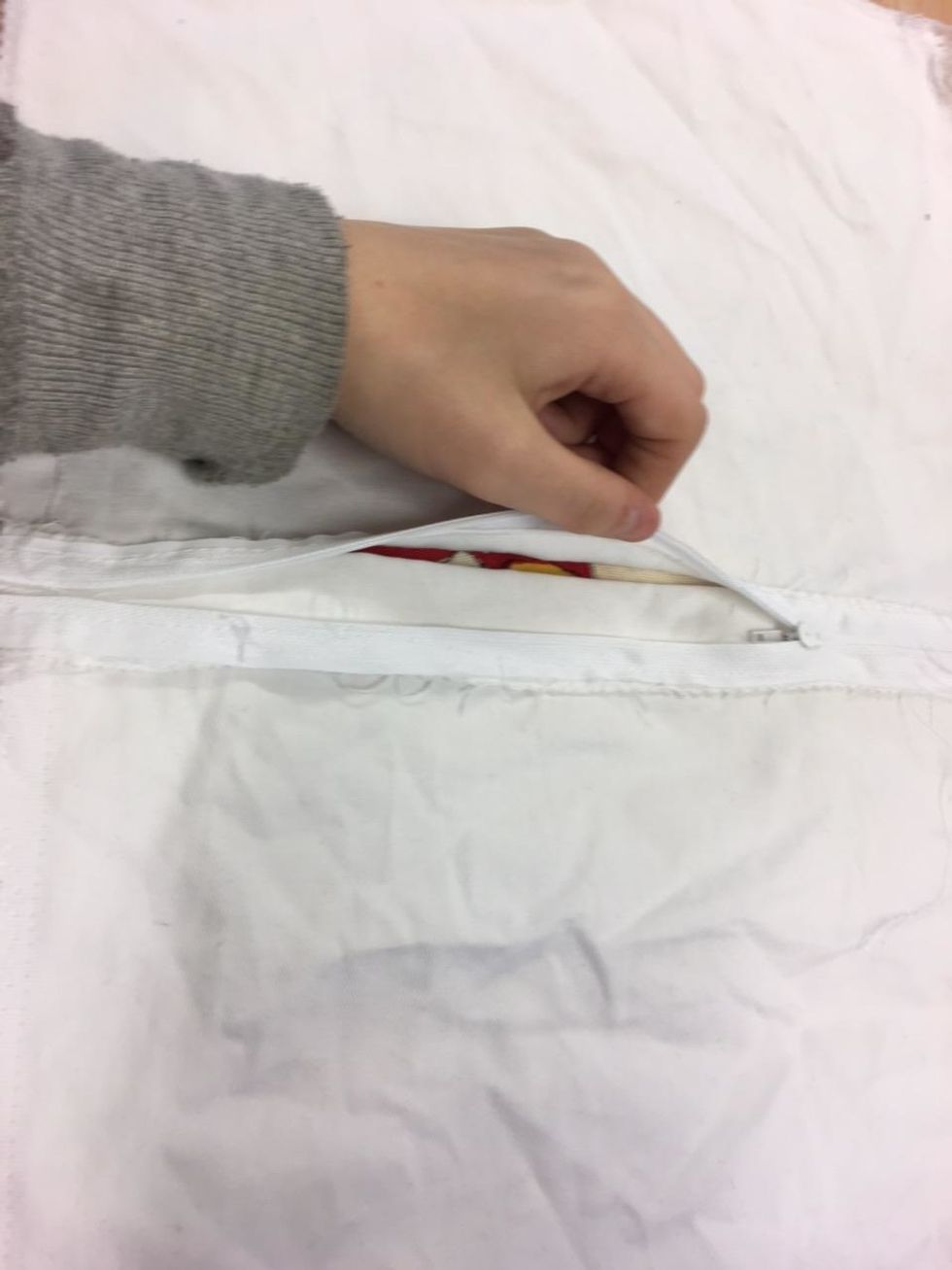 Efter det tar du en dragkedja och tejpar fast den där uppe och nere, så dragkedjan inte åker av. Se till att dragkedjan riktar inåt, mot motivet.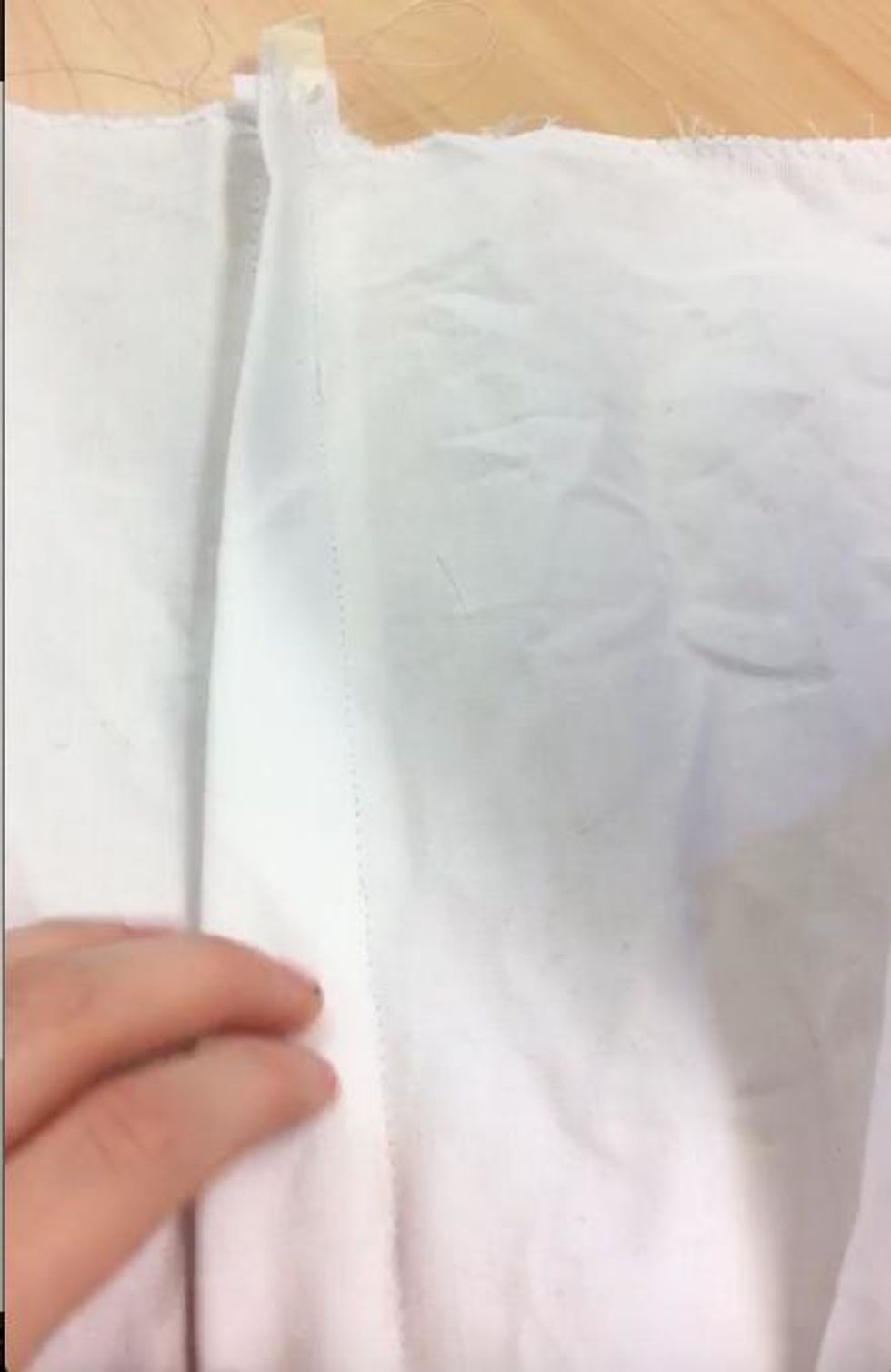 Sy sedan fast dragkedjan med en raksöm.
Vänd den ut och in och du är du klar med kuddfodralet!
The creator of this guide has not included tools
Slöjden Framtidskompassen
Hej!\nHär lägger Framtdskompassens elever ut instruktioner på saker de skapat i slöjden.\nHoppas du får användning av instruktionerna.