Fermented foods are a part of the ancient culinary tapestry the world over. Not only is it healthy, it provides a flavor profile 2nd to none. Here's my share on my family favorite, Kimchi!
26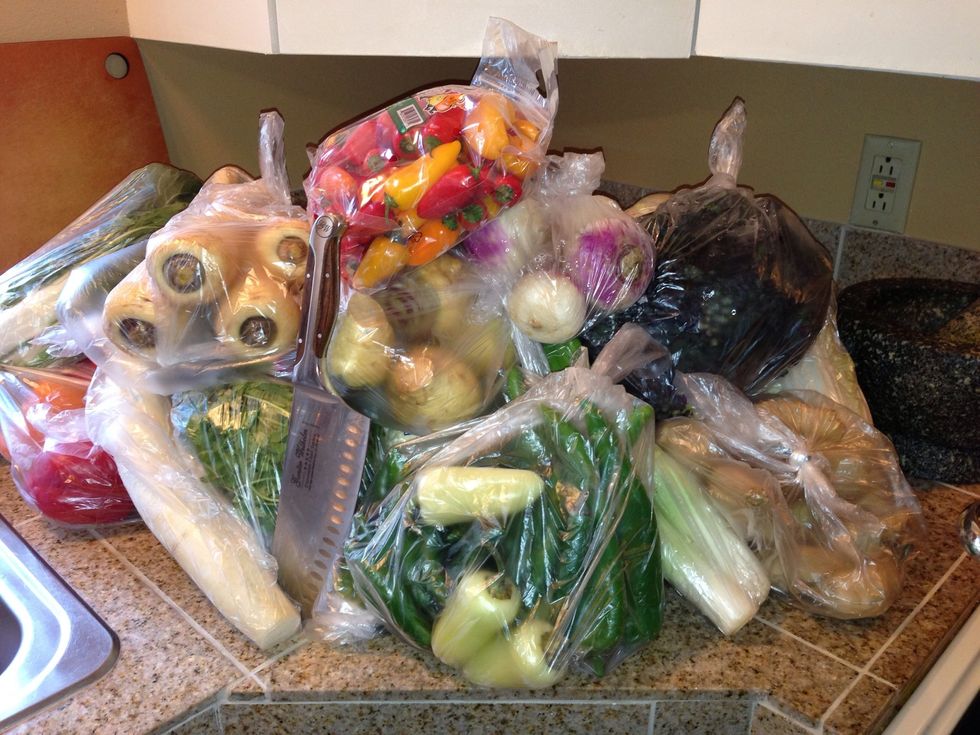 Take out all of the things you're going to add to your kimchi, and cull or separate the good from the bad, if you didn't get a chance to select your items yourself.
Clean and fill your sink, or another tub, to soak your cabbage and produce in.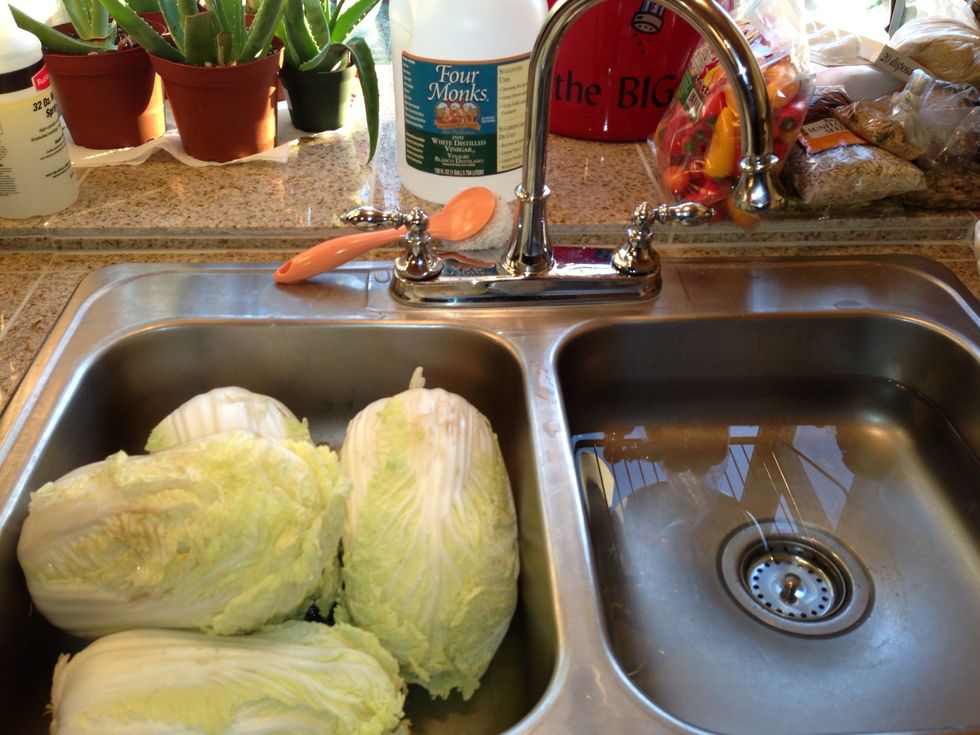 Rinse your cabbages & remove any bruised, messed up leaves, or any leaves that gross you out... If you have an unusually strong stomach, find a moderately squeamish helper to judge for you. 😏
Soak'em! I tend to add a little vinegar to the soak water to help remove any excess residue.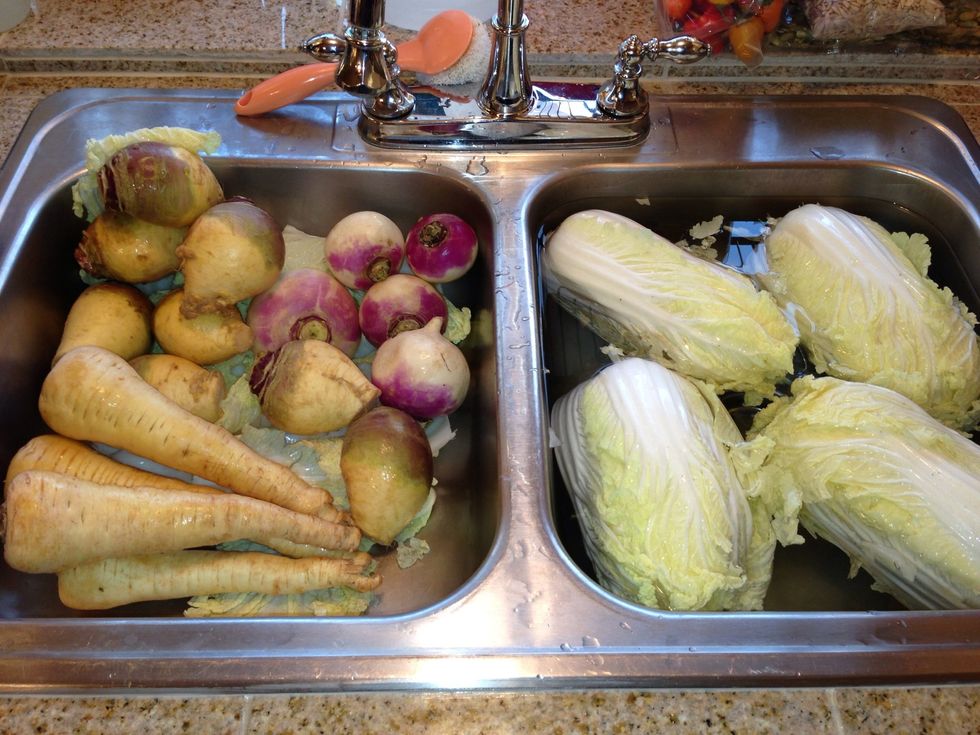 Get the other ingredients scrubbed & ready...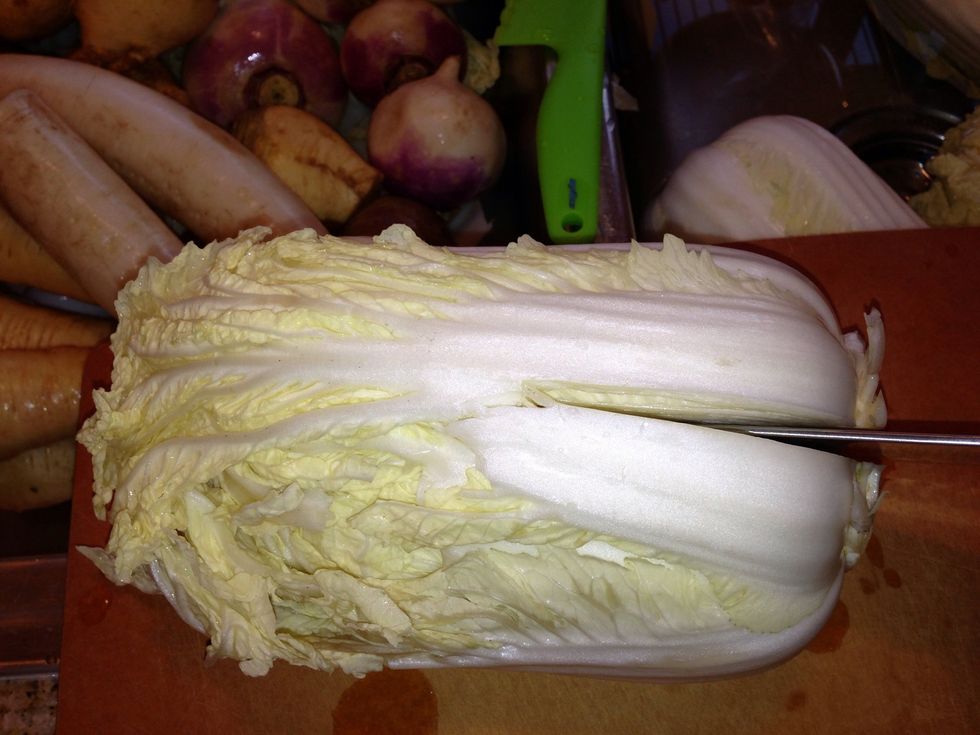 Cut halfway through your cabbages and tear the rest of the way.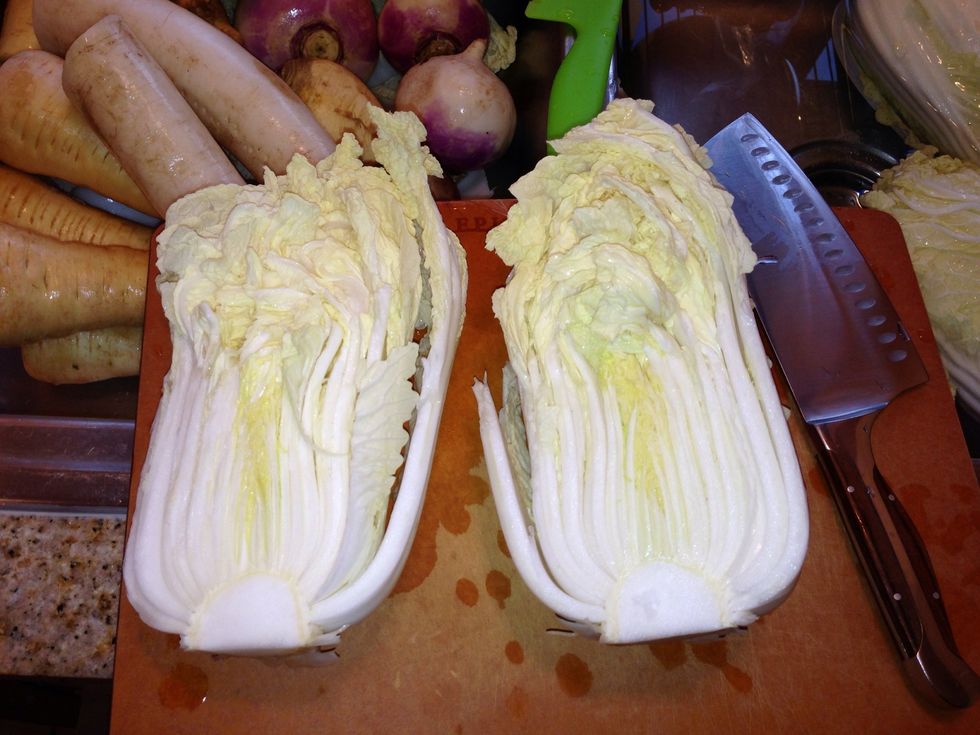 You could cut these in half again, lengthwise, and chop them down to speed things up. Totally optional!
Use a big container to salt your cabbage.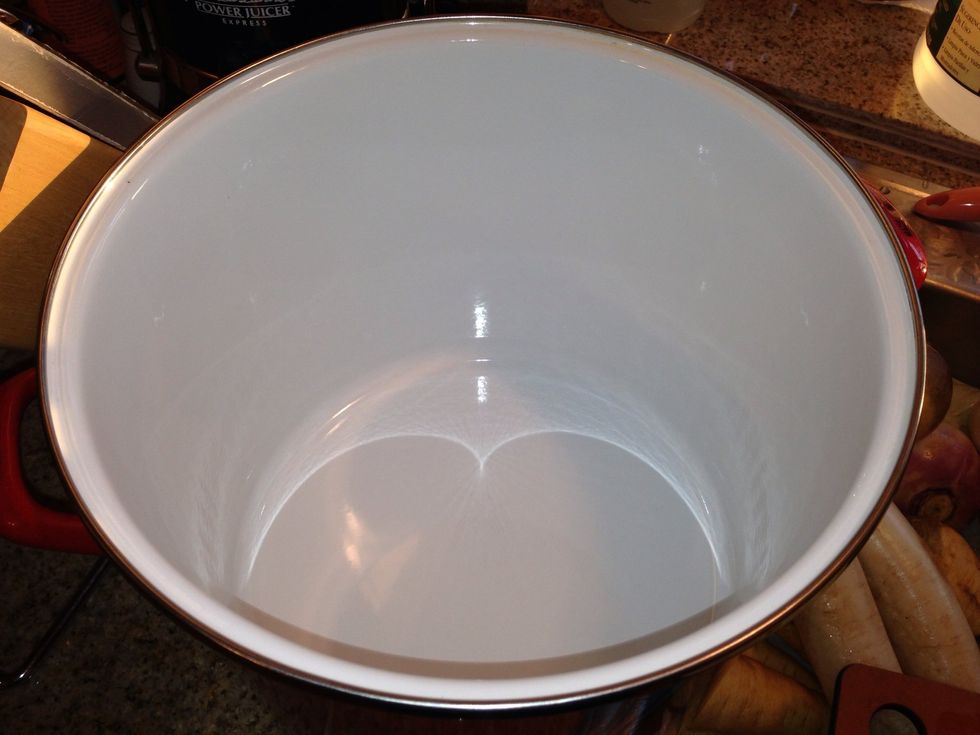 I like my enameled giant stock pots. They don't react to the salt. [Note: Don't use unprotected metallic vessels! You'll ruin them!] Glass, clay, stone, wood, or gourd-based vessels also work well!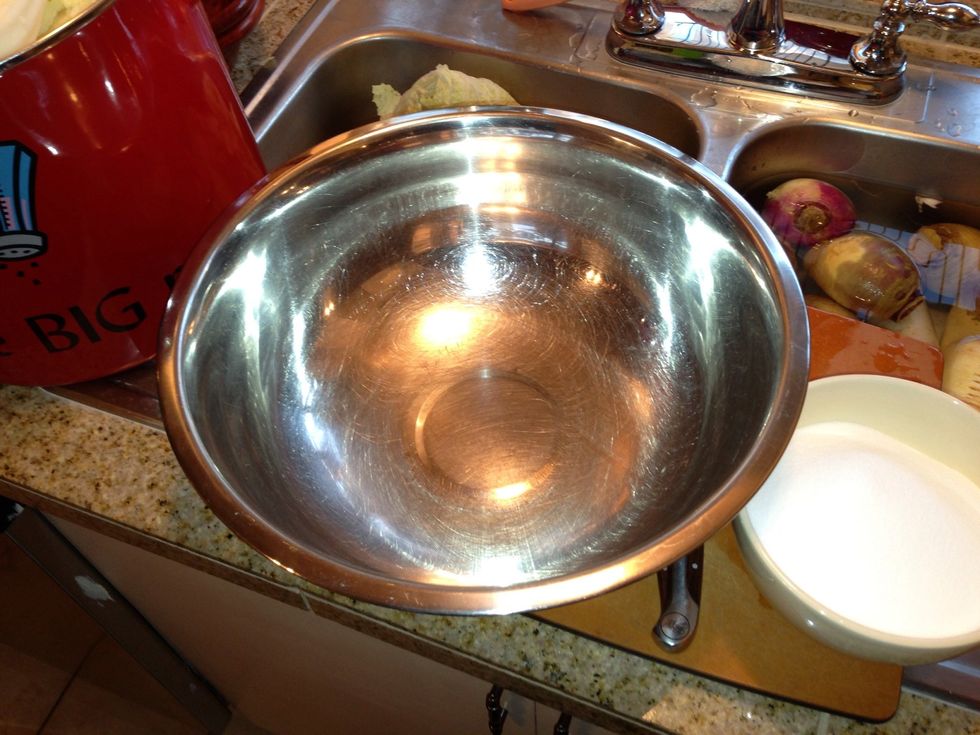 It's best to use a non metallic mixing bowl, but in a pinch this will work. Make sure you don't allow your salted items to sit in your bowl too long. It'll pit your bowl. & Completely AVOID aluminum!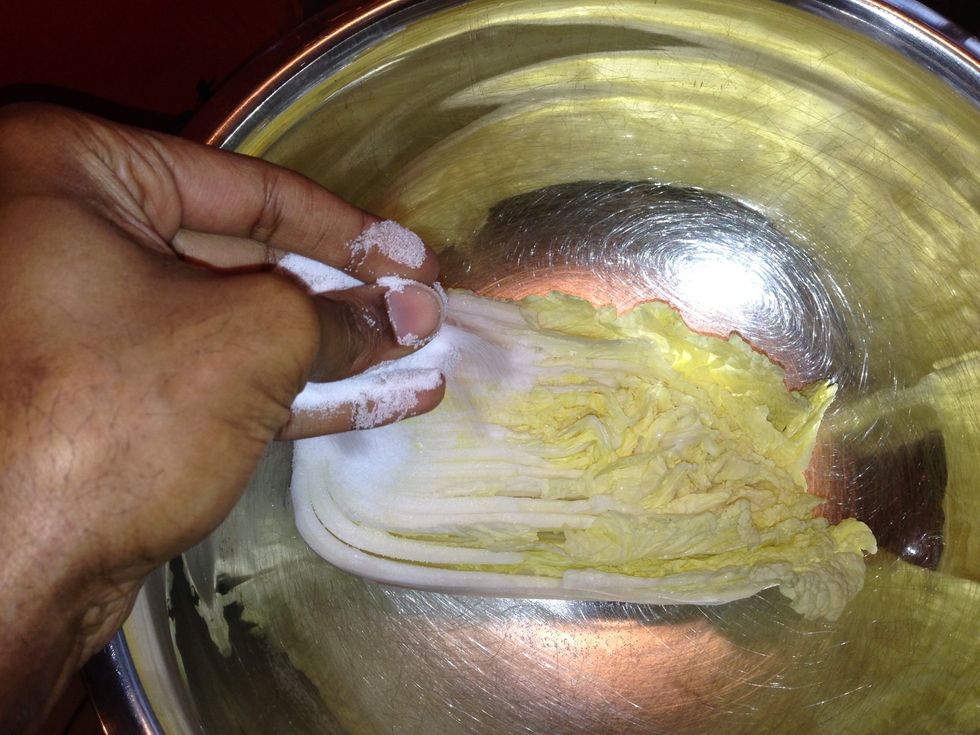 Salt your cabbage leaves by pulling back each leaf and sprinkling salt in between them.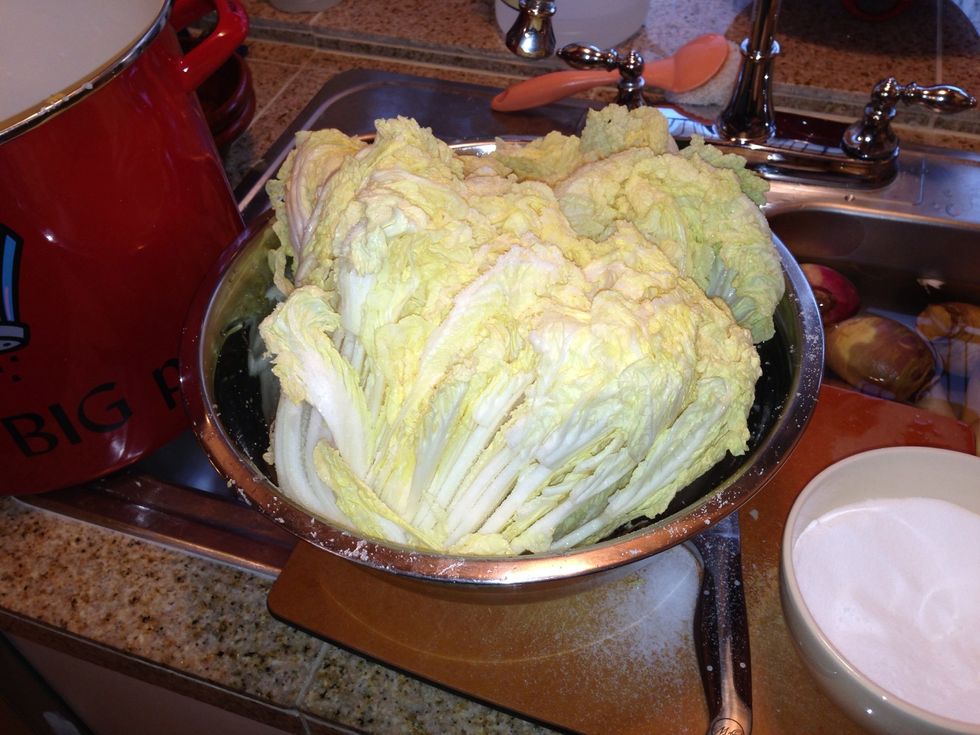 You can actually place directly into your enameled vessel for curing. I just had to juggle my pots and ready the curing vessel to accommodate all this cabbage! 😄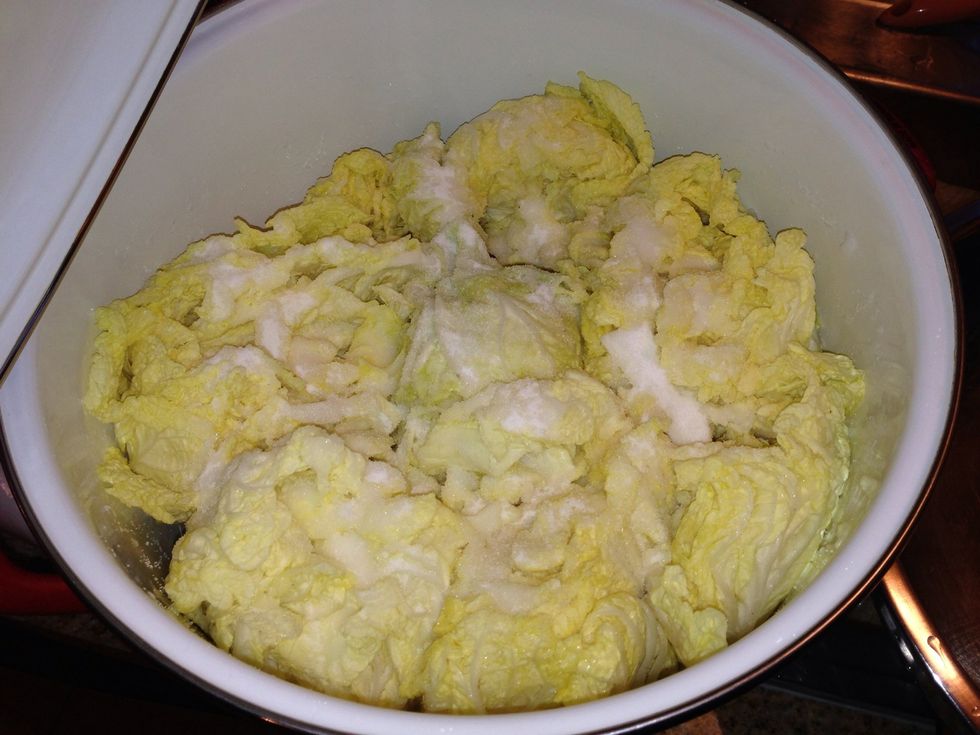 Stuff into curing vessel, stem side down. [It helps soften them, if you're like us and want to add them to your kimchi.]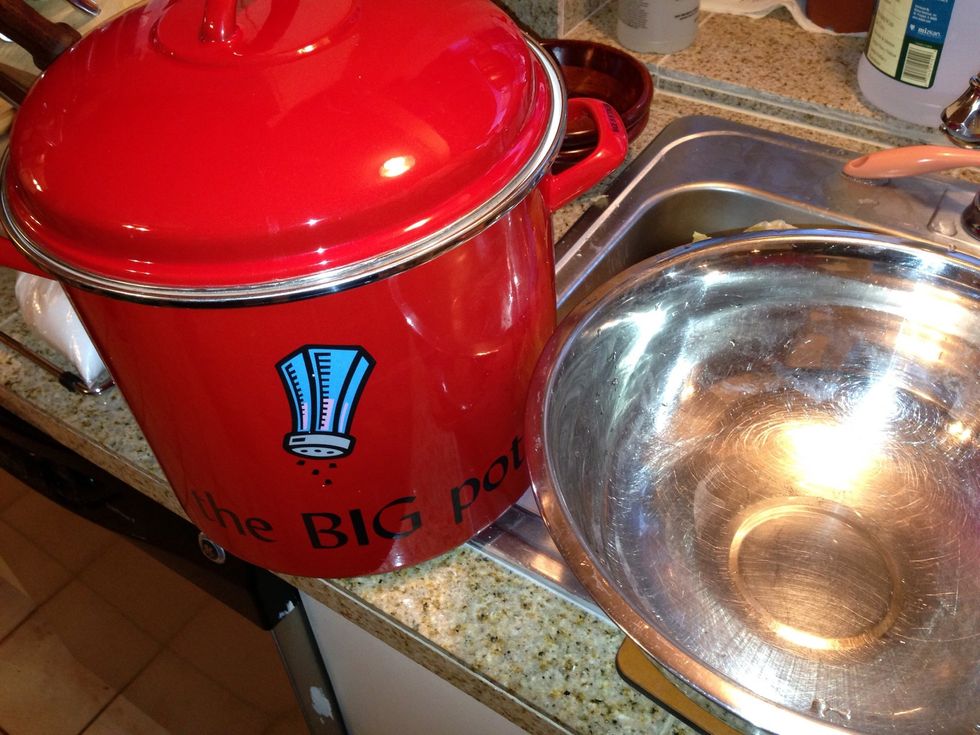 Cover and let cure for an initial 1 hour, 30 minutes.
Salt your kale. The best thing for kale and other tough veggies is to slice them thin for a more thorough breakdown.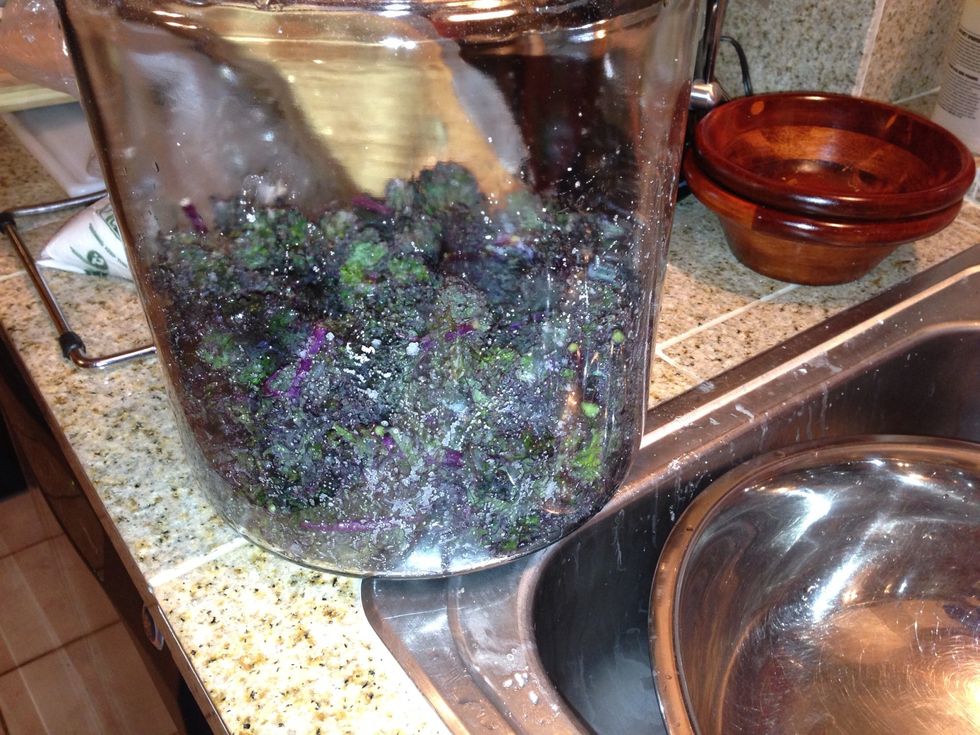 Place your kale in a container to cure. Non-metallic!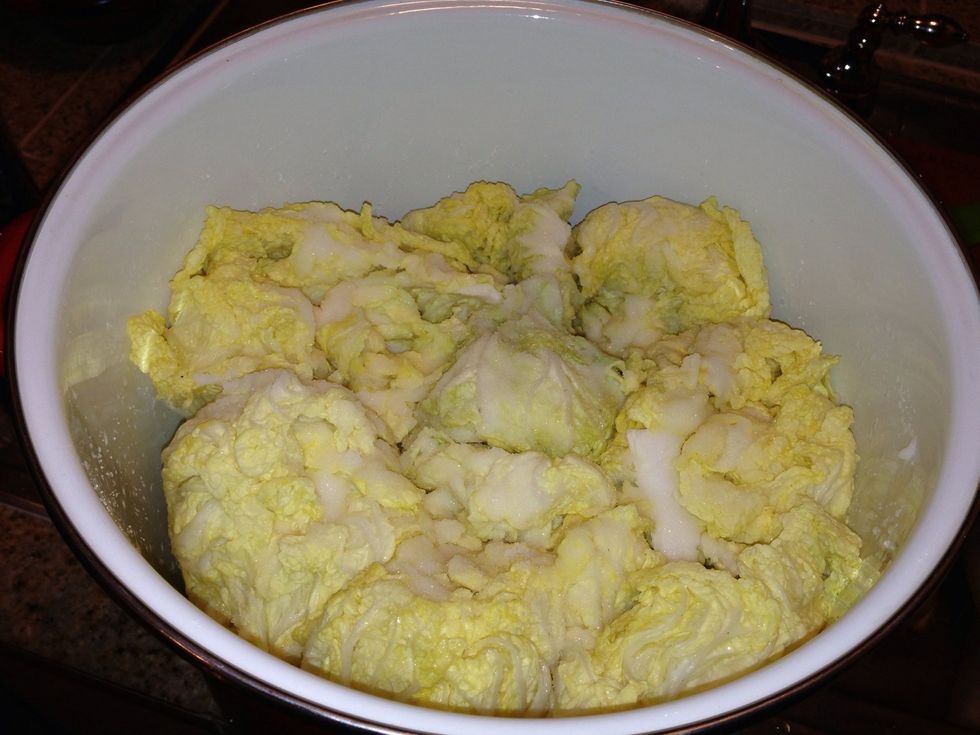 Cabbage is wilting down!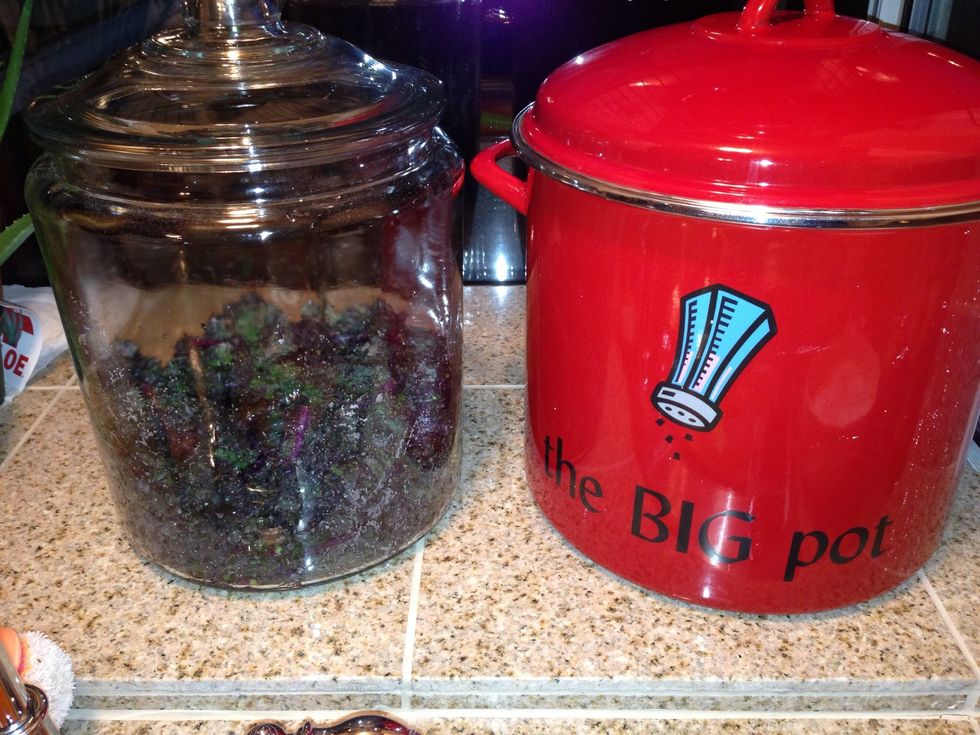 Let sit for a total of 3 hrs, making sure to mix thoroughly at the 1 1/2 hr mark.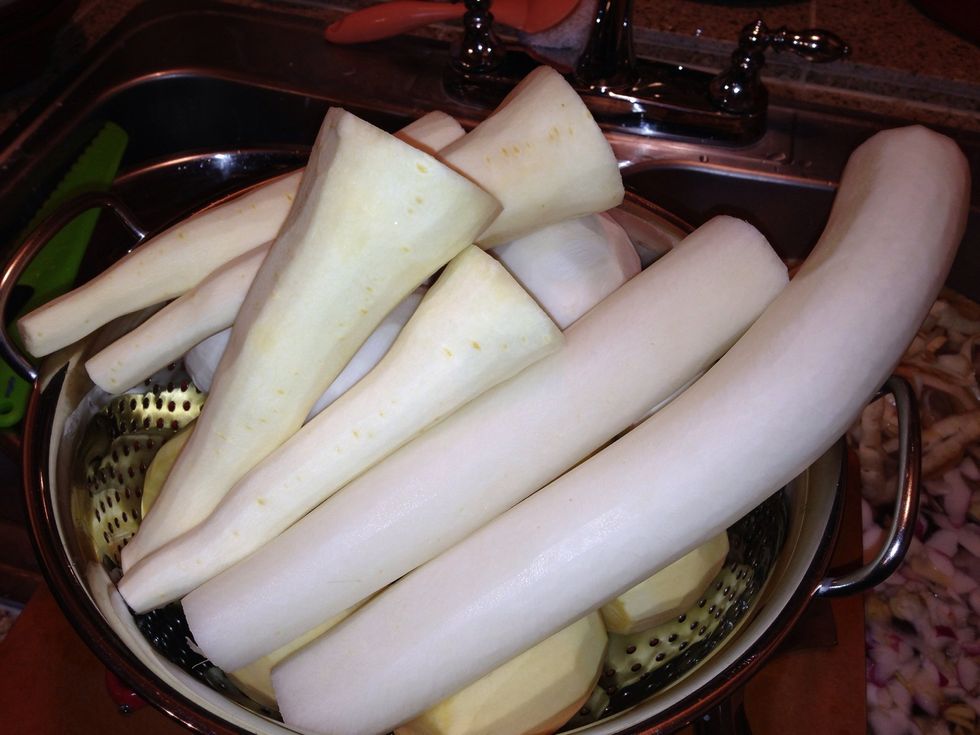 Wash and peel roots!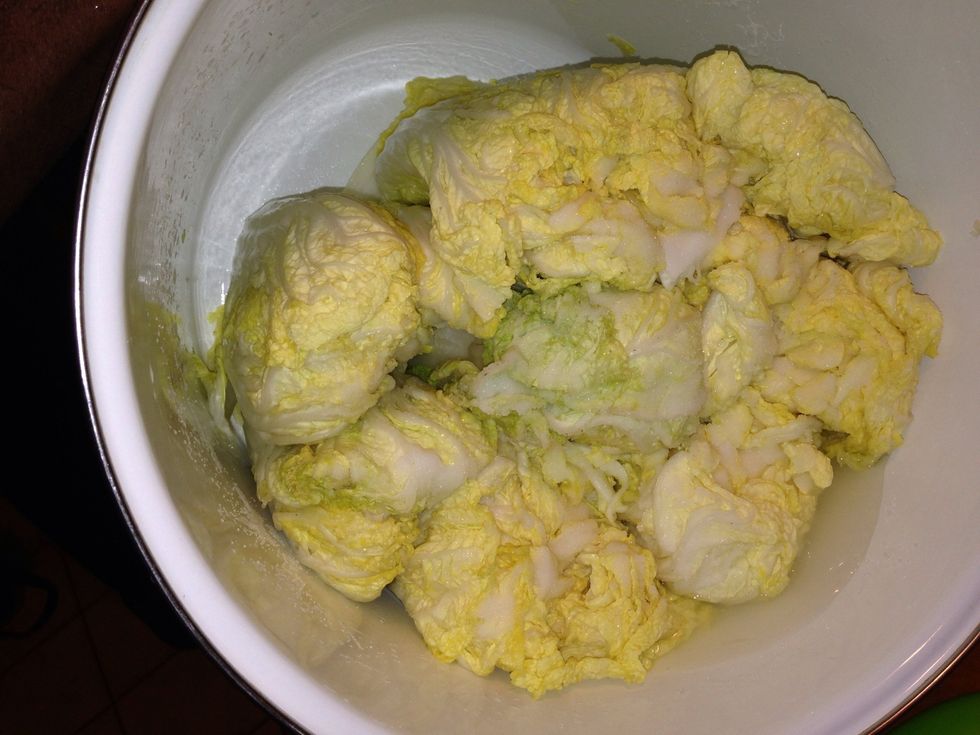 Cabbage releasing its juices.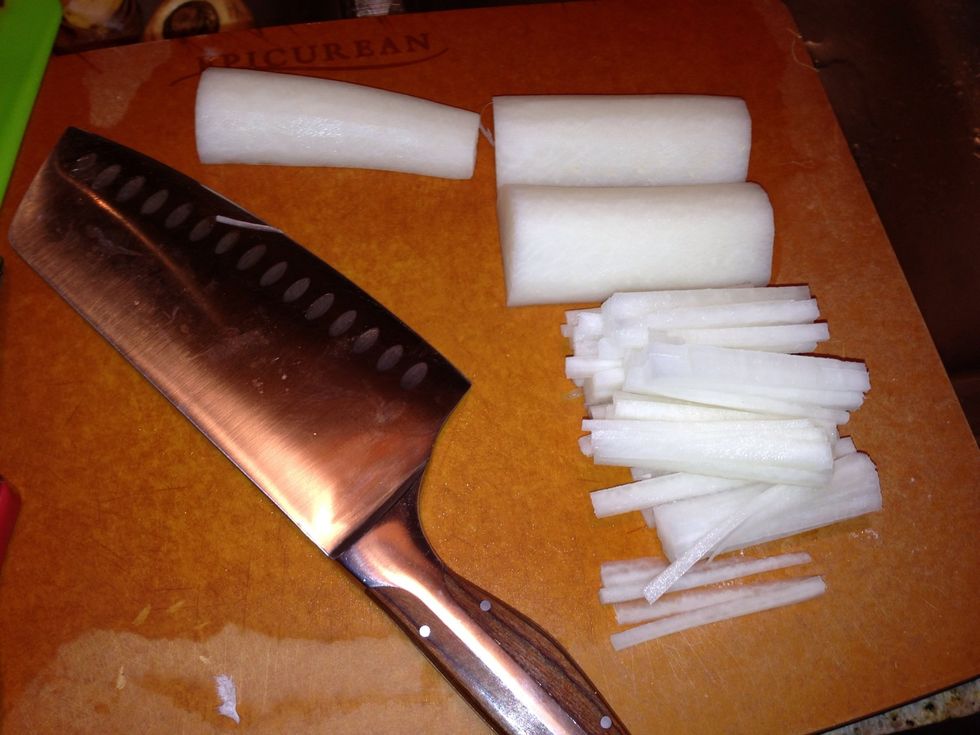 Julienne, or chop into matchsticks. And salt them.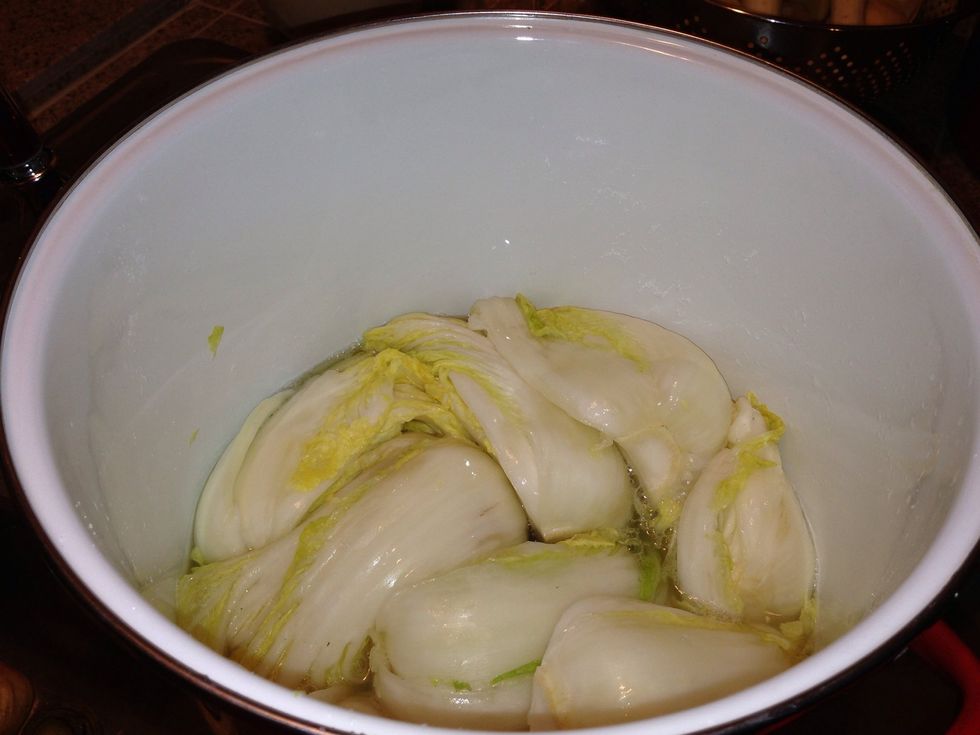 Flip your cabbage halves on their sides after 1 1/2 hours, and make sure they're totally immersed in the juices. Cover and let cure for an additional 1 1/2 hours.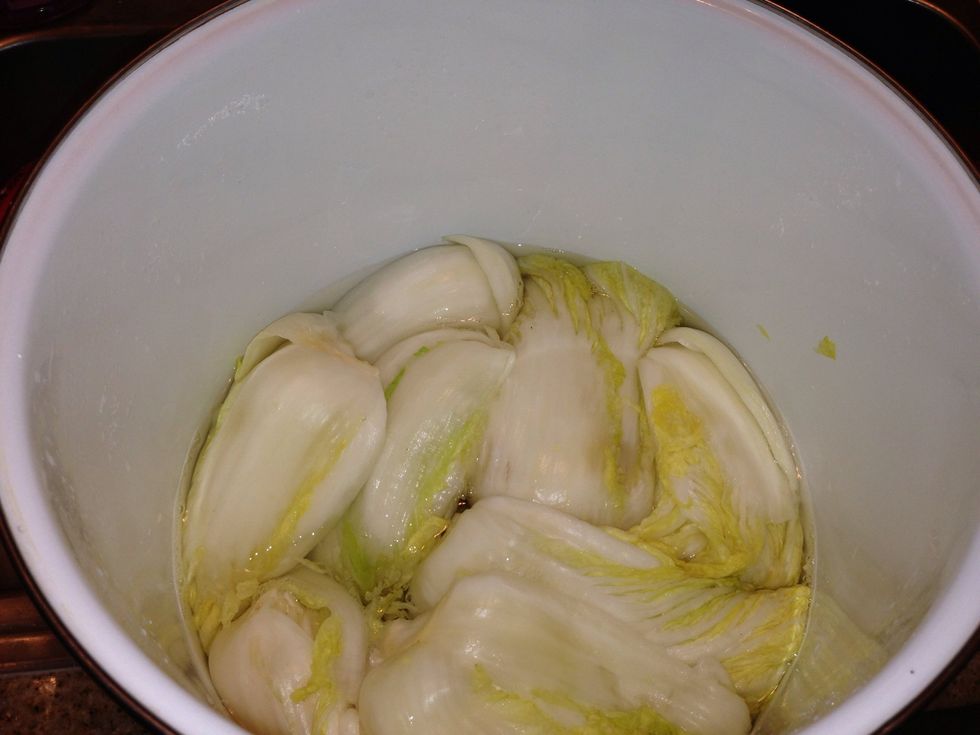 Drain, rinse & squeeze 3 - 4 times to remove excess salt.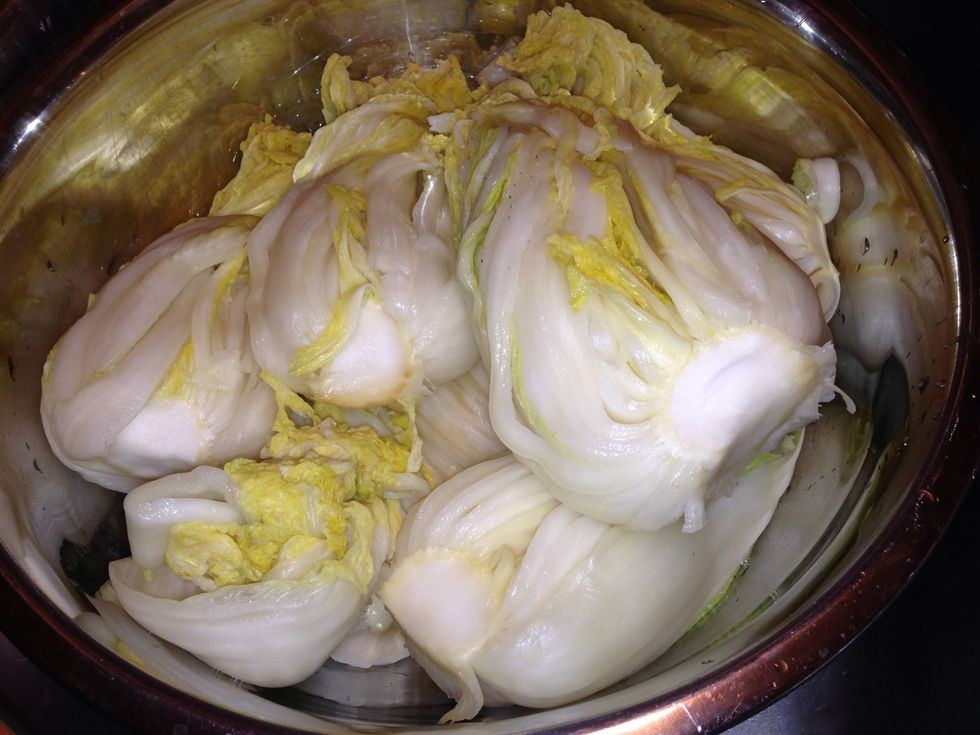 Place in holding vessel, ready for saucing.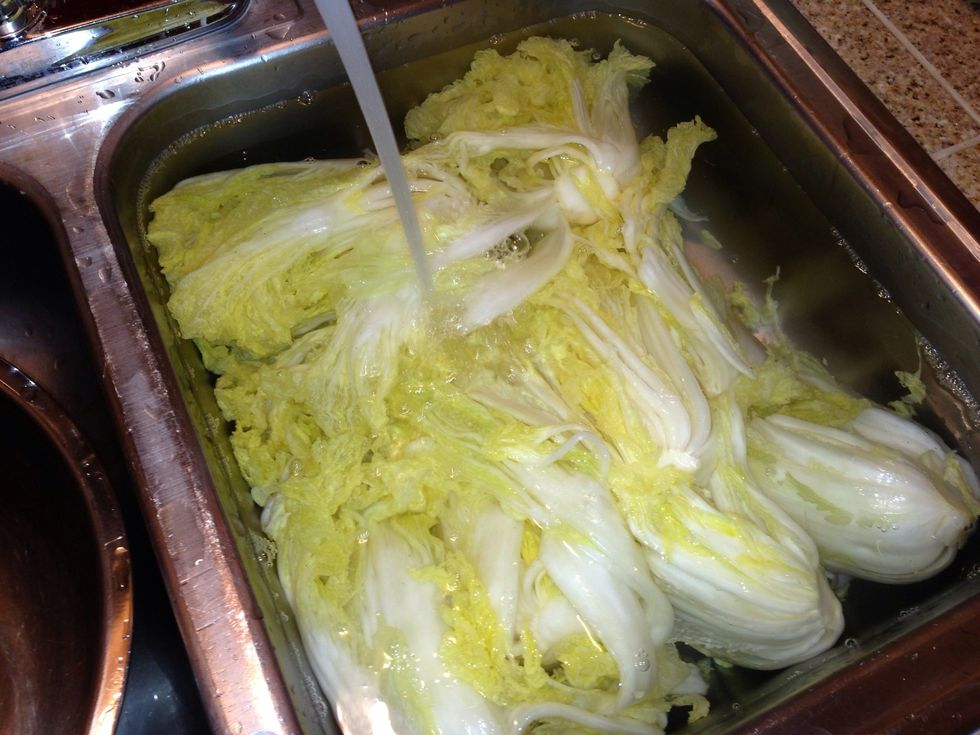 Rinse.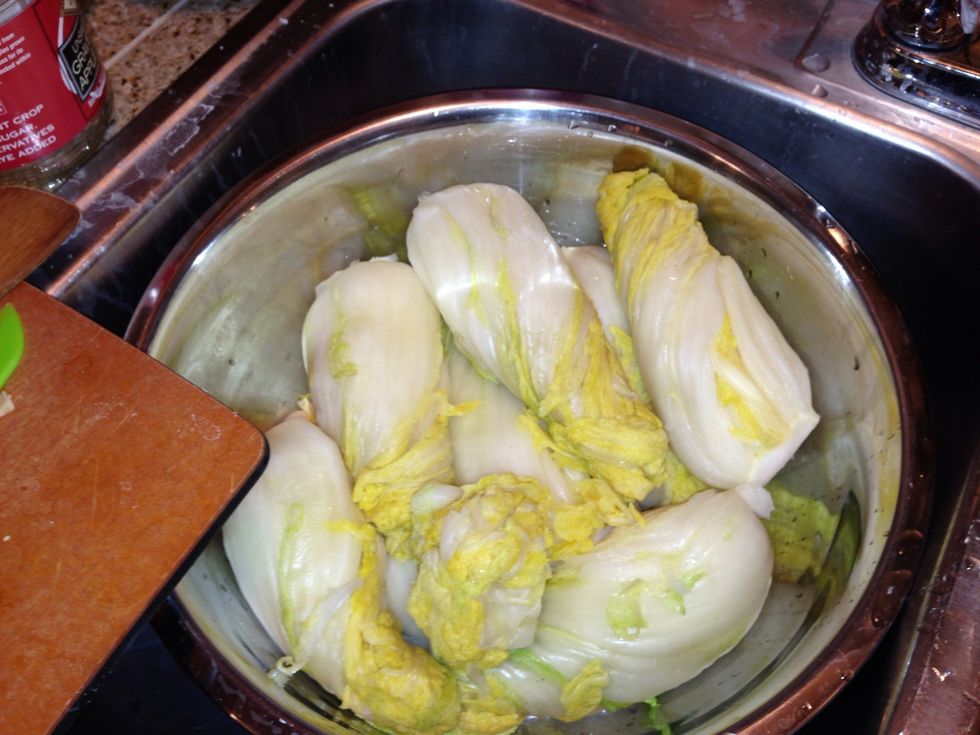 After they've been squeezed out.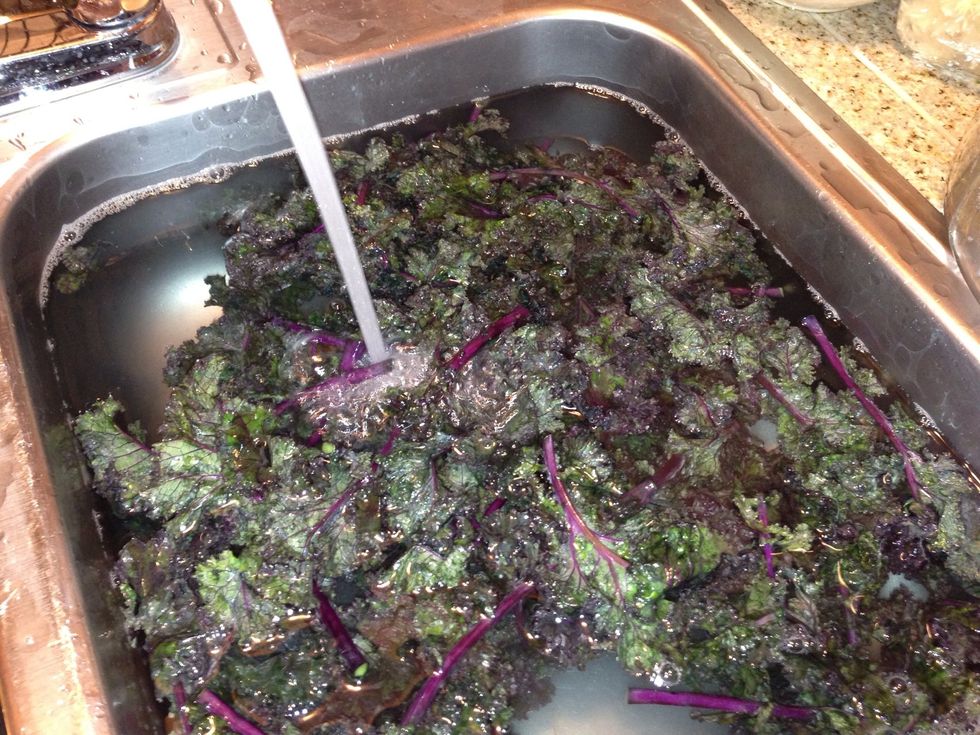 Repeat the same steps you used for the cabbage on your kale. You may also want to chop it into smaller sections.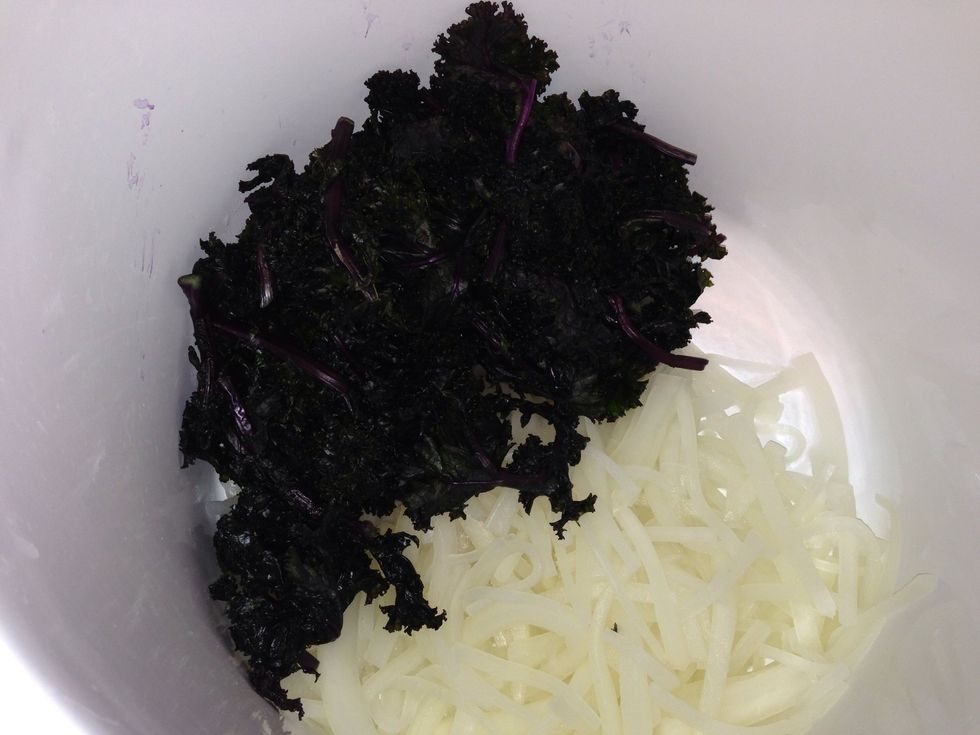 Add to a holding container, until ready for adding to the sauce.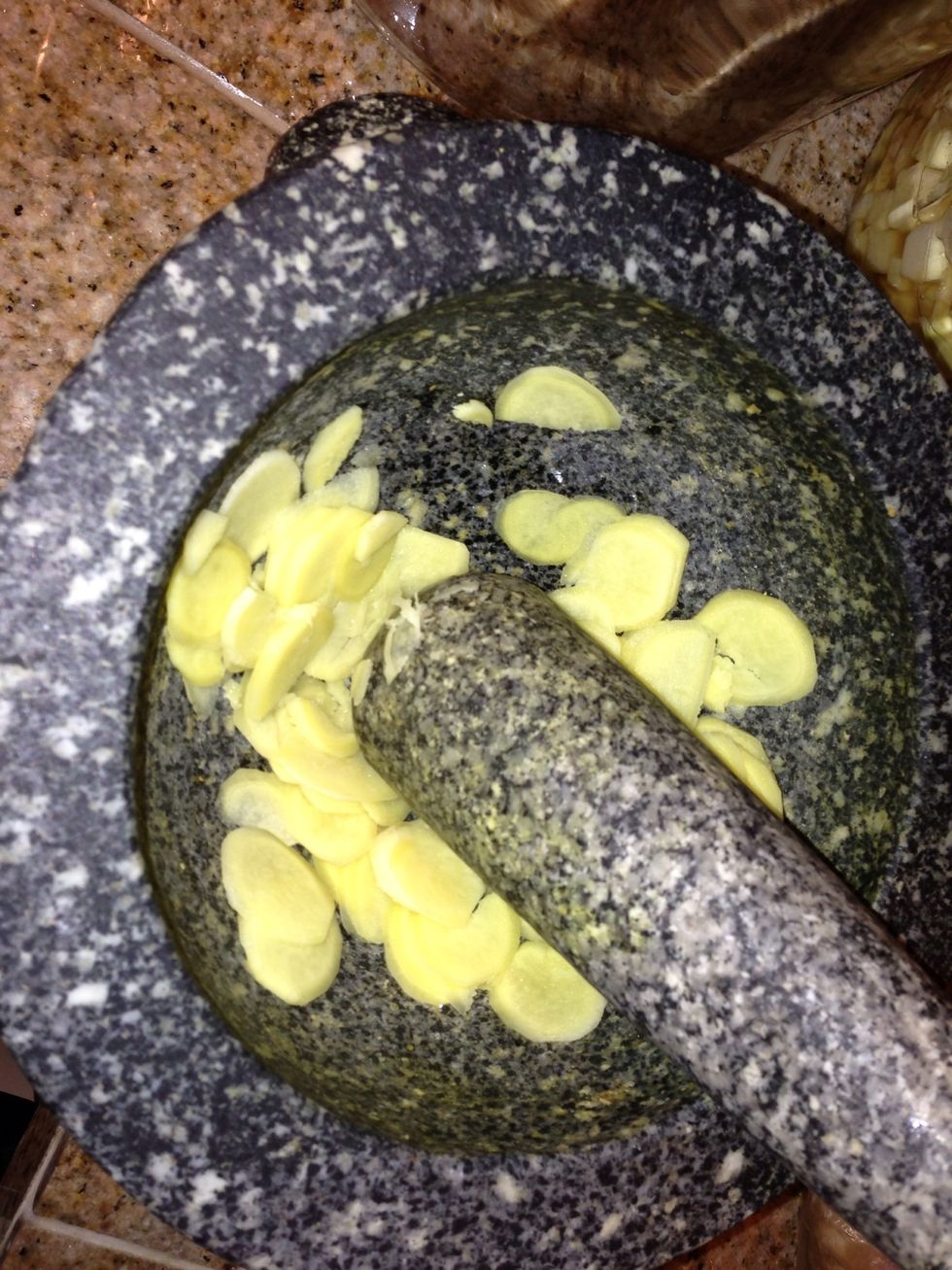 Add your sliced ginger to your mortar & pestle.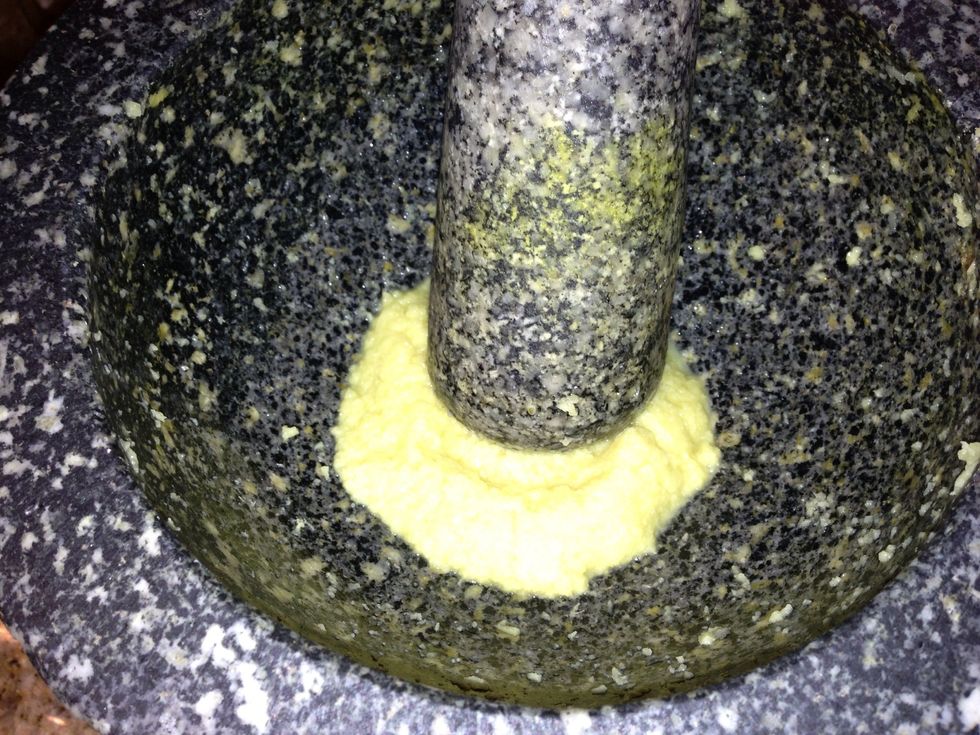 Pound until it is almost a smooth paste.
Add your palm (coconut) sugar, and pound until it's all incorporated into a smooth, sweet & pungent paste.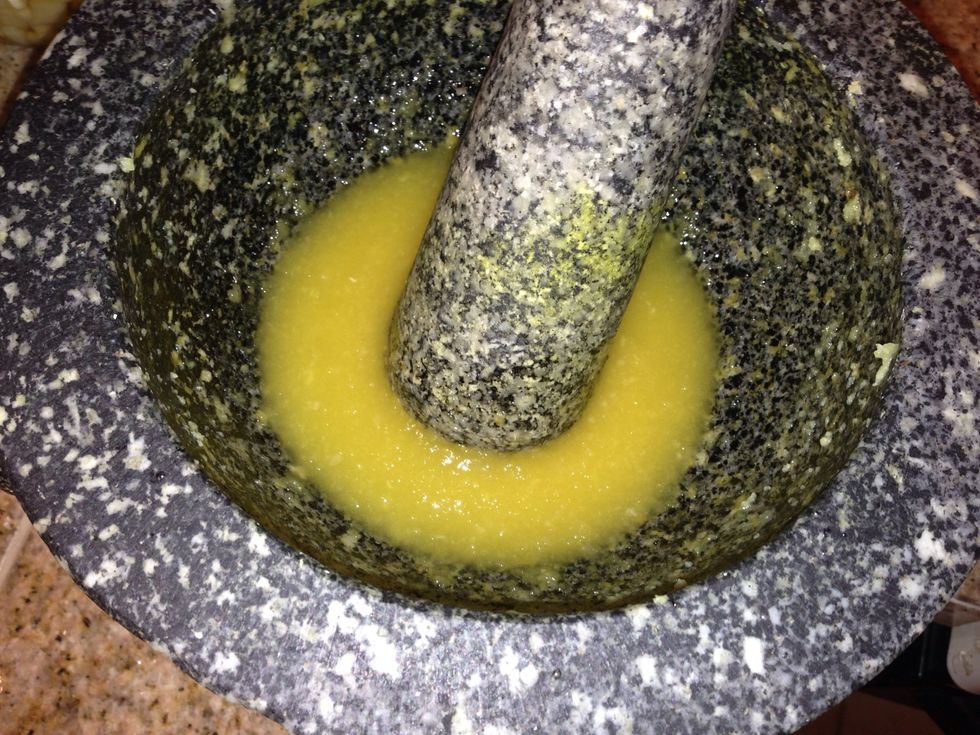 Pulverize!
Add to your blender/food processor with your apple/pear/onion/garlic mixture.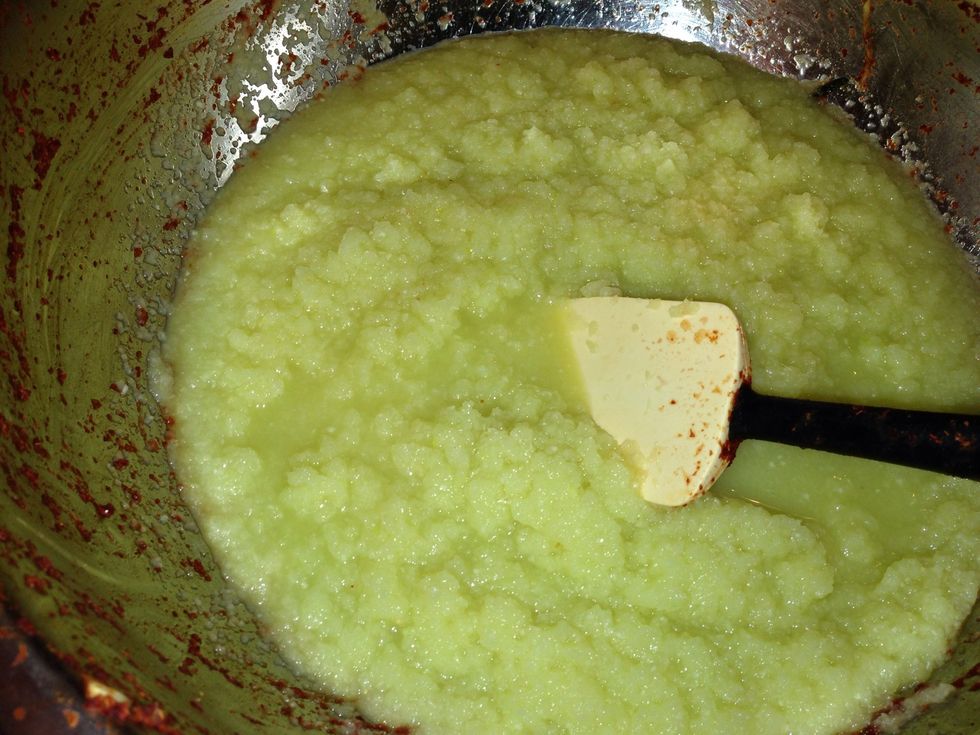 Pour into mixing bowl.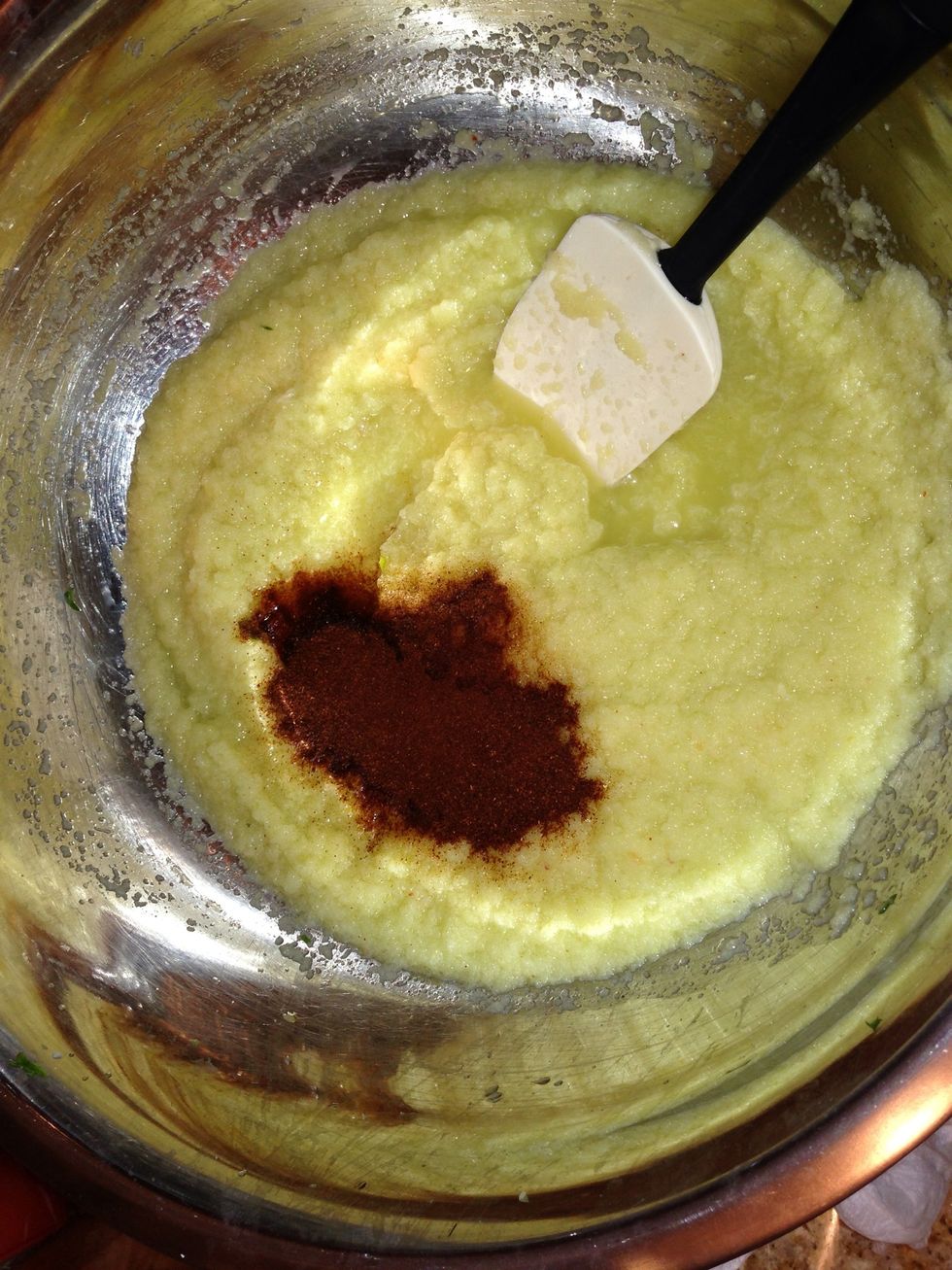 Incorporate chili powders. This one's chipotle. 😋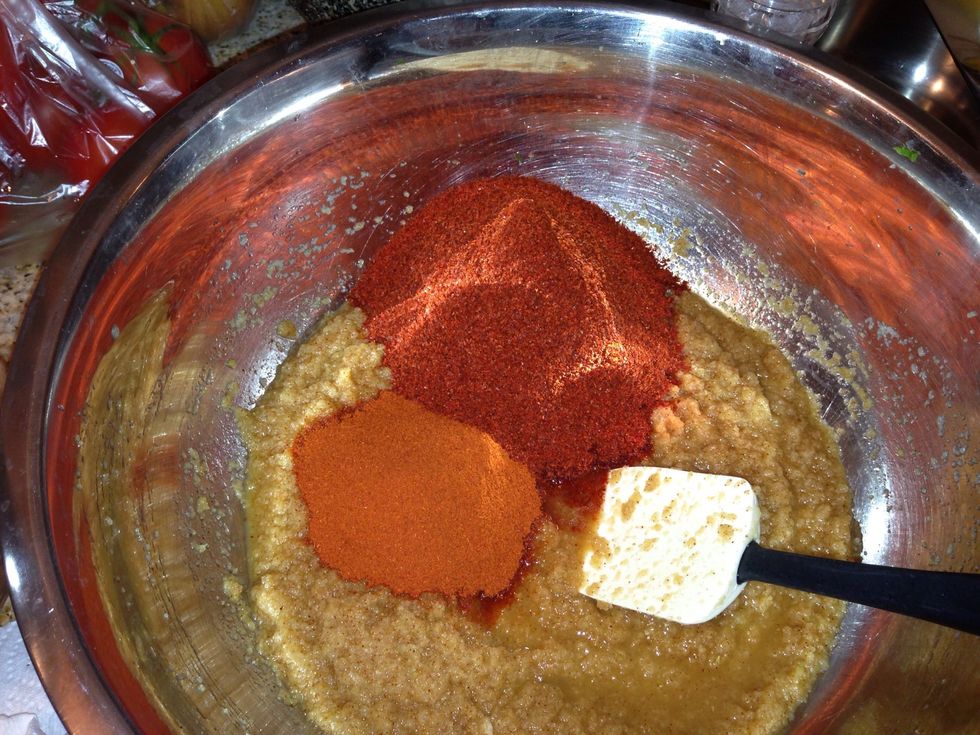 Korean red pepper flakes and another red pepper powder. Use whatever you want. It doesn't have to be these!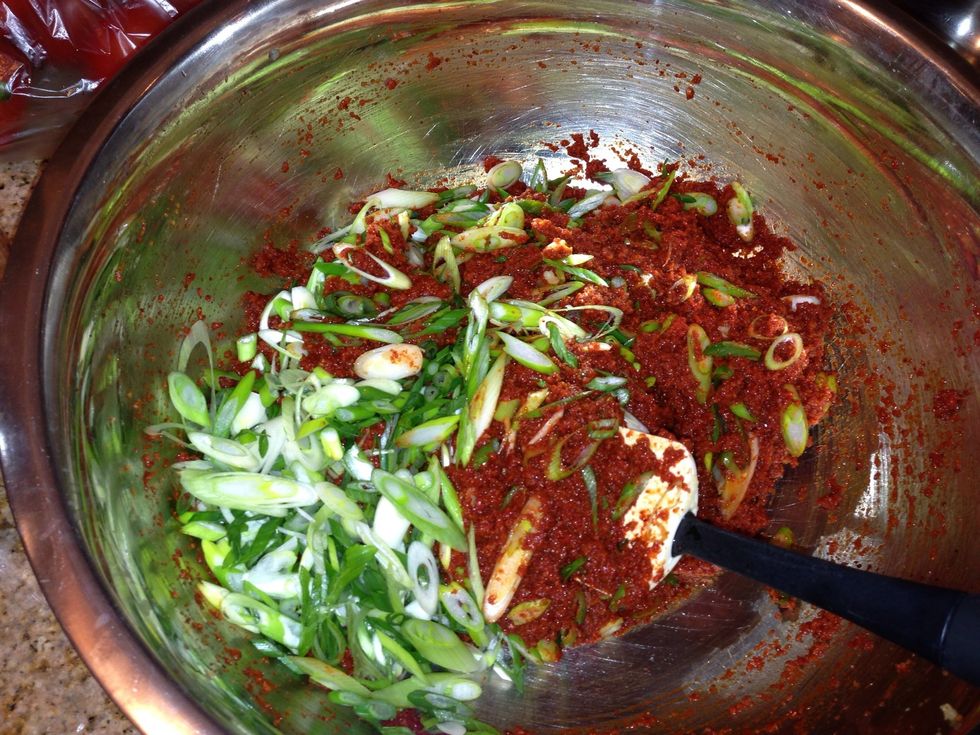 Add slivered onions and incorporate into sauce mixture.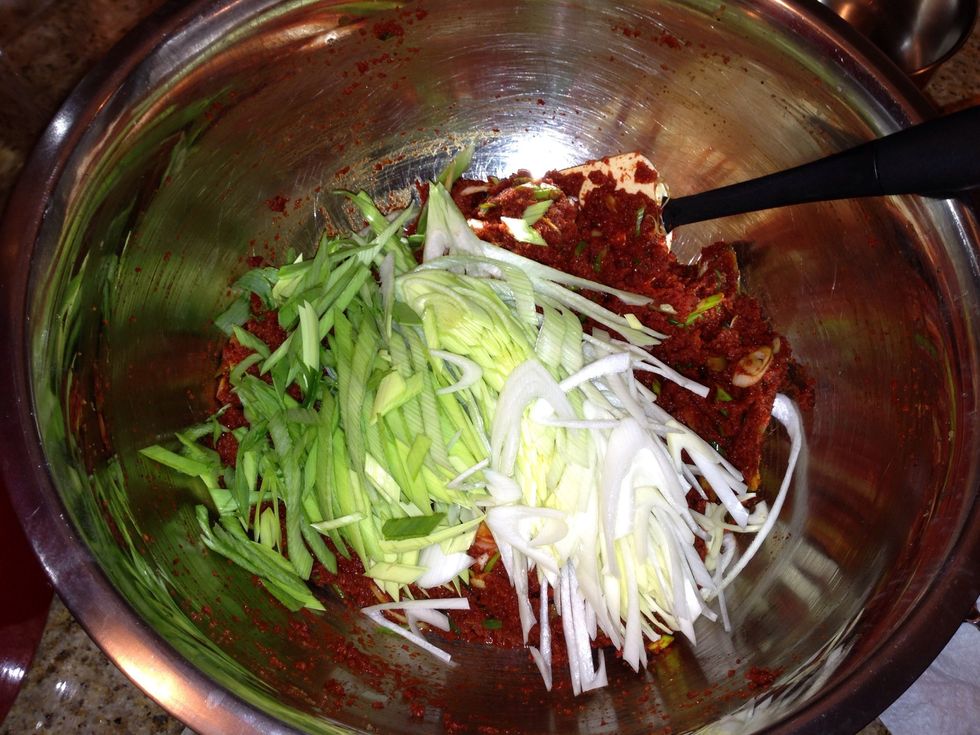 Add leeks.
Add root matchsticks.
Now take each cabbage half, pull back each leaf, rub with the kimchi paste, and fold the cabbage over itself, using the outer attached leaves to wrap around the to form a cocoon.
Layer in glass container and be sure to push out ALL air pockets. Make sure juice covers the top layer to inhibit the wrong types of microbial growth. Cover & place on a tray to catch any overflow.
In a couple of days, sitting out at room temperature, it's ready to go. Press down to cover with juice again and refrigerate.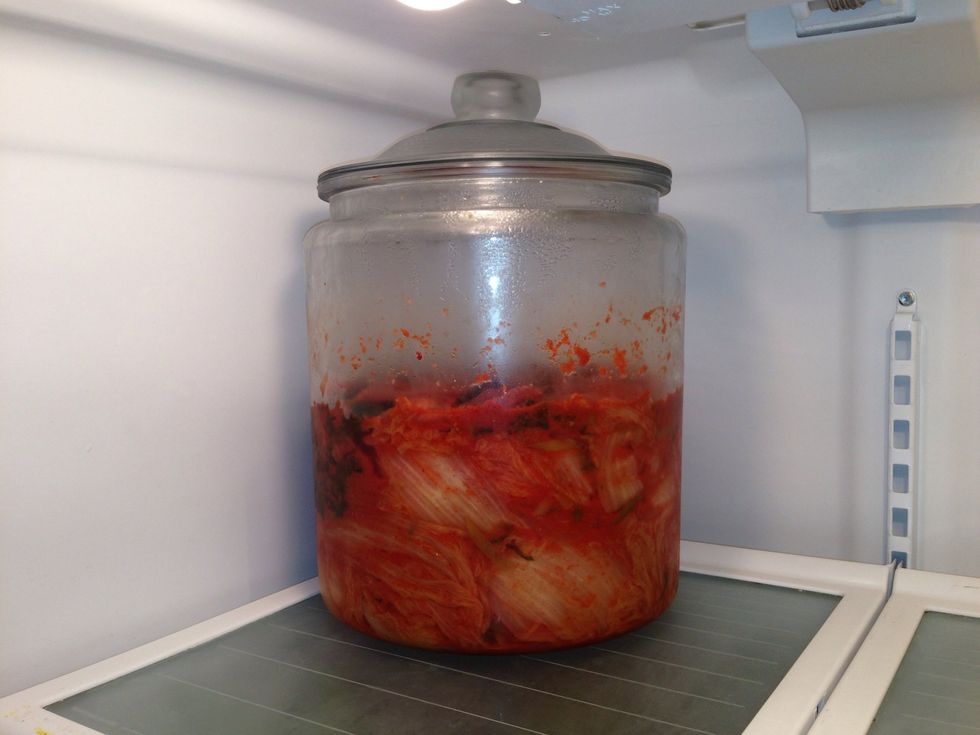 This will keep for... weeks, in my house, but it'll be stable for years if you treat it right. Avoid letting the tops stay out of the kimchi broth. The microbial action keeps it probiotic-packed!
If you liked this guide say it w/ a follow and a share! If you're a FaceBooker, connect w/ me: http://facebook.com/PersonalChefMarketingTV ! I'd love to keep in touch!
1.0 Large mixing containers
2.0c Large curing containers
1.0 2 gallon wide-mouth glass containers
1.0 Soaking & Washing area
1.0 Bamboo Spoon [or mixing spoon]
2.0 Vinyl food service gloves [if necessary]
10.0lb Cabbage
3.0 Radish [Daikon featured in this guide]
1/3c Ginger
2.0 Apples [Organic Granny Smith Featured]
1.0 Asian pear
3/8c Garlic
2.0 Brown onions
2.0bnch Green Onion
2.0 Leeks
1.0c Pepper powder
1/3c Chipotle pepper powder
1/2c Good natural Himalayan Salt
Jason Hodge
Chef | Producer | Media Planner | Content Creator | Health Nut | Entrepreneur | Researcher | Marketer | Writer | Soon To Be Author | Business Consultant