Make Joe's Almost World Famous Pepperoni Bread
1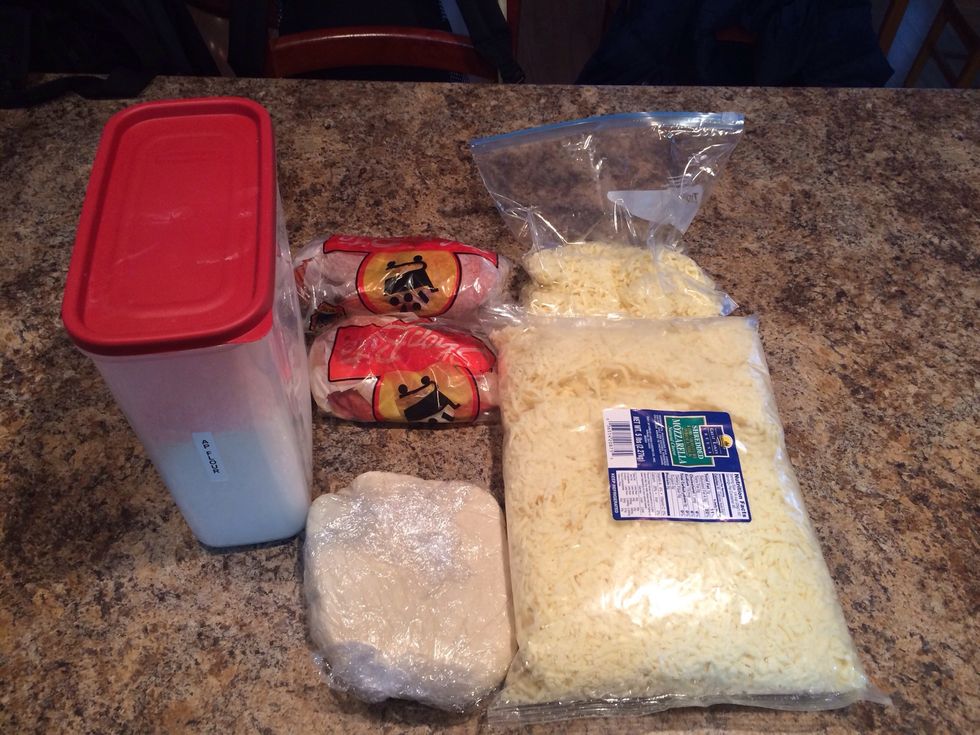 Gather ingredients. Most pizza restaurants will sell you a "dough ball" mine does for $2.50/ea. or you can try store brand, or home made.Pre-heat your oven 350-375 depending on how evenly it cooks.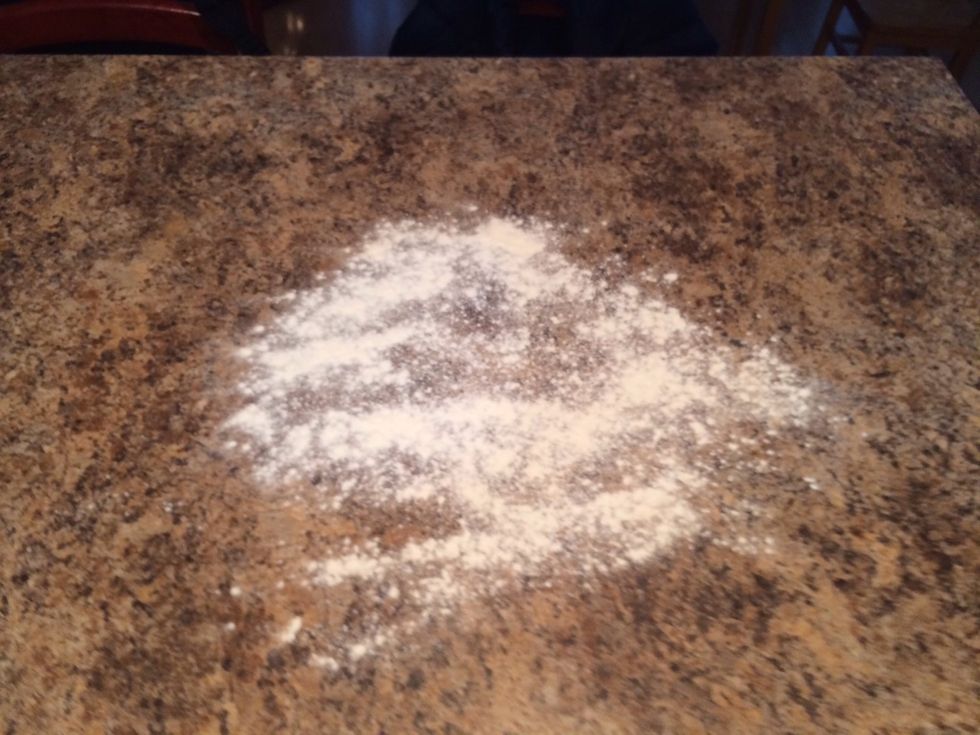 Flour your clean work area so the dough doesn't stick.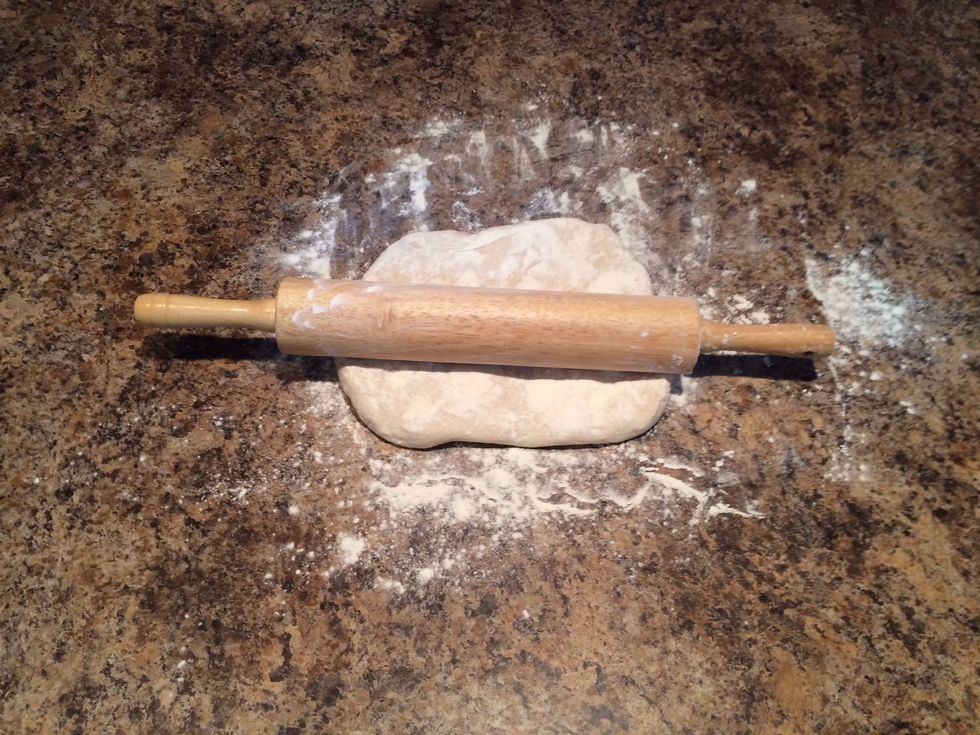 Lay the dough ball in the flour and flip it over so you get flour on both sides. Get a rolling pin and make life easy, flour that up too!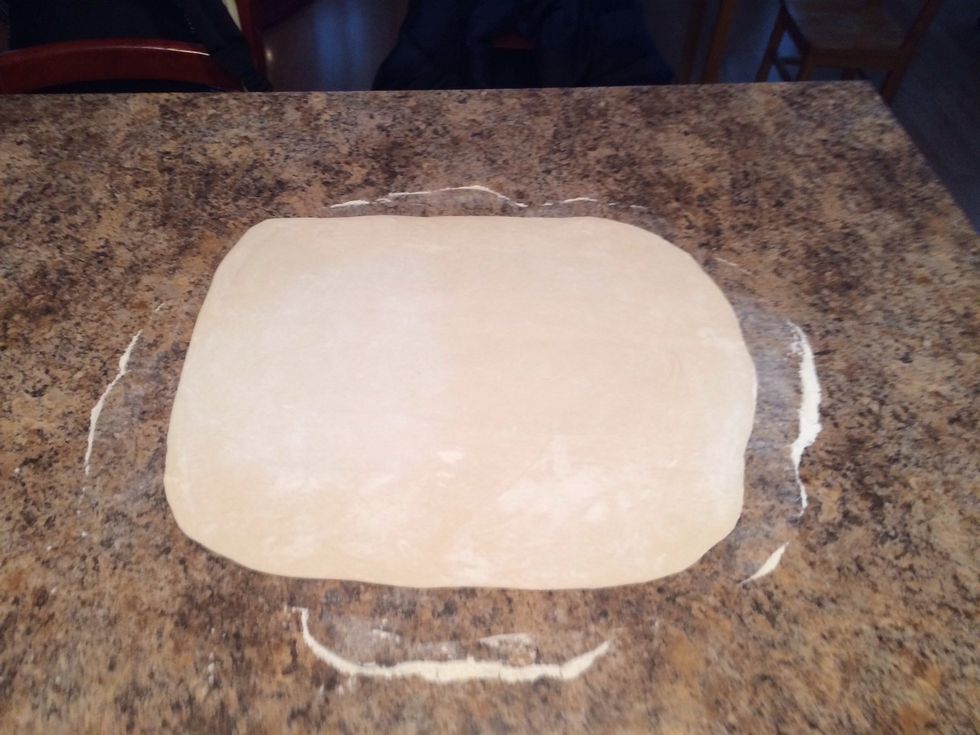 Roll your dough, you don't have to be specific as to the size or shape. But try to keep it as wide as your baking sheet so it fits.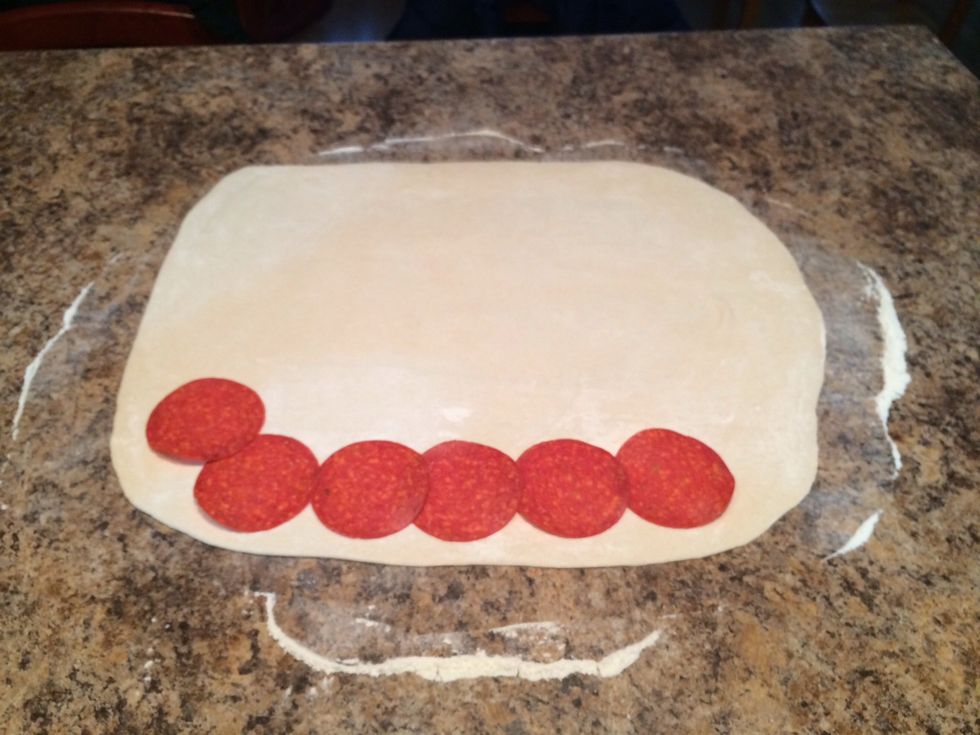 Start laying out the pepperoni. Overlap the ends about 1/4 of an inch or so. Leave 3/4 of an inch of space around the edges.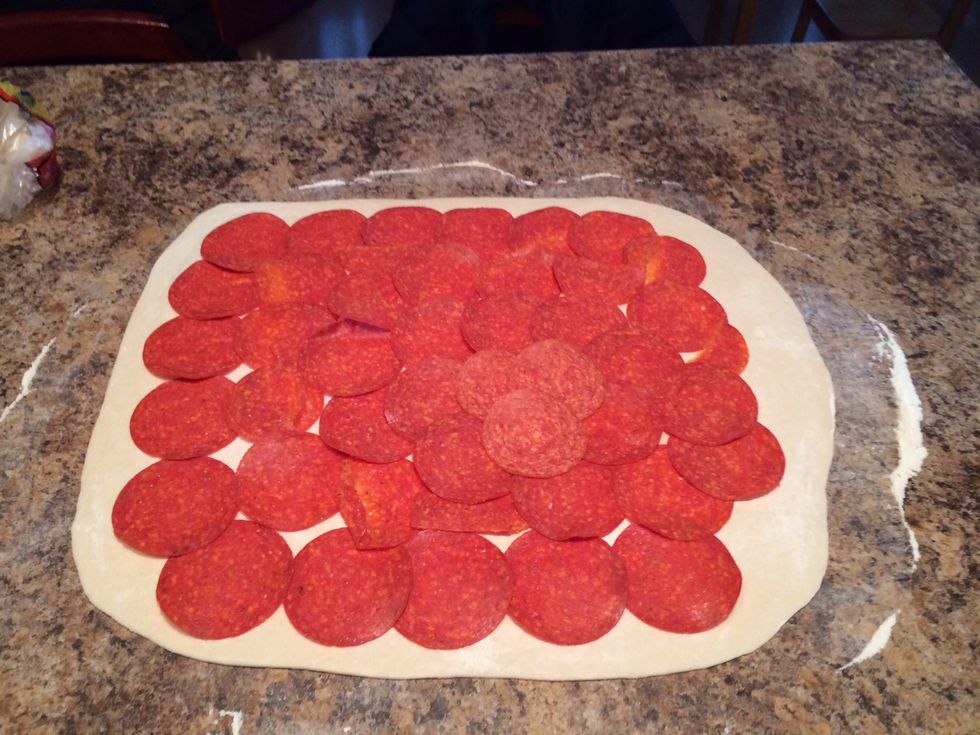 When you covered the dough you're done.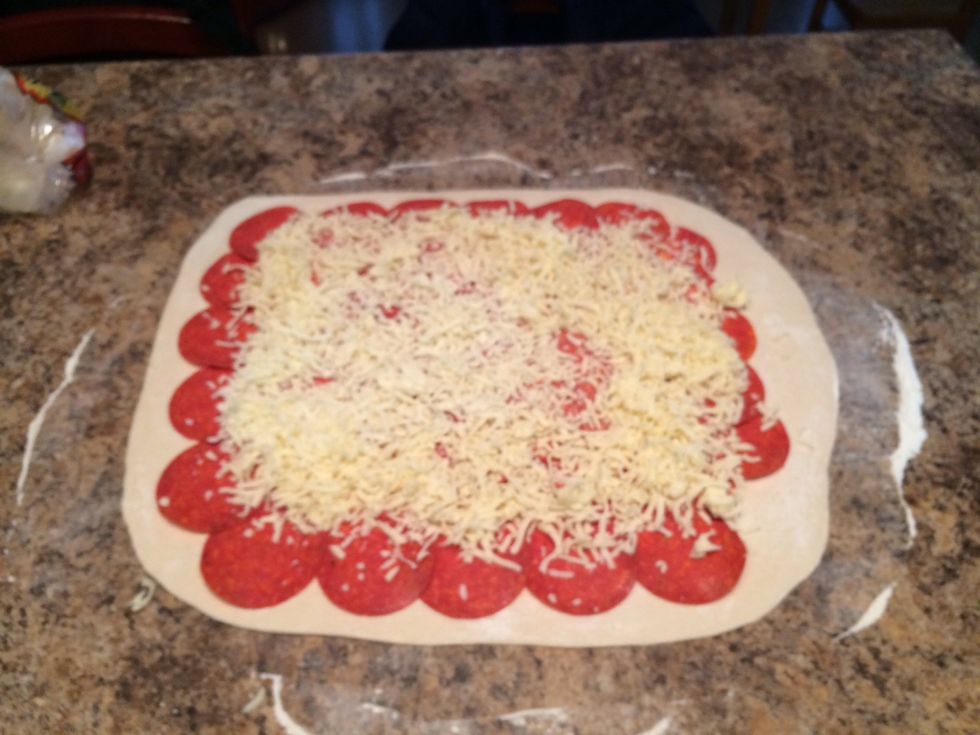 Spread the mozzarella cheese around. You don't need to cover every inch, just try to get an even covering. (Sorry the pic is a little blurry my hands are covered in flour and pepperoni oil)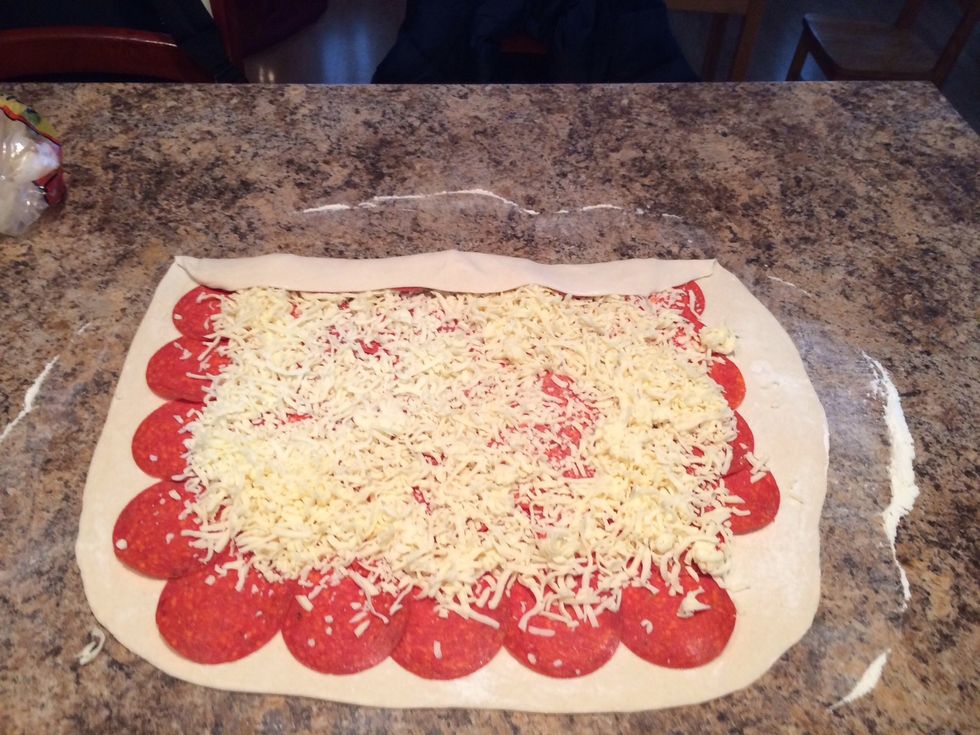 Roll it up. Well, it's more of a fold it up.. I like to fold it and press down a bit so it stays flat.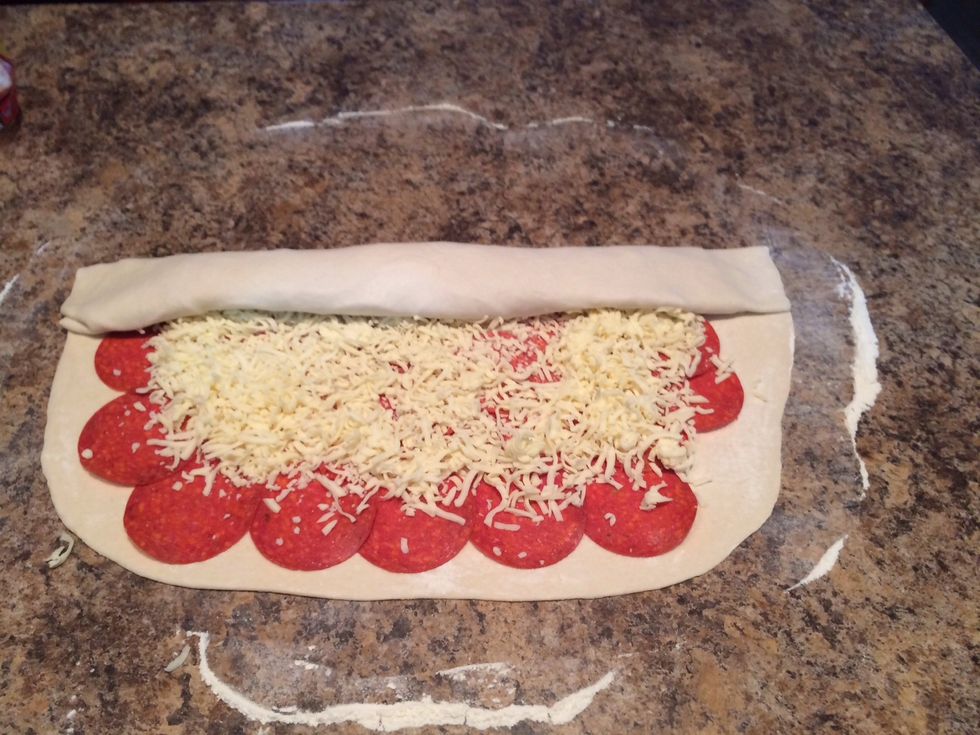 Keep going... Press down a little one each fold.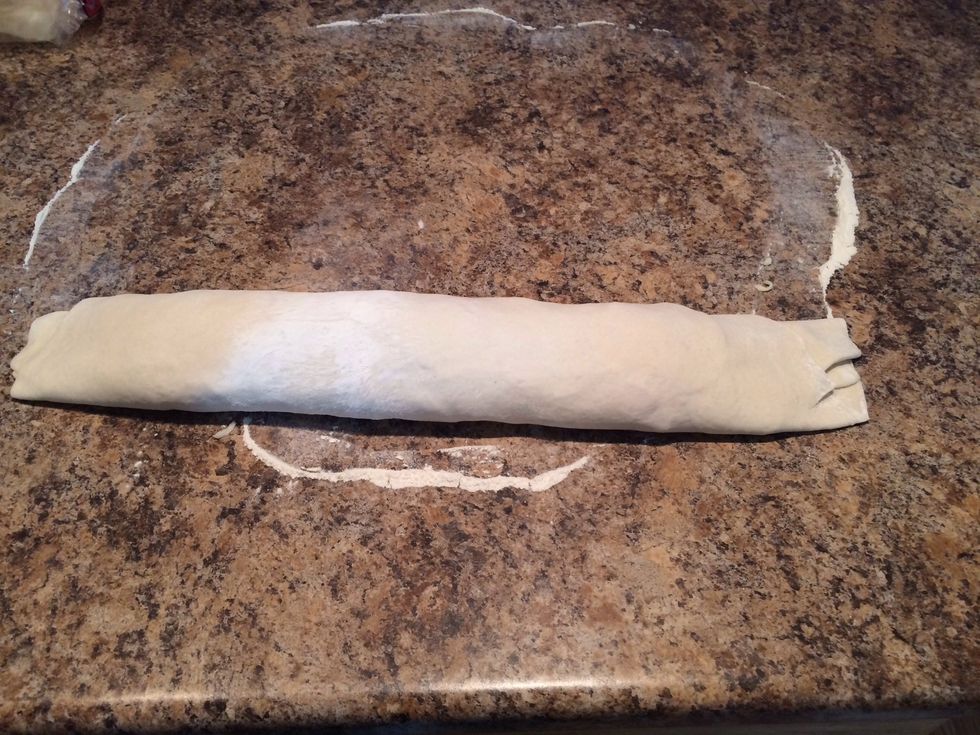 When you make the last fold, try to keep the seam on the bottom, it helps it from coming apart while cooking. Use your fingers and tuck the ends underneath and "seal" the ends.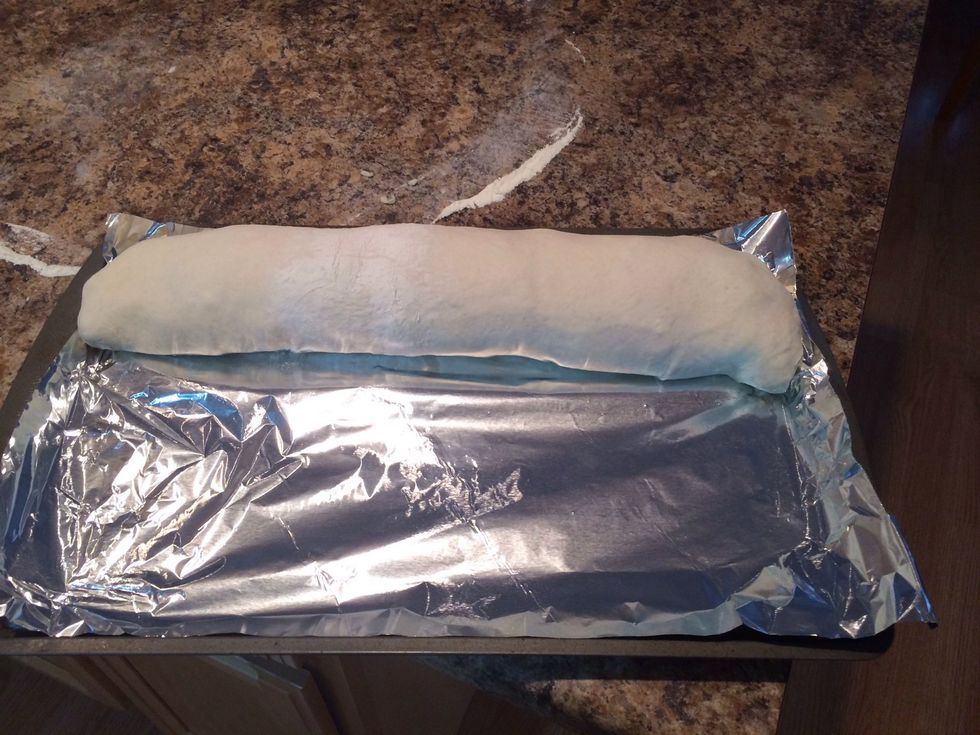 I lay a sheet of foil down for easy clean up, you can use non-stick spray it if you want.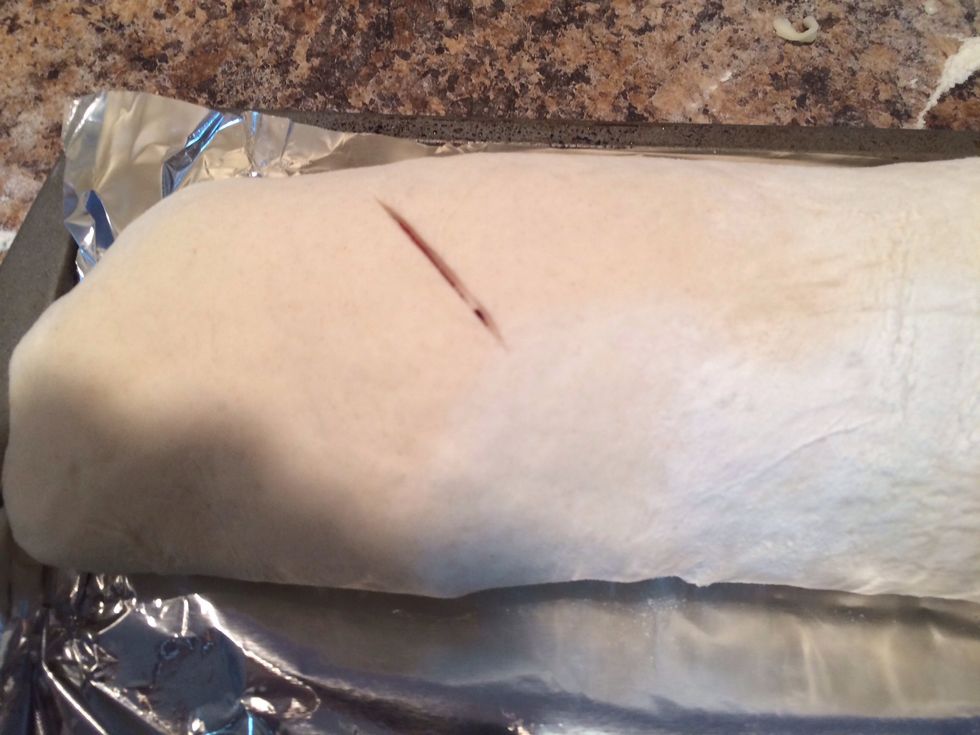 Take a knife and cut a few slits in the top.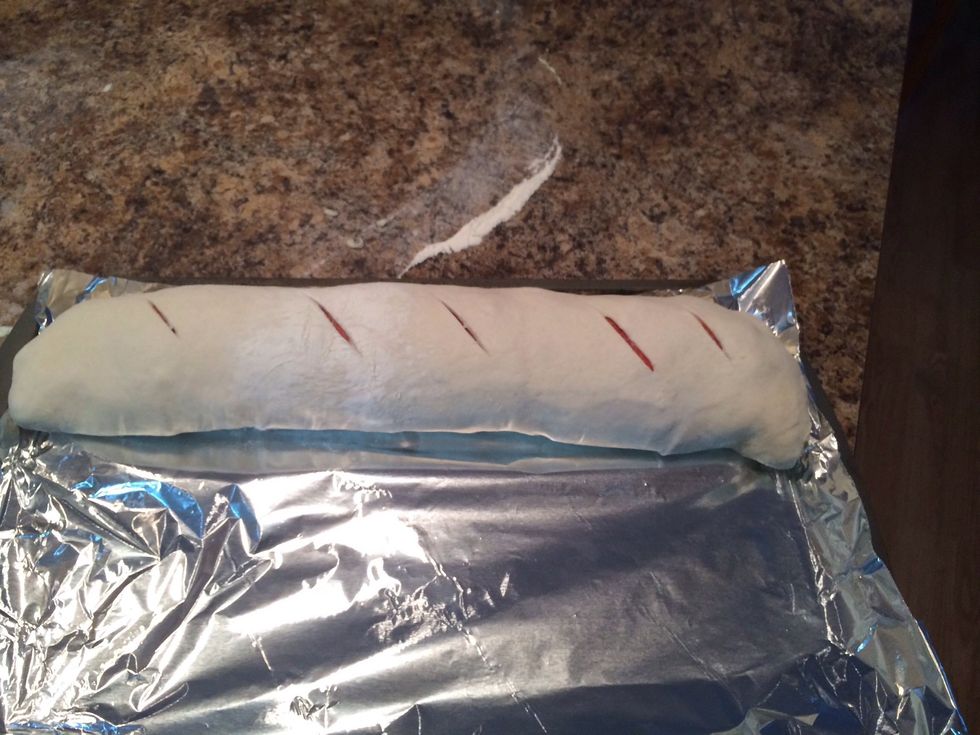 That's it! All that's left now is to bake it. I never make one at a time you can put 2 on a larger baking sheet.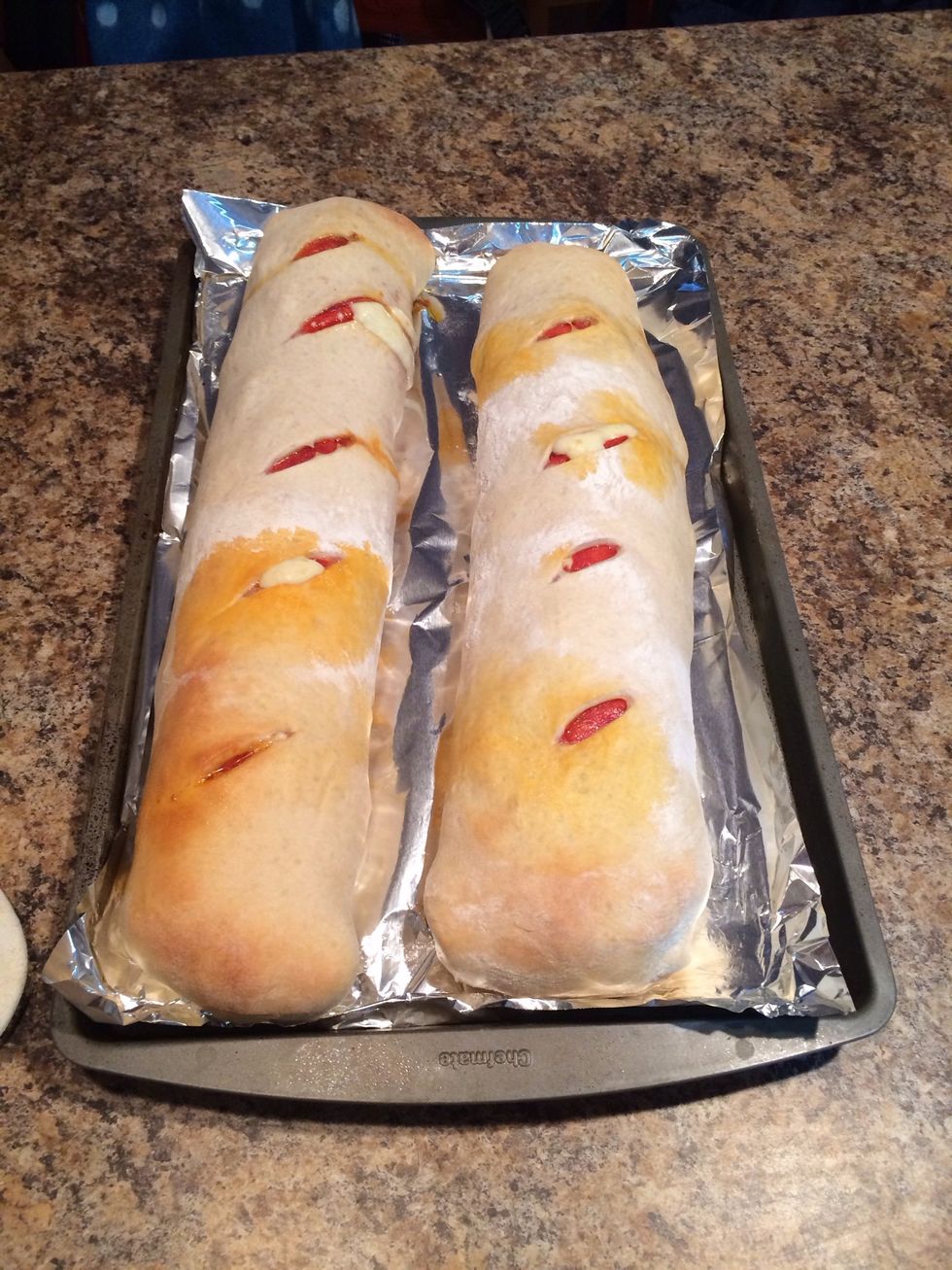 Bake at 350-375 for about 15-20 minutes. I baked these at 365 for 20 minutes. Until the crust was golden on the end. You can also brush on some melted butter before baking to brown it a little more.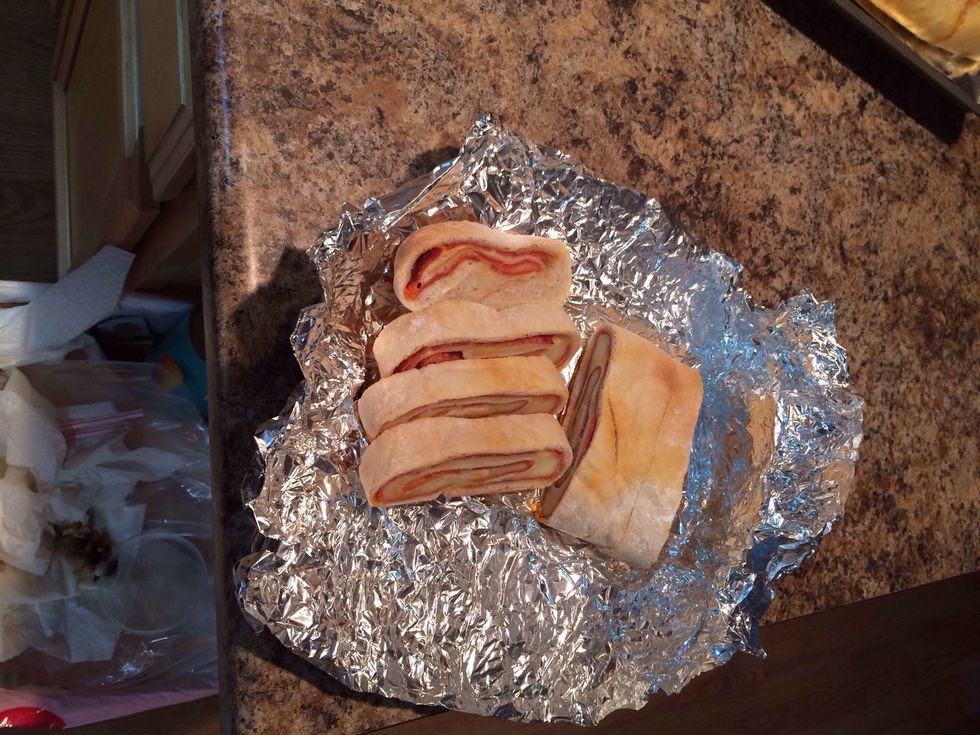 This is one I had in the fridge, just slice it evenly and enjoy.
If you want to get the left over flour off just use a paper towel and brush it off after baking.
I prefer mine cold, but that's just me. I only make this in December and my friends constantly remind me... It's December, where's the pepperoni bread? It's easy enough to make, and who can resist!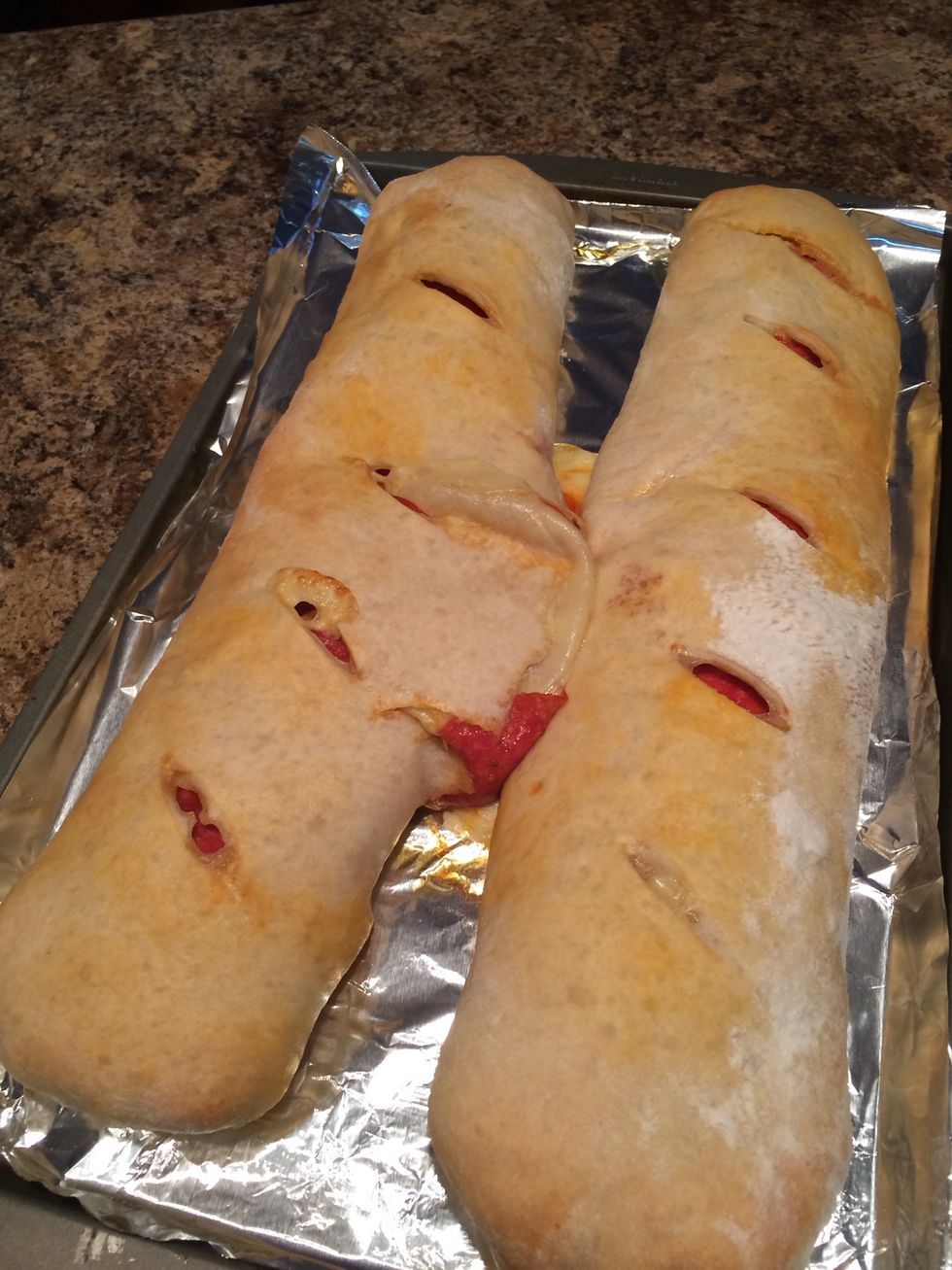 Occasionally you will get a blowout. No big deal, gives you a reason to keep that loaf for yourself! Blowouts come from over cooking. Usually when the oils start coming out the too it's just about
Just about finished cooking, keep an eye on it at this point.
Let your imagination go with this one. I've done ham & Swiss, roast beef & cheddar, Italian sausage & mozzarella. You can pretty much make it however you want.
1 pizza dough ball
Approx 1lb slicing pepperoni
Approx 1lb shredded mozzarella cheese
AP flour