One of family's alltime favourite Indonesian dish
174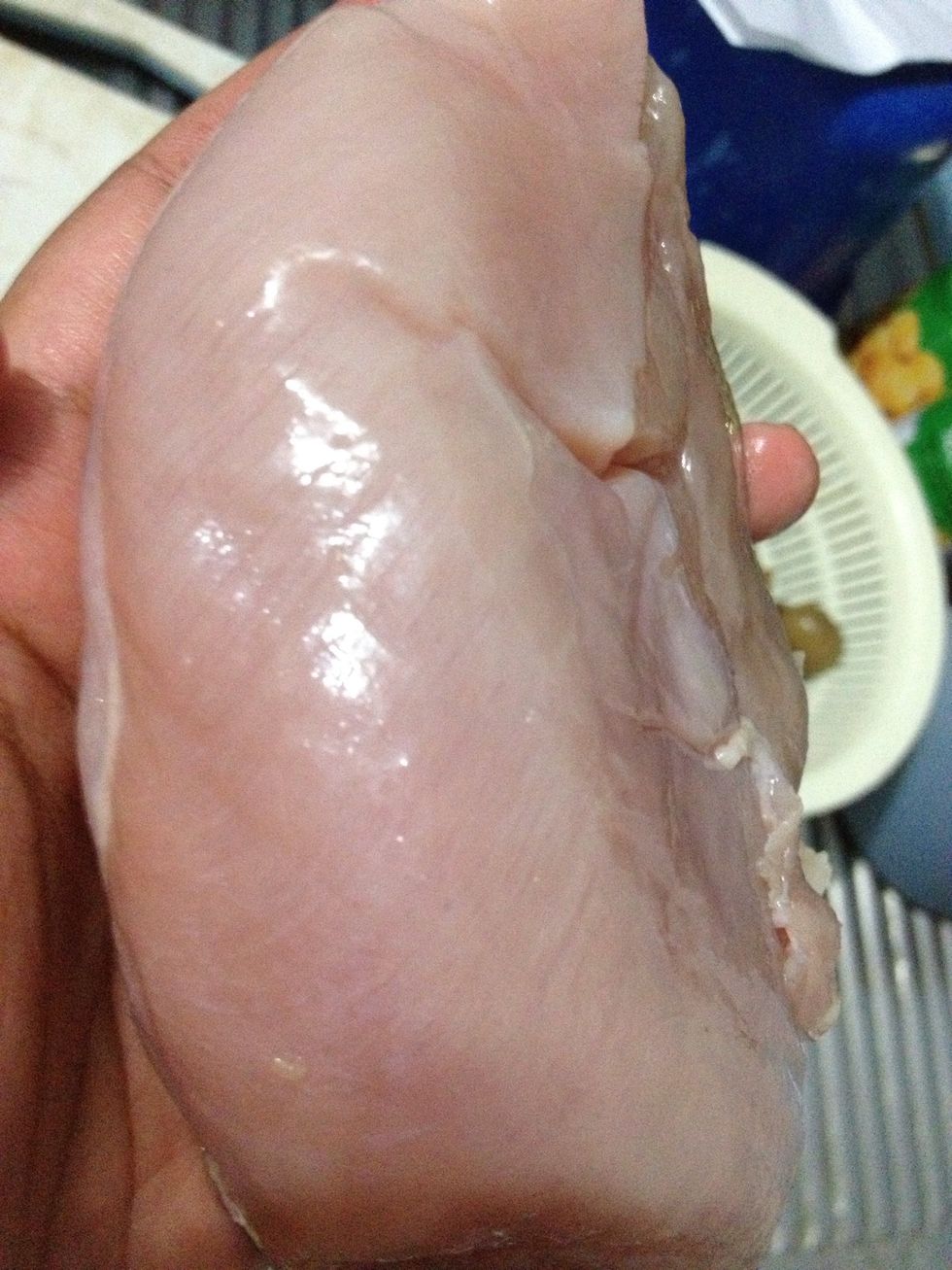 Wash and pat dry a chicken breast. Discard the bone an use it to make the stock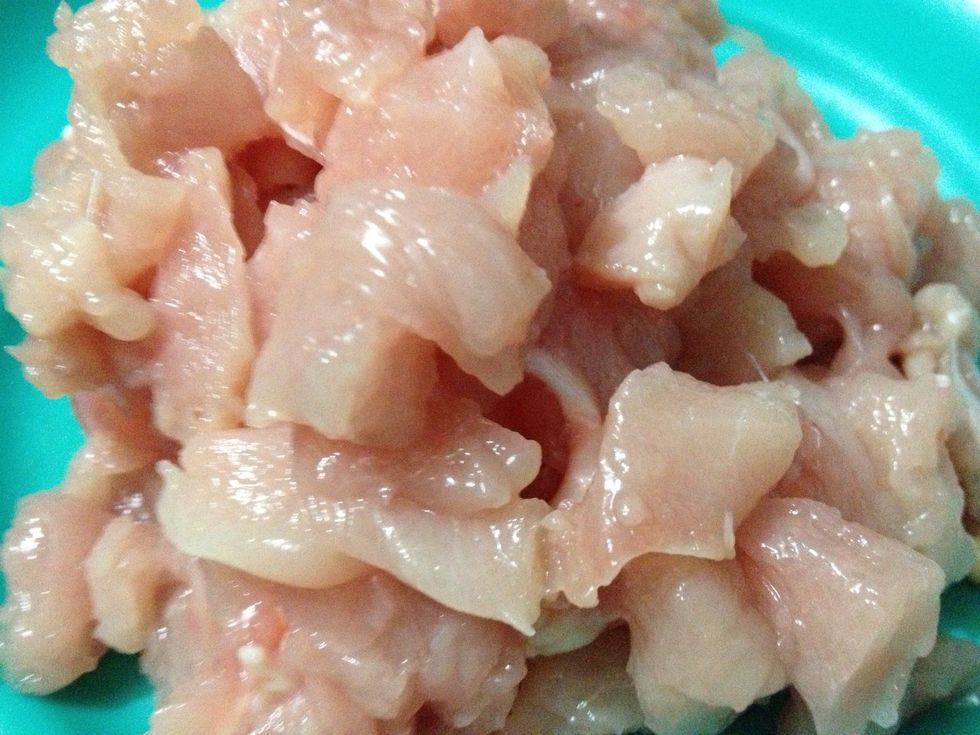 Cut into small diced.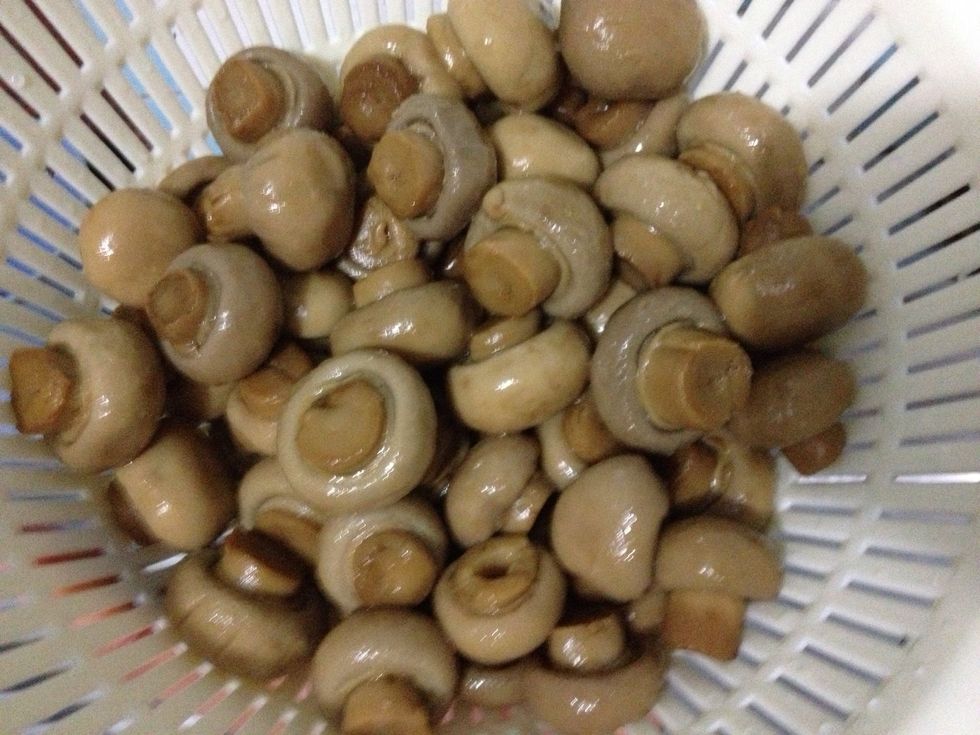 Wash and drain 350gr of button mushroom. You can use fresh or canned.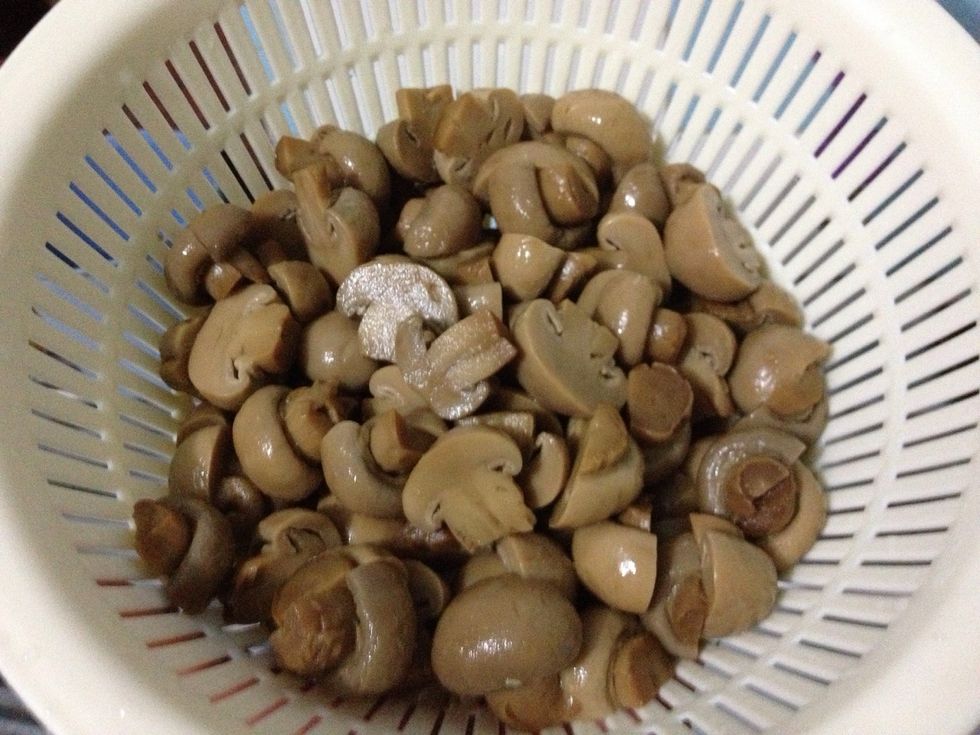 Sliced the mushroom in half. Some people like to slice it smaller, into 3 or 4. But I like mushrooms! So yes I love to have them big! :D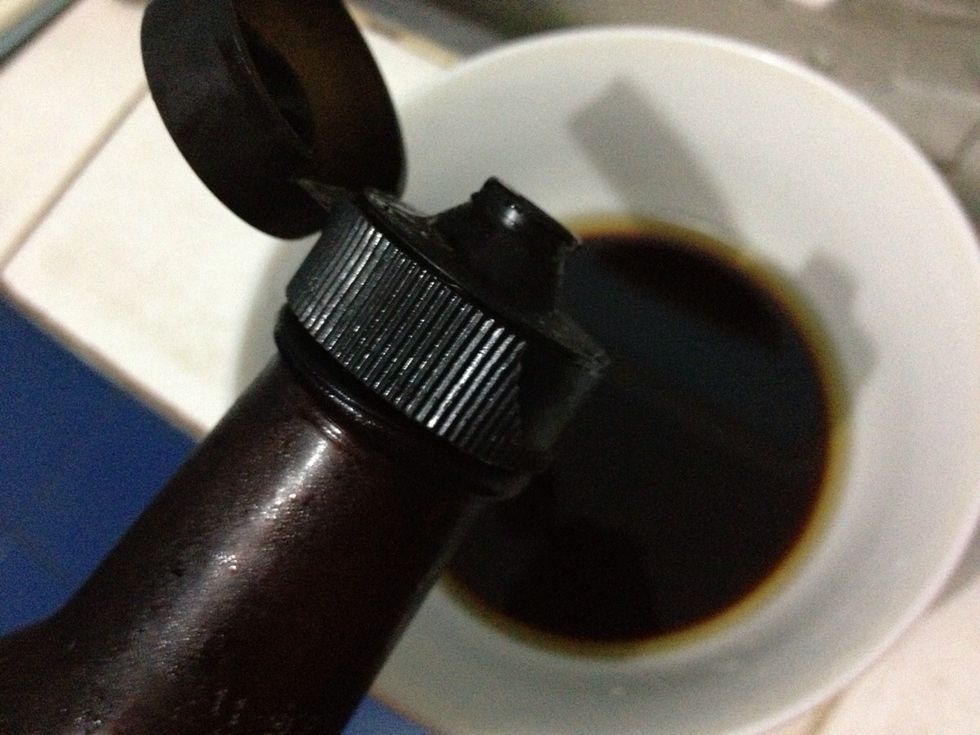 In a separate bowl, mix together: 4 tbsp sweet soy sauce (dark), 3 tbsp of fish sauce, 2 tbsp of oyster sauce, 2 tbsp of worchester sauce, 1 tbsp of granulated sugar and 125ml of water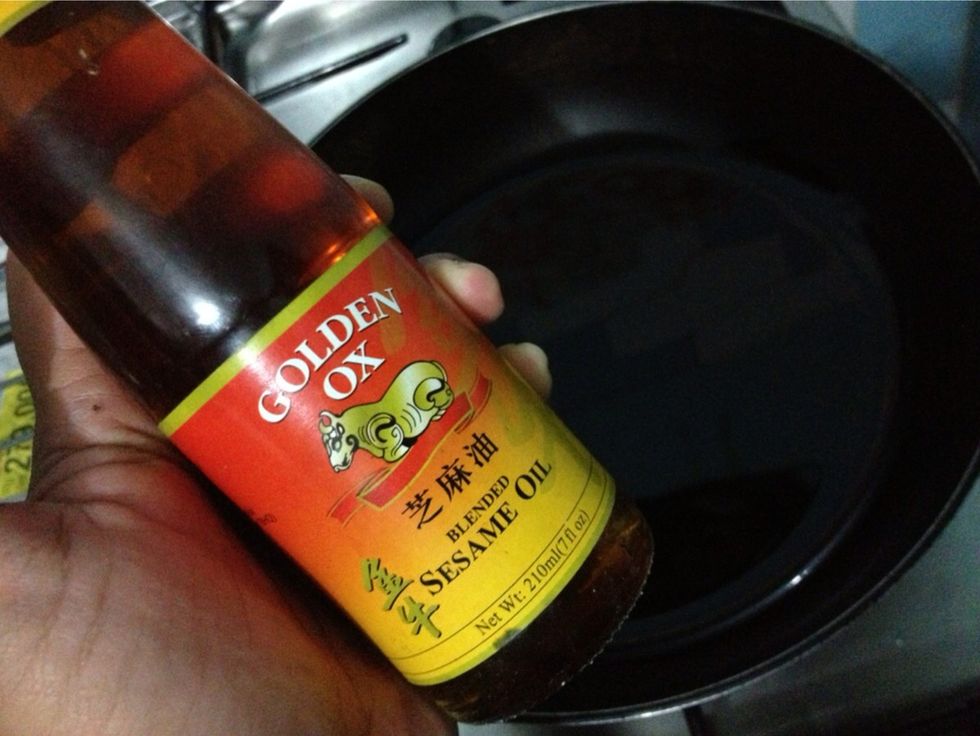 Prepare a sauteing pan. Add in approx 2 tbsp of canola oil and 1 tbsp of sesame oil.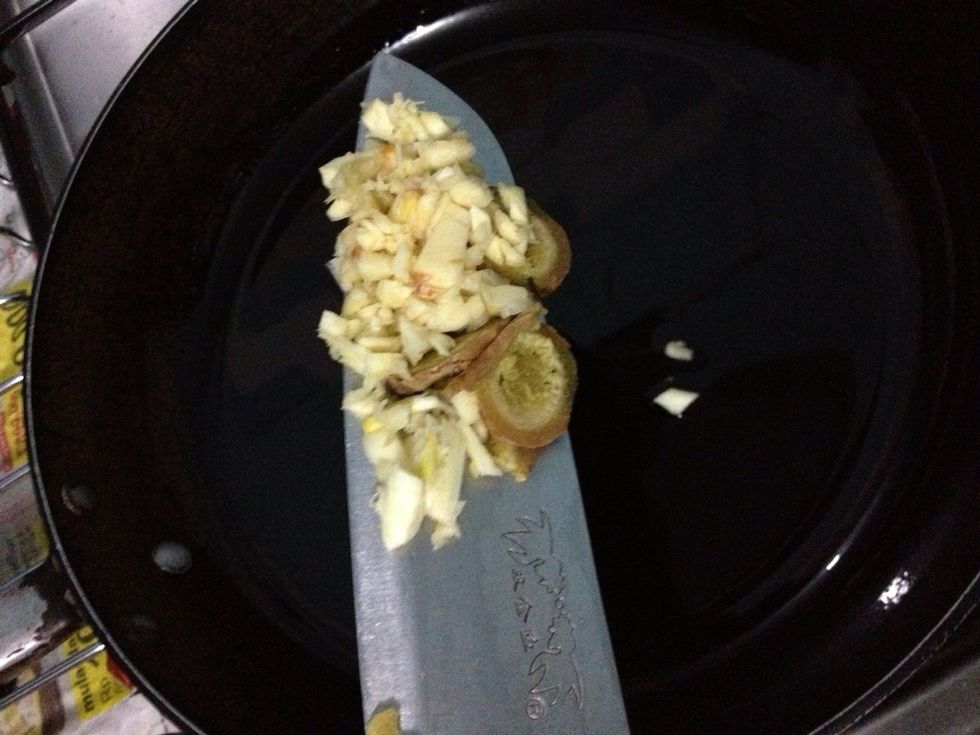 When the oil is hot enough, add in crushed and finely chopped 4 garlic cloves and sliced of 2 cm fresh ginger into the pan. Saute until fragrant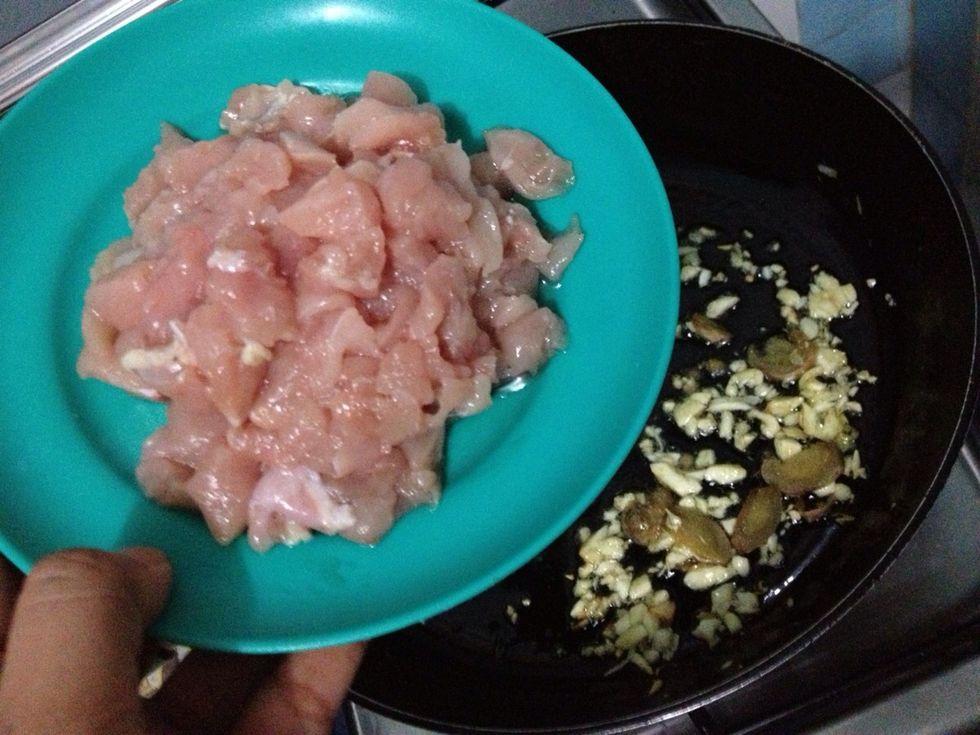 Add in the diced chicken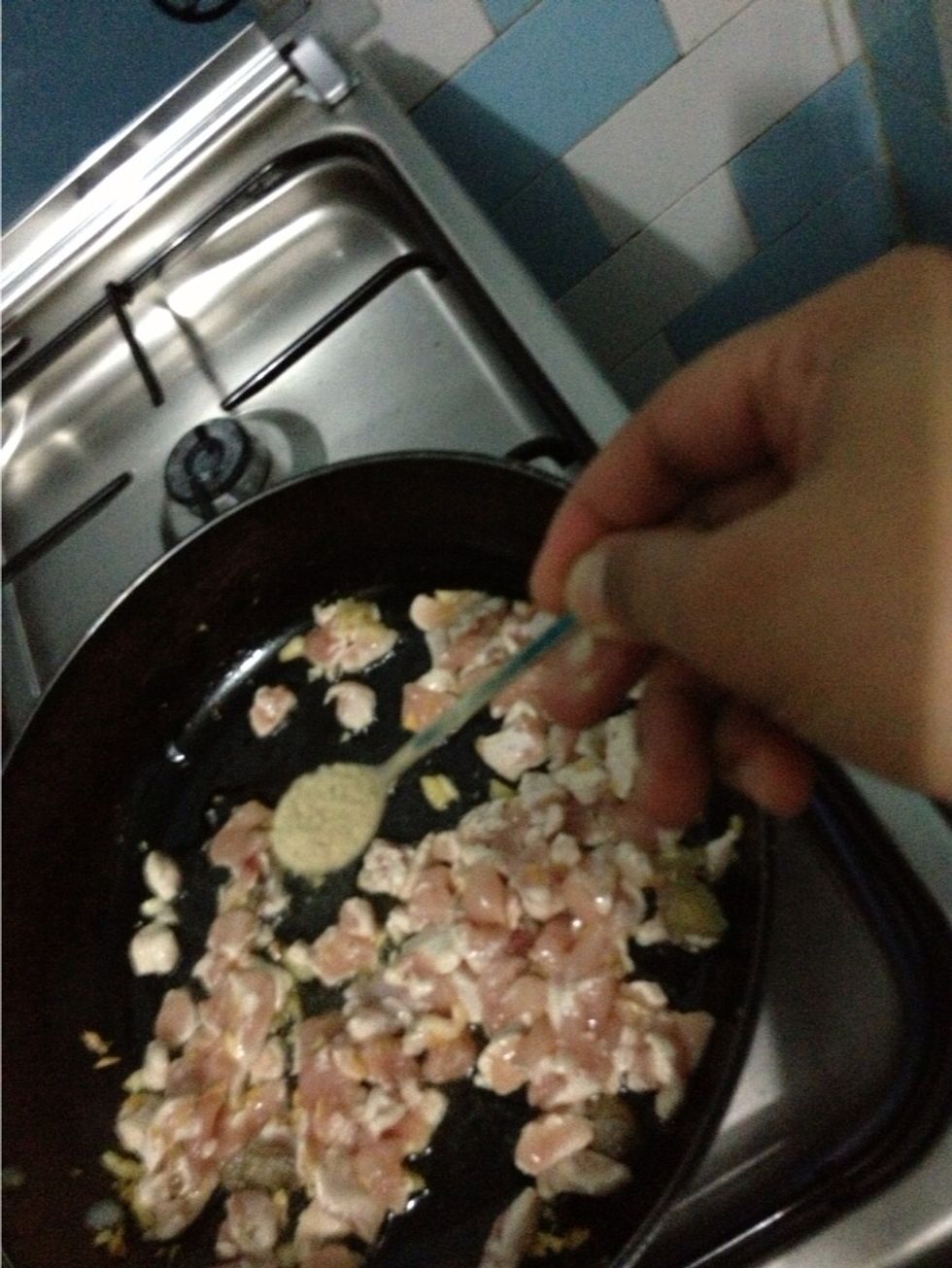 Add in 1/2 to 1 tsp of ground white pepper. Cook the chicken until it just changed its color (dont cook the chicken too long)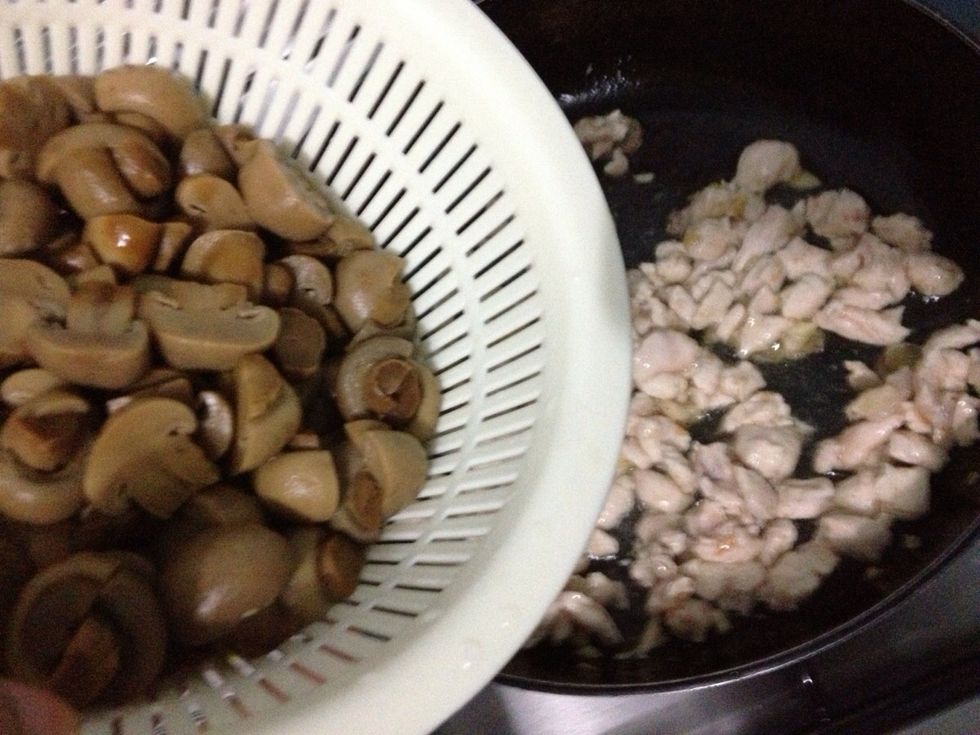 Add in the mushroom. Saute for few seconds until they combined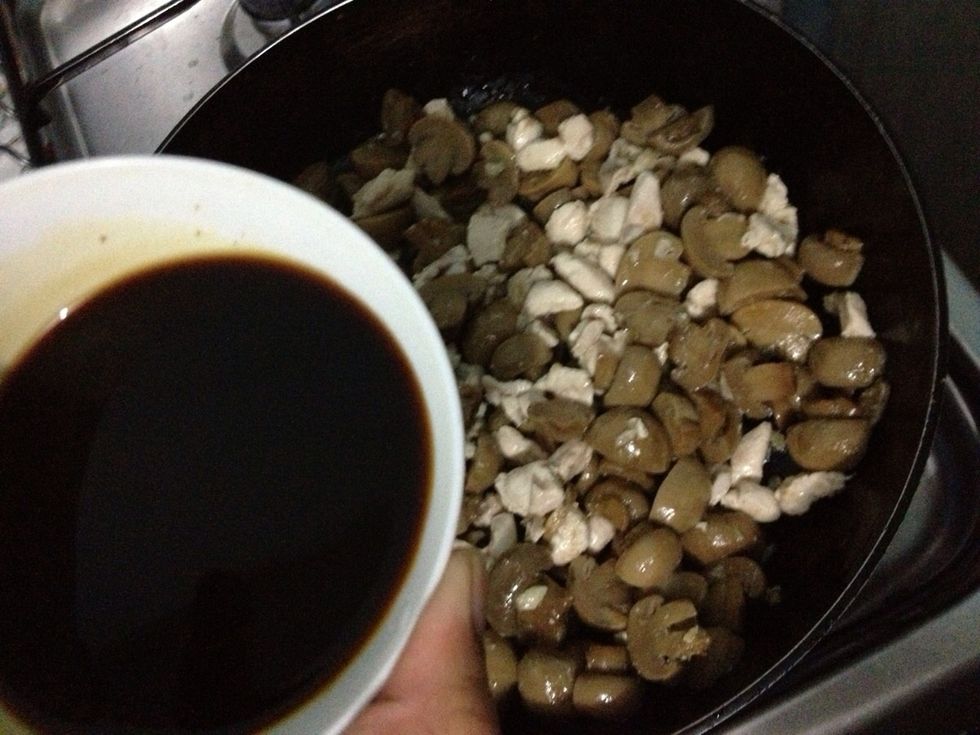 Add in the sauce mixture. Taste test. I like it sweet, a bit salty, and lots of chinese spices. You can add more ground white pepper or worchester sauce if you like.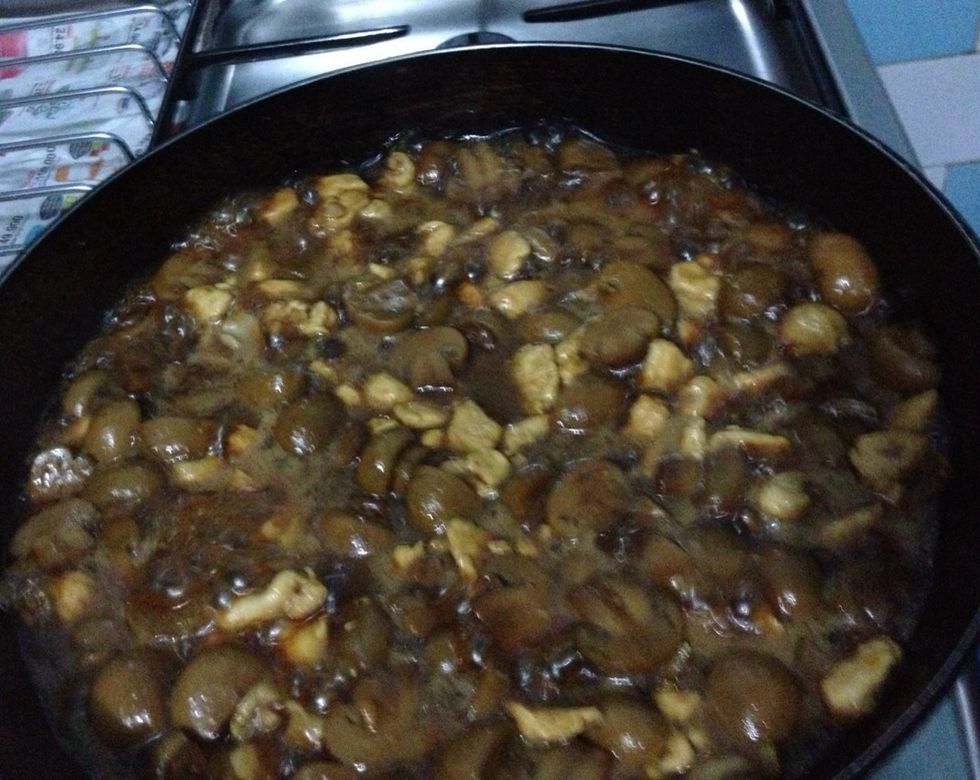 Let it simmer until the sauce mixture is completely absorbs to the chicken and mushroom mixture. Remove from heat and set aside
... that was the step to make the noodle's topping ... now we move on to make the chicken stock ...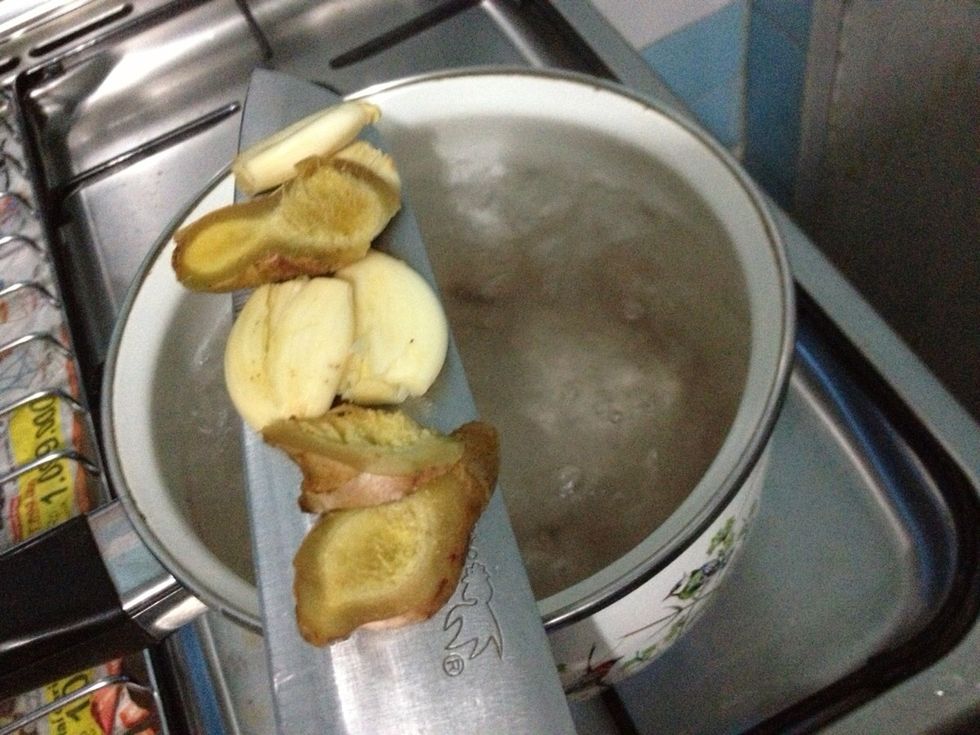 Boil 3 liter of water. Add in crushed 4 garlic cloves and crushed of 3 cm fresh ginger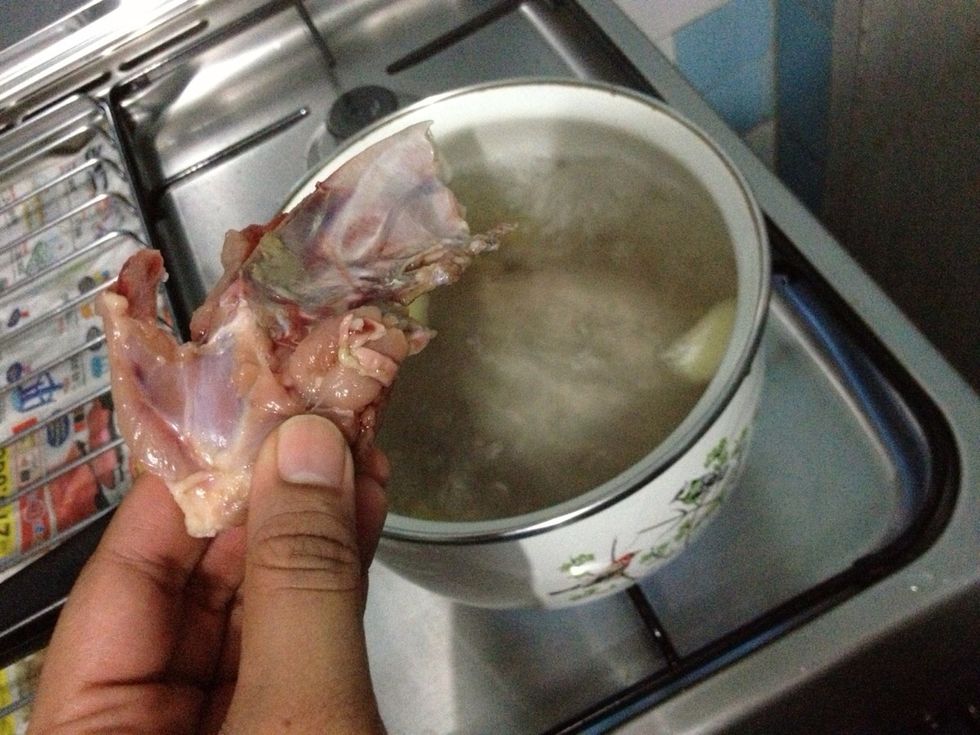 Add in the chicken bones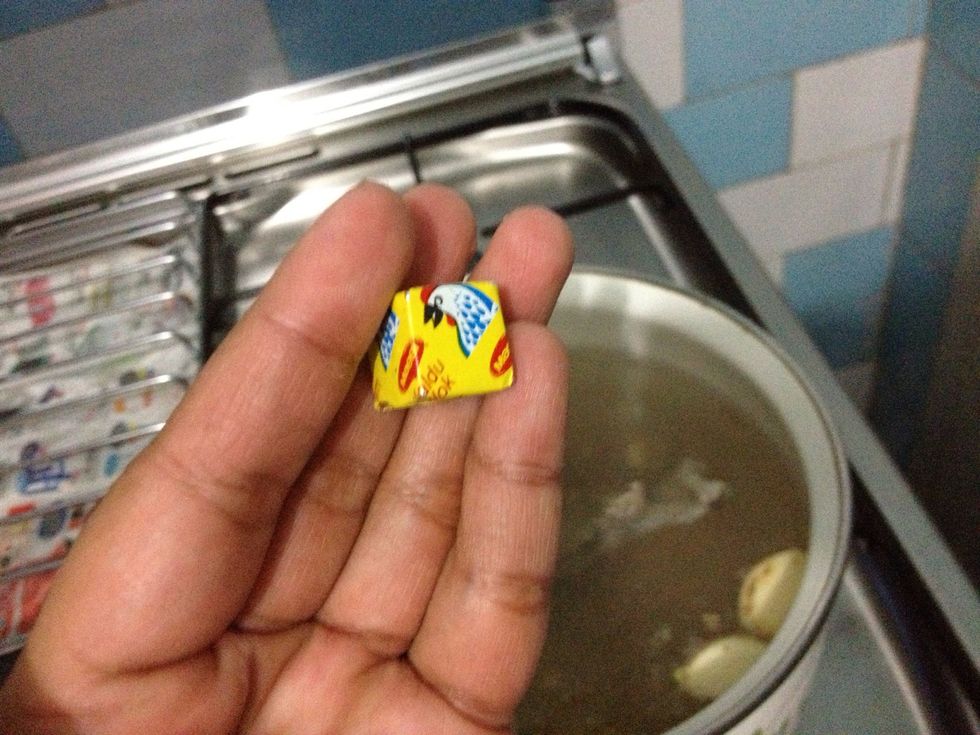 You can add in 1-2 chicken bouillions but I dont use ones here. I use only salt and white pepper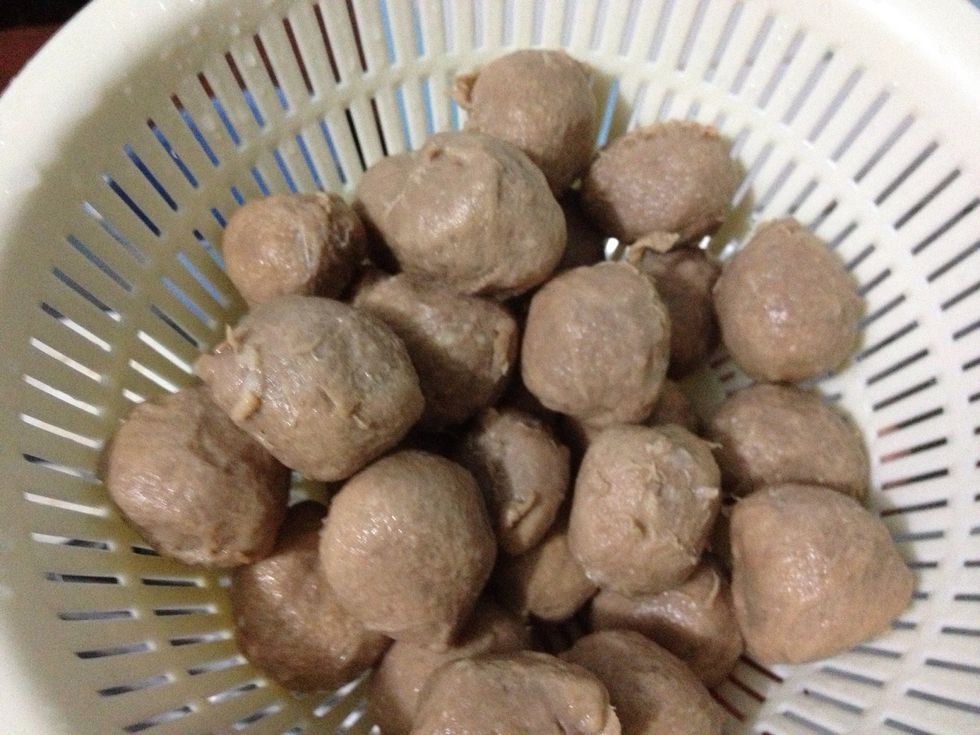 If you like, you can also add some beef meatballs into your stock. I use a ready made beef meatballs. For this recipe I prepare about 20 meatballs :)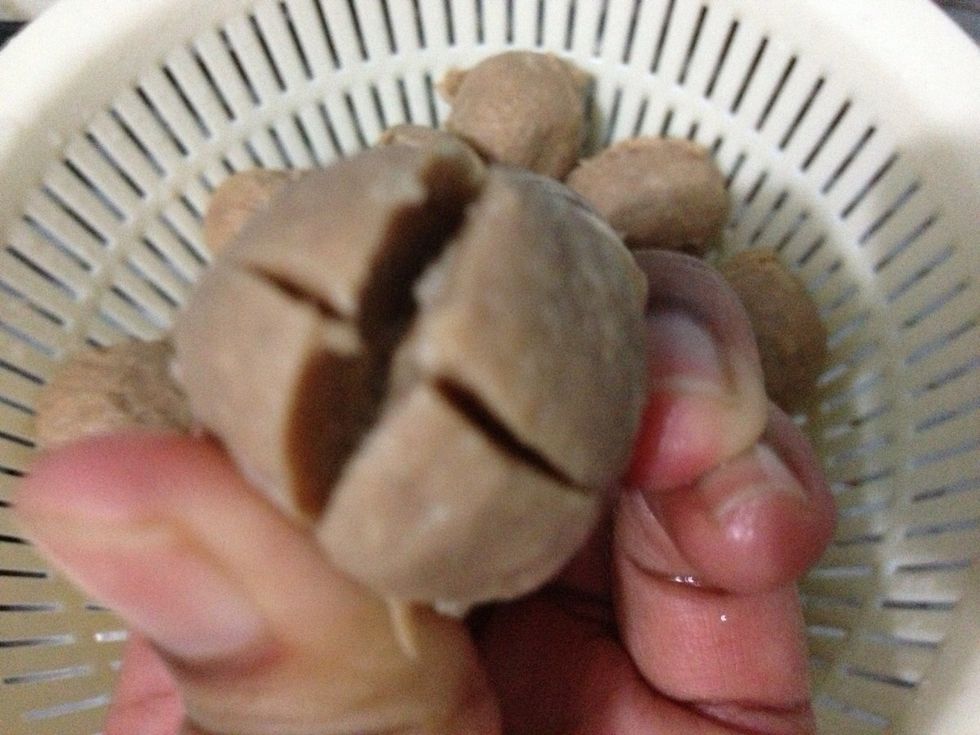 I make a small cut in the center of the meatball, so it will look more nice in a bowl :)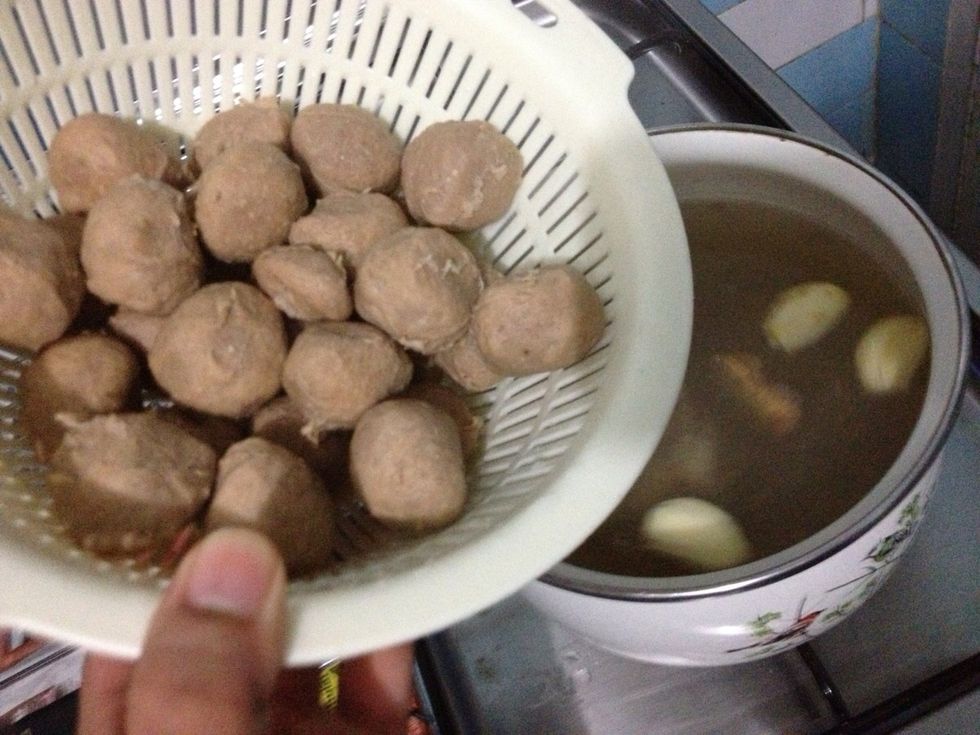 Add in the beef meatballs into a boiled chicken stock. Let it simmer for about 20-30 minutes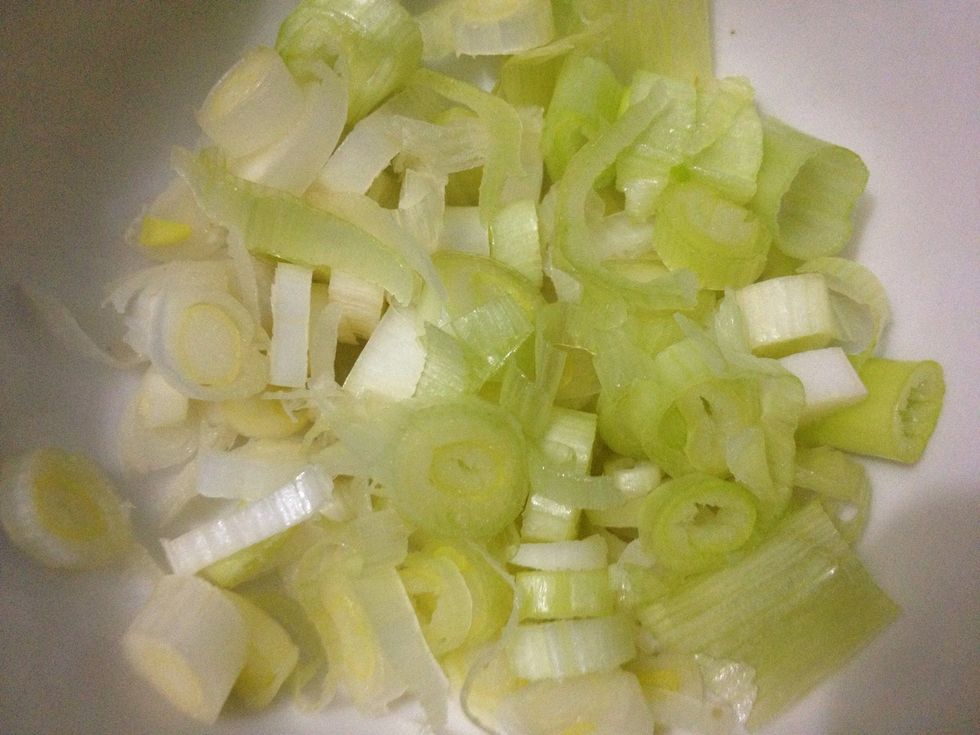 Meanwhile, prepare and finely sliced 1-2 scallions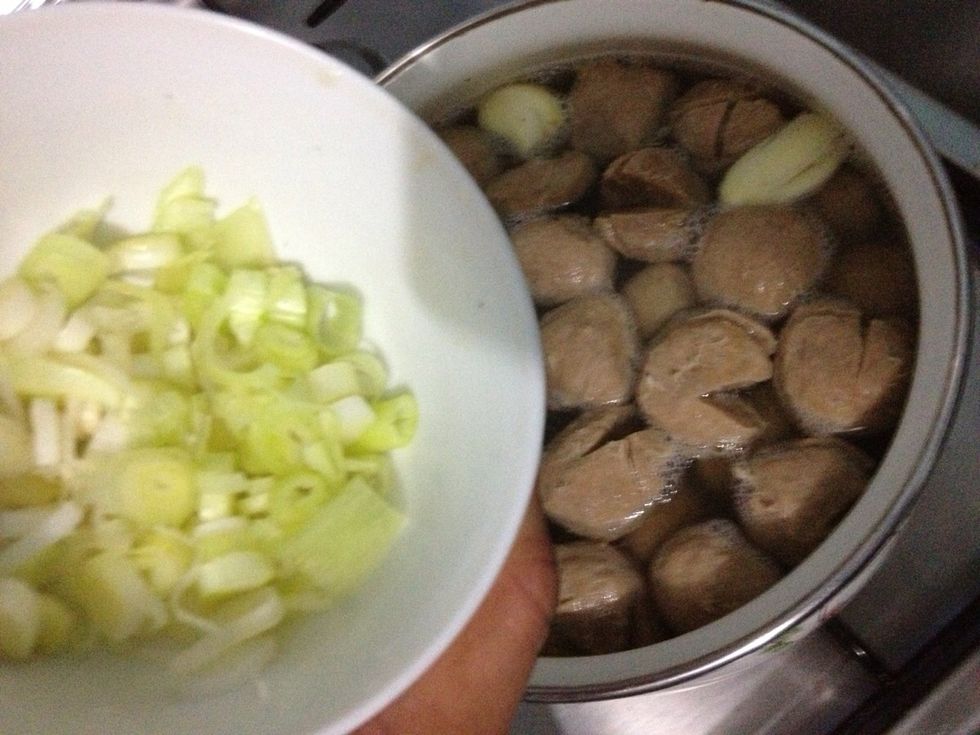 When it's almost time to serve, add in the sliced scallions into the simmered stock. Turn off the heat. Put in a separate bowl. Set aside
... the wonton is usually served as fried-wonton, but some people like to have it cooked in boiled water for about 1 minute.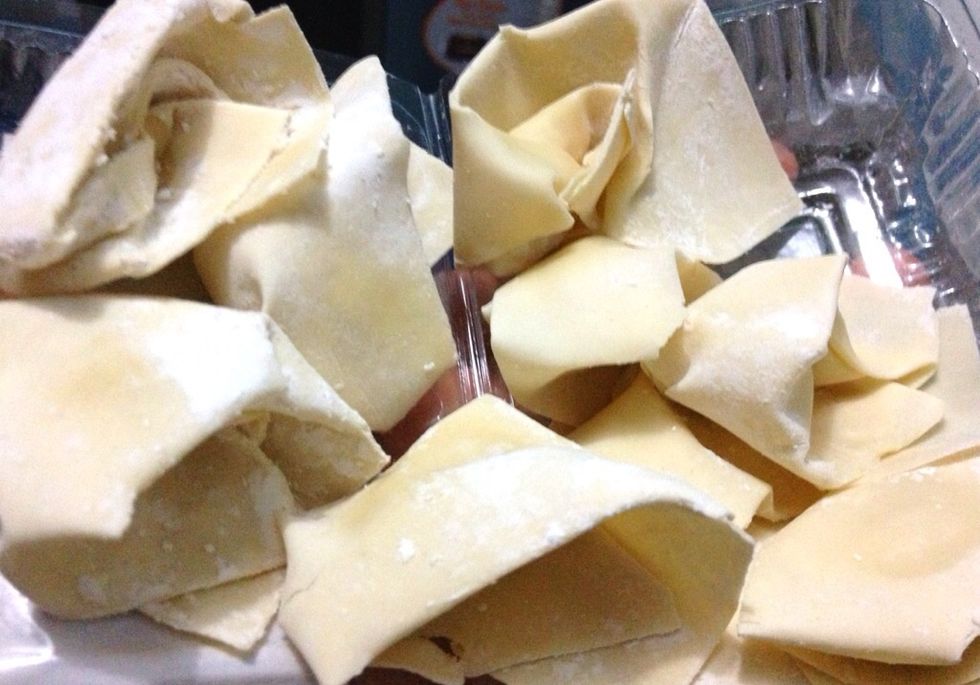 Since I feel so lazy today :) I bought ready made wontons skin, put a little bit of sauted minced chicken and salt and white pepper, fold it and fry it later ... I prepare 15 wontons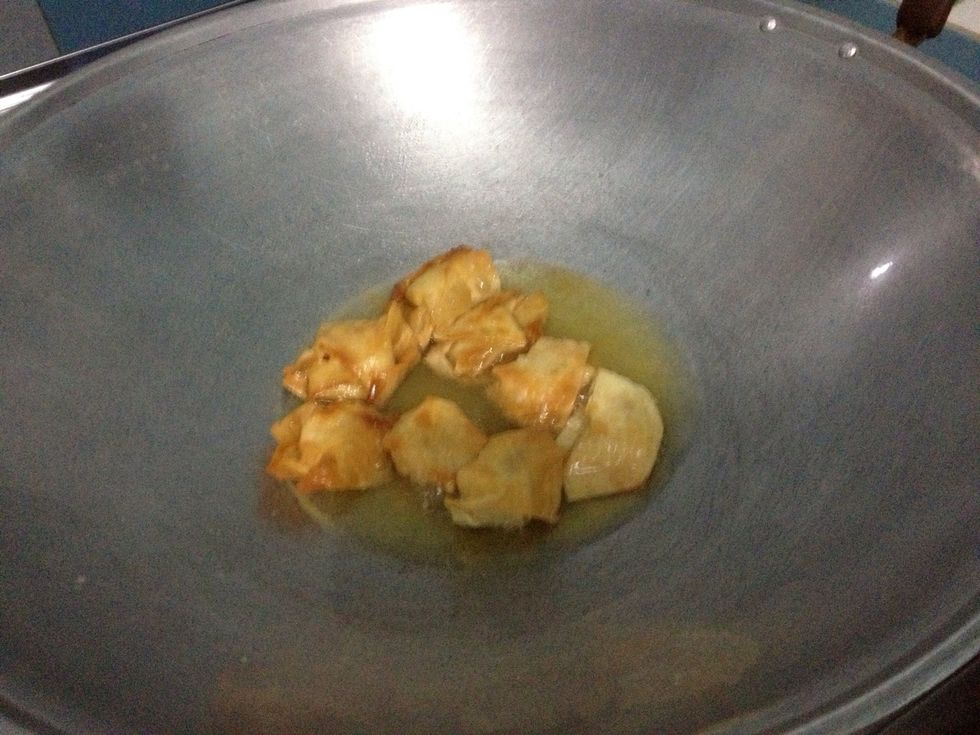 Heat some canola oil in a pan or wok. Fry some wontons and cook until golden brown. Set aside.
.. now we prepare the veggies. we usually have this noodles with blanched chinese cabbage or choysim, but in some area in Indonesia, we also add some blanched bean-sprouts.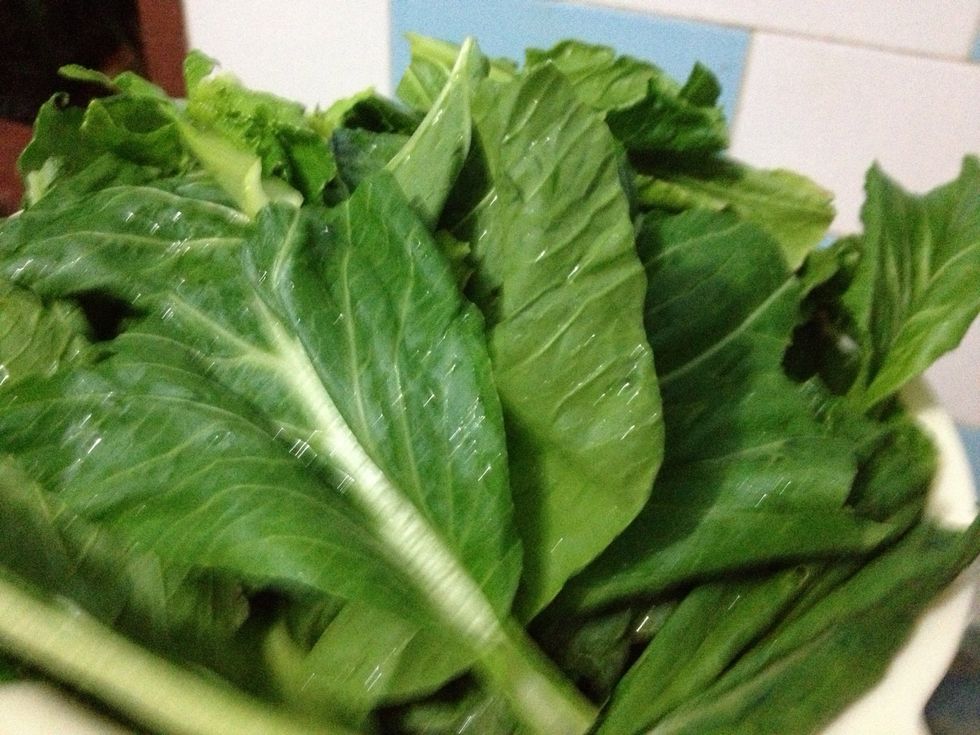 Wash the choysim and cut them nicely. Separate the leaves and the stems. Blanch the stems for about 1 minute then add in the leaves for few seconds. Sorry for the blurry pic btw :)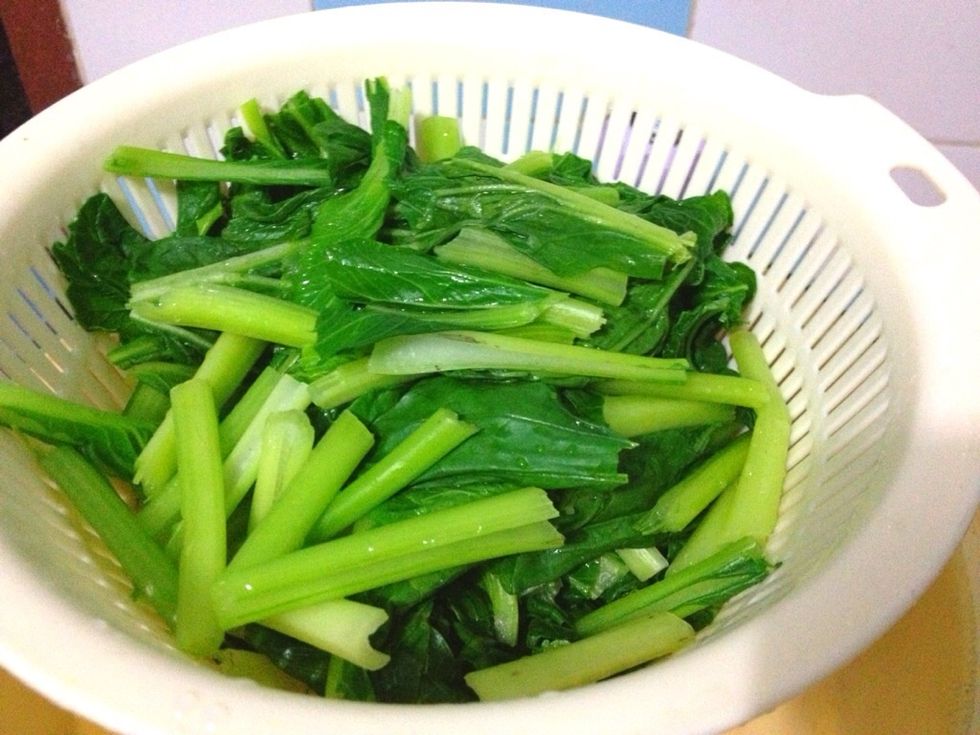 Spoon out the blanched choysim and put them on some ice or just simply quick wash them with iced-water to stop the cooking process. You will get a nice green color then
... dont throw away the excess water from veggies blanching proess, use it to cook the noodles...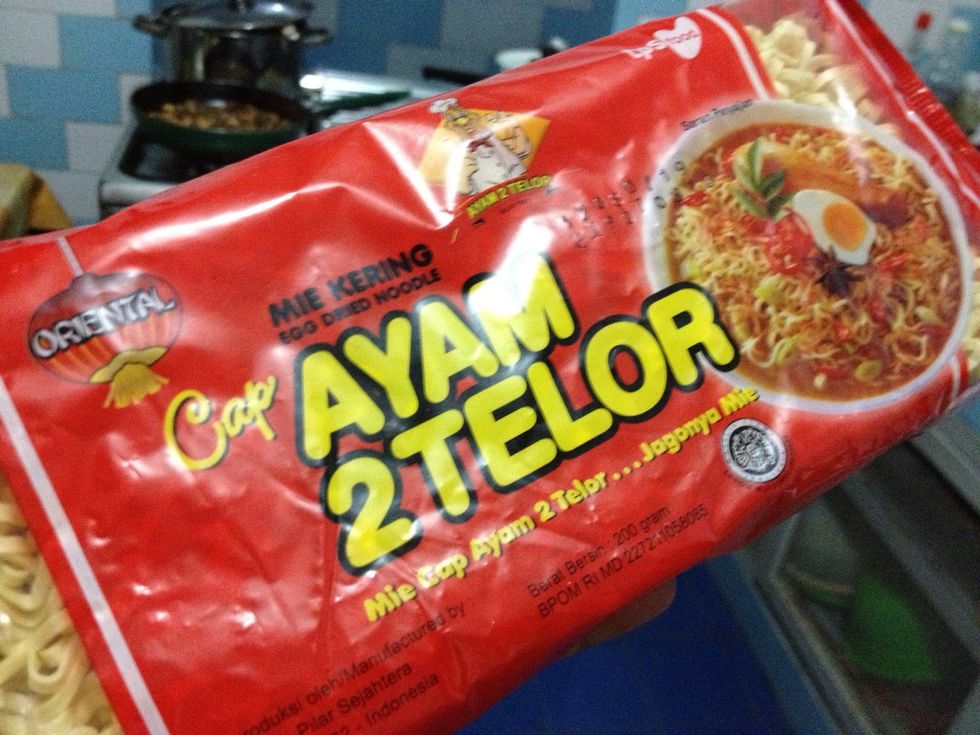 You can use any dried-noodles you like, but this brand is my favourite :)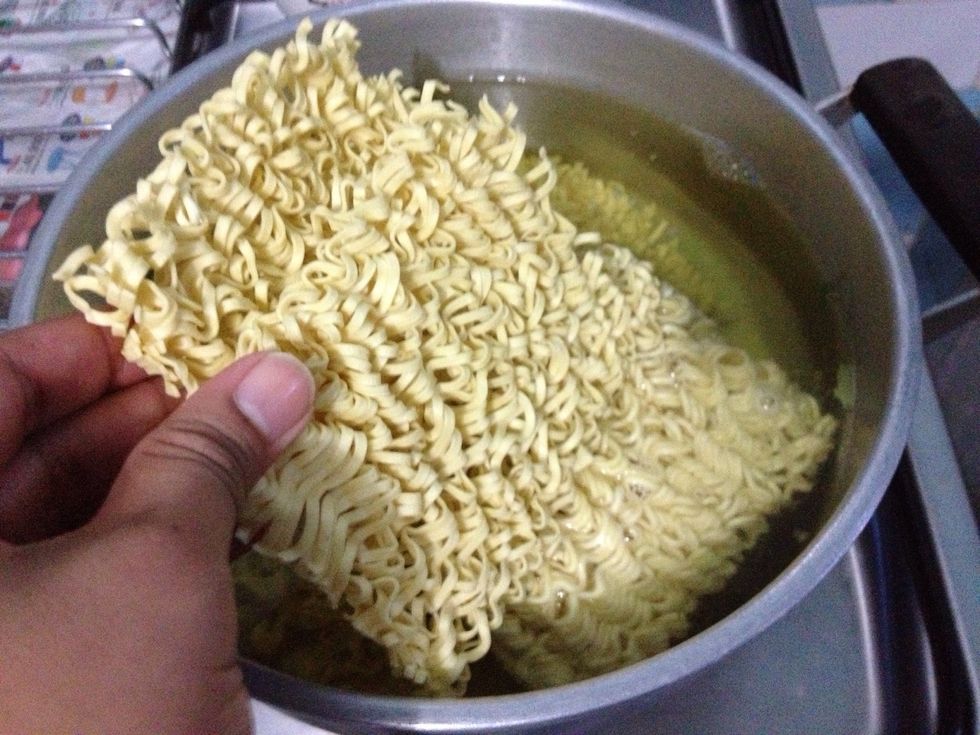 Boil the water (the one we used for blanching process) and cook the 500gr of dried egg-noodles until al dente (depends on your liking though)
.. when it's done ... drain the excess water and quick wash the noodles with iced-water so it stops cooking ..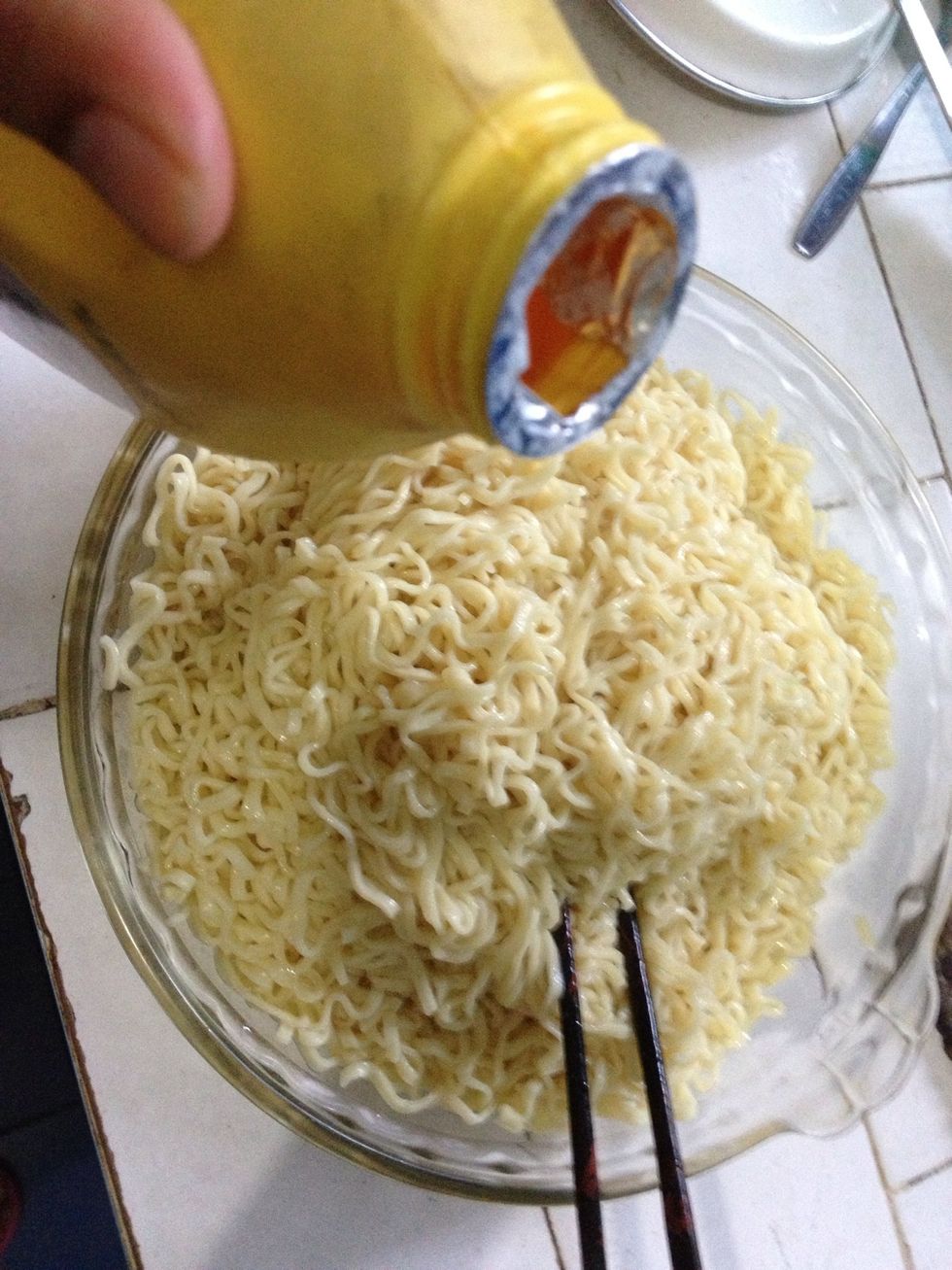 Add in 2 to 2..5 tbsp of canola oil and 1 tbsp of fish sauce. Mix it up. This will prevent the noodles from from sticking to each other and as a bonus, it will make them shiny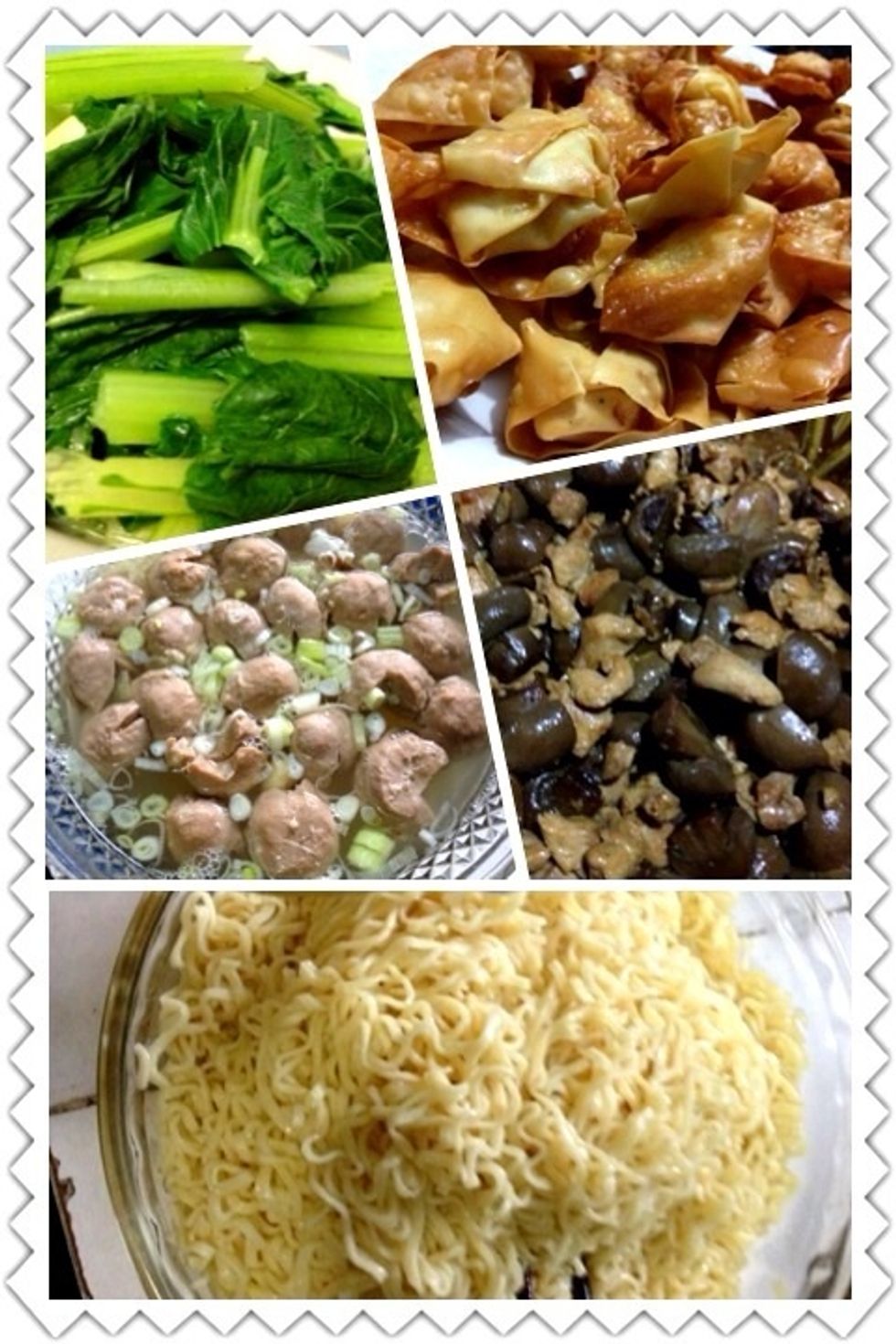 These are the components ... and now is the assembling time ..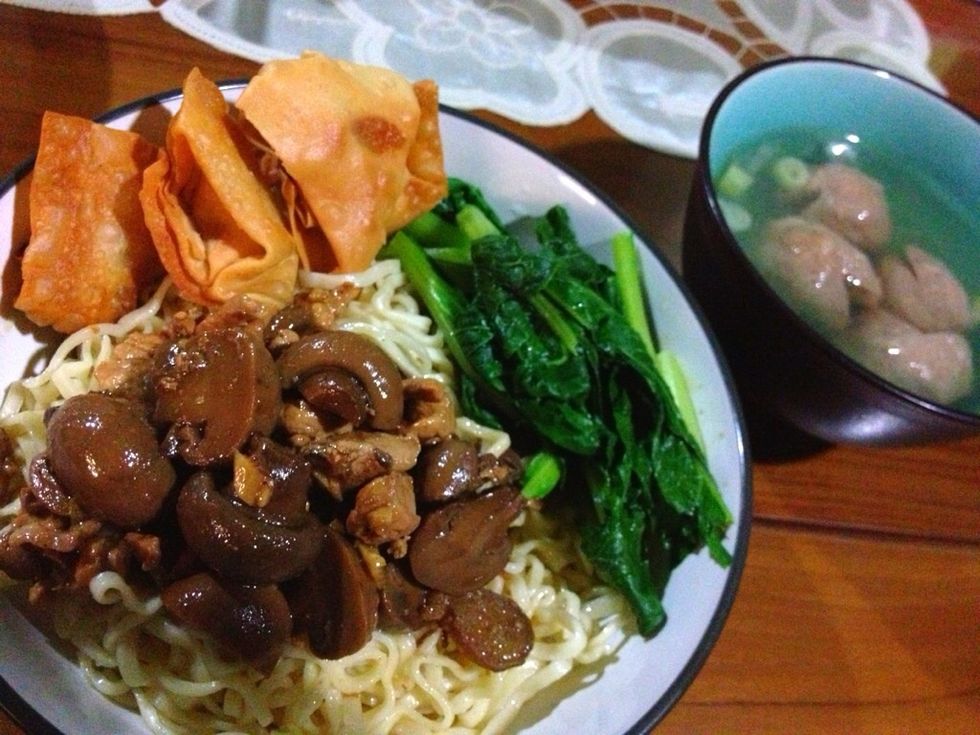 Put some noodles in a bowl, topped with chicken and mushroom. Put some choysim and fried wontons around. In a separate smaller bowl, put some hot stock and the meatballs. Enjoy! :)
8.0 garlic cloves
5.0cm fresh ginger
2.0l water
2.0 scallions
salt and pepper
150.0g chicken
350.0g button mushroom
4.0Tbsp sweet soy sauce (dark)
4.0Tbsp fish sauce
2.0Tbsp oyster sauce
2.0Tbsp Worcestershire sauce
125.0ml water
3.0Tbsp canola oil
1.0Tbsp sesame oil
500.0g egg noodles
Chinese cabbage (choy sim)
20.0 meatballs
15.0 wontons
1.0Tbsp granulated sugar
Putri Lah
a foodperiment and a foodventorous, an Orca lover and a simple person who enjoys cozy places, good music and good books.