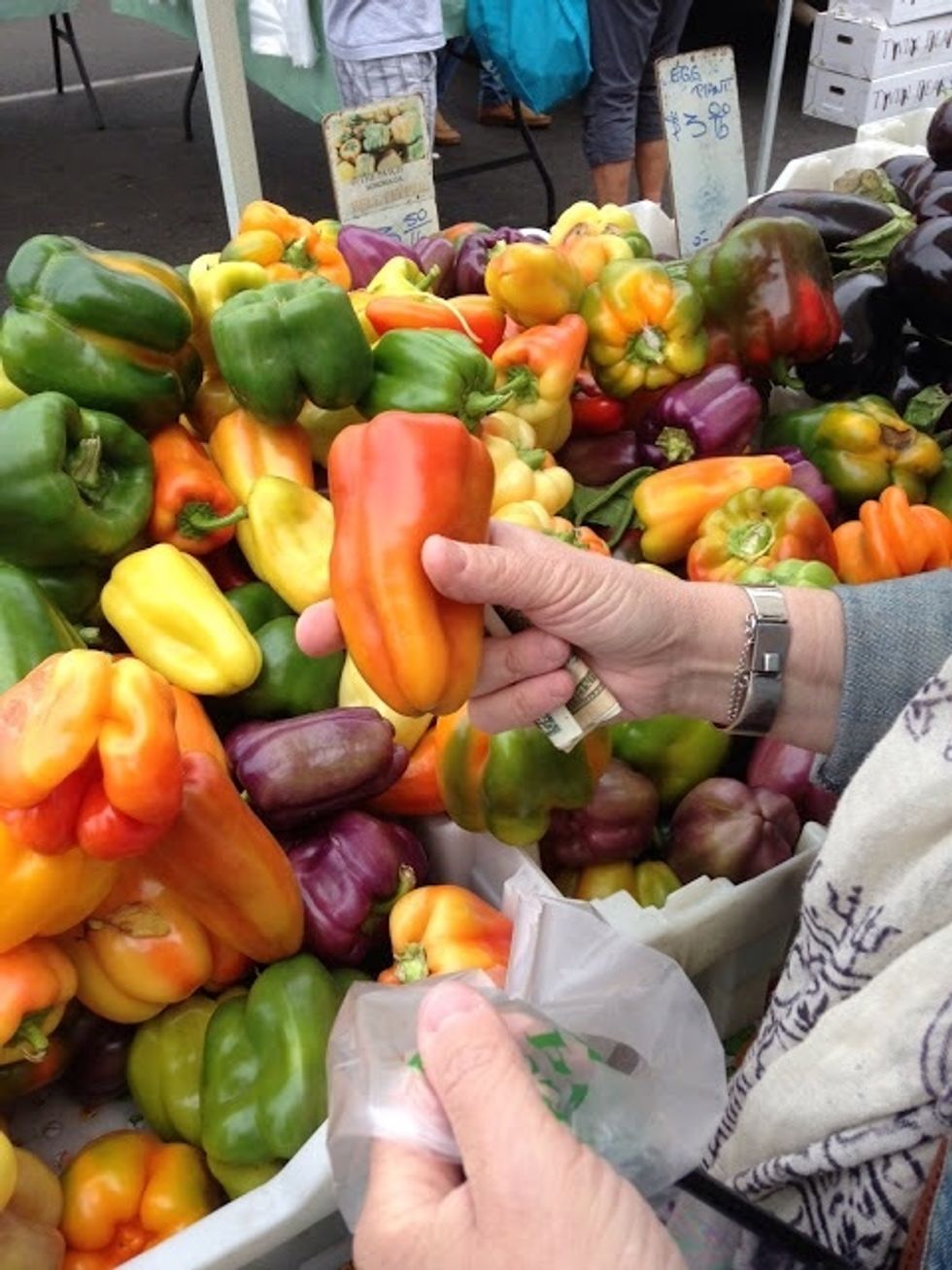 Select some bell peppers. As you see they come in colors other than green.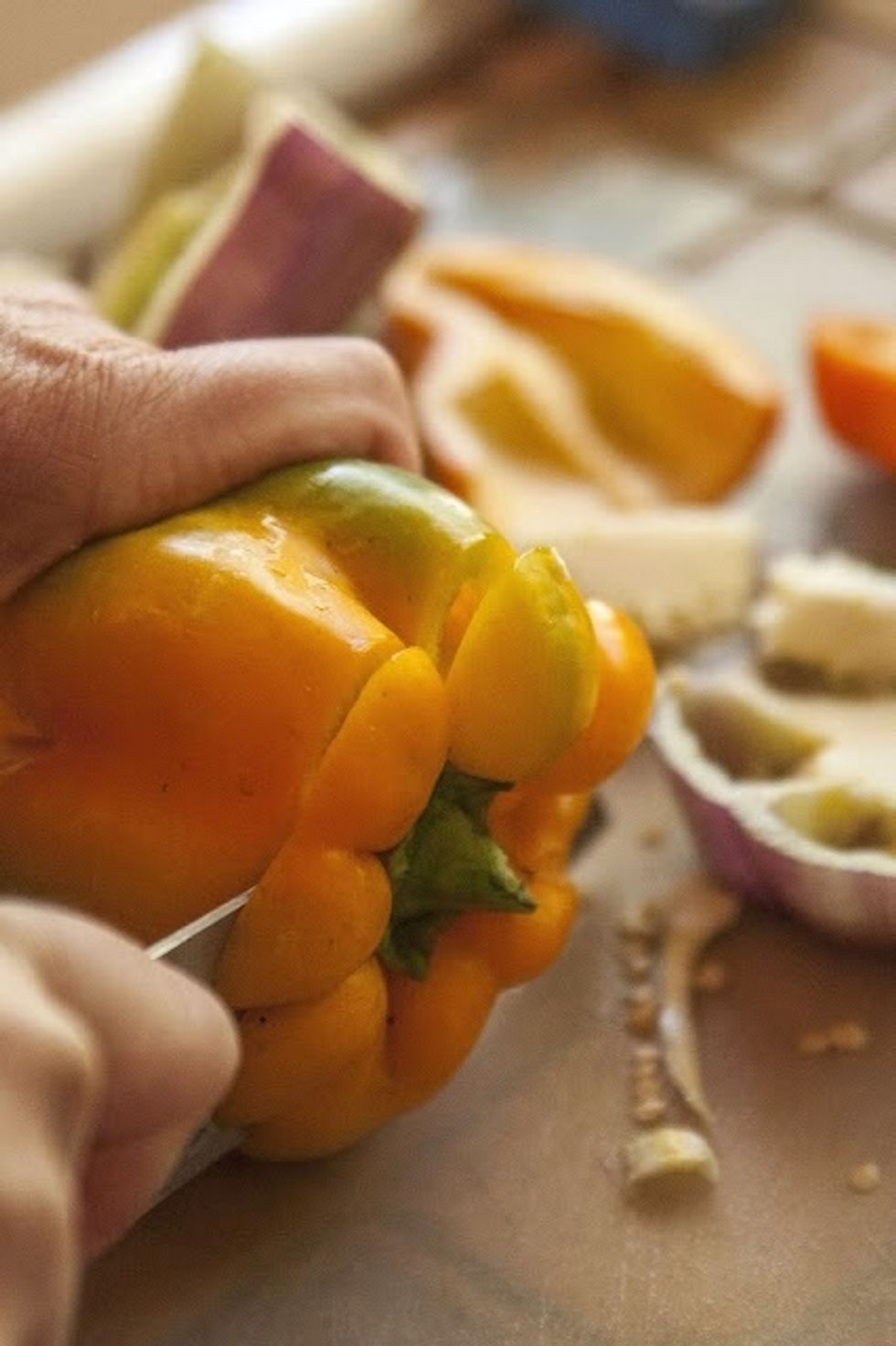 Preheat the oven to 375 degrees. Cut the tops off of the peppers.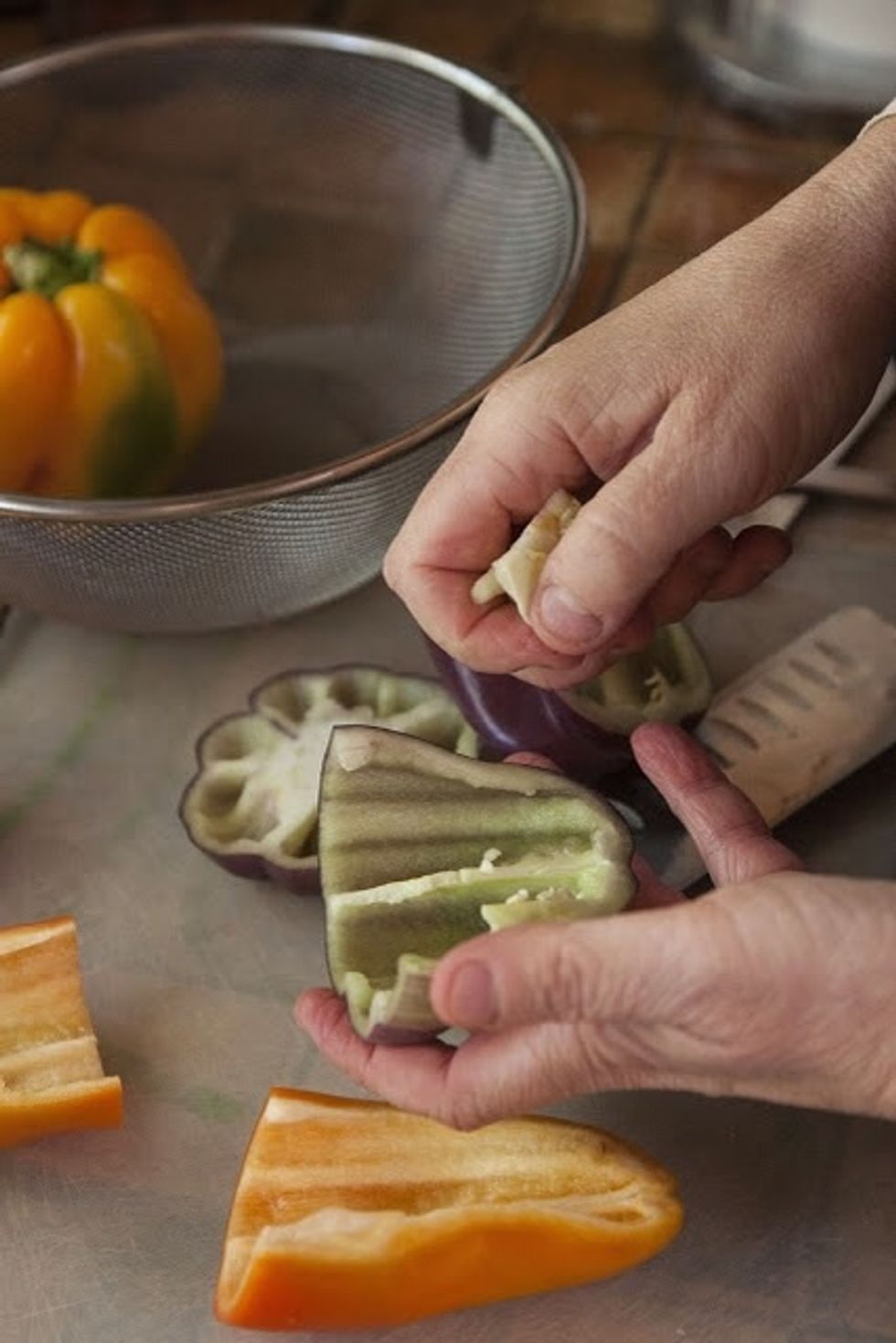 Halve them and scoop out the seeds.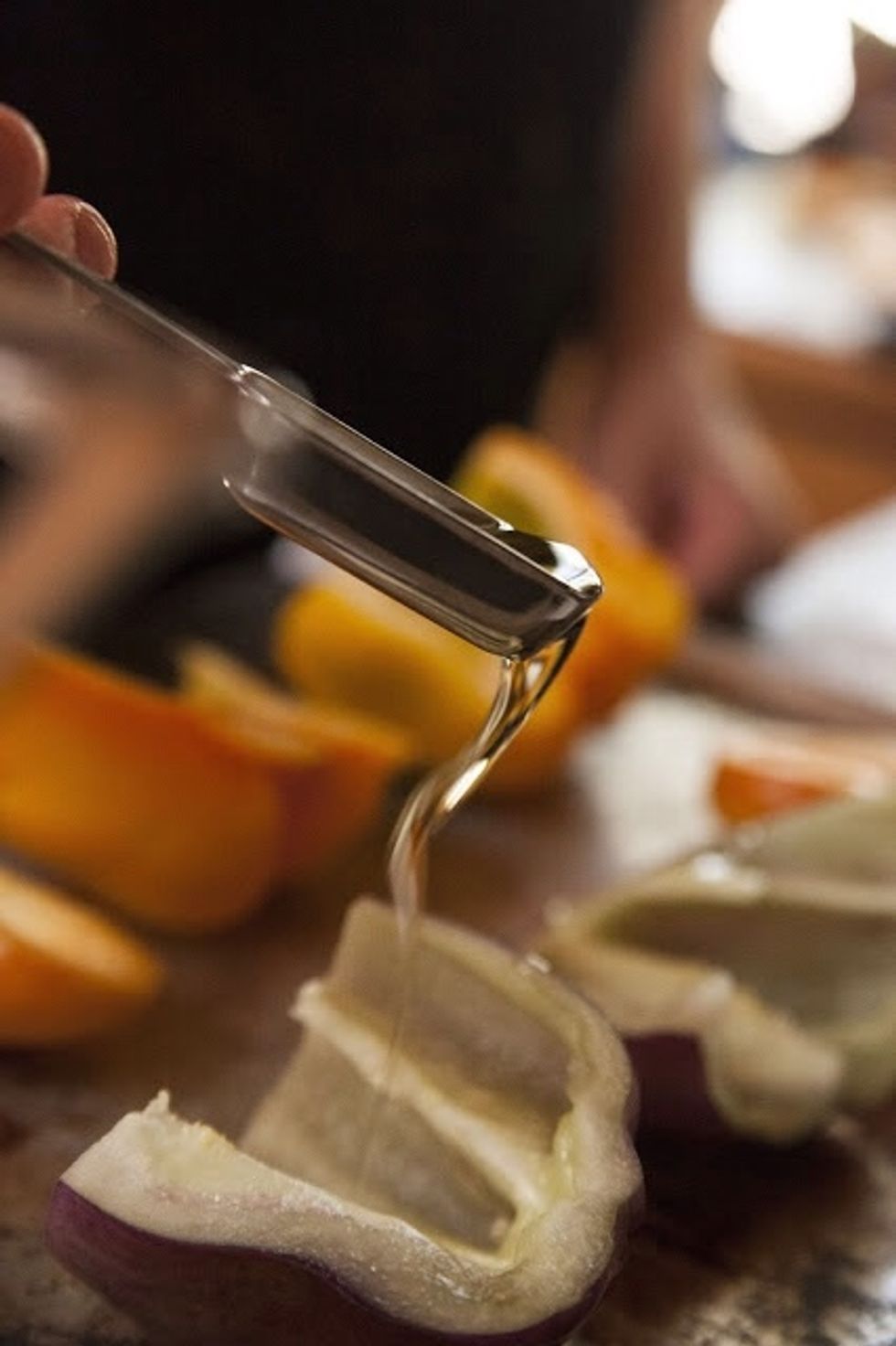 Place the halved bell peppers on a cookie sheet and drizzle them with 1 Tbs of the vegetable oil.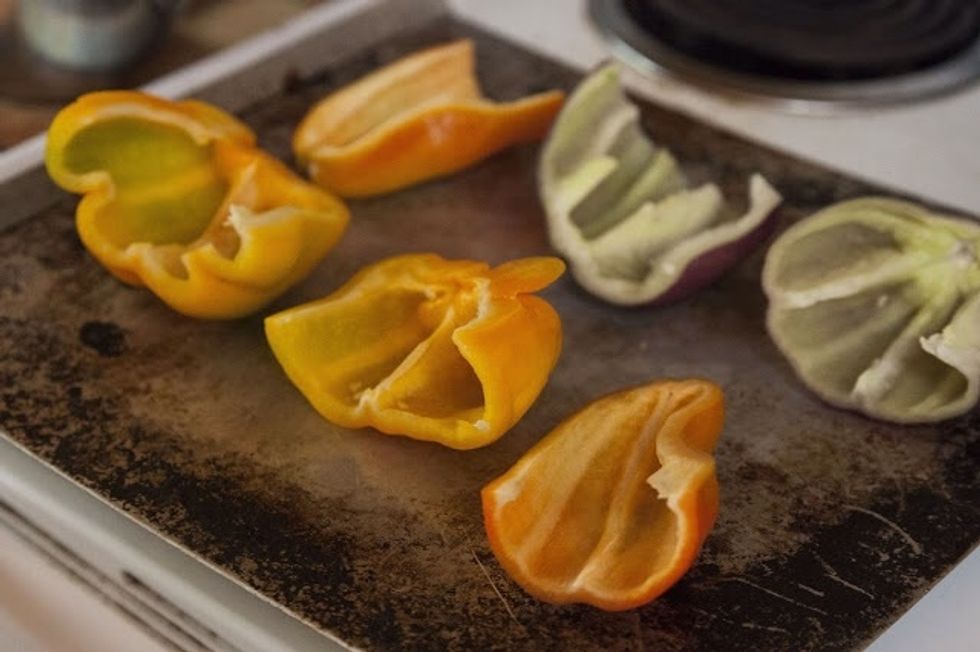 Bake them in the oven for about 25 minutes or until they're soft. When the peppers are done, take them out and set them aside.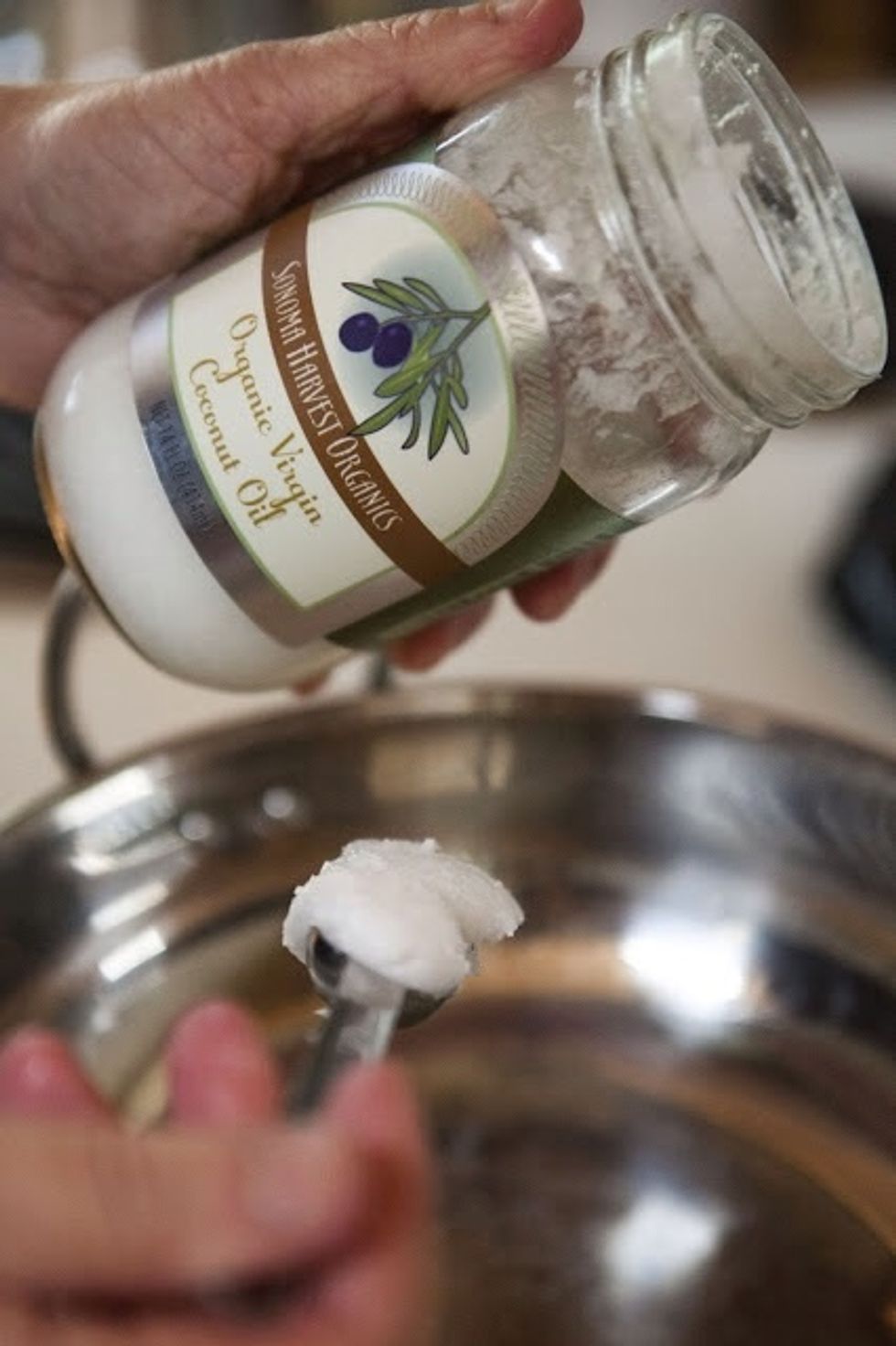 Meanwhile fix the stuffing. Add the rest of the vegetable oil to a skillet or kadhai. When the oil is hot toss in the cumin seeds. In about 1/2 minute or so they'll start to sizzle and get fragrant.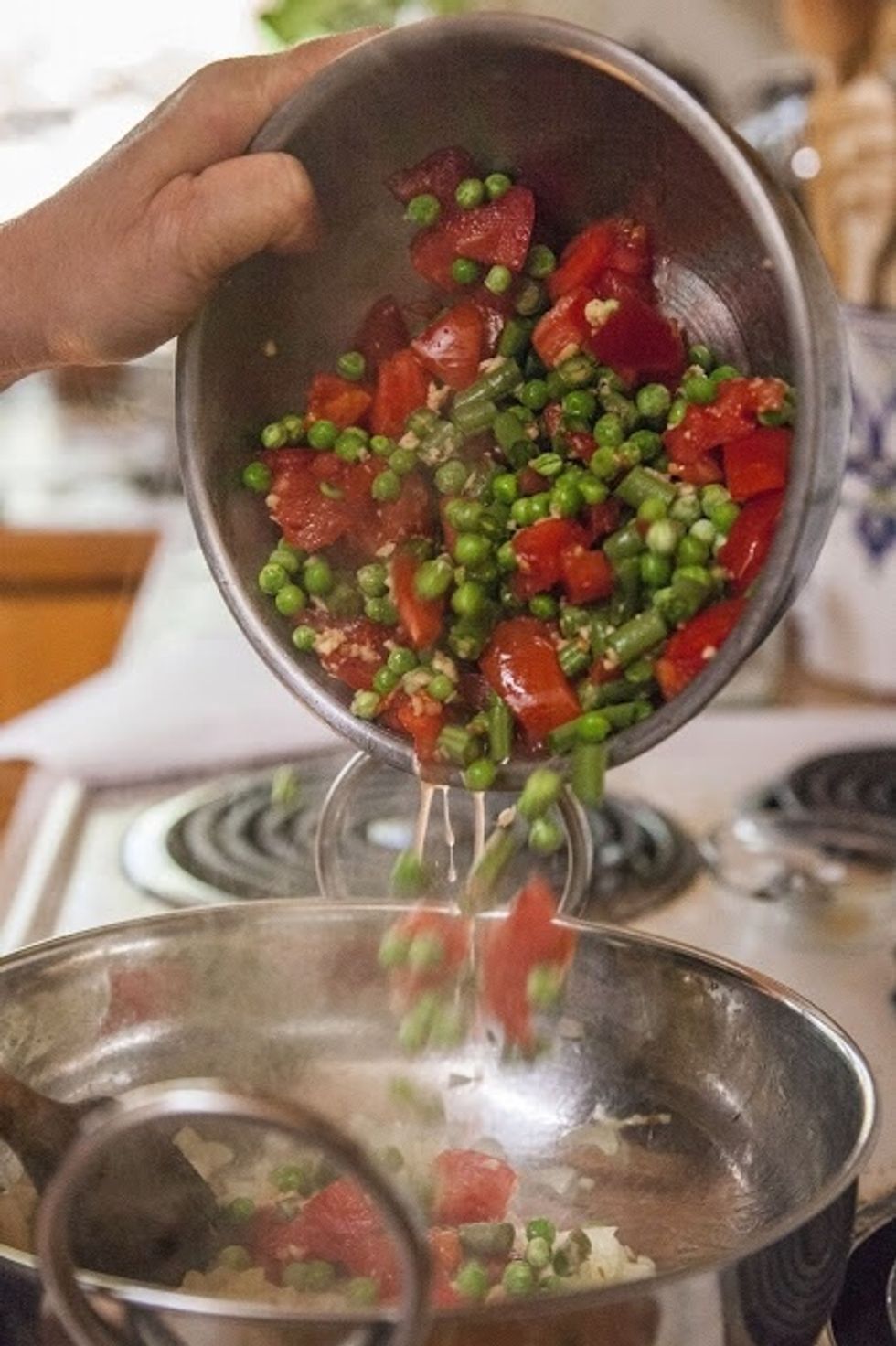 Add in the chopped onion and let it cook down for about 4 minutes or so. When it starts to turn a golden brown, add in the green beans, tomatoes, ginger and peas.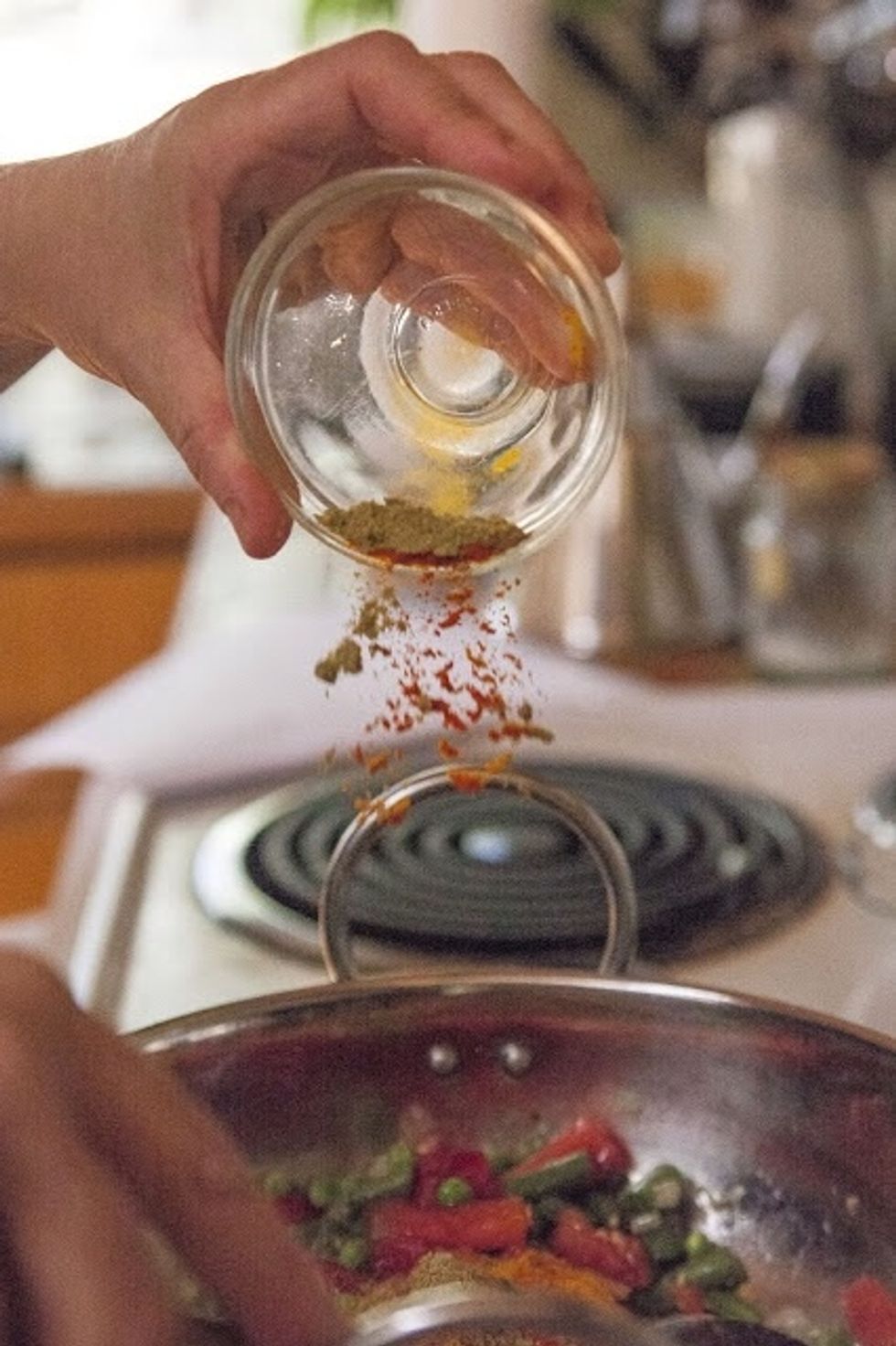 Stir them around and add in the turmeric, Kashmiri chili, salt, garam masala and ground coriander. Simmer everything together for 15 minutes. Its done when the tomatoes have softened and turned pulpy.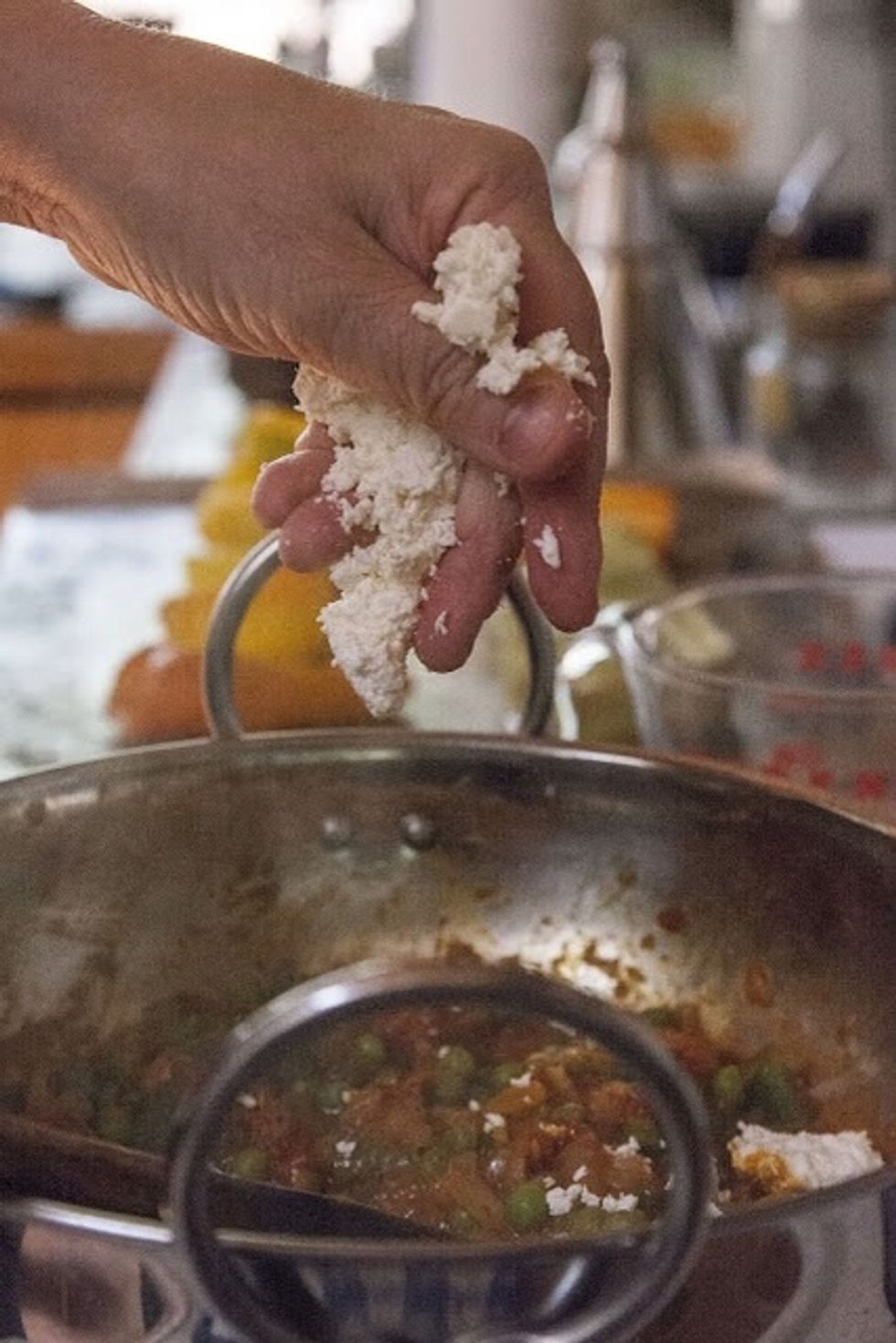 Add in the crumbled Paneer Cheese and 1/2 cup water.
Mix everything together well. Simmer it all for about 3 minutes.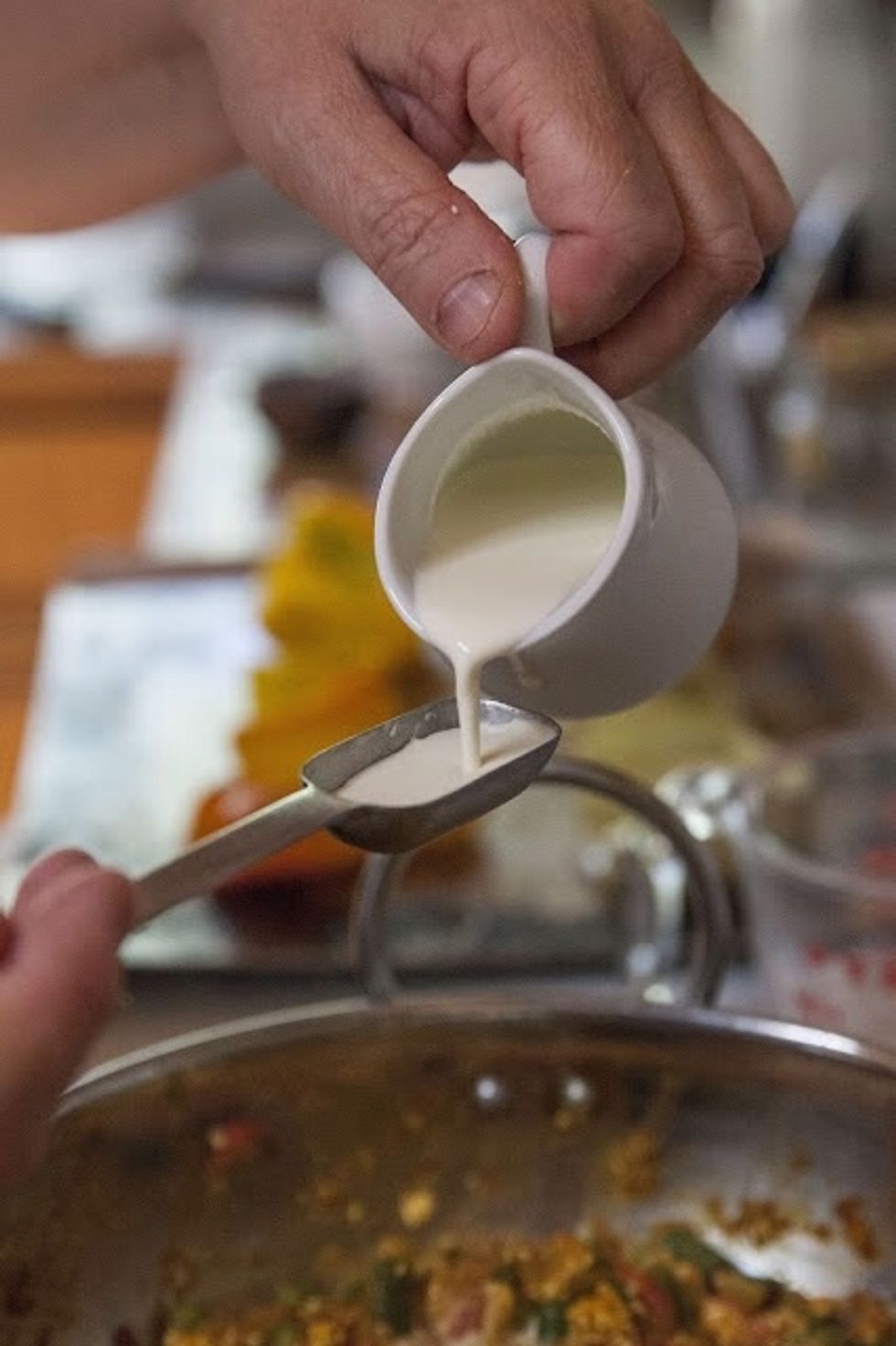 Add in the whipping cream if you're using it.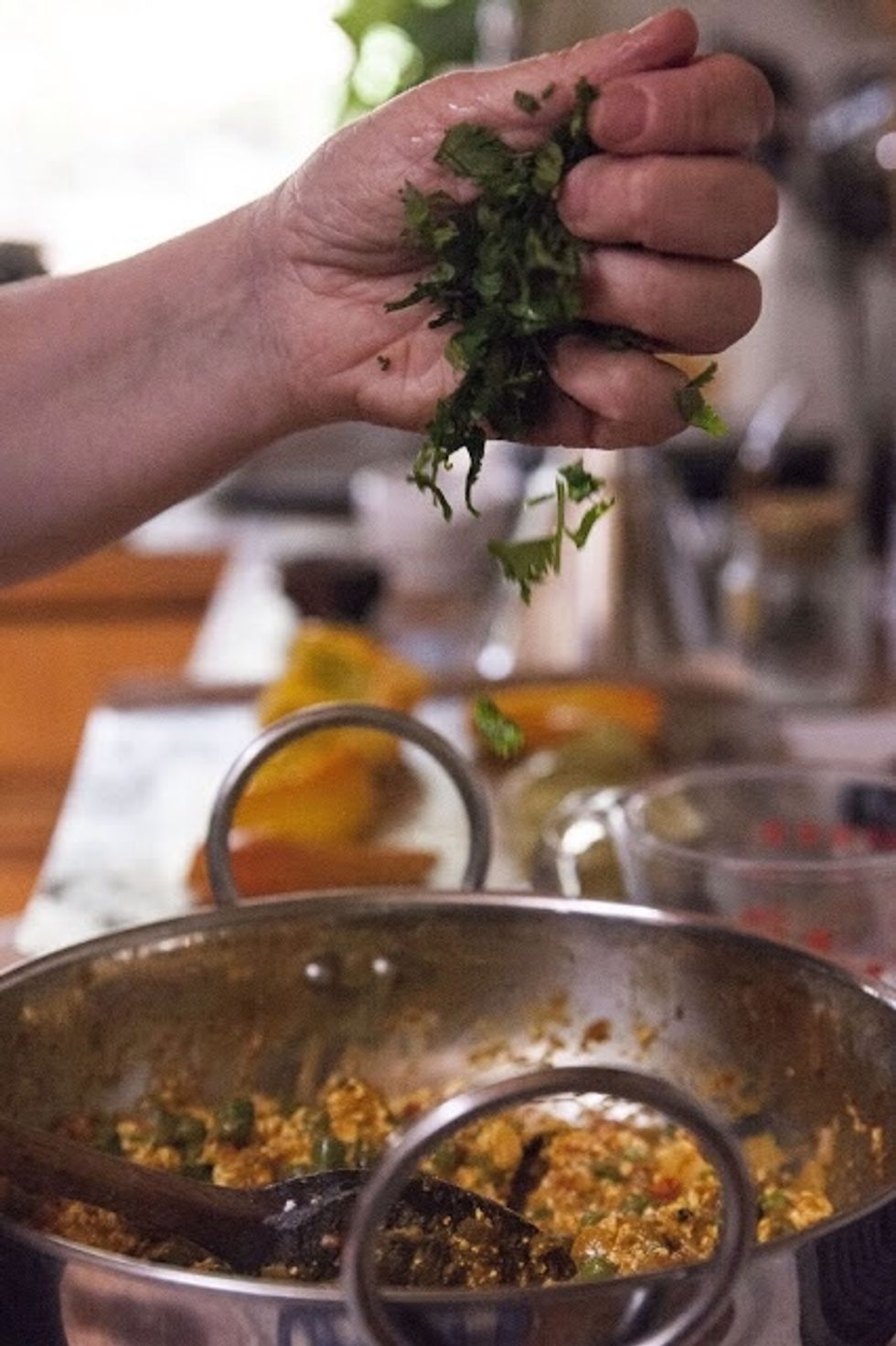 Give the dish a few grinds of black pepper, it's up to you. When Give it another 5 minutes or so on simmer. When the mixture is all heated through add in the chopped cilantro.
Give it another 5 minutes or so on simmer. You can add in more water by the tablespoon if you need it to keep the sauce from drying out.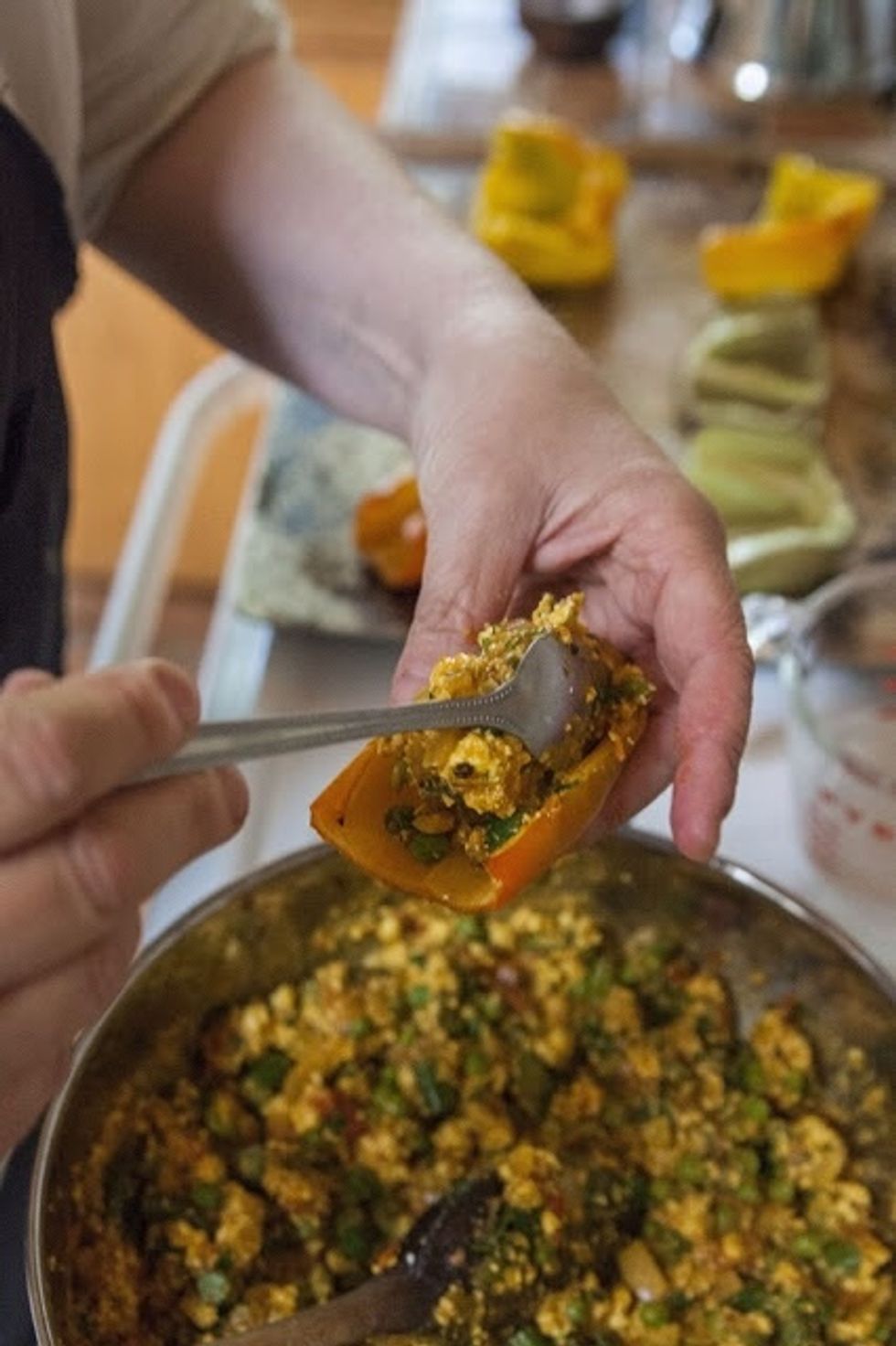 Preheat your grill to the highest setting. Brush a bit of oil on the grate to keep the peppers from sticking. Fill the baked pepper halves with the Paneer vegetable stuffing.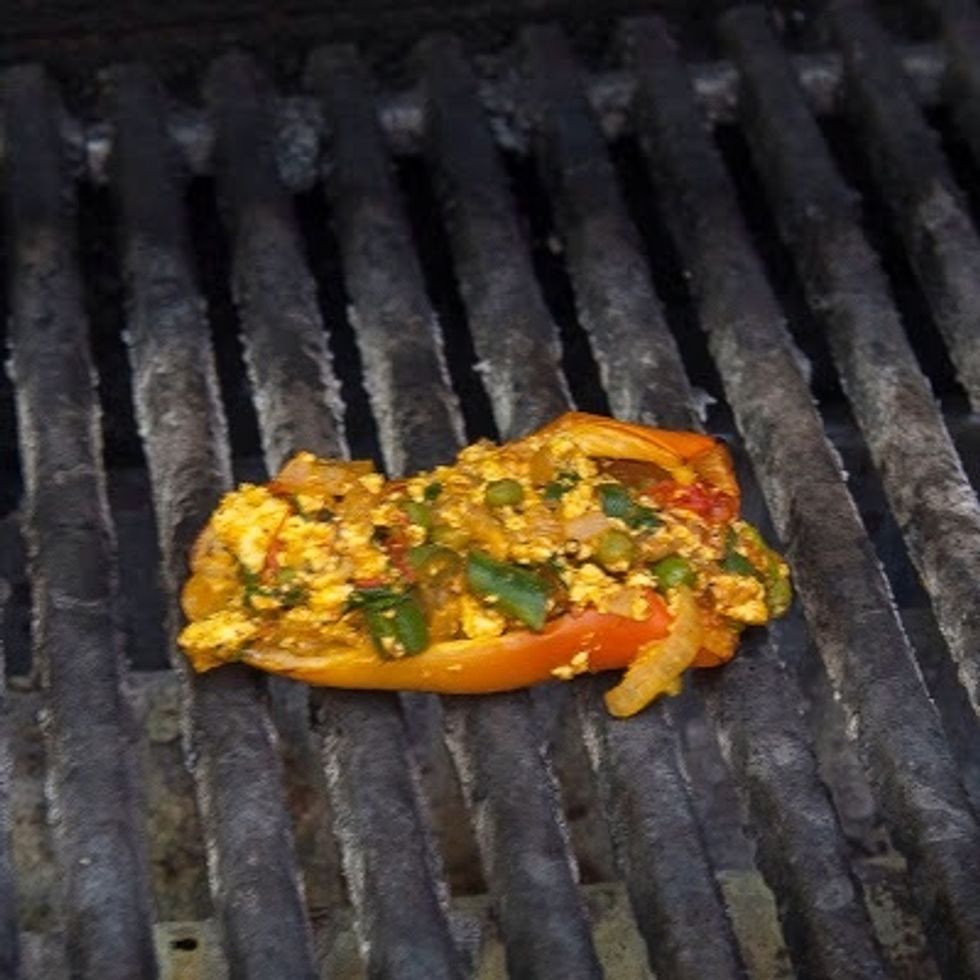 When the grill is hot, place the stuffed peppers on it and grill them until the Paneer vegetable mixture starts to brown. This is not a terrific picture as the heat was intense.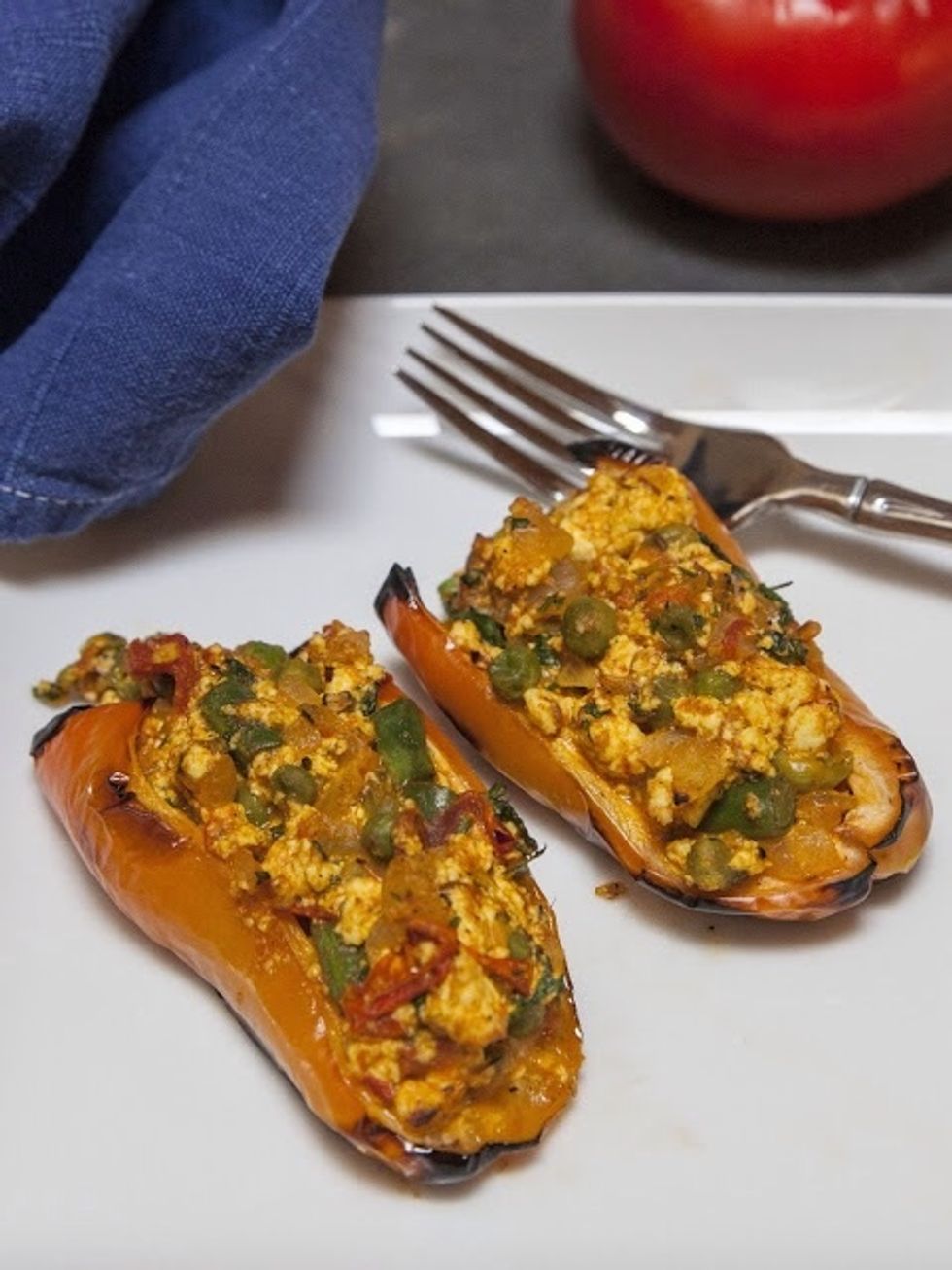 It only took a few minutes and I was ready to plate them up. I served these with simple Basmati rice on the side and had a totally complete meal.
4.0 Bell peppers
4.0Tbsp Vegetable oil
1.0 Onion finely chopped
1/4tsp Cumin seeds
3.0 Fresh tomatoes chopped
2.0tsp Finely chopped fresh ginger
3.0oz Chopped fresh green beans
Kosher salt to taste
1/2tsp Kashmiri chili
2.0tsp Ground coriander
1/2tsp Turmeric
1/2tsp Garam masala
9.0oz Fresh paneer cheese
5.0Tbsp Whipping cream (optional)
1/2c Fresh or frozen peas
1/2c Chopped fresh cilantro
Ground black pepper to taste
1/2c Water
Kathy Gori
Screenwriter, long time Indian cook, lover of Indian foods, Saturday morning Cartoon voice. For more recipes visit my website www.thecolorsofindiancooking.com