This soup is very low in calories, but packed with nutrition (anti-inflammatory + detoxifying properties + fiber, iron, vitamins, antioxidants, calcium) It's a comforting yummy way to get your greens
272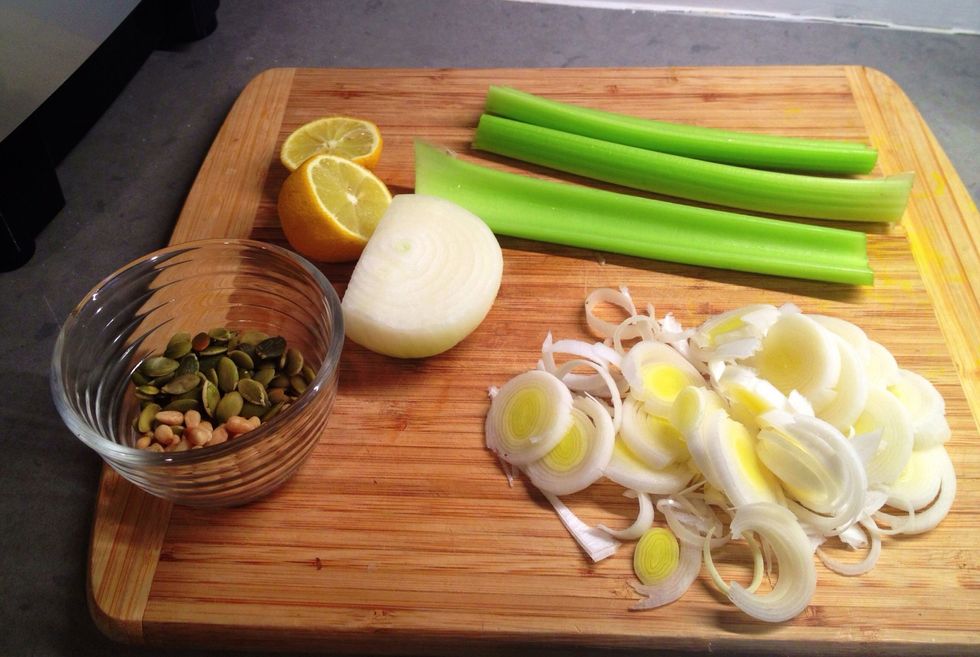 Fresh ingredients: half an onion, the white part of 1 leek, stalks of celery. 1 lemon for juice and zest, and 1 Tablespoon each of raw pumpkin seeds and pine nuts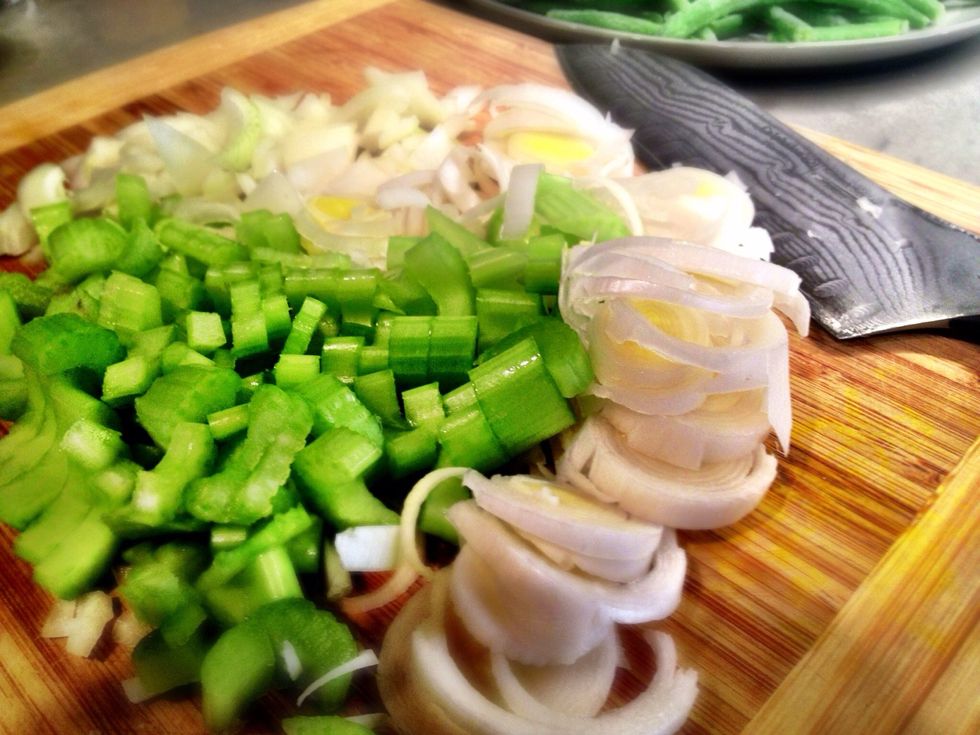 Roughly chop all the fresh veggies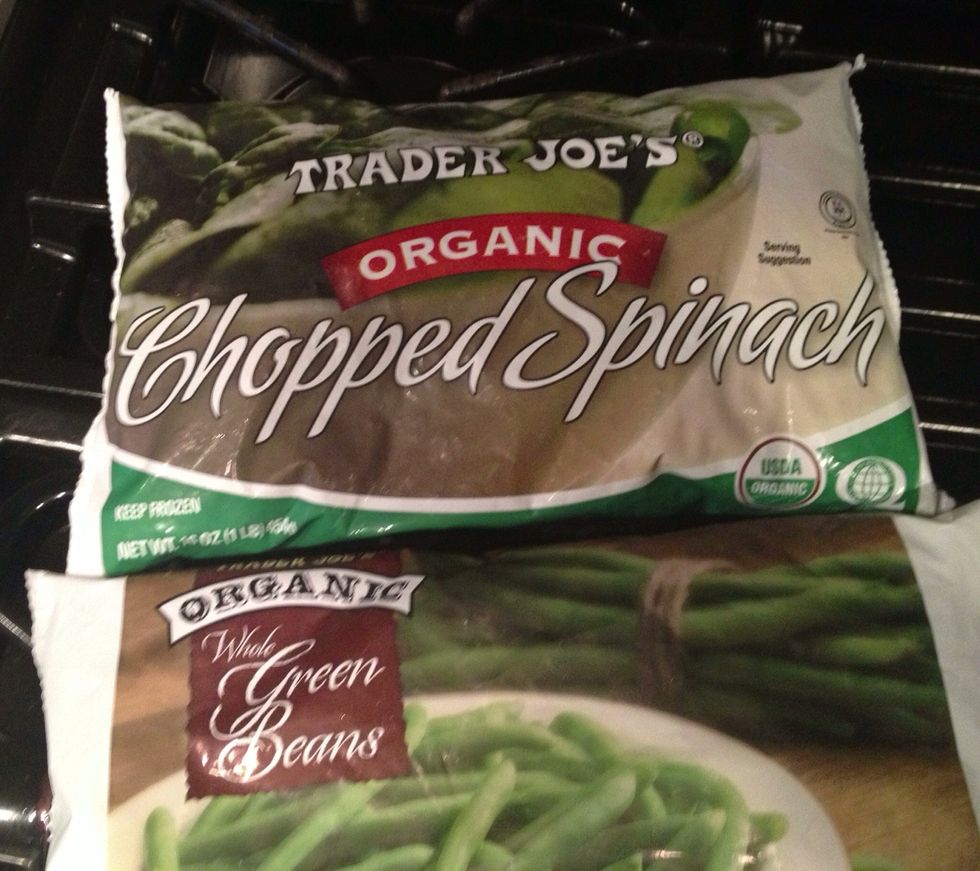 Today I am using FROZEN veggies, just to make the recipe easier. If you have fresh vegetables on hand, go ahead and use em. Zucchini and broccoli also go nicely in this soup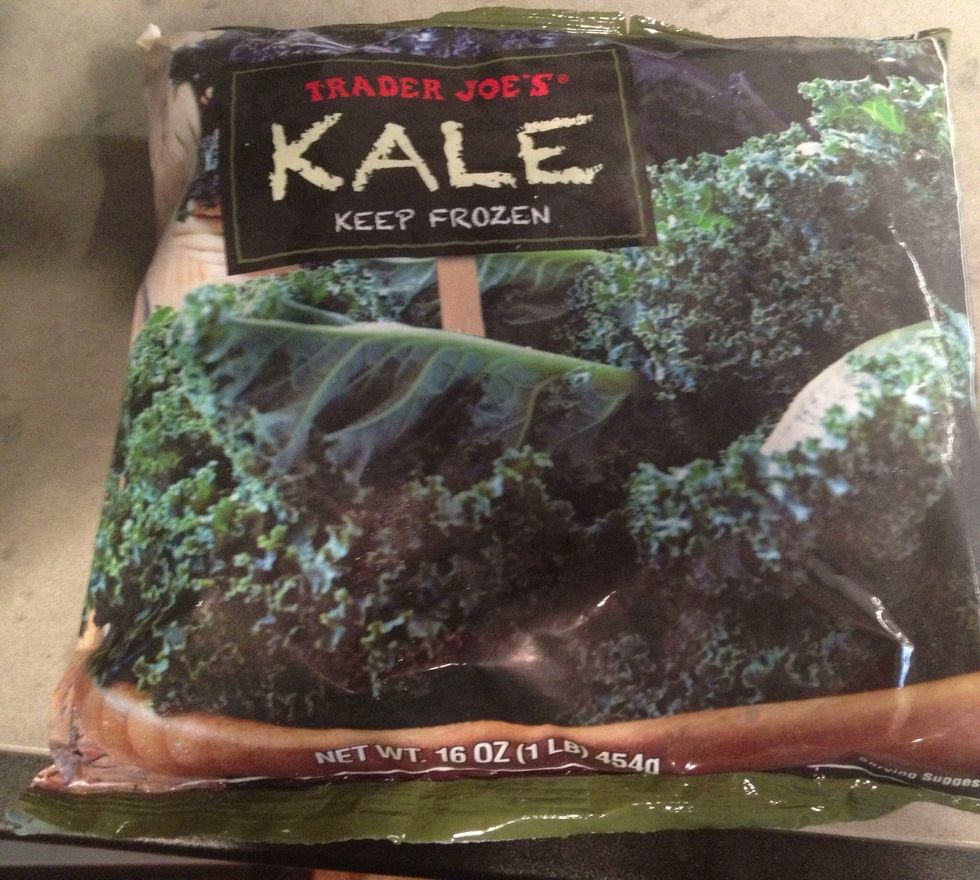 Trader Joe's only had conventionally grown frozen kale :)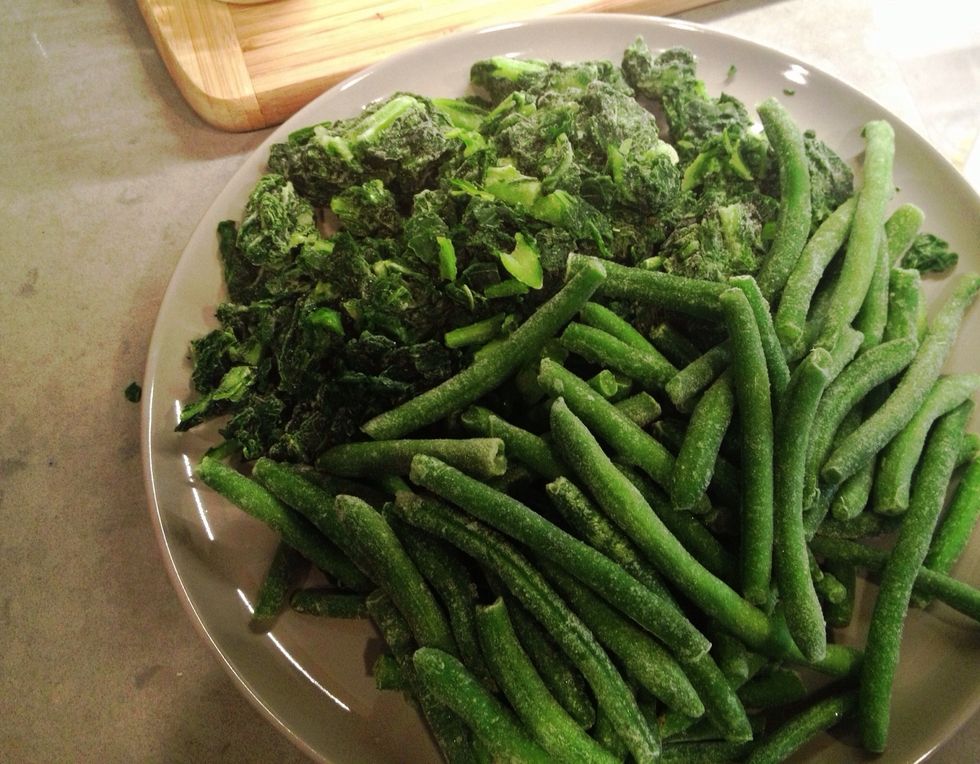 The frozen veggies... I used Trader Joe's brand. If using fresh vegetables, any variety of kale is ok (like curly or dino). I highly recommend choosing organic, local produce whenever possible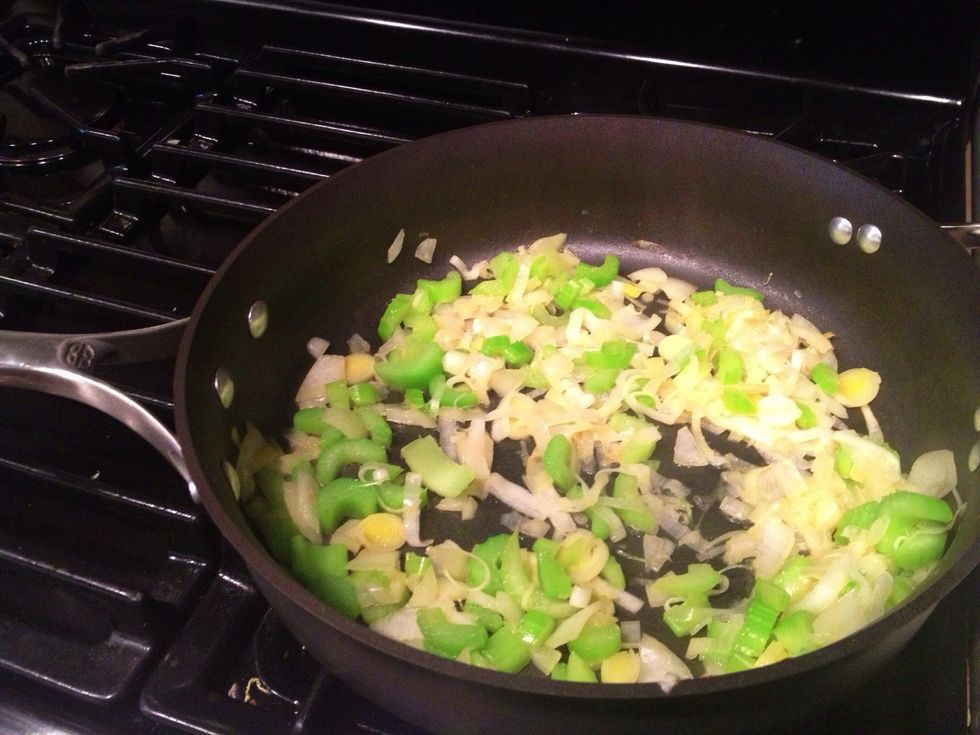 In a deep pan or soup pot add the diced veggies with a little bit of olive oil... Sautée over medium heat for about 1-2 minutes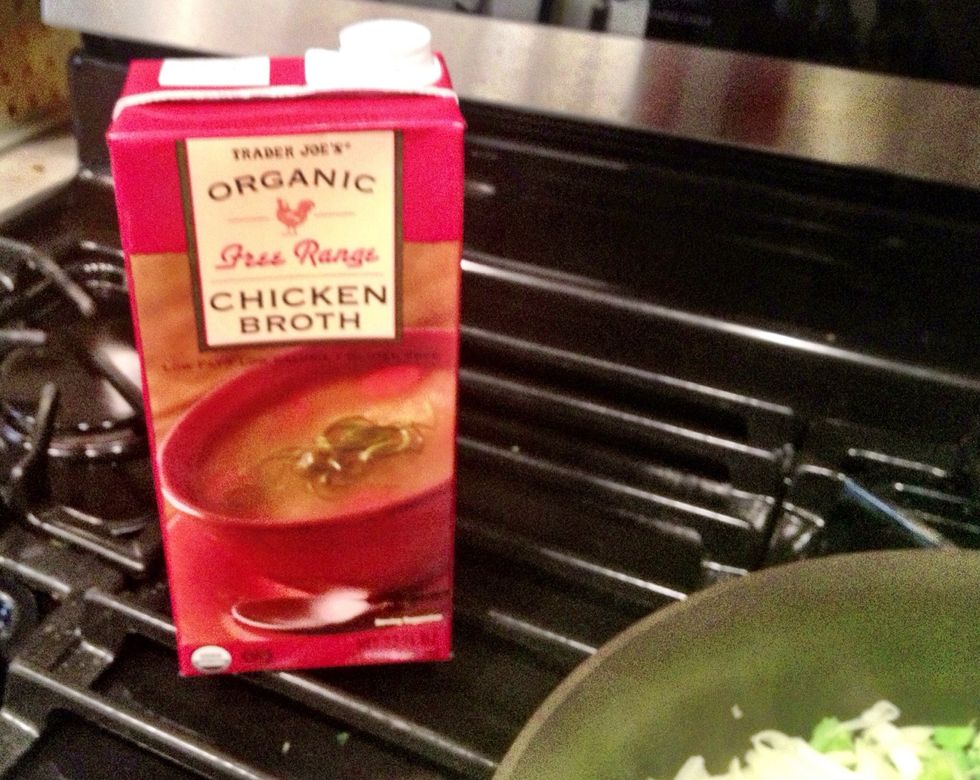 Today I'm using chicken broth - I already had some in my fridge. Obviously if you want to make this recipe vegan, substitute vegetable broth instead.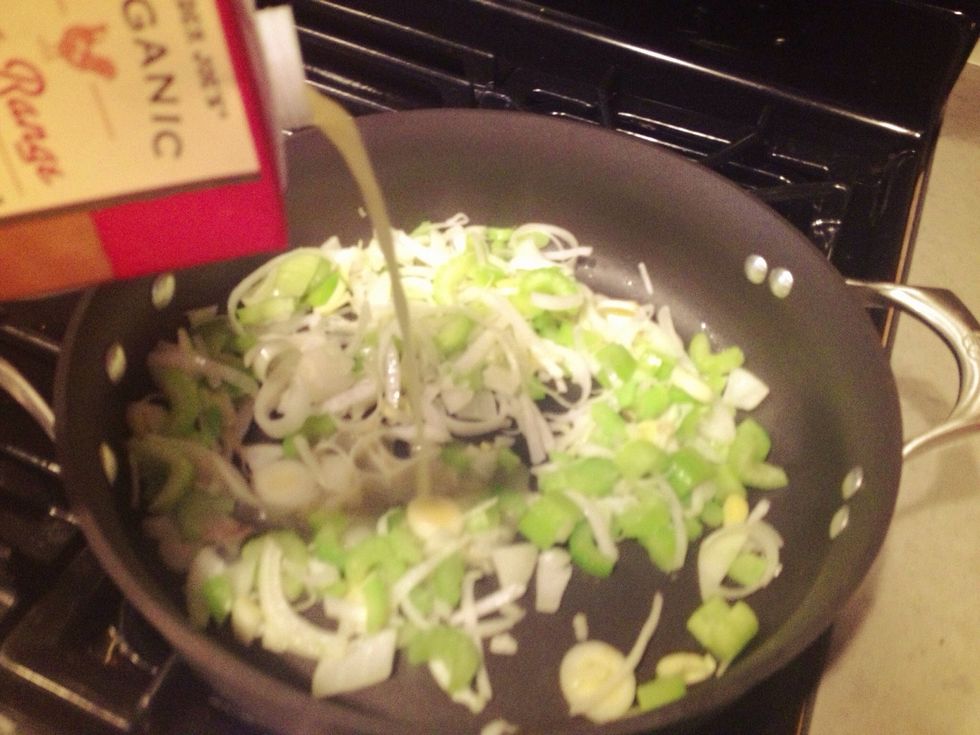 Sauté celery, onion and leeks for about 2 minutes, then add some broth. Probably 1/2 cup to start...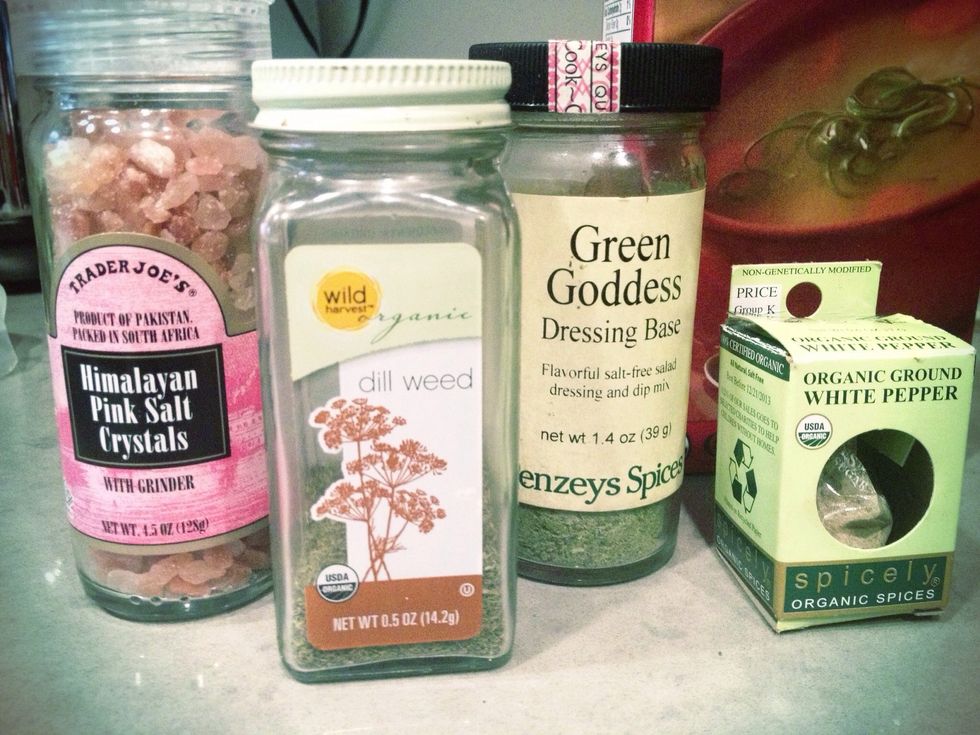 The seasonings. All optional, of course... "Green Goddess" contains dill, basil, green onion, sugar and garlic. (It's my fave, and I'm a little obsessed with it) You can order it from www.penzeys.com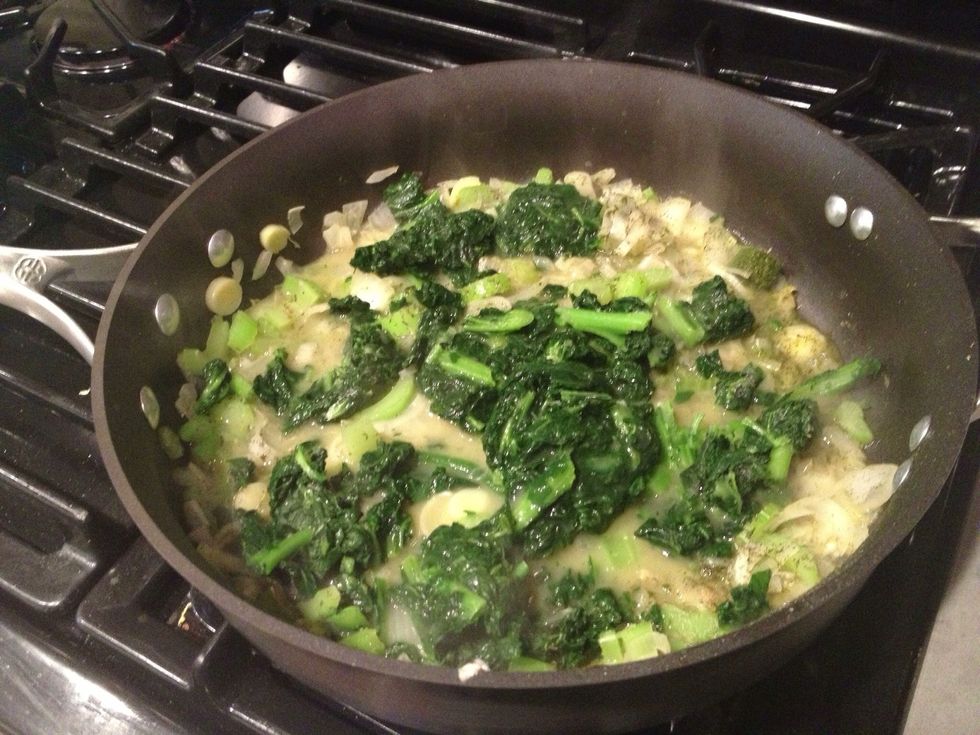 Continue adding broth to keep the mixture wet. Once the celery and onions are softened, then add the frozen green beans, and frozen kale. I used HALF A BAG of each today. (see video1)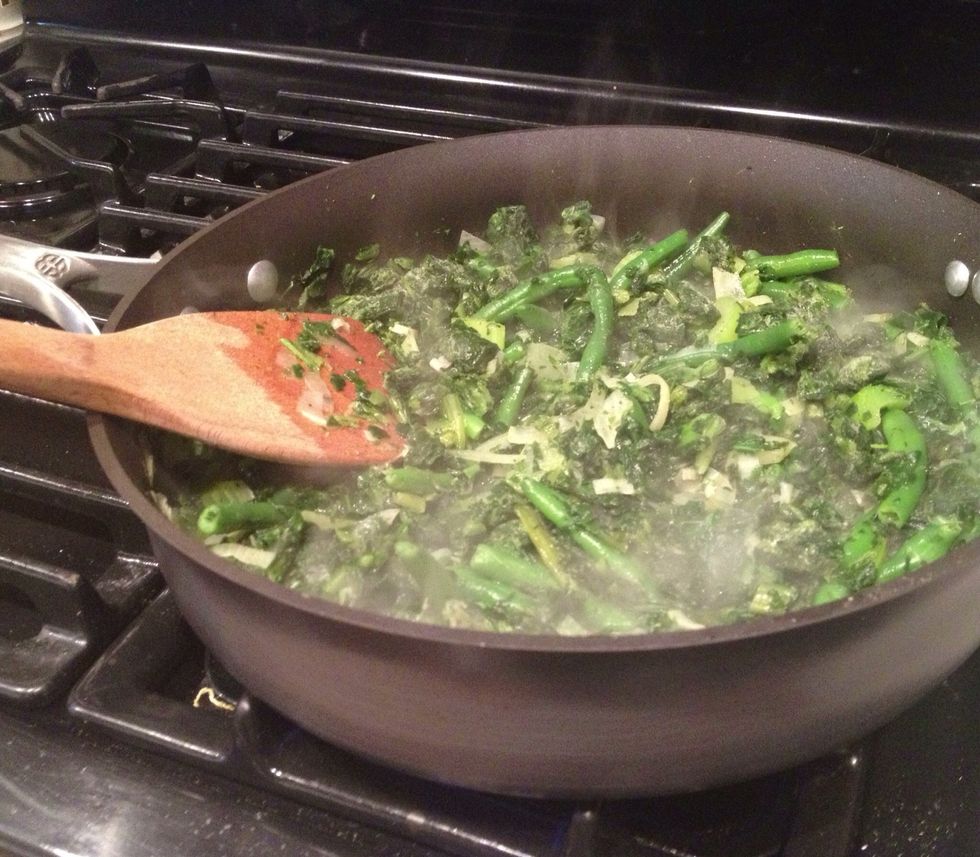 Add the frozen spinach last... if you are using fresh spinach, just stir it in as you are about to remove the veggies from the heat. (see video 2)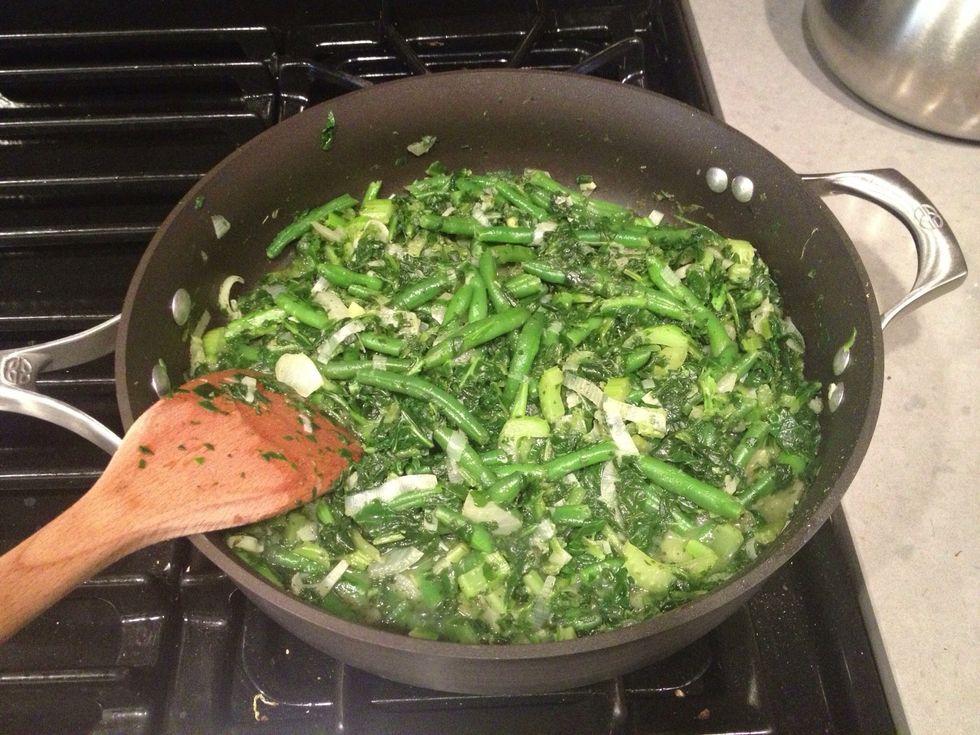 Now the onion, celery, green beans, kale and spinach are finished cooking.
If you are using a regular household blender or an immersion blender please use caution. Do not blend piping hot ingredients, ok?!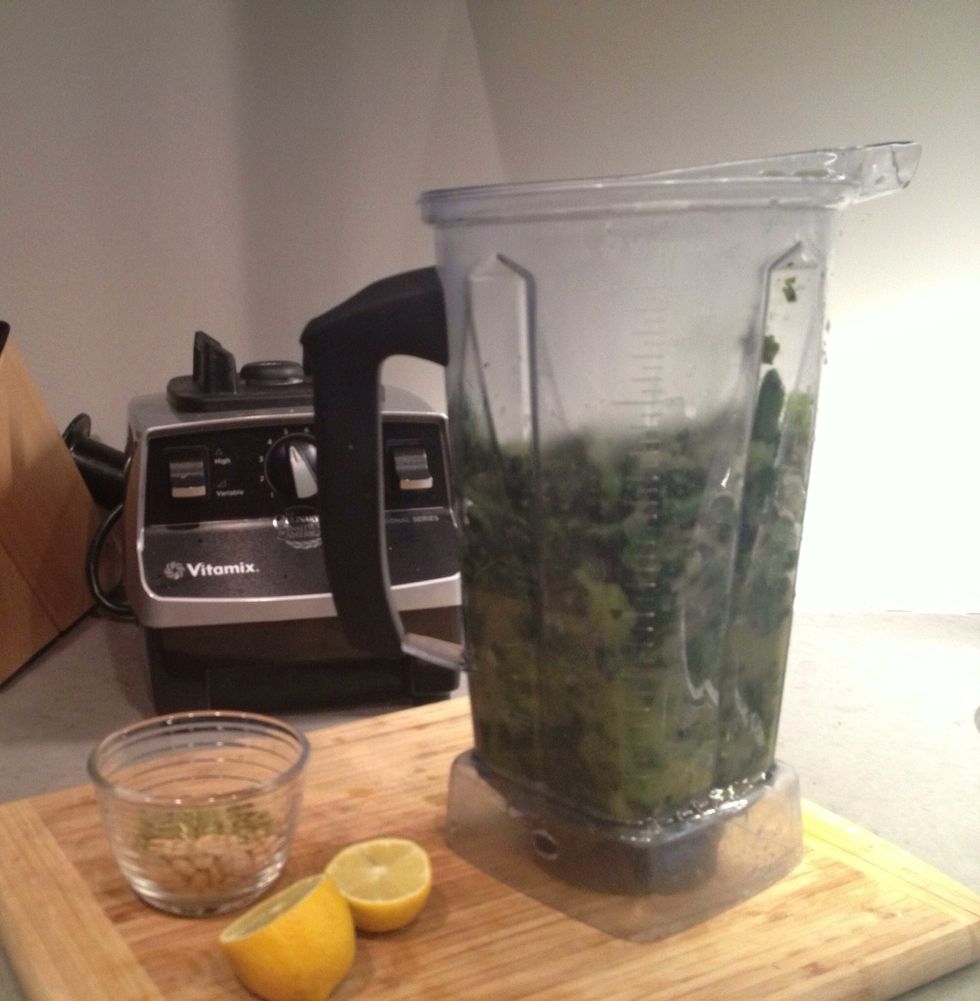 By the way, if anyone's wondering: The cooked veggies + broth they were simmering in = approx 5 cups.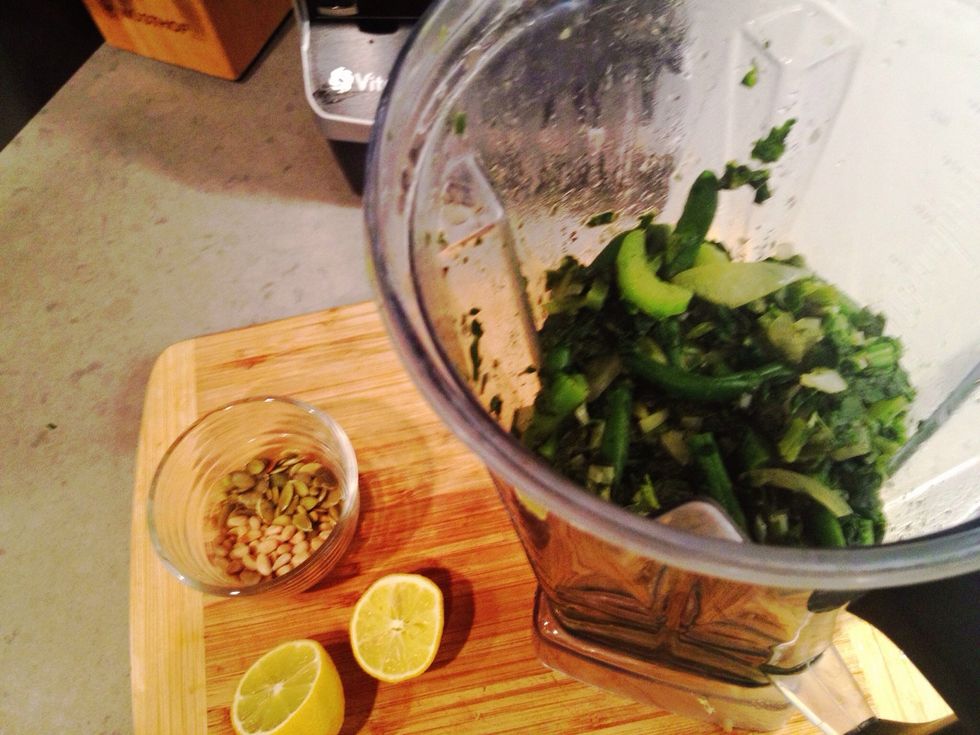 Woo hoo!!!! Time to puree. Now add the lemon juice and some zest. If you are not using a VitaMix allow the mixture to cool down to room temp before blending.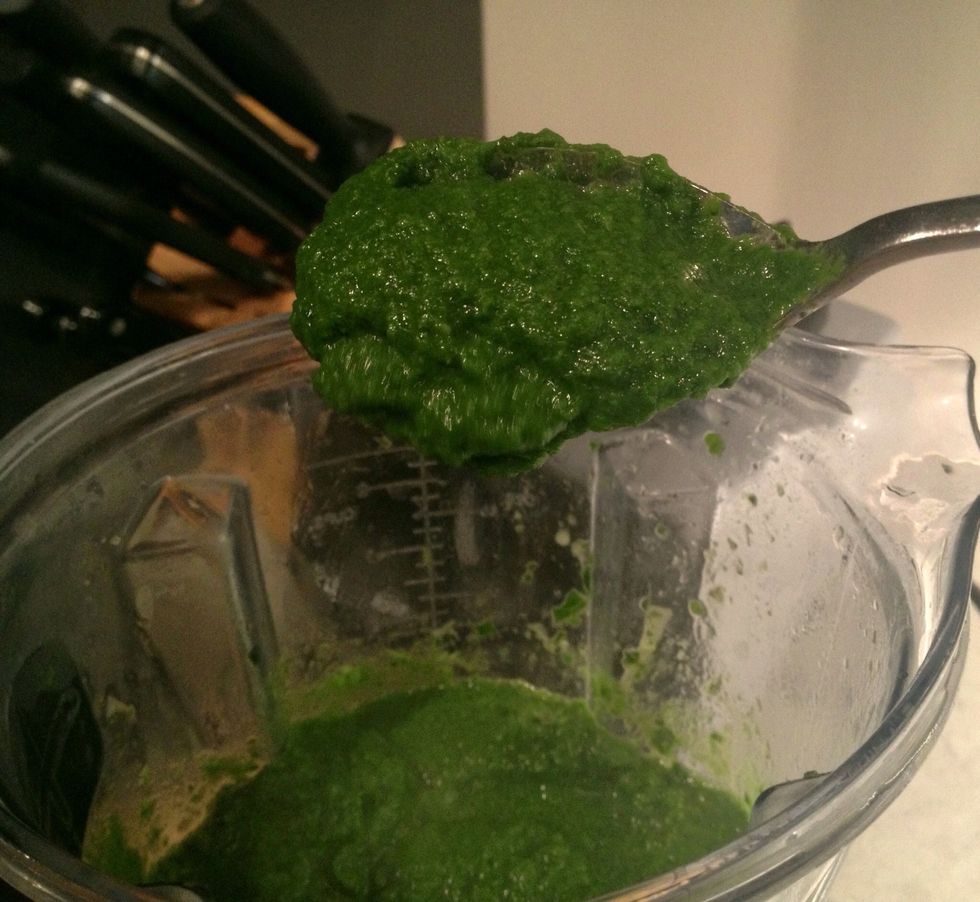 So, this is what it looks likes like now... This is only veggies+broth and spices blended for about 1 minute. You can leave it like this, or add the seeds/nuts now. (see video 3)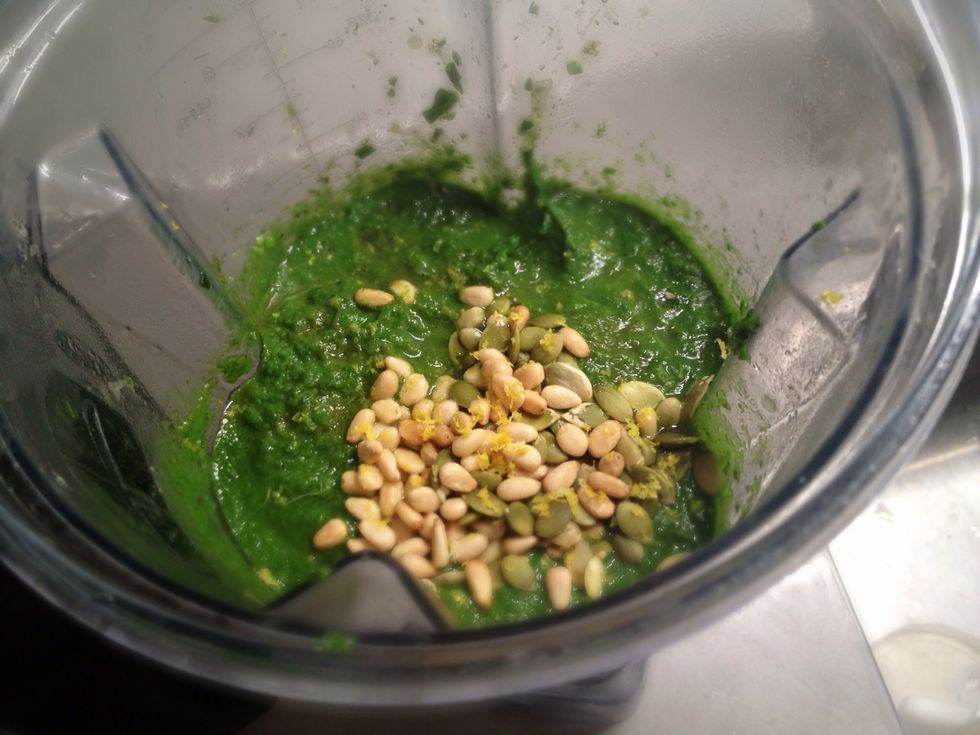 After blending the veggies on high add pine nuts and pumpkin seeds. If you don't have both-- either one is fine. You can buy small amounts from grocery stores that sell bulk seeds and nuts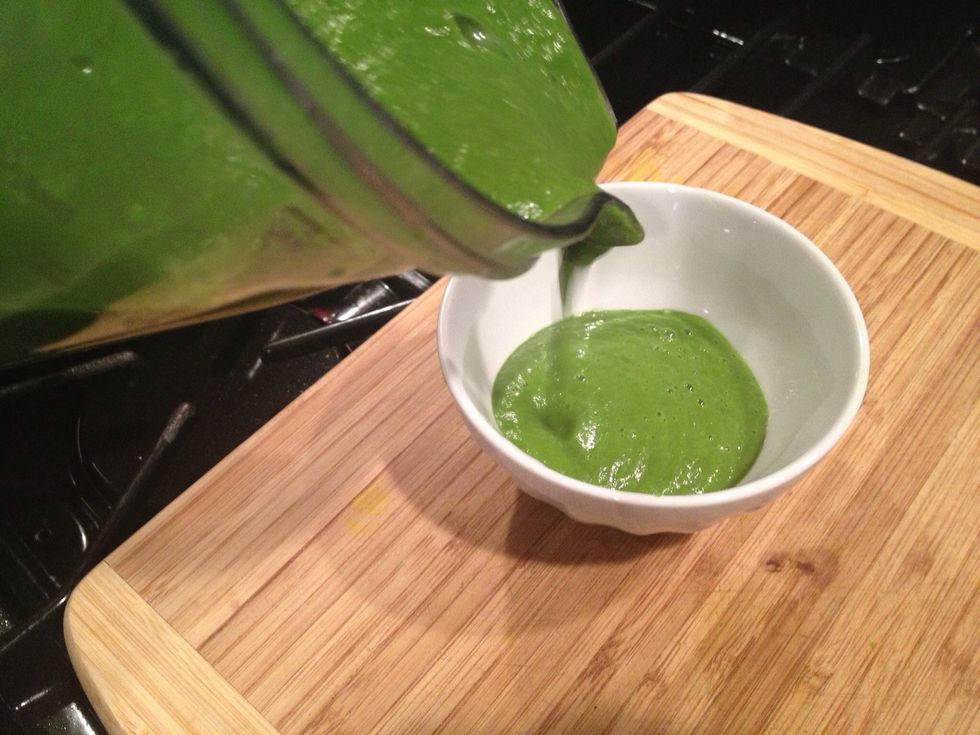 And this is the final product. Look at that gorgeous COLOR... Notice the color and texture changed after blending in the pine nuts and raw pumpkin seeds! (see video 4)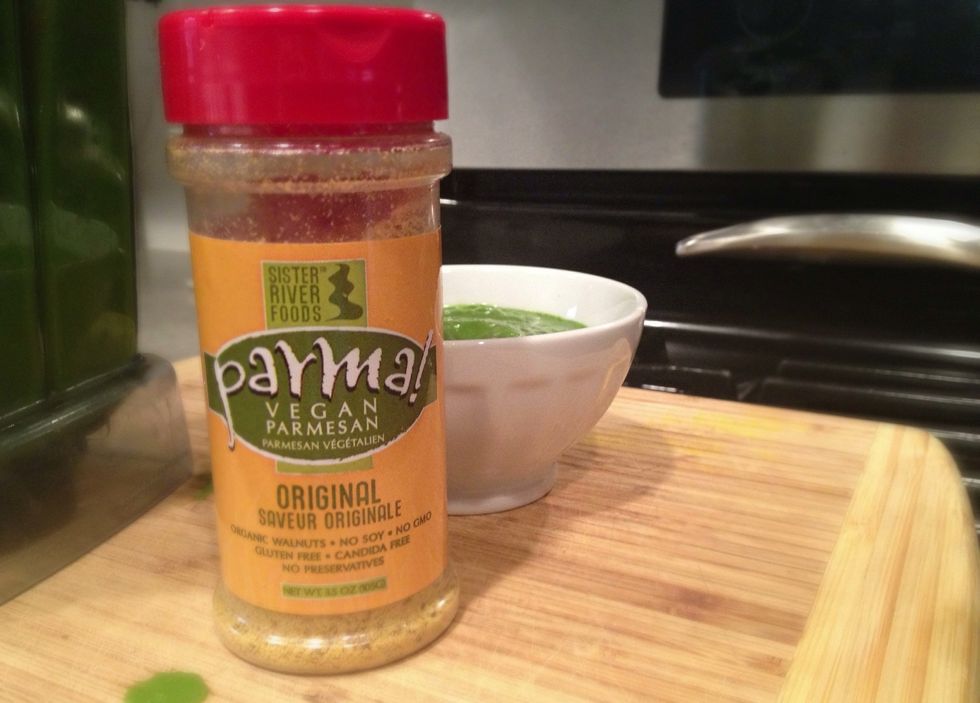 This is the stuff I mention in video 4. Vegan "parmesan cheese" super yum sprinkled on soup or cooked veggies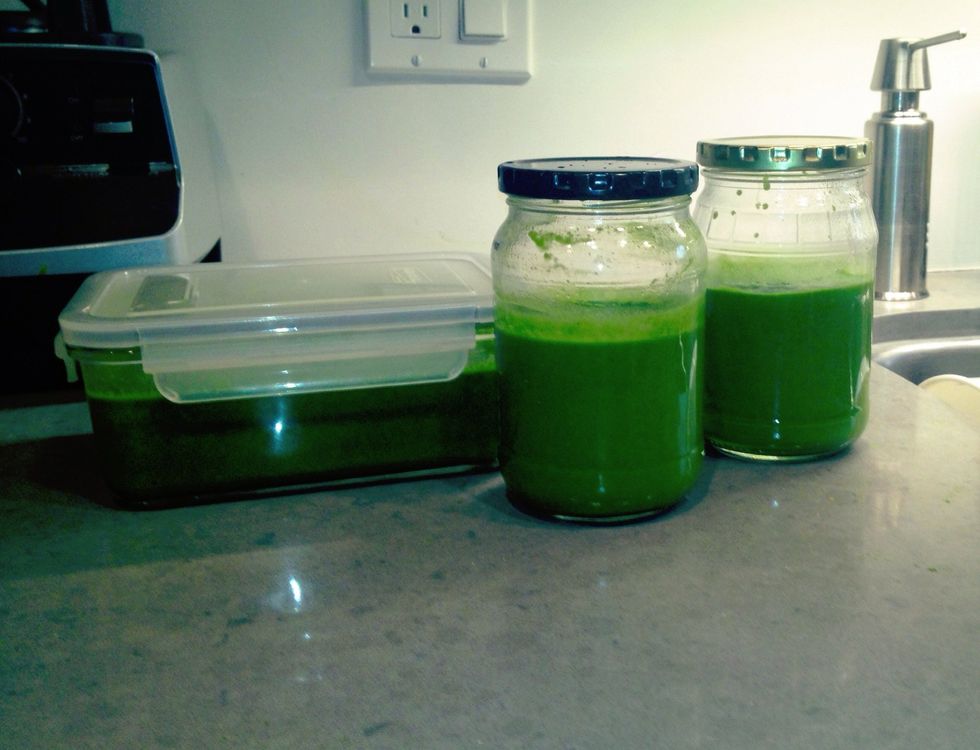 This batch came out to just over 6 cups total... I used approx 2 cups broth + 1 cup water + vegetables
I welcome your comments and requests. What do you want to learn to cook? Subscribe. Like. Follow ... and share the love.
1/2 large onion (can use more if omitting leeks)
1.0 Leek (white part only)
1.0 Lemon
5.0 Stalks of celery
1/2 Bag frozen spinach
1/2 Bag frozen kale
1/2 Bag frozen green beans
2.0c Perpared broth (vegetable or chicken broth )
1.0Tbsp Raw Pumpkin seeds
1.0Tbsp Pine nuts
Spices/seasoning
Beth K
For me cooking is an expression of LOVE! I'm curious, grateful, always learning... and I'm especially fond of anything delicious, sparkly or well organized.