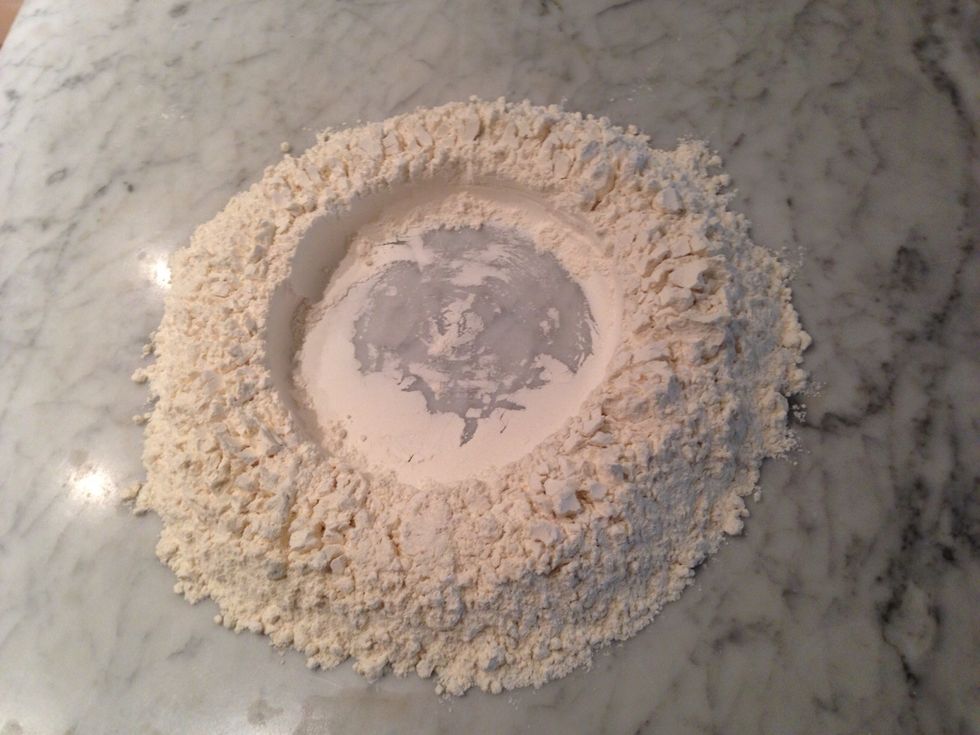 Place flour in a mound on your work surface and create a well, or hole, in the center as shown.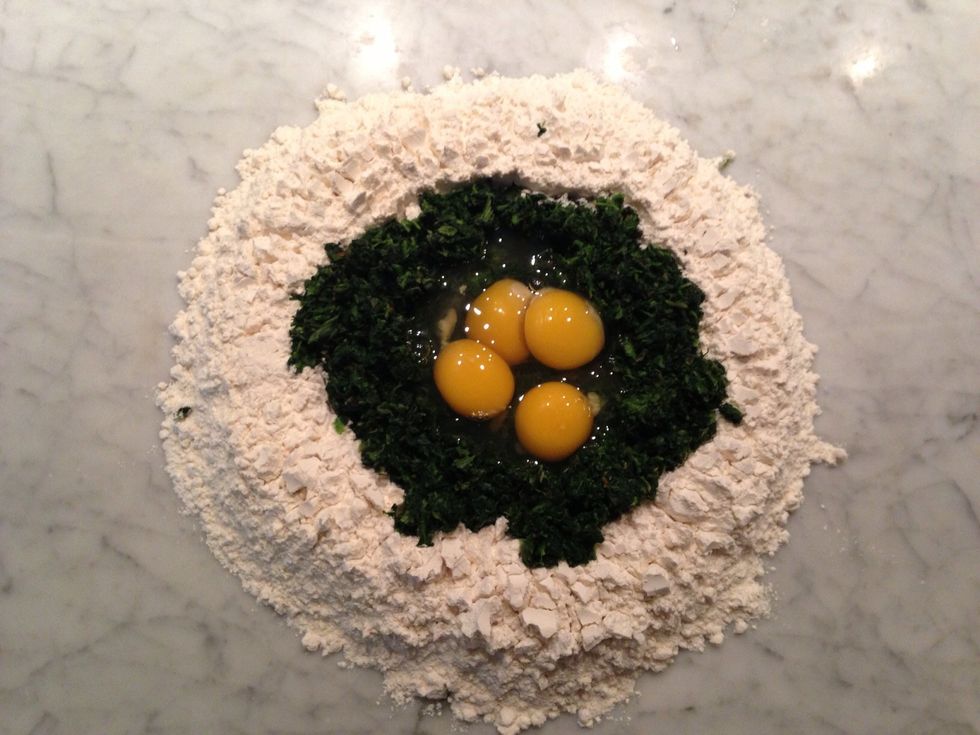 In that well, place your drained and chopped spinach, eggs and salt.
With a fork, work eggs, salt and spinach together to form a slurry. Slowly add flour into egg and spinach mixture until a dough forms. Use a bench scraper or other utensil to gather dough into a ball.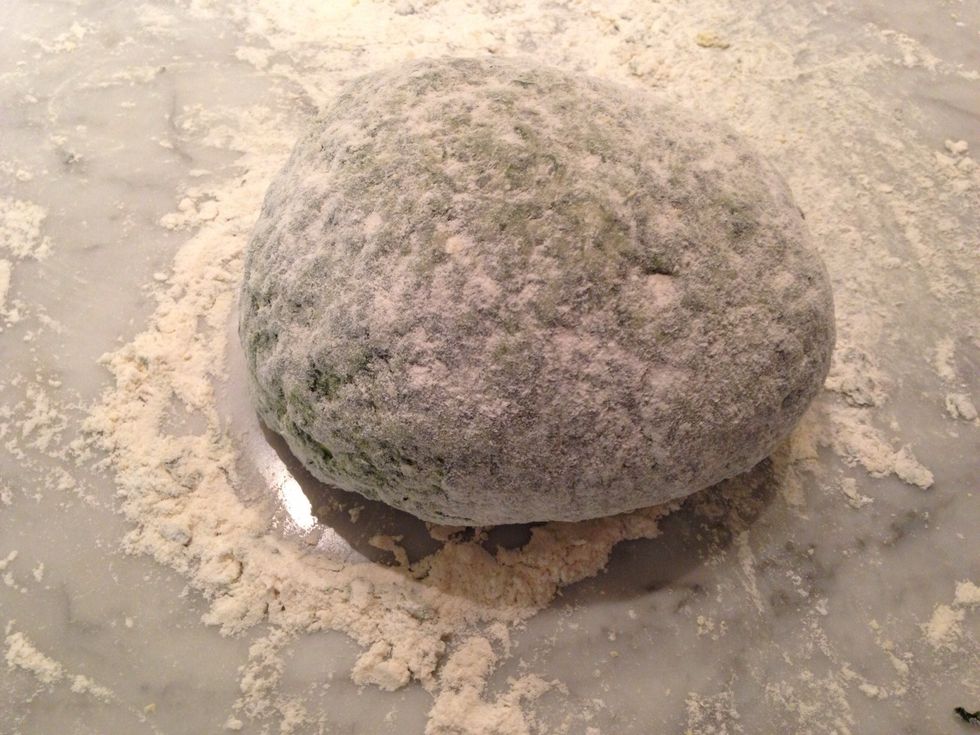 Knead the dough, adding more flour as necessary to ensure it does not stay sticky, for about ten minutes.
Once dough is "elastic" in texture and properly kneaded, let it rest under a moist paper towel or plastic wrap for 30 minutes. This allows the dough to relax.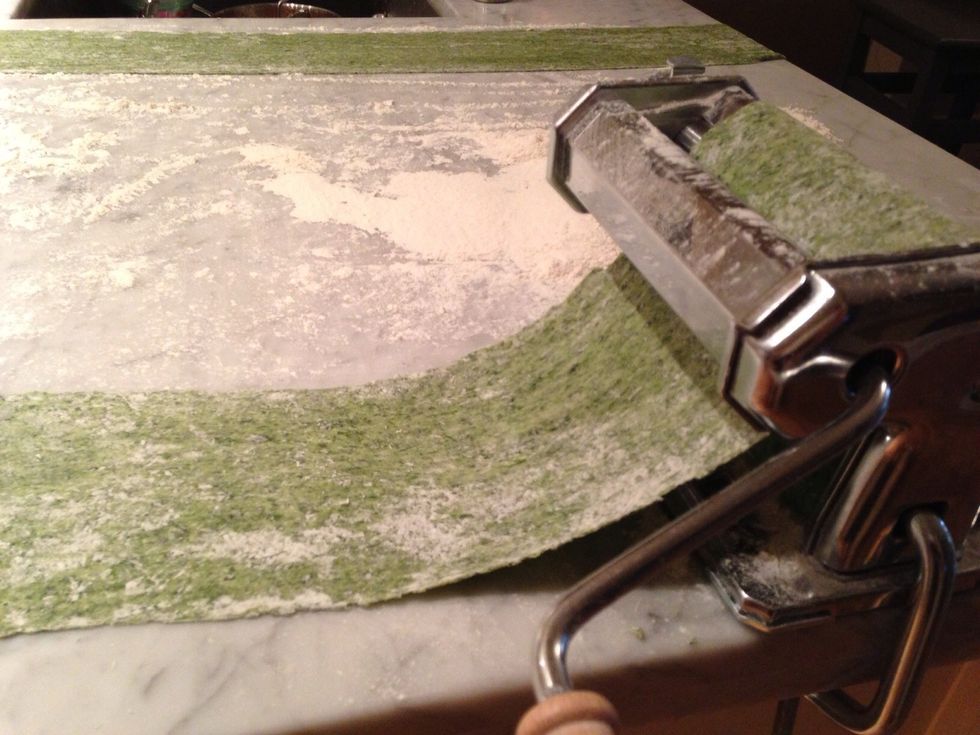 It's now time to roll your dough! Follow the directions for your machine. Roll it though a number of times. Multiple rolls develop the gluten in the pasta, which gives it a pleasing texture!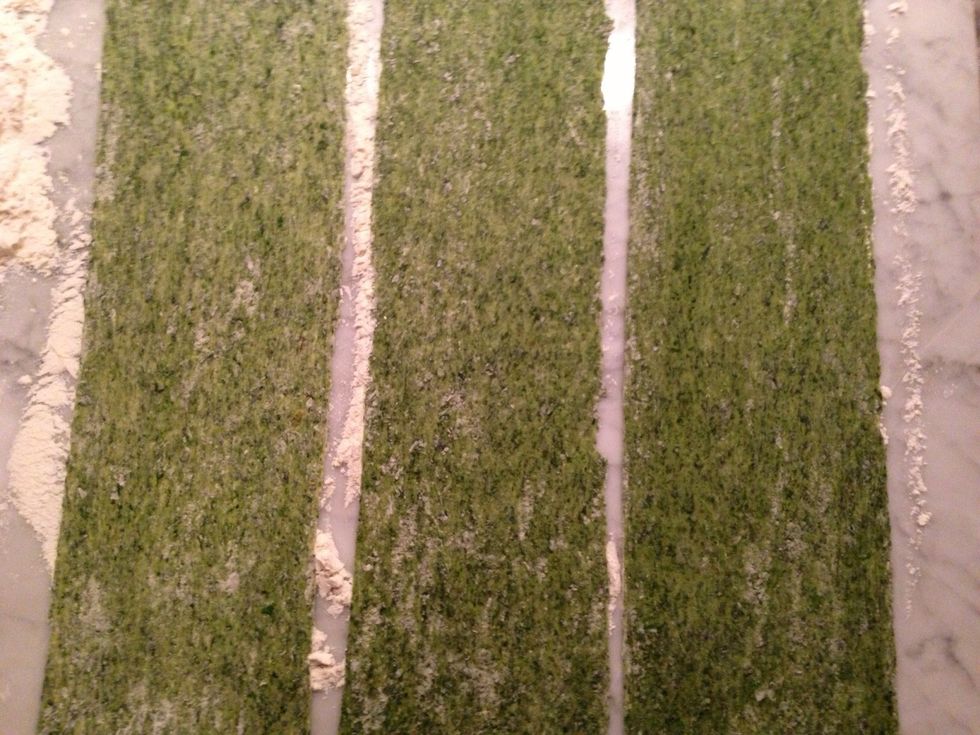 Before cutting, allow your sheets of pasta some time to rest. A slightly drier sheet of pasta is easier to cut!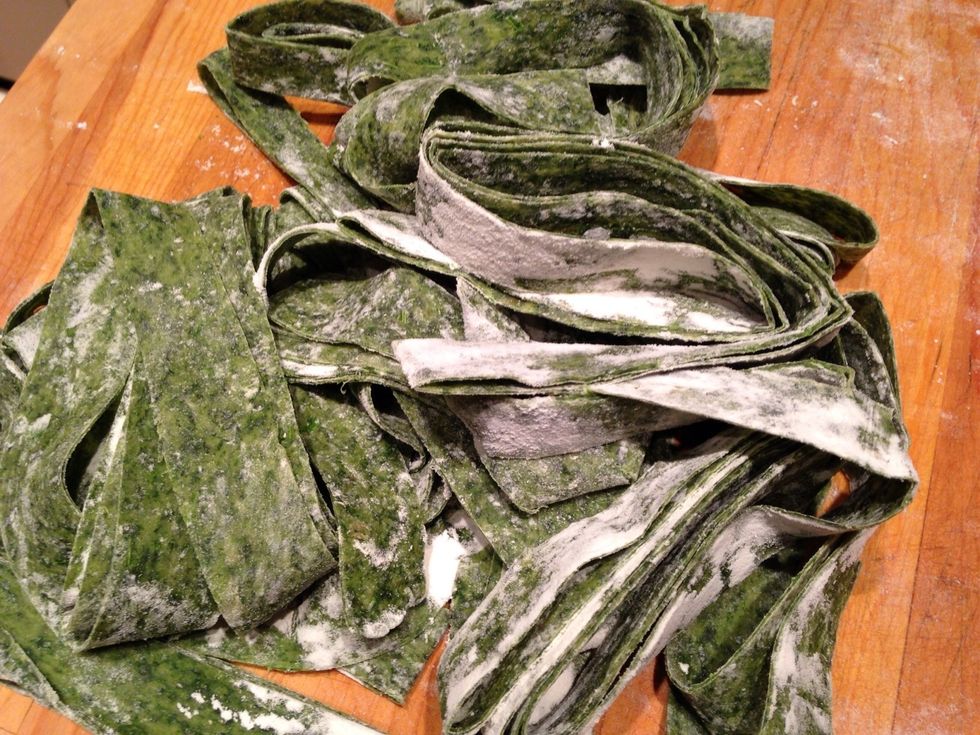 We hand cut* these noodles in the style of pappardelle pasta! You can choose the width you'd like.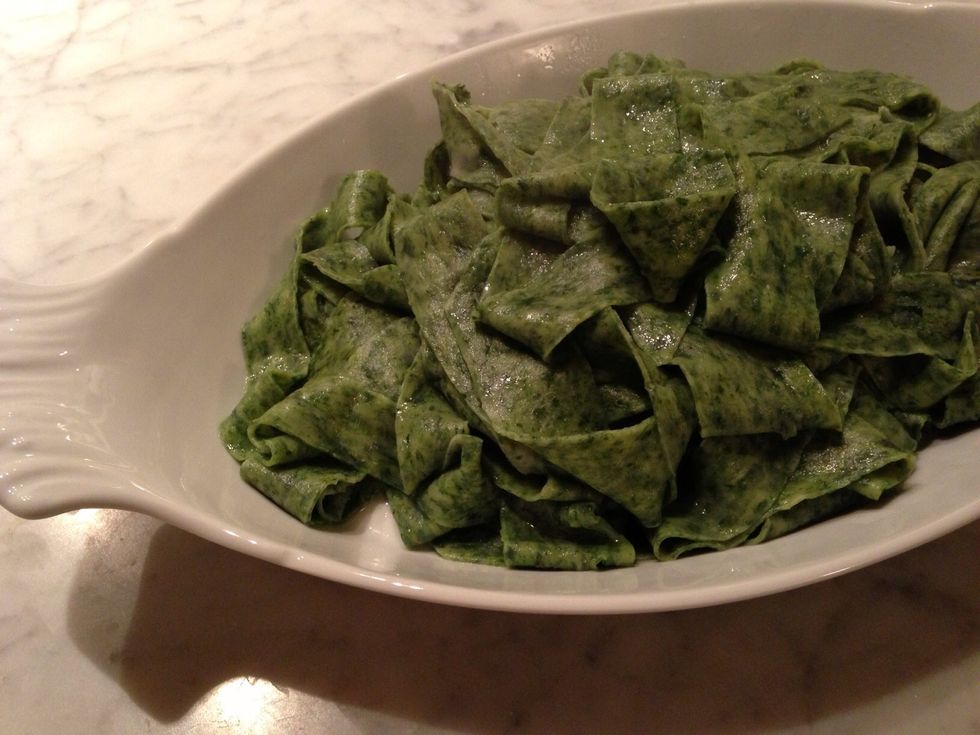 Boil your pasta in heavily salted water for about 2 to 3 minutes. It will cook quick! Drain your pasta right away.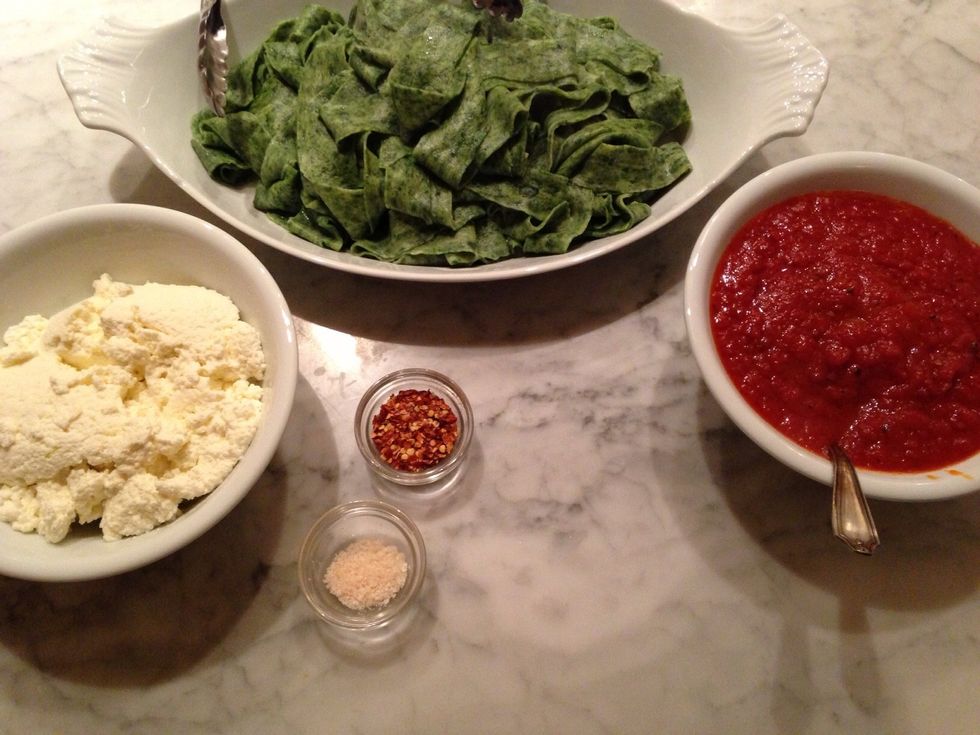 Your pasta is now ready for dressing & eating! We recommend topping spinach pasta with homemade tomato sauce, good olive oil, fresh ricotta, & a sprinkling of coarse salt and red pepper flakes. YUM!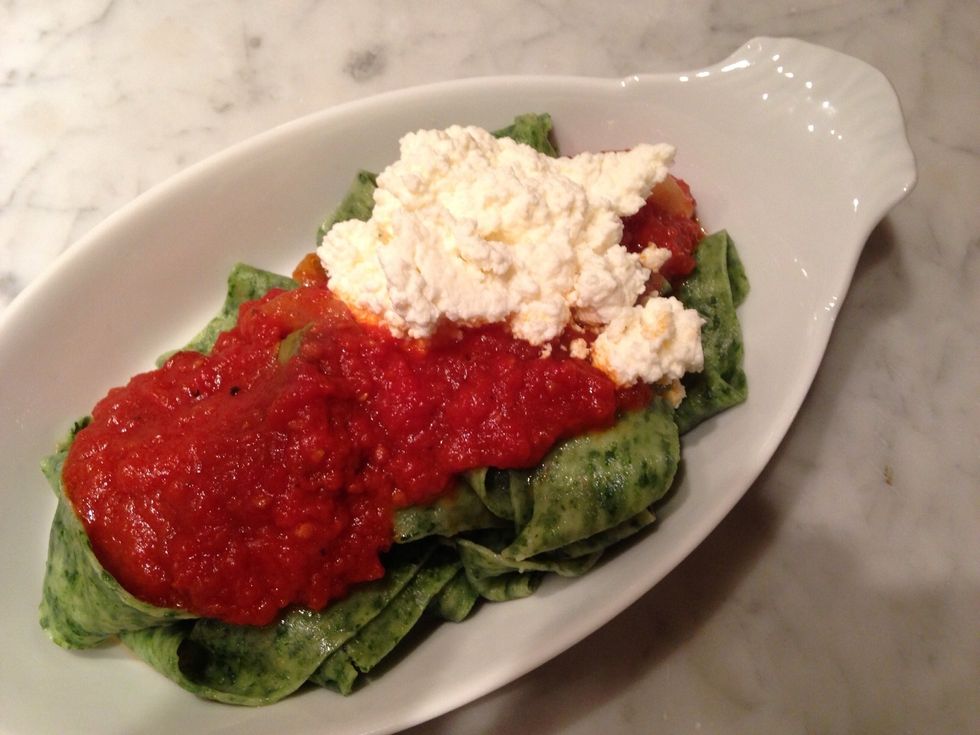 The finished product! Enjoy the beautiful color combination of this green pasta next to any tomato based sauce.
The recipe for the tomato sauce pictured in this guide can be found on our blog at www.ourlocaltopia.com. Thanks for reading!
NOTE: For this recipe, we chose to cut the dough by hand. But you can run it through your pasta machine's cutter as well. It just depends on how thin or wide you'd like your noodles!
4.0c All Purpose Flour
4.0 Eggs
1.0tsp Coarse Salt
24.0oz Frozen Spinach, thawed, drained & chopped
Pasta Rolling Machine