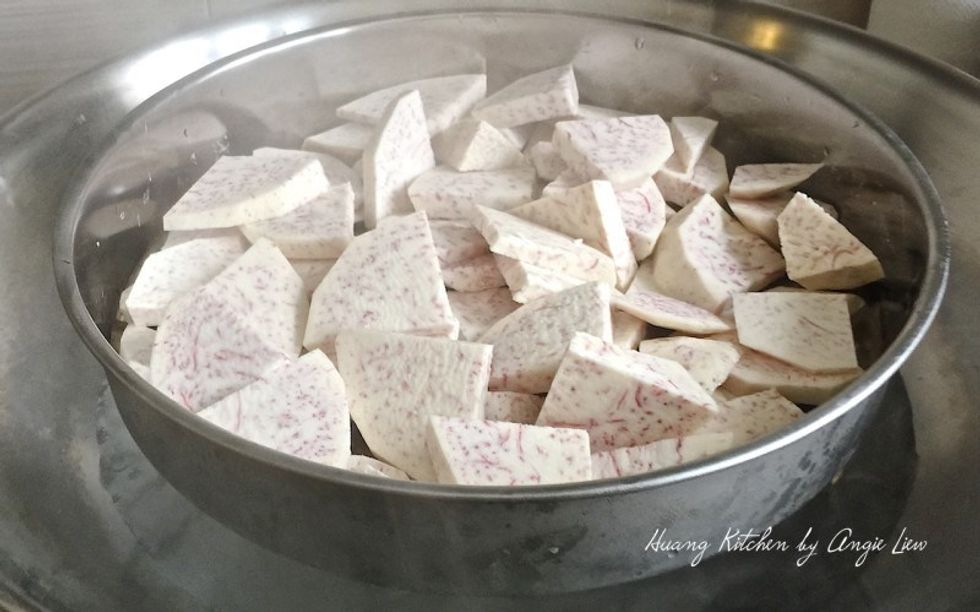 Peel and cut yam into slices. Steam the yam till very soft and cooked, about 30 minutes.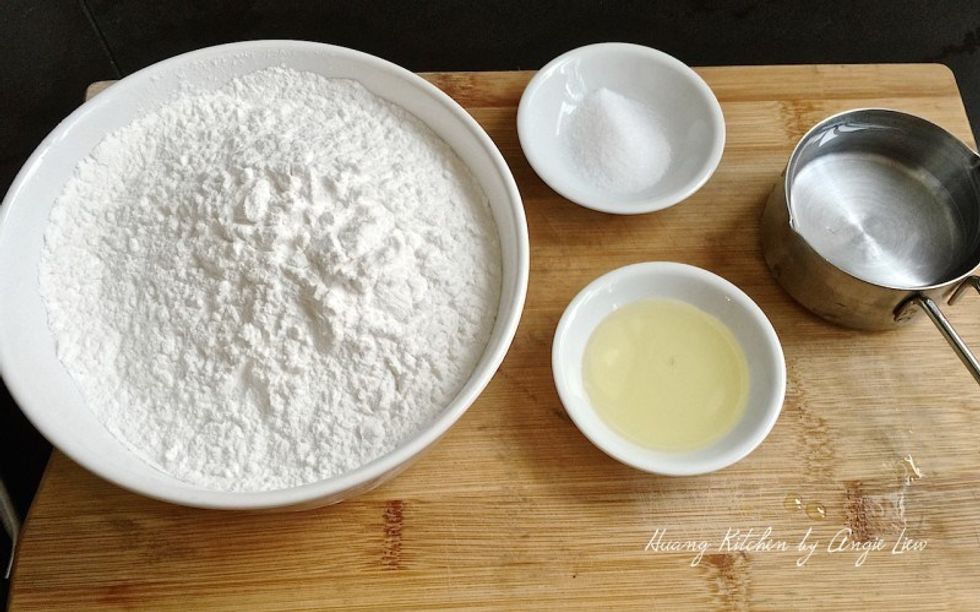 Meanwhile, prepare ingredients needed to make the yam abacus seeds which are tapioca flour, cooking oil, salt and hot boiling water.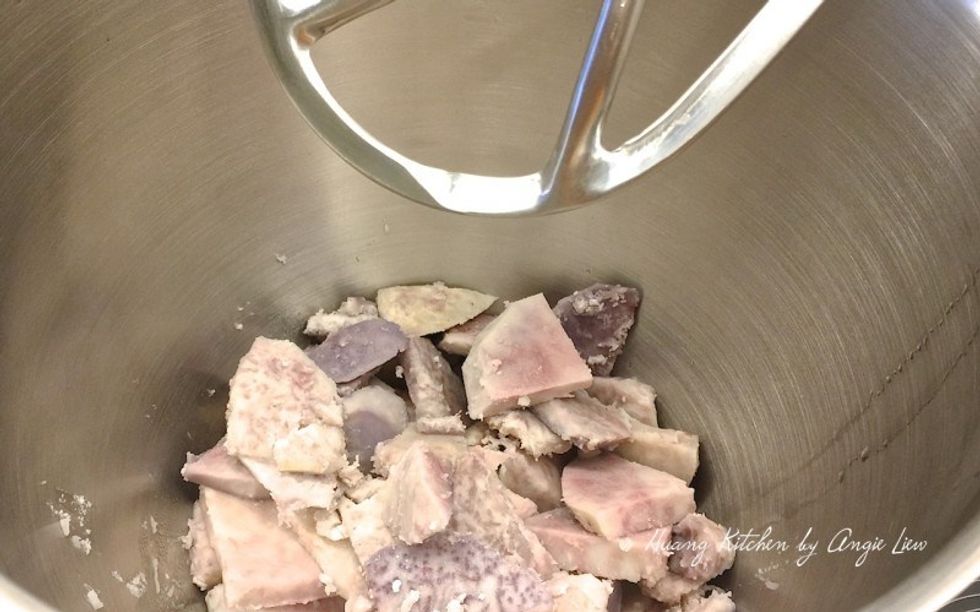 Once the yam is cooked, quickly transfer it to a stand mixing bowl with a K hook attached.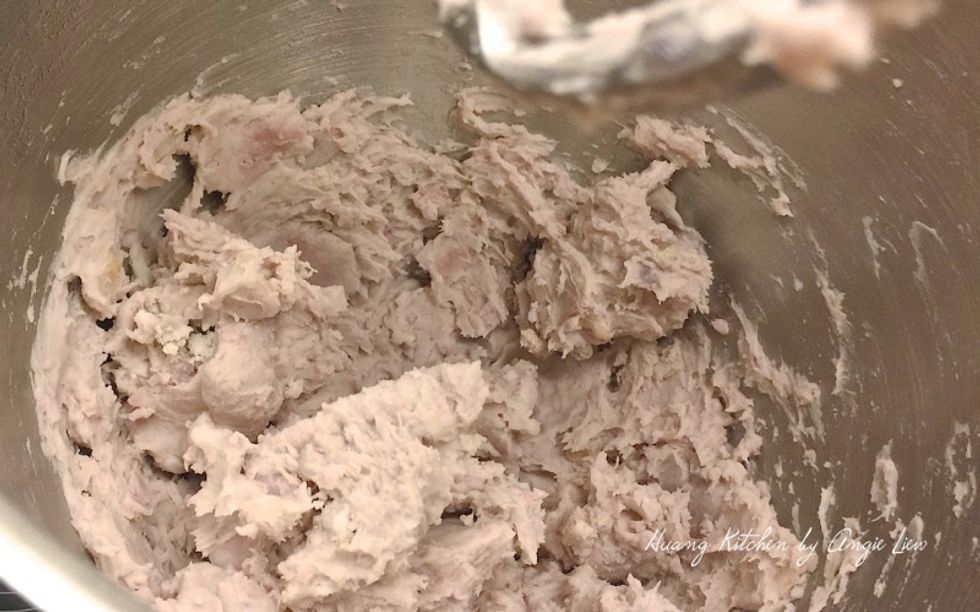 Using the lowest speed, mix until the hot steamed yam has been mashed.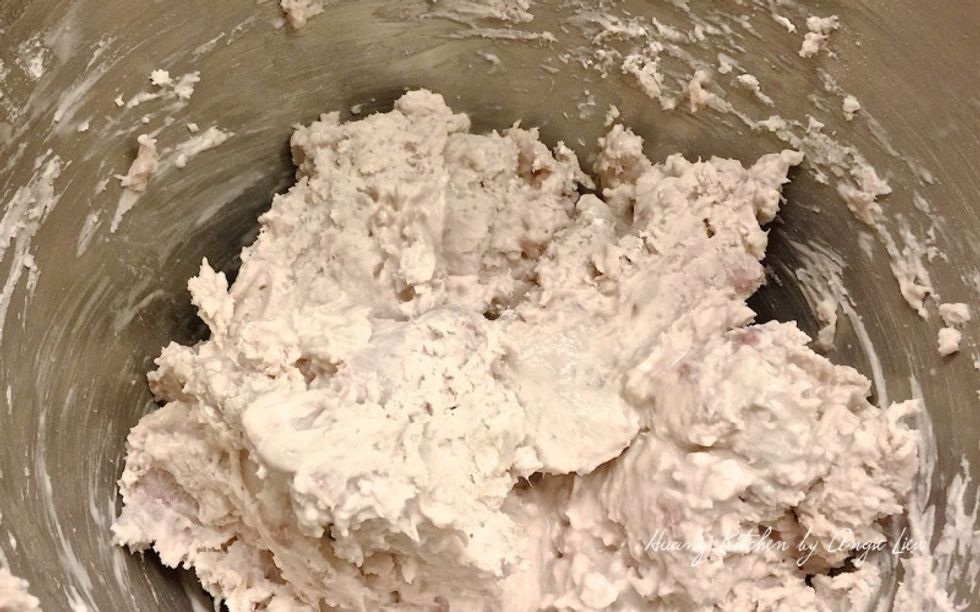 Then mix in salt, oil and hot water. Add the water a little at a time and mix till the dough comes together.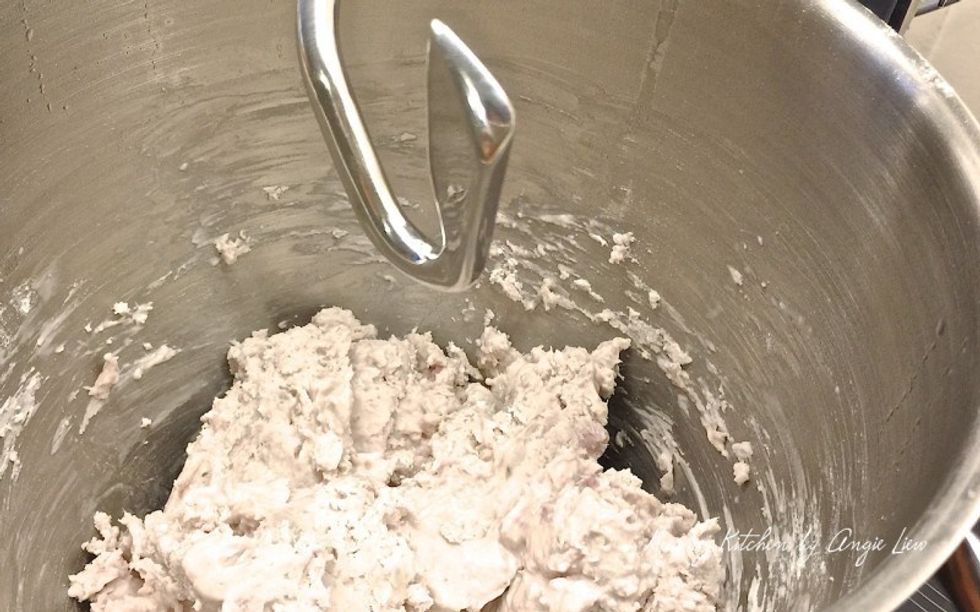 Then change to the dough hook. Using lowest speed, continue to mix for about 10 minutes, until you get a pliable dough. Alternatively, you can mash the hot steamed yam and knead the dough by hand.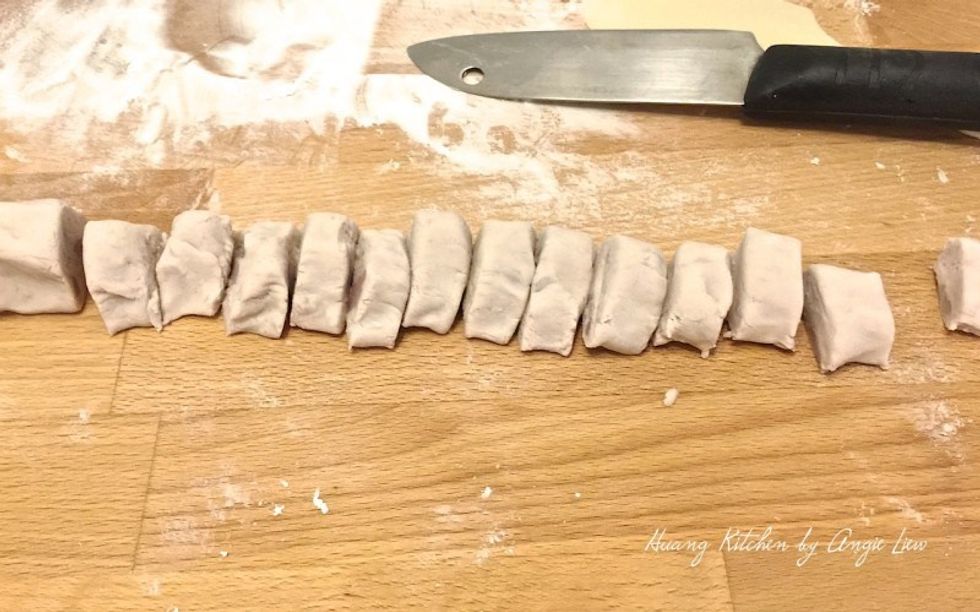 Roll the yam dough into long logs and cut into small even pieces, about 5g each ( or your desired size).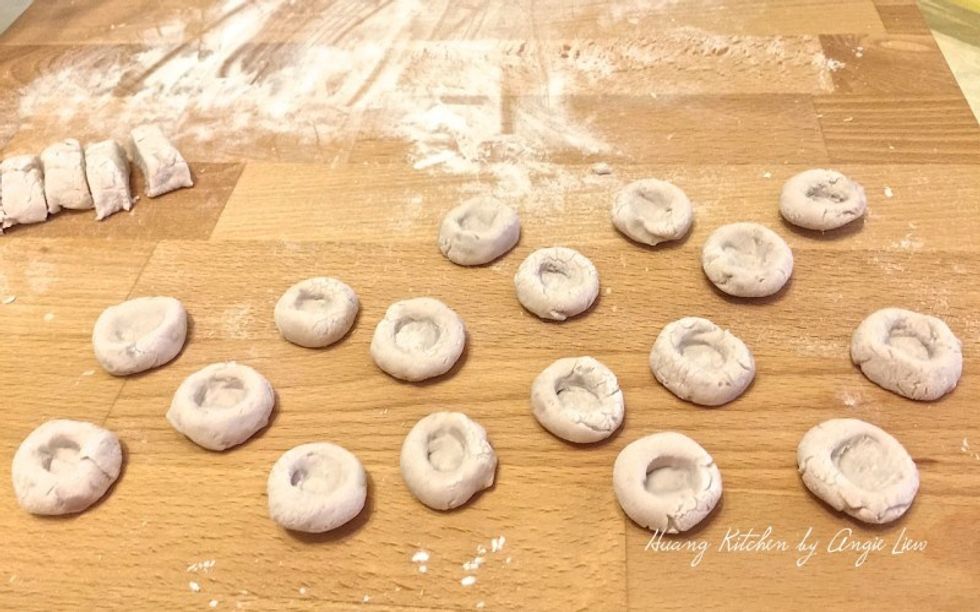 Roll each piece in between your palms to form round balls. Use your index finger to make a slight depression in the centre to make it looks like an abacus seed.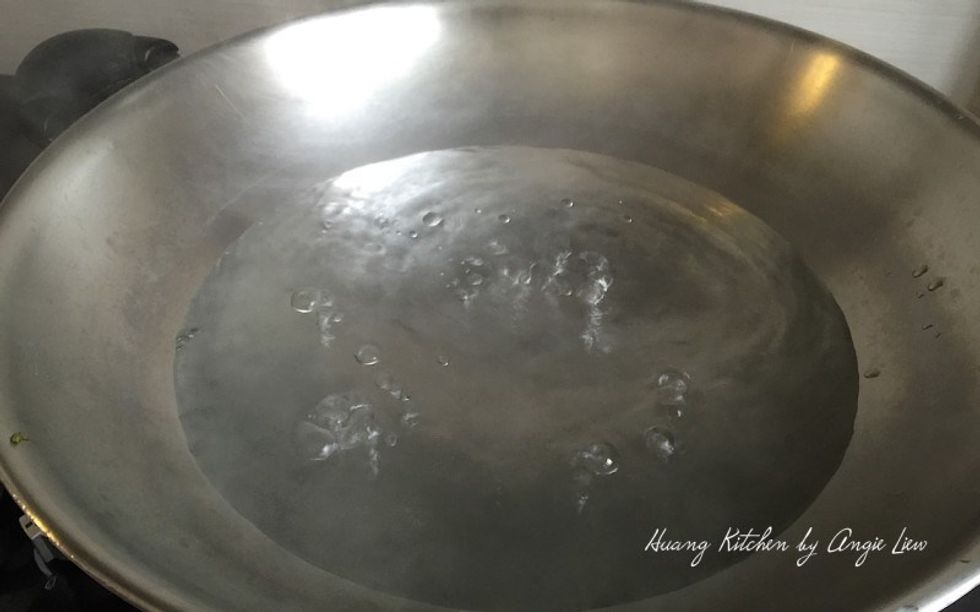 Then boil a large pot of water.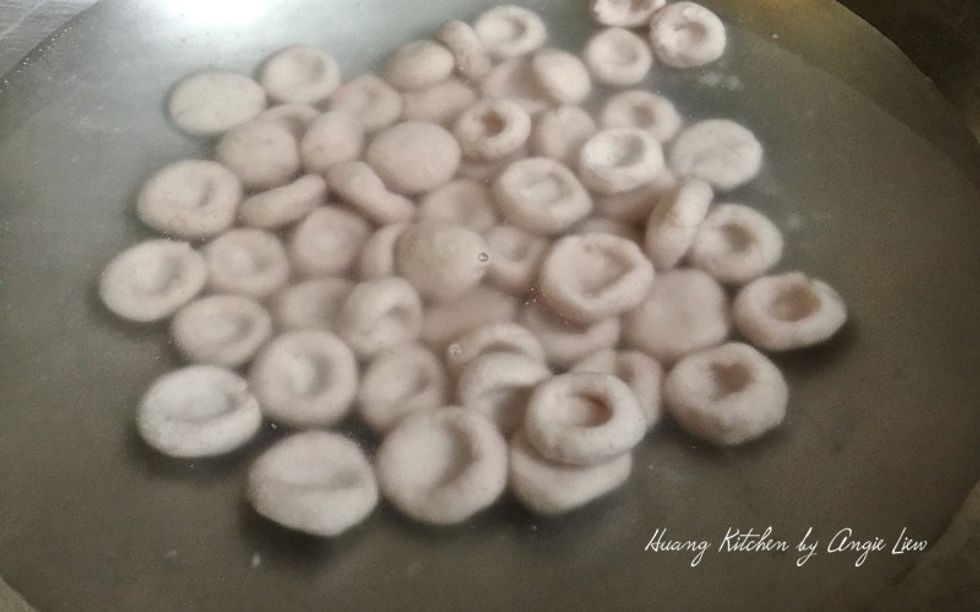 Add in the yam seeds in batches, stirring well to prevent them from sticking together.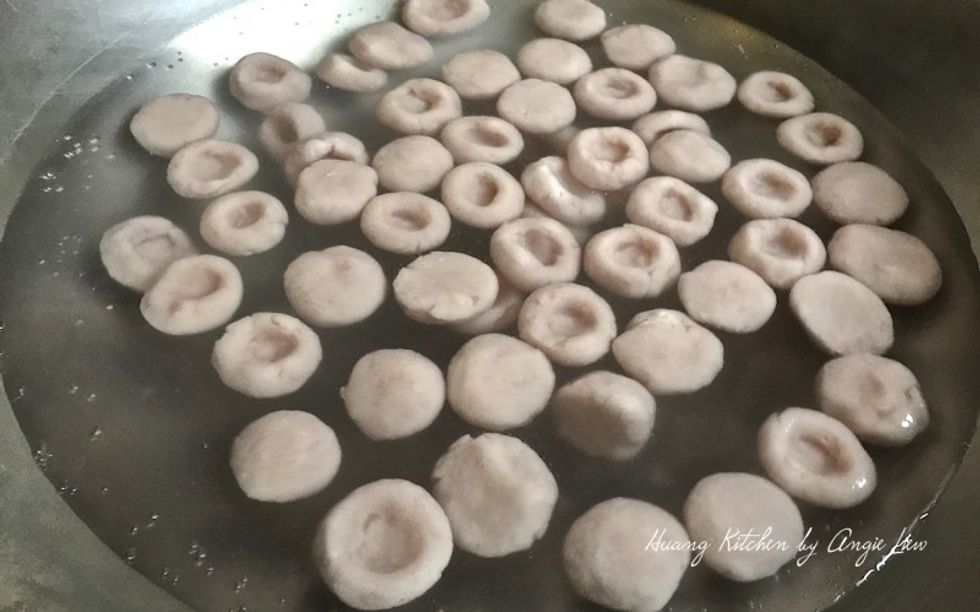 Boil for about 15 minutes or until the yam seeds float to the surface of the water.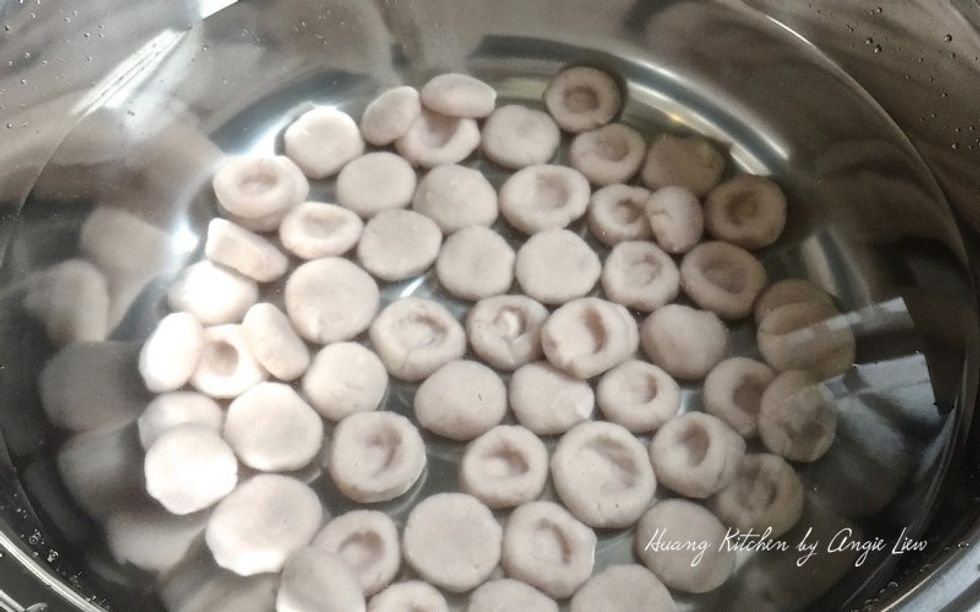 Remove the yam seeds from the boiling water using a strainer. Immediately rinsed them in cold water for about 5 seconds. This process helps to firm up the abacus seeds.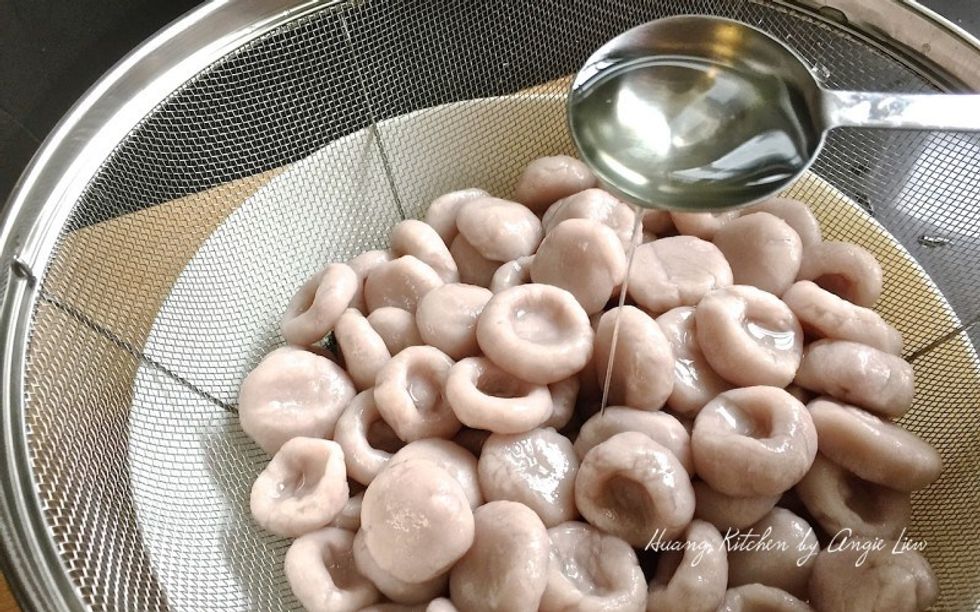 Drained the water and then drizzle cooking oil to coat the abacus seeds evenly to prevent them from sticking together. Set aside while you prepare the ingredients to stir fry them.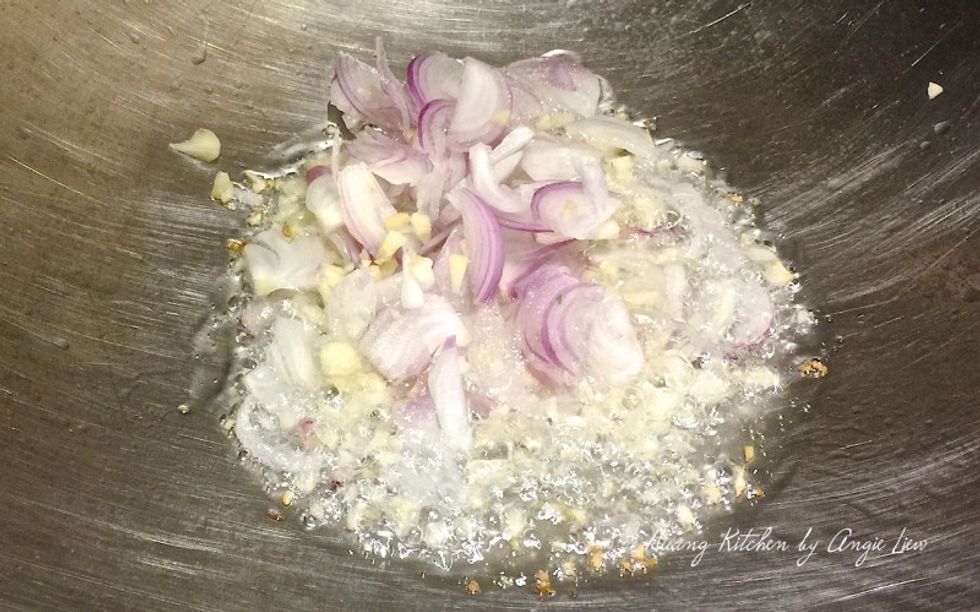 To stir fry the yam abacus, first heat up some oil in a wok. Then saute minced garlic and shallots till fragrant.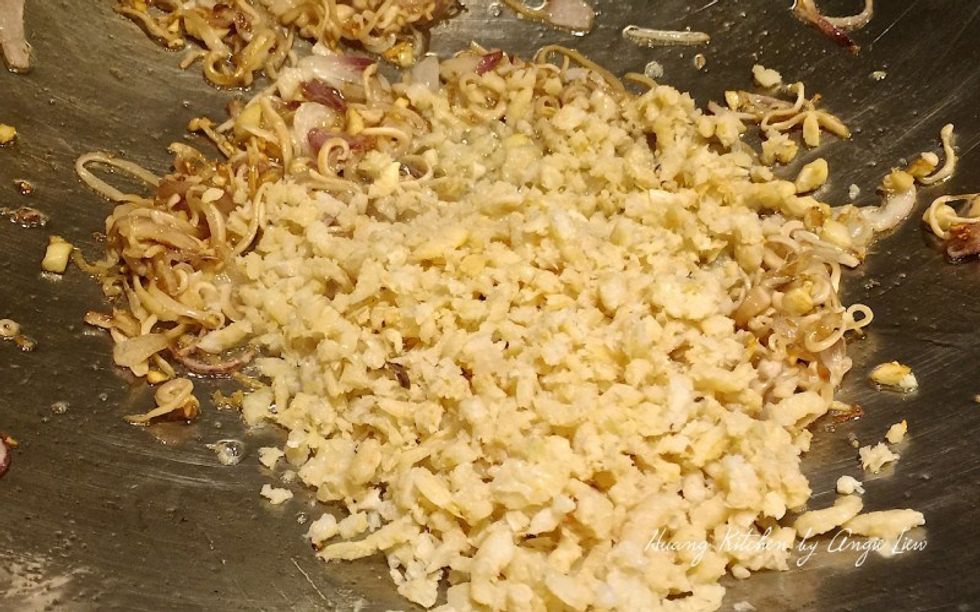 Add in dried shrimp and strips of cuttlefish. Continue to stir fry until they are really fragrant and brown. Add in more oil if needed.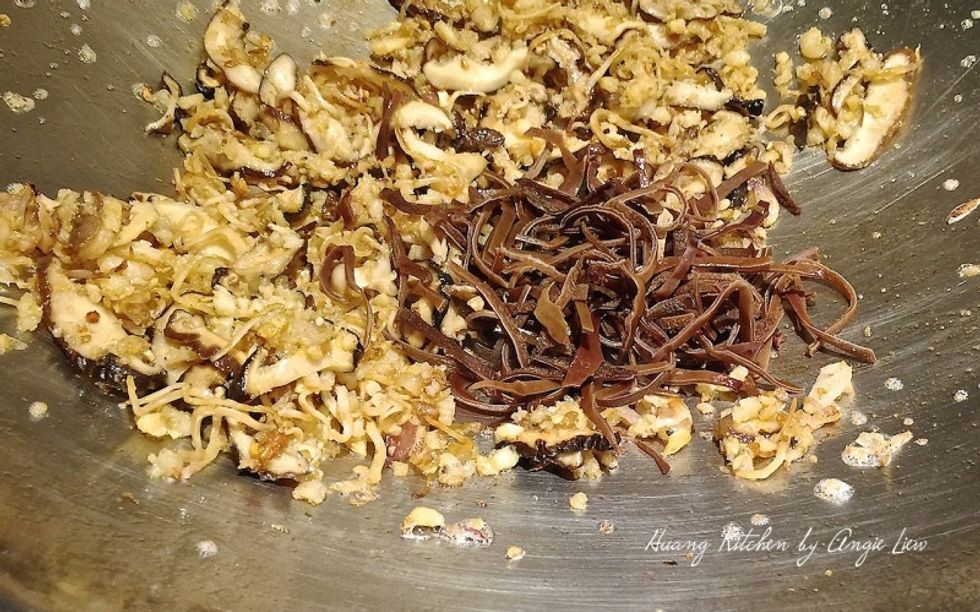 Next add in the strips of mushrooms, black fungus and preserved radish. Fry for about 2 minutes.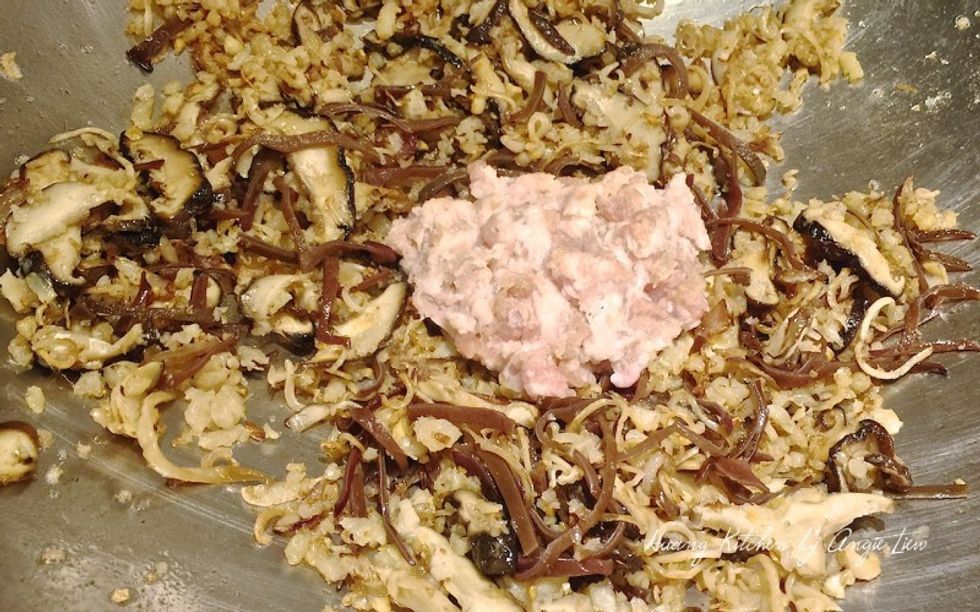 Next add in the minced meat and fry for about 5 minutes or until the meat is cooked.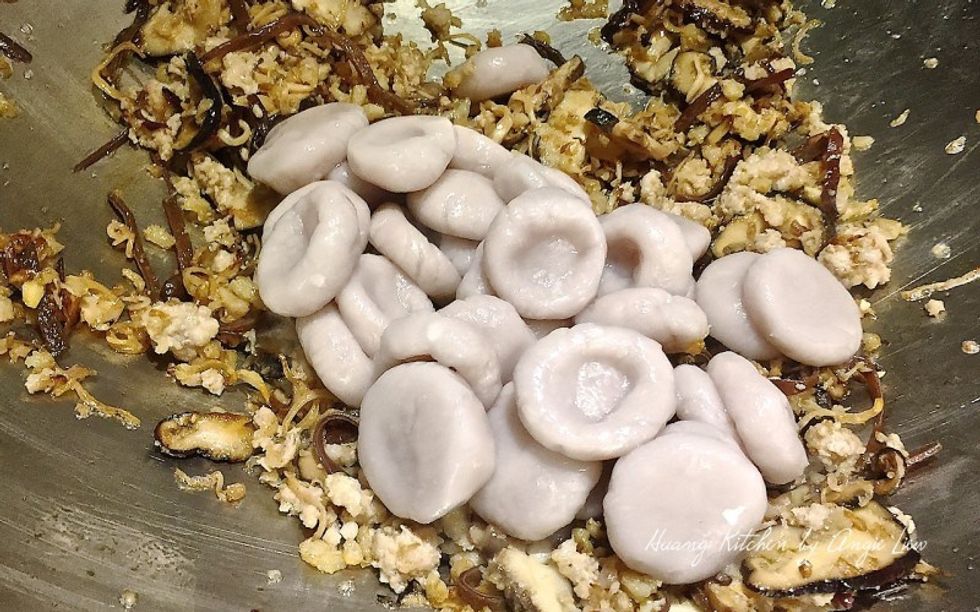 Lastly add in the yam seeds and stir fry gently to combine, about 2 minutes.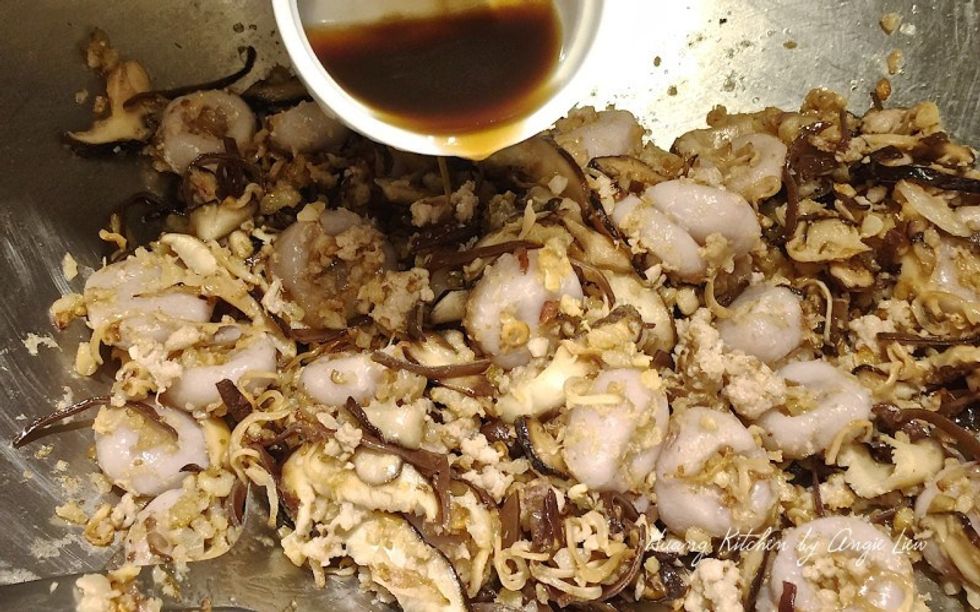 Add in all the seasonings. Season to taste.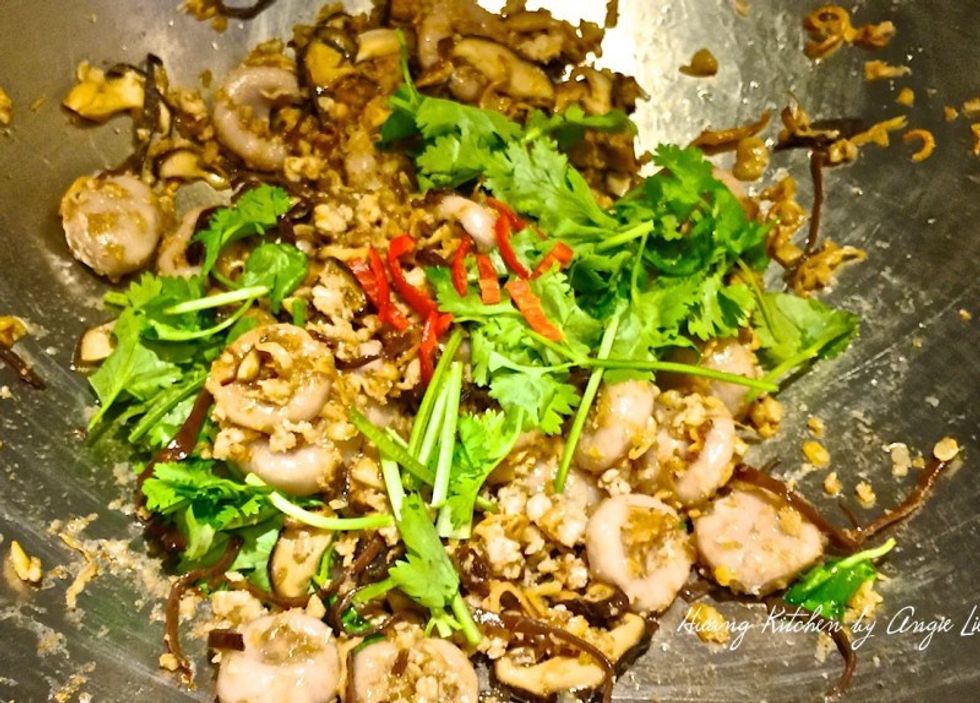 Add the chopped coriander and red chilli. Stir through another minute. Taste and add more seasonings, if needed.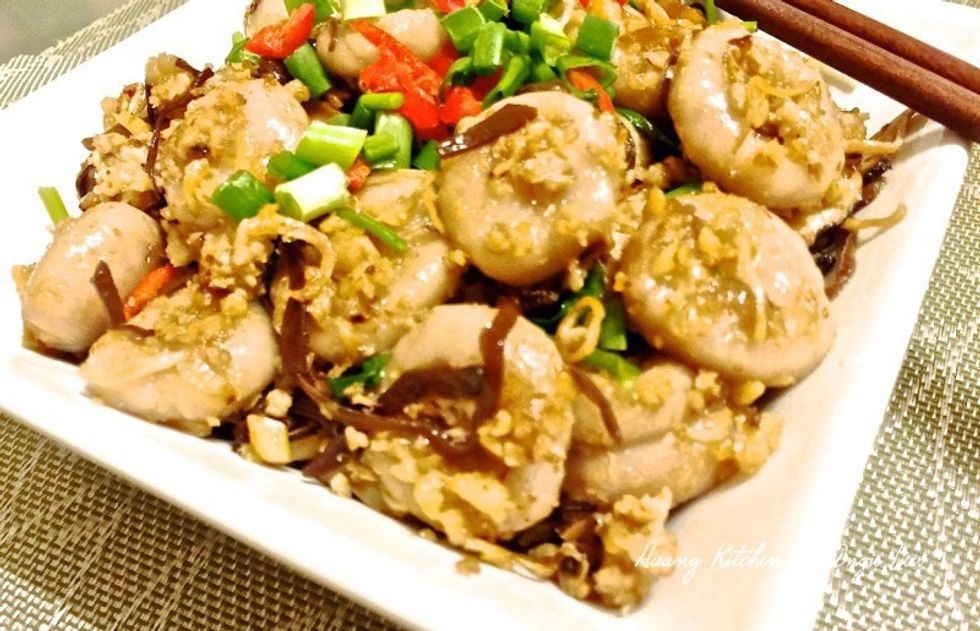 And we're done! To serve, dish the yam seeds in a shallow serving plate and garnish with chopped spring onions, remaining of the red chilli and coriander leaves.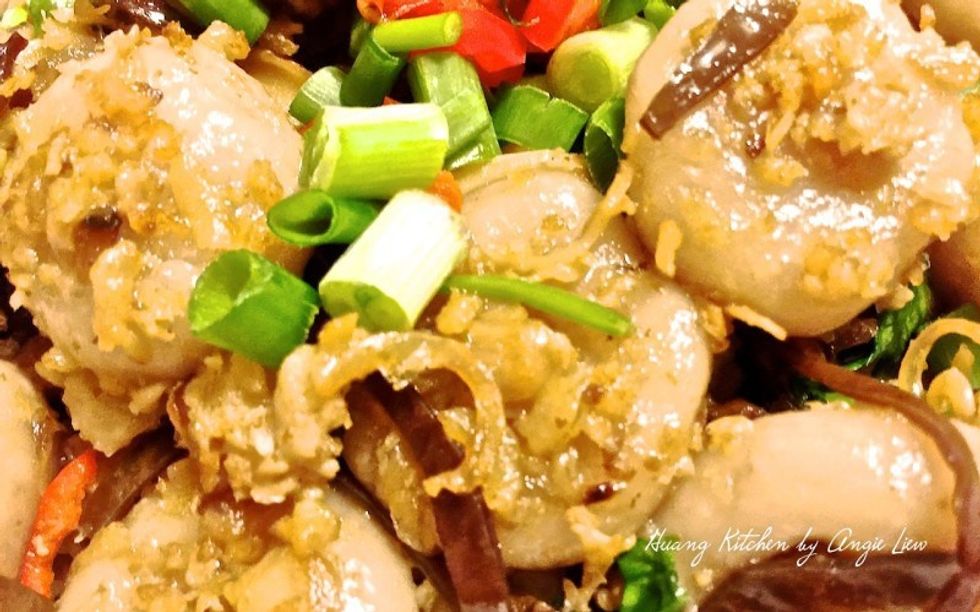 These yam abacus seeds are so soft on the outside and chewy on the inside. So enjoy! For more, like us on Facebook and get instant updates on our latest recipes at www.facebook.com/huangskitchen
650.0g yam (unskinned)
200.0g tapioca flour
120.0ml hot boiling water
1/8tsp salt
2.0Tbsp garlic, minced
5.0 shallots
40.0g dried shrimp, minced
15.0g dried cuttlefish, in strips
30.0g shitake mushrooms
30.0g large black fungus
200.0g meat, minced
1.0Tbsp preserved radish
6.0Tbsp cooking oil
1.0tsp salt (seasoning)
1.0tsp white pepper
1.0tsp light soy sauce
1.0tsp fish sauce
1.0Tbsp oyster sauce
2.0 cut red chillies (garnish)
1.0bnch spring onion, chopped
2.0bnch cut coriander leaves
Huang Kitchen
For more step-by-step recipes and cooking tips, visit my website at \nhttp://www.huangkitchen.com