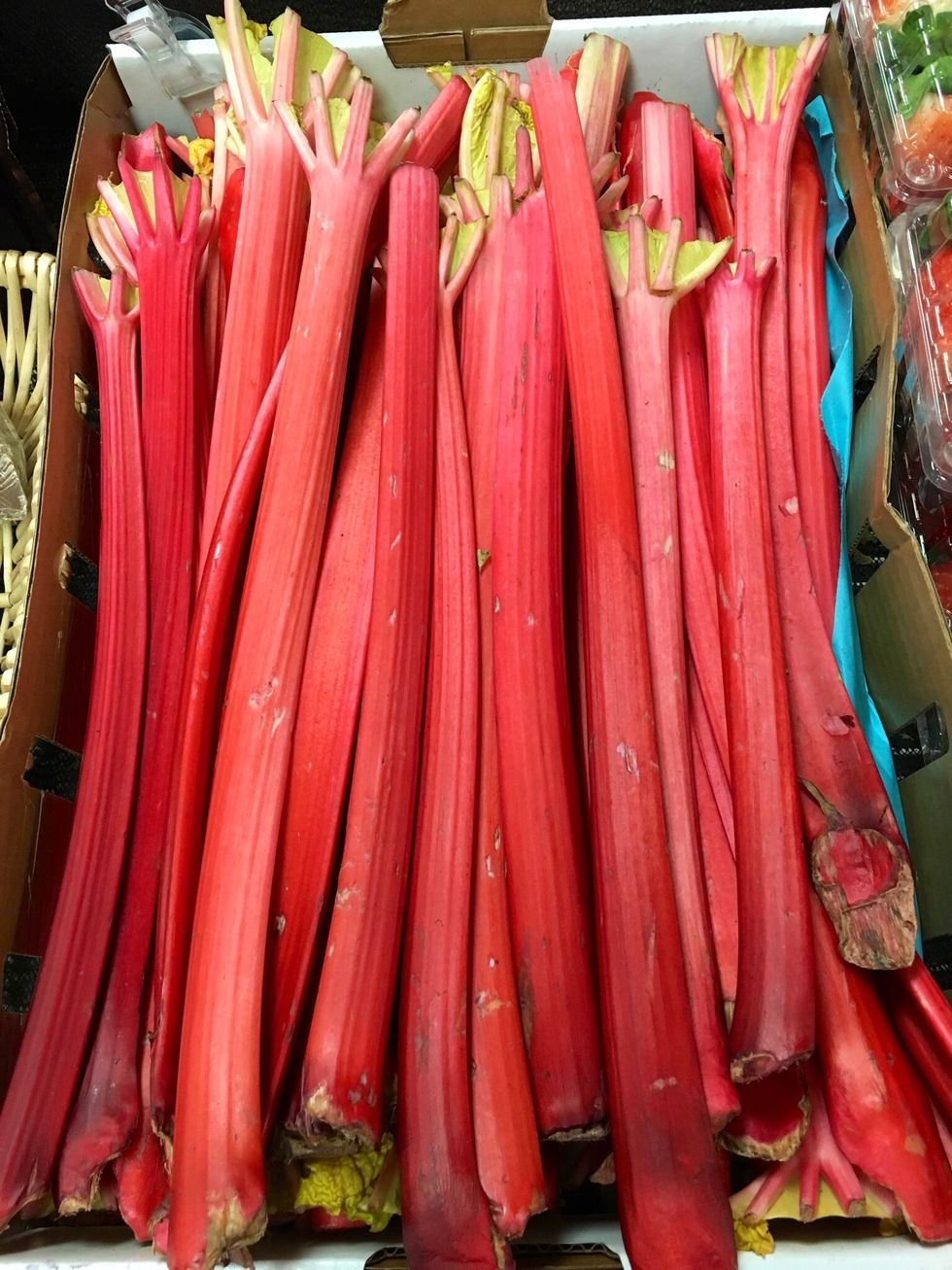 Spring is on the way when you see rhubarb. The people who figured out how to get you strawberries for Christmas breakfast, haven't worked their magic on this gorgeous plant. Buy a lot.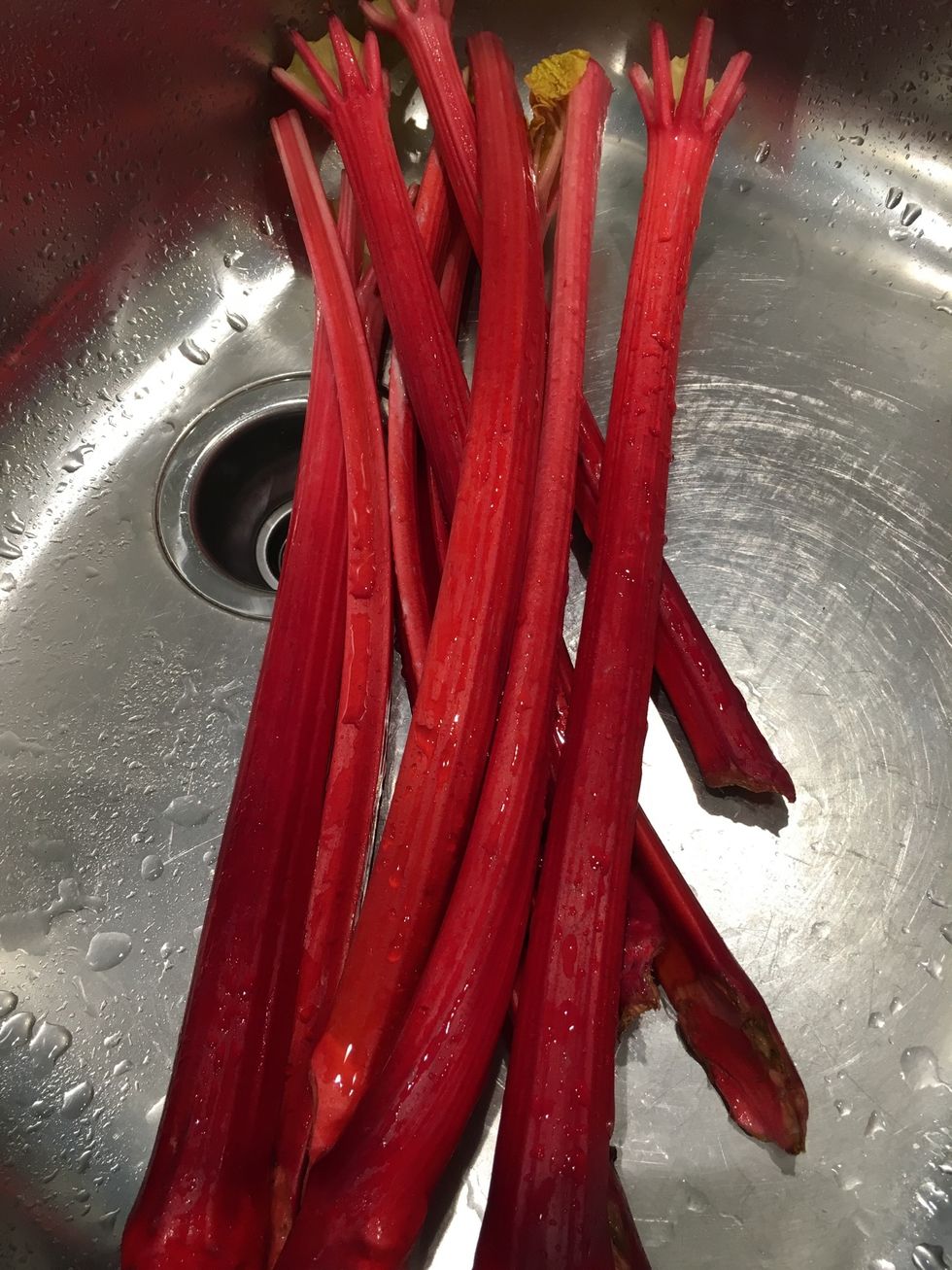 I hope your market sells it like this- cutting it up and putting it in styrene packages just makes it dry out and require more trimming. And waste.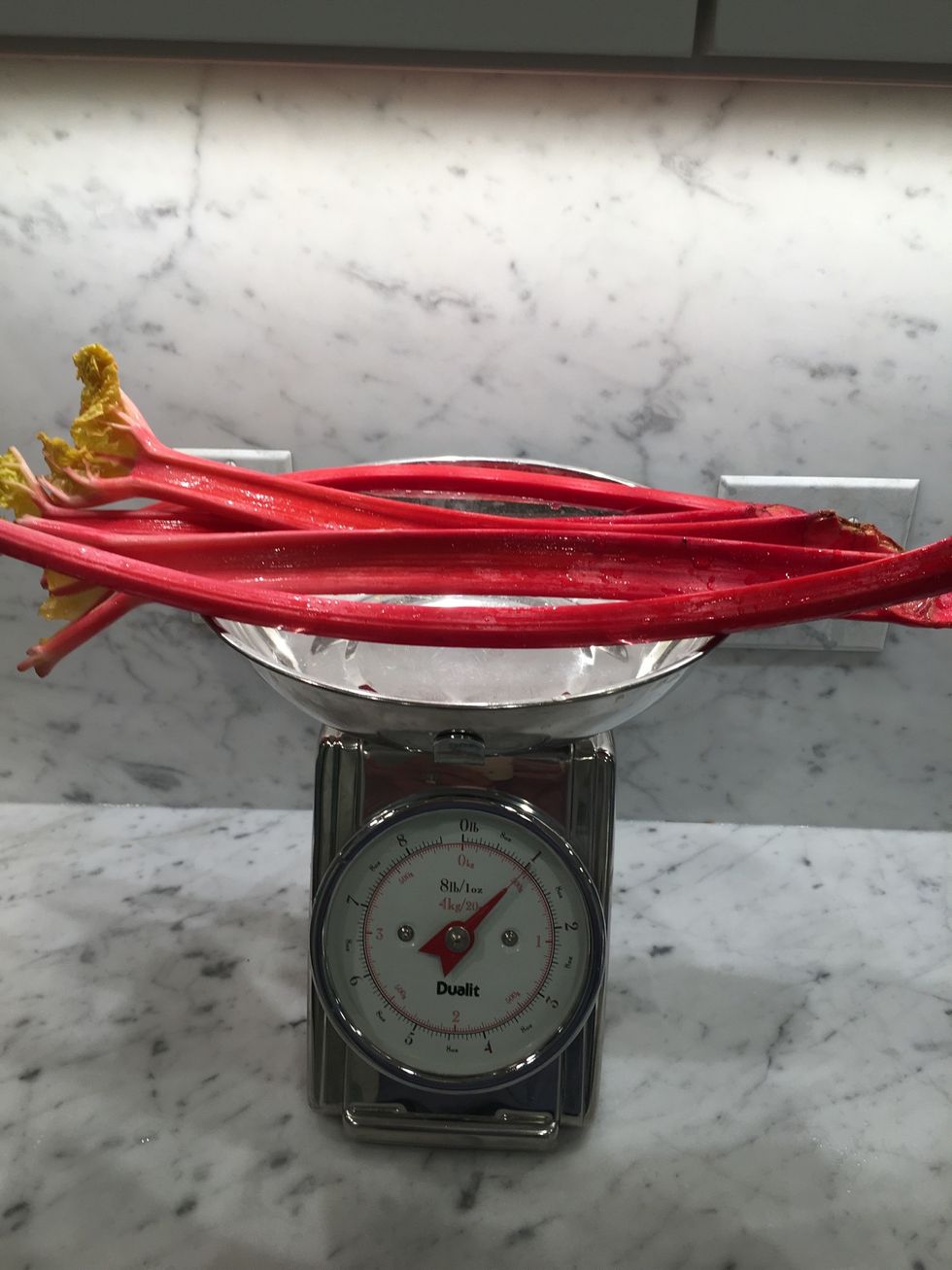 After you wash it, or before- assuming you didn't buy rhubarb caked in mud, weigh out 1 1/2 lbs. That will end up being 6 cups, more or less. I know, the scale says 1 lb. I forgot to take the photo.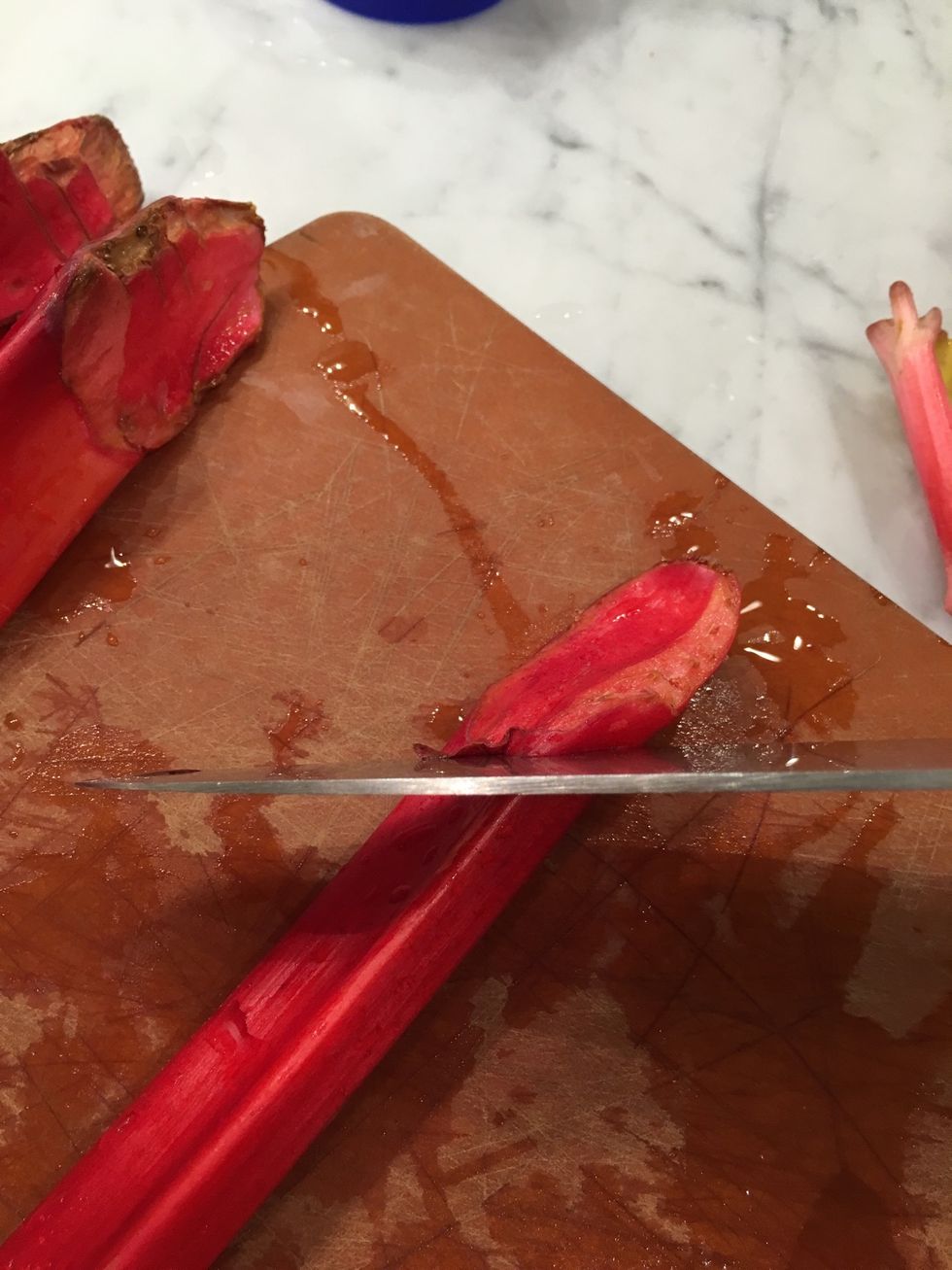 Trim off the parts you wouldn't want to eat. Like celery. Then chop them into small pieces. Picture to follow.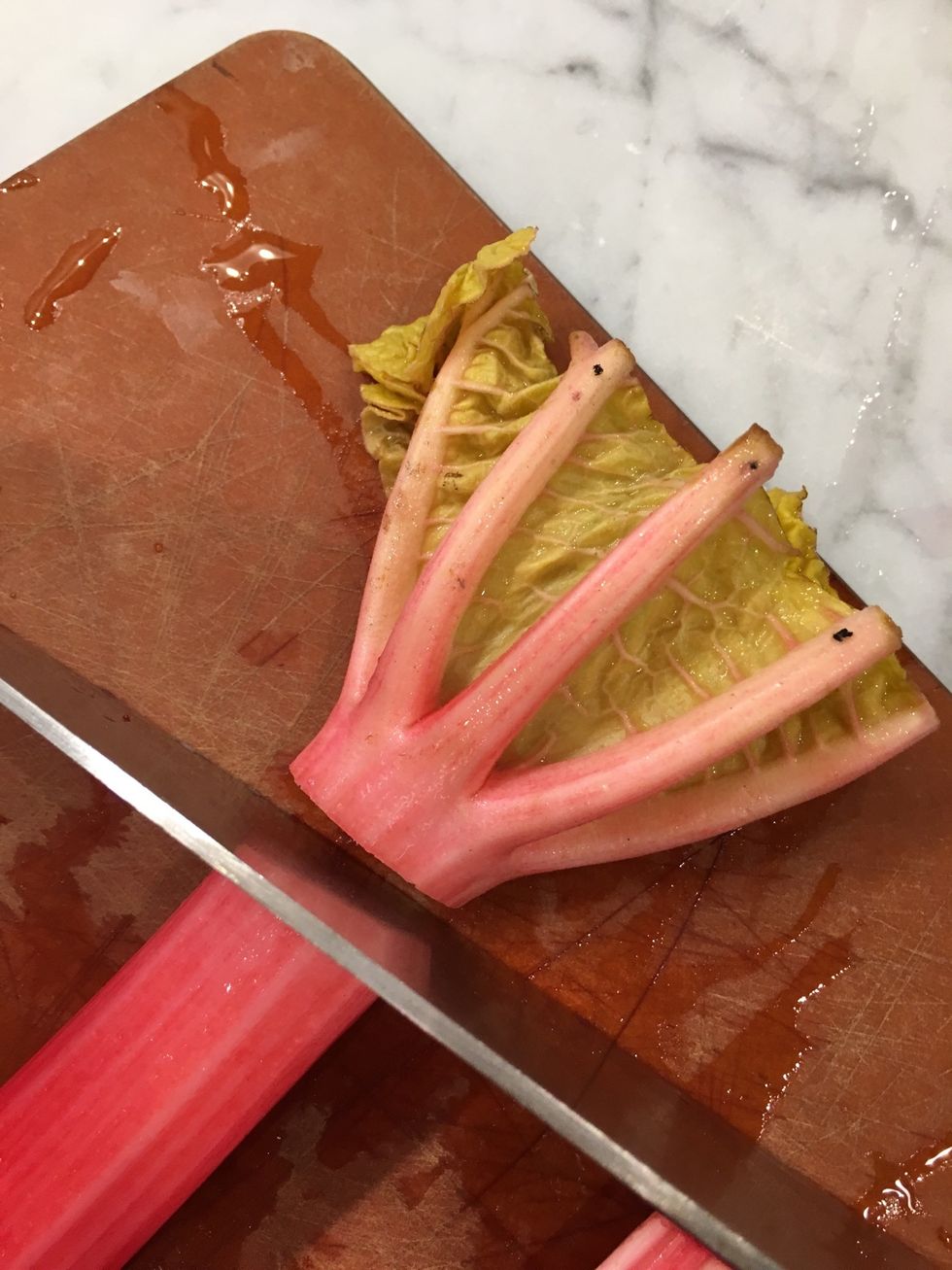 Definitely don't use this part or anything you might consider a leaf. They're poison. Trust me on this and don't look it up or Wikipedia will scare you so much you'll wish you hadn't.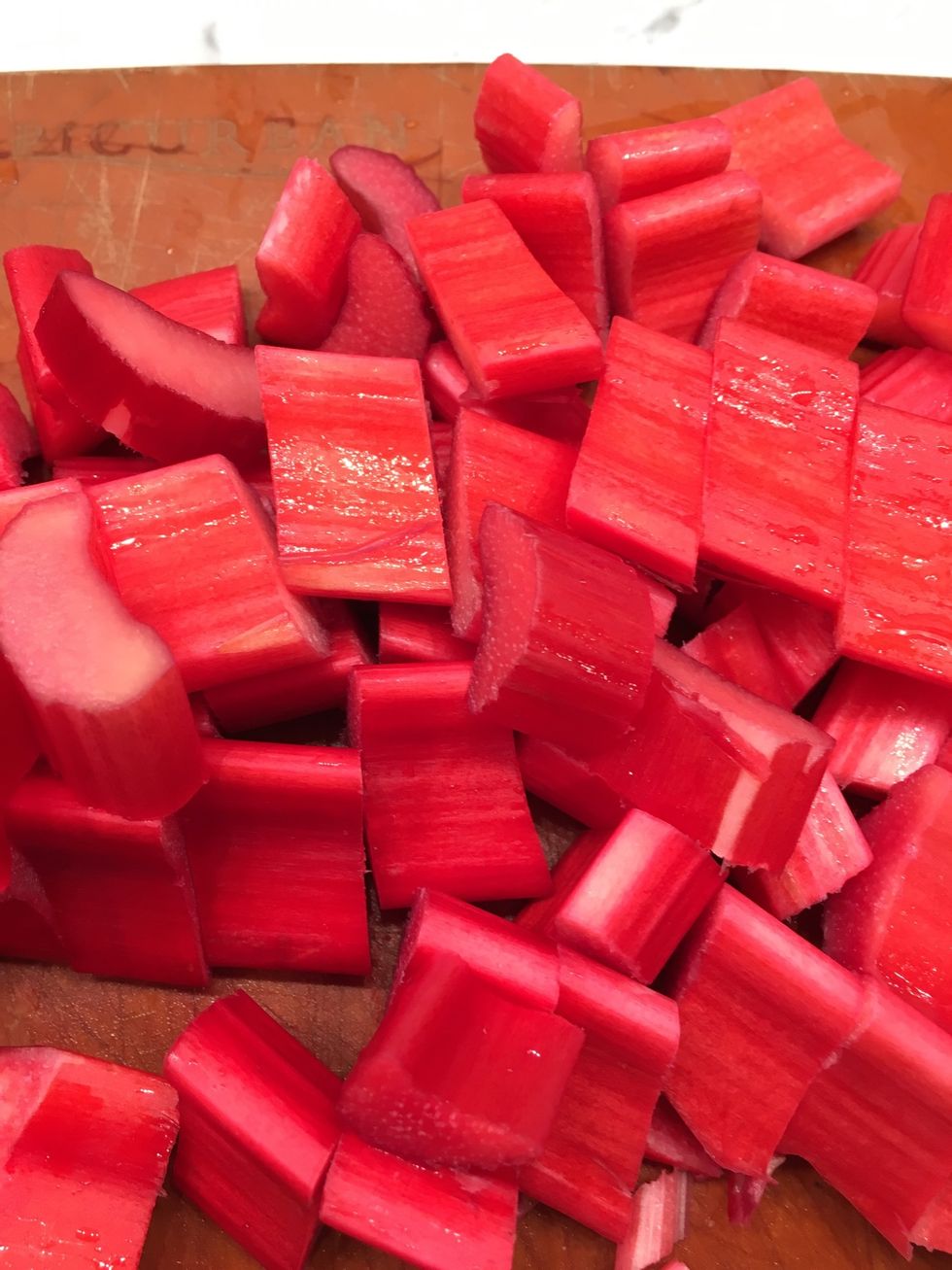 I didn't even enhance the color! Of course, I spent a while digging through that big box to find the reddest rhubarb. Because red foods are good for you. You can go ahead and look that up.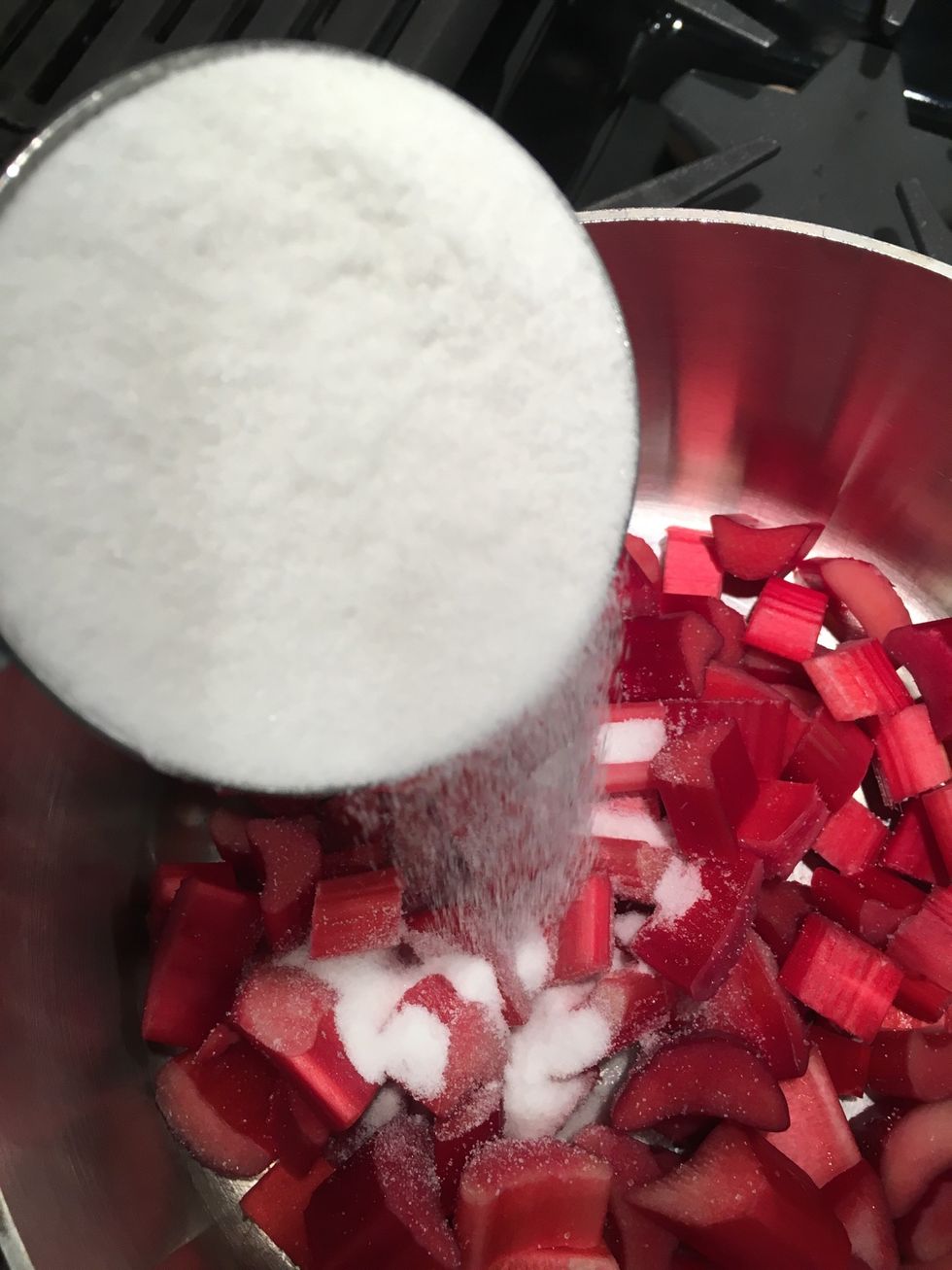 Put the rhubarb in a saucepan and add the sugar. Turn the stove on to low.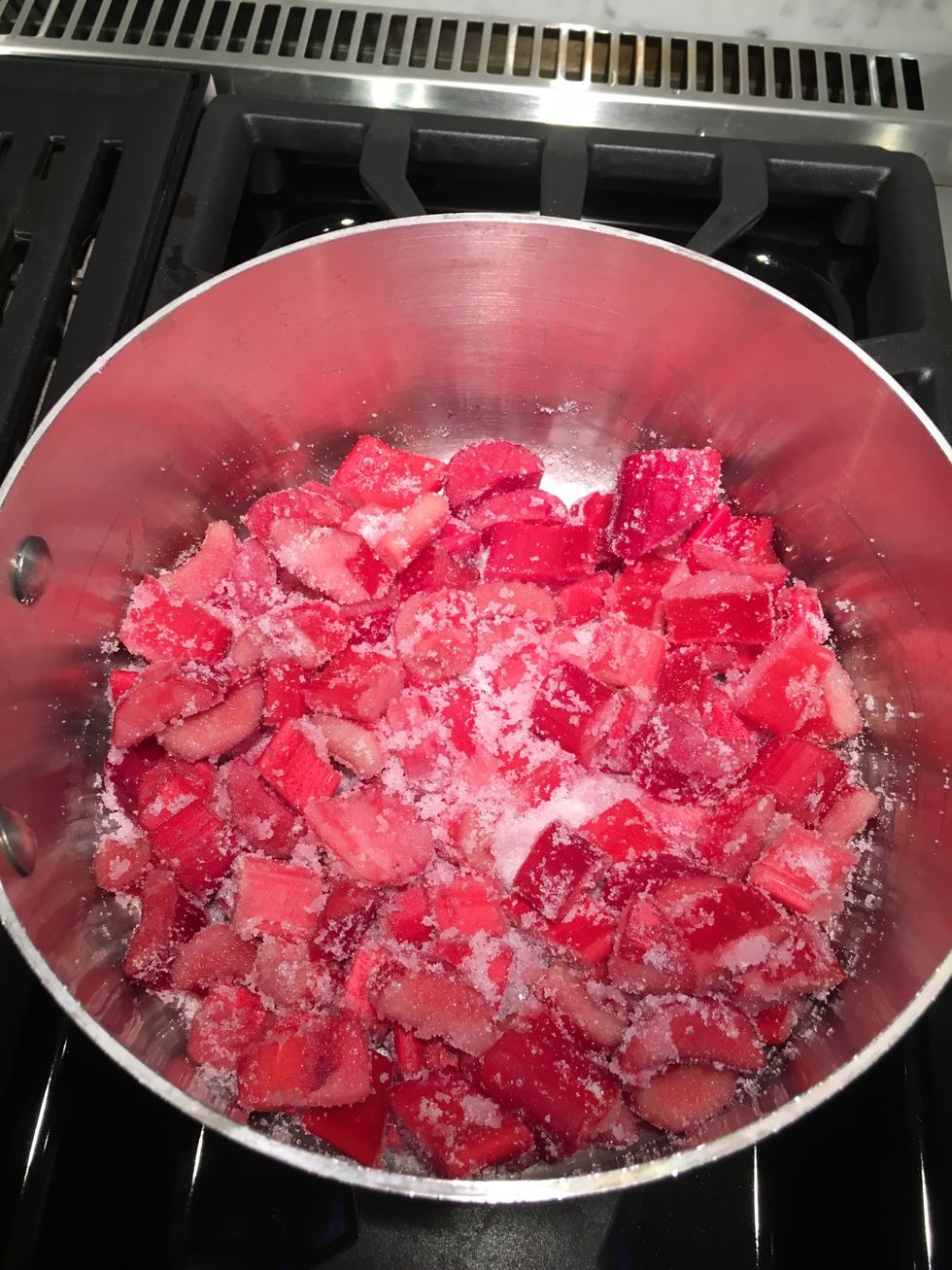 Stir it around.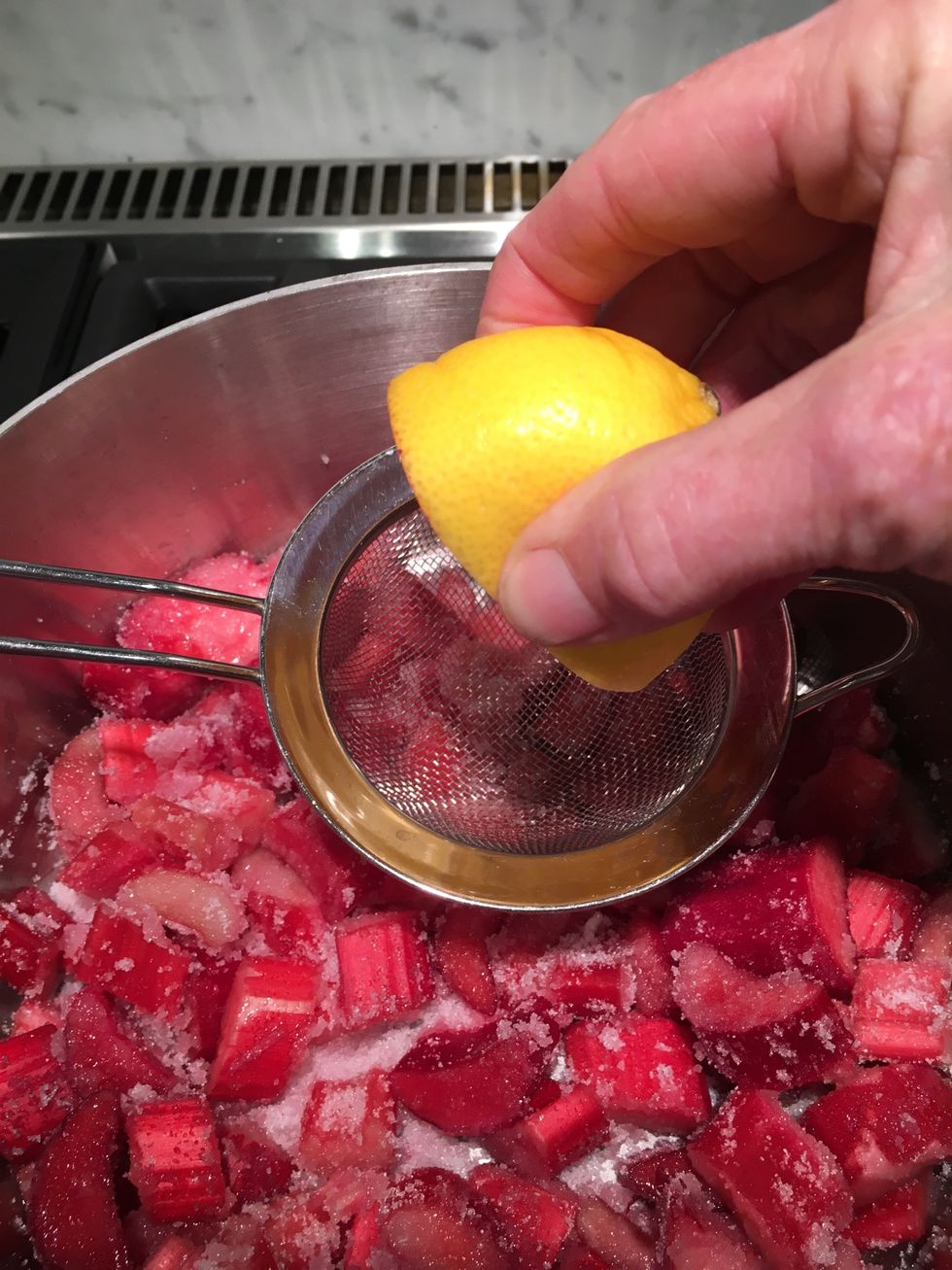 Add the juice of half a lemon. Don't squirt any on your new marble kitchen or you'll be sorry.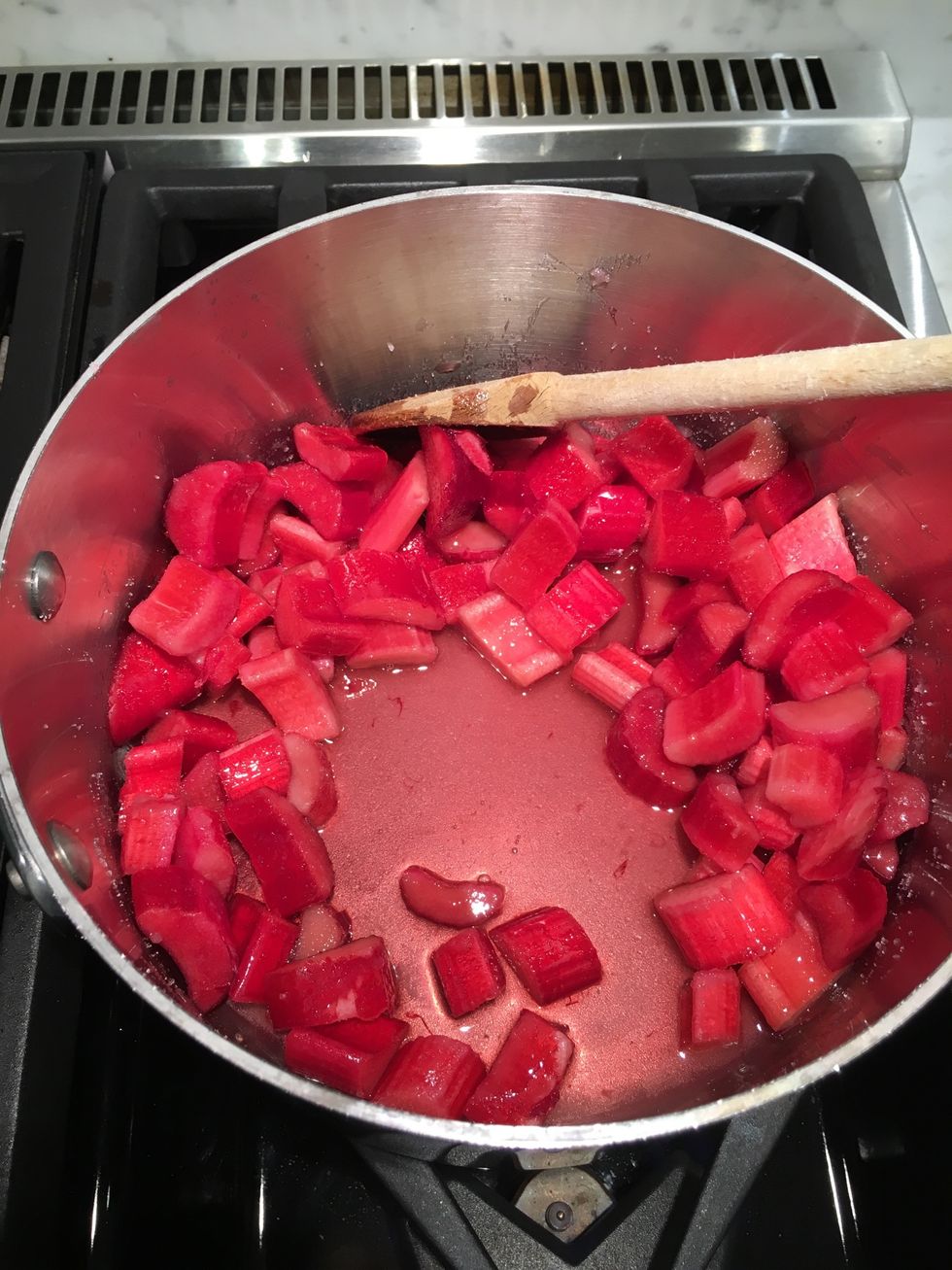 When the sugar dissolves and the juice begins to flow, turn it up to medium. Keep stirring so you don't scorch/burn the rhubarb. I burned some rhubarb jam this morning and I'm pretty crabby about it.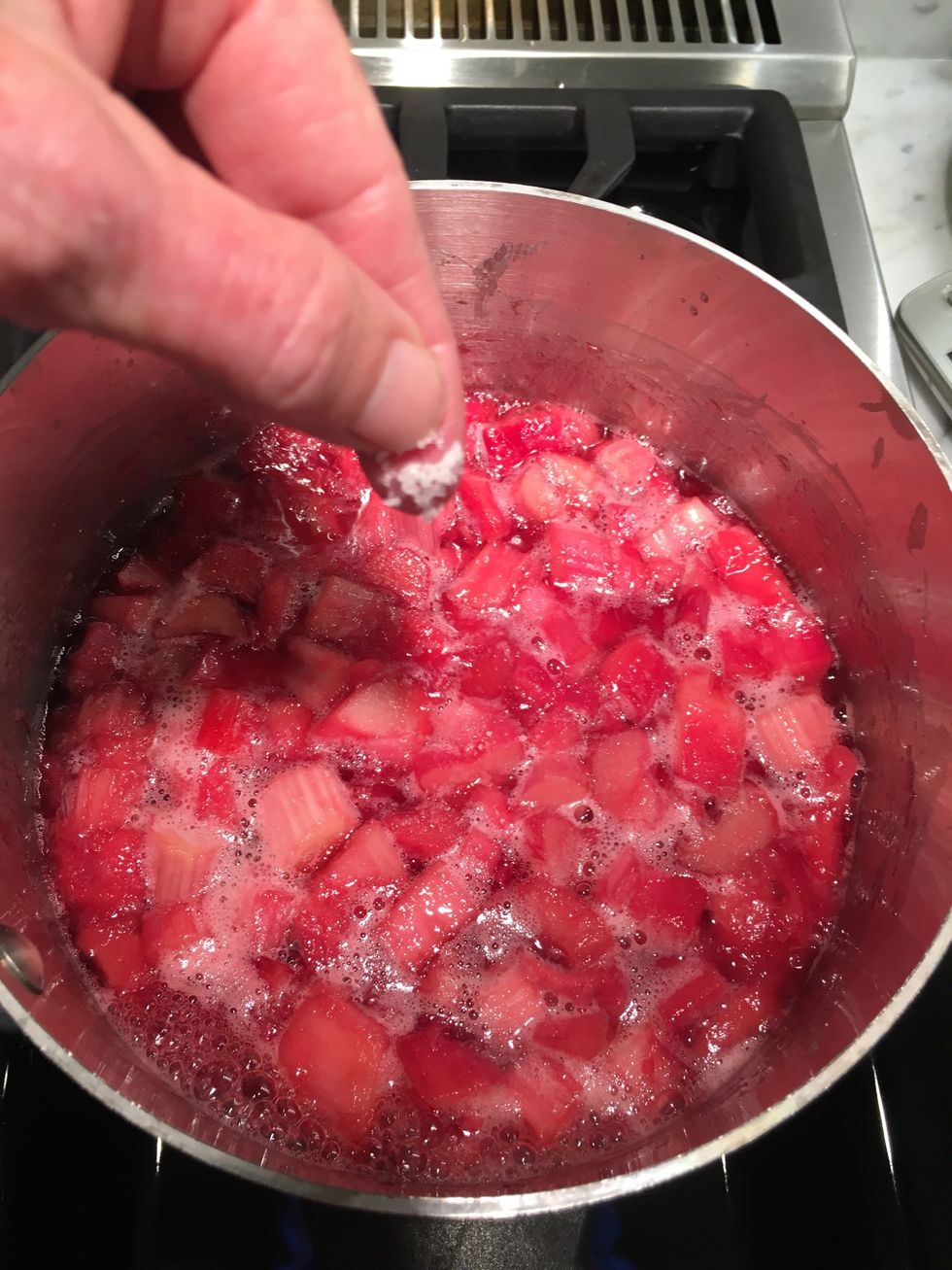 When you think of it, add a pinch of that fancy European salt you have on the counter.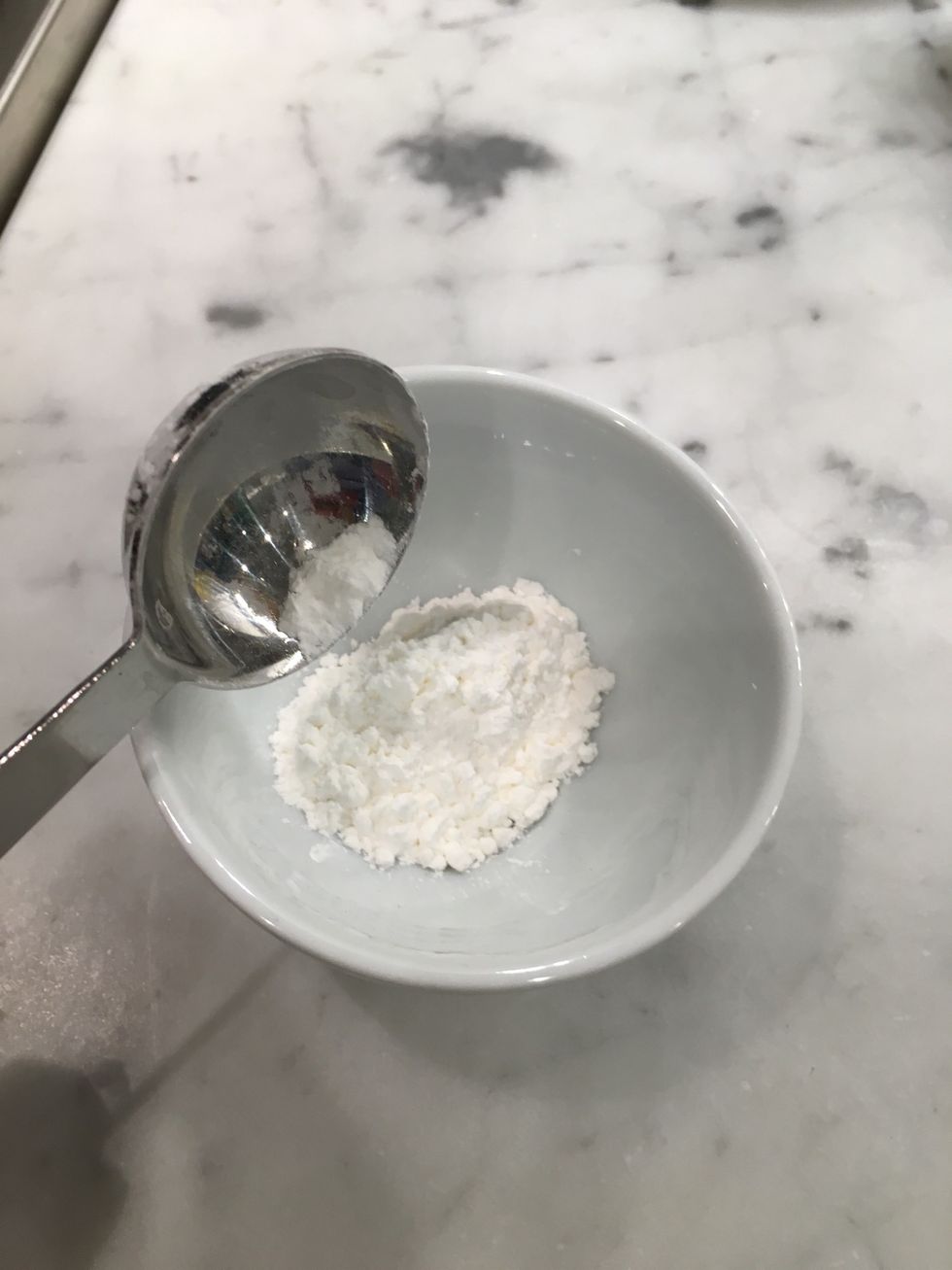 This is 1 tablespoon of cornstarch that you mix with 2 teaspoons of water.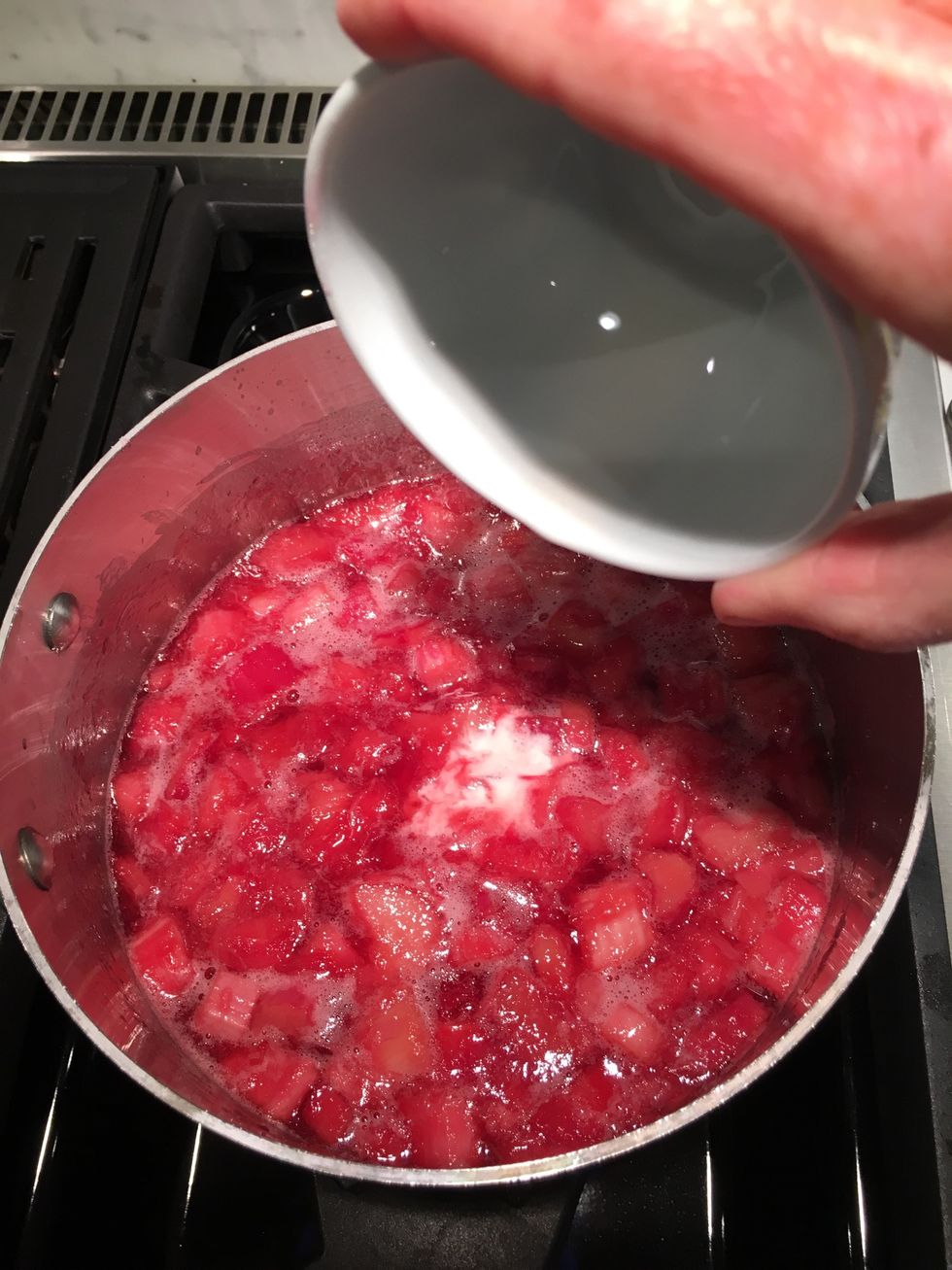 After about 5 minutes, the rhubarb will look like this. Pour in the cornstarch, stirring constantly. It will begin to thicken right away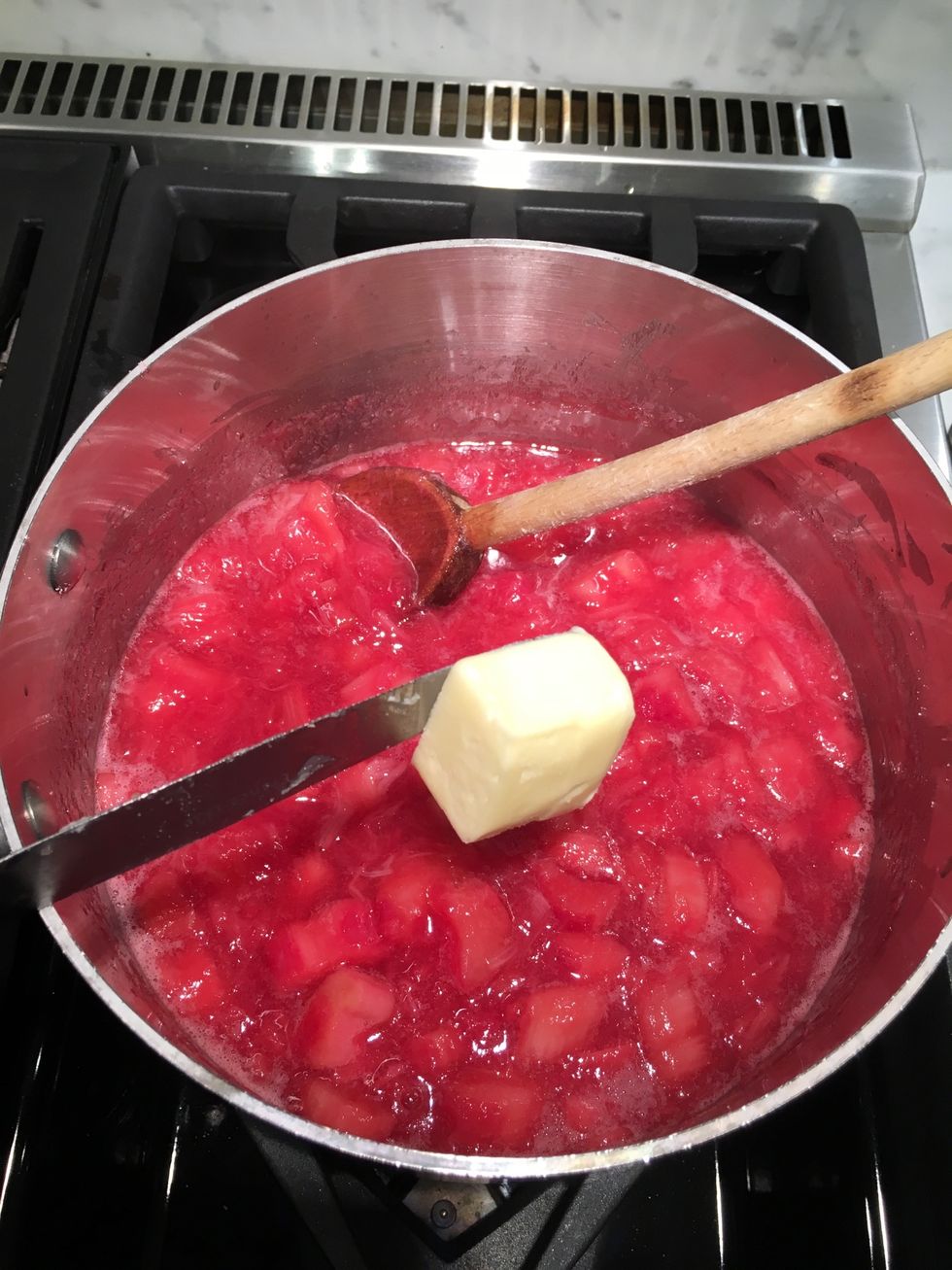 Continue to stir and add 1 heaping tablespoon of butter. By heaping, I mean more if you like. But not less.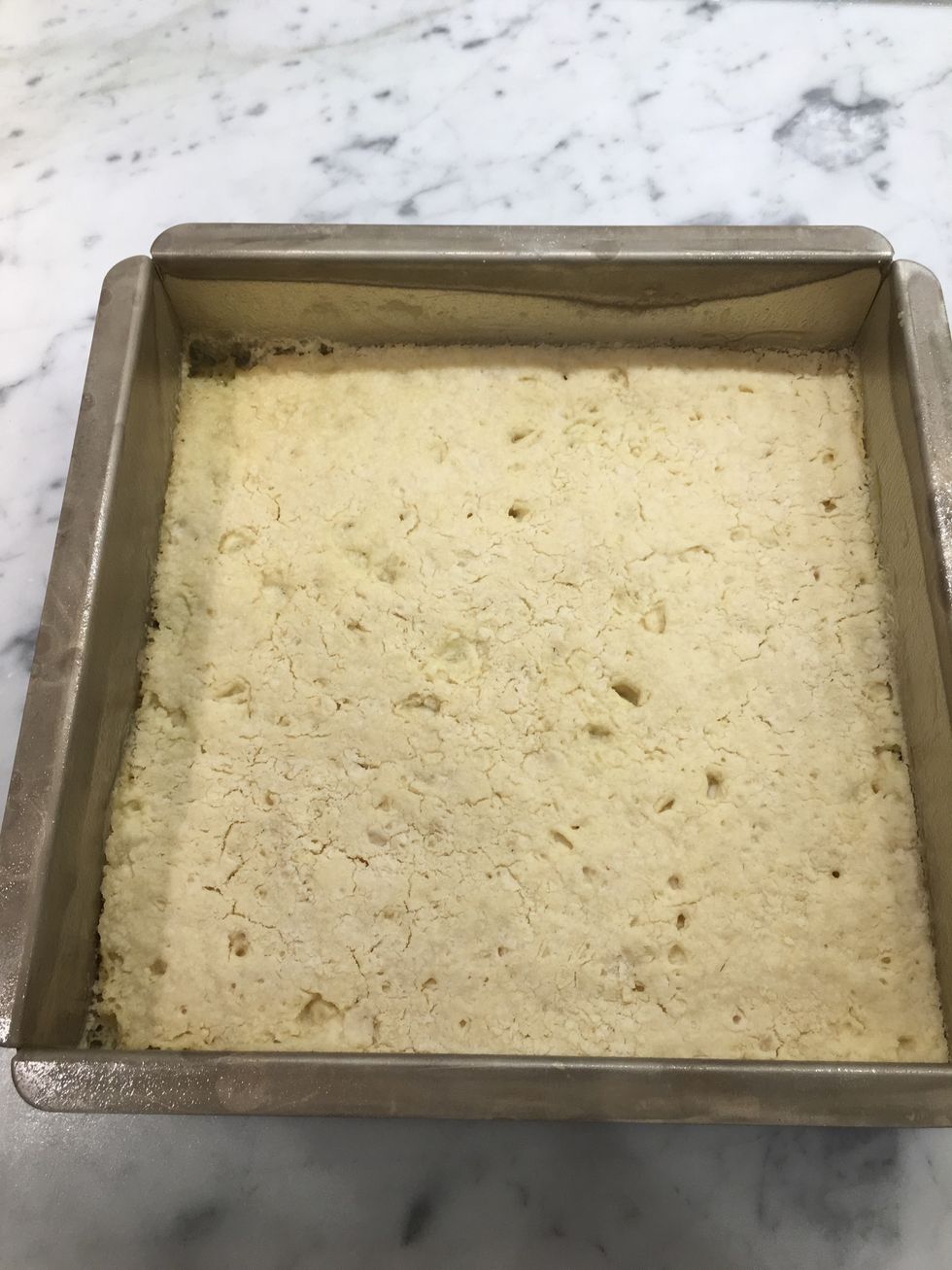 A word about timing- don't worry about timing. You can make the 3 parts in any order. The crust can be hot or cold, same with the rhubarb.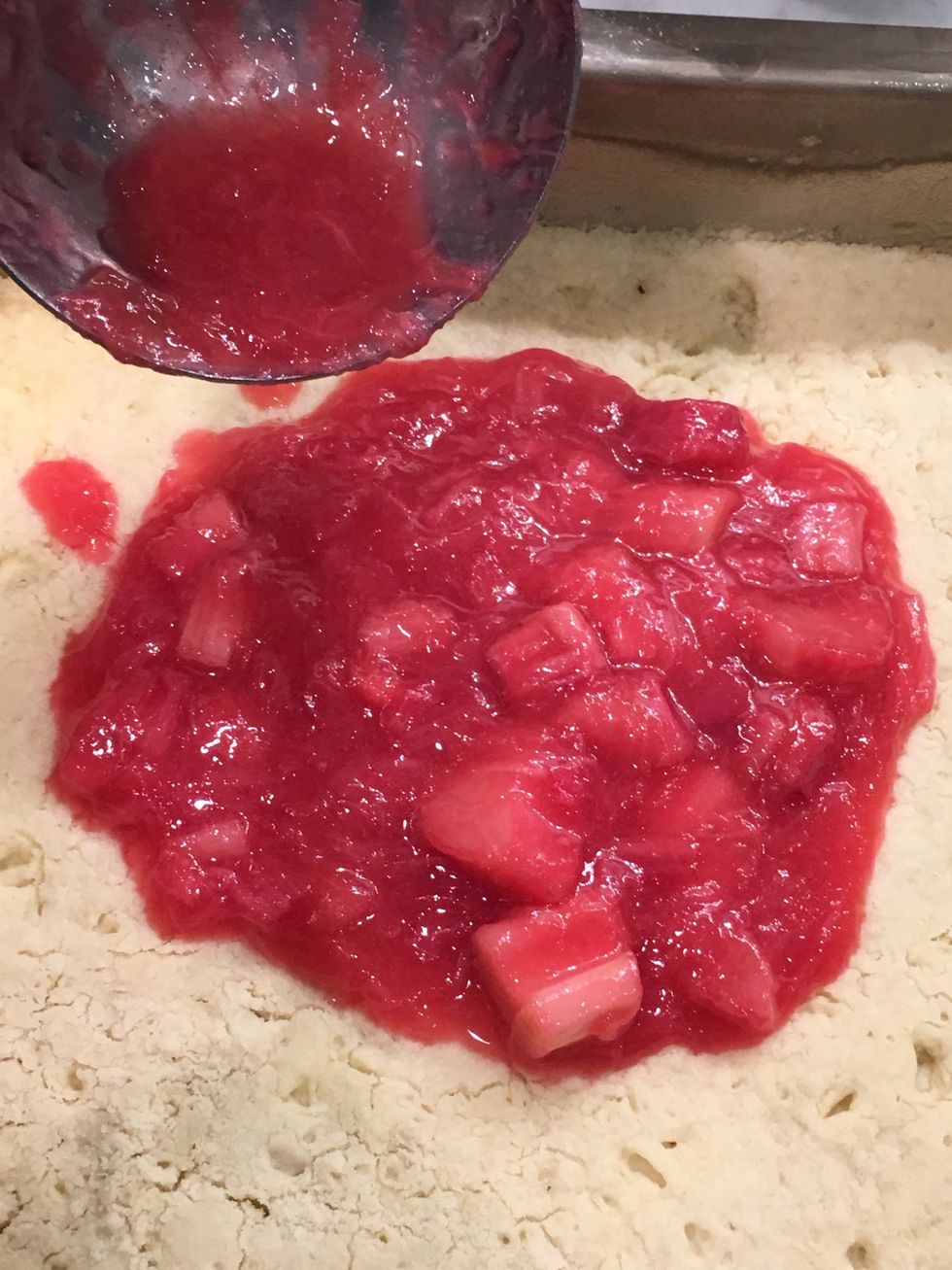 Pour the rhubarb into that beautiful crust.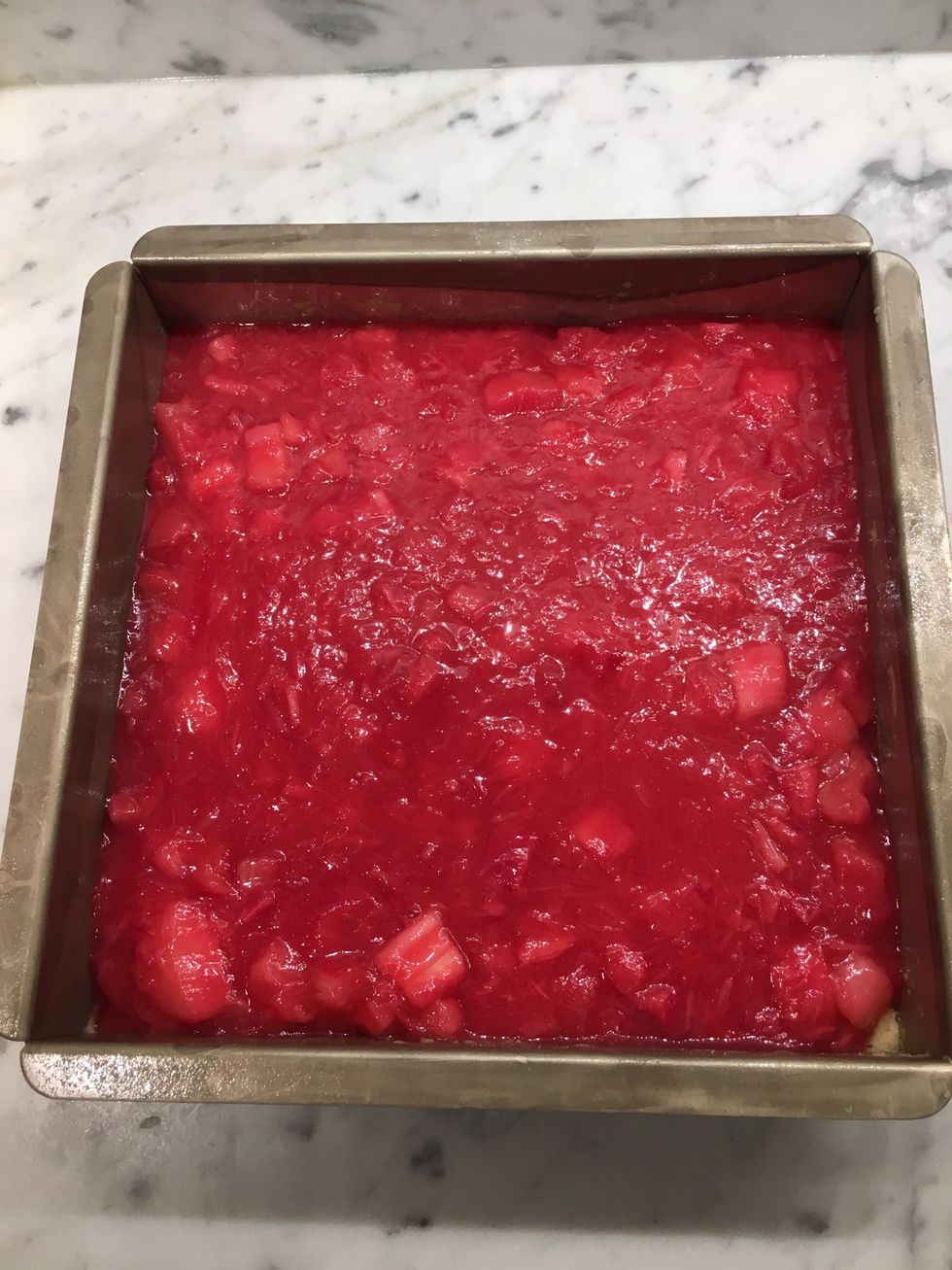 Spread it out.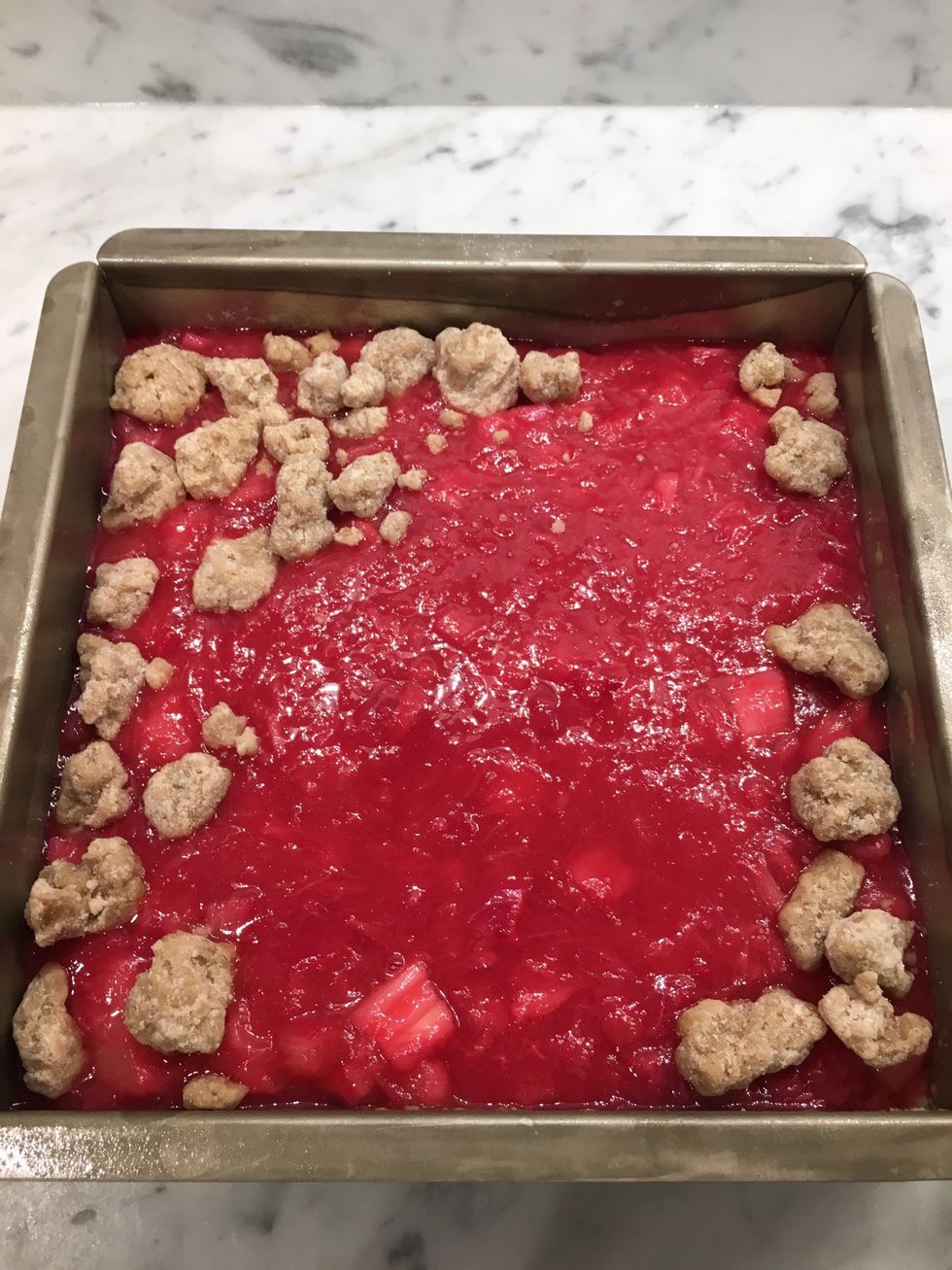 Heap on the crumbs. Use them all!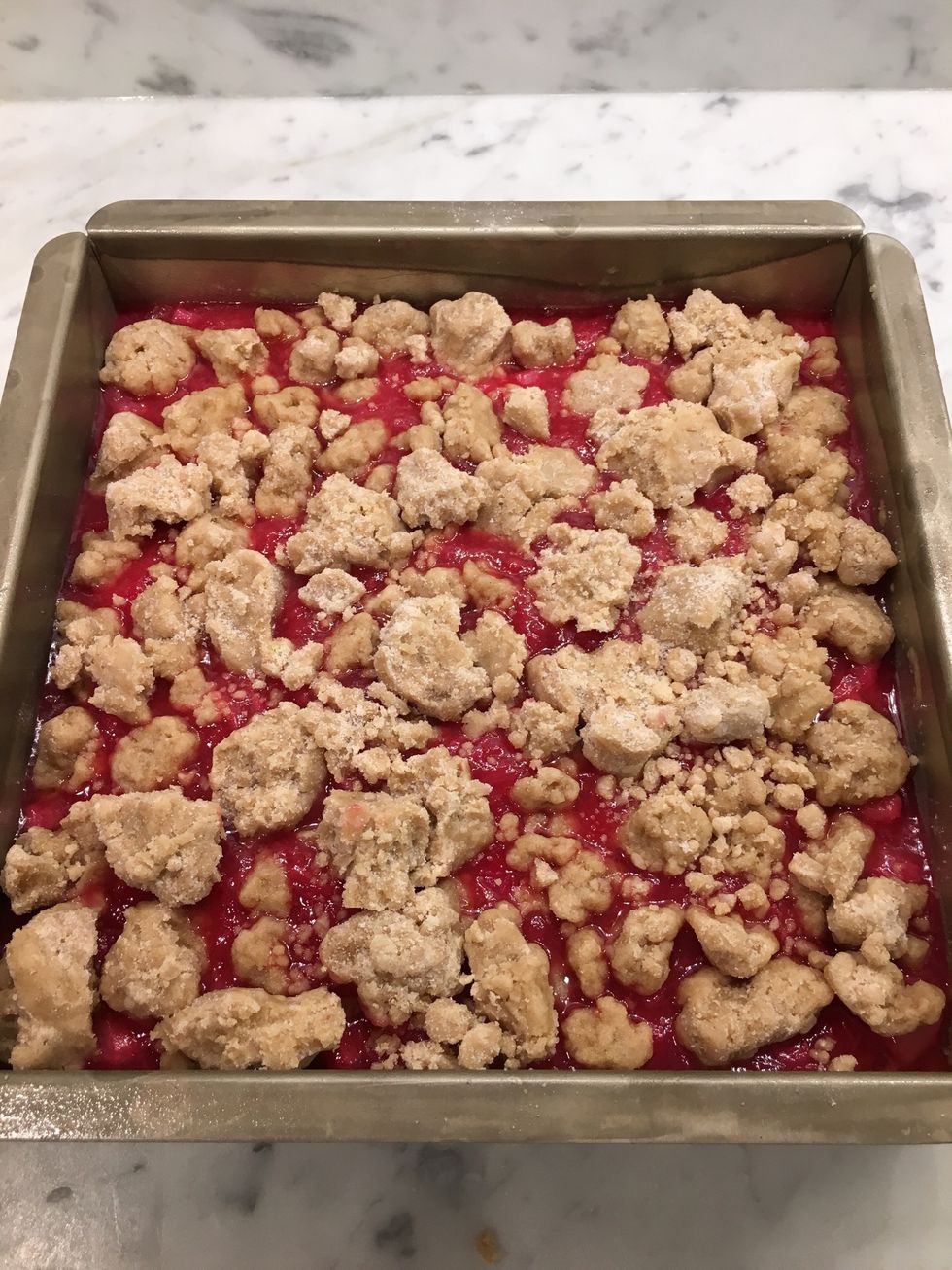 Bake at 350 for 25-30 minutes.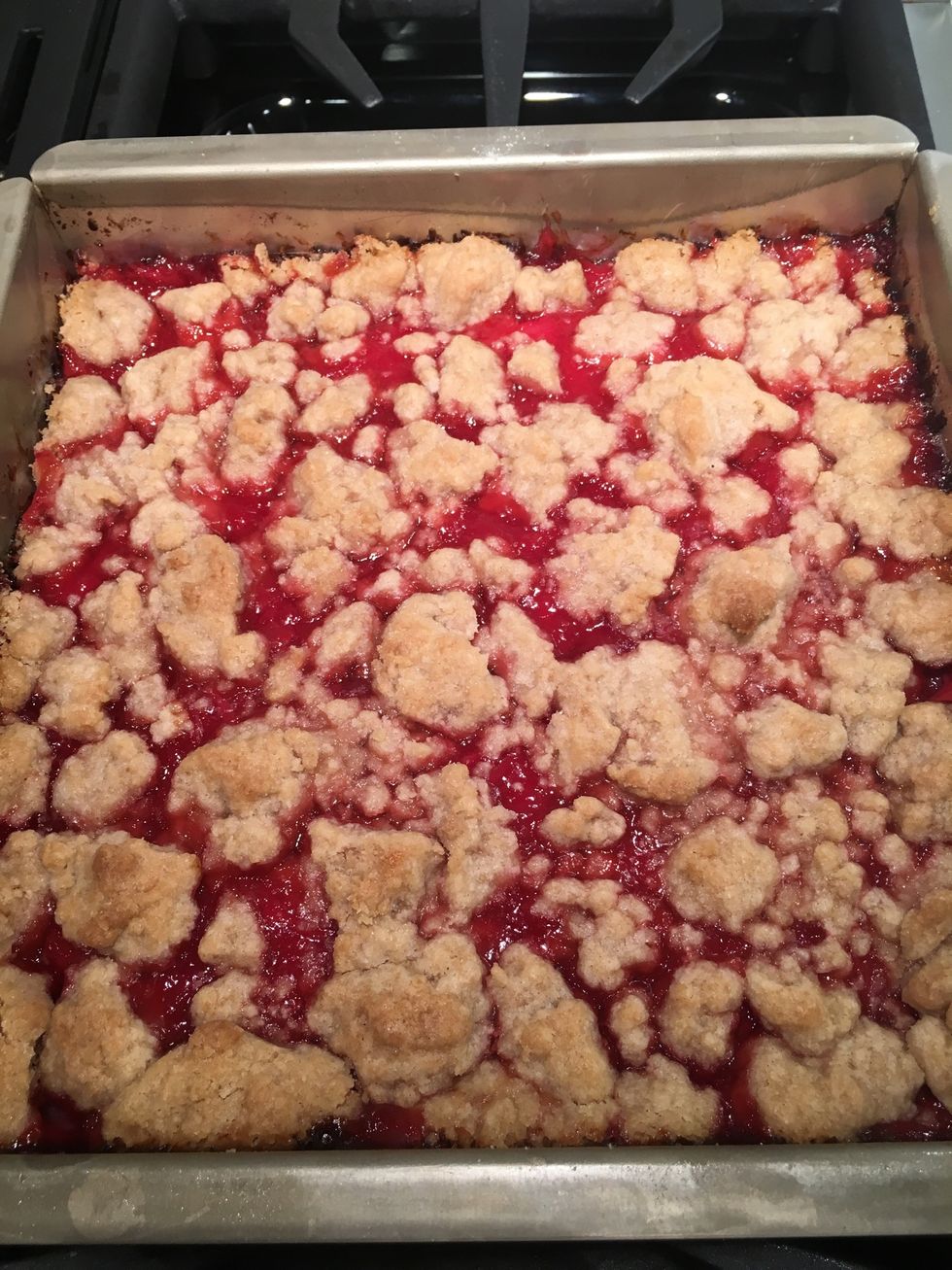 Finis! Let them cool before you cut them. You might notice the dark edges. I'm not going to lie- I should've lined the pan with parchment, Crumb Cake style. I was lazy, so, I'm just going to trim it.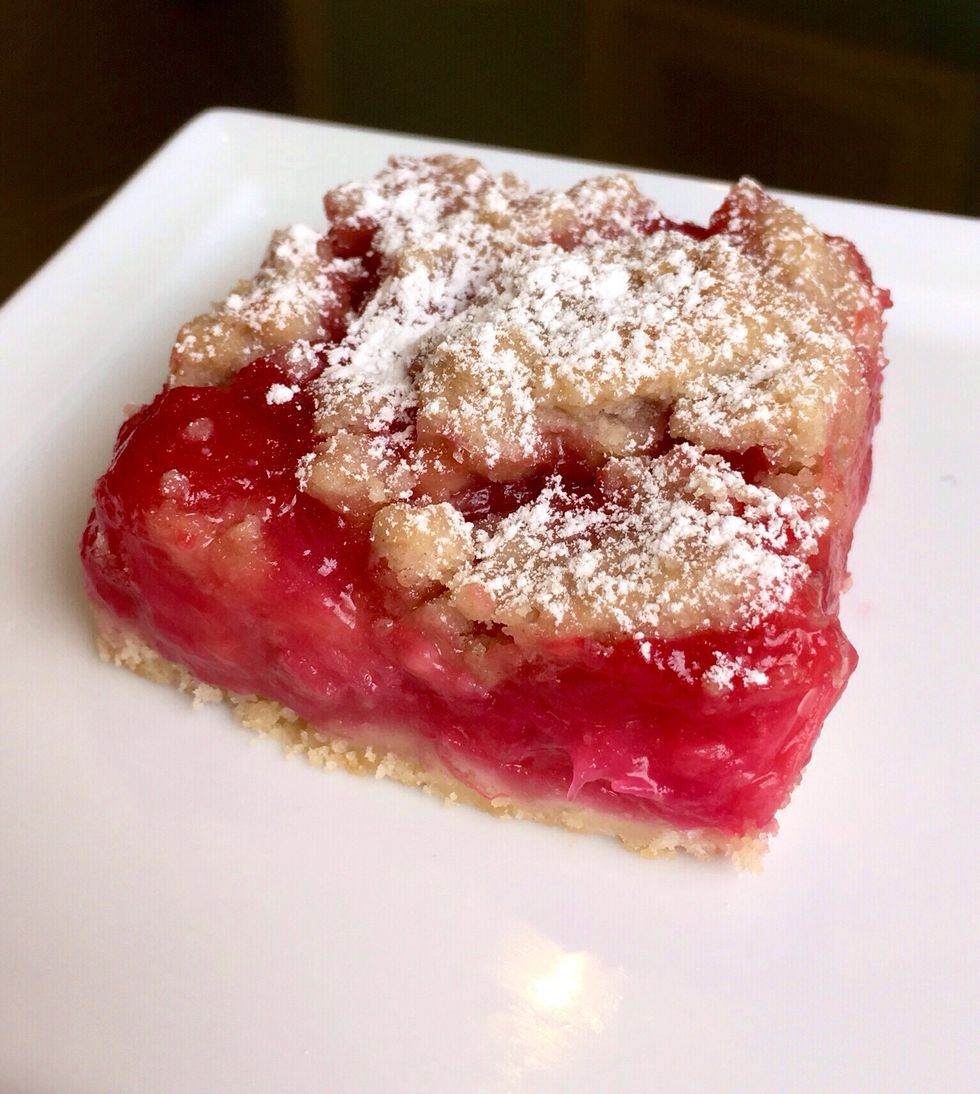 Fabulous! Sprinkle with powdered sugar, of course.
Crumbs
0.0c Brown sugar (2 1/2 oz )
0.0c Sugar (2 1/2 oz)
4.0oz Butter
0.0tsp Cinnamon
1.0c Cake flour (8 oz)
1.0pch Salt
Rhubarb filling
1.0lb Rhubarb (6 cups)
0.0c Sugar
2.0Tbsp Butter
1.0pch Salt
Cookie crust
1.0c Flour
0.0c Powdered sugar
4.0oz Butter
1.0pch Salt