Here's to making chicken soup like grandma used to! Best over 2 days but can be done in 1
15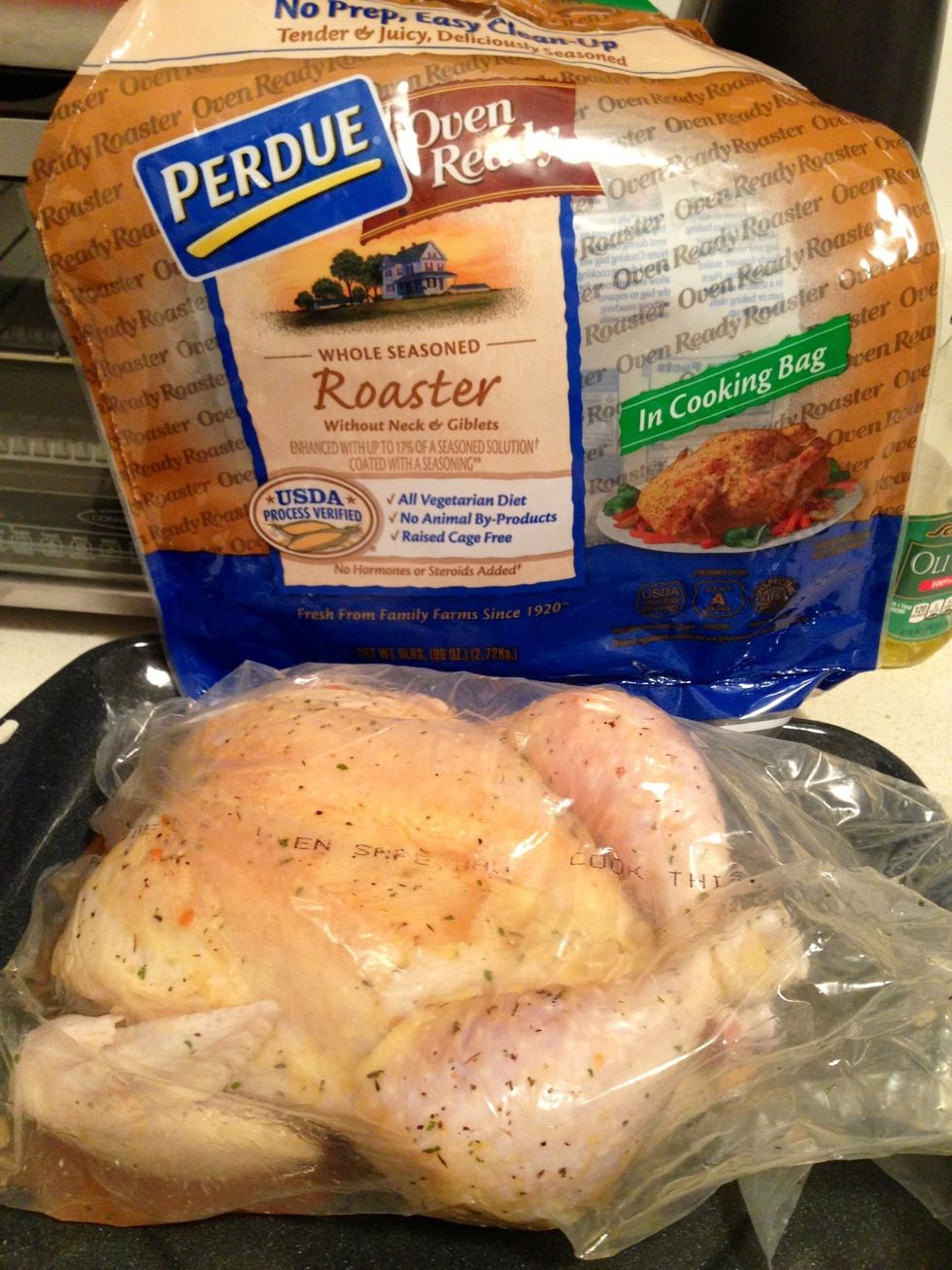 Sometime it's easier to just buy the rotisserie chickens from the grocery, when its a snow storm and they are out: roast your own.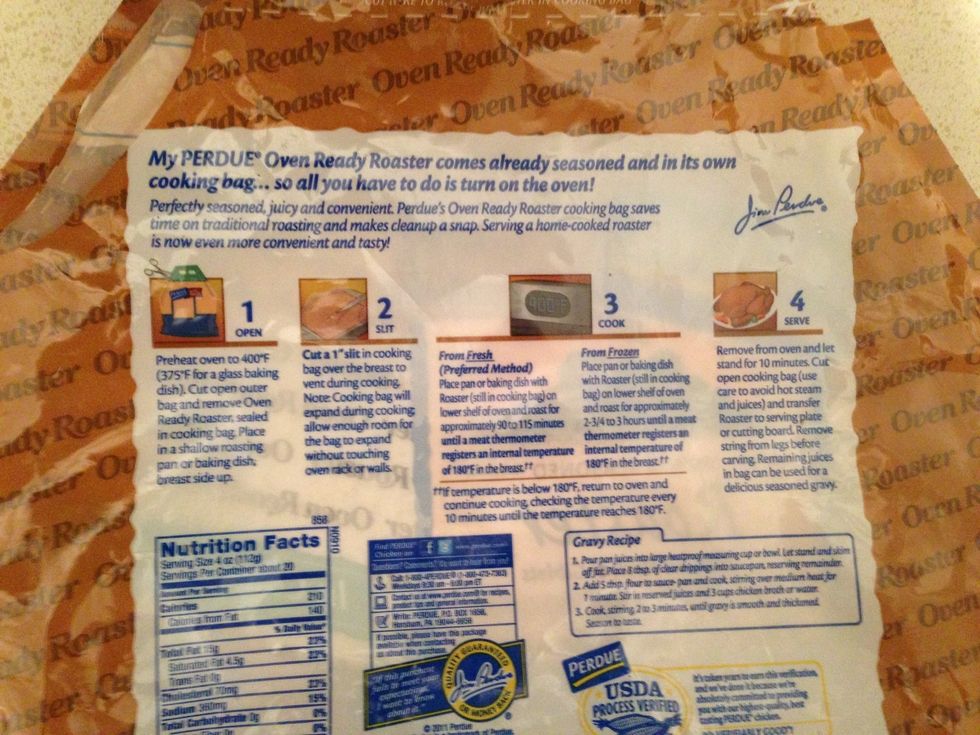 They make it idiot proof.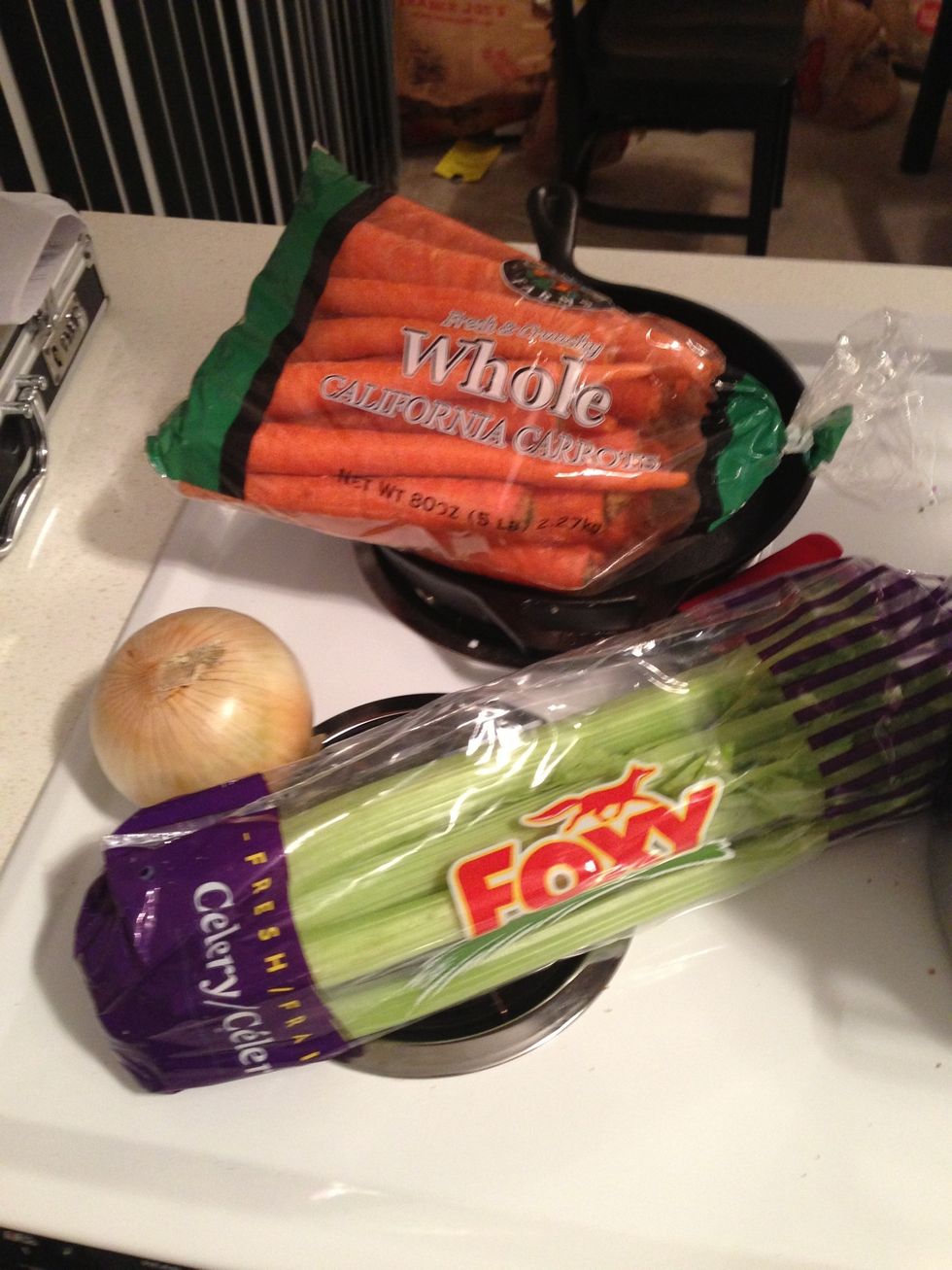 While the bird is cooking prep the veg.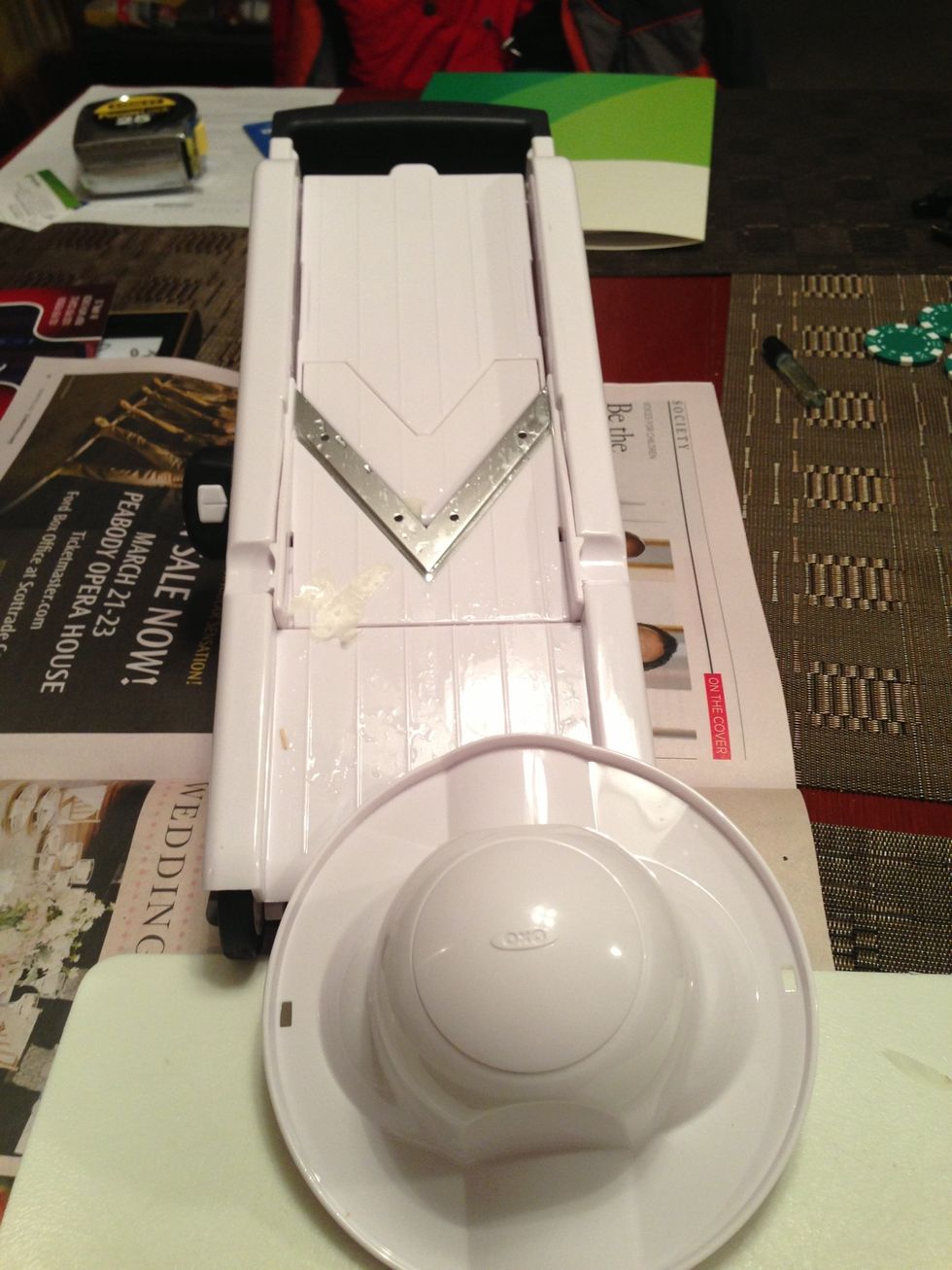 A mandolin will make chopping faster. But be careful u don't take a chunk out if your hand or finger in my case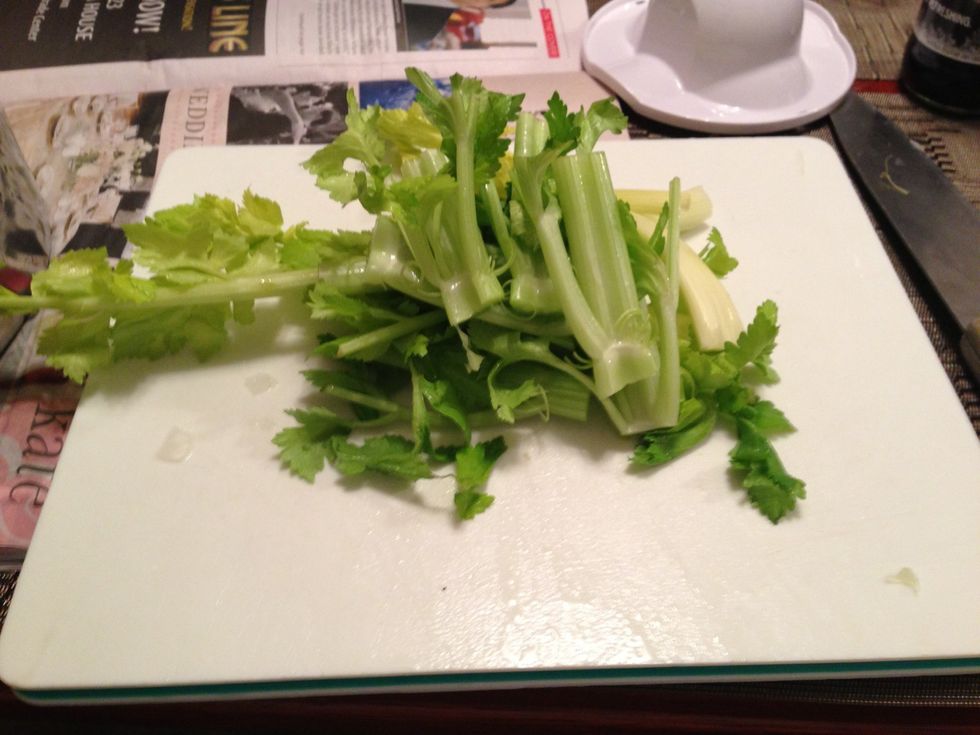 Save the tops of the celery for the stock making.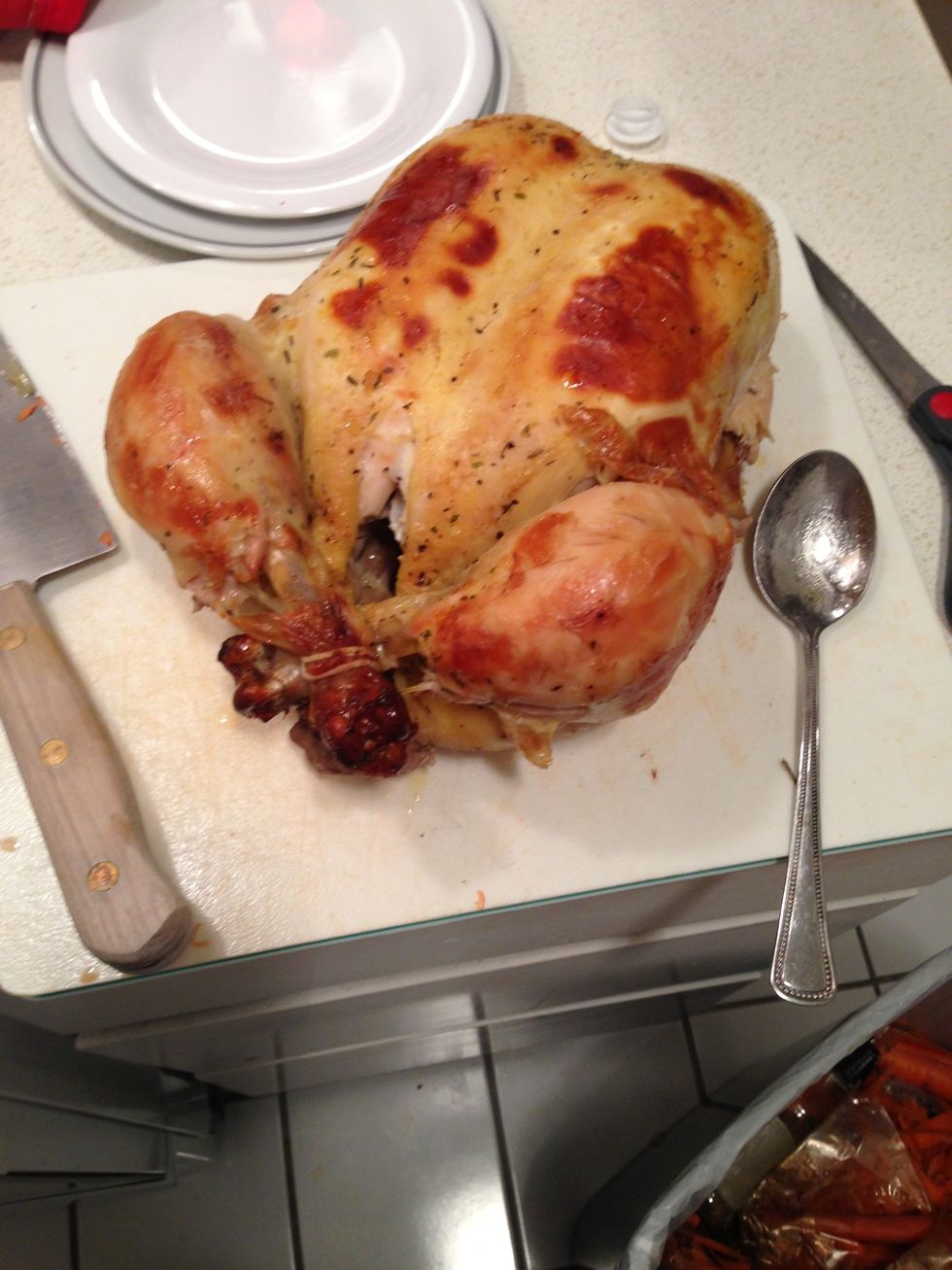 The bird is cooked now comes the fun part!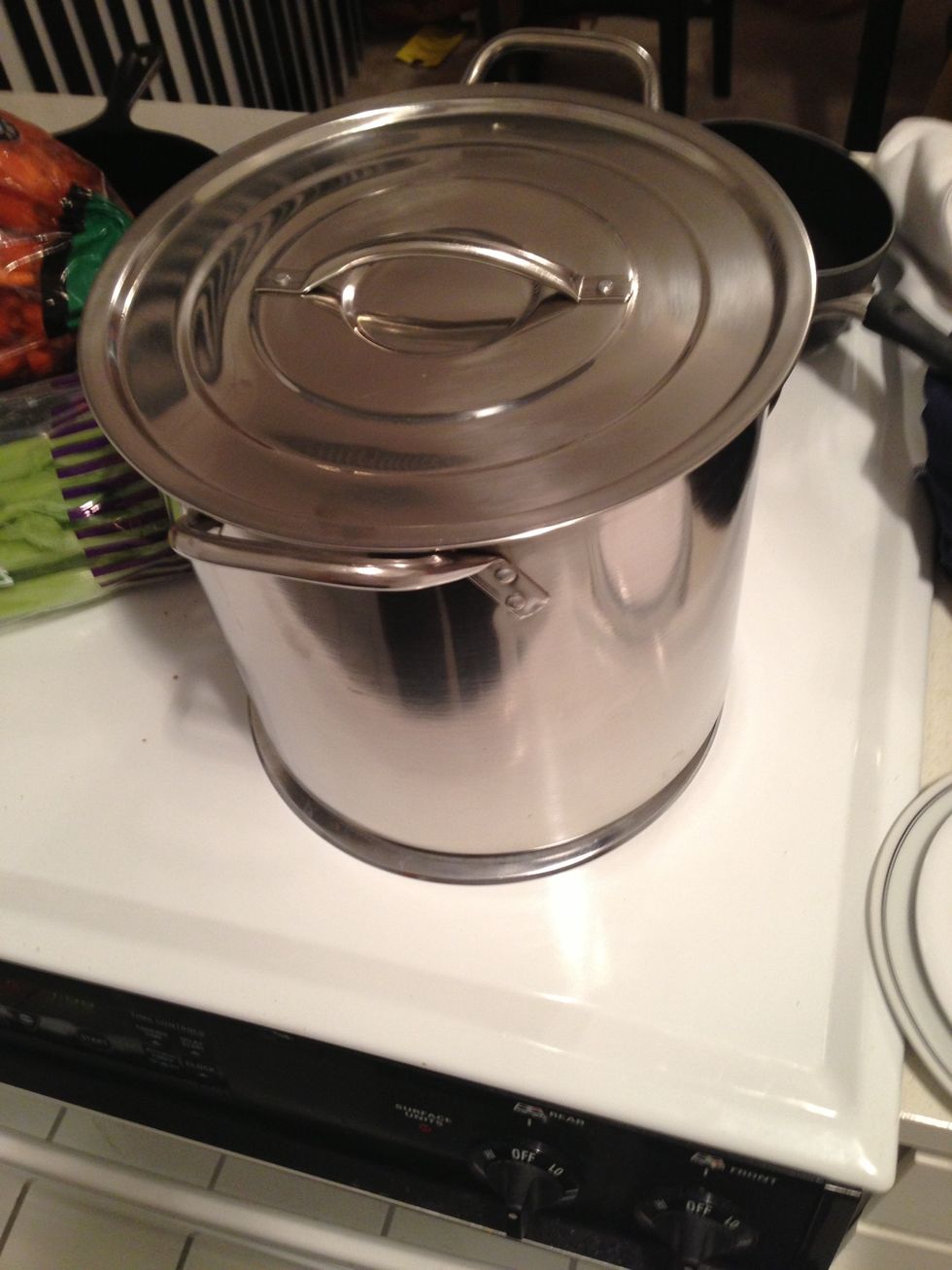 Find a large Pot, this is like 16 oz and makes a ton of soup. It was like $10 at the grocery store. Oh bachelor life when you realize you can't make soup in the microwave.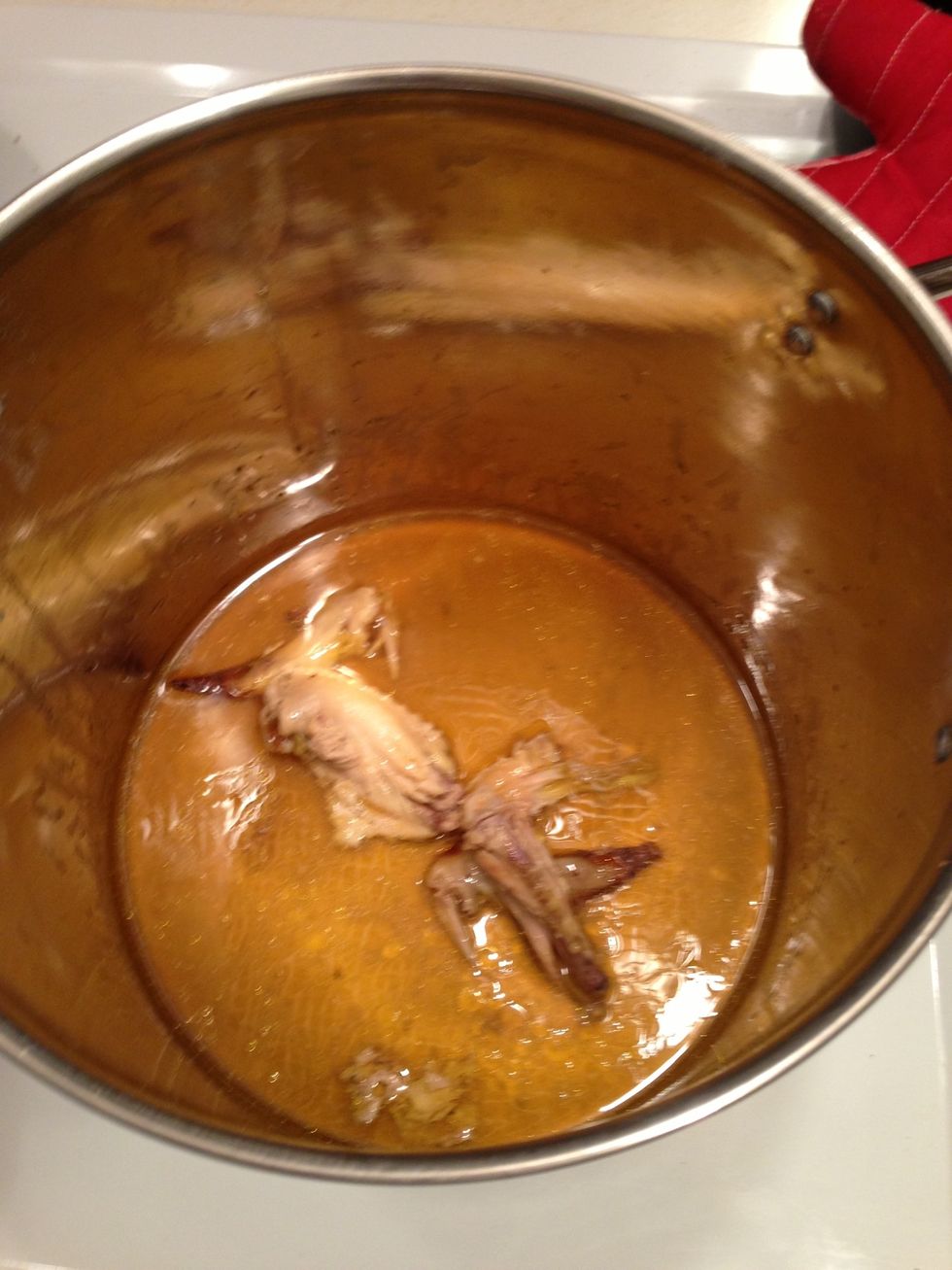 Pour cooking juices and any pieces that fell off the chicken into the pot.
Carve away, discarding the nasty bits, skin, and fat. Try and get as much meat as you can from the bones. But don't worry you will get the rest later.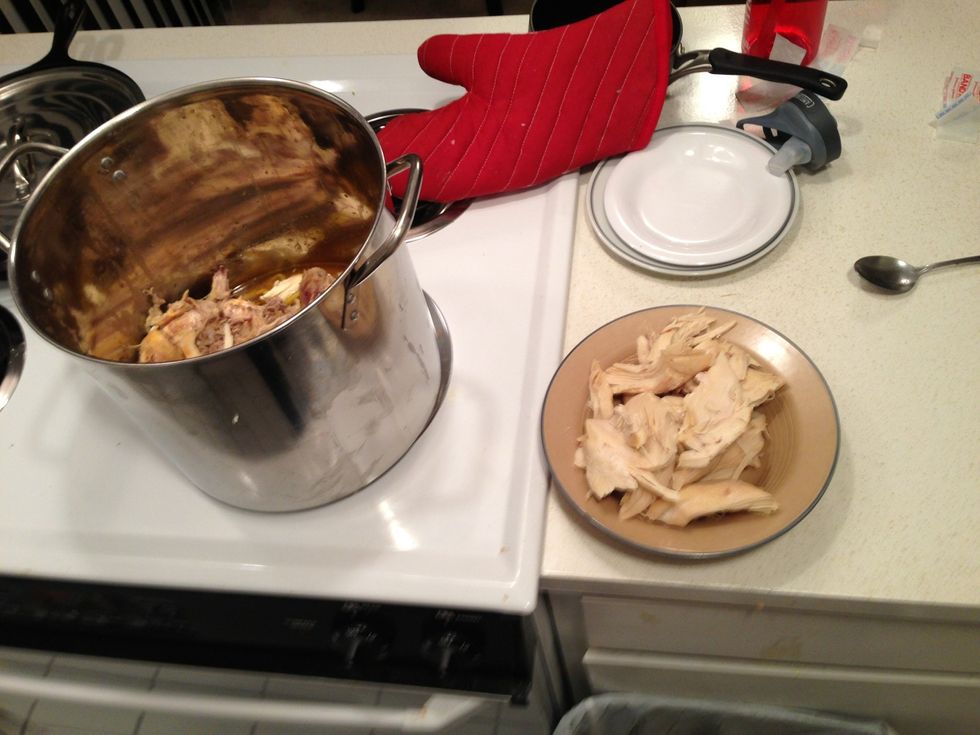 Save the meat for the soup tomorrow and for dinner to tonight. Putting the bones and left over chicken carcass in stock pot.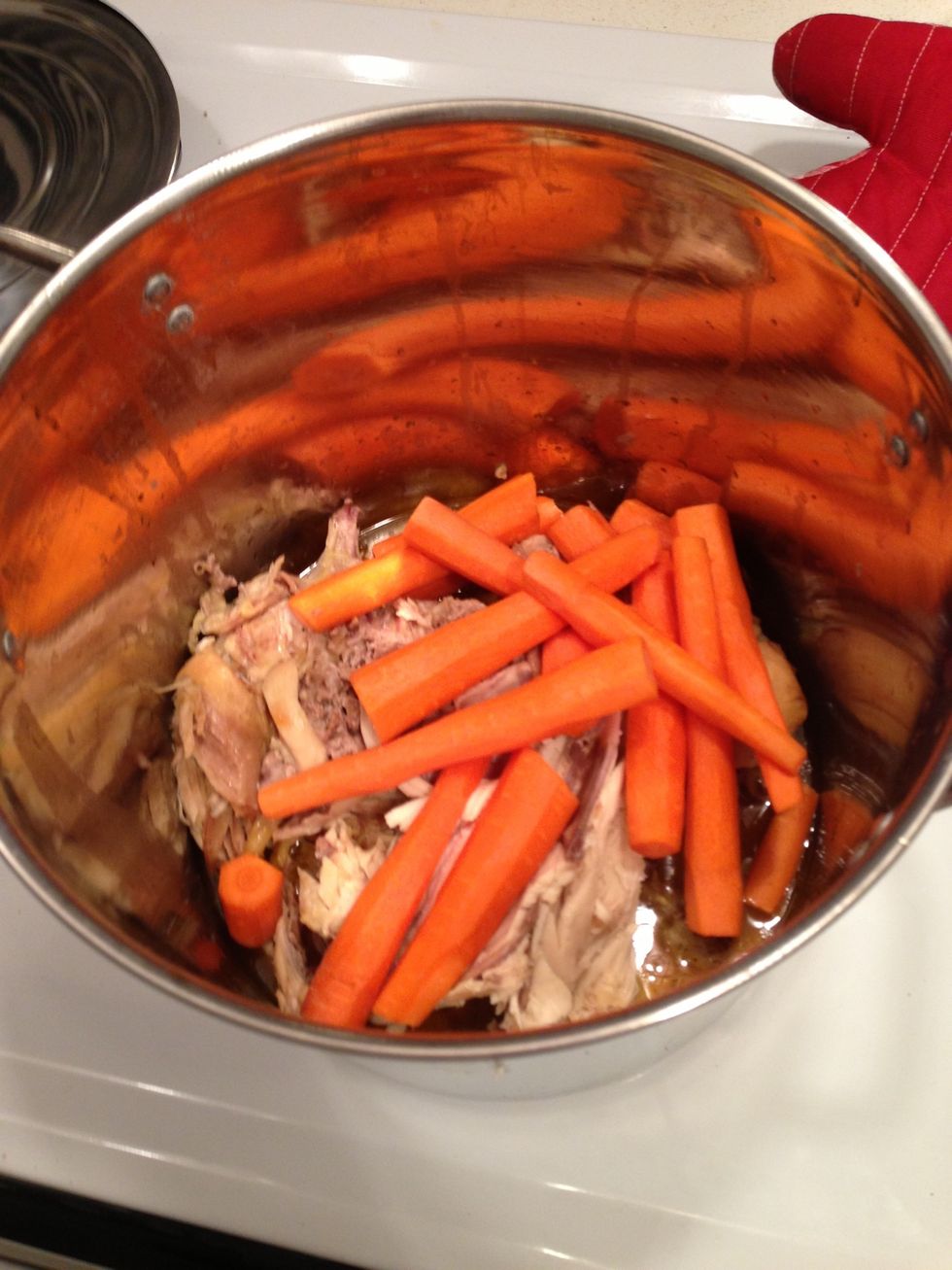 Add some carrots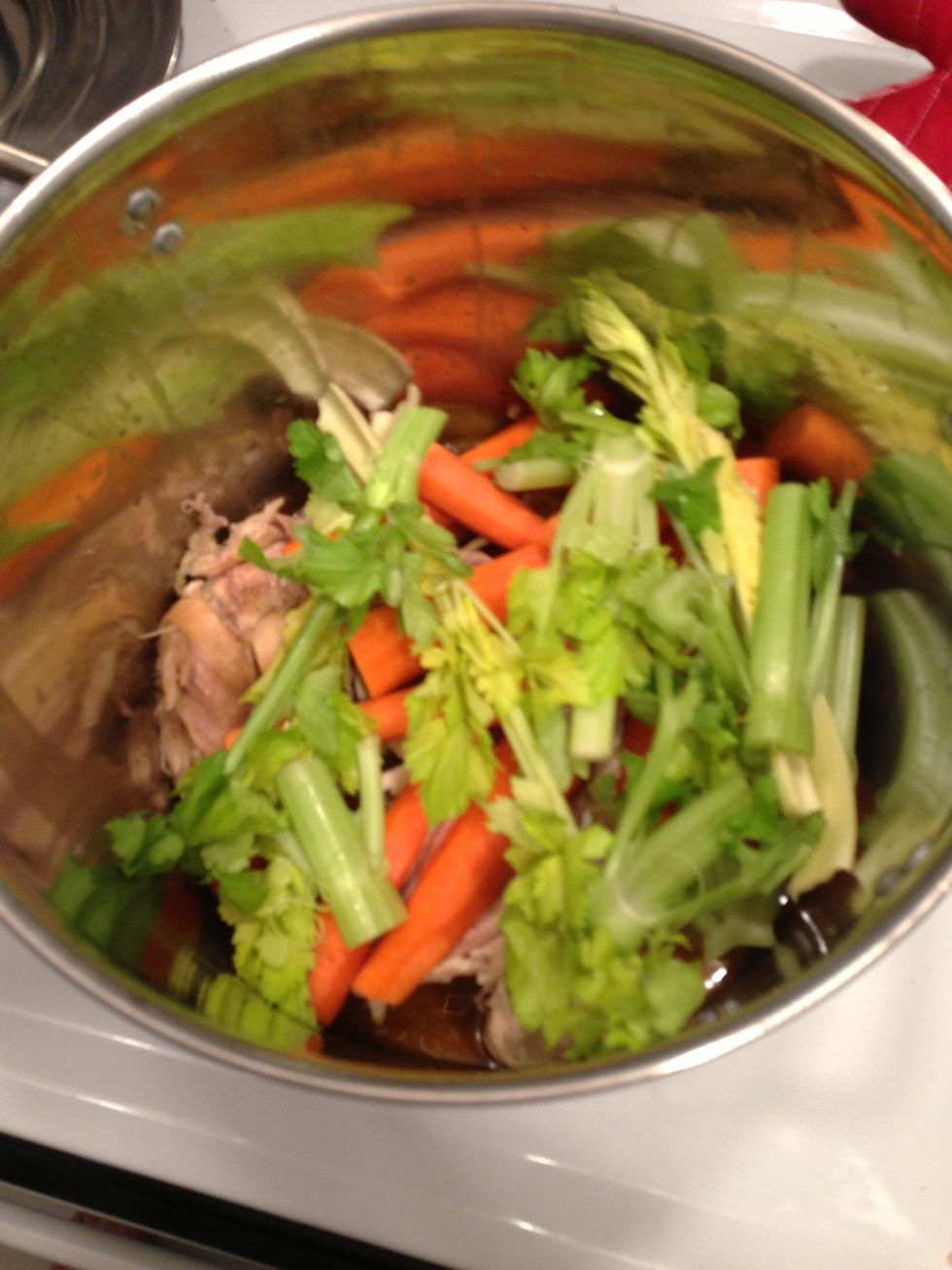 Add the celery tips for more flavor.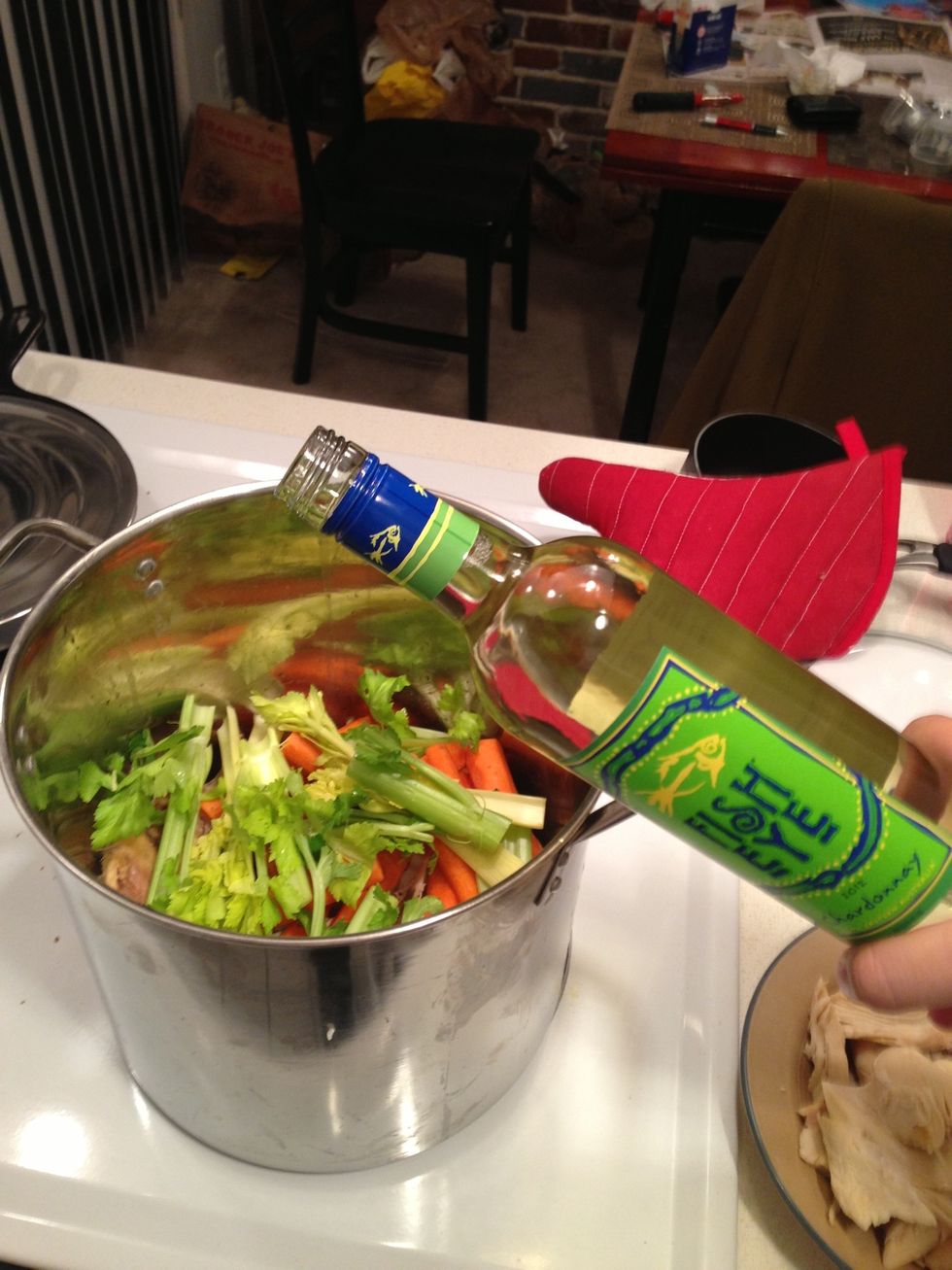 I recommend 2 bottles of wine. One for the broth and one to drink.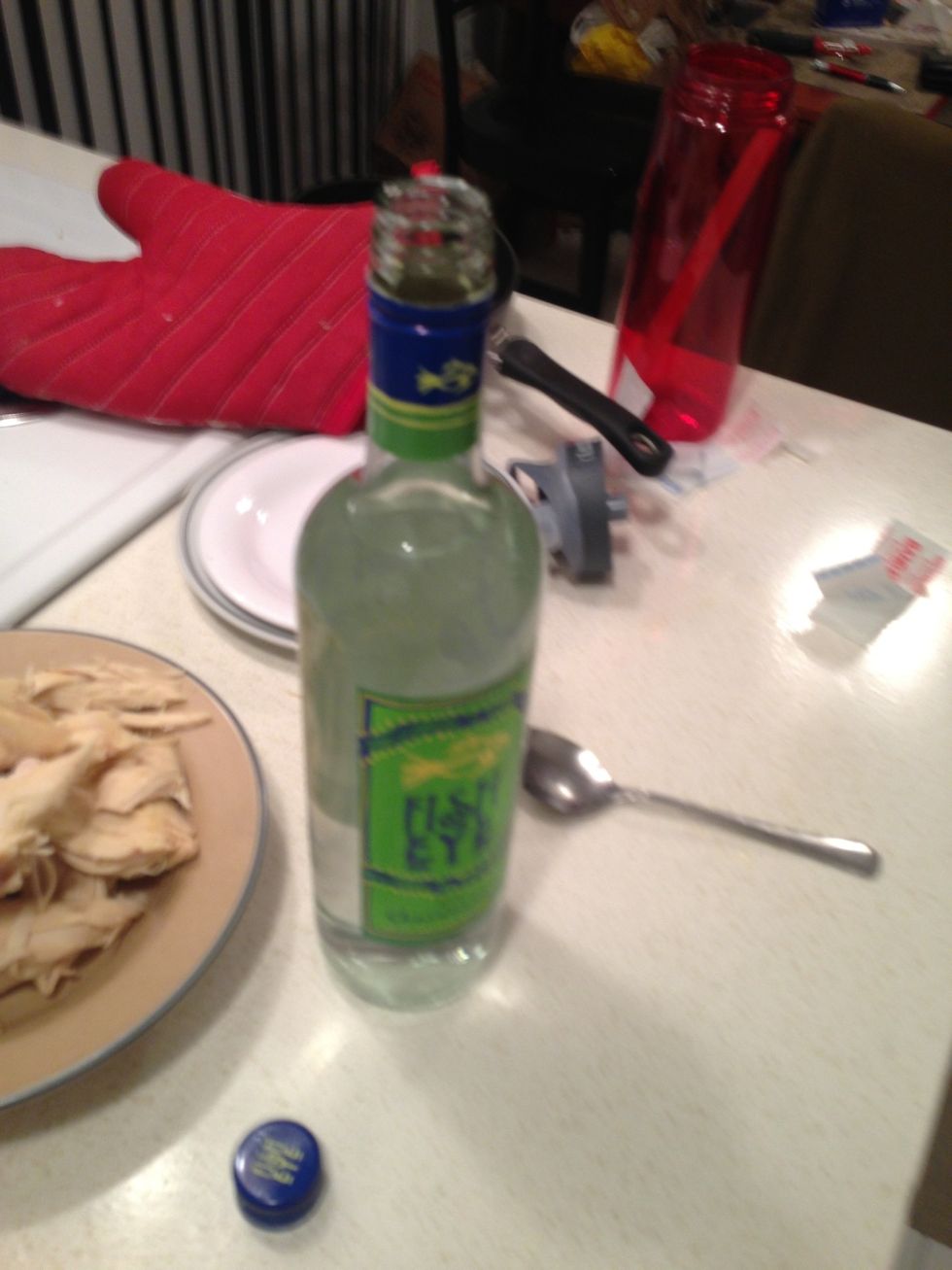 Use the wine bottle as a measure and add another bottle of water to the pot.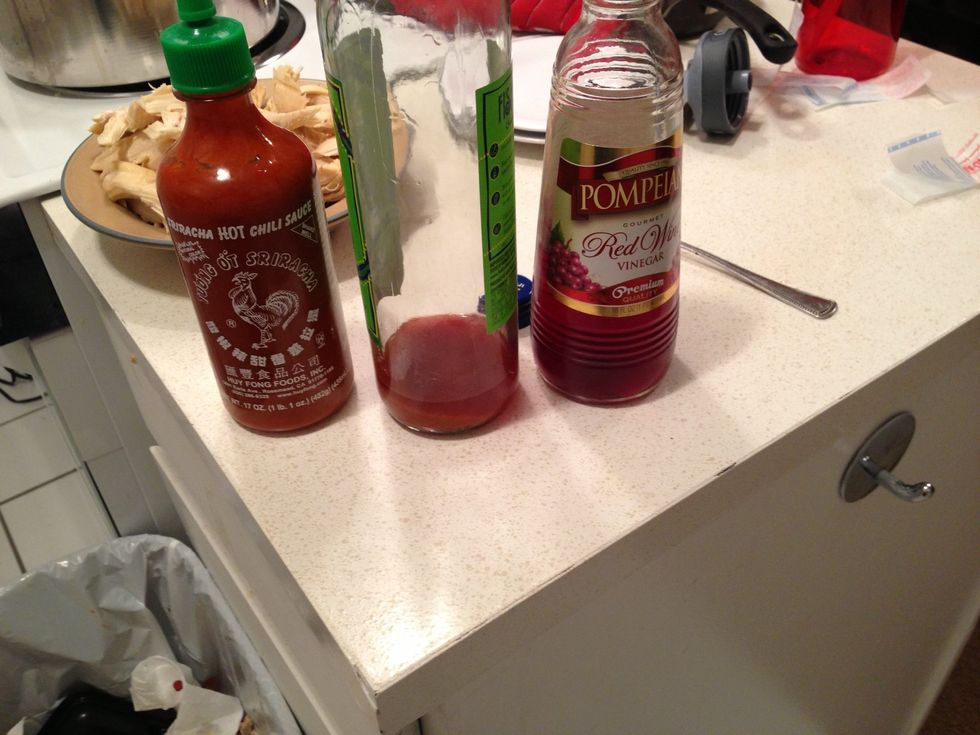 For more flavor and a kick mix sriracha and red wine vinegar then fill bottle with water and add to pot.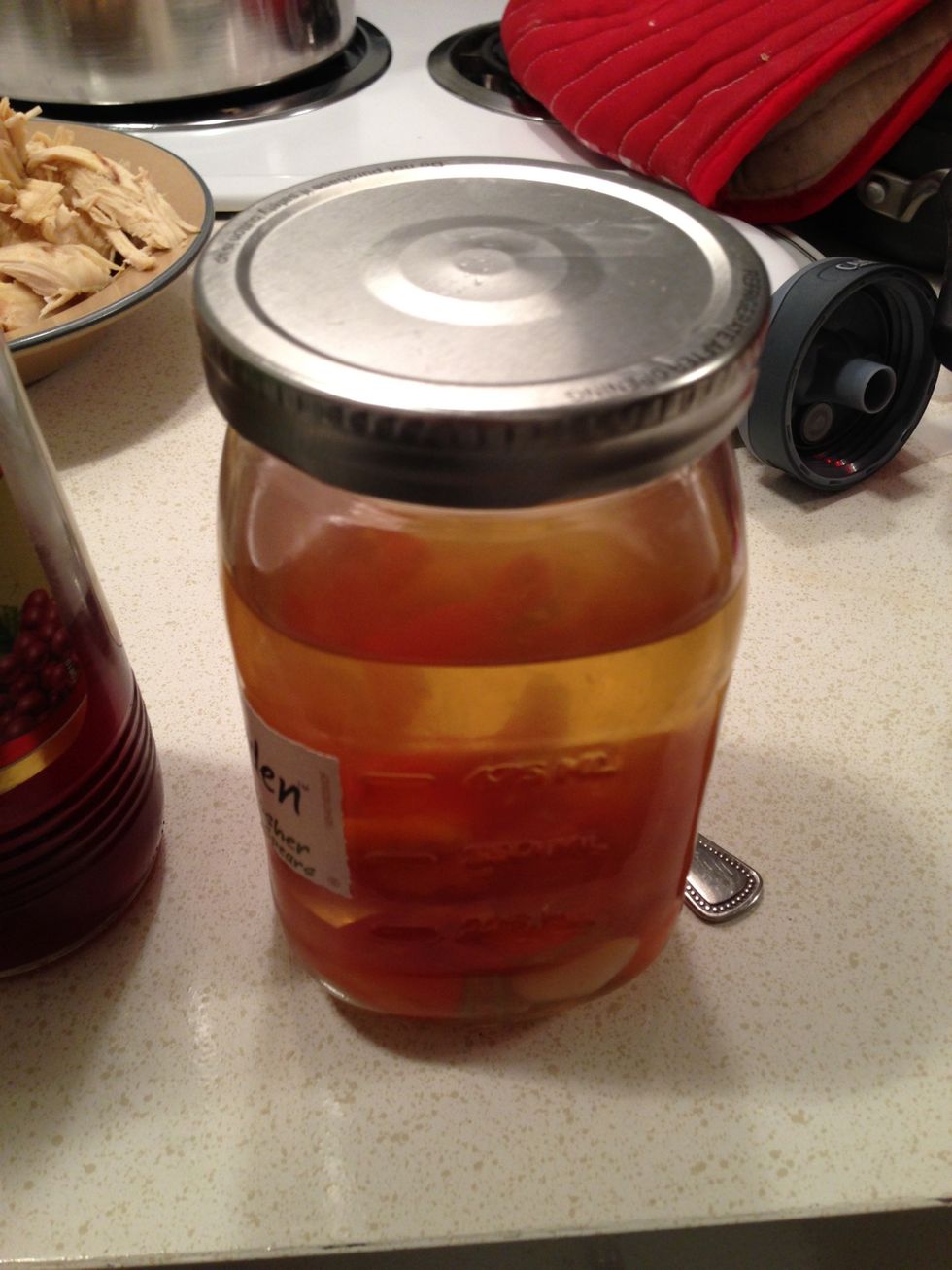 Any left over pickle juice and be added too. It's odd I know but adds lots of flavor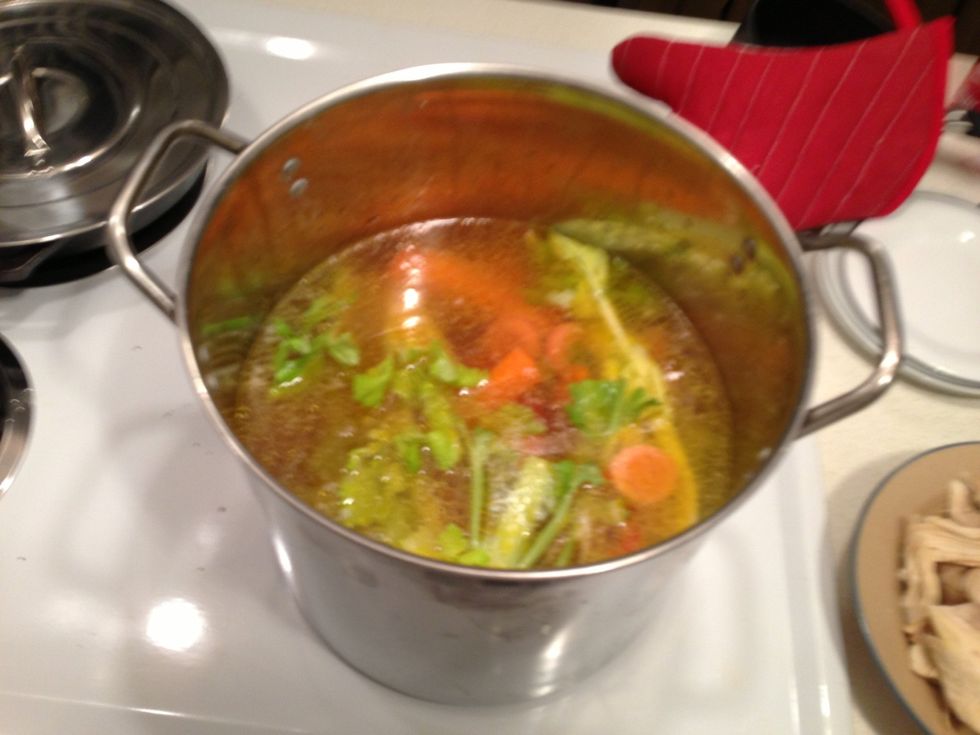 Make sure the contents are covered. If not more h2o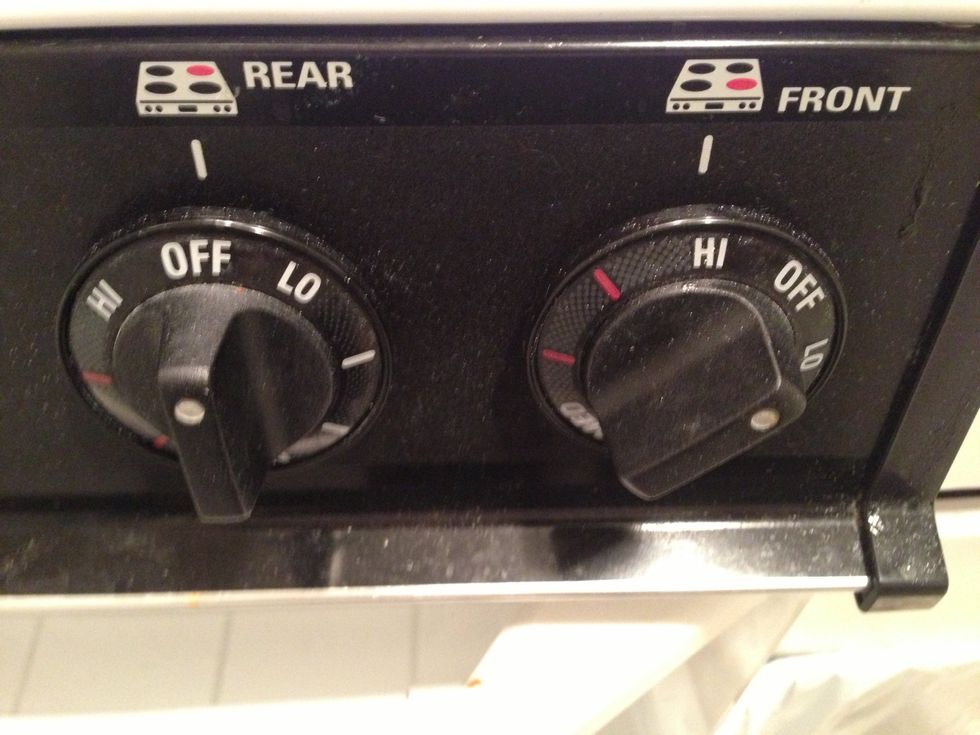 Crank the heat to high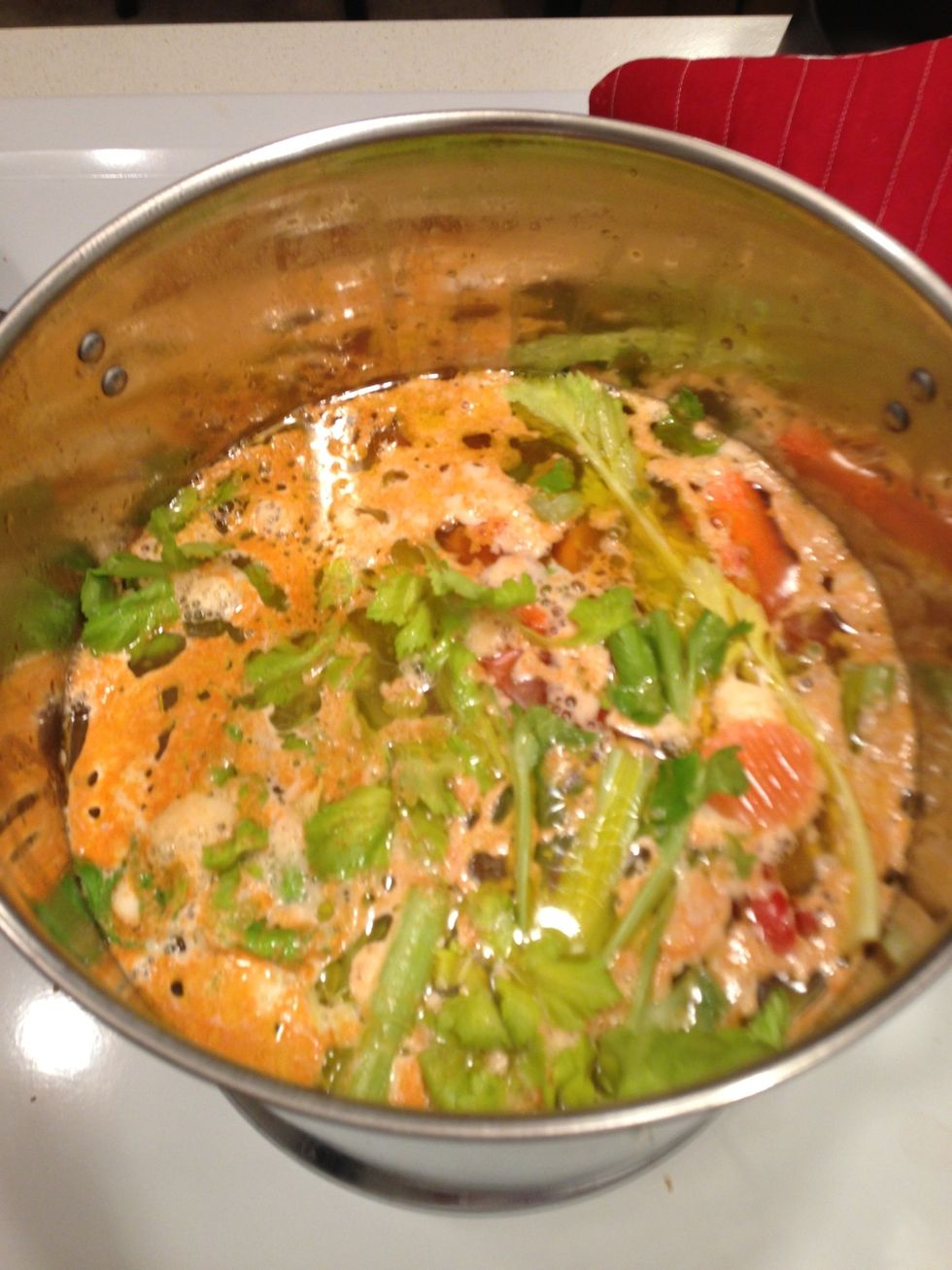 As it starts to heat and comes to a boil, Skim off any nasty foam.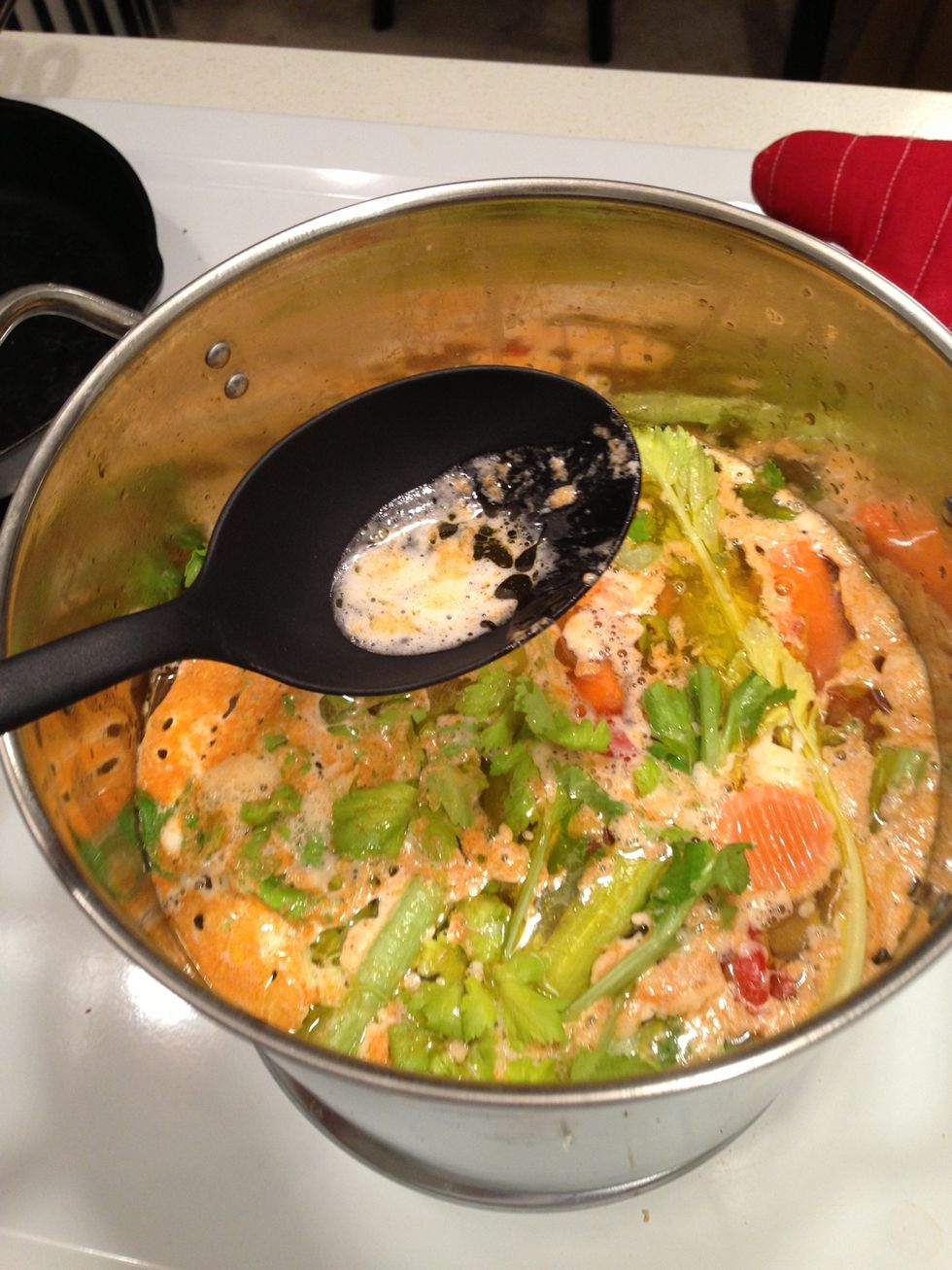 You don't want to eat this in your soup.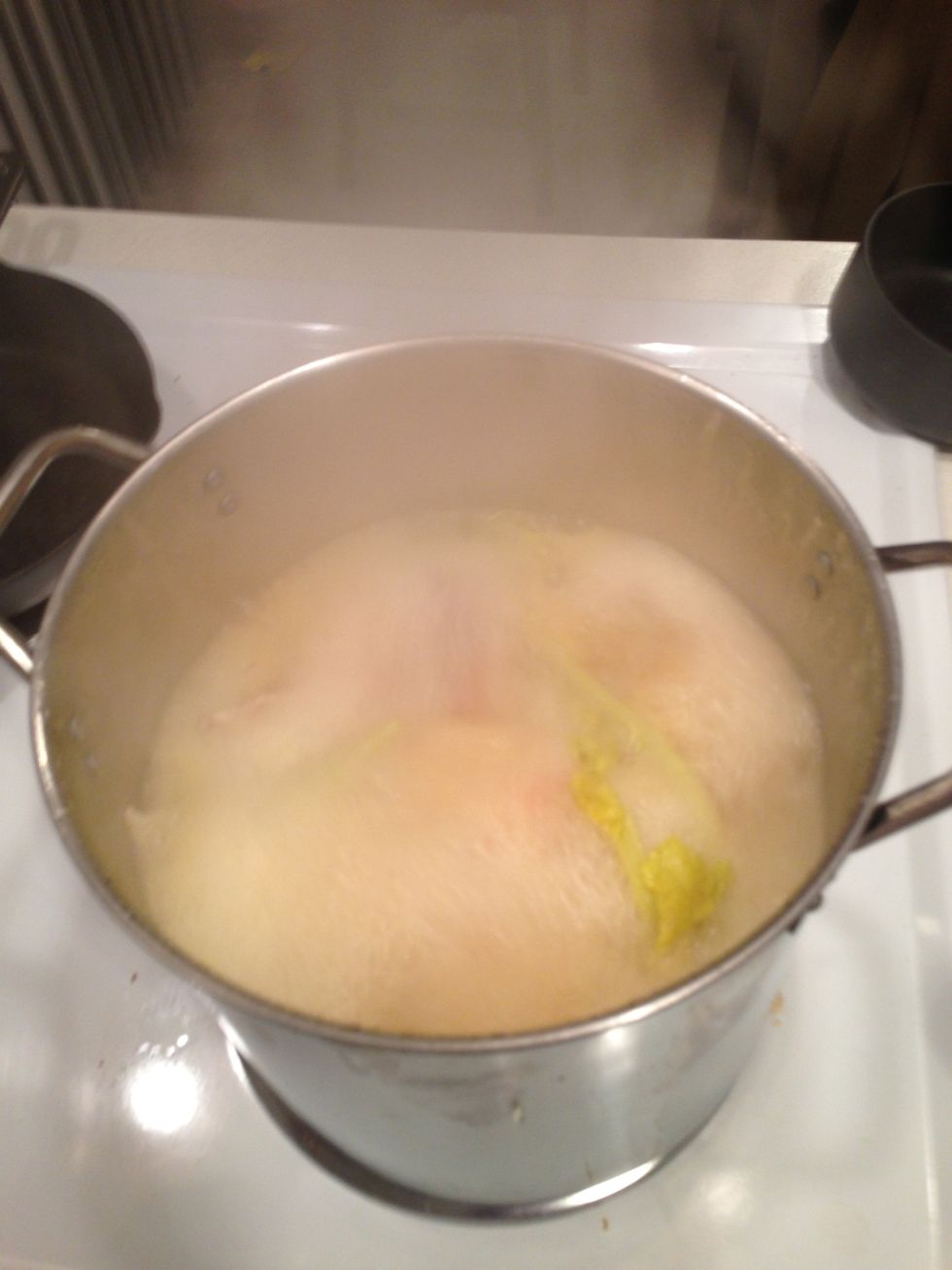 Bring to a rolling boil.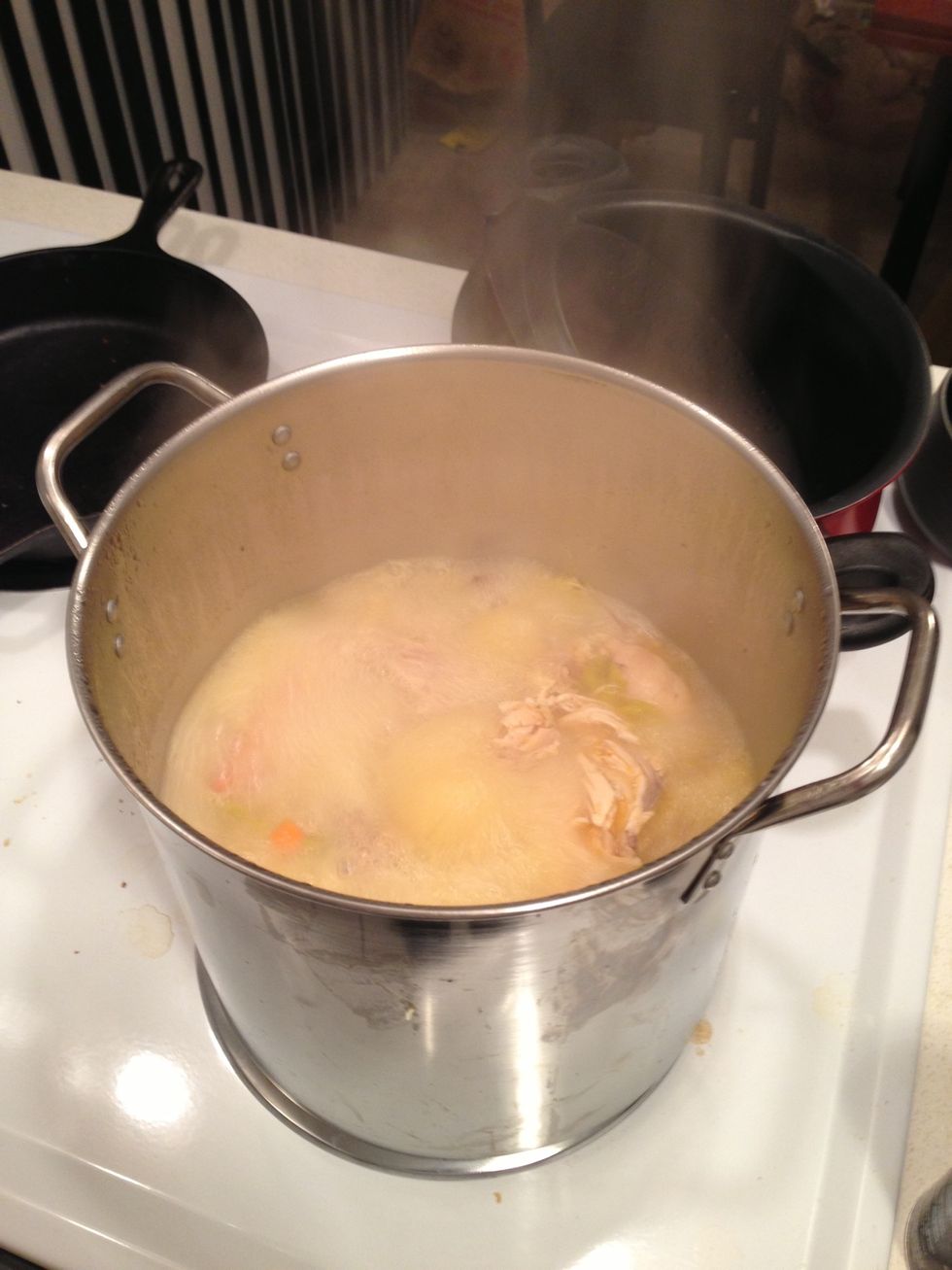 Reduce the broth by 1/2 should take 30-45 min at high boil.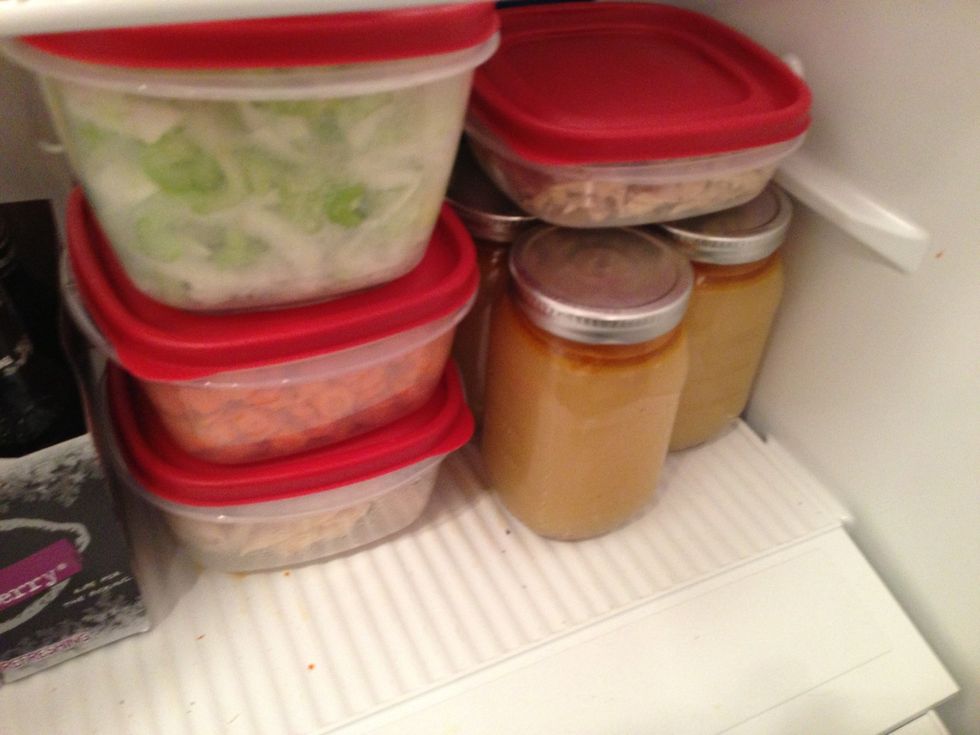 Remove from heat and pour into containers. I'm a fan of the mason jars. Easy access and good portions to freeze and use. Refrigerate over night. Or you could skip this step and keep going.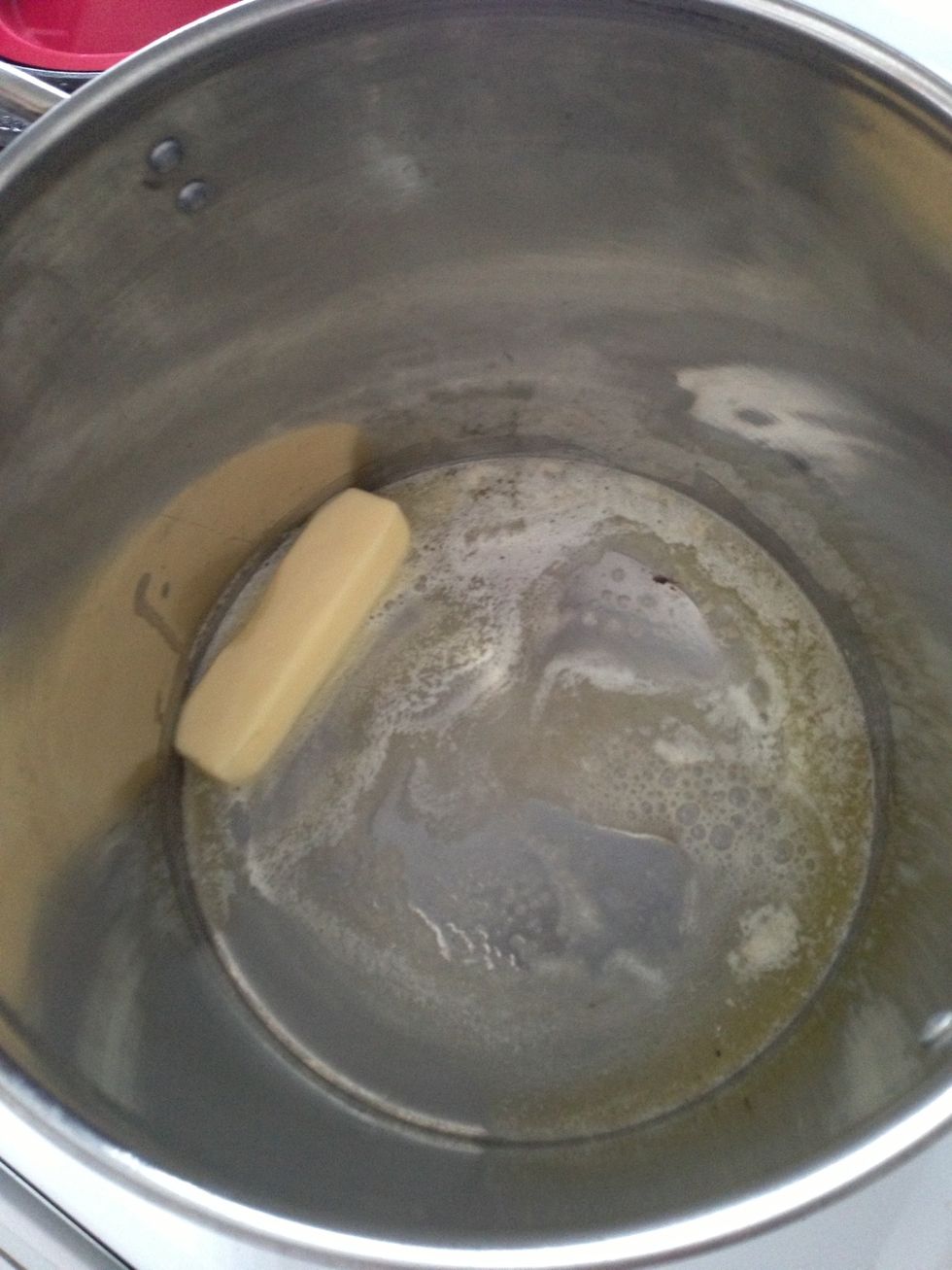 Next day if u waited or In another large pot. Melt a stick of butter.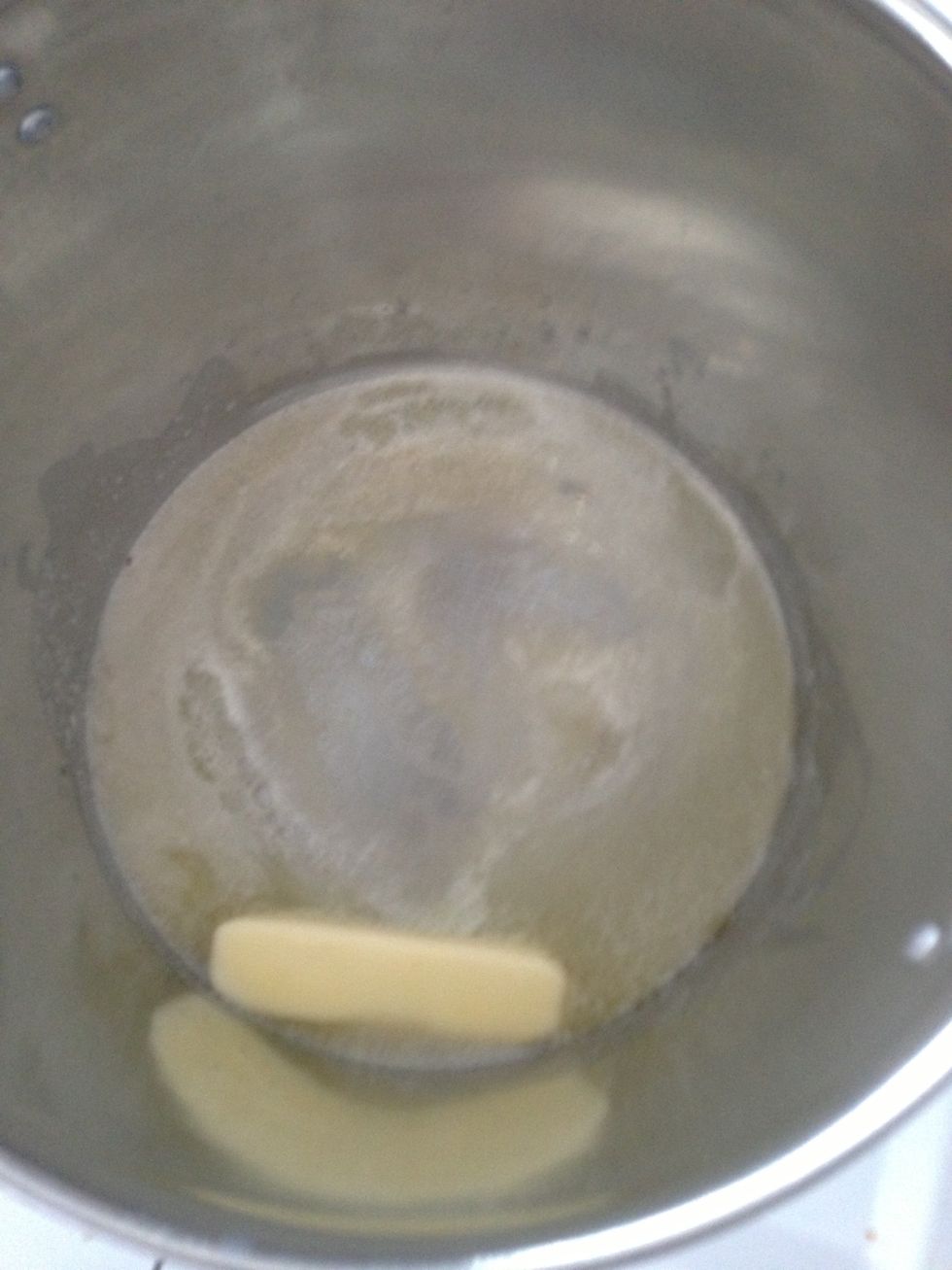 I know, I know a whole stick. While I'm here to make Paula Deen proud, it's not that much when you look at all the veg we will add.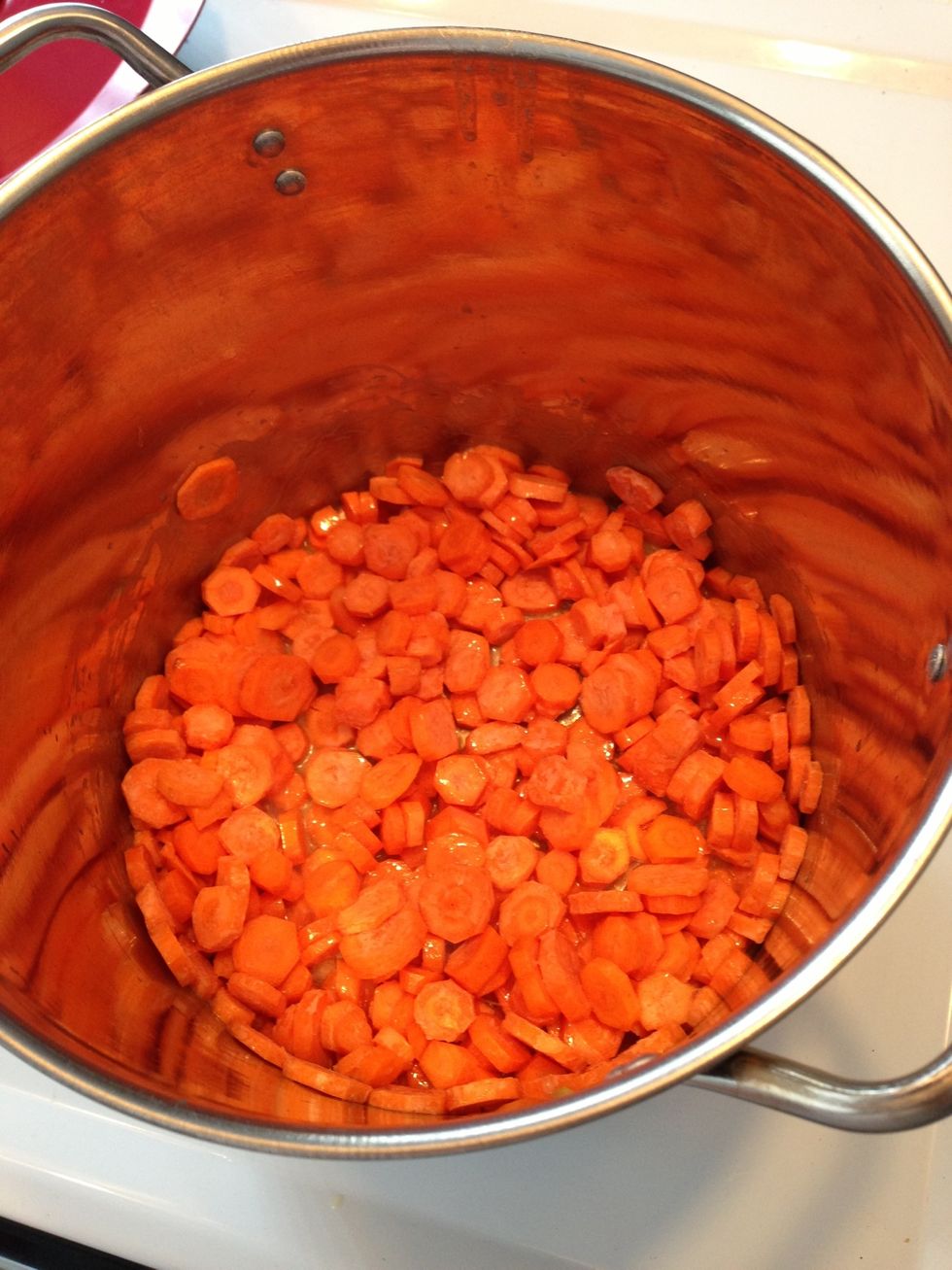 Add your chopped carrots and stir. They take longer so they go First.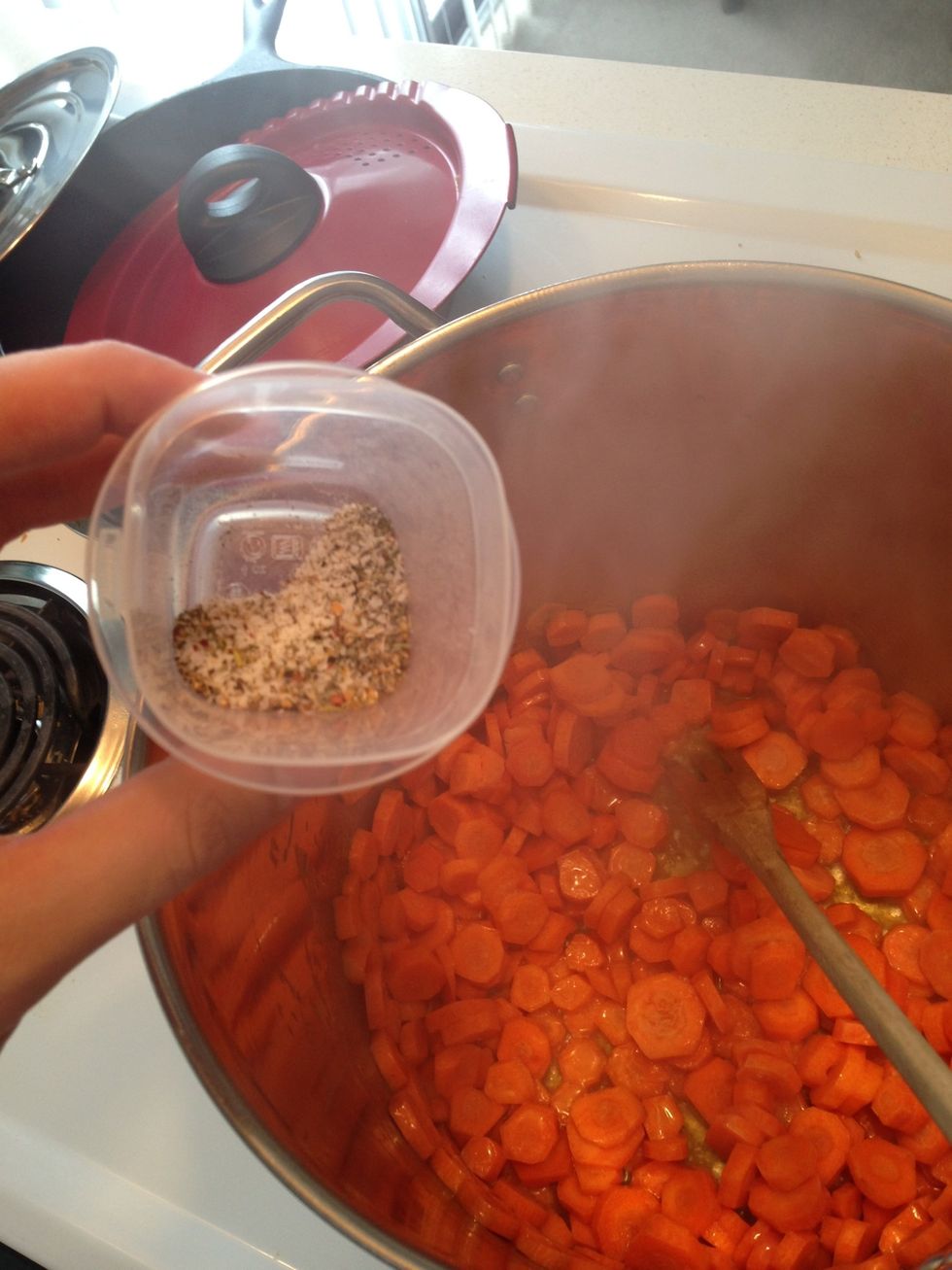 Salt and pepper about a teaspoon of each.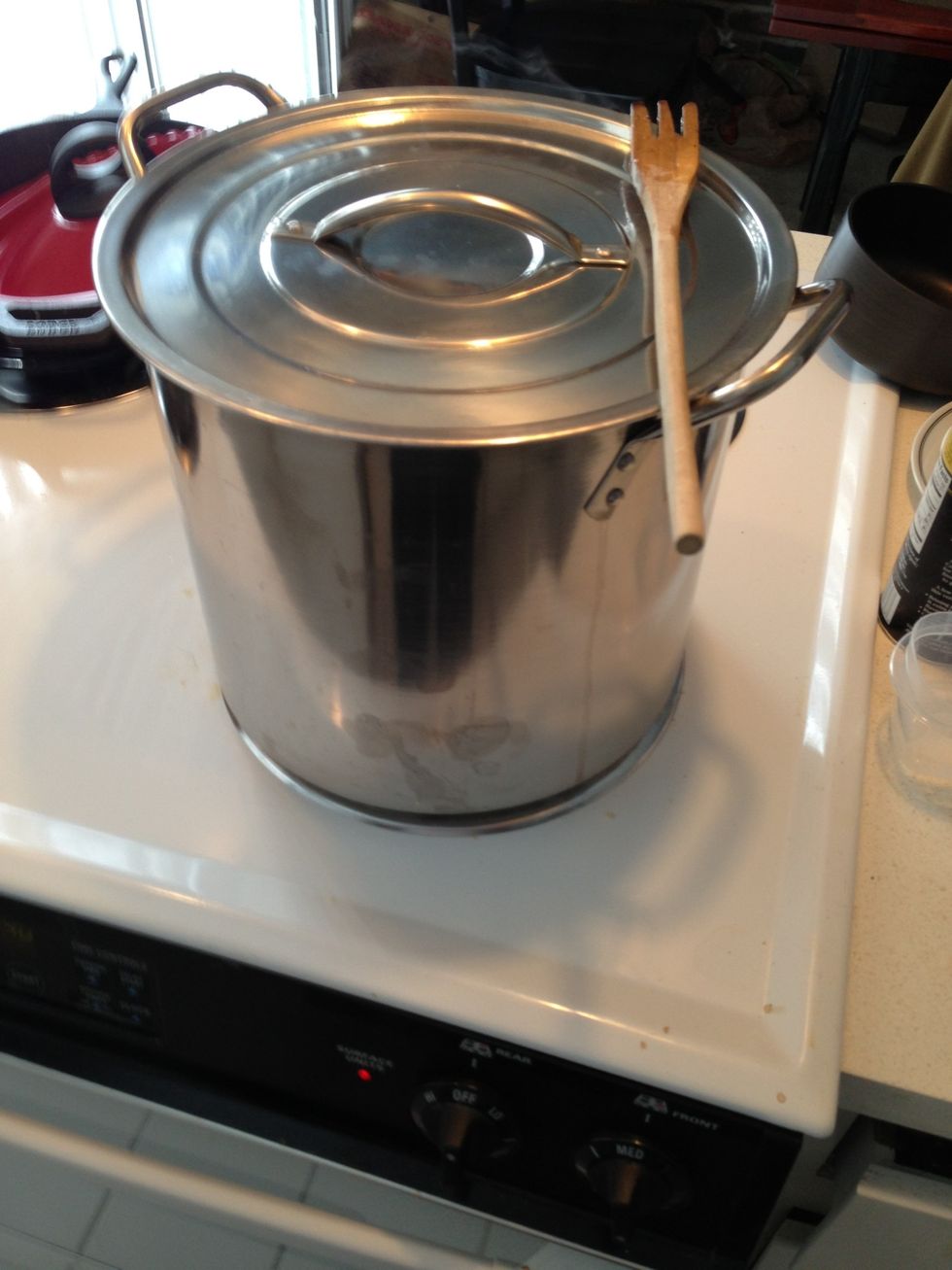 Pop a lid on for 5 min to get the carrots all steamy.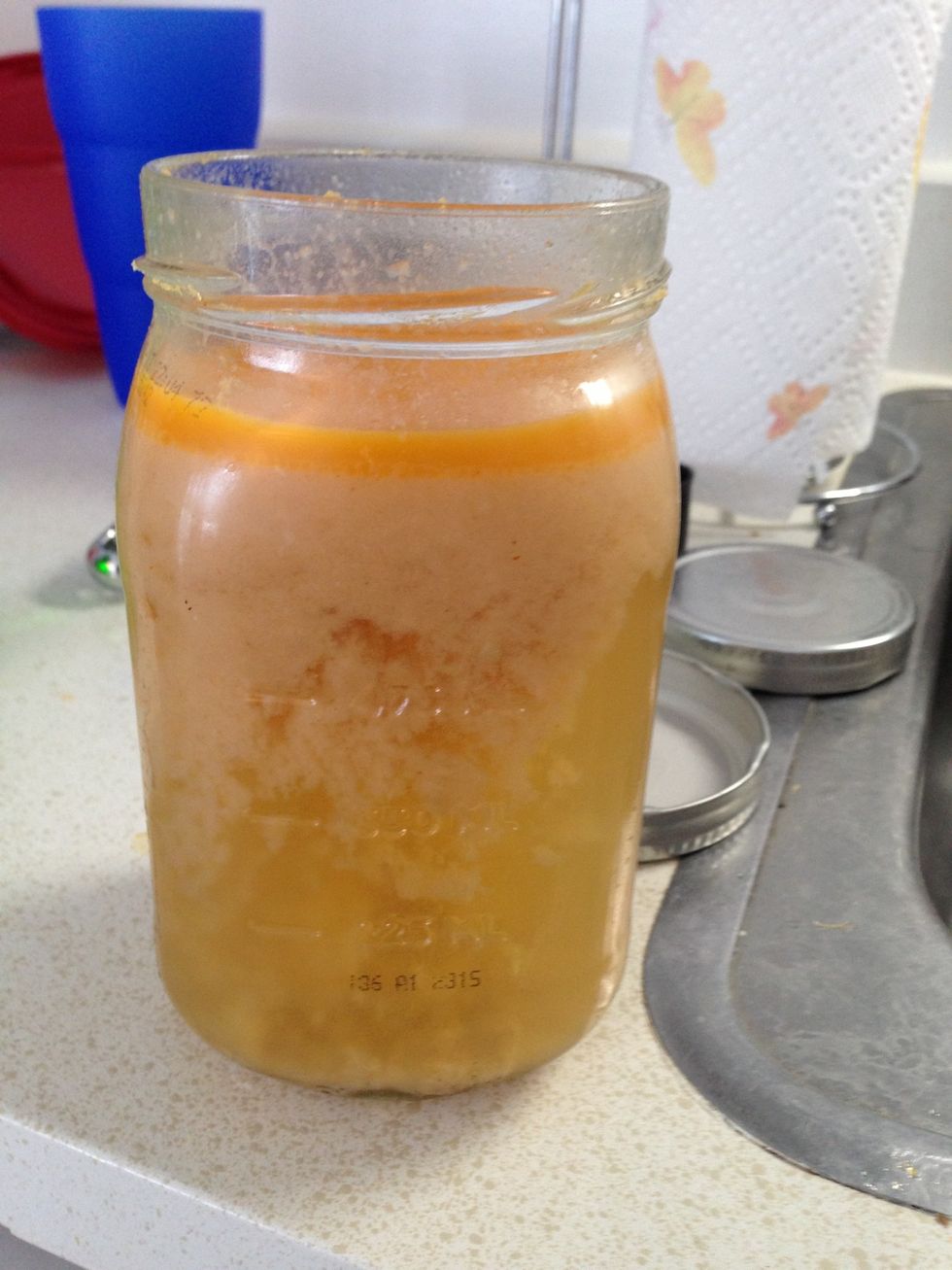 This is a good time to clean the stock from yesterday. If you skipped the waiting its ok. But it's nice to get all the fatty bits out now.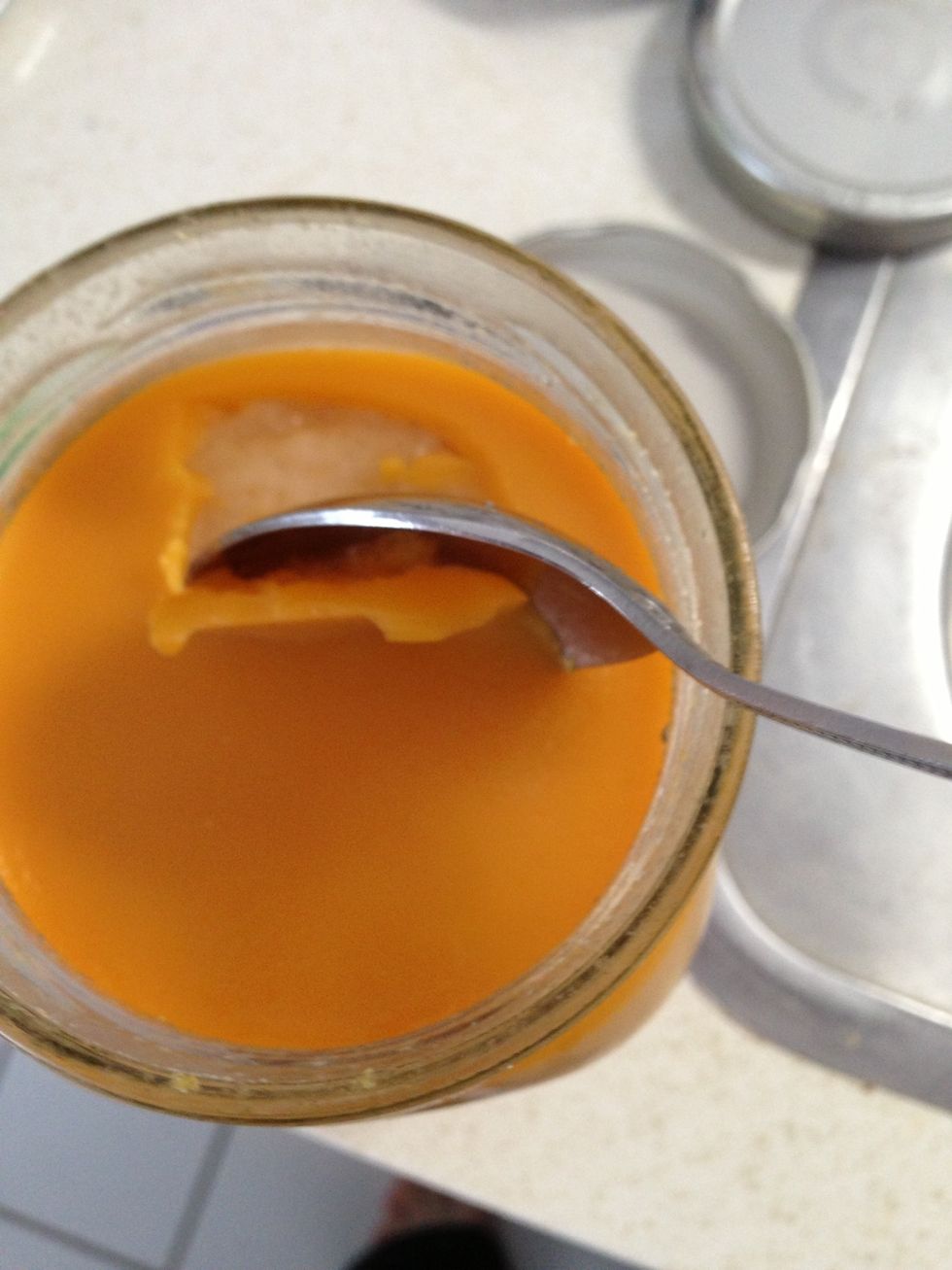 The jars are sealed with the first waxy layer of fat. Scrape if off and discard.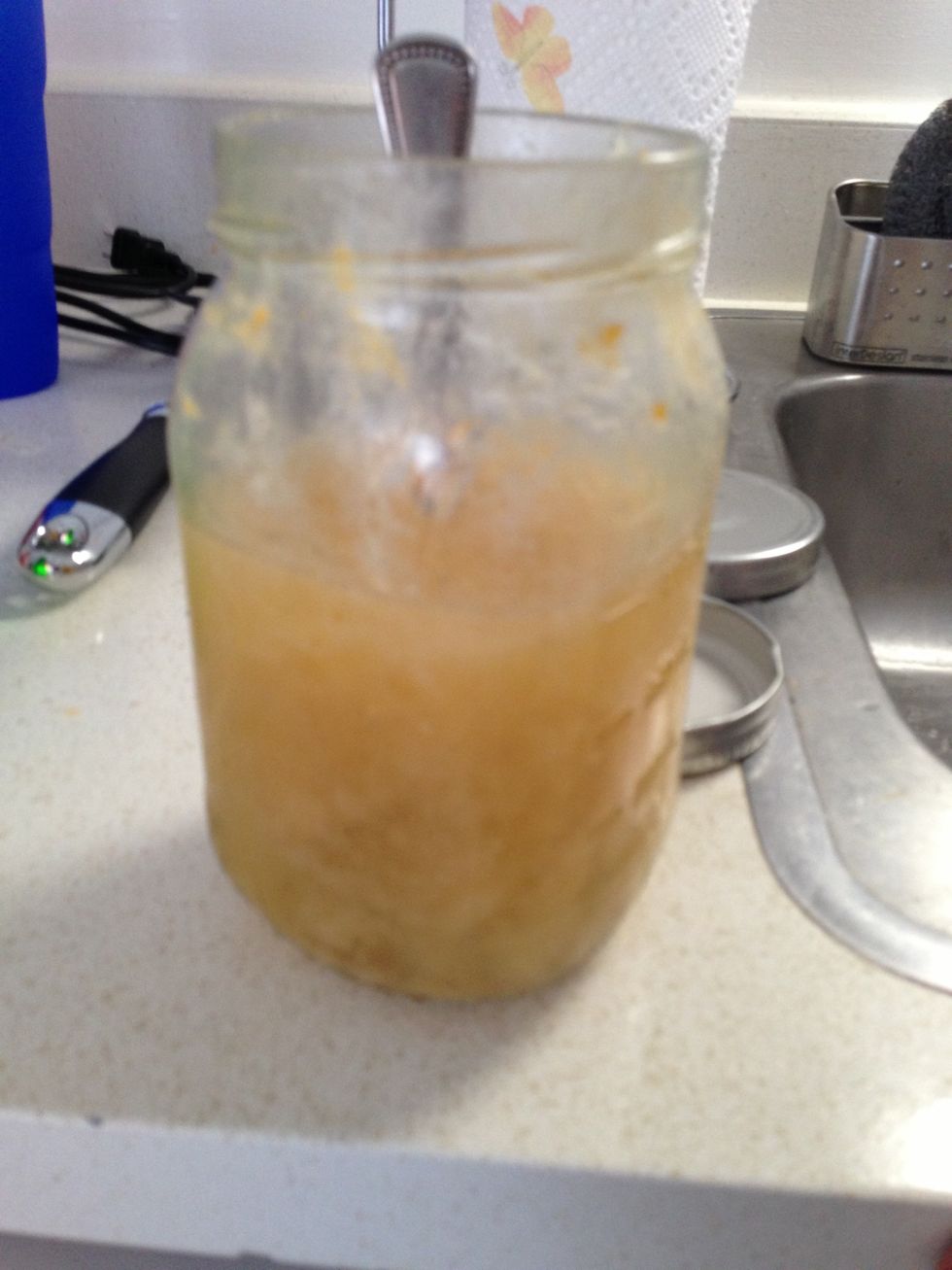 Underneath is chicken Jello. Try and separate the clear from the fatty. But if all else fails just go with it.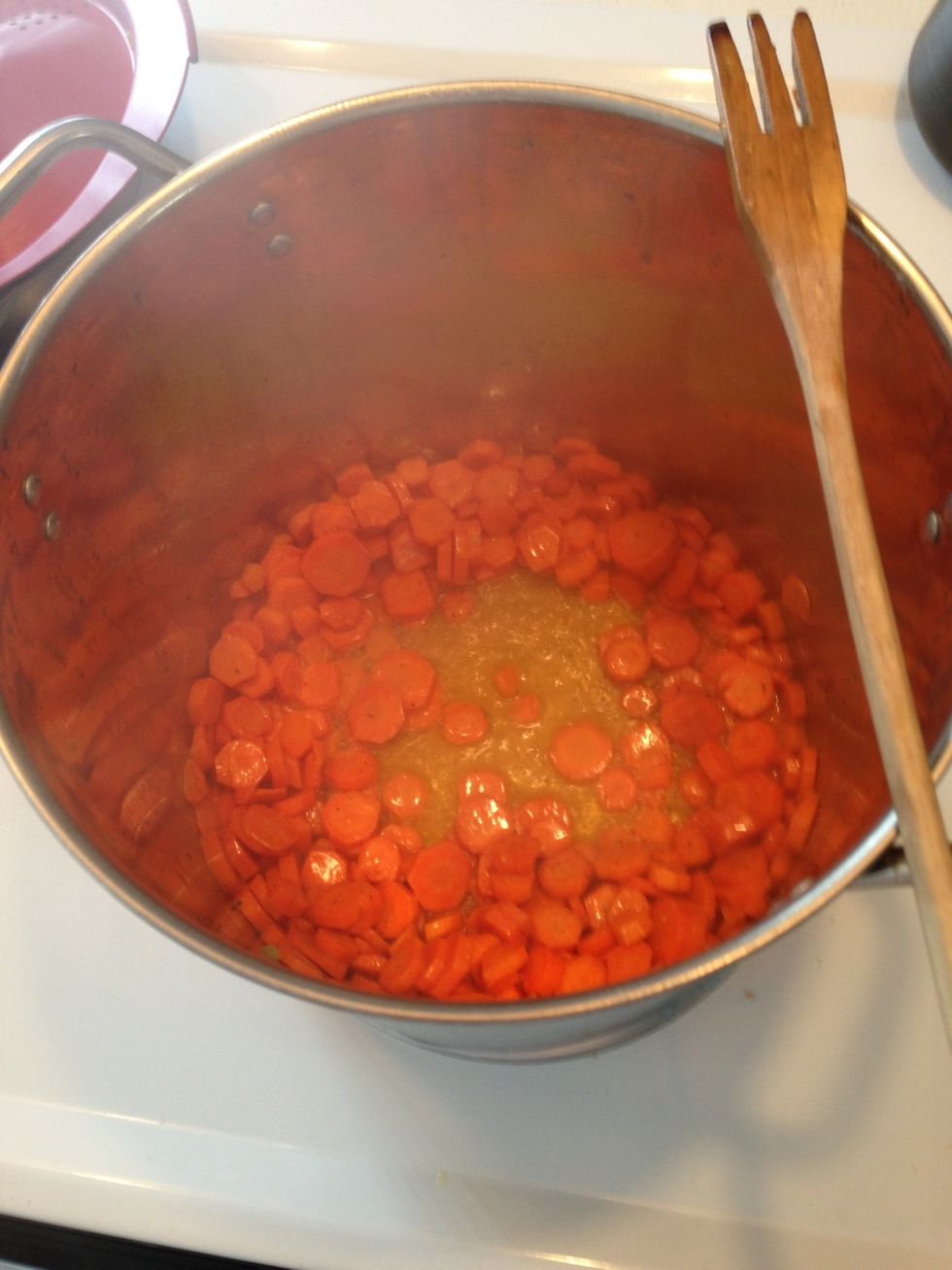 By now the carrots are cooking nicely. Make a hole in the center for onions and celery.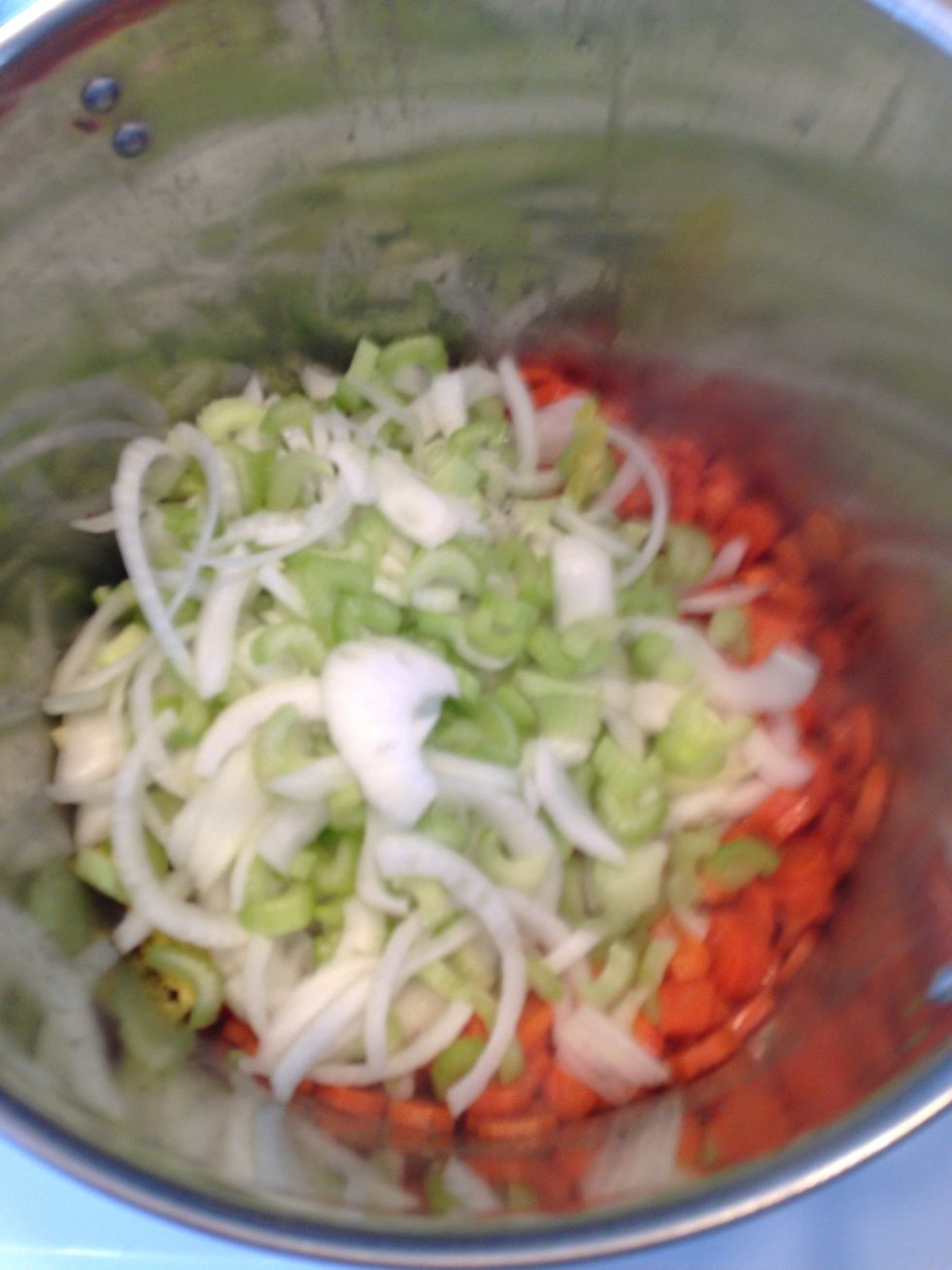 Dump them in and stir.
Cover for another 5 min.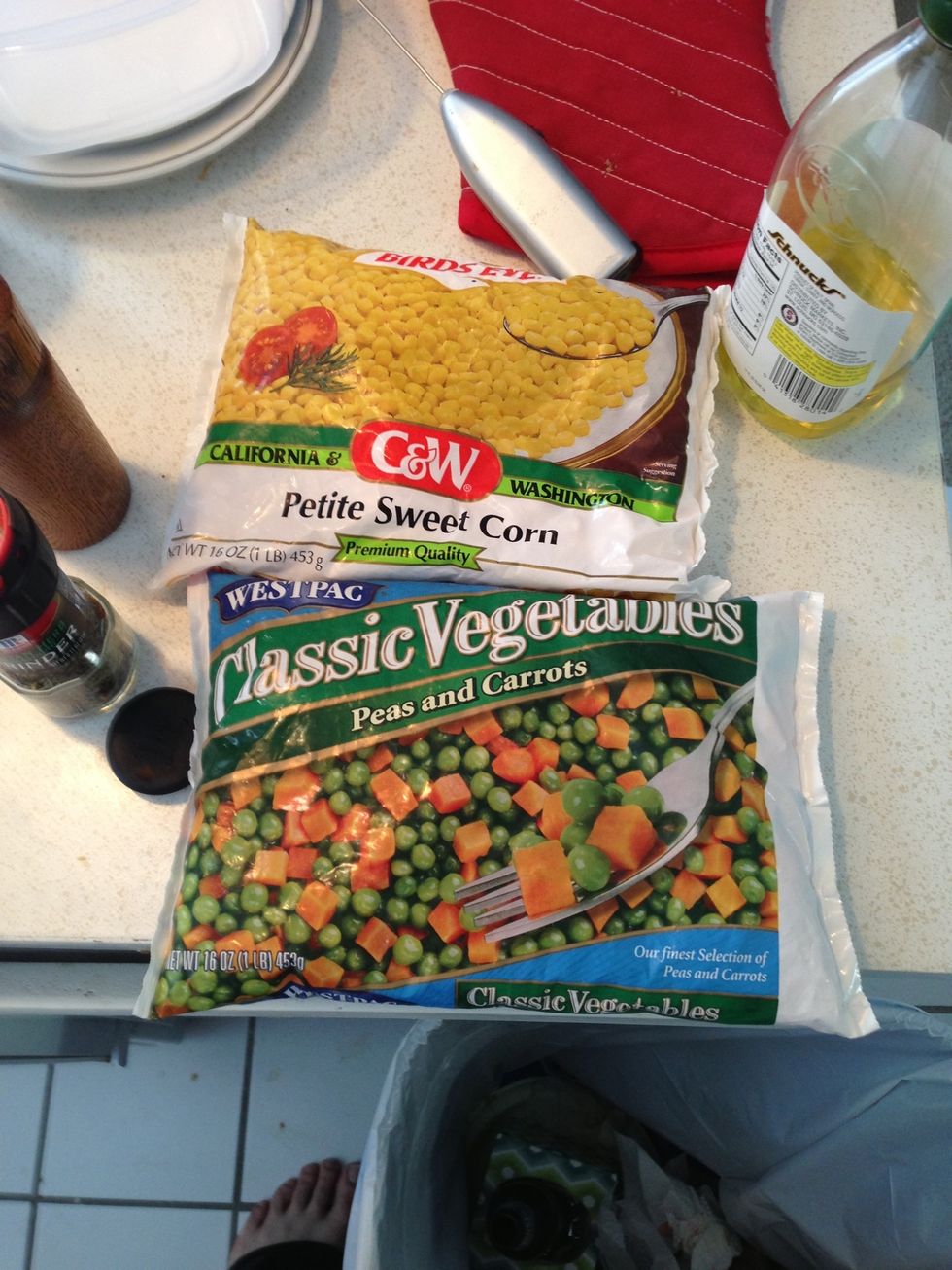 I wanted to bump up the veg to feed more ppl. So I cheated and got some frozen veg.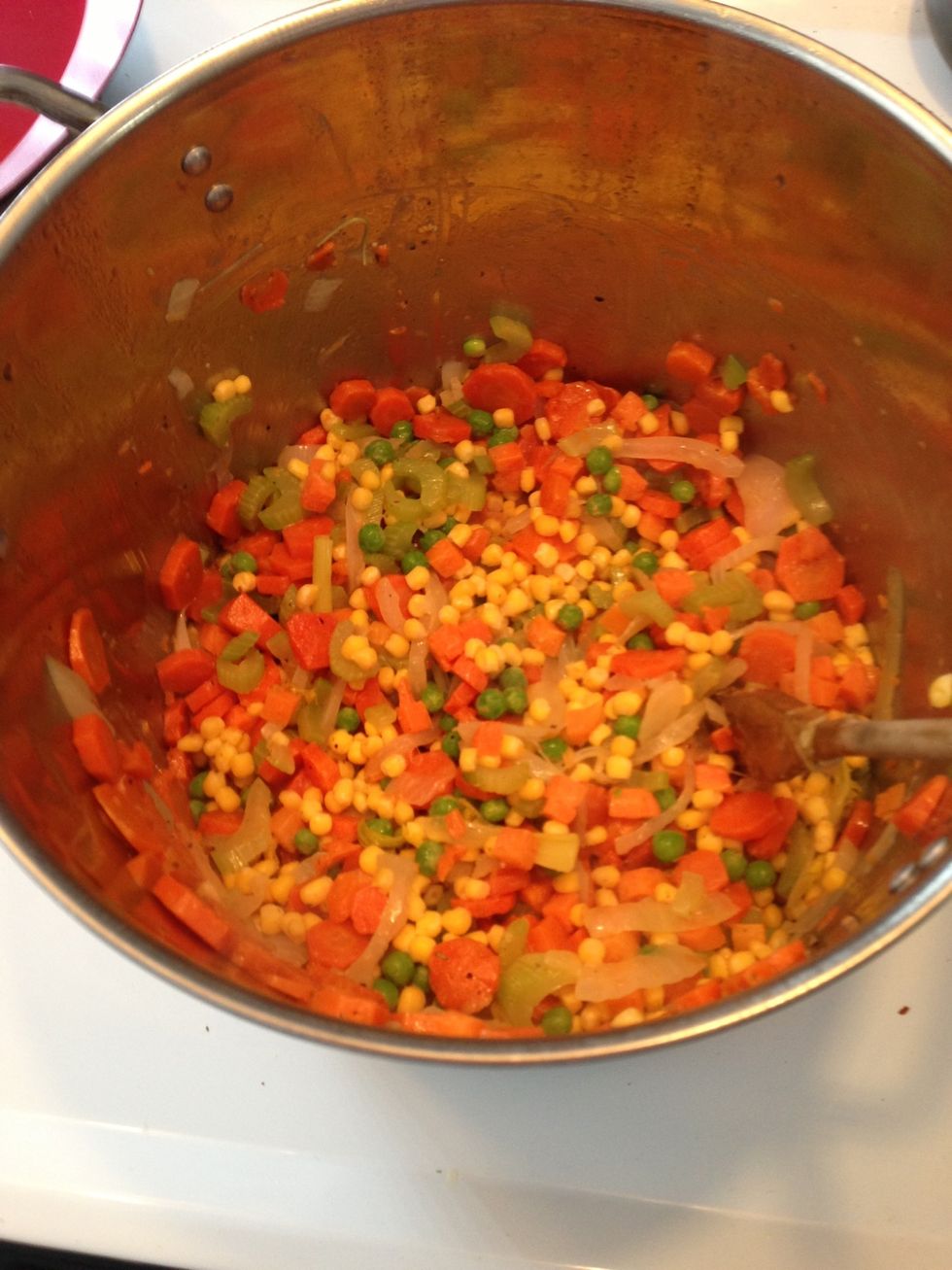 Add the frozen Veg to the mix. Onions should be translucent.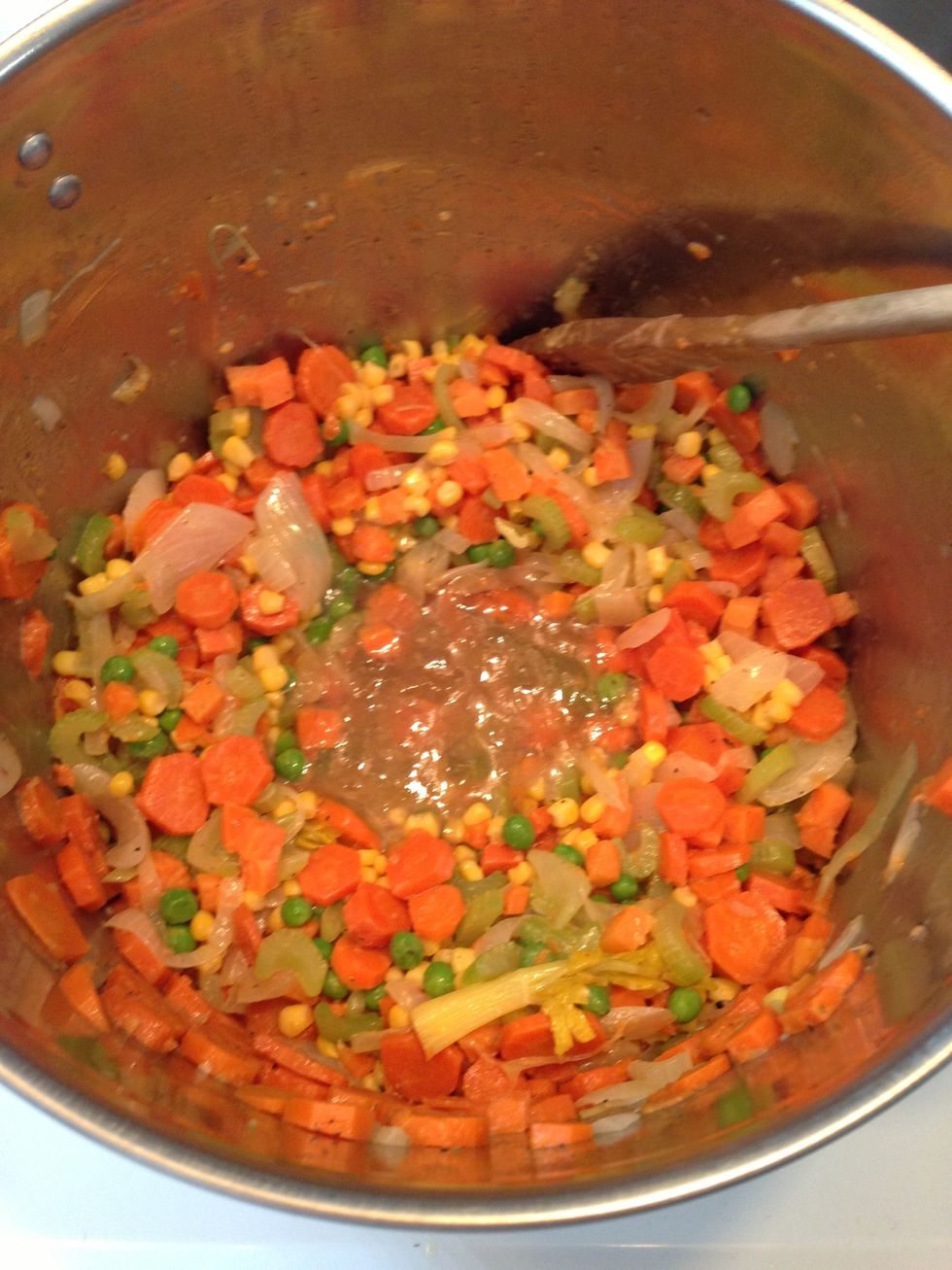 Now add in 1 cup if chicken stock. And stir. Will help to thaw the frozen stuff.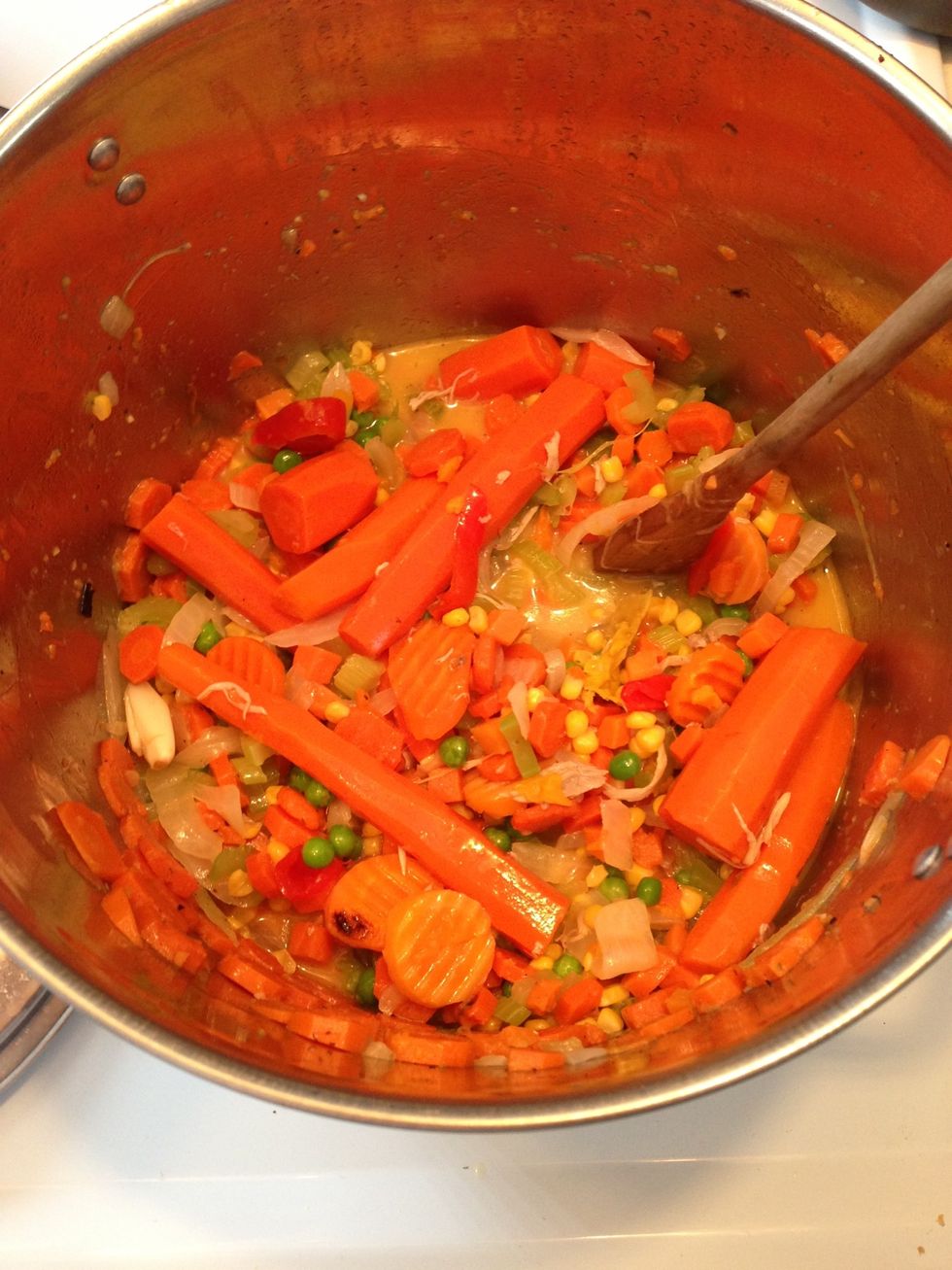 Add back the carrots from the stock making yesterday if you saved.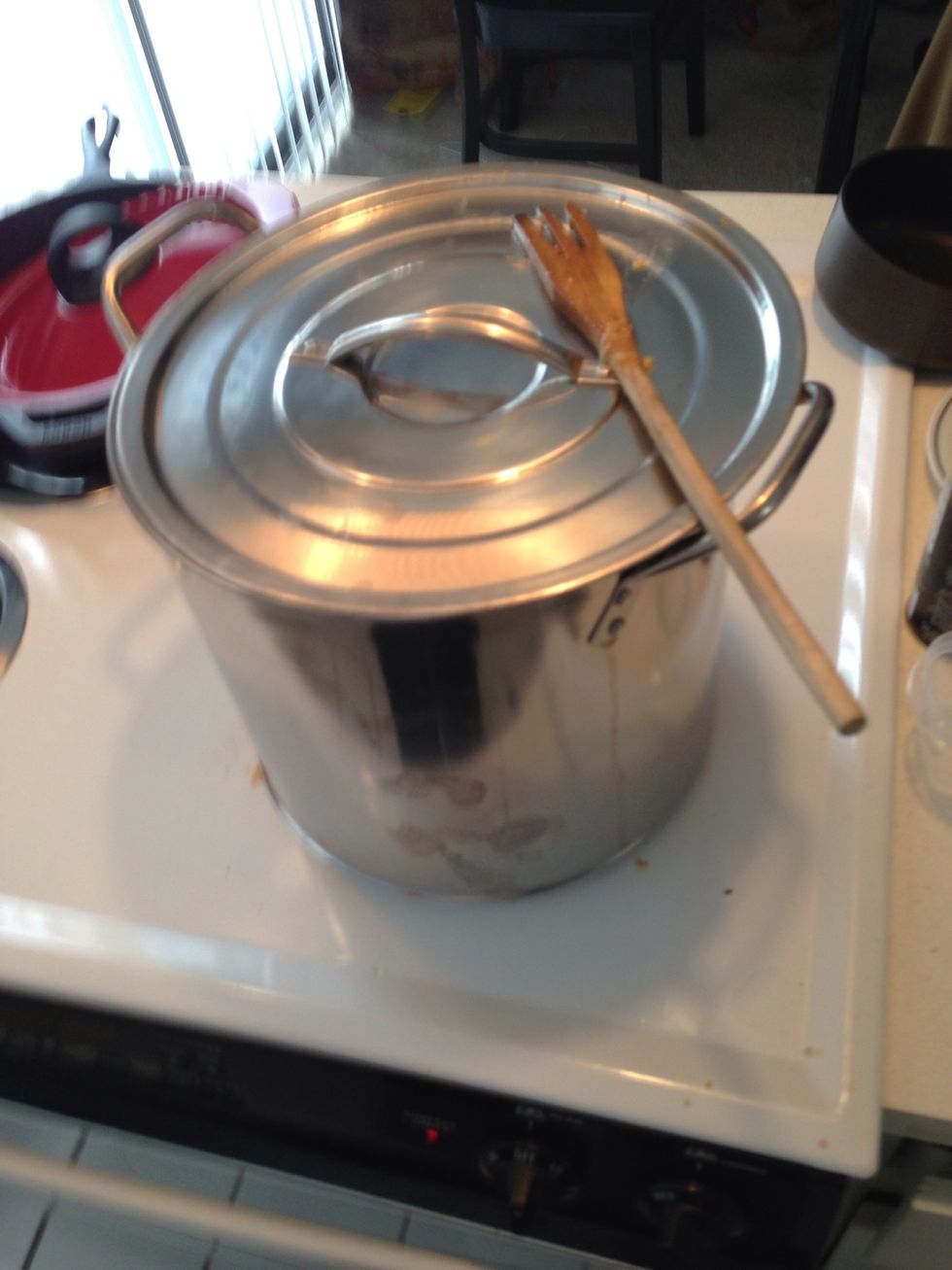 Pop a lid on it to heat up. Once it's steaming its time to love on. 5-10 ish.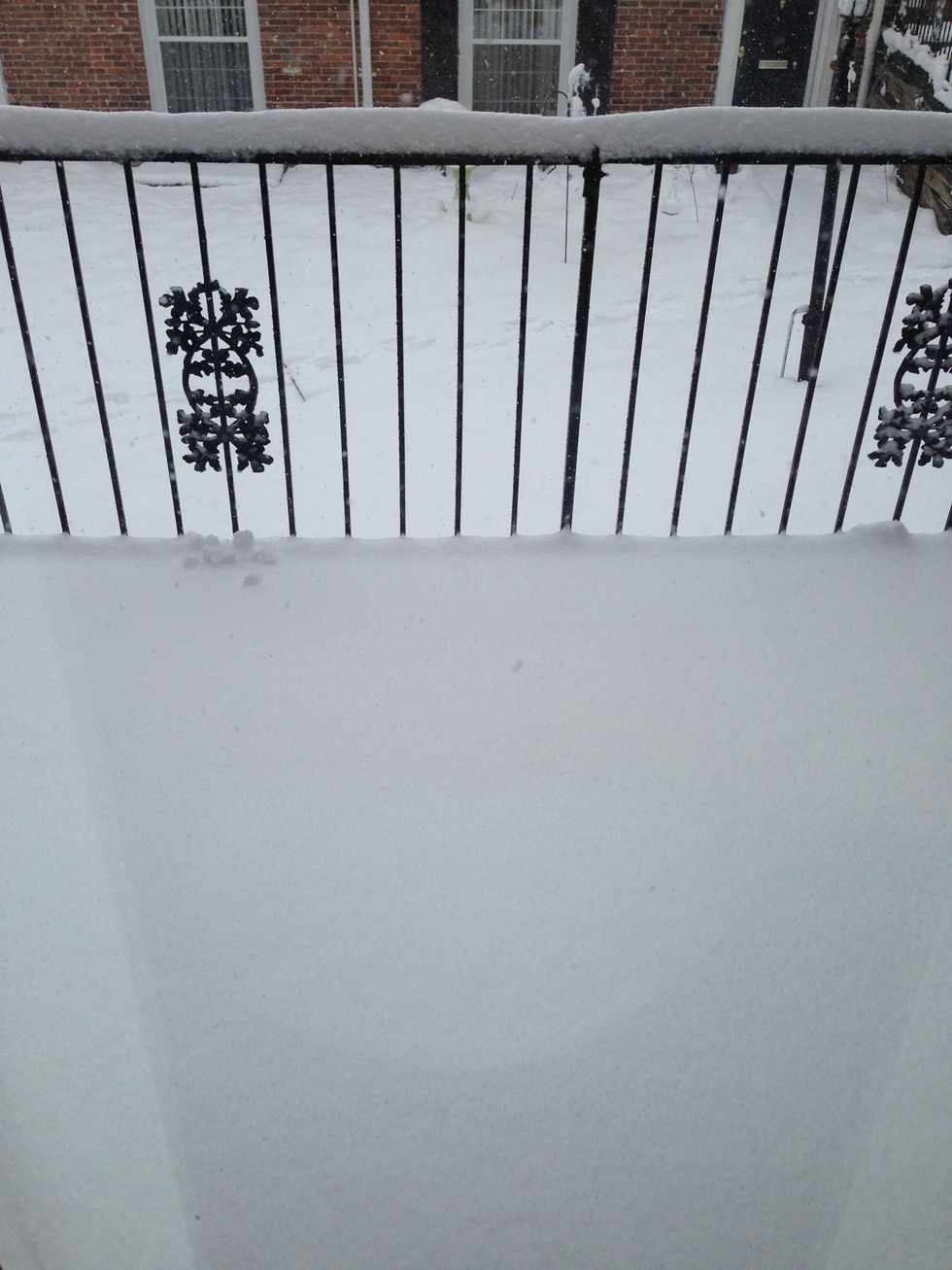 Check snow totals...ended up with 12in. And it's supposed to Be spring.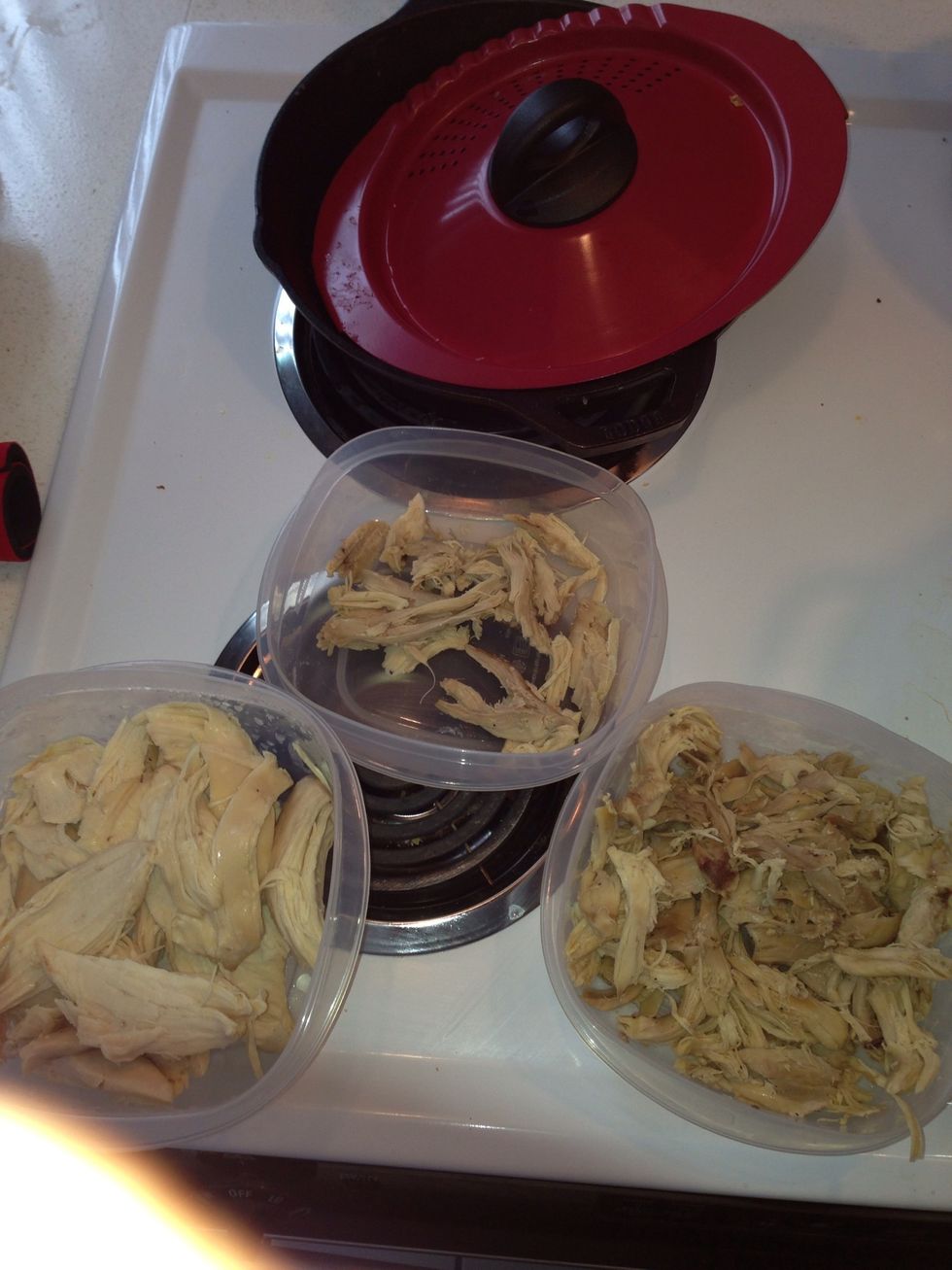 Time to shred the chicken into manageable pieces.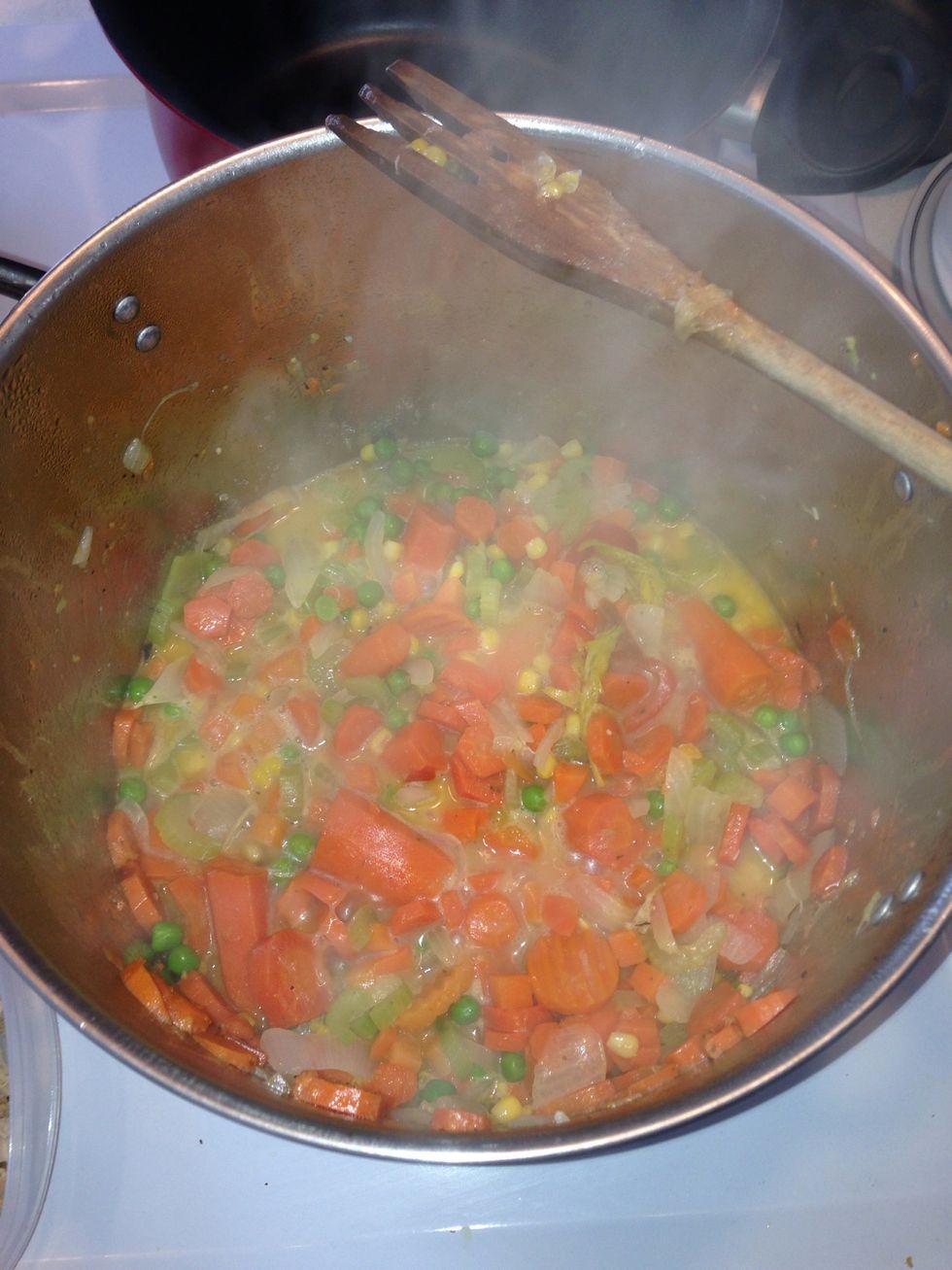 Once the vegetables are nice and steamy its time to add more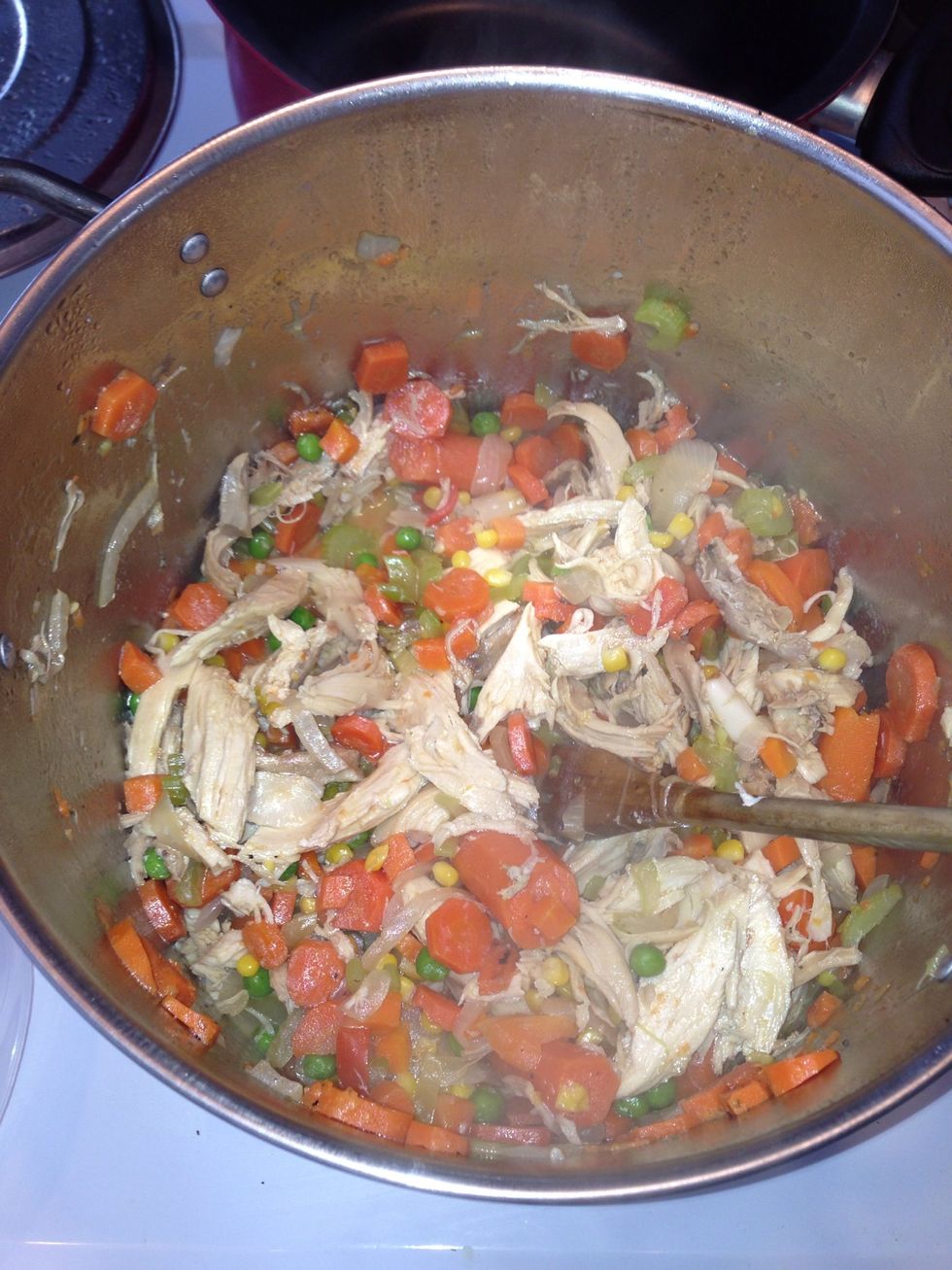 Toss in the chicken.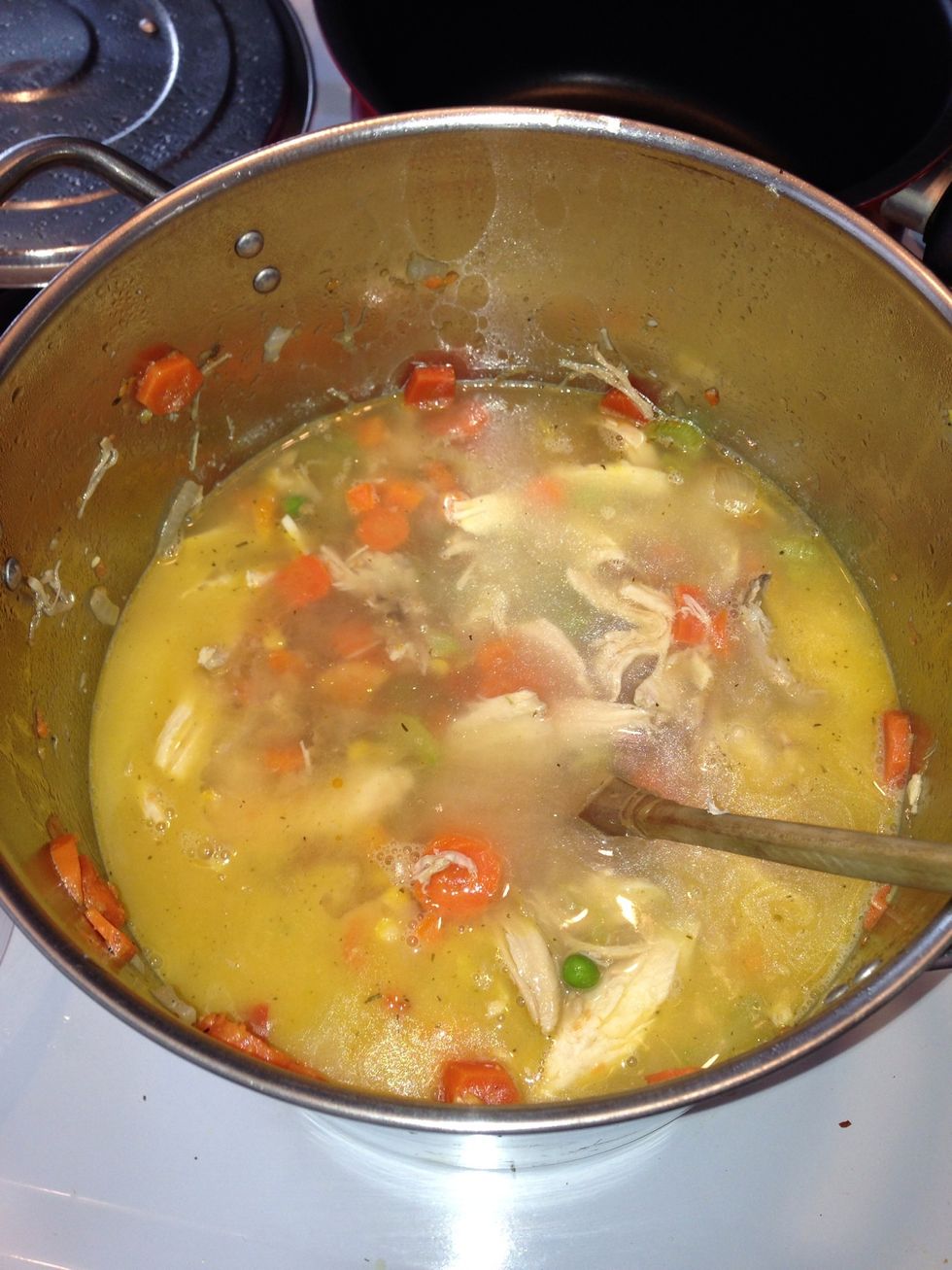 Add in the remaining stock and supplement with water if needed. You will see the butter and fat come to the top. You can skim it off if you want.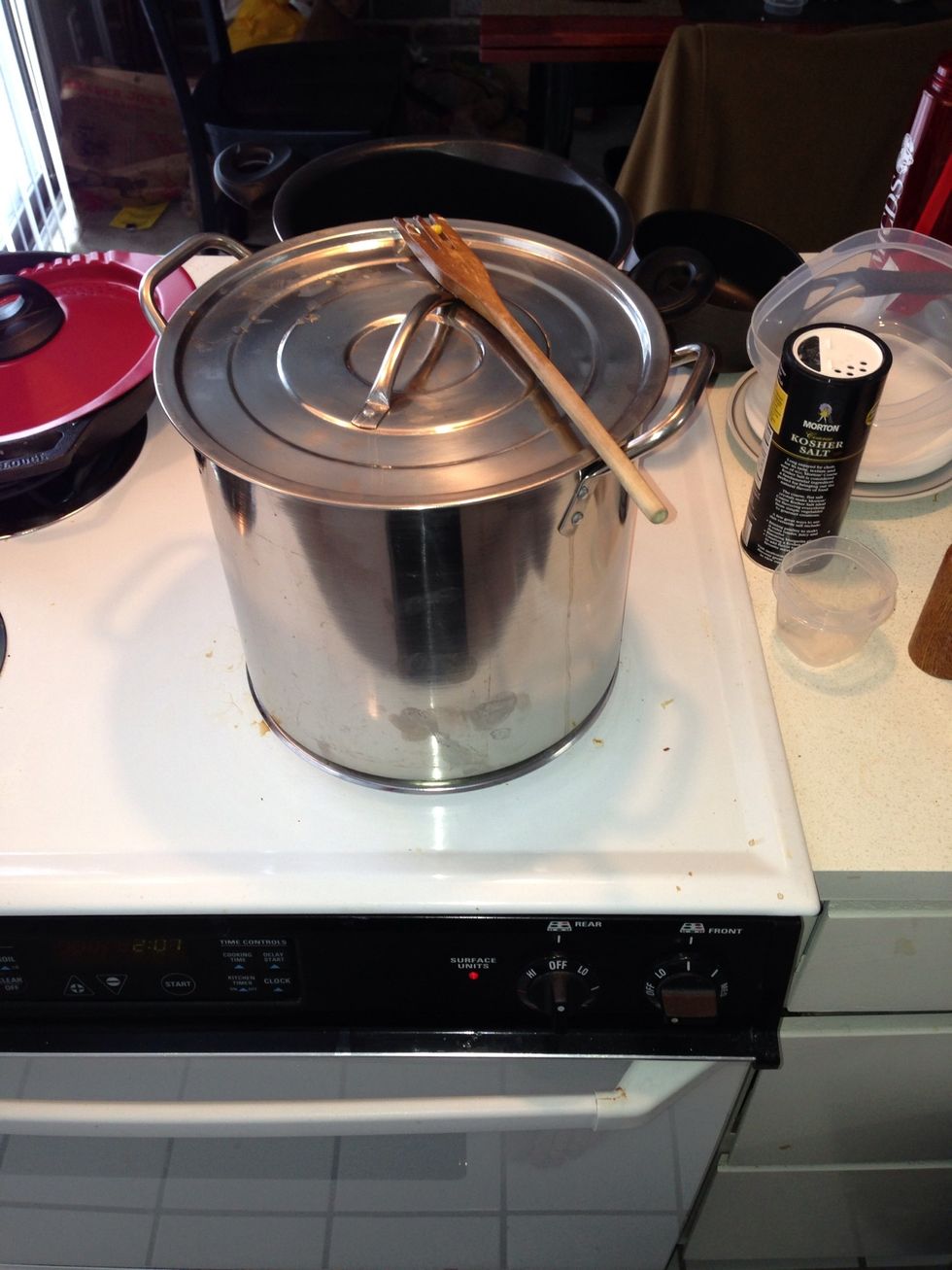 Add the lid on again to bring to a boil. Reduce and let simmer as long as u want.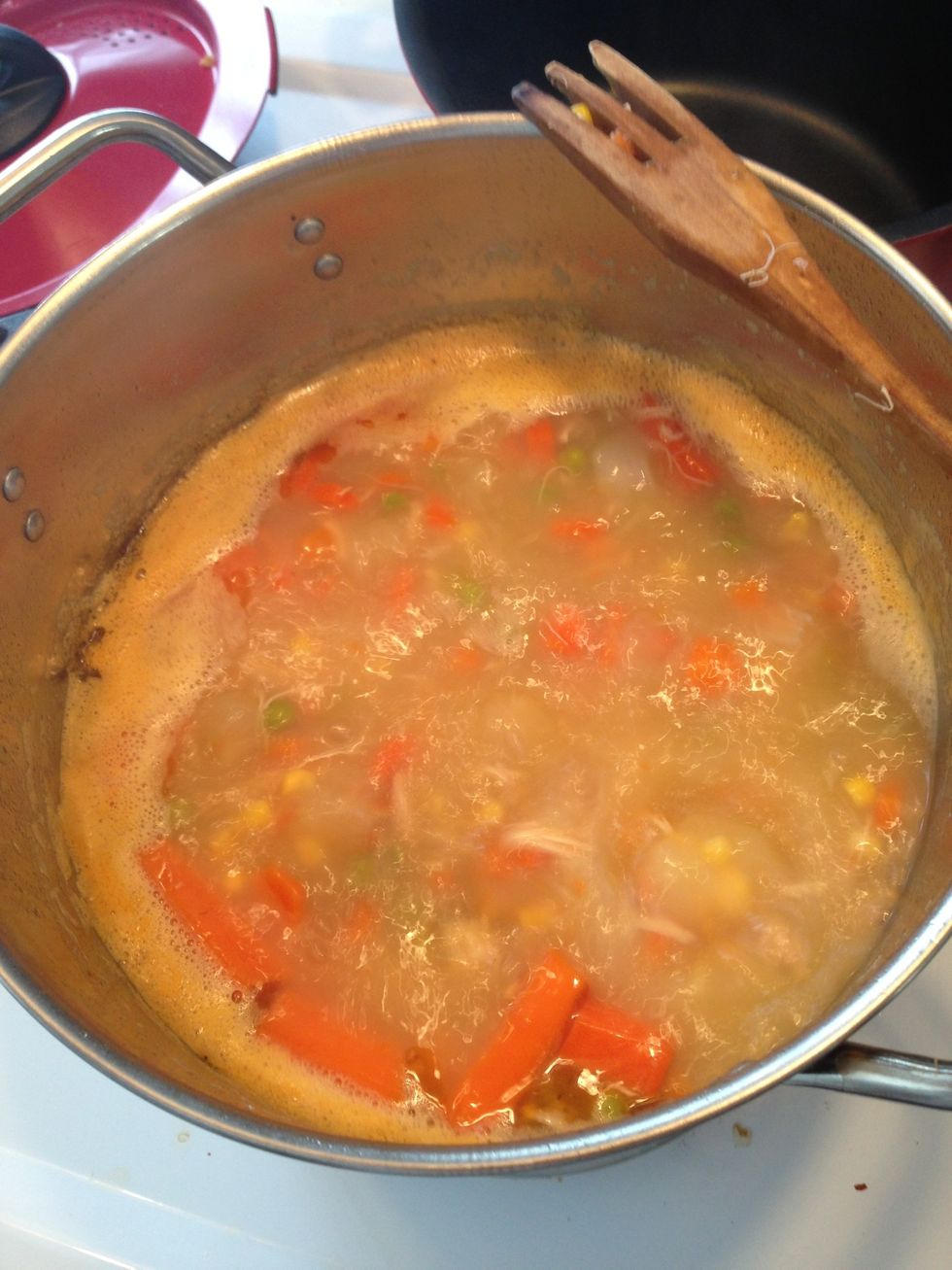 Bam! You have Great chicken soup from scratch. It's not quick but it's easy and totally worth it. It can easily keep in the fridge for a week or so and it's great to freeze.
Thanks for reading and feel free to ask questions in the comments
1.0 Whole Chicken
5.0lb Carrots ( 1 bag of whole )
1.0bnch Celery
1.0bnch Huge onion
1.0 Bottle of white wine (dry not sweet)
4.0pch Salt and pepper
Red wine vinegar
Sriracha