Made from basic, simple ingredients, this stuffing uses the Giblets from the turkey, & is our family favorite. I stuff the bird, then bake the rest in a casserole. SIMPLE! Delicious!!
75
Made from basic, simple ingredients, this stuffing uses the Giblets from the turkey, & is our family favorite. I stuff the bird, then bake the rest in a casserole so there's plenty. Delicious!!
PREPARE BREAD (can be done as much as a week ahead): I prefer sliced white sandwich bread. It's a great time of year to clean out the freezer of misc bread that may have dried out somewhat, even buns.
IMPORTANT TIP: be sure to FREEZE the bread first! Then when it's time to cut onto strips, remove from freezer & cut while still FROSTY. It cuts way easier and cleaner!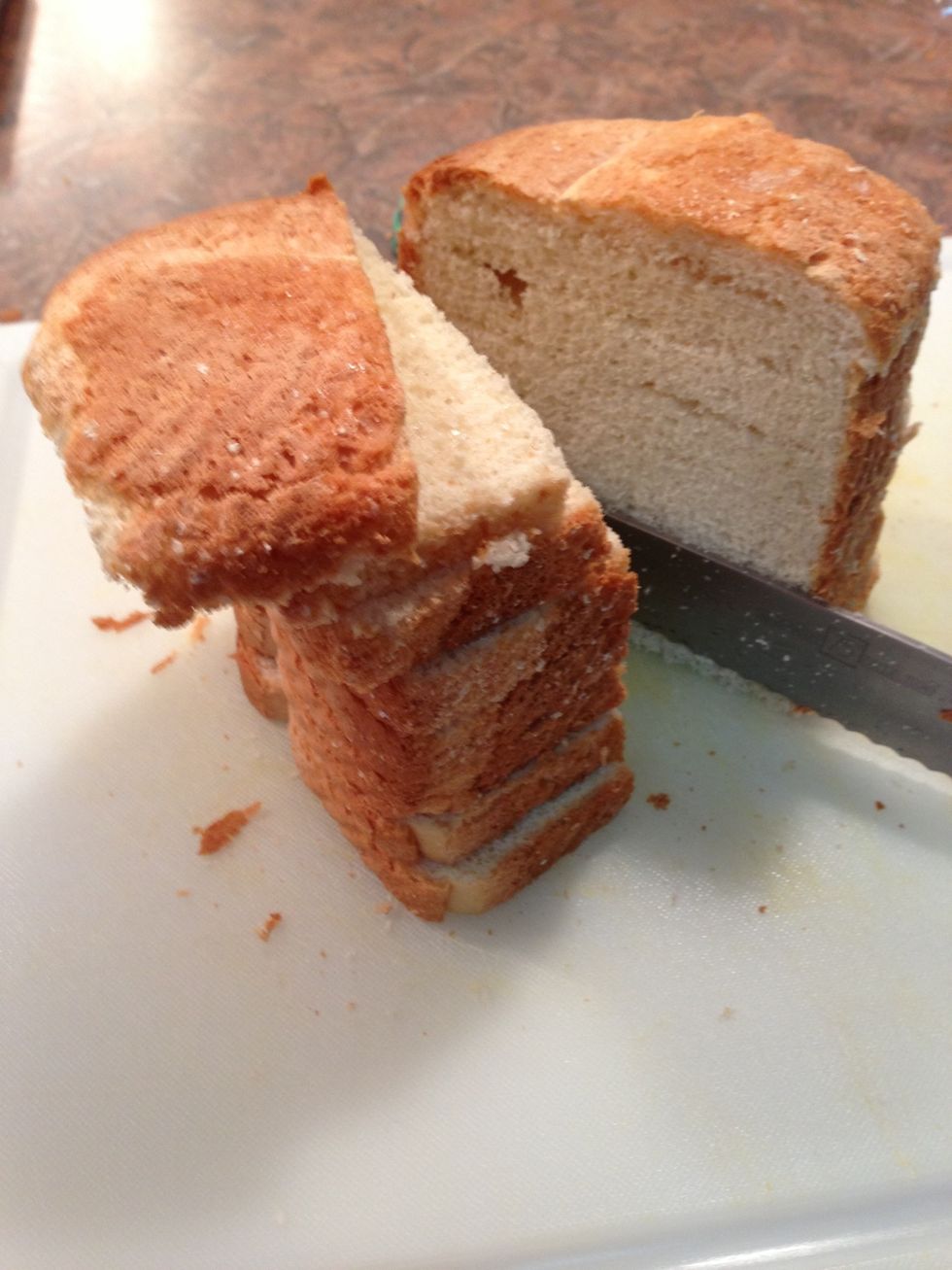 Take 1/3 to 1/2 loaf at a time.... cut in half as shown while still mostly frozen. Then you will cut other direction to form crouton strips.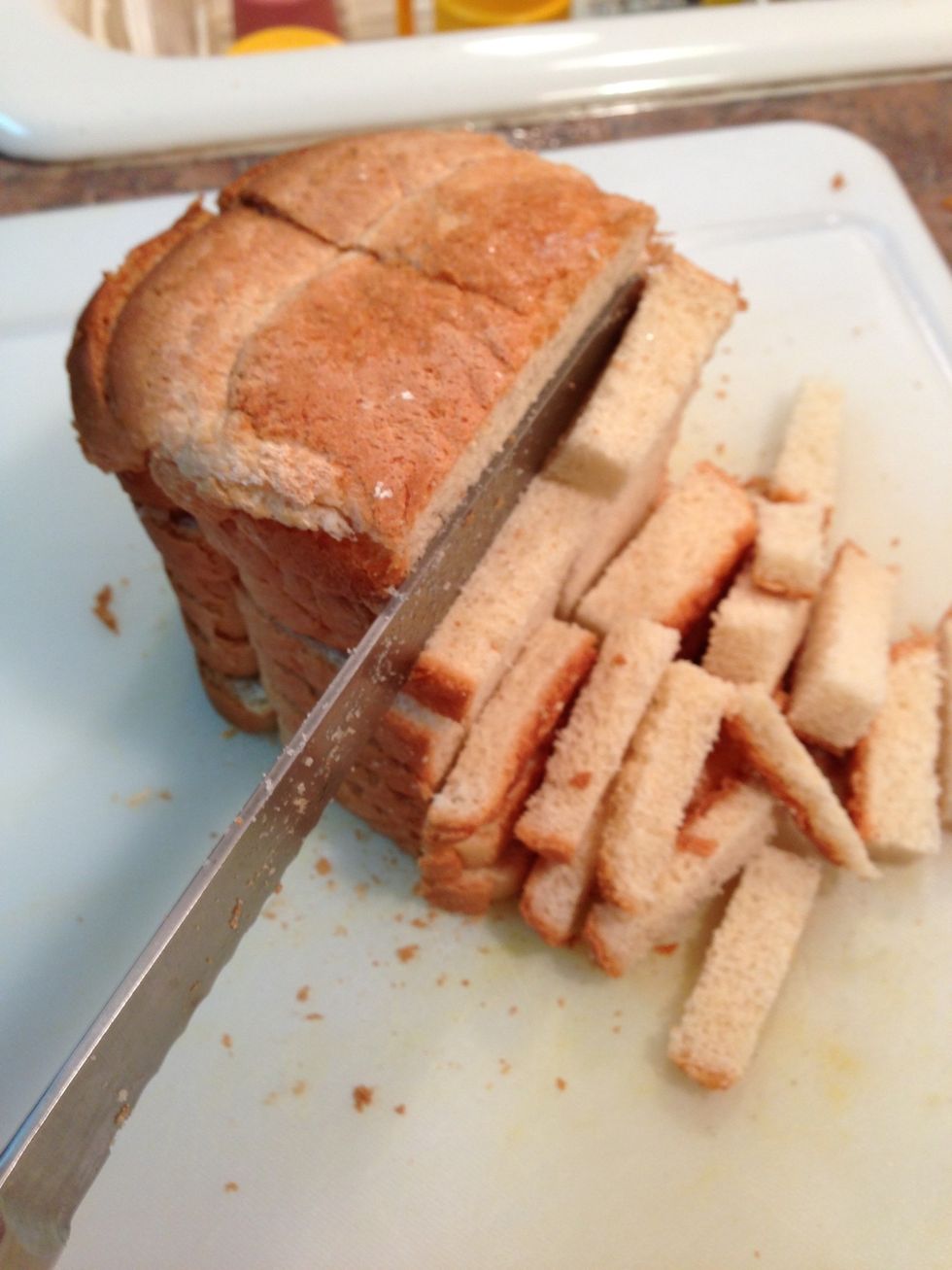 After chunk is cut in half, slice the other direction into strips as shown.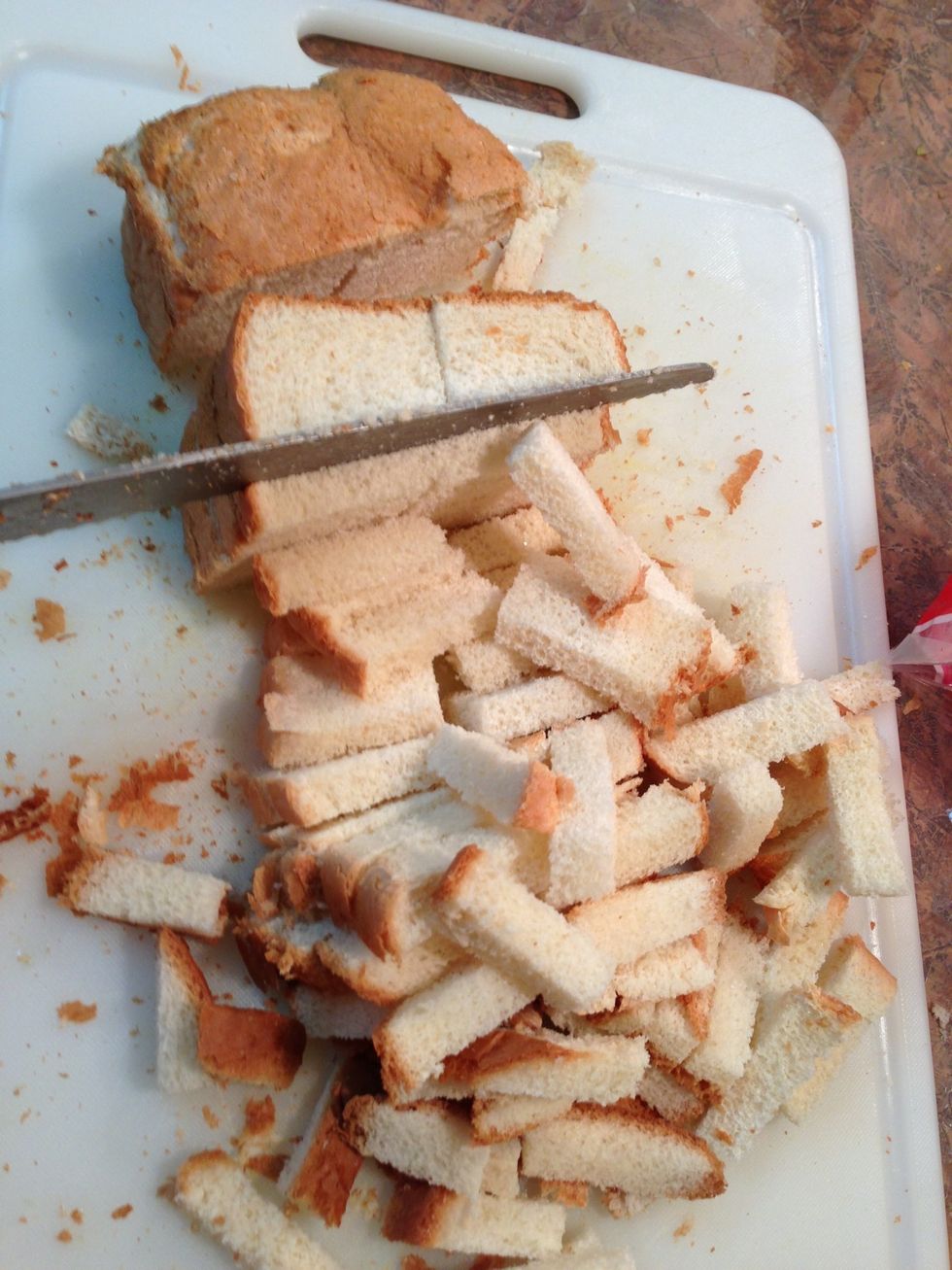 Mostly frozen, it cuts so easily!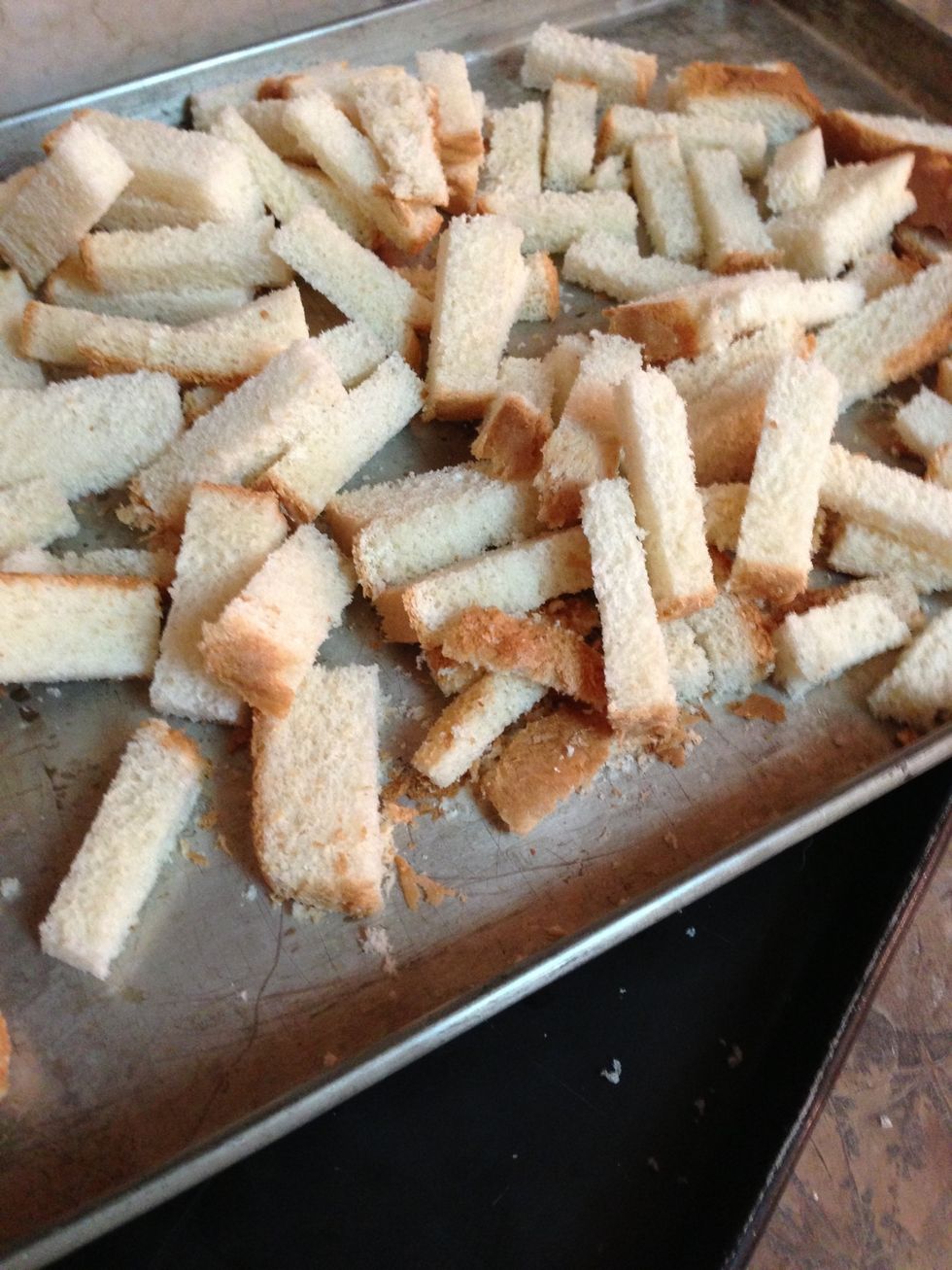 Scatter on jelly roll pans (cookie sheets with sides).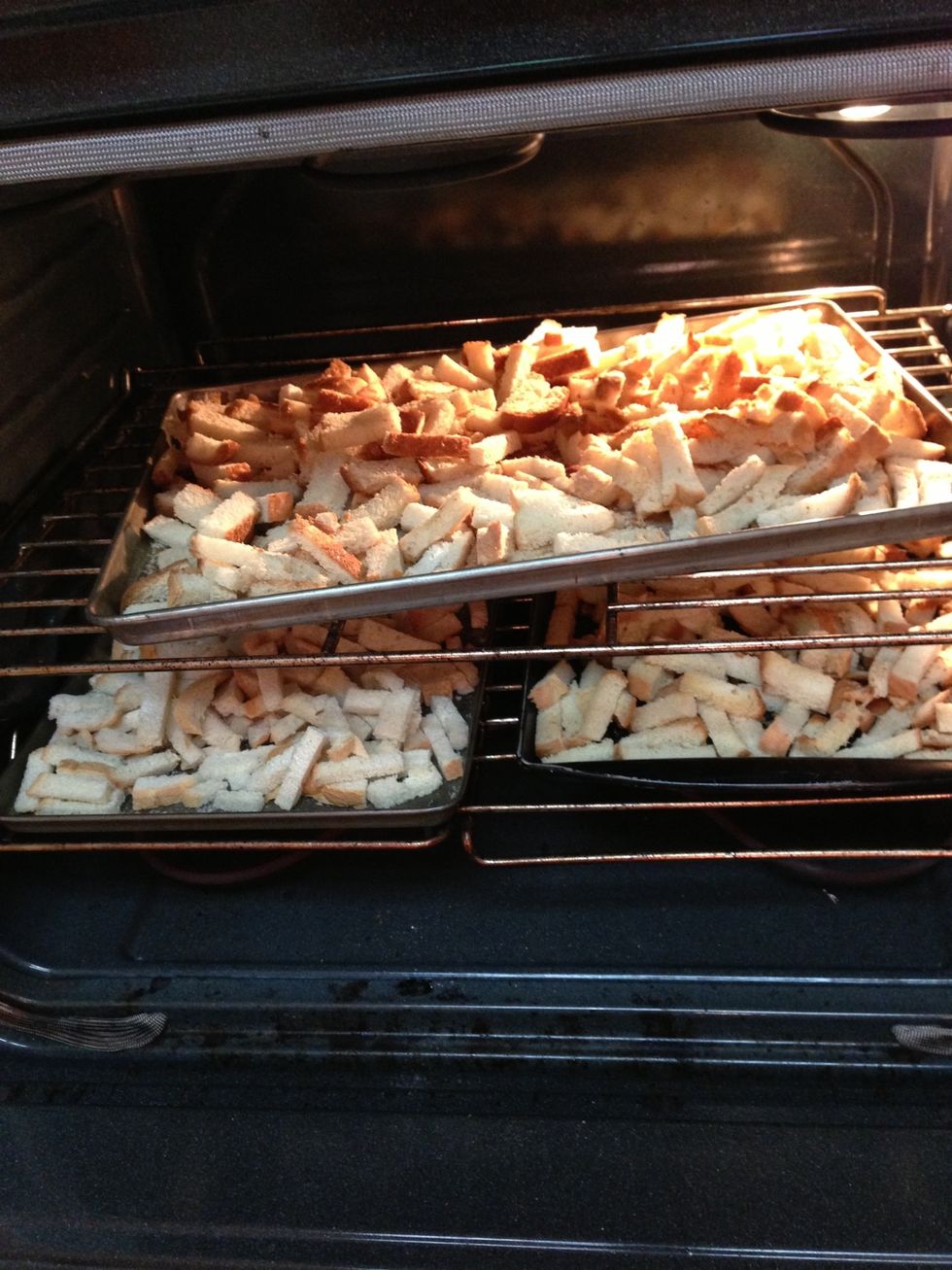 Bake 275° 20 minutes. Remove and turn strips, rearranging so moist underside is on top. Bake 5-10 minutes more or simply turn off oven, crack door open & let cool in oven.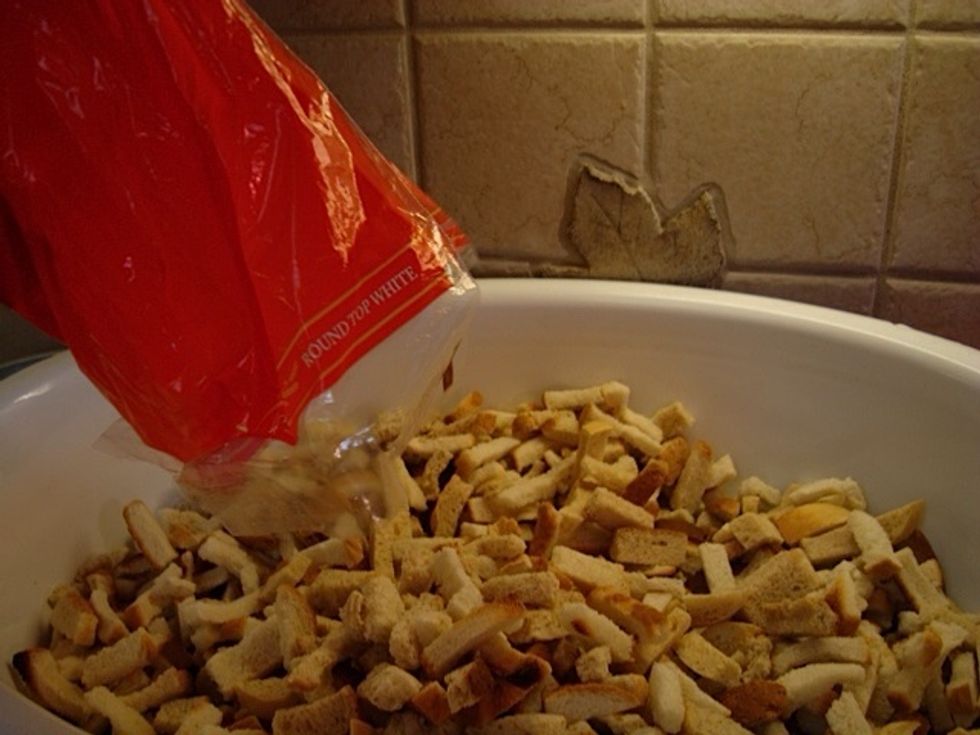 I usually have my bread cube strips done days before, dried and bagged up in freezer.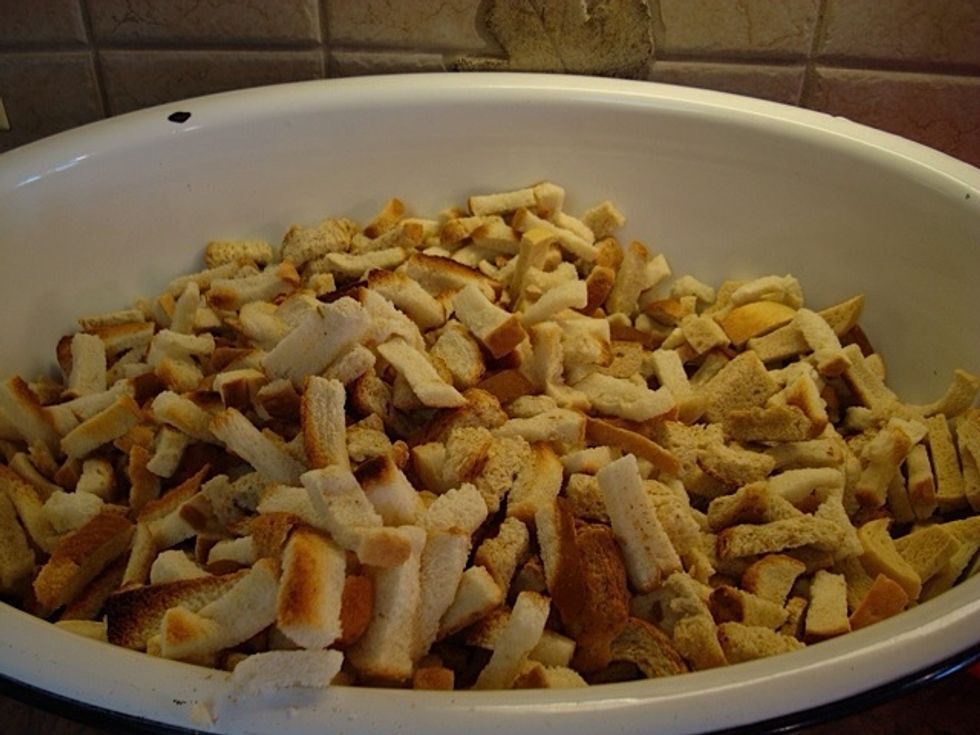 DAY BEFORE THANKSGIVING: Dump into large mixing container (I've had this tub for decades. Ninety years ago it was a baby bathtub in our family.)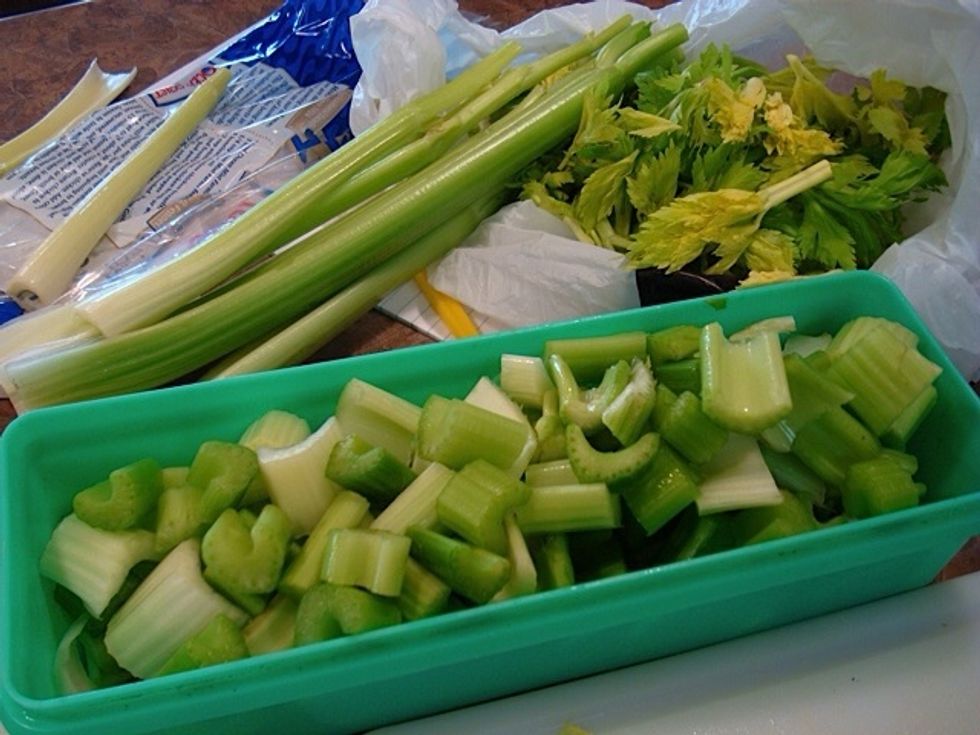 Cut entire bunch celery (except leaves) & large onion into chunks. You'll finely chop in either blender (using water and pulse setting) or food processor.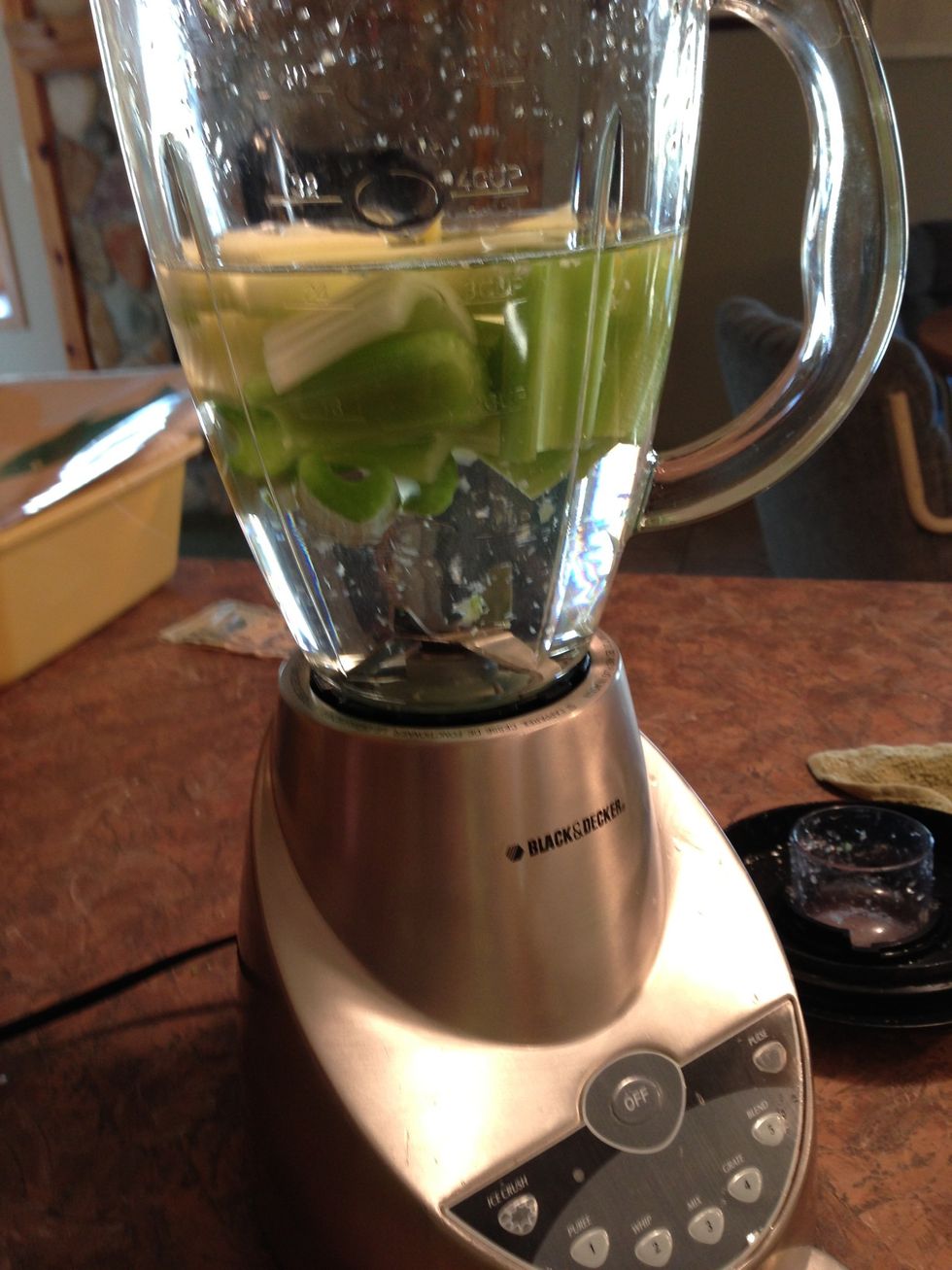 Put celery chunks into blender. Add cold water. This helps tumble them. Do same with onion.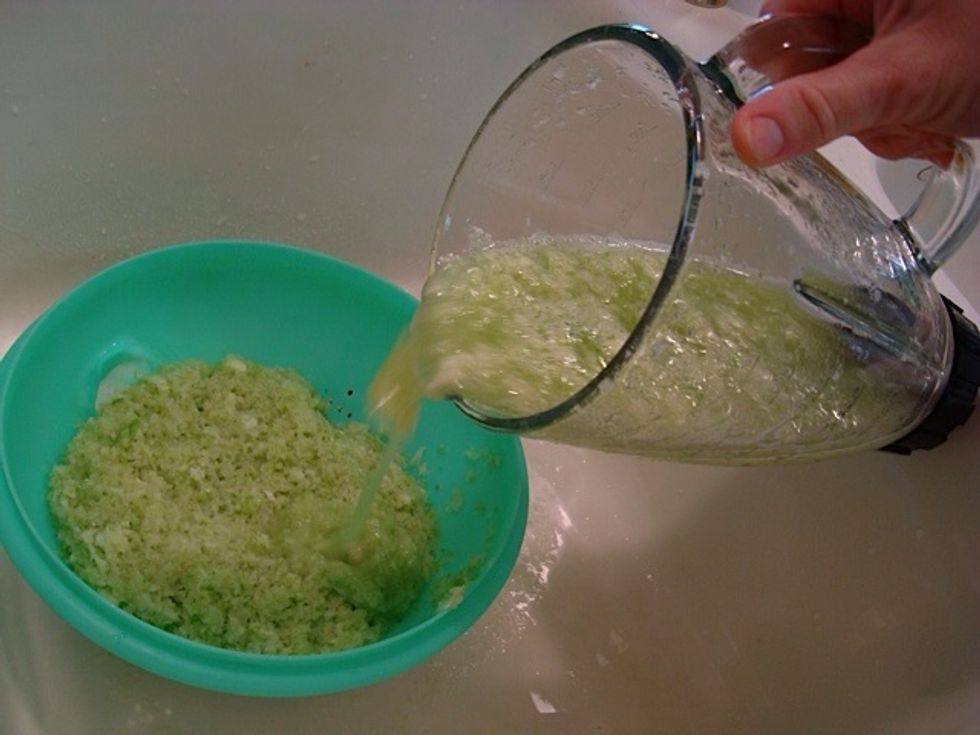 I've used blender on "pulse" to chop onion and celery. You need to add water to make it work. Then I drain in colander. A food processor probably works too.
I was never much for organ meats but grew up with this recipe & have to admit I cook, grind & use the liver, heart & gizzard that comes packaged in the bag inside the turkey as the meat & it's good!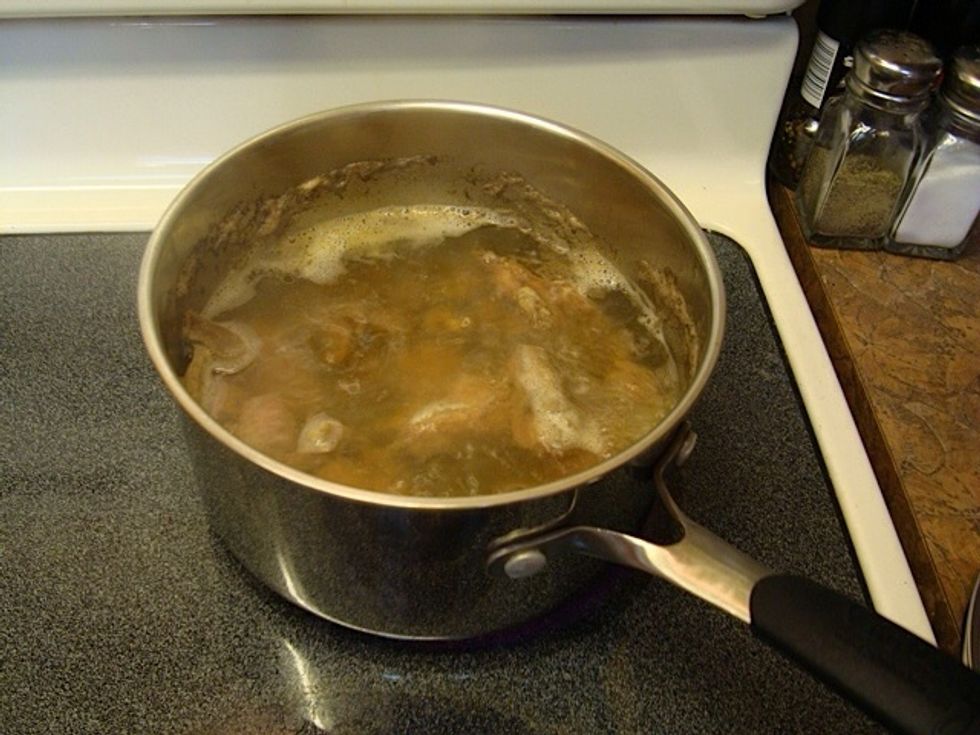 Boil Giblets (found bagged inside turkey) in small saucepan 2/3 full of water till tender. Test w/knife. Gizzard will have some tough parts you'll discard. SAVE THIS LIQIID after cooking and let cool.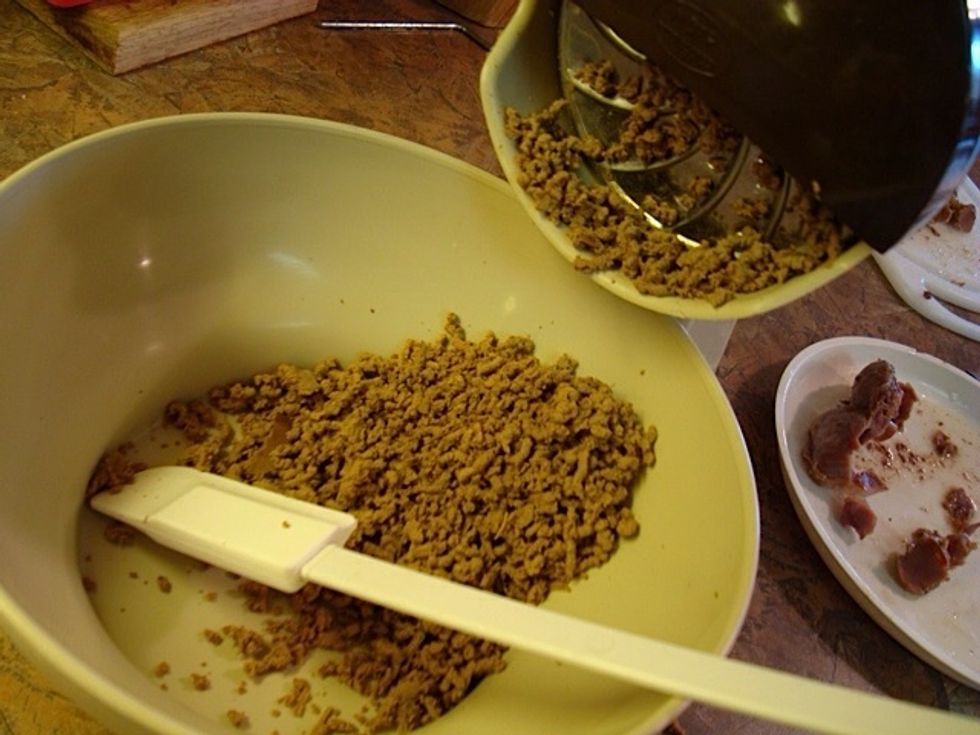 Using grinder, grind up giblets. This is truly what makes this stuffing so good! (Yes, and I'm a person who would never eat liver, and certainly never a heart!)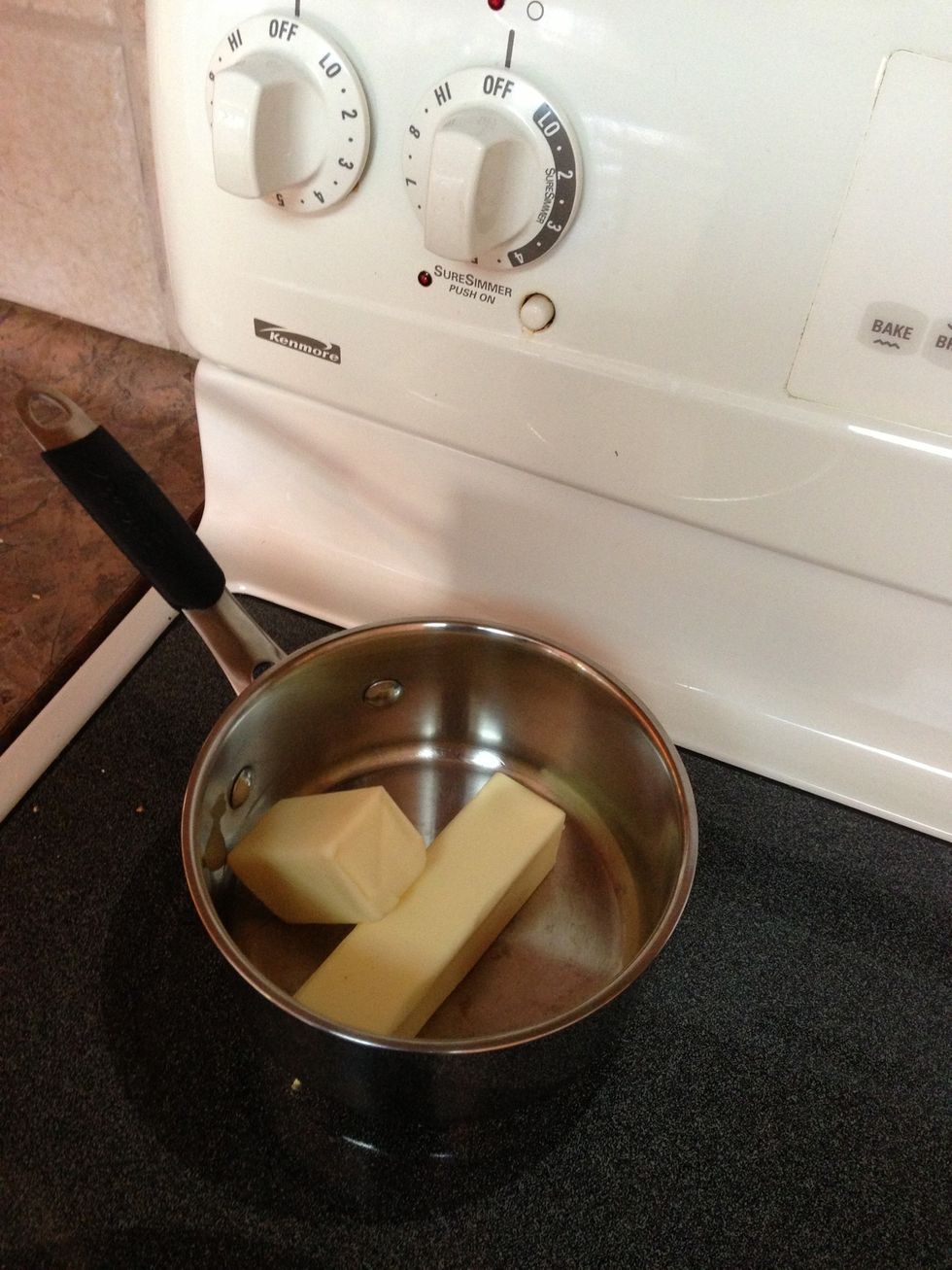 Melt butter in small pan. You can either sprinkle seasonings over stuffing as you mix it, OR stir into the melted butter which you will drizzle over bread cubes.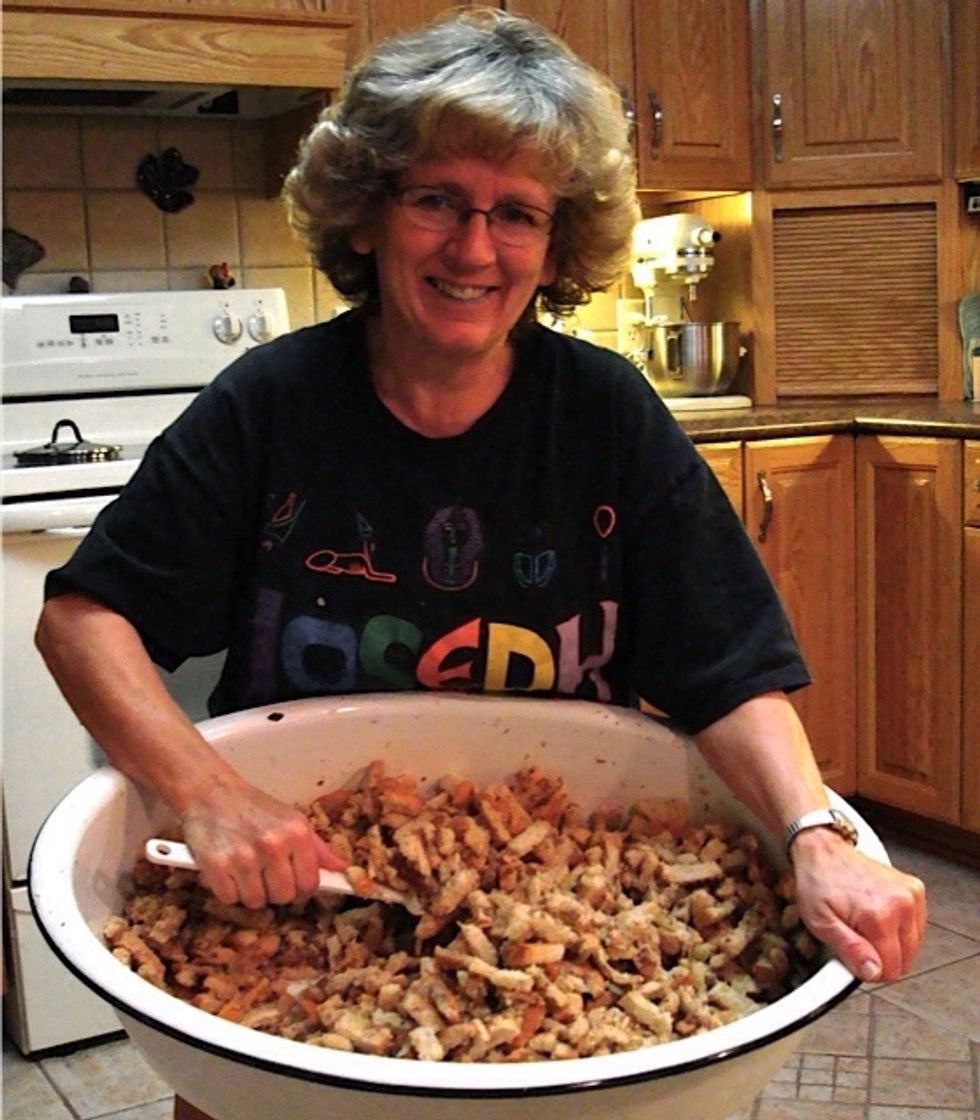 Stir in melted butter, meats, juice from cooking meats, celery & onion and seasonings. It SMELLS SO GOOD! You can sample it now too! Place in airtight containers & refrigerate along with thawed turkey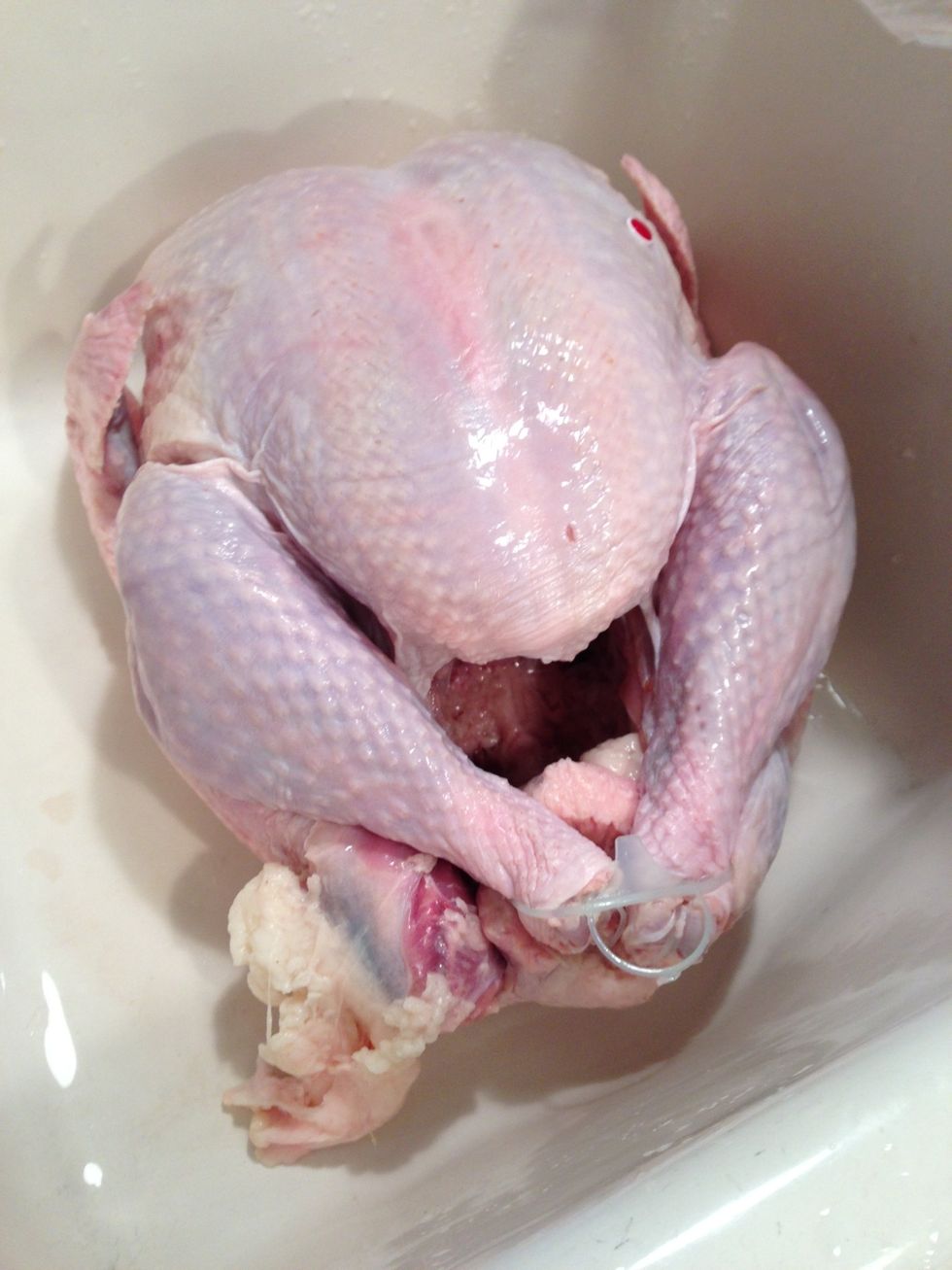 Remove neck, and bag of giblets. Wash turkey inside & out. Using a spoon, scrape any remaining membrane from inside along rib cage.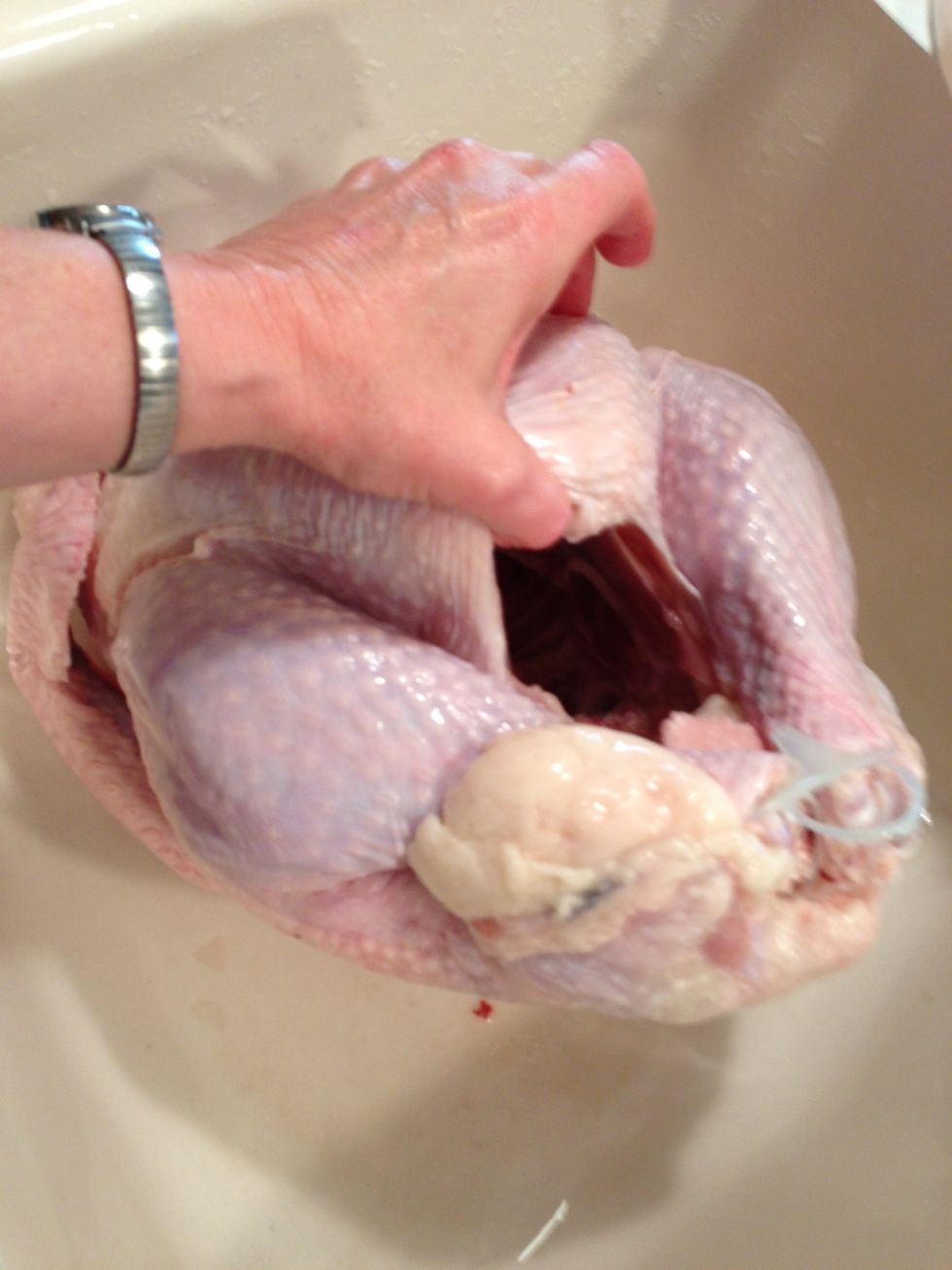 Loosely stuff main cavity...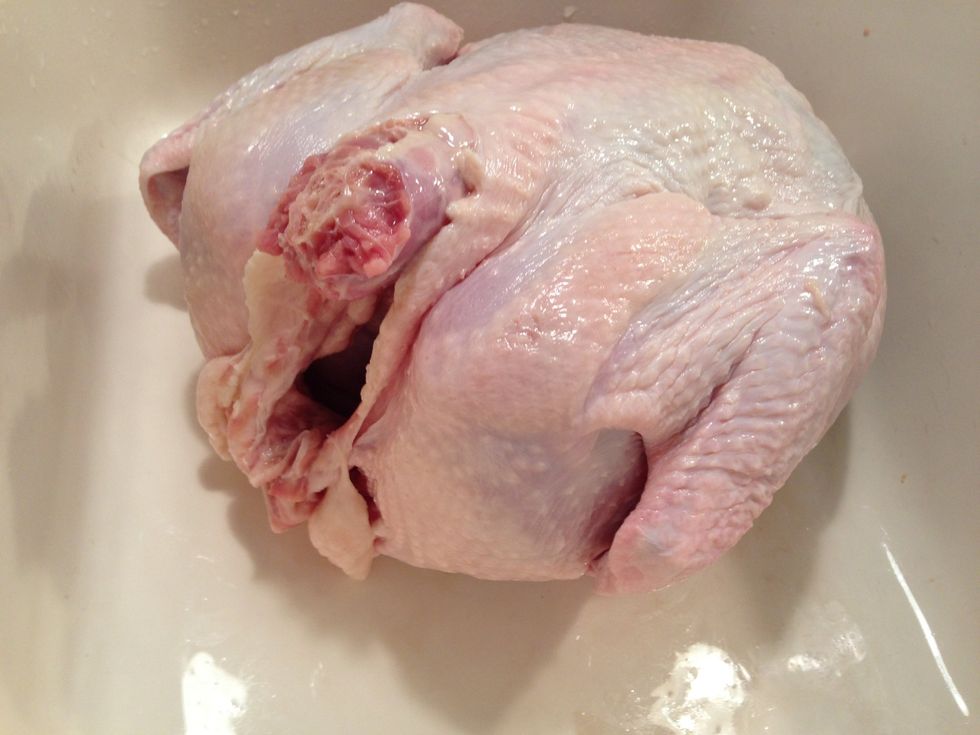 A couple large spoonfuls of stiffing can go in smaller front cavity. Secure skin with metal skewers.
Early Thanksgiving morning I loosely stuff front cavity, securing skin, then main cavity. Bake breast side down 325° 4-6 hrs. Bake extra stuffing 1/2 hr in casserole & mix w/bird stuffing at the end.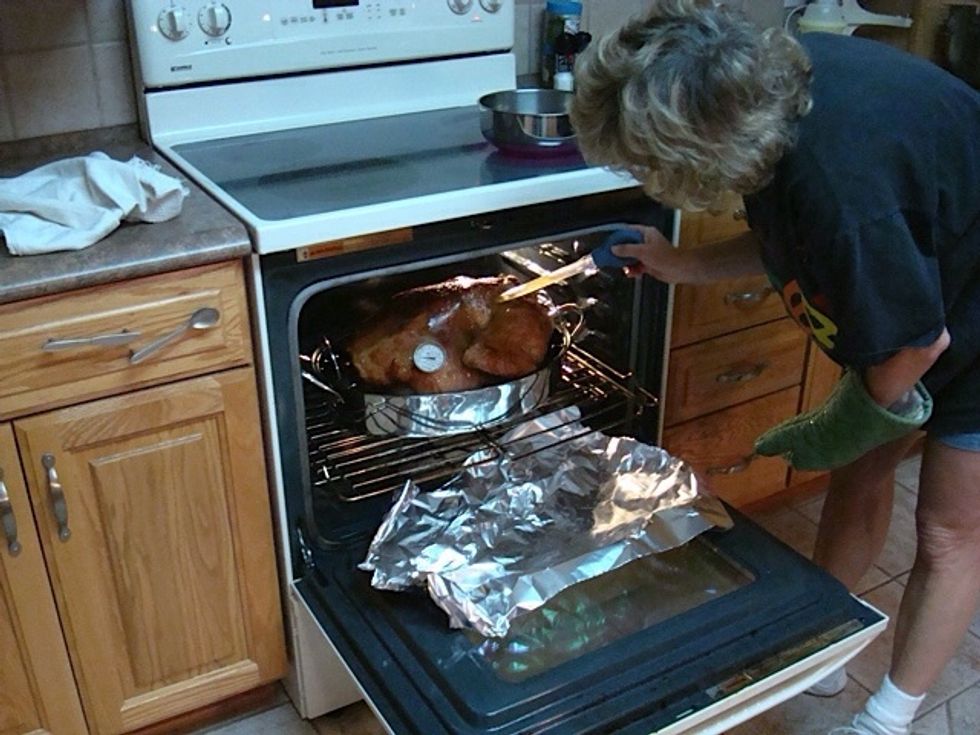 I loosely cover turkey so it doesn't dry out or over brown & baste drippings over once per hour or so. Use thermometer to be sure it reaches 185° inside.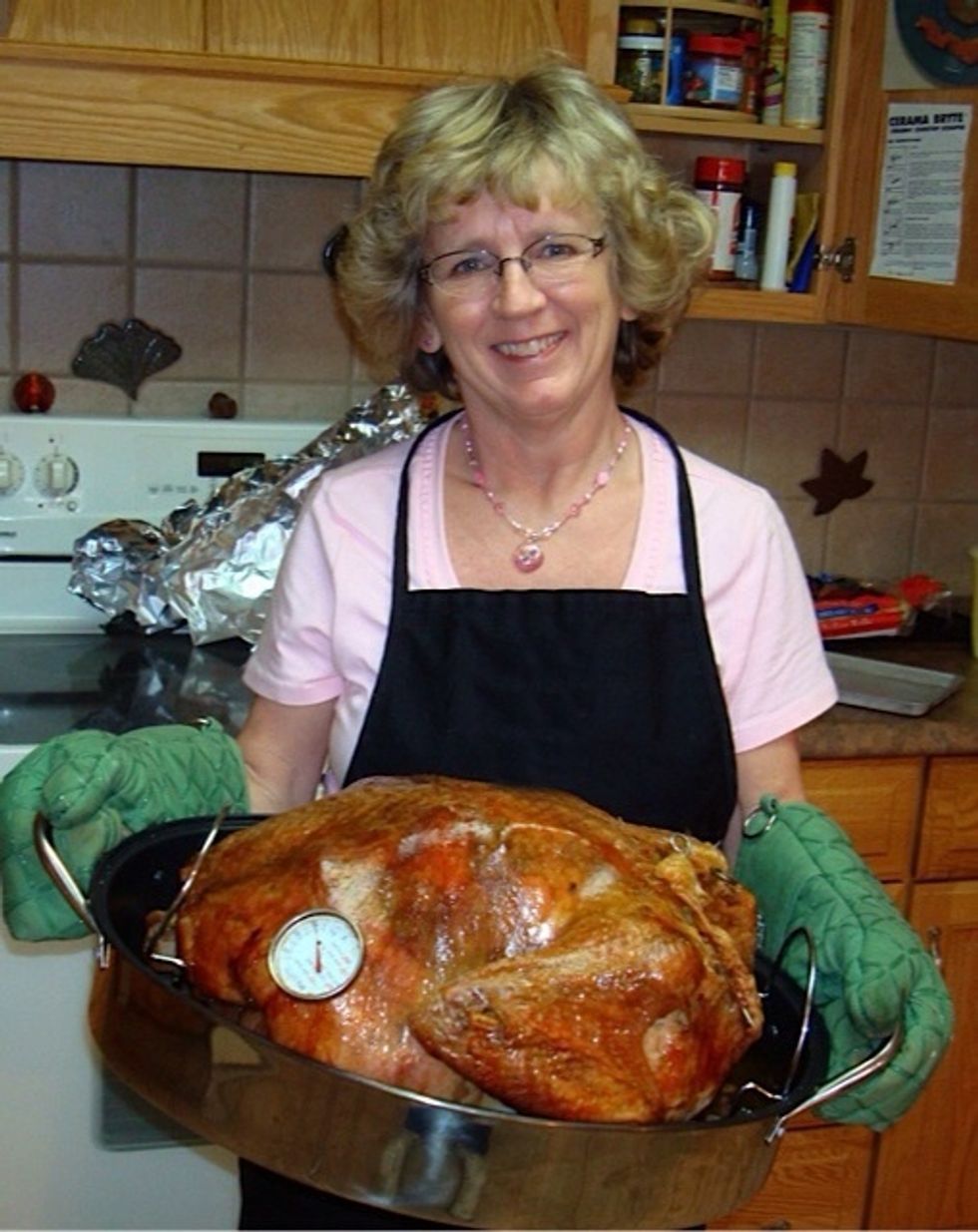 Remove stuffing, slice, make gravy from drippings. Even with our kids grown, we still make a big turkey. The leftovers freeze well & turkey can be used in a variety of recipes.
This is dedicated to my mom, Rita, who made a turkey & this stuffing every Thanksgiving I was a kid... and taught me how. Now I'm a Gramma who's made it for 40 years.
NOTE: This stuffing recipe uses already fully cooked meat so it only needs heating. This makes it much safer. No worries about it not reaching a certain internal temperature.
Turkey Giblets (liver, gizzard, heart)
2.0 1-1/2 lb loaves sliced bread
1.0 18-30 lb frozen turkey thawed
3/4c Butter (or 1 full cup if desired)
1.0bnch Celery, leaves removed
1.0 Large onion
1/8tsp Salt
1/2tsp Pepper
1/2tsp Poultry seasoning (optional)
Rollie Brandt
I've been an artist all my life and raised my children as a stay at home mom. Happily married 40 years. I love to share what I do...