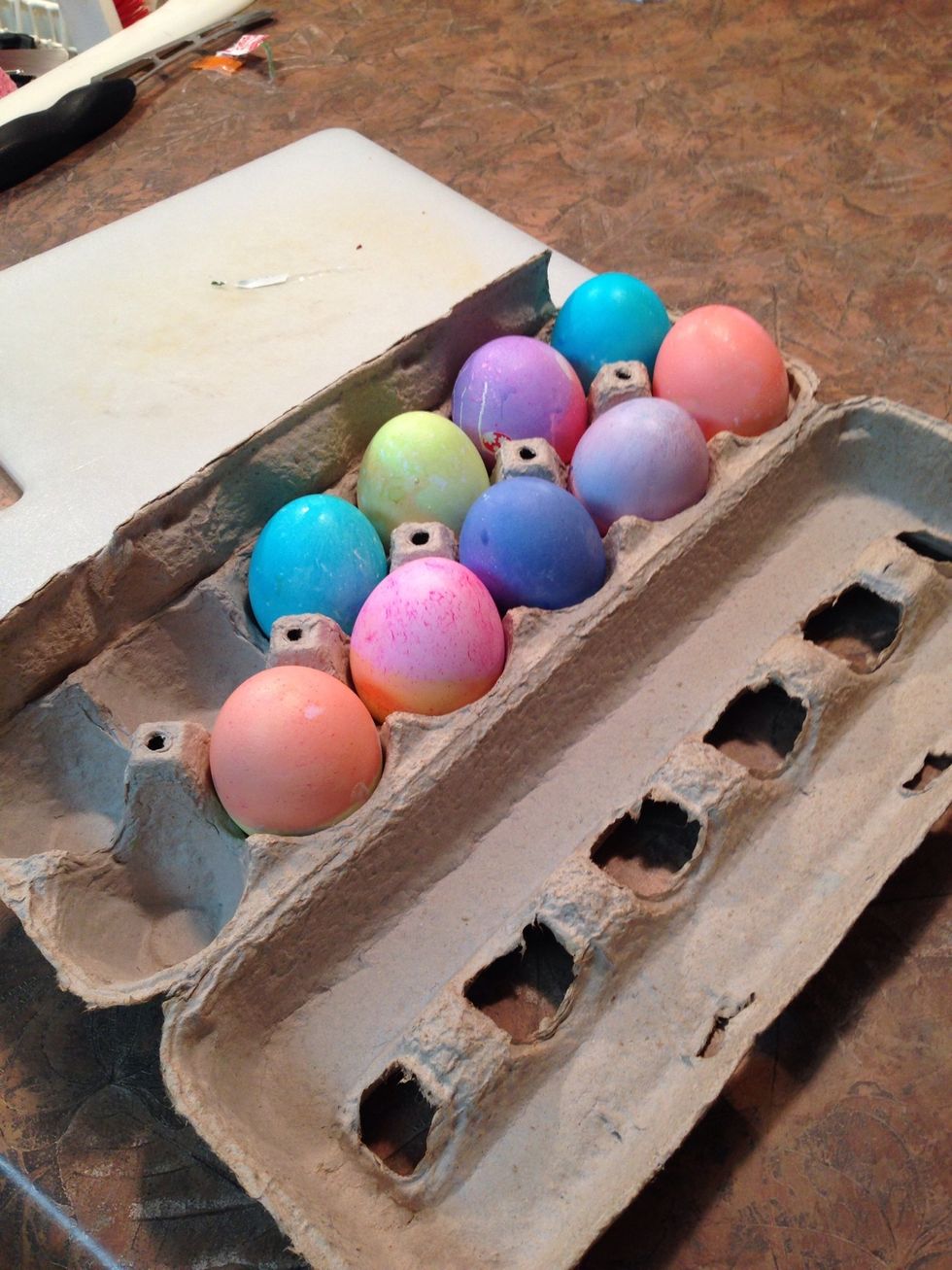 If you have a lot of Easter Eggs to eat, this is a great meal to make from 8 of them.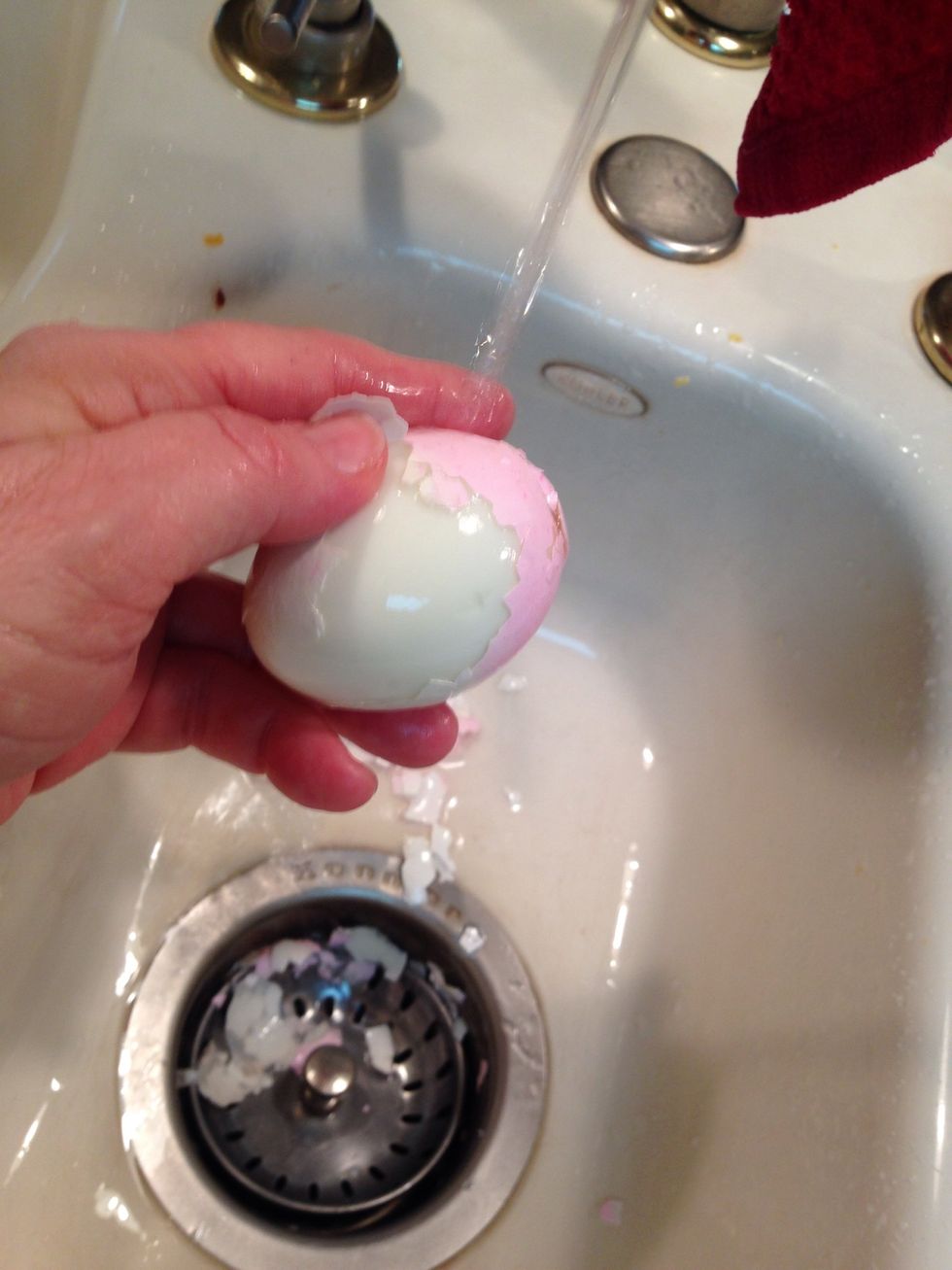 I find it easier to peel hard boiled eggs under running water. Be sure to rinse well to remove any small pieces of shell.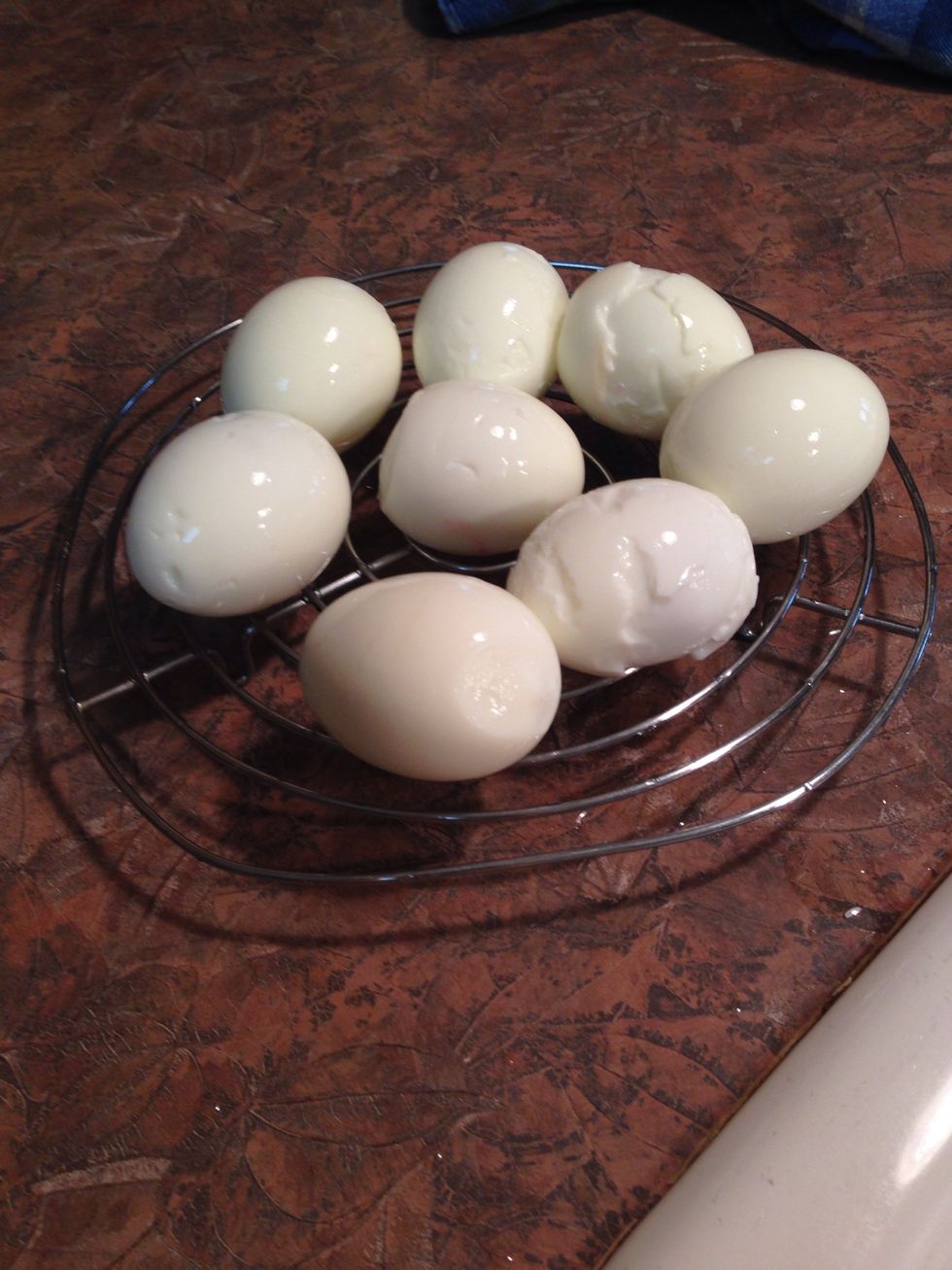 Let peeled eggs dry somewhat while you prepare pork sausage.
Preheat oven to 450° while preparing first step of your scotch eggs.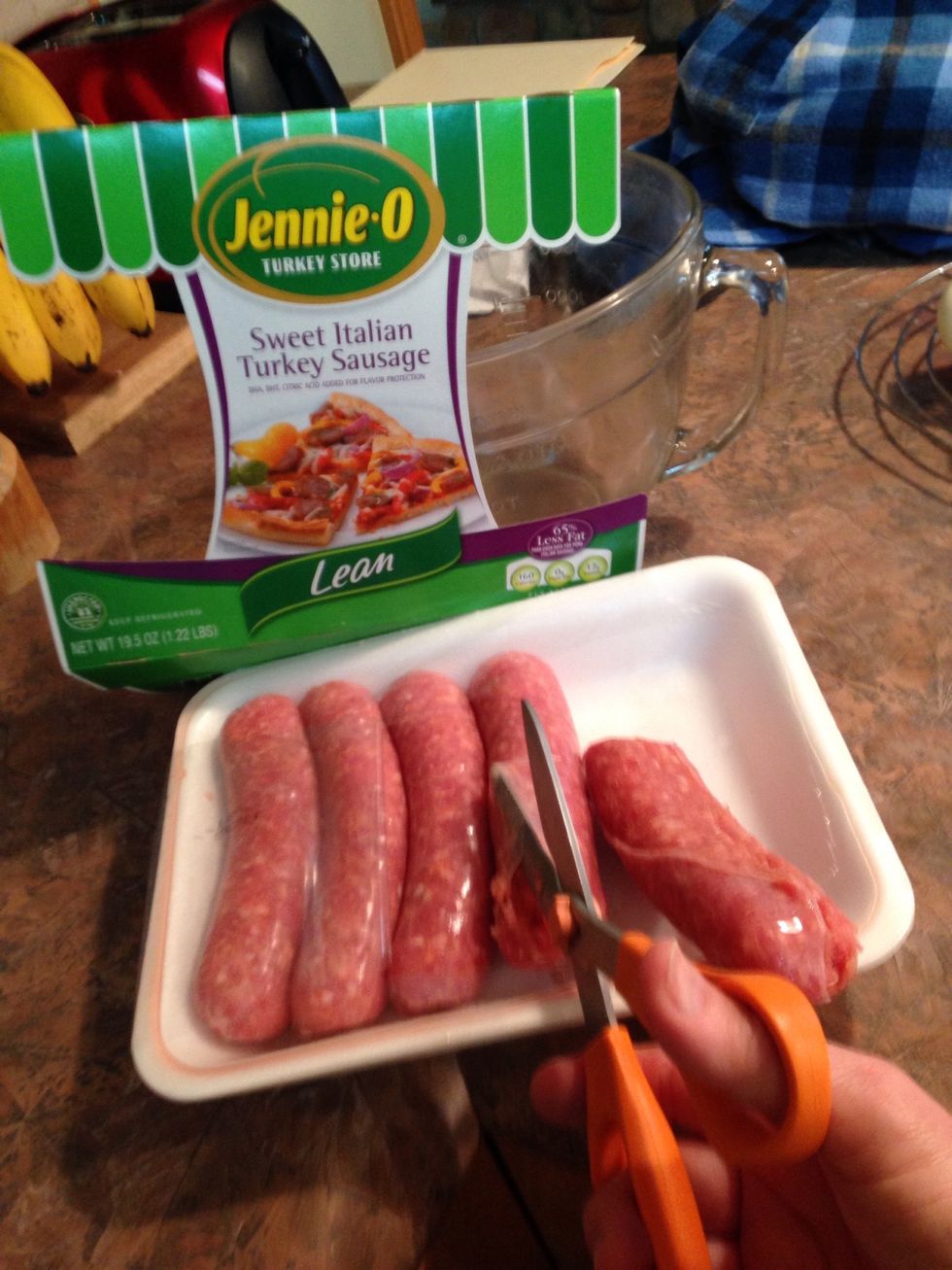 You can use pork sausage in bulk or if you have links, it's very easy to cut off casing with kitchen sheers. I like the sweet Italian turkey sausage. I actually had a 19 oz. package and large eggs.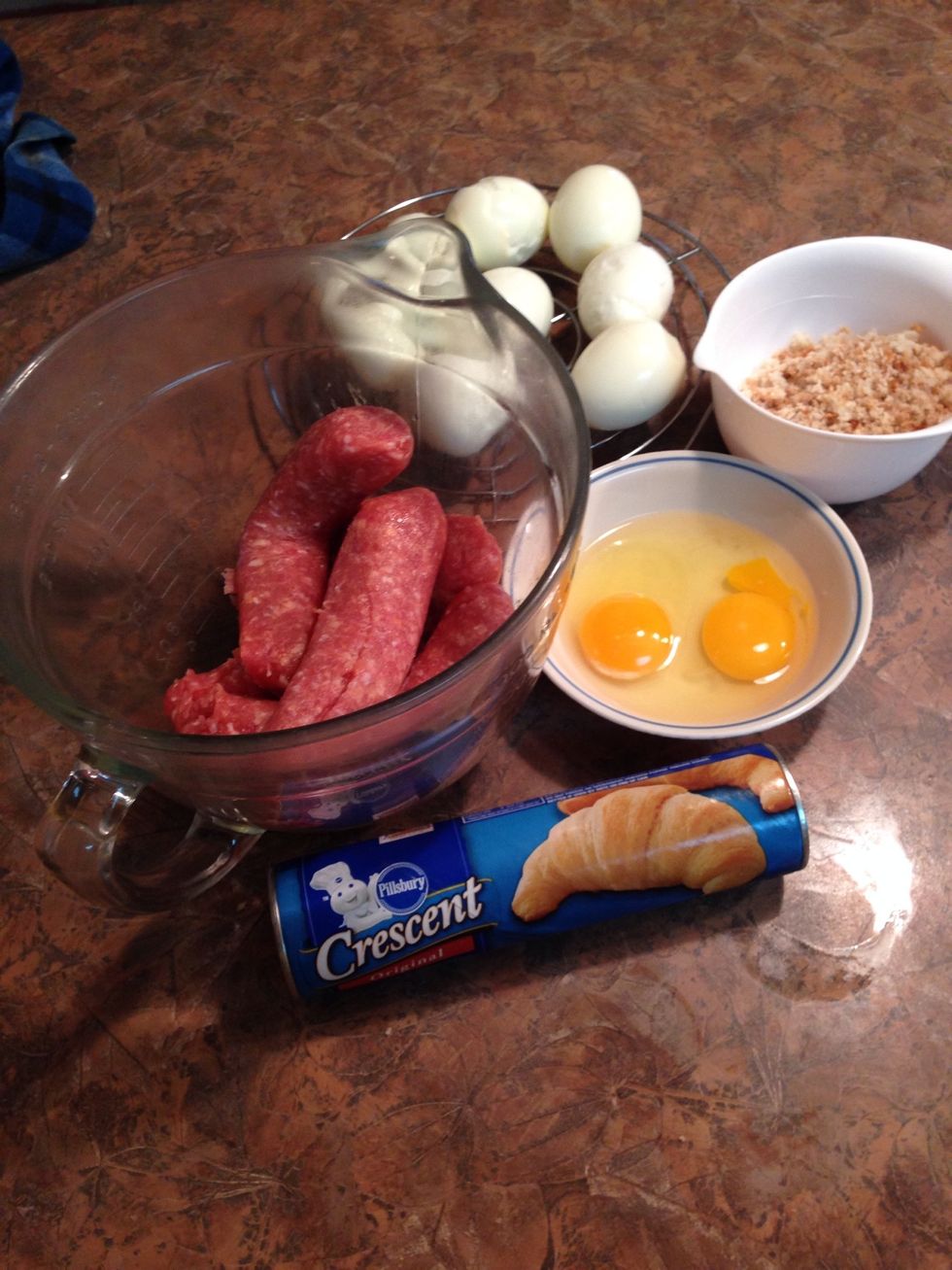 Assemble ingredients... 2 raw eggs, your peeled hard boiled eggs, sausage and bread crumbs.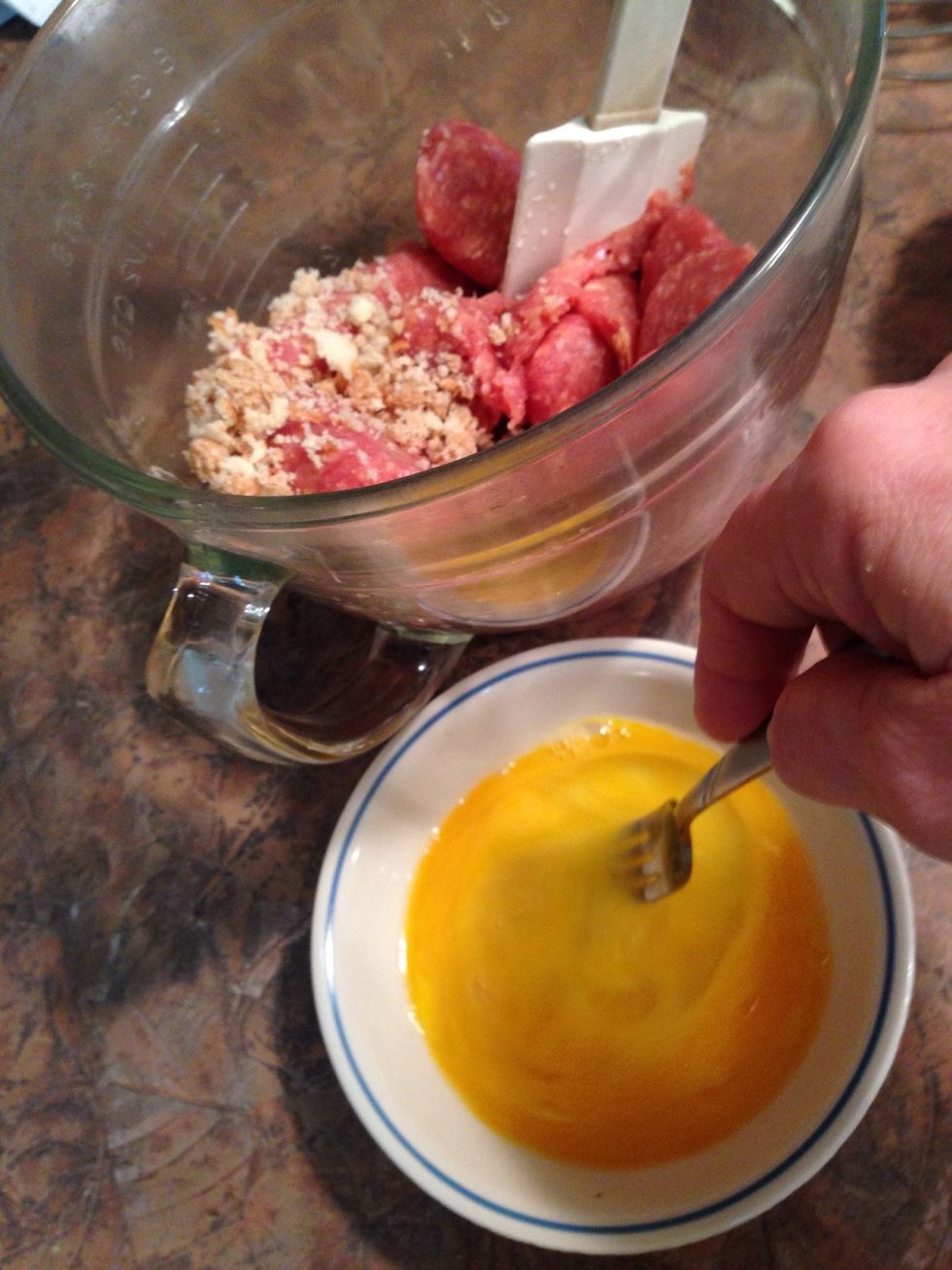 Beat raw eggs before adding to meat and crumbs....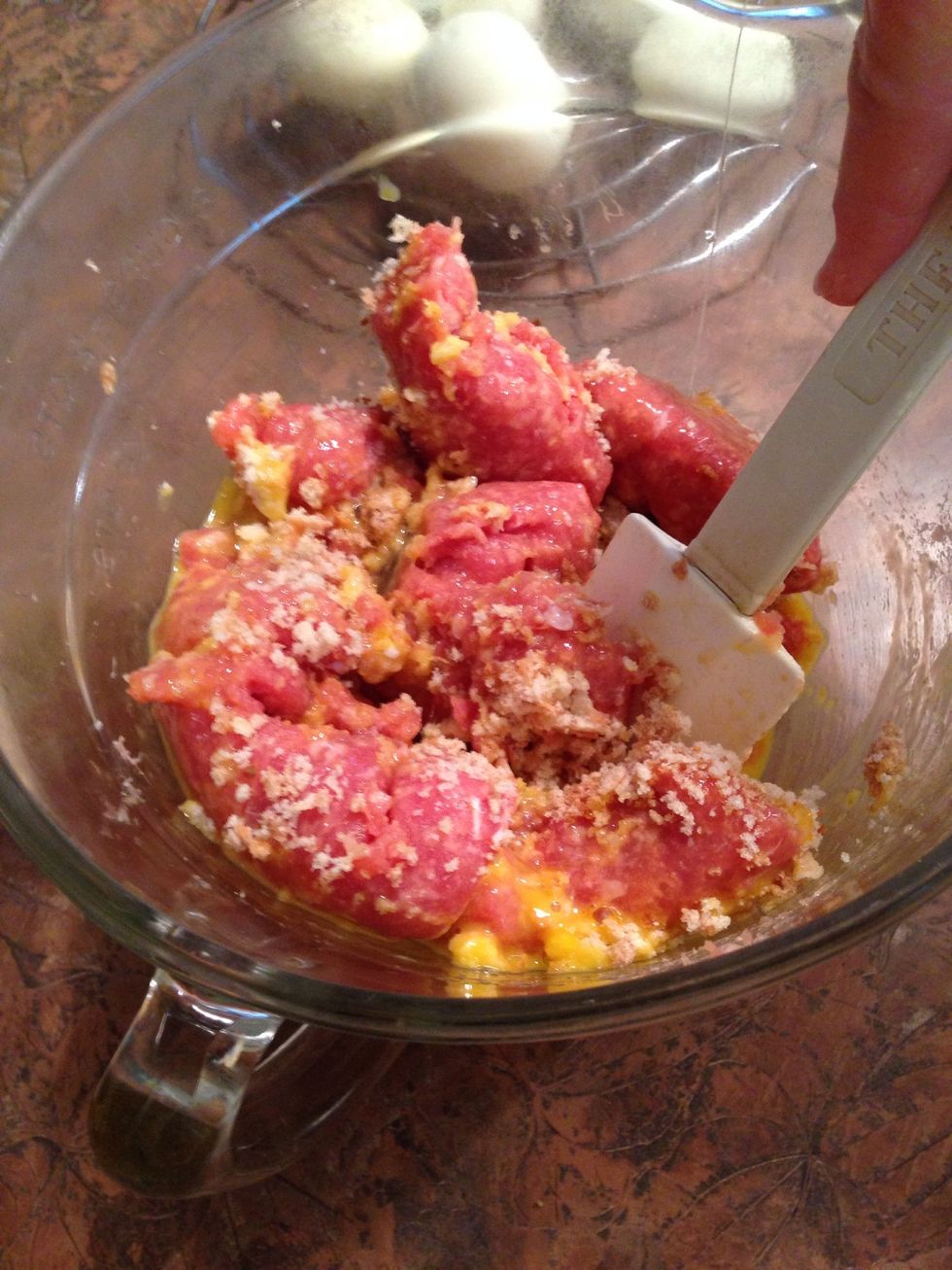 Mix sausage, 2 raw eggs and bread crumbs. I crumbled up a bun & slice of wheat bread... I actually added 2 or 3 extra T. of crumbs.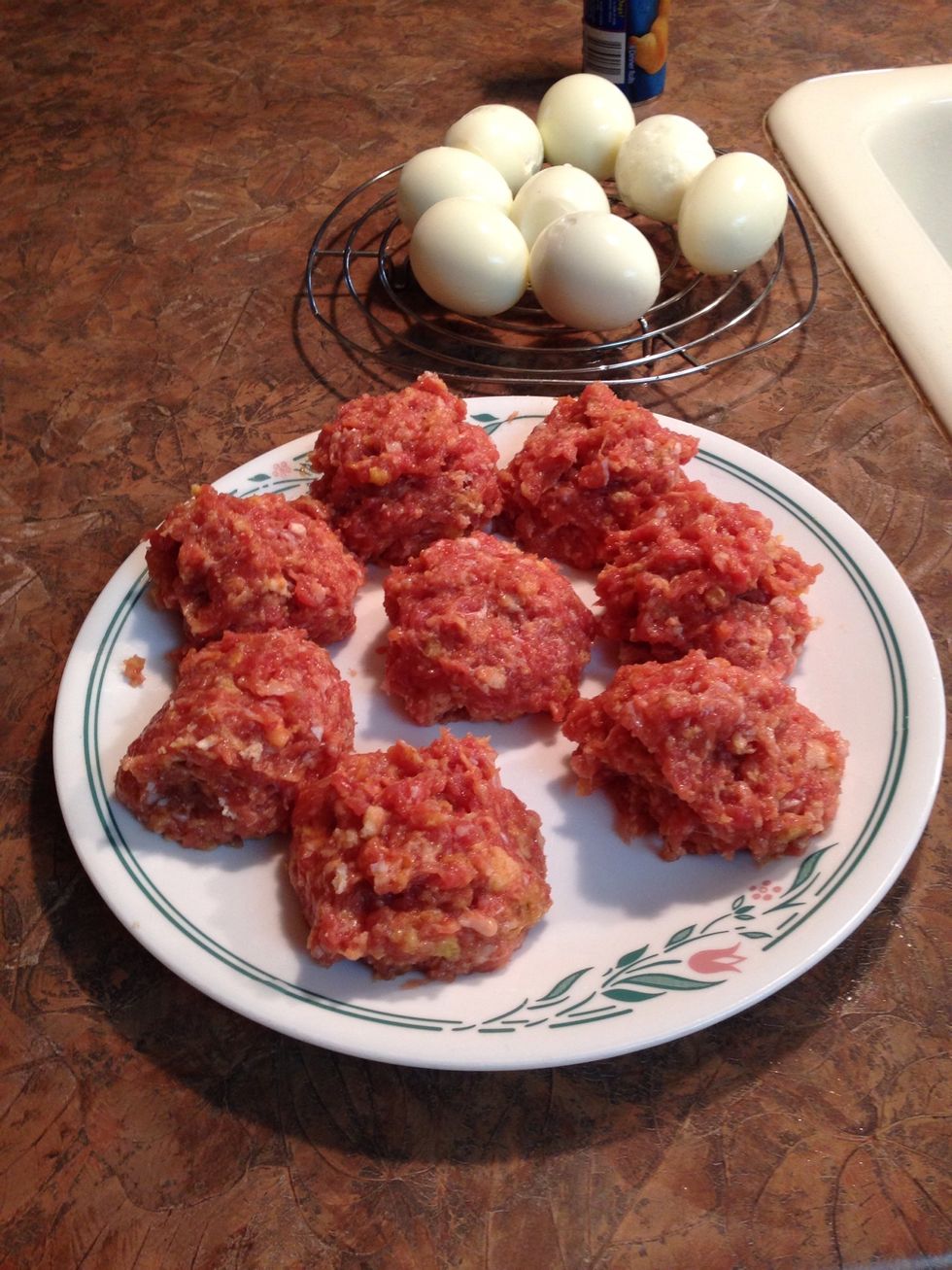 Divide meat mixture into 8 equal parts.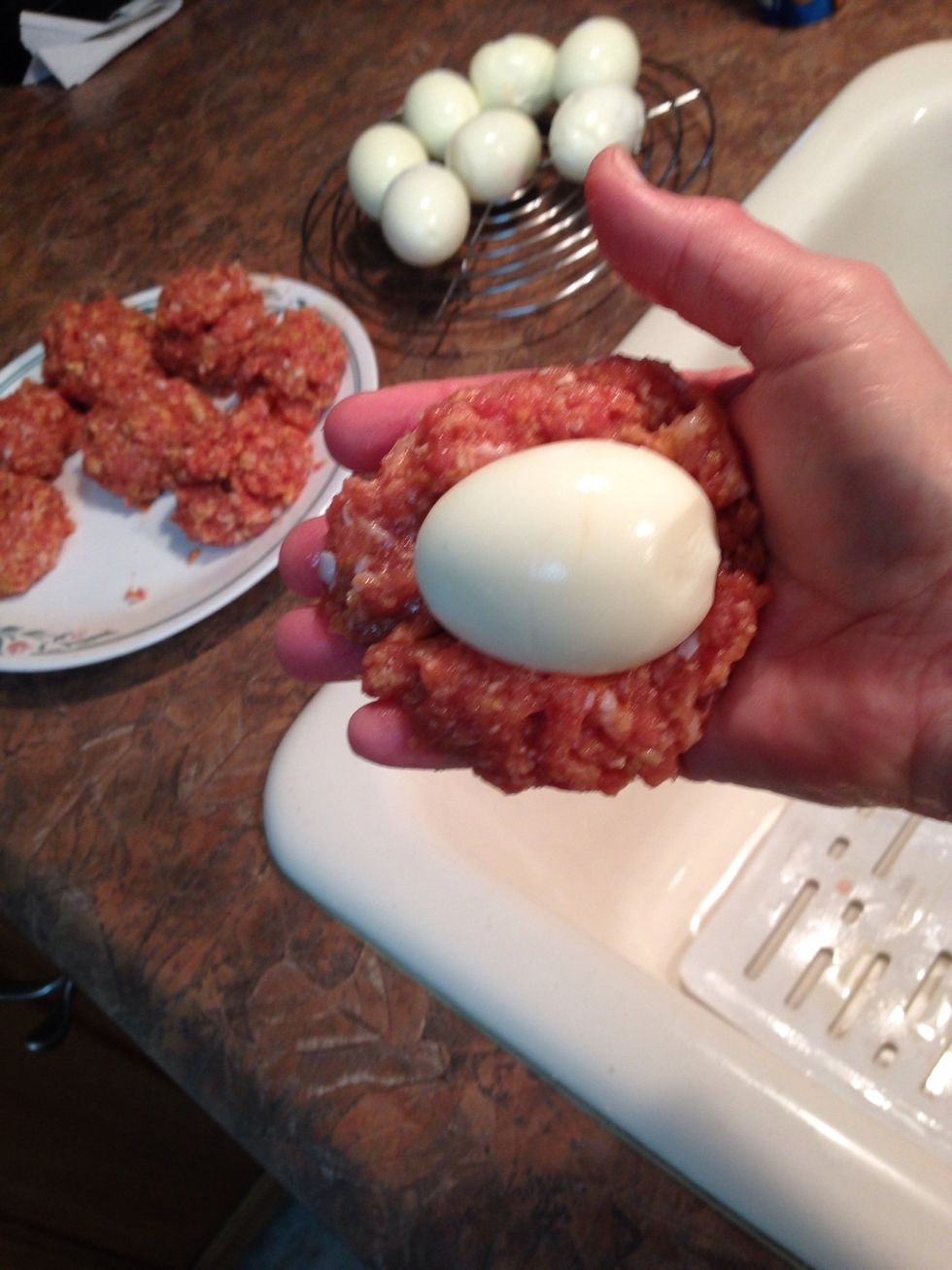 Lay egg onto slightly flattened meat mixture...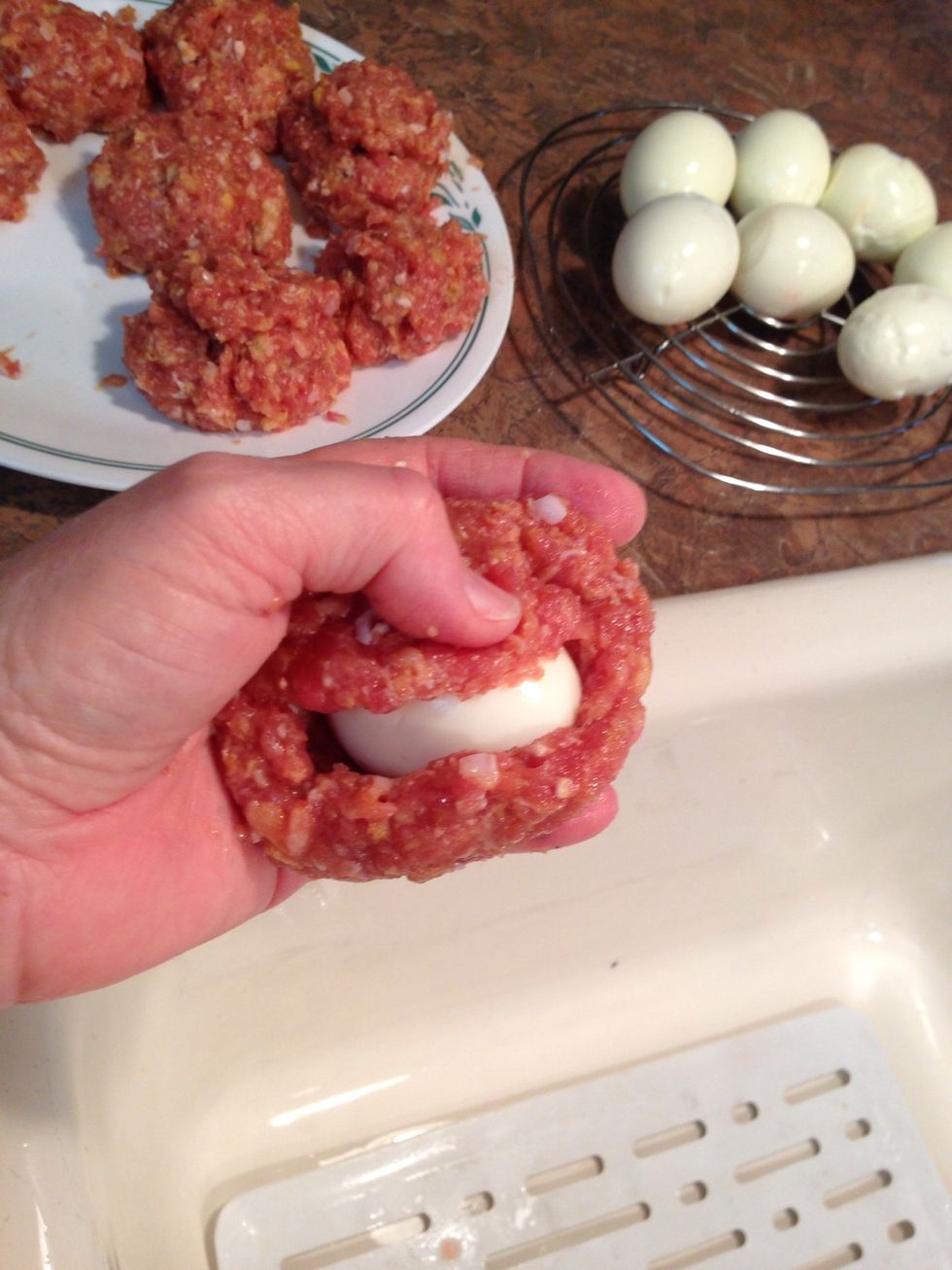 Mold meat totally around egg. I find it's easiest if your hand is first rinsed in warm water and still wet. Meat doesn't stick and is easier to mold.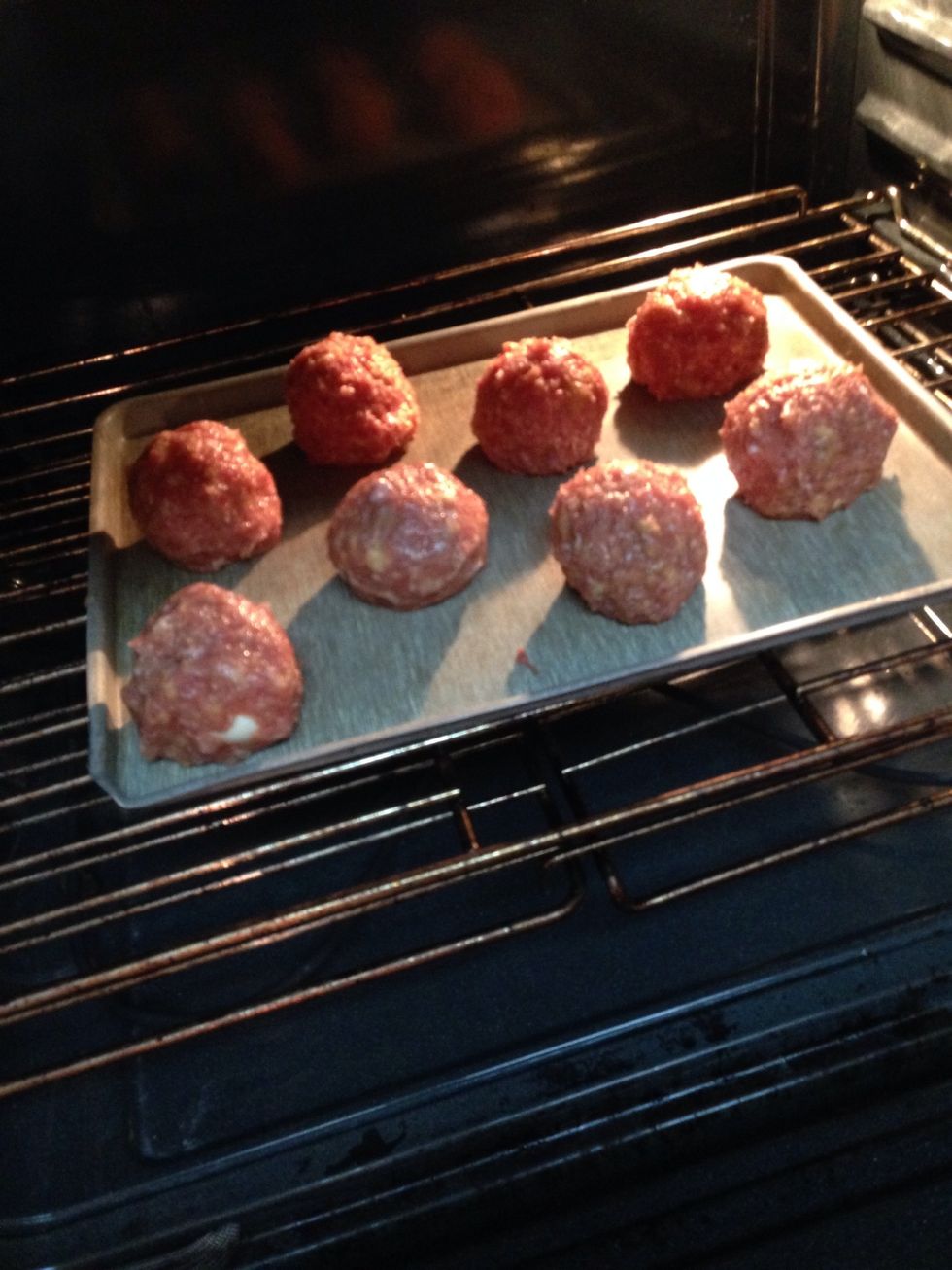 Bake 15 minutes at 450°.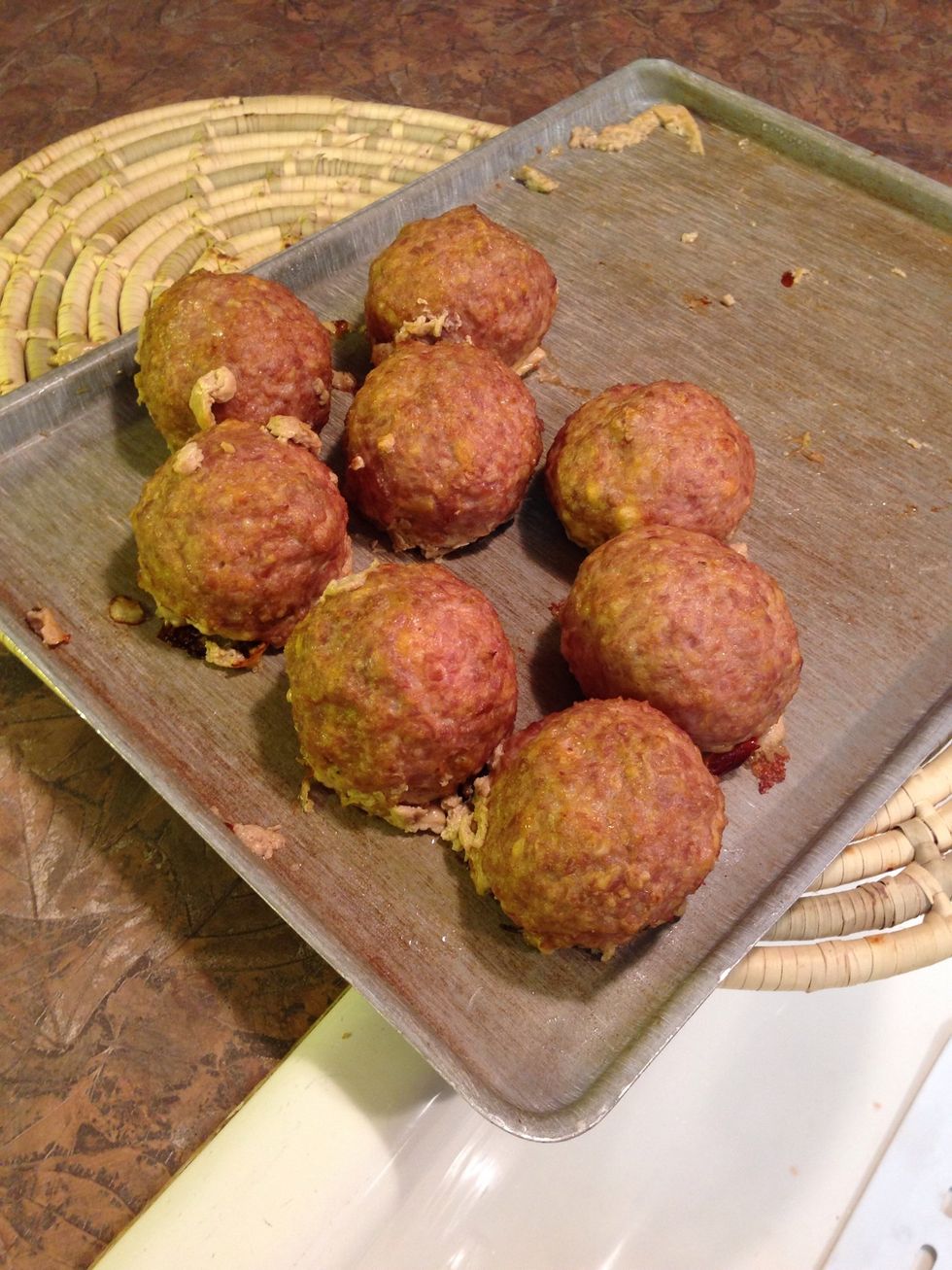 Remove meat/egg balls when pork is evenly browned. Cool on wire rack 10 minutes. Reduce oven to 375°.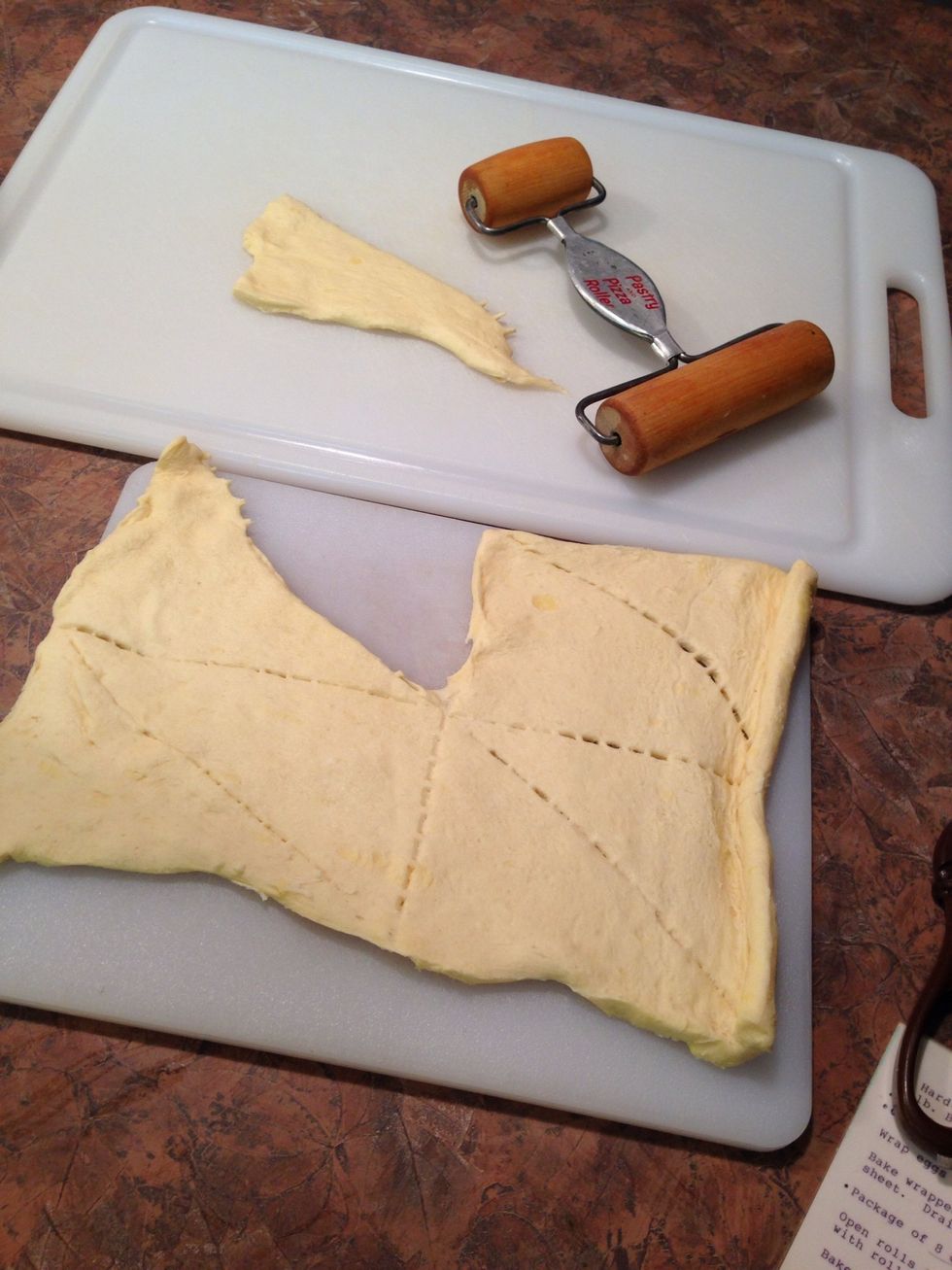 Open Crescent rolls and separate into 8 triangles.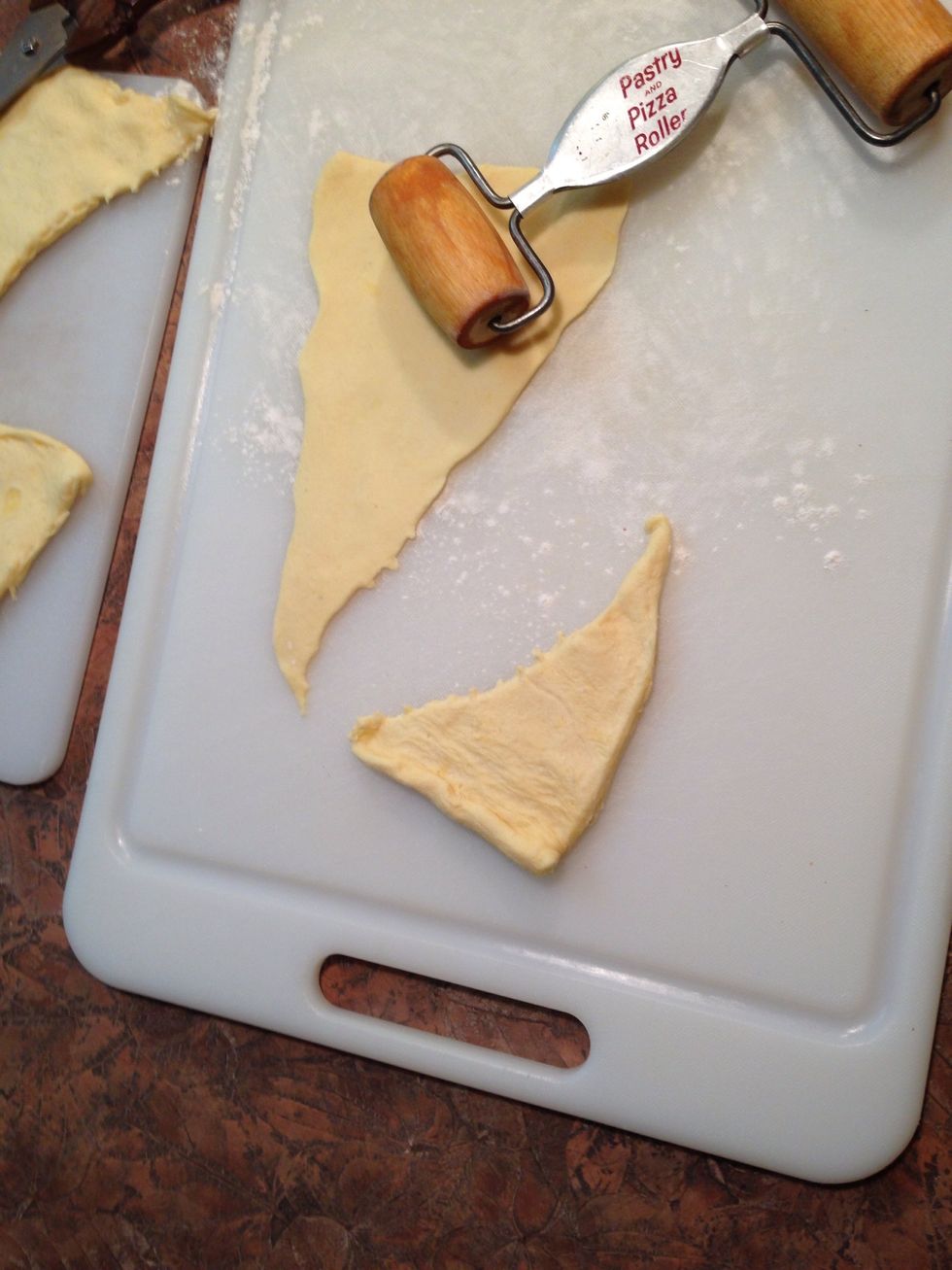 Each triangle needs to be rolled larger in order to make it wrap completely around meat/egg. Lightly dust surface and roller with flour to prevent sticking.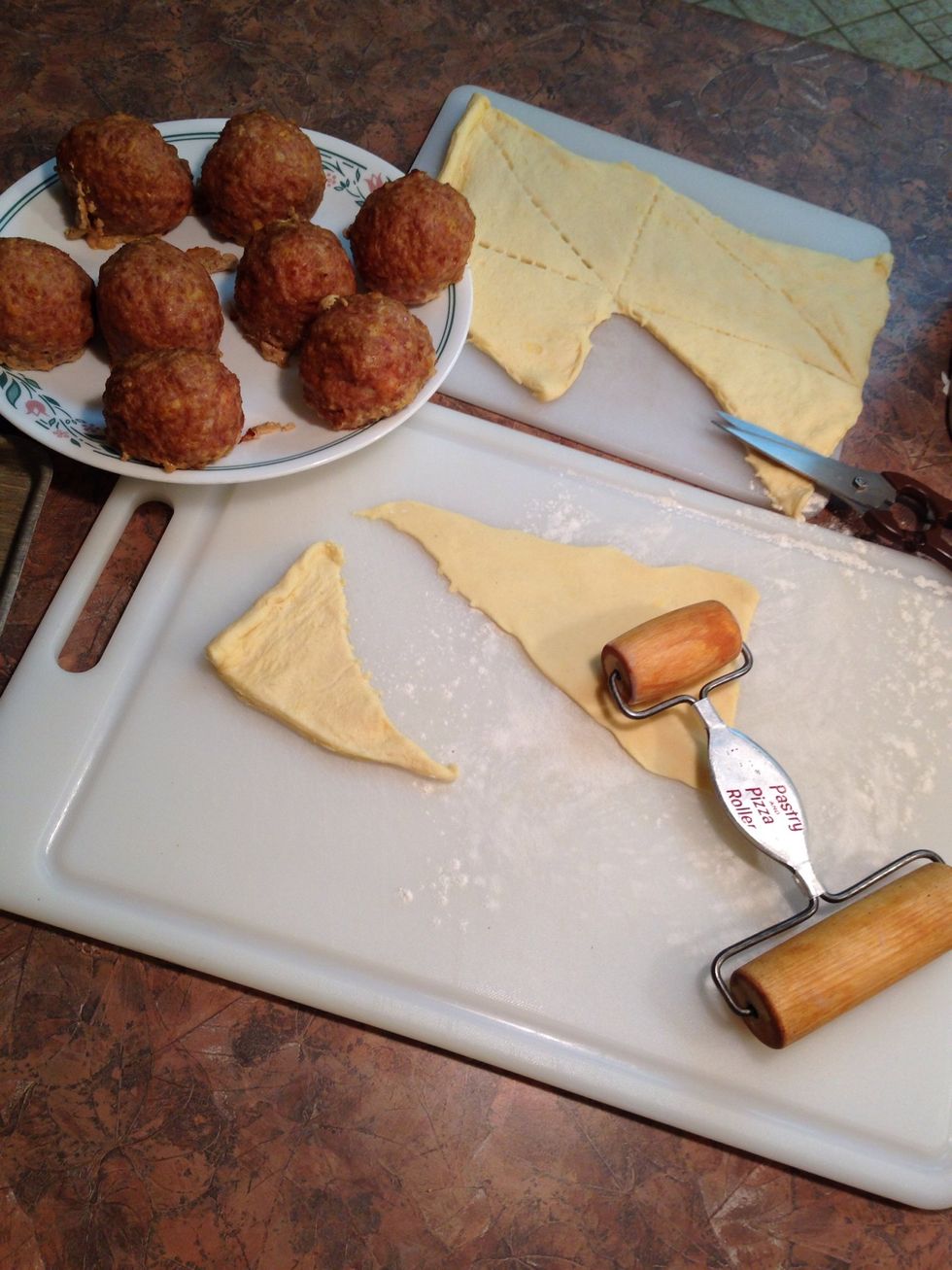 See the larger rolled triangle size (right) compared with original size from package (left) I have a small pizza roller I use.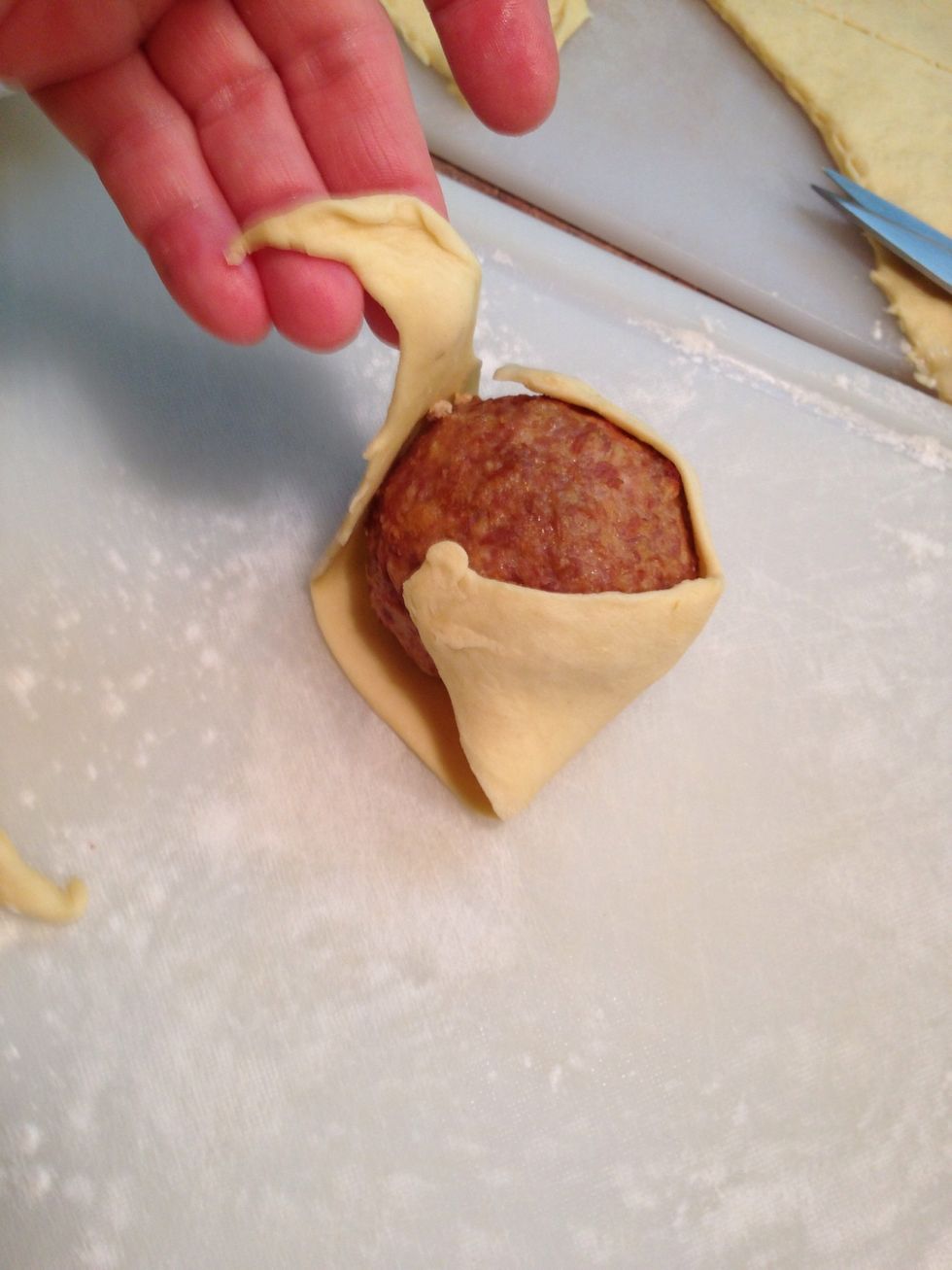 Lay meat/egg ball onto triangle and fold in corners as shown...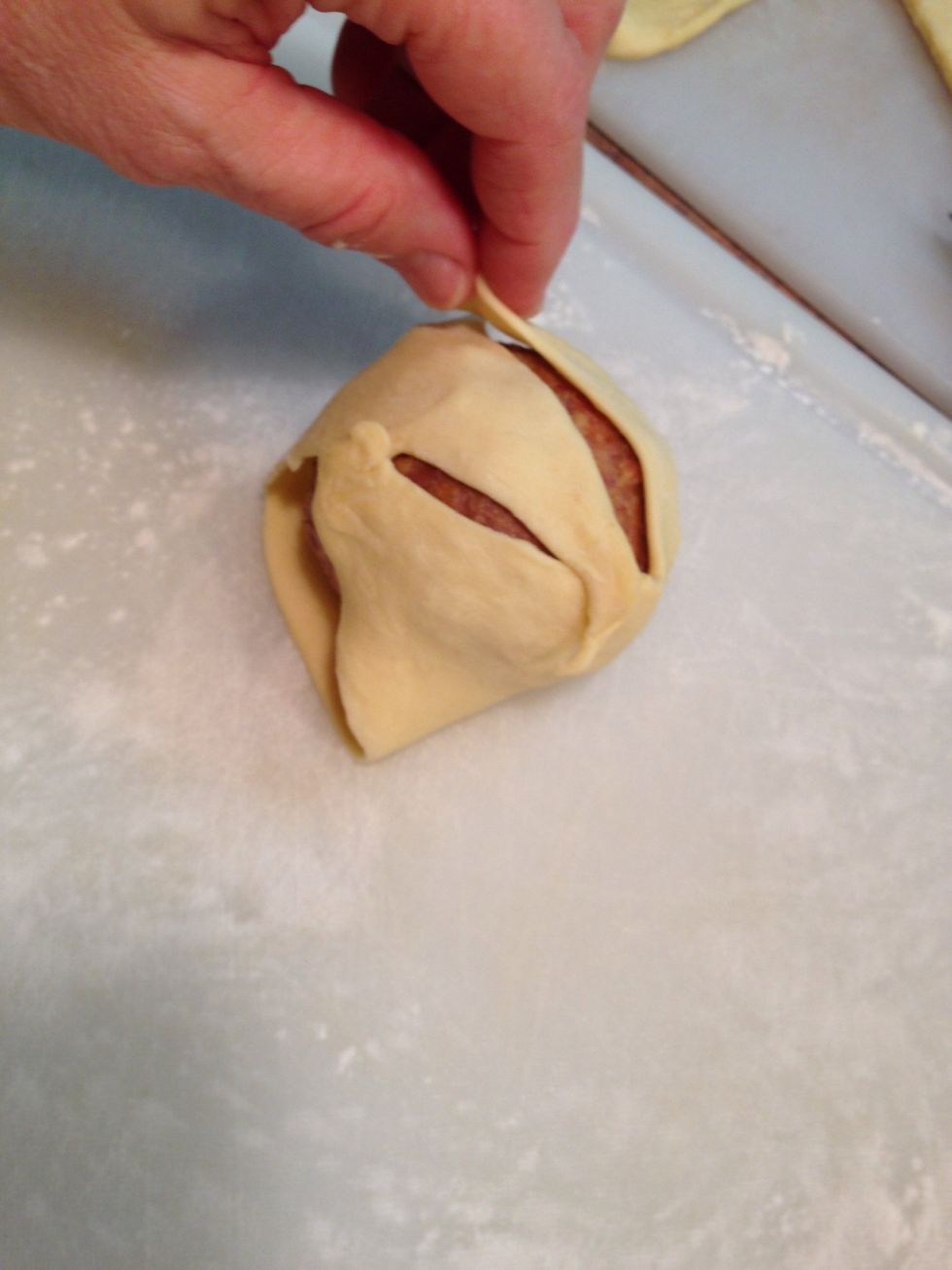 Once wrapped, you can stretch to cover meat/egg ball entirely...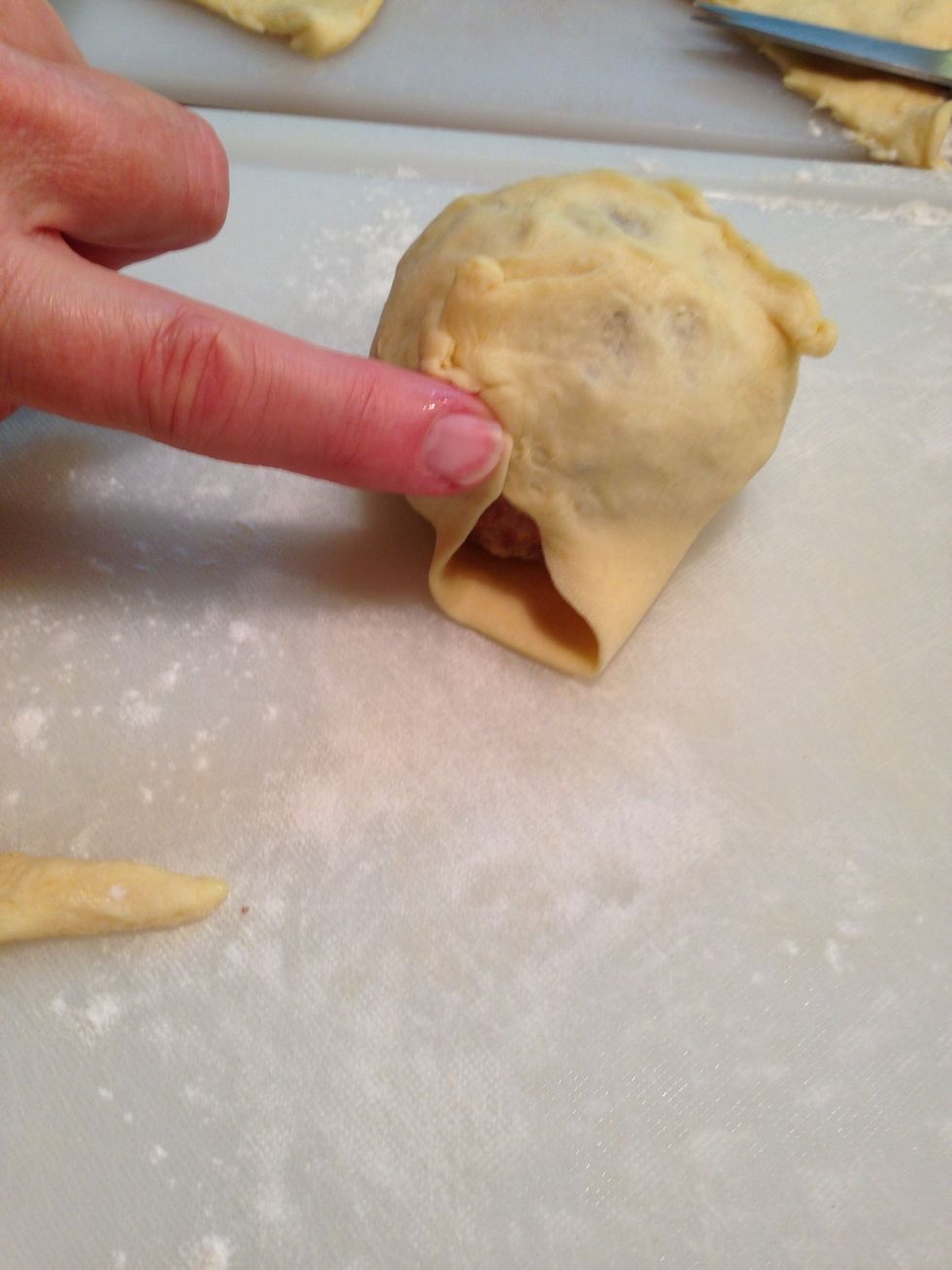 Pull and overlap and pinch dough as needed to totally encase each meat/egg ball.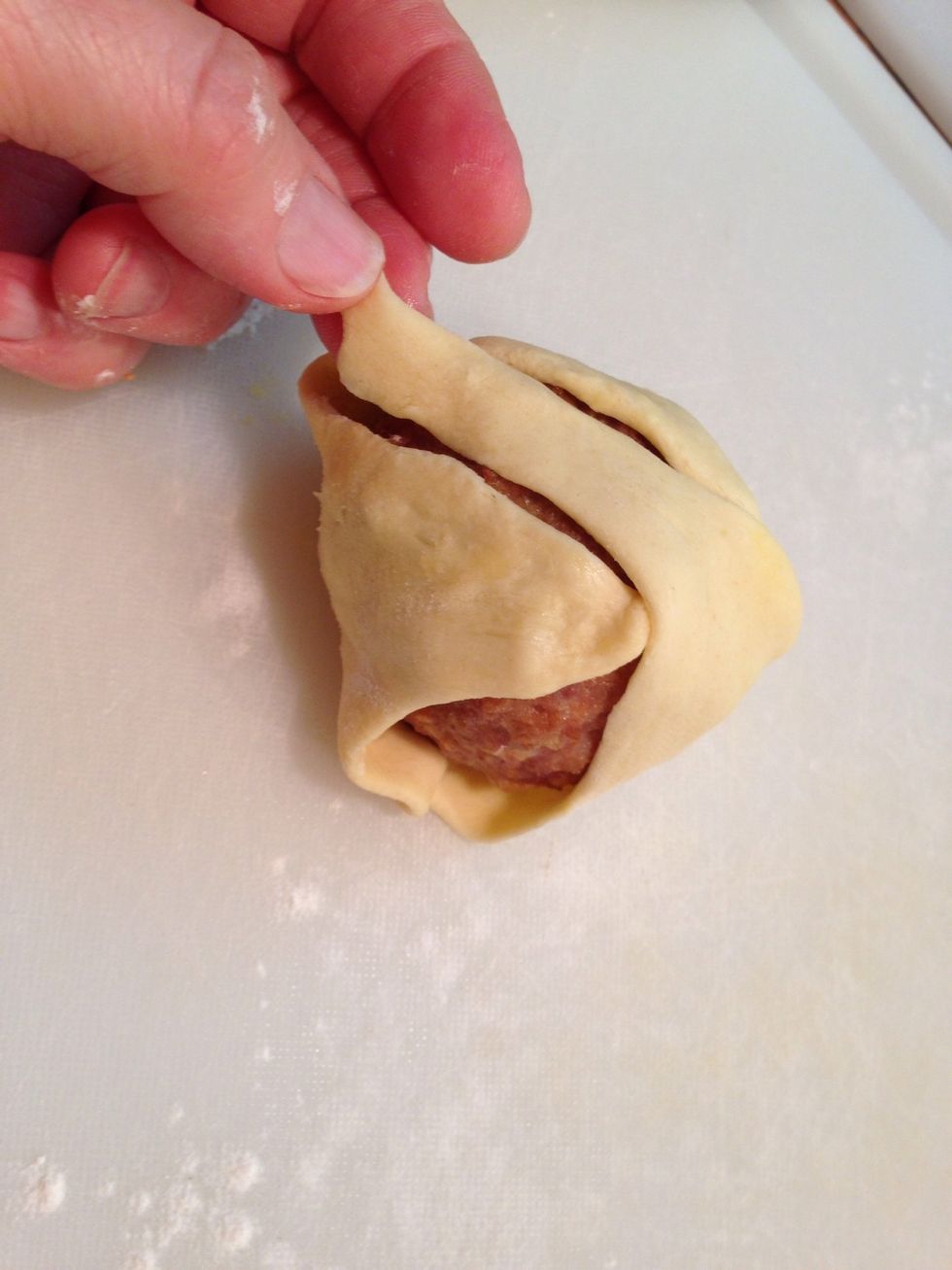 See how nicely the triangle shape covers the ball shape?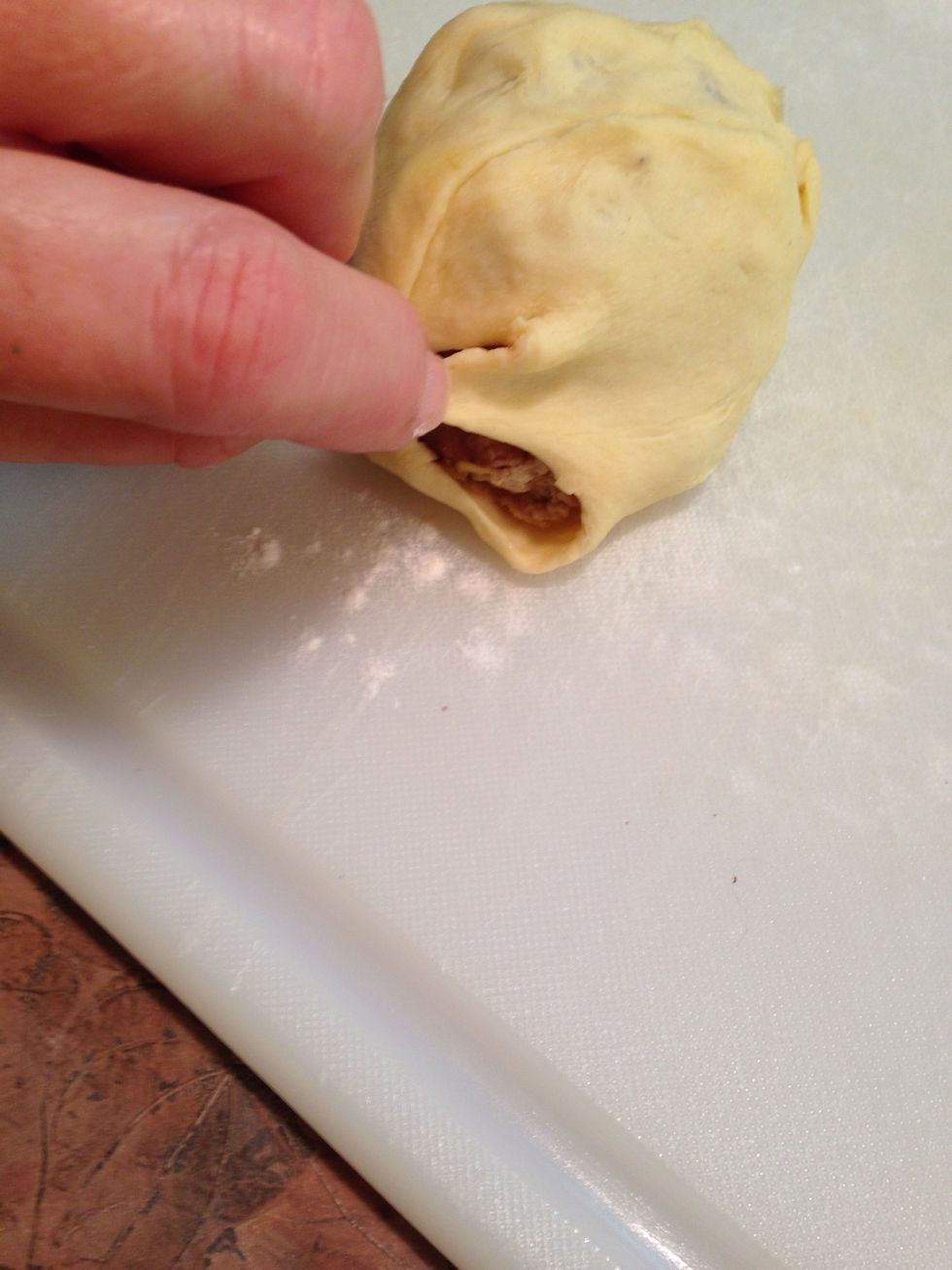 Dough is easy to stretch and pinch together as needed.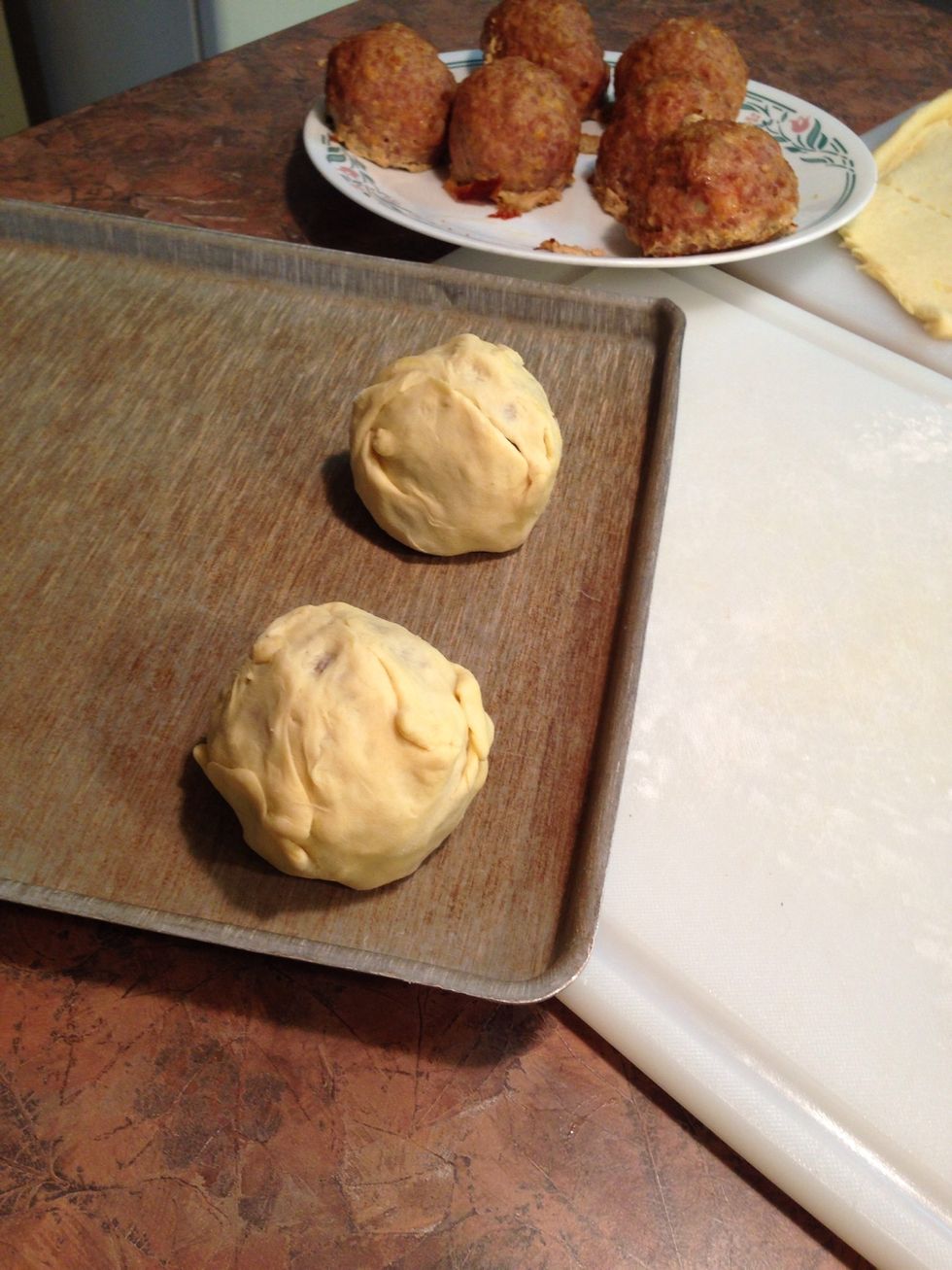 Wrap all 8 meat/egg balls as shown and place 2" apart on non-stick cookie sheet.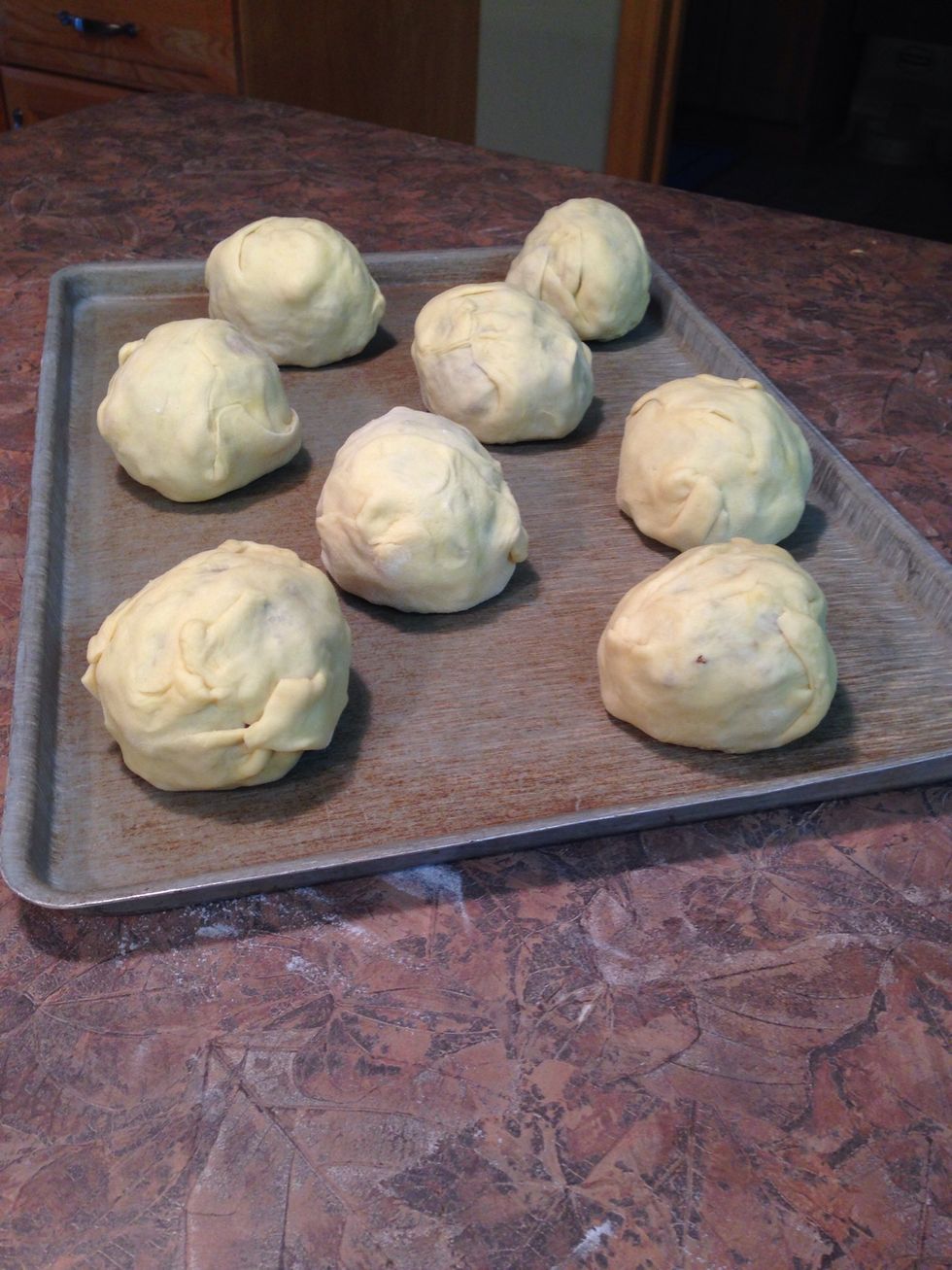 Be sure oven temp has been reduced to 375° and bake again for 12-15 minutes until golden brown.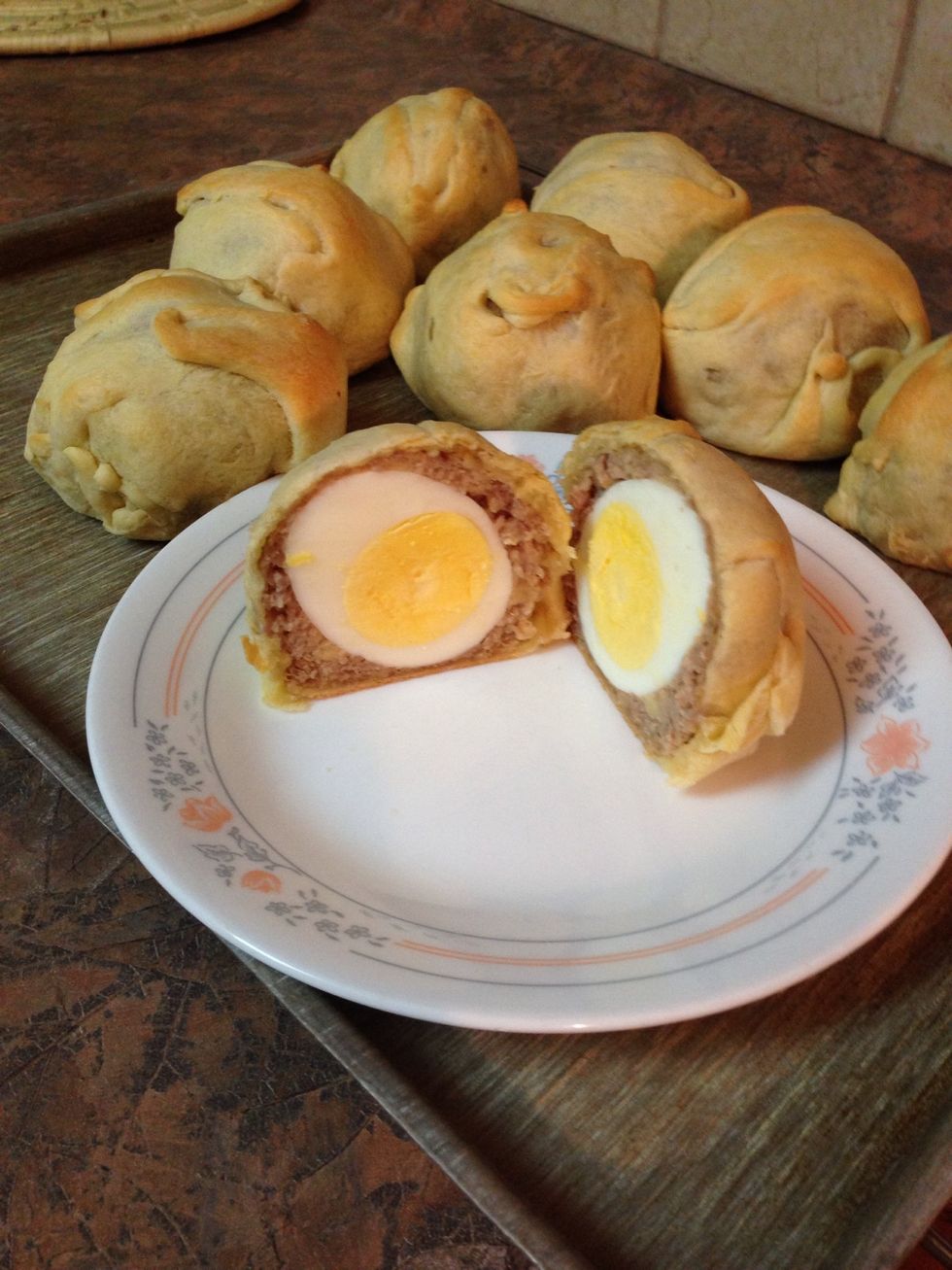 Dough bakes to a nice buttery tasty lightly crisp outside. Inside is savory browned pork and a hard boiled egg surprise inside!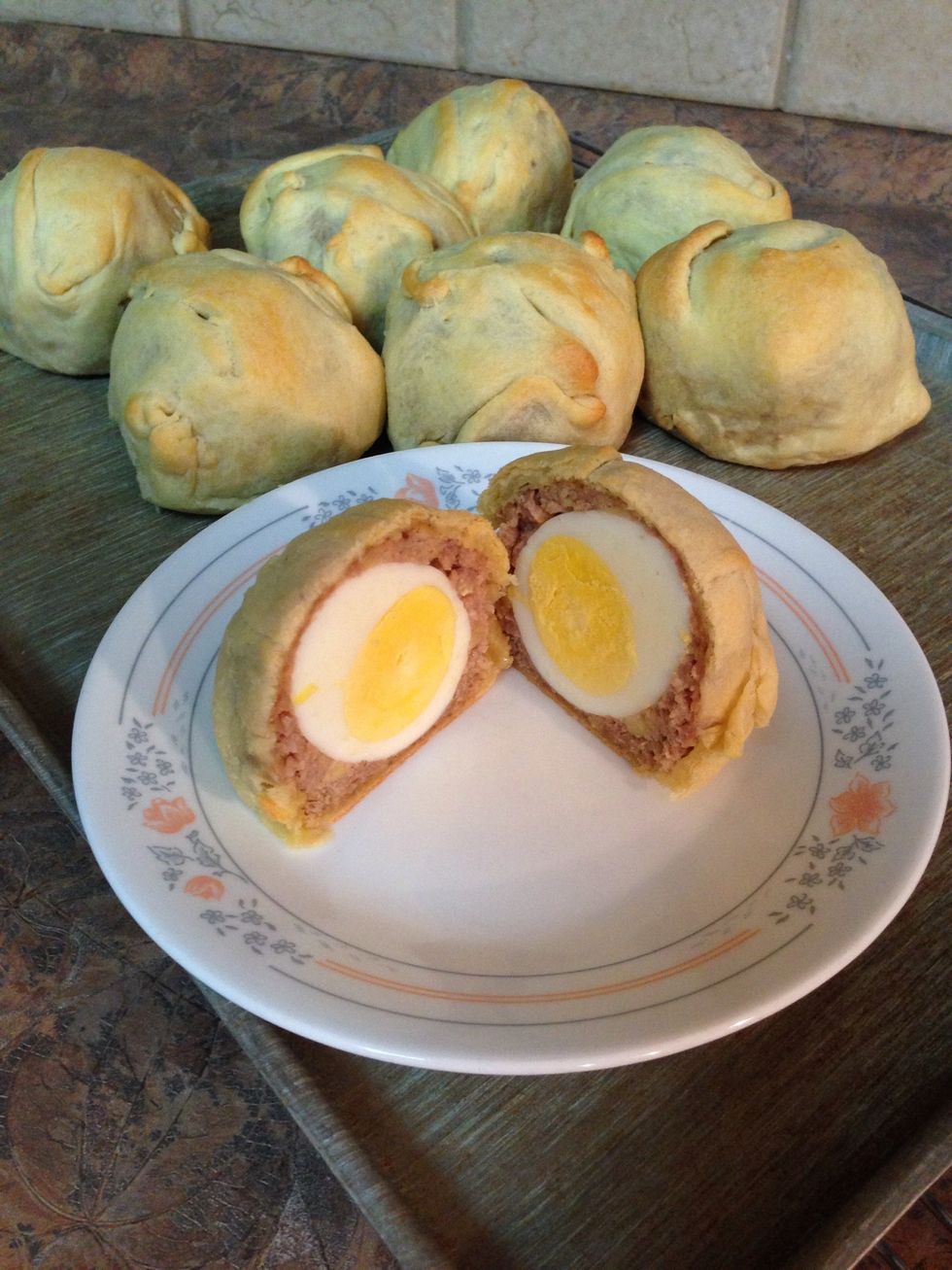 Scotch eggs look pretty cut in half. Served warm, they are hearty and delicious for any meal.
8.0 Hard boiled eggs
1.0lb Sweet bulk pork sausage
2.0 Raw eggs
6.0Tbsp Bread crumbs
8.0oz Pkg. 8 Crescent Rolls
Rollie Brandt
I've been an artist all my life and raised my children as a stay at home mom. Happily married 40 years. I love to share what I do...