With very little prep work, you'll have the masses begging for more! Simple, delicious, EASY. No bacon this time. This ones HEALTHY. Baking and olive oil. A little detour. I've got LAYERS.
3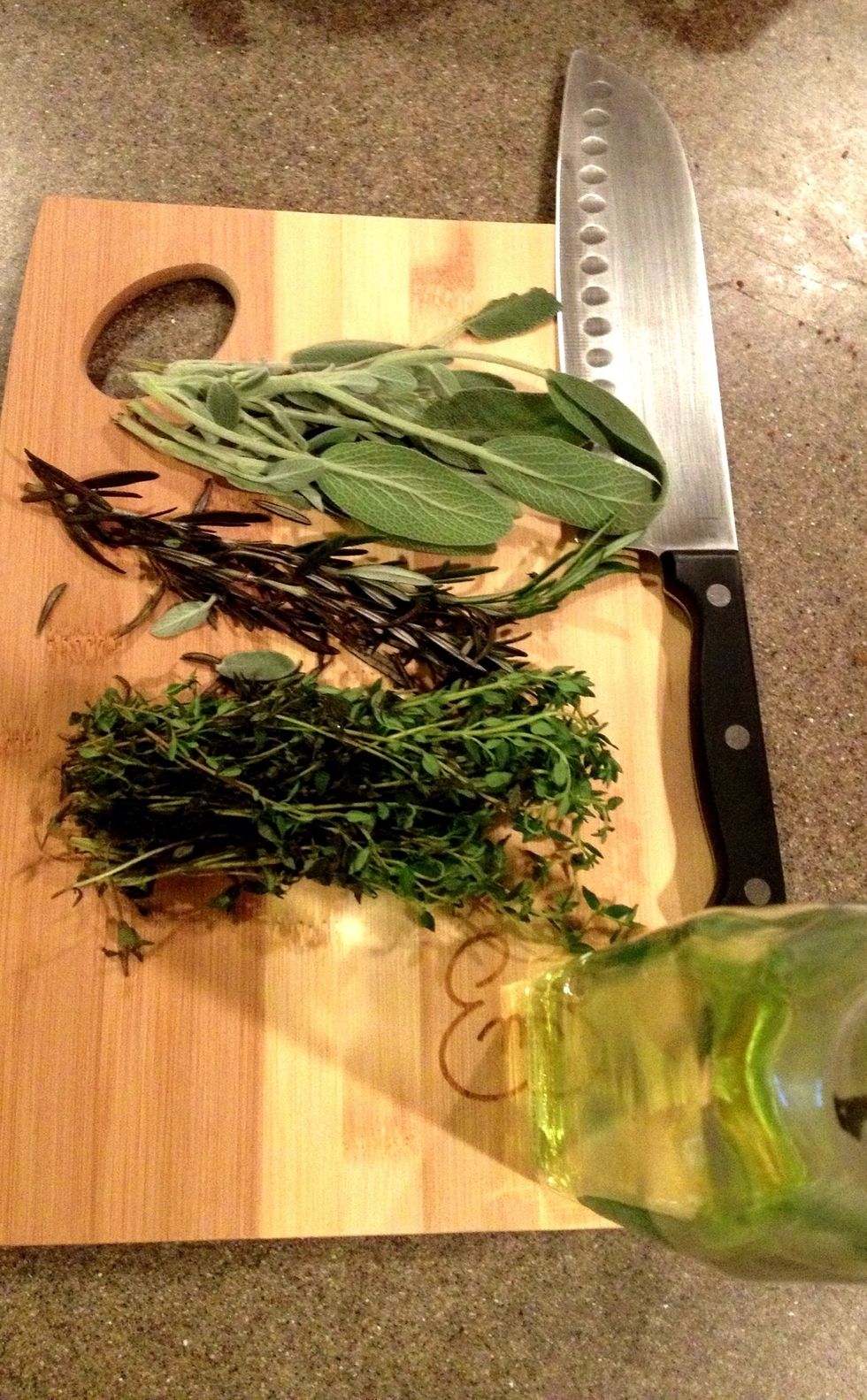 Herbs: strip the leaves from the rosemary & thyme; pull the stems off the sage. Rough chop into teeny pieces.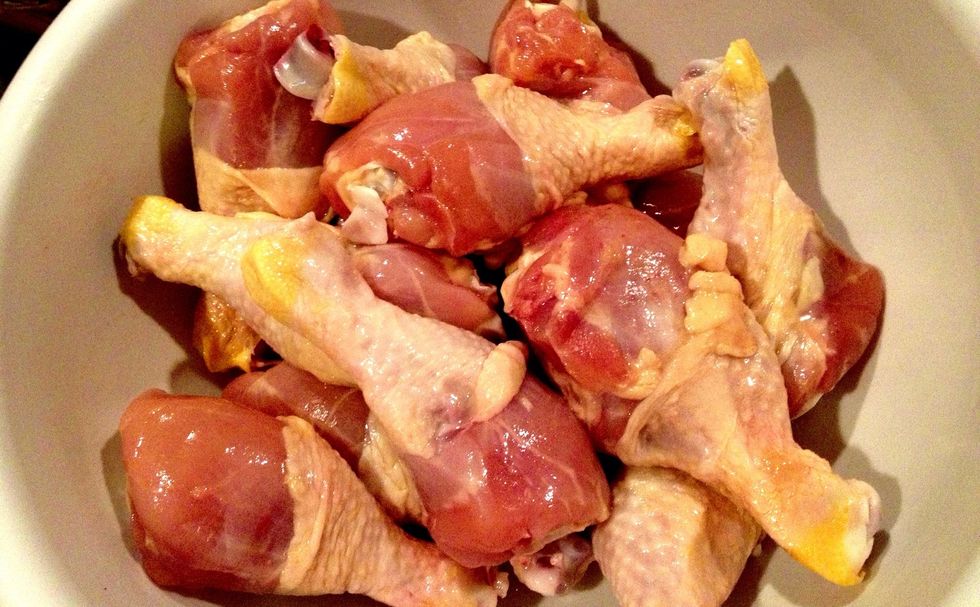 Put your chicken in a big giant bowl. You'll need room to mix it all up! PS ... You're about to get messy. Accept it.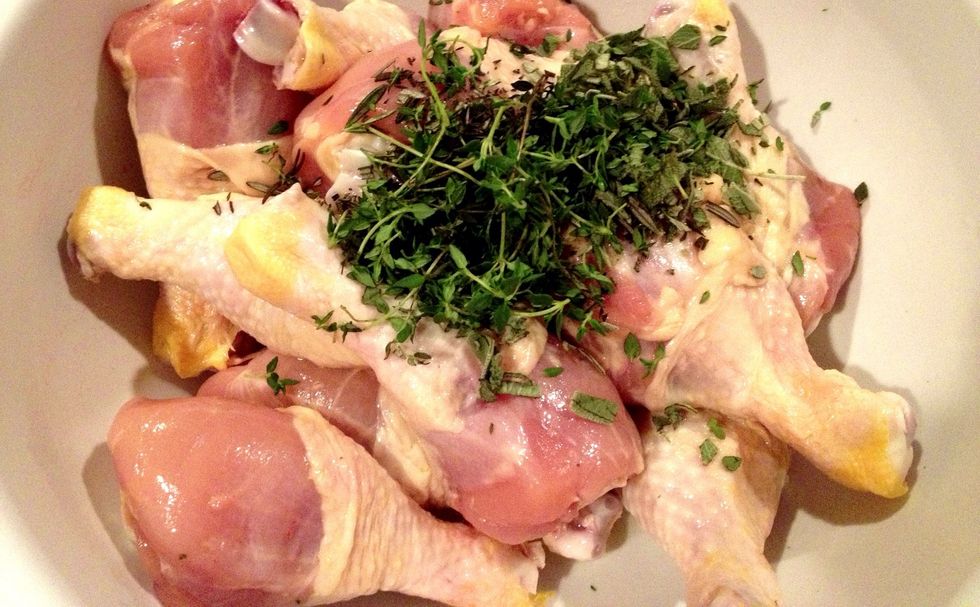 Dump your herbs in, reserving a couple tablespoons to the side. Add appx 3 tbsp of olive oil.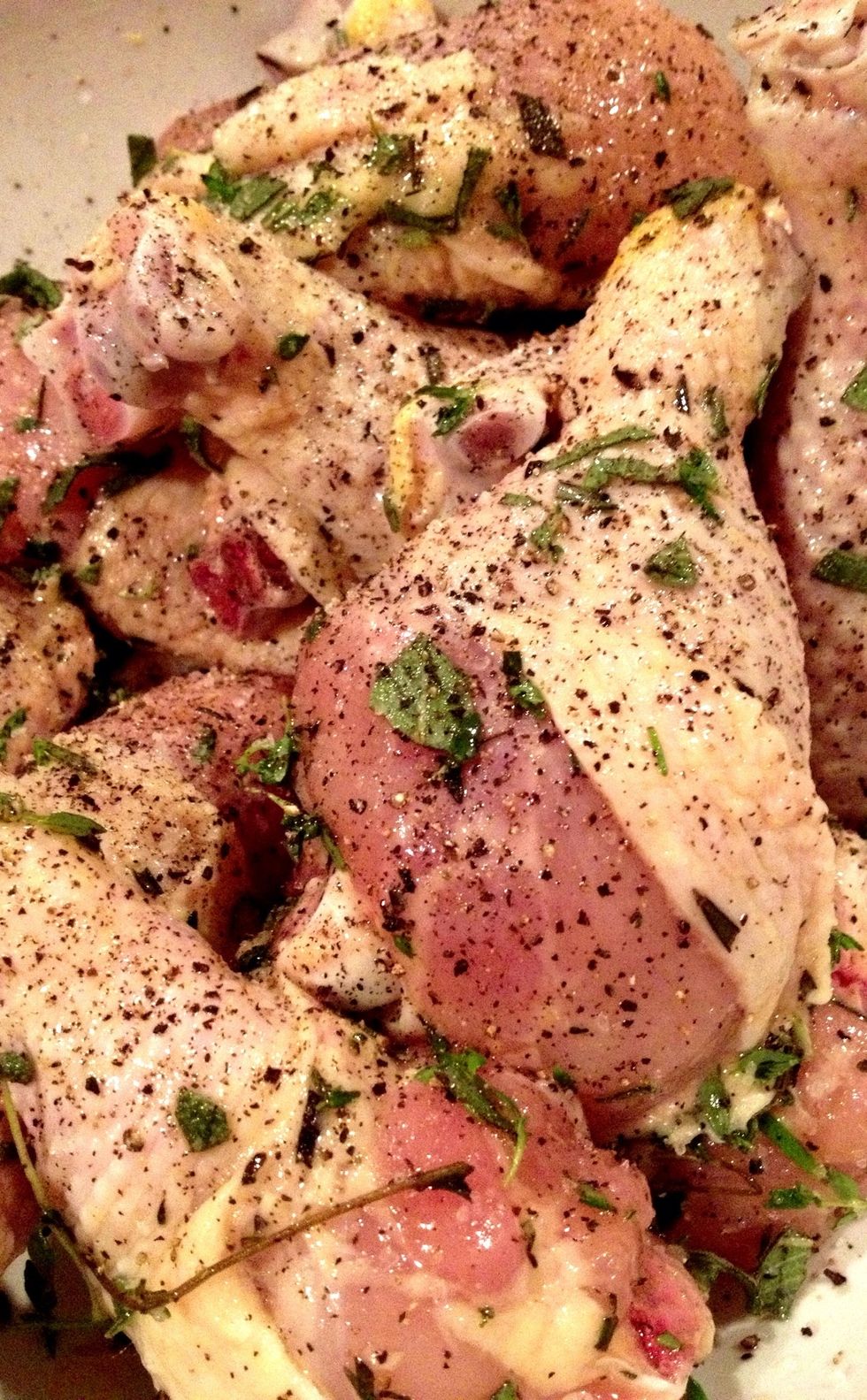 Now dig your hands in there & MIX! I added about 2 tsp each fresh ground black pepper & sea salt. Add them before you dig in. It's decidedly un-fun to clean chicken gunk off your grinder. (I've heard)
Preheat oven to 425, then bake chicken for about 25 minutes - this will vary depending which part, and how much chicken you're making. Legs, 25 mins; thighs, 30 mins; breasts, 35 mins. Estimated.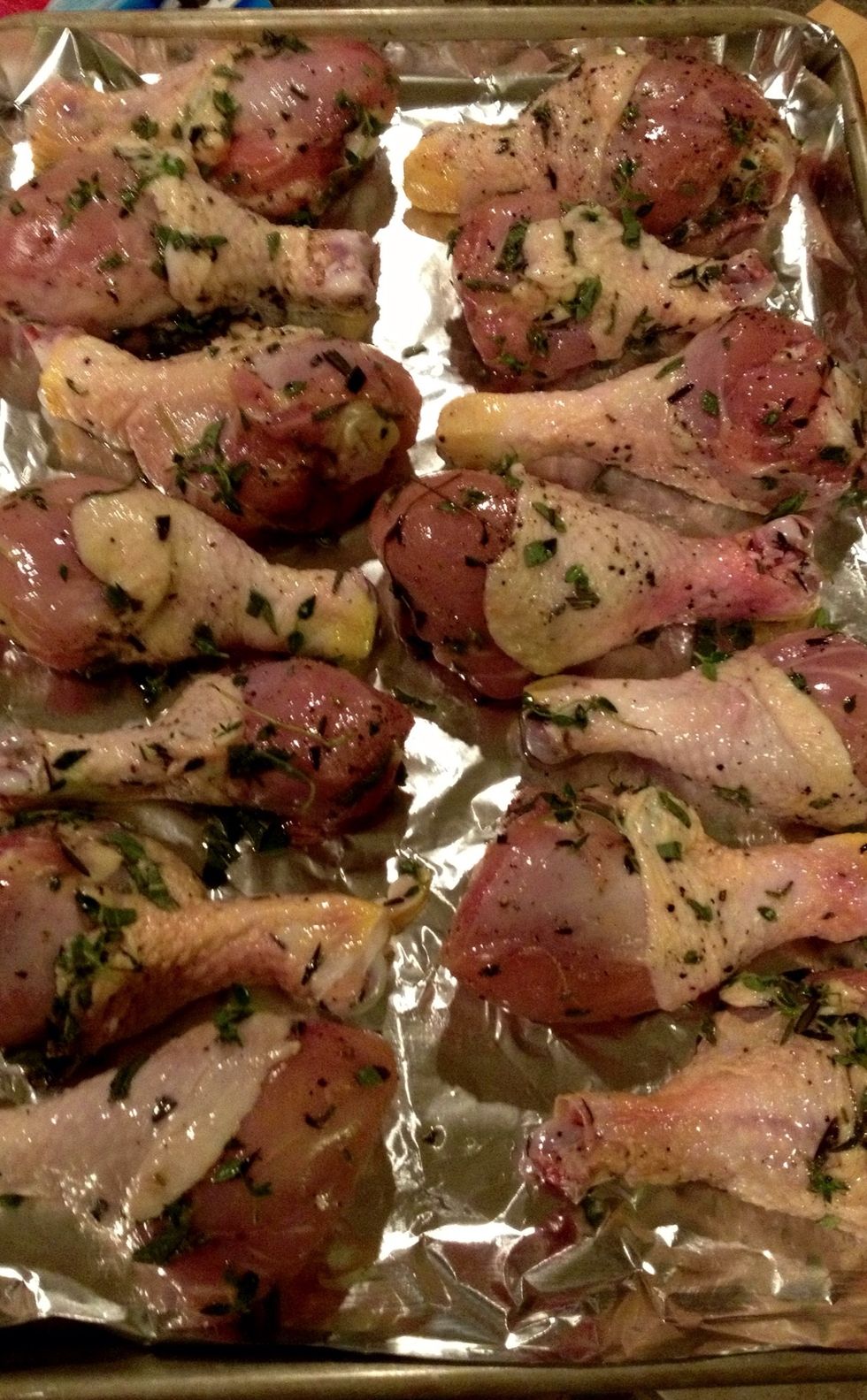 Lay your beautifully herbed chicken pieces out on a baking sheet. I put down foil to make cleanup a little easier. If you prefer hard labor cleanup, by all means skip that part.
When your chicken timer (you set one, right?) goes off, turn pieces over. Kick the heat up to 450, and repeat bake time. (For example, another 25 mins for legs).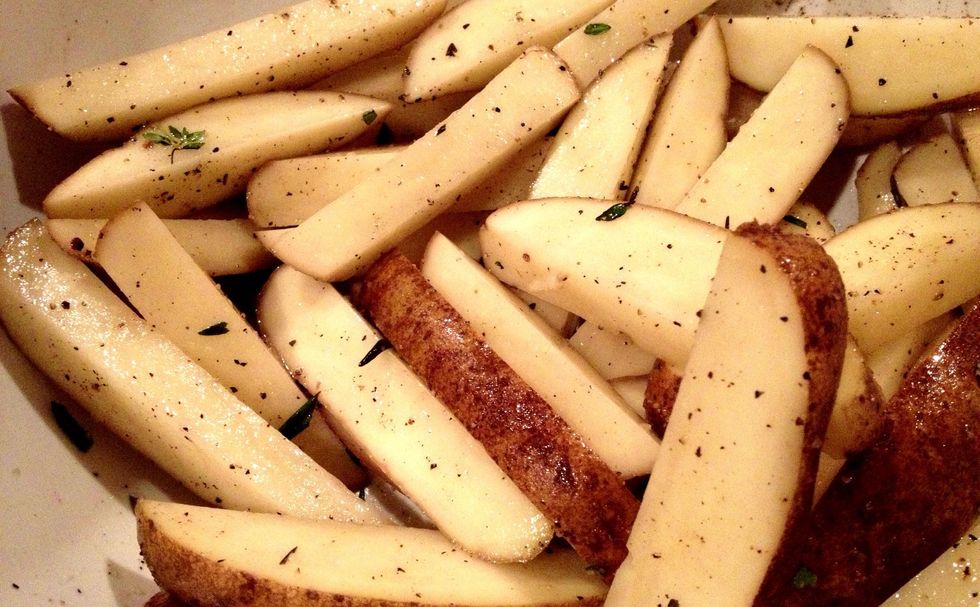 Cut potatoes into small wedges - think steak fries. The bigger the pieces, the longer the cooking time! Toss in a large bowl with 1 tbsp olive oil & the herbs you reserved. Of course, salt/pepper too.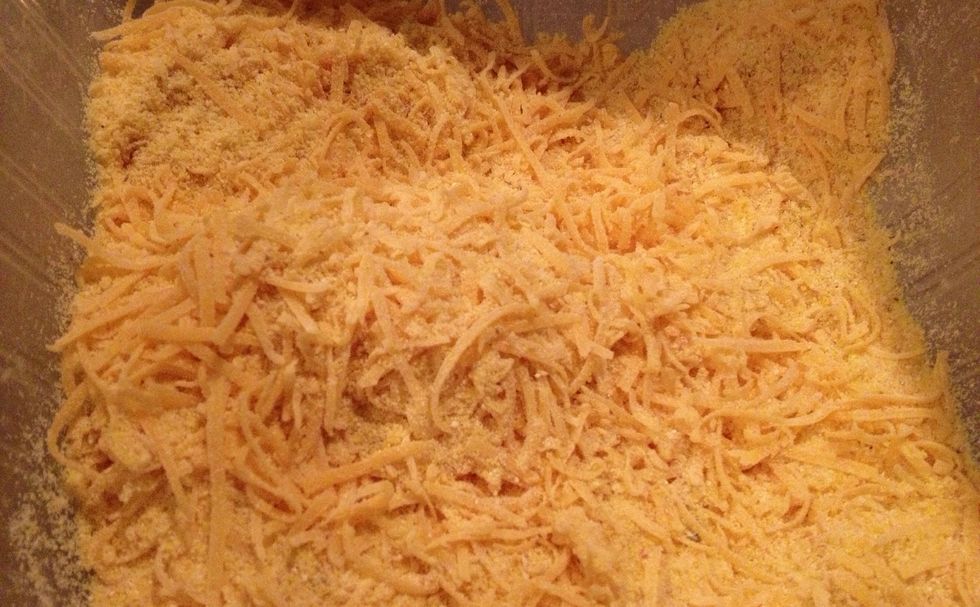 In another bowl, combine 1c finely shredded extra sharp cheddar with 1 c cornmeal. Toss potatoes, about a handful at a time, to coat. I "press" them into the mix to make it really stick.
Spread on another baking sheet in a single layer. Sprinkle any remaining mix over the top. Do not drool into the potatoes.
The potatoes need about 25 mins to be perfect, so add them at the appropriate time. I know some of you like to eat chicken skin. To crisp it up, turn the broiler on & give it a few mins.
WATCH THE CHICKEN CAREFULLY. The broiler will burn it in no time (I've heard). If your broiler is IN your oven (instead of a drawer underneath) take the potatoes out prior to broiling.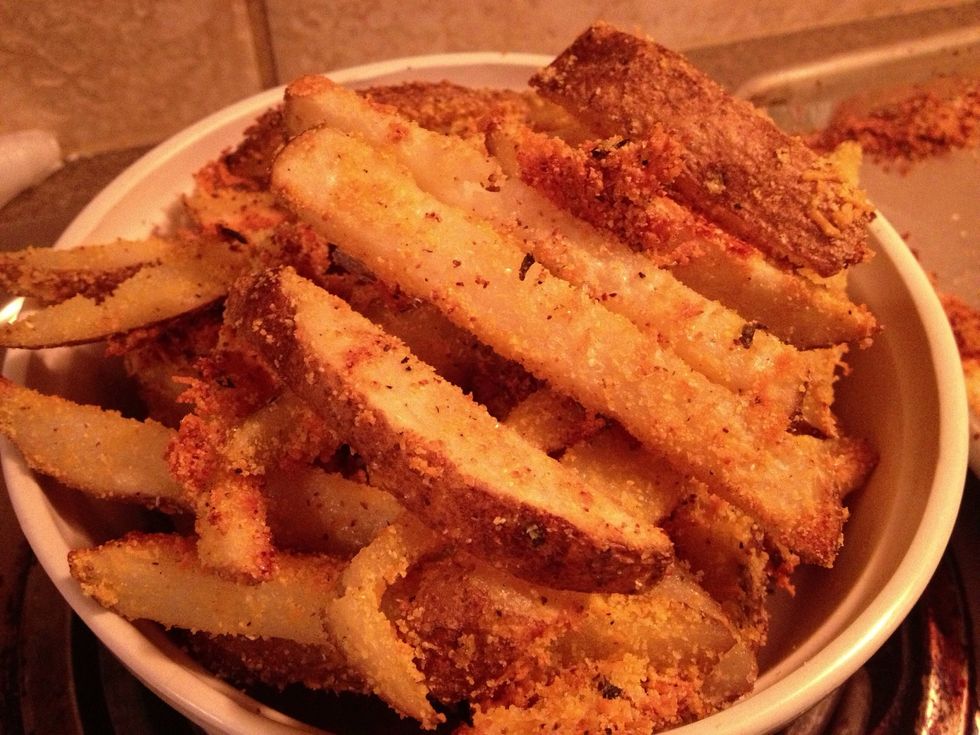 See how pretty? Crispy cheesy outsides, tender delicious insides.
Although it didn't come through very well in this photo, this is nicely browned, HEAVENLY smelling chicken. Well, obviously the scent didn't come through. Obviously. Eat up!
4.0lb Bone In, skin on chicken (leg, thigh, or breast)
5.0 Russet potatoes
5.0Tbsp Olive oil, separated into 3 and 2 tbsp
2.0Tbsp Fresh sage
2.0Tbsp Fresh rosemary
2.0Tbsp Fresh thyme
1.0c Cornmeal
1.0c Fine shredded extra sharp cheddar
Sea salt & fresh ground pepper
Cupcakes & Crowbars ™
Amateur chef, professional baker, blogger, photographer, & crafty person. Mom to four. I love sharing recipes & ideas!