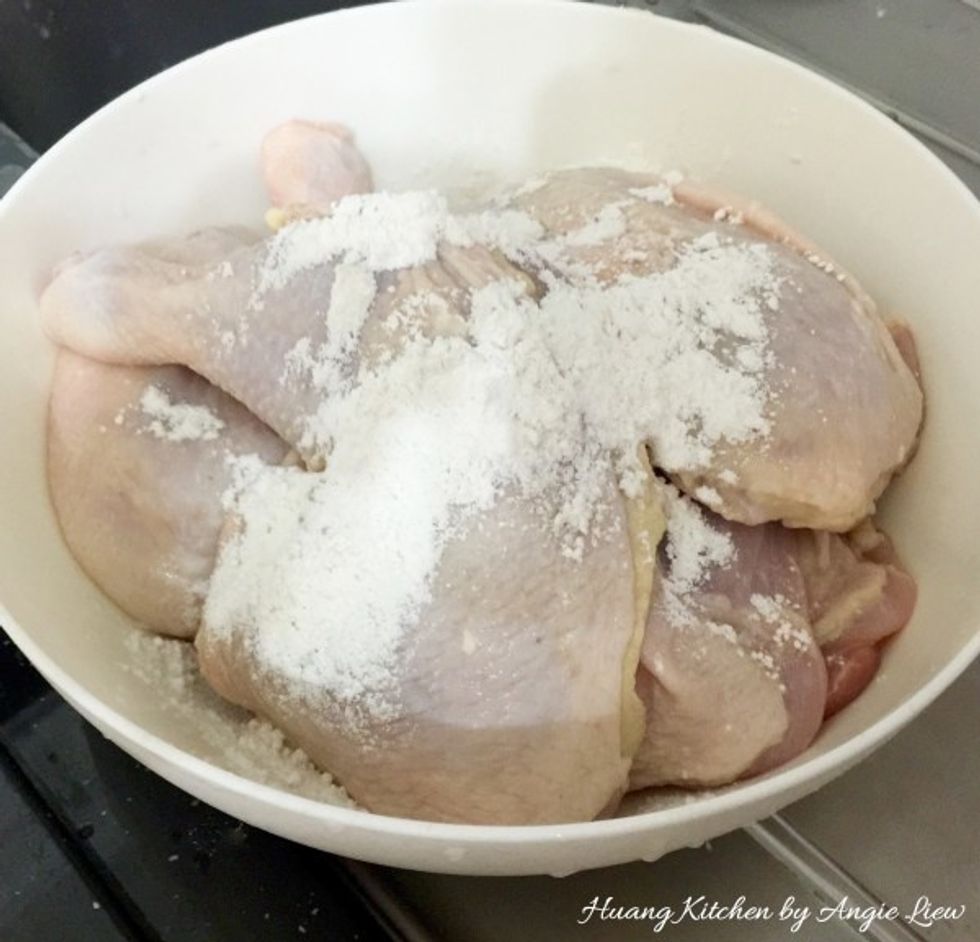 First clean the chicken. Wash, coat and rub all-purpose flour into chicken. Then rinse and drain well.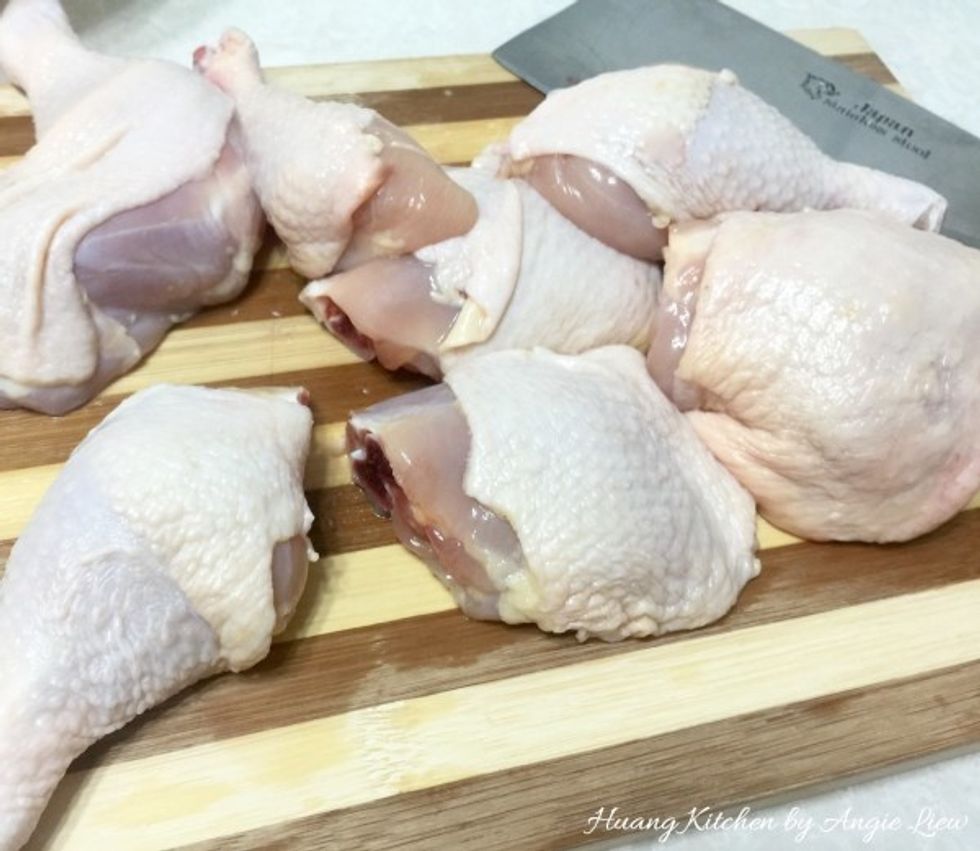 Cut the chicken into medium size pieces or as desired.
Have ready all the ingredients needed.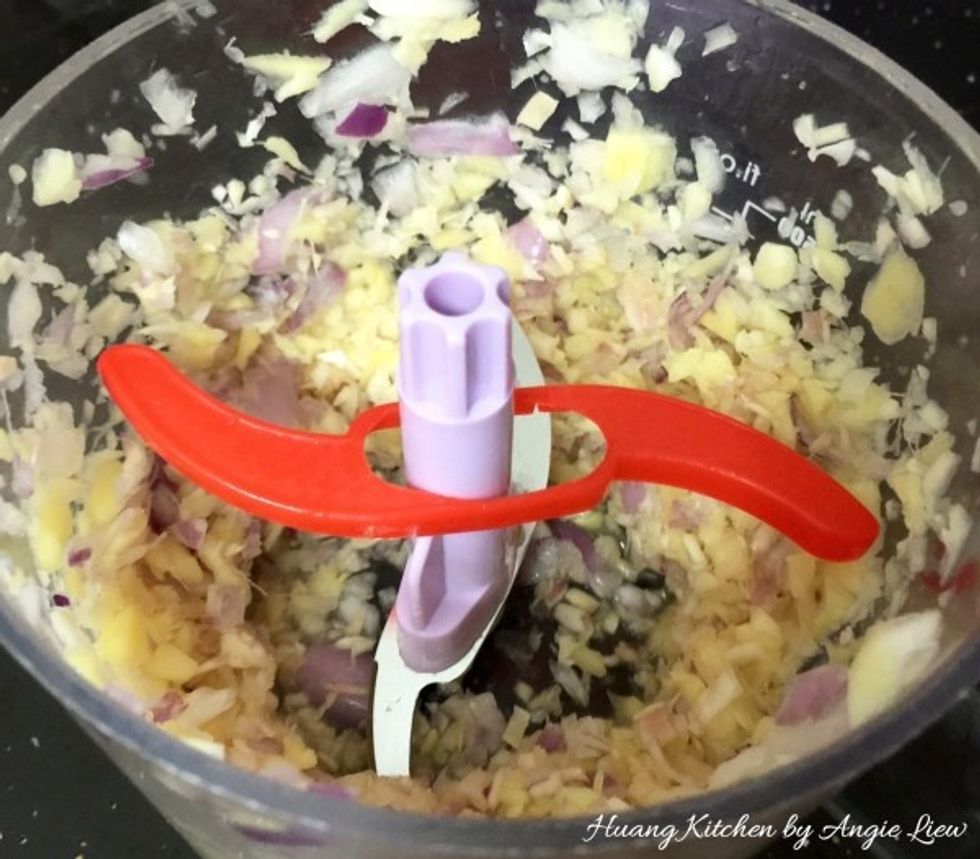 Blend coarsely lemongrass, shallots, garlic and ginger. Add a little water when grinding.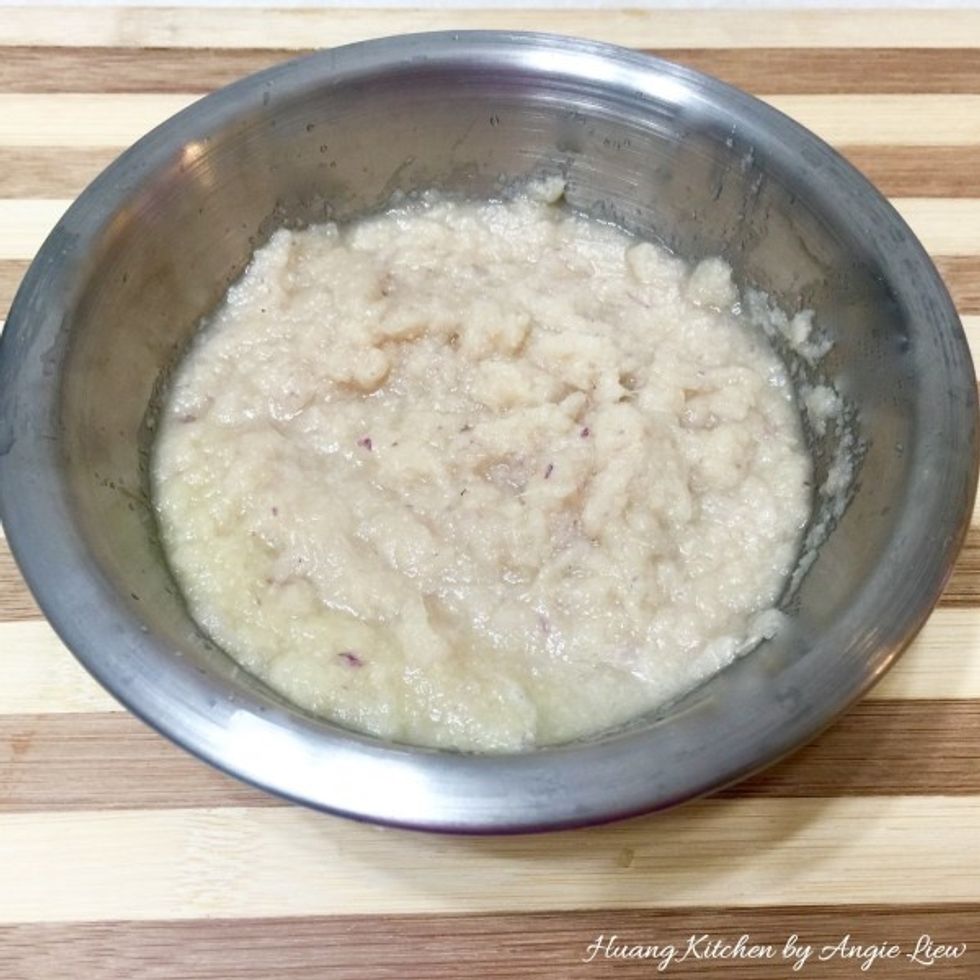 Transfer the coarsely blended spice into a bowl. Set aside for later use.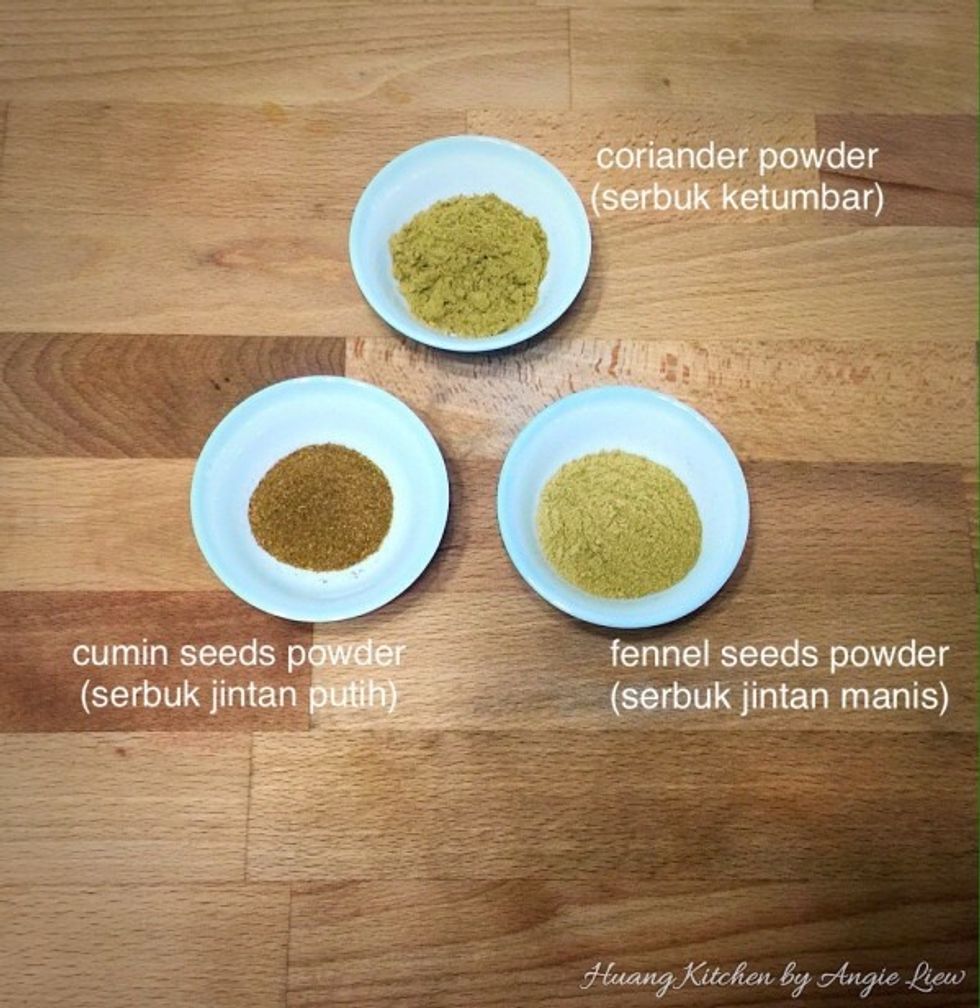 Next, blend finely the ketumbar, jintan manis and jintan putih seeds. You can also choose to buy these spices in powdered form.
Mix well all coarsely and finely ground spices, chili paste and turmeric powder in a bowl.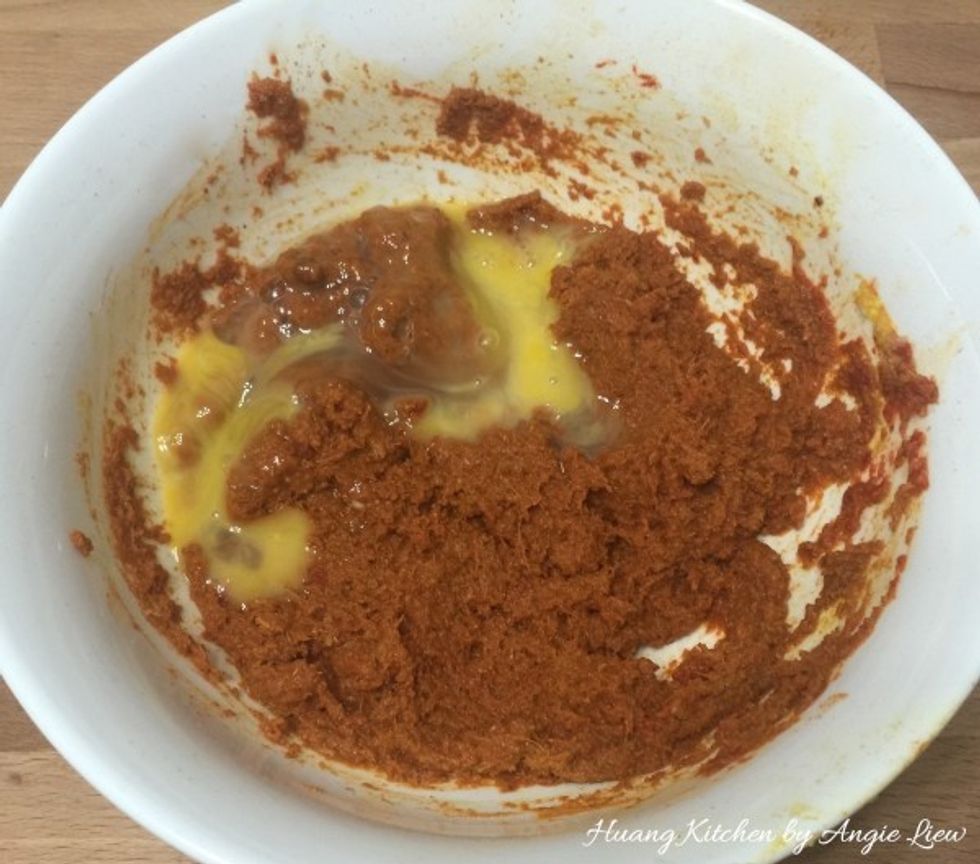 Then mix in one egg.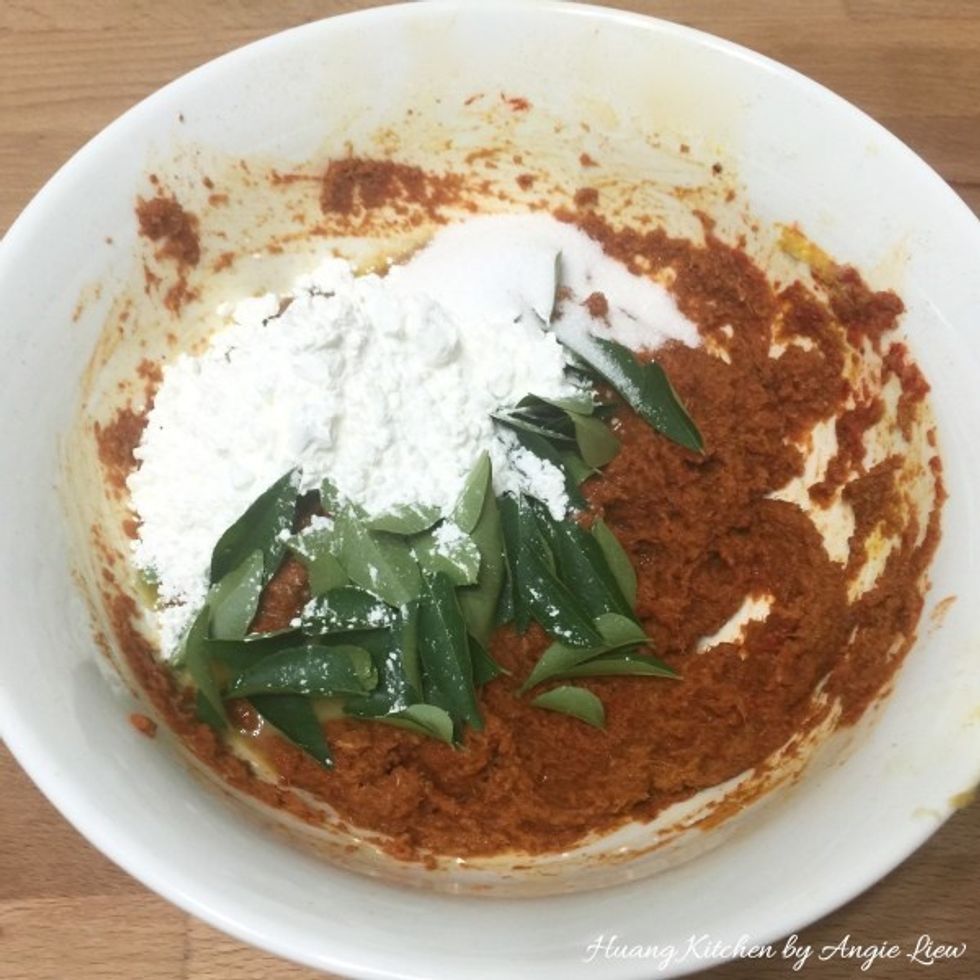 Followed by curry leaves and cornflour.
Mix everything until well combined. Add salt and sugar to taste.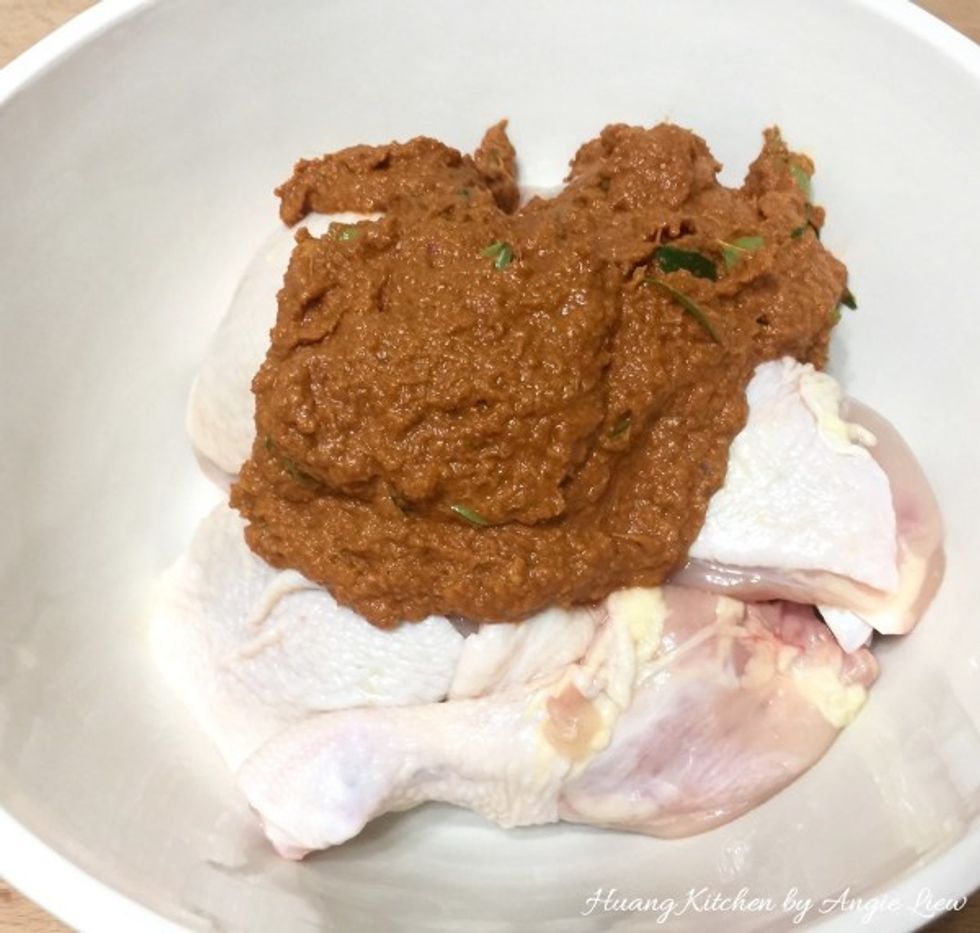 Then add the fresh herb paste into the chicken pieces.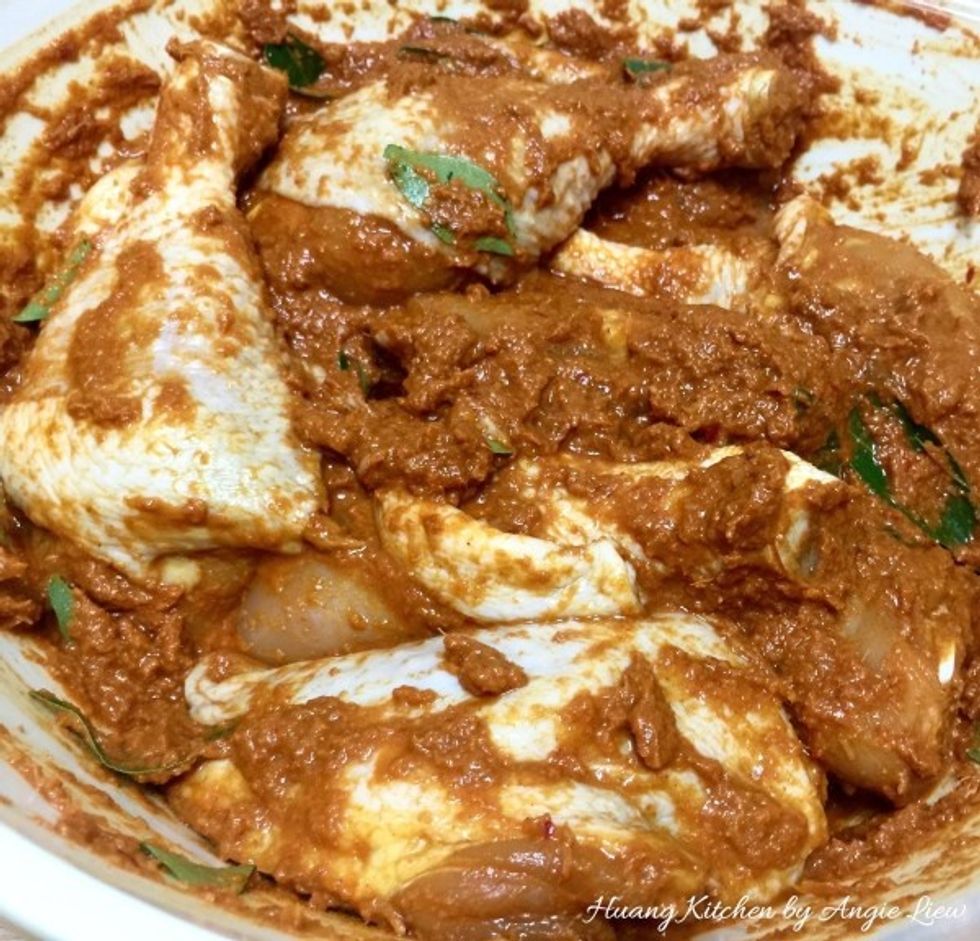 Mix with your hands until chicken is thoroughly covered with the aromatic spices and seasoning.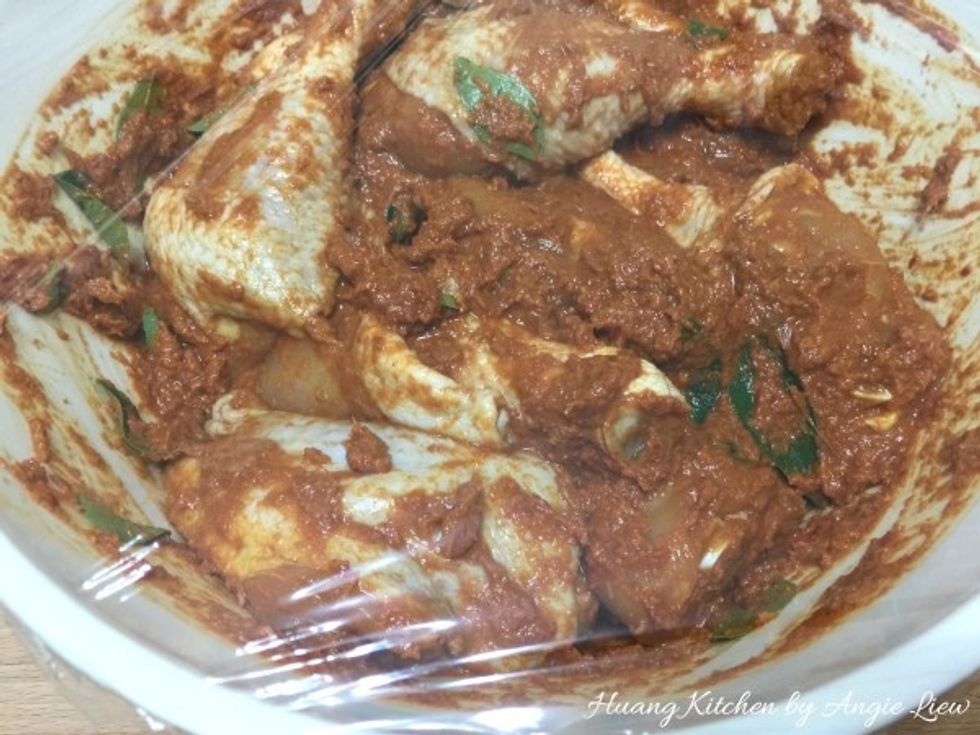 A long and sufficient marinating time is quite important so cover with plastic wrap and leave to marinate in the refrigerator for several hours, preferably overnight.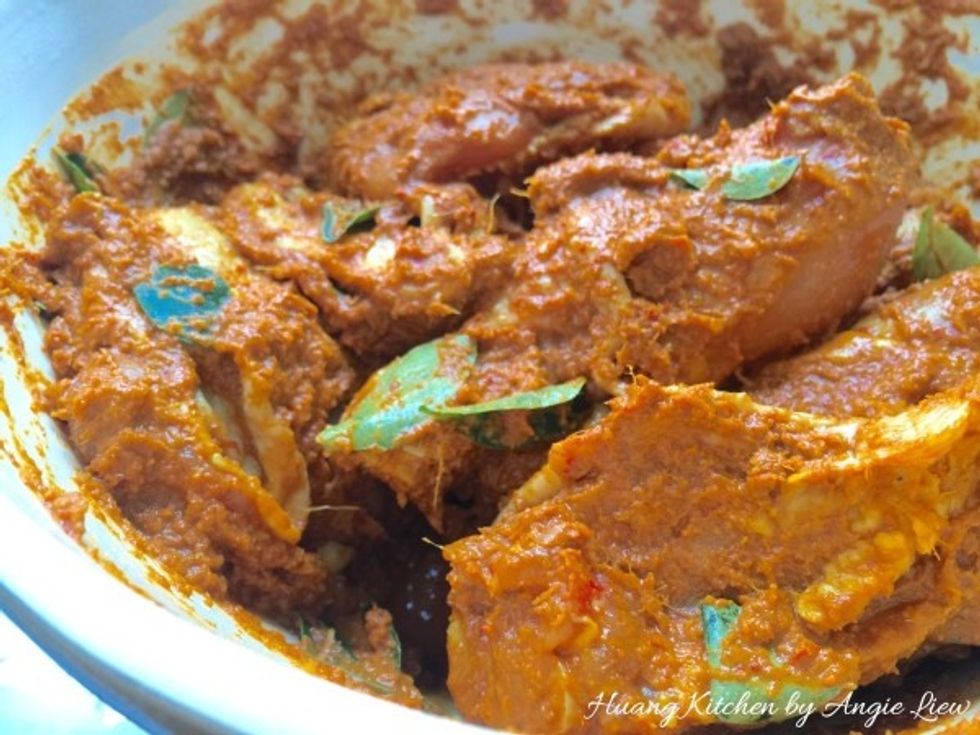 Remove marinated chicken from refrigerator 1 hour before frying so the inside of chicken meat isn't cold. Otherwise, we will end up with meat that is burnt on the outside but raw on the inside.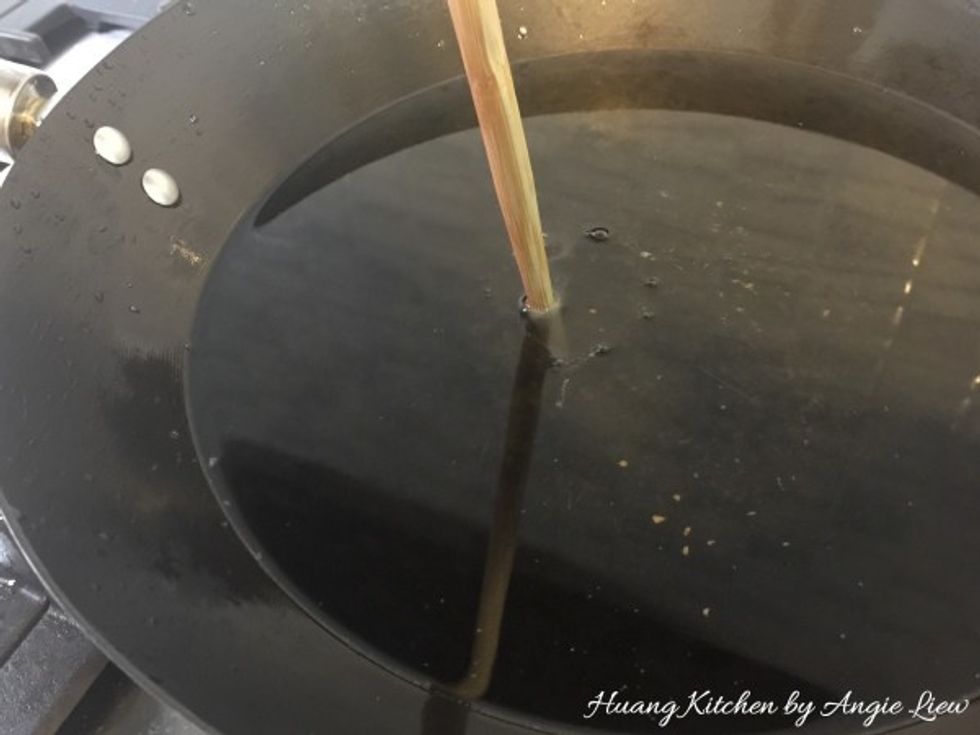 Heat up enough oil to fry the chicken over high heat. Oil is ready for frying when oil bubbles appear around the stick. (Or you can drop a small curry leaf in and it sizzles and bubbles.)
When oil is ready, fry some stalks of curry leaves for about 2-3 minutes over medium to low heat. Curry leaves release a strong curry-like fragrance with a citrus overtone.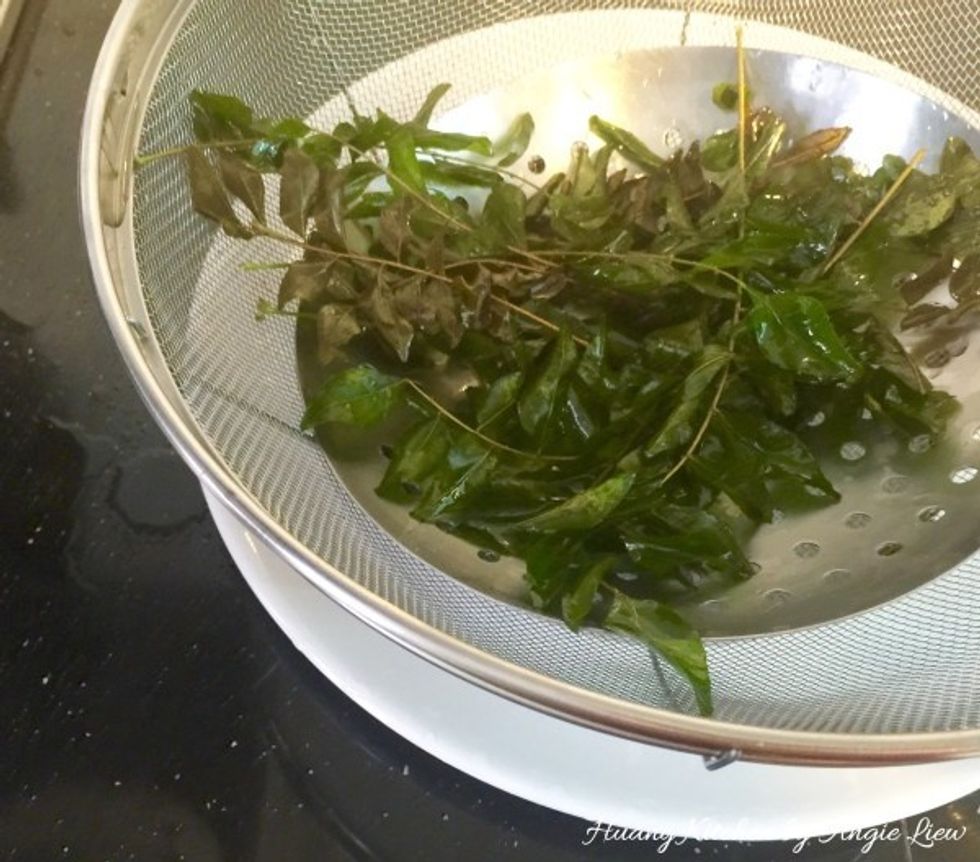 Then remove the fried curry leaves from the oil using a strainer. Set aside the fried curry leaves for garnishing.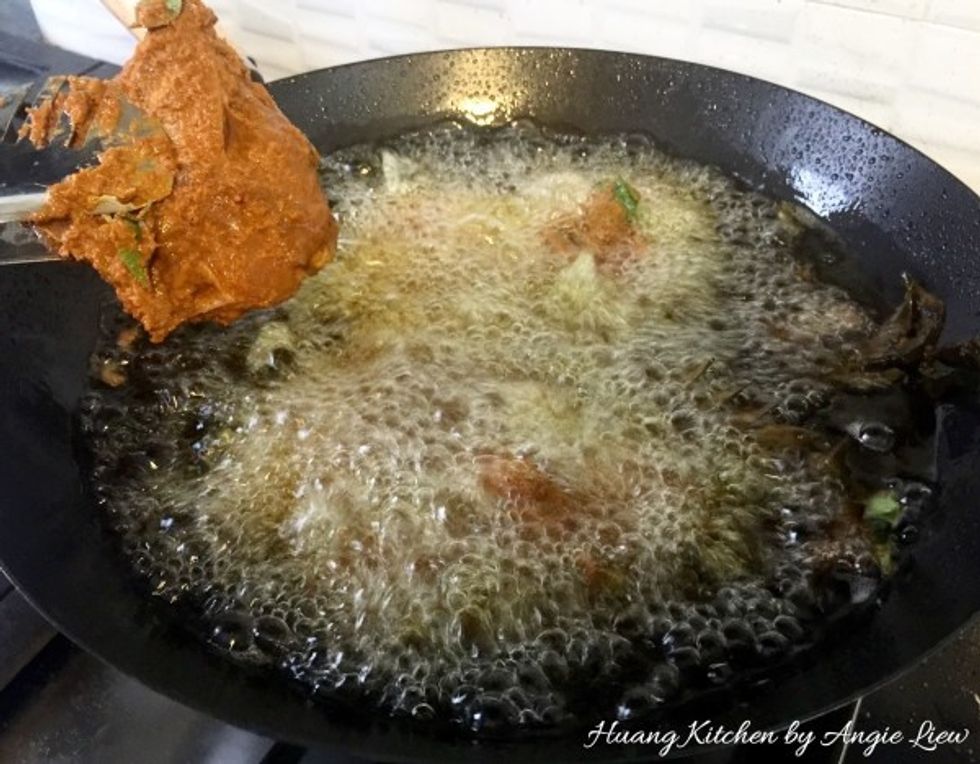 Next, put in marinated chicken into the curry leaves infused hot oil, piece by piece. In batches, deep fry for 15 to 20 minutes until chicken is crispy, golden brown in colour and juices run clear.
Once done, remove the fried chicken from oil using strainer.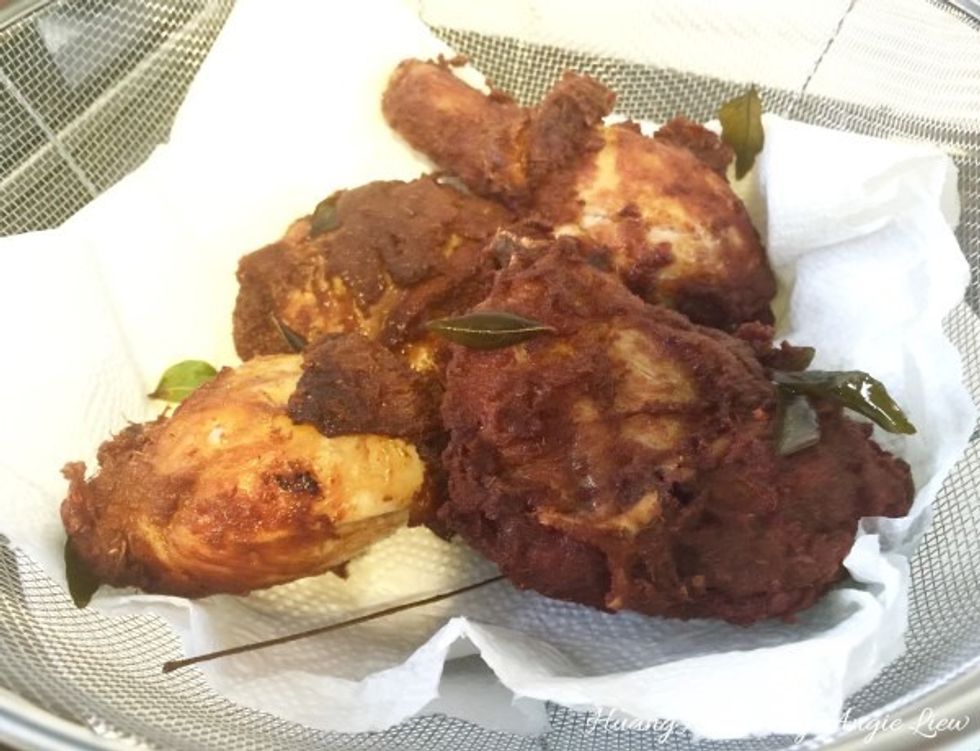 Drain the fried chicken on paper towel to remove excess oil.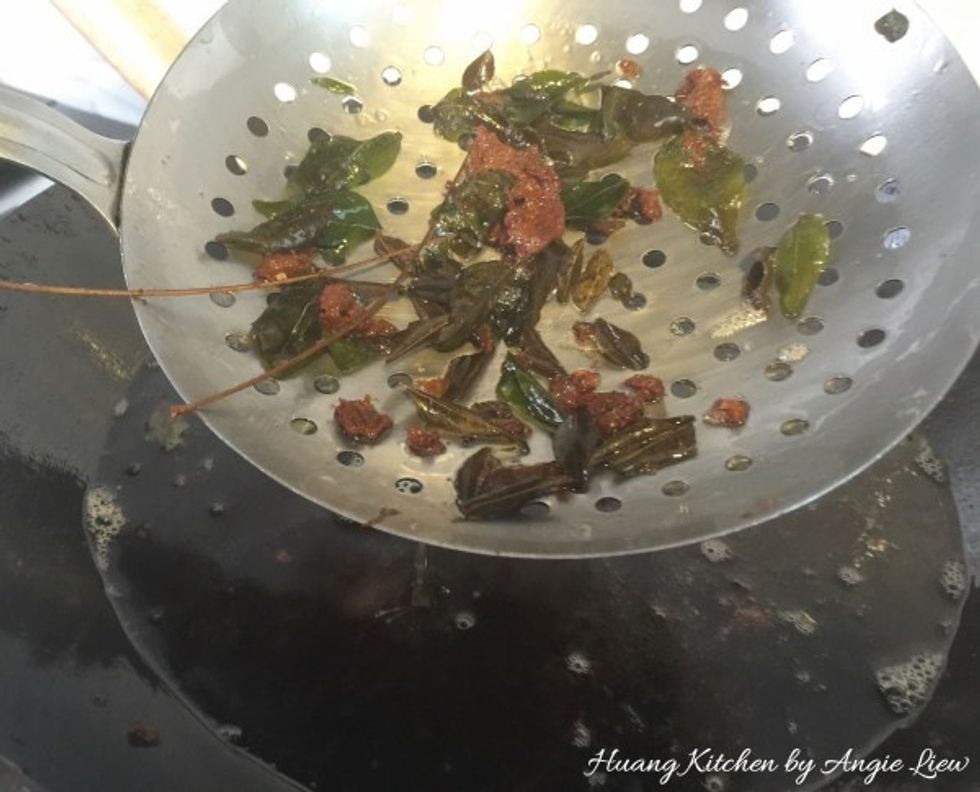 Also remove the fried spiced crumbs from the oil and set aside to drain off excess oil. Do not throw away these spiced crumbs as that is one of the tastiest part. And we're done!
Serve them hot garnished with the fried curry leaves and crispy fried spiced crumbs for extra flavour.
This crispy chicken is just perfect with some homemade Malaysia's traditional coconut rice. So ENJOY! For more, do visit http://www.huangkitchen.com/ayam-goreng-berempah/
6.0 chicken whole legs
2.0Tbsp all-purpose flour
2.0bnch curry leaves
1.0Tbsp dried chillies, ground
1/2tsp turmeric powder
3.0Tbsp salt
1.0tsp sugar
3.0Tbsp cornflour
1.0 egg, lightly beaten
2.0Tbsp meat curry powder
10.0g ginger, skinned (Coarsely Ground Ingredients)
6.0 garlic, skinned (Coarsely Ground Ingredients)
12.0 shallots, skinned (Coarsely Ground Ingredients)
6.0 lemongrass (Coarsely Ground Ingredients)
3.0Tbsp water (Coarsely Ground Ingredients)
1/2Tbsp coriander powder (Finely Ground Ingredients)
1/2Tbsp fennel powder (Finely Ground Ingredients)
1.0Tbsp cumin powder (Finely Ground Ingredients)
Huang Kitchen
For more step-by-step recipes and cooking tips, visit my website at \nhttp://www.huangkitchen.com