These kale chips are addicting! And by making them yourself, you can save money and customize the flavor. The secret to the crunch is using a food dehydrator.
448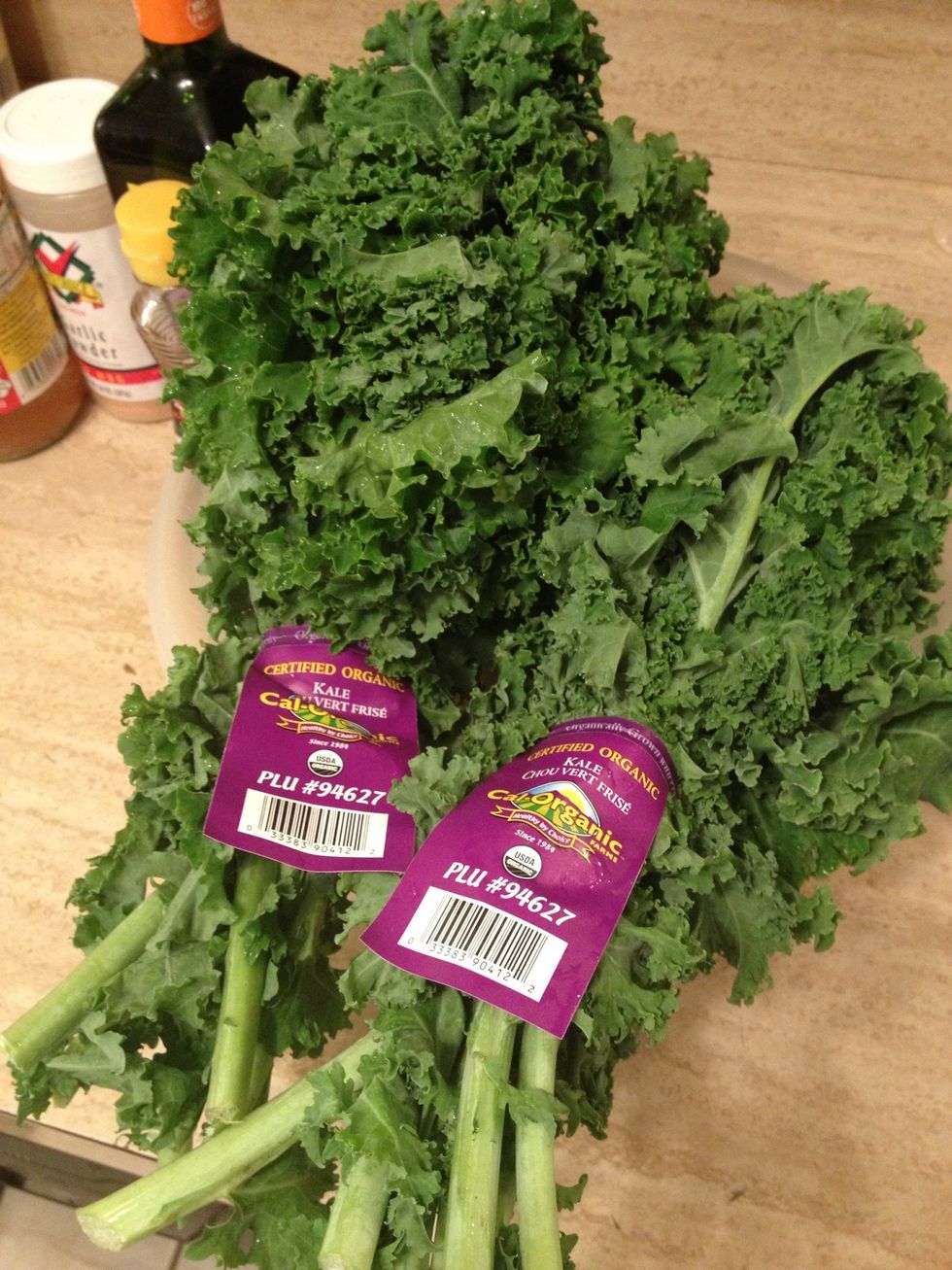 Start with fresh Kale. If you can, get organic or from a farmers market. That will yield the very best quality(outside of growing your own of course).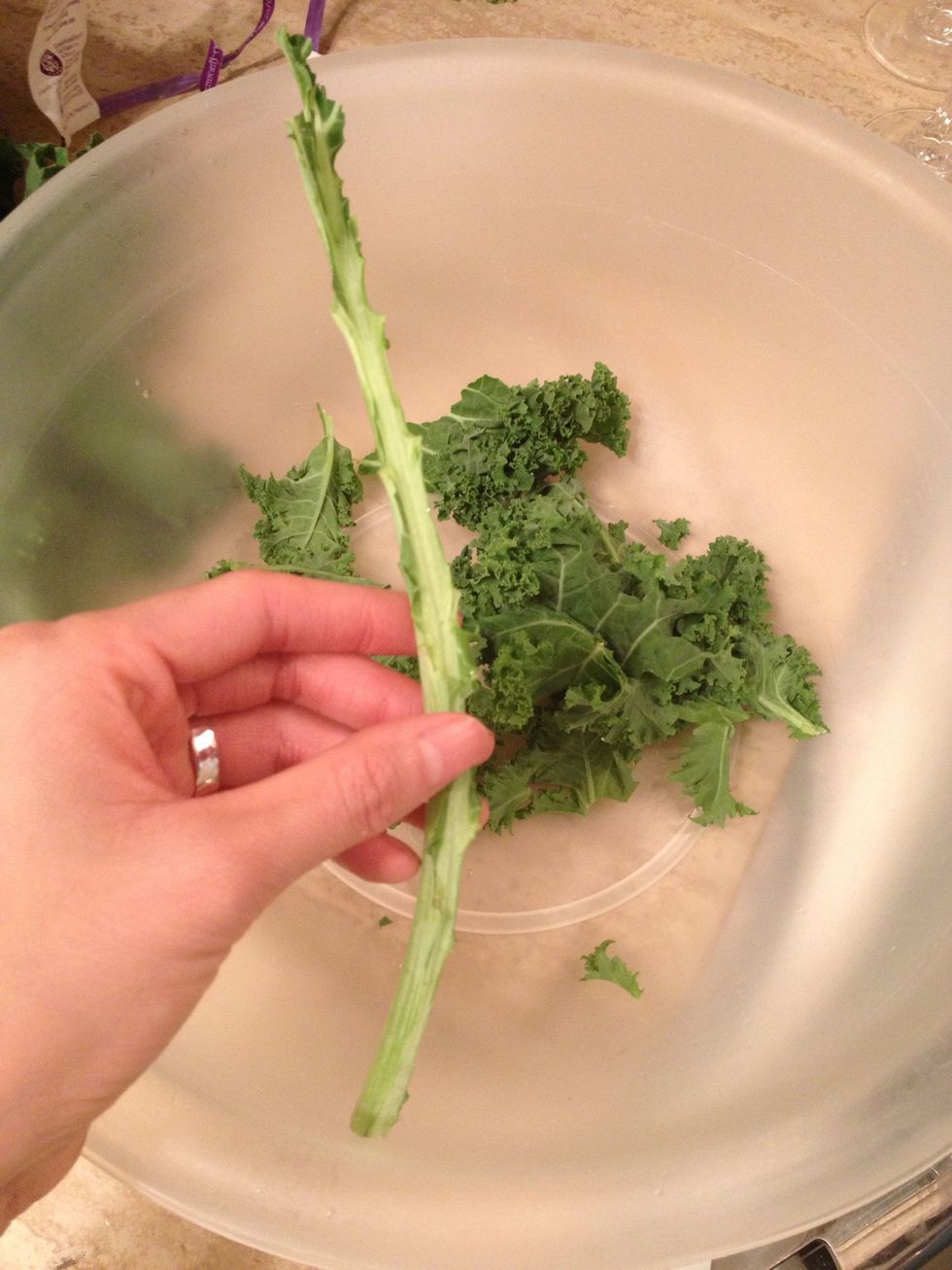 Begin by tearing the leaves off the stalk like this. Save the stalks for composting/feeding your pigs/ or blending in a smoothie.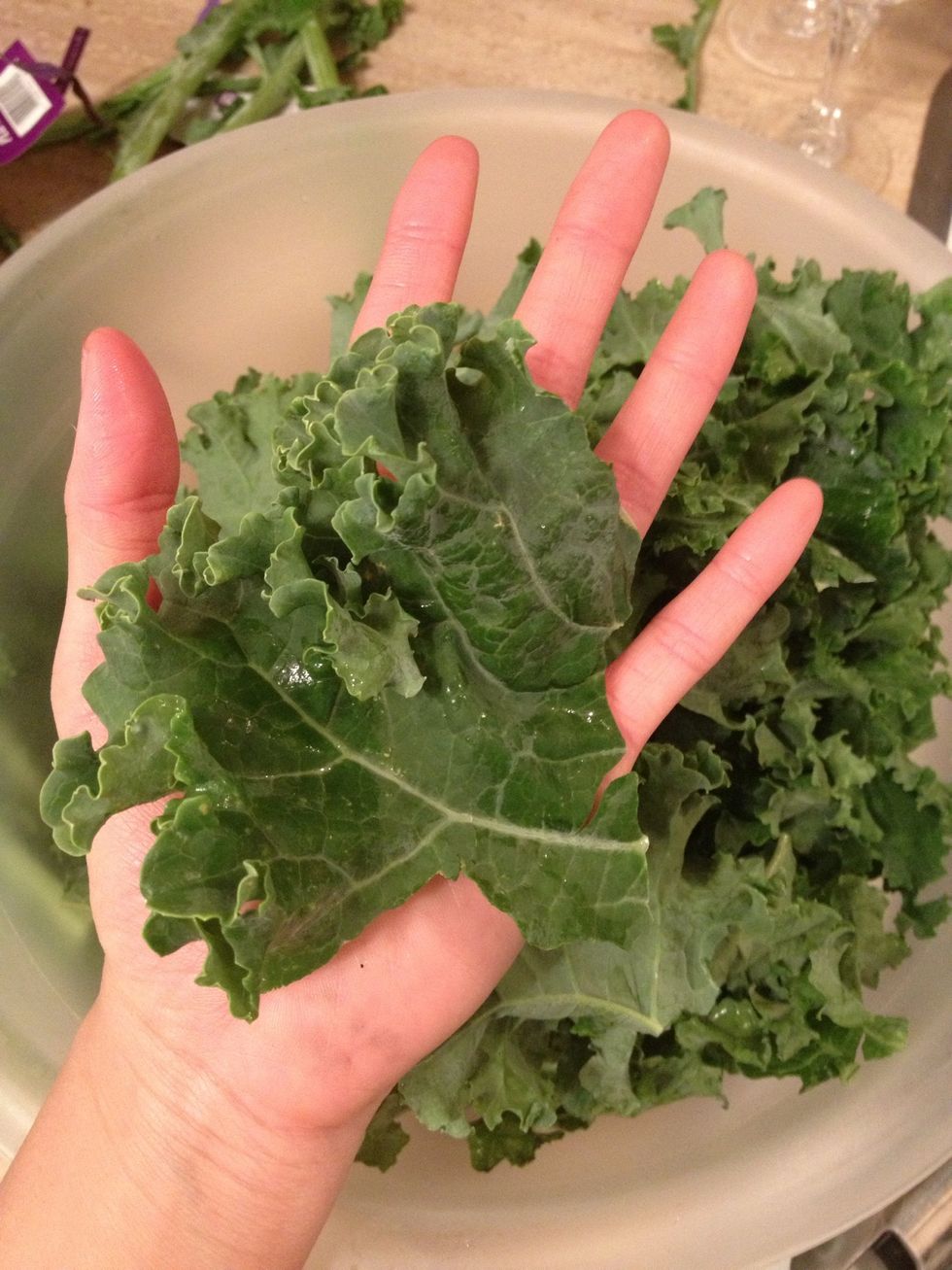 I like to keep them in large pieces like this.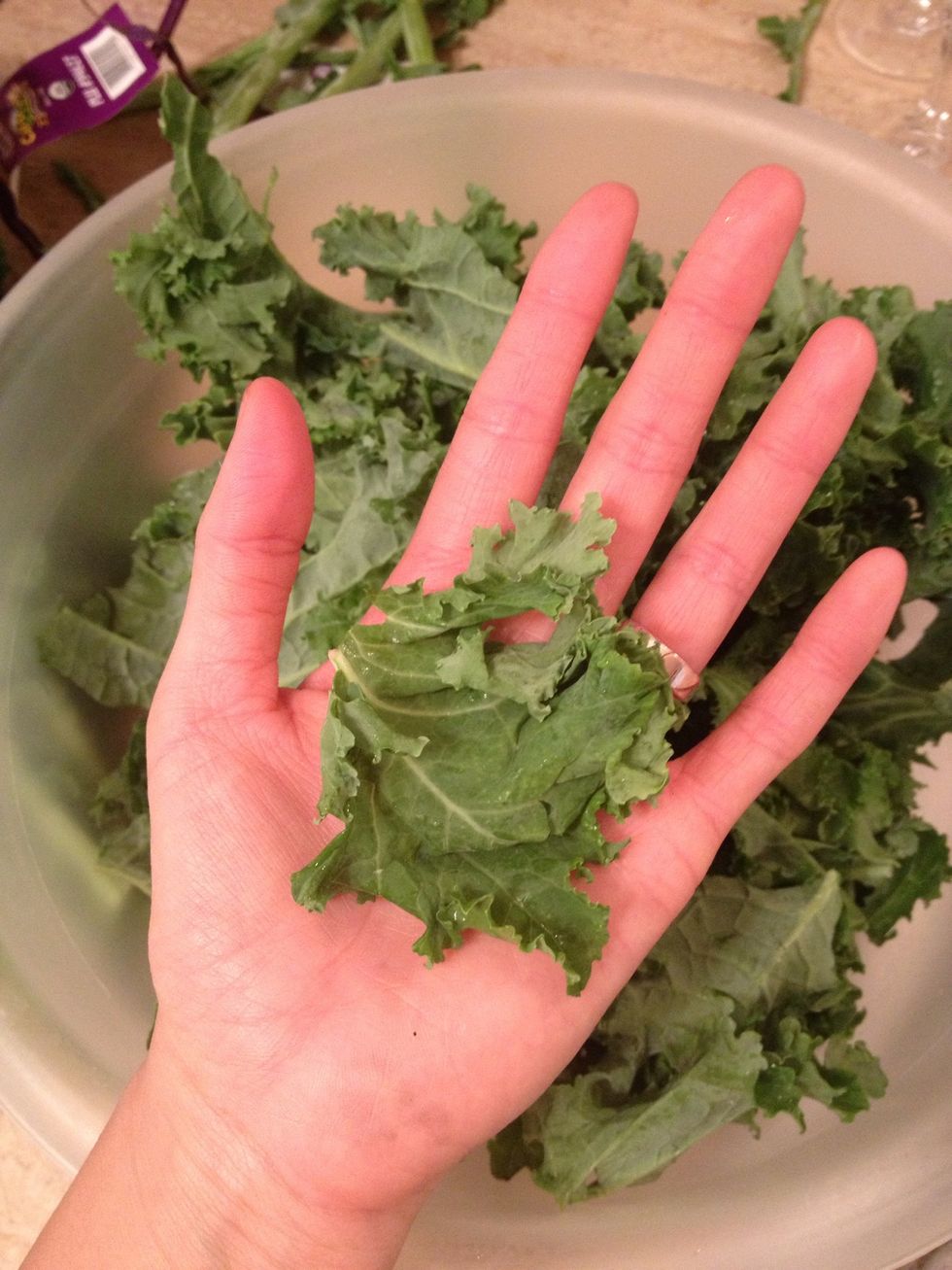 Here's a medium piece. This is actually the best size to tear them into.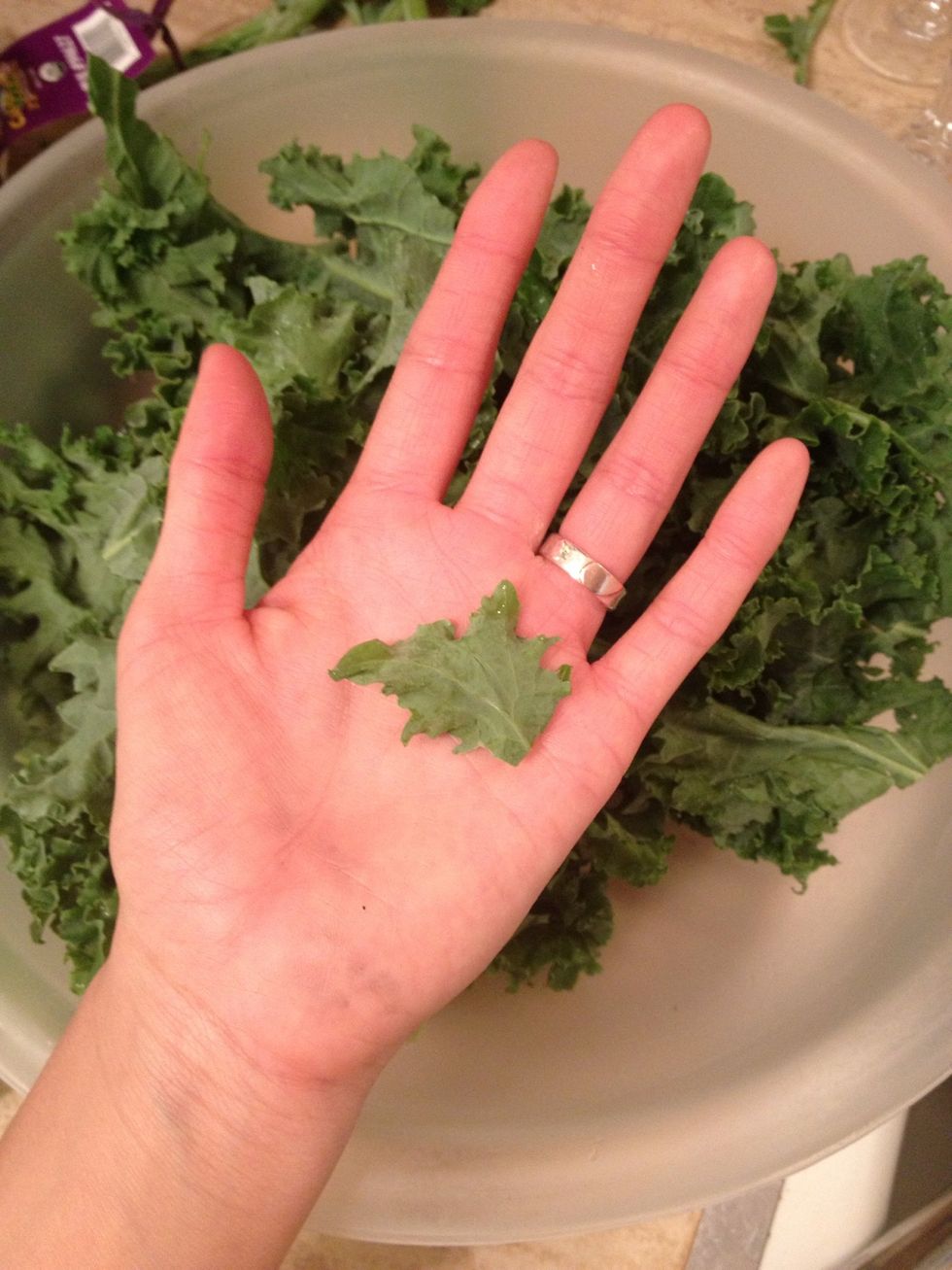 And a small piece. These are going to dry the fastest but unfortunately they also crumble quickly.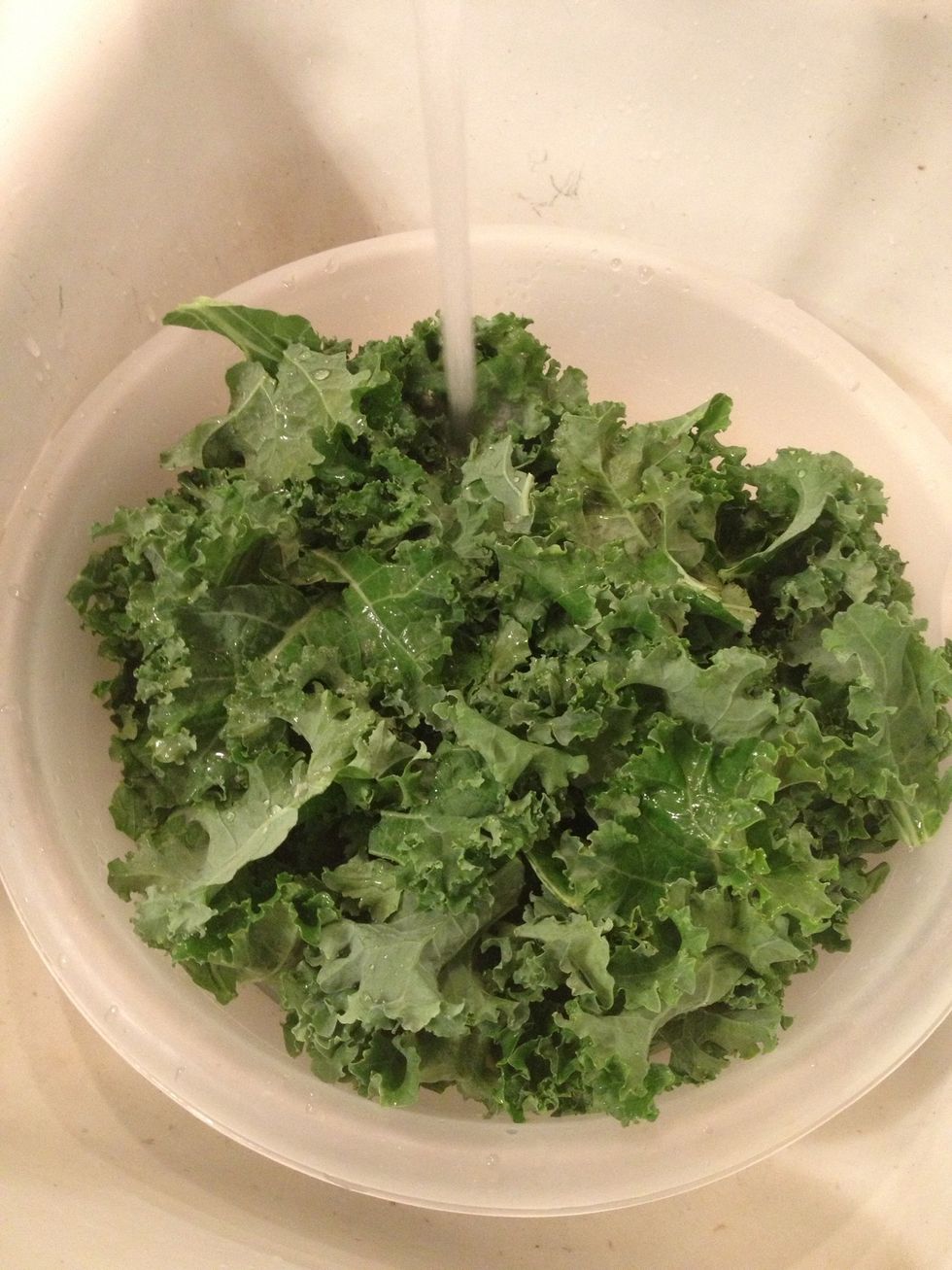 Throw the kale leaves into a large bowl and fill with fresh clean water. Shake it around, drain and repeat. Do this 3 times...but the 3rd time...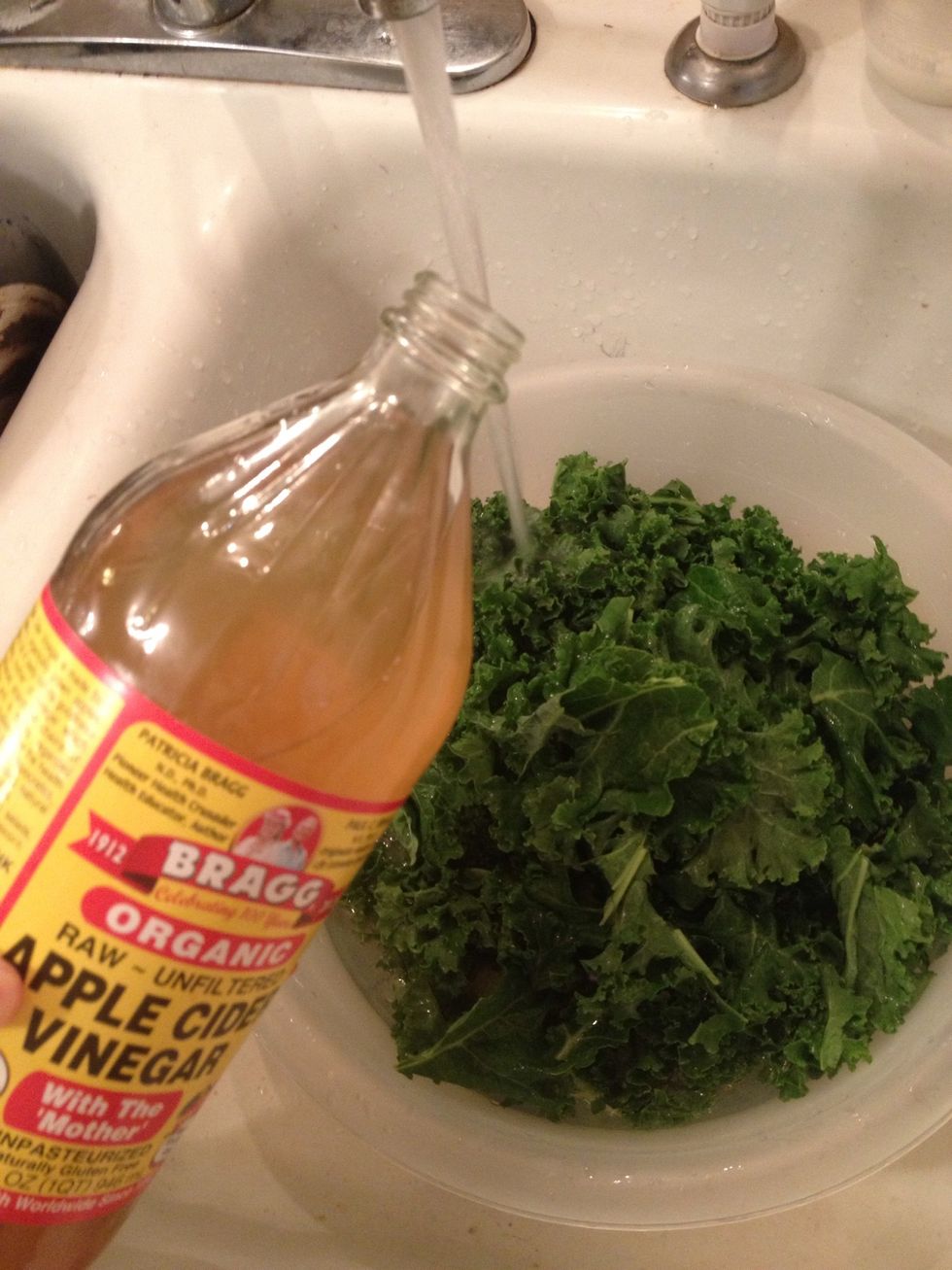 Add about 2 tablespoons of apple cider vinegar(ACV). This will help really get rid of any residue, bugs, and dirt. Yep I said bugs. Anyways add the ACV and let sit for 3-5 minutes. Then rinse it out.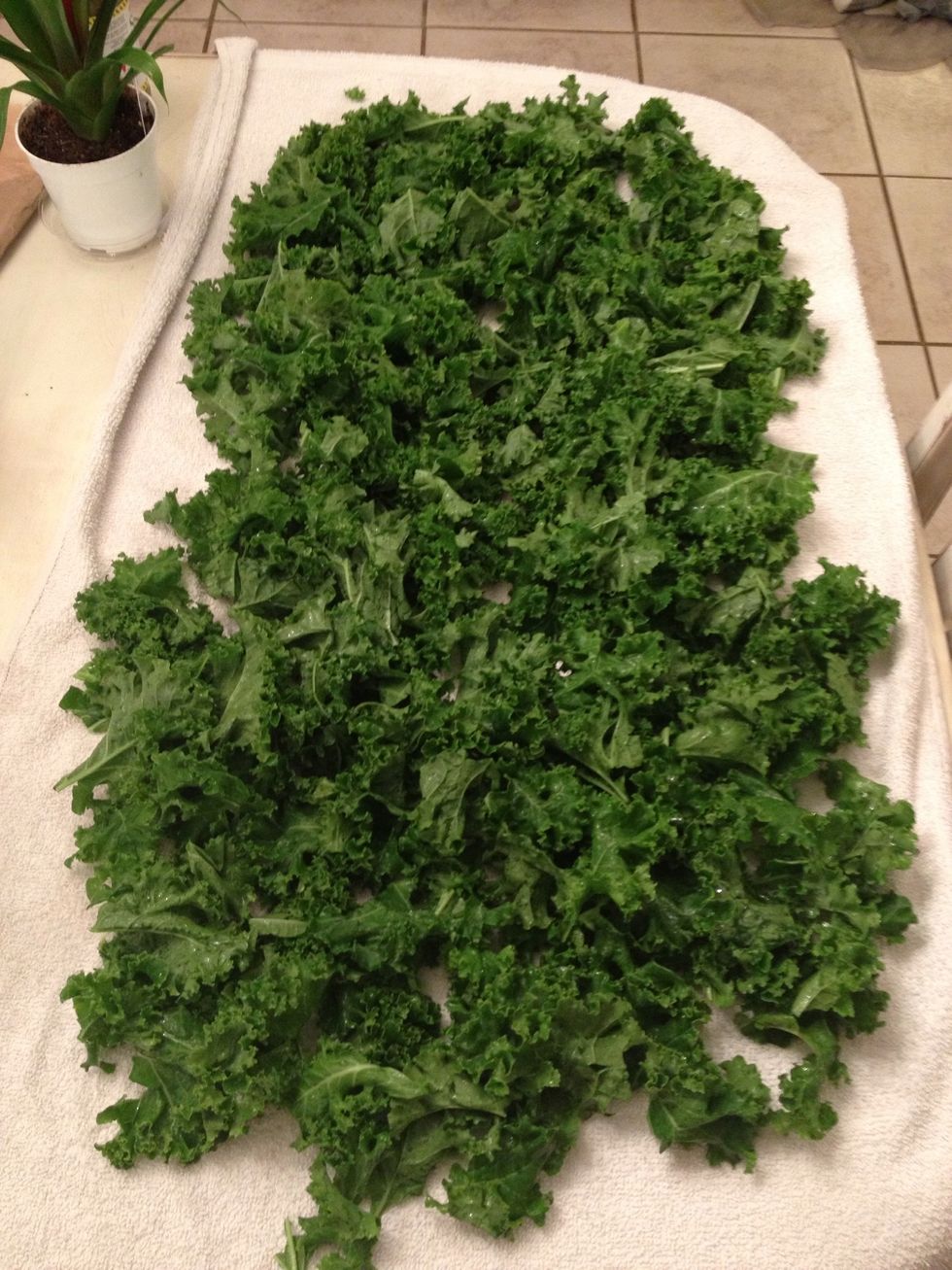 Transfer the rinsed kale leaves to a clean towel. I have a few towels I use specifically just for drying fruit and veggies.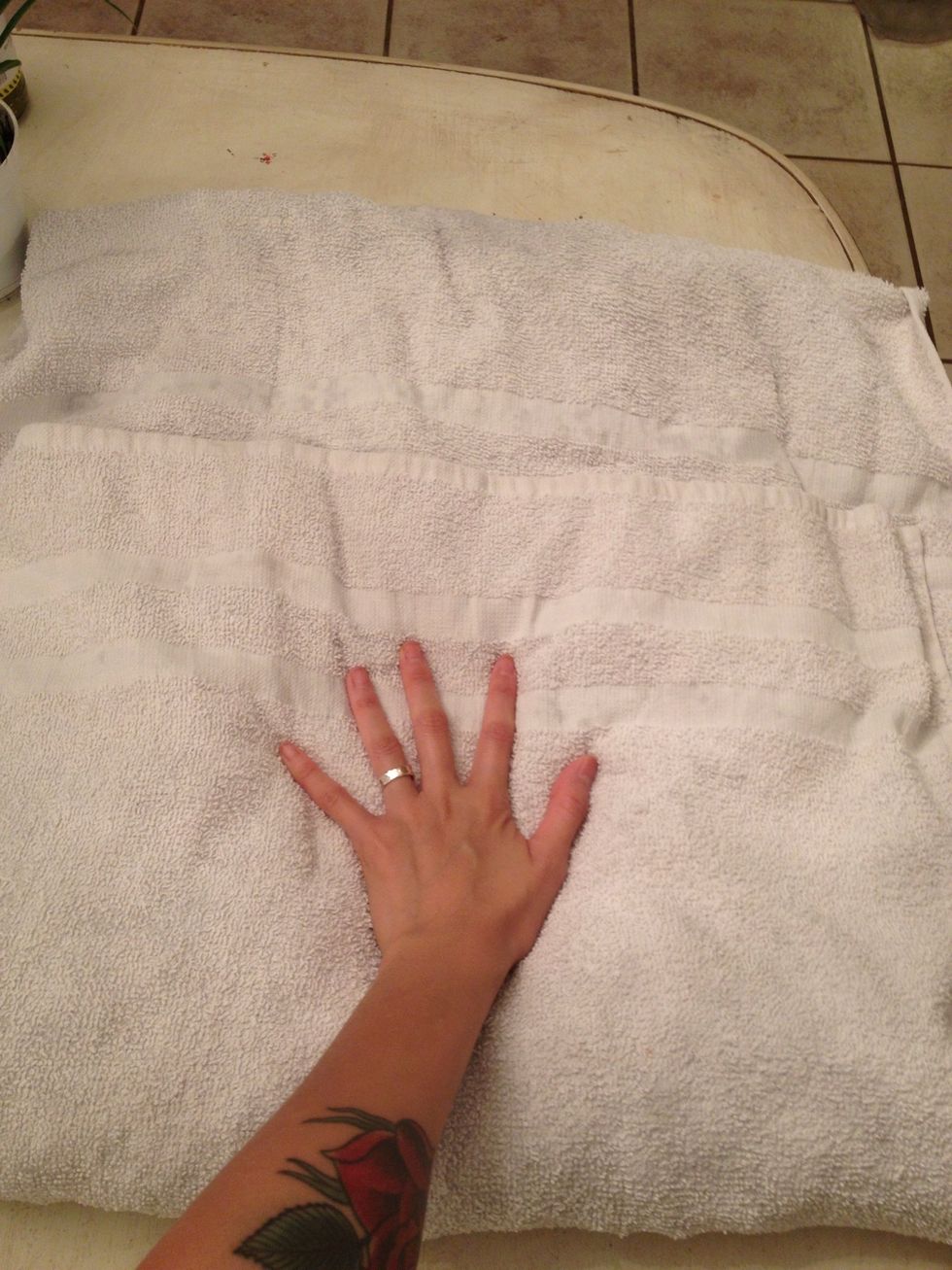 Fold over the ends of the towel and gently press to blot excess water.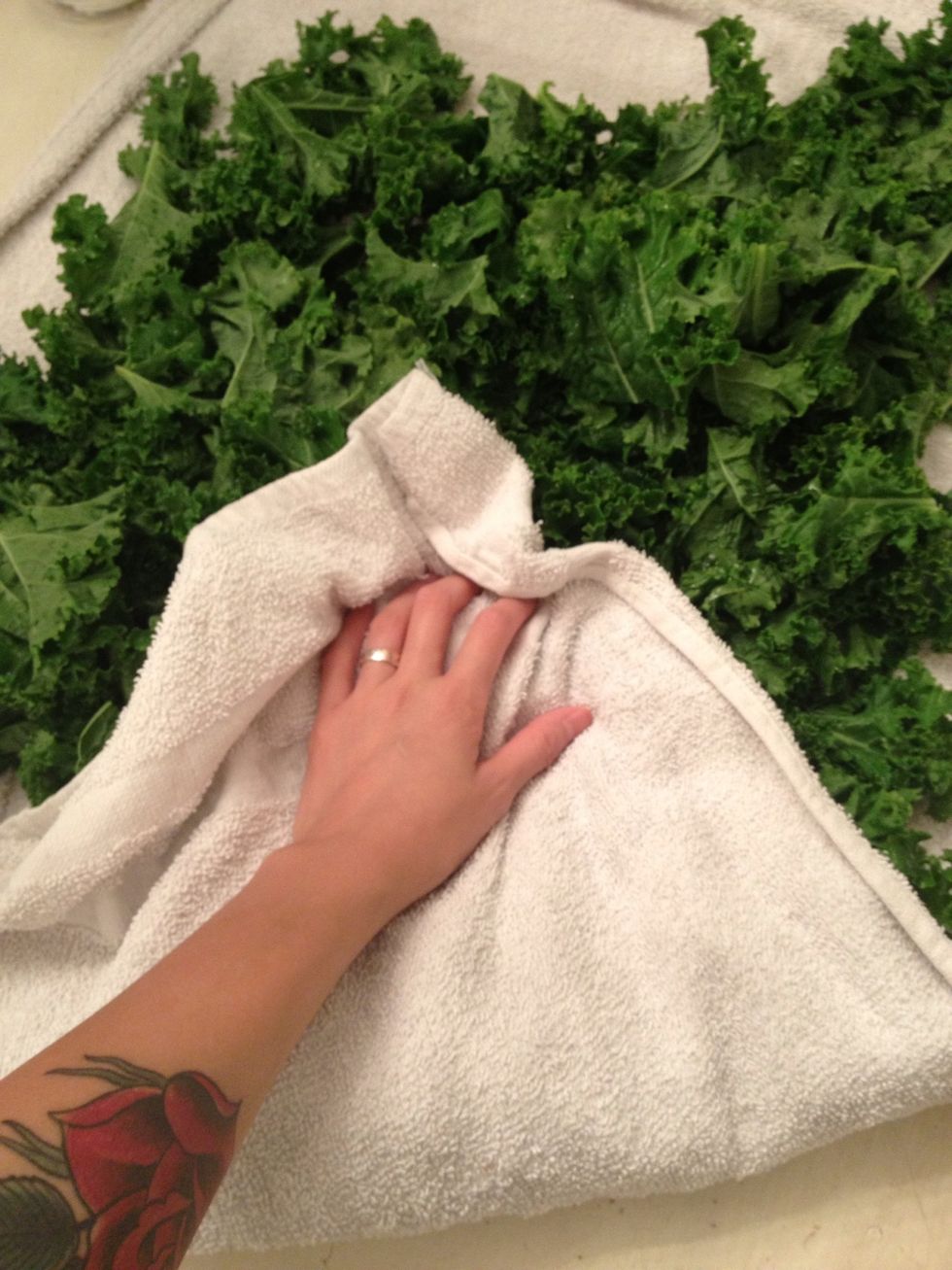 Open the towel and turn some of the leaves a bit and fold over again and blot some more.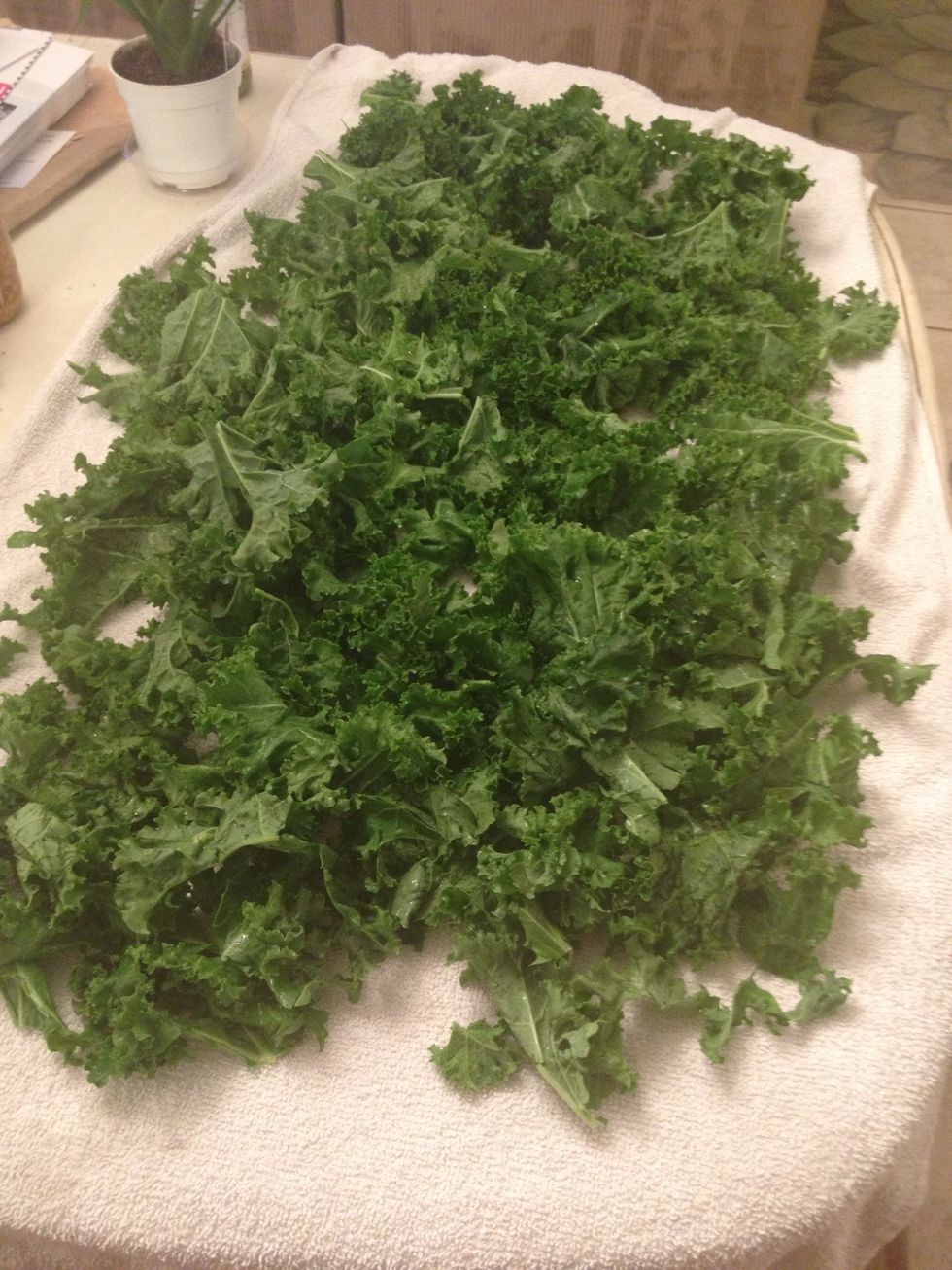 Now let the kale continue to air dry as you make the marinade.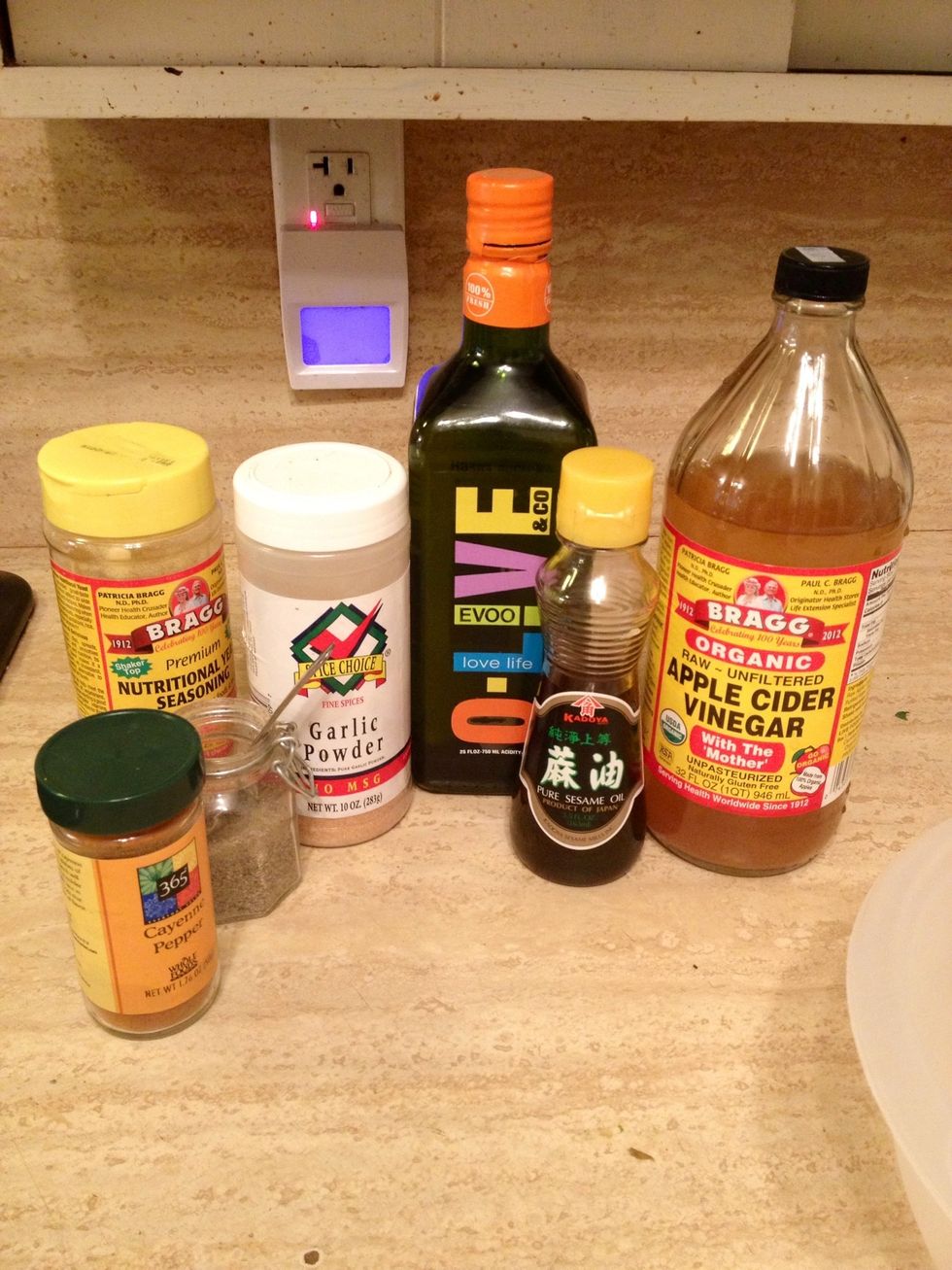 Get your seasonings ready. (Liquid aminos not pictured)
I don't have exact measurements but here's a rough estimate for making 2 bunches of kale- 3/4 cup of apple cider vinegar, 1/2 cup olive oil, 2 tbsp sesame oil, 2 tbsp garlic powder, dash of cayenne,->
...2 tbsp liquid aminos, 2 tbsp nutritional yeast, salt n pepper to taste. Please remember to taste and adjust to your liking. Also, get creative! Add whatever you like!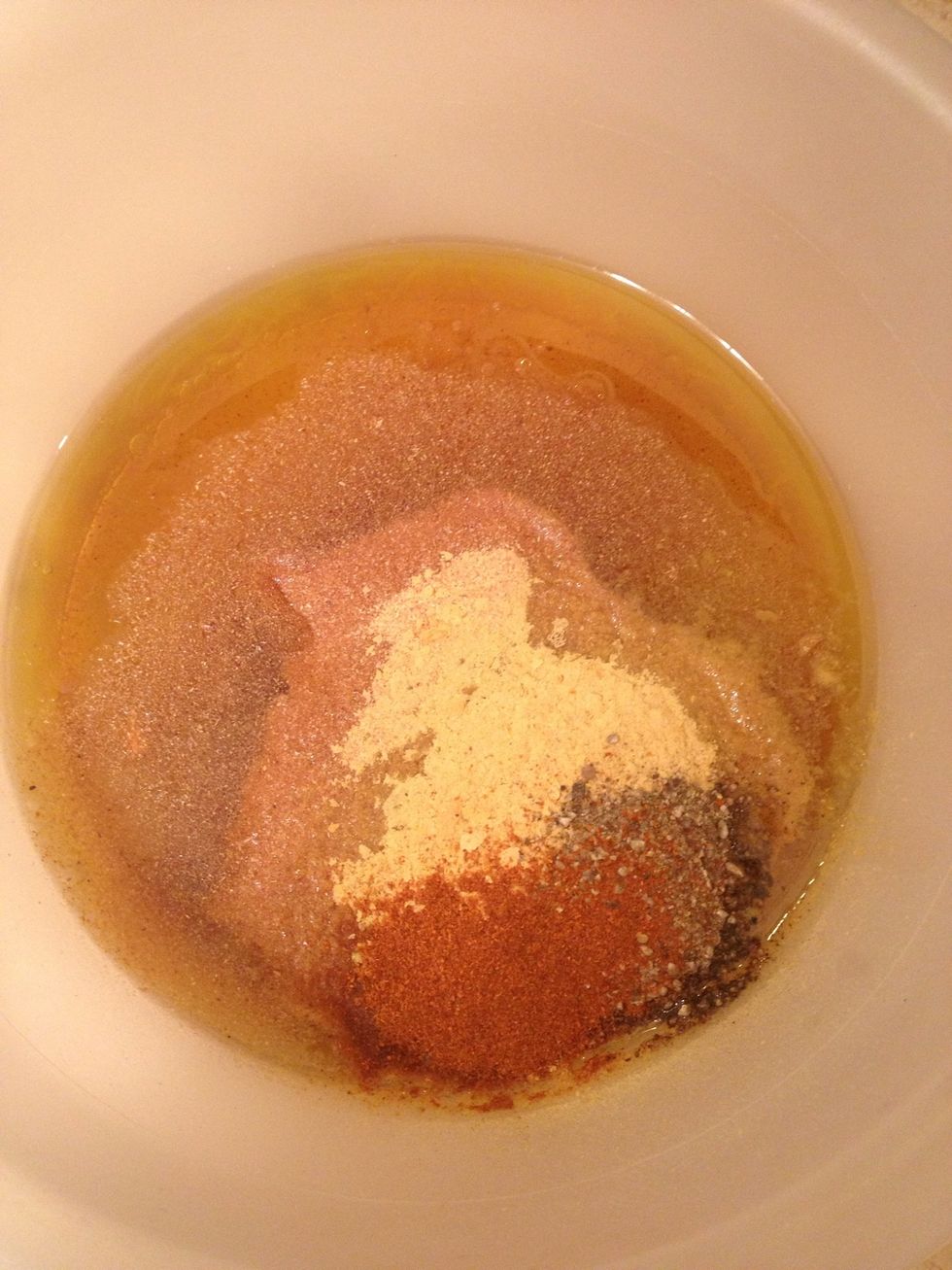 Add your seasonings in a medium bowl.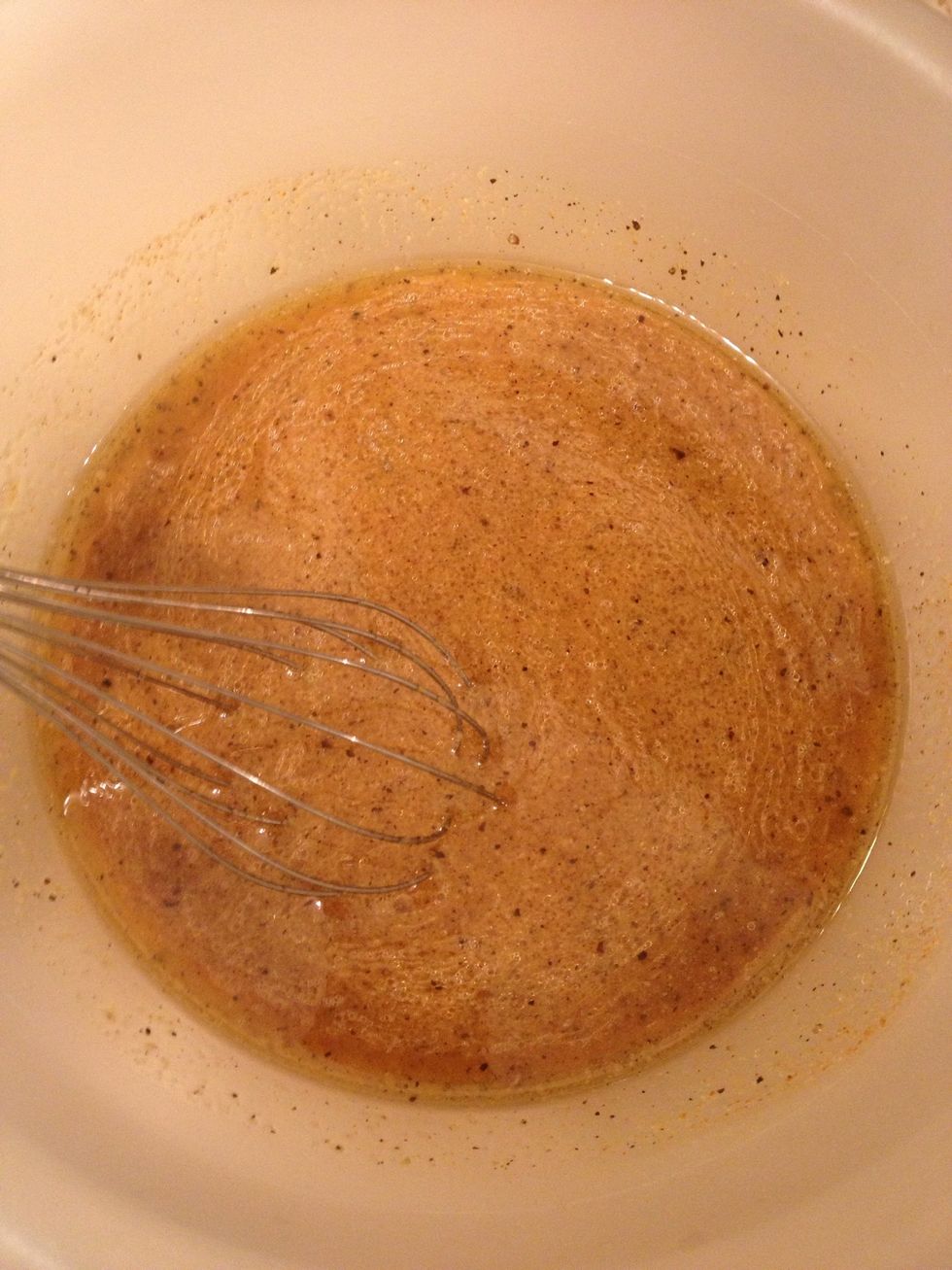 Whisk and blend well. Dip a clean spoon in and taste. Adjust seasonings.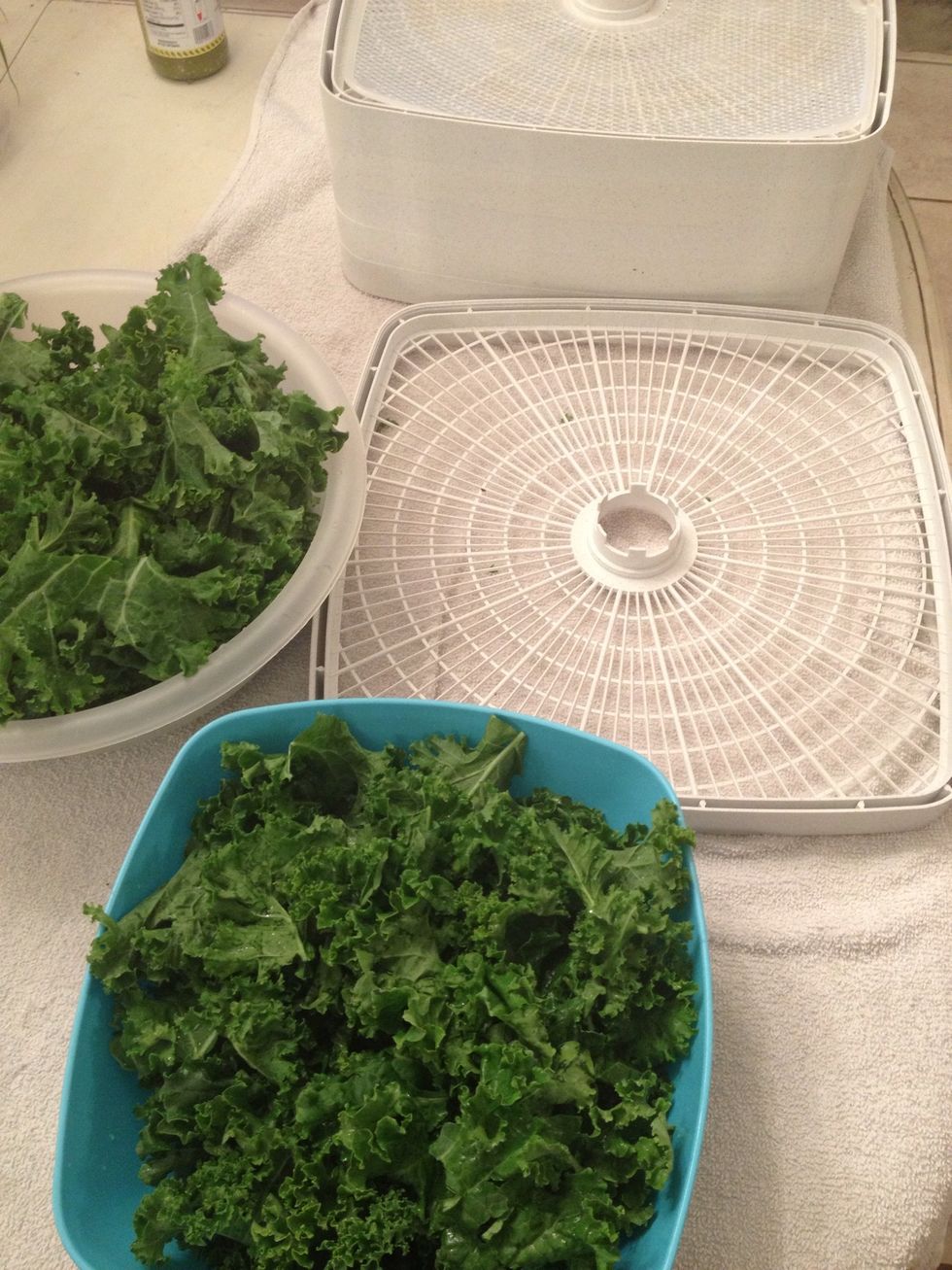 Get your assembly line ready. Get your trays ready. Place your kale in a bowl or two bowls.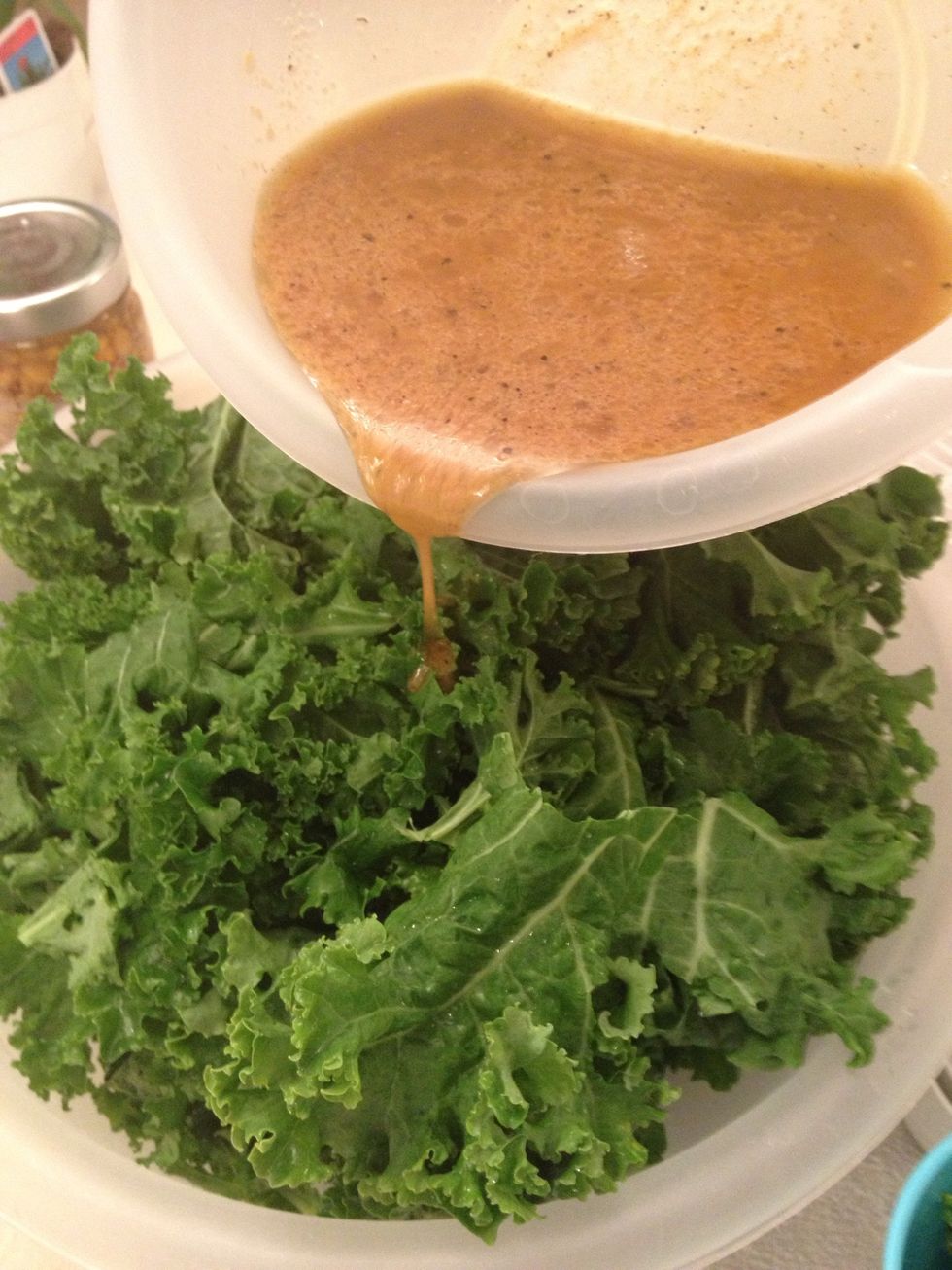 Pour the marinade over the kale. If two bowls, only pour half in one then the rest in the second bowl. (Obviously ;)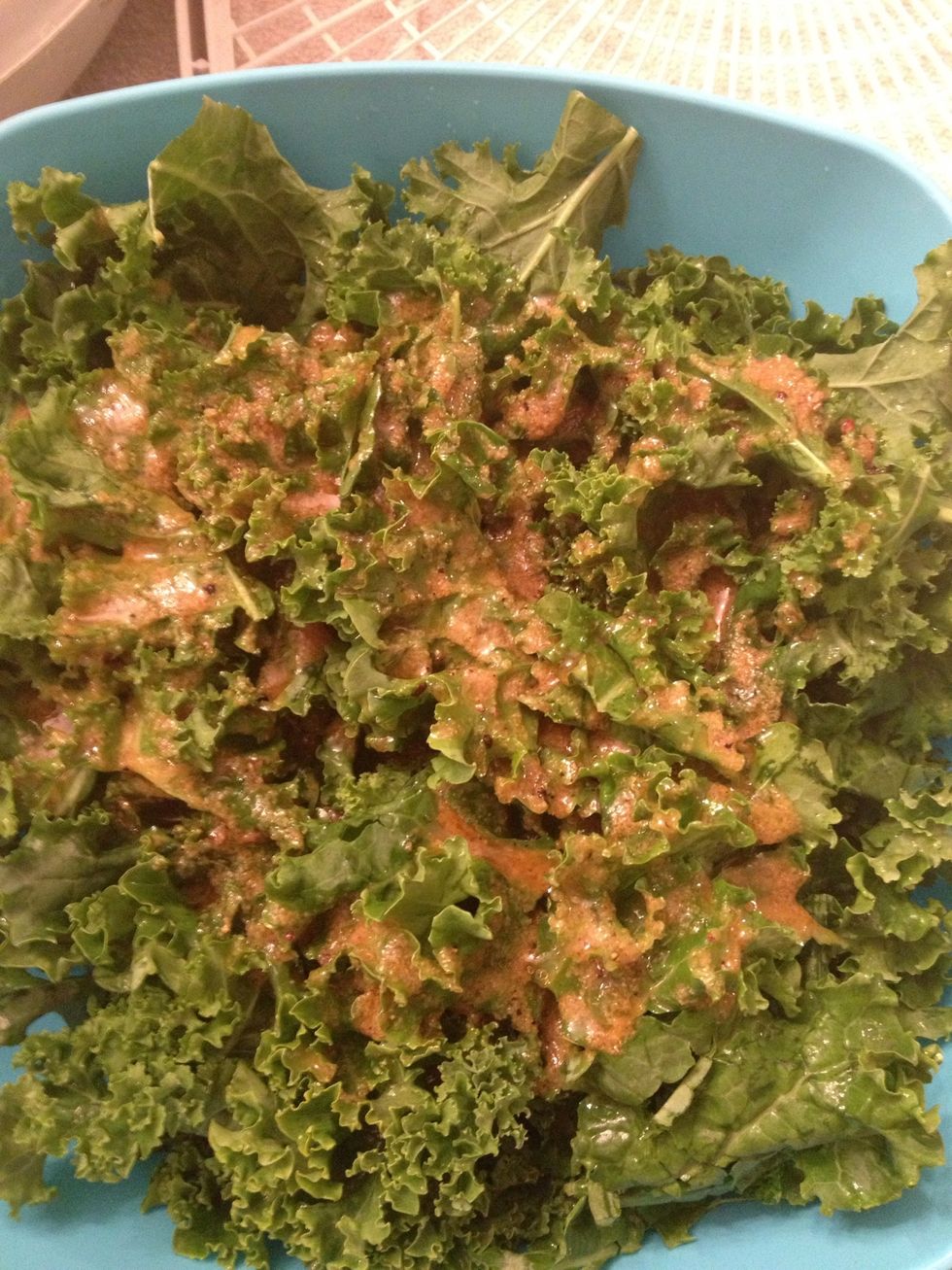 Gently massage marinade all over the leaves. Toss them gently a few times.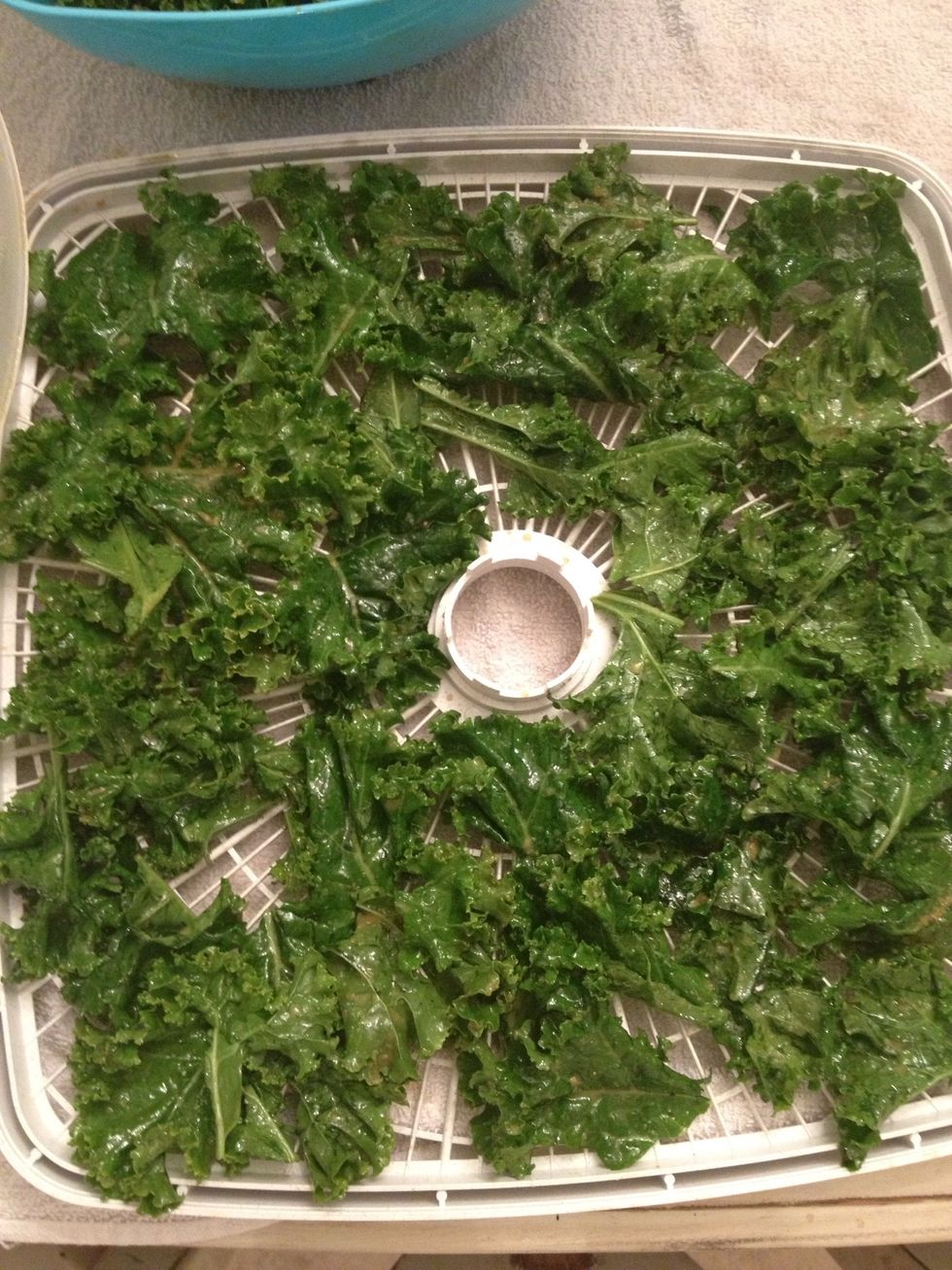 Now spread them evenly in one layer on each tray. Be careful not to overcrowd or overlap.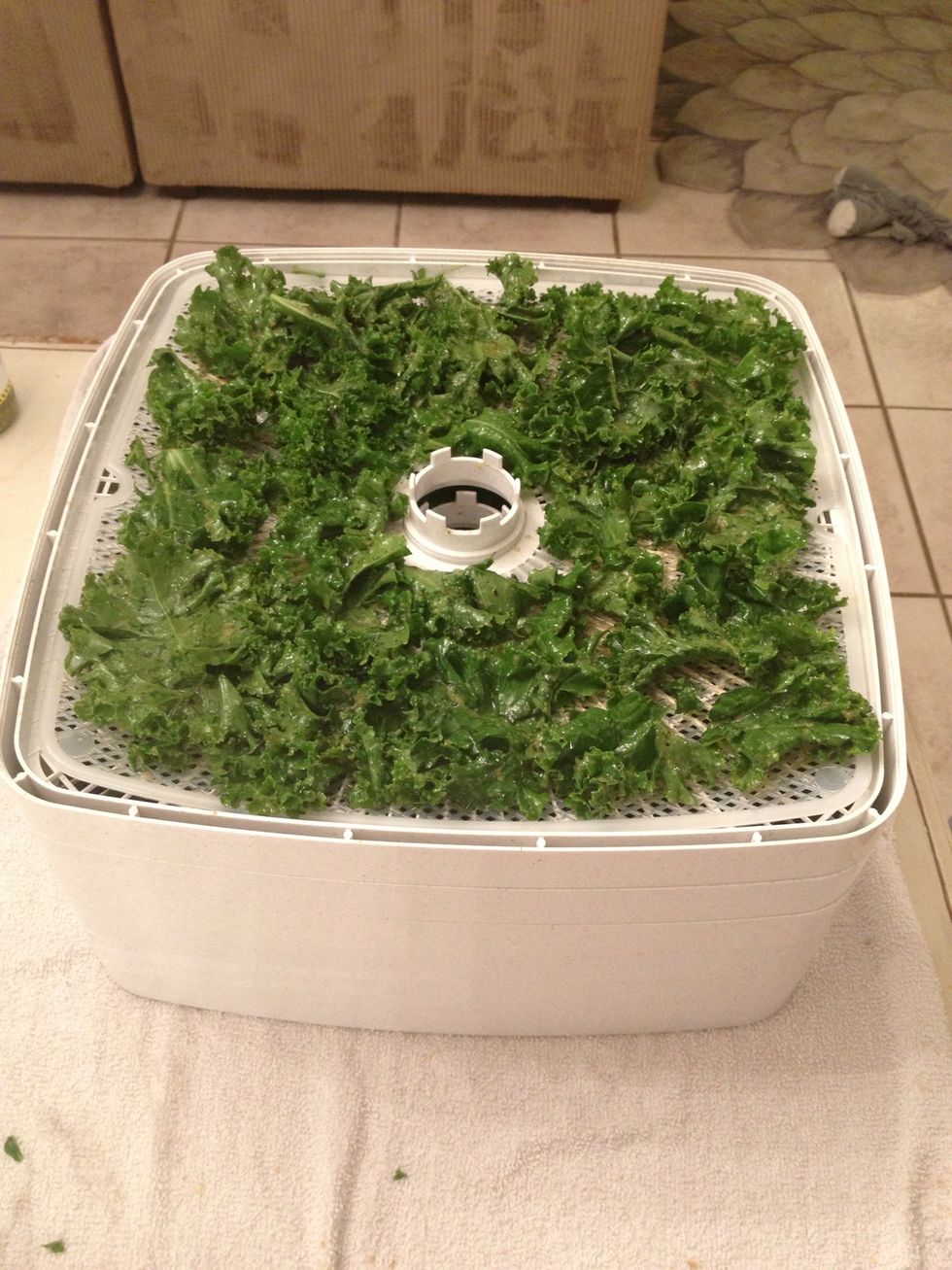 Here's the full stack. Now place the lid on and plug in and turn on.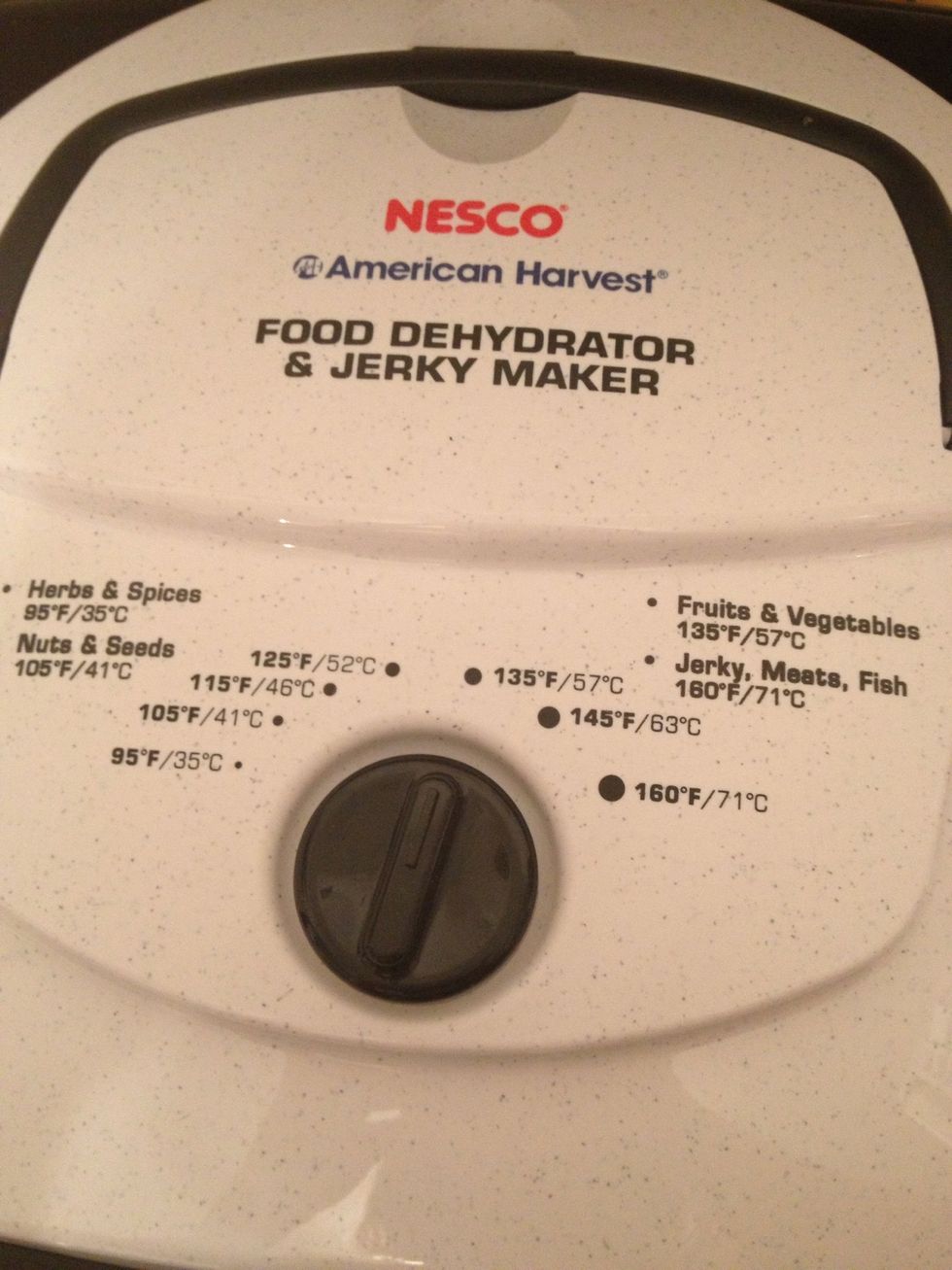 Place on the 135 degree setting an let it dry for 4-8 hours. Be sure to check every few hours or so to gauge how much time you have left.
This is after 4 hours...I actually ended up doing another hour and a half and they were perfect! If you leave drying for too long they will be too dry and actually crumble at the touch.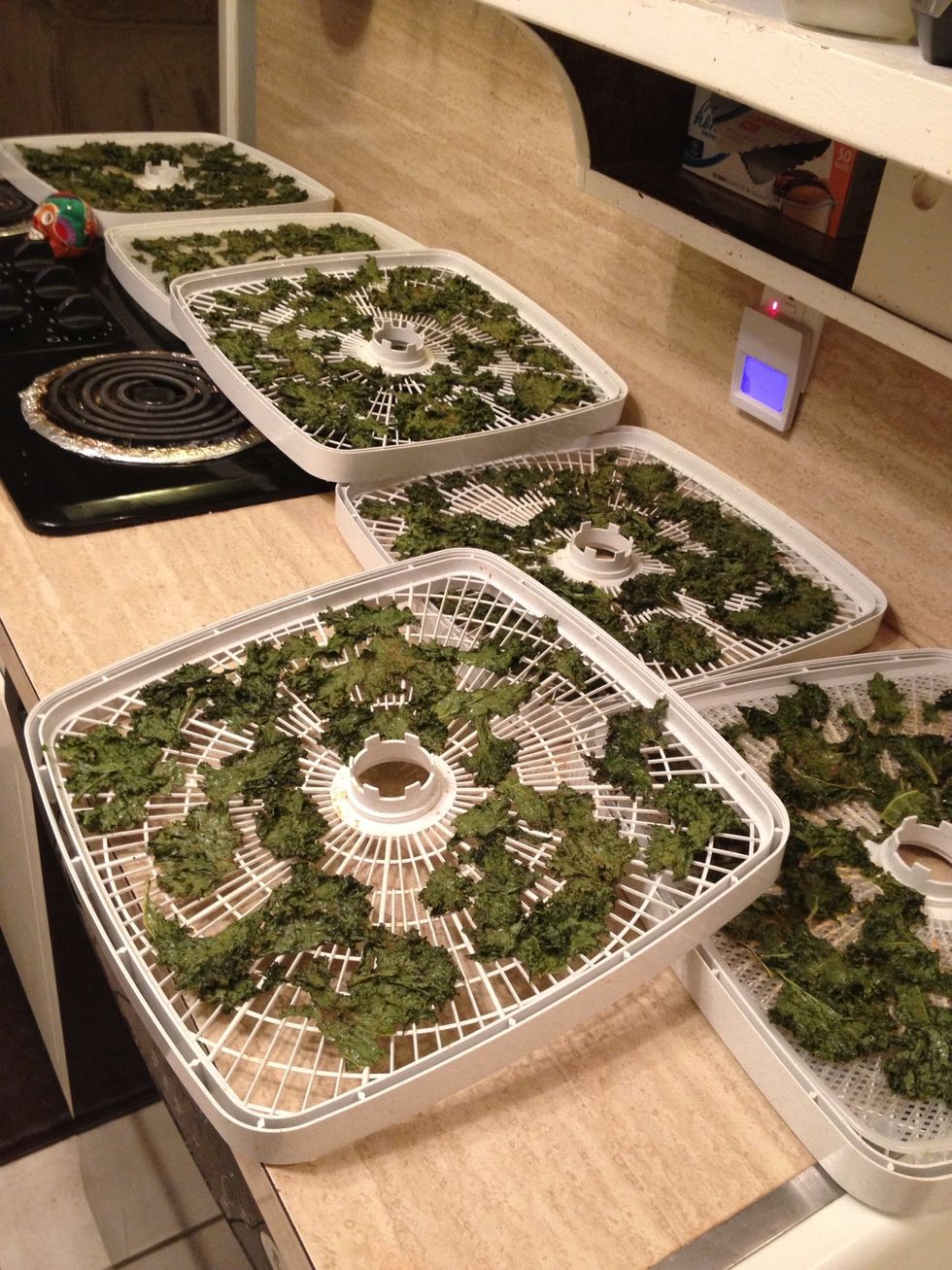 Let them cool completely before removing and storing.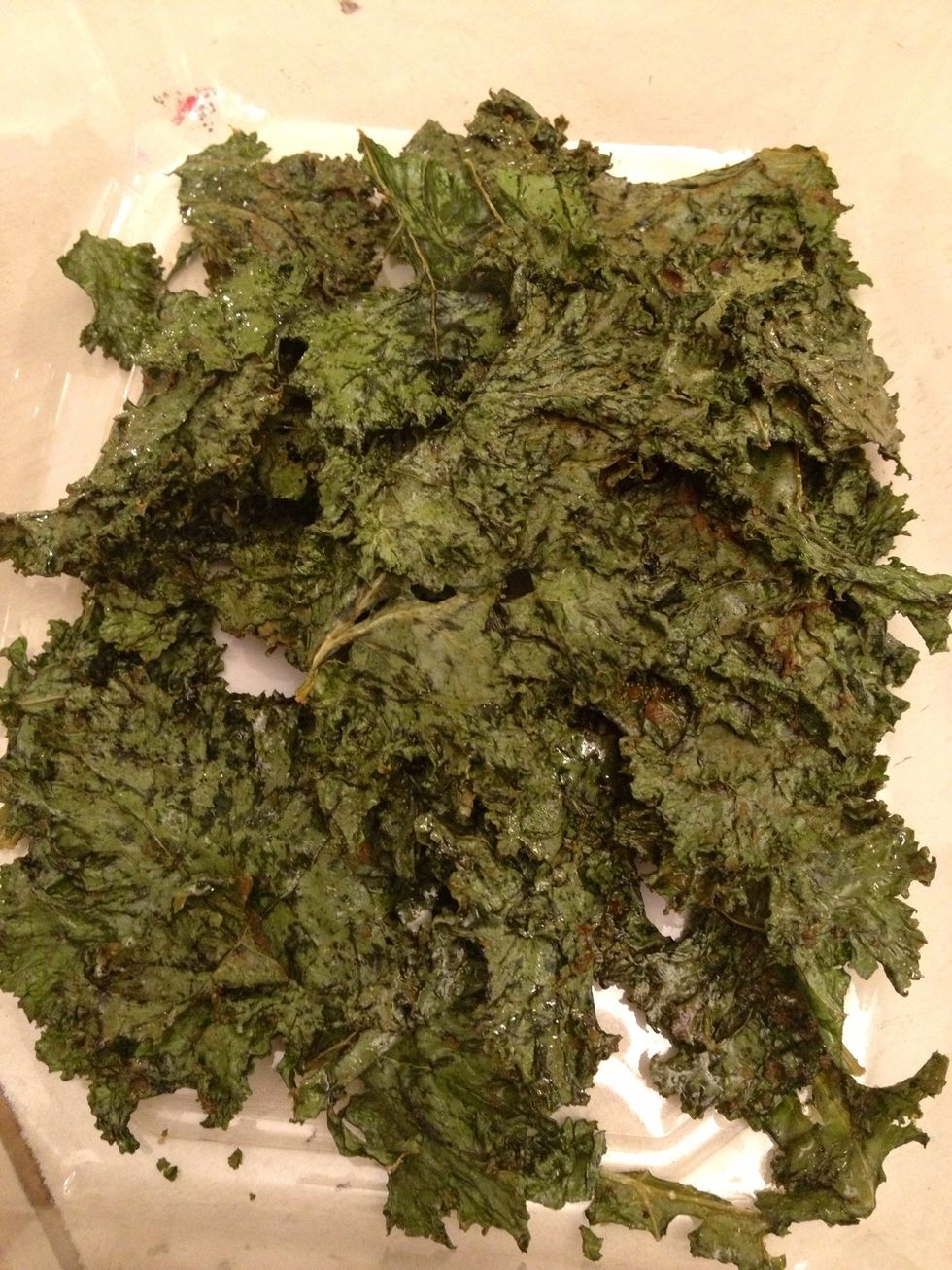 Enjoy your crispy kale chips! I like store them in Tupperware. But honestly they don't last more than 2 days because they are addicting and I eat them all. Lol
Food dehydrator
1 or 2 bunches of Organic Kale
Olive oil
Salt n pepper
The following are Optional -
Apple cider vinegar
Nutritional yeast
Garlic powder
Cayenne pepper
Liquid aminos or soy sauce
Sesame oil