How to make creme de menthe fudge cake
Light mint green cake with a rich chocolate fudge layer... Easy to make! (Dedicated to our long-time friends Loren & Elaine who first served this cake to us in the '70's)
159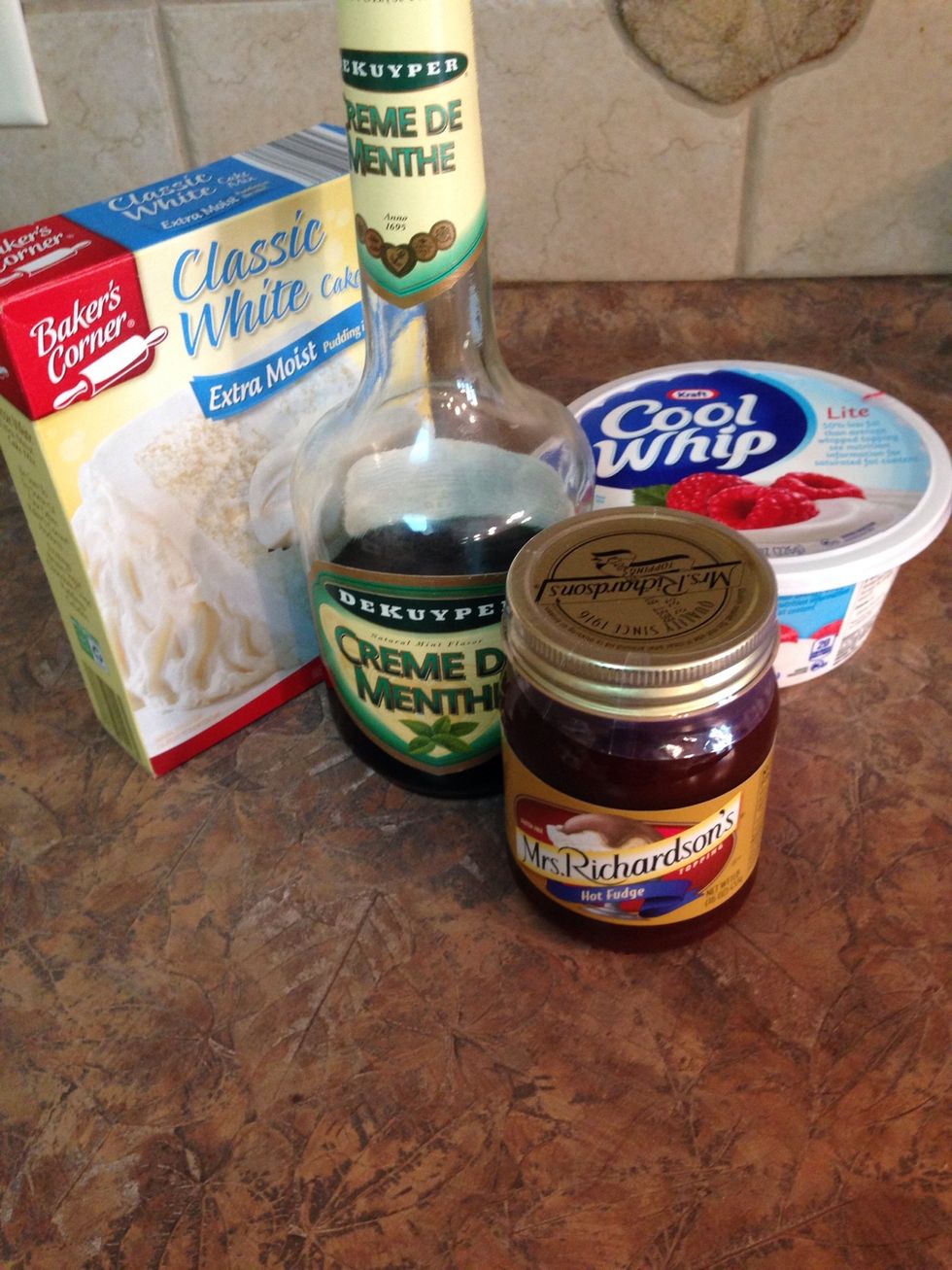 Any white cake mix works (you do adjust the mix's recipe for water). I like Cool Whip LITE. Remember to get the hot fudge topping in a jar, not the thinner squeeze bottle type.
This makes a beautiful round layer cake but I prefer 9 x 13 for feeding a crowd (easier to cut and serve) so I'm making 9 x13. I have a good trick for getting the fudge layer in the middle.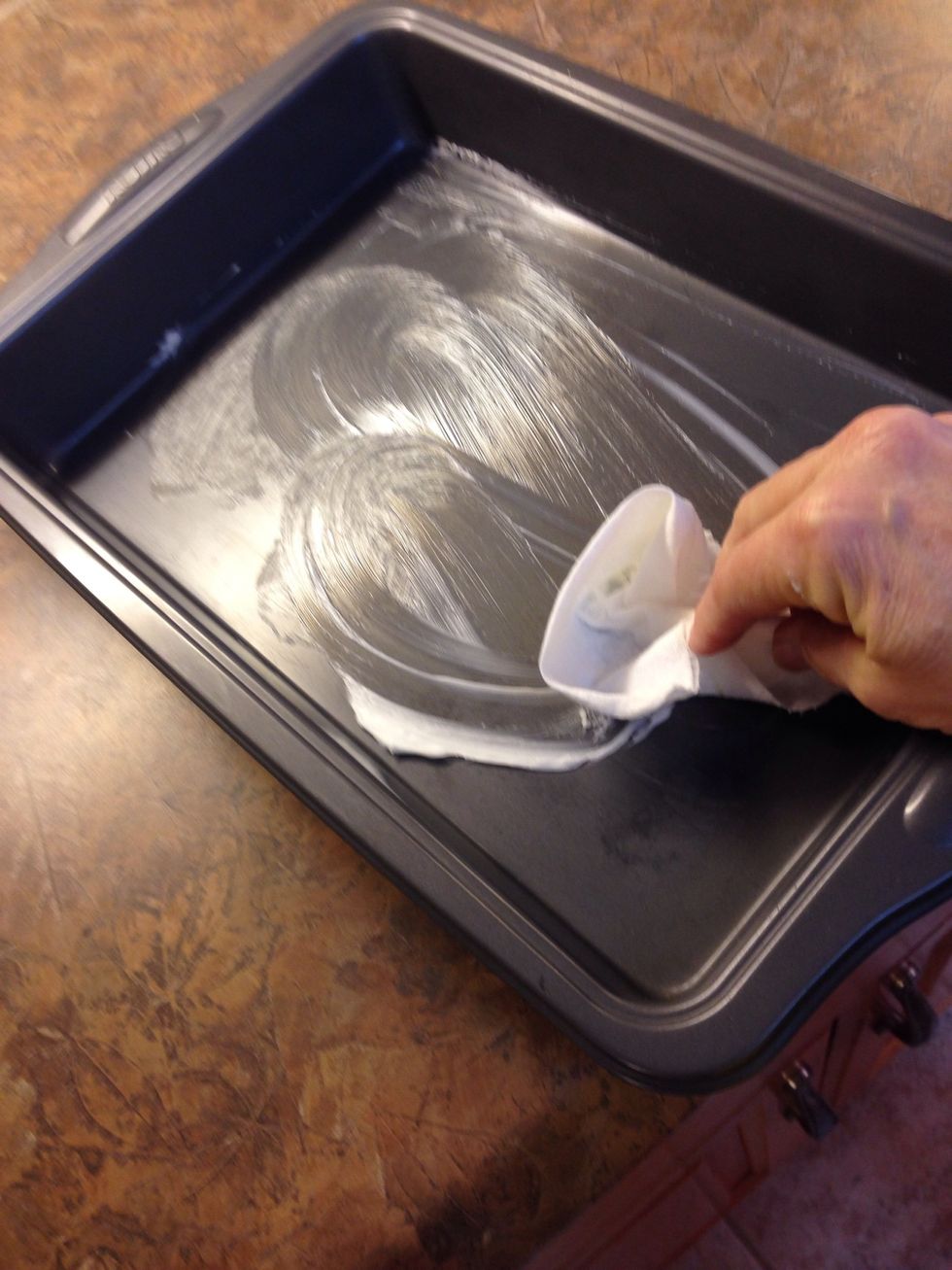 This is an important step as we need the cake to NOT stick. Spread shortening on bottom, sides & corners of entire pan being careful not to miss any of the surface!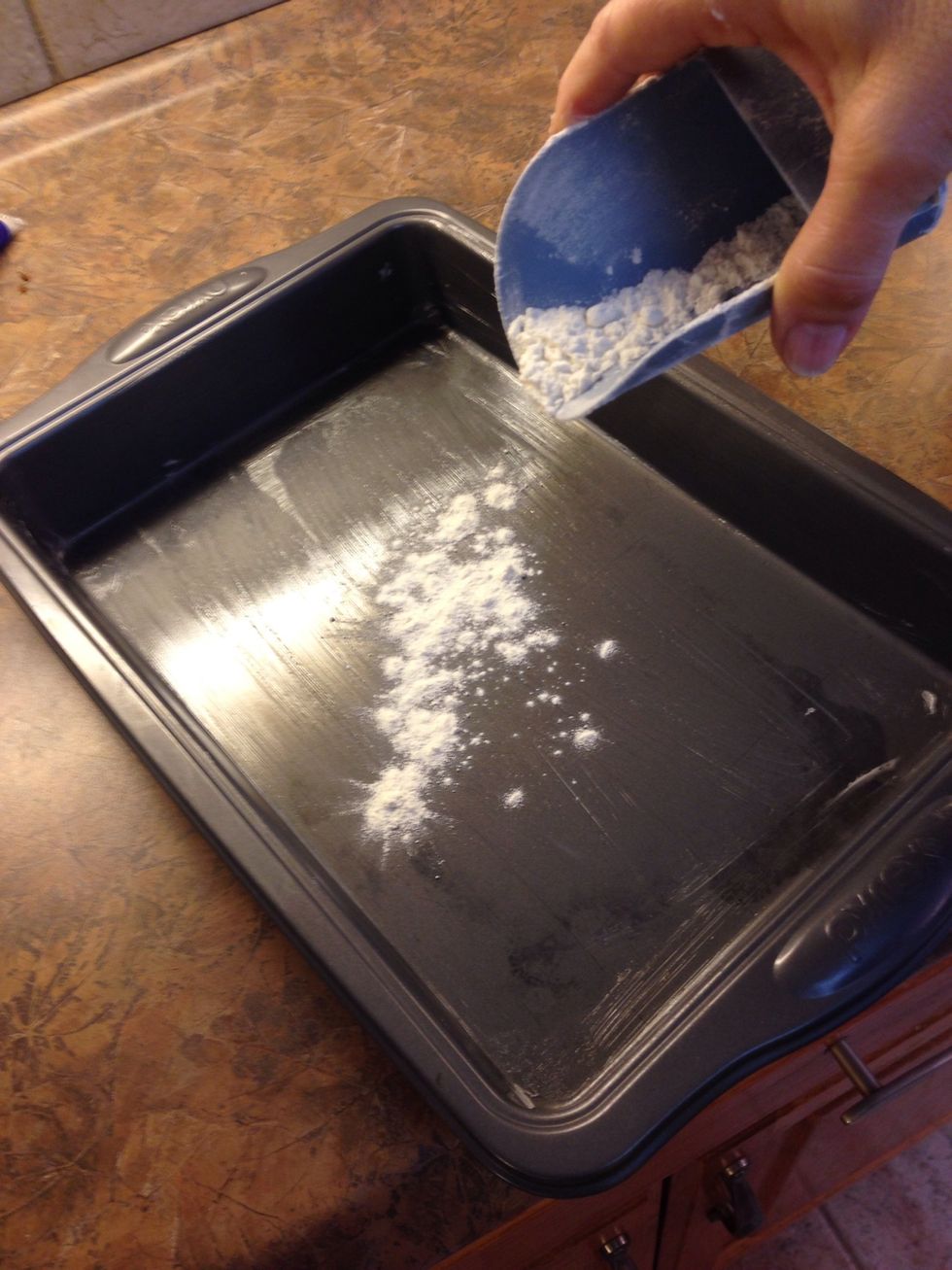 Sprinkle flower onto shortening rubbed pan.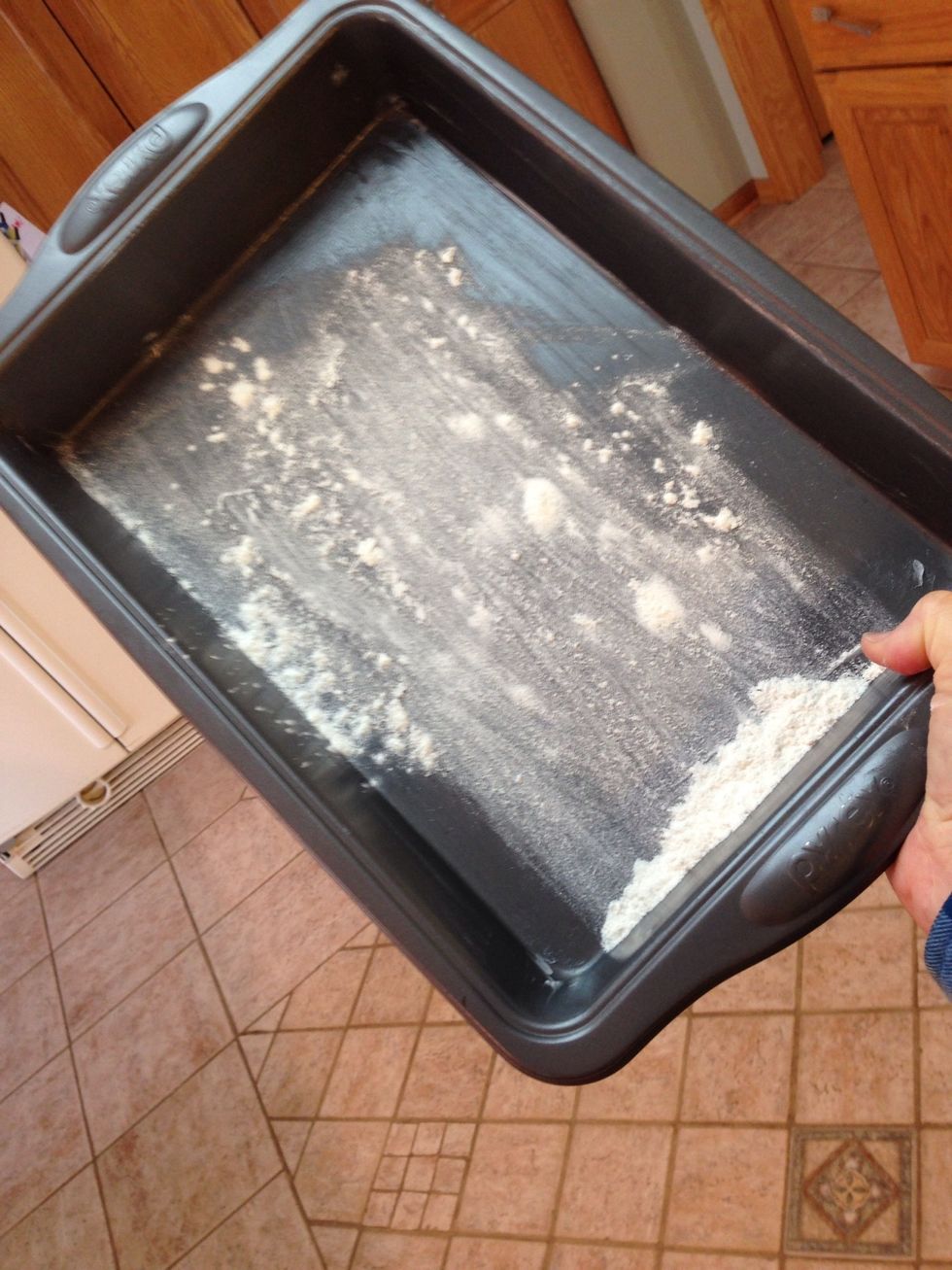 Tilt and tap the pan, making sure that a thin layer of flour coats EVERY bit of the surface, including the tight corners. If need be, add shortening to the spots you missed.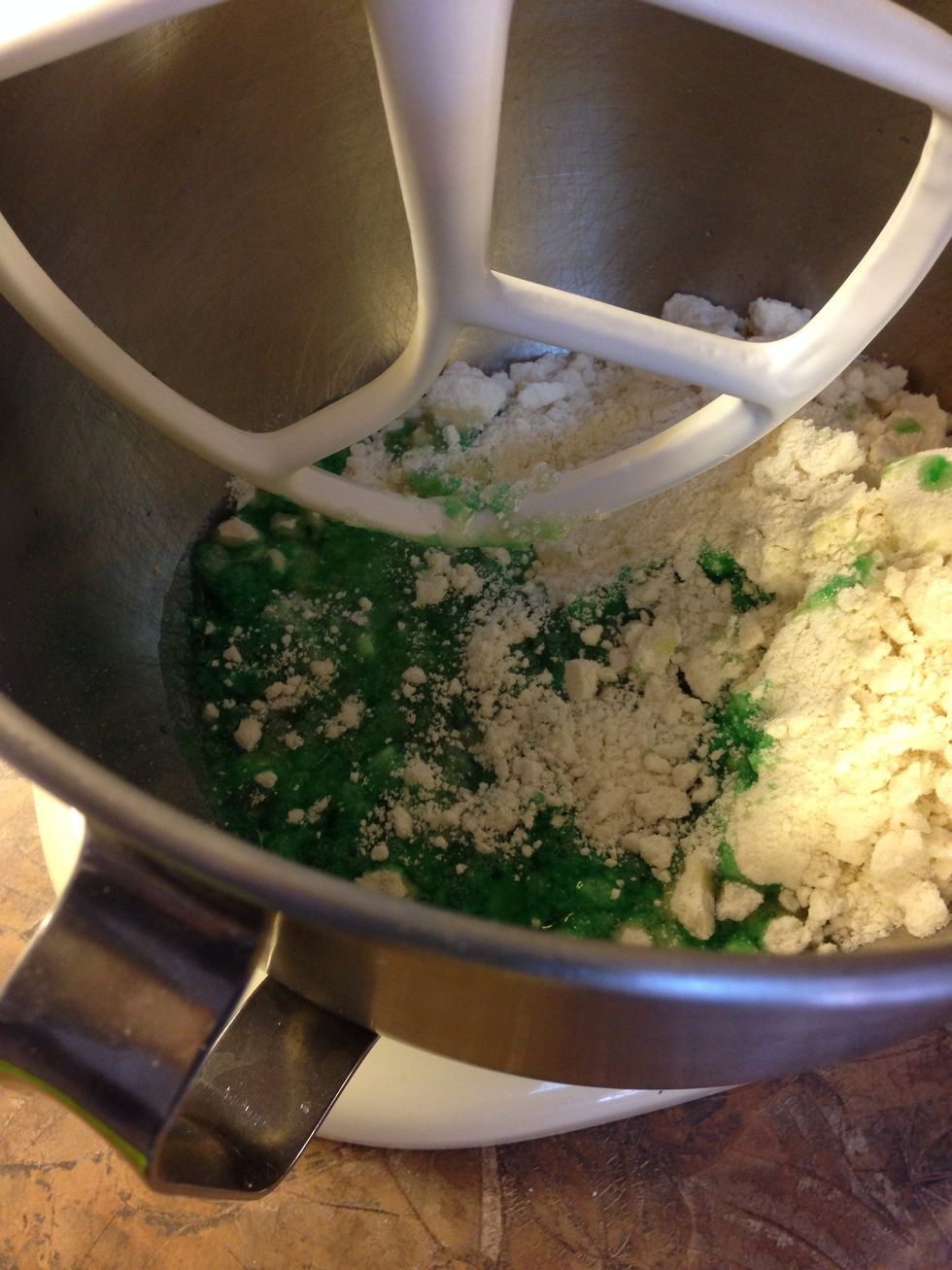 Follow package directions except for reducing water by 1/2 cup. This particular mix called for eggs whites and oil too. Mix in 1/4 cup Creme de Menthe. Mix well according to directions.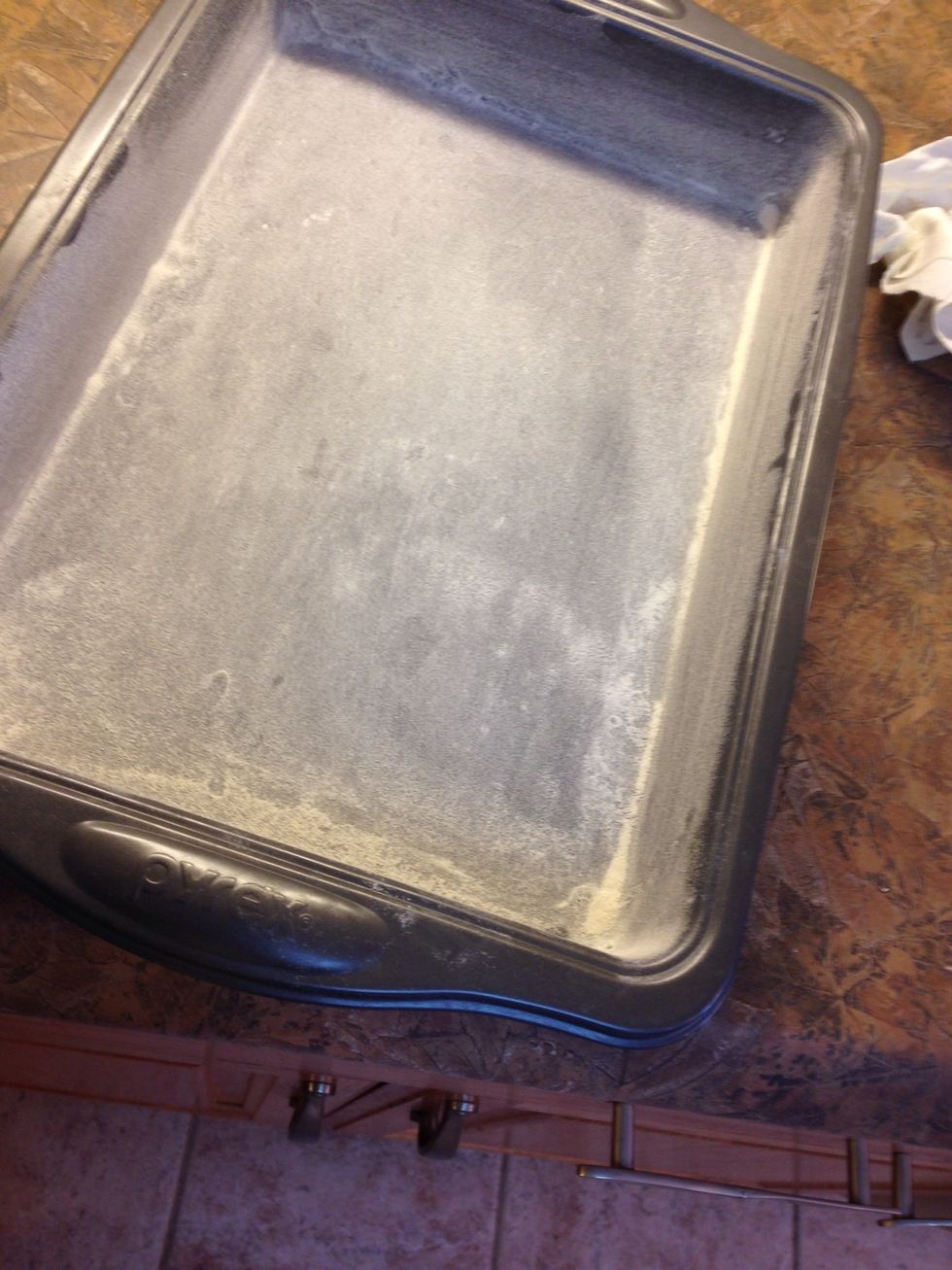 Taking time to grease and flour your pan will ensure the cake will pop out easily which is what we want!
Pour batter into greased, floured pan. Preheat oven per package.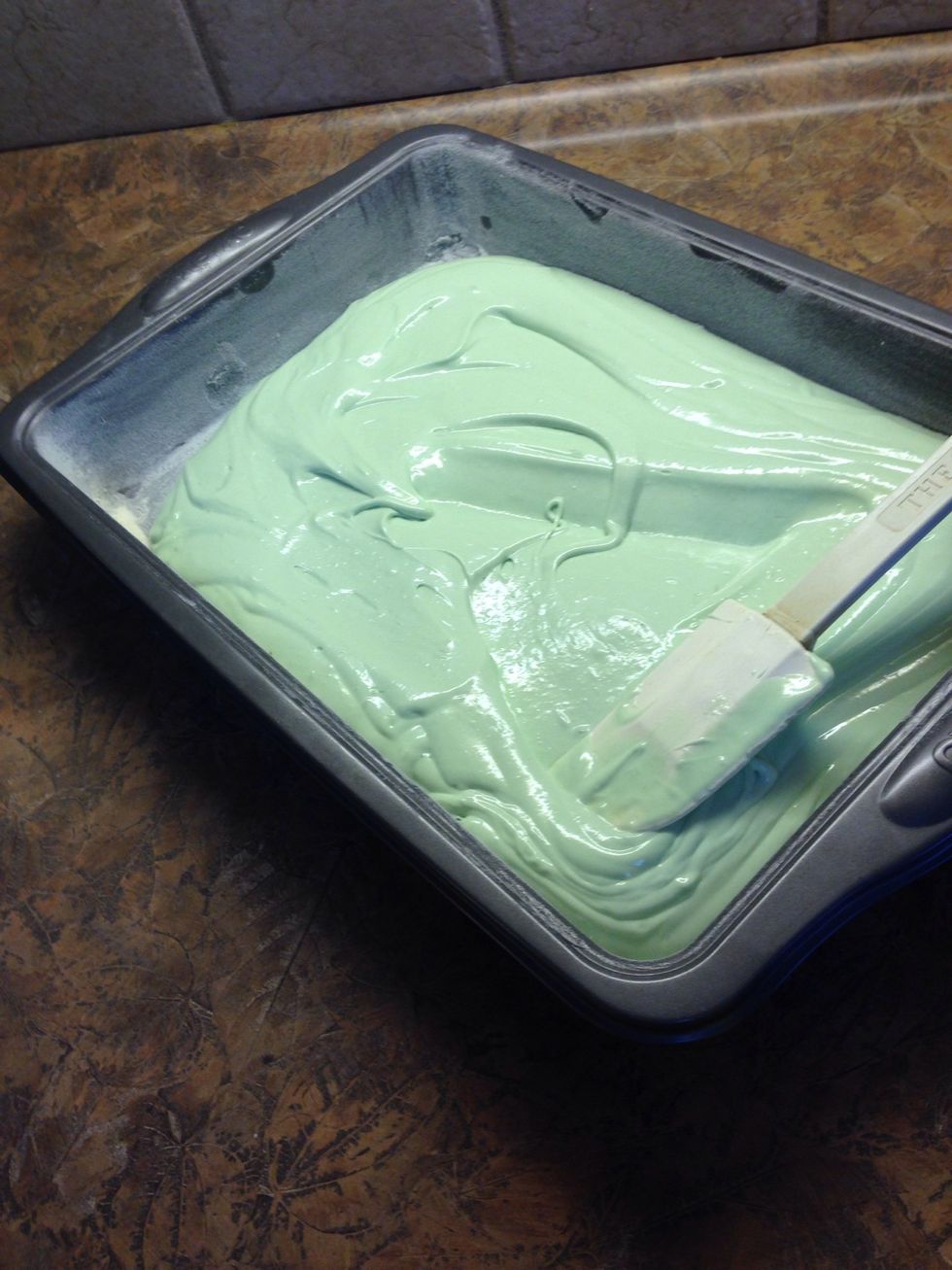 Spread evenly. Bake according to package except reduce baking time by 5 minutes. Watch closely and remove when it pulls from edges & inserted toothpick comes out clean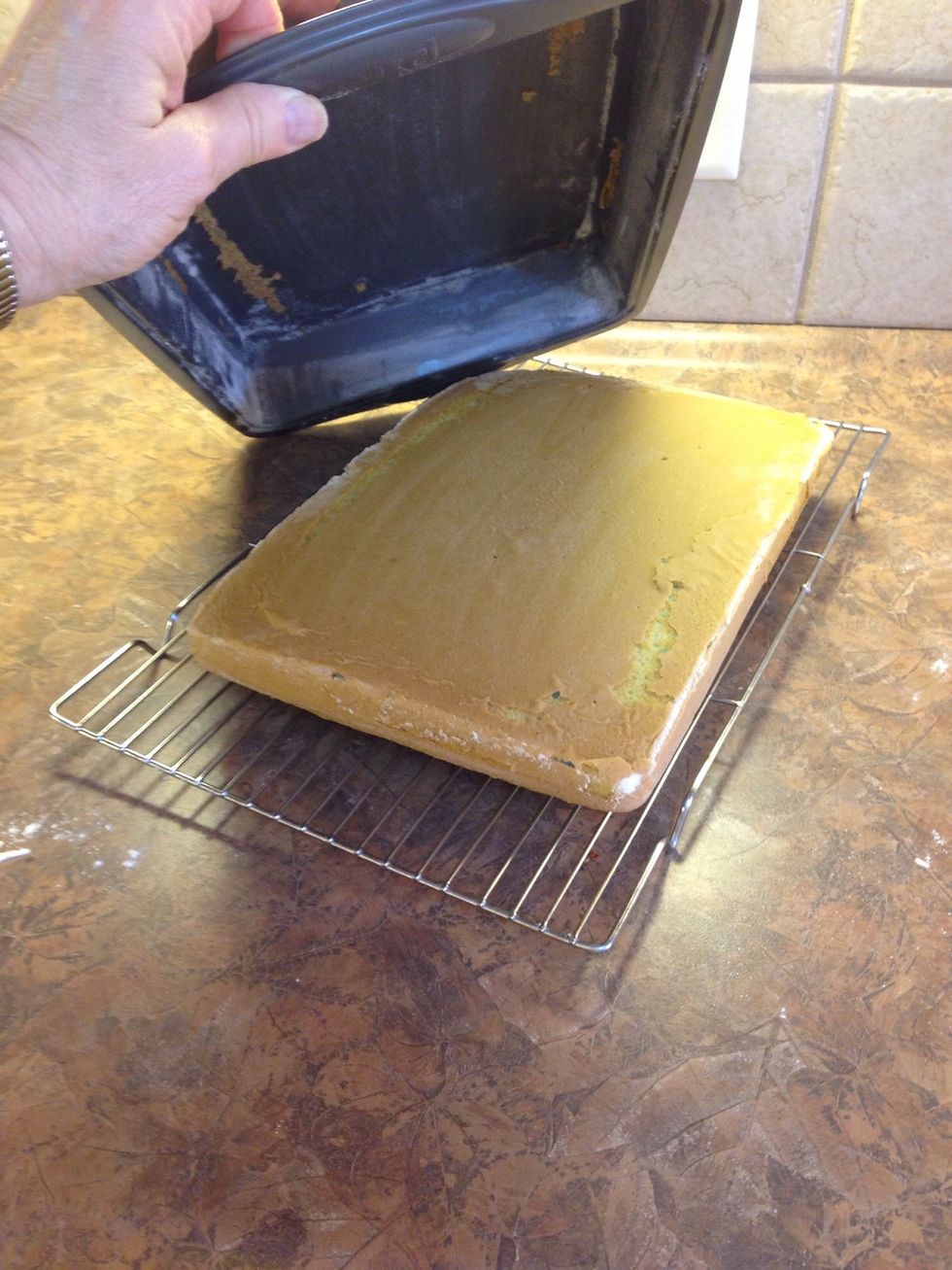 Cool 5 minutes then remove from pan. If you greased/floured pan well, the cake should pop out easily. Cool completely on wire rack.
Wrap and freeze cake slab. Once it's frozen, then SLIGHTLY thawing, you'll be able to slice the slab horizontally in half MUCH EASIER than if it were not frozen and crumbling!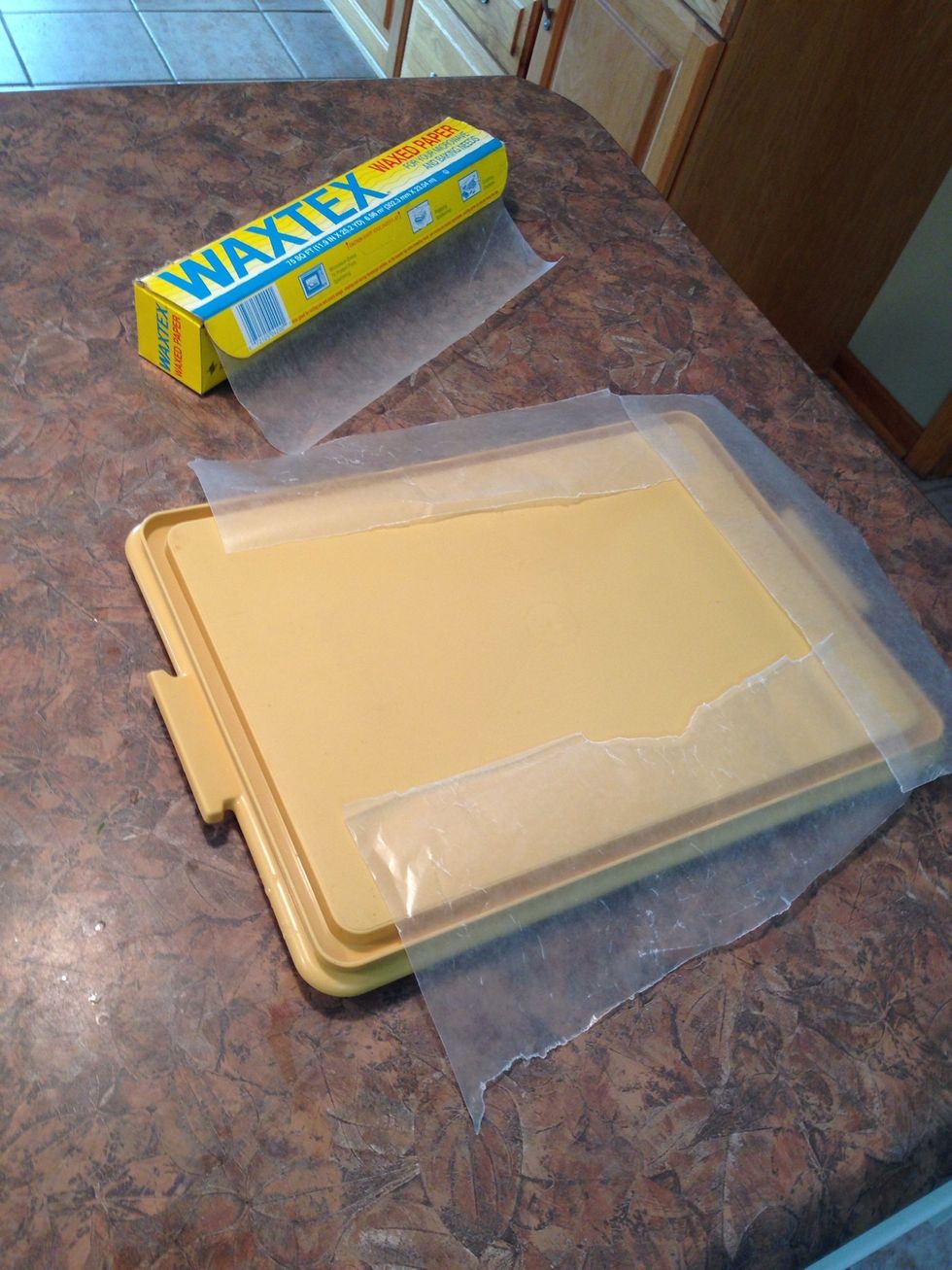 Lay strips of wax paper on your cake plate surface just so cake will overlap by an inch or so. These will keep your surface clean while you frost. They will be slid out afterward.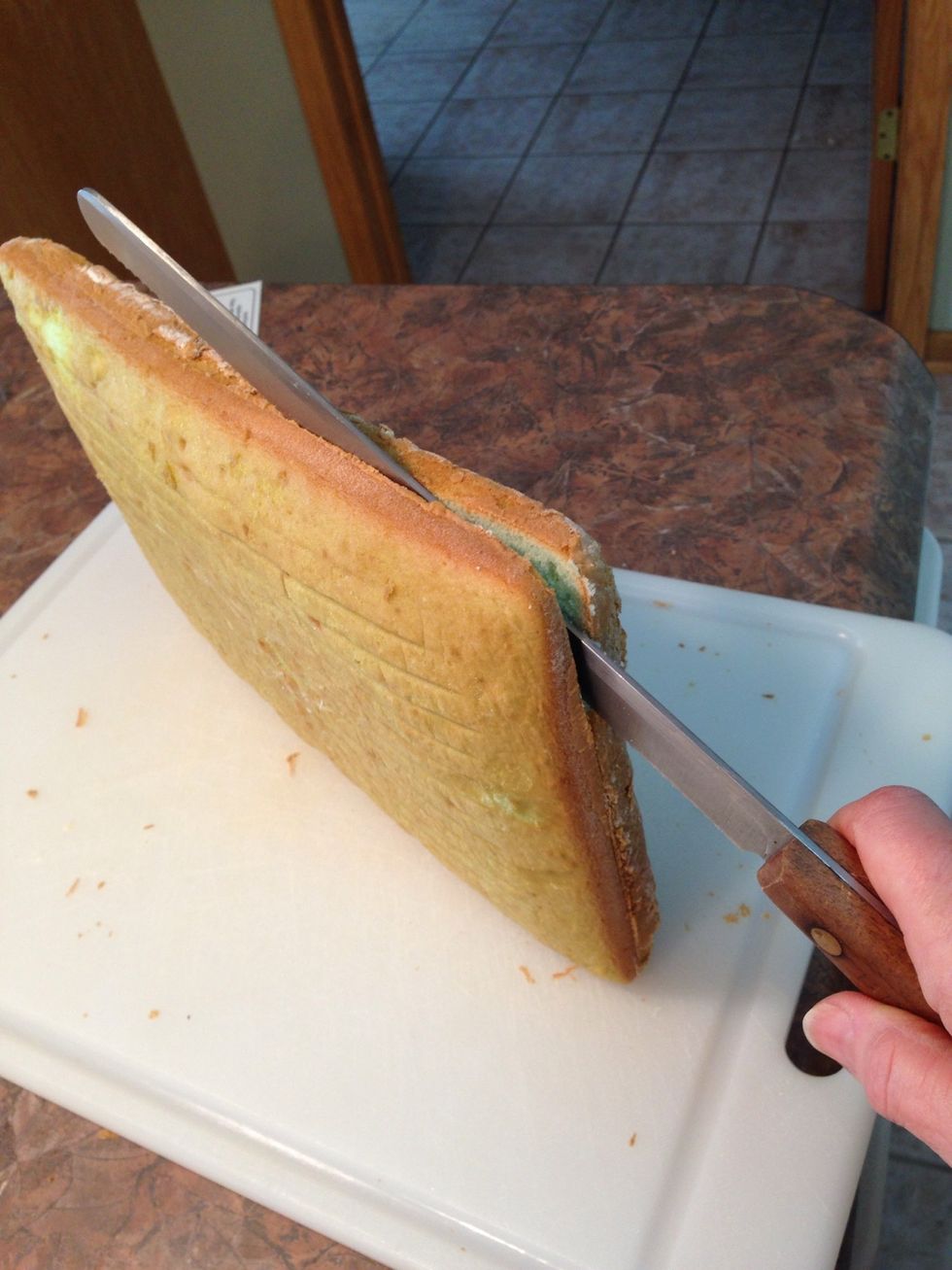 Using a long bread knife, slice the frozen cake in half. This is tricky. The cake will thaw fast... then it's even more difficult. You can opt out if this step if you think you'll have trouble.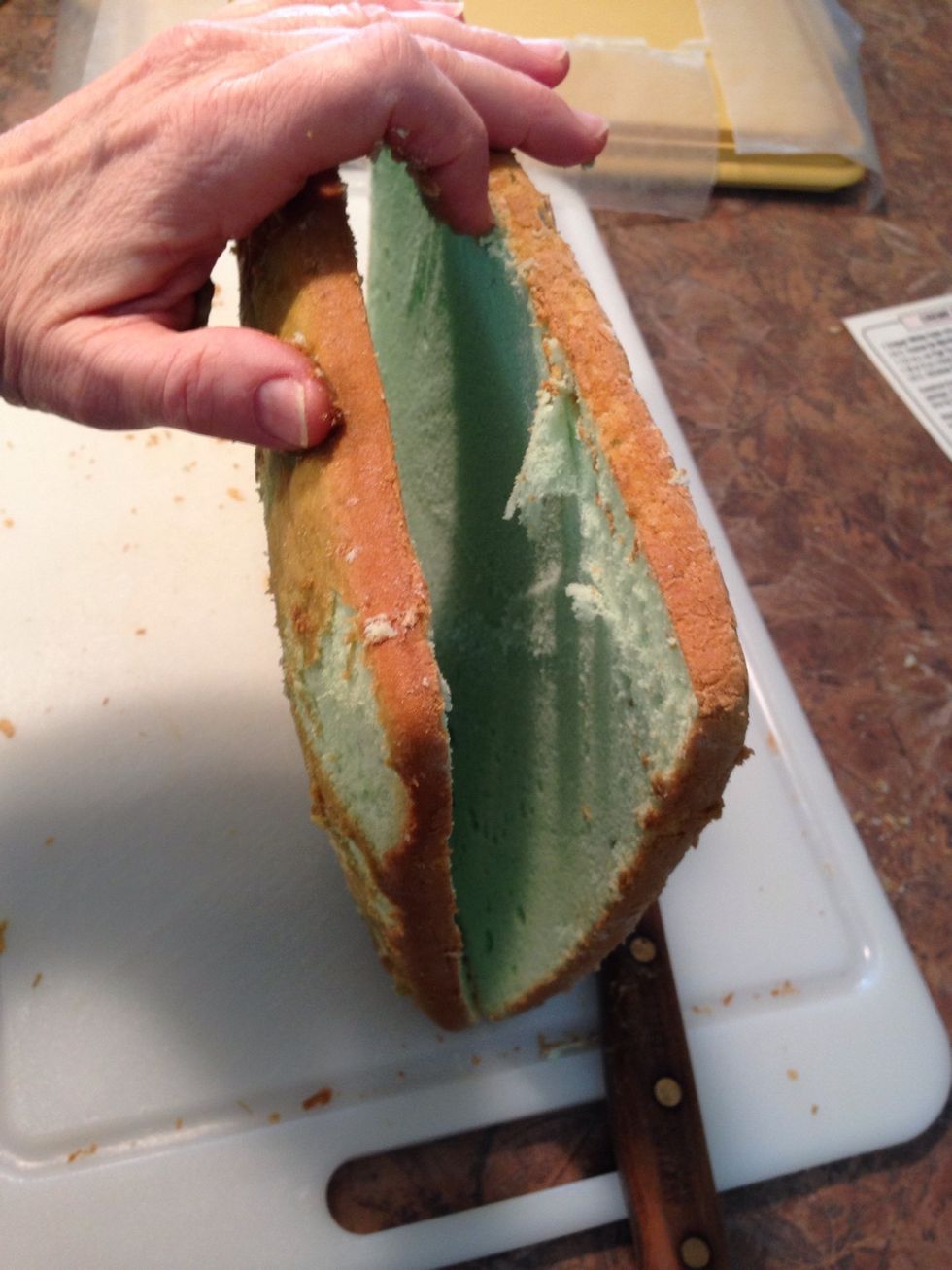 This allows you to put a fudge layer in the middle but like I said, it's optional. It's easy if you make 2 round layers.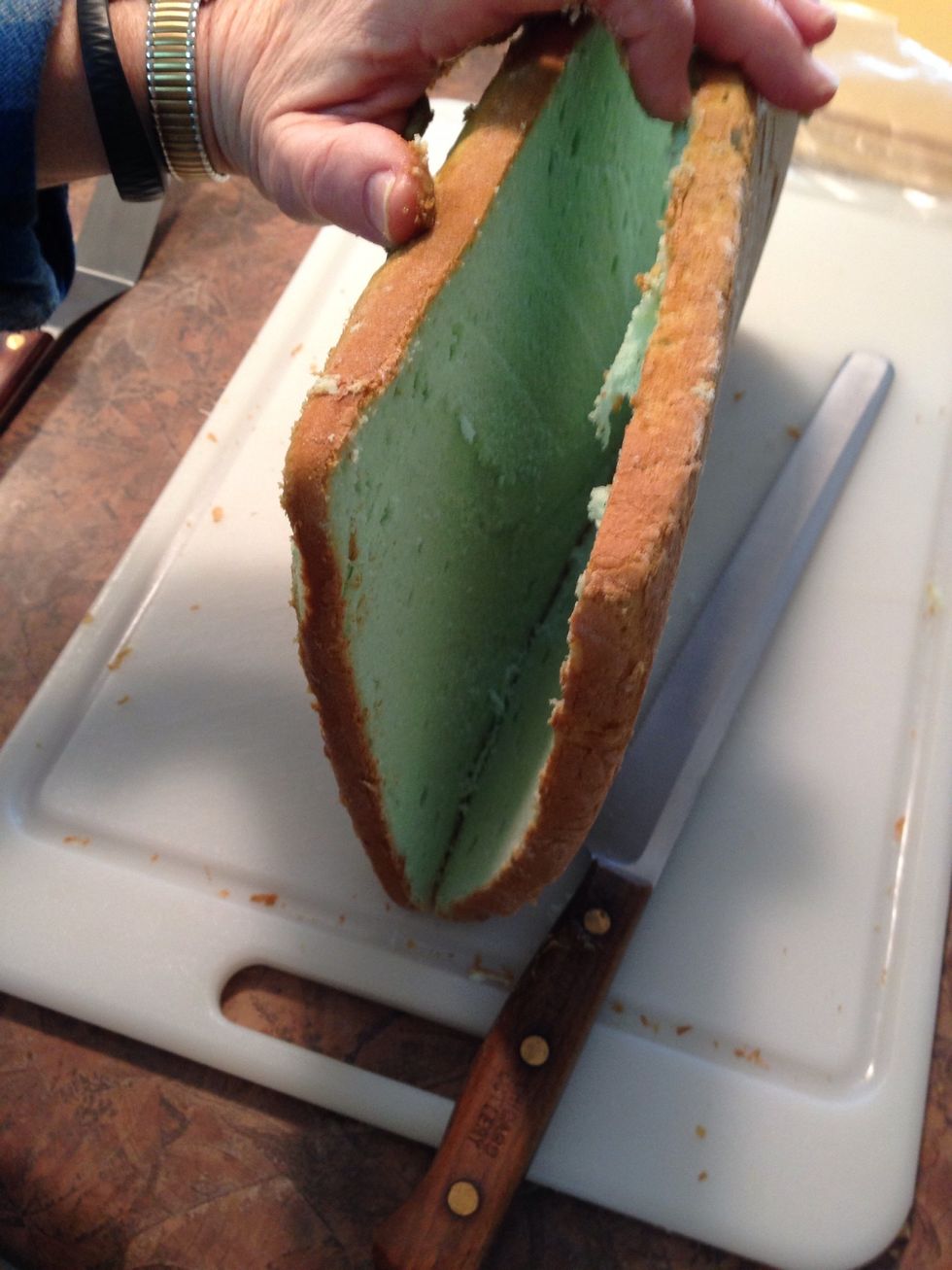 By the time I was done, it was almost completely thawed. I think it tastes better with this fudge layer so I'm willing to do this step.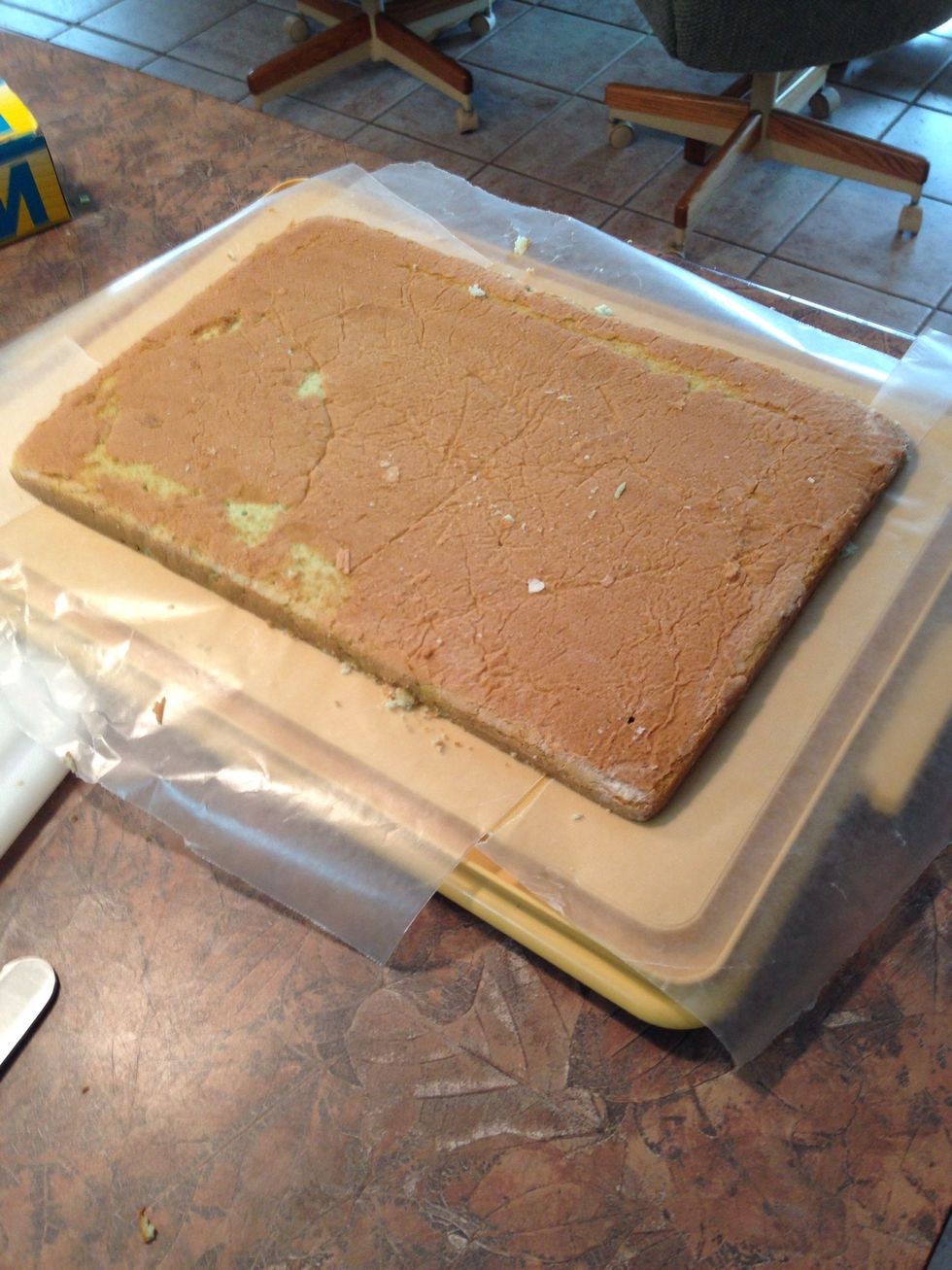 Place one layer onto cake plate as shown.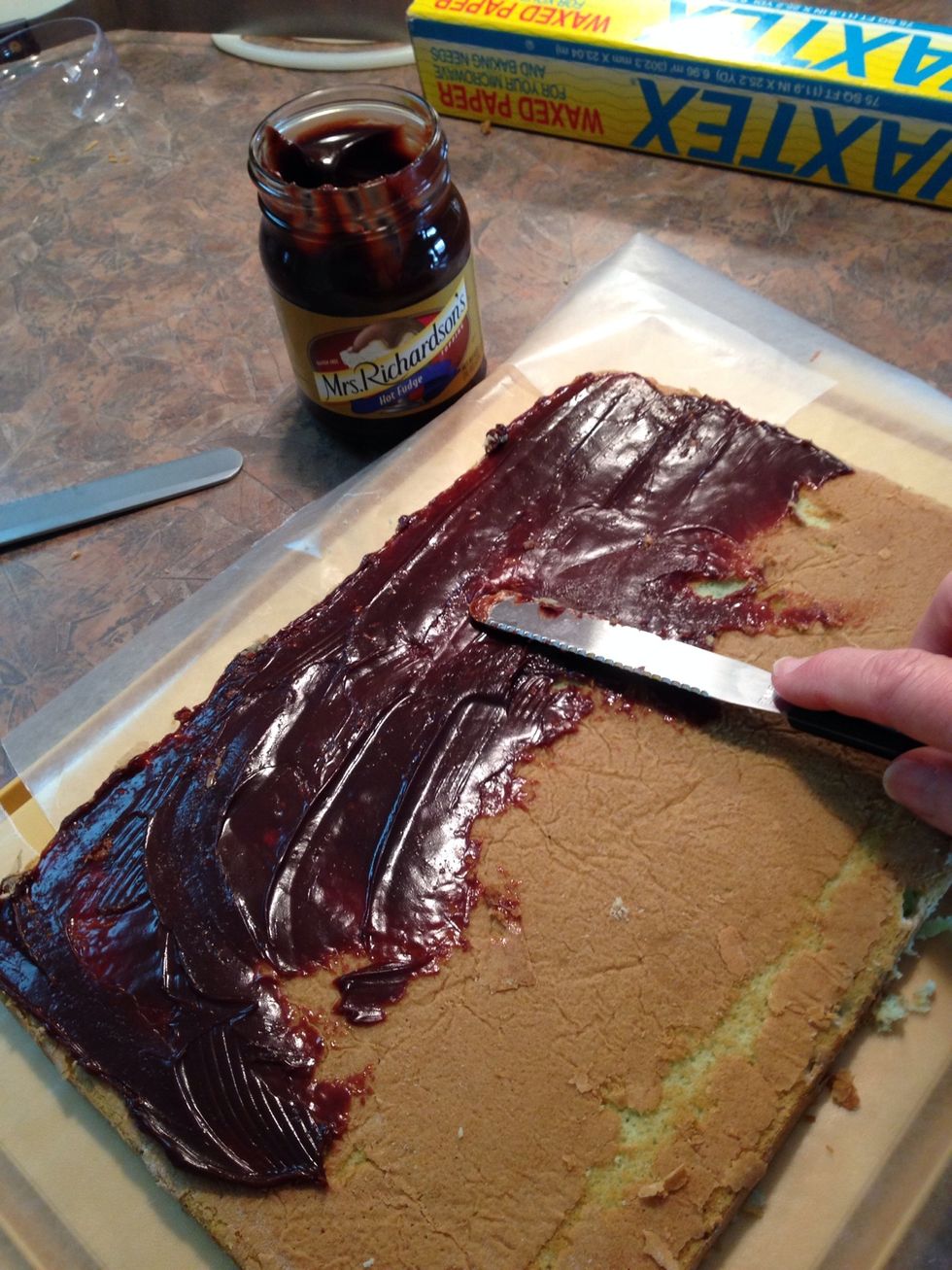 Jar of fudge should not be refrigerated, but room temperature. Feel free to put the cake back into the freezer briefly to firm it up.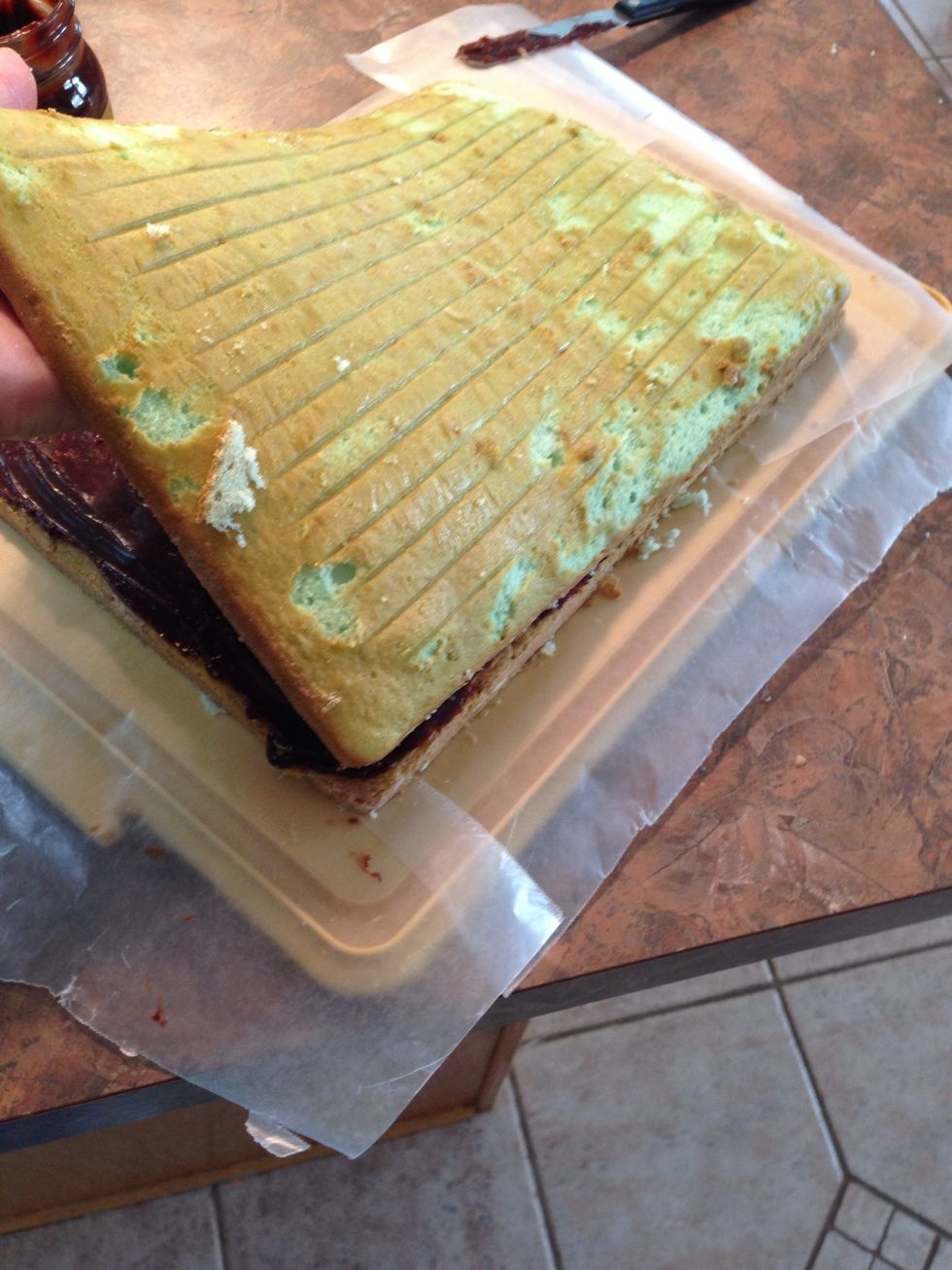 Add top layer of cake...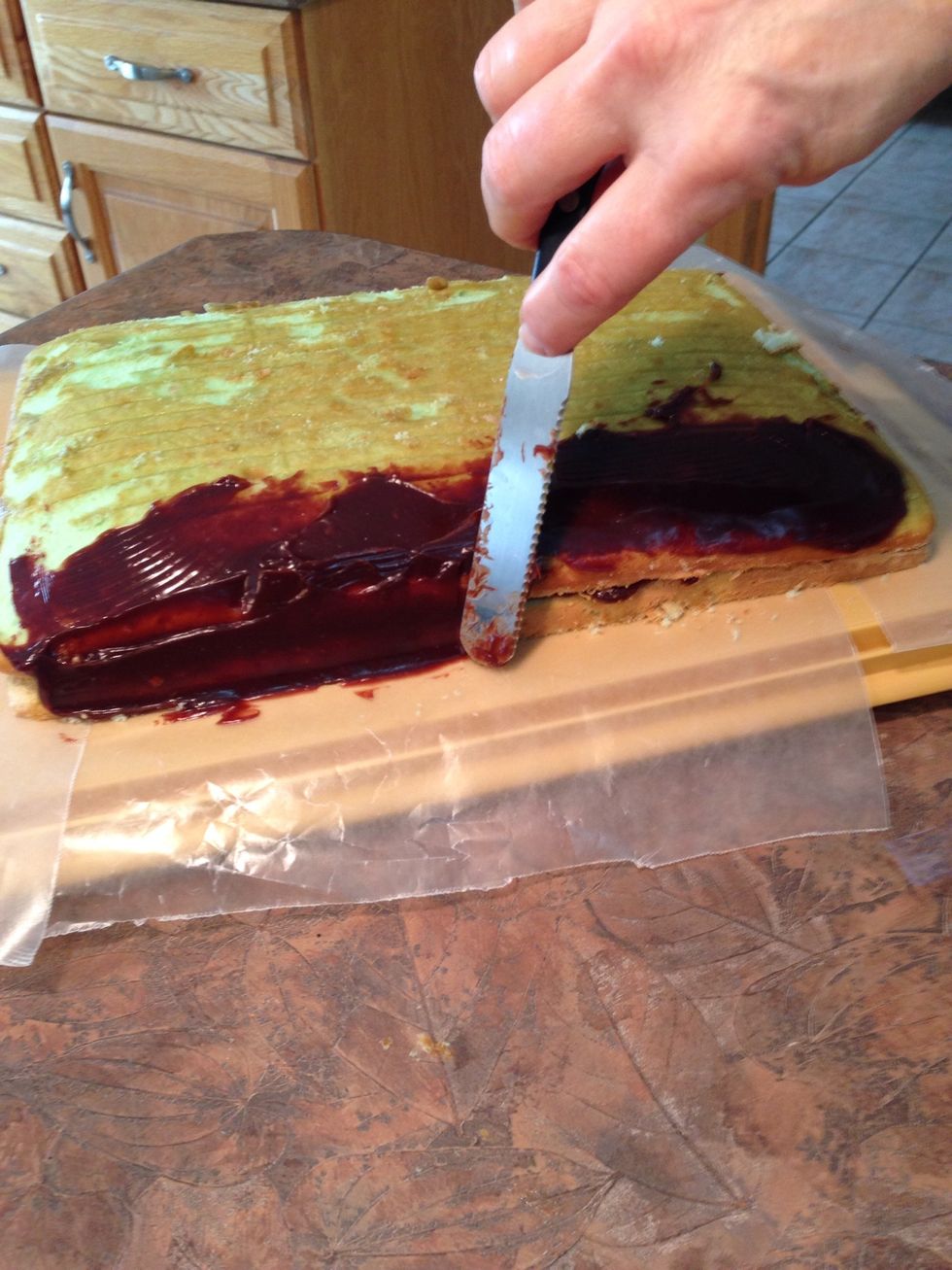 Spread remaining fudge...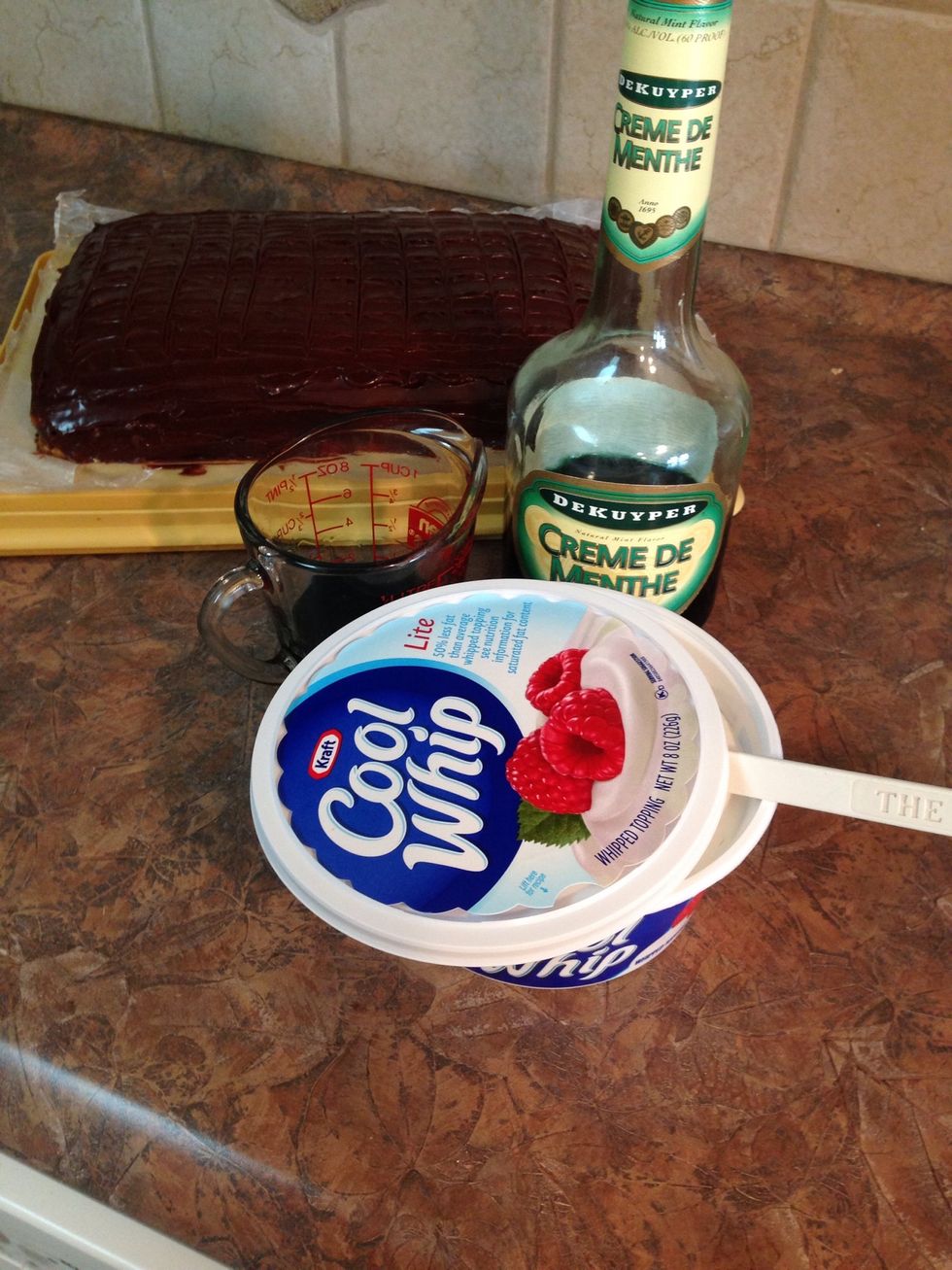 Firm up cake in the refrigerator while you prepare the Creme de Menthe "frosting."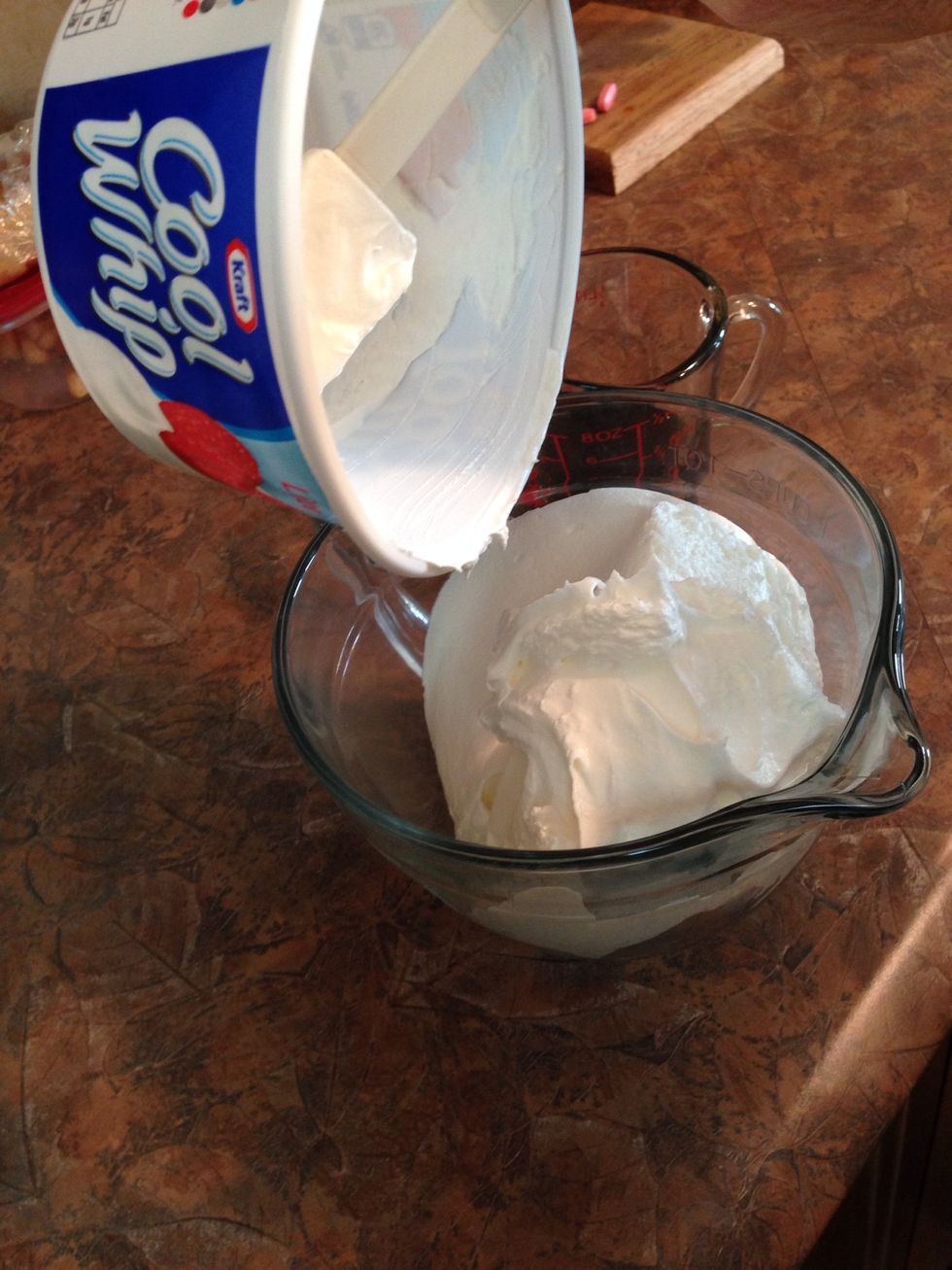 I put my 8 oz Cool Whip into a bowl, making it easier to stir in...
Add 1/4 cup Creme de Menthe. This will make it smell good, taste good and give it a beautiful soft minty green color.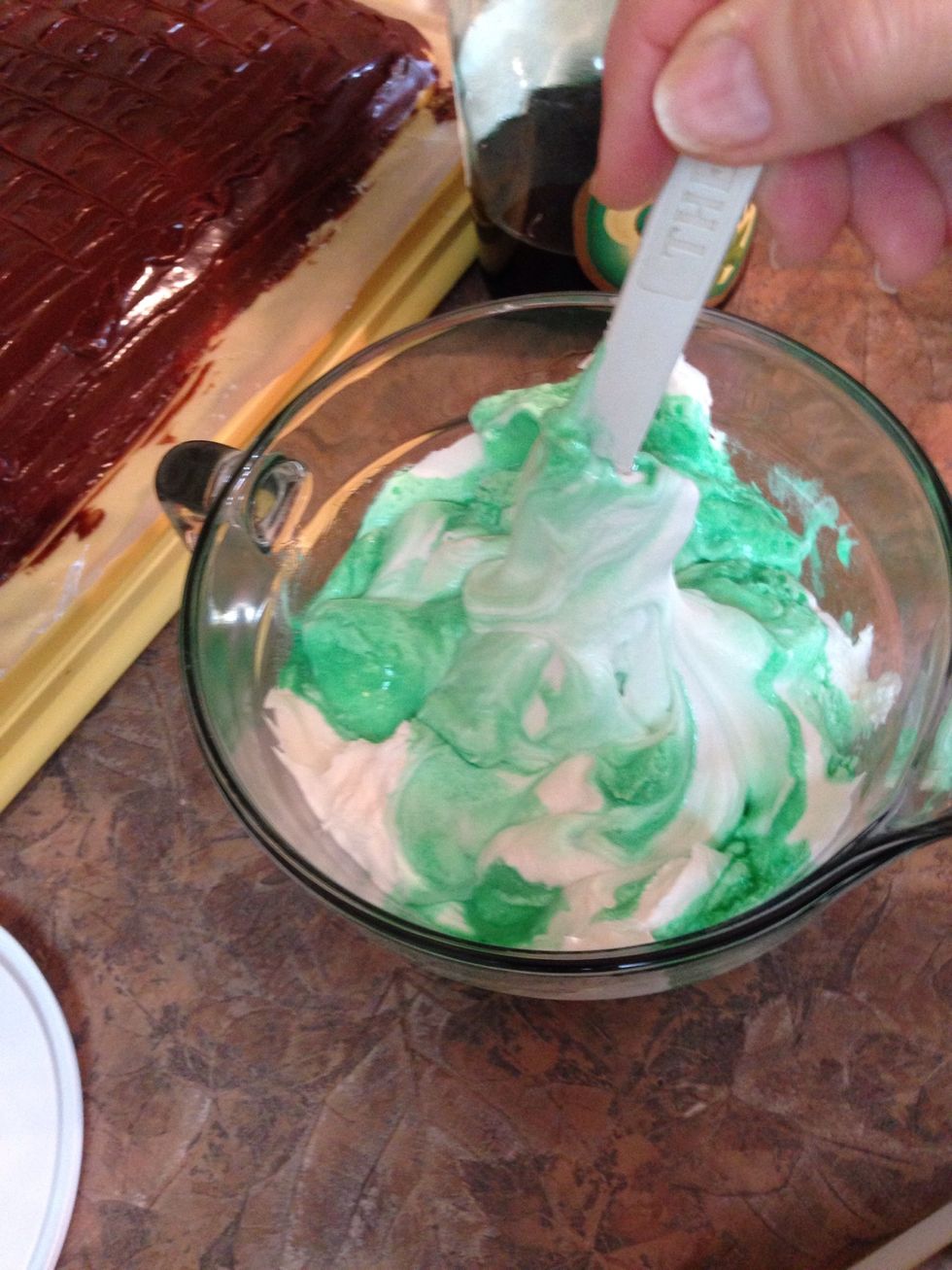 Gently stir to mix in evenly...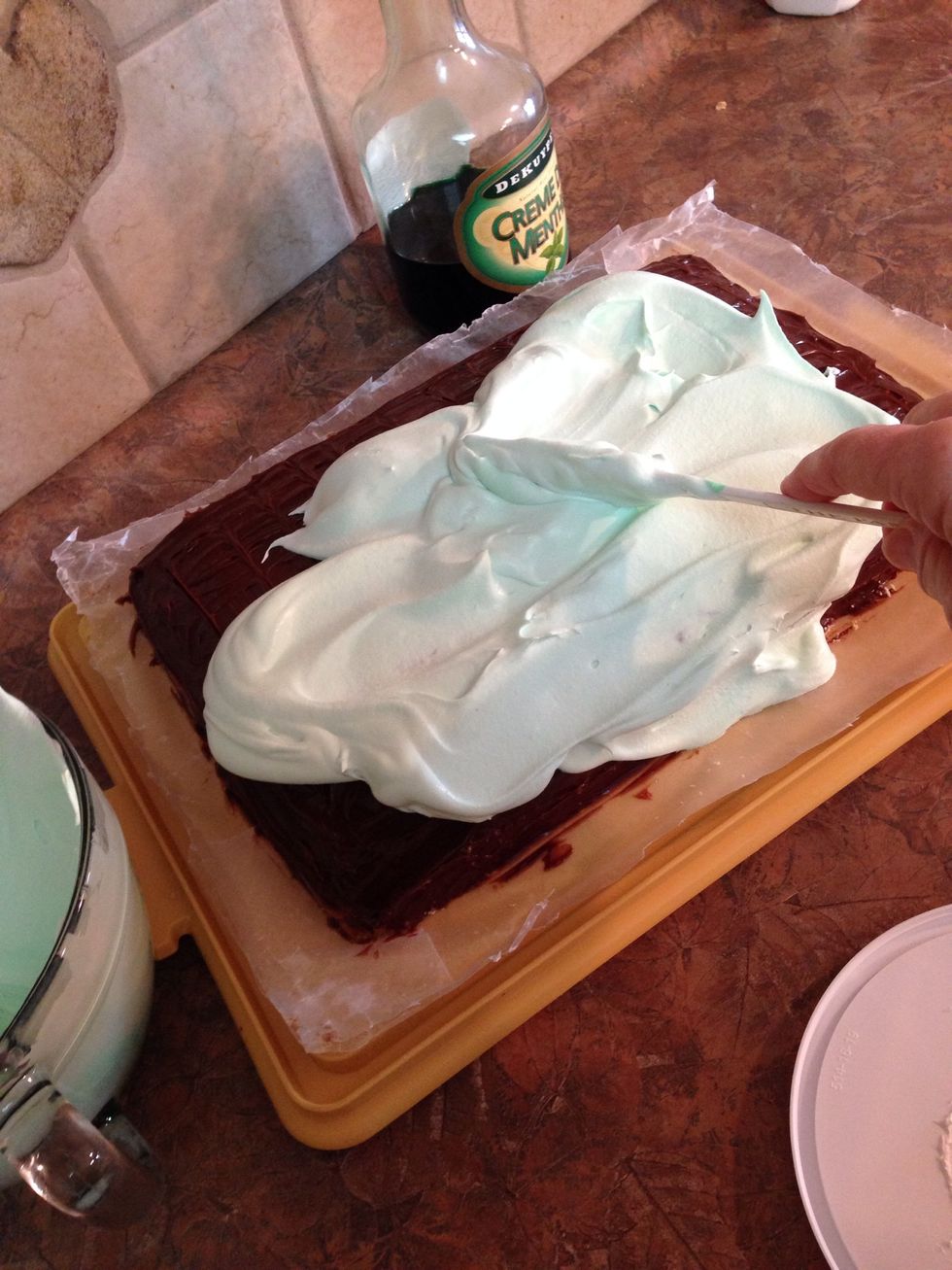 Spread on top of the fudge layer.
You will see how helpful the wax paper strips become as you spread frosting too.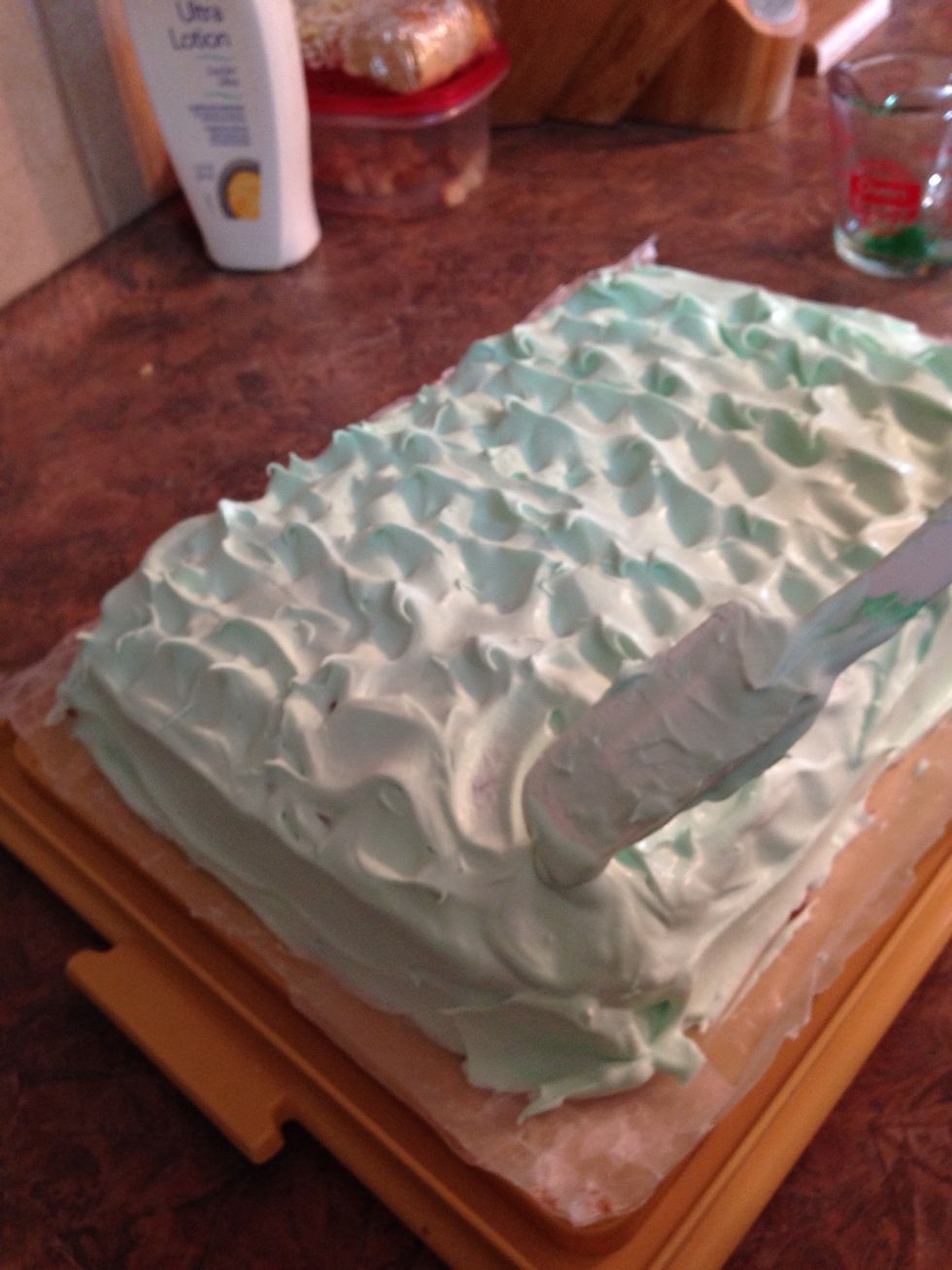 You can form peaks or stripe it for texture. Licking the bowl when you are done is fun as well...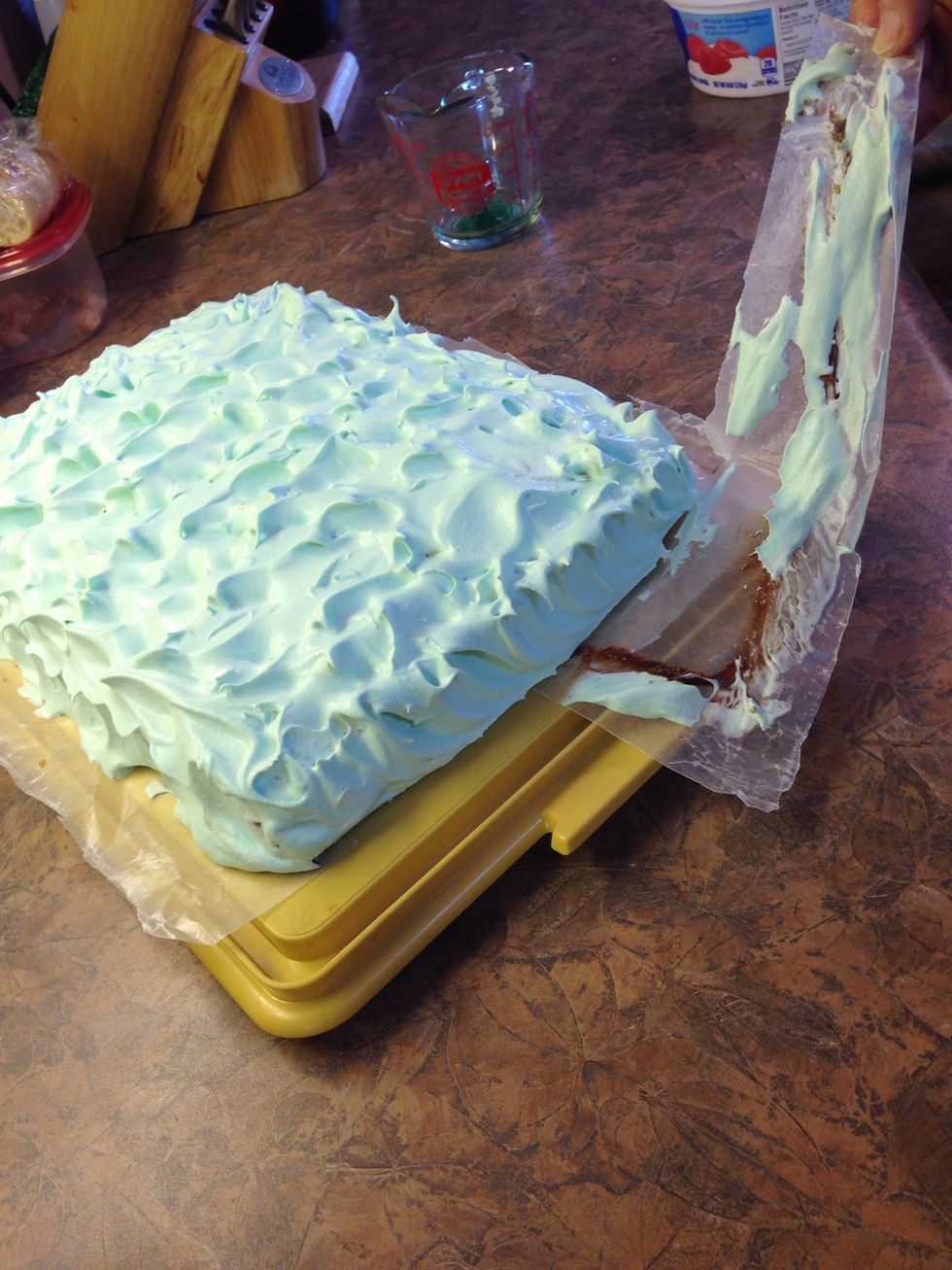 Slowly slide the wax paper strips lengthwise, helping free it from the cake with a sharp knife as needed. Note how nicely it kept the cake plate clean.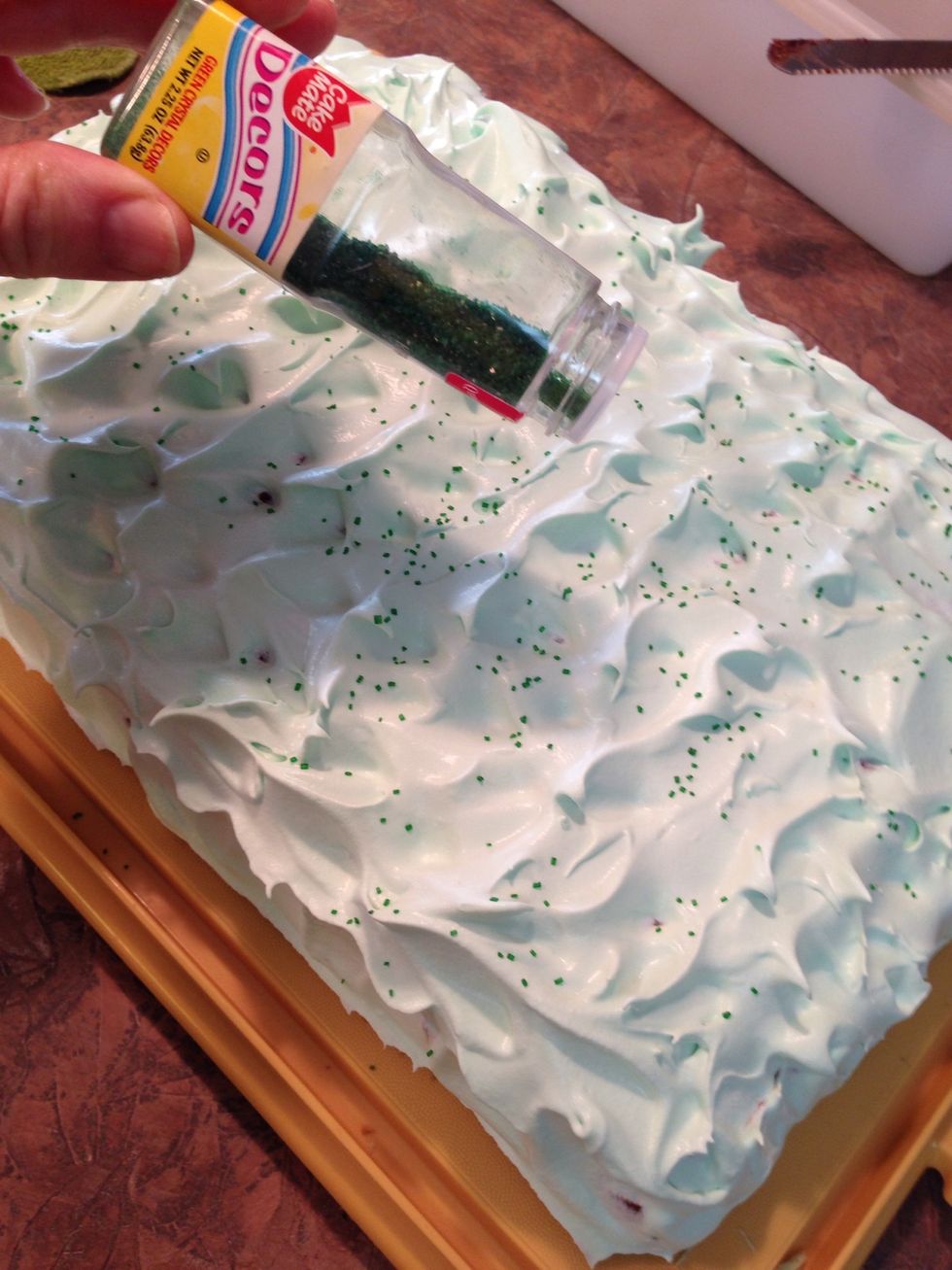 Optional: Add green sprinkles if desired...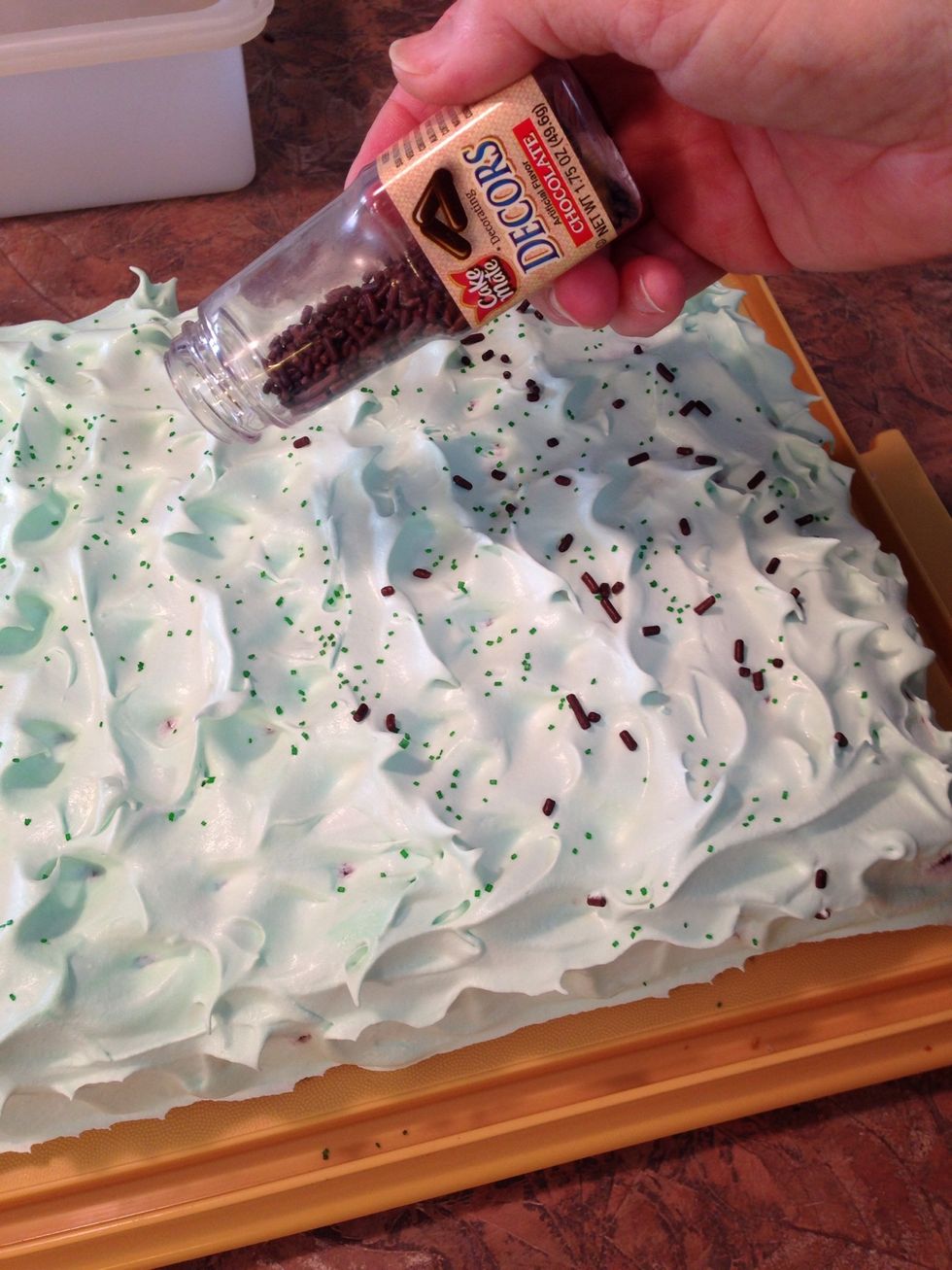 Optional: Add chocolate sprinkles or even mini chocolate chips ...
The mix of Creme de Menthe with the fudge is DELICIOUS!
1.0 White cake mix
1/4c Creme de Menthe (for cake)
1.0c 12 oz. jar fudge topping
8.0oz Cool Whip (reg or lite)
1/4c Creme de Menthe (for topping)
optional sprinkles or mini chocolate chips
Rollie Brandt
I've been an artist all my life and raised my children as a stay at home mom. Happily married 40 years. I love to share what I do...