There are tons of recipes online for DIY laundry detergent, but most recipes leave you with a HUGE container of assorted powders mixed together. You can't deny it's easy, but who has the space??
If you're willing to spend some extra time, you can make your own concentrated laundry detergent that will fit neatly into 2 quart-size Mason jars!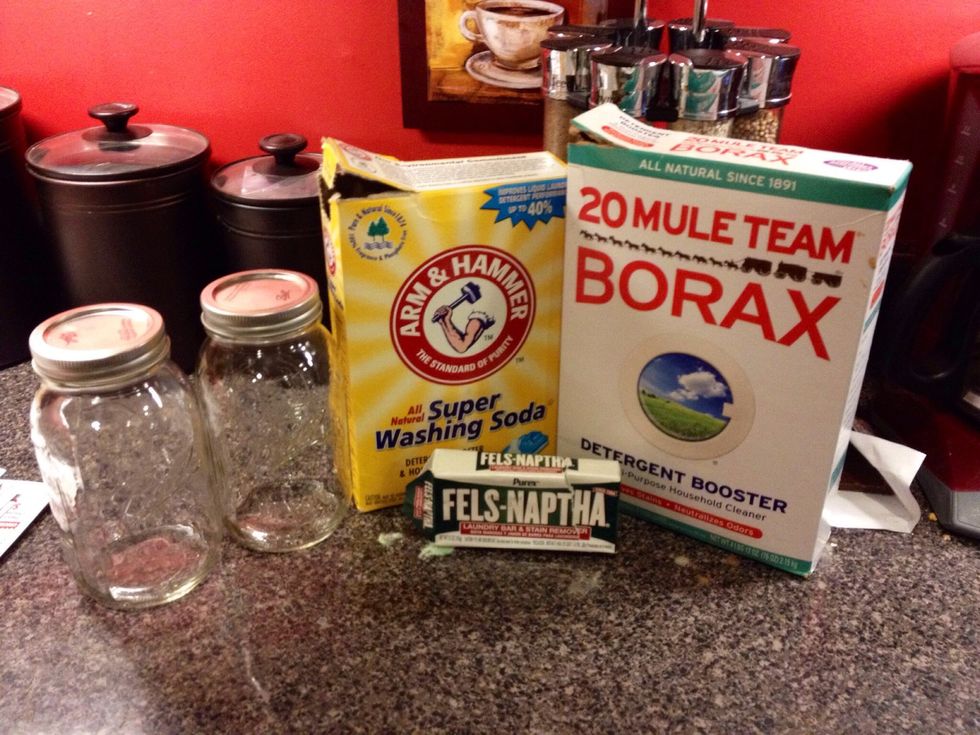 Gather your supplies.
A few notes about the ingredients for this process: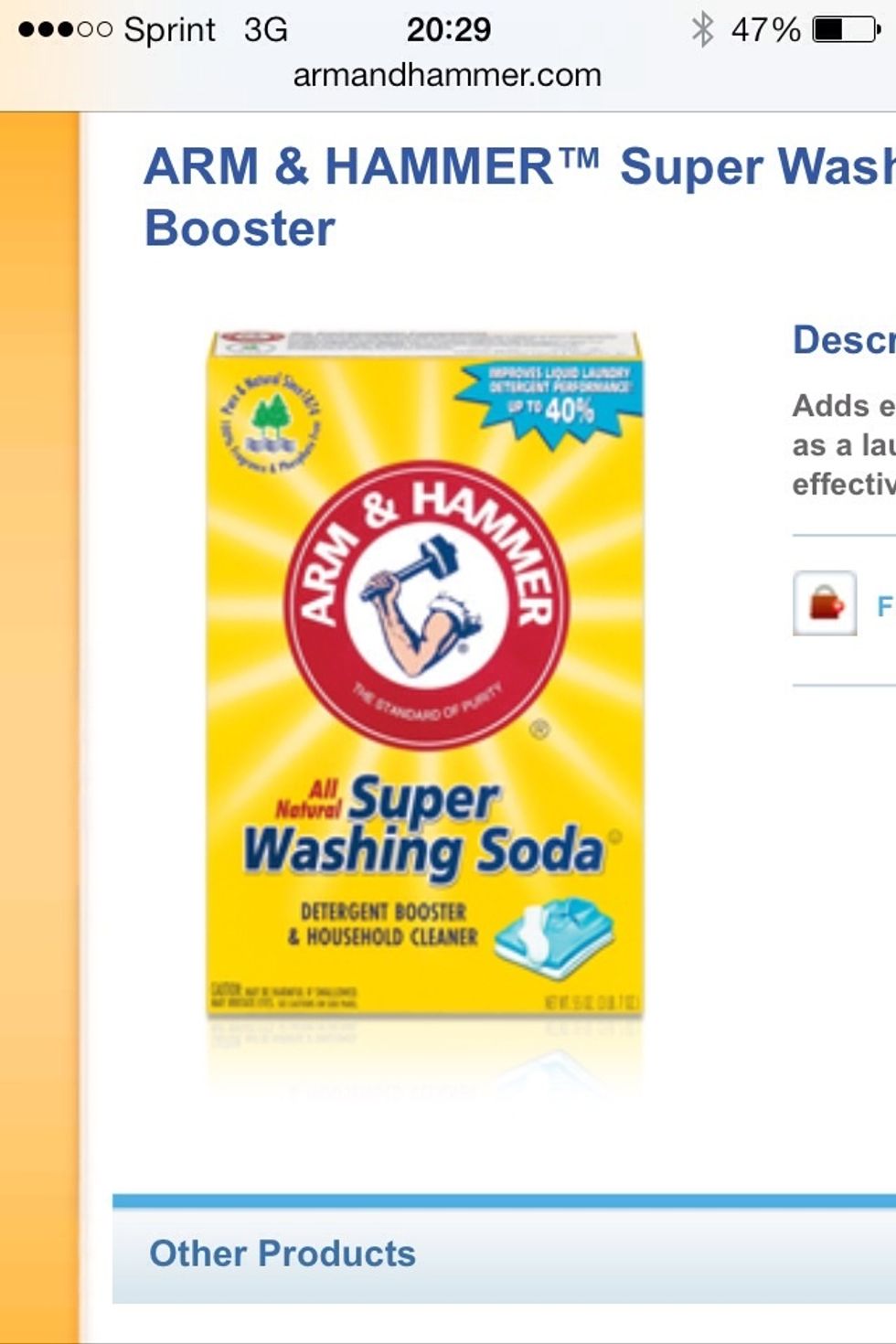 Washing soda also goes by the name soda ash, sodium carbonate, and soda crystals. I find mine in the detergent aisle at my local store and it's fairly inexpensive.
There are online tutorials for turning your baking soda into washing soda, but I can tell you I've been using the same box of washing soda for a year now. It goes a long way.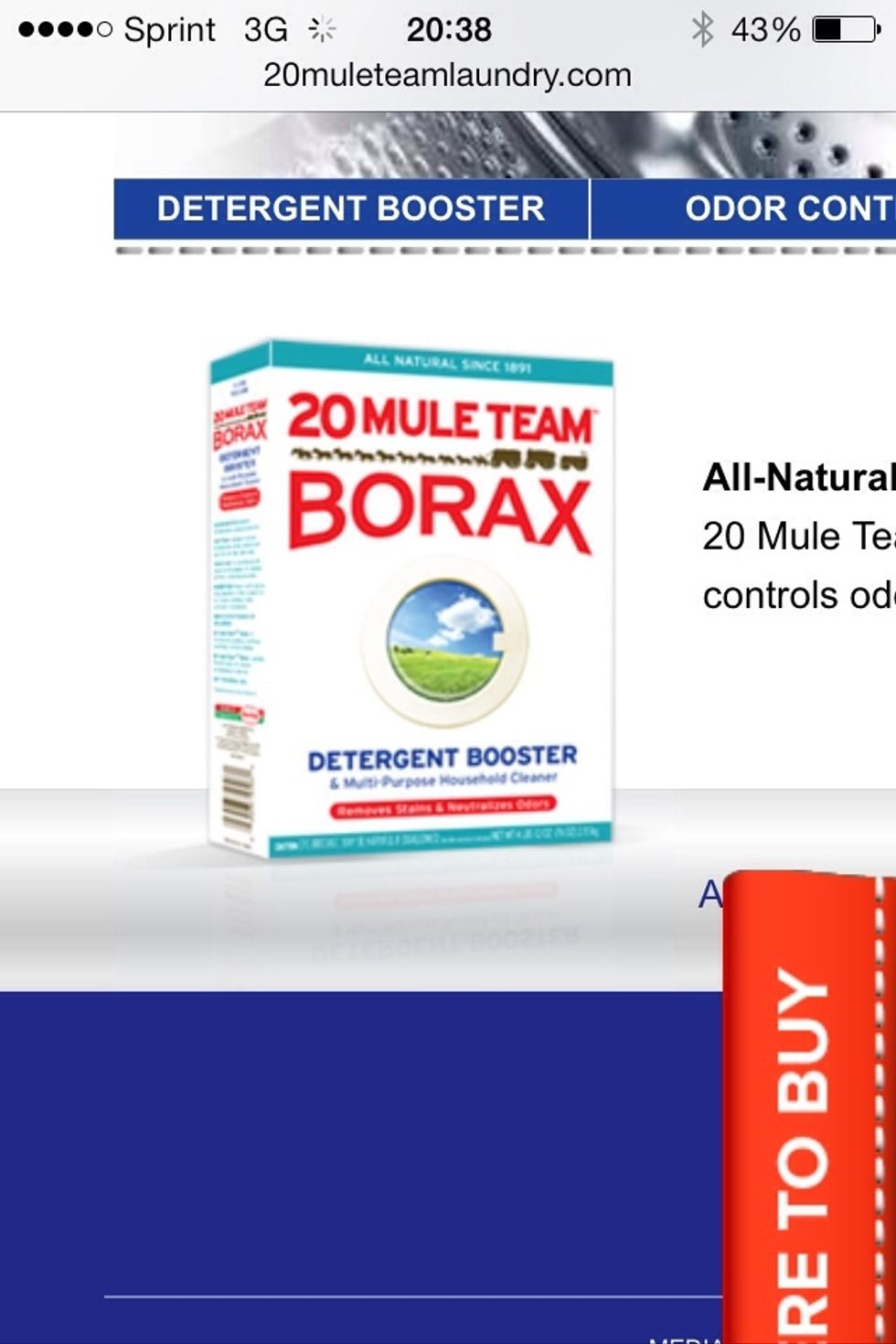 Borax is also known as sodium borate, sodium tetraborate, or disodium tetraborate. There appears to be some debate over the toxicity of Borax. Be smart and keep it away from children just in case.
Again, I find mine on the detergent aisle usually near the washing soda.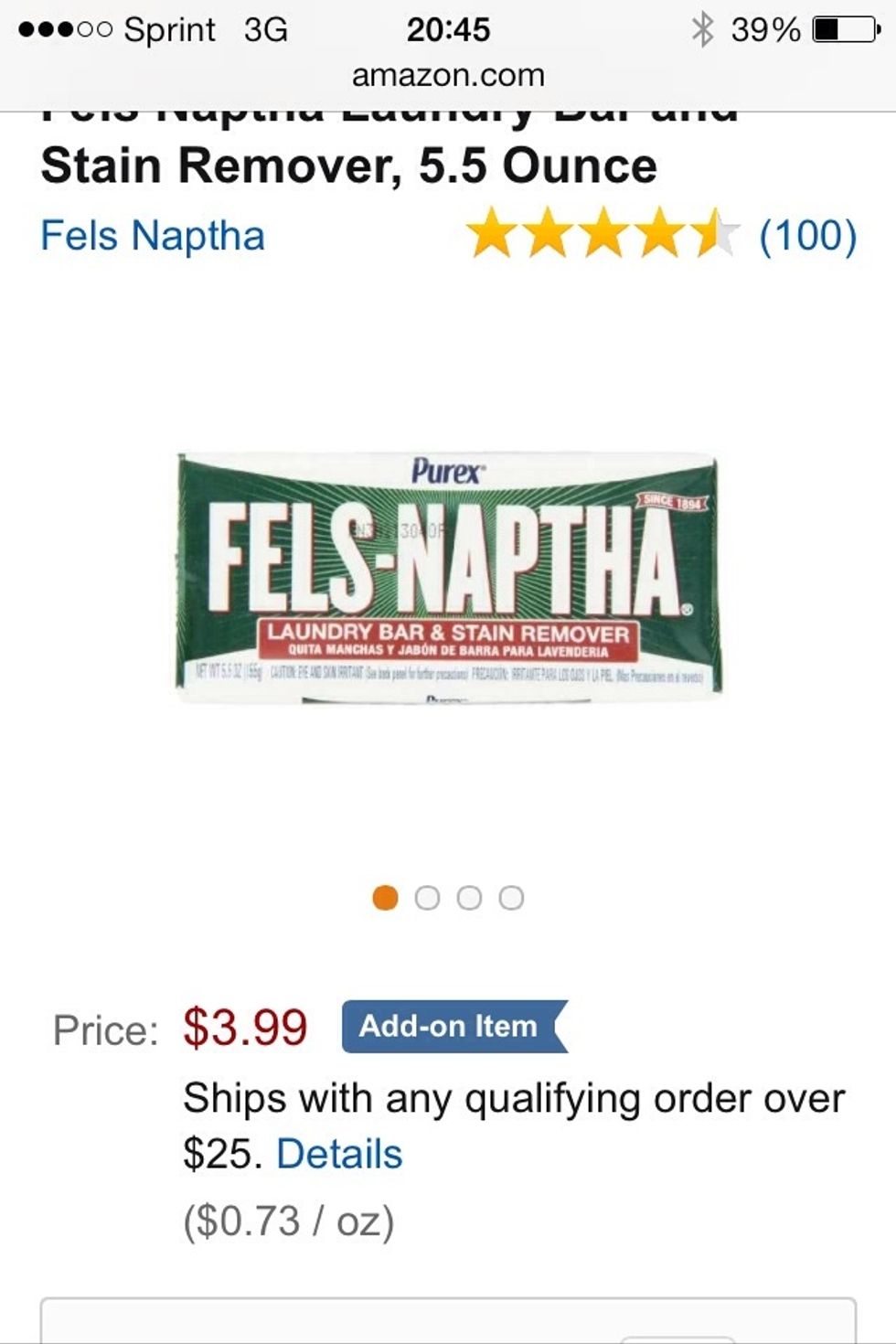 This is probably the most important ingredient in this guide. You can use whatever brand of washing soda and borax you like, but you MUST use Fels-Naptha bar soap.
You cannot use any type of soap you want, and you cannot use the other popular brand of laundry bar soap in the US, Zote. Your final result simply will not turn out and you'll have wasted your time.
Fels-Naptha is usually located on the top shelf somewhere on the laundry aisle. It costs a little more than $1 a bar. If you absolutely can't find it at the store, it is available on Amazon.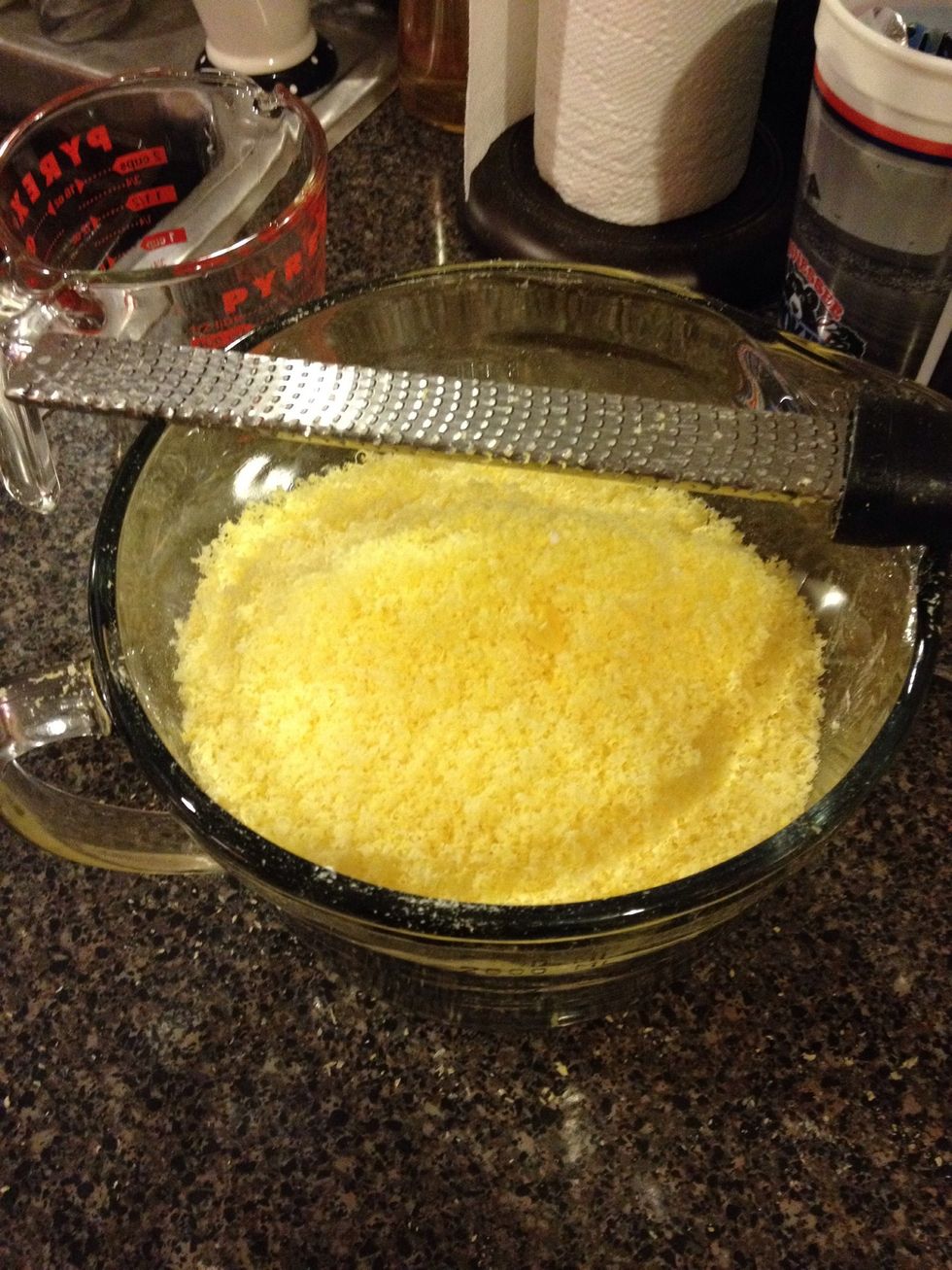 Grate your Fels-Naptha. I use a very fine grater to do this, but you can also chop it up with a knife and/or run it through a food processor.
You will ultimately be melting the soap, so the finer you can initially grate it the faster it will melt.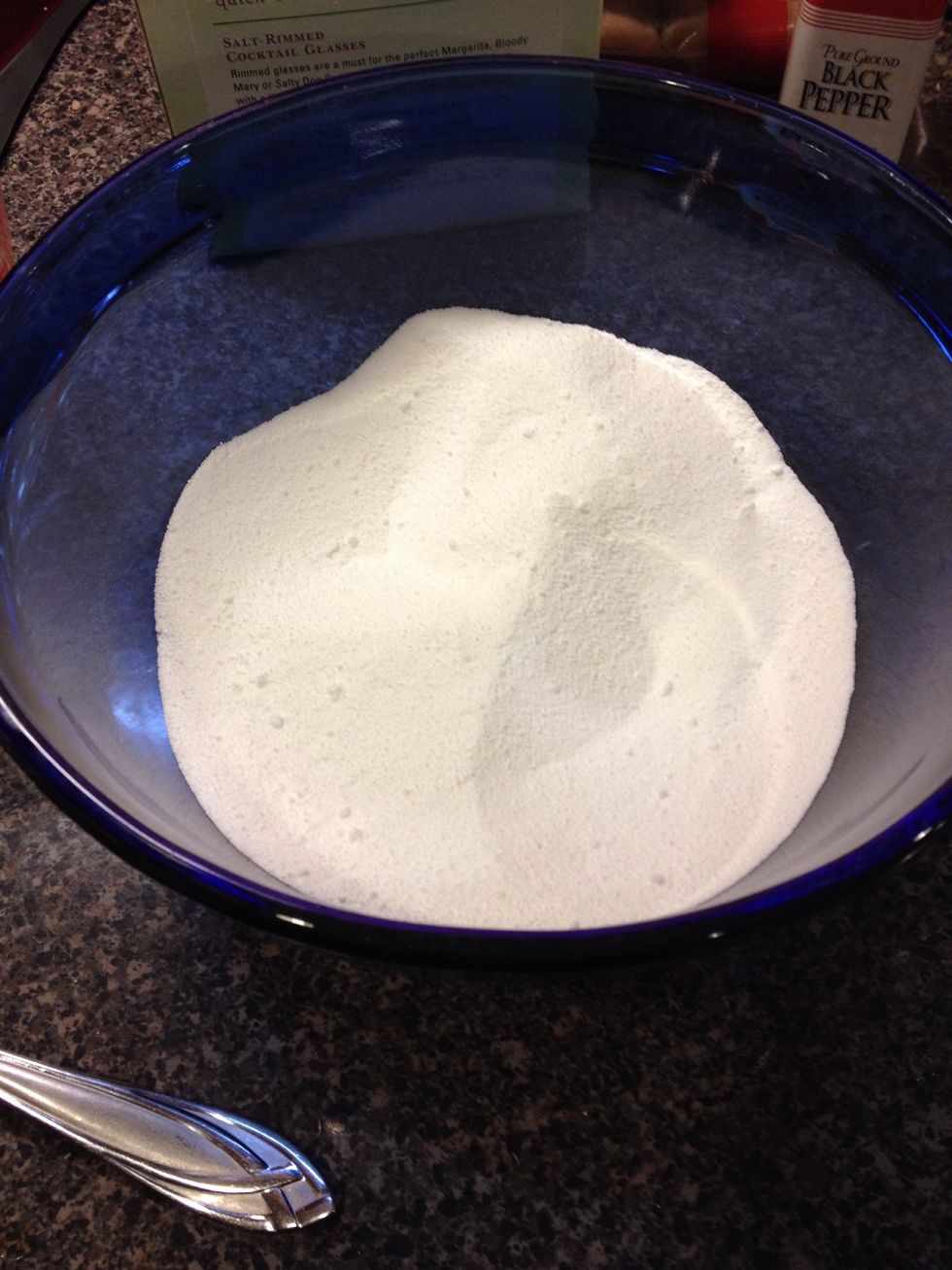 In a medium bowl, combine your washing soda and borax. Stir together with a fork and break up any large clumps. Set aside.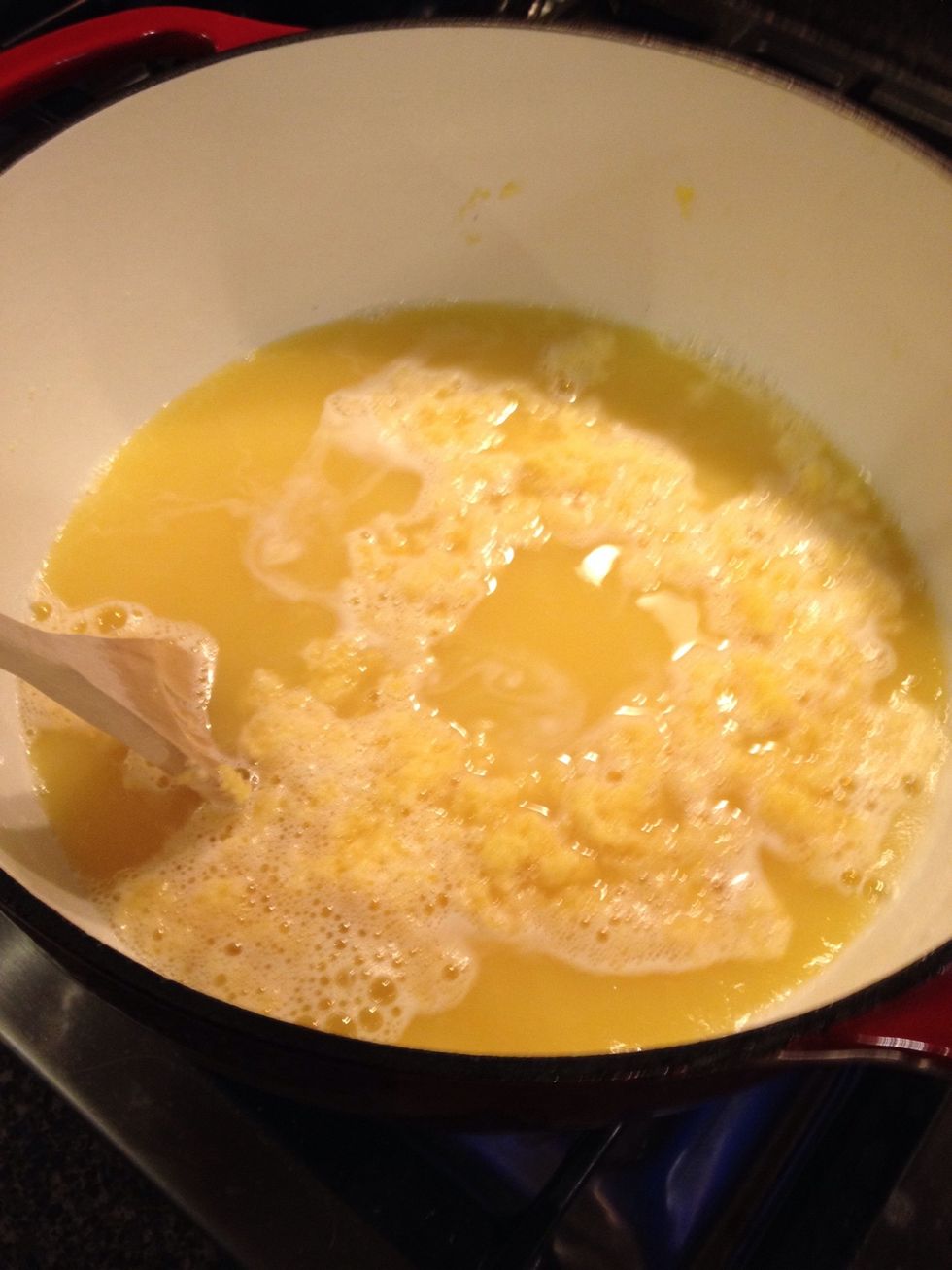 Add all of your grated Fels-Naptha. Begin stirring immediately and return your mixture to a boil. Once at a boil, turn your mixture down to somewhere between medium and medium-high.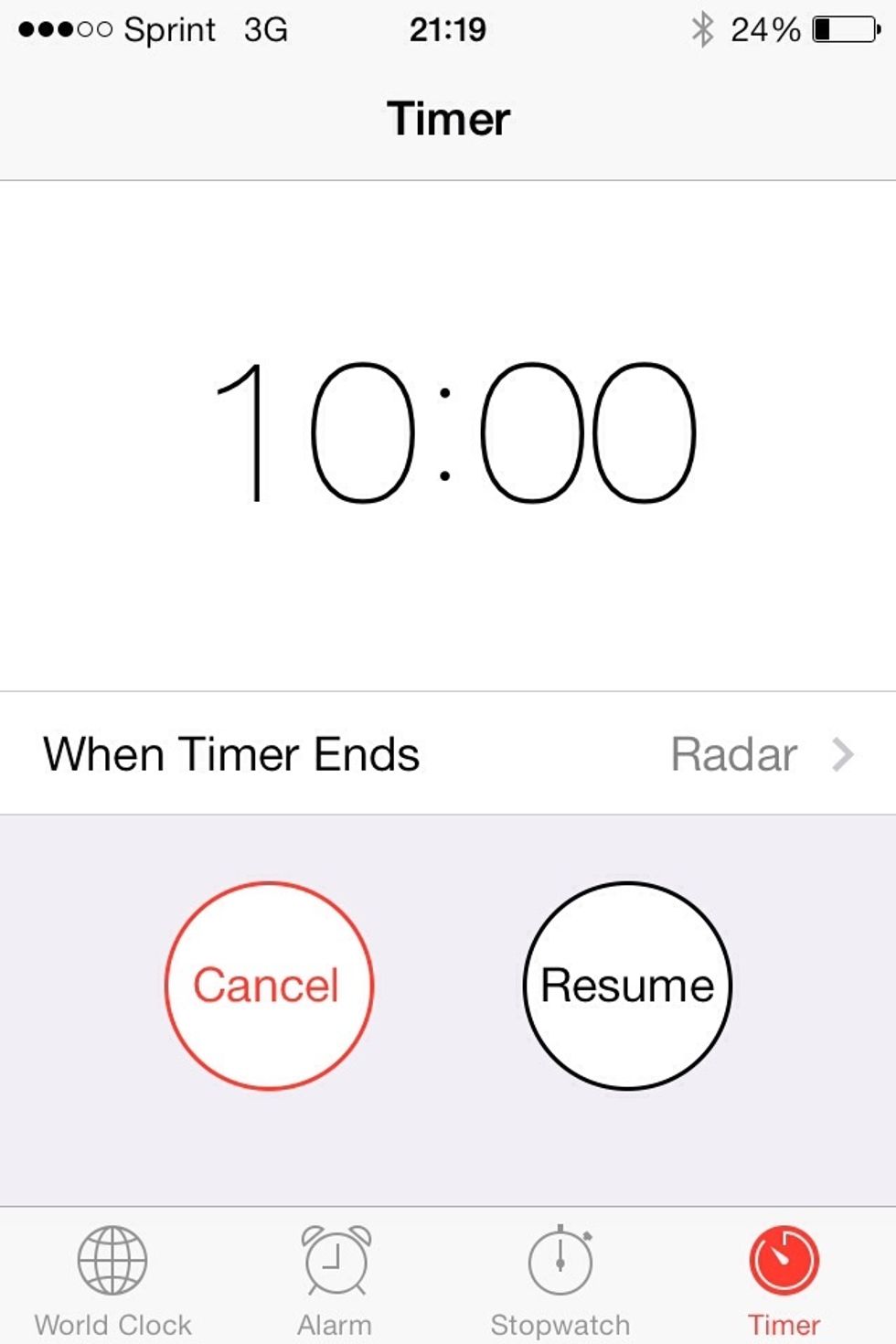 Let your soap melt for 10-15 minutes. The finer you grated your soap initially the faster it will melt. Scrape the sides of your pot periodically to remelt soap that sloshed up and hardened.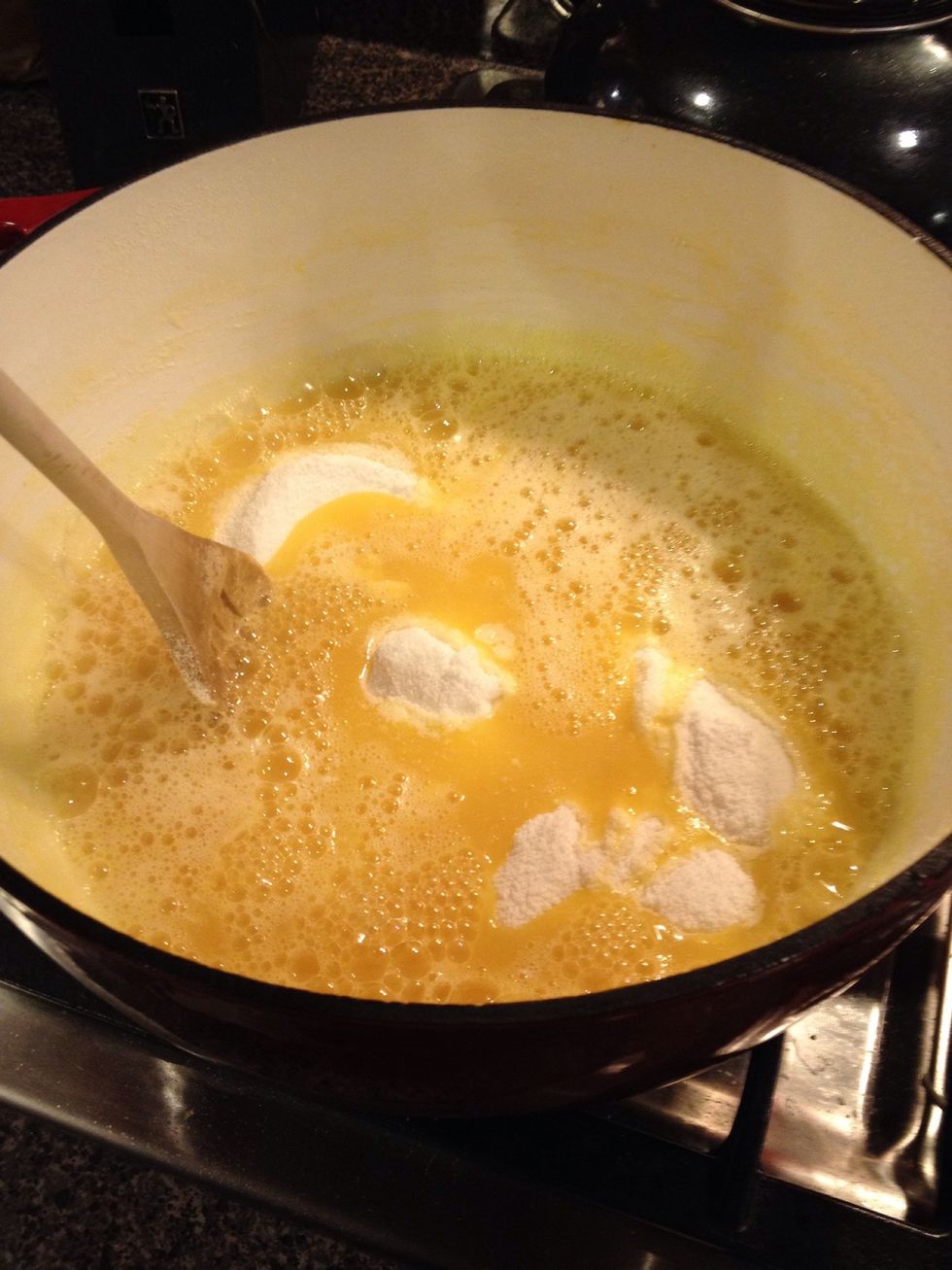 Remove from heat and add your powders. Stir stir stir!!!
Stir this new mixture until the powders are fully dissolved--in other words, until you no longer feel grittiness on the bottom when you stir. This can take awhile.
Once you're fairly certain all of your powders are dissolved, fill 2 1-qt Mason/Ball jars half way with your detergent mixture. Fill the rest of the jar up to the rounded part of the jar with water.
Leave about 1 1/2 inches of head space. Screw the lids on very tightly and invert your jars onto the counter.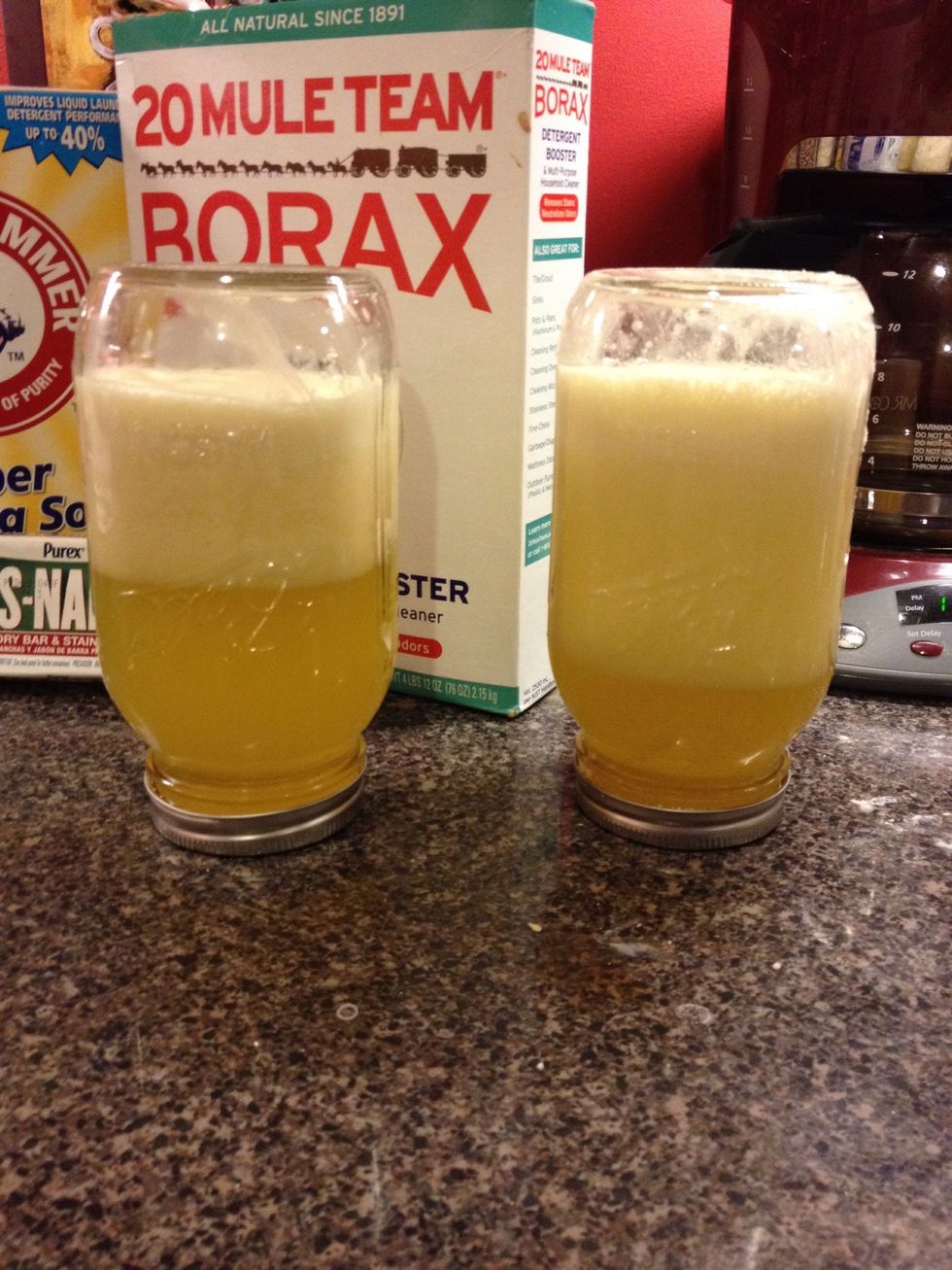 You want to see something like this almost immediately when you invert your jars. It may take a moment, but you should see a distinct translucent liquid on the bottom and an opaque solid on top.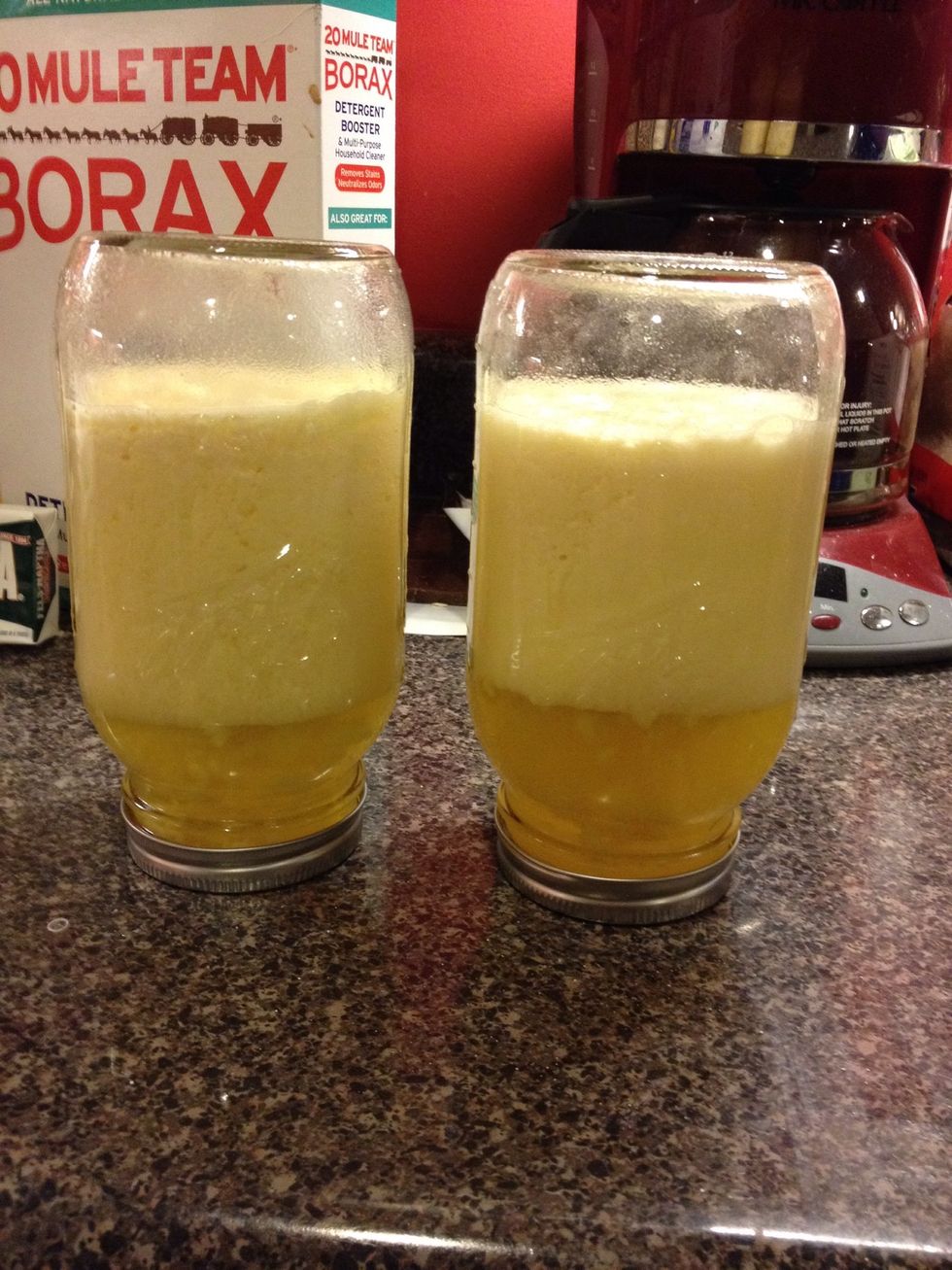 If your jars look like this, however, your powders did not fully dissolve and you need to remelt.
How can you tell the difference? If done properly, the solid layer should appear smooth and the liquid layer free of any floating solids. The solid layers may develop bubbles later.
If undissolved powder remains, the solid layer will appear granular and bubbly, and the liquid layer will contain floating solids. Grainy detergent will not melt well in the wash.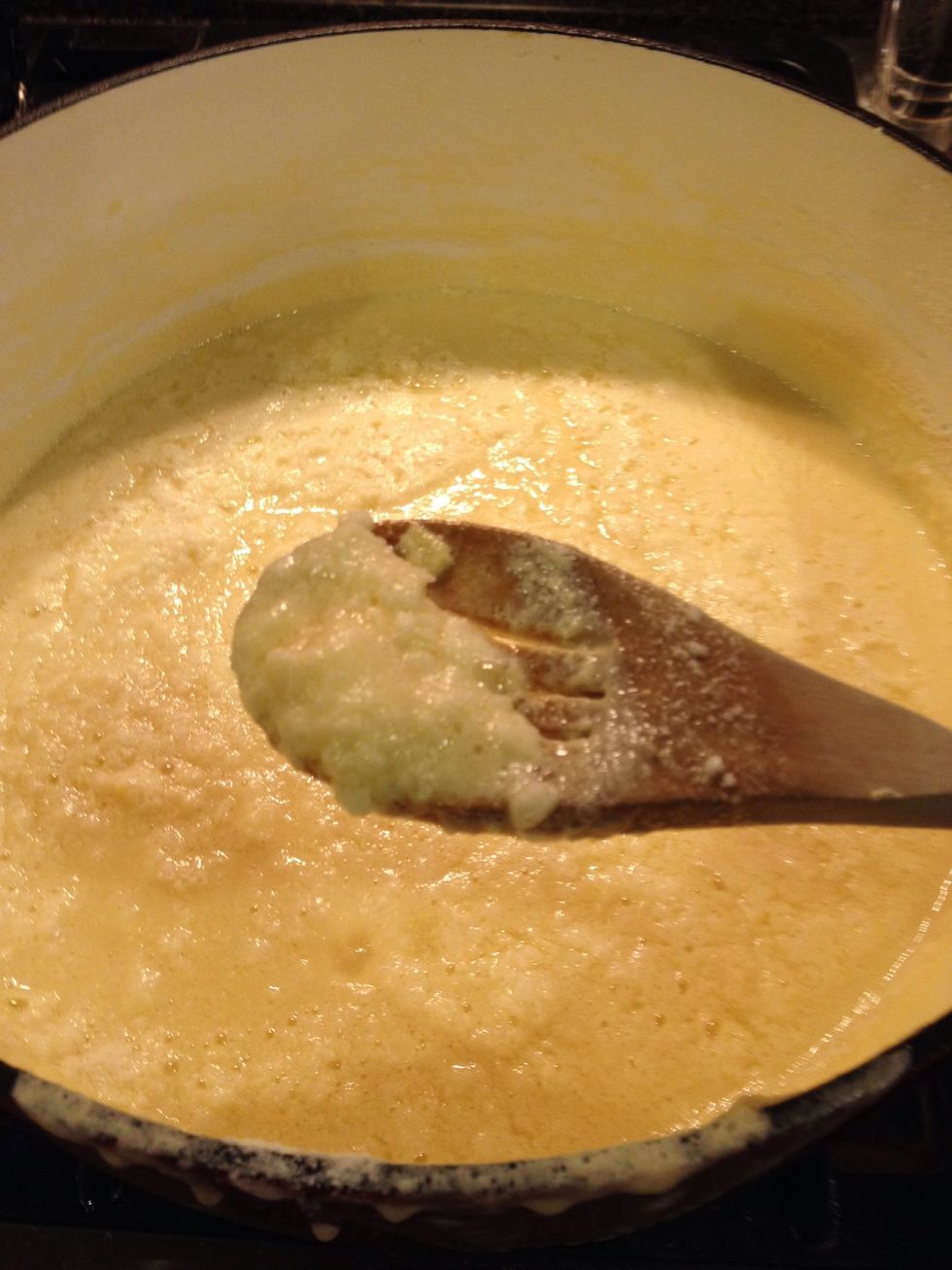 Dump the contents of your jars back into your pot and bring to a boil again. See? Lots of undissolved powder here!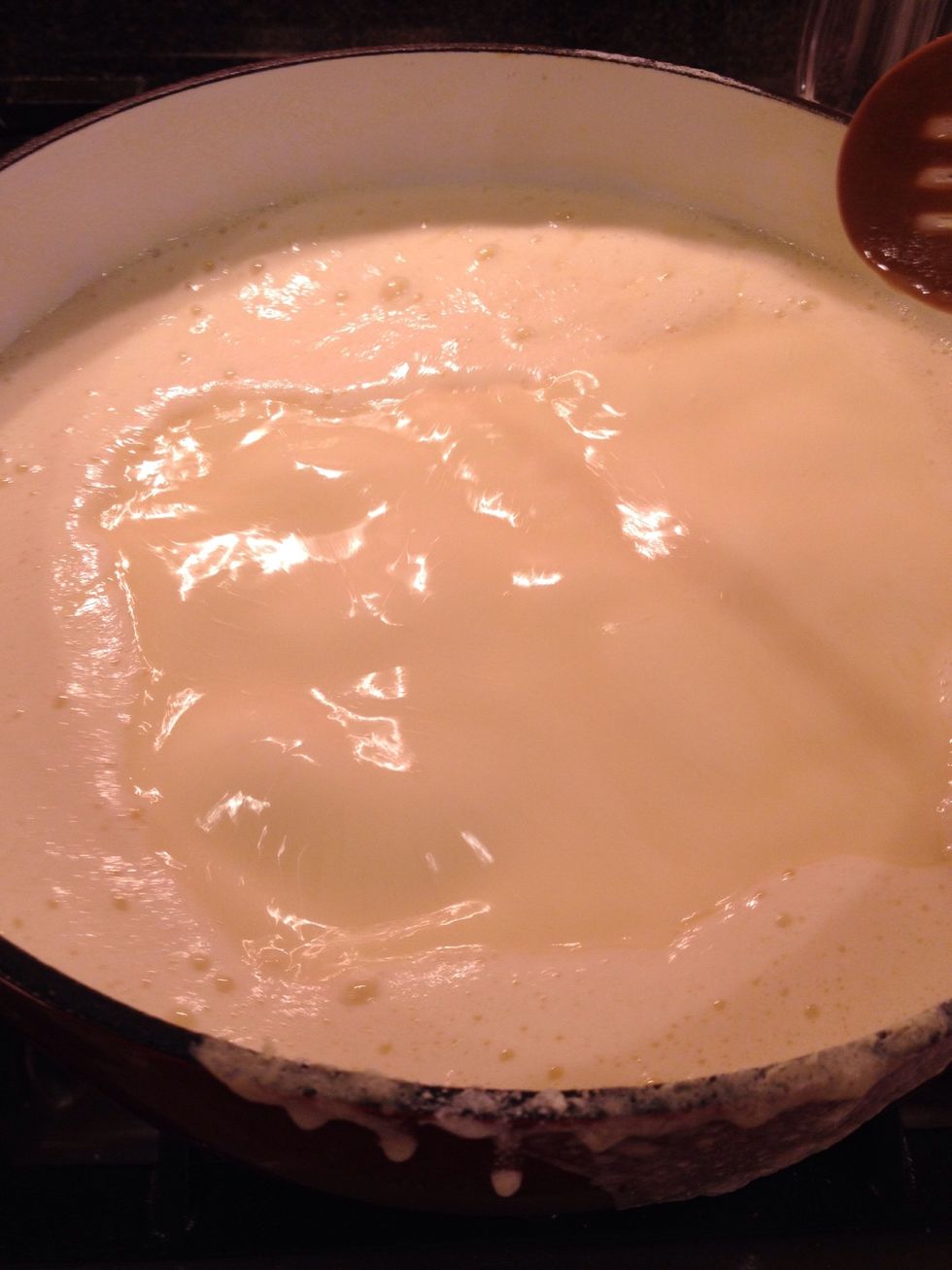 Bring to a strong boil and reduce immediately. Stir constantly until all graininess is gone. It should not take long, but don't let it boil over!!
Return your mixture to your jars and turn upside down again. You should not need to add anymore water this time, but you may if you feel you lost a significant amount of water during remelting.
A word of warning: Your mixture will be very hot and so will your jars. I have never had a jar break on me because of the heat, but handle carefully.
Allow your jars to sit undisturbed for 2-4 hours.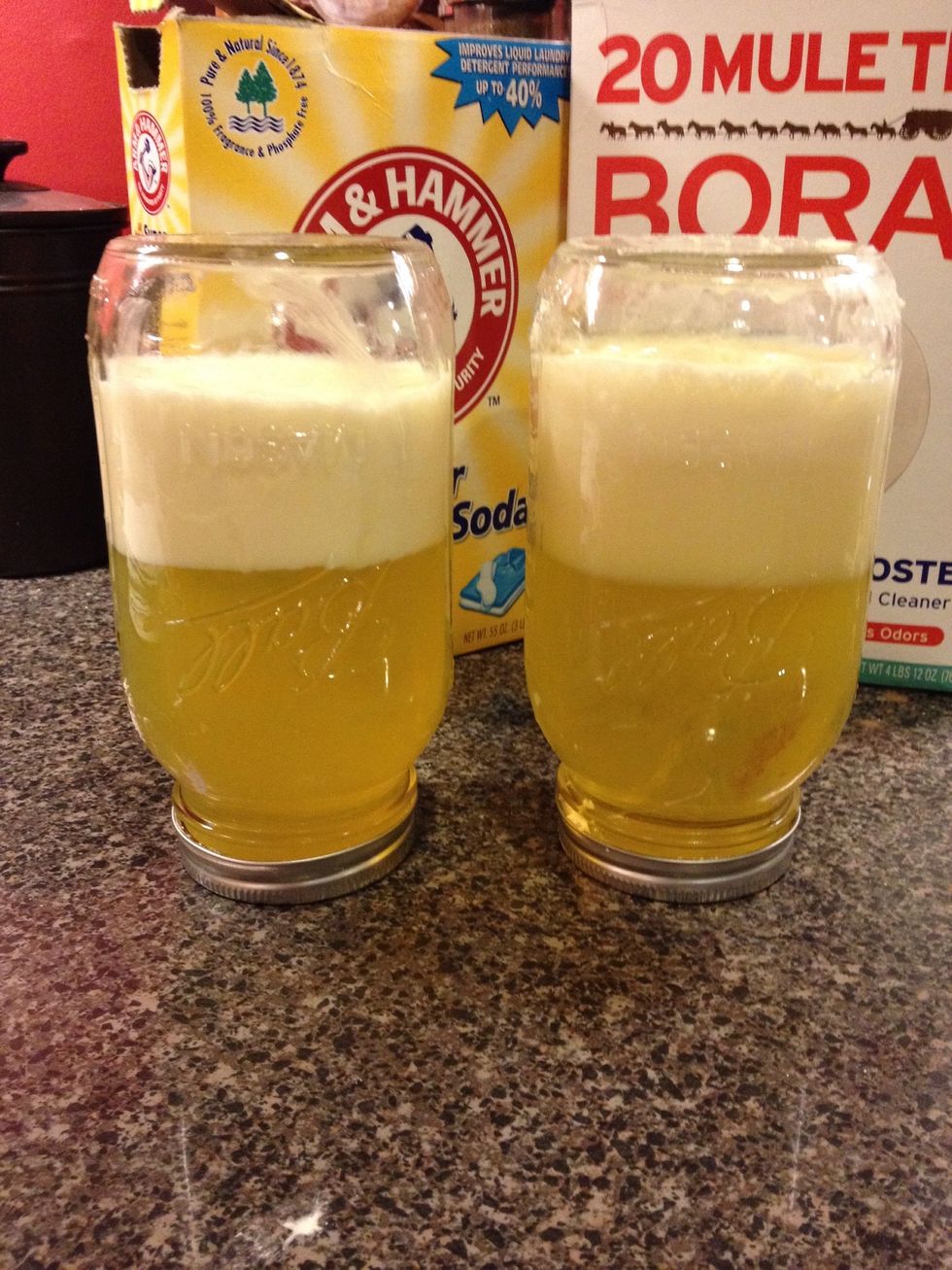 Your detergent will continue to separate. When the jars are about half solid and half liquid, you can move on to the final step.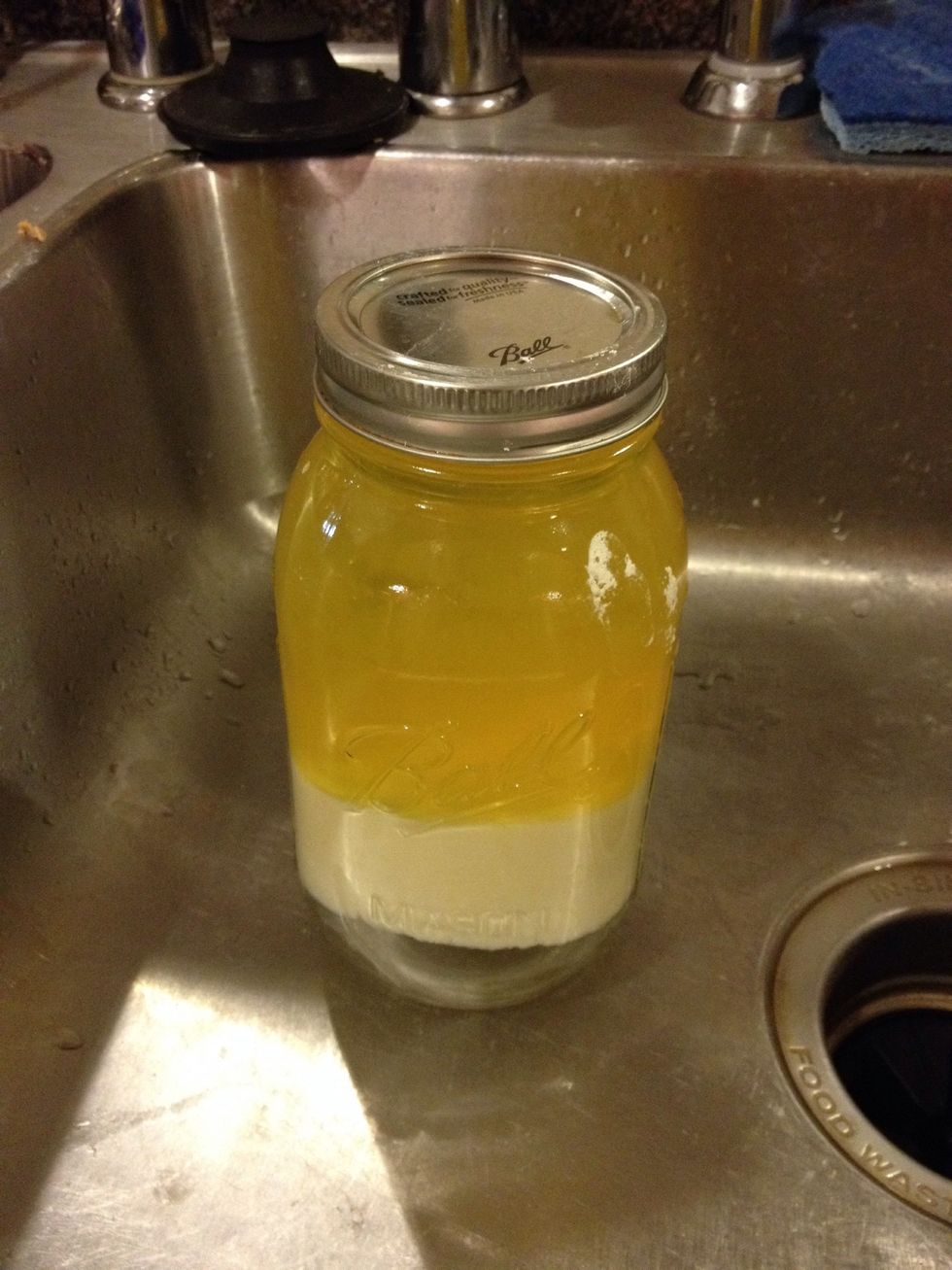 Open your jar. Because of the tightness of the lid and the temperature of the mixture, you may find that your lids have vacuum sealed themselves.
For this reason, I highly recommend performing this step in the sink so if any splooshing occurs it has somewhere to go.
Pour the contents of 1 jar into a blender or a food processor. You will need to use a spoon to break up the solids in the bottom in order to remove them from the jar.
I use an old blender exclusively for this task. I have never tried it with a stick blender but I feel like it might be somewhat messy.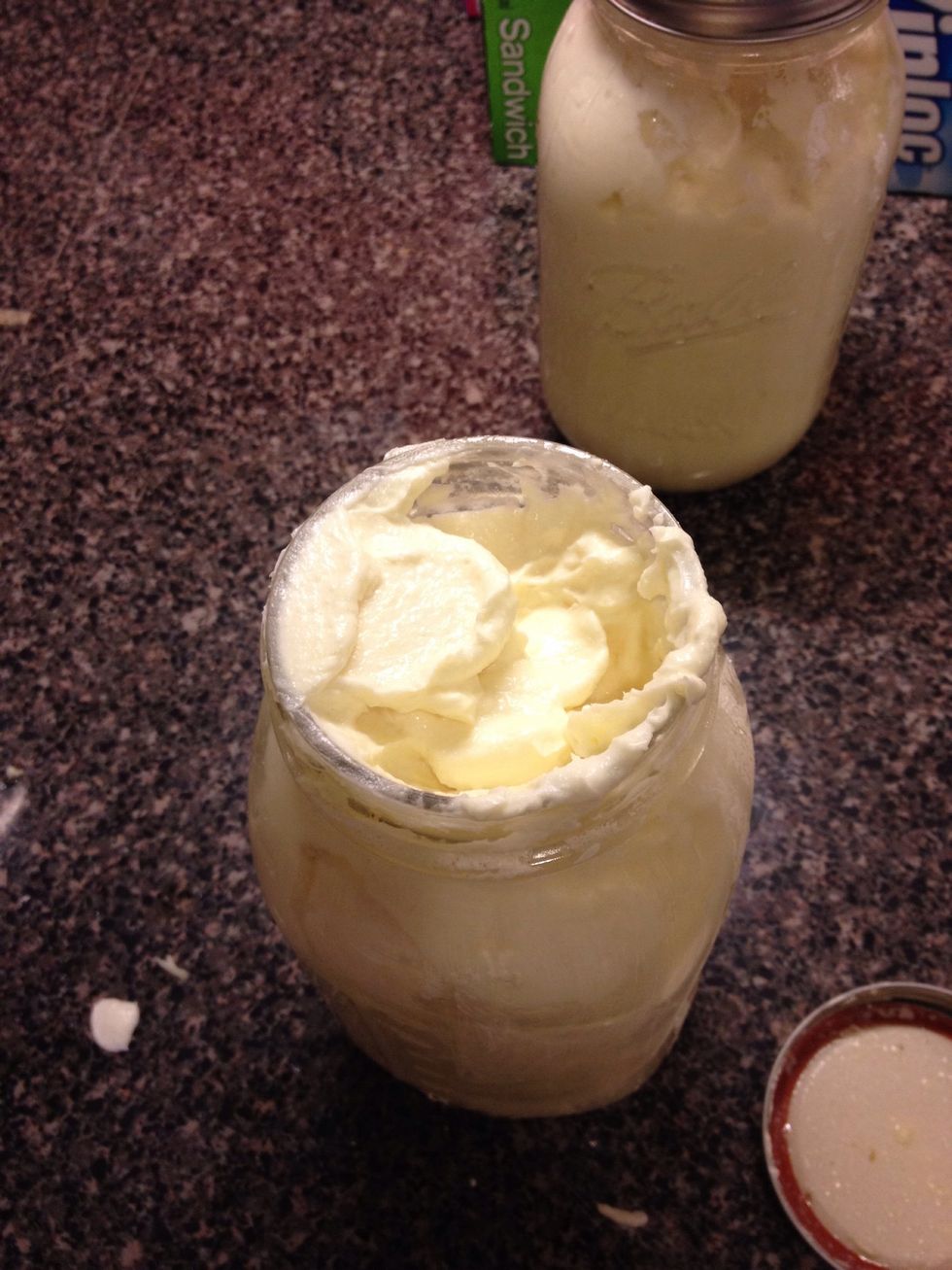 Return your soap to its jar, screw on your lid, and repeat with your second jar.
Your detergent should have the consistency of whipped butter. If your mixture was still a little warm when you blended it, it may still seem fairly soft when you put it back into your jar.
Don't worry ! The mixture will continue to firm up as it cools. If you rub some of the detergent between your fingers, it should feel completely smooth.
If you feel some grit, the detergent should still melt fine in warm and hot water, but may not dissolve in cold water. If yours is very gritty, you should remelt and try again.
So, how much do you use? I use between 1/2 to 1 TABLESPOON per load of laundry depending on the size of the load and the soil level of the clothes.
I average about 6 loads of laundry per week so these 2 jars will last me about 3-4 months.
To use in a top-loading washer: Start your water, add clothes, add detergent on top of clothes.
This detergent will not become sudsy in the wash, not will it leave your clothes really smelling like anything. If you want scent, you'll need to add something scented to your wash.
1.0c Borax
1.0c Washing Soda (NOT baking soda!)
4.0c Water
1.0 Bar Fels-Naptha laundry soap
1.0 Large pot
2.0 1-Quart Mason or Ball jars
Blender or food processor
Knife or grater
Funnel