this meatless combo include: homemade whole wheat buns, vegan patty, tomato kethup, toasted sides (onions, corn on te cob and veggies). The crunchy zucchini is available in separate guide
1
Start by making the patty, the buns, the sauce and other sides. It is better to soak the split mung bean at least 3 hours.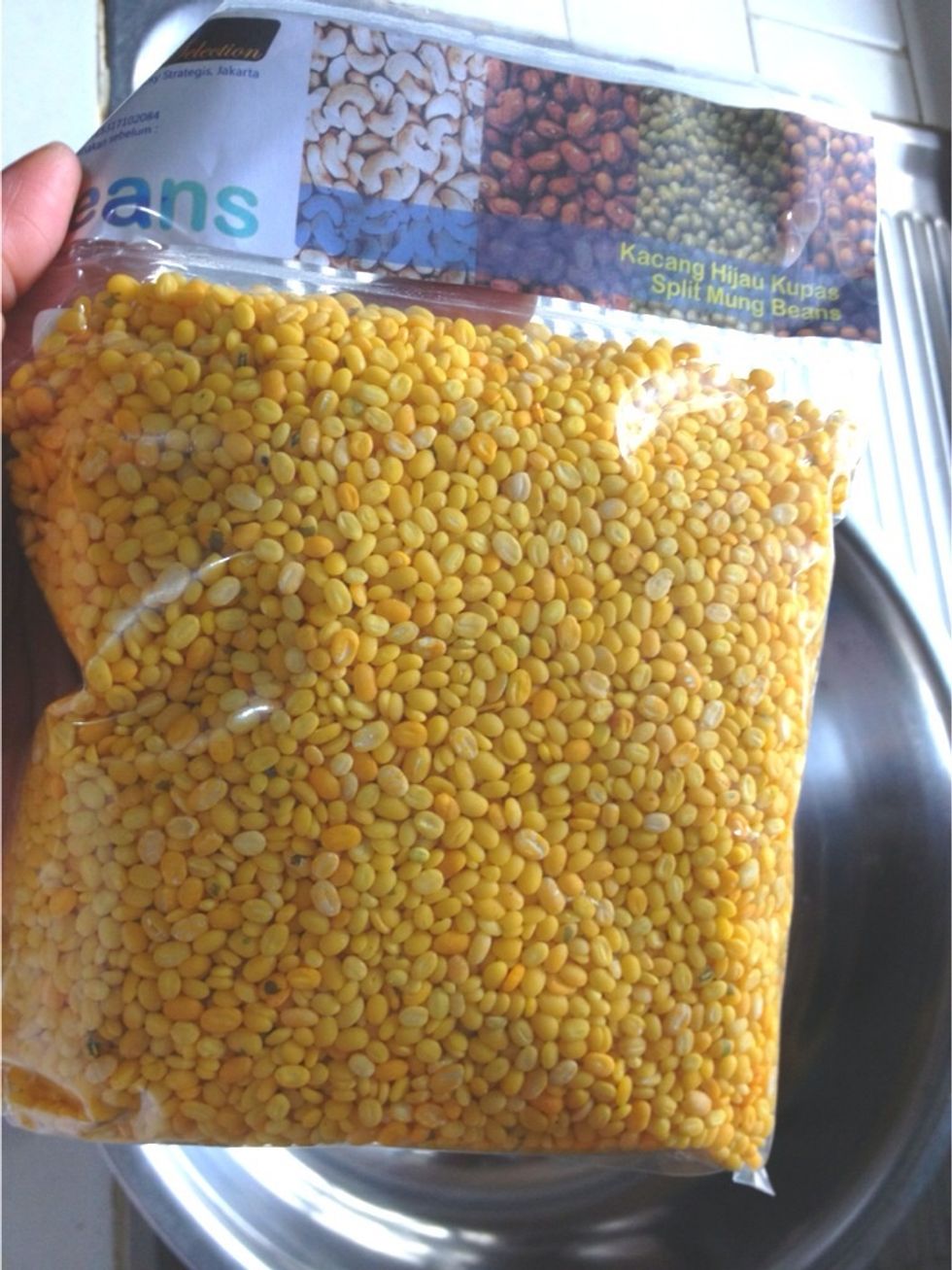 Split mung beans are often used for sweet filling, i.e: mooncakes. Split mung beans or skinless, often called as mung dal. This type is quick to cook, and comes in bright color too! :)
Add in 1 cup (approx. 225gr) split mung bean into a large bowl. Wash the mung dal twice and drained the excess water. Add in 4-5 cups of water. Cover with a lid and soak it 3-4 hours or overnight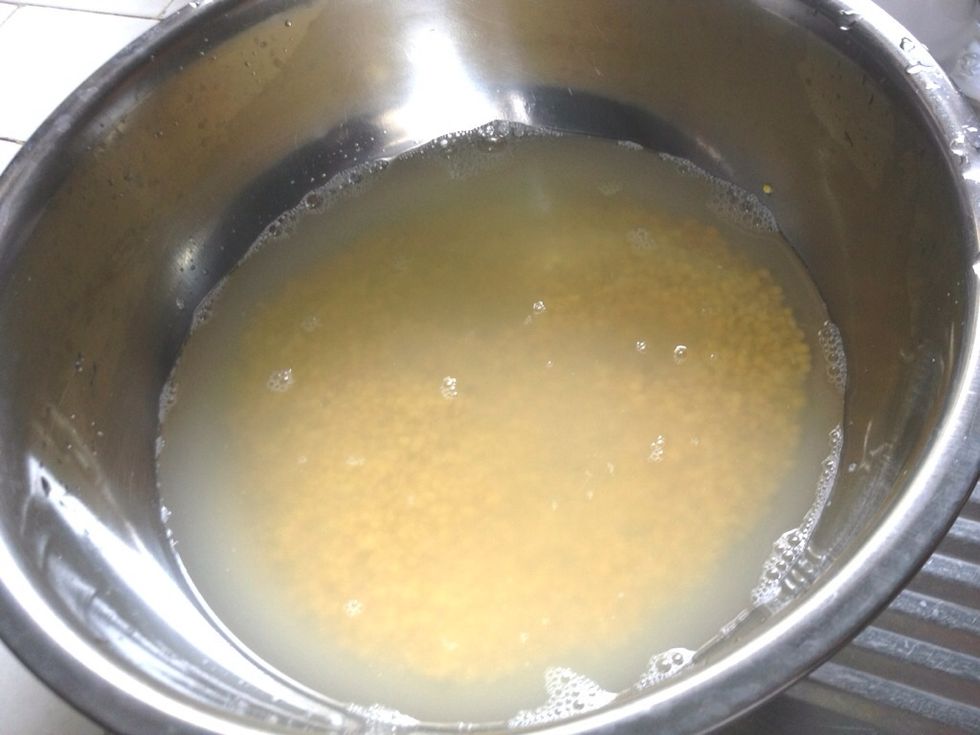 After soaking time, we can see that the mung dal has absorbed some of the water and the bean looks bigger.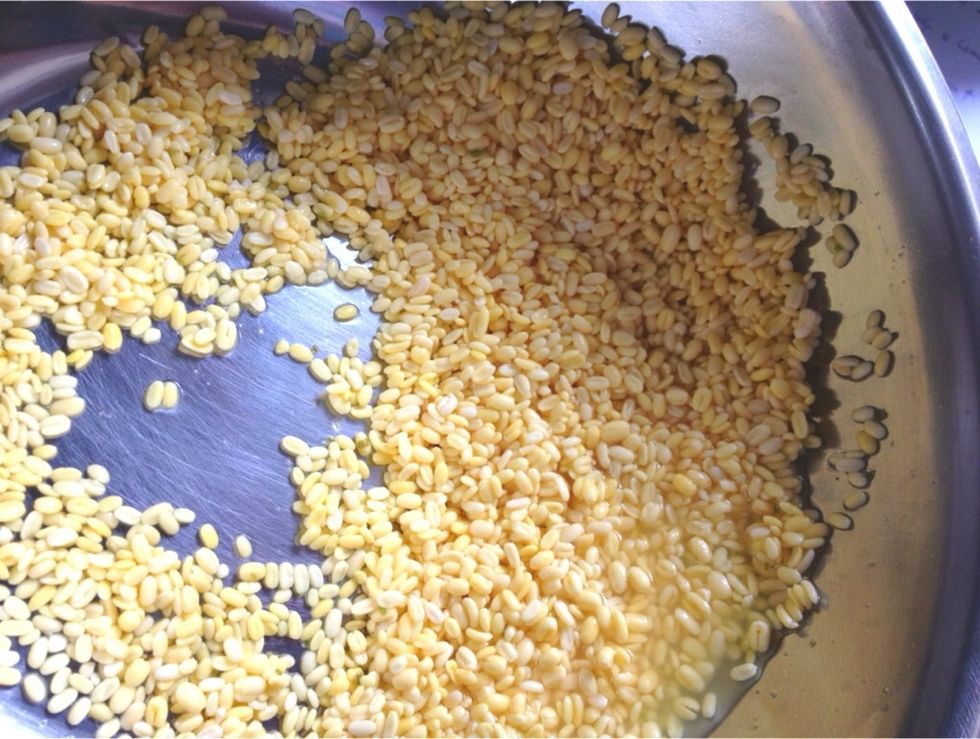 Drain the excess water and we can see it clear that the mung dal has transformed. Bigger and softer. Note: use the soaking water to water ur plantation, do not throw it away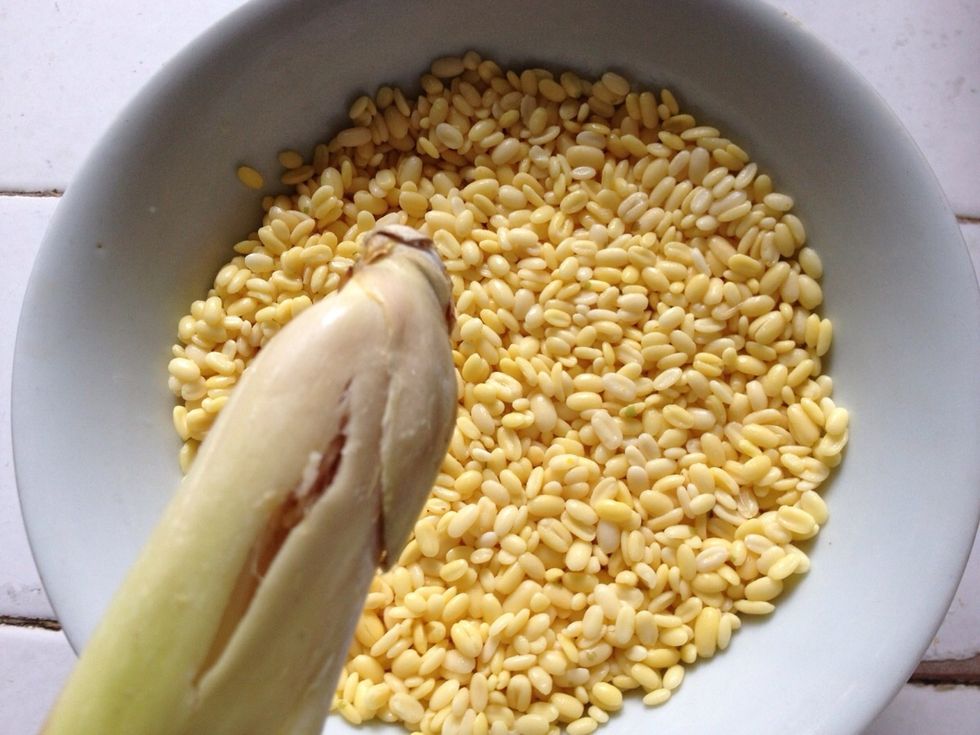 Transfer the mung dal to a shallow bowl and add in 1 stalk lemongrass (bruised the edge)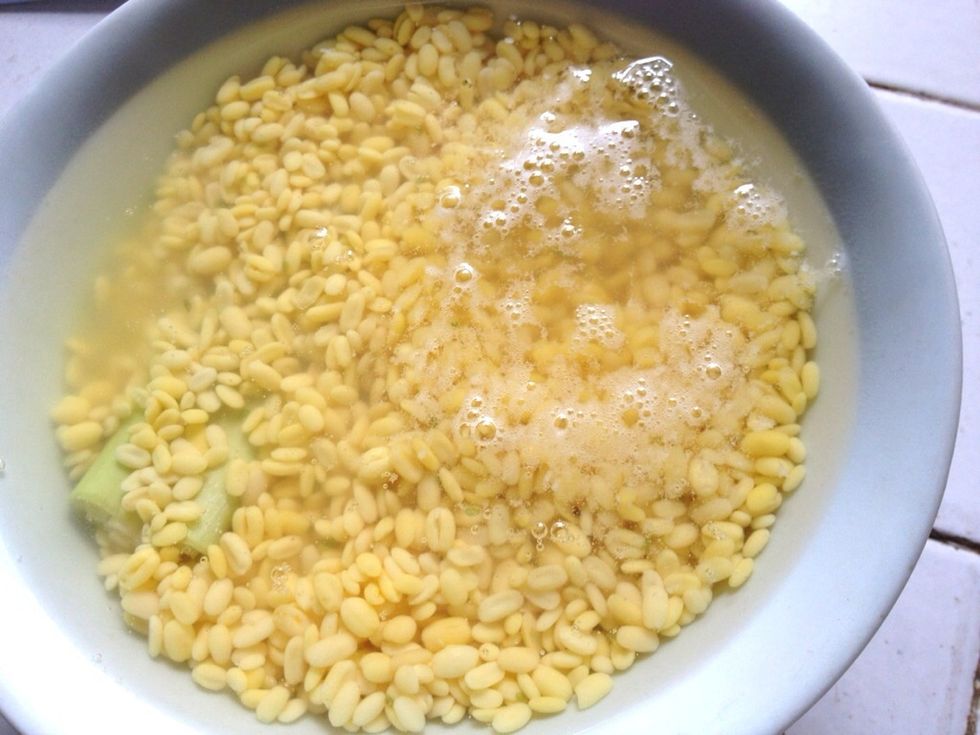 Add in boiling water (until max height is 1 cm above the mung dal's) . You can also add 1/4 tsp of salt
Put the bowl in a steamer, cover with the lid and steam it on medium heat for 30 mnts or until the mung dal is soft enough to make a paste
While we are waiting for the steamed mung dal, we can make the lentil paste. I use orange lentil because it simply has nice color :)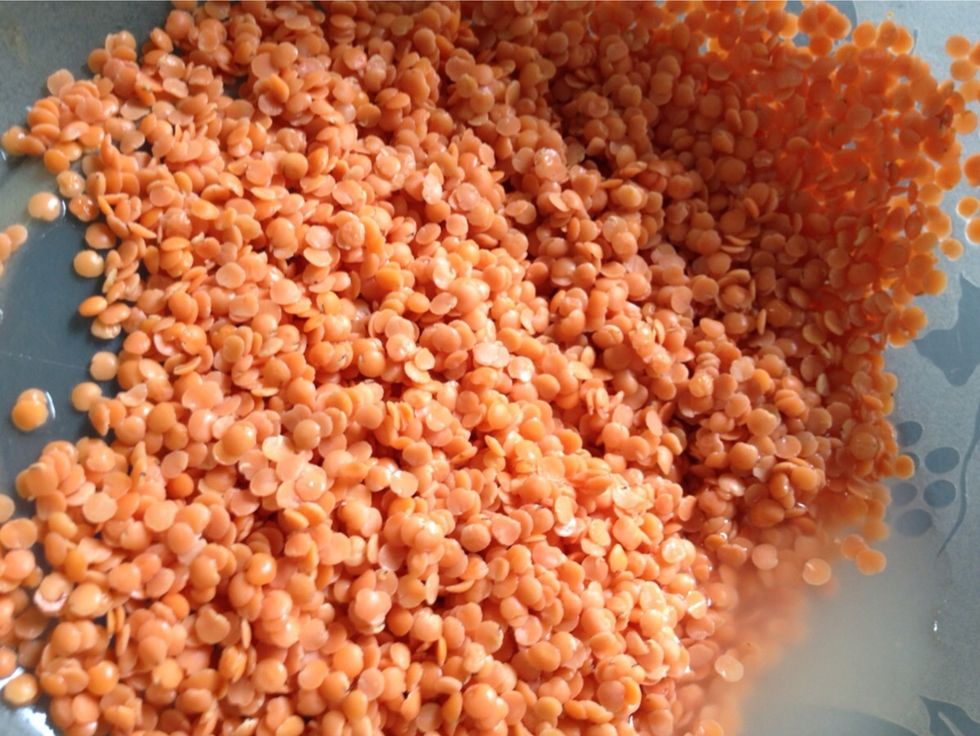 Unlike other beans, you dont need to soak the lentil before cook. Wash 150gr of orange lentil and drained.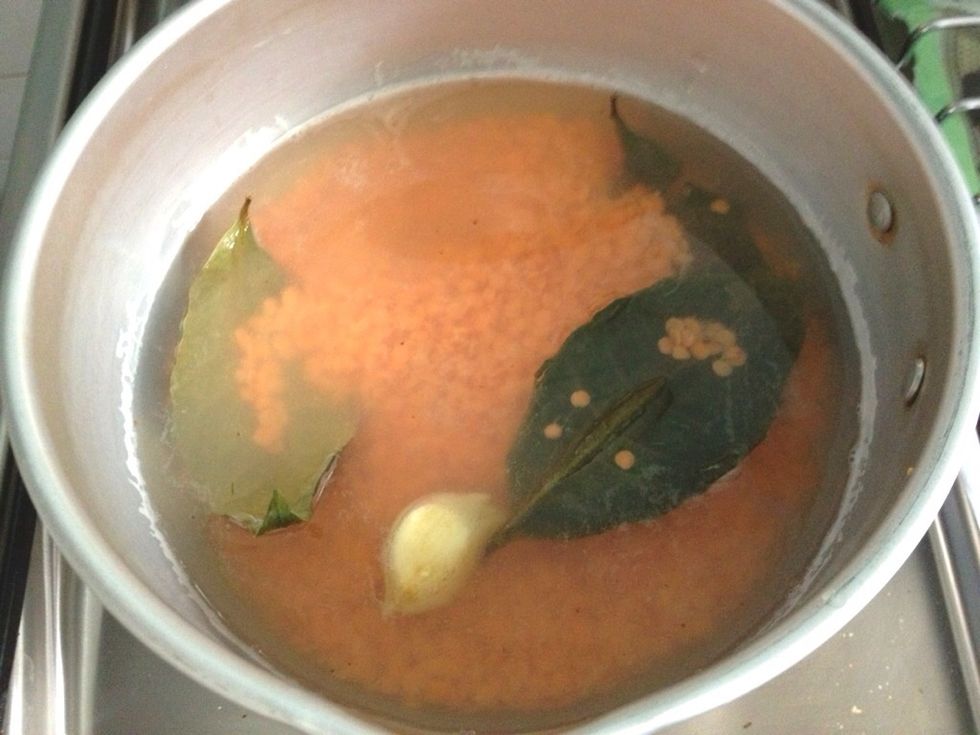 Prepare a medium sauce pan, add in 2 cups of water, drained lentils, 1 clove of garlic (crushed) and 3 bay leaves. Do not add salt on this stage coz salt will keep the lentils crunchy and not soft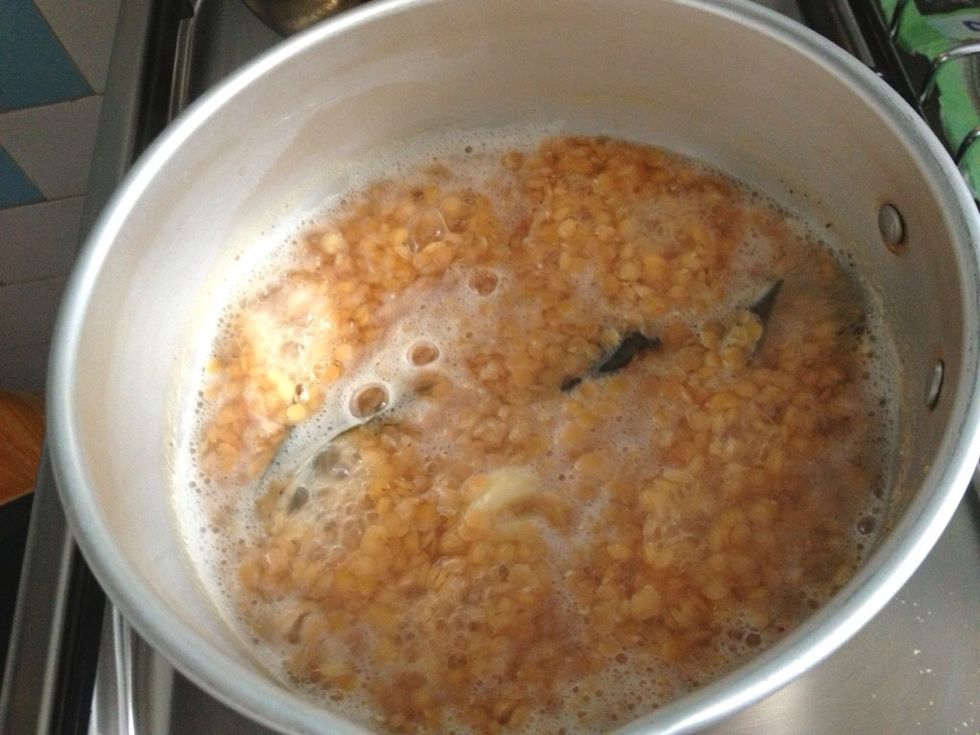 Uncover. Let it simmer for 20 minutes or let the water is completely absorbed.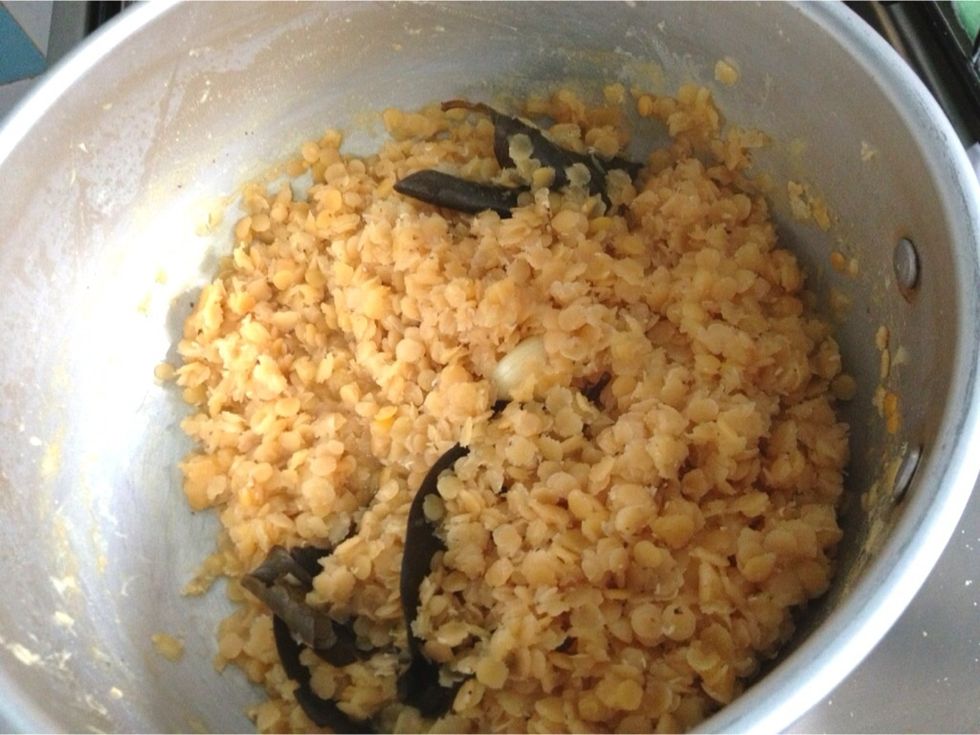 After 20 mnts or so, the cooked lentils will look like this. The orange color is slightly turns into pink.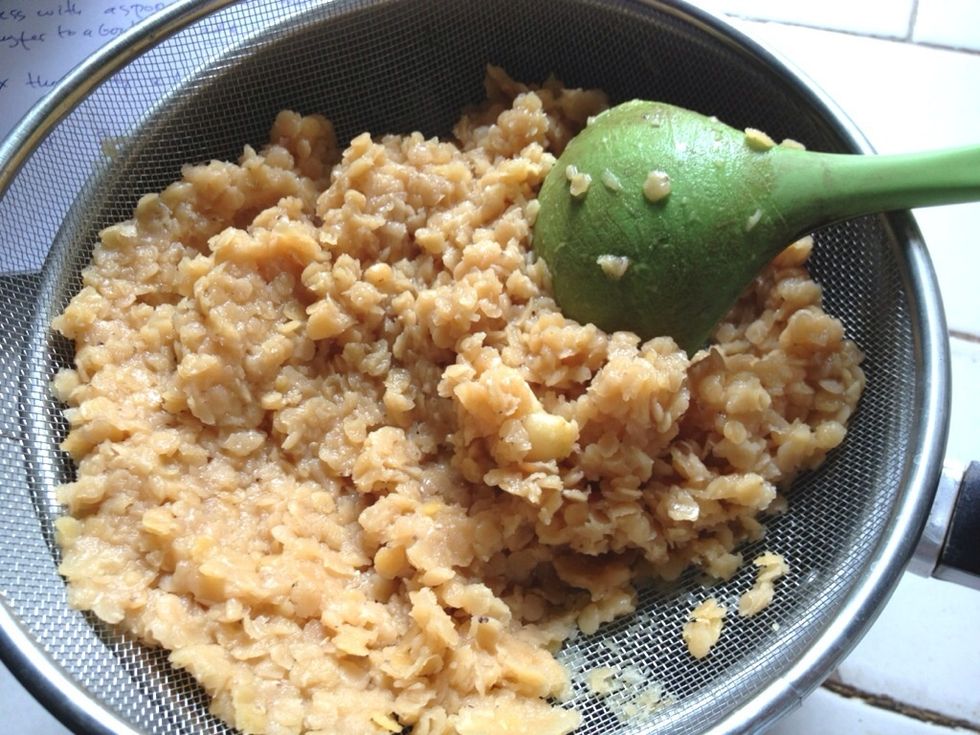 Using the back of wooden spoon, drain the excess water through a sieve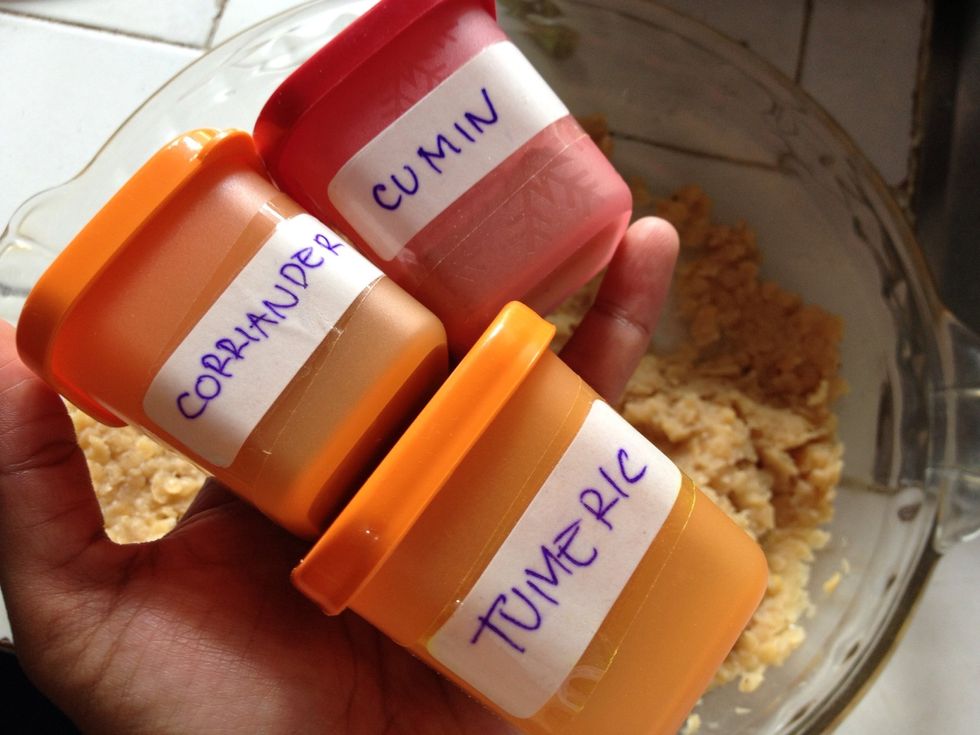 Add in 1/2 tsp of salt, 1/2 tsp of groud turmeric, 2/3 tsp if ground corriander, 2/3 tsp if ground cumin. Taste test. Adjust the saltiness and spices according to ur likey. Mix them up and set aside
Done with the lentils .... Now we're back to our steamed split mung beans....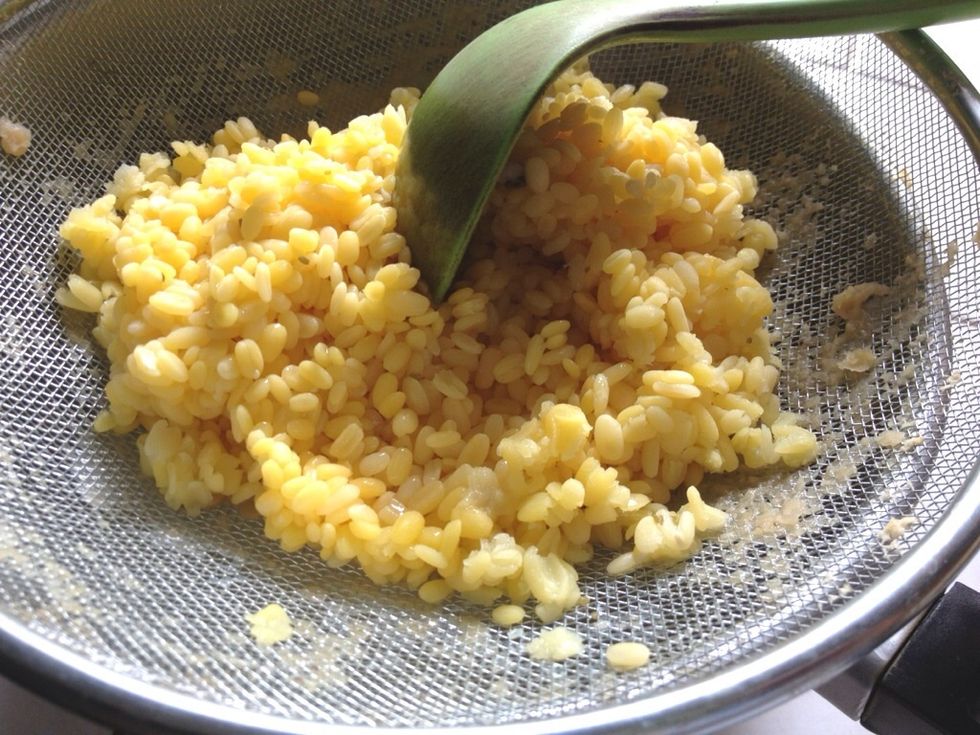 After 30 mnts, u will find the mung dal is much softer. Use the same technique with the lentils, use the back if the wooden spoon, drain the excess water through a sieve
Put the mung dal in the same bowl / container with lentils. Add in 1/4 cup of white sesame seeds (if u like, u can even add with some black sesame seeds or any toasted nuts)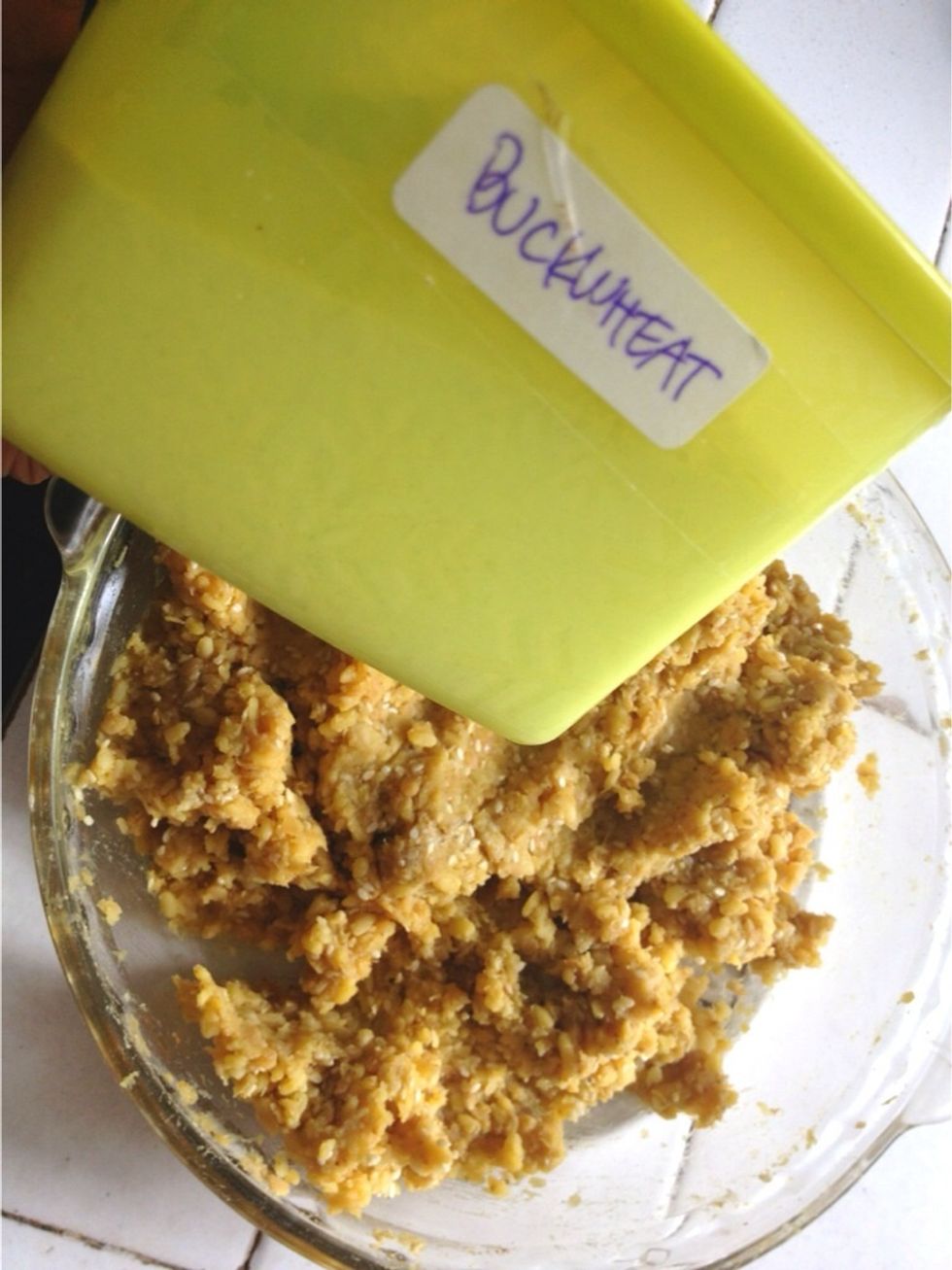 Add in 1/4 cup of buckwheat flour. U can use any flour anyway :) but I just love the buckwheat smell hehe ;) and it also gluten-free!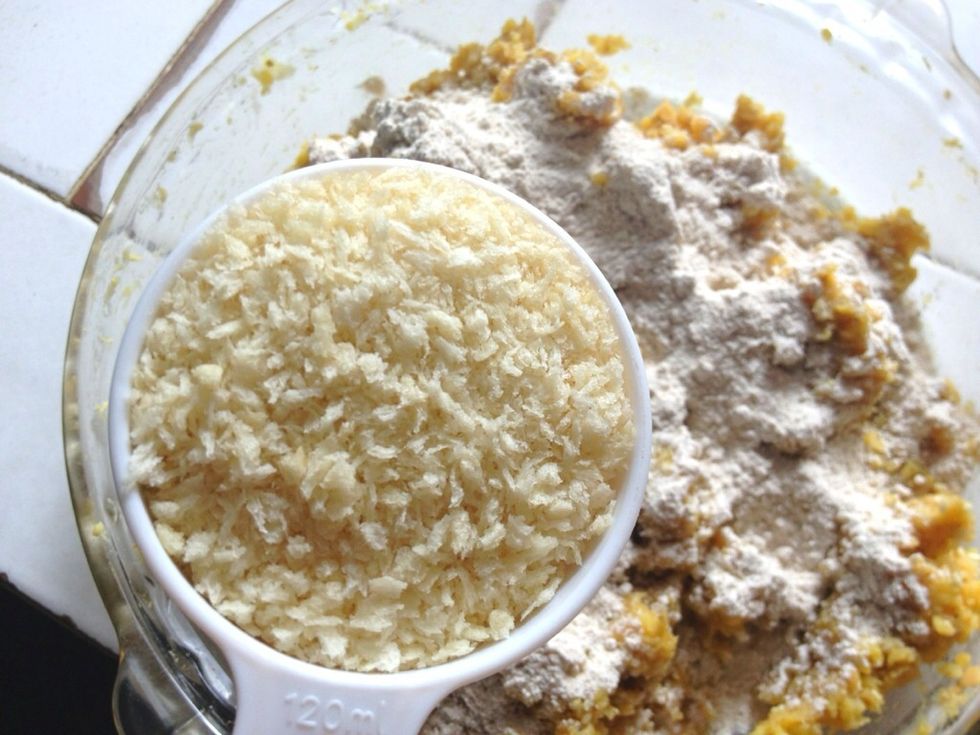 Add in 1/2 cup of panko breadcrumbs. You can always use the fresh one, but I dont have any right now :)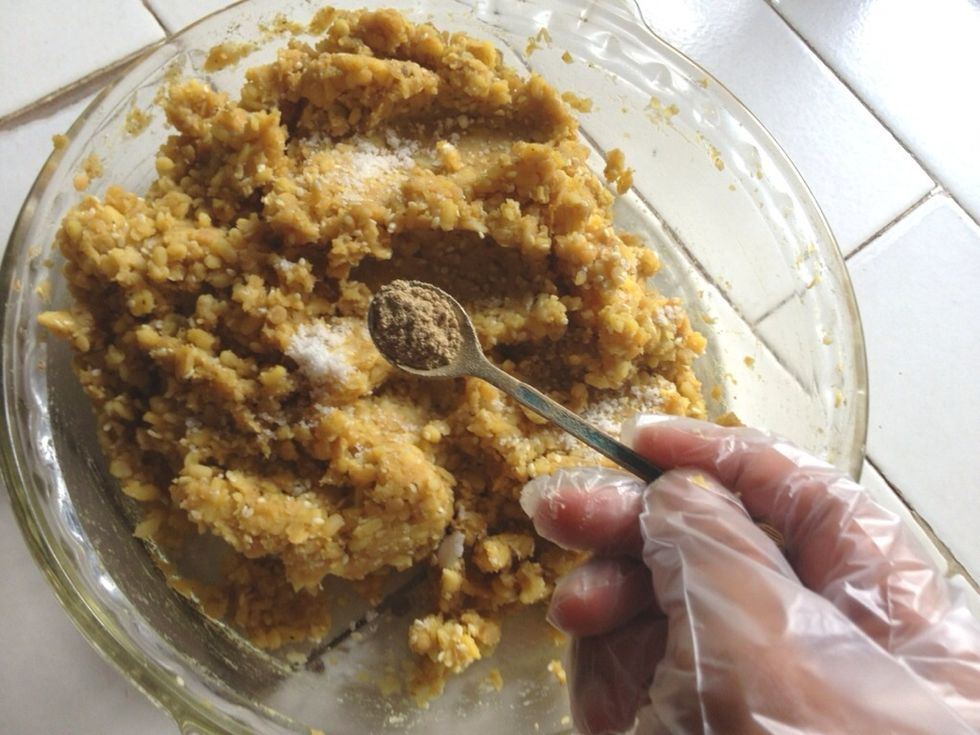 Mix them up and taste. Add in salt and white pepper. Adjust the saltiness, every tastebud i different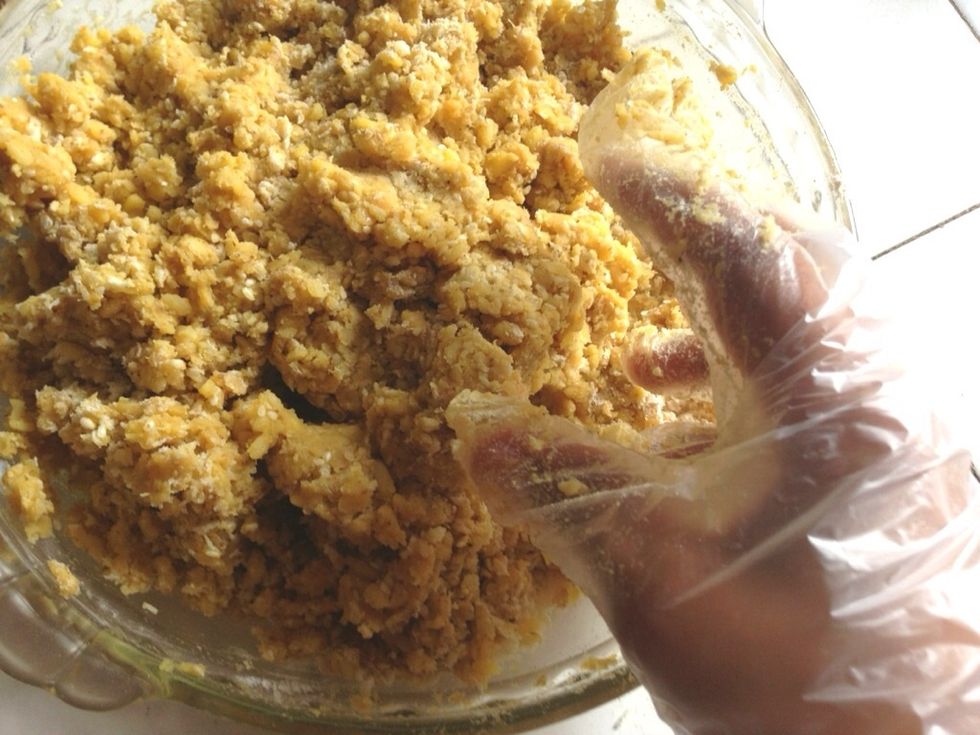 Mixed them up again and form into a patty.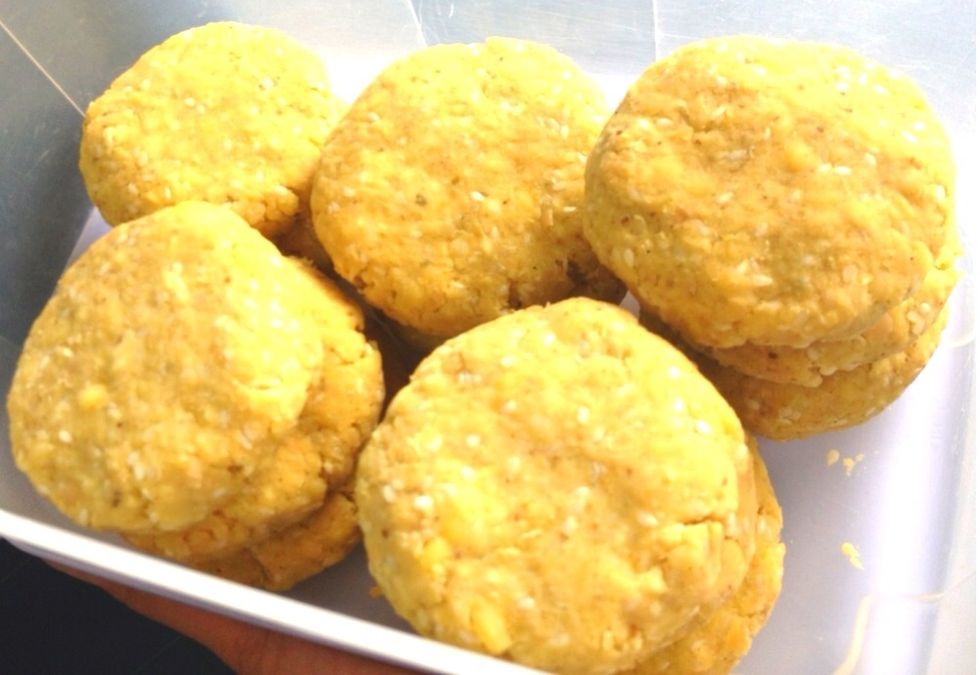 Our nice, bright, and yumm yumm vegan patty is ready :) this recipe make 10-12 patties for mini burgers. If you dont want to use them right away, u can store them in a fridge, in an airtight container
If you're ready to bake these patties, add in some extra virgin olive oil and put a bruised lemongrass. Let it sit for at least 10-15 mnts. The lemongrass aroma and flavor will infuse the olive oil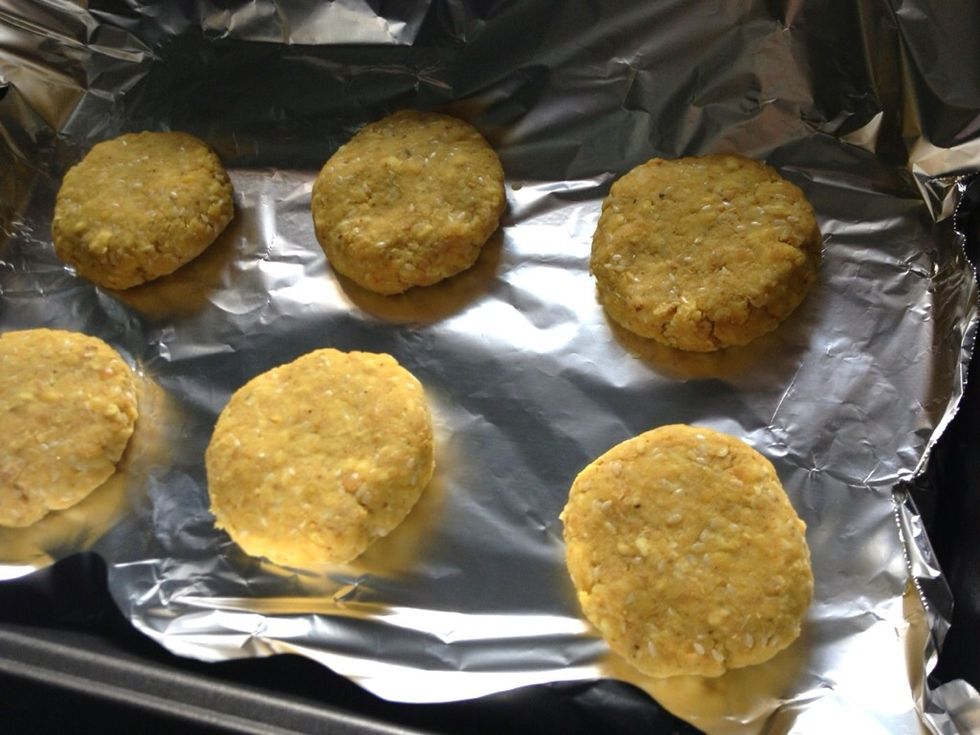 Meanwhile preheat the oven to 350. Line up your patties on foil.
Brush the patty with the olive oil using the lemongrass 'brush'. Do it on each side. Note: do not throw away the lemongrass brush and olive oil mixture in a bowl. We will use it for later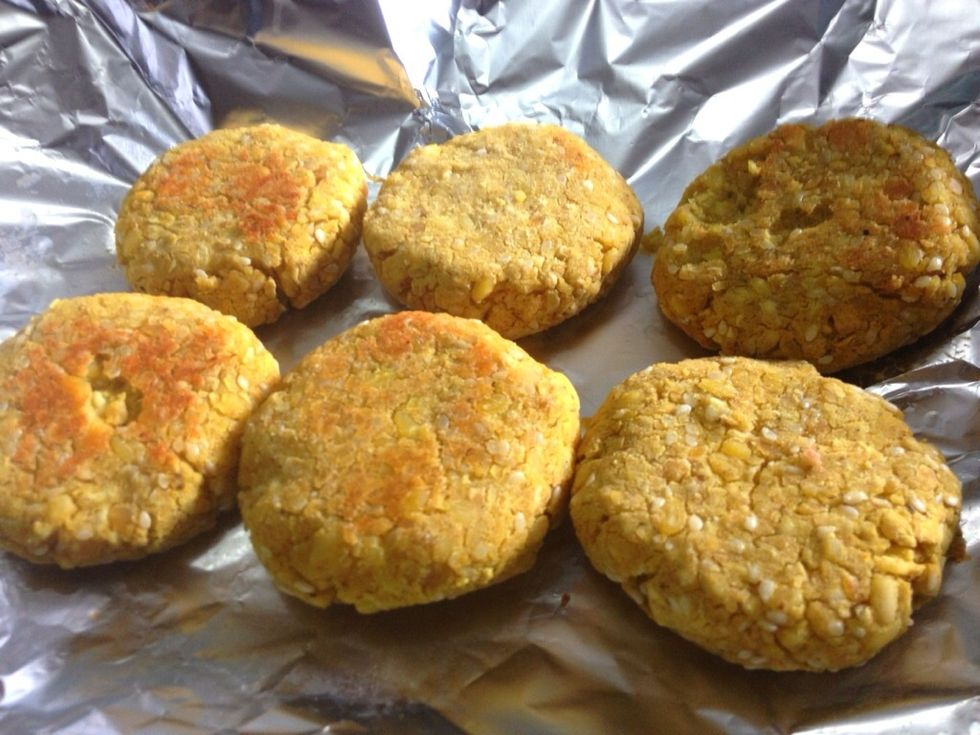 Baked for 12 mnts and flip it every 5 mnts. Well, our patties's ready! :)
I usually do my processes simultanously. When I was waiting for the patties done, I prep the onions and the corn-on the cob. I prepare the whole wheat buns in between and roasted veggies in the end
Now we prepare the roasted onions. Wash and pat dry some small onions. Peel the outer skin only. Make an incision in the middle, to allow the herbs and olive oil infused more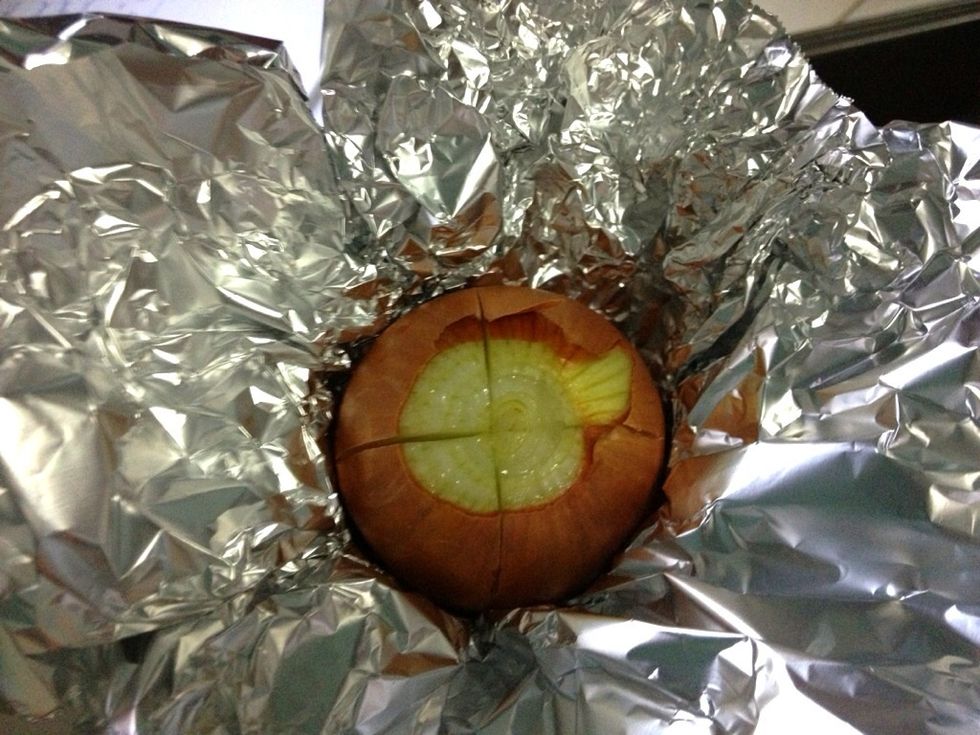 Prepare a foil and put this baby onion in the middle like this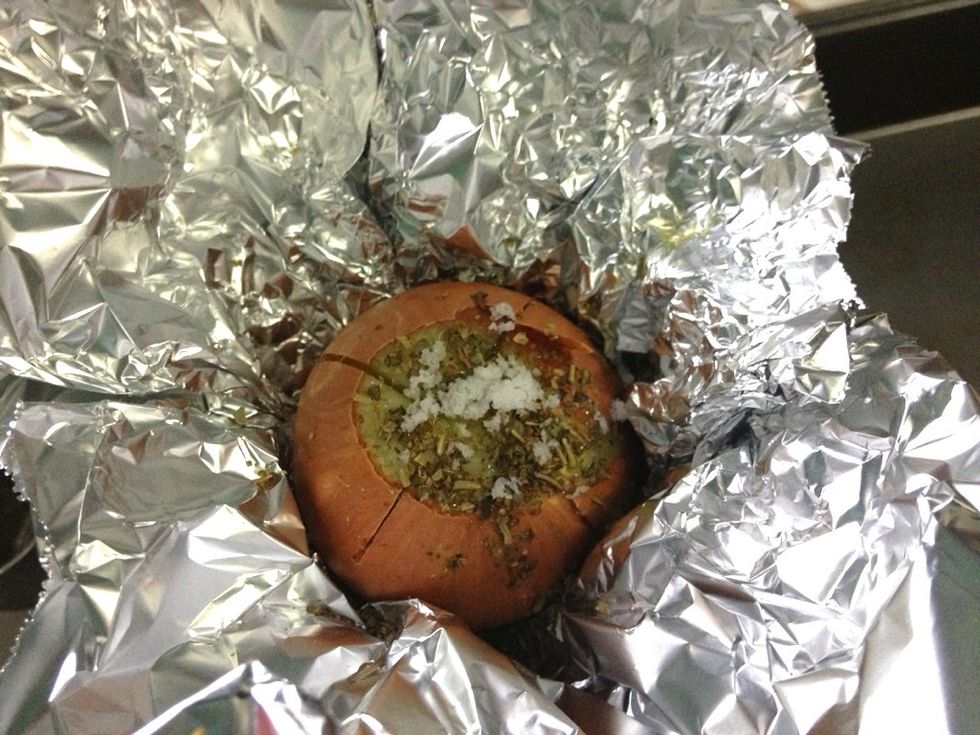 Drizzled lil bit of extra virgin olive oil, pinch of oil and pinch of dried herbs. I choose the Italian spice mixture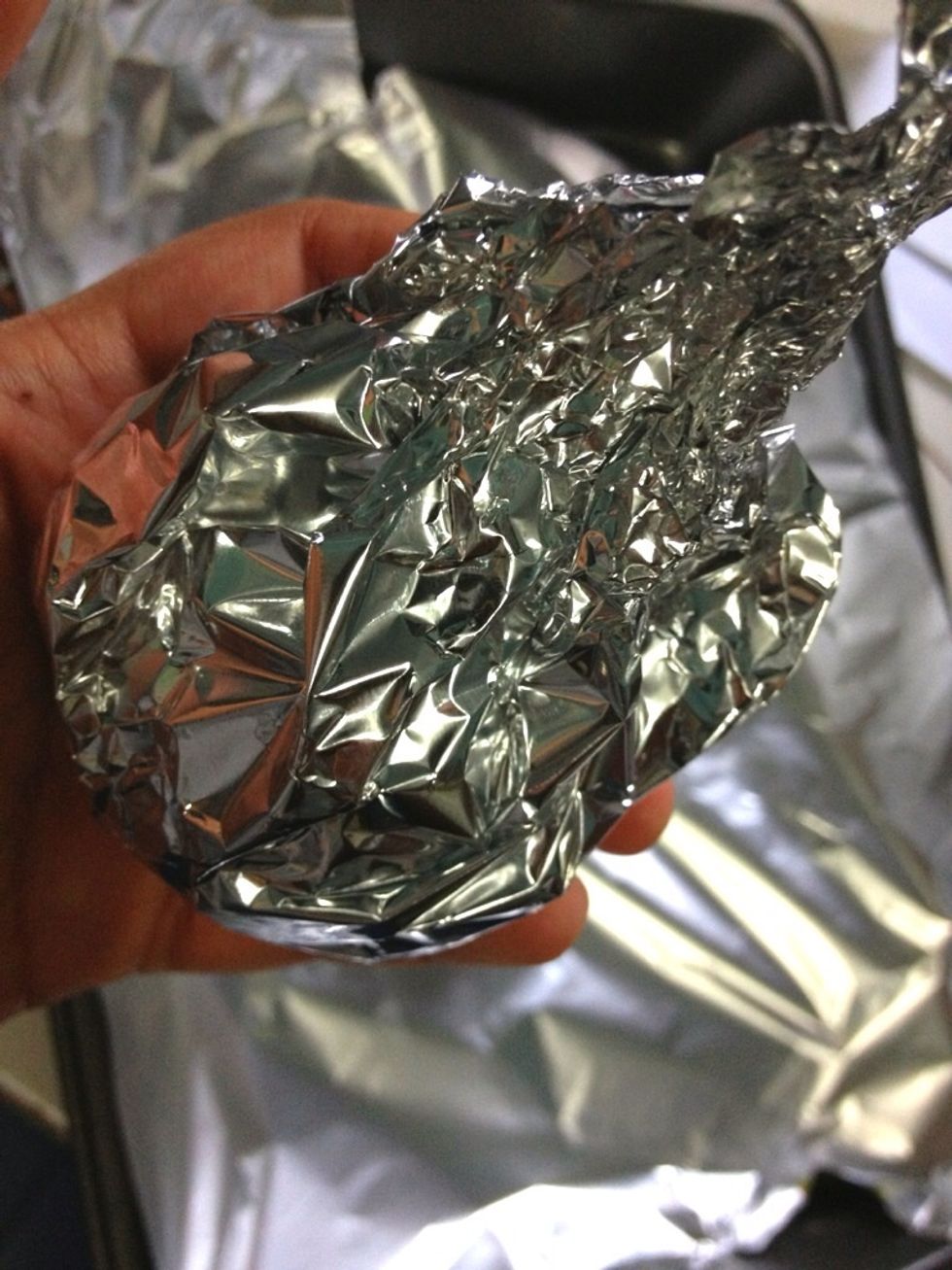 Fold and pinch the edge of foil. Do the same to all the onions. Baked the onions for in 350 and for 60 mnts or until soft.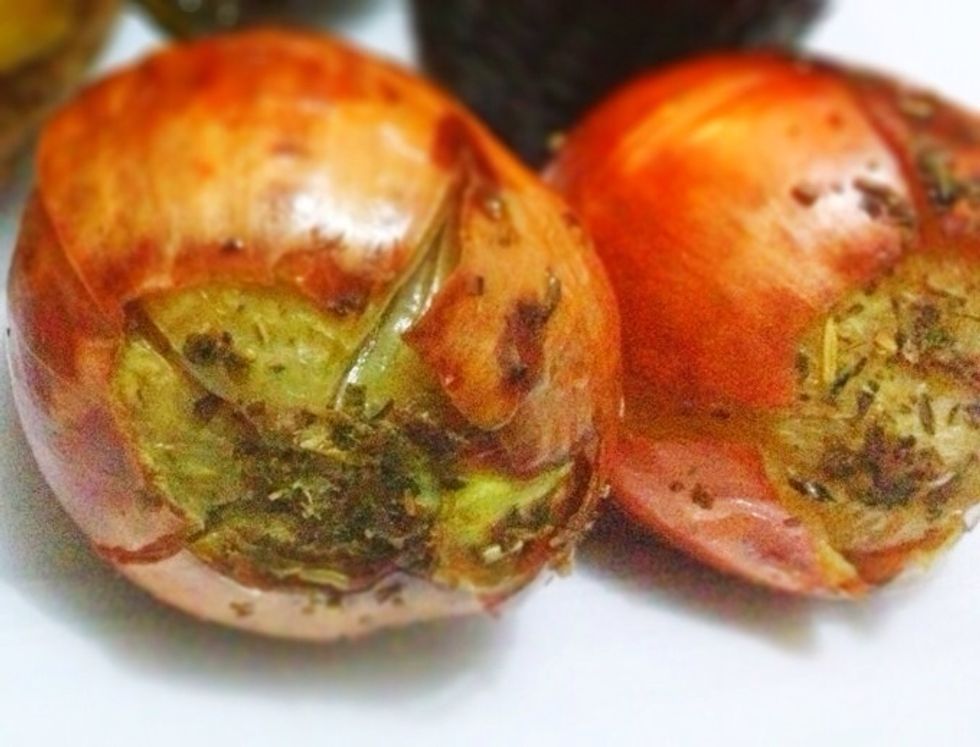 The end result of roasted baby onions with herbs and olive oil will look like these. Warm, sweet and inviting :)
While waiting for the onions, I prep the whole wheat buns, the corn-on the cob and the tomato ketchup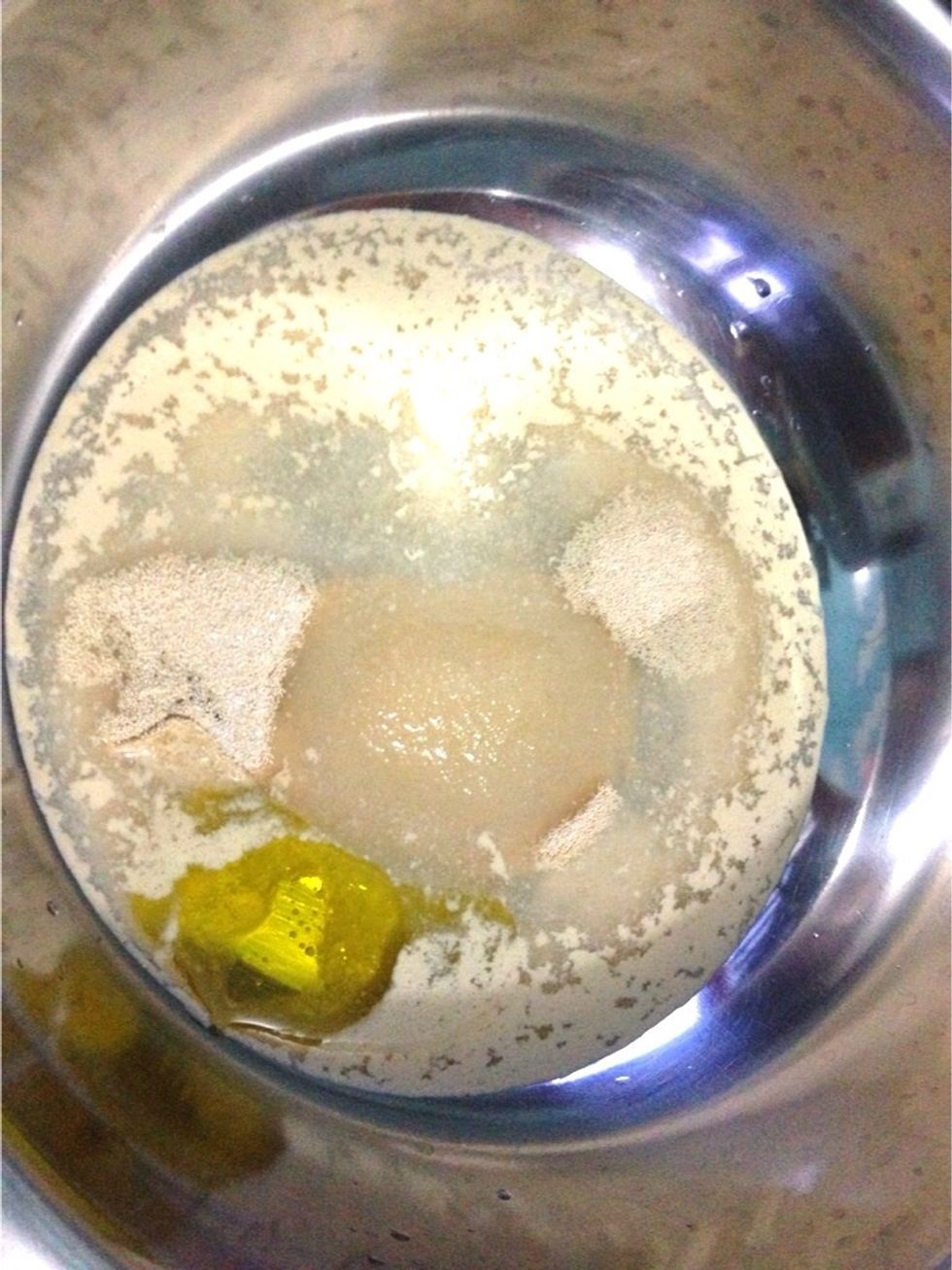 Combined together in a bowl. 1 cup and 3 tbsp of warm water. 1/4 cup of granulated sugar/honey/molasses. 2 tbsp of instant dry yeast and 1/3 cup of extra virgin olive oil. Let them rest for 15 mnt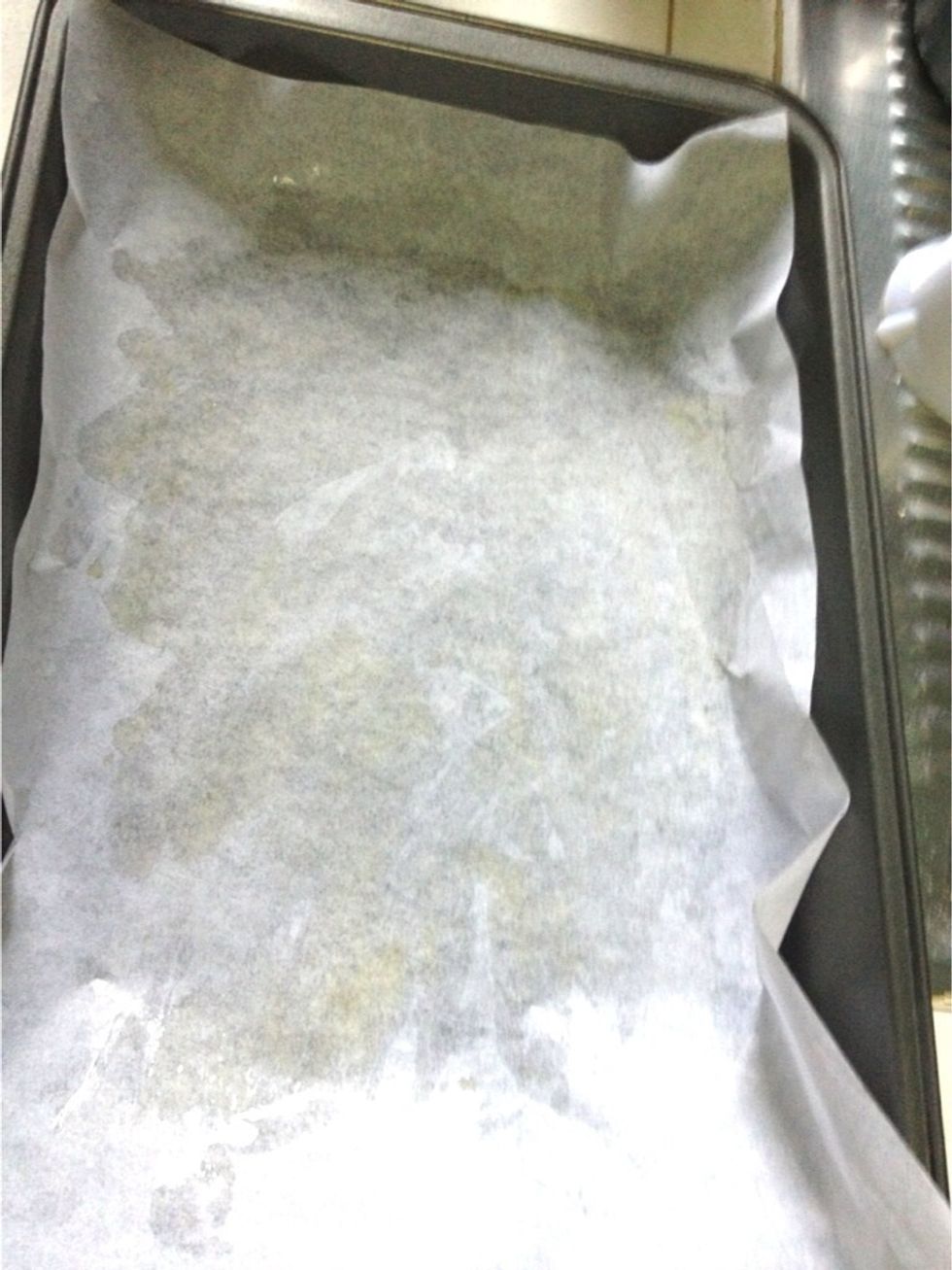 Prepare cookie sheet. Layered with baking sheet and smear lil bit of olive oil. You can spray it with non-stick spray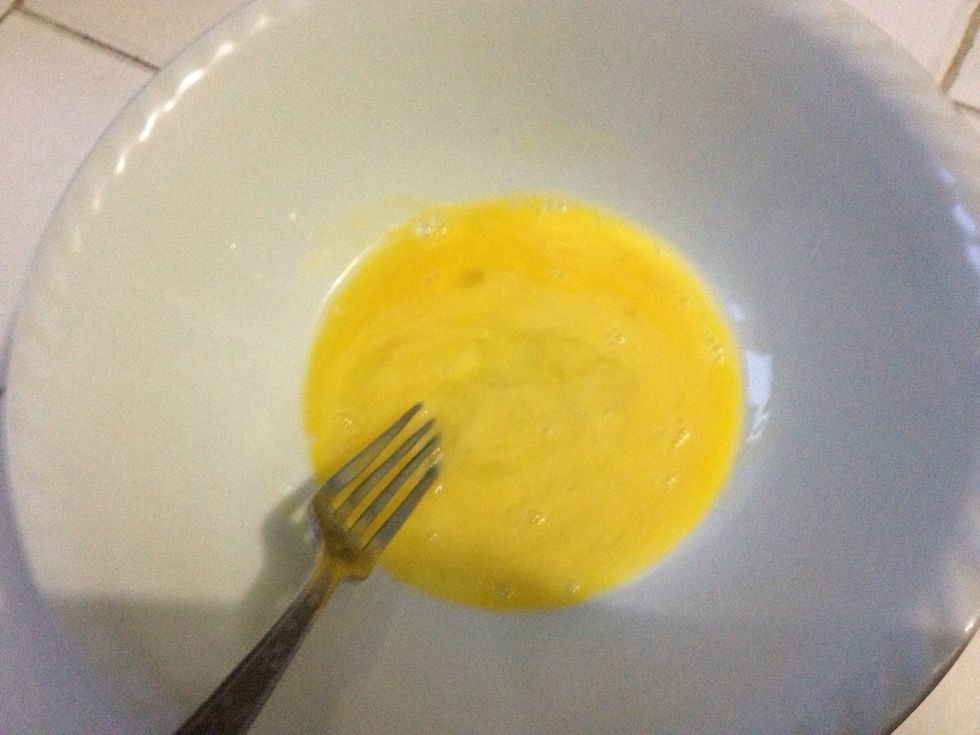 In a separate bowl, beat 1 egg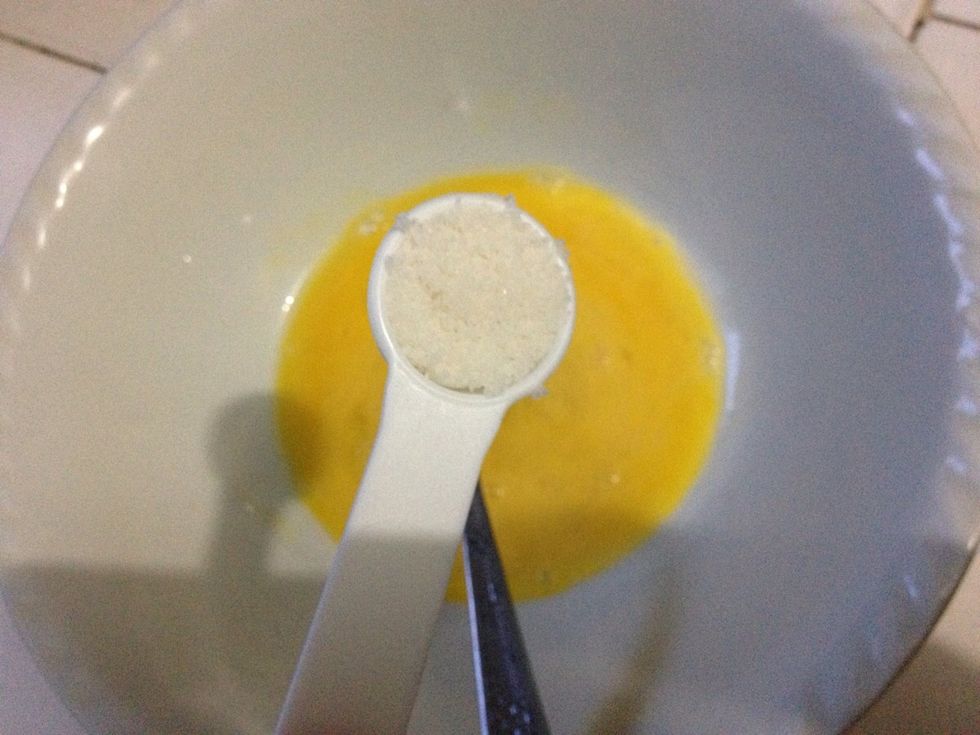 Add in 1 tsp of salt in the egg mixture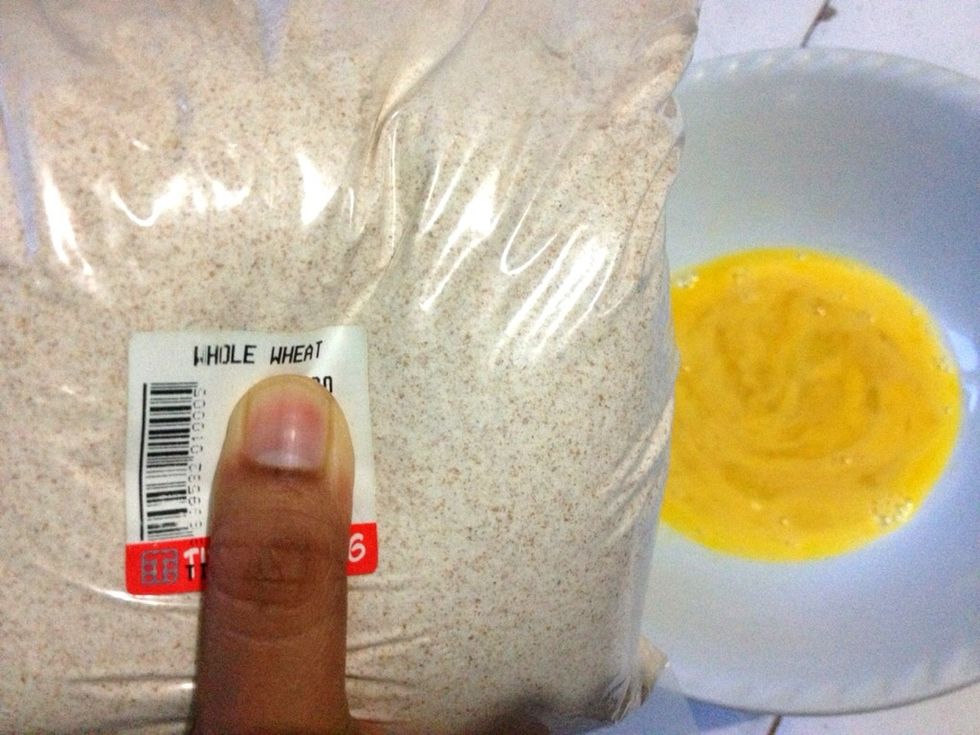 For this recipe I use whole wheat flour, but you're free to use any flour you like. You can also use buckwheat, but you also need xantham gum if you use gluten-free flour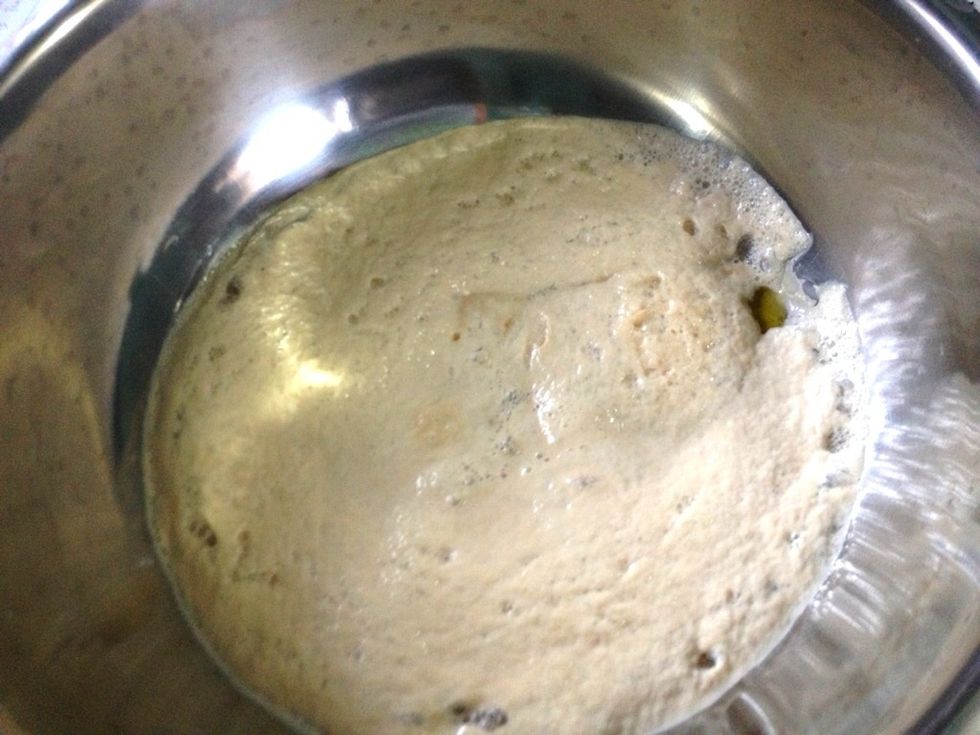 After 15 mnts, the yeast mixture will look like this. It means, it is so ready to be combined with other ingredient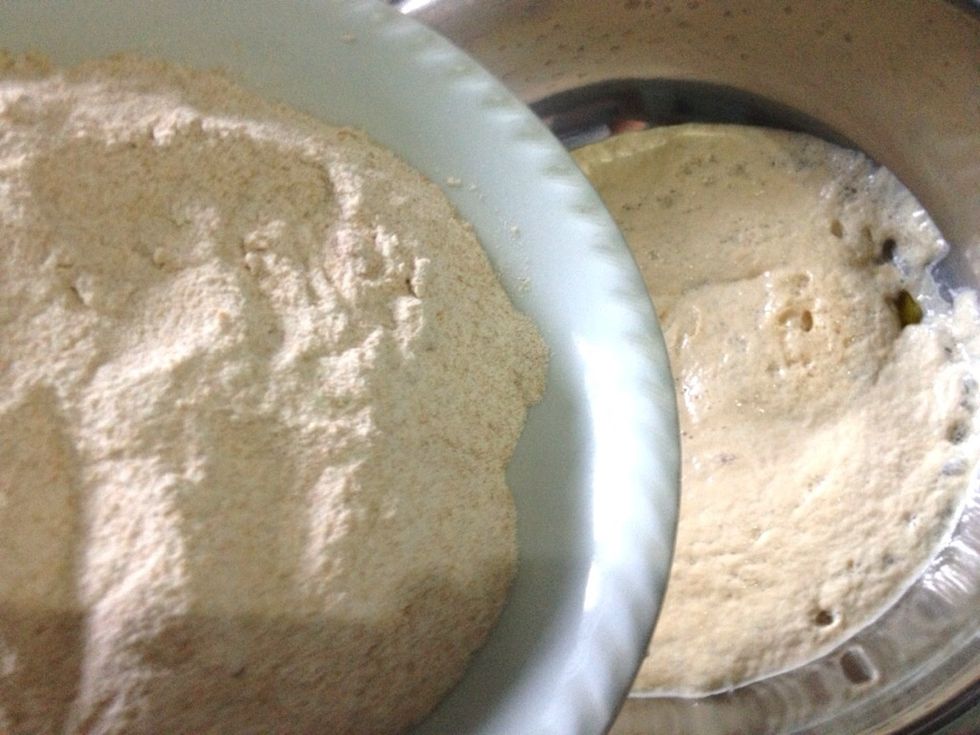 Add in the egg mixture, then add in 3.5 cups of whole wheat flour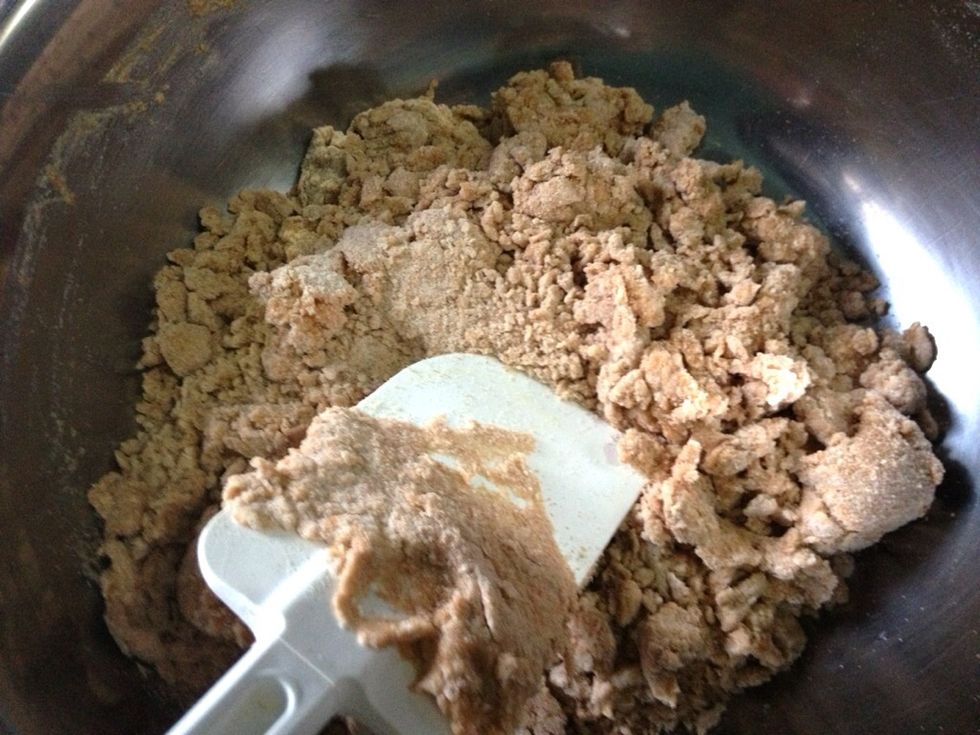 When the flour adding in, stir vigorously using your spatula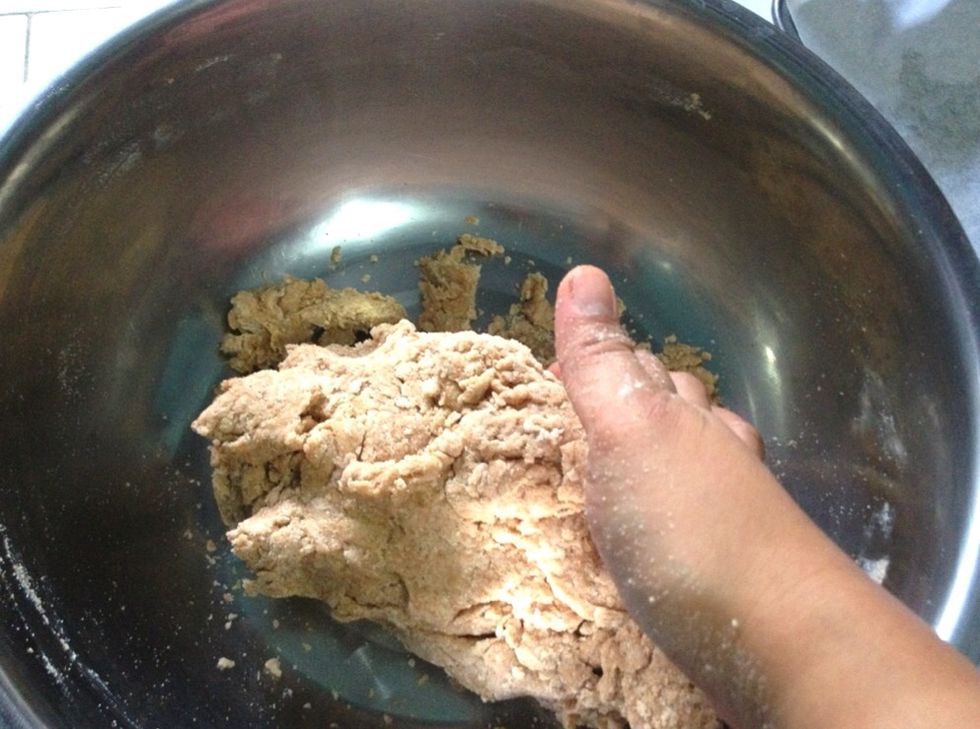 When it is hard enough to stir, simply use your hands! :) slowly knead and roll the dough into 3/4 inch. Cut the dough into 10-12. Or again :) just like me :) simply make small balls right away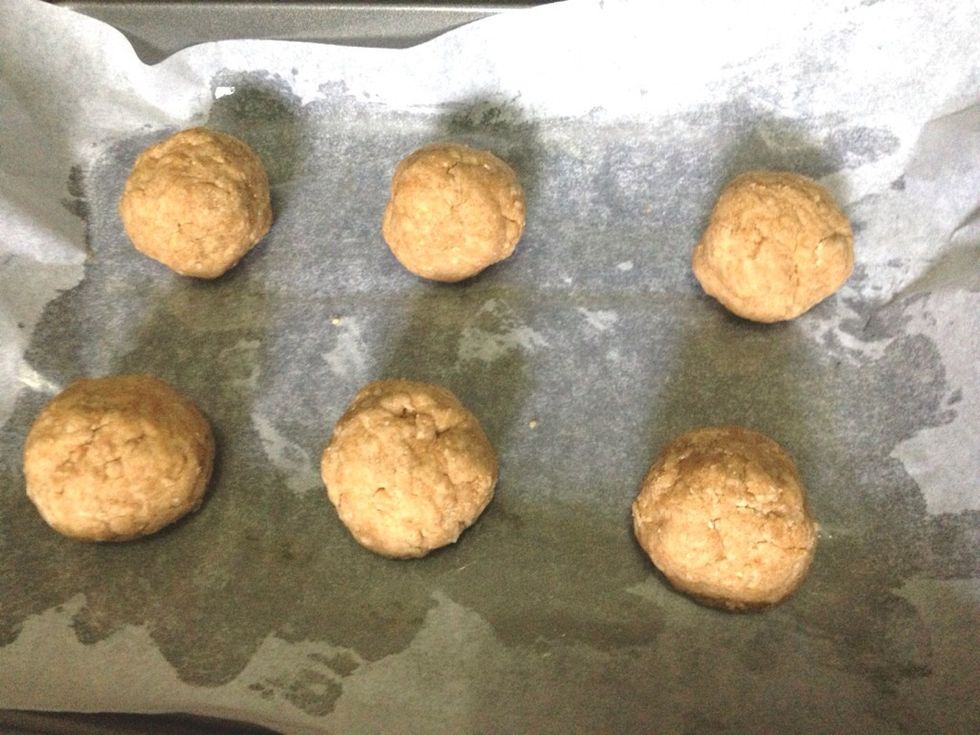 I usually make smaller buns for my dinner rolls. Note: this mini size, is about a golf ball :)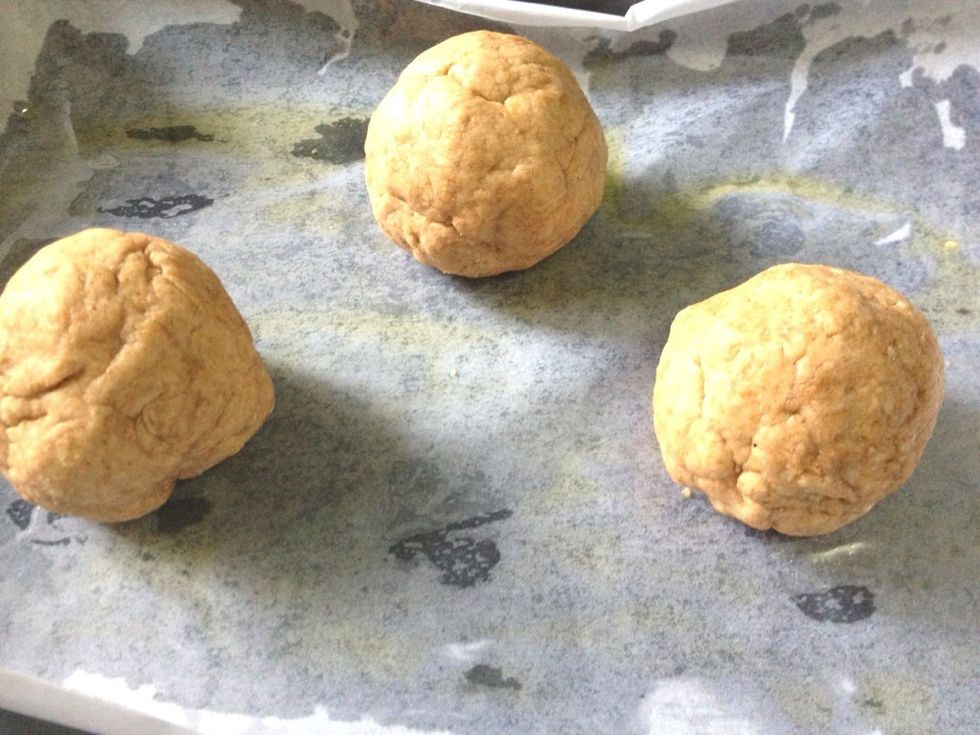 But for mini burger buns, the size is approx 2x my dinner rolls. Baked in preheated oven for 12-14 mnts only
The end result of my whole wheat buns :) yeaa I know they're not pretty hehe but taste good :)
In the 15-20 mnts waiting time in making buns (waiting for the yeast to come alive), I make the tomato ketchup
I use 1 can of whole tomatoes. Approx 400gr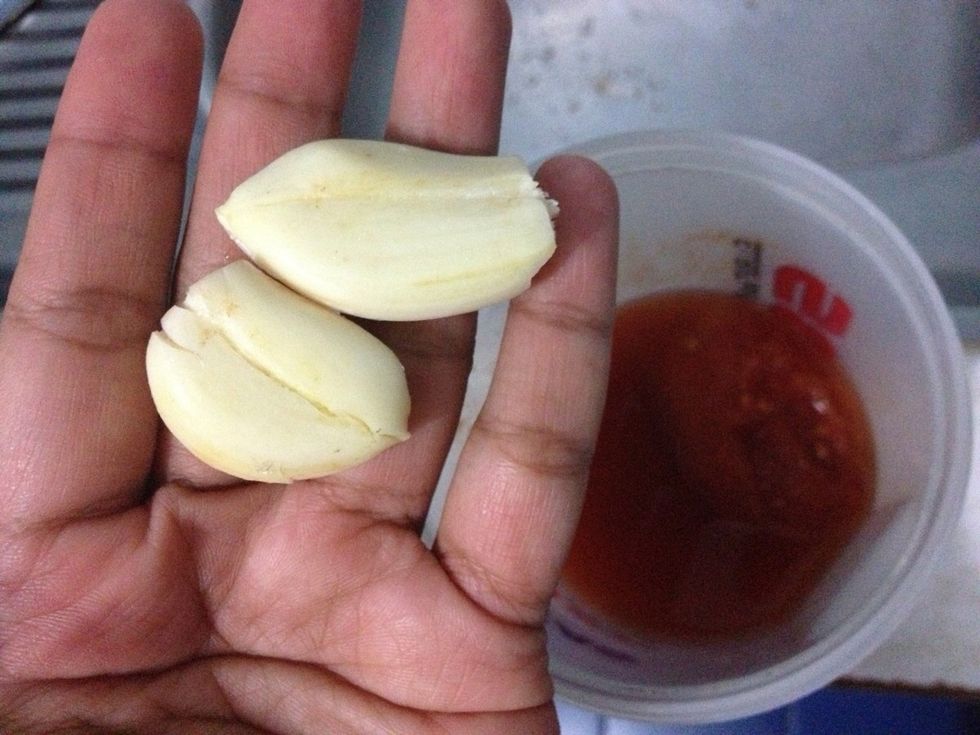 Put in a container and add in 2 cloves of crushed garlics. Just add 1 instead of 2 if you dont really like garlics :)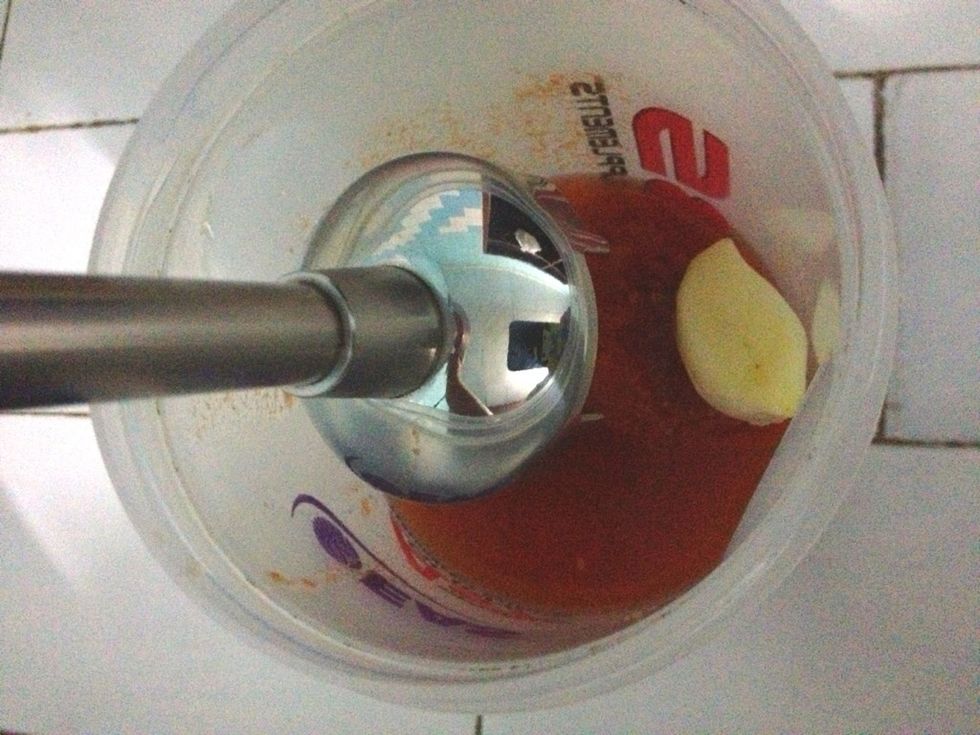 Blend the tomatoes and garlics using blender until smooth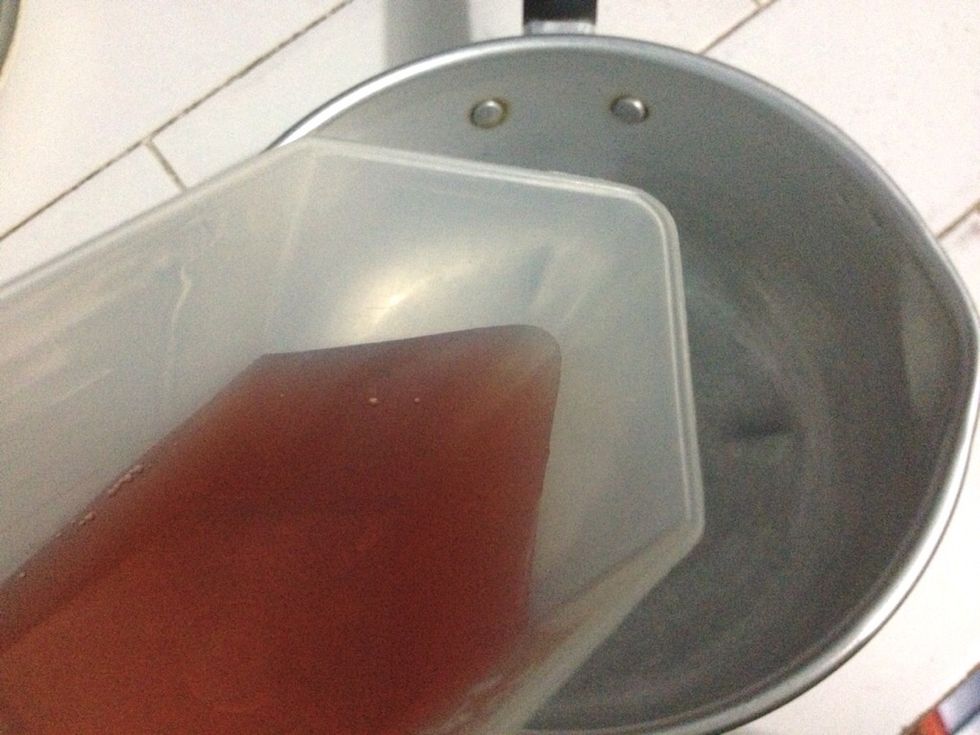 In a medium sauce pan, add in 75ml of red wine vinegar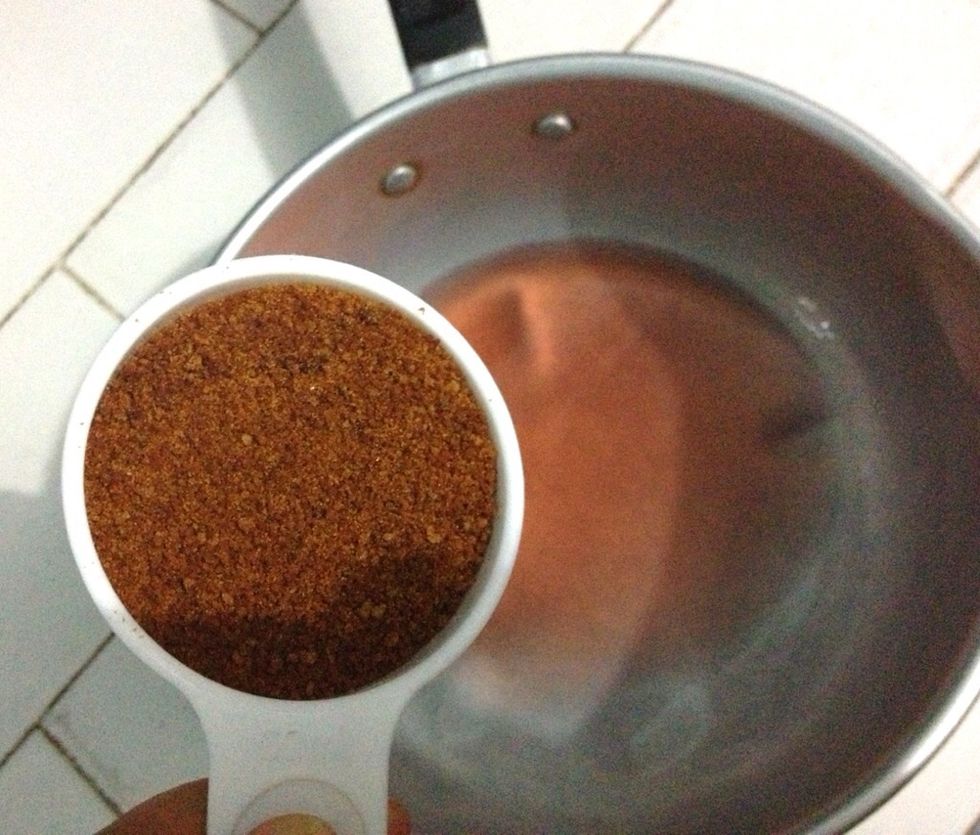 Add in 1/4 cup of brown sugar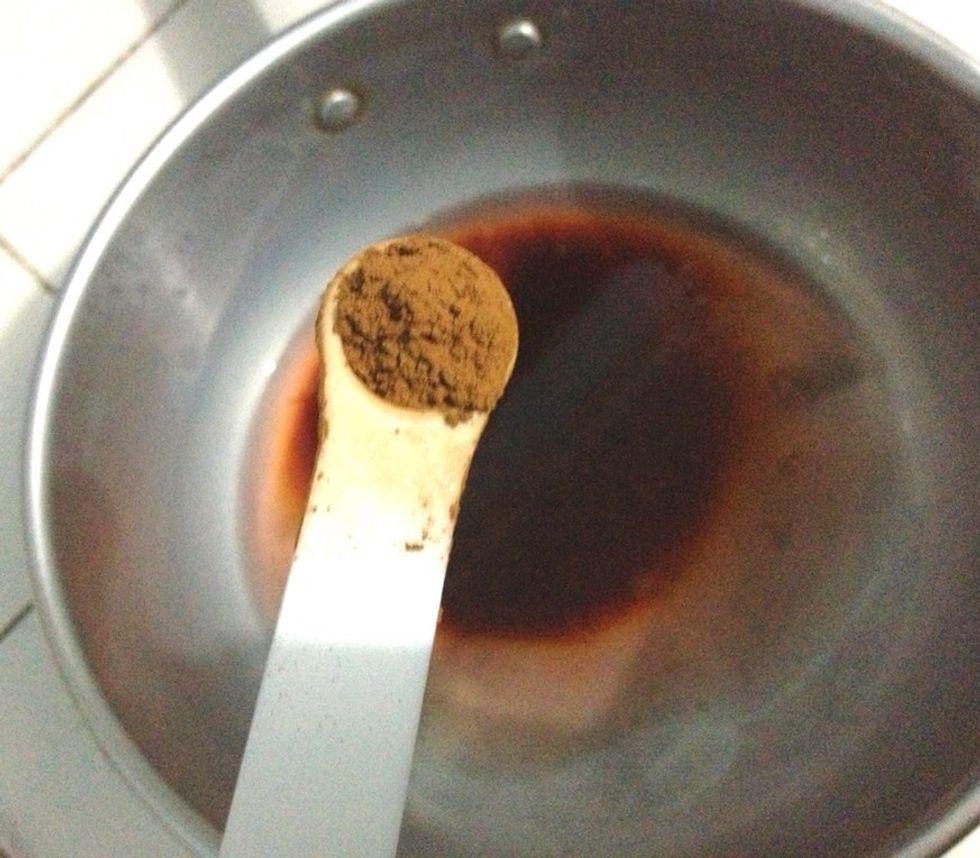 Add in 1/2 tsp of ground cinnamon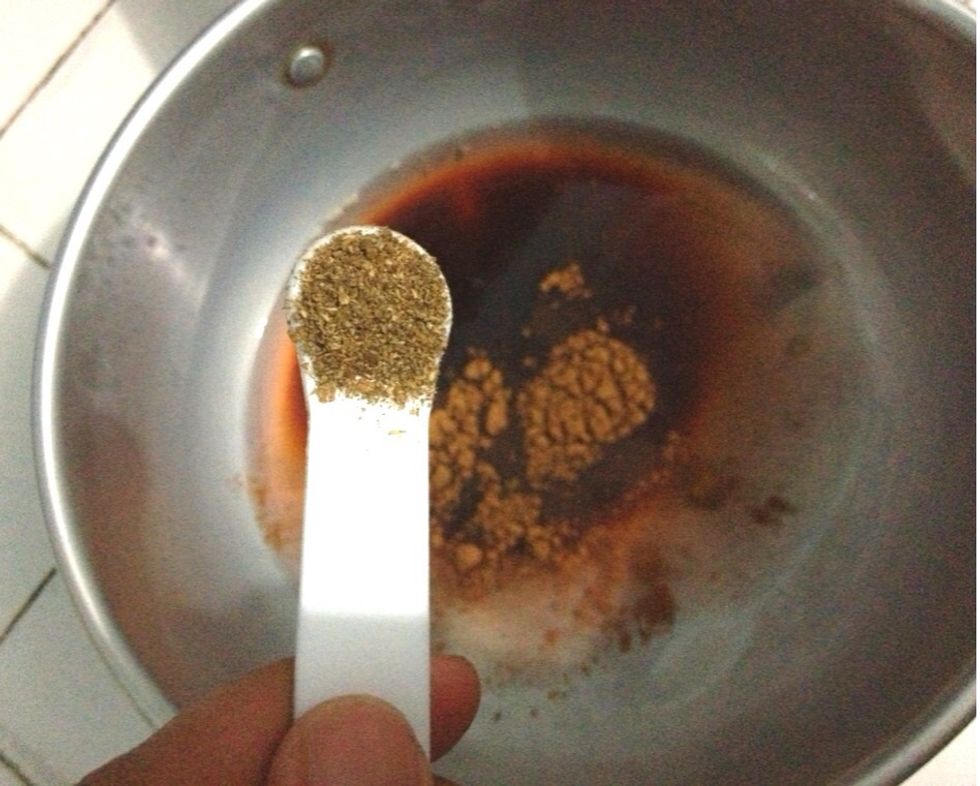 Add in 1/2 tsp of ground corriander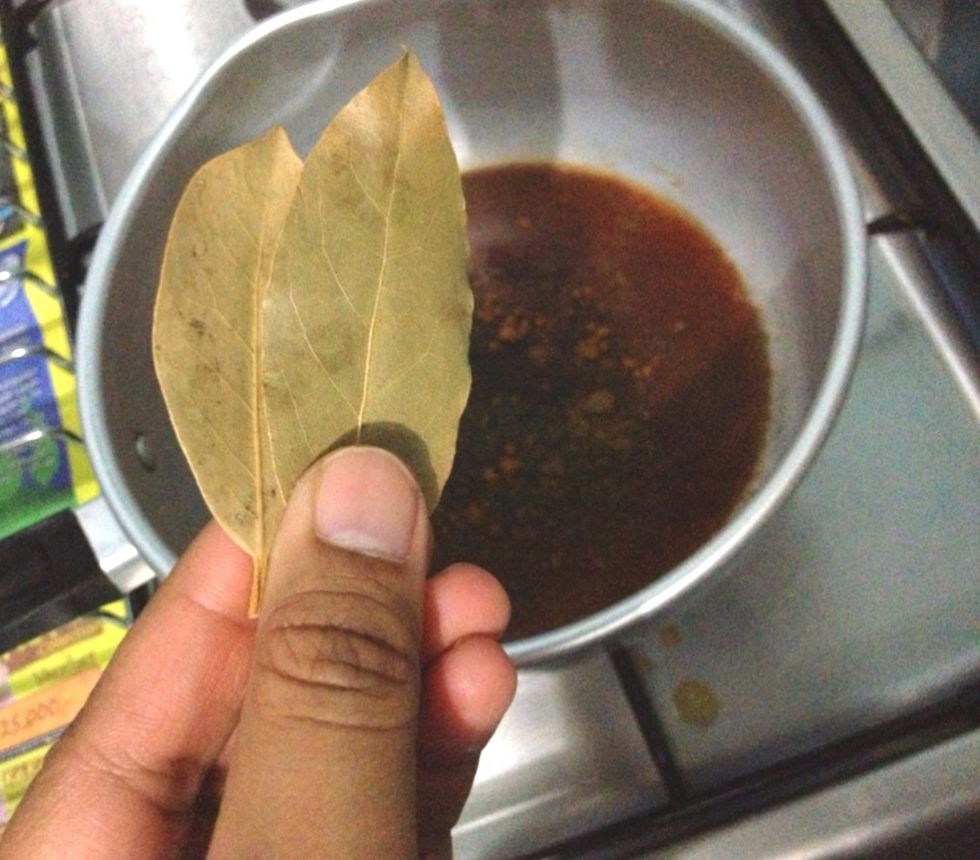 Heat the sauce pan. Medium heat. Wait until little bit bubbly. Add in 2 bay leaves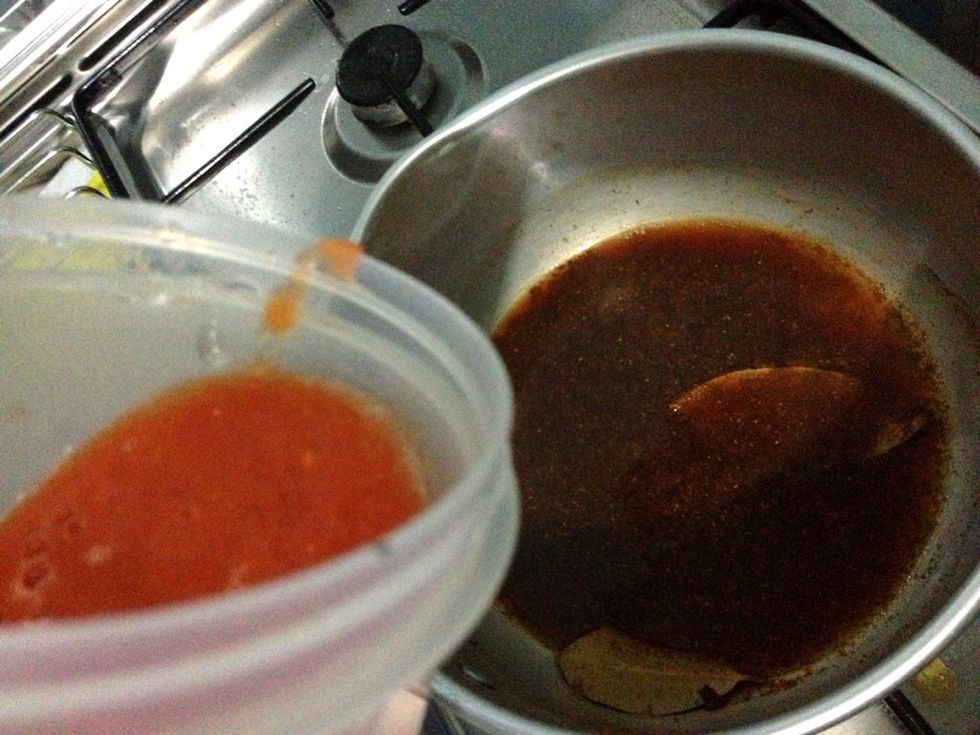 Set the heat to low. Add in the tomatoes garlics mixture. Stirring slowly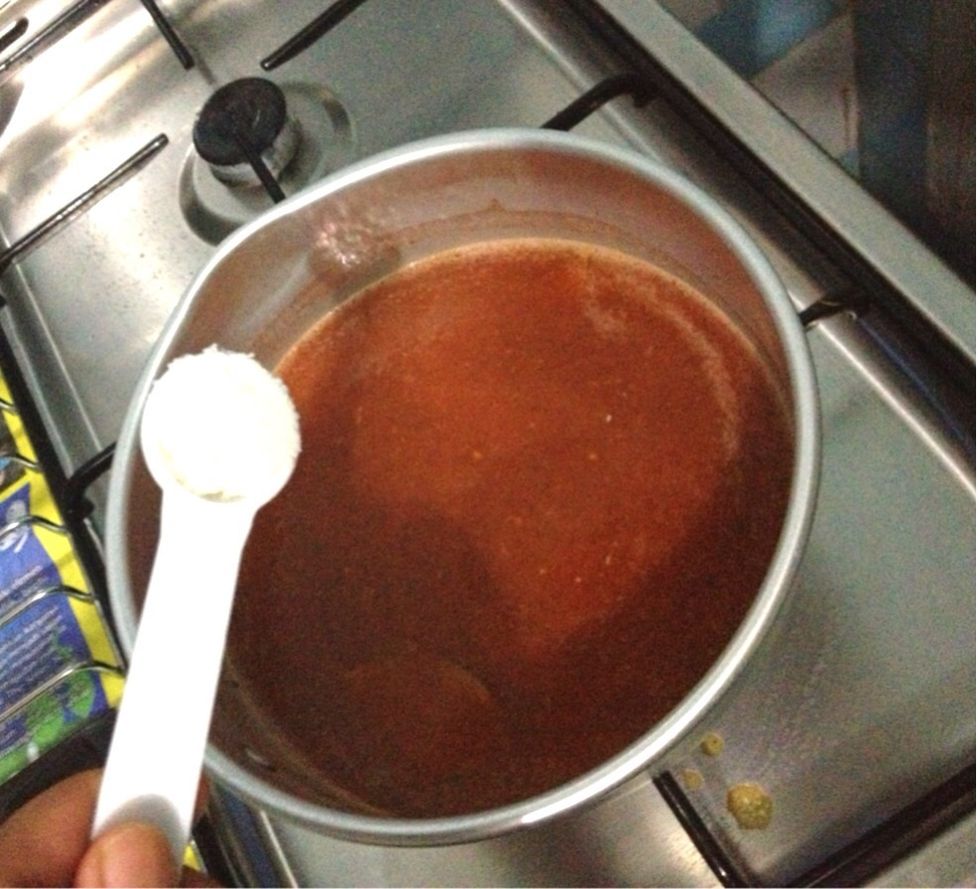 Add in 1 tsp of salt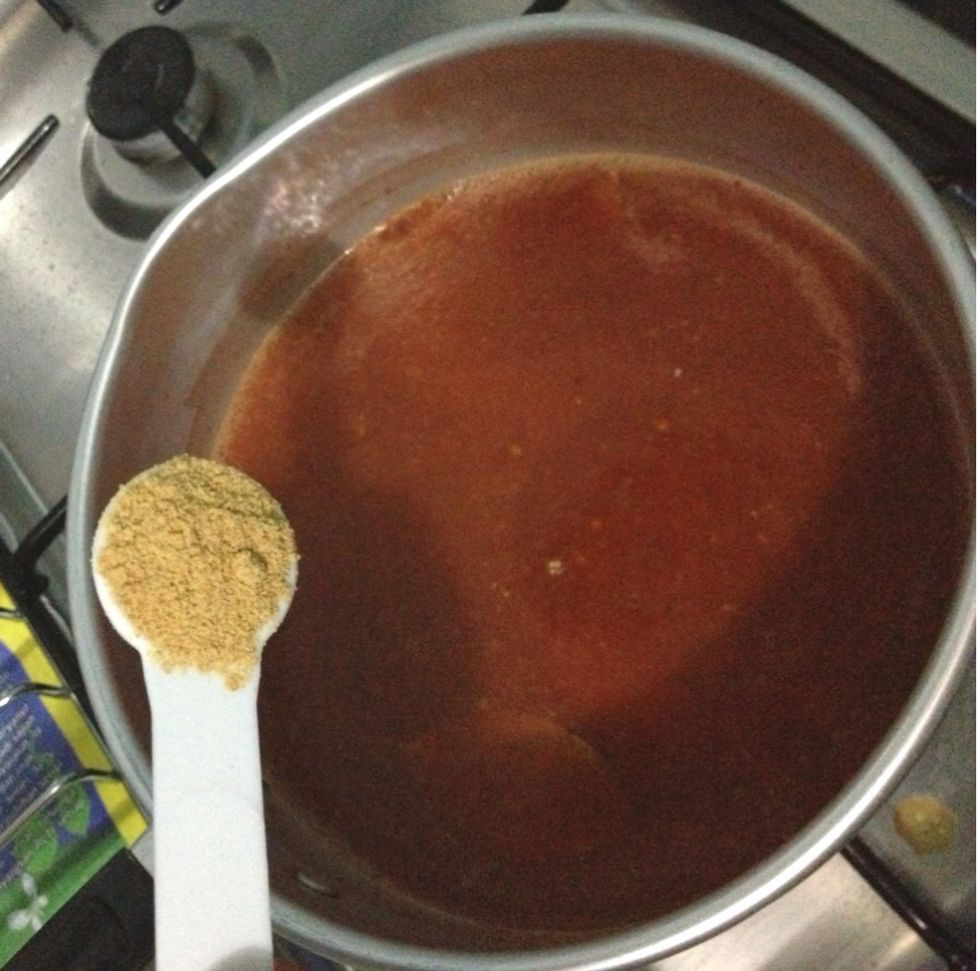 Add in 1 tsp of mustard powder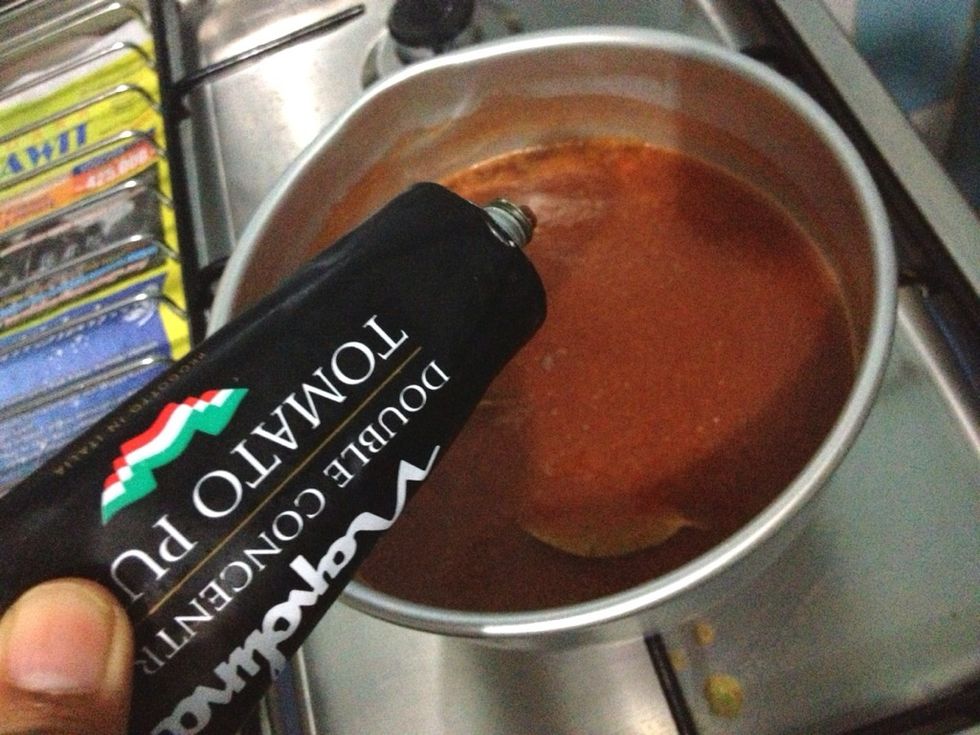 Add in 2 tsp of tomato puree. Stirring slowly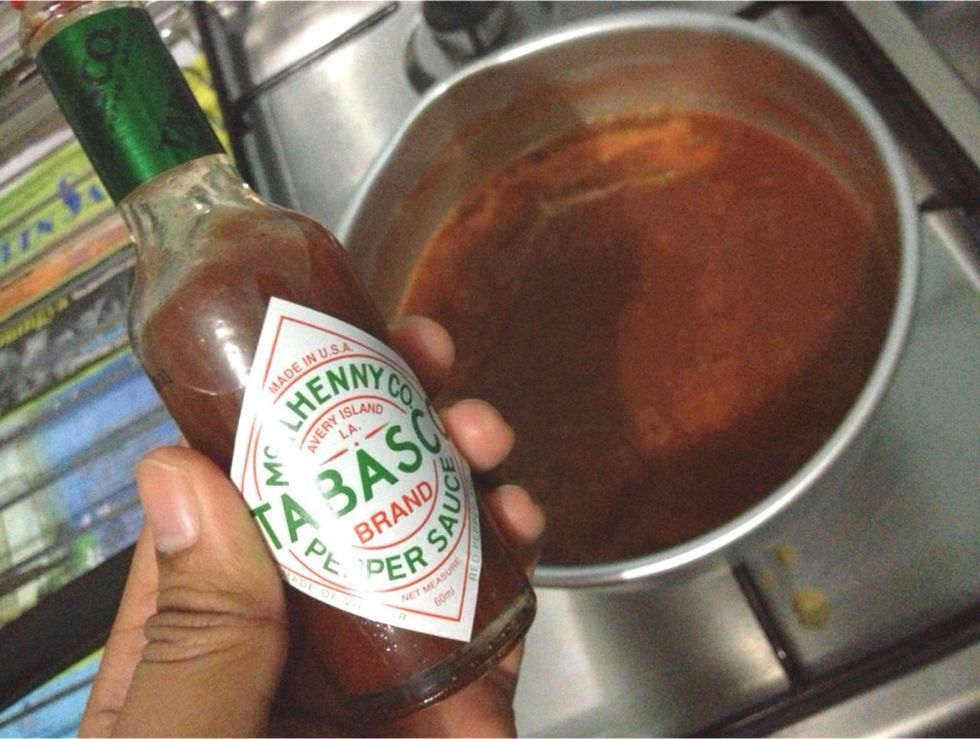 Add in tabasco. How much? According to your likey :) taste test ... Note: adding tabasco will add extra sour-ness to your ketchup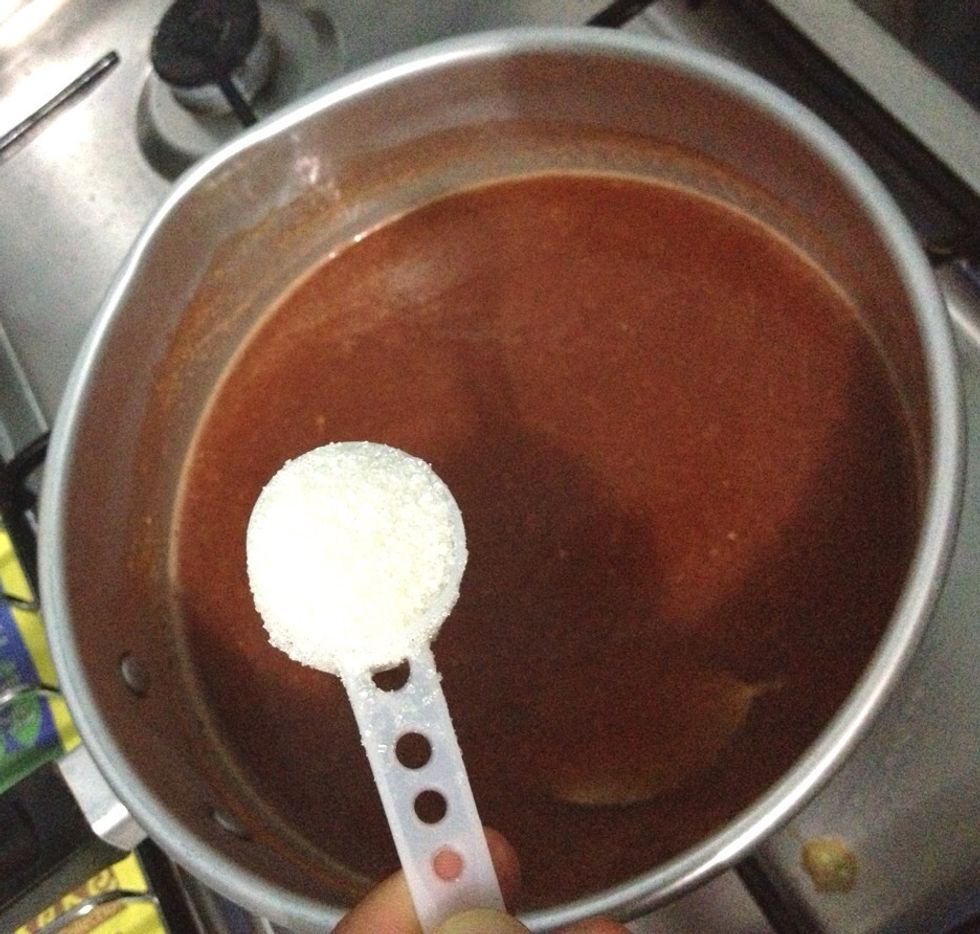 I like my tomato ketchup sweeter, so I add in 2 tbsp of granulated sugar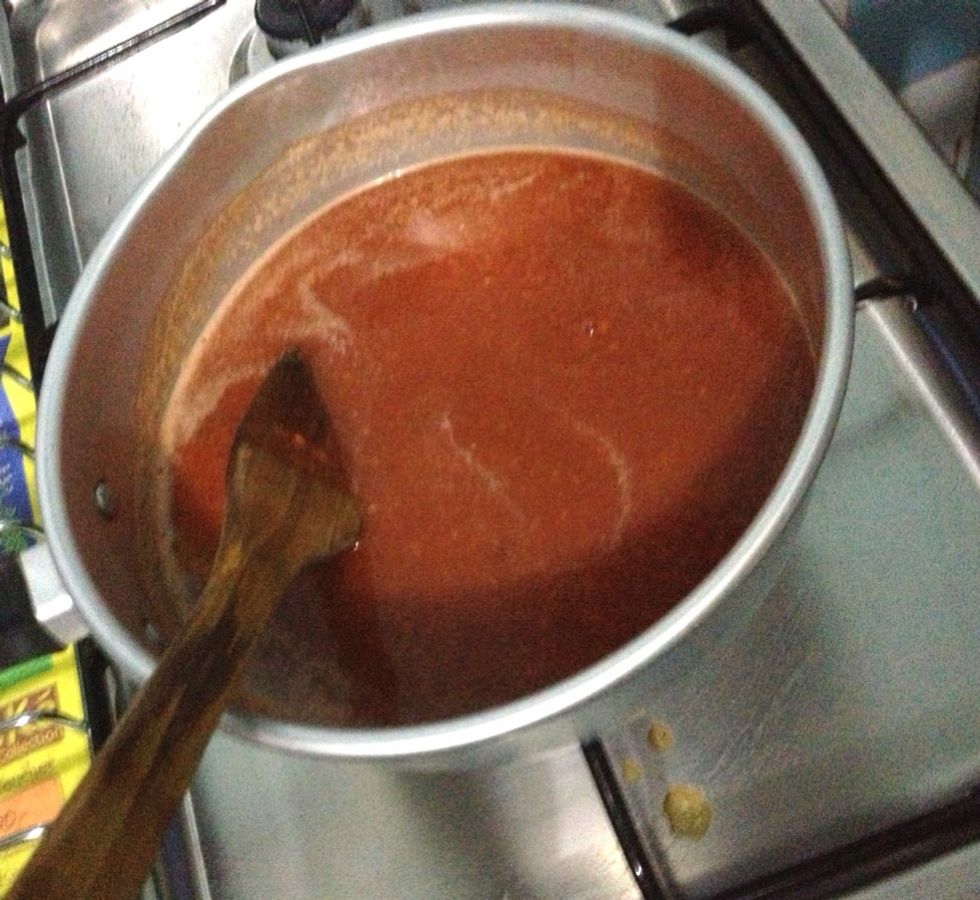 Stirring constantly until it is thickened. If you want to have your ketchup thicker, in a separate small bowl: add in 1 tbsp of cornflour and dissolve in 1 tbsp of water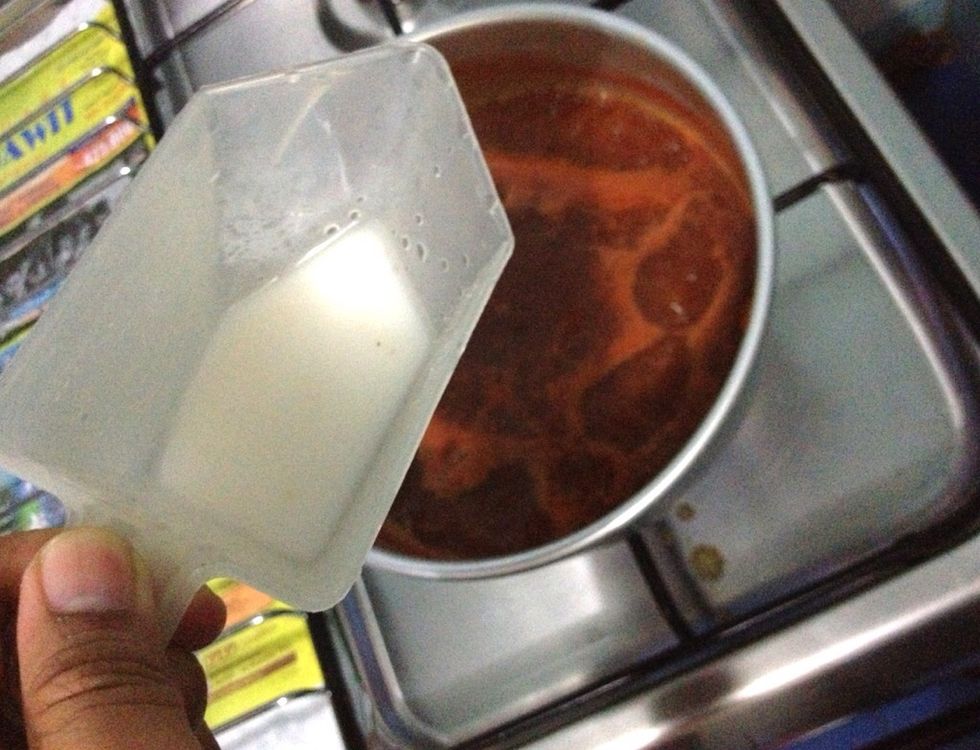 Add in the cornflour mixture when the ketchup is boiling. Stirring constantly for few seconds. Turn off the heat and set aside to cool. Put in a bottle or jar when cool
I use 2 sticky purple corns for this recipe, again for color reason :) you are free to use any available corns :)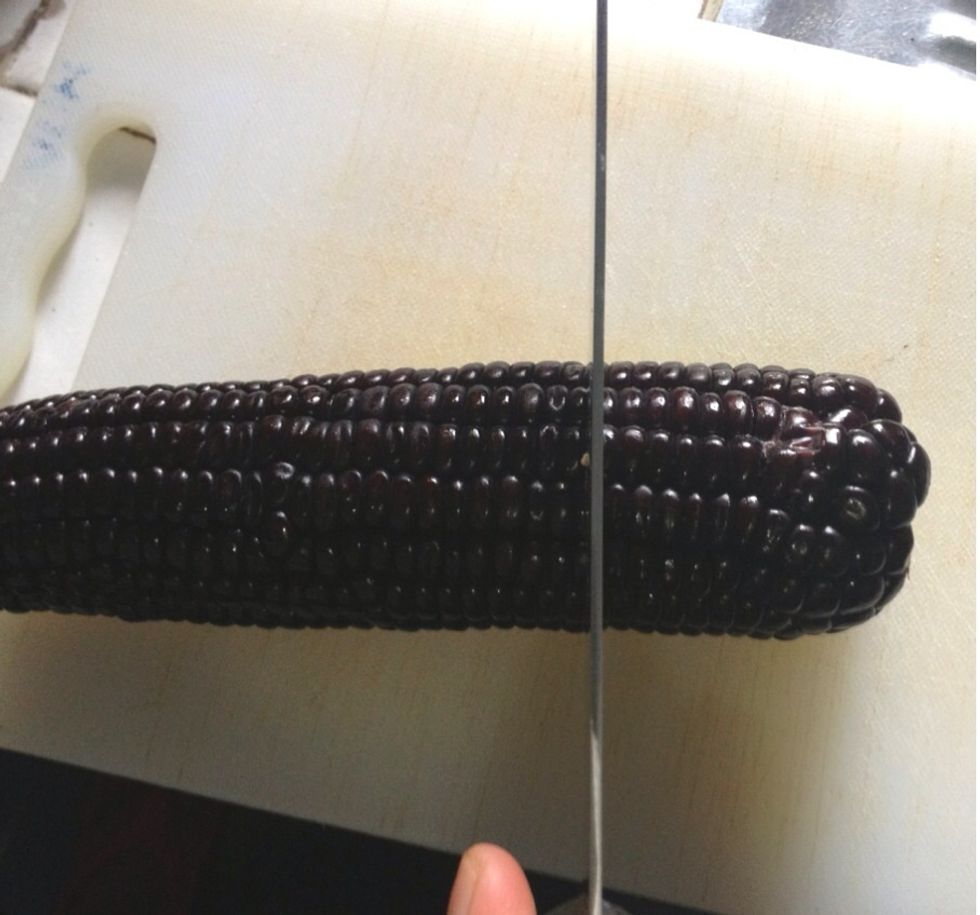 Cut each corn into 3 parts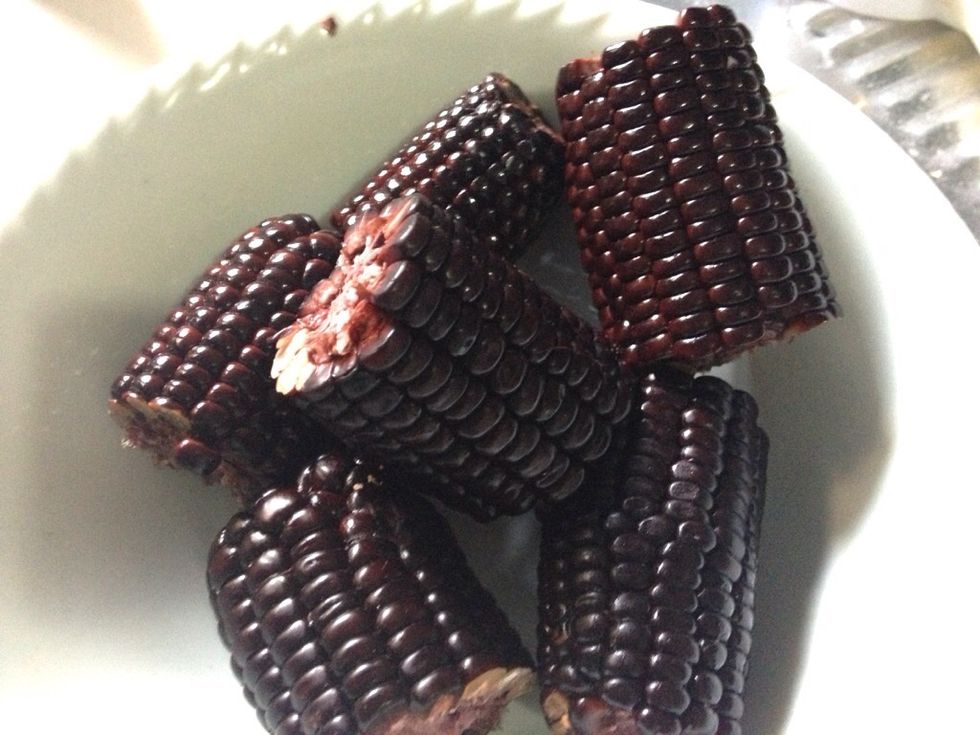 Set aside ... #love the color!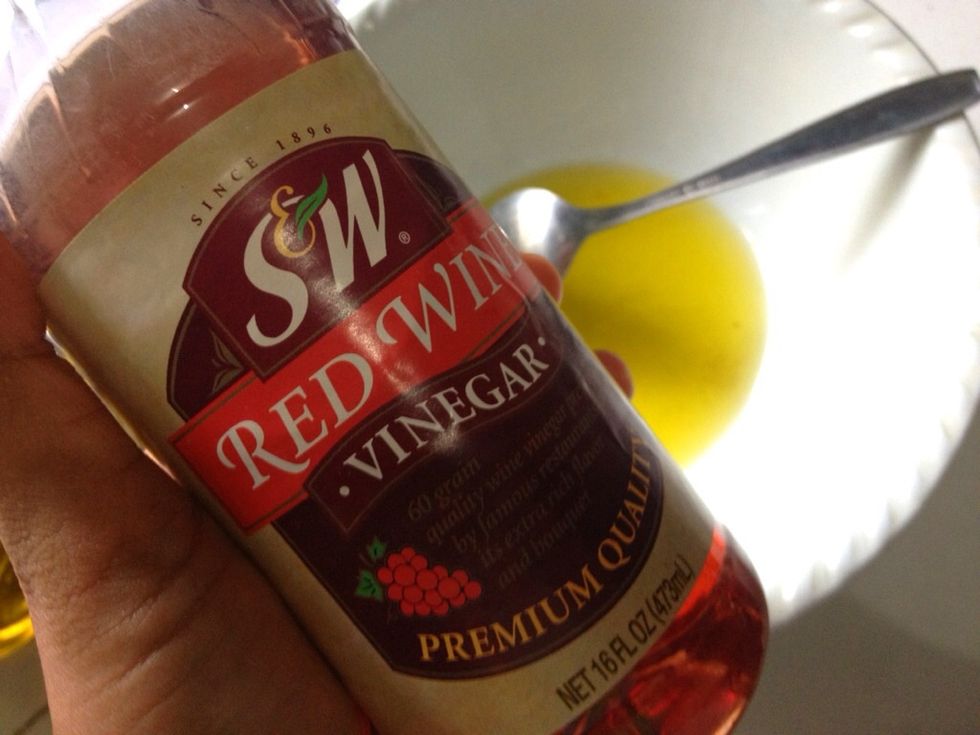 In a separate bowl, add in 6 tbsp of extra virgin olive oil and 2 tbsp of red wine vinegar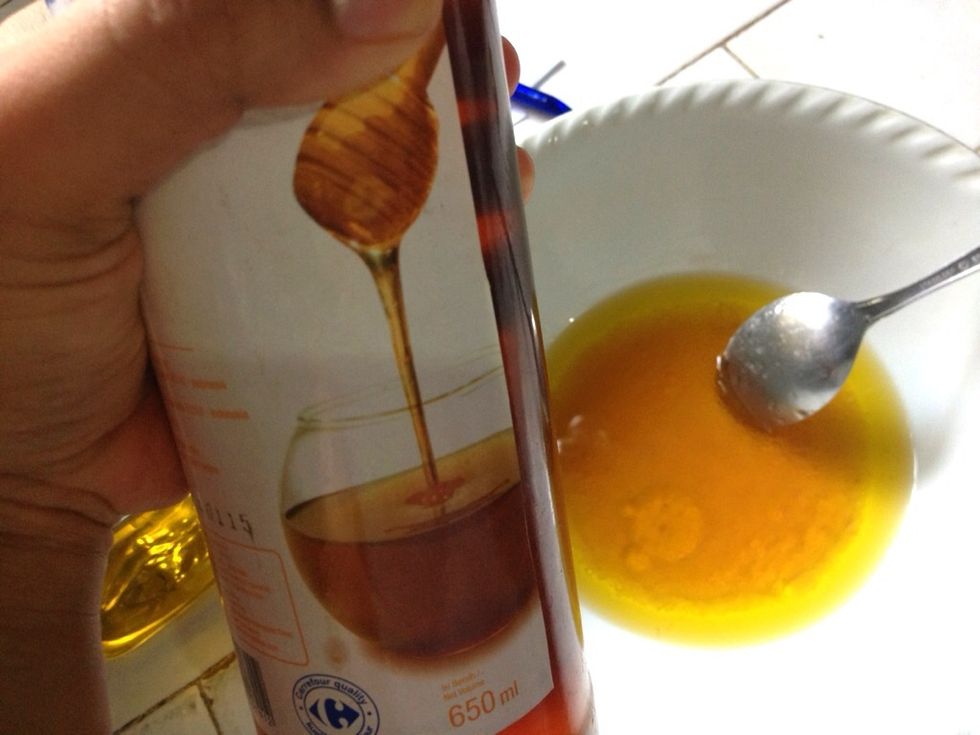 Stirred. Add in 3 tbsp of honey. Mix well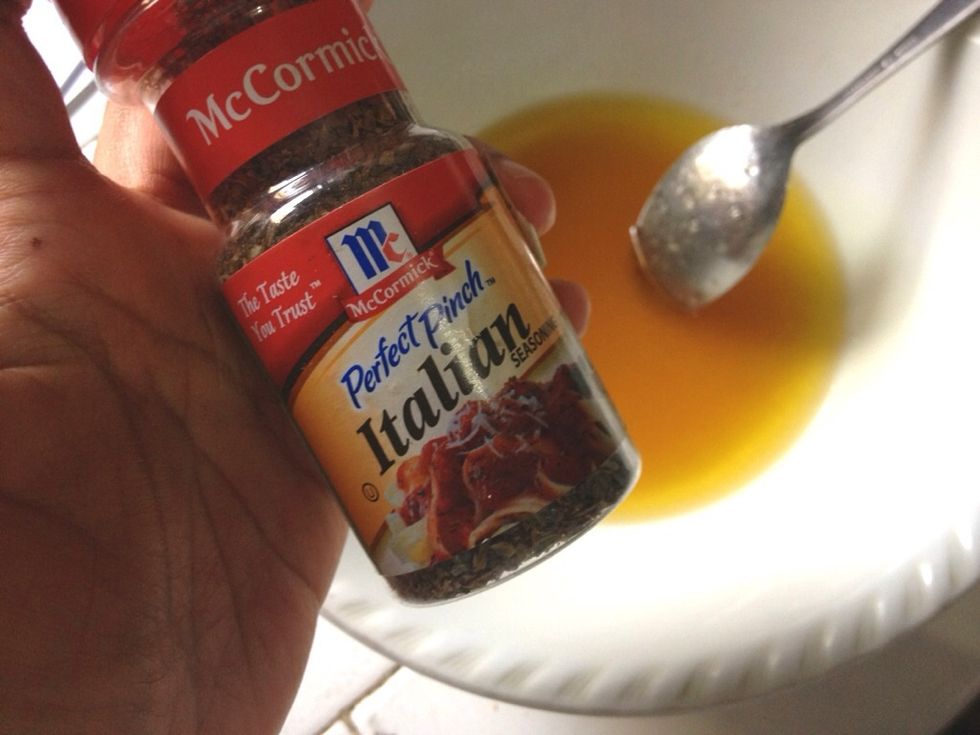 Add in your favourite dried herbs. I choose Italian mix. If you like your corn a bit spicy, simply add in some cayenne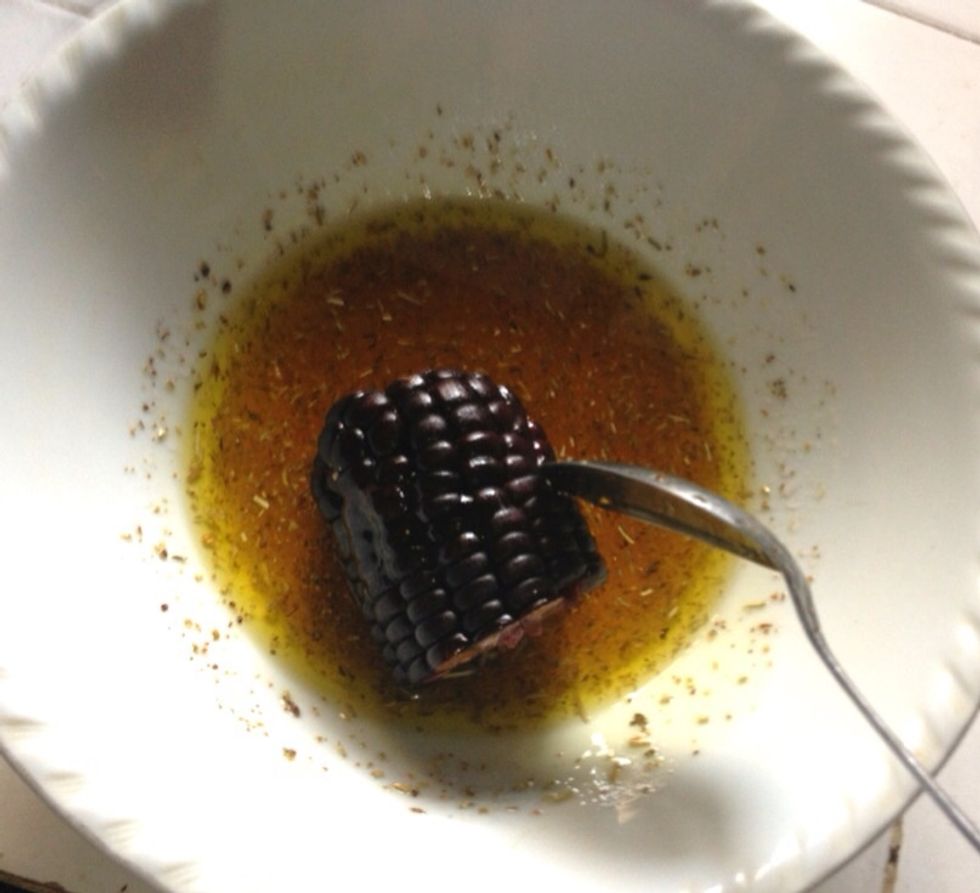 Roll the corn into the vinaigerette mixture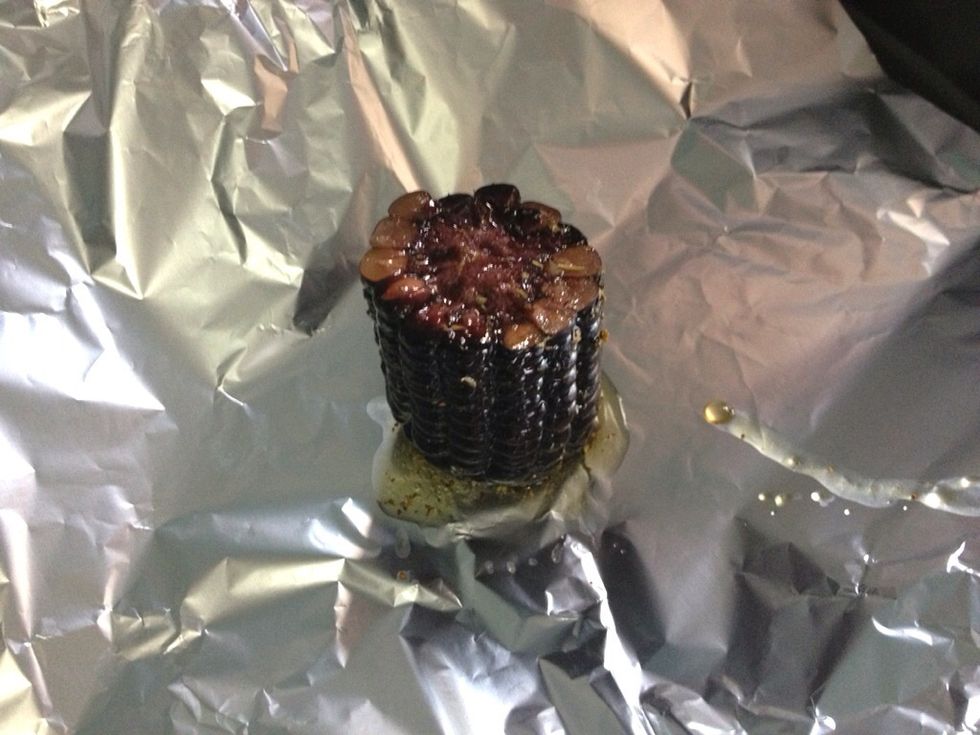 Use the same method for onions. Make a bag from foil and put the corn cob in the middle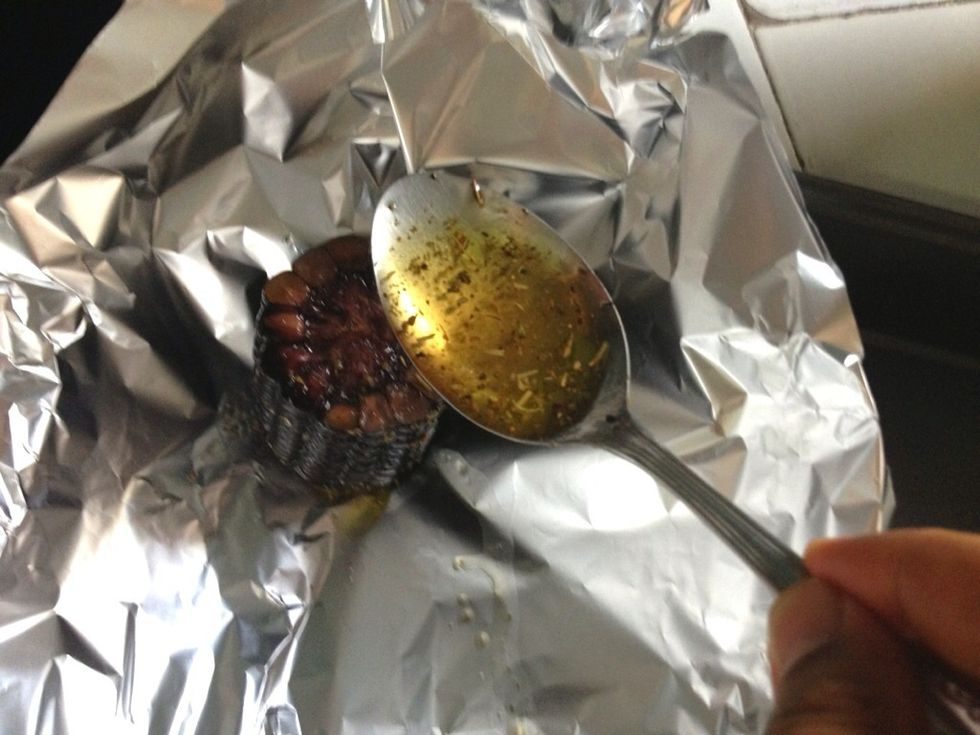 Add in 1-2 tbsp of the vinaigerette mixture, fold and pinch the edge of the foil. Baked the corn cobs for 20 mnts. Better to let the corn in the foil until you're ready to eat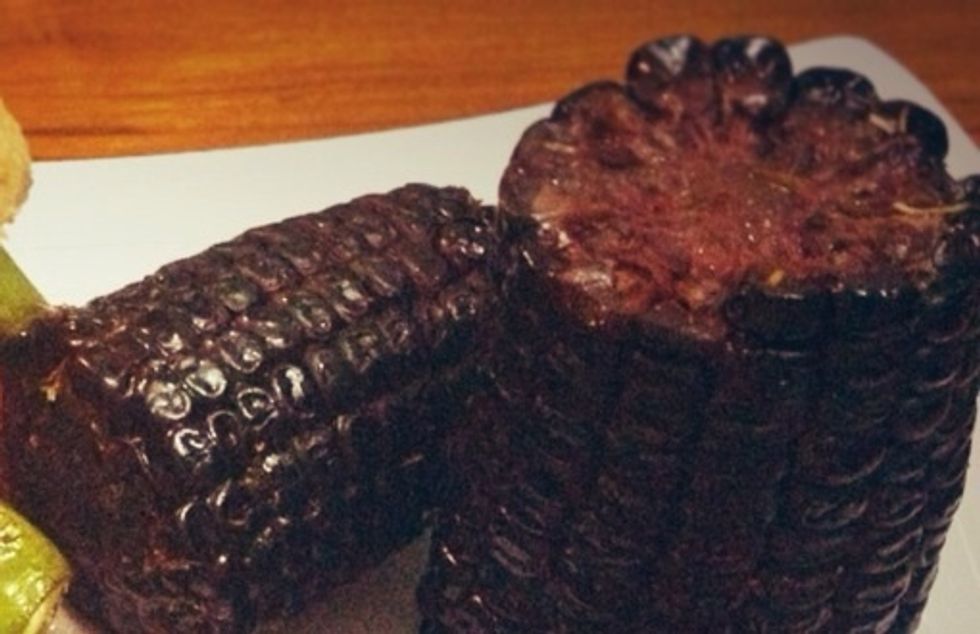 The roasted purple corn on the cob is ready :) moist, sweet, and definitely yummy :)
The final stage would be the roasted veggies and the crunchy zucchini. However, I put the zucchini recipe separately.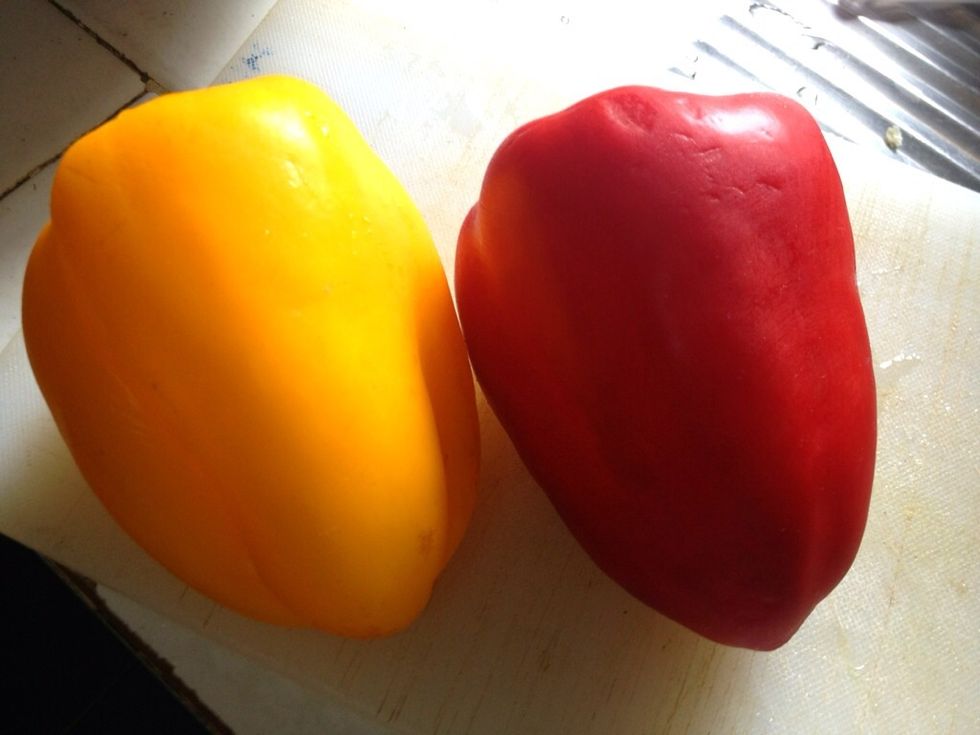 For roasted veggies, I choose red and yellow capsicum. Cut into rings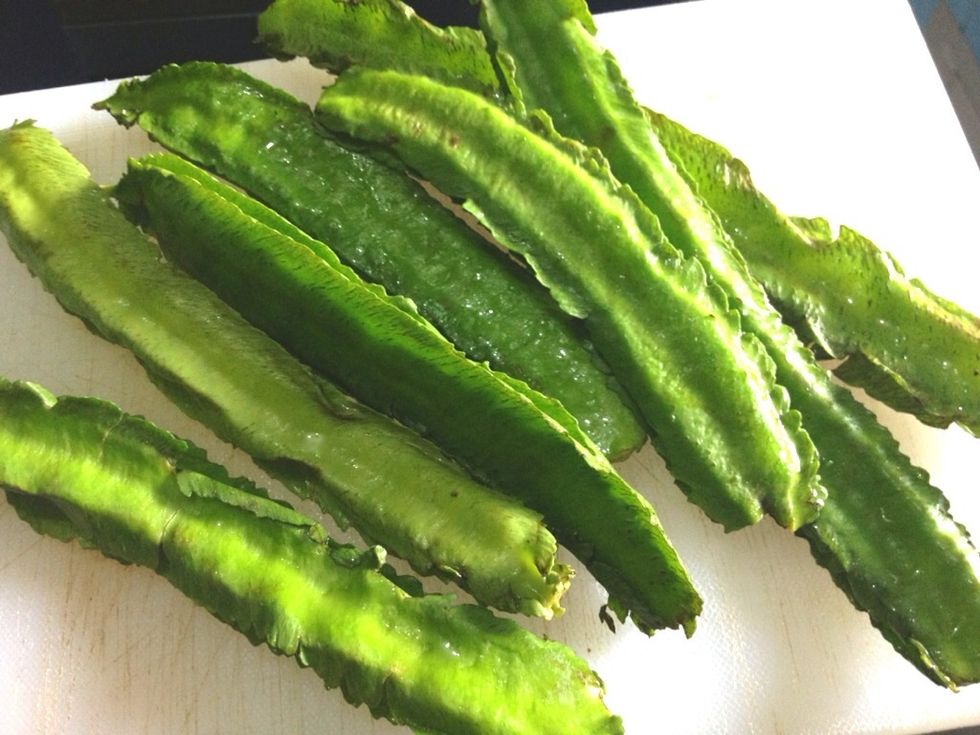 For the green color, I choose the wing beans! :) you are free to use any veggies you like. Cut the wing beans into 2.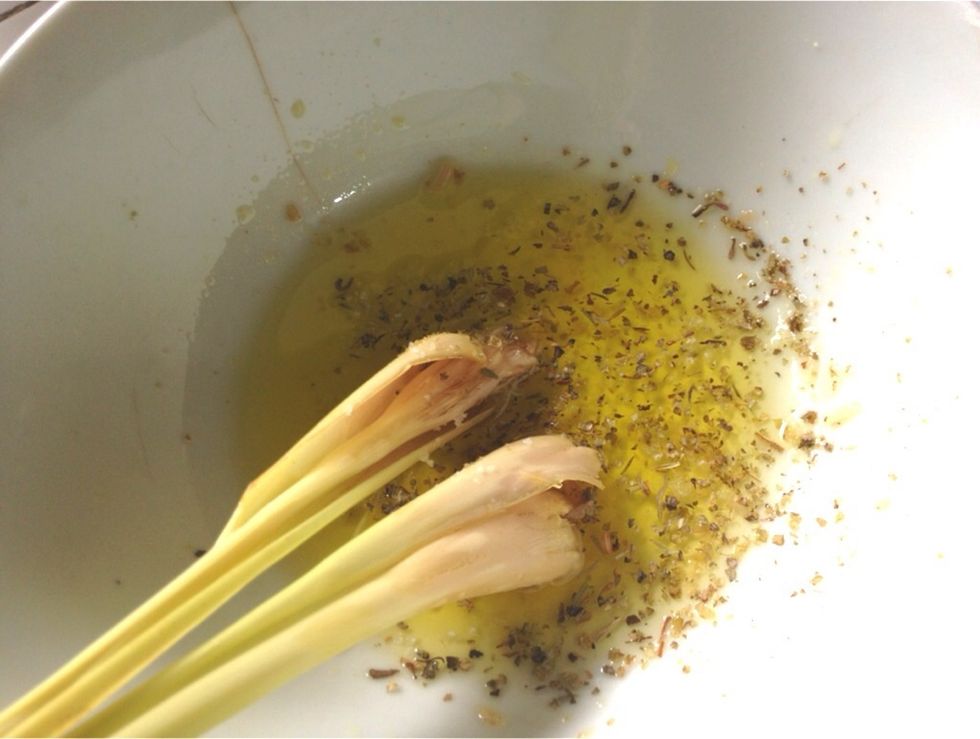 Remember the lemongrass brush? :) add more olive oil in there and sprinkle with some dried herbs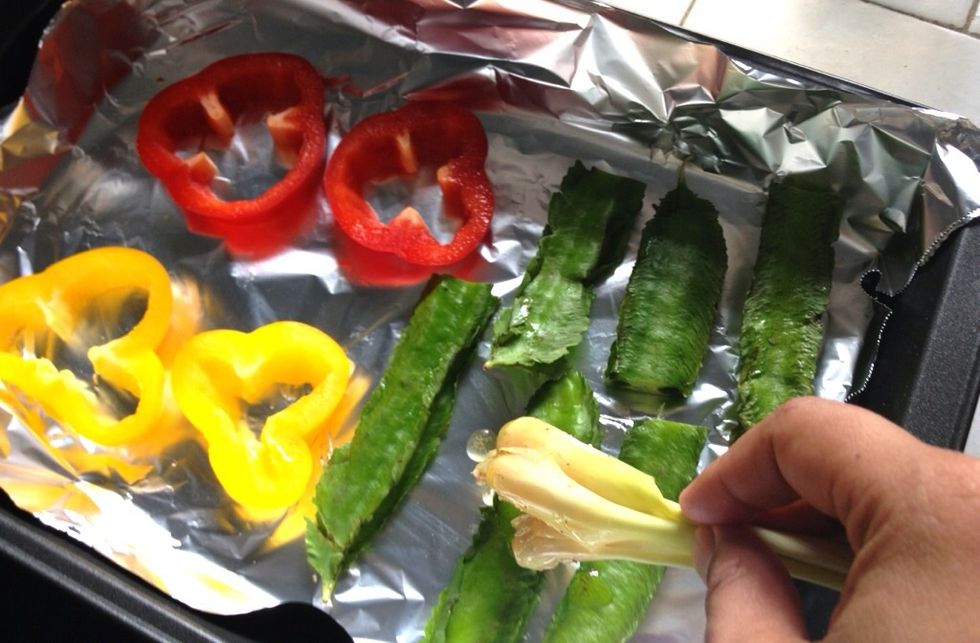 Brush the veggies with the olive oil mixture. On each side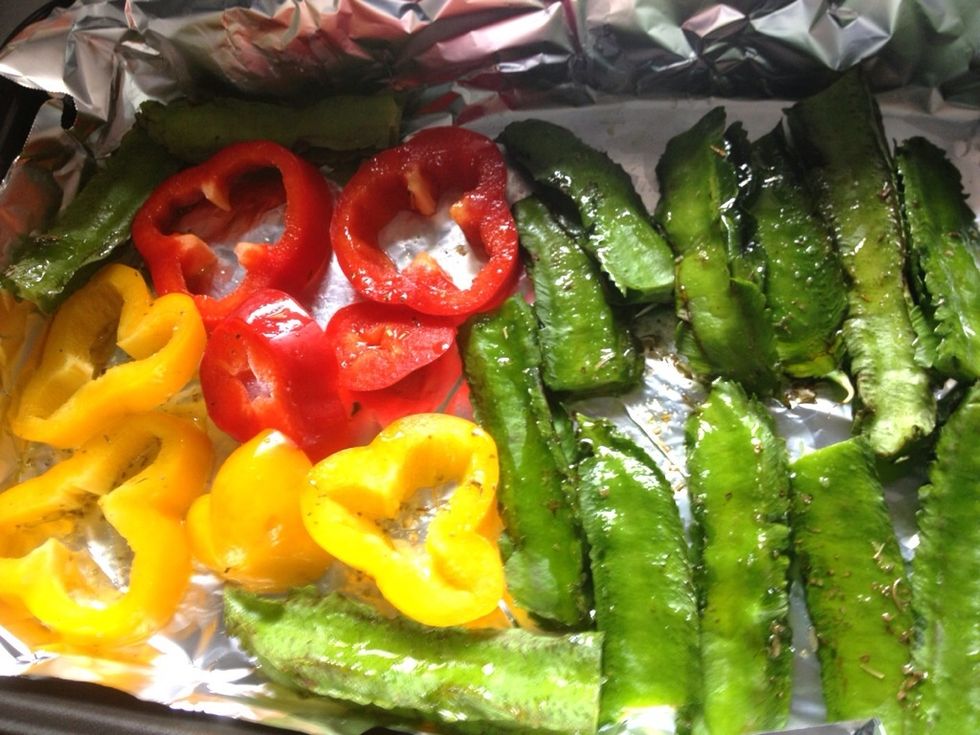 Pour in the leftover olive oil over the veggies. Baked for 15 mnts.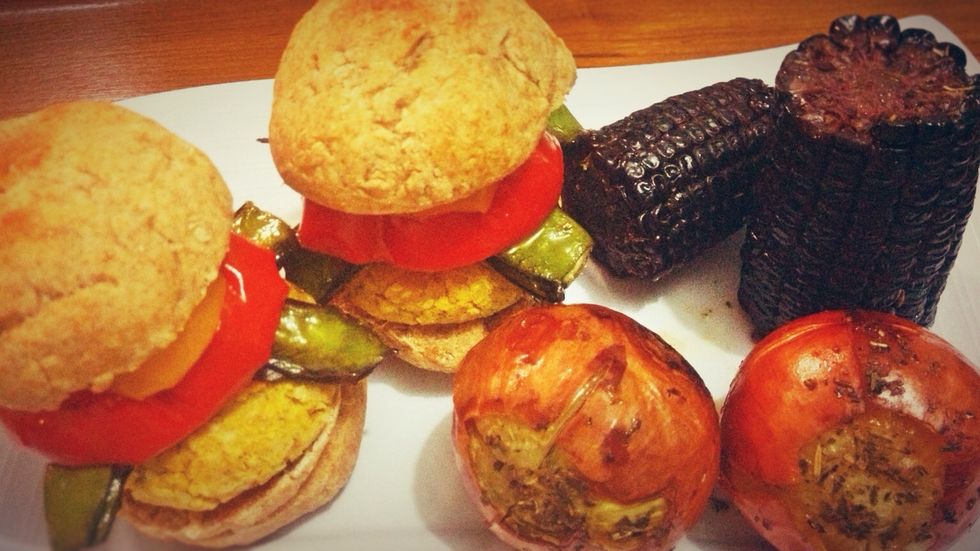 Now bring altogether. Smear the buns with tomato ketchup, add the bean patty and the veggies. Serve the purple corn and the roasted onions as sides. Complete this meal with crunchy zucchini sticks :)
Please follow the guides for measurement
Putri Lah
a foodperiment and a foodventorous, an Orca lover and a simple person who enjoys cozy places, good music and good books.