Make Coconut Banana Pancakes With Coconut Cream
81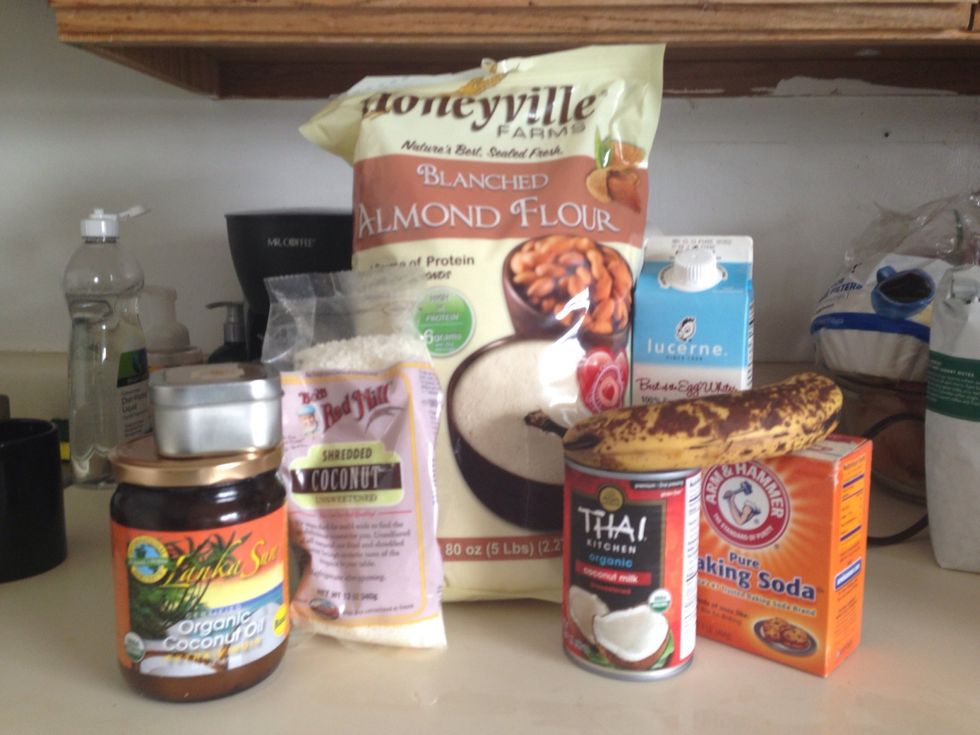 Some of the stuff you'll need. Make sure you get unsweetened coconut and full fat coconut milk.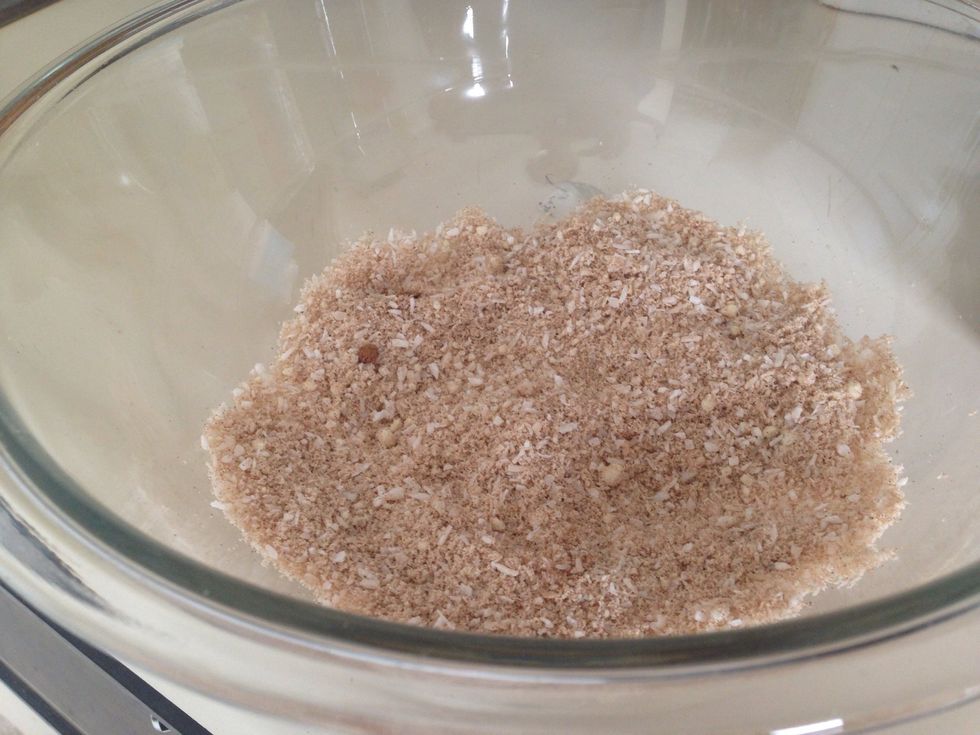 Mix your dry ingredients. My roommate gave me a fancy pumpkin pie spice for Christmas, but any combo of cinnamon, nutmeg, allspice, orange zest, etc will work.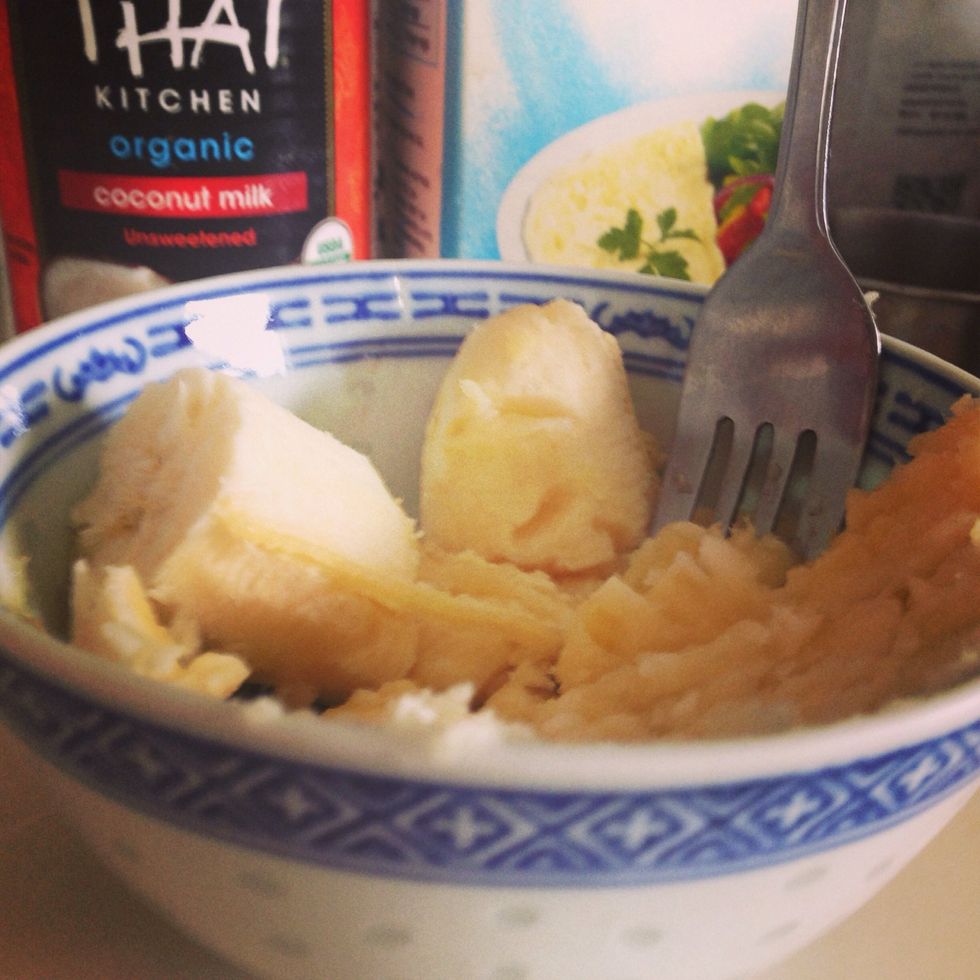 Mash your banana.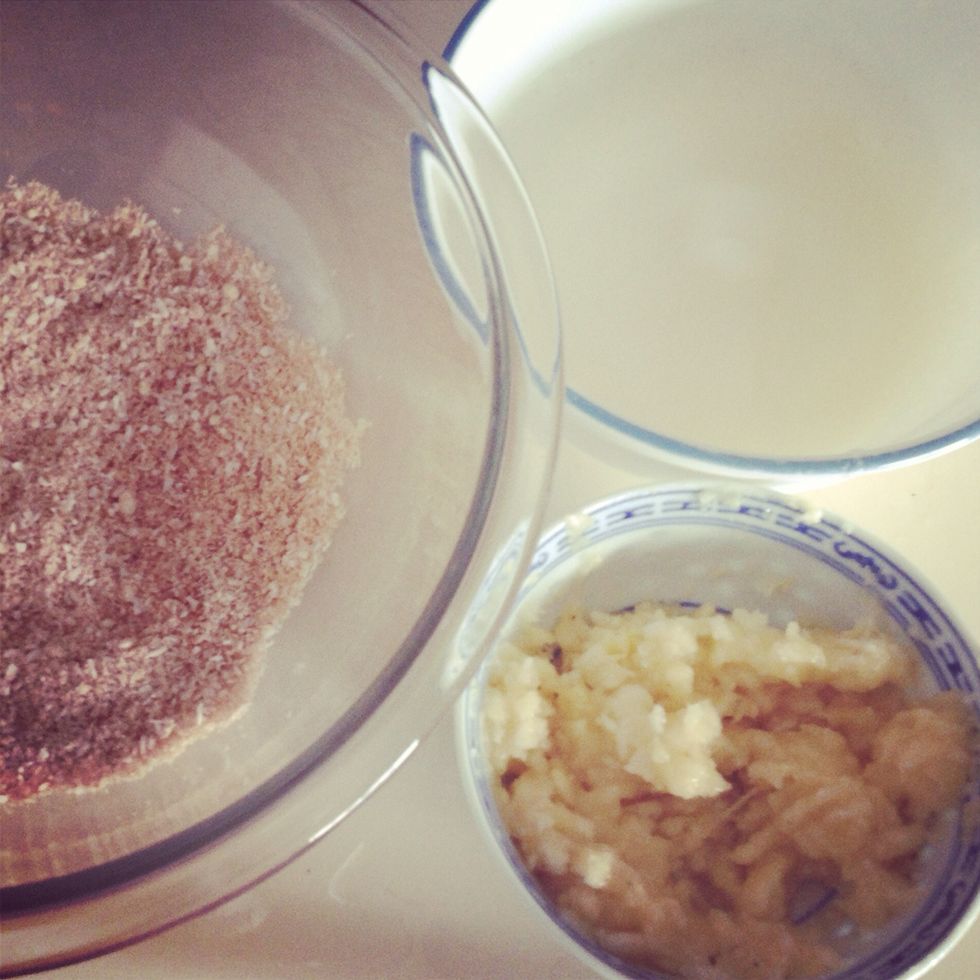 Beat your egg whites to frothy/creamy with a fork or whisk.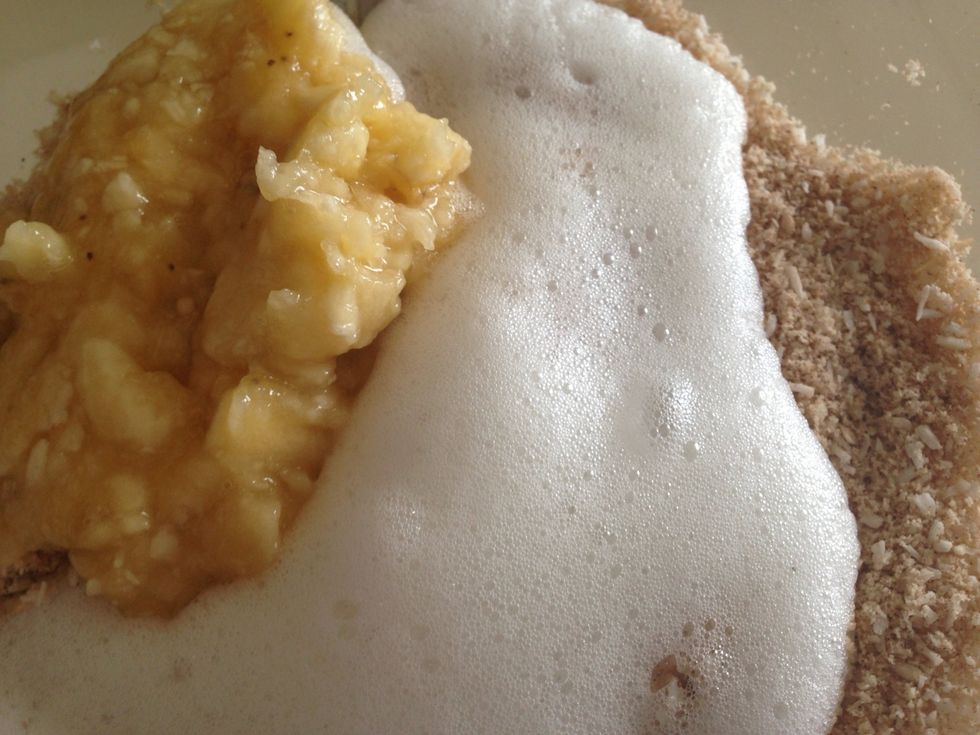 Combine dry ingredients w banana, egg whites, and 1/4 tsp vanilla.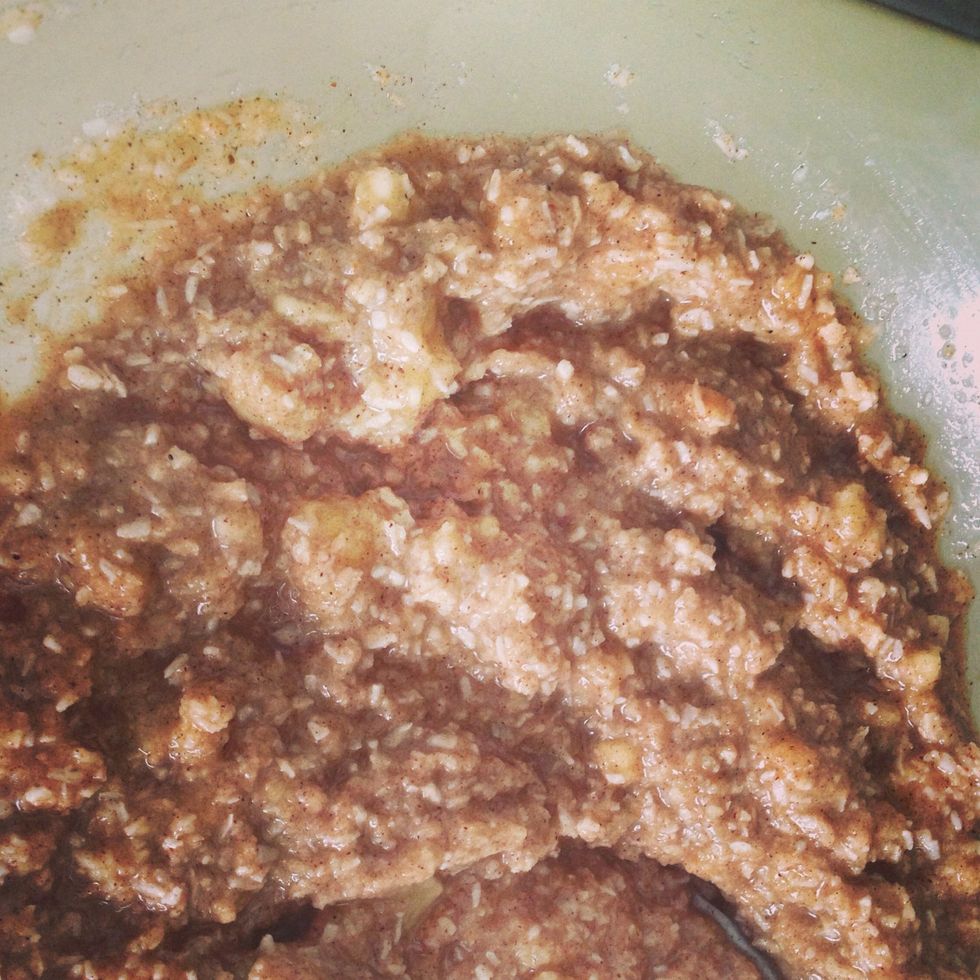 Combined! If you're not crazy about coconut flakes, you can also use old fashioned oats for texture.
Add your favorite kind of milk a little at a time until batter reaches desired consistency.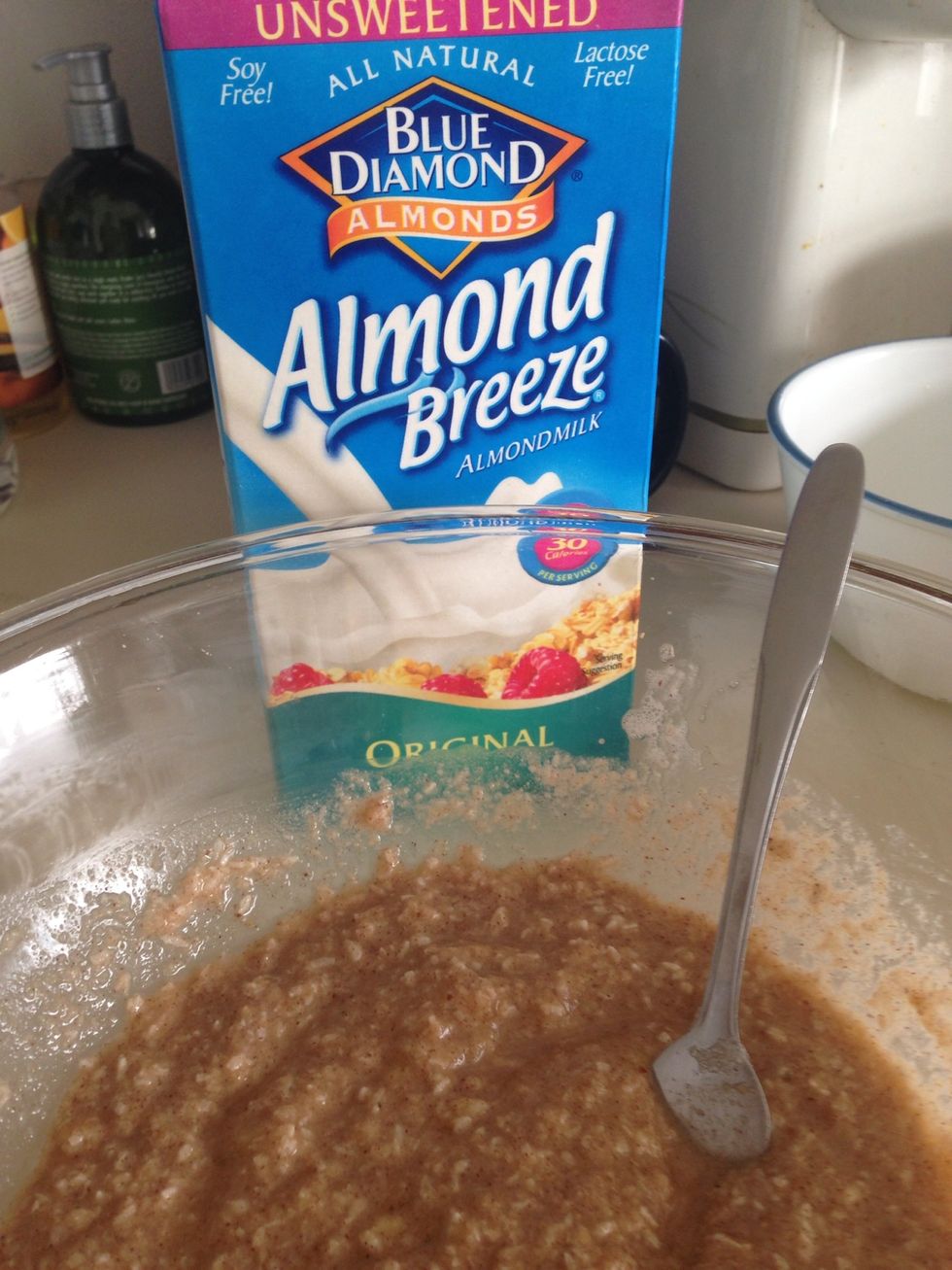 I like unsweetened almond milk--no carbs or sugar, doesn't have that chalky soy milk aftertaste, only 30 calories/ serving. Not that we're super concerned w cals for this recipe...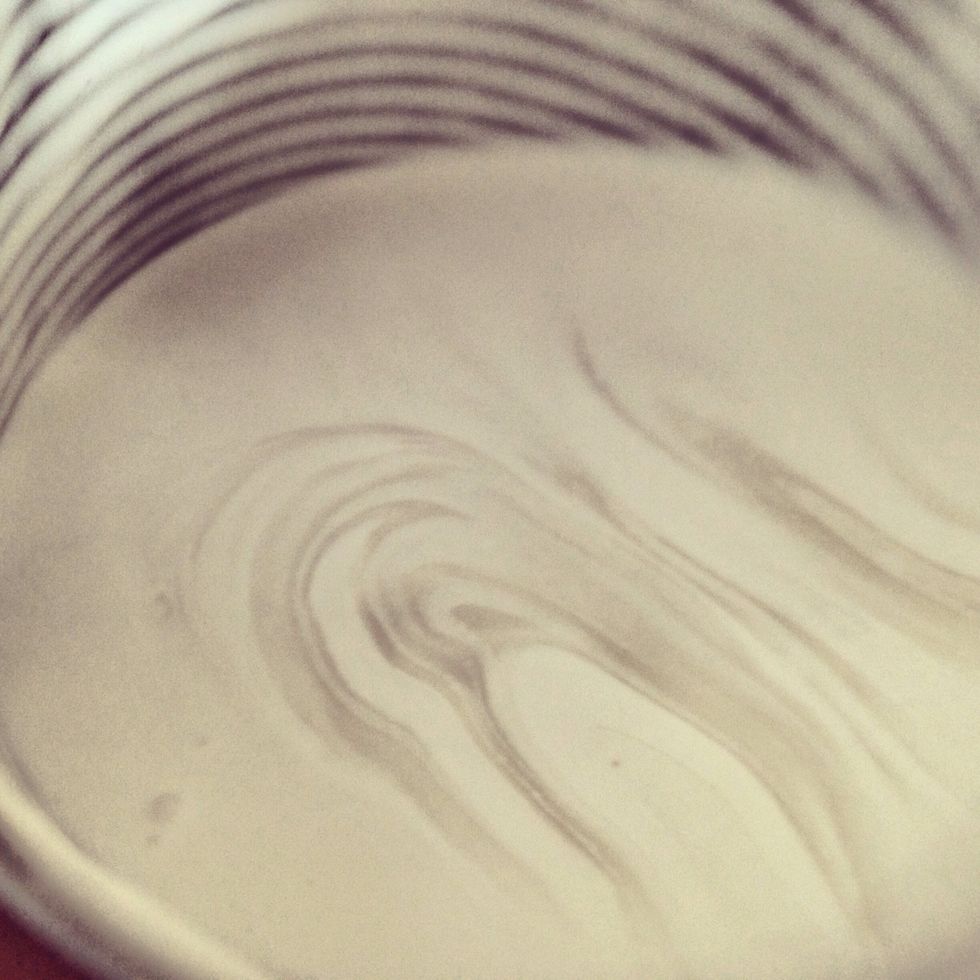 You should have refrigerated your coconut milk overnight. When you open the can, the cream will have separated some from the water. Spoon the cream into a bowl until you can see the water, like this.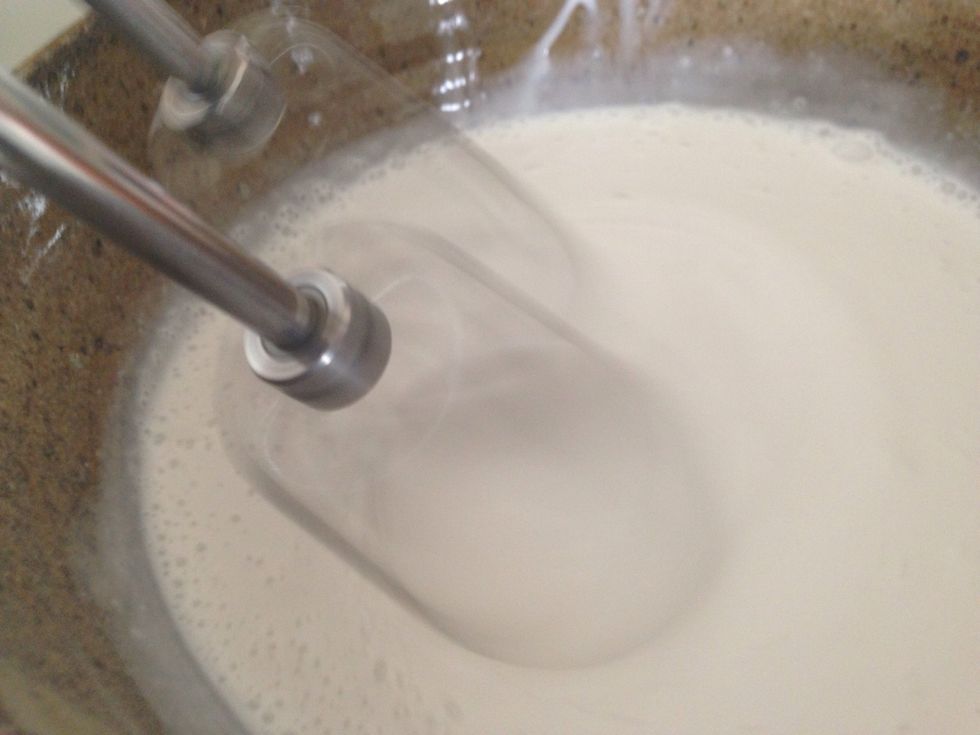 The coconut cream should be almost the consistency of heavy whipping cream. Beat it with a hand mixer 5-10 min, or until it thickens.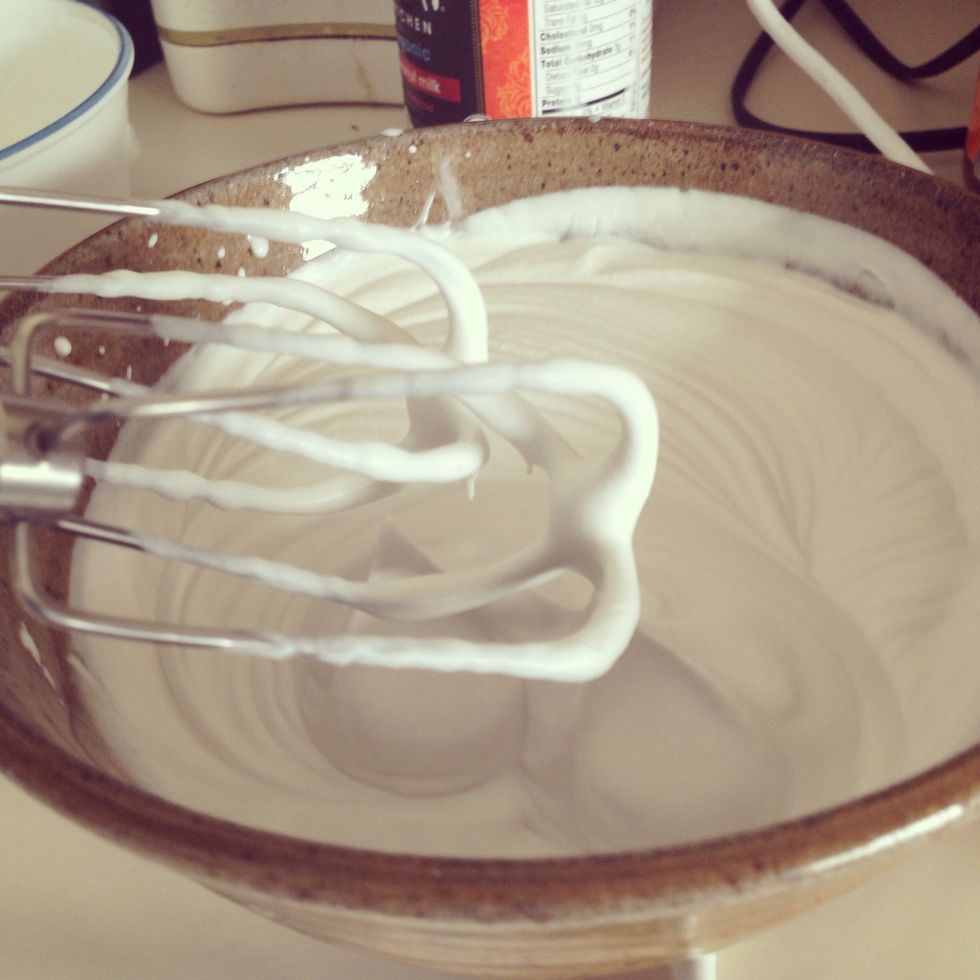 It thickens up roughly to Cool Whip texture, but it takes time, so be patient!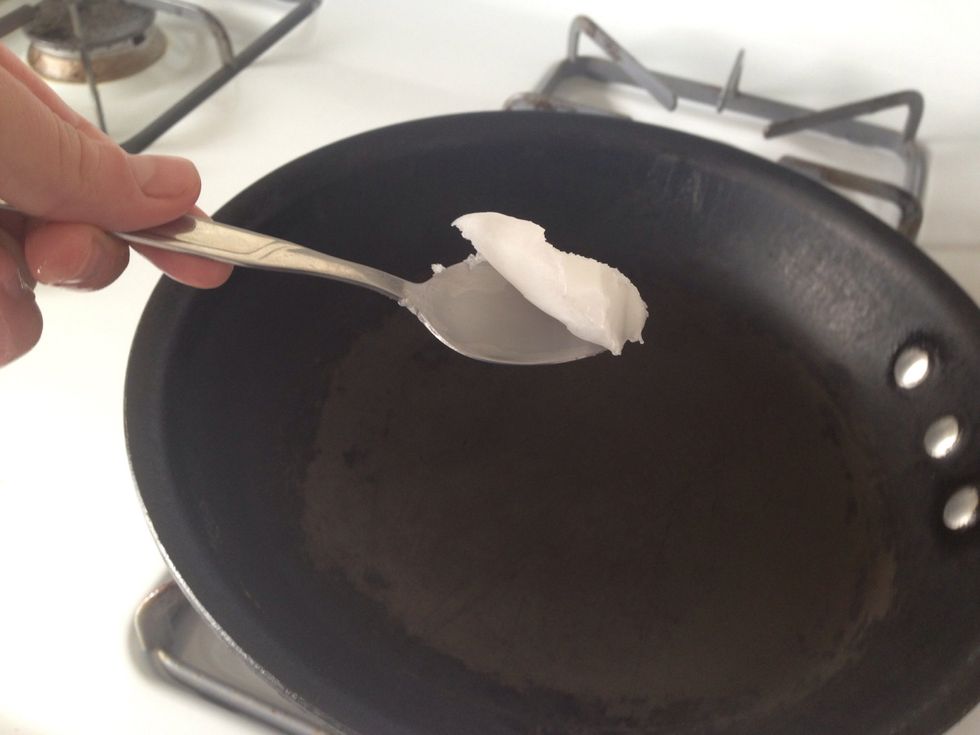 My pan this week is...not great. Pancakes live or die based on the pan you use, but you can will them to life with patience and a little bit of Coconut Oil over medium low heat.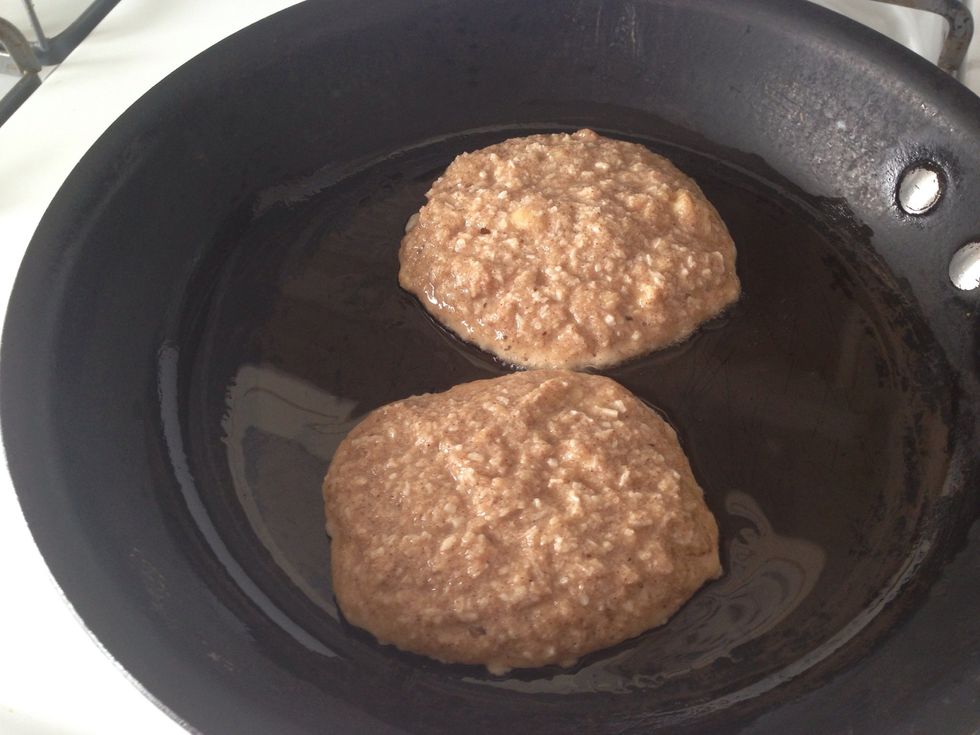 Probably shouldn't have made them this big, but I got a little too excited. ZOMG, pancakes!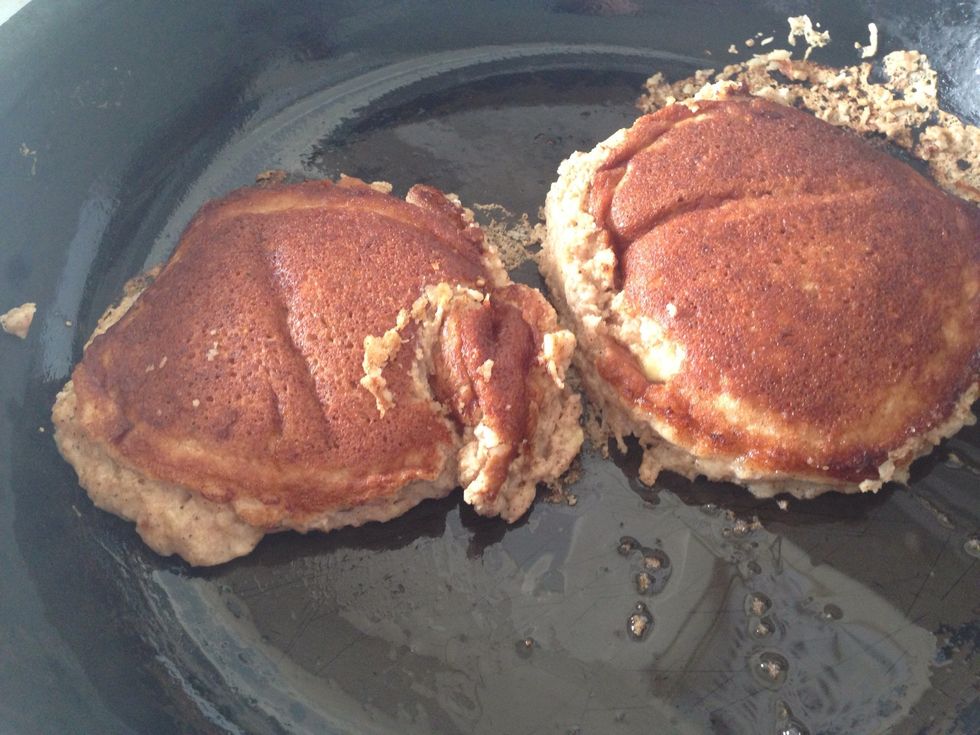 Not my best flip, but considering the pan I'm using? Not bad! With this recipe, you won't see as many bubbles in the middle of the pancakes when they're ready to flip, so go slow.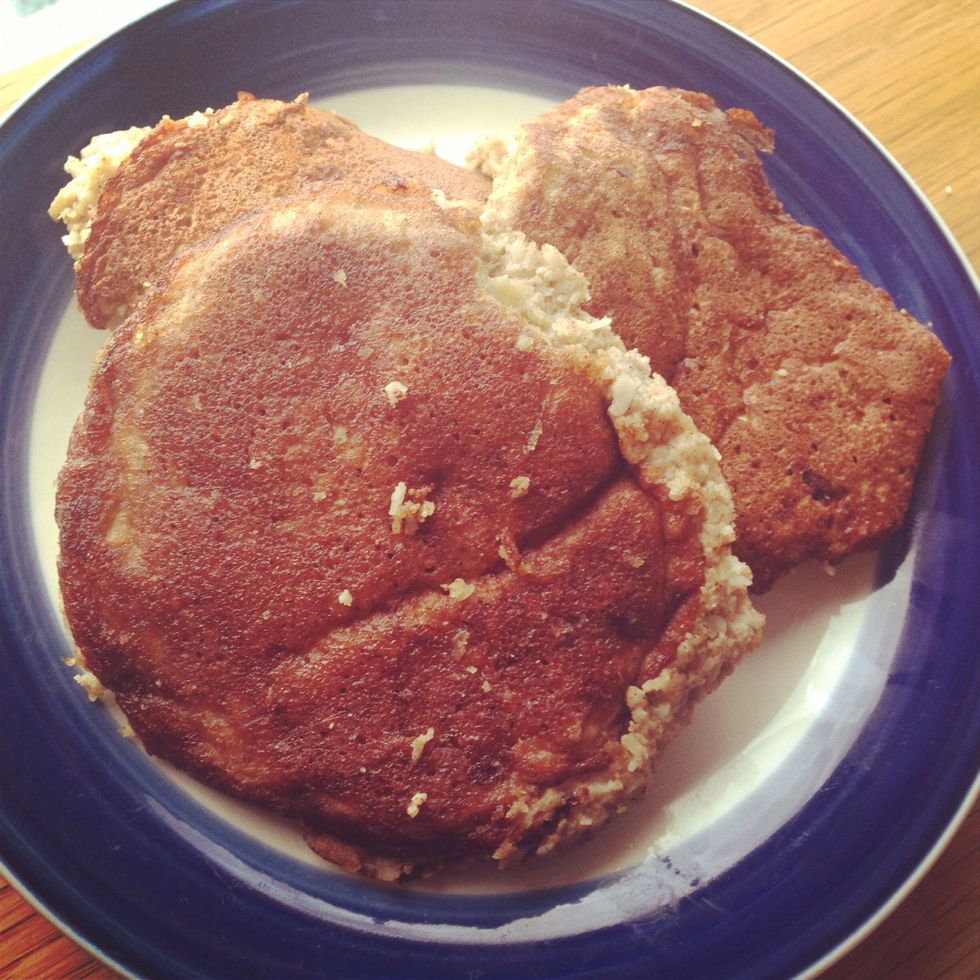 Pancakes: Achieved.
Top with coconut cream and a sprinkle of cinnamon. Ta-da!
1/2c Almond flour
1/4c Unsweetened coconut flakes
1/4tsp Baking soda
2.0tsp Pumpkin pie spice
1.0pch Salt
1.0 Overripe banana
1/4c Almond milk
Vanilla extract
1/2Tbsp Coconut oil
1.0 Can full fat coconut milk, refrigerated overnight
1.0tsp Maple syrup
Carolyn Murphy
Content creator, blogger, and runner. I do lots of yoga. Oh, and sometimes, I make food and it tastes good.