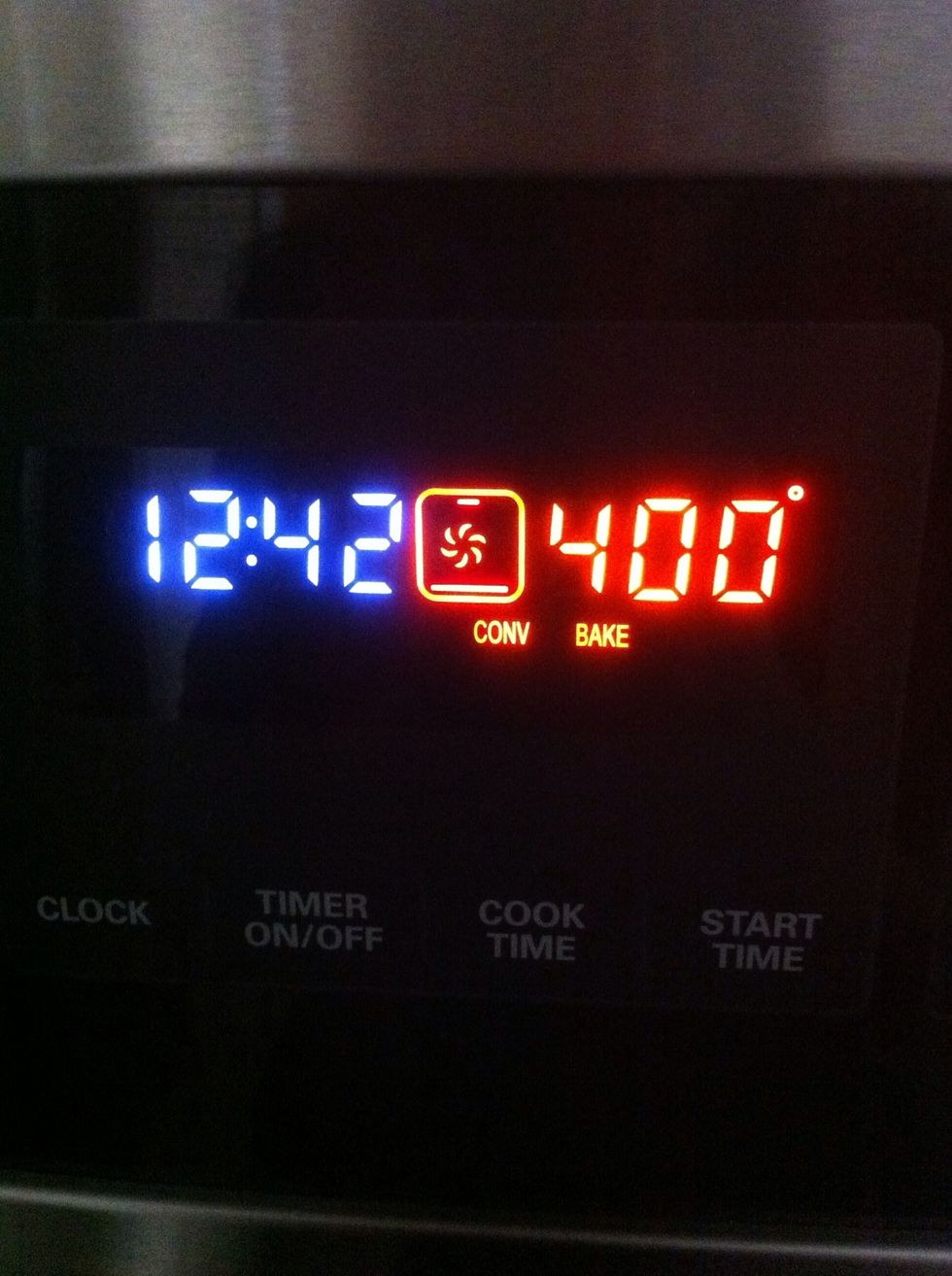 🔥 Preheat the oven to 400 degrees! 🔥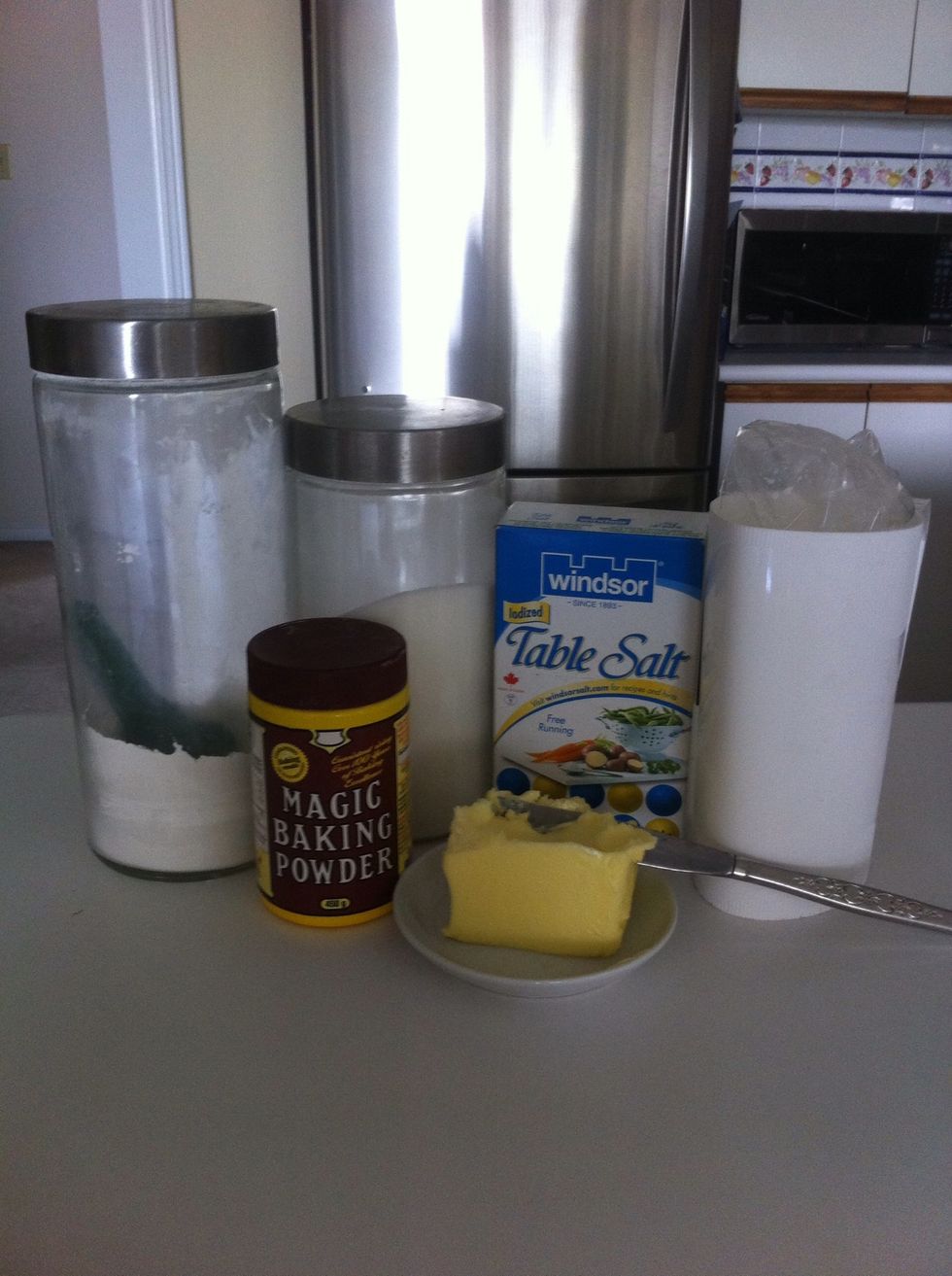 Assemble all the ingredients! Flour, baking powder, salt, sugar, milk, and margarine/butter ✔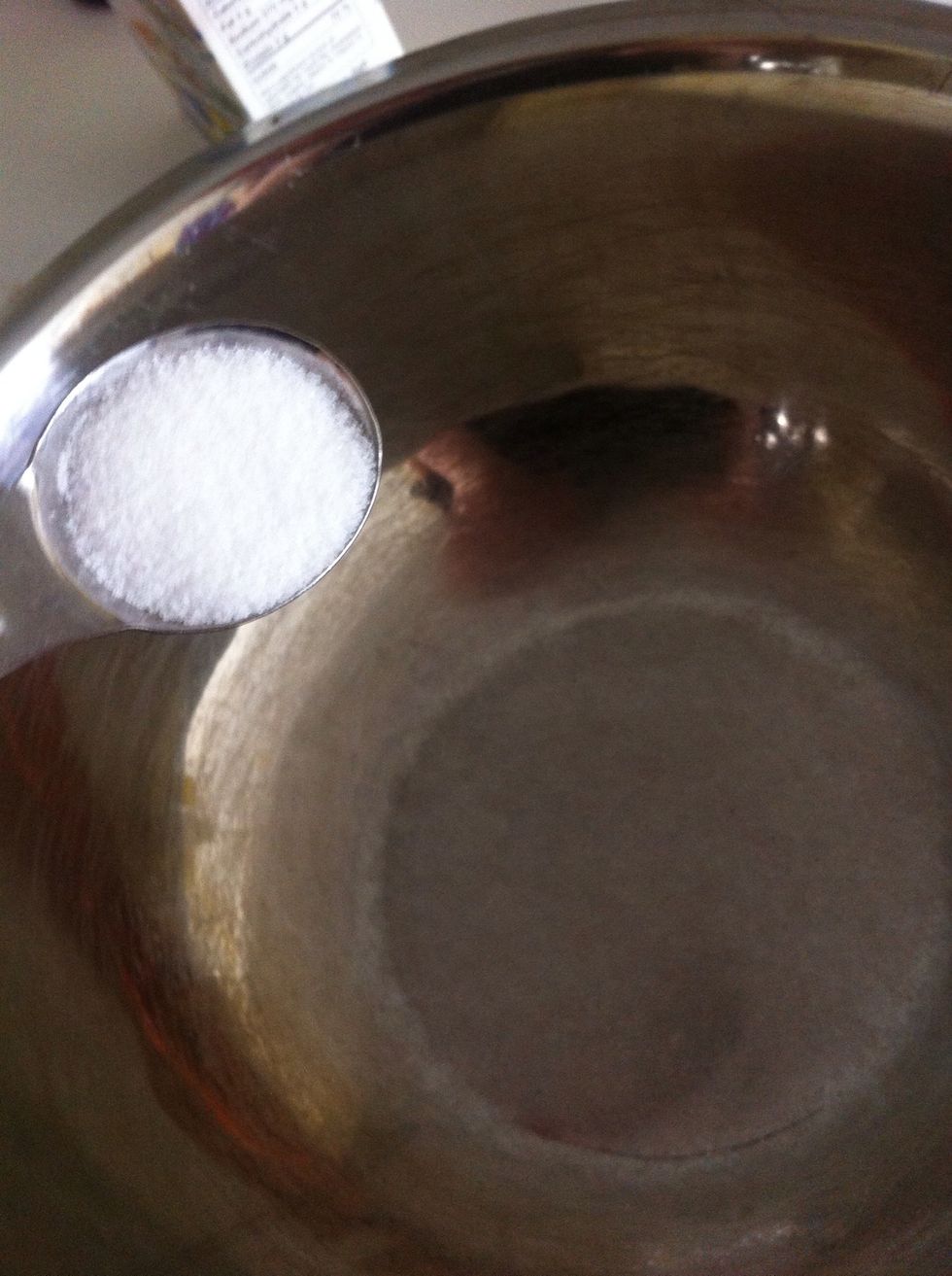 Add 5mL of salt into a large bowl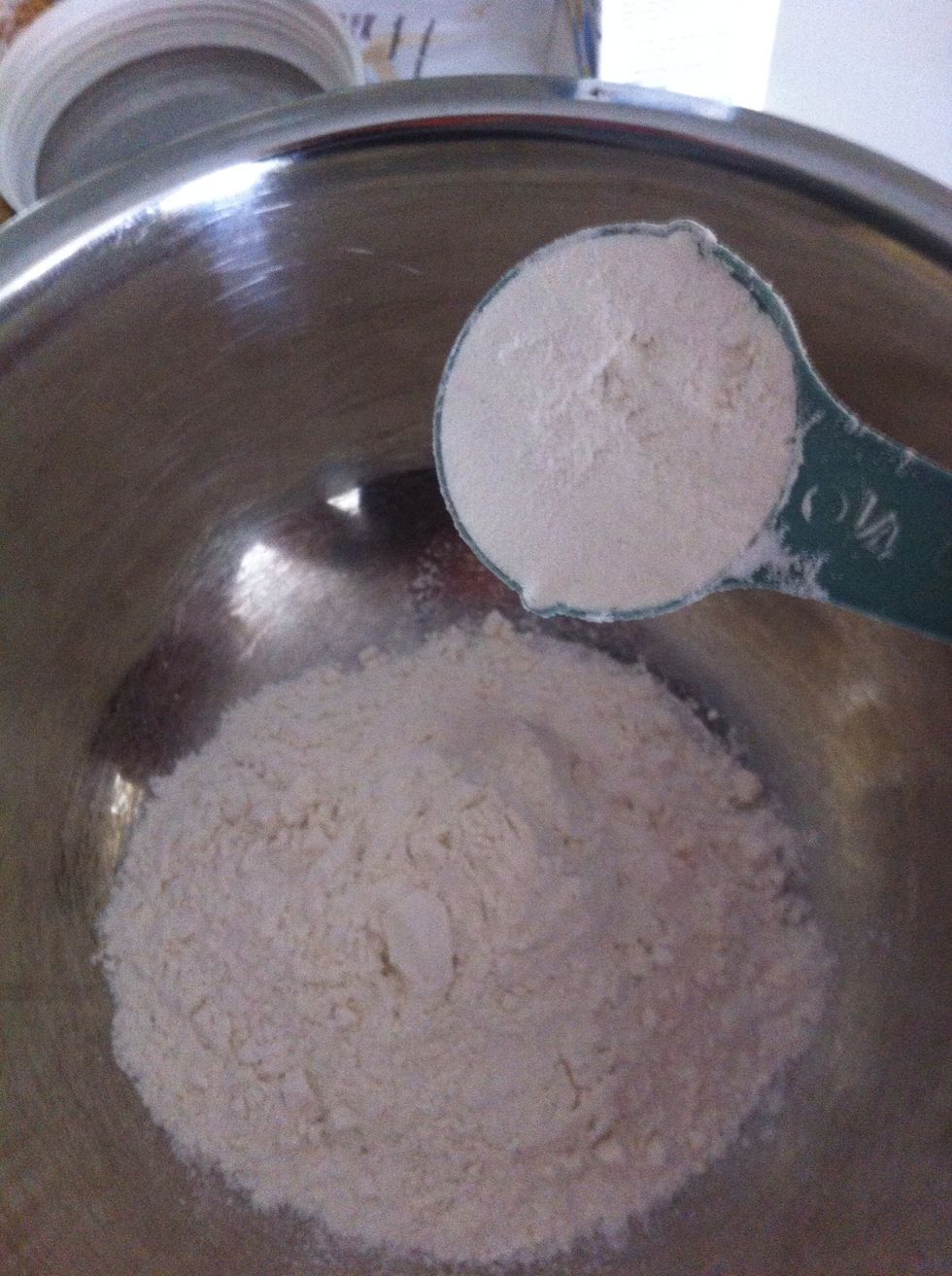 Add 500mL of flour (also known as 2 cups)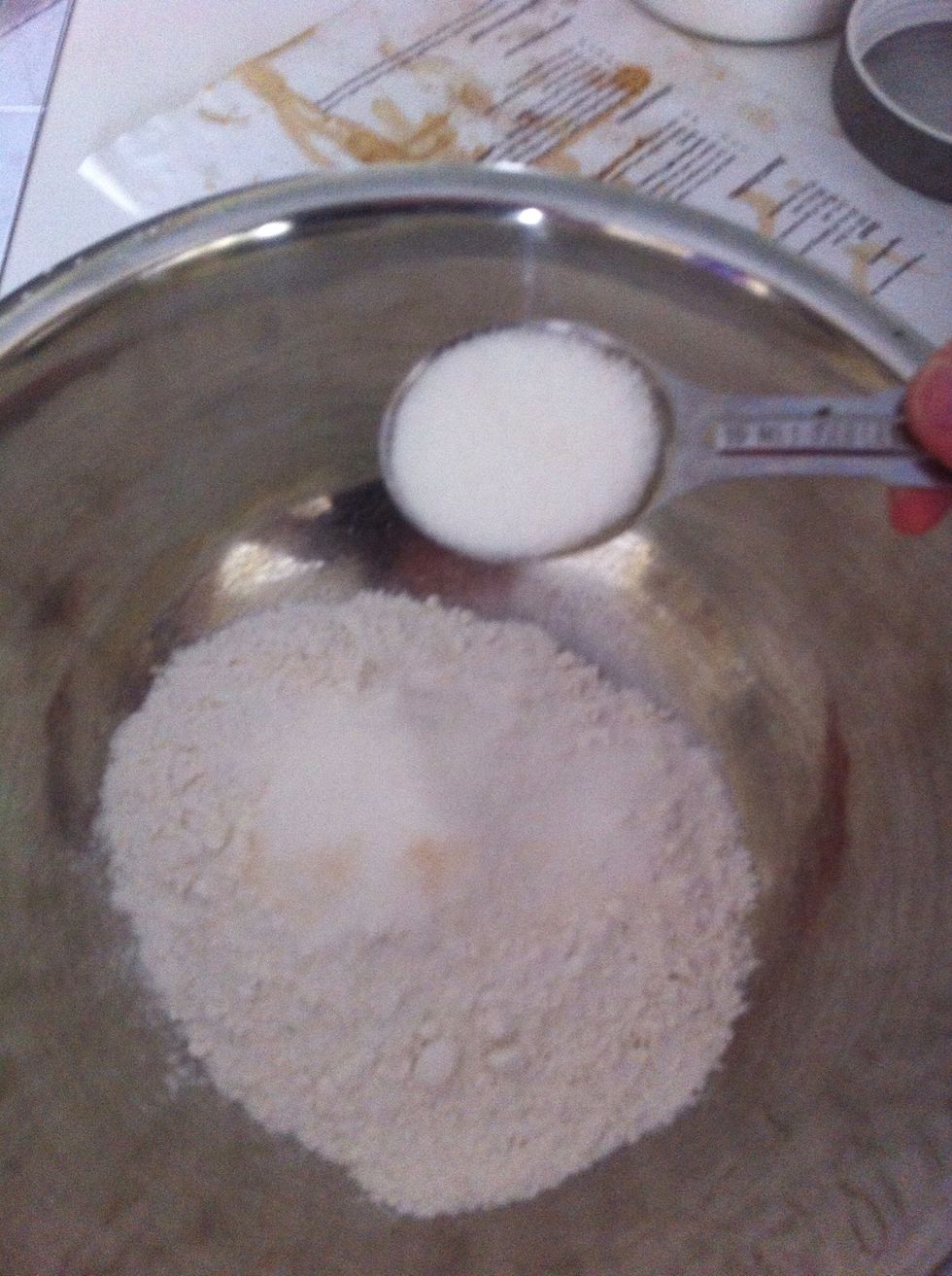 Add 30mL of sugar 🍚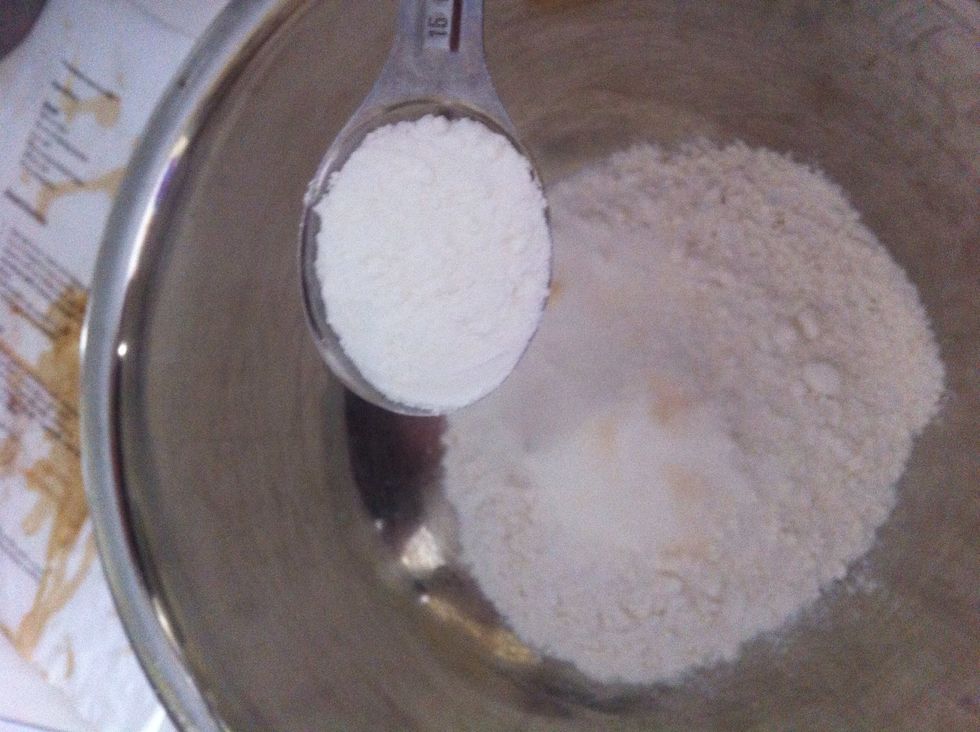 Add 20mL of baking powder!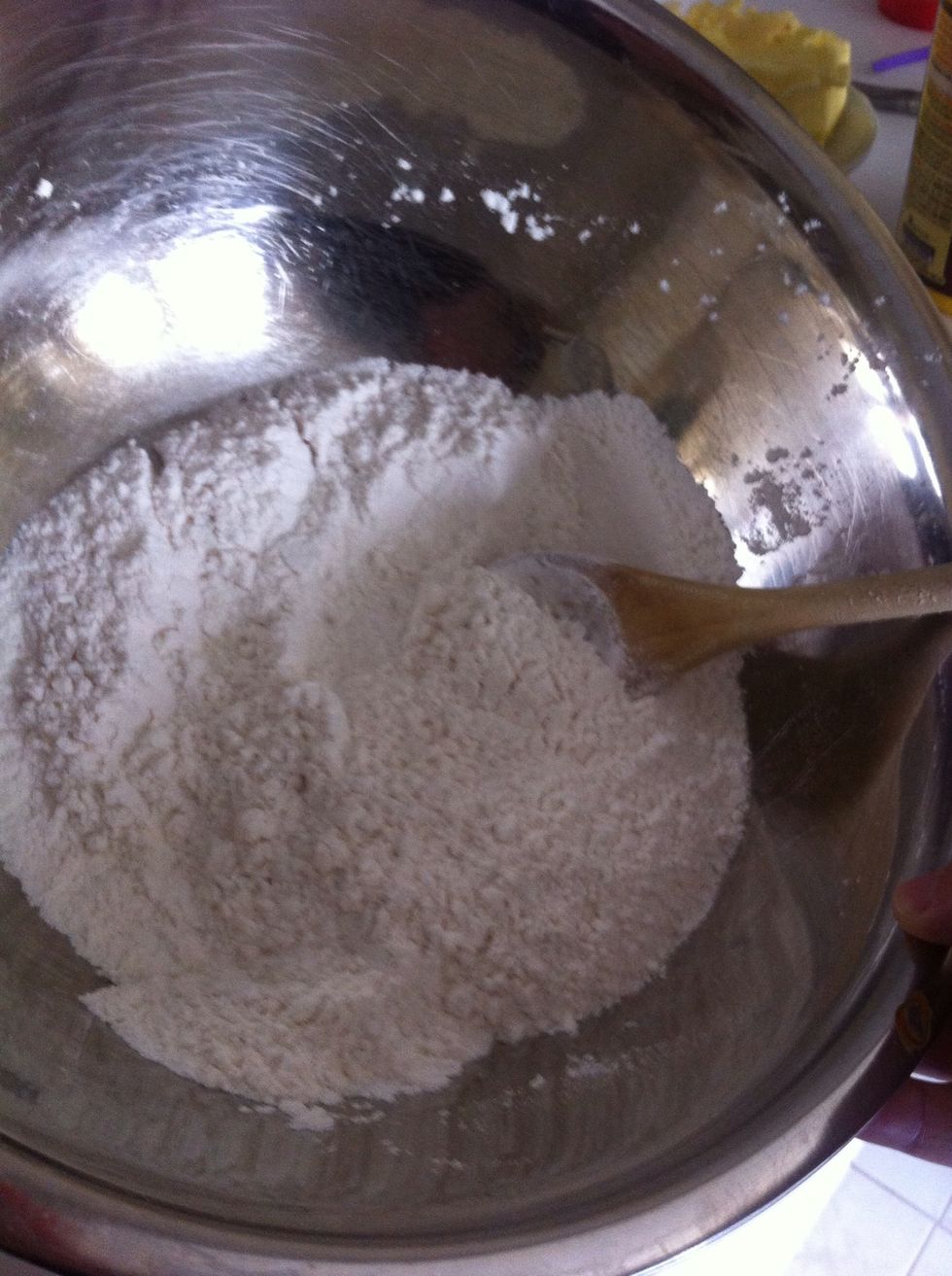 Mix those ingredients together until it looks like this 👍
Add 75mL of butter/margarine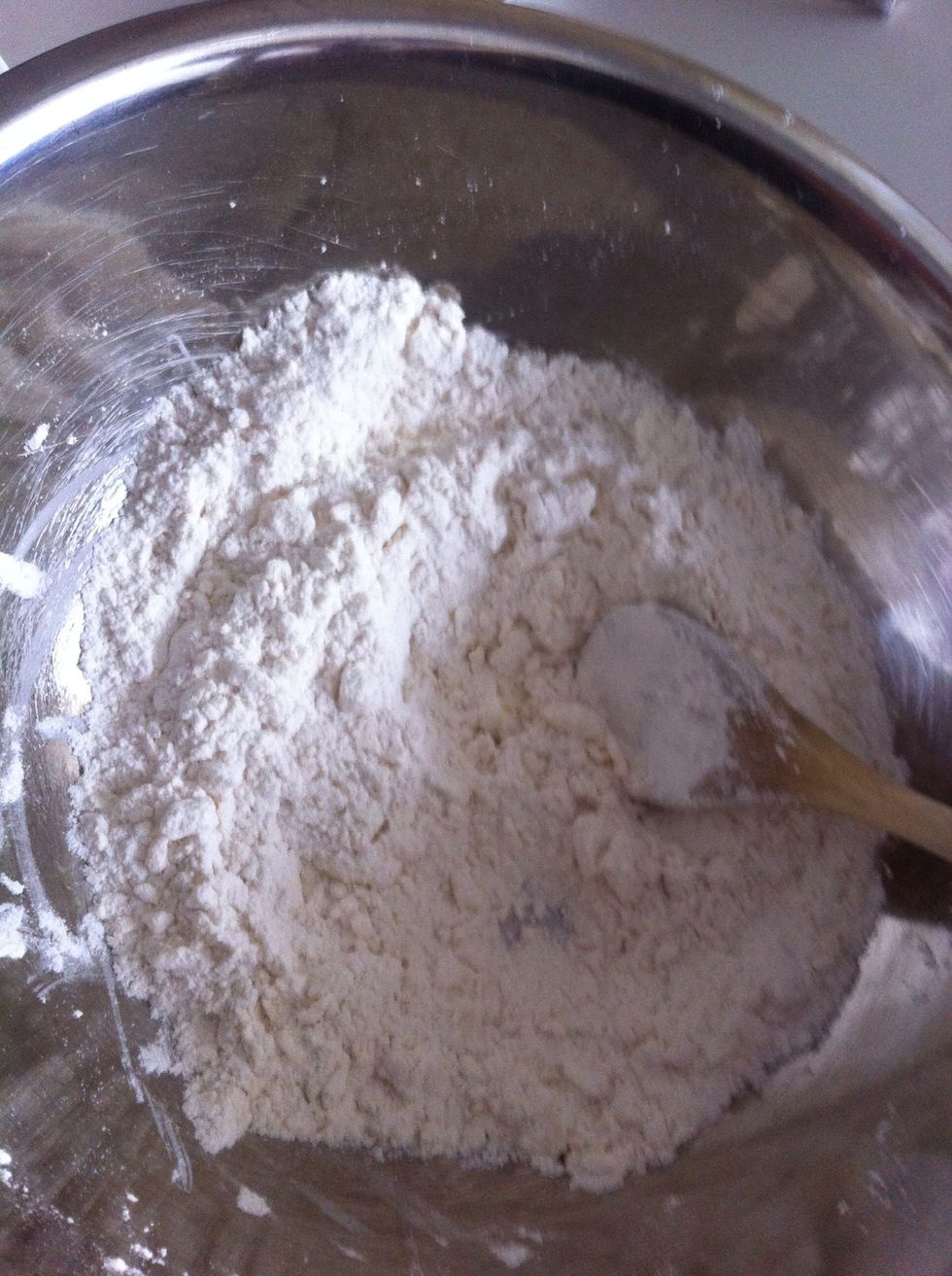 Mix together until crumbly, looking like this 👍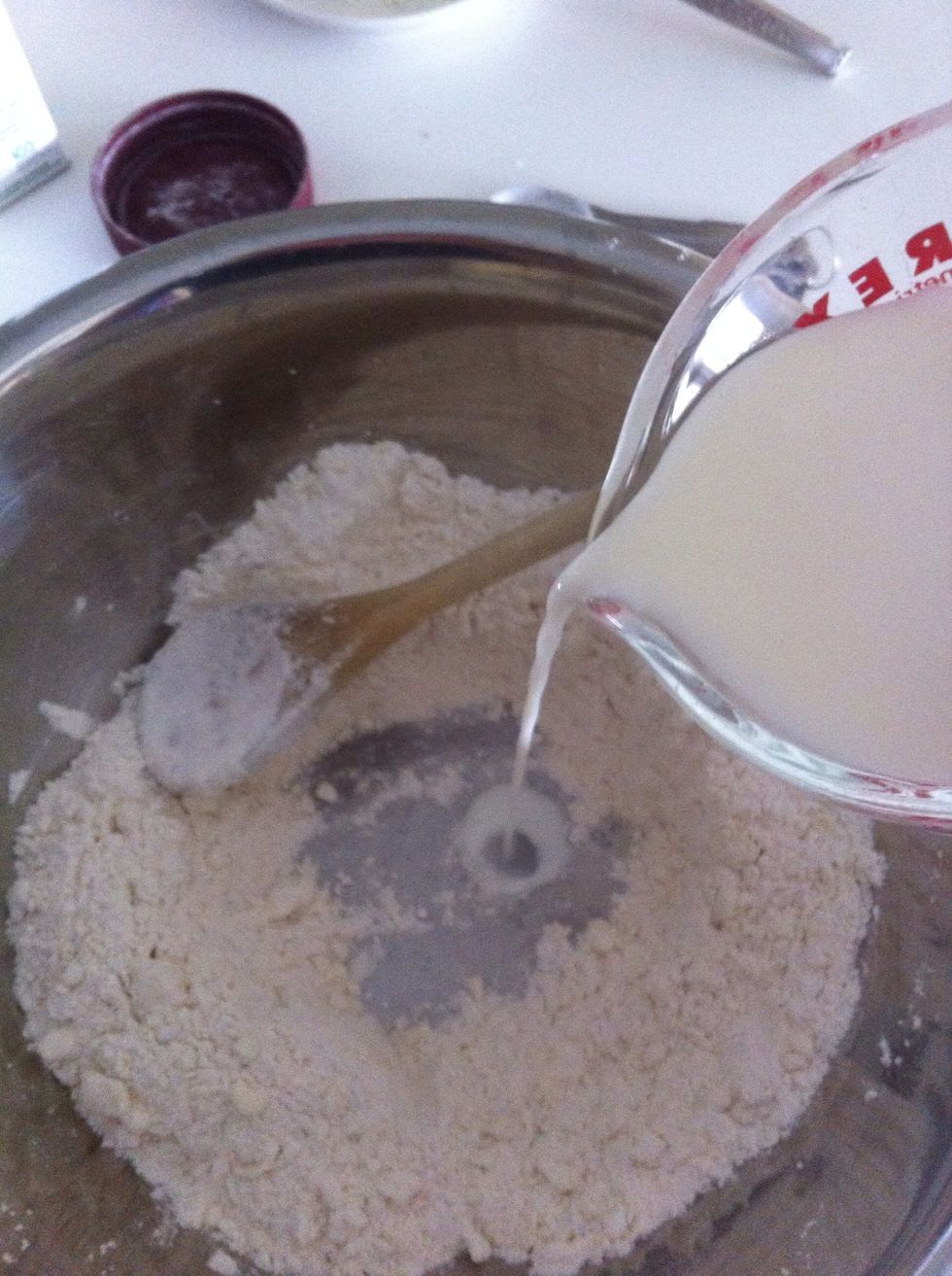 Make a well in the centre and slowly add 1 cup of milk (you may not need to use all the milk) 🐄🍼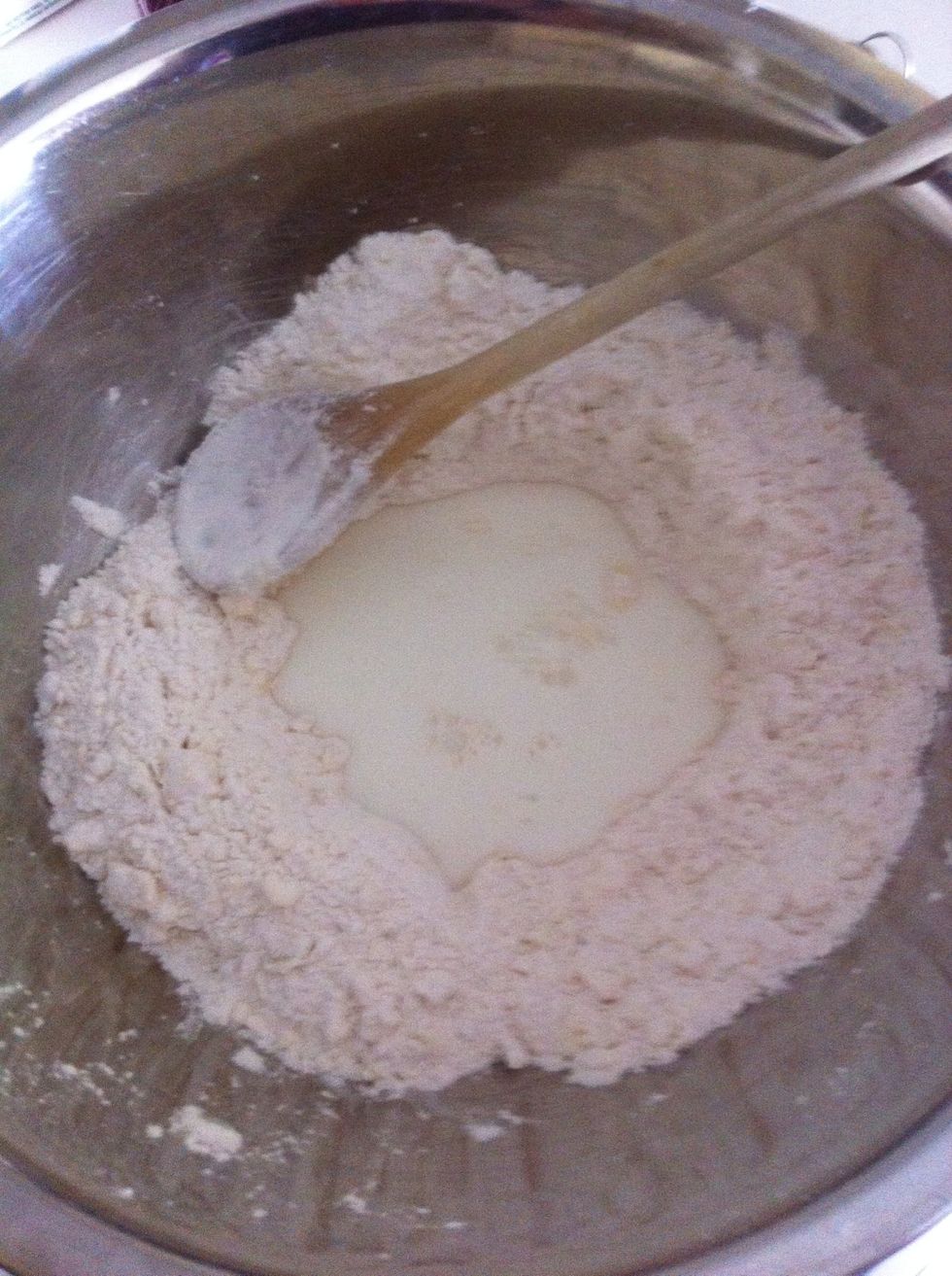 I used about 1/4 of the cup for now, and this is what it looks like :)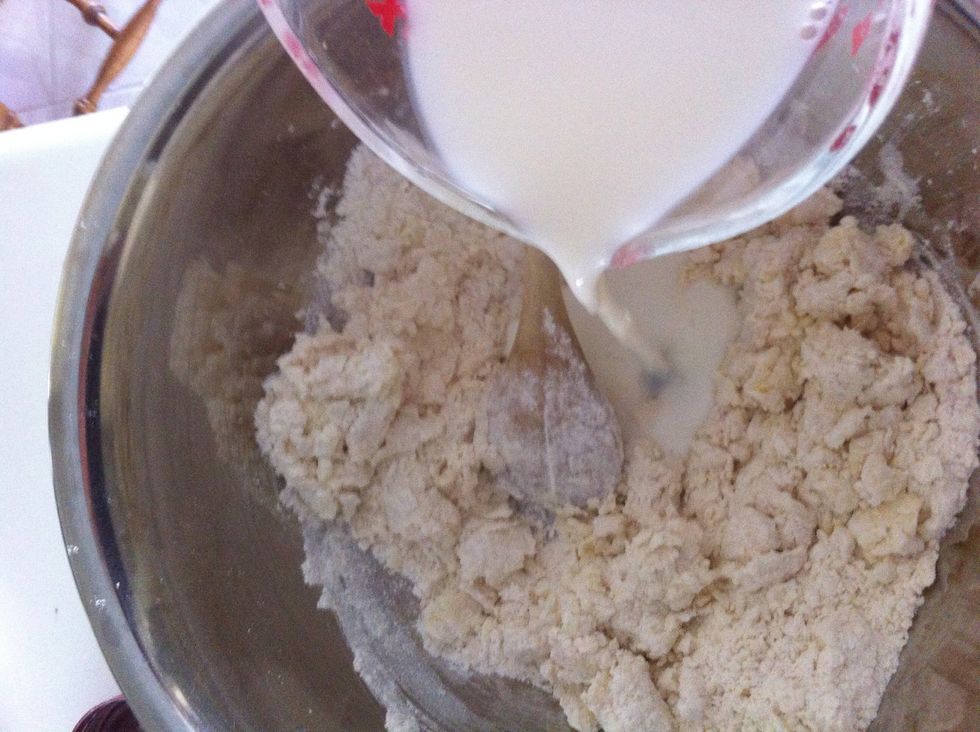 Mix the combination together, make another well, and add the rest of the milk slowly to get the right consistency :)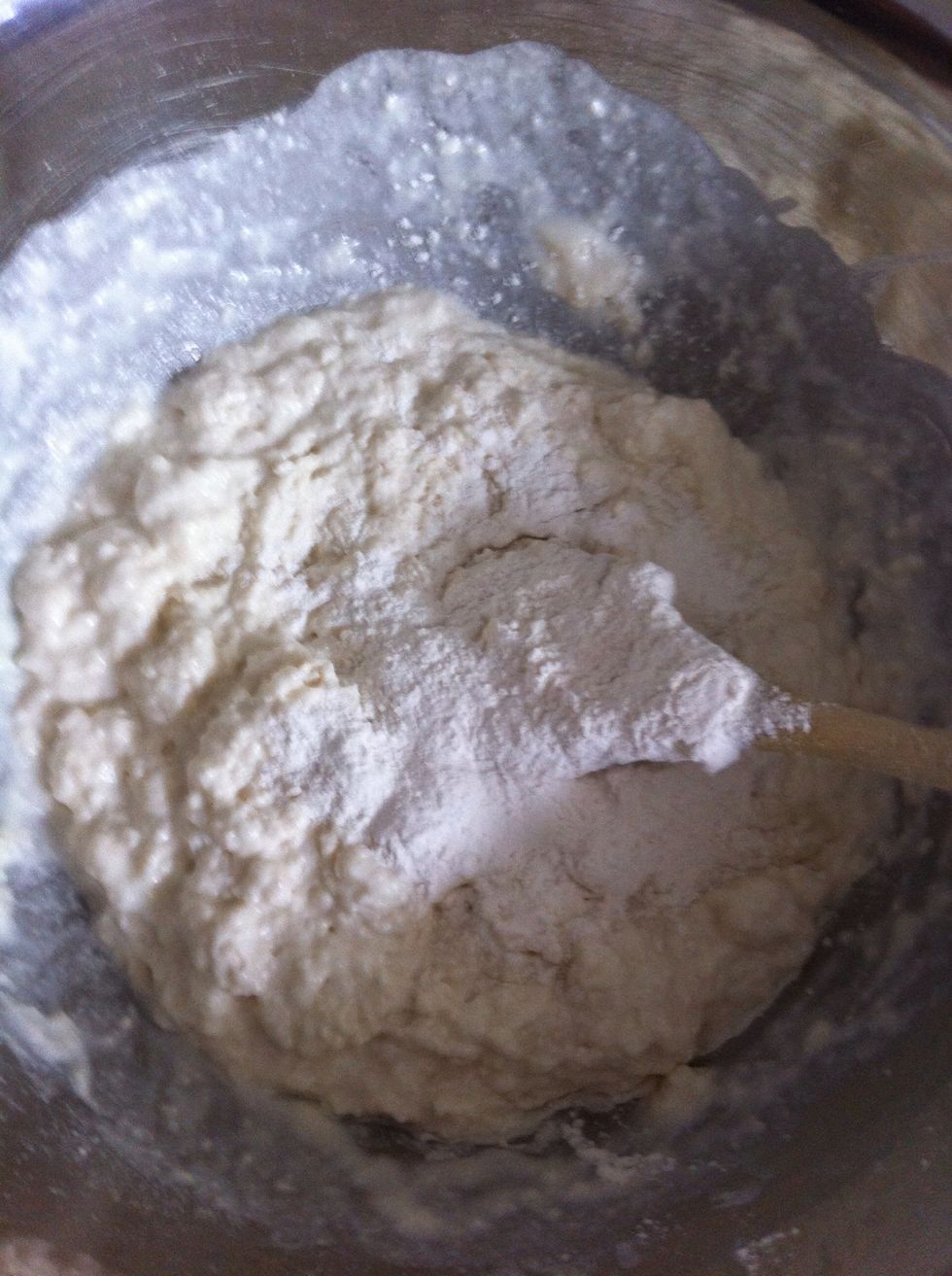 Add more flour if the dough is too sticky! 💨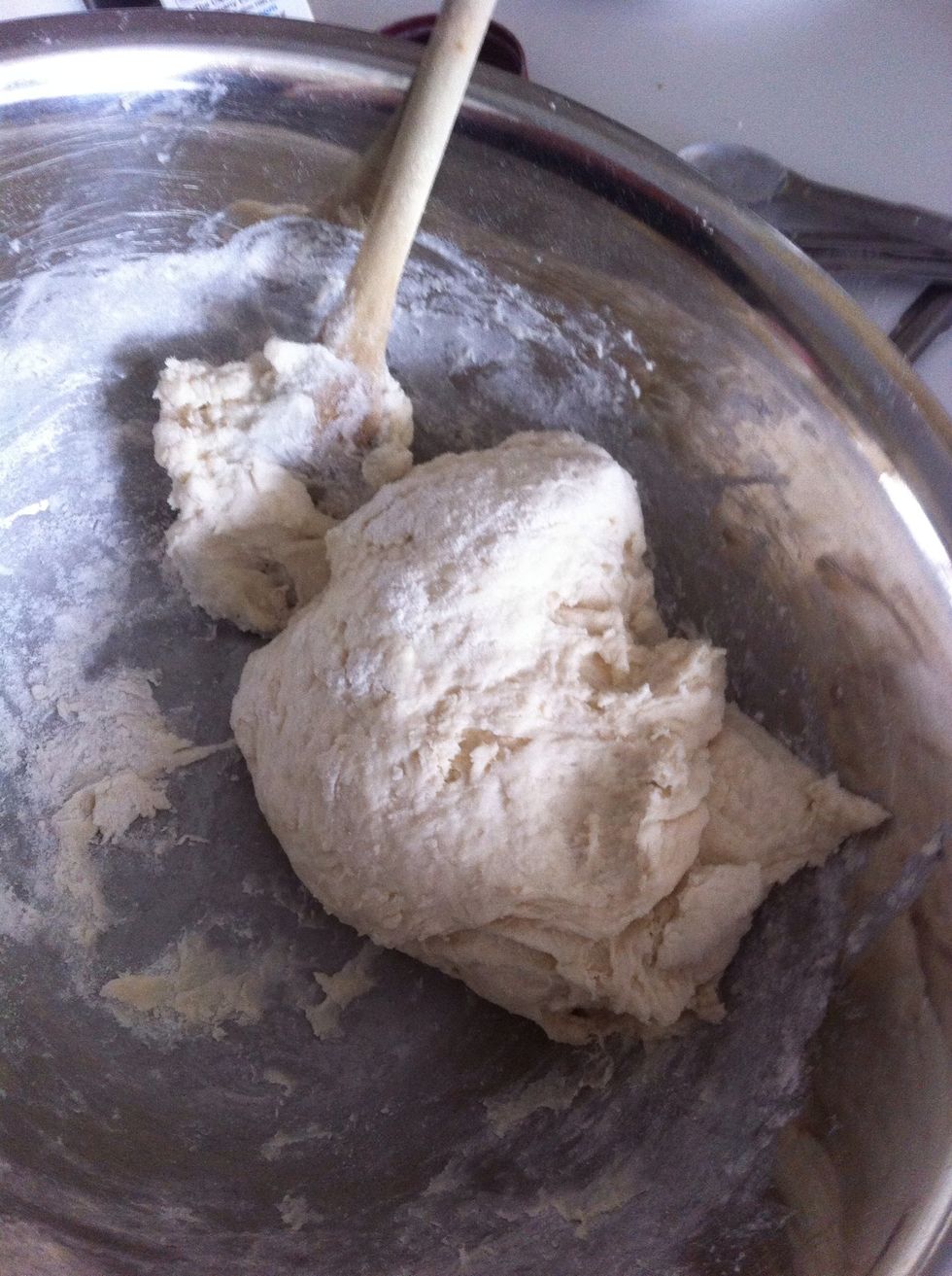 Your dough should look like this 👍
Clean counter and sprinkle flour, you will be placing your dough here! 😄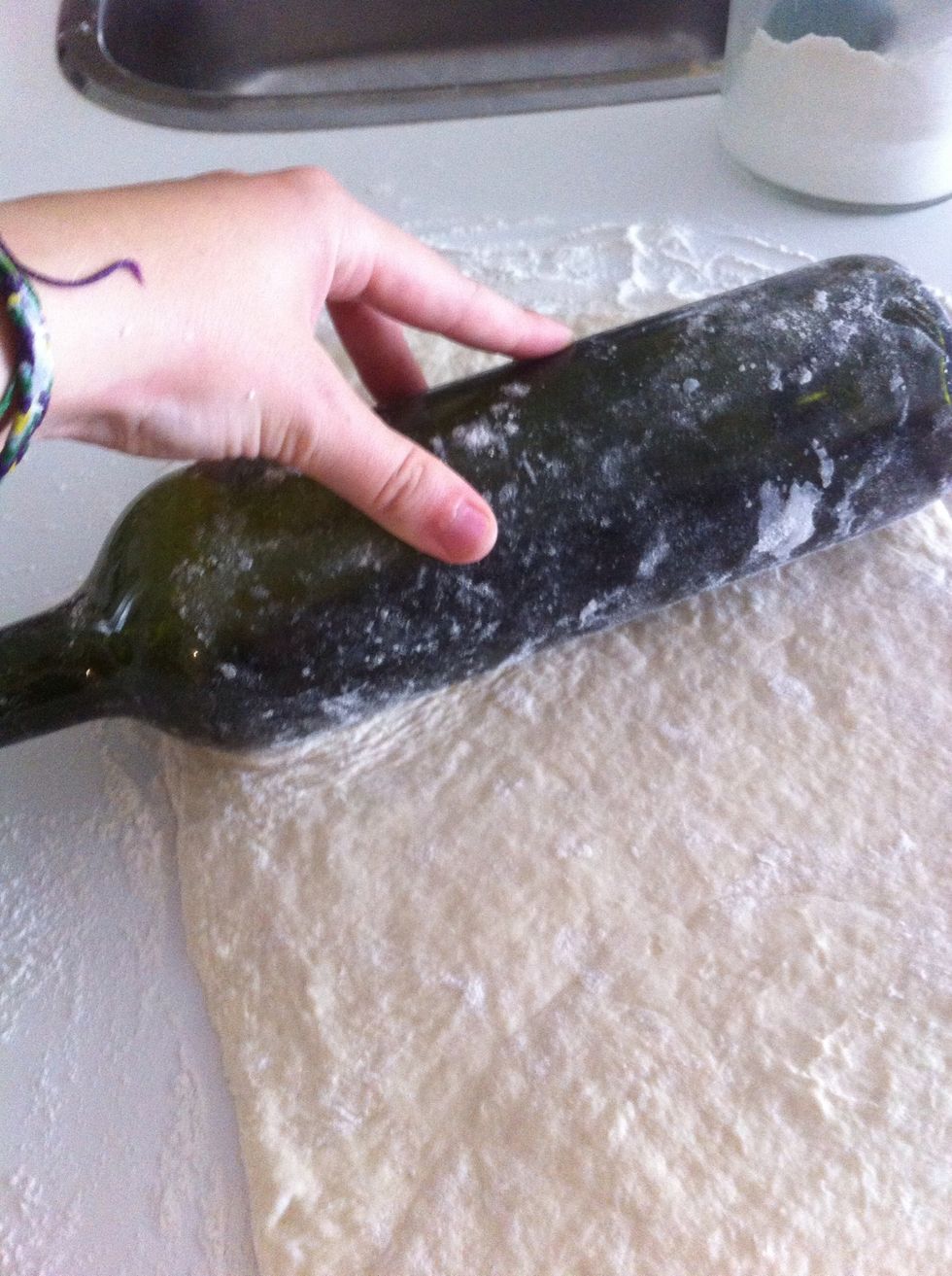 Roll the dough into a rectangle! Don't be afraid to add more flour if you need to. I used a wine bottle because I couldn't find a rolling pin! :) 🍷🍷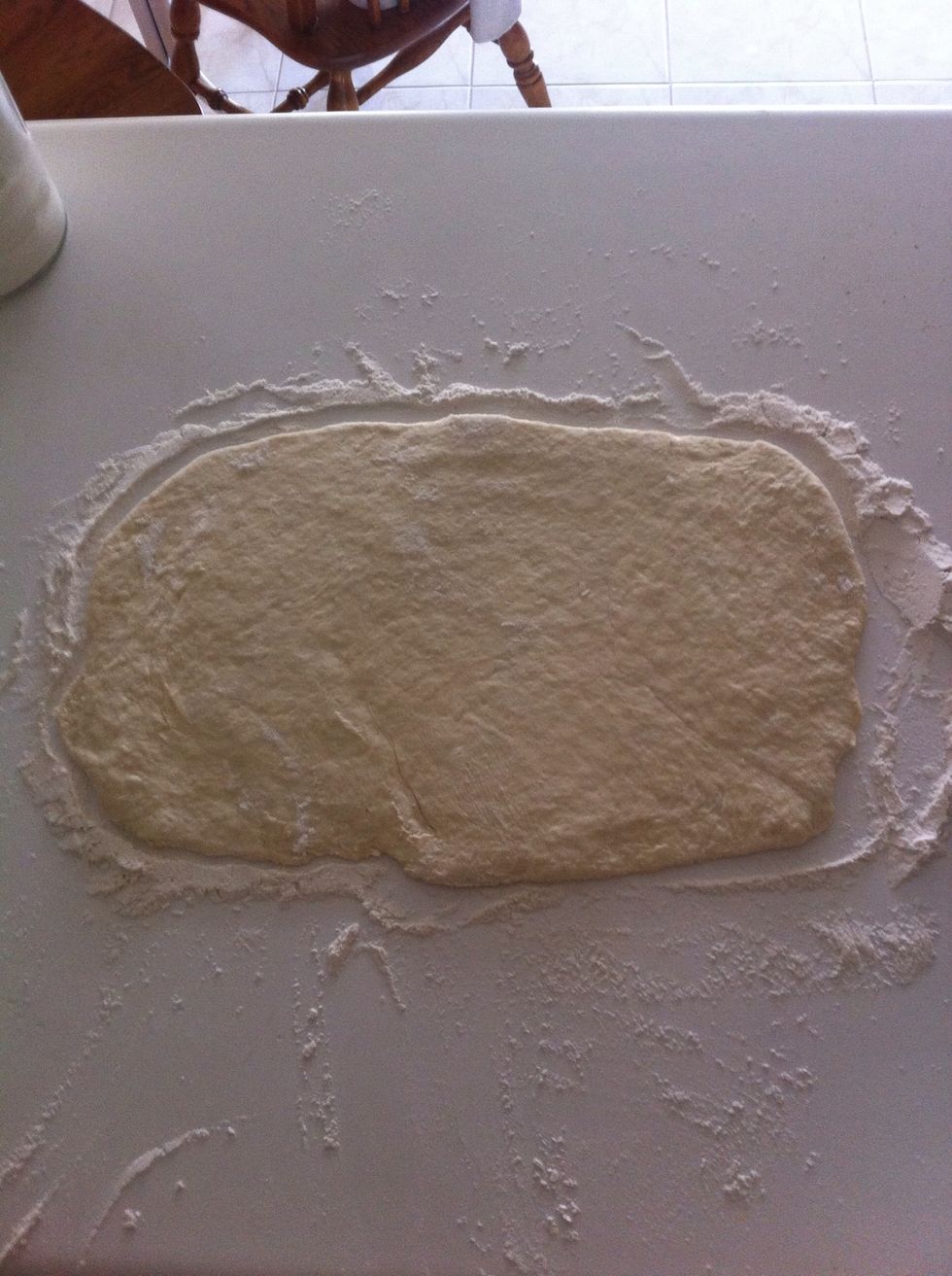 The dough should be in a rectangle looking like this! 👍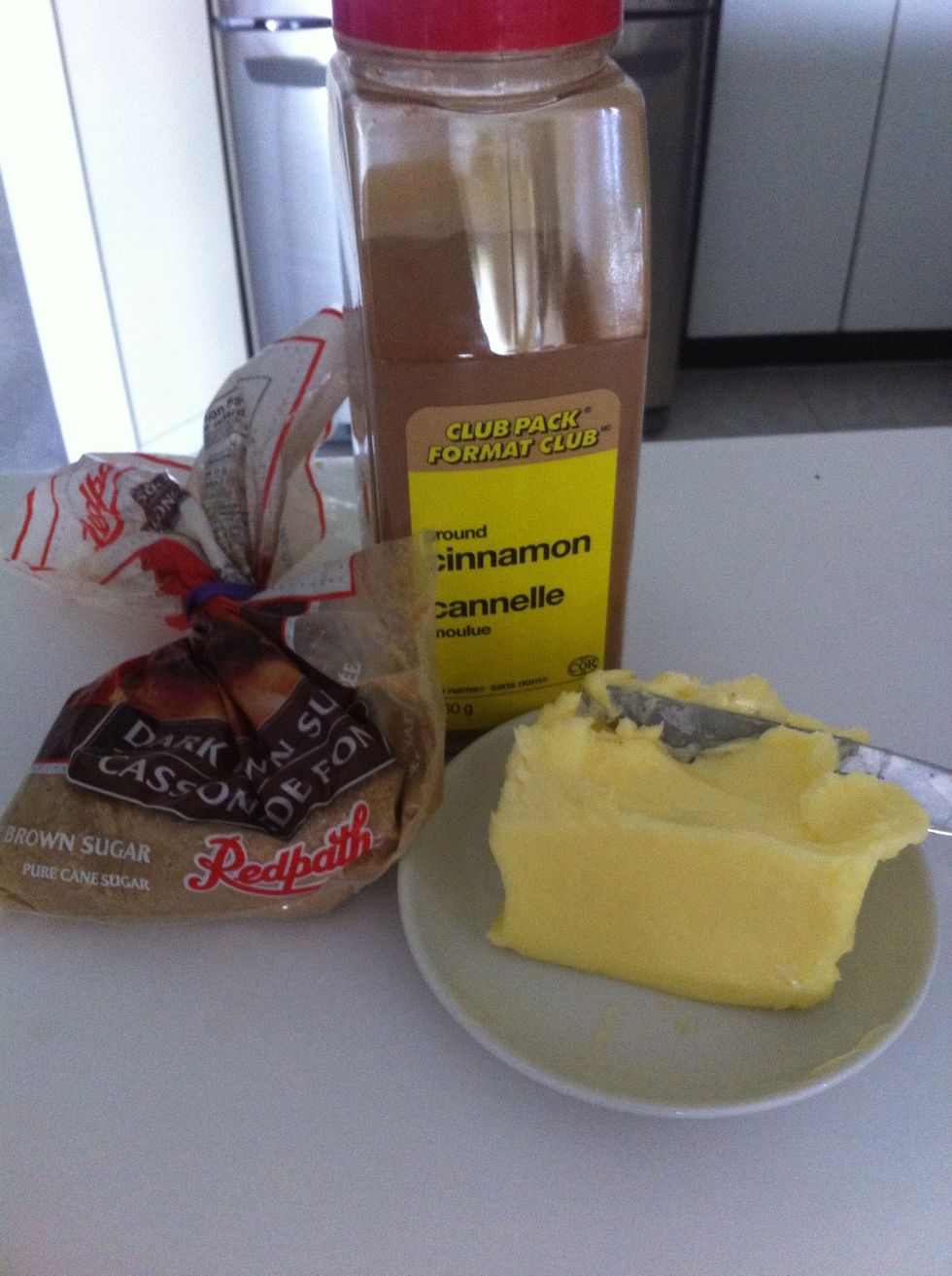 Assemble all the ingredients! Brown sugar, cinnamon, and margarine/butter ✔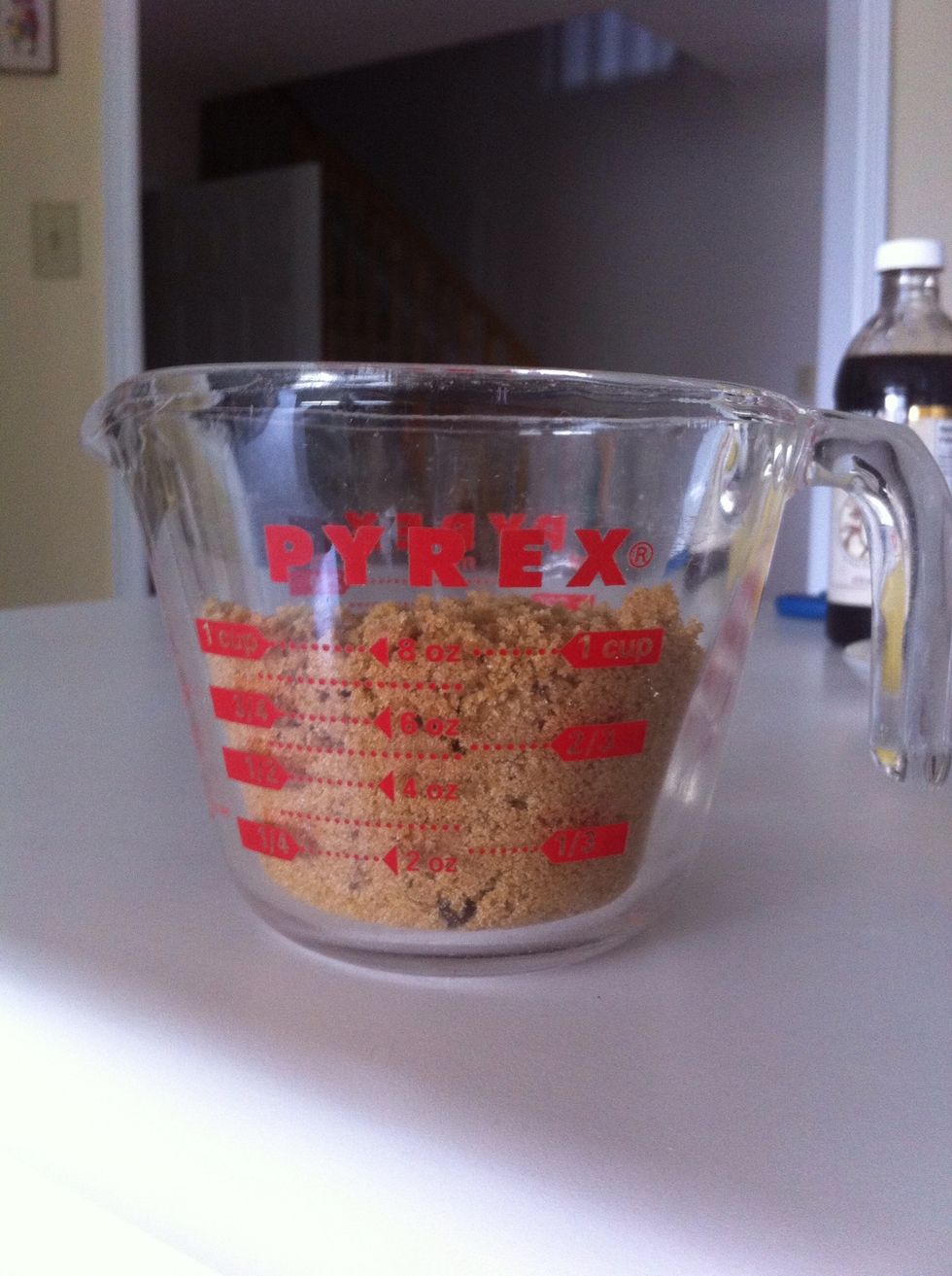 Measure 1 cup of brown sugar and pour into a medium sized bowl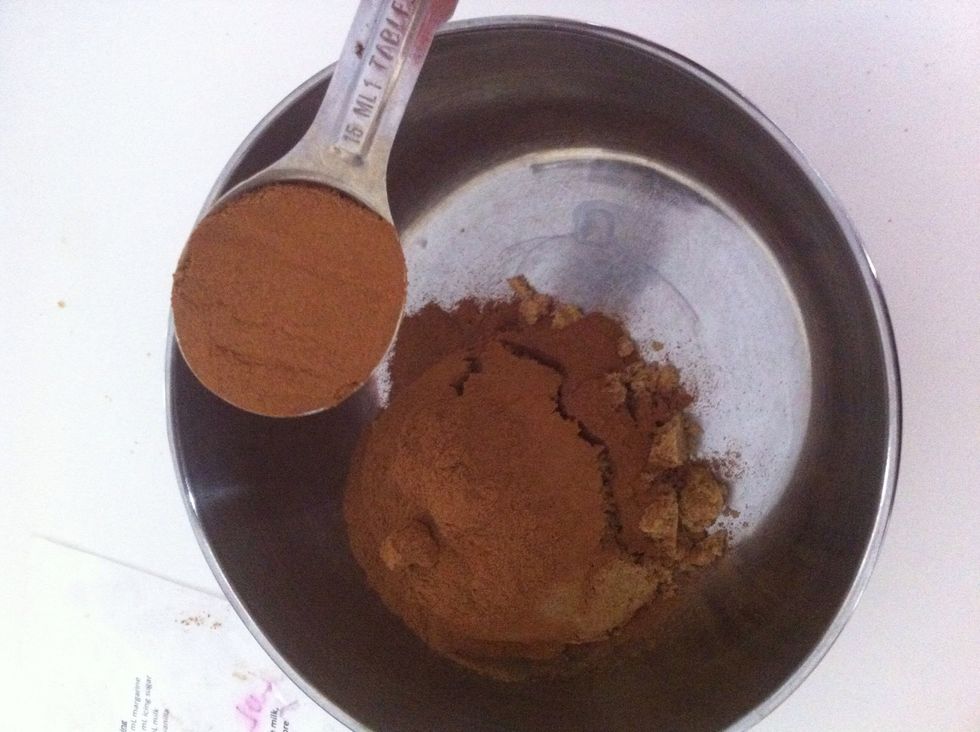 Add 45mL of cinnamon :)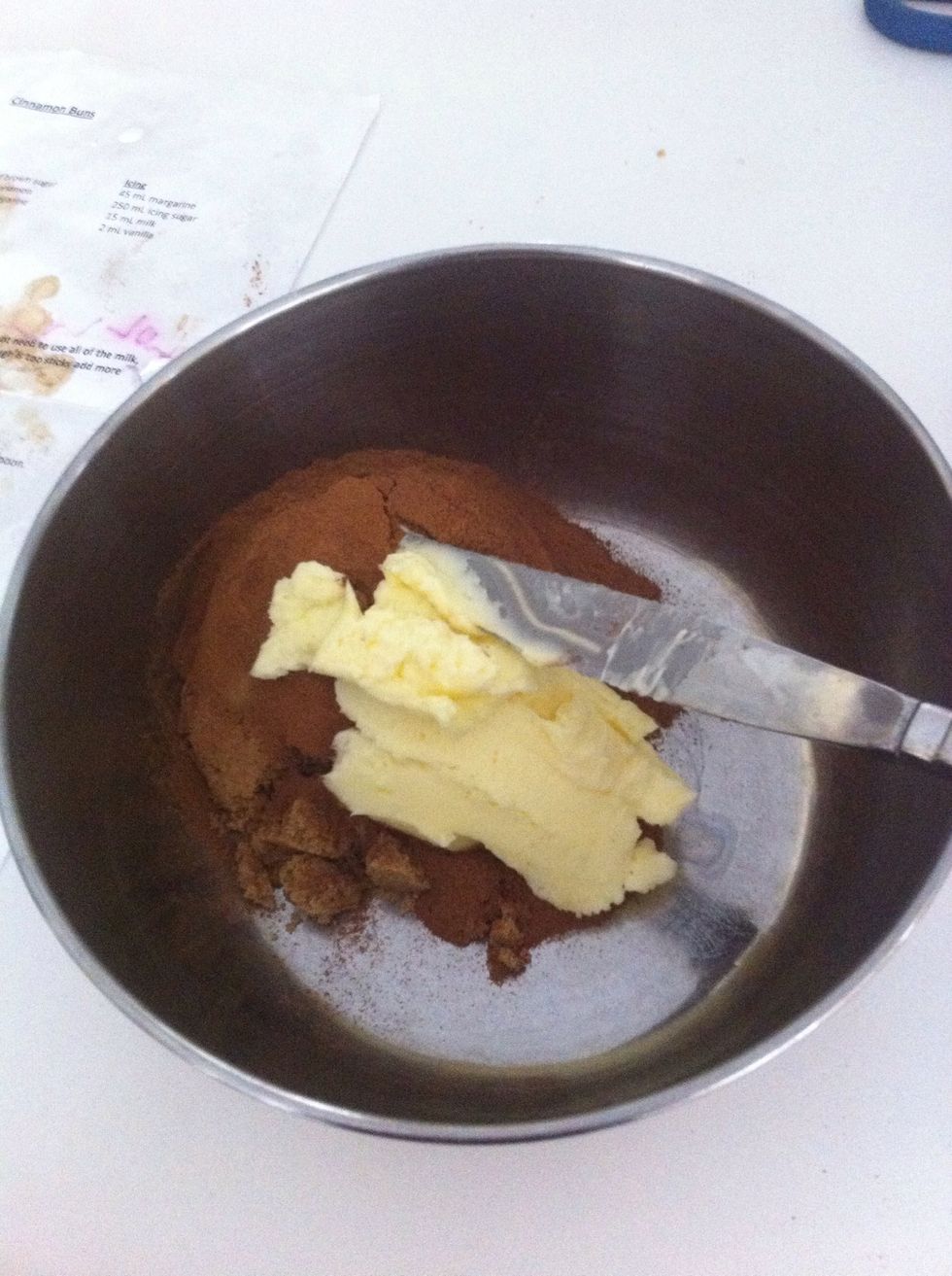 Add 50mL of margarine/butter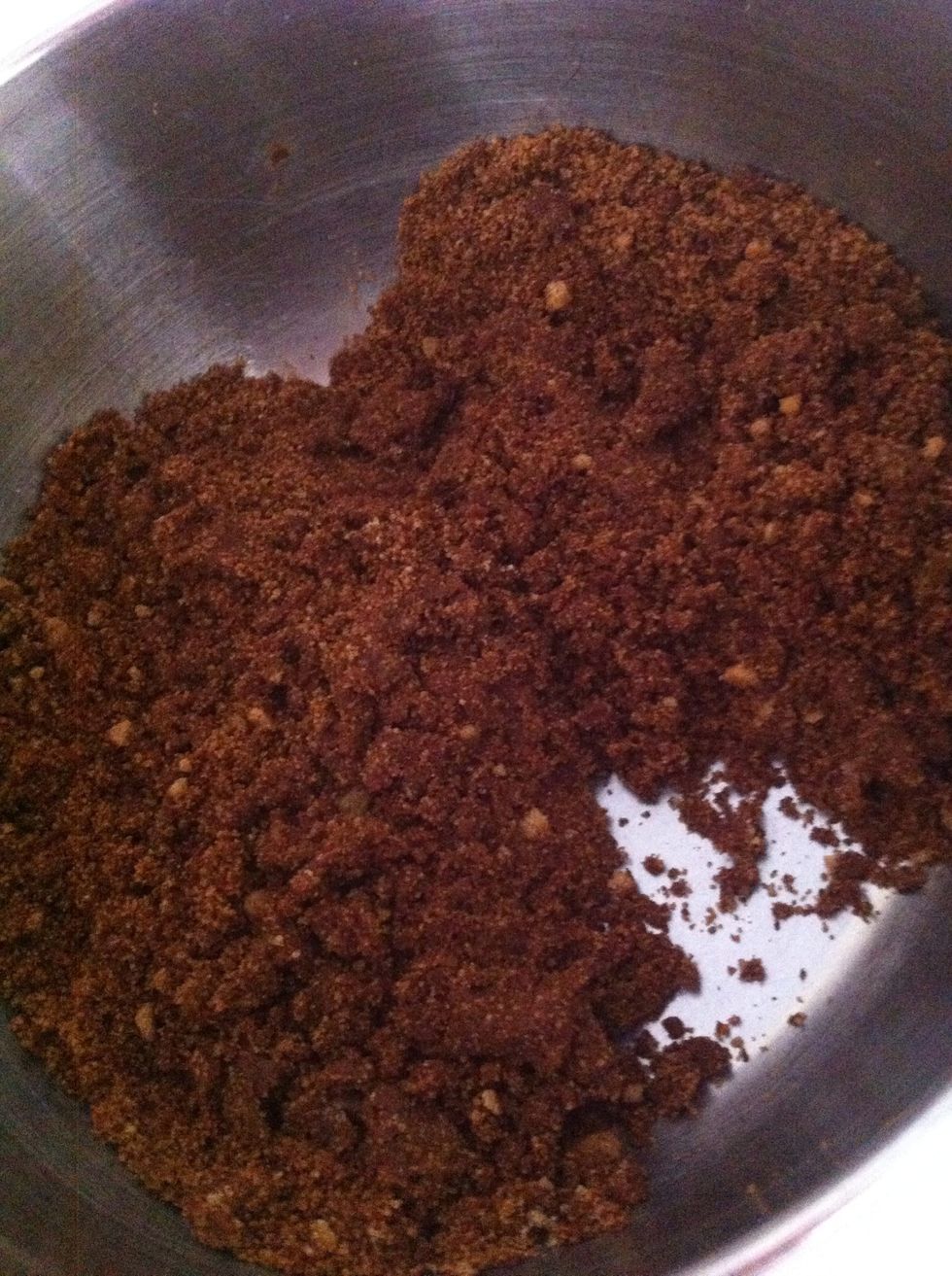 Mix together with a wooden spoon until the consistency looks like this! 👍 Please ignore the brown sugar chunks in mine! They are a pain to get out 😣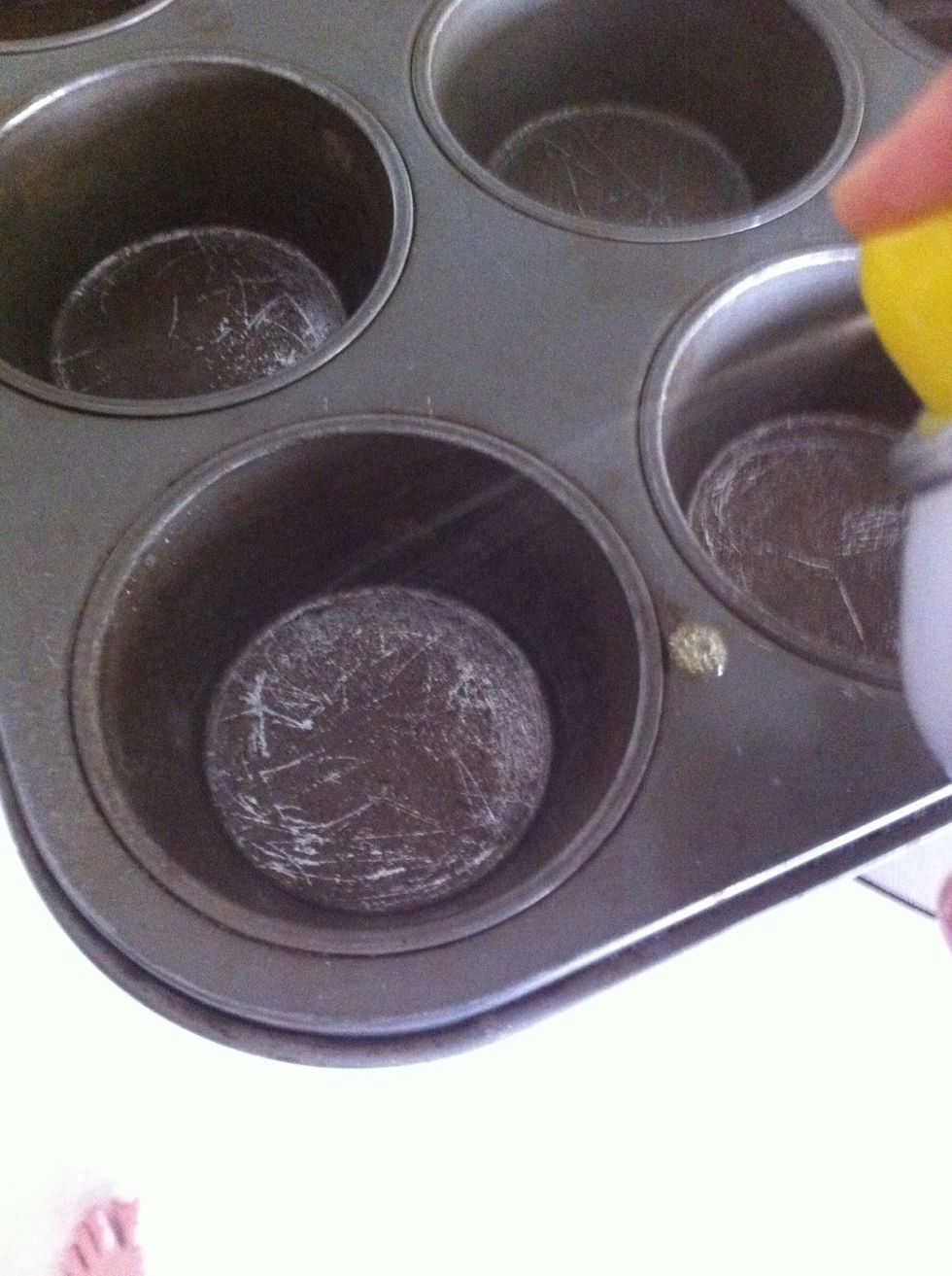 Grease muffin tin well, or the filling will stick! 😅💦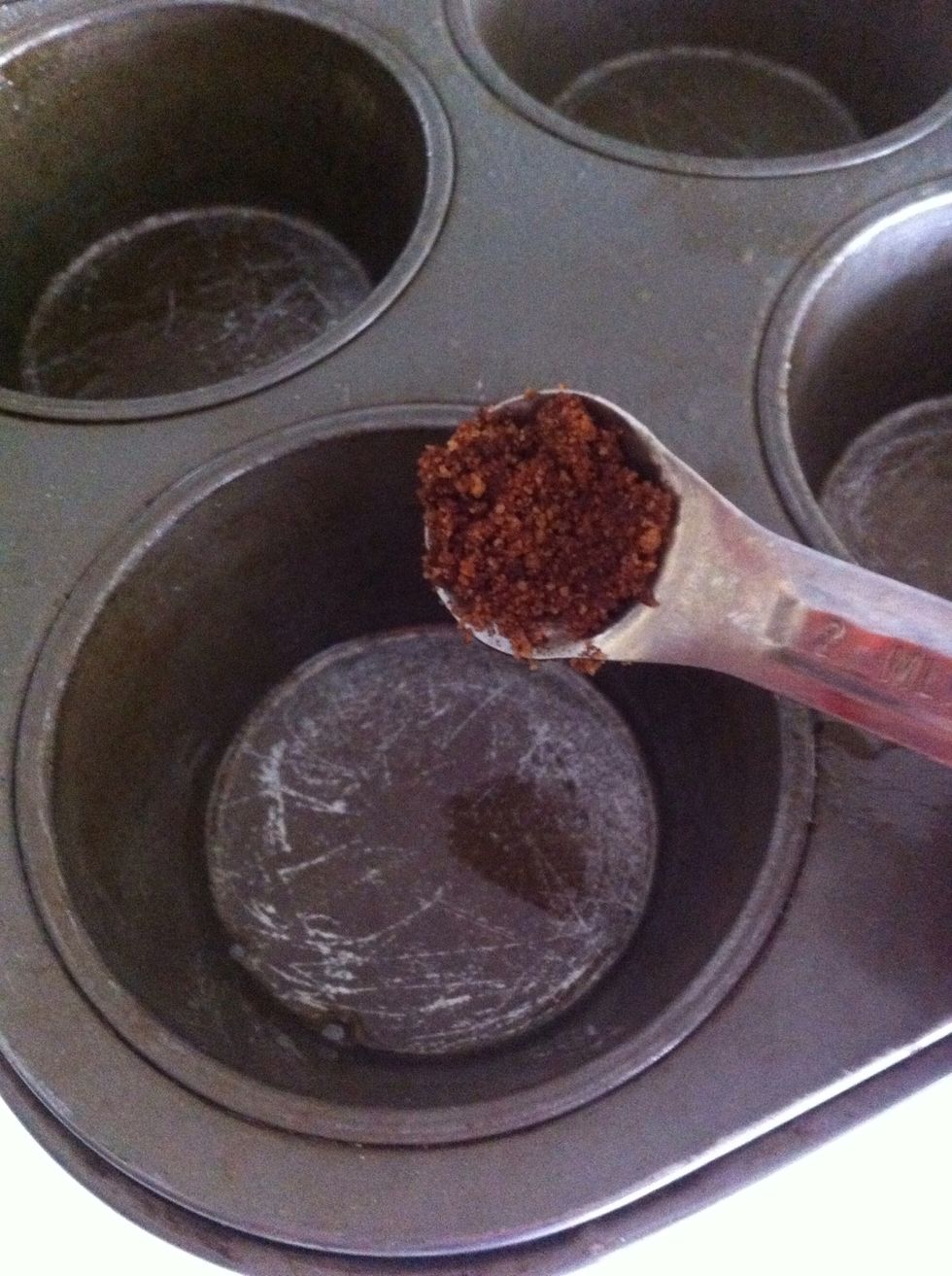 Add half a teaspoon of filling mixture into each tin (I always add a whole teaspoon though to make the bottom of the rolls more flavourful!) 😍😘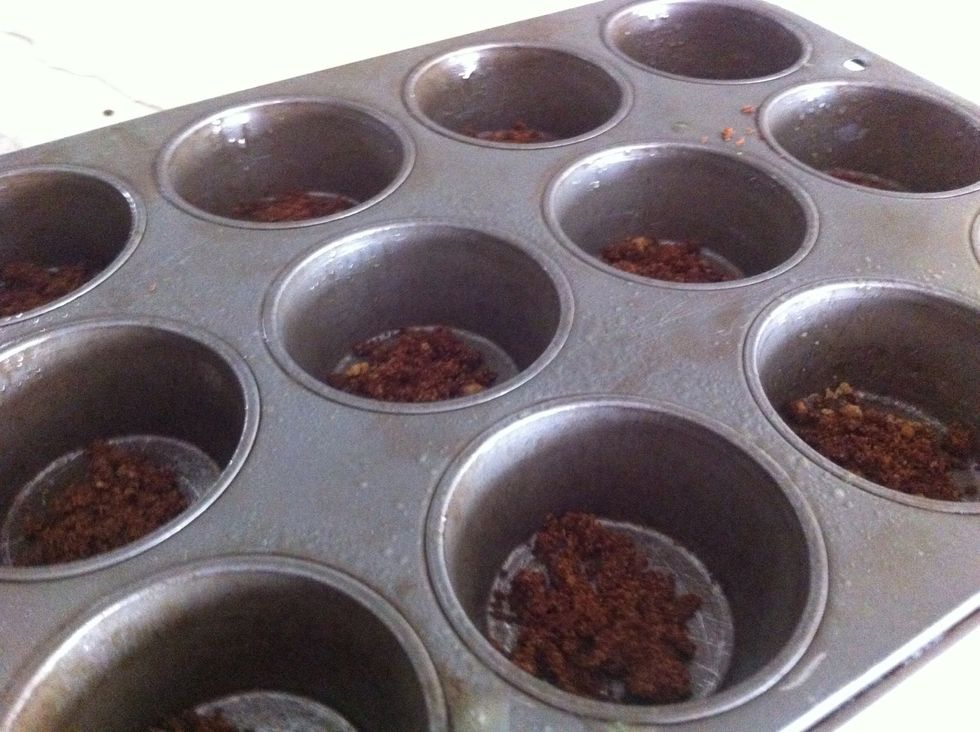 Muffin tin should look like this 👍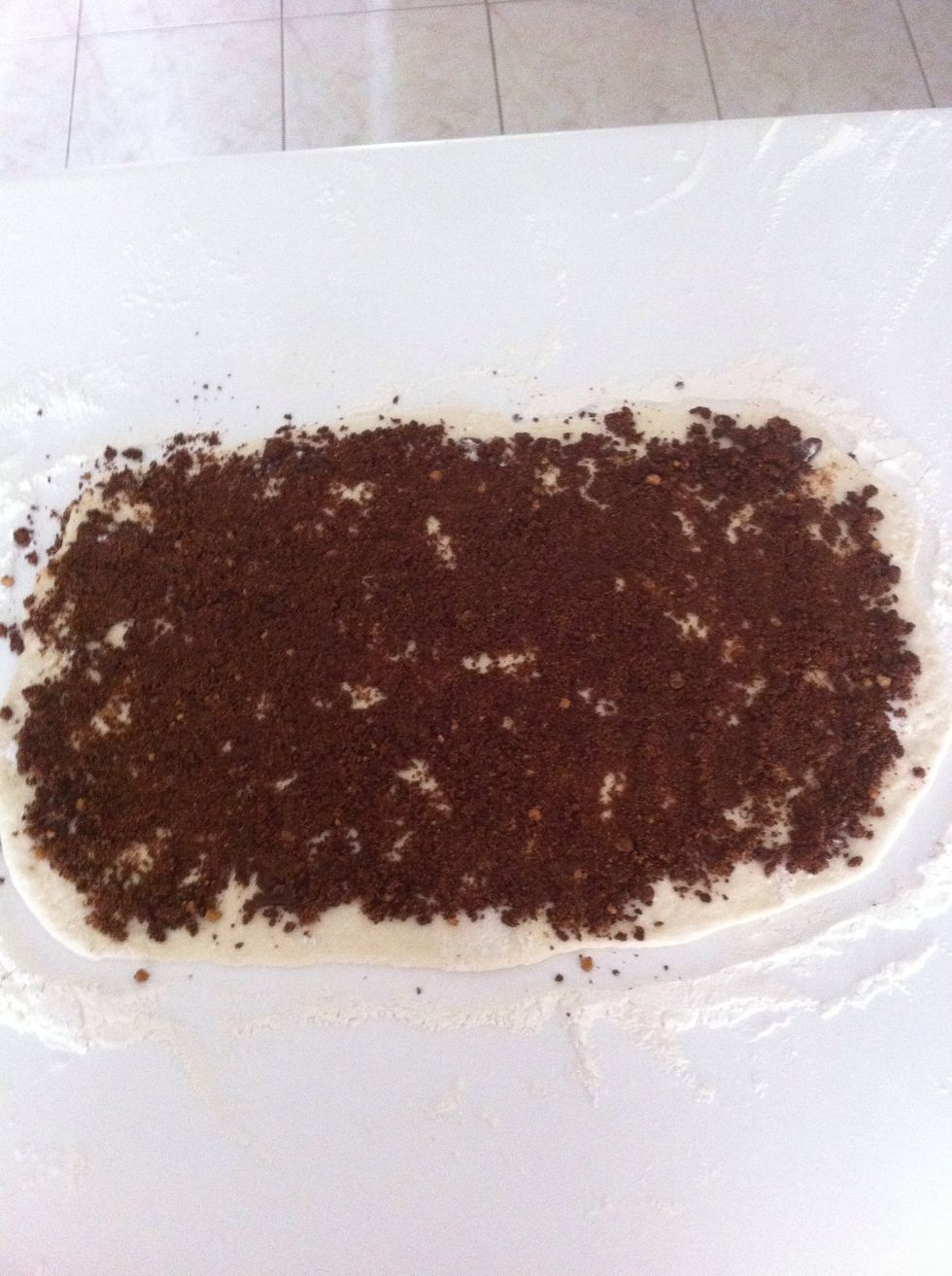 Spread the rest of the filling equally onto the rolled out dough 👋👐✋👆👇👉👈🙌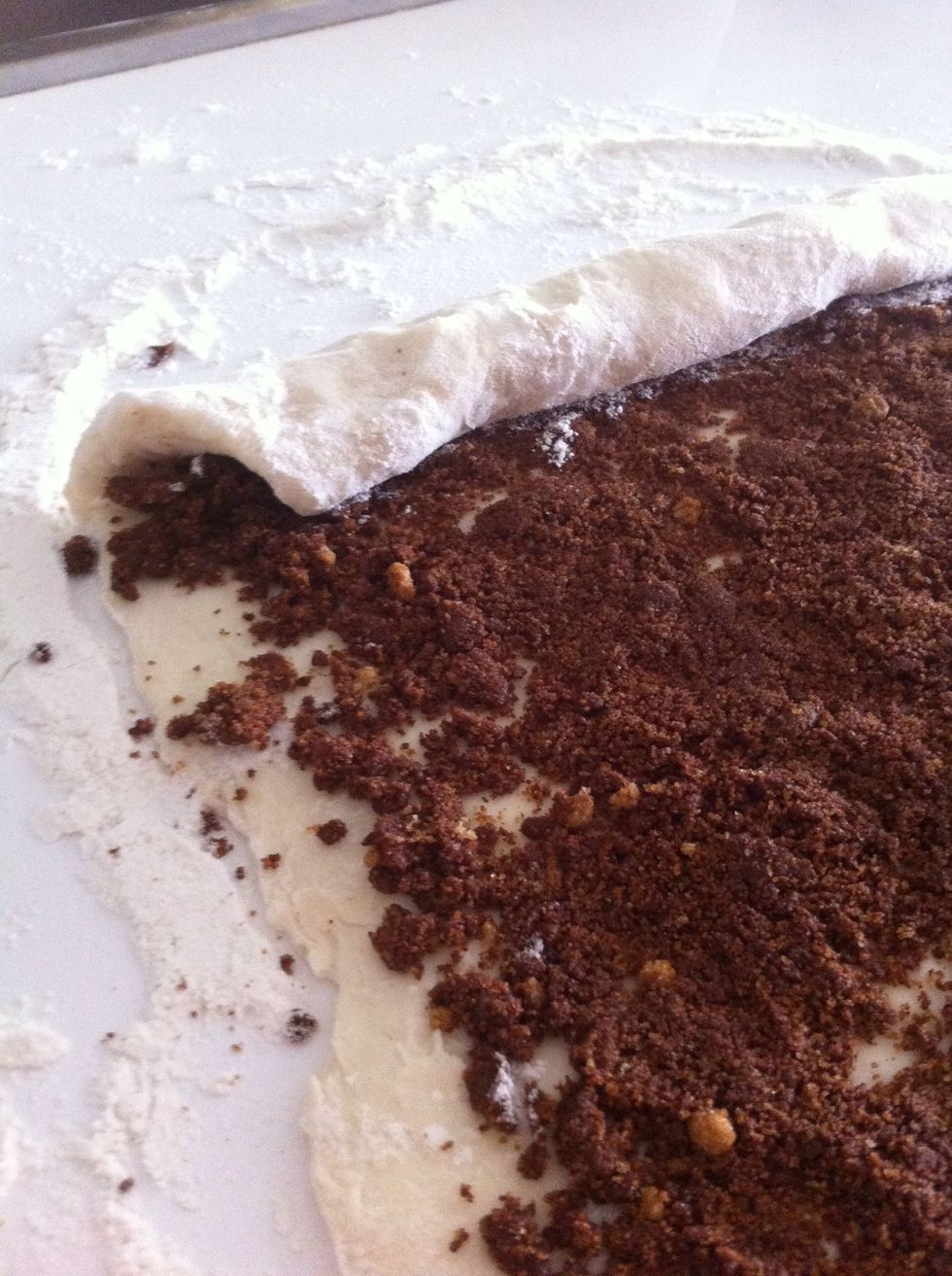 🍘 Roll the dough into a jelly roll fashion 🍘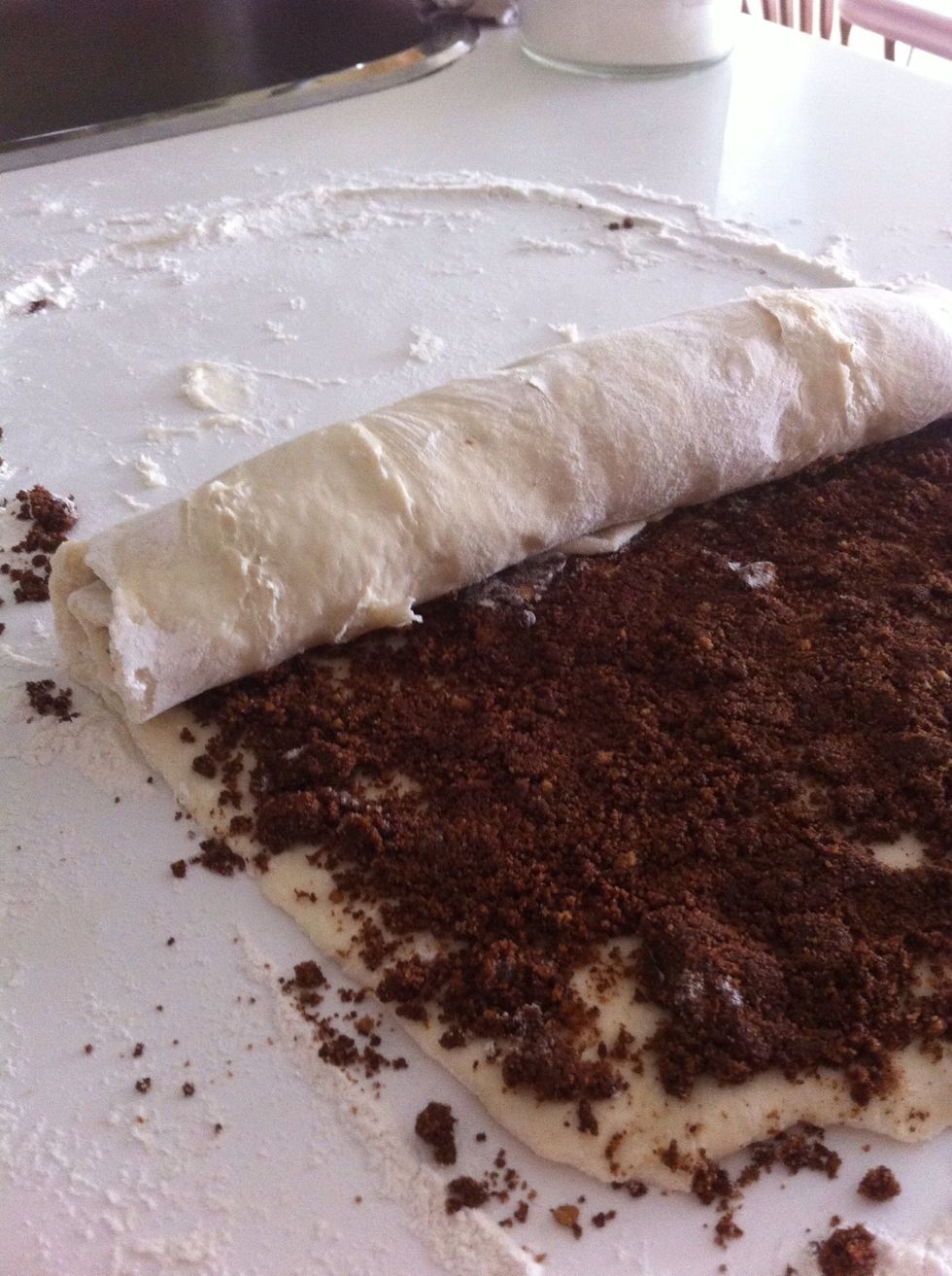 Keep rolling! And rolling! And rolling! 👋💪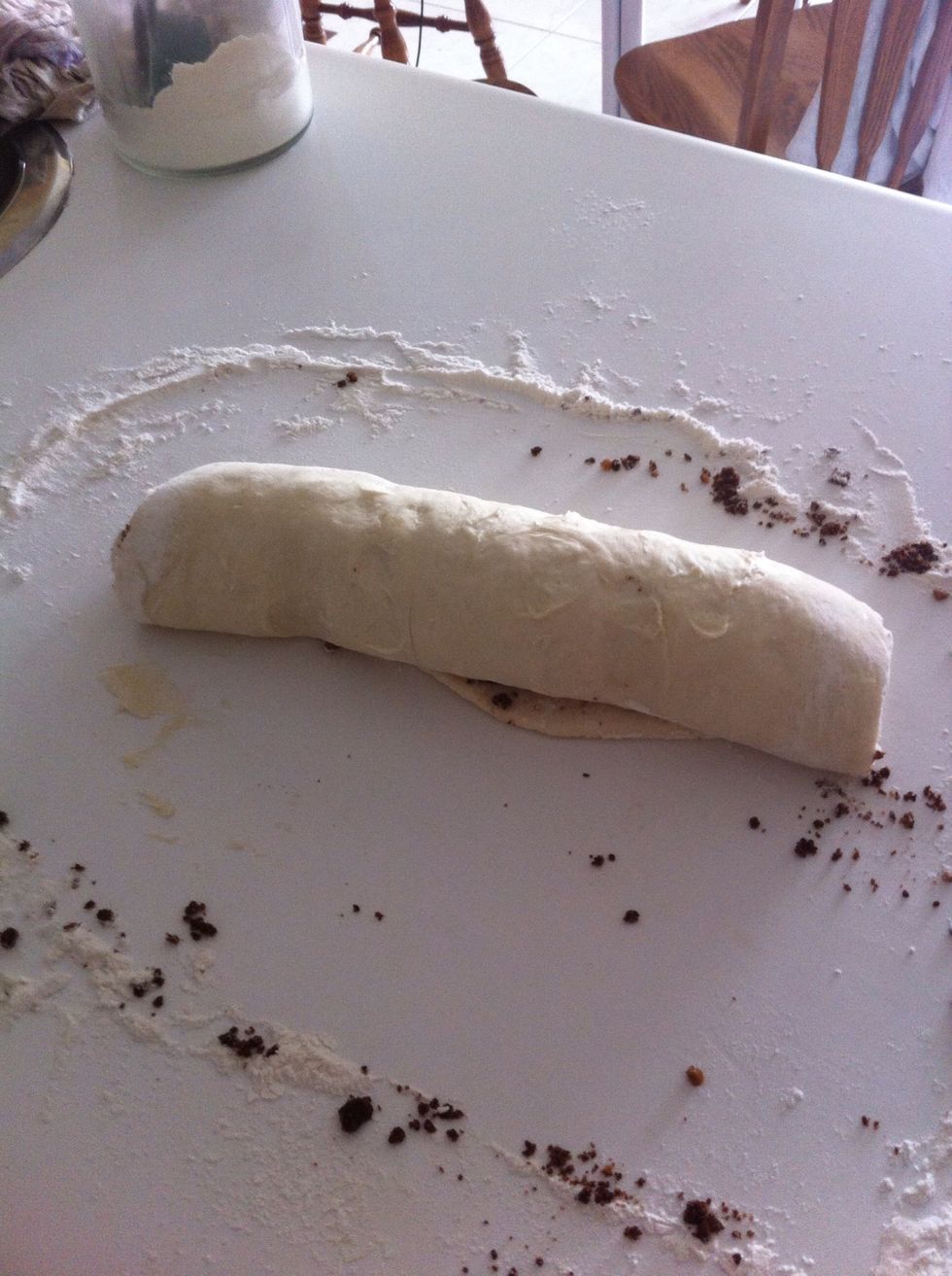 Finished rolling! Yay! 😄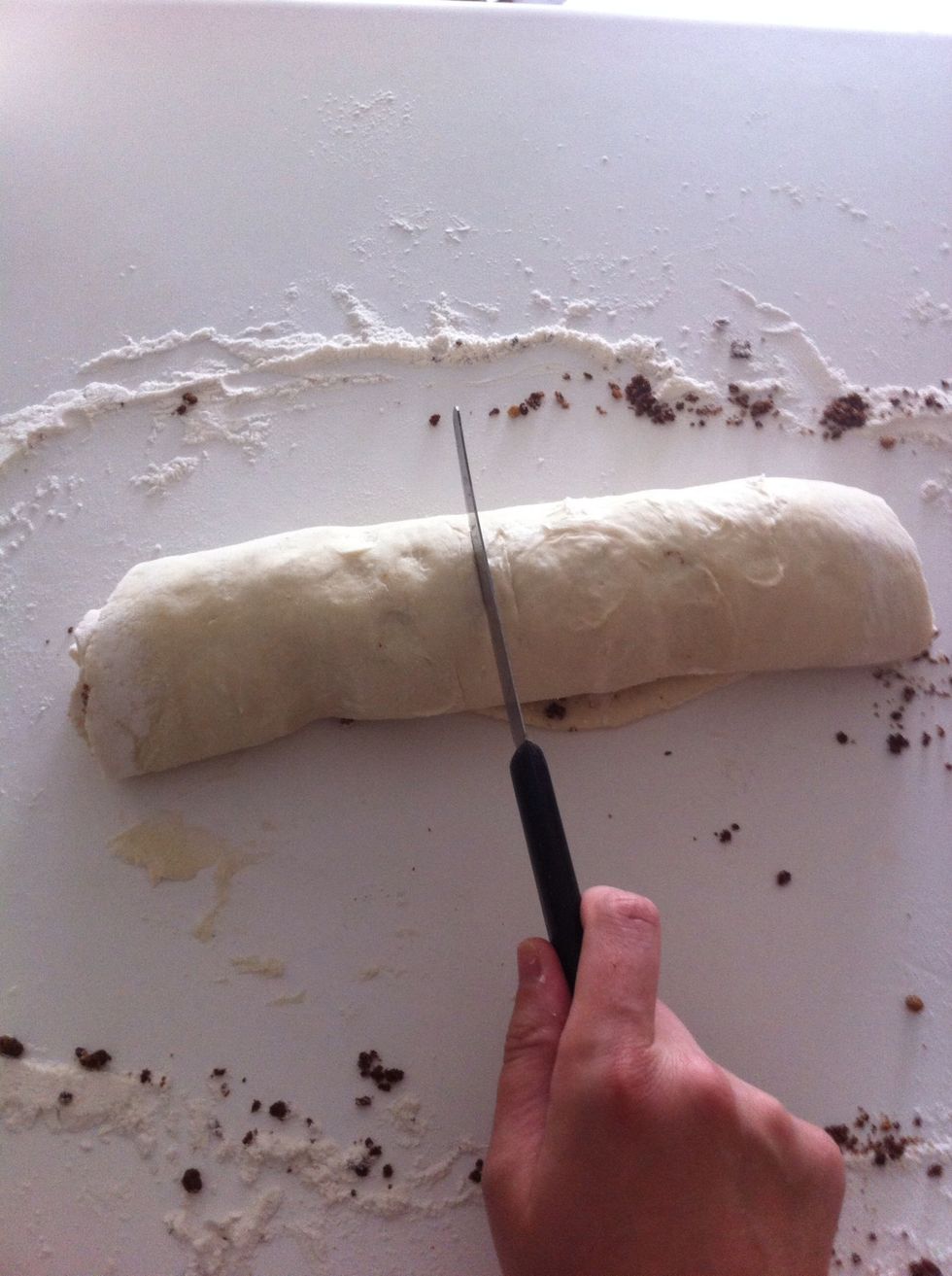 Cut the roll in half 🔪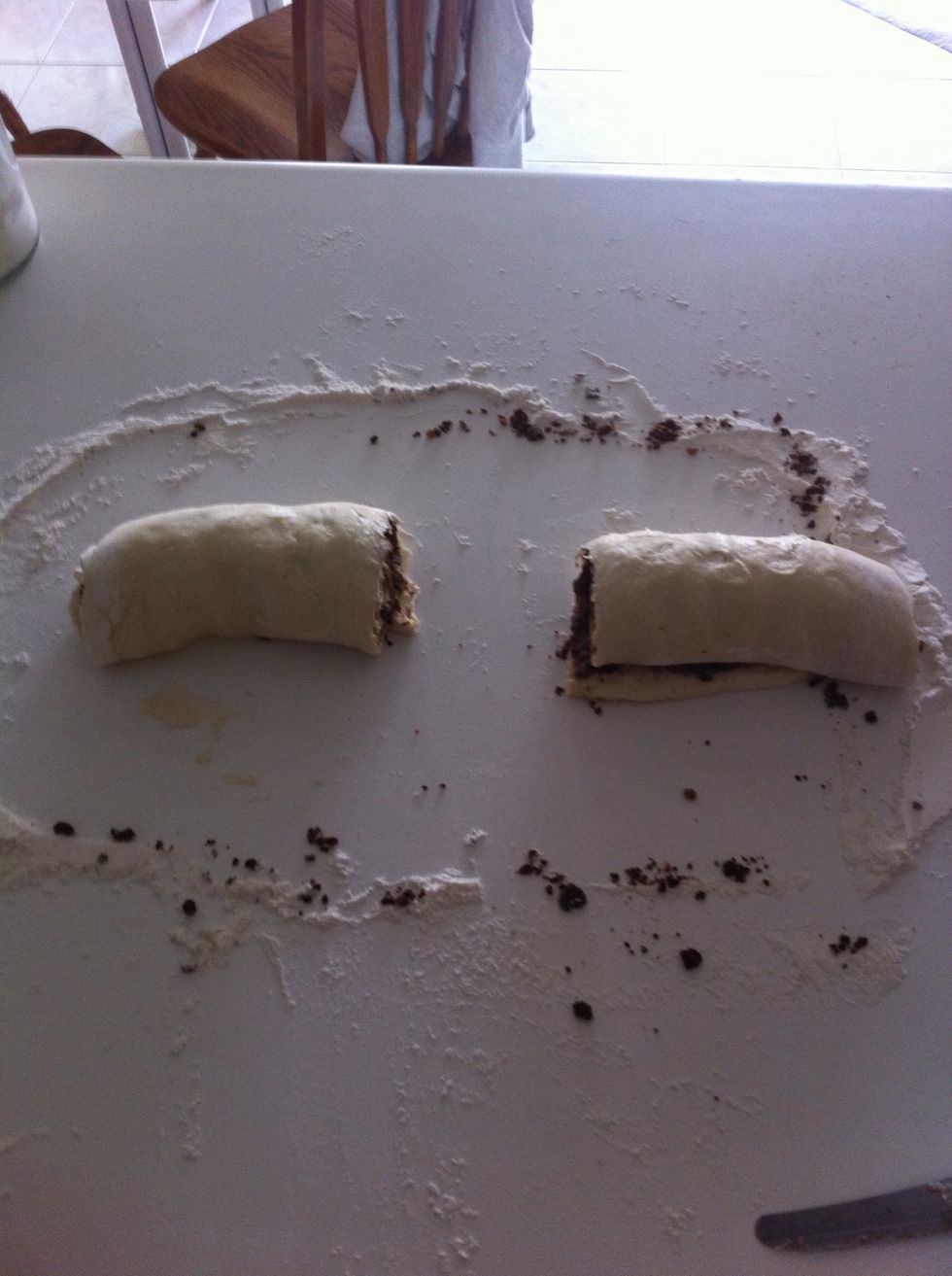 Now you have two pieces!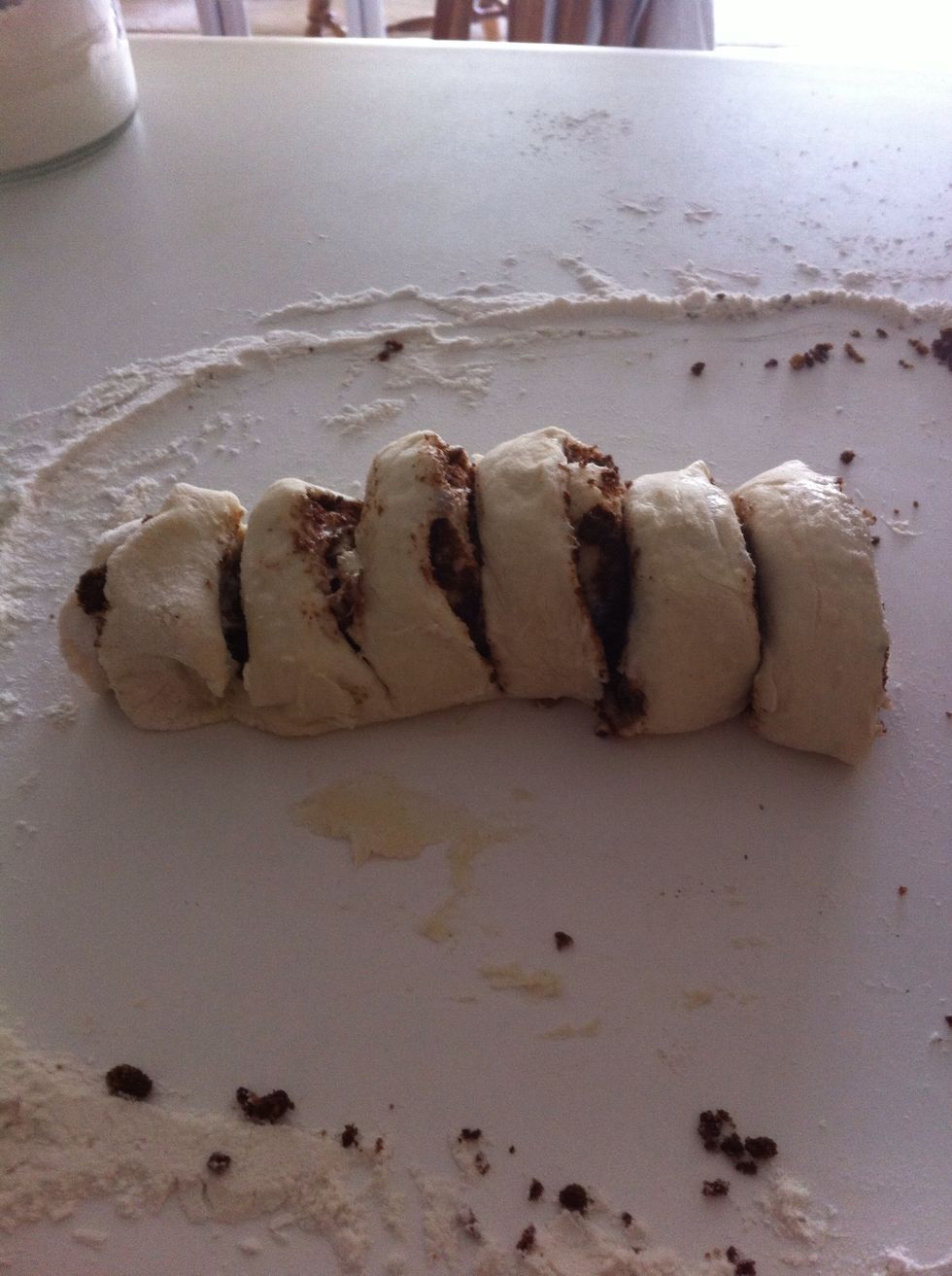 For each of the two pieces, cut the roll into 6 individual buns (so in total you should have twelve). These are your cinnamon buns! 🔪🍮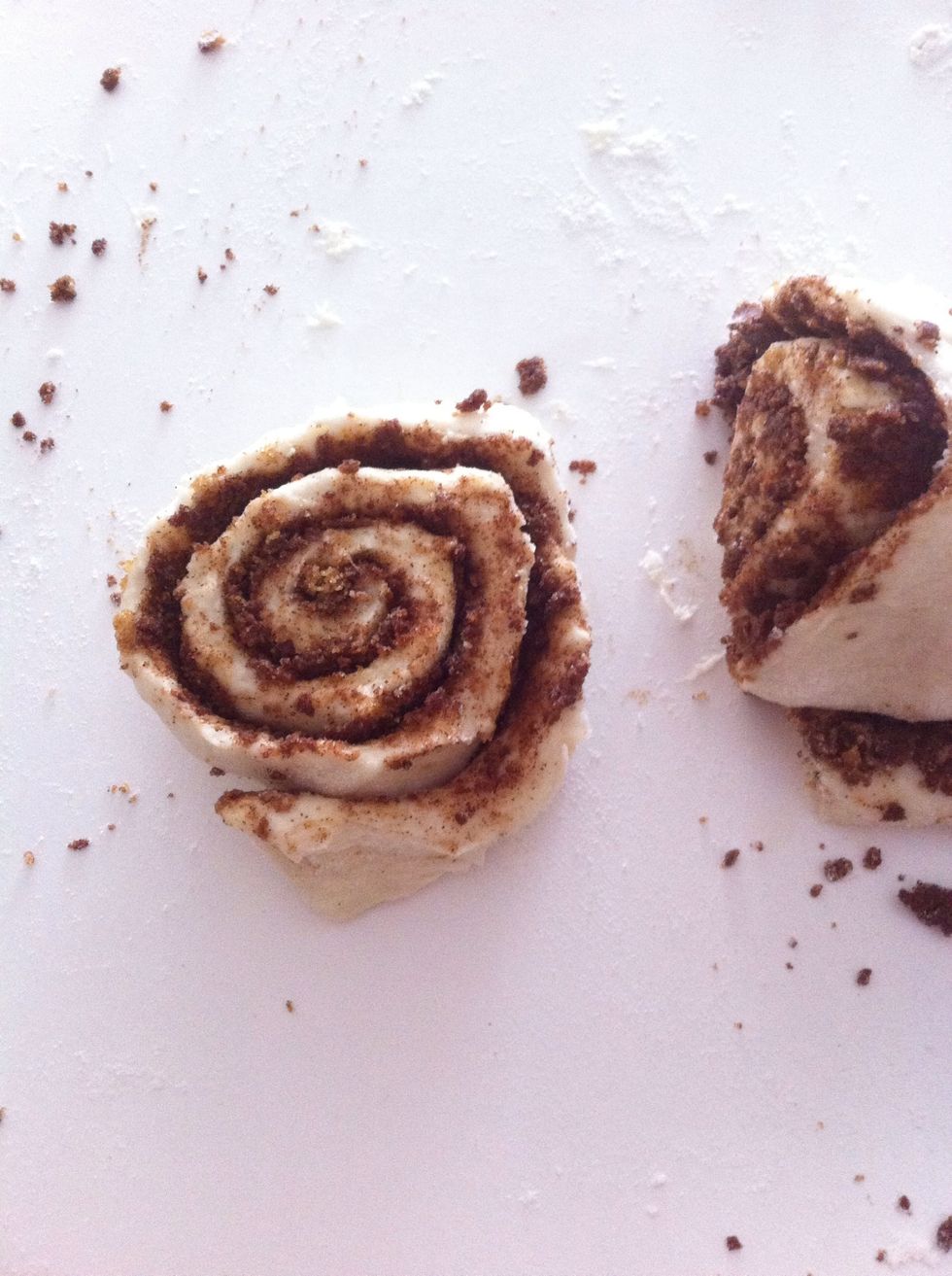 Mmmmm! Looks good so far! 😍😘🍮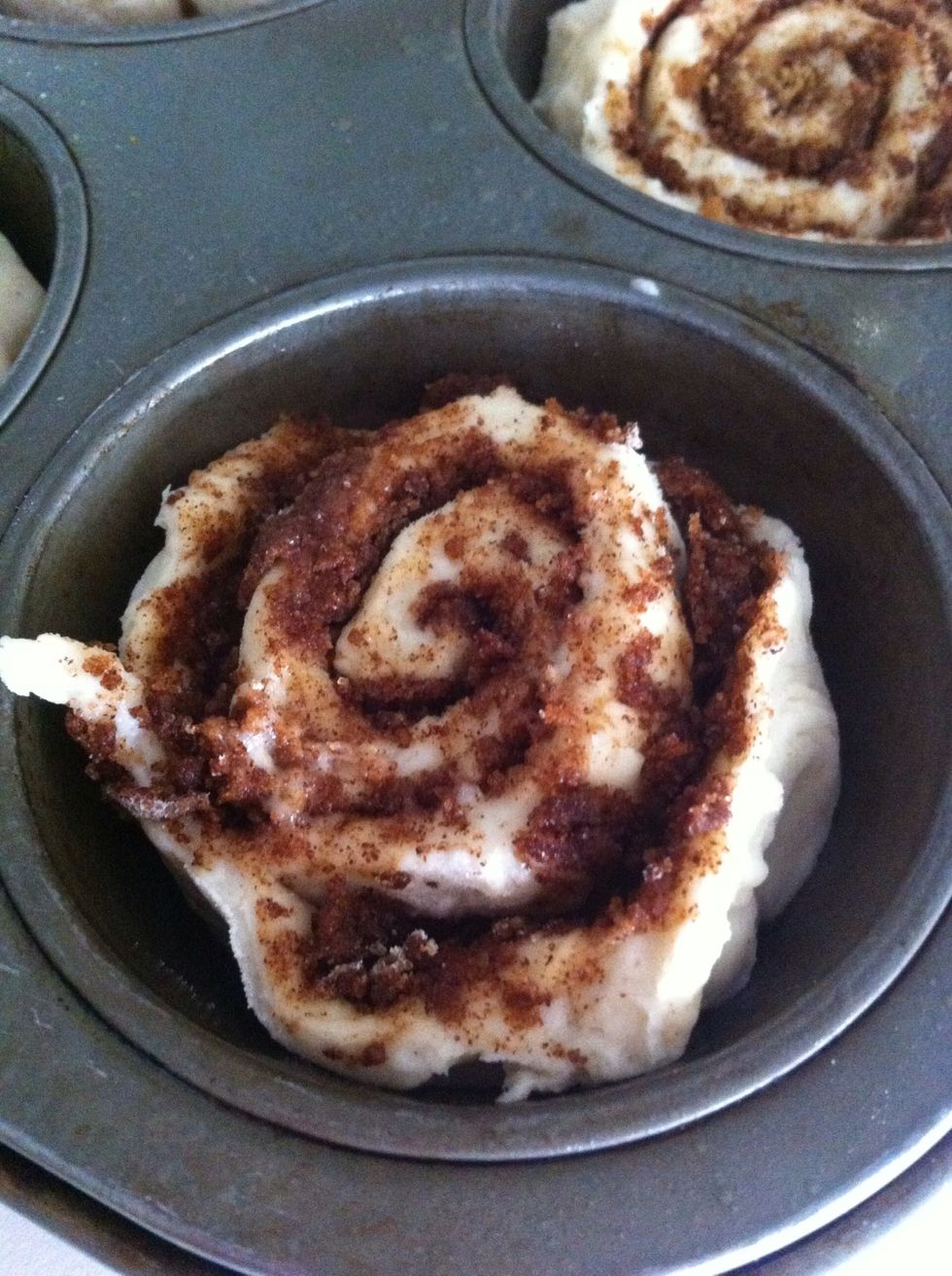 Place each cinnamon roll into a muffin tin 🍮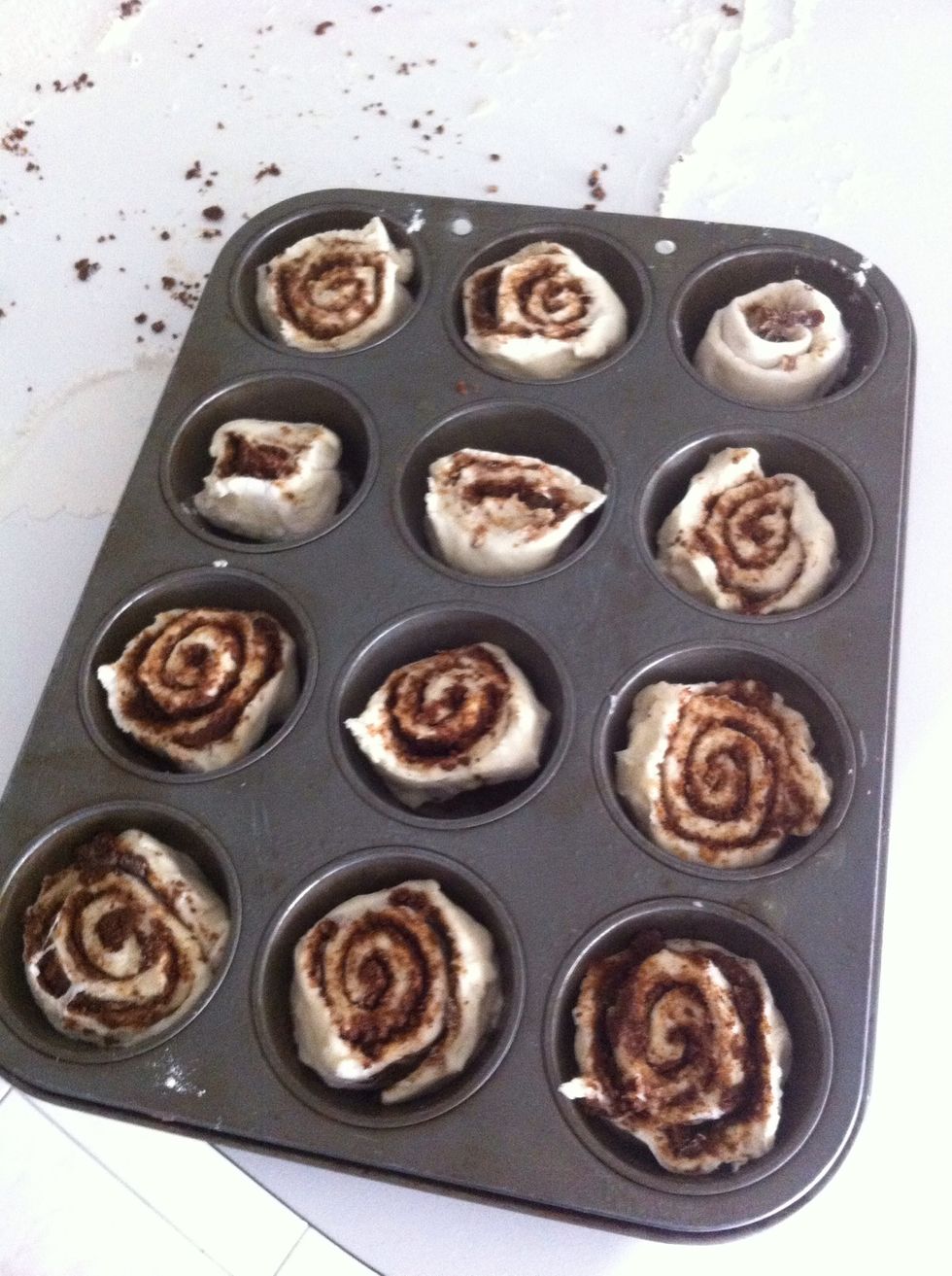 🔥 Ready to go into the oven! 🔥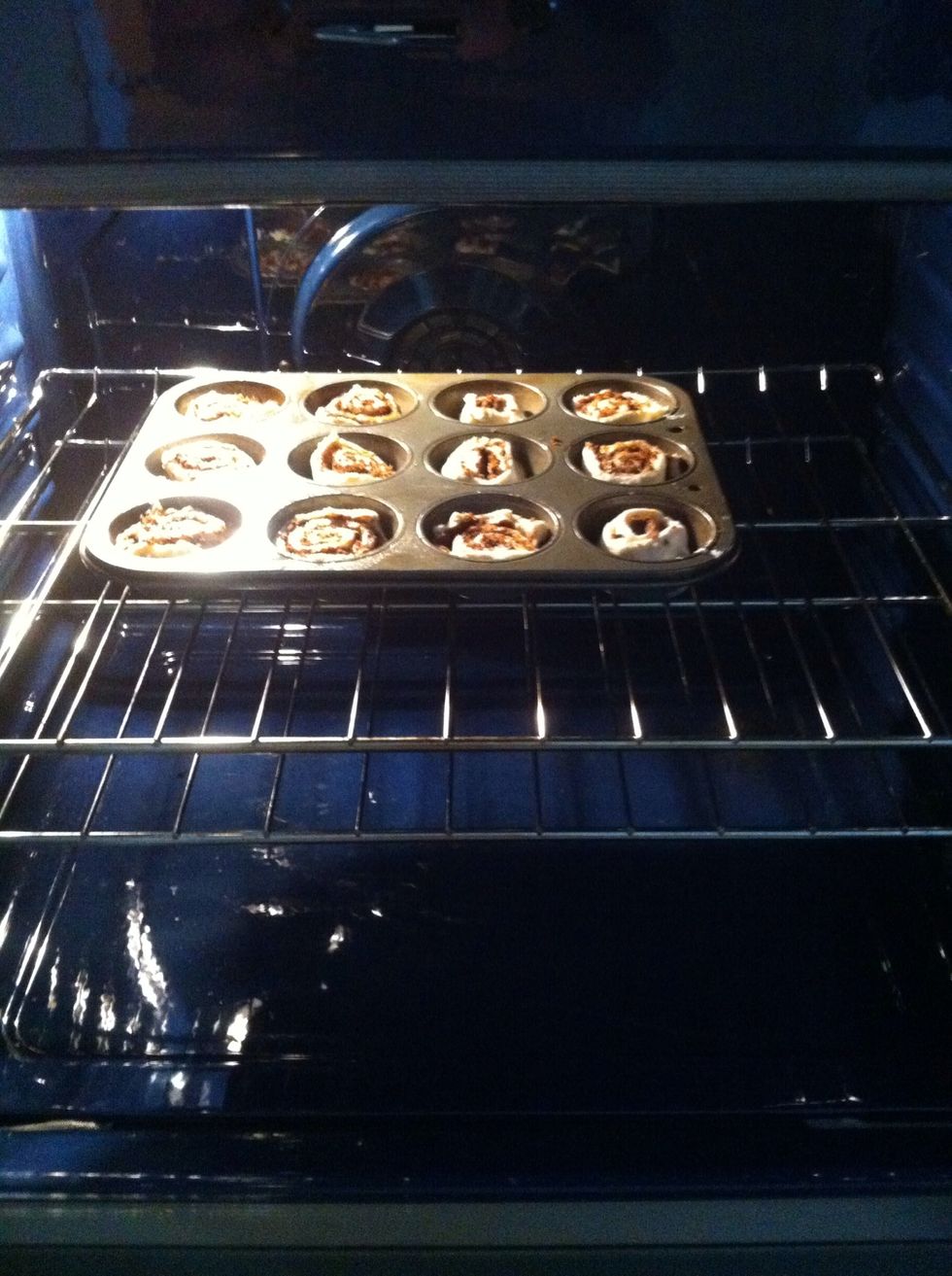 🔥 Place into oven and bake for 20-25 mins! (I only baked mine for 18 because my oven is really strong! 💪 Make sure to watch yours, you don't want to burn these!) 🕓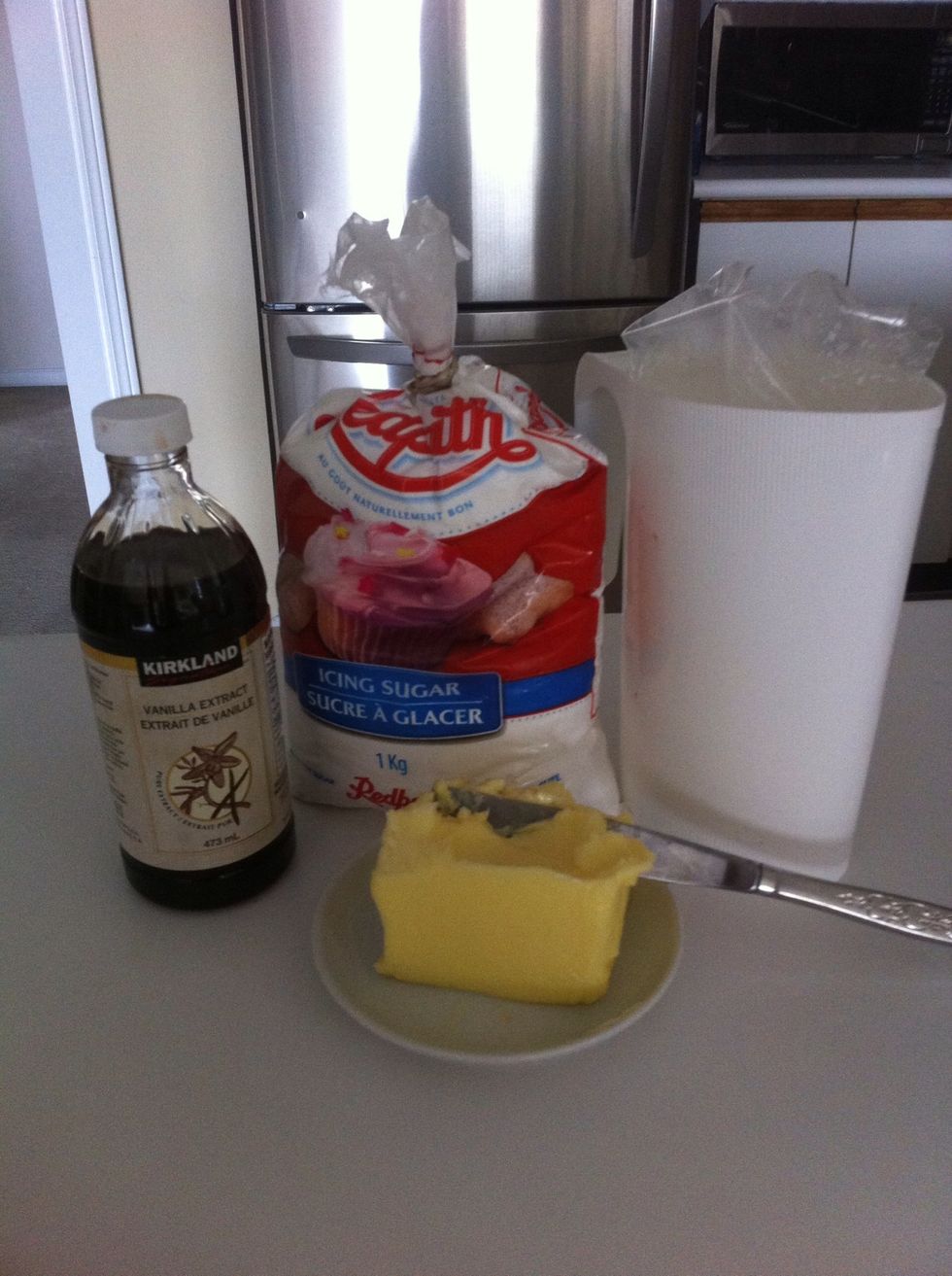 Assemble all the ingredients! Icing sugar, milk, vanilla extract, and margarine/butter ✔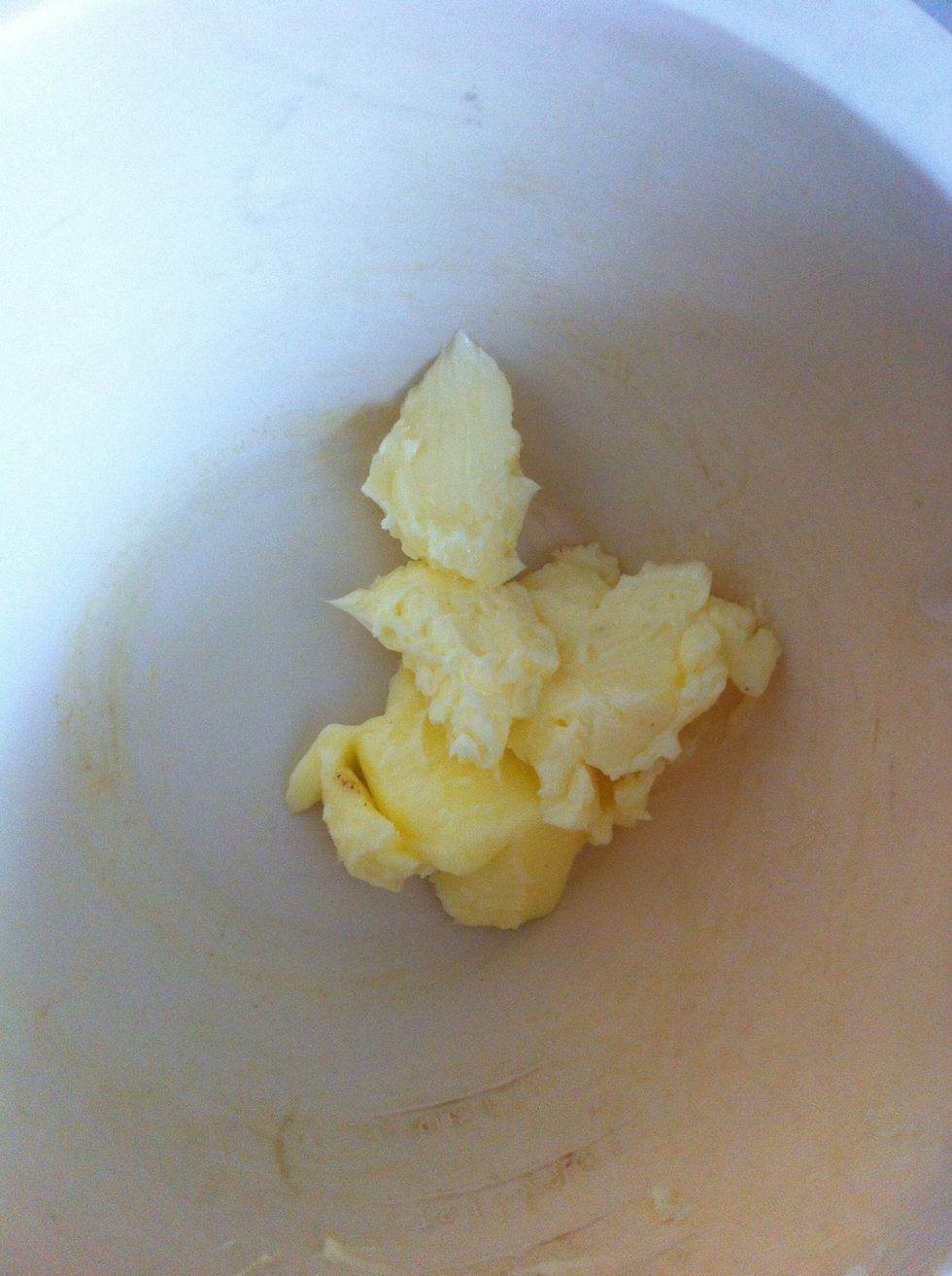 Add 45mL of margarine into a medium sized bowl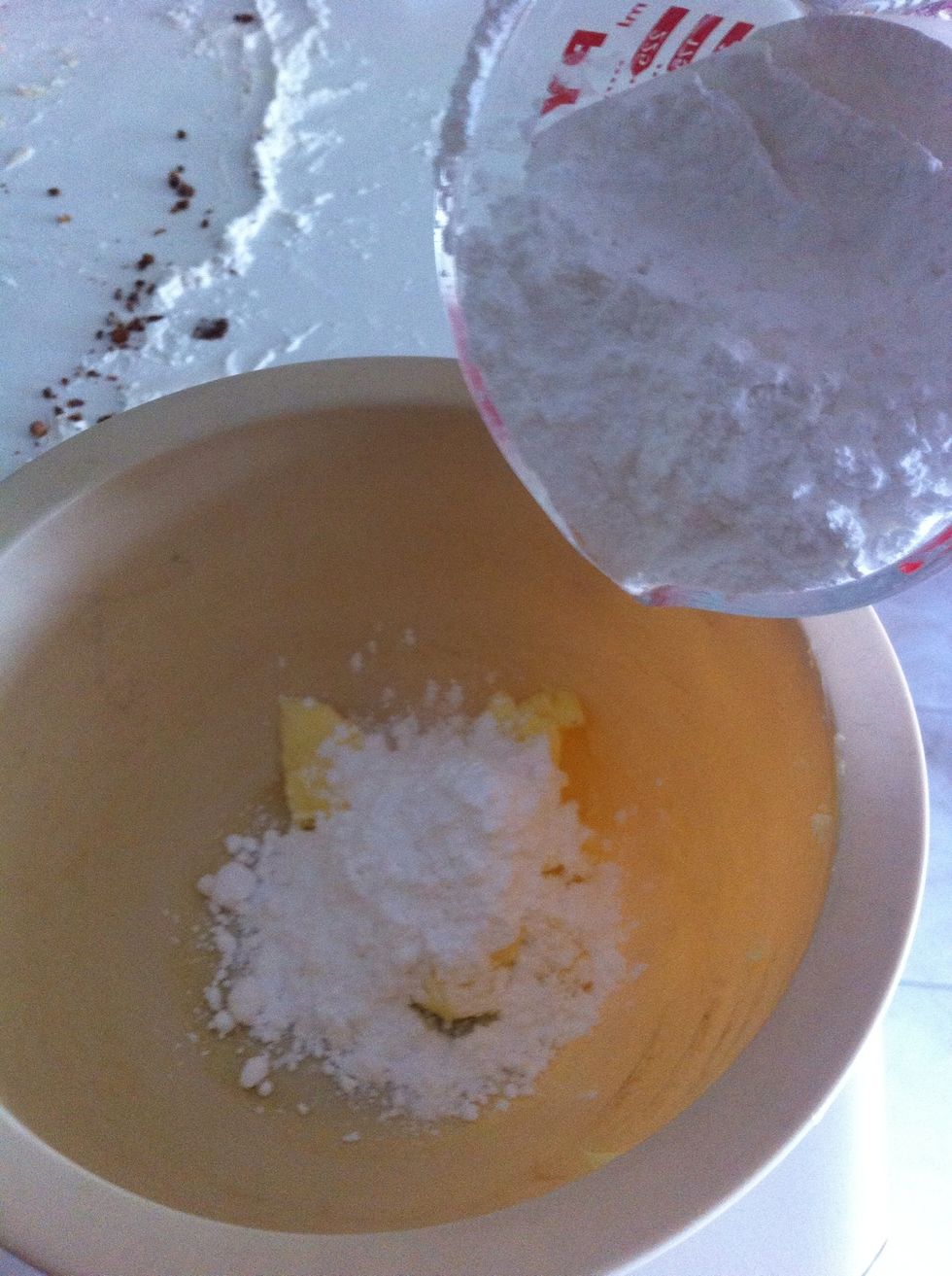 Add 250mL of icing sugar! (Also known as 1 cup)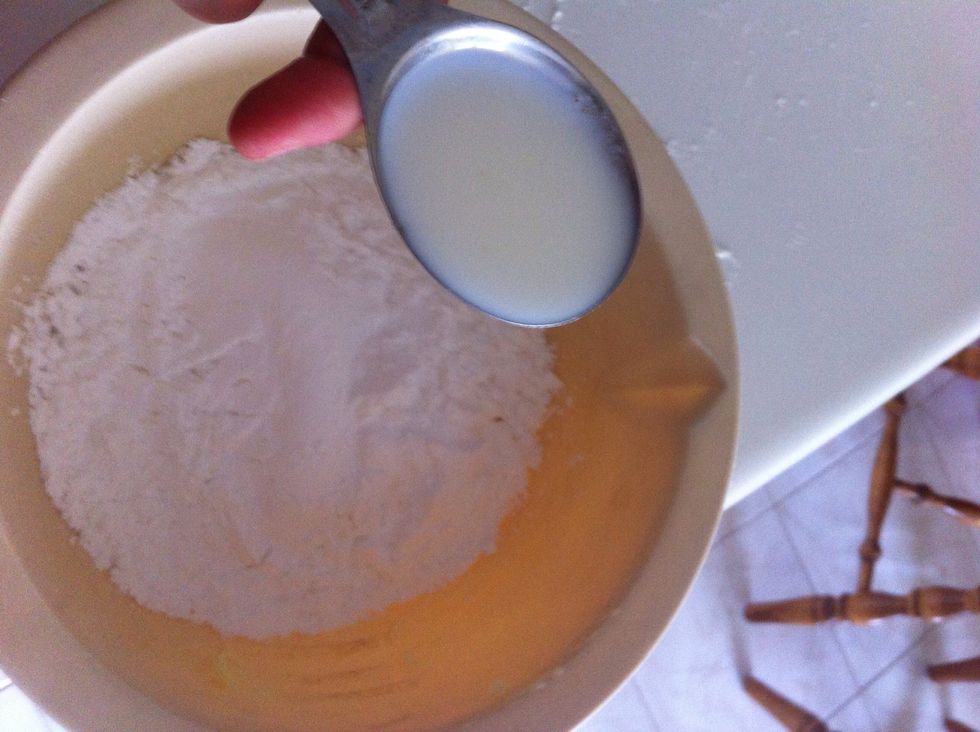 Add 15mL of milk 🐄🍼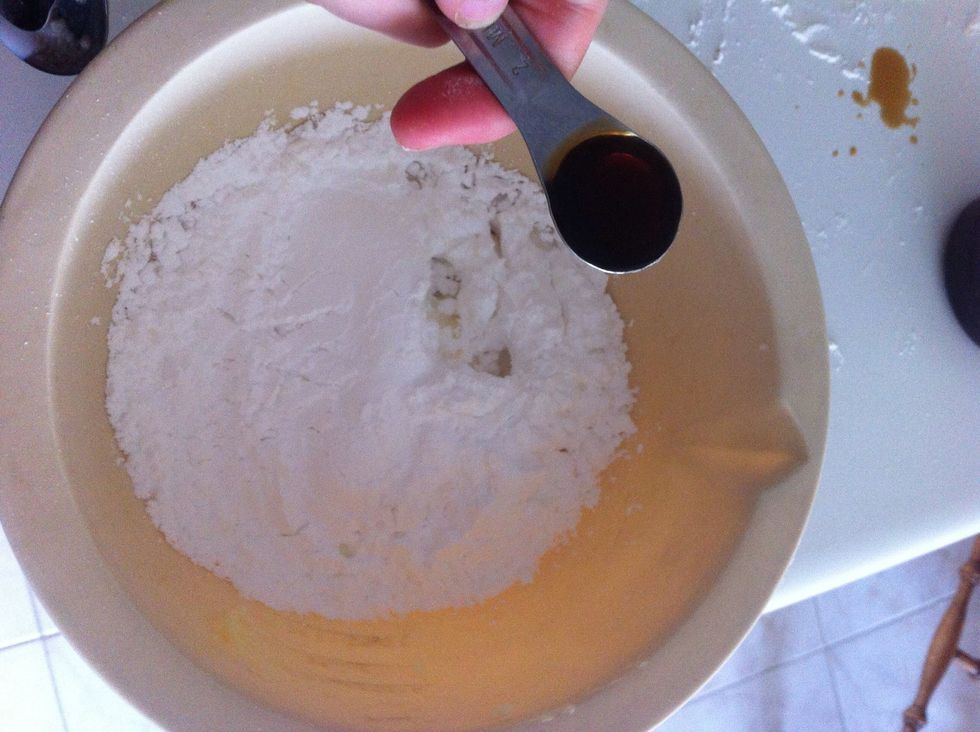 Add 2mL of vanilla extract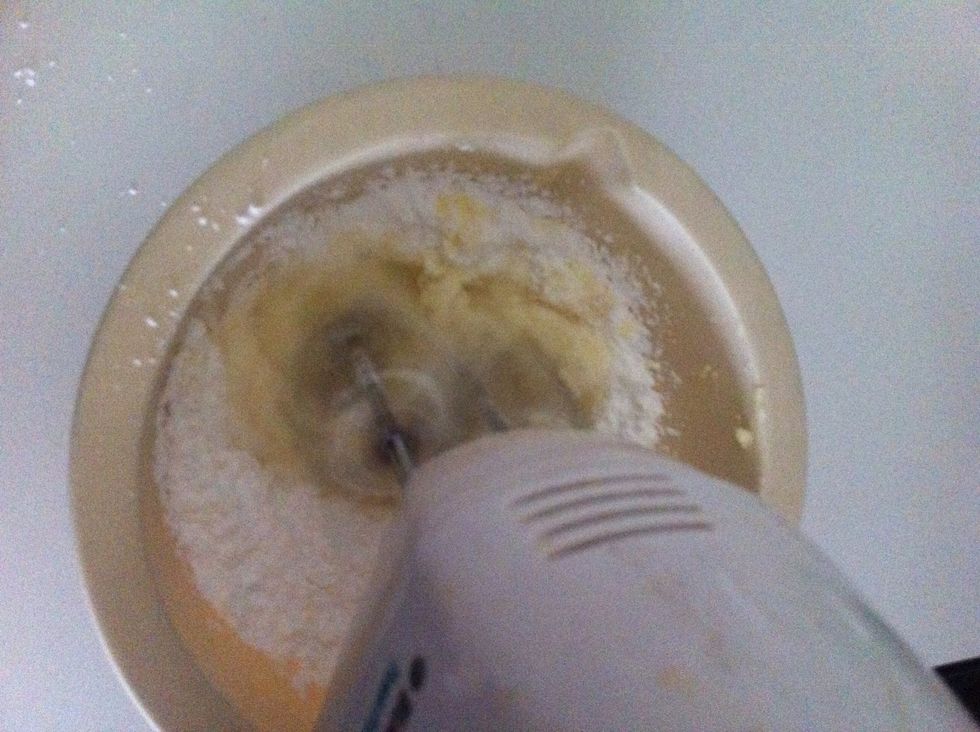 Beat these ingredients together with a mixer! 👋💪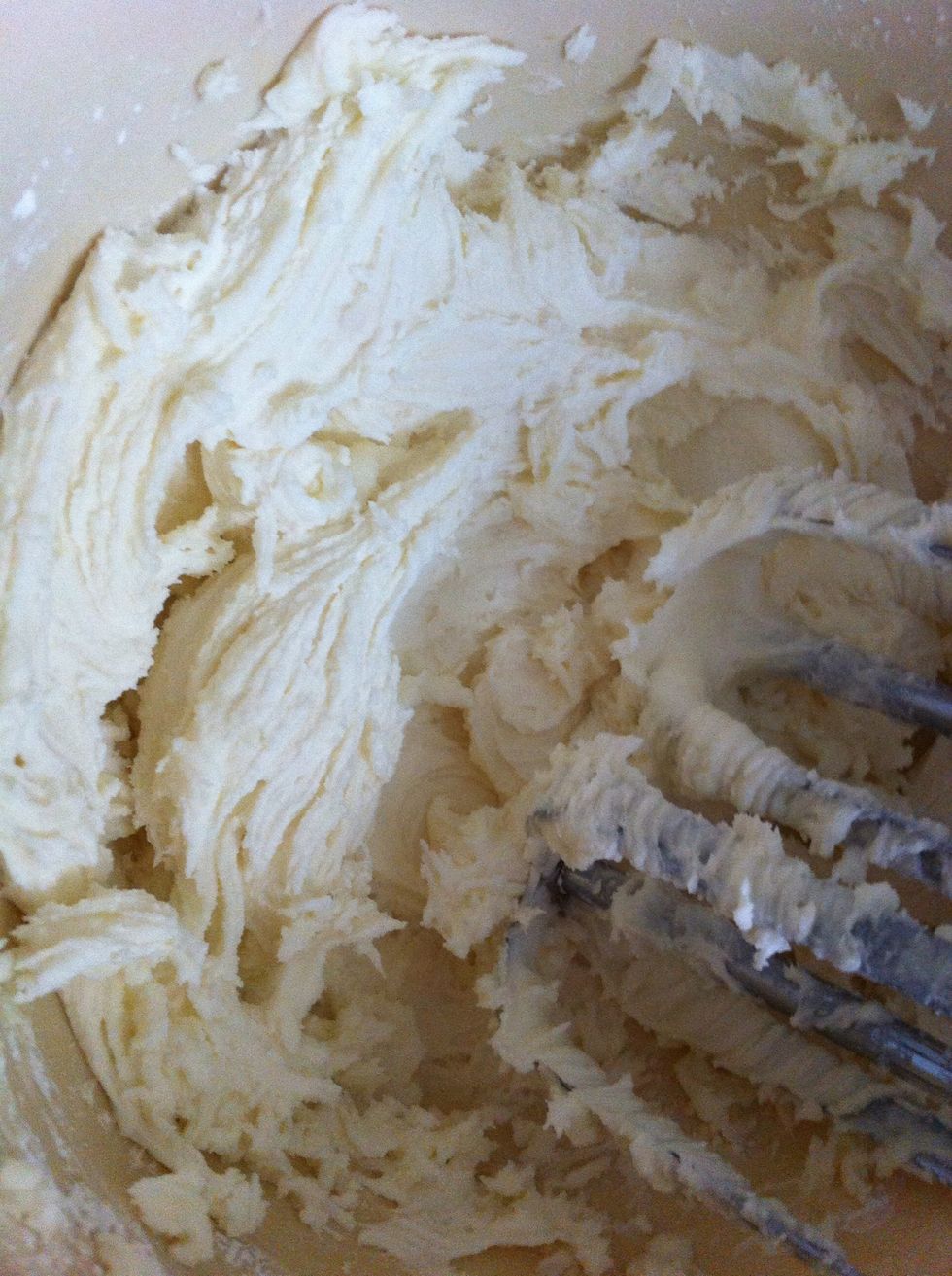 After mixing, it should look like this 👍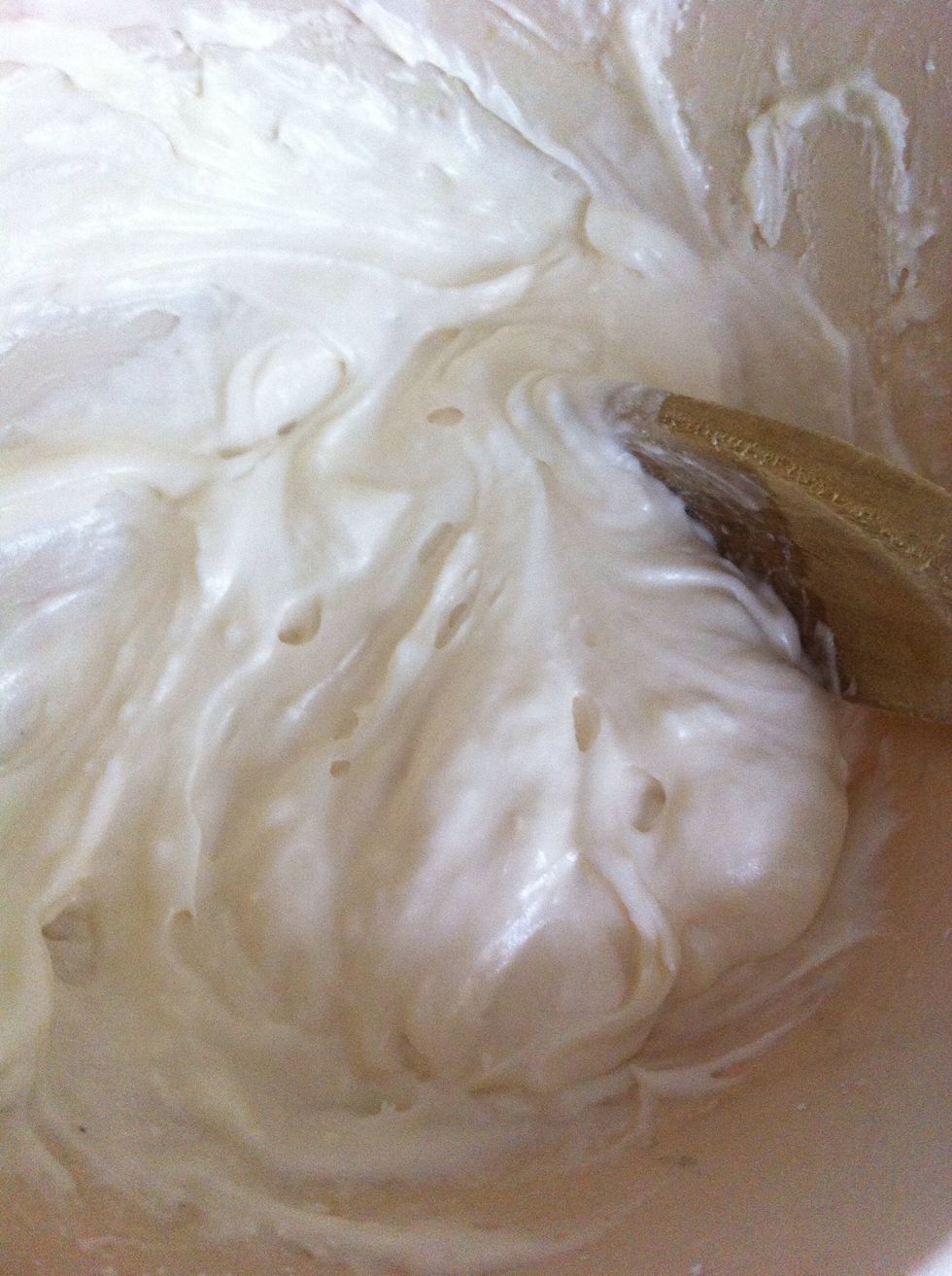 I added another 15mL of milk to mine, to make it more creamy! :) 🐄🍼🍚
🕔 Take the cinnamon buns out of the oven when finished! Mmmm! You can easily tell which ones were at the end of the roll 😅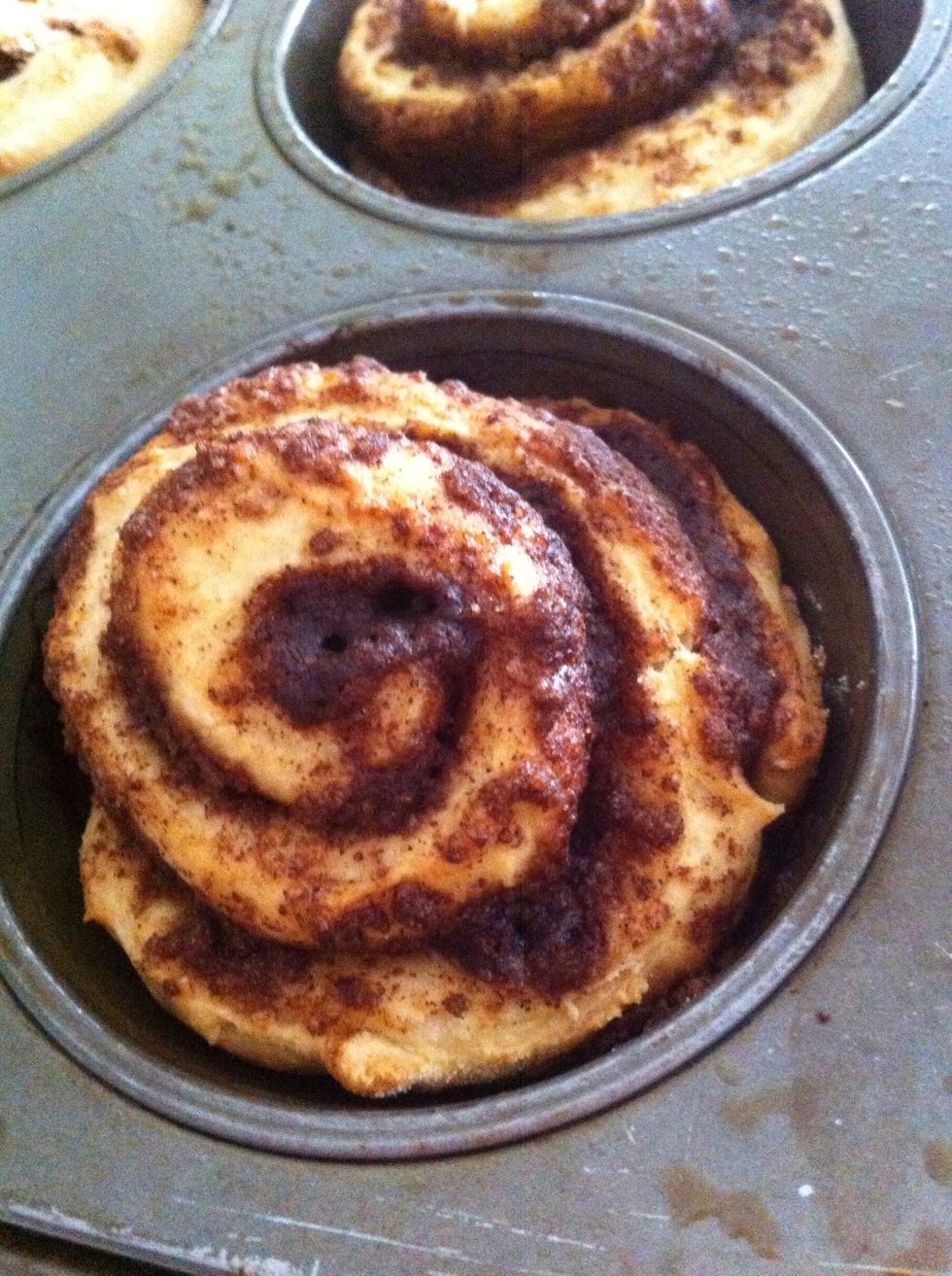 LOOOOKS. SOOOO. YUMMMMMY! 😍😘😛😵🍮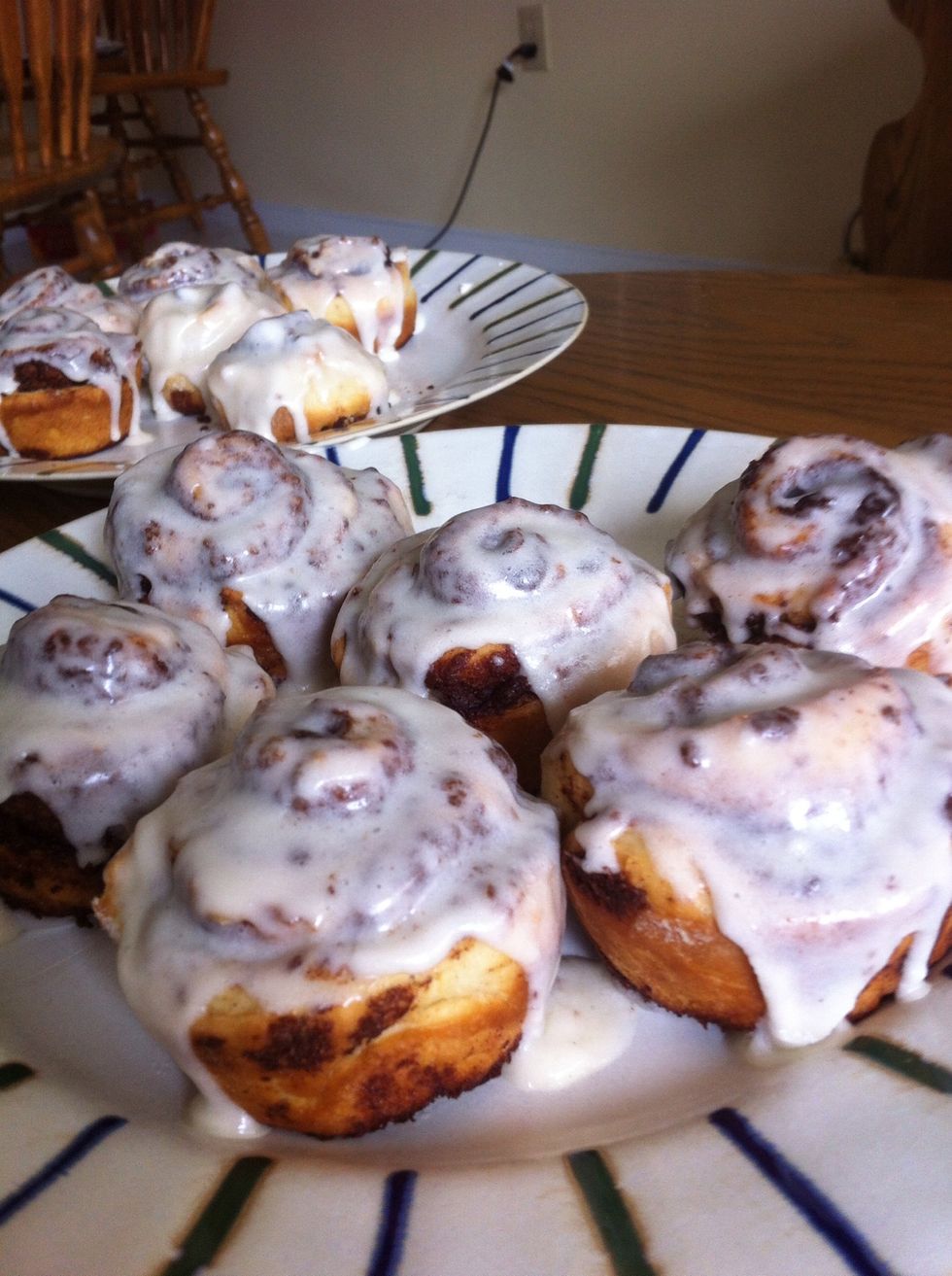 Take out of tins and add icing, you may notice some filling on the bottom of each tin, but no worries! Scoop up with a spoon and place on plate with the cinnabun on top, it will stick easily! 🍮🍚🔪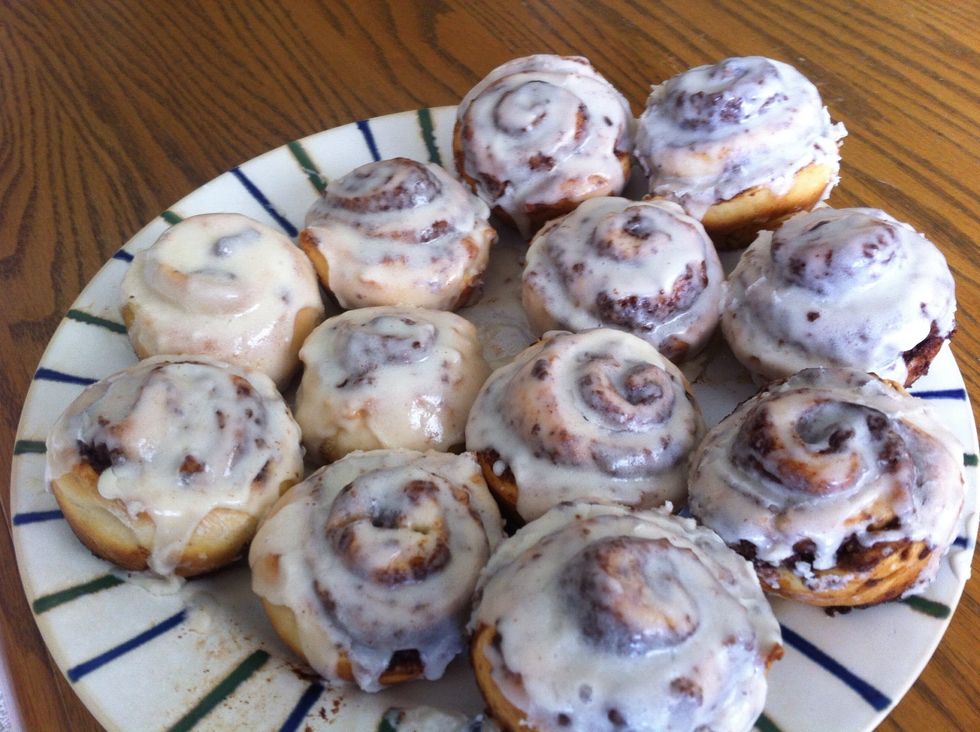 Makes 12! 🍴🍮😍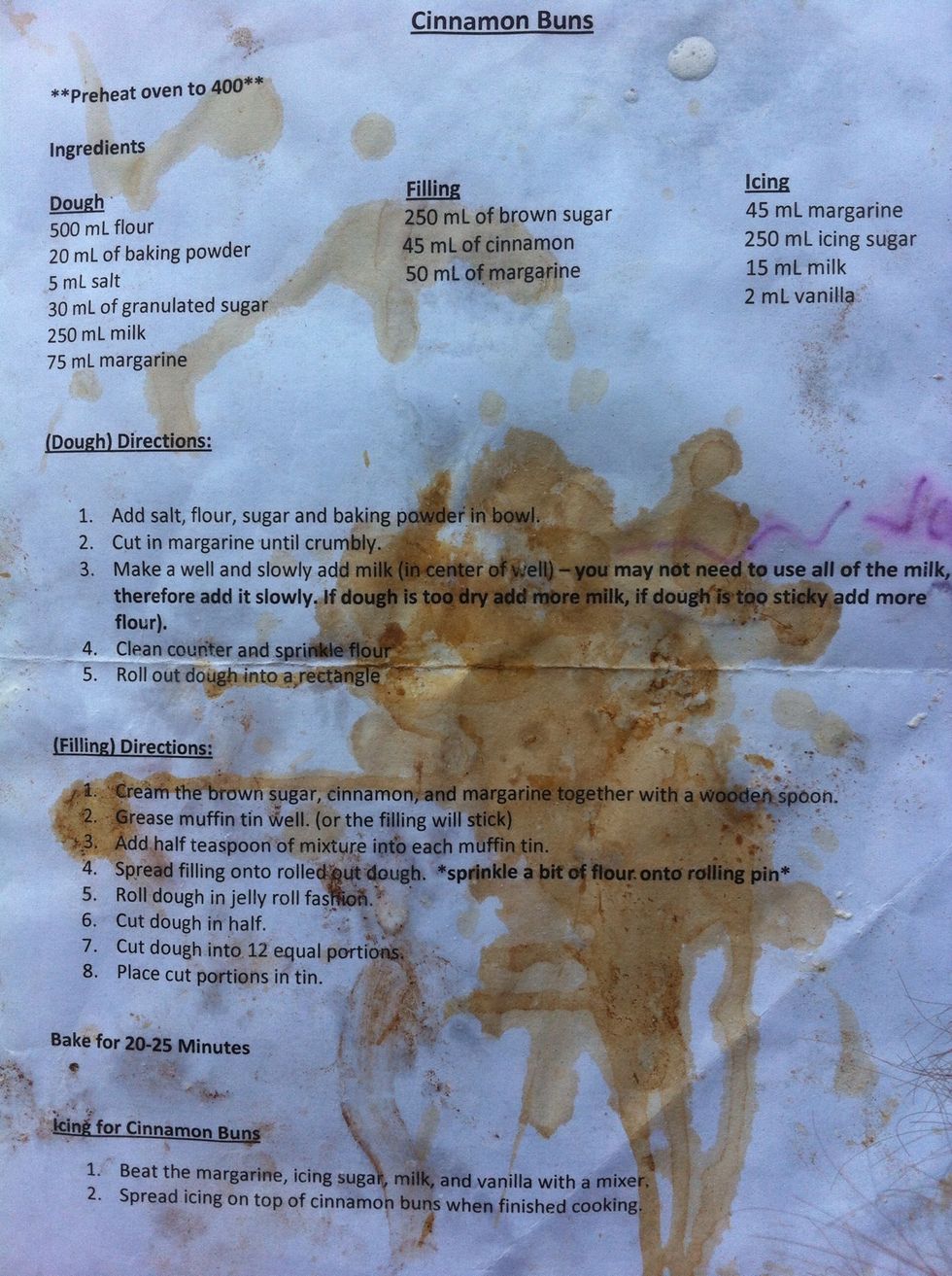 Here is the recipe I followed! I got it from my food and nutrition class :) As you can tell, I have made these a lot! 📖😅😍
Thanks for reading! I hope you have fun making and eating these! 🍮😍🍴
Flour
Baking powder
Salt
Granulated sugar
Milk
Margarine/Butter
Brown sugar
Cinnamon
Icing sugar
Vanilla