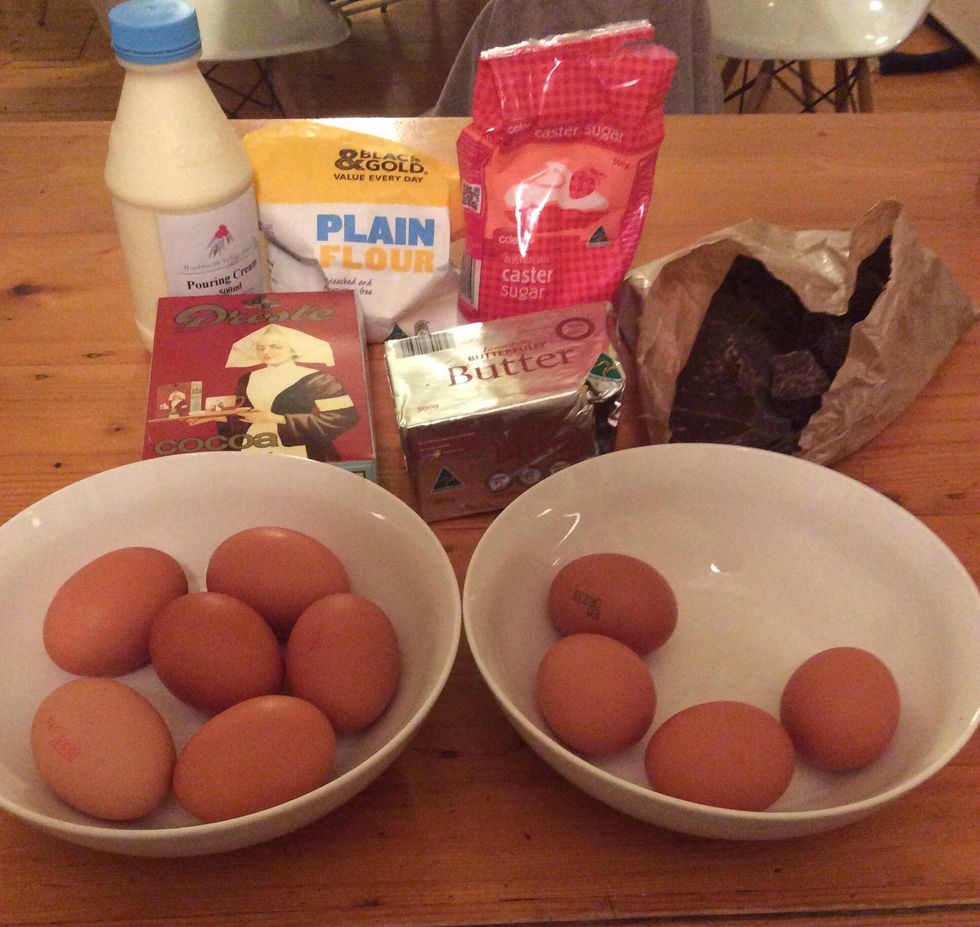 Get ingredients (plain flour, cocoa powder, caster sugar, eggs, butter, dark chocolate and cream) out for both the cake and the truffle filling and place them on a bench or your kitchen workspace.
Preheat your oven to 180° Celsius or 356° Fahrenheit.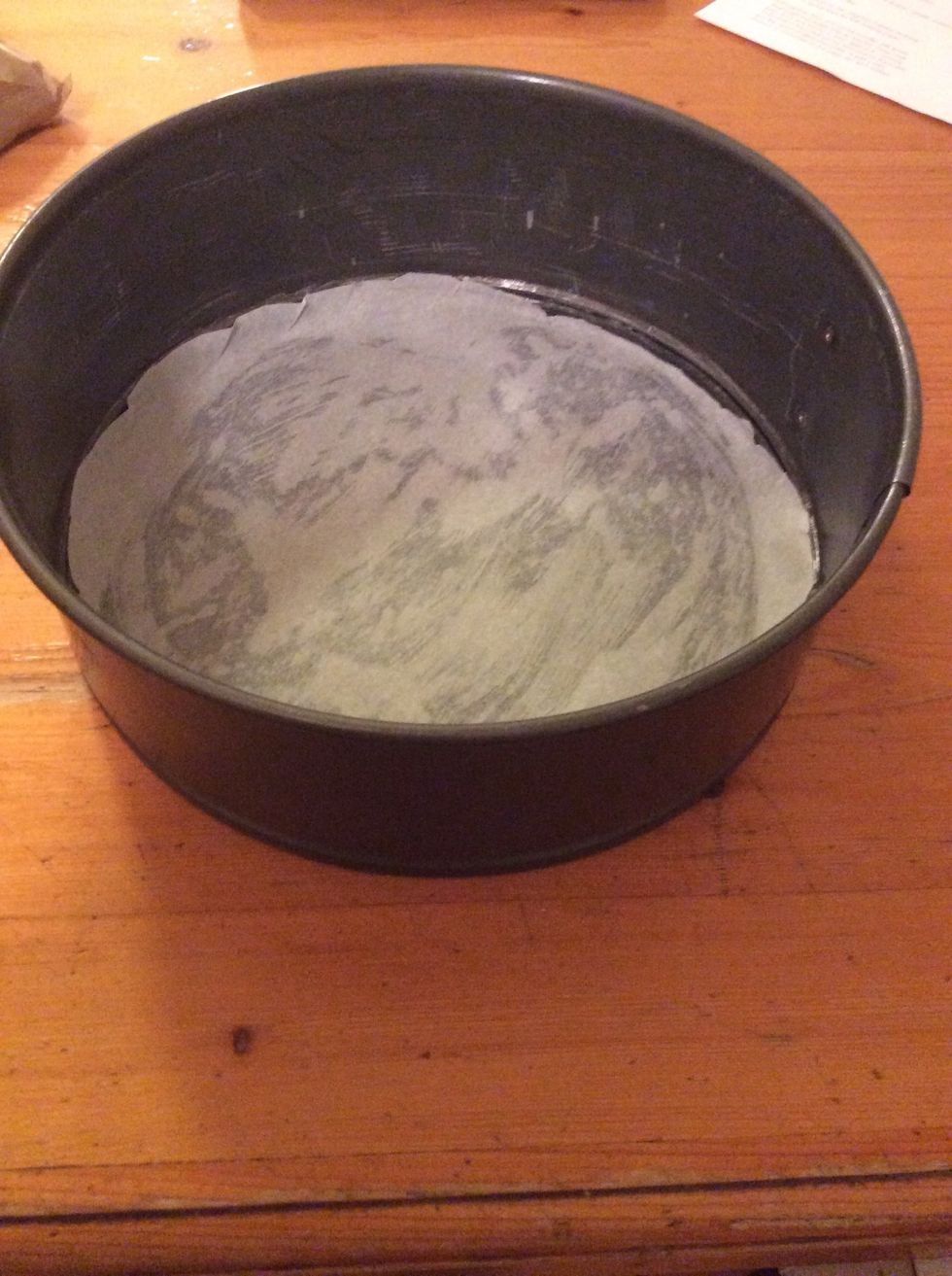 Grease (with butter) and line a 20cm spring form tin with baking paper.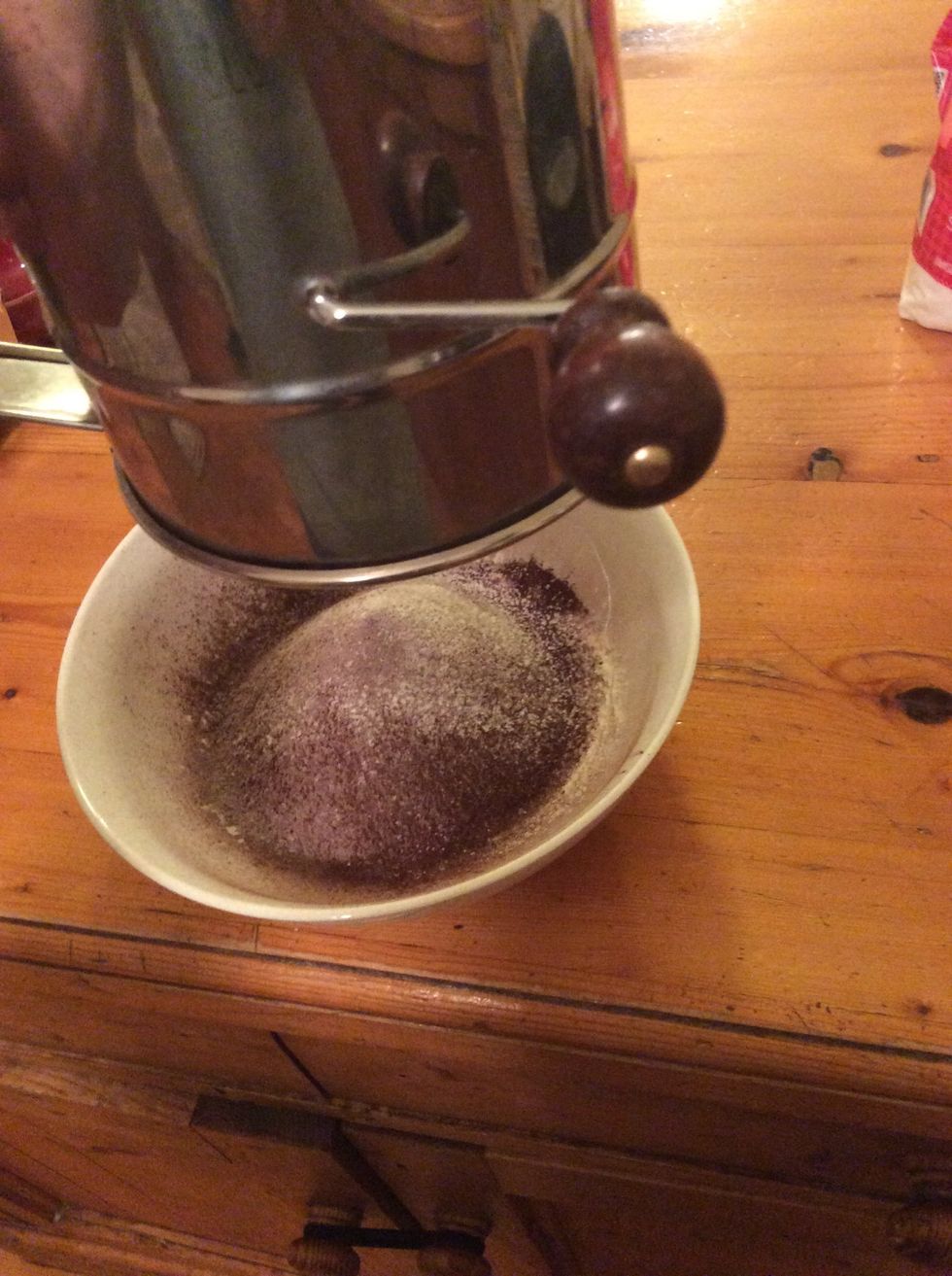 Sift plain flour and cocoa powder together into bowl, and set aside.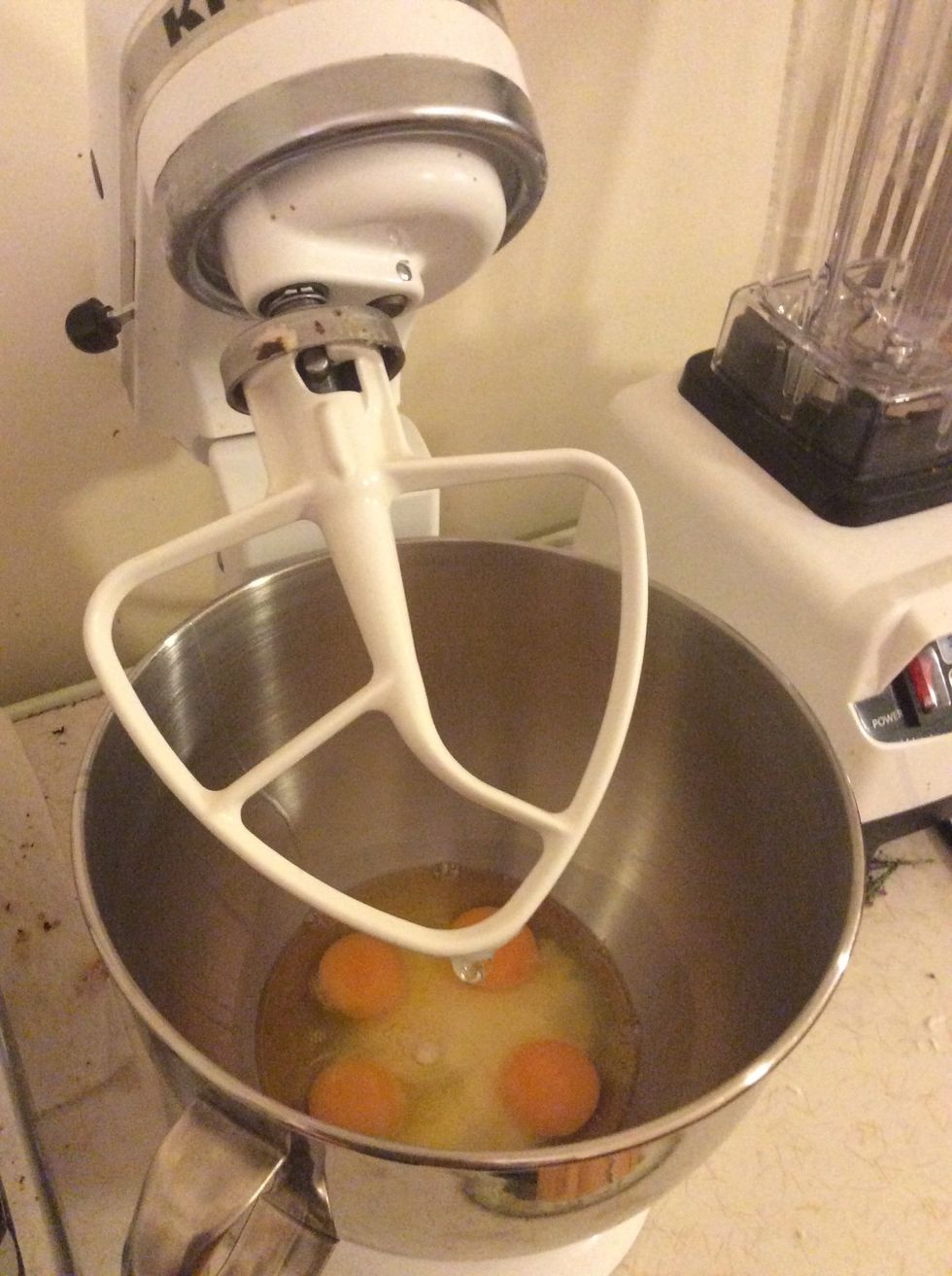 Beat eggs and sugar with an electric mixer until pale, thick and it looks like it has tripled in size, or approximately 8-10 minutes.
Meanwhile, measure out butter and dark chocolate and melt them together in a microwave, saucepan or over hot water.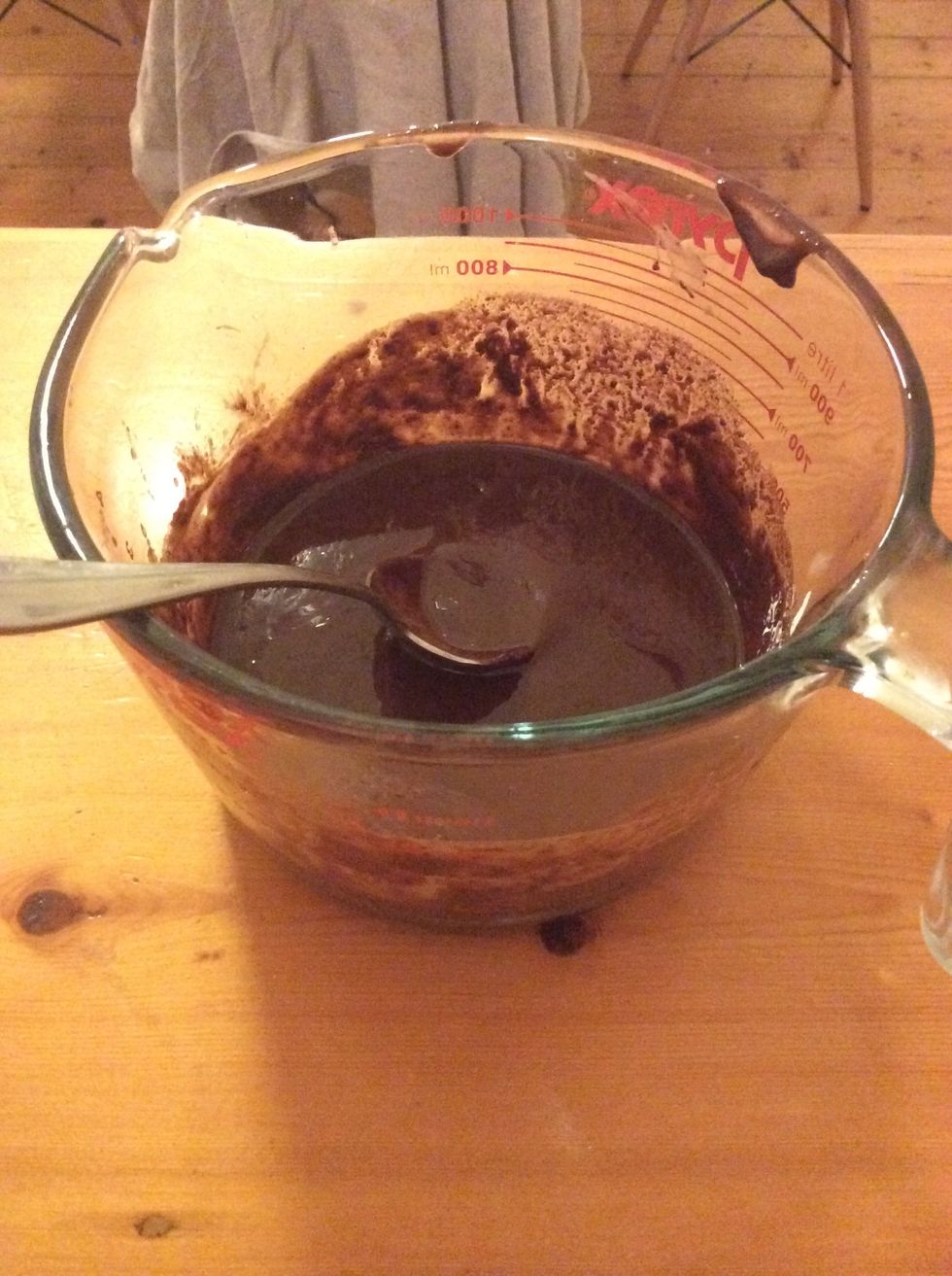 Once melted, stir butter and chocolate to ensure that it is all combined together and not burnt.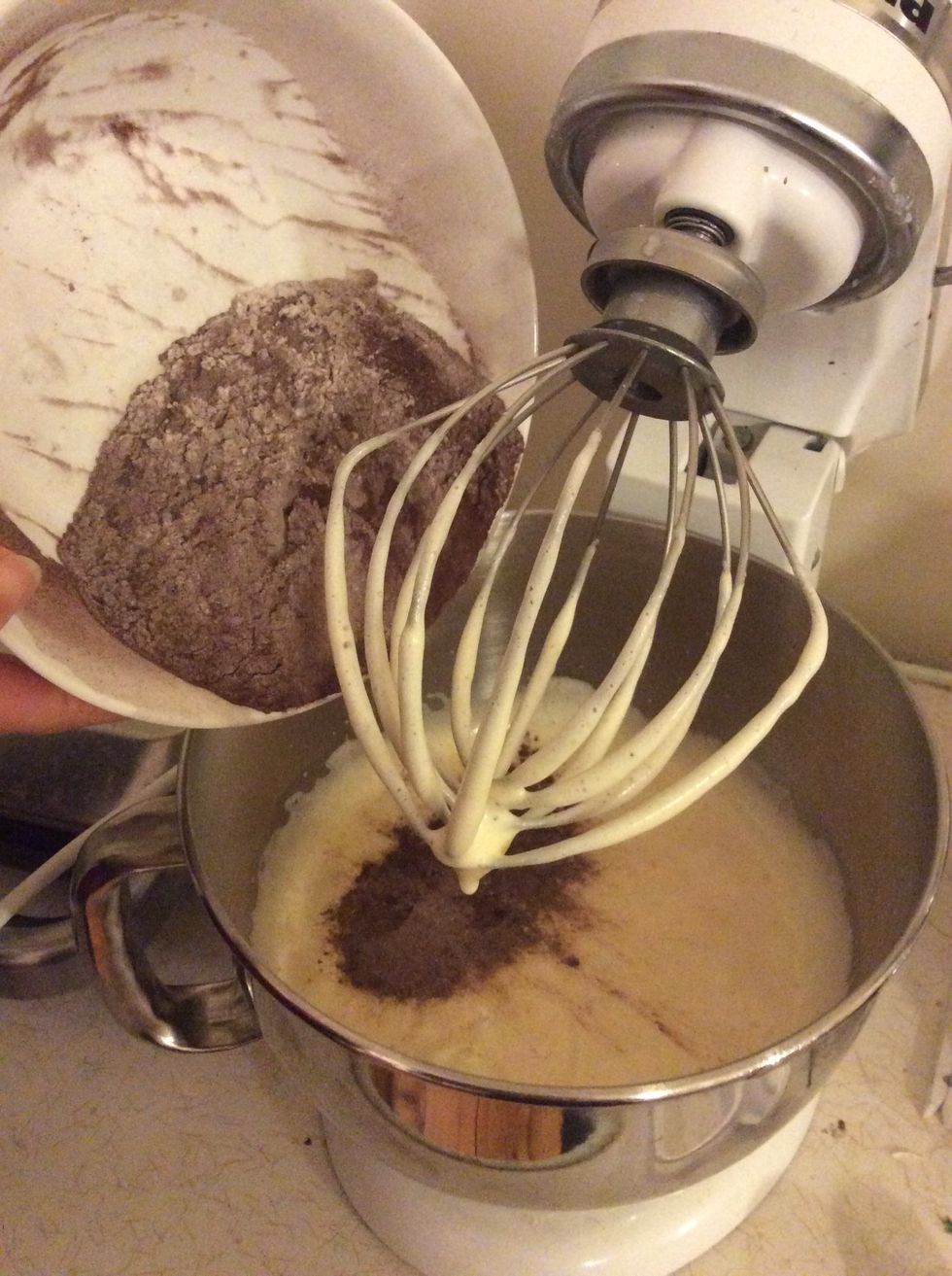 Once the eggs and sugar have turned pale and increased in size, gradually mix slowly or fold in flour and cocoa.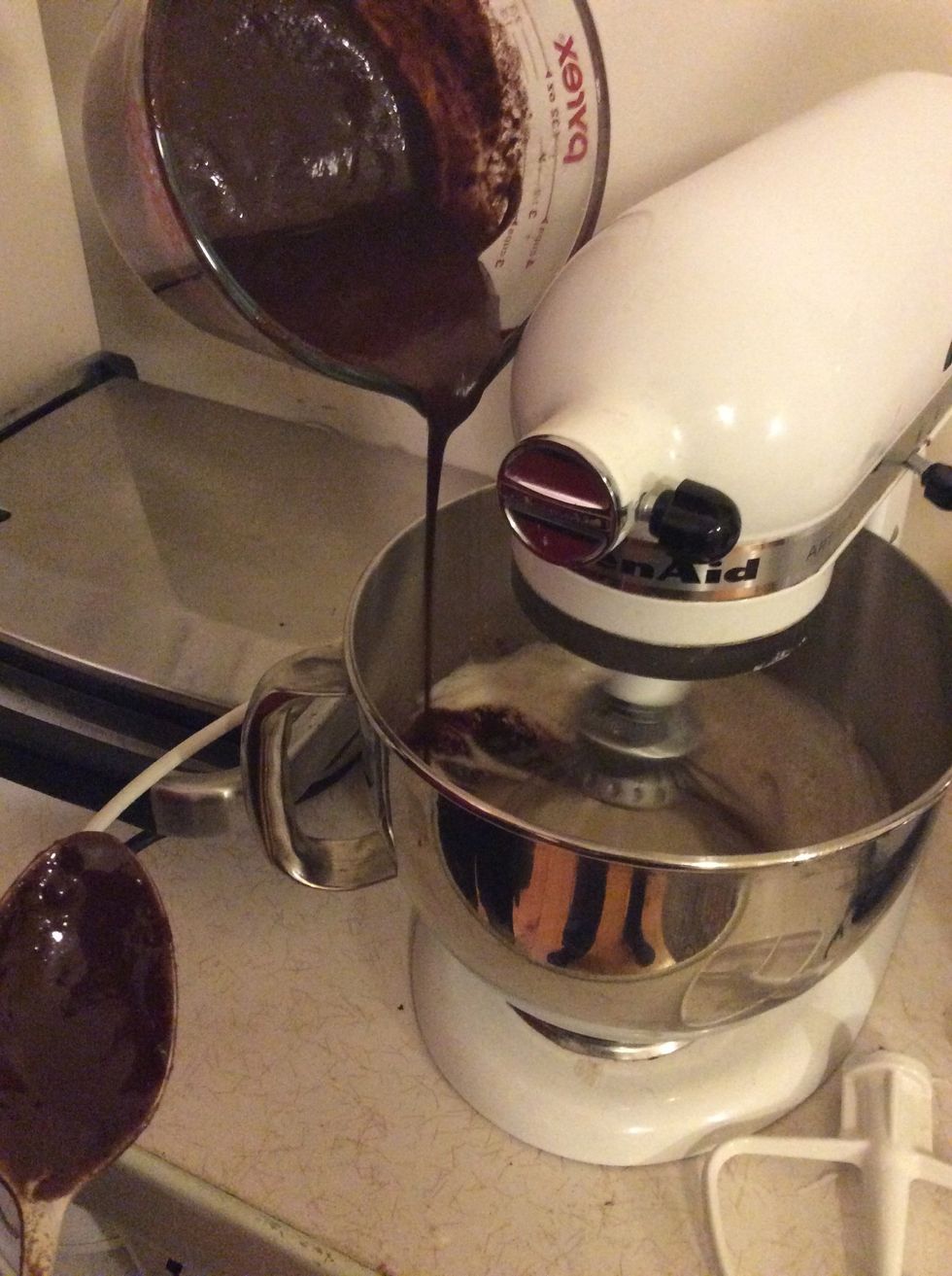 When the flour and cocoa have been added and combined into the mixture, slowly pour in melted chocolate and butter and beat until all well mixed together.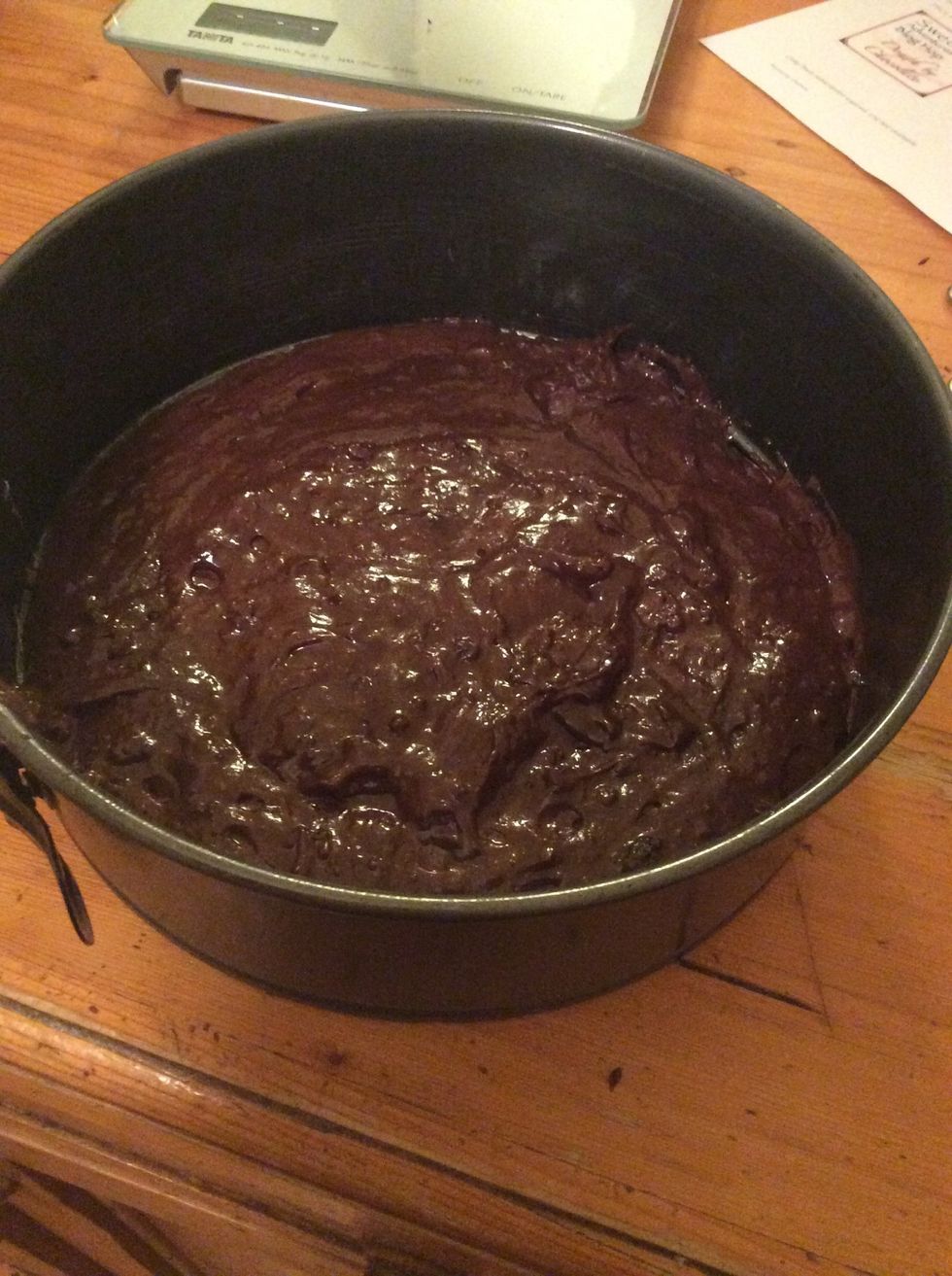 Pour mixture into baking tin and bang to even and spread the mixture out. Put in oven and bake for 25 minutes or until the cake has shrunk away from the side of the tin.
While cake is baking, start preparing the truffle filling. First measure out two cups of cream into a saucepan.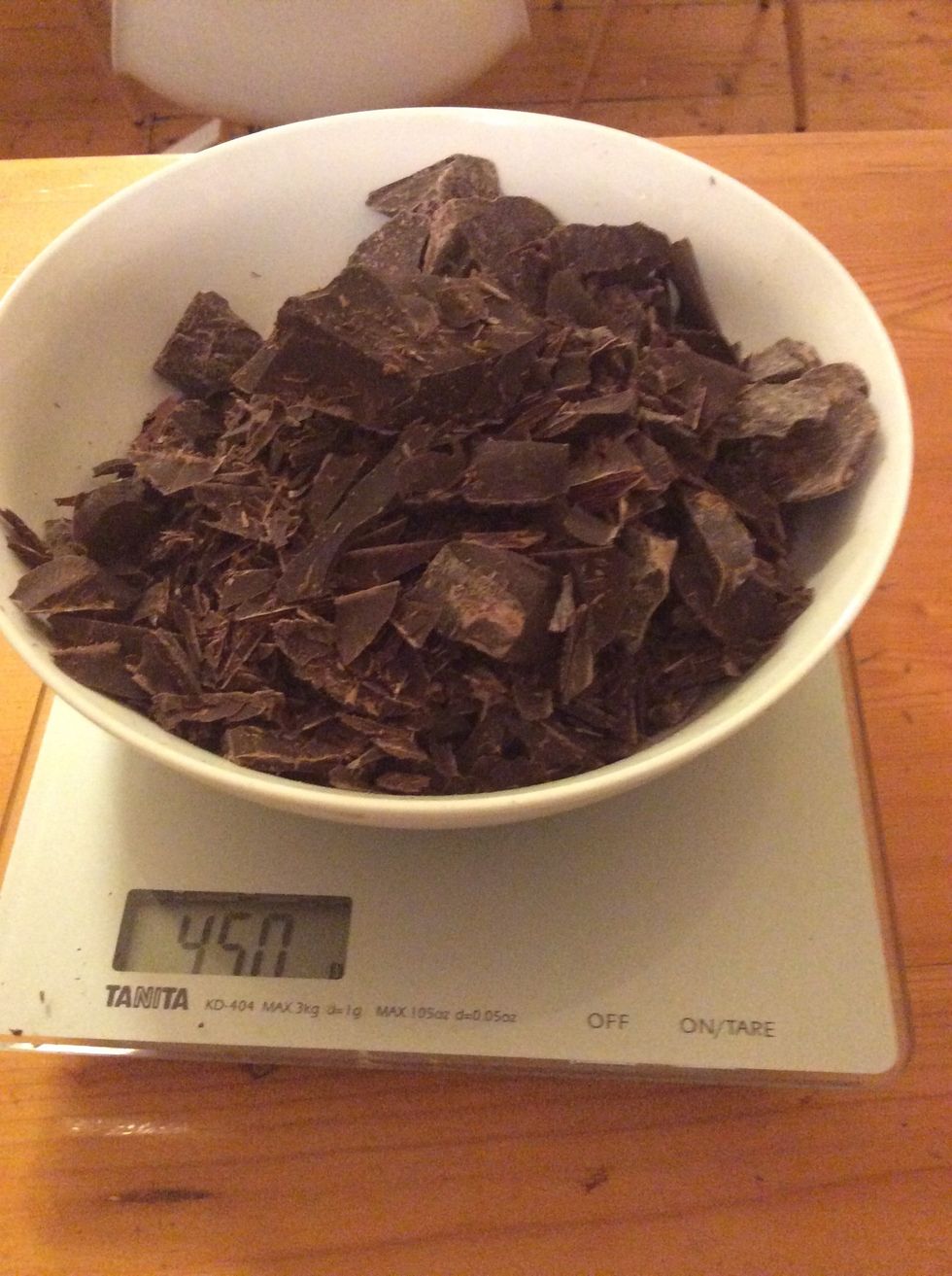 Measure out other amount of dark chocolate into a bowl, this should be finely chopped to melt and combine more easily. This will be put into the saucepan with the cream.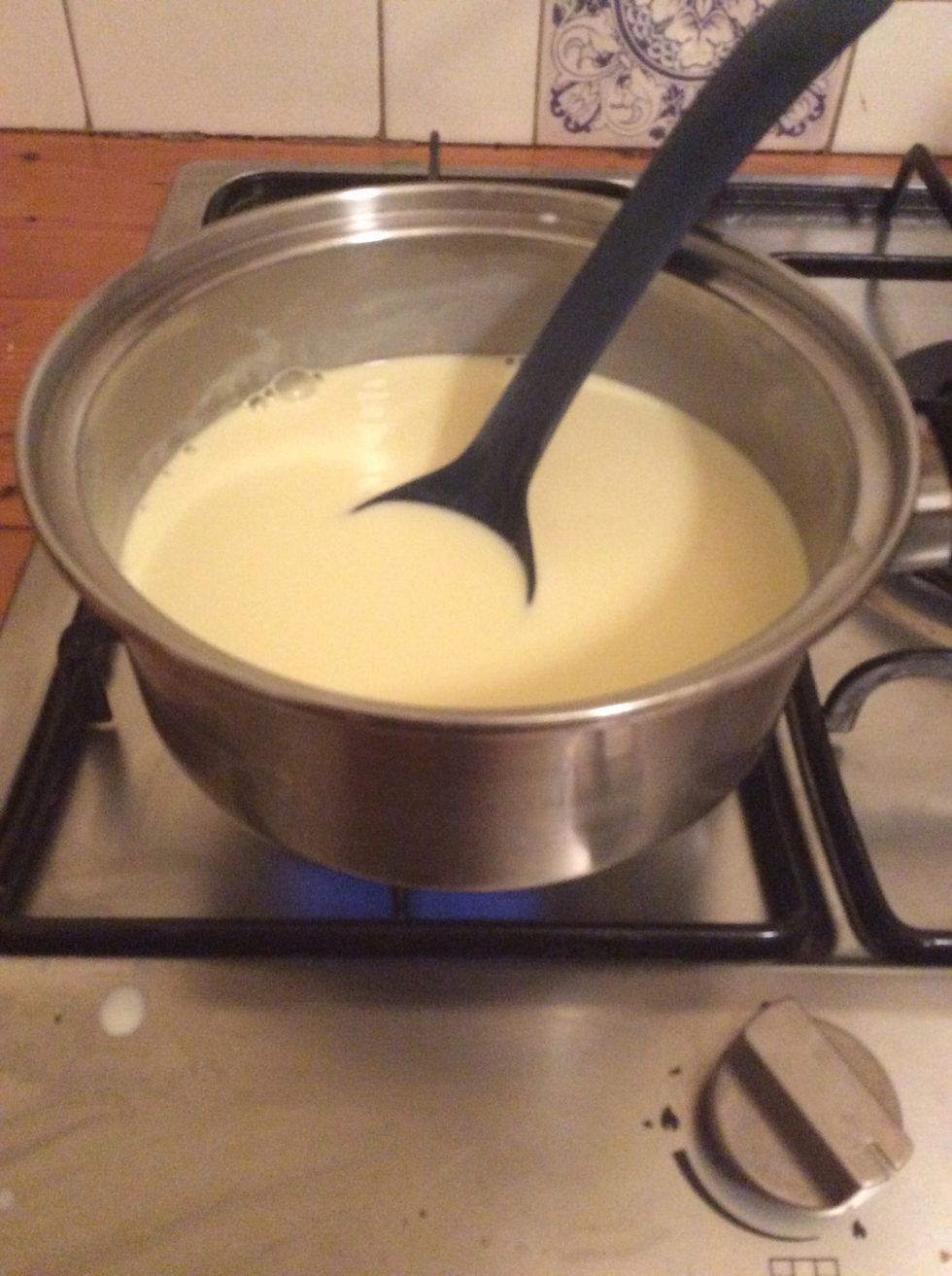 Heat the cream over low heat until almost at boiling point, it should become thicker.
Pour in the chopped dark chocolate to the cream, which should be much thicker by now.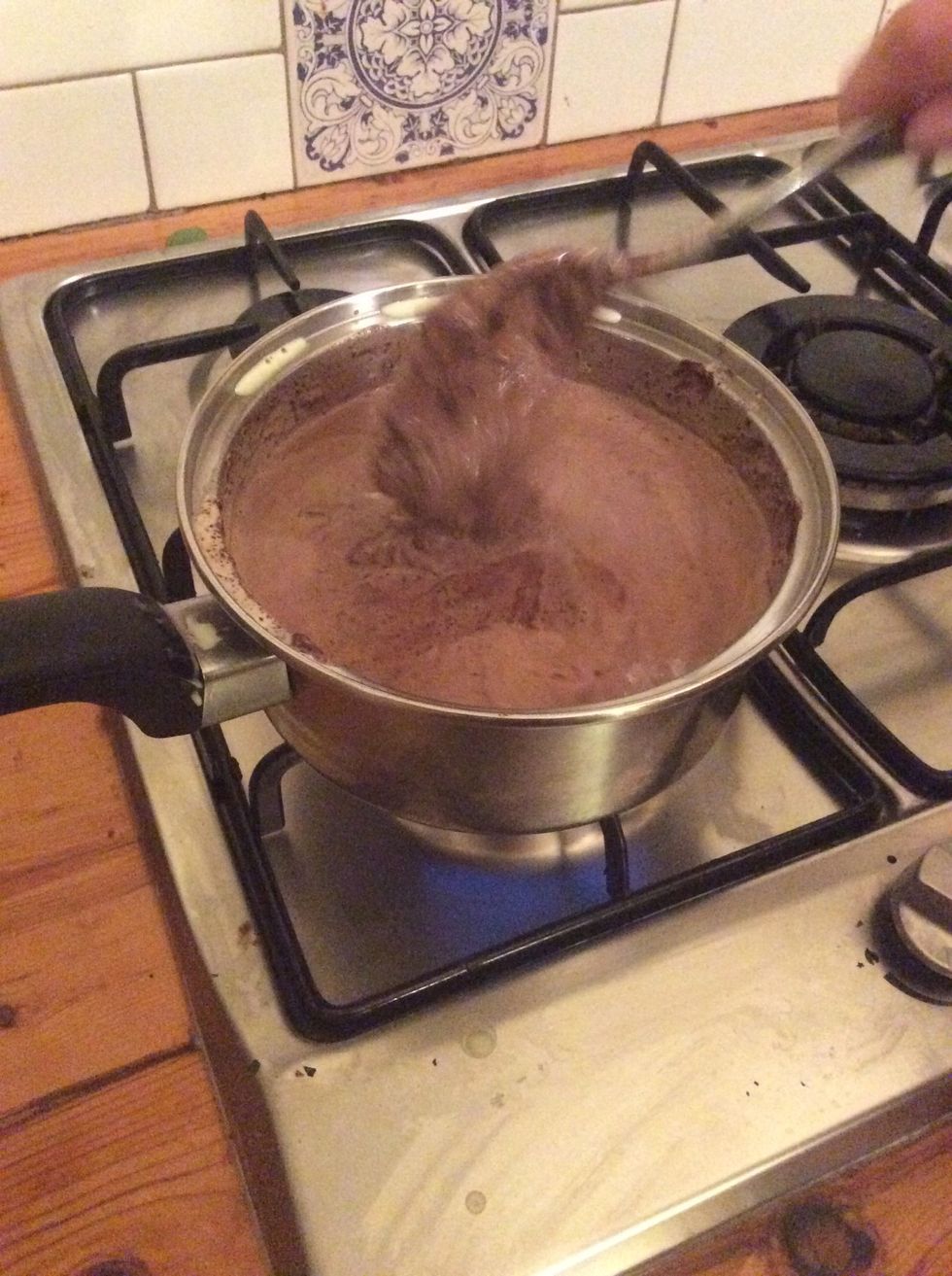 Stir the cream and chocolate with a mixing spoon until chocolate is all melted.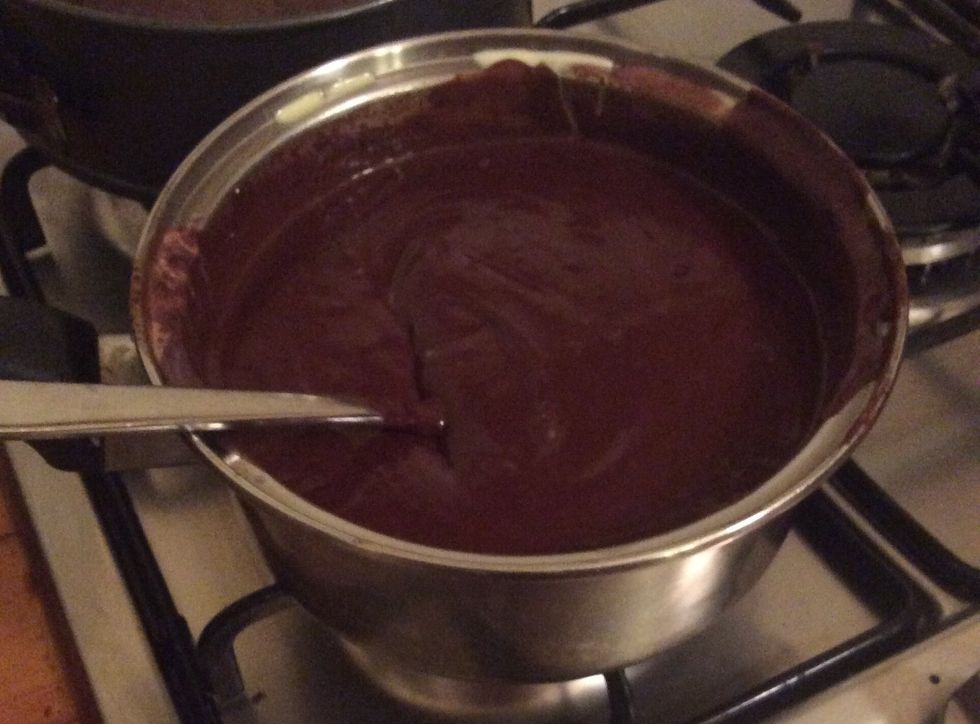 Once chocolate is completely melted and cream has thickened, it should look like this. Take it off the heat and let it cool.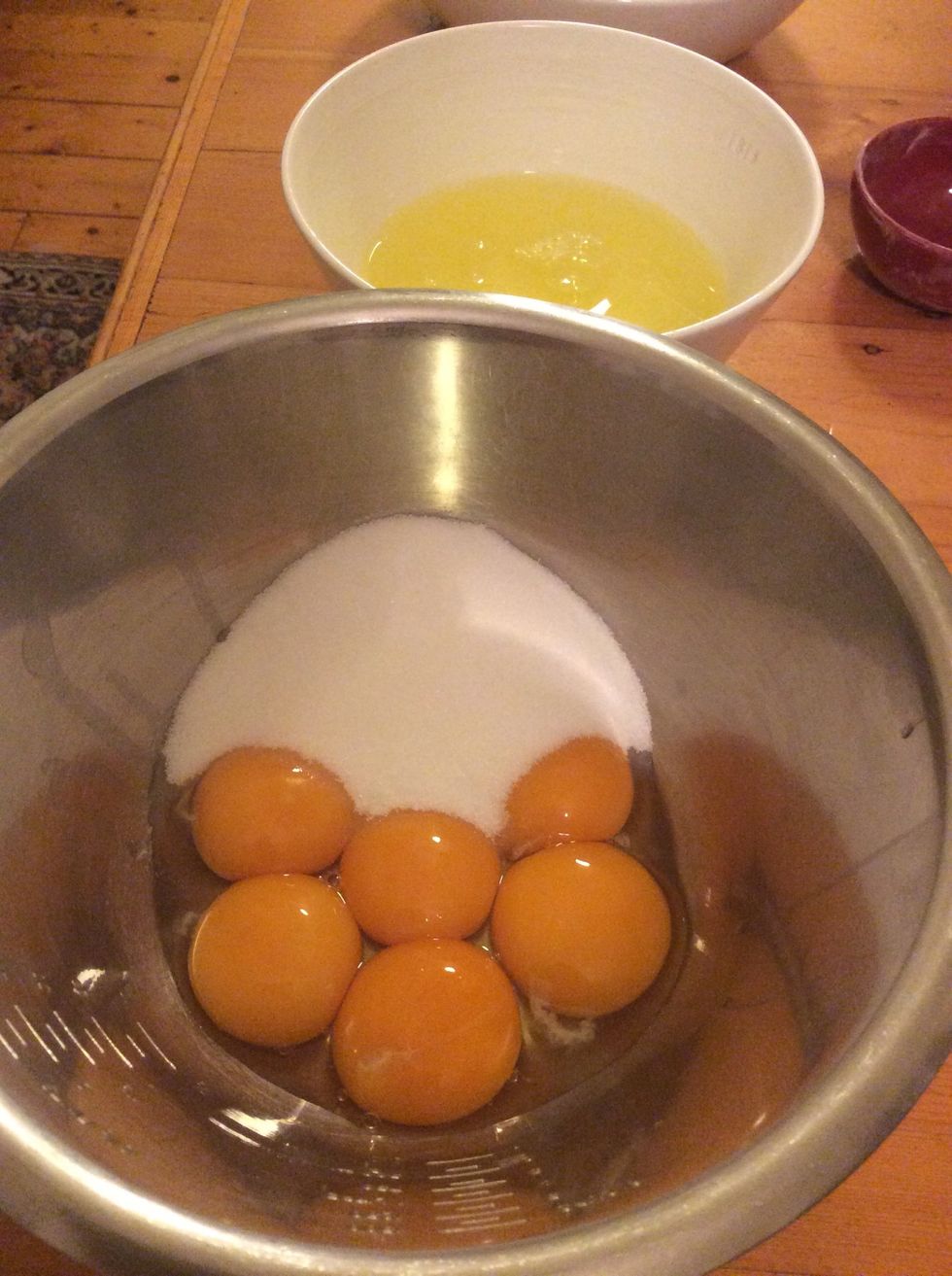 Separate the eggs, collecting the yolks and putting the whites in another bowl. Add the sugar to the bowl.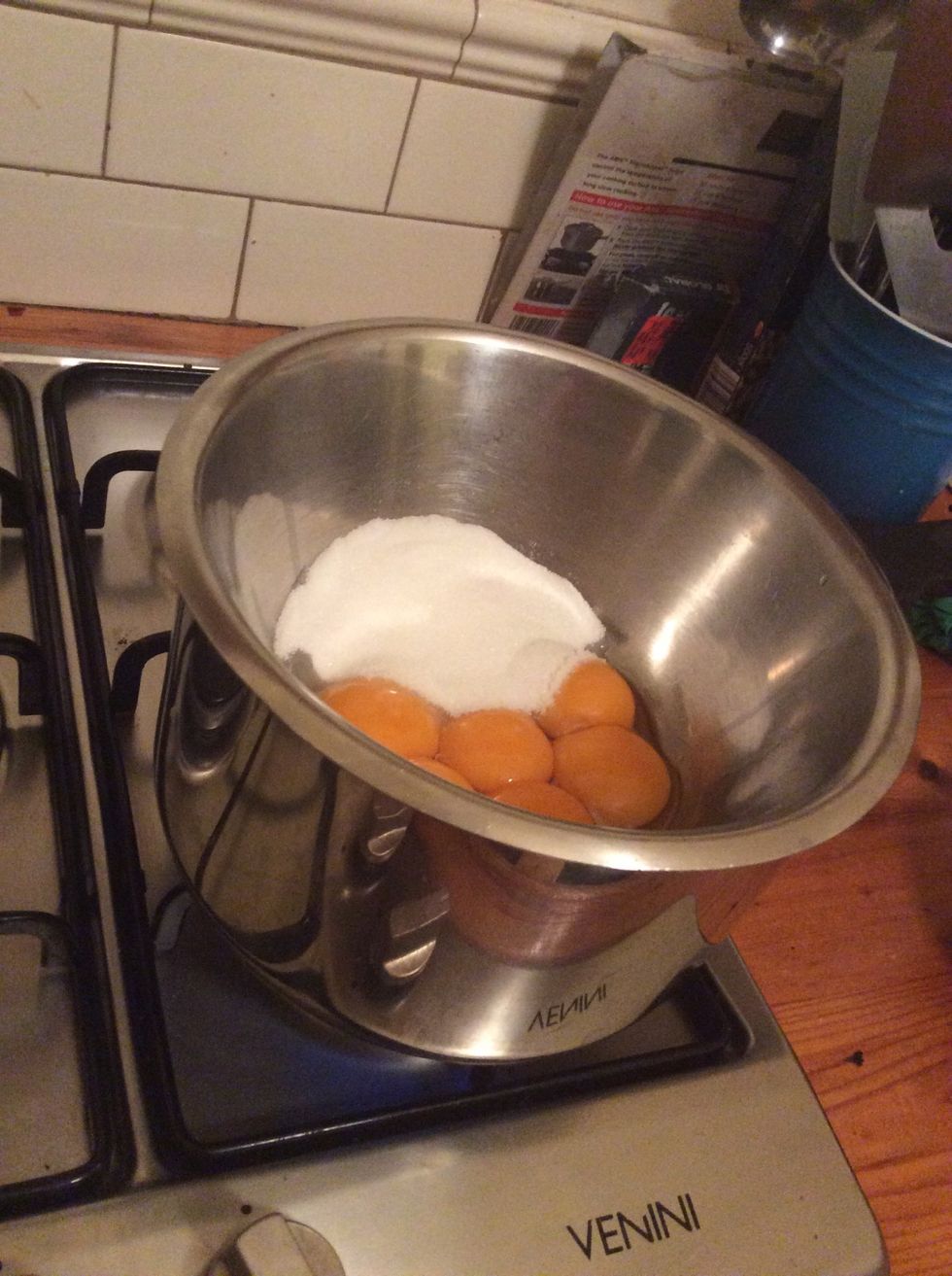 Place bowl over a saucepan of simmering water to form a 'Bain Marie'.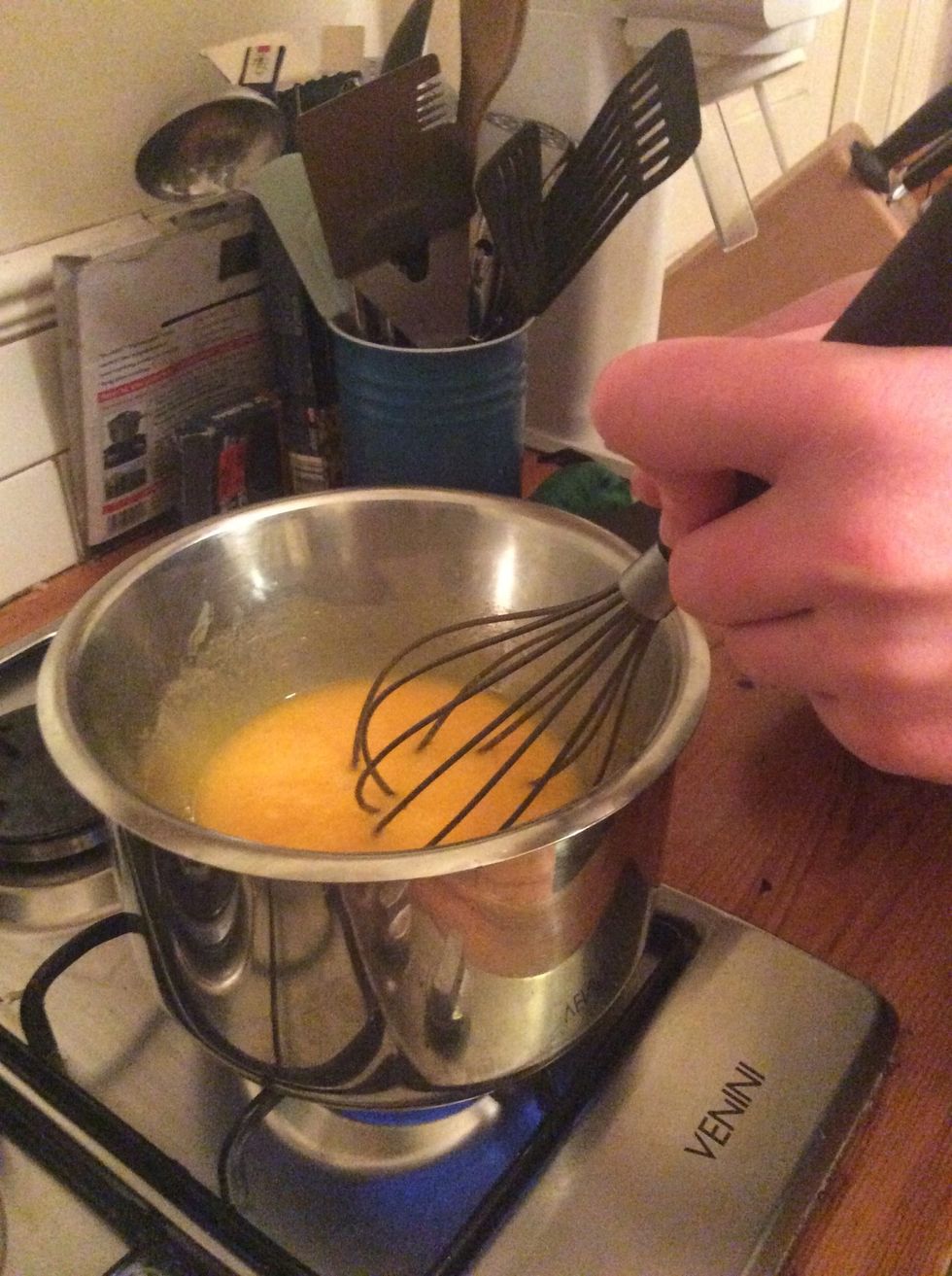 Whisk yolks and sugar for 6 minutes until thickened and creamy.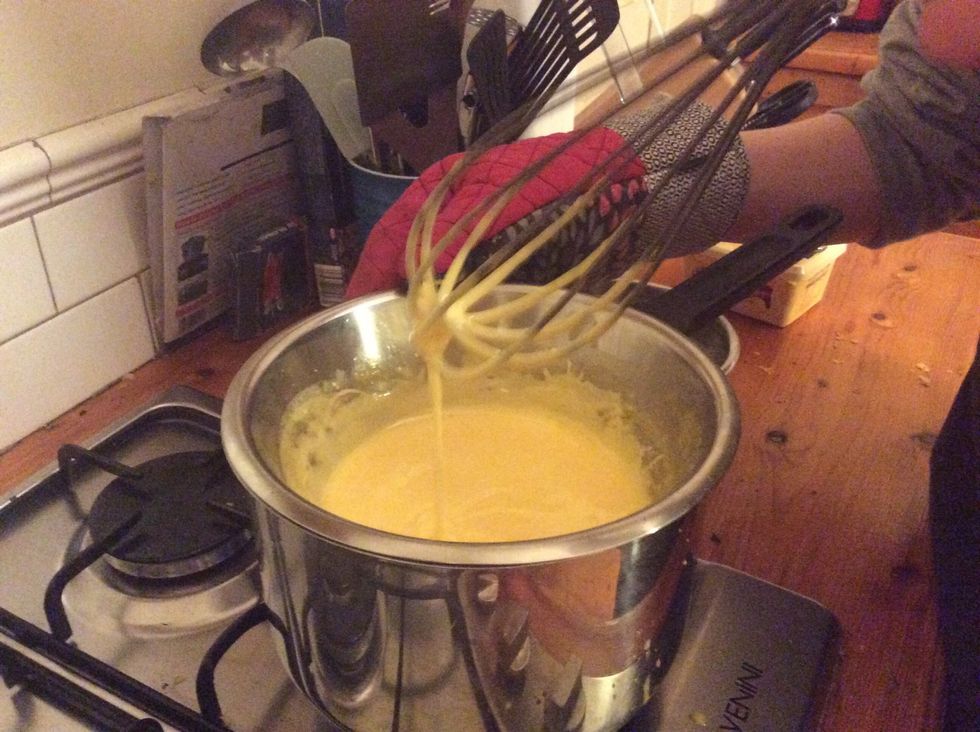 Once the egg yolks and sugar have thickened, lift whisk up to check the consistency. It should look like this.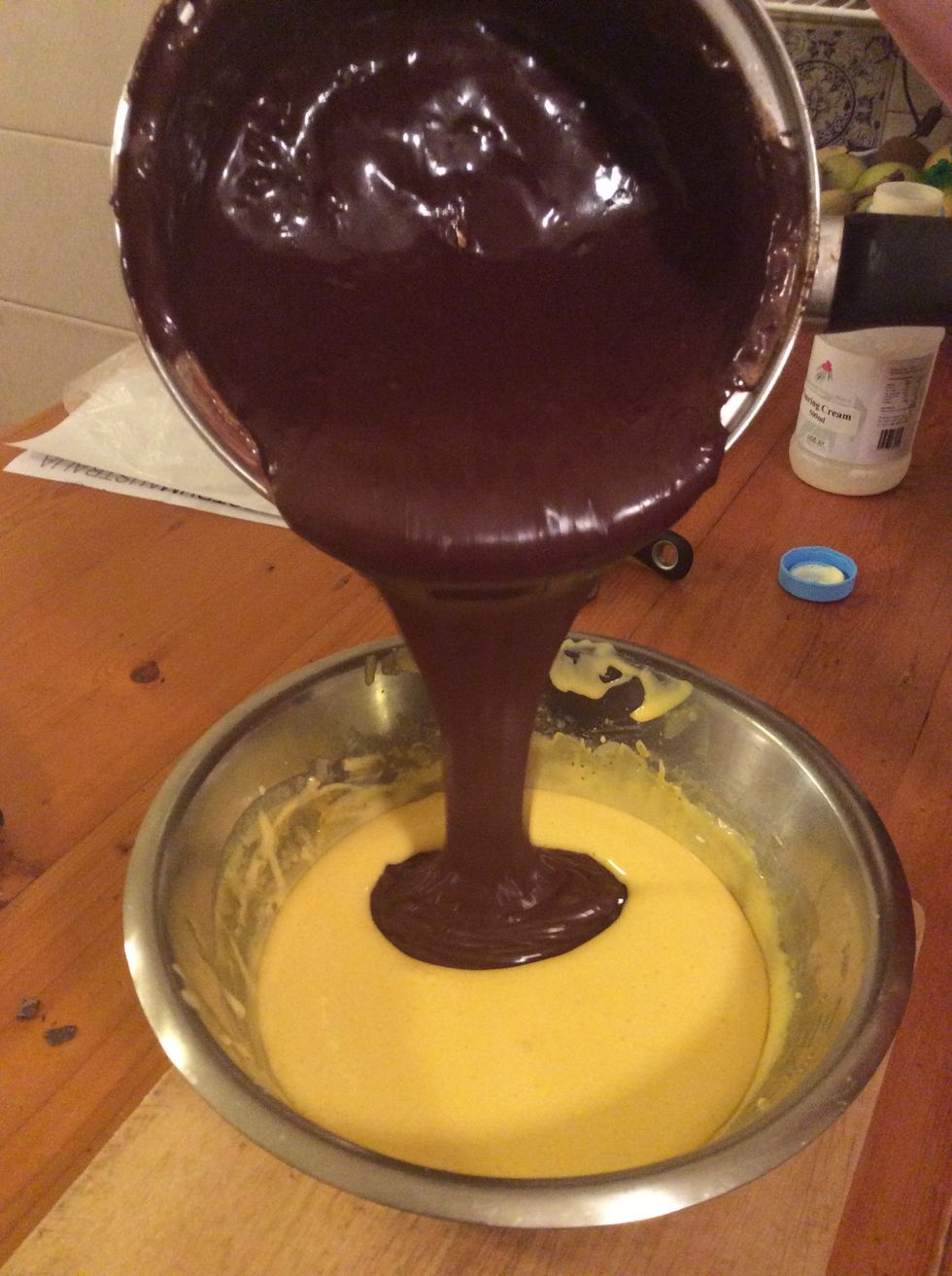 Gradually pour melted chocolate and cream into the yolks and sugar mixture and mix.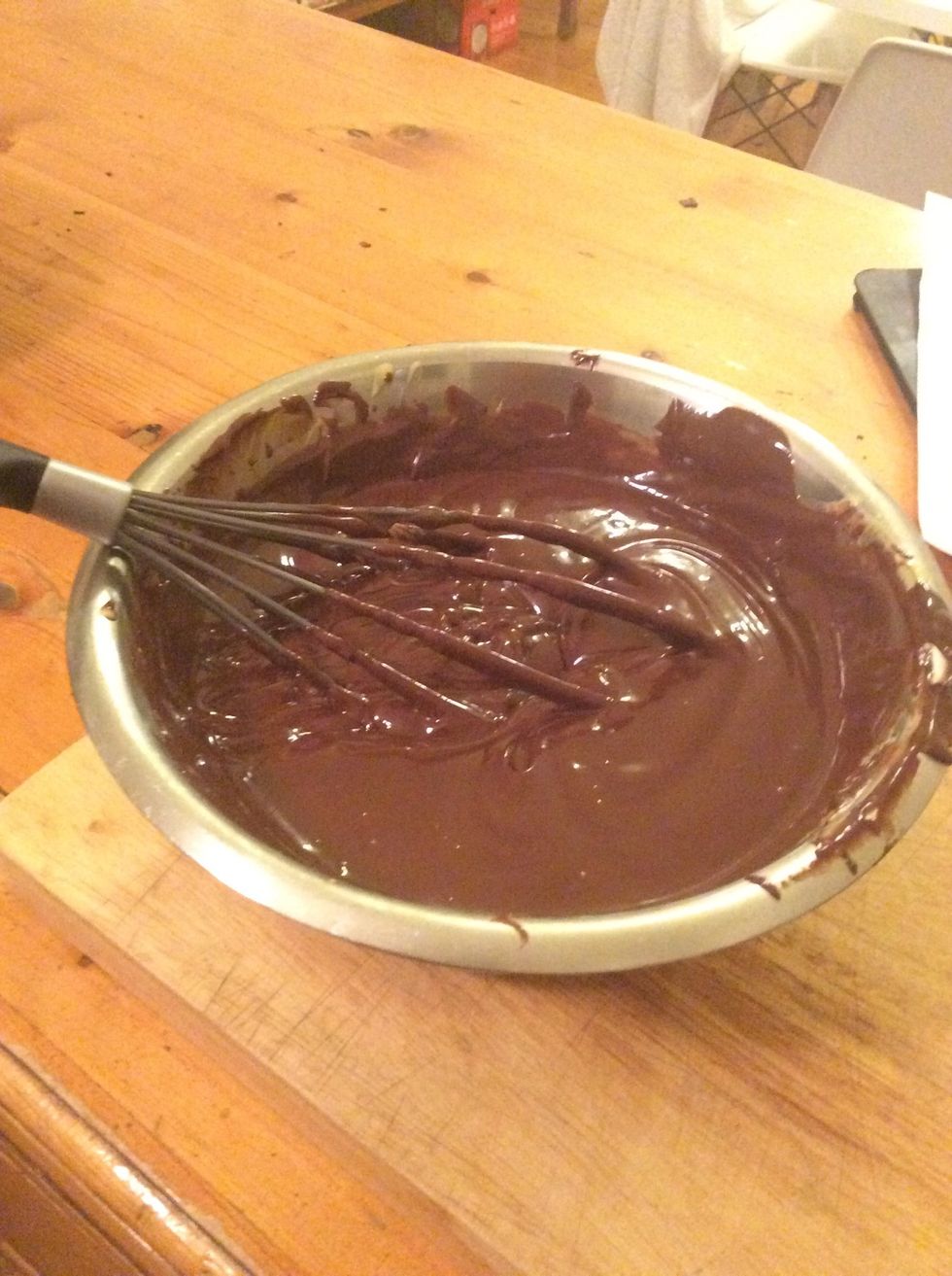 Mix with a whisk until it looks like this and starts to become cool.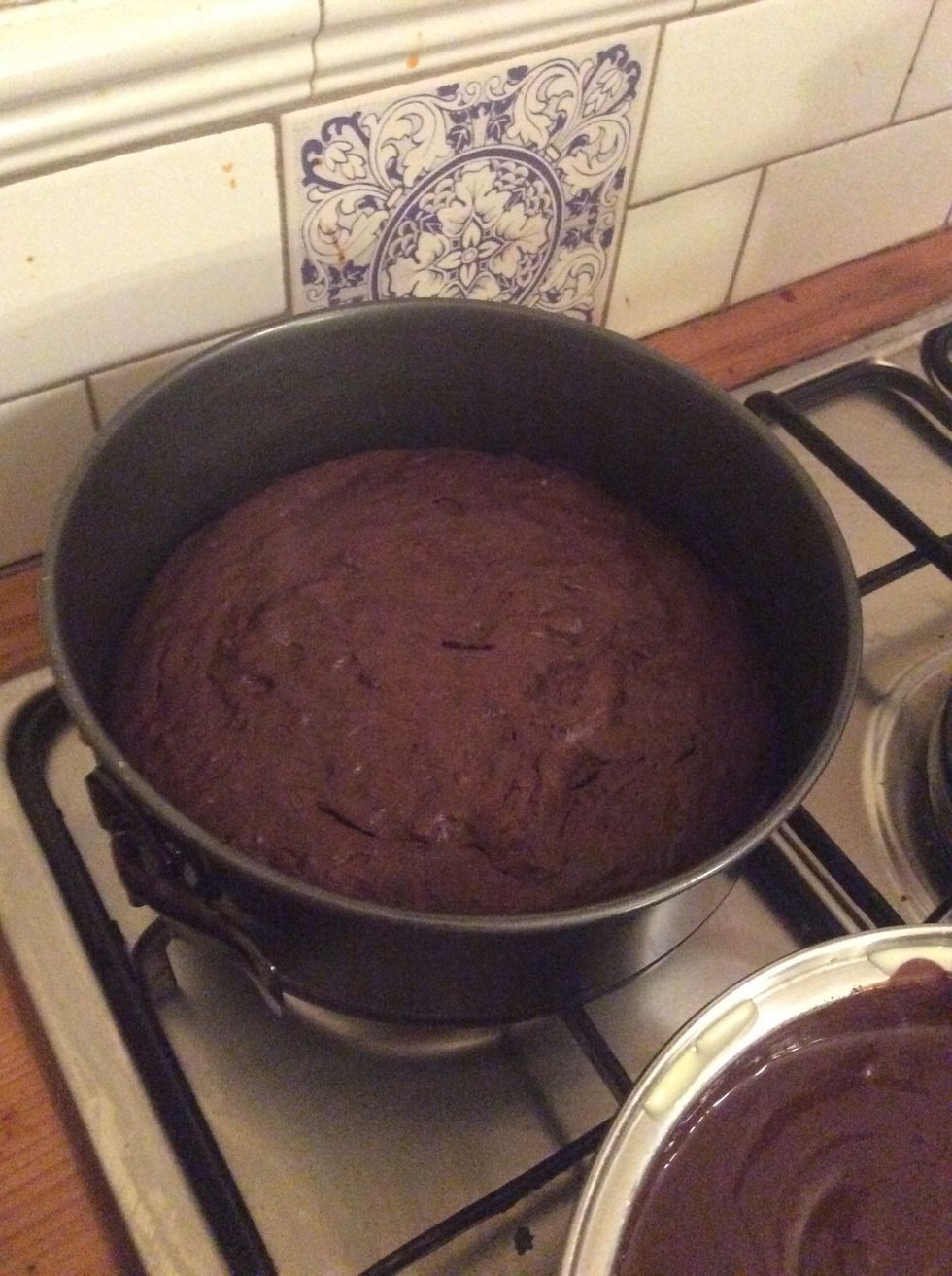 Take cake out of oven and set aside to cool.
Place truffle filling in fridge for 30 minutes.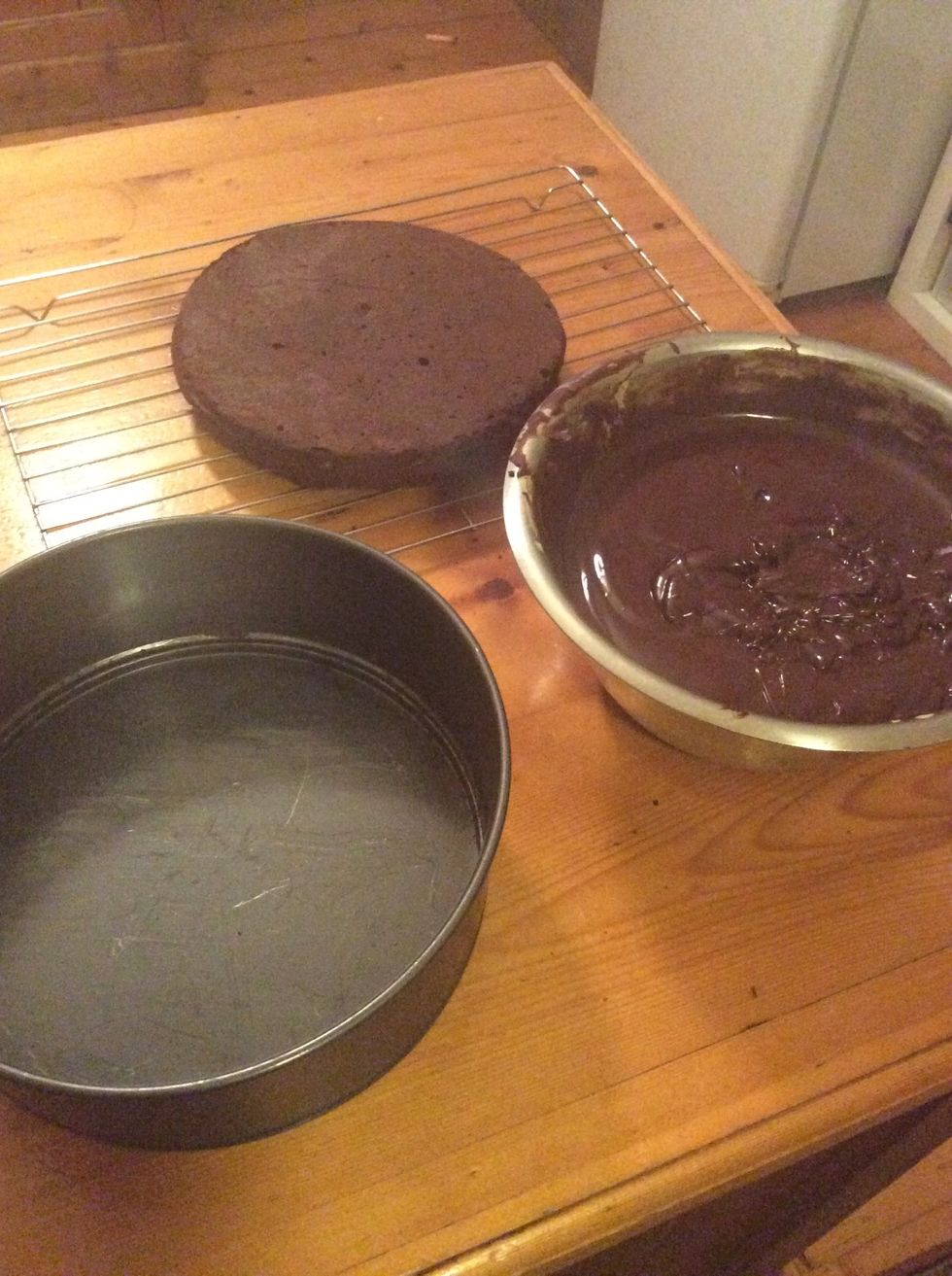 After 30 minutes, take truffle filling out of fridge and get ready to assemble the cake.
Slice cake into two even portions with a large knife. Lay bottom half in cake tin.
Pour half of the truffle filling onto the bottom half of the cake and spread around.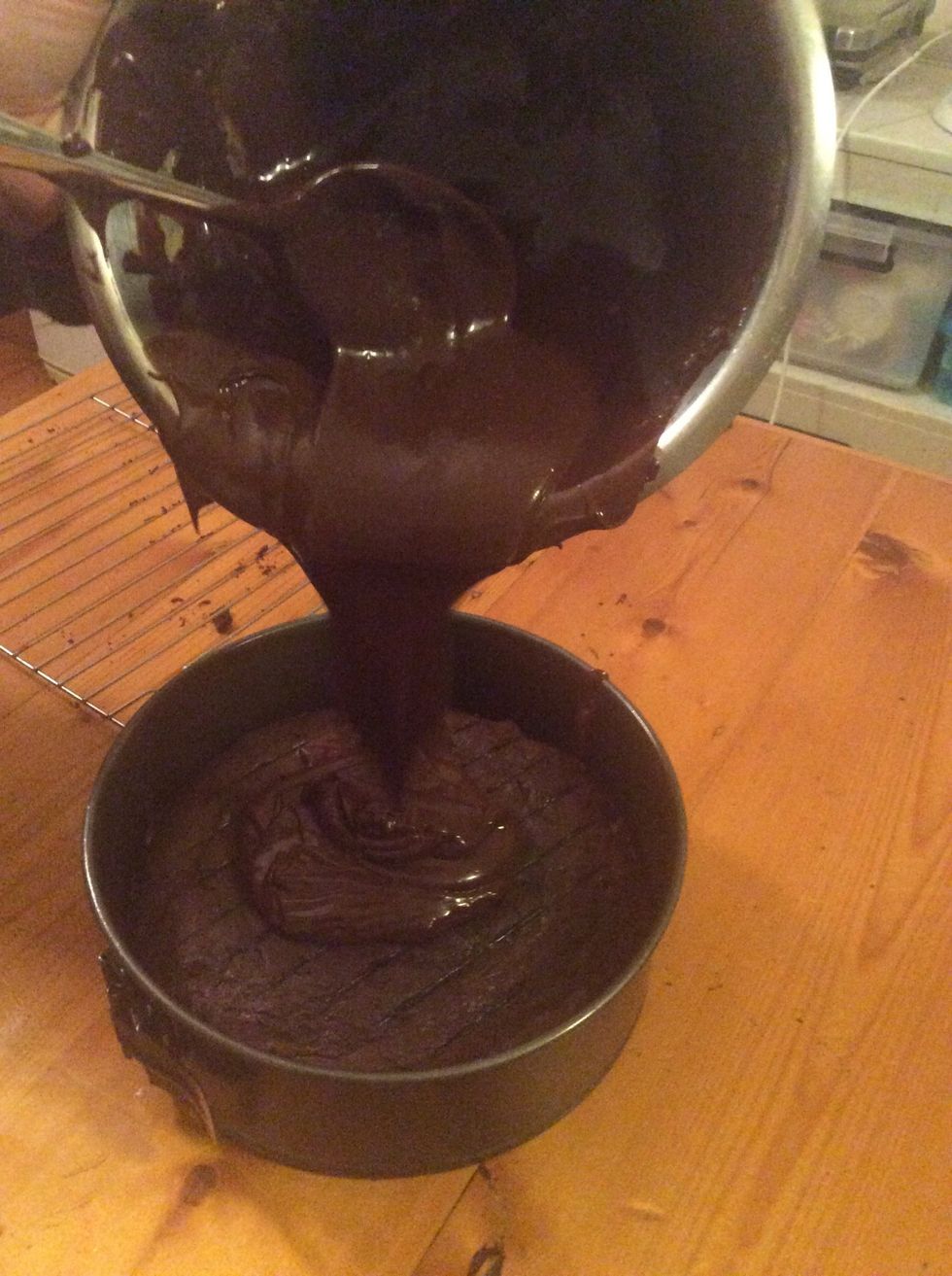 Lay the top portion on and coat with the remaining truffle filling.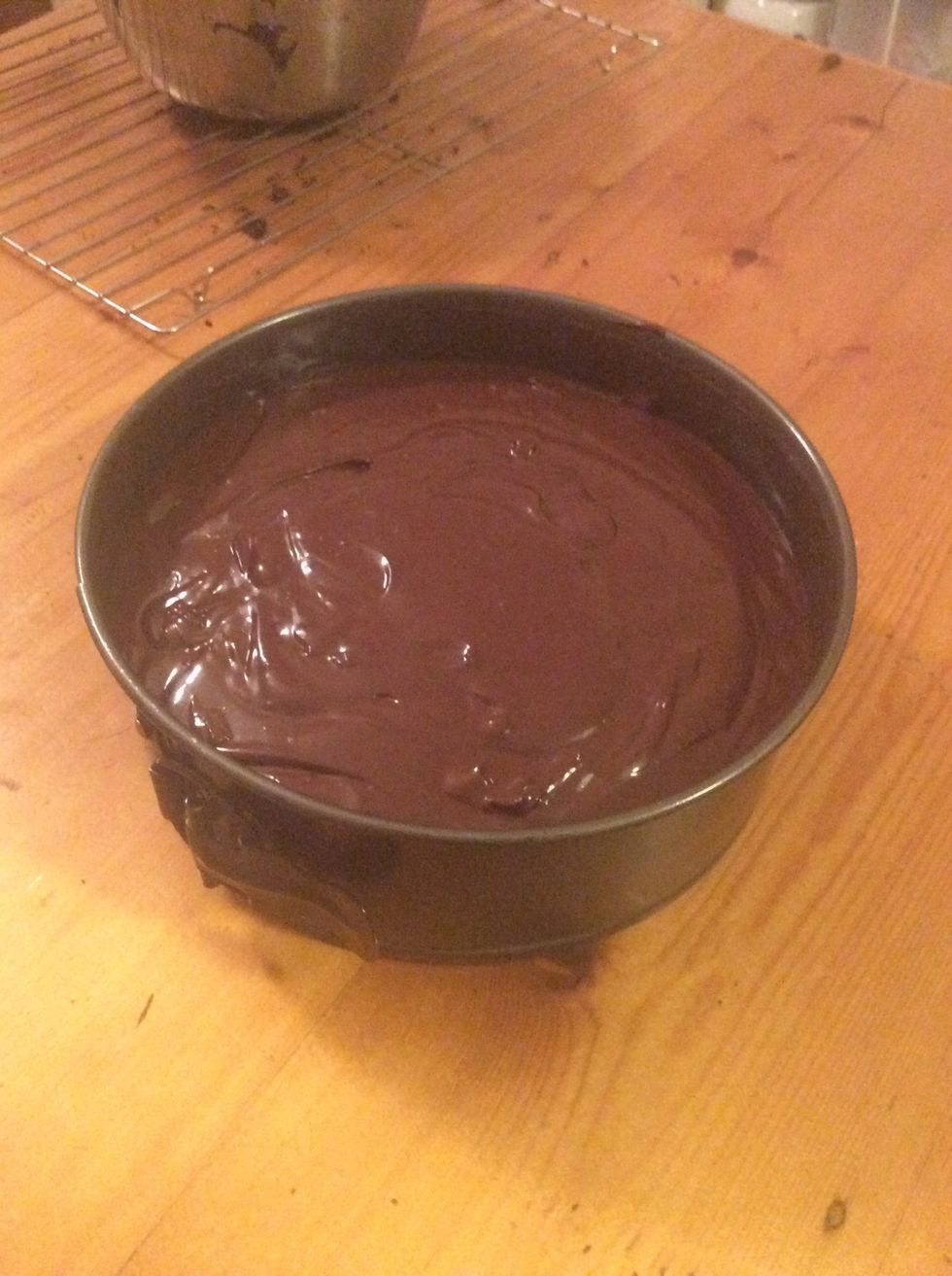 Bang cake on bench or kitchen workspace to level out filling or even it with an icing or cake knife.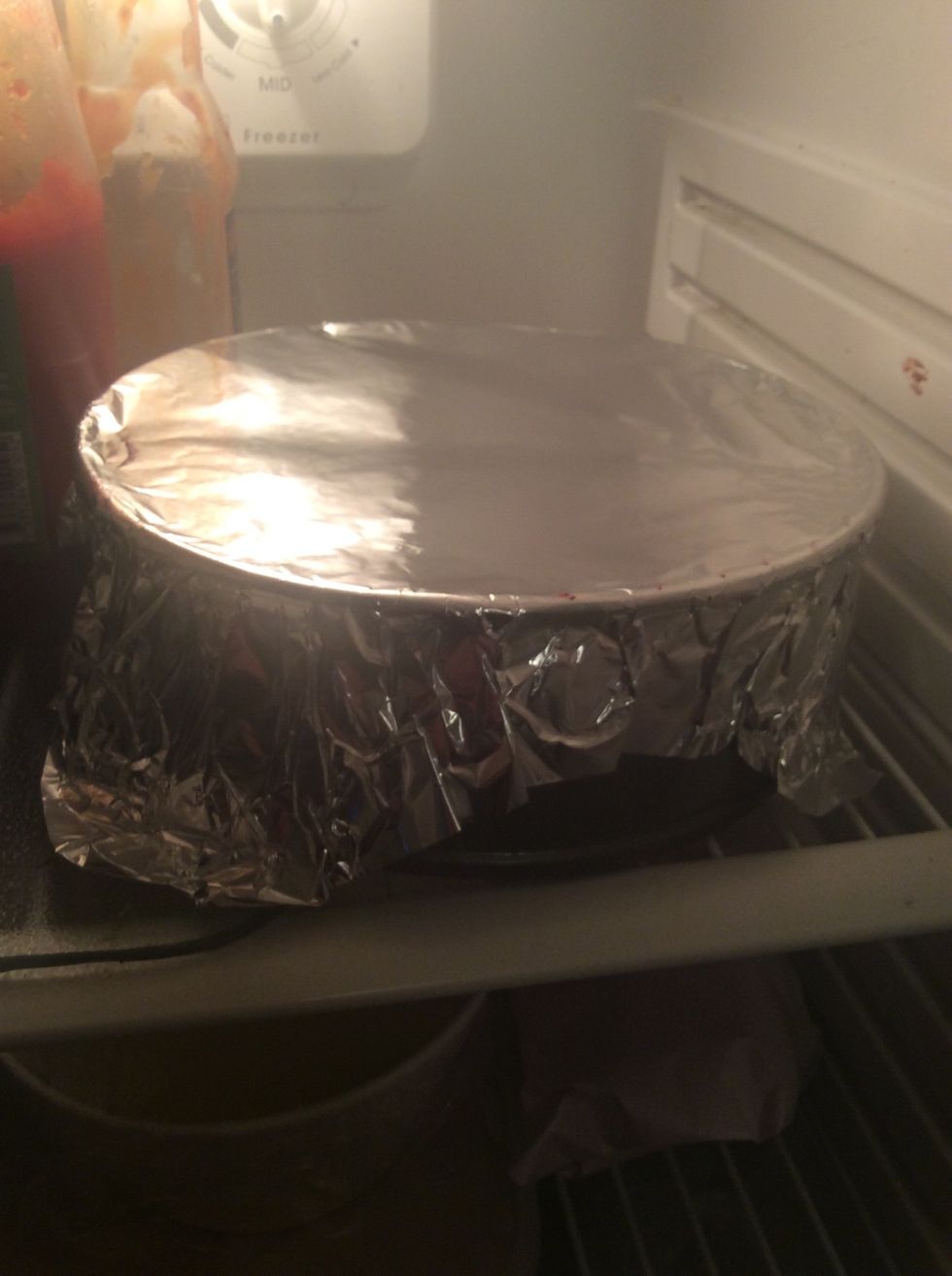 Place tin foil or glad wrap over the tin and refrigerate for at least 5 hours or until set like a mousse or ganache.
Take cake out of tin using a warm knife and place on large plate.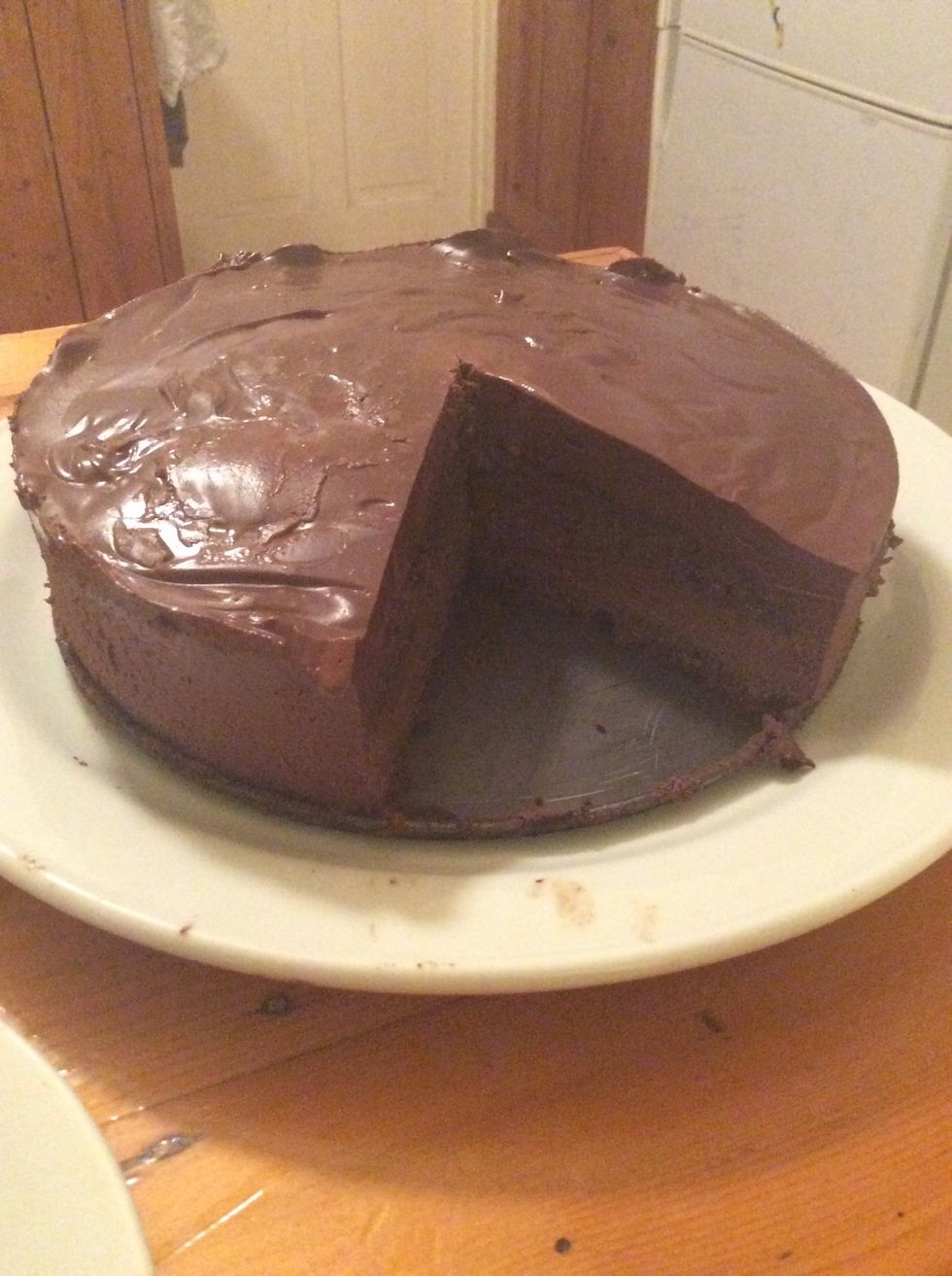 Cut slices out of cake to serve.
Serve on a plate with nothing, or alternatively, whatever your desire! Enjoy!
CAKE
1/2c Plain Flour
2.0Tbsp Cocoa Powder
1/3c Caster Sugar
4.0 Eggs
80.0g Butter, melted
100.0g Dark Chocolate, melted
TRUFFLE FILLING
450.0g Dark Chocolate
2.0c Pouring Cream
6.0 Egg Yolks
1/3c Caster Sugar