Make Chocolate Ice Cream Cake Cones
11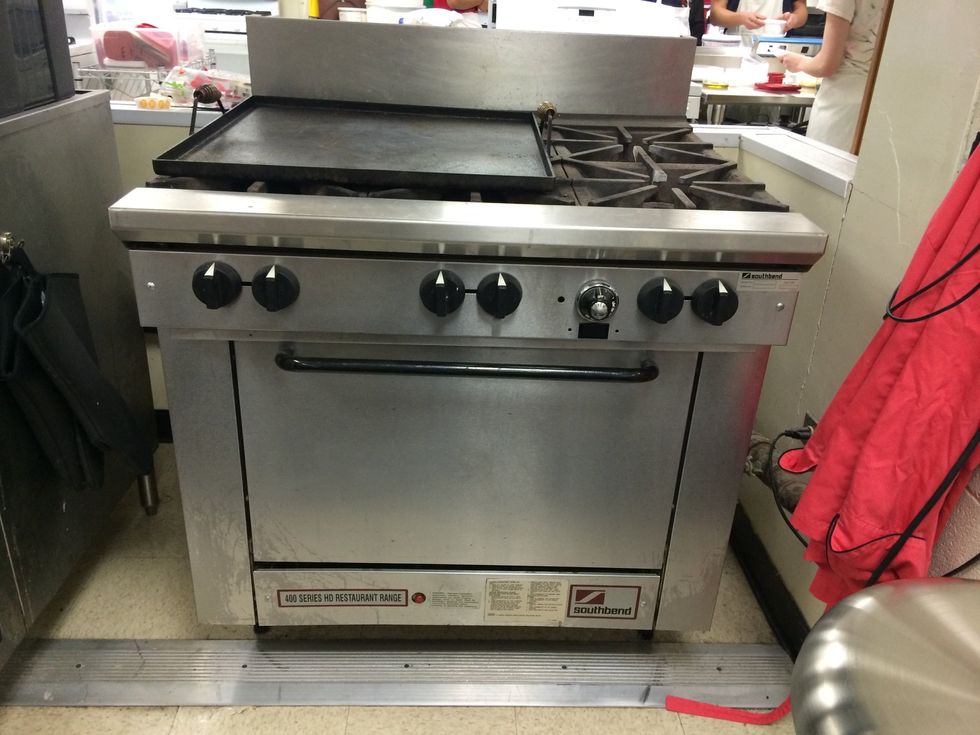 Preheat your oven to 350 degrees while you assemble your ingredients for the mint chocolate chip ice cream, chocolate cake, and vanilla buttercream frosting,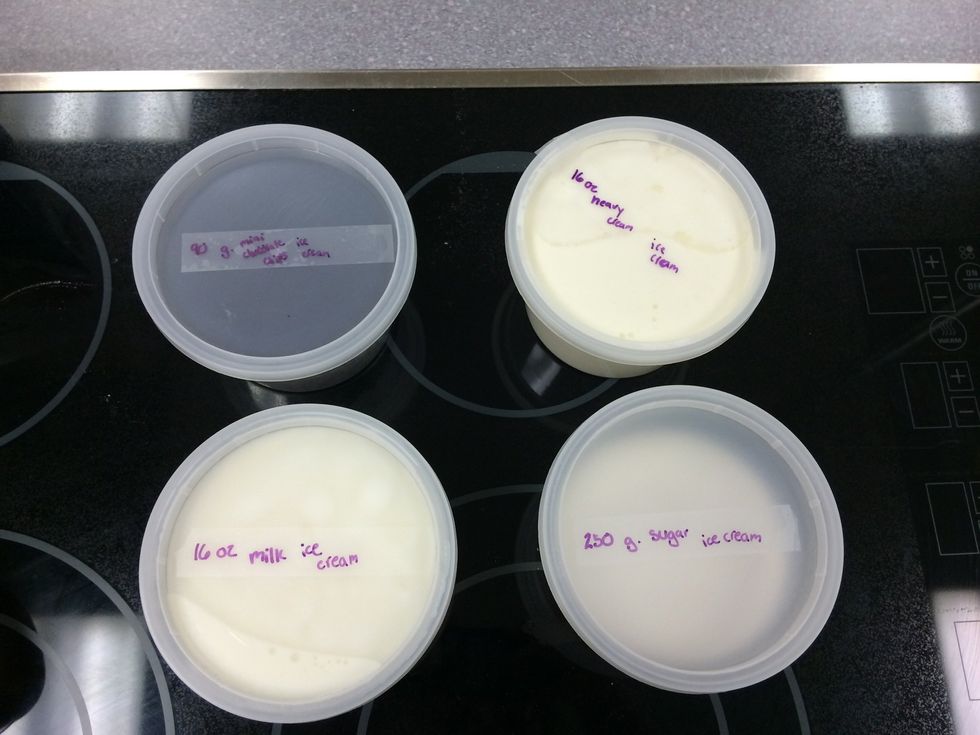 Collect your items for the mint chocolate chip ice cream. (16 oz 2% milk, 16 oz heavy cream, 250 g sugar, and 90 g mini semisweet chocolate chips)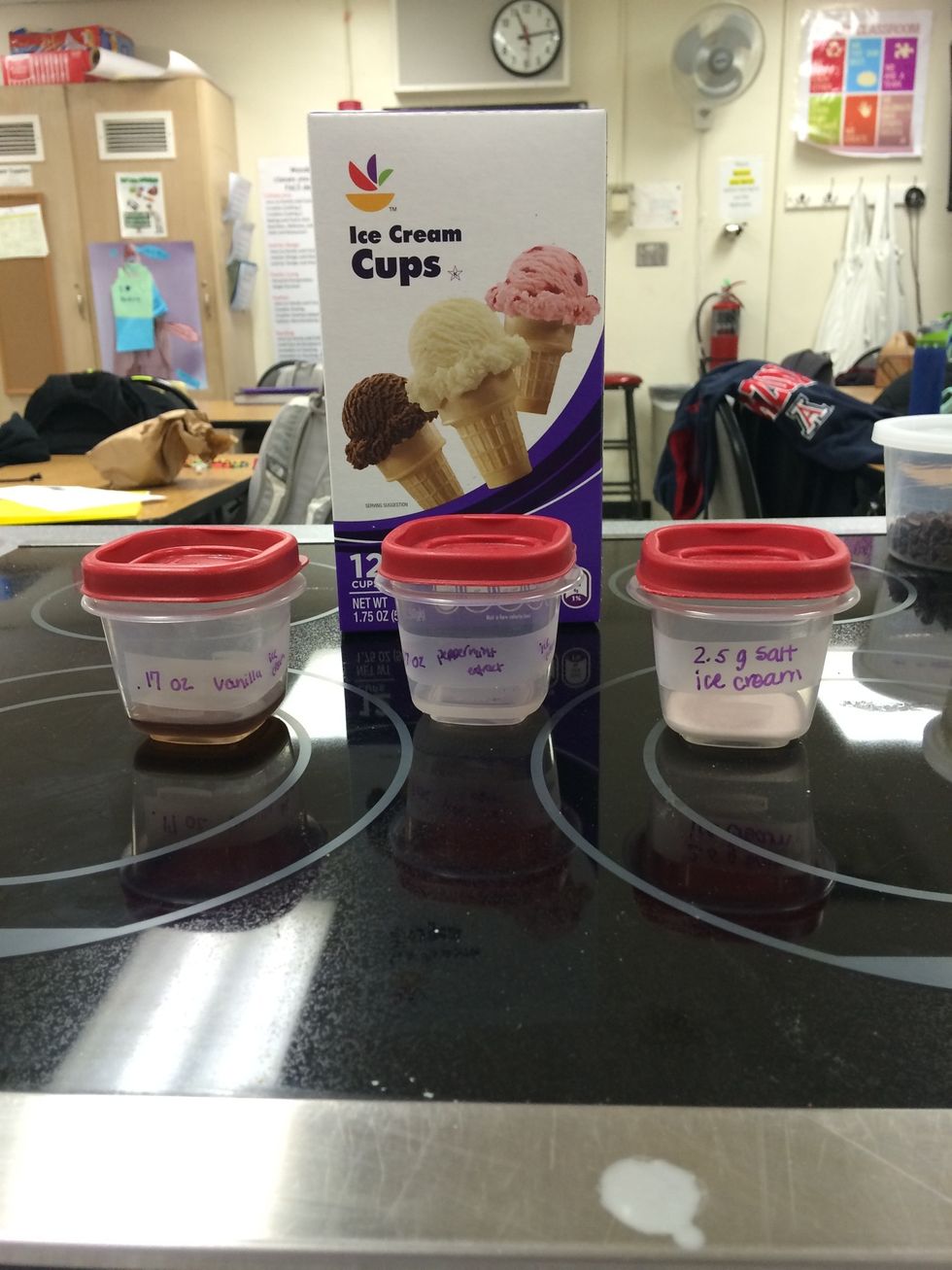 Mint chocolate chip ingredients continued. (2.5 g salt, .17 oz peppermint extract, .17 oz vanilla extract, and 1 box of ice cream cones)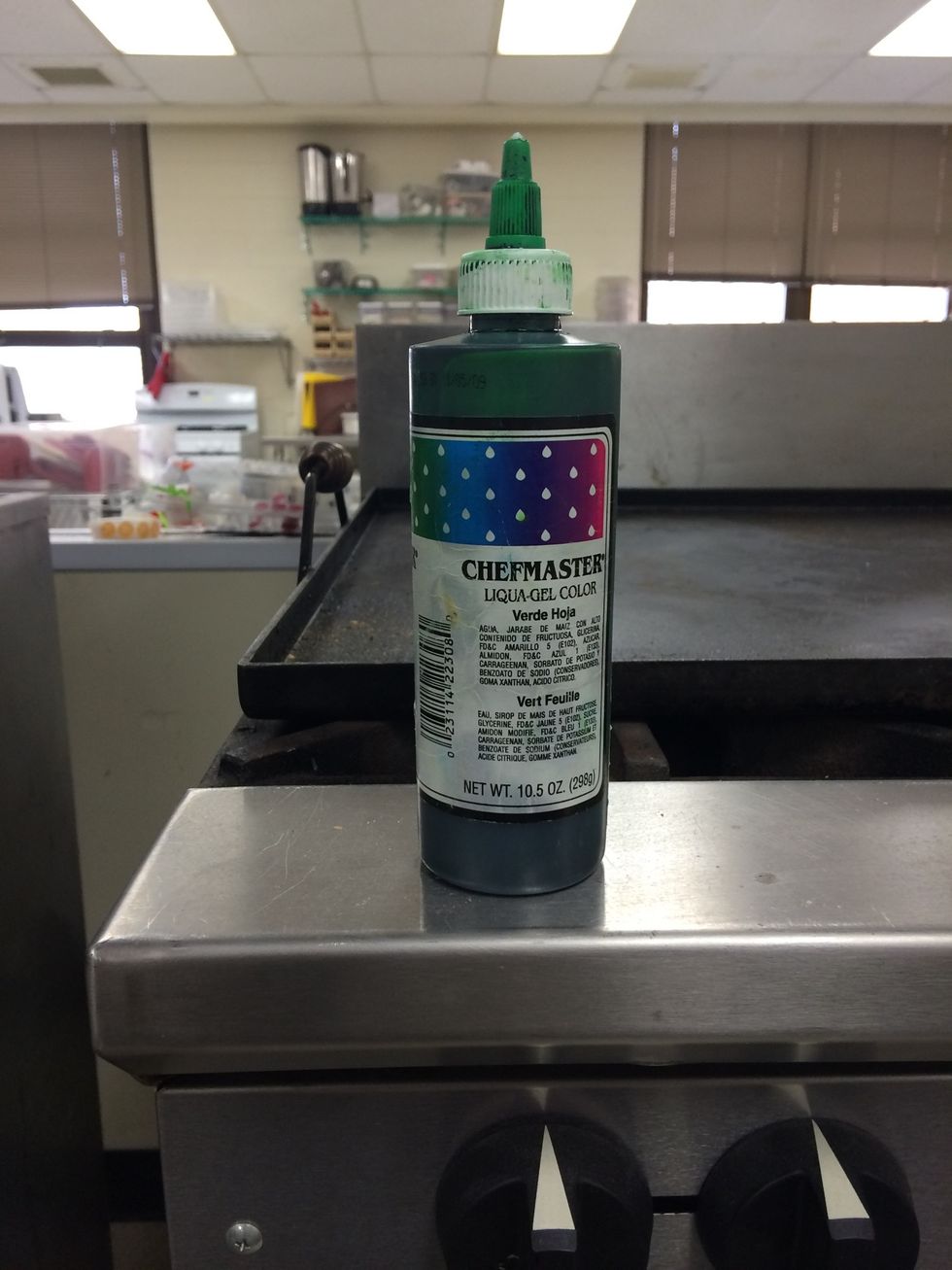 To color your ice cream, use green food coloring. Add desired amounts depending how dark or light you want your ice cream to be. We recommend 3-4 drops.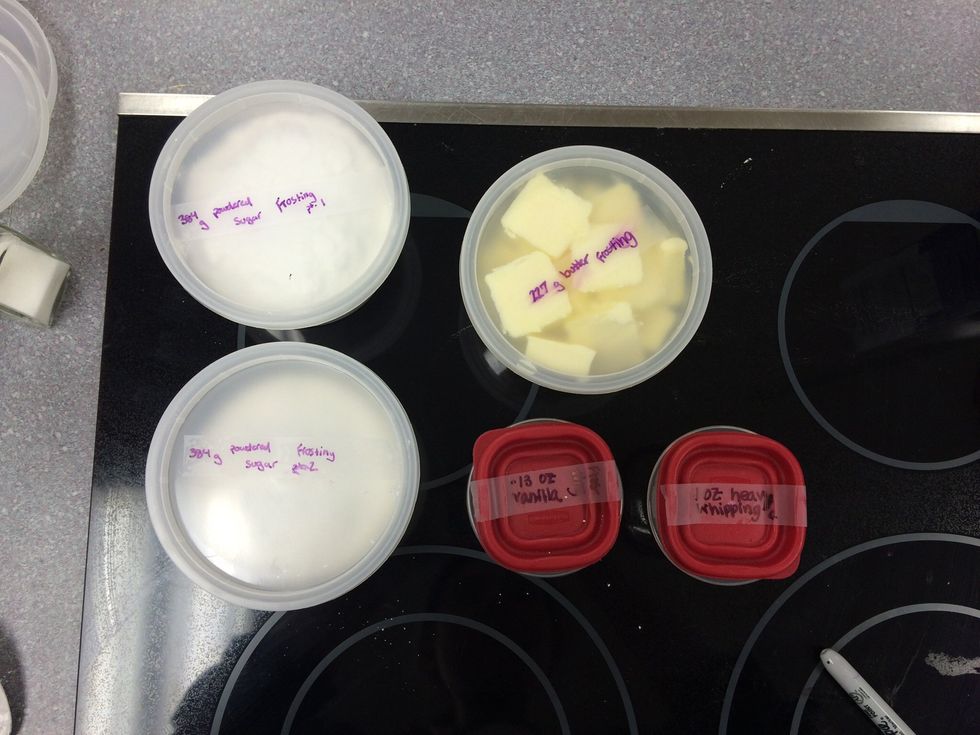 Collect ingredients for the vanilla buttercream frosting. (384 g confectioners' sugar, 227 g butter, .13 oz vanilla extract, and 1 oz of heavy whipping cream)
To garnish your frosting use mint leaves (1 leaf per cone), miniature chocolate chips (desired amount, can have more or less), and green sprinkles. Make sure each cone looks uniform and the same.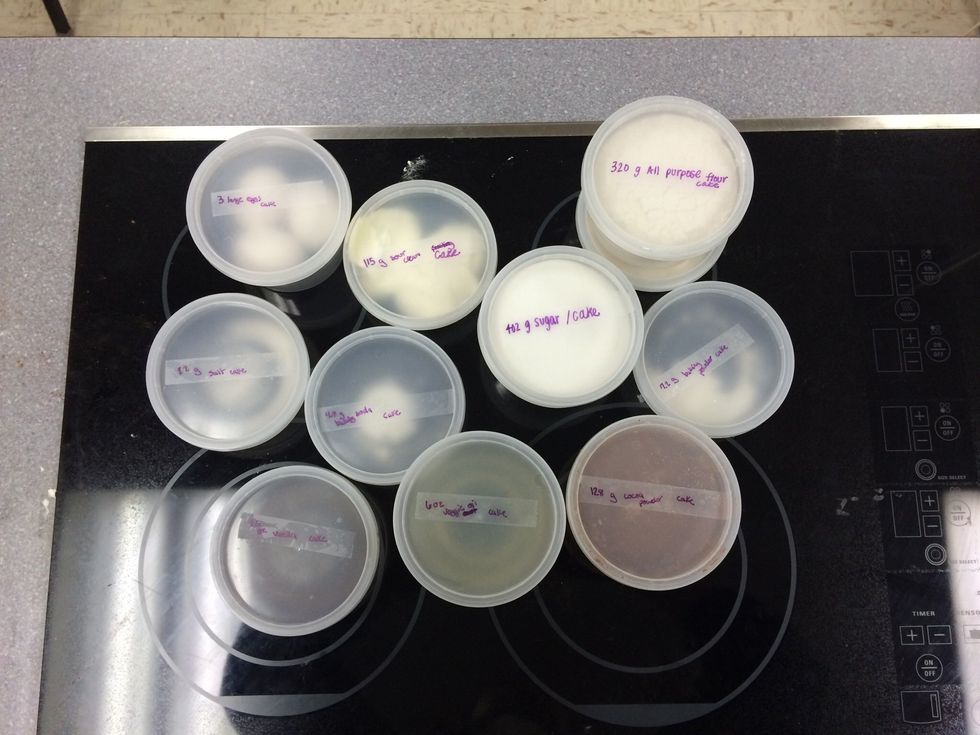 Finally, assemble all your ingredients for the chocolate cake. (128g unsweetened cocoa powder, 320g all-purpose flour, 402g sugar, 7.2g baking powder, 4.8g baking soda, 4.2g salt, 6oz vegetable oil)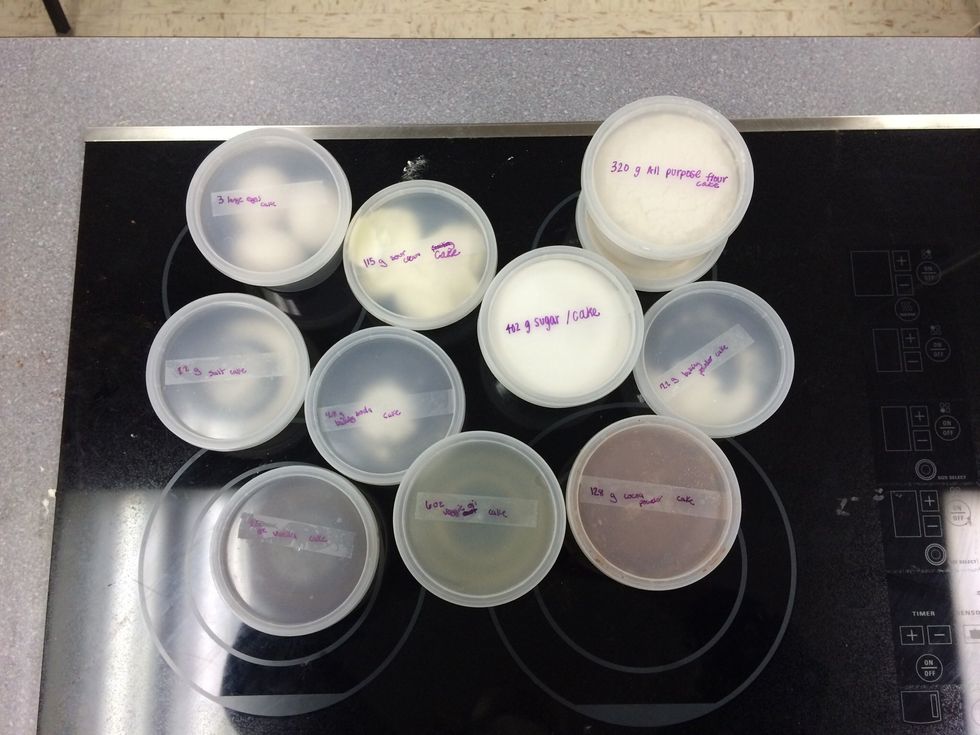 Chocolate cake ingredients continued (115 g sour cream and .25 oz vanilla extract)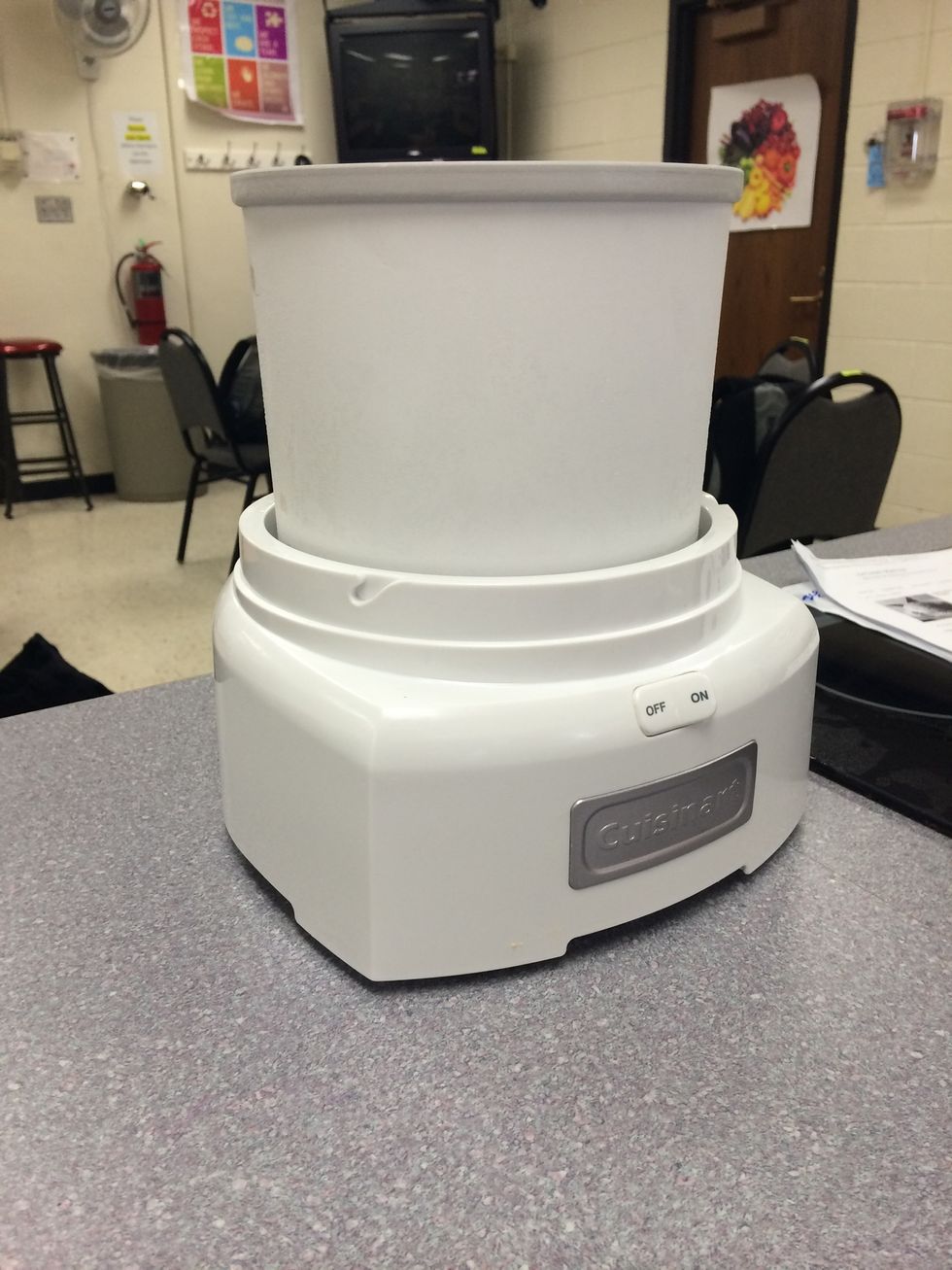 Let's start with the ice cream! First, make sure you put your ice cream freezer bowl into the freezer. It must be in the freezer for a minimum of 24 hours.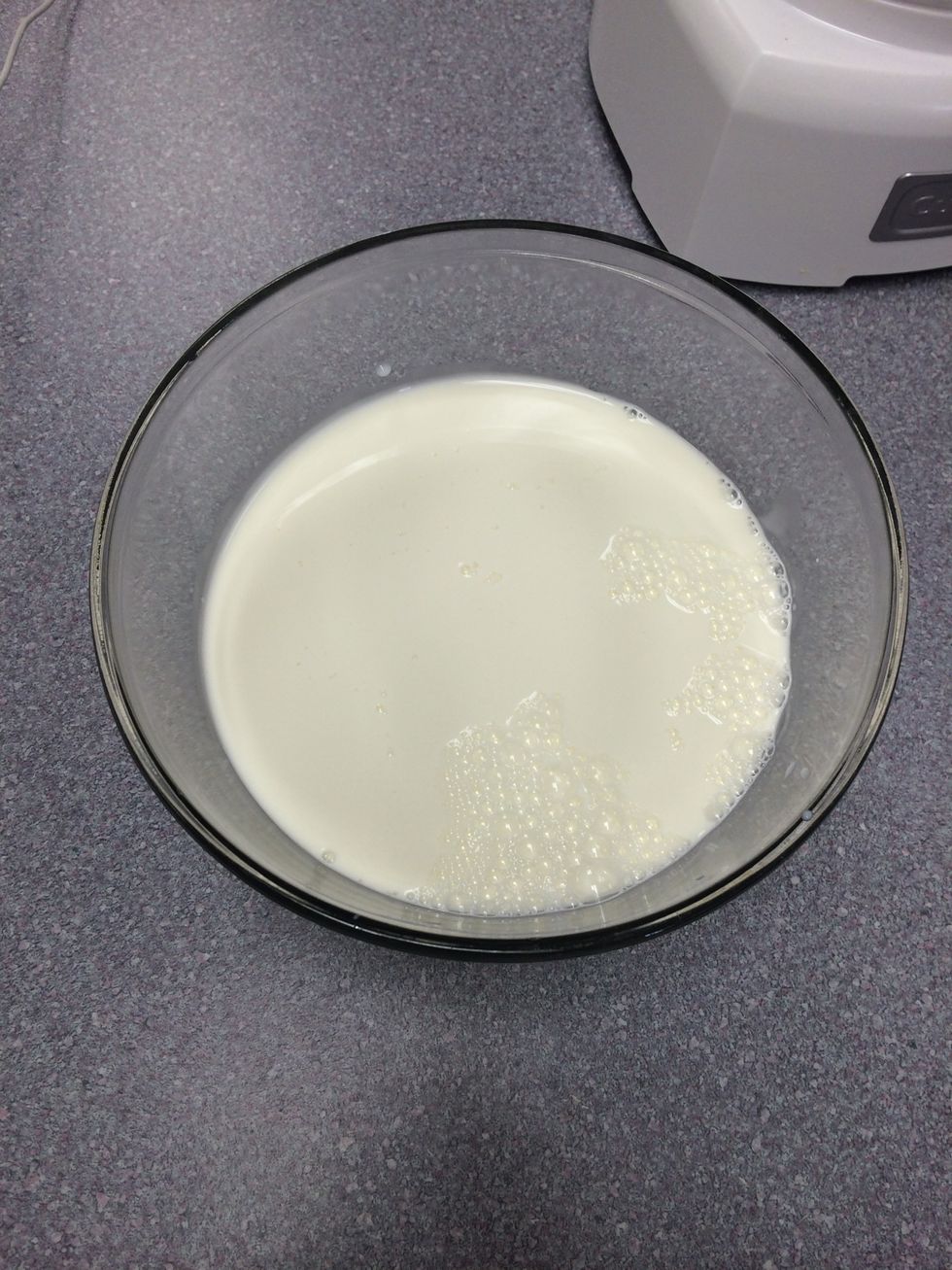 The first step to your ice cream is to mix the 2% milk and heavy cream.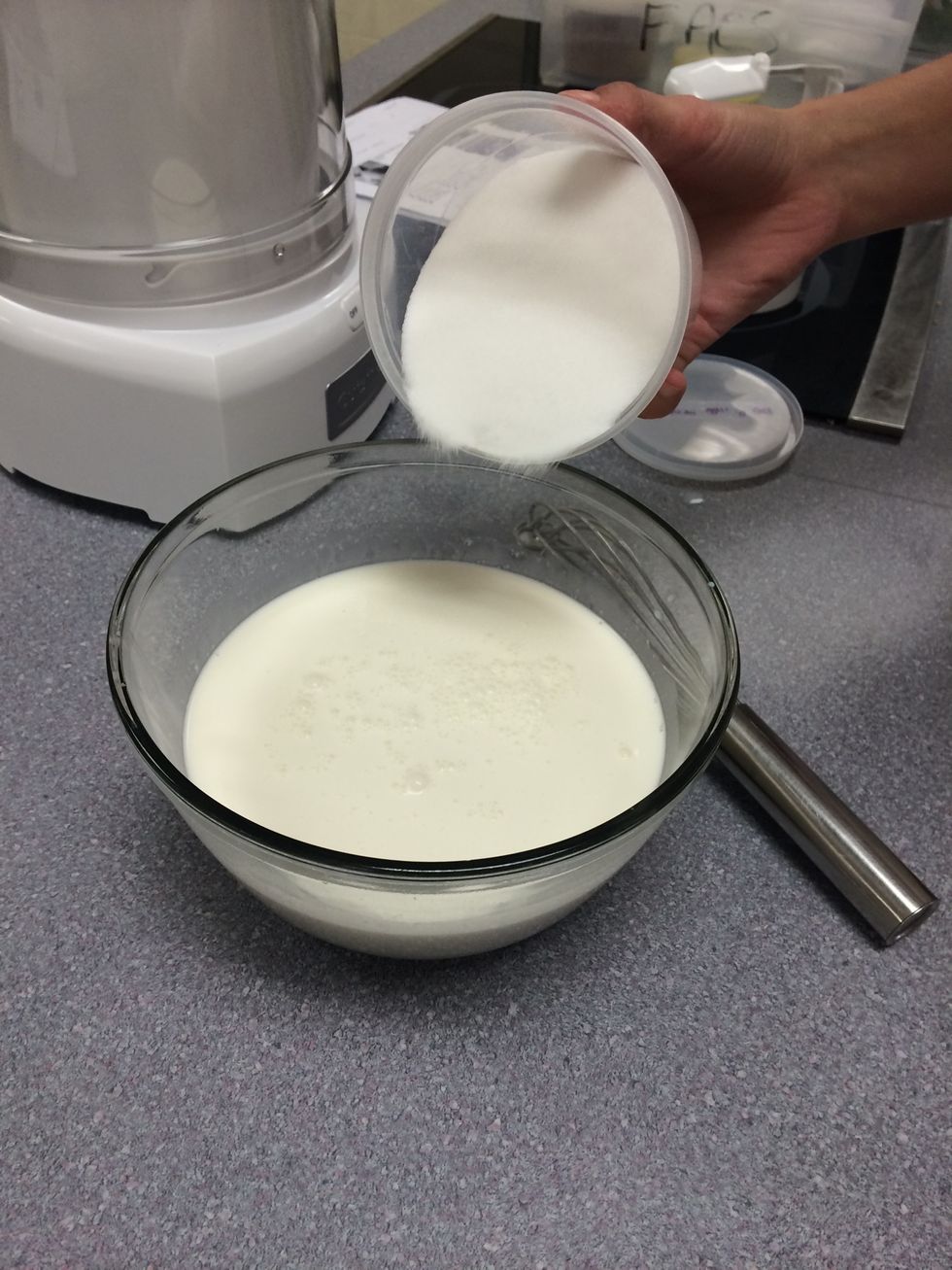 Next, add your peppermint and vanilla extract, sugar, and salt. The mixture will still be white, but you will be able to smell the extracts. Mix until all the sugar has dissolved.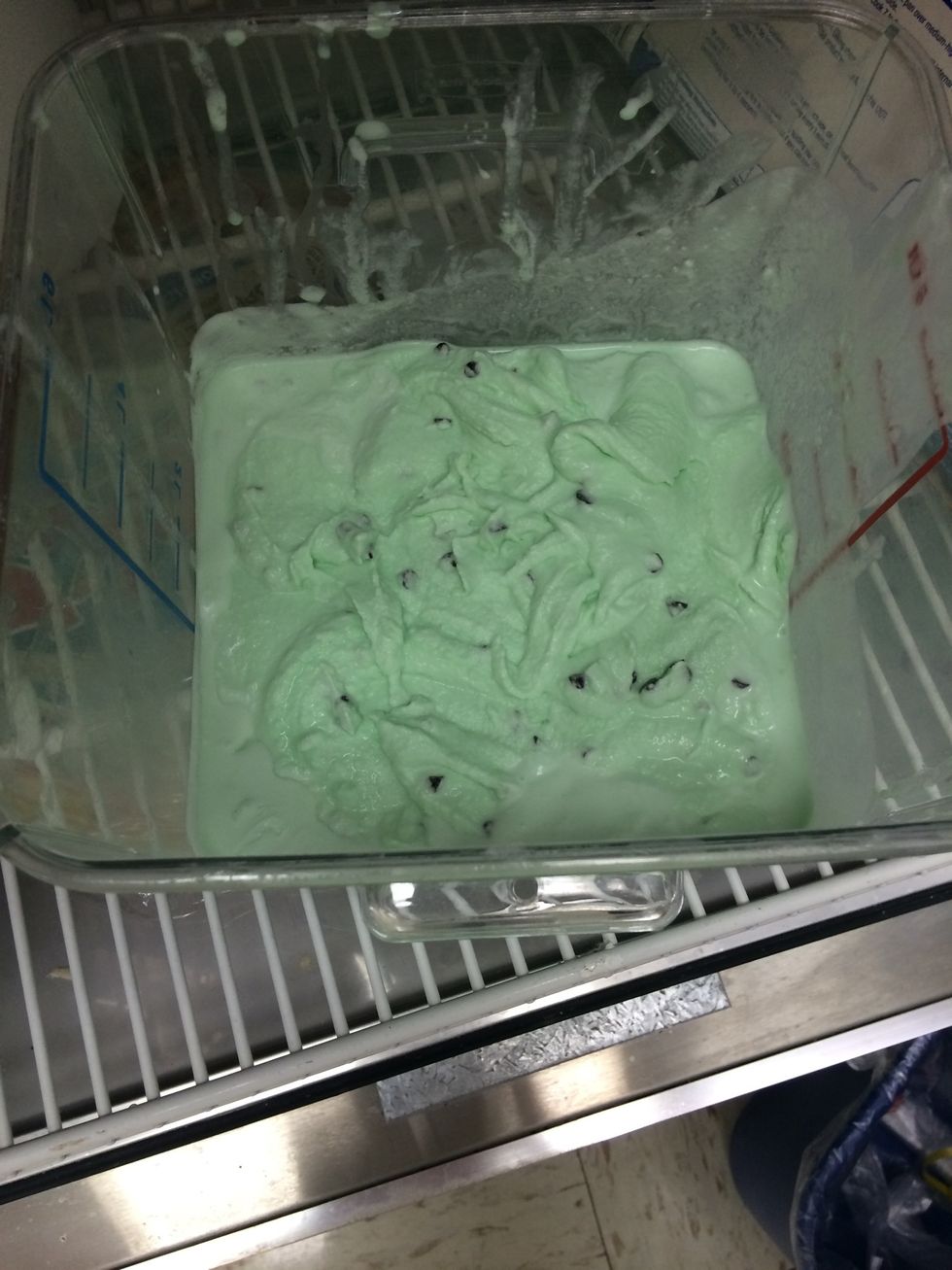 After 30 minutes in the ice cream machine, transfer your ice cream to another container and put in the freezer and leave it there for 24 hours so it hardens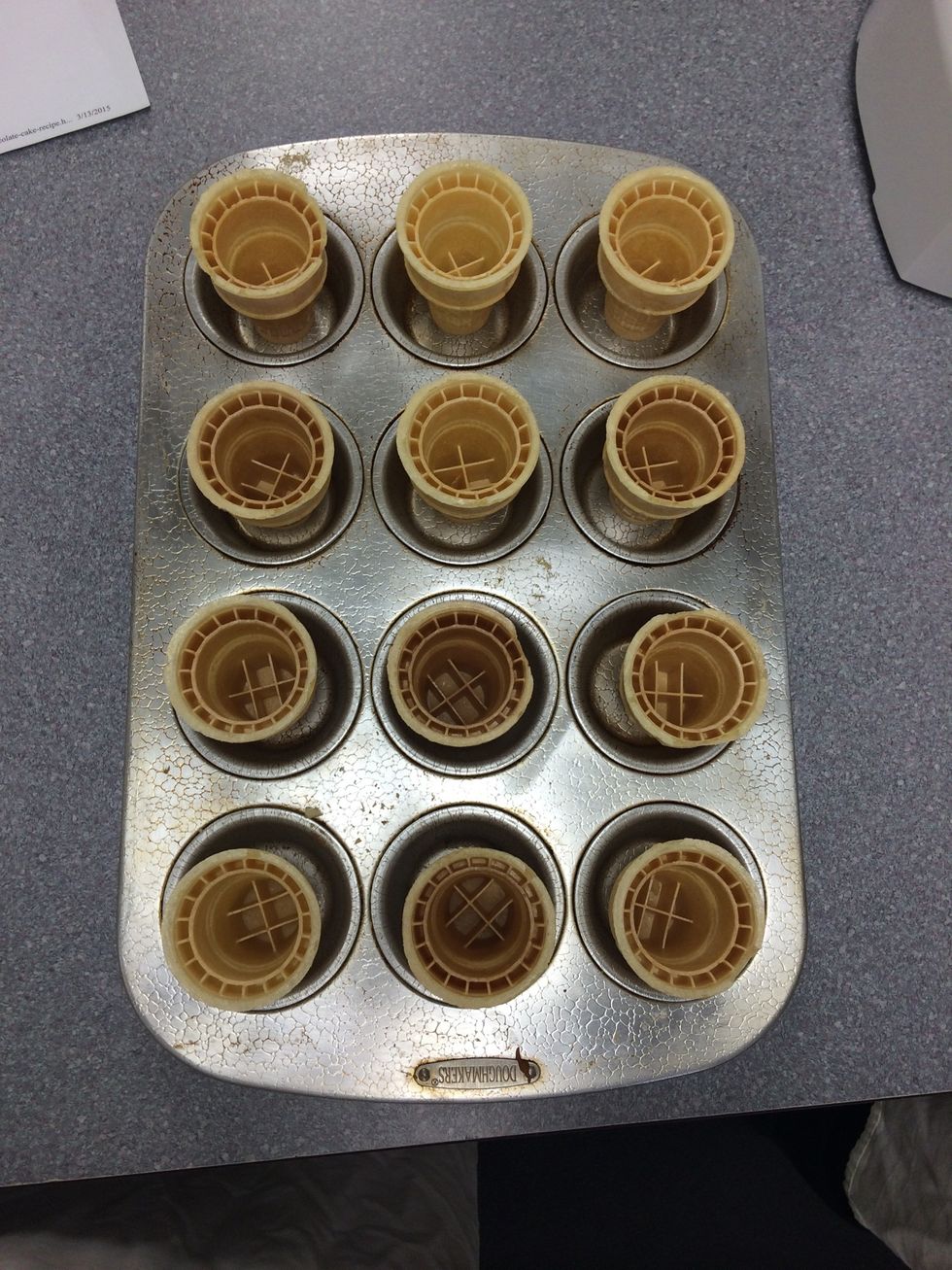 The first step of the chocolate cake cones is to fill a muffin and/or cupcake pan with ice cream cones. Putting it in this pan will help prevent the cones from tipping over during baking.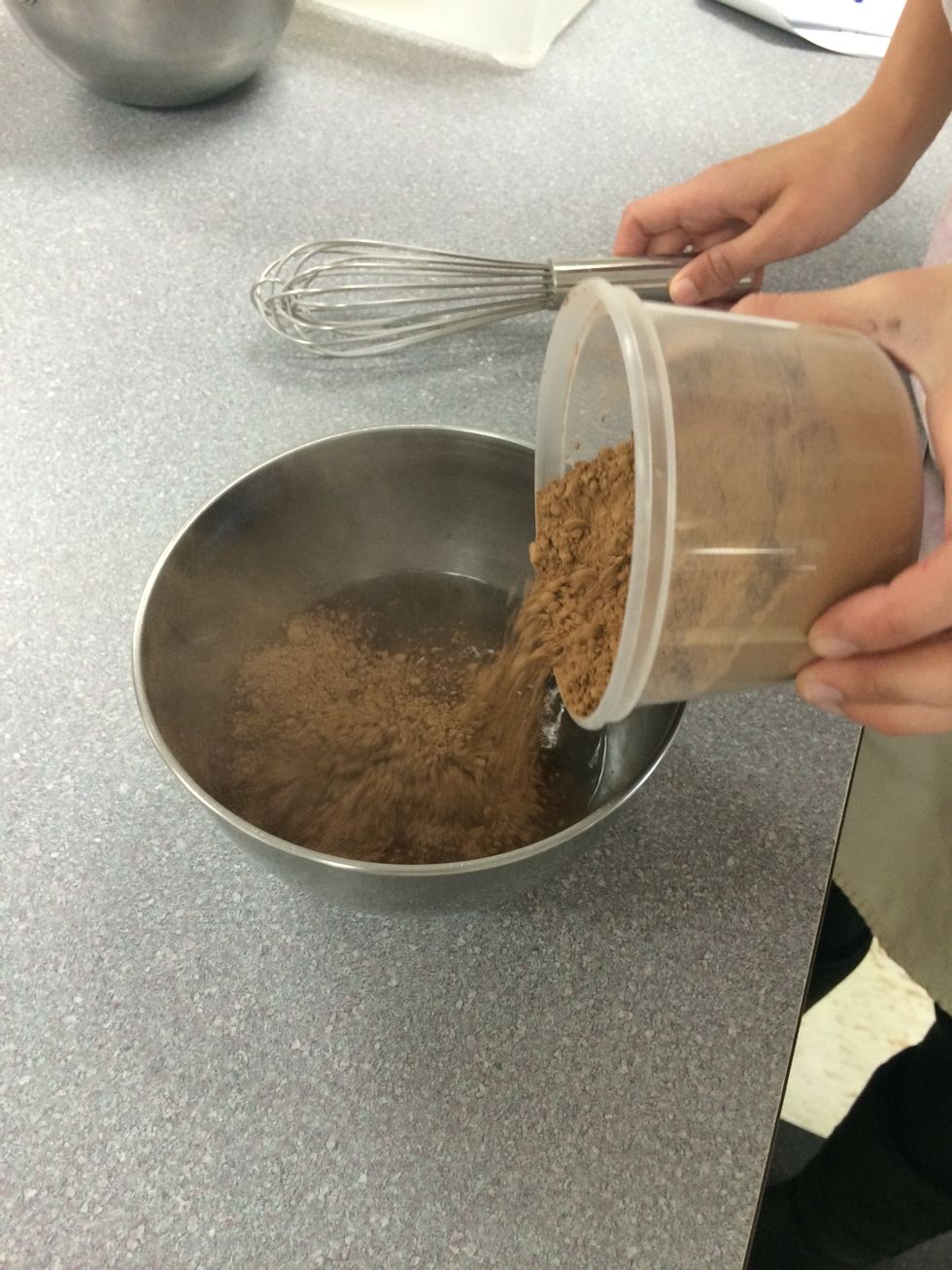 To start off your chocolate cake, boil one and a half cups of water. Once the water has boiled, mix the cocoa powder and water.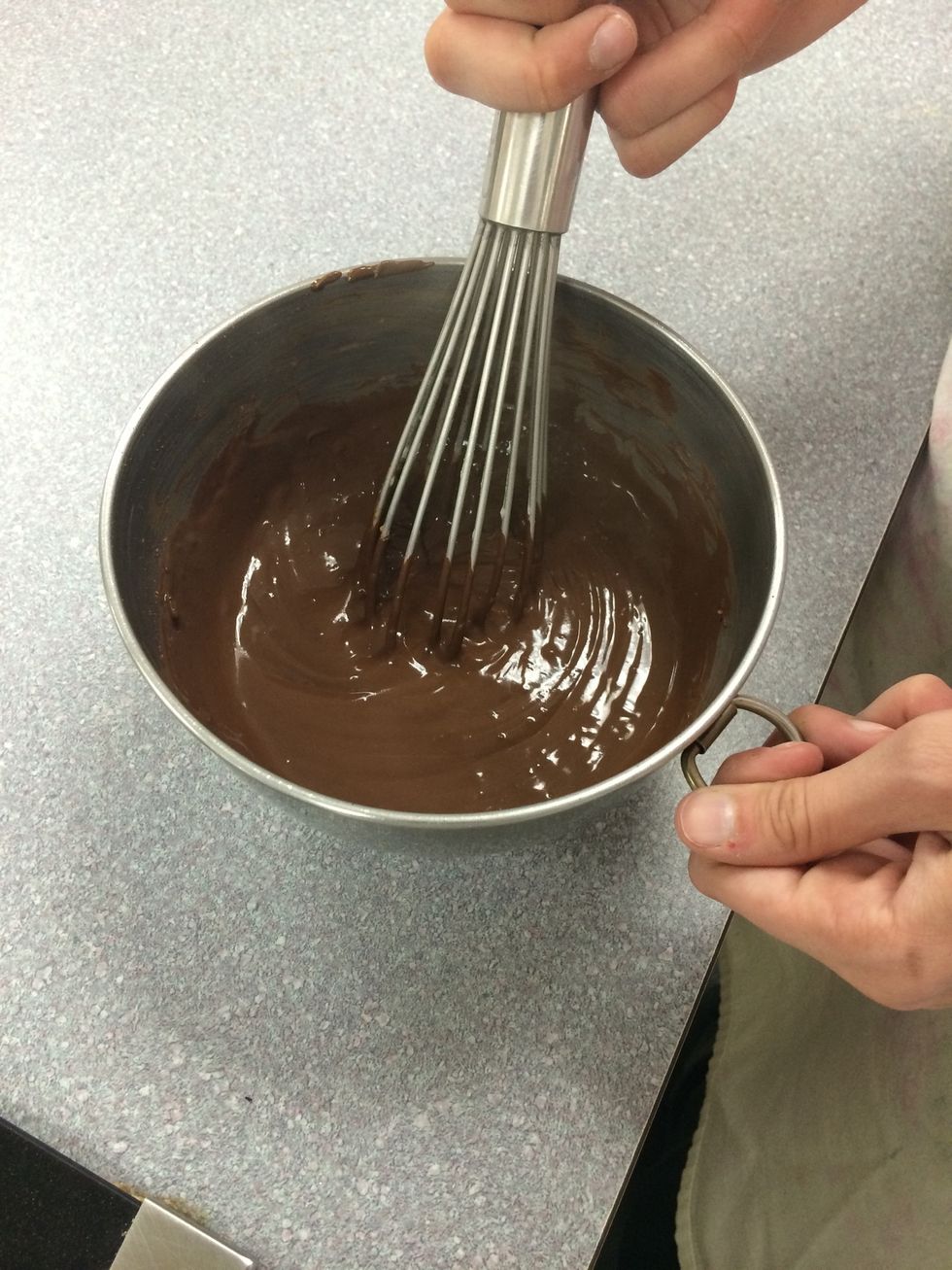 This is what the cocoa powder and water should look like after it has been whisked. Make sure to whisk until you get a nice, smooth consistency throughout.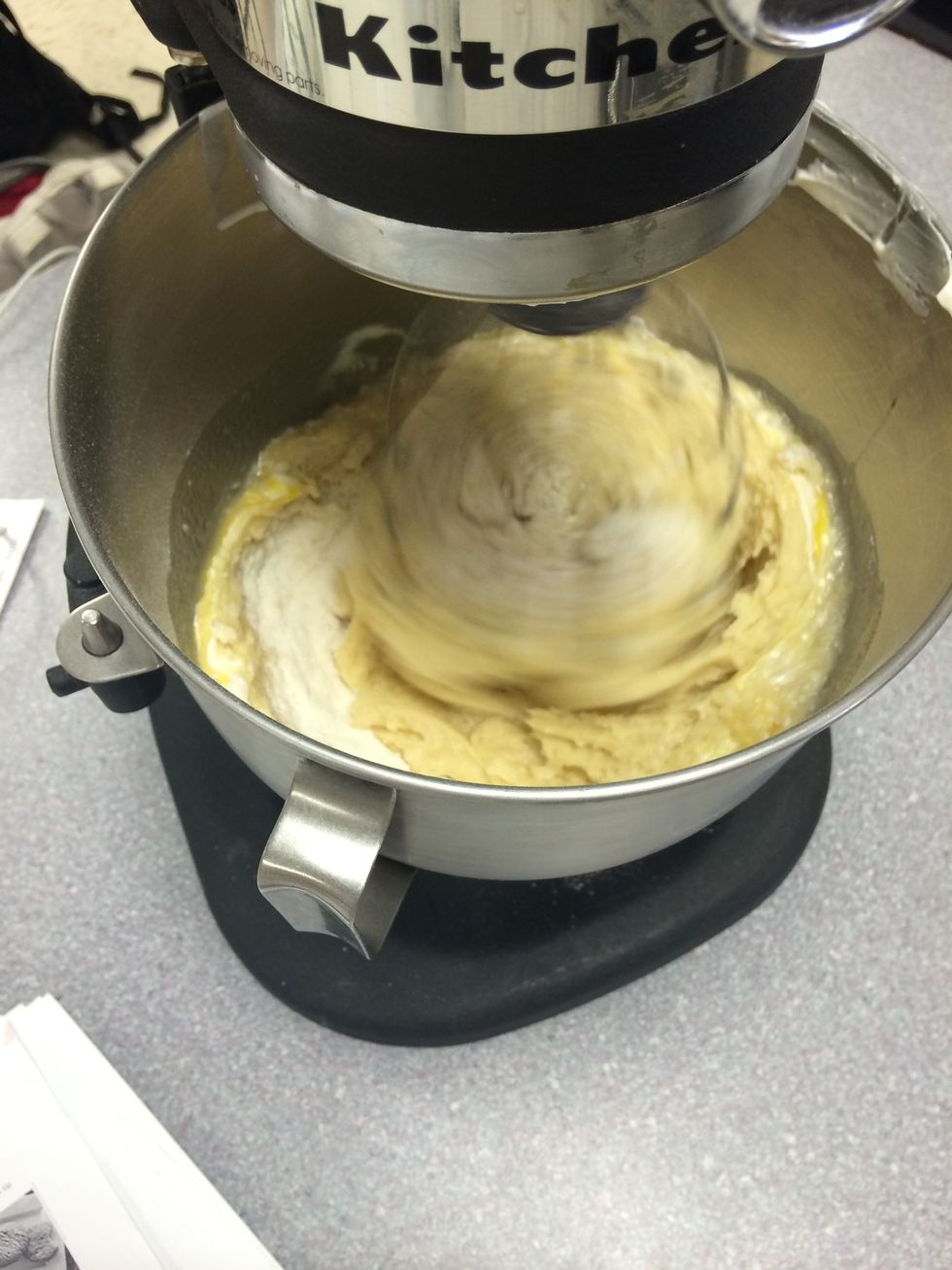 Whisk the ingredients in the bowl on a medium to high speed until everything is mixed together and you cannot see any individual ingredients (ex. flour on the side or bottom of the bowl).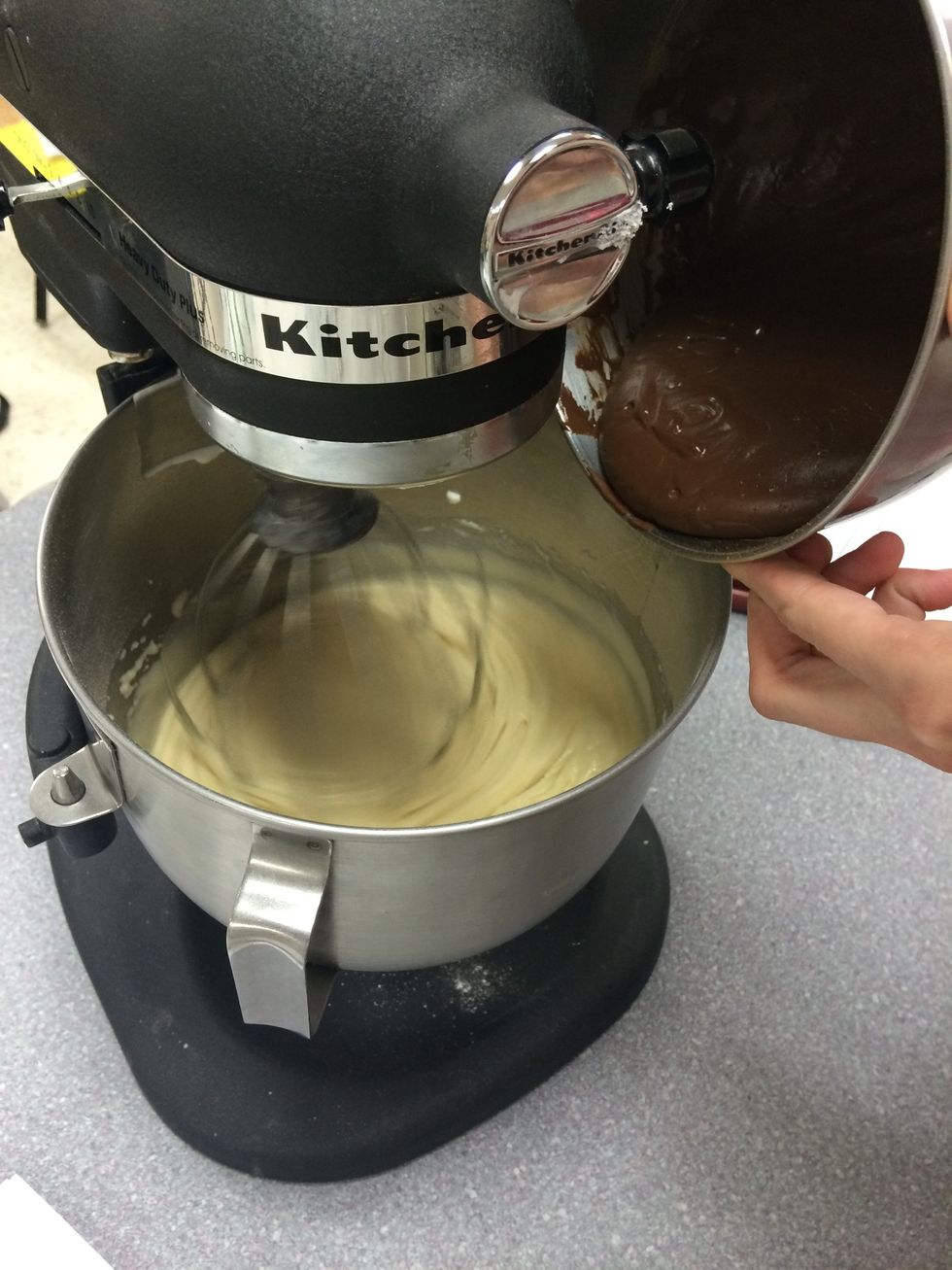 Next, slowly pour the cocoa/water mixture into your Kitchen Aid.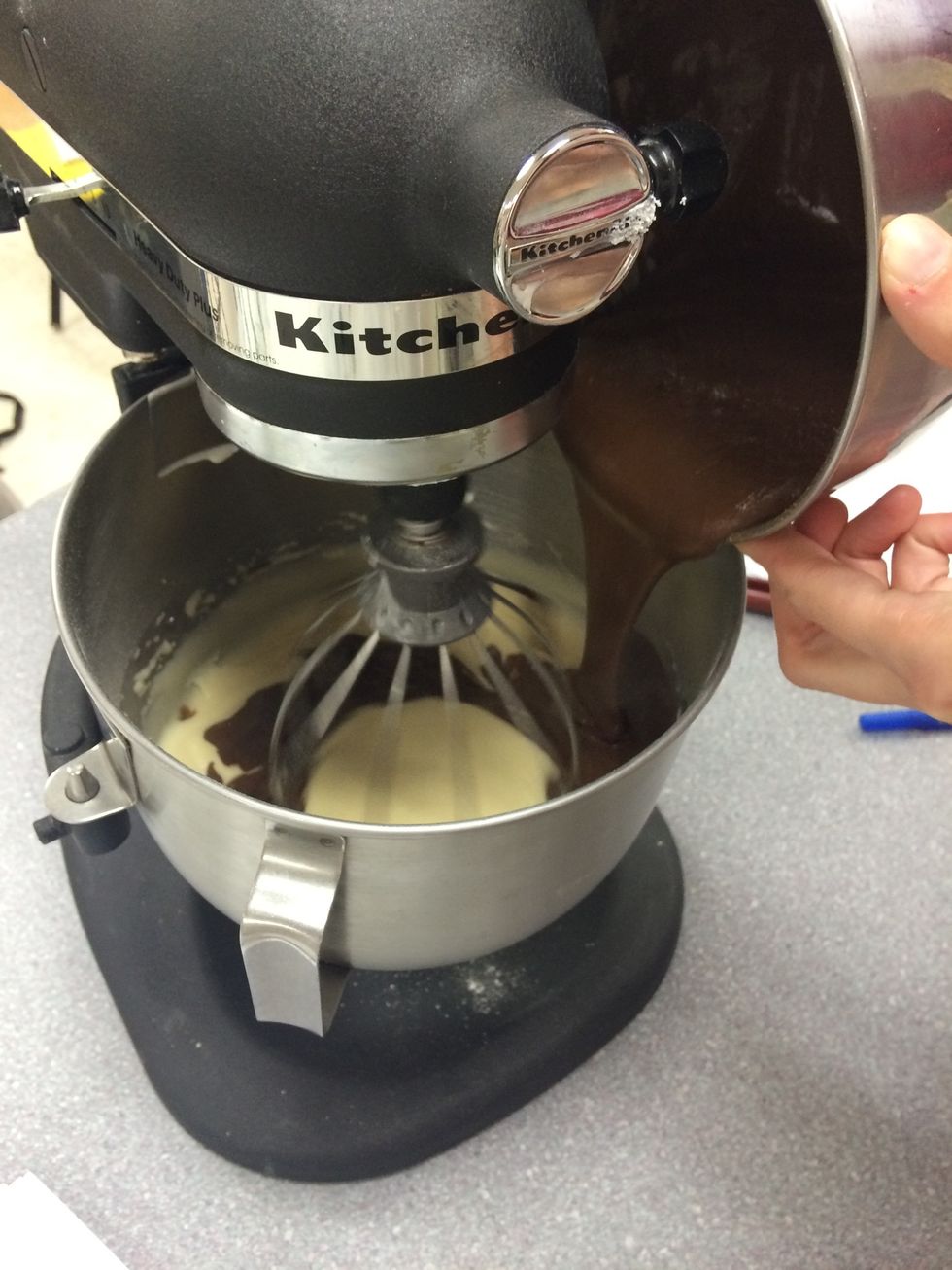 Keep the kitchen add speed on slow, otherwise if it is going to fast, chocolate will fly out of the bowl and all onto you and your counter.
Mix until you can no longer see any white and your mixture is brown.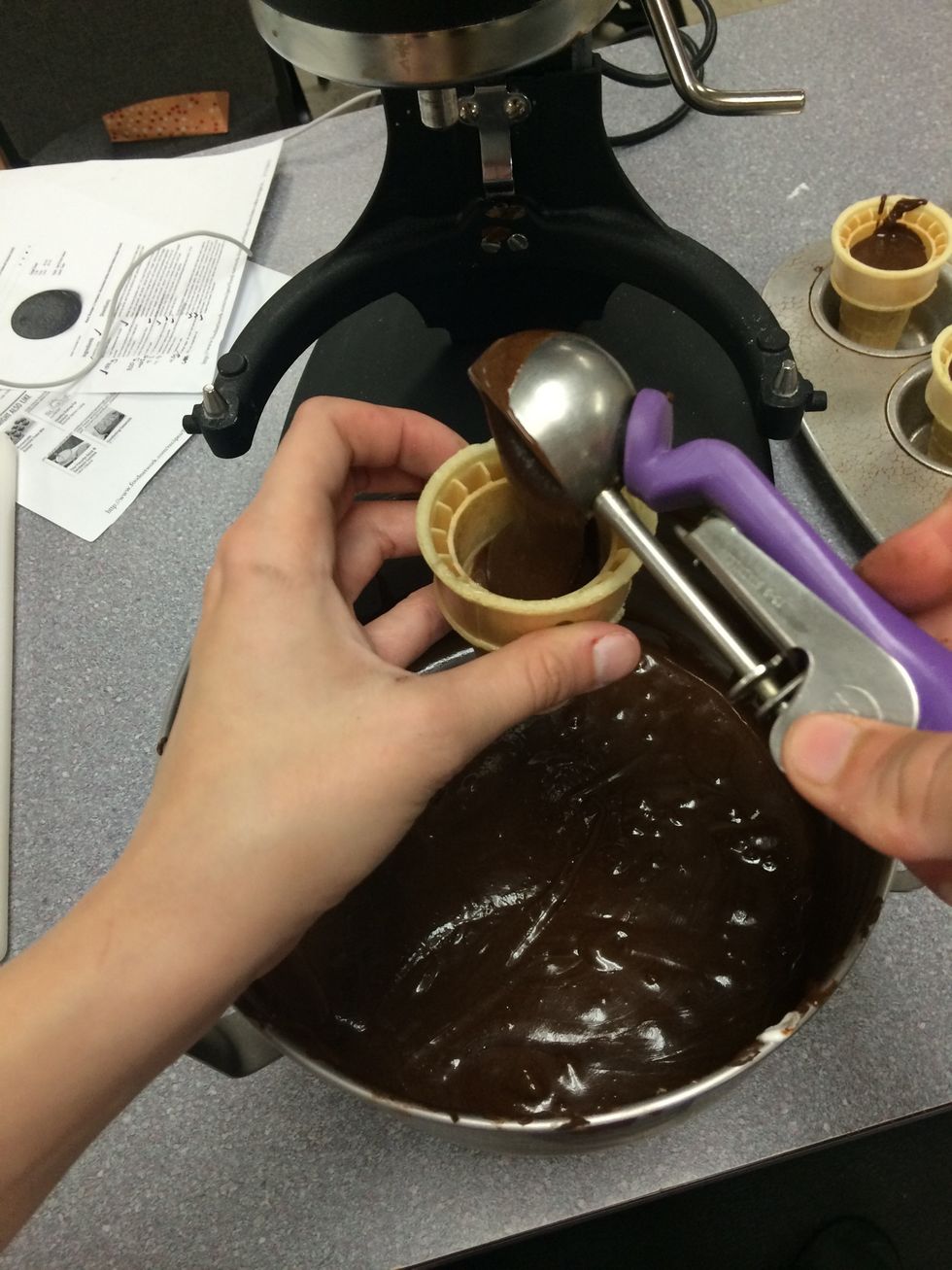 Now, take an ice cream scooper and fill your ice cream cones to one and a half to two scoops of cake batter. Do not fill them too much otherwise during baking the cake will overflow out of the cones.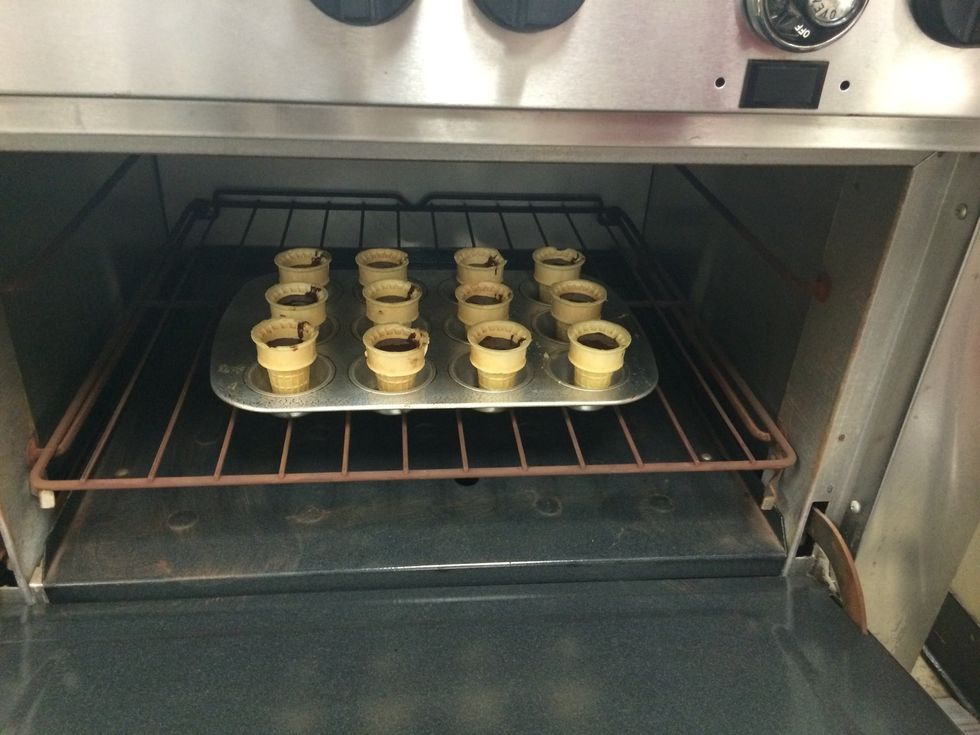 Finally, put your cake batter cones into the oven and bake 40-45 minutes. To make sure they are done, use a toothpick and poke the cones and if the toothpick comes out clean they are done!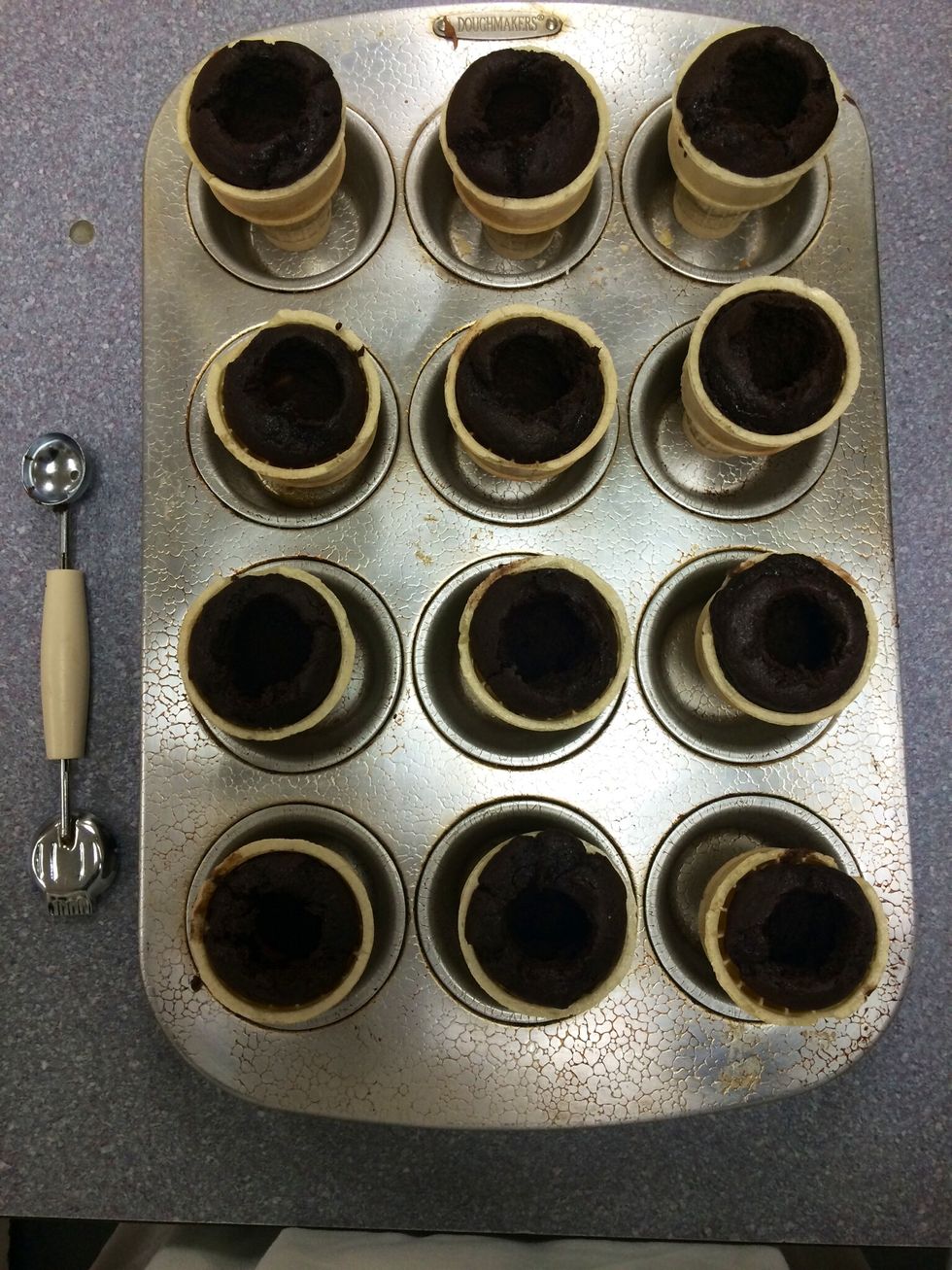 Once your chocolate cake cones are done baking, take out of the oven and let cool. Once they are cooled, take a melon baller and scoop out a quarter sized hole in the cake top.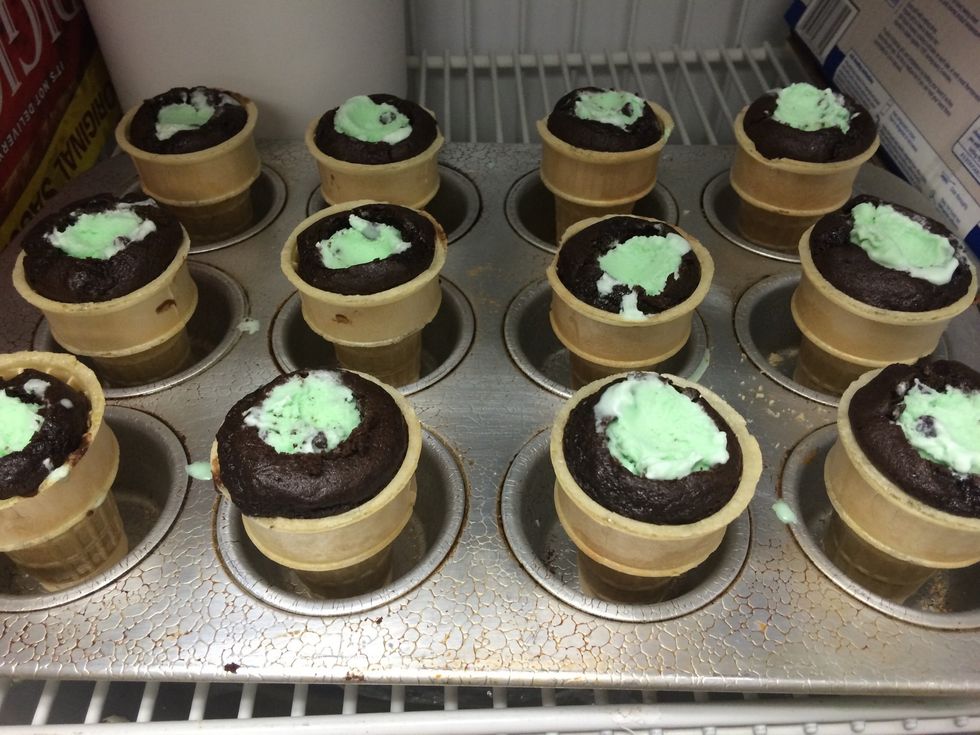 Next, you will want to put your cones into the freezer to keep the ice cream from melting while you make the vanilla buttercream.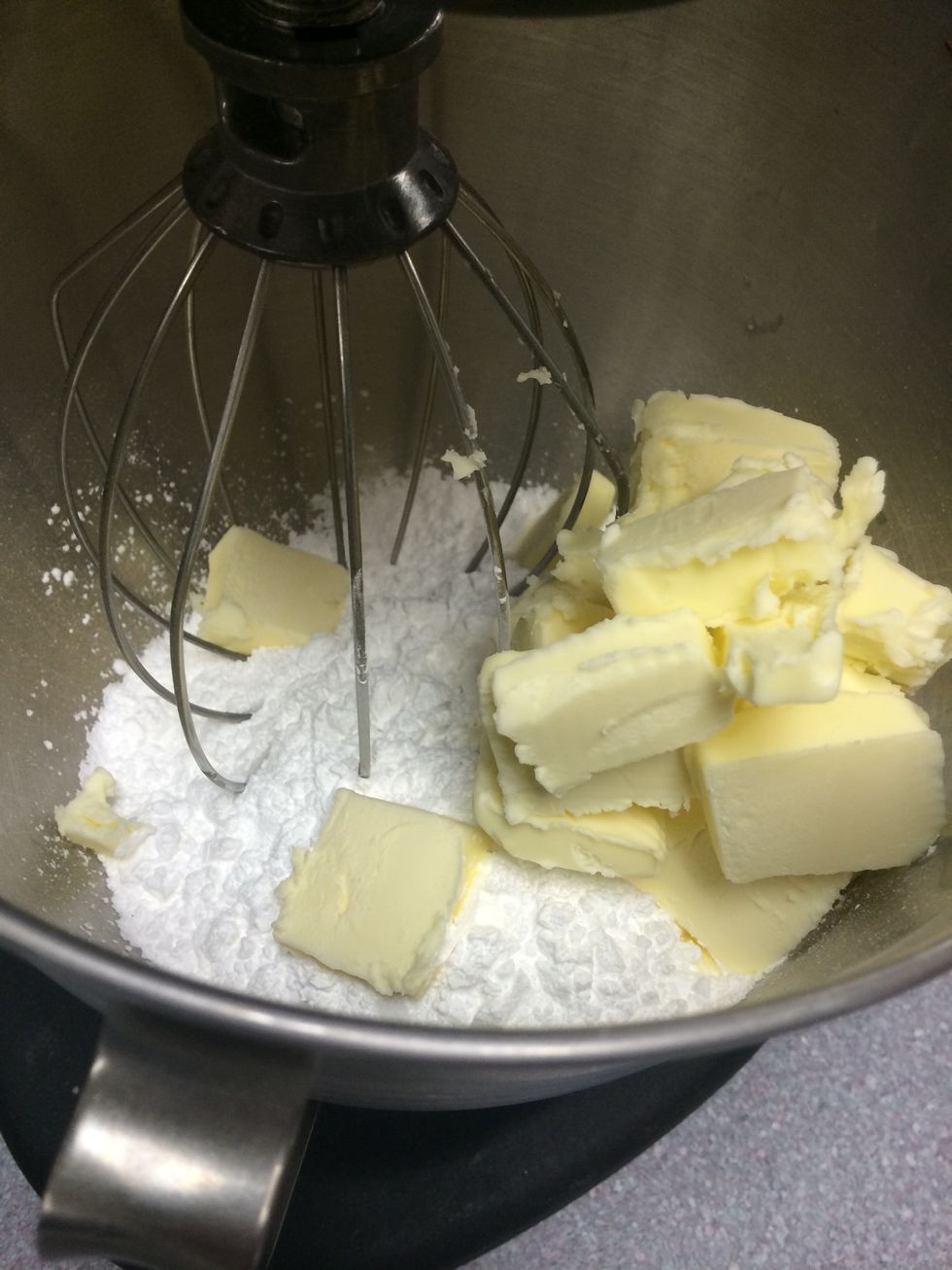 To start off your buttercream frosting, you want to put the butter chunks and confectioners' sugar into your Kitchen Aid and use the whisk attachment. Start on low and gradually increase the speed.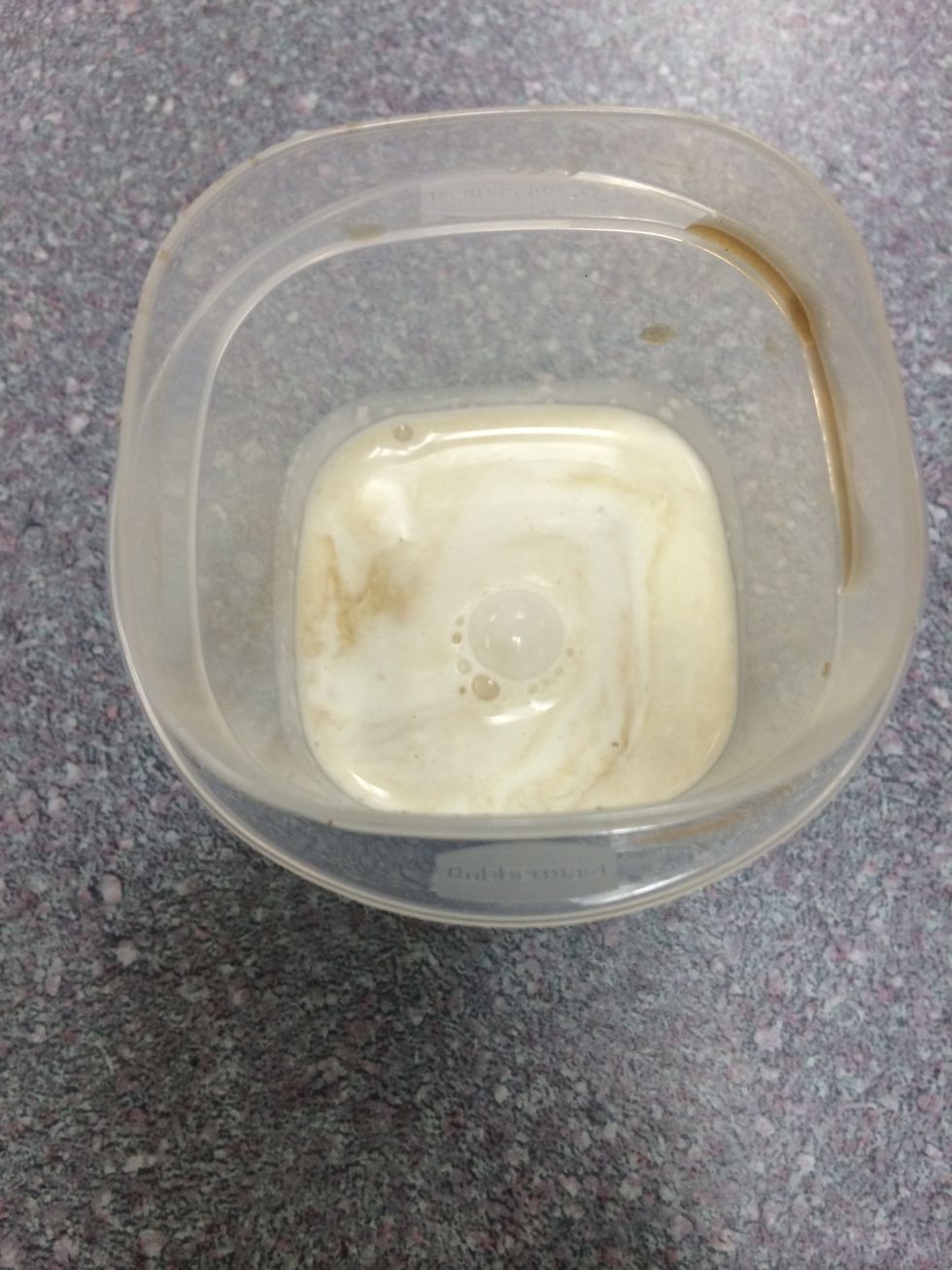 While the confectioners' sugar and butter are mixing, combine the whipping cream and vanilla extract.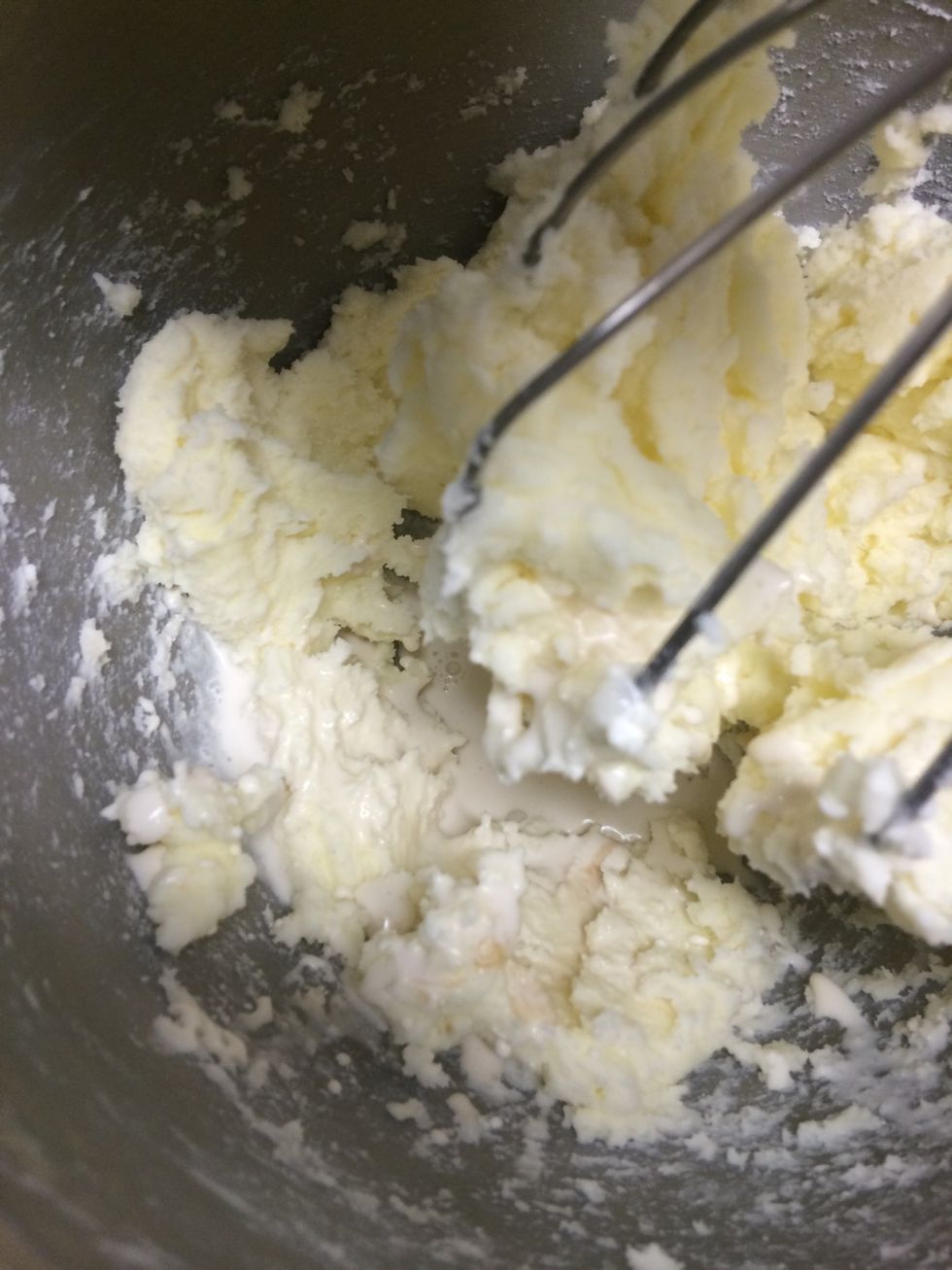 Once no lumps remain, pour the vanilla and whipping cream mixture into the Kitchen Aid. Change from the whisk attachment to the flat beater bar attachment and beat until fluffy and smooth.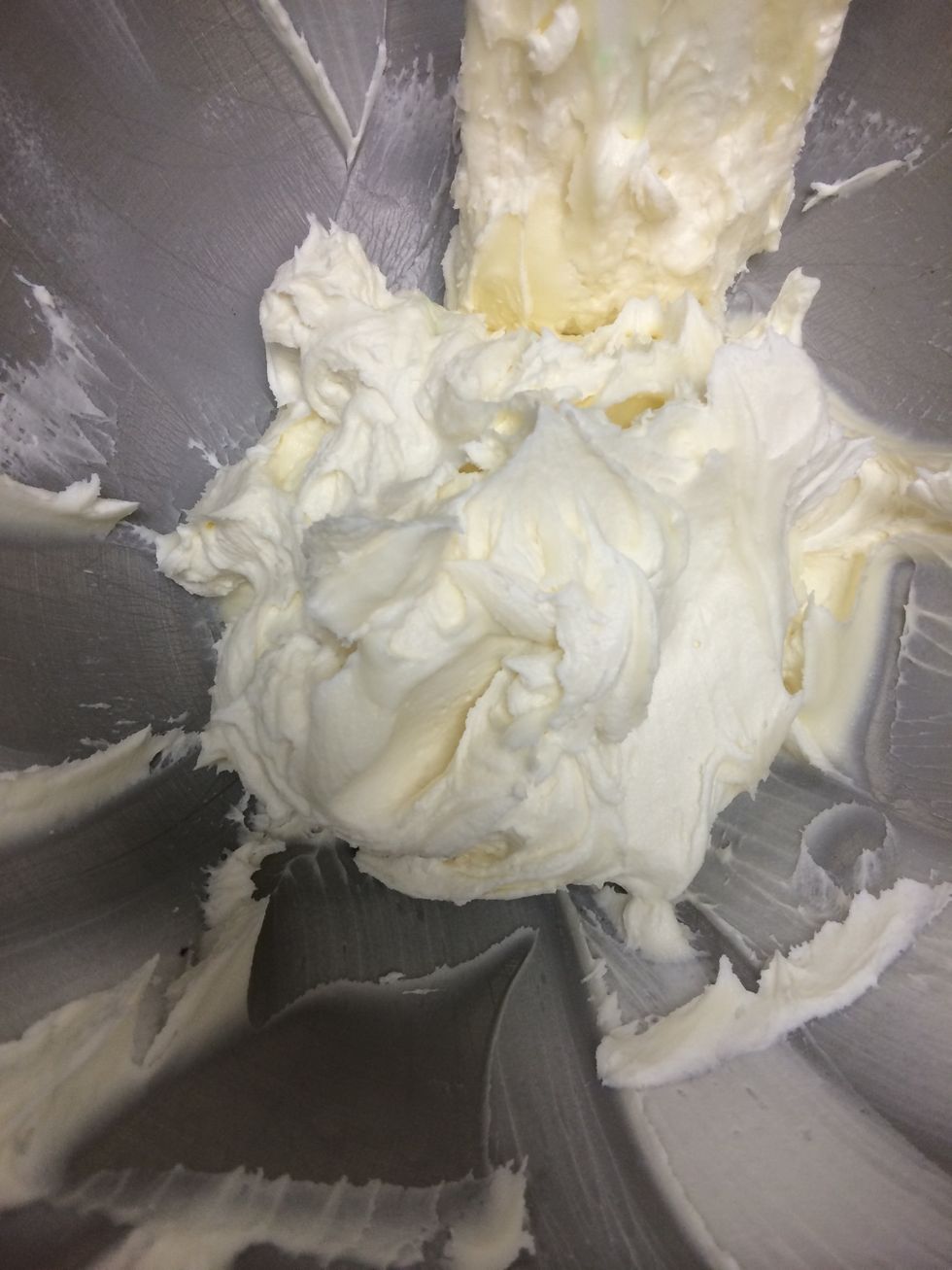 This is what the buttercream should look like when it is done being mixed. Make sure everything is incorporated and your frosting is not too stiff or too runny.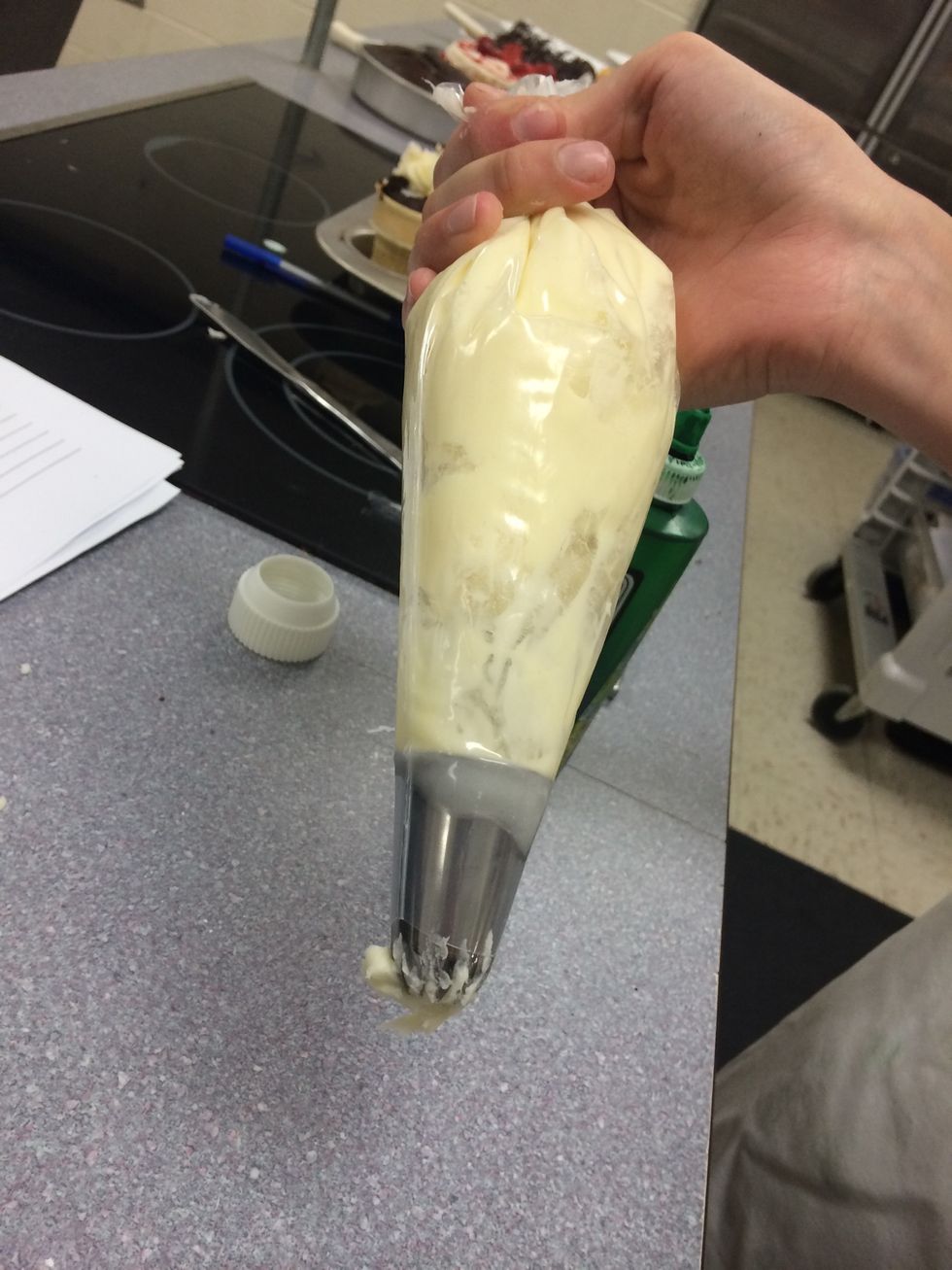 Next,fill a pastry bag with the buttercream. To make your life easier and less messy, fold over the top edge of the bag and spoon in, then unfold the top and there will be nothing around the top edge.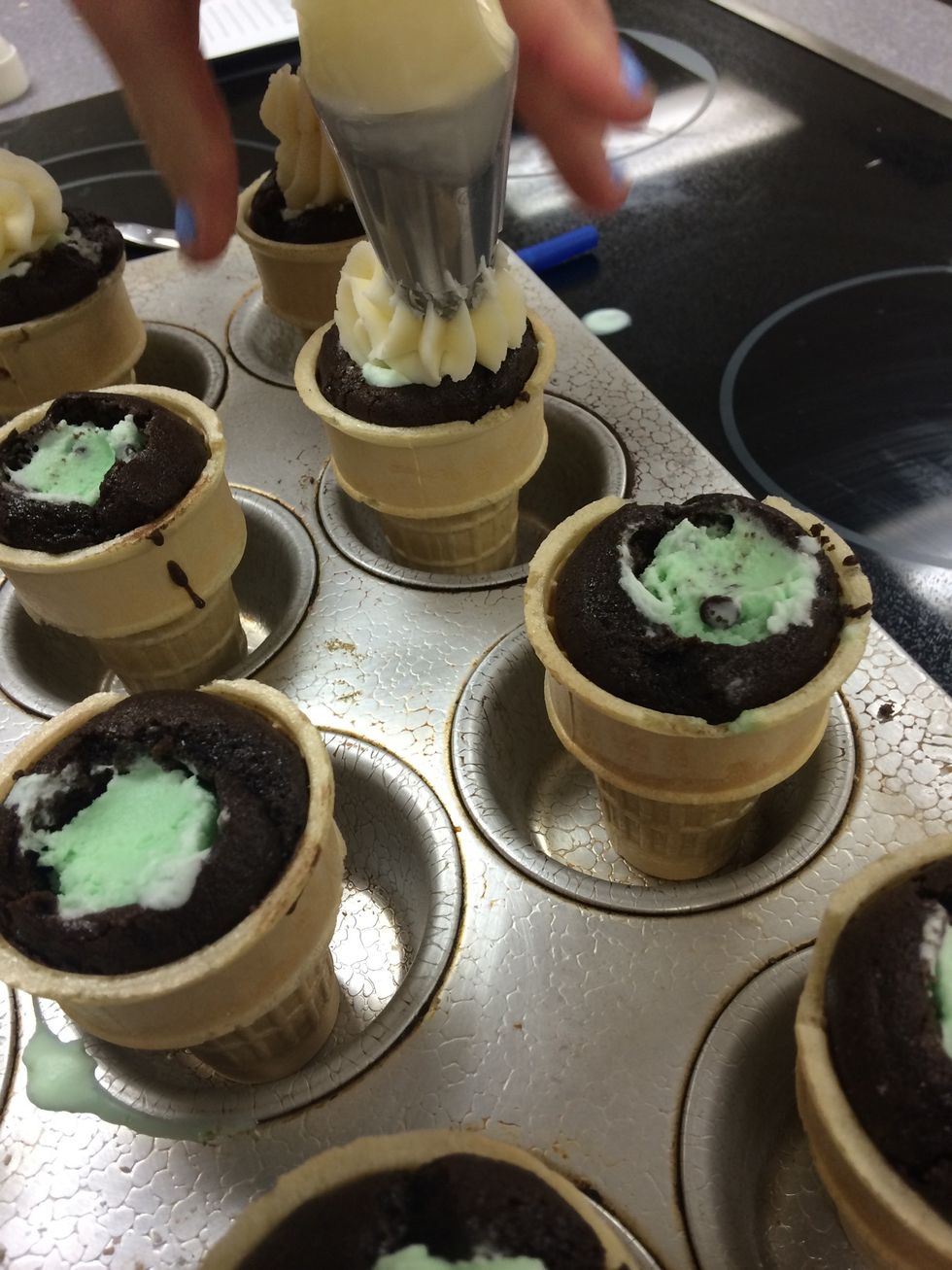 For each cone you want a single squeeze of buttercream so all the cones are the same and you do not get too much frosting when you eat your cones.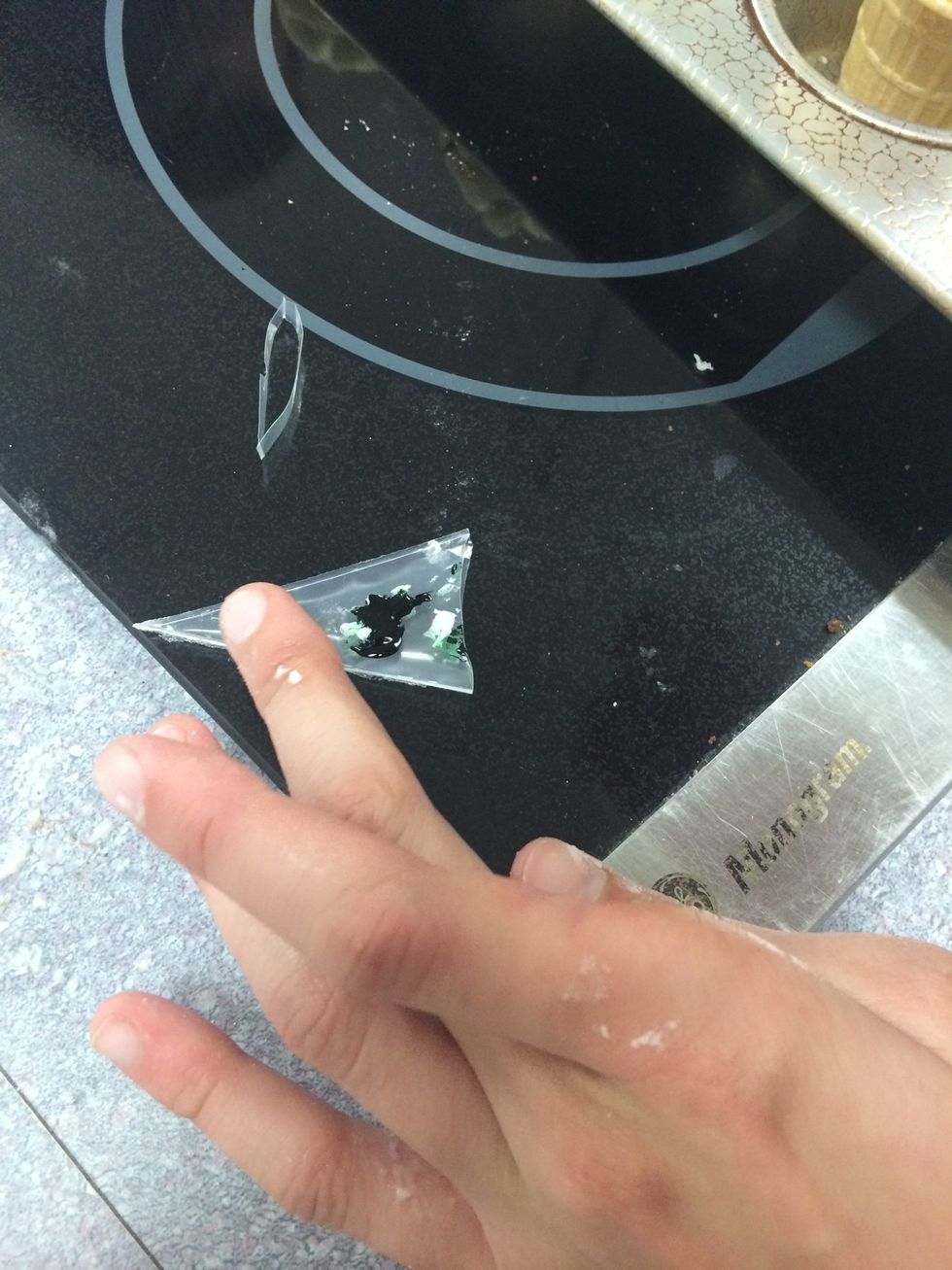 To start off the ice cream cone garnishing, put green food coloring on a piece of plastic or in a bowl and dip a toothpick in the green and swirl it on top of the buttercream.
This is what your cones should look like with the green food coloring swirl. This will let people eating your treat know there is mint ice cream inside!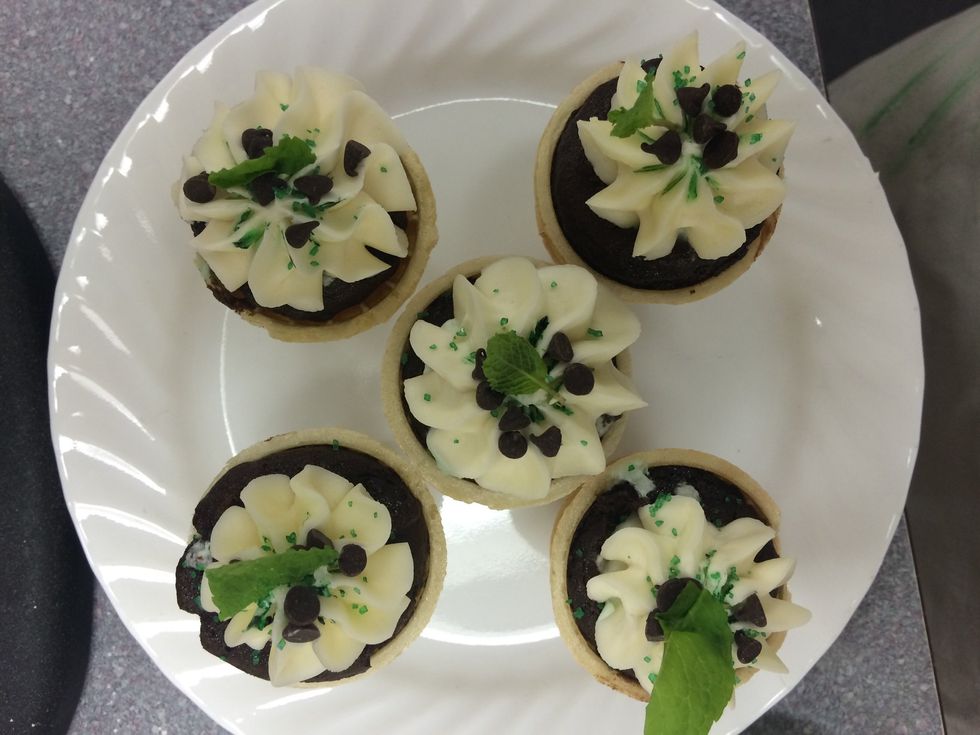 Finally, garnish off your cones with green sprinkles, mini chocolate chips, and a single mint leaf. Now, its time to kick back, relax, and share your delicious treats with everyone!
1.0 Ice cream machine
1.0 Kitchen Aid Mixer Bowl
1.0 Melon baller
128.0g Unsweetned cocoa powder
320.0g All purpose flour
402.0g Sugar
7.2g Baking powder
4.8g Baking soda
4.2g Salt
6.0oz Vegetable oil
115.0g Sour cream
16.0oz 2% milk
16.0oz Heavy cream
250.0g Sugar
2.5g Salt
0.2oz Vanilla extract
0.2oz Peppermint extract
Green food coloring(add desired amount of drops)
90.0g Miniature semisweet chocolate chips
384.0g Confectioners' sugar
227.0g Salted butter
0.15oz Vanilla extract
0.1oz Whipping cream