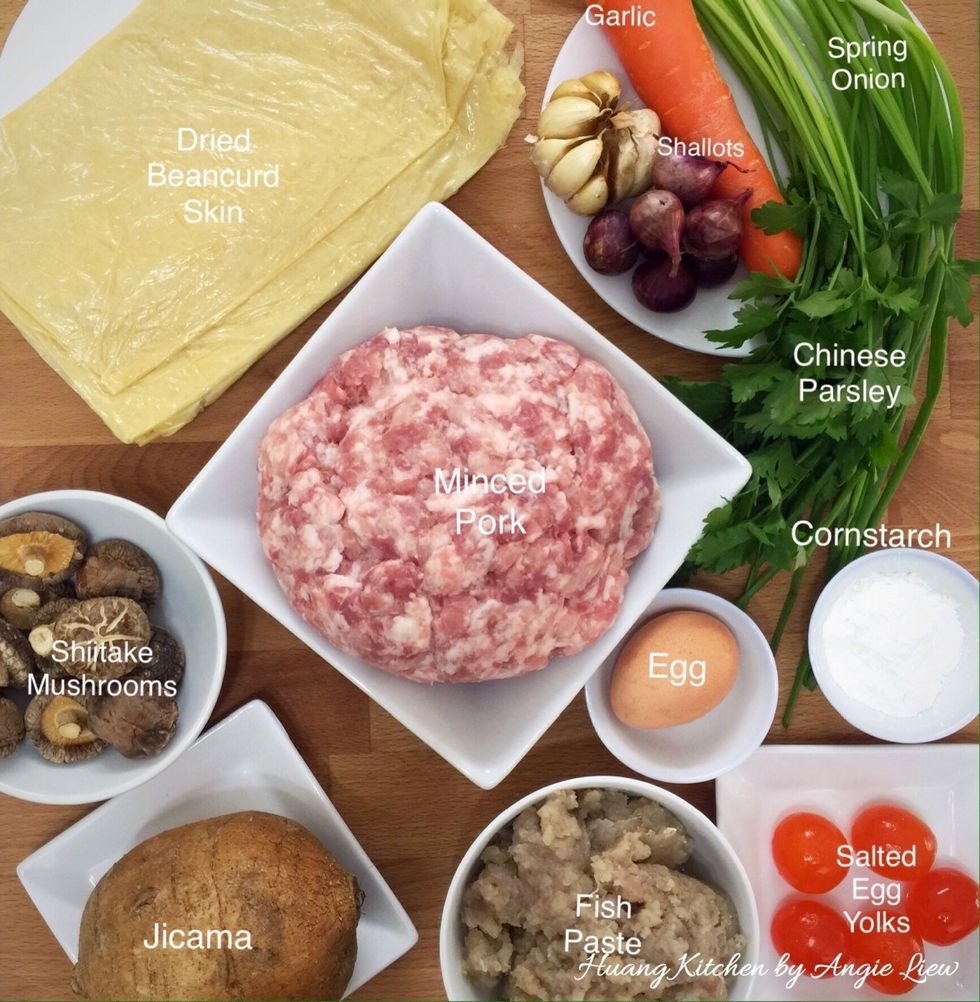 First, have ready all ingredients needed.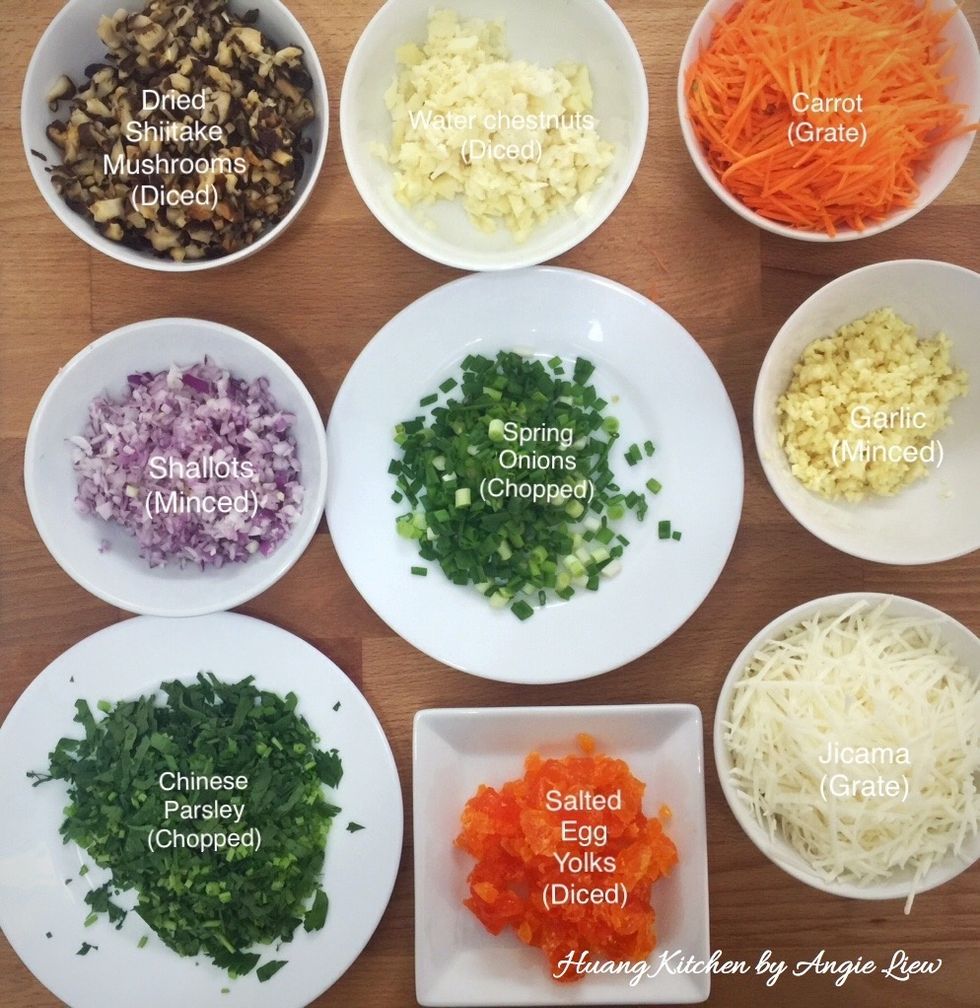 Soaked and diced shiitake mushrooms, minced shallots and garlic, chopped coarsely spring onions and chinese parsley, cut salted egg yolks into pieces, grate jicama and carrot.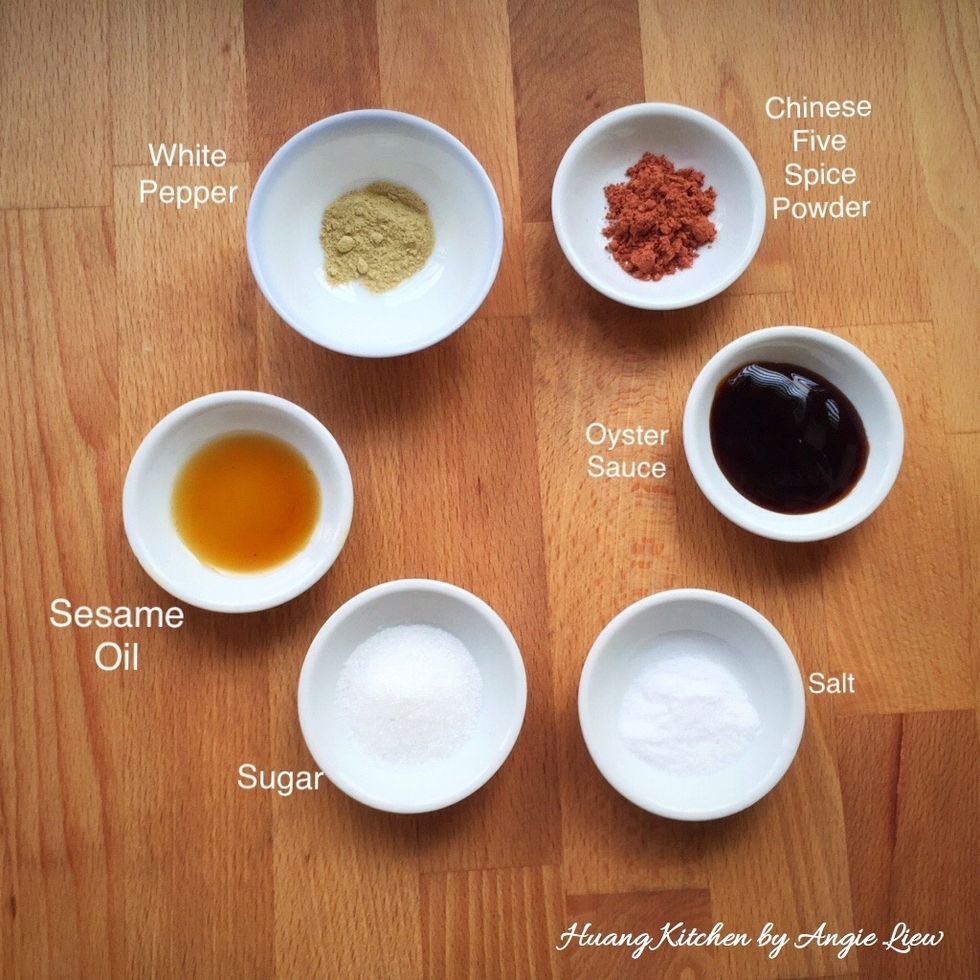 Also, have ready the seasonings needed.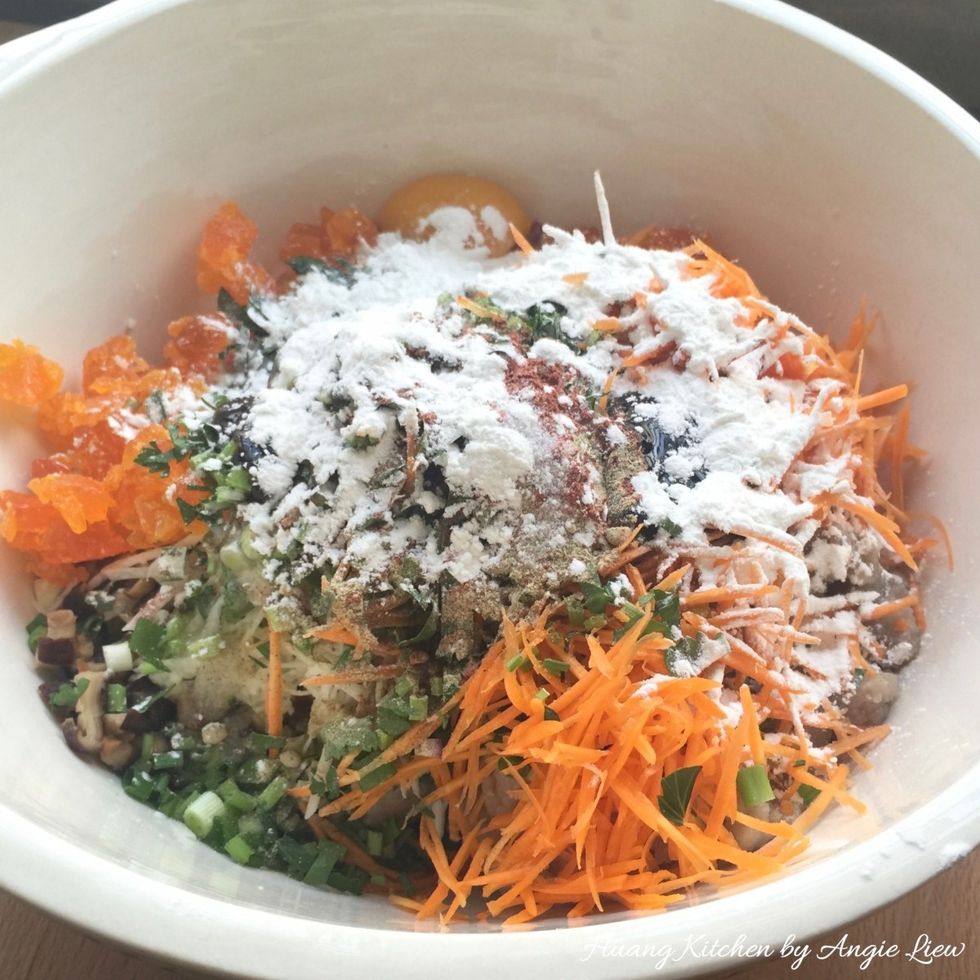 Place all the ingredients in a large bowl. Then add in seasonings.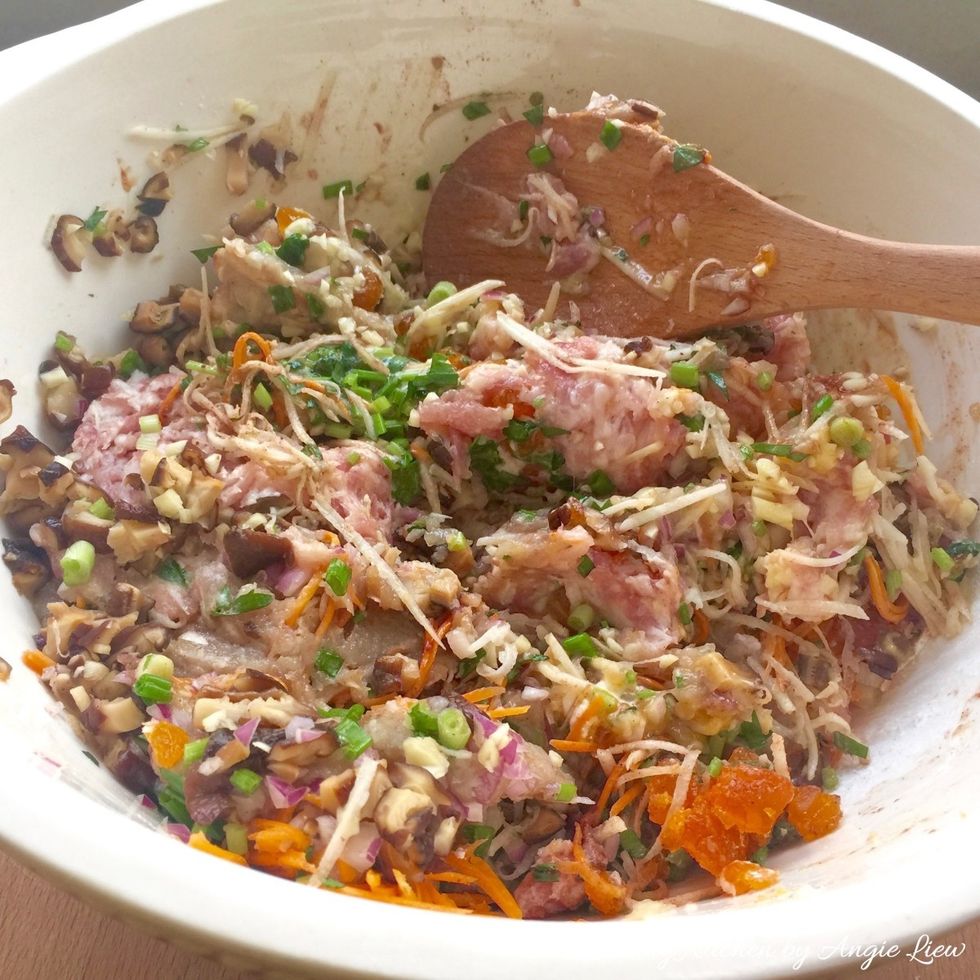 Using a wooden spoon, combine all the ingredients together.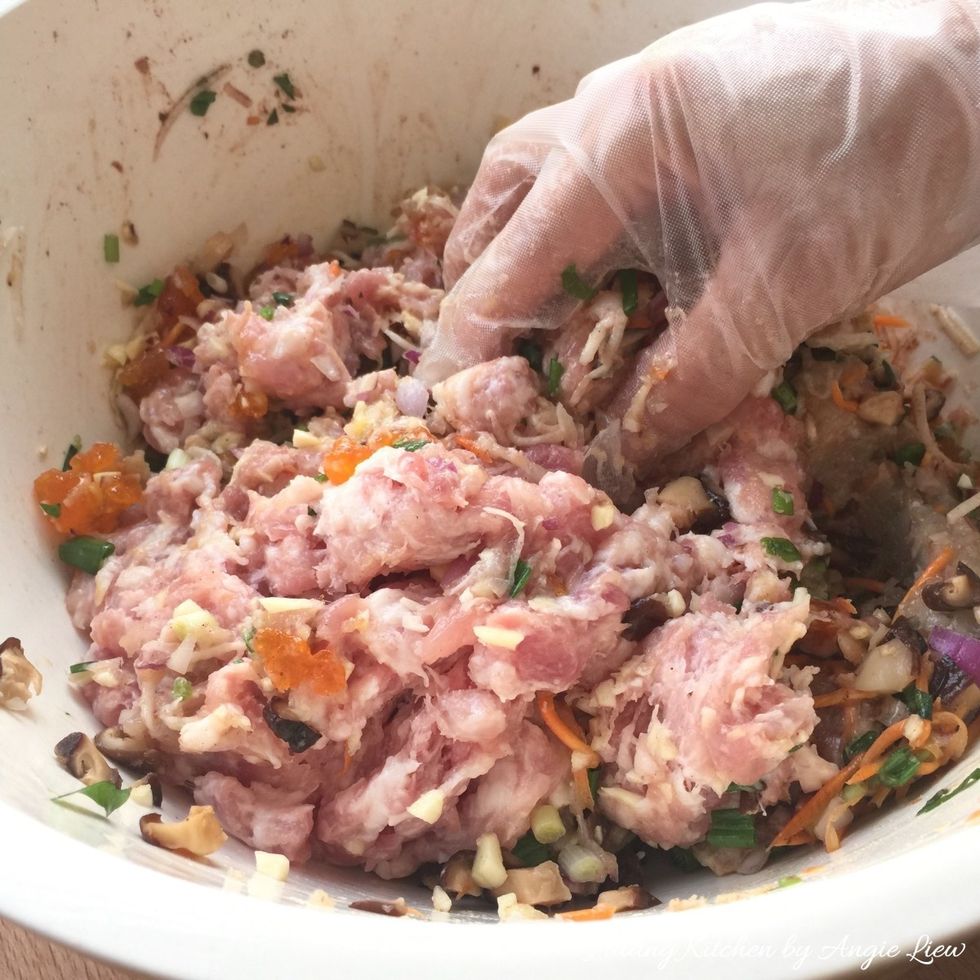 Then gently mix to combine well the meat ingredients by hand. This will prevent over working the meat causing it to be tough.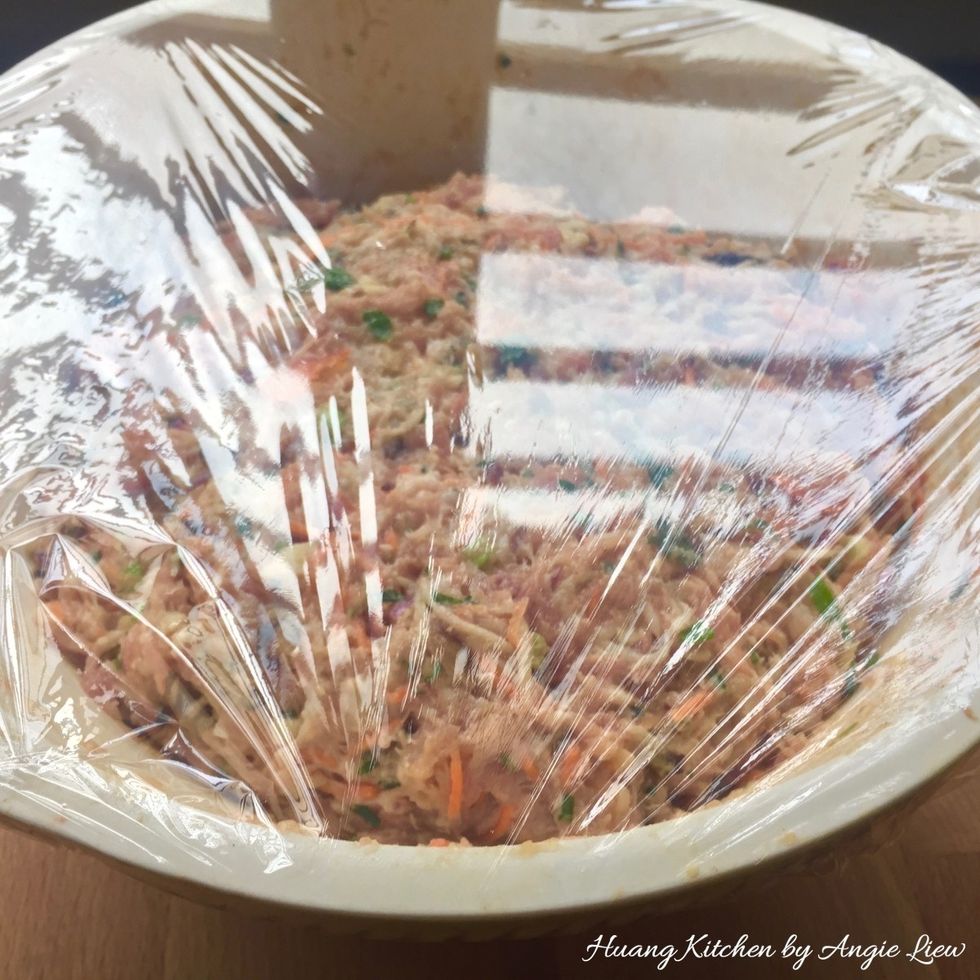 Cover with cling wrap and leave to marinade in the refrigerator for about 30 minutes or even overnight.
Meanwhile, cut the beancurd skin wrapper into equal pieces, big enough to wrap the marinated meat.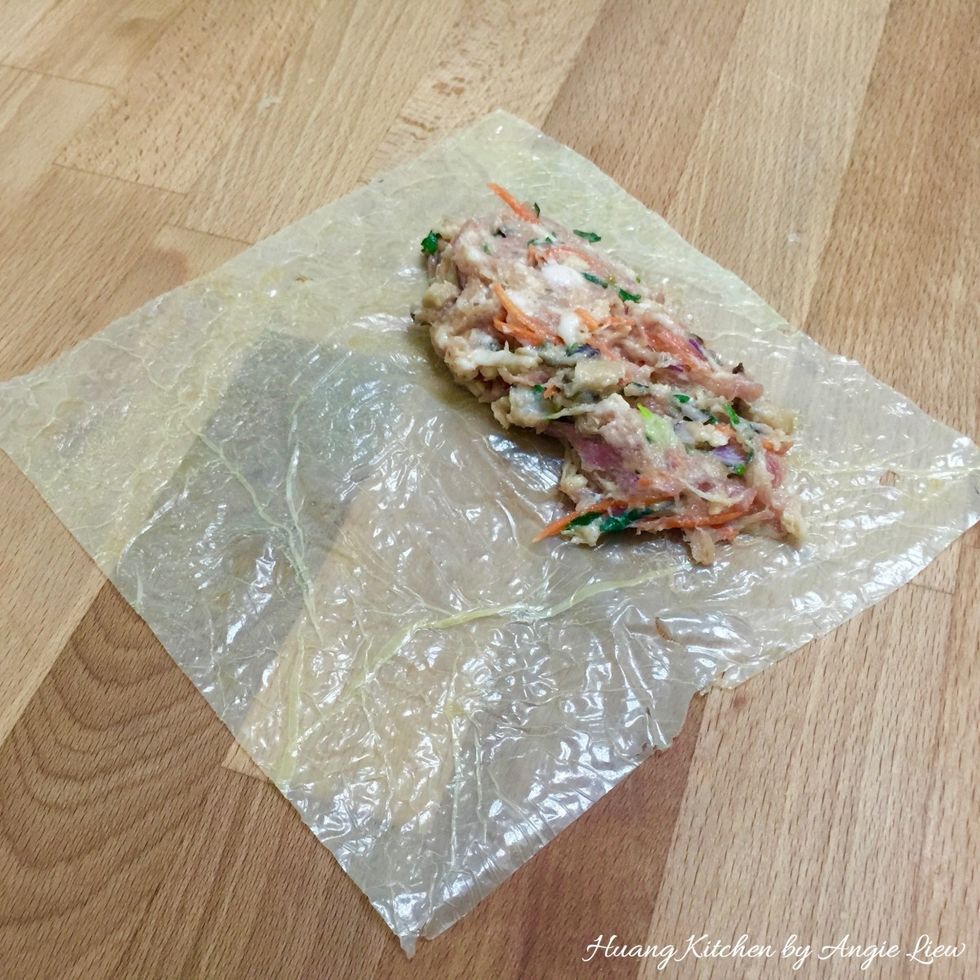 When ready to wrap the meat rolls, spread beancurd skin wrapper flat on a board. Place enough meat filling on the lower half of the beancurd skin, leaving a gap at the bottom and at the sides.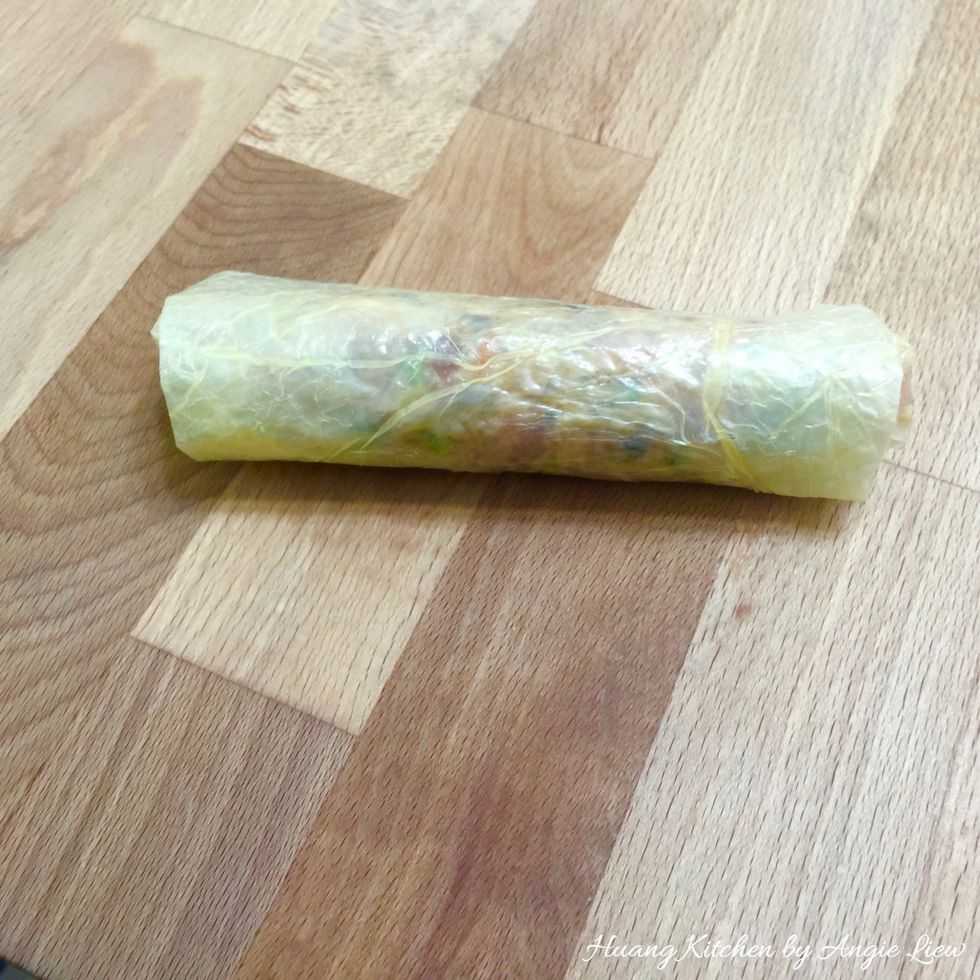 Fold the bottom flap up and then fold the sides over the meat filling. Then roll over tightly to form a meat roll.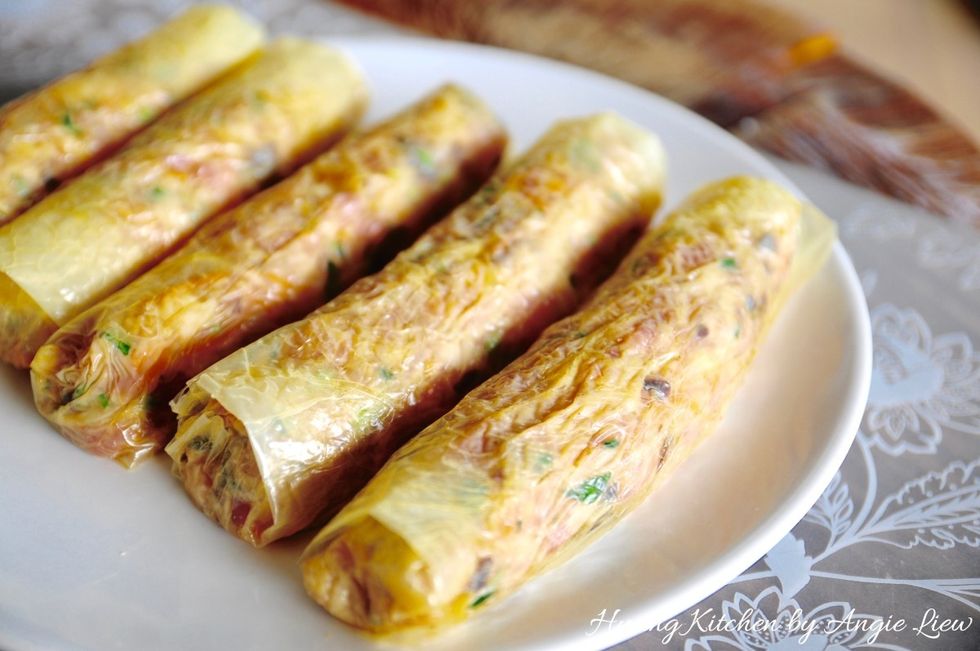 Place the meat rolls on a steaming plate seam side down. Repeat process to finish wrapping all the meat filling with the beancurd skin. You will get about 12 meat rolls.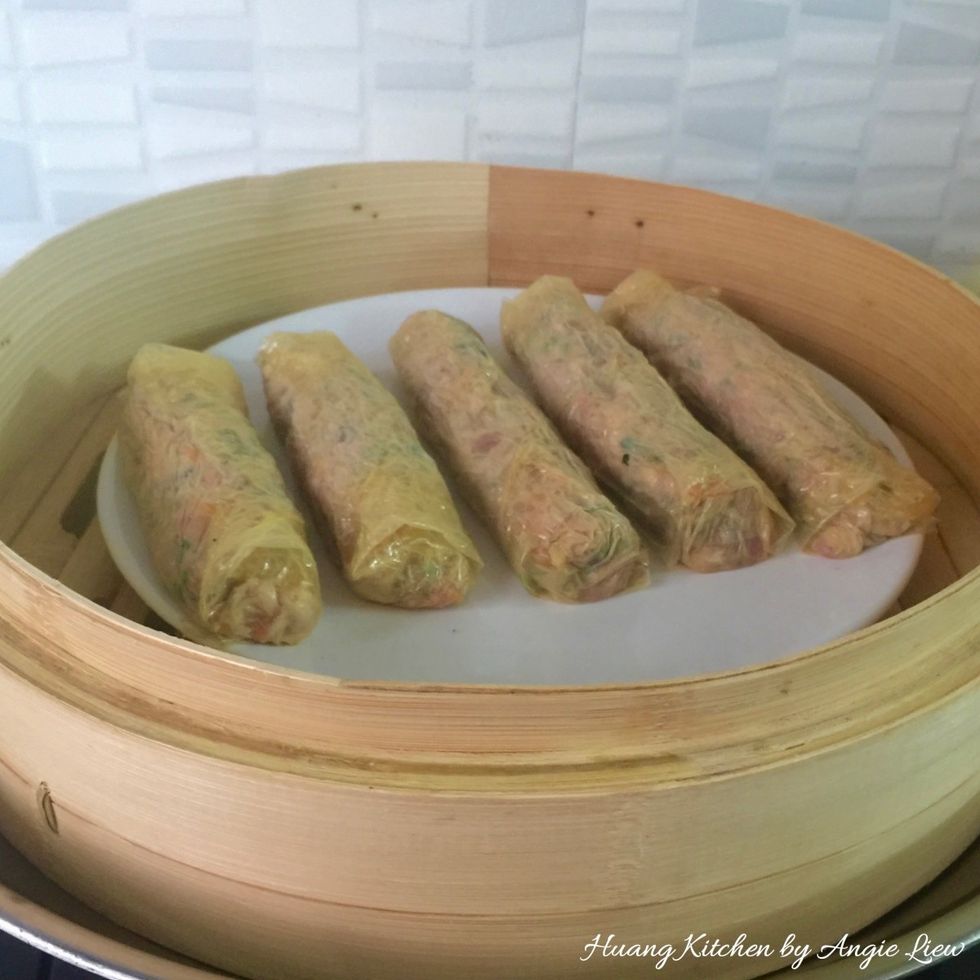 Meanwhile, bring water in a steamer to a boil to prepare steamer to steam the meat rolls. Steam wrapped meat rolls over rapid boiling water using high heat. You may need to steam in batches.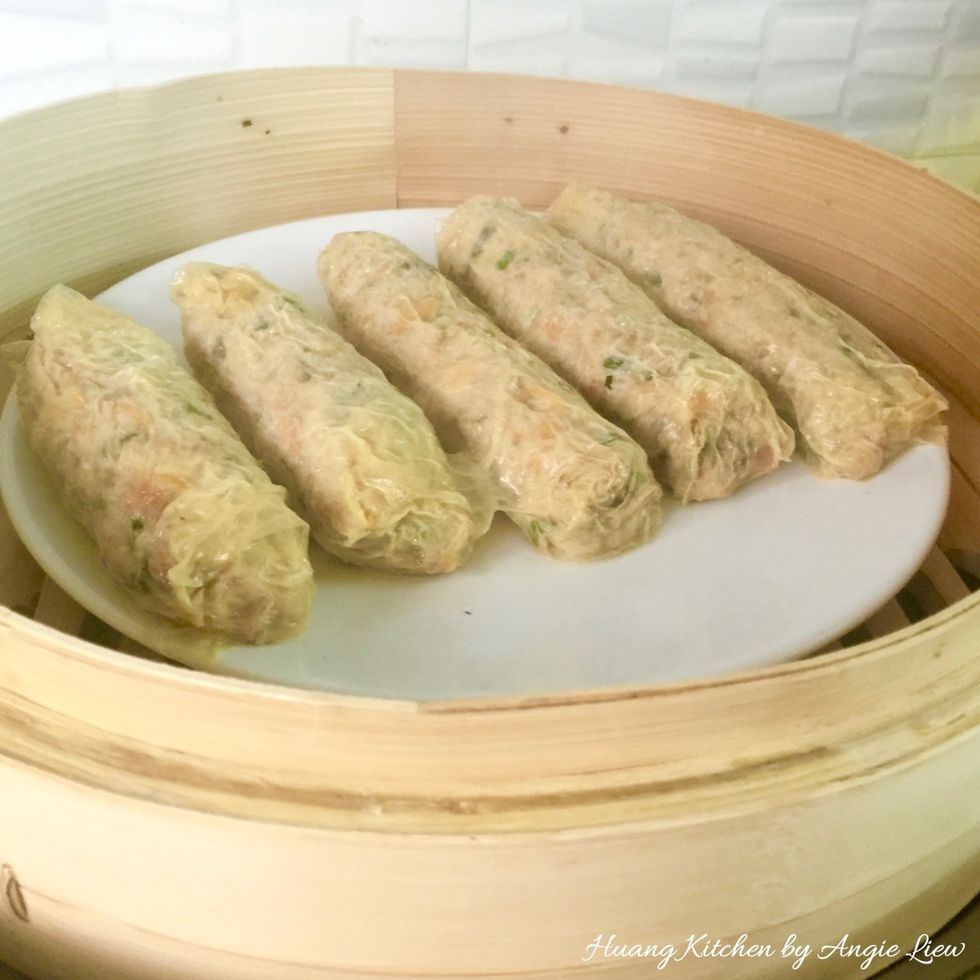 Steam for about 15 minutes or until the meat inside is cooked through. Then remove to cool completely before deep frying them.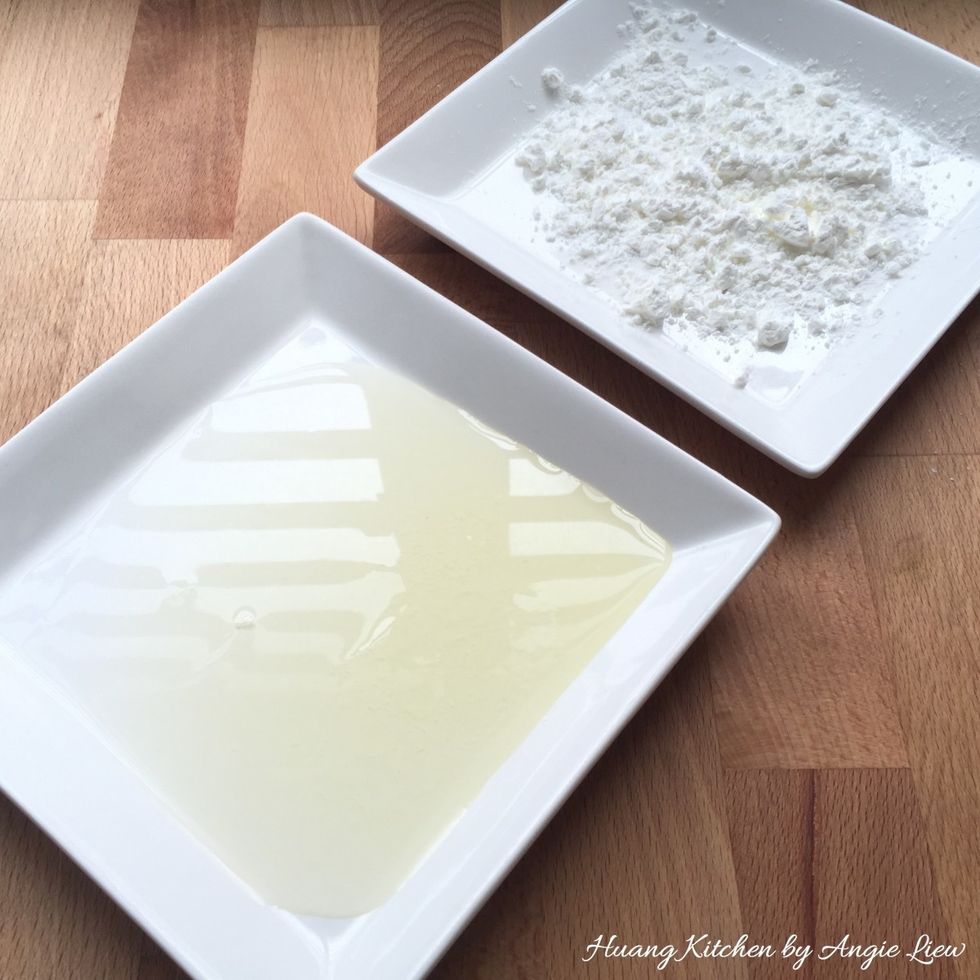 To deep fry, first prepare some egg white and cornflour in 2 separate shallow plates.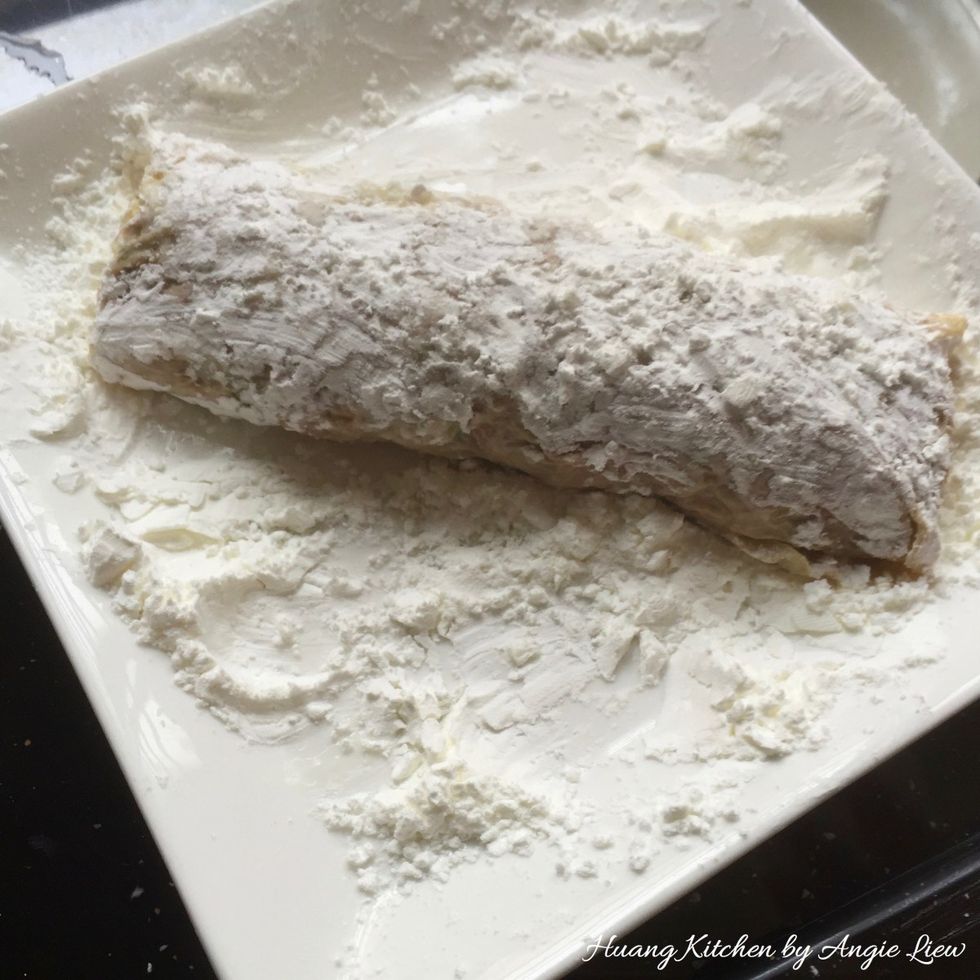 Roll the cooked meat rolls first in egg white and then in corn starch until evenly mixed.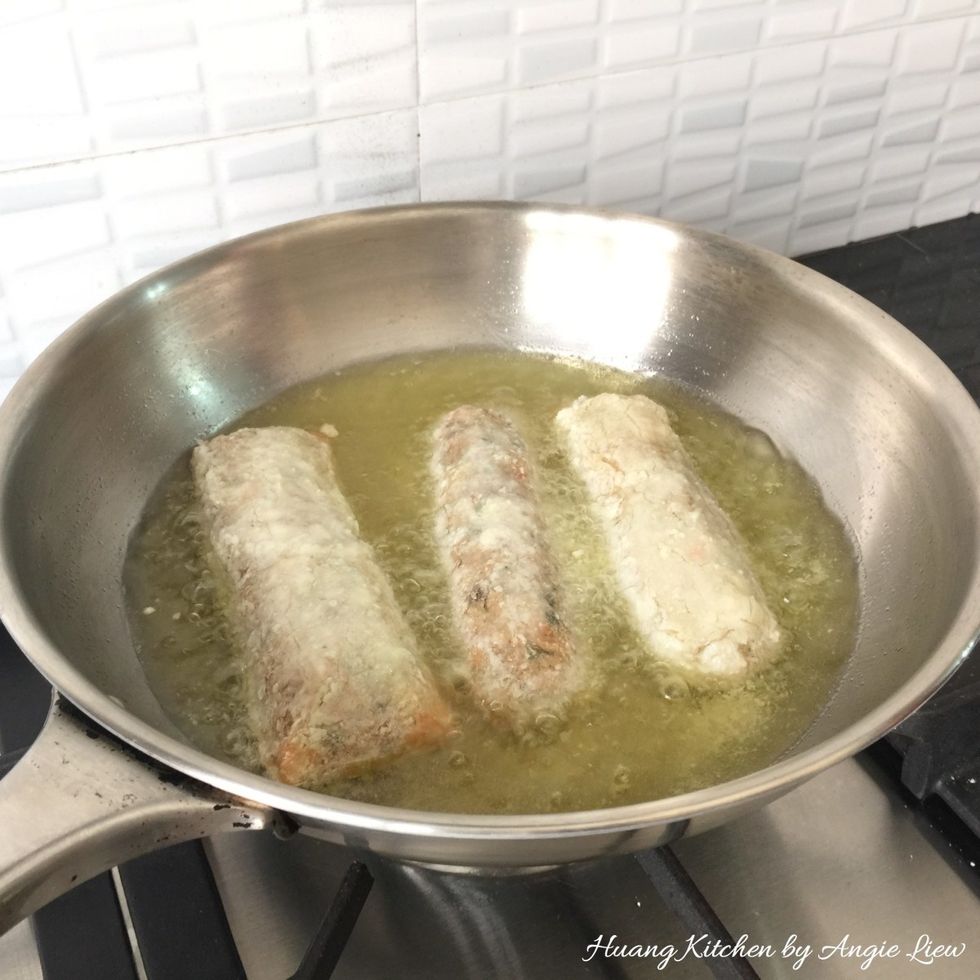 When ready to deep fry, heat up enough oil in wok. Gently and carefully place the coated meat rolls in moderately hot oil over medium to medium low heat.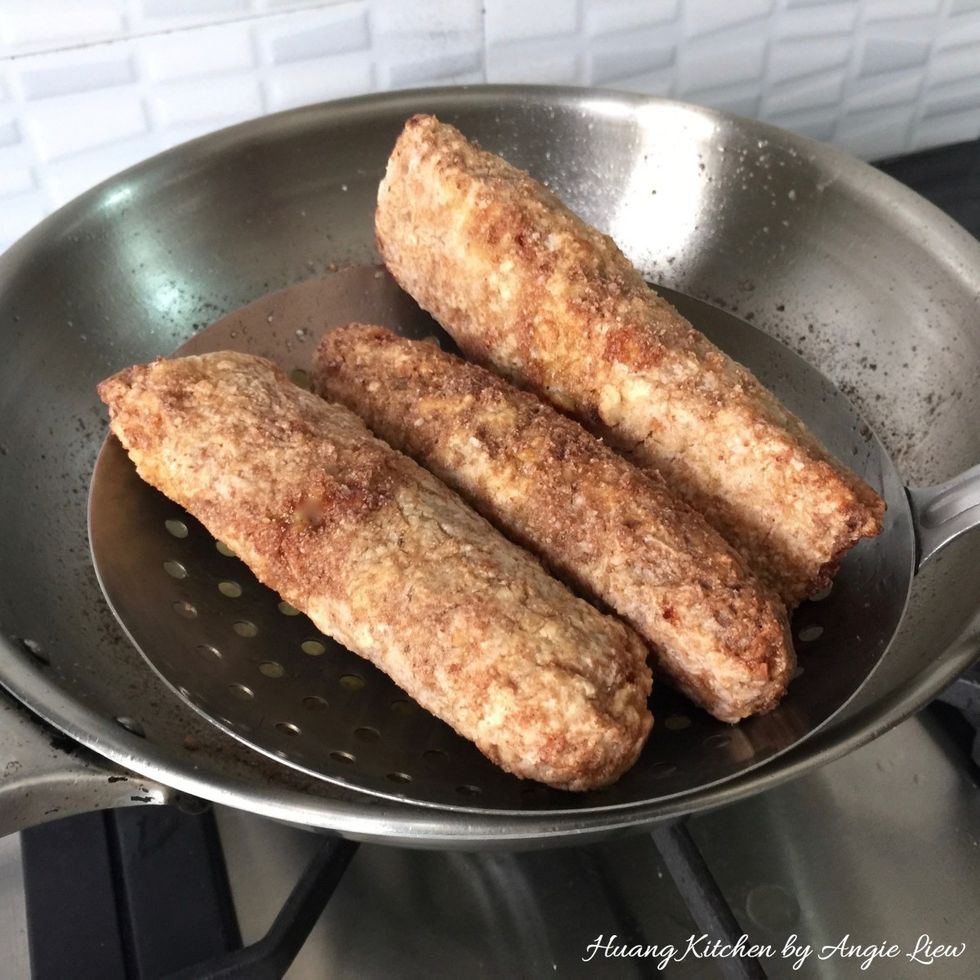 Deep fry till golden brown in colour and just cooked, about 5 minutes. When done, dish up the meat rolls using a strainer.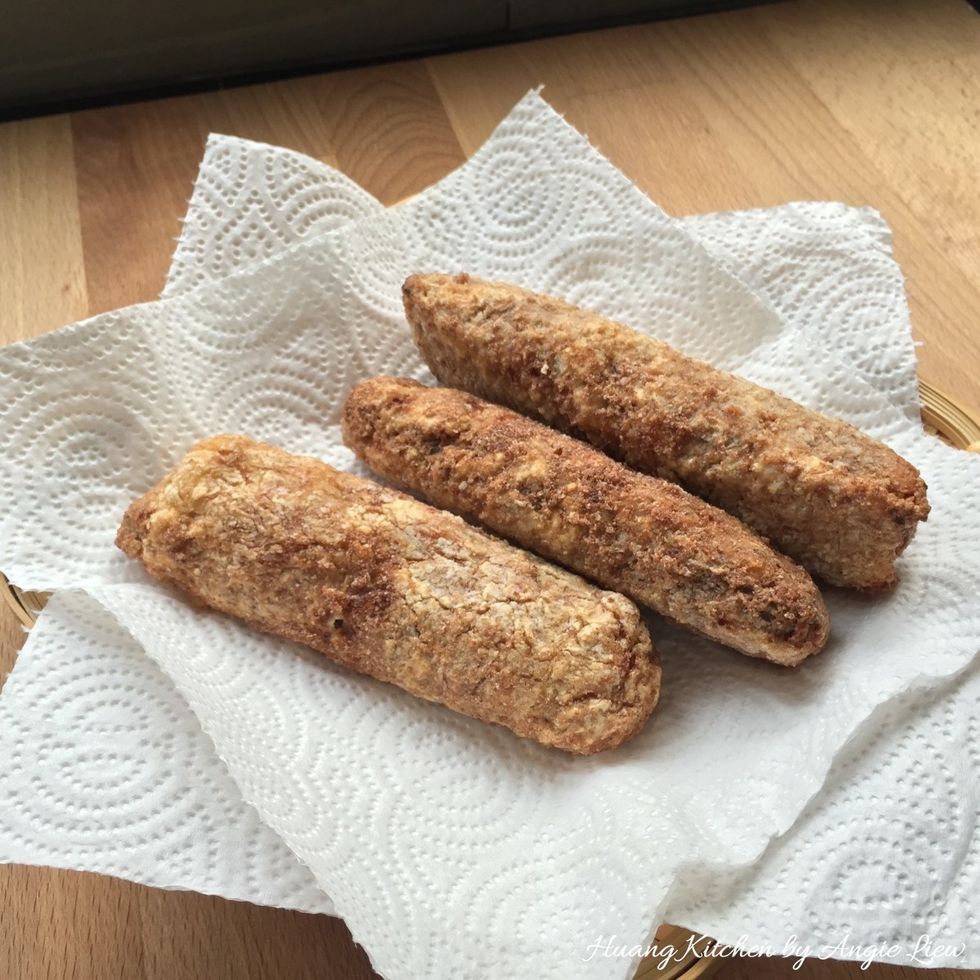 Place the meat rolls on paper towel to absorb excess oil. And we're done!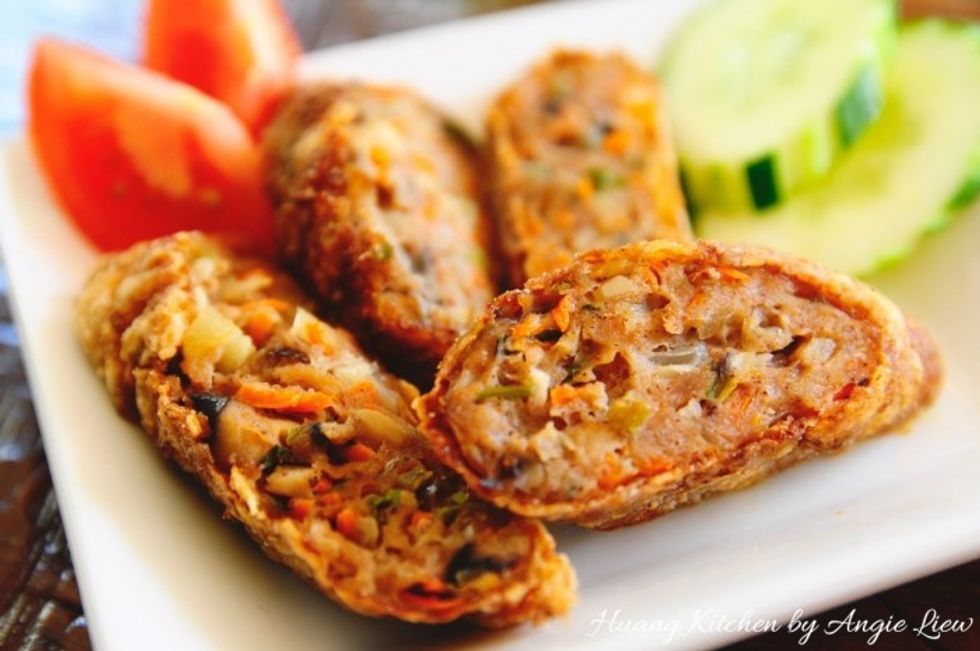 Allow to cool slightly before slicing with a very sharp knife and best served hot. For more details, visit http://www.huangkitchen.com/chinese-meat-rolls/ As always, ENJOY!
1.0kg meat, (pork or chicken) coarsely minced
250.0g fish paste
5.0 dried shiitake mushrooms, soaked and diced
5.0 salted egg yolks, cut into pieces
1.0 small jicama/yambean, grate
1.0bnch coriander leaves, chopped
1.0 garlic, minced
5.0 shallots, minced
1.0 egg yolk
2.0Tbsp cornstarch,
1.0Tbsp sesame oil (seasoning)
1.0Tbsp oyster sauce (seasoning)
1.0Tbsp chinese five spice powder (seasoning)
1.0tsp salt, white pepper, sugar (seasoning)
5.0 dried beancurd skin, cut into equal pieces
1.0 egg white, lightly beaten (deep fry)
0.0c corn starch (deep fry)
Huang Kitchen
For more step-by-step recipes and cooking tips, visit my website at \nhttp://www.huangkitchen.com