Make Chicken and Mushroom Stuffed Puff Pastry
1370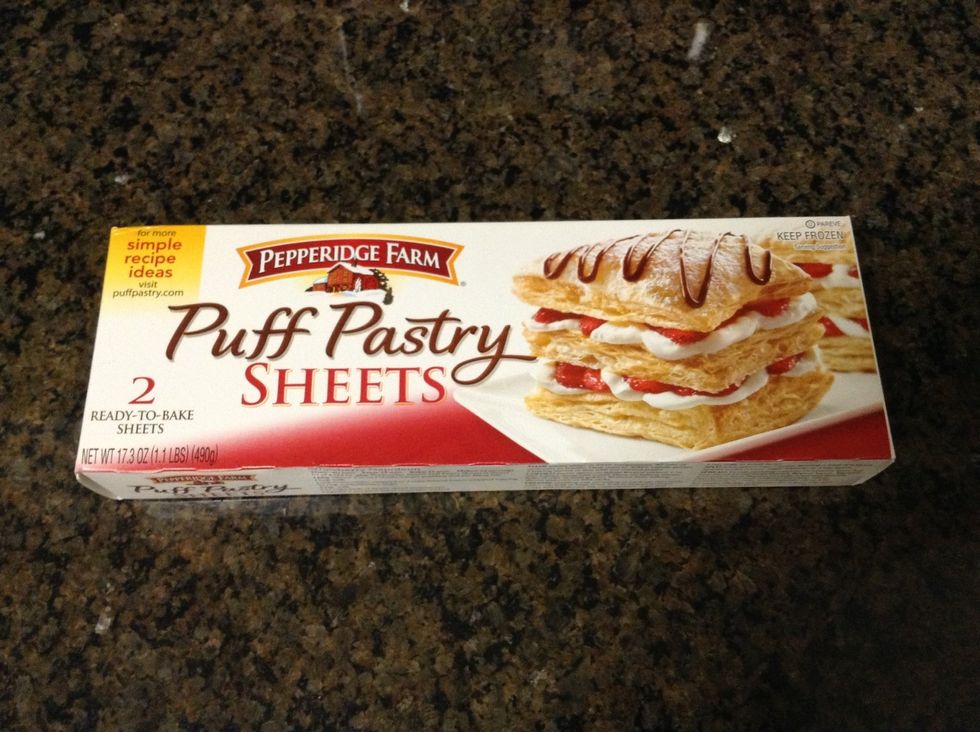 Take out your frozen puff pastry and and leave it out to thaw during the cooking process.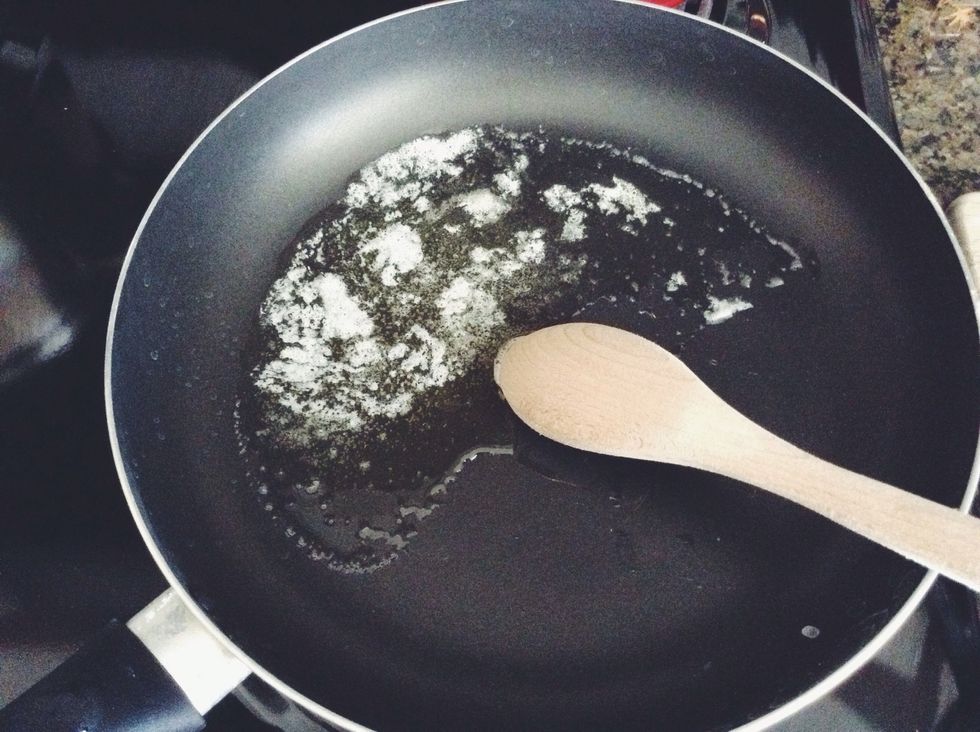 Start by melting one tablespoon of butter in your pan on medium heat.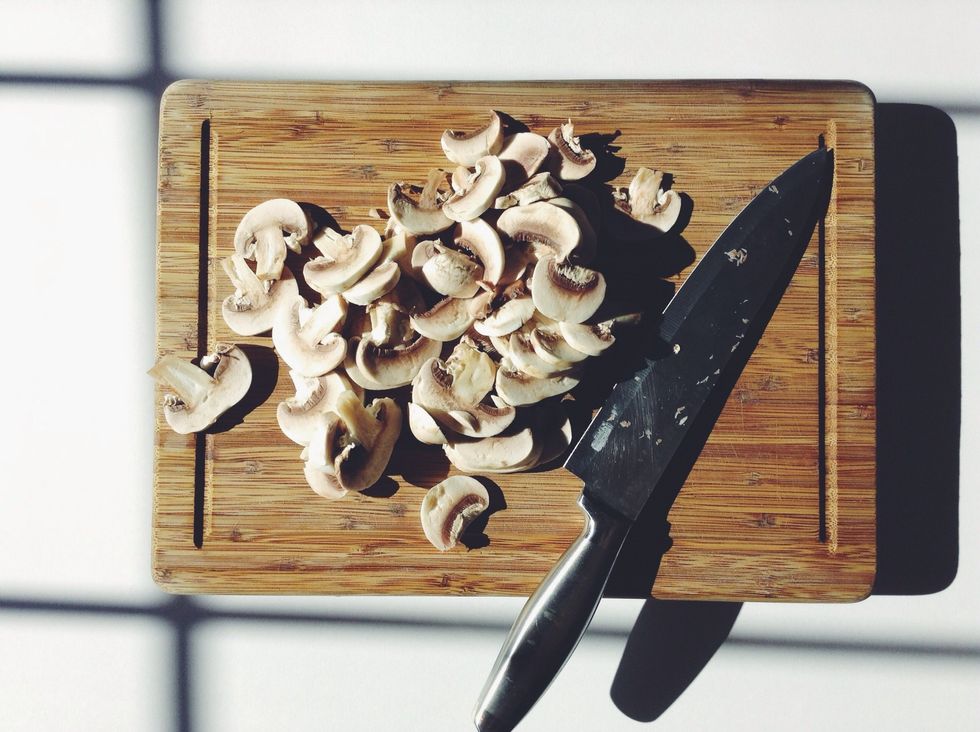 While your butter melts, wash your mushrooms and dice them into thin slices. You can use the amount I provided, less, or more, it's really just preference of how much mushrooms you want.
Add your mushrooms to the pan and coat in butter. Stir till almost fully cooked.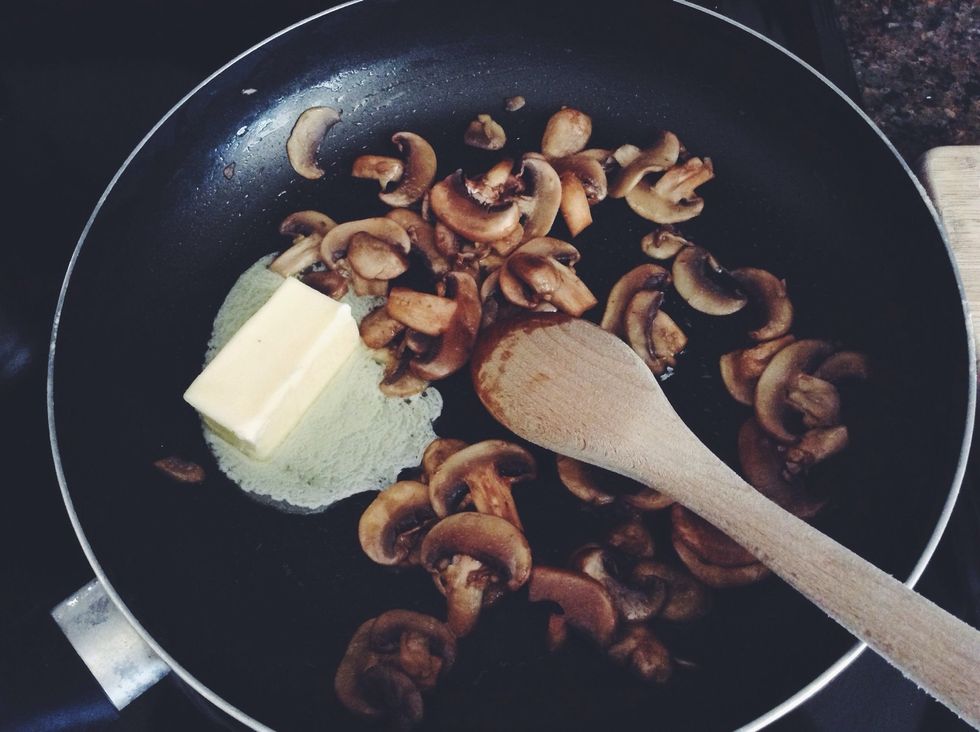 Once softened, add 4 tablespoons of butter. I'm using unsalted but you can use salted, just make sure to taste for saltiness later.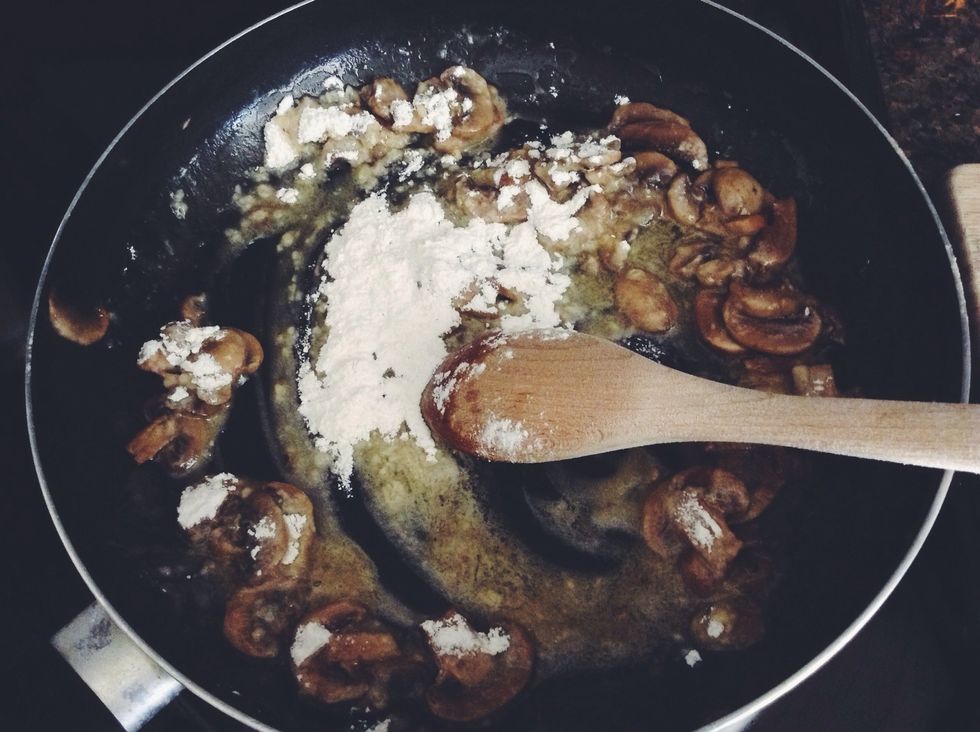 Once the butter has melted add 1/4 cup of flour. And stir till combined.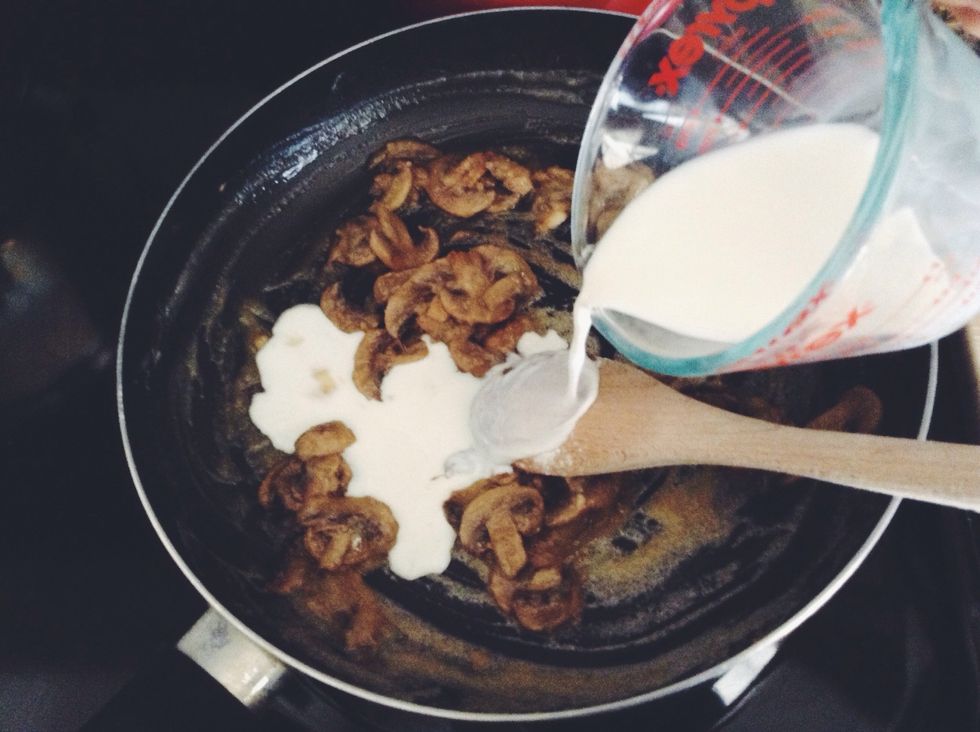 Next add your 1/2c of milk. Stir to combine.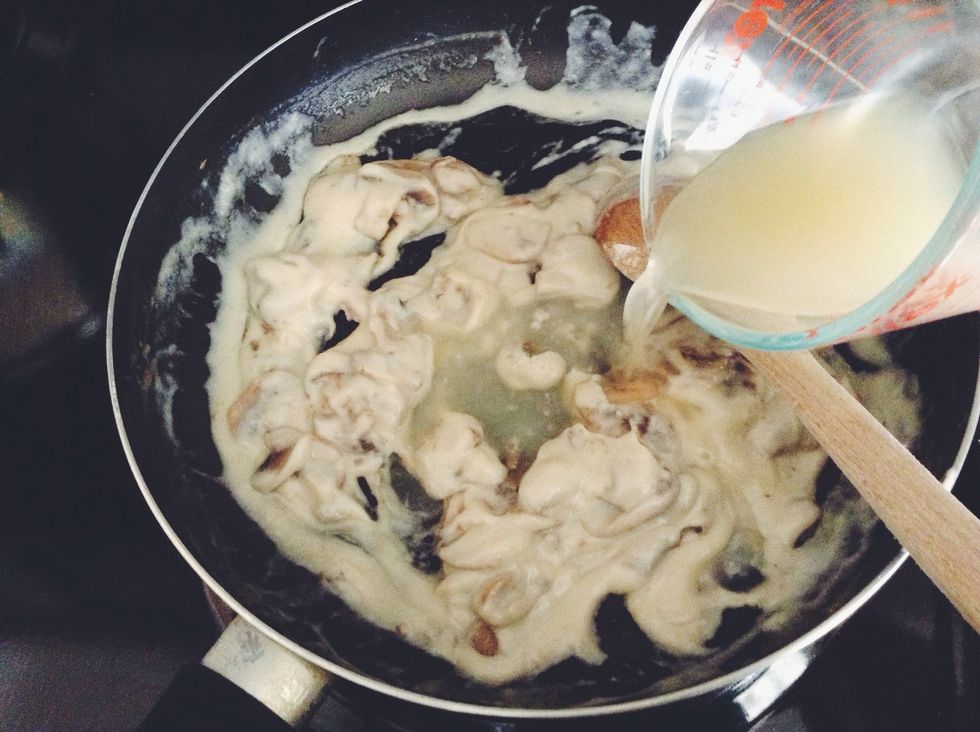 Now ad your 1/2 c. Chicken broth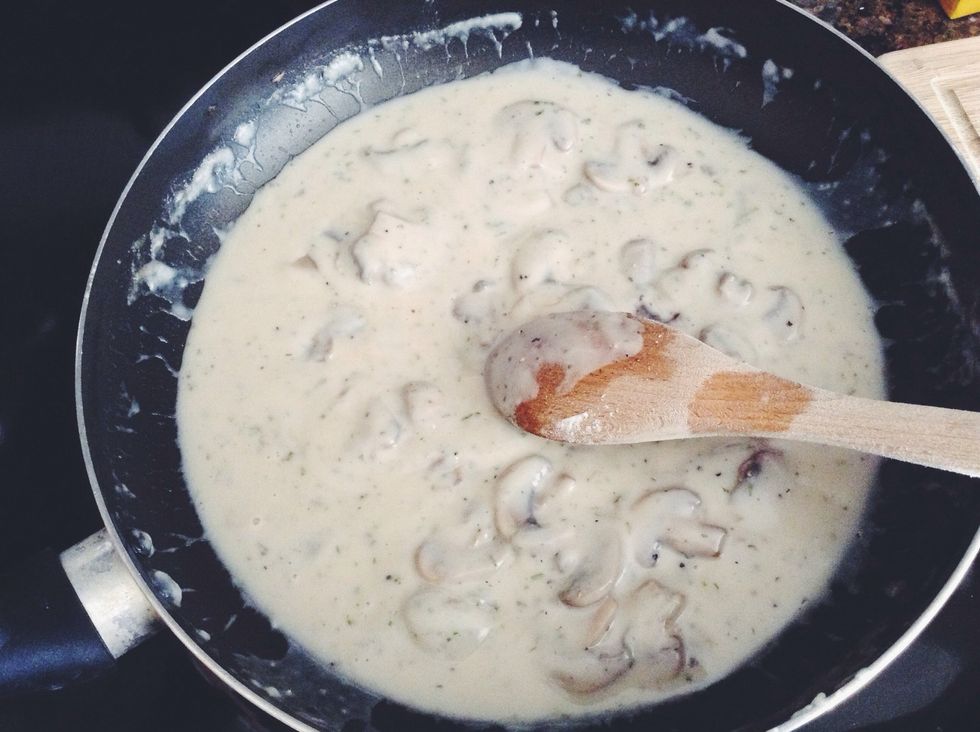 Once it's all combined it should look like gravy! Add your salt and pepper. I also added a bit of parsley, but that's optional.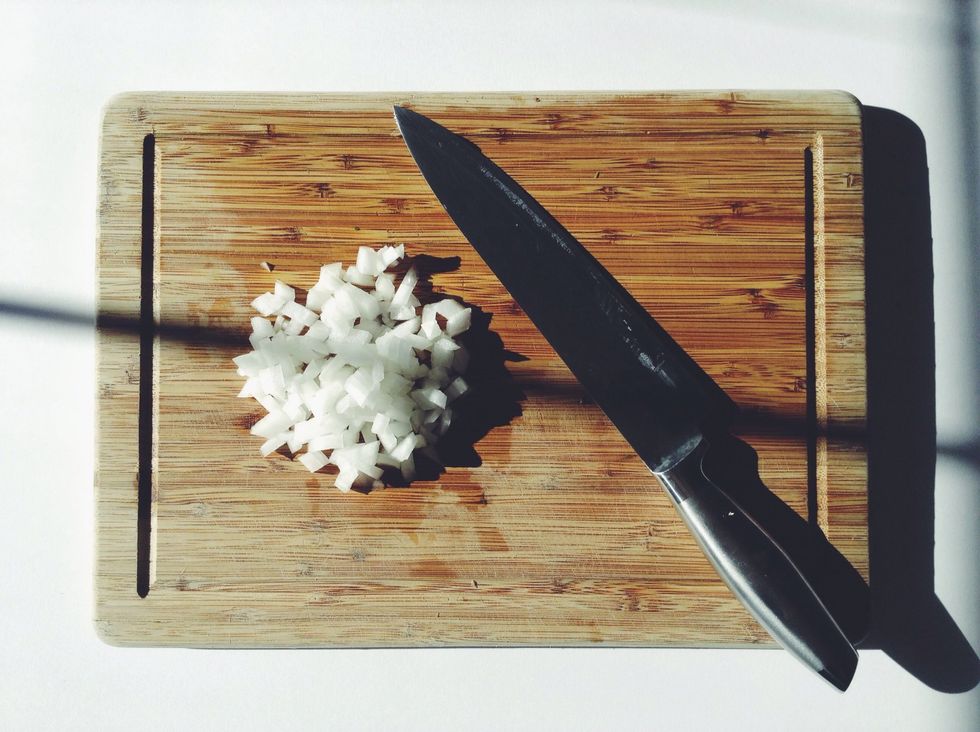 Dice 1/4 cup of onions.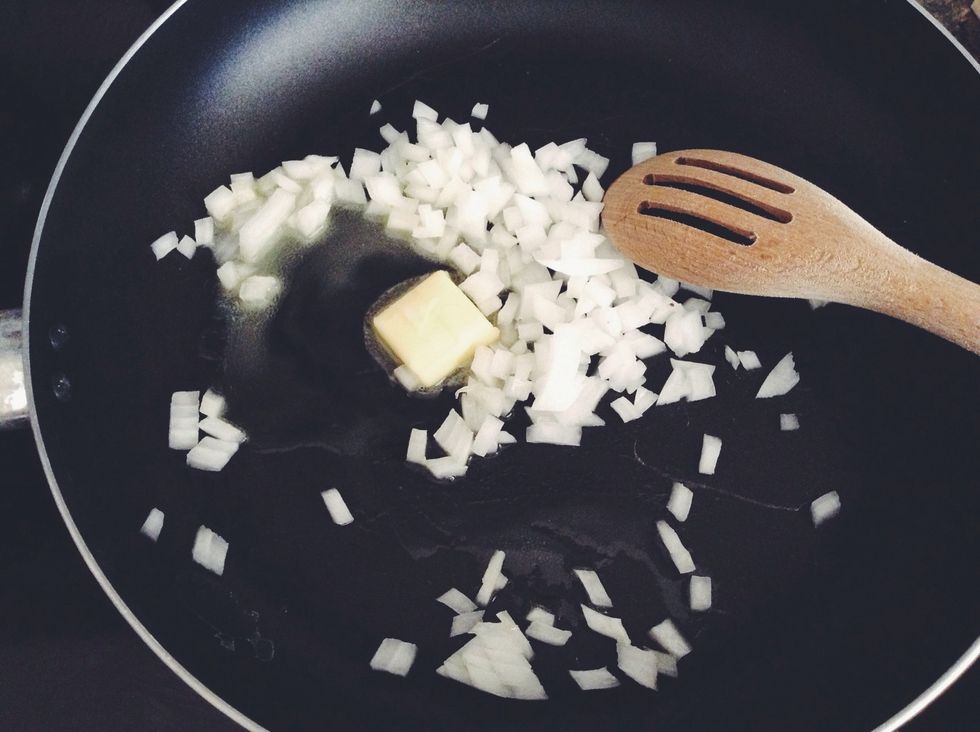 add to the pan 1 tbs of butter and onions. Sauté until the onions become translucent.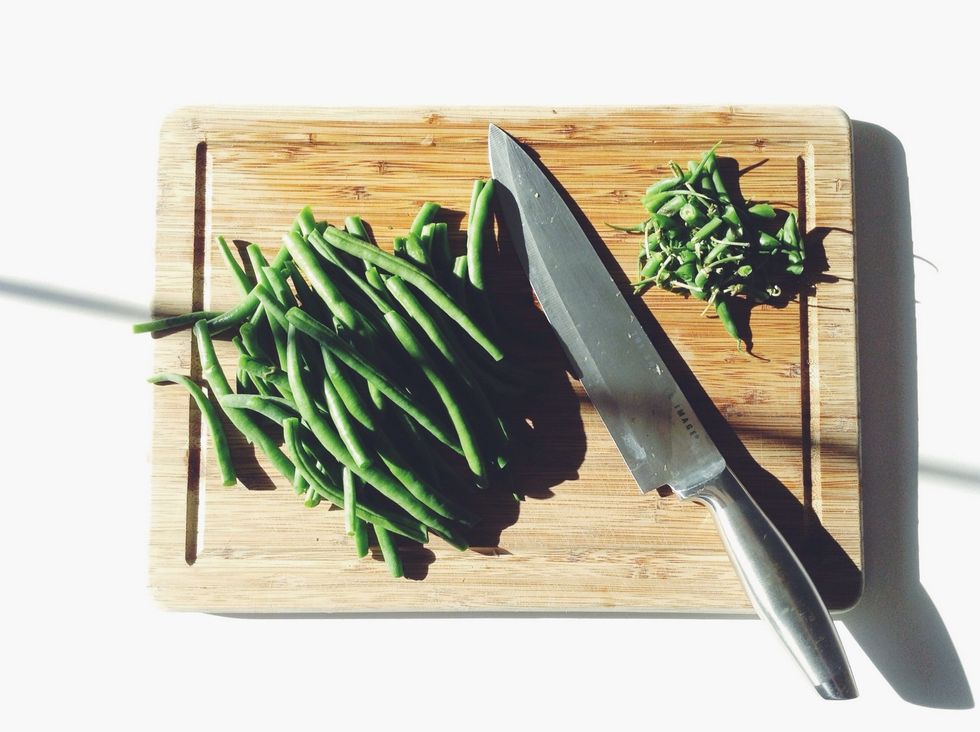 Meanwhile, prep your green beans by washing and trimming off the ends.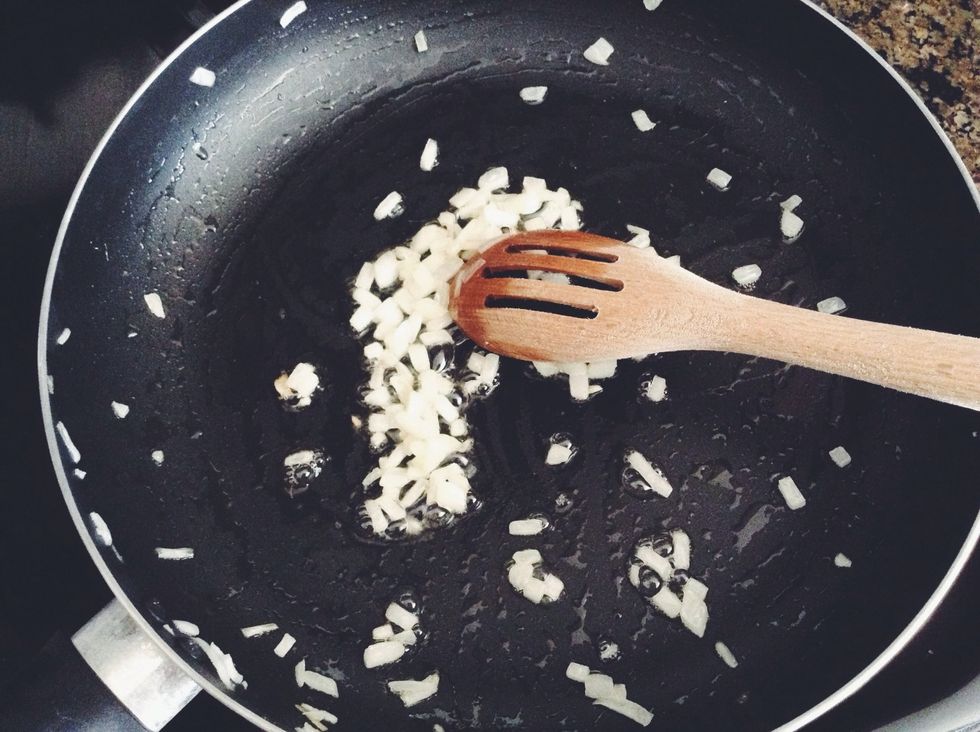 Keep stirring when you can!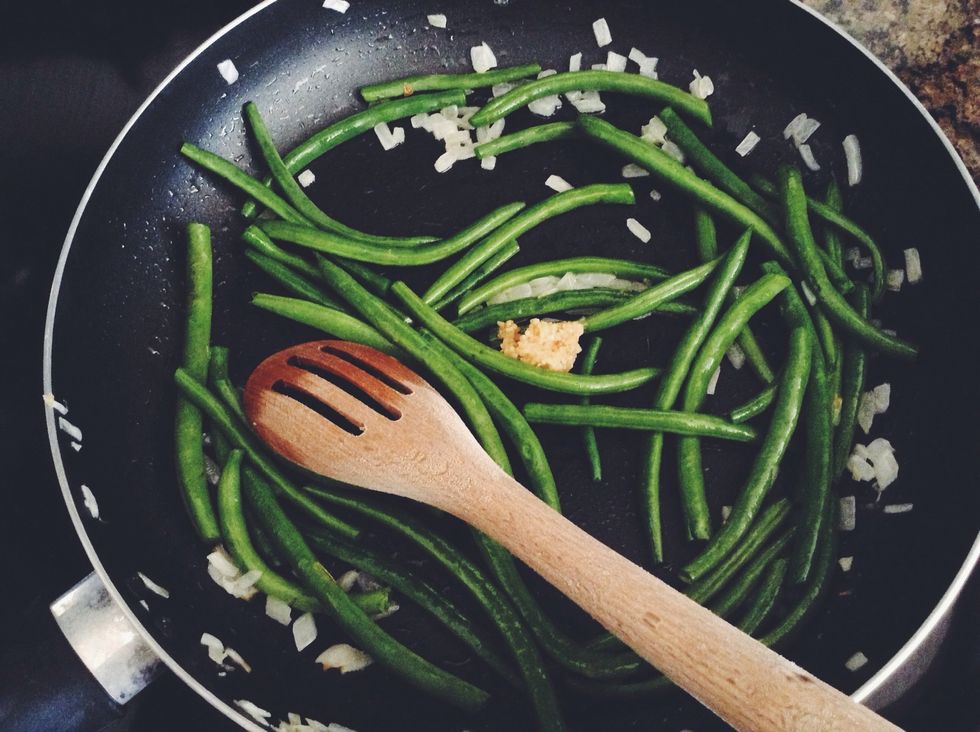 Now add your fresh green beans to the pan with about a teaspoon of minced garlic. Stir to combine.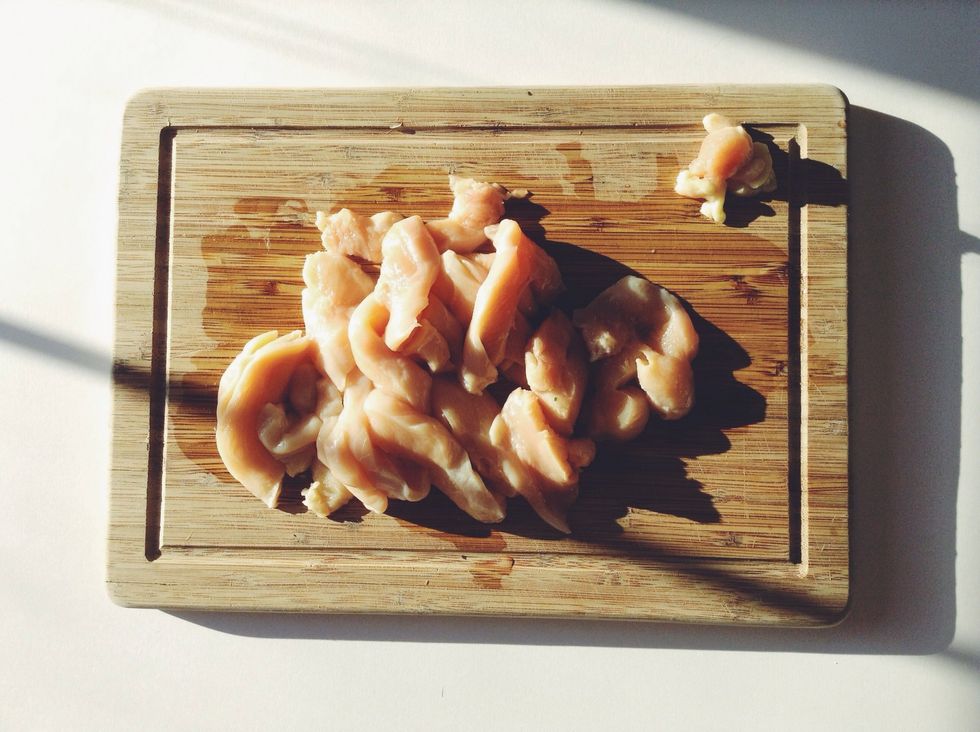 Cut your chicken breast into thin slices for quick cooking.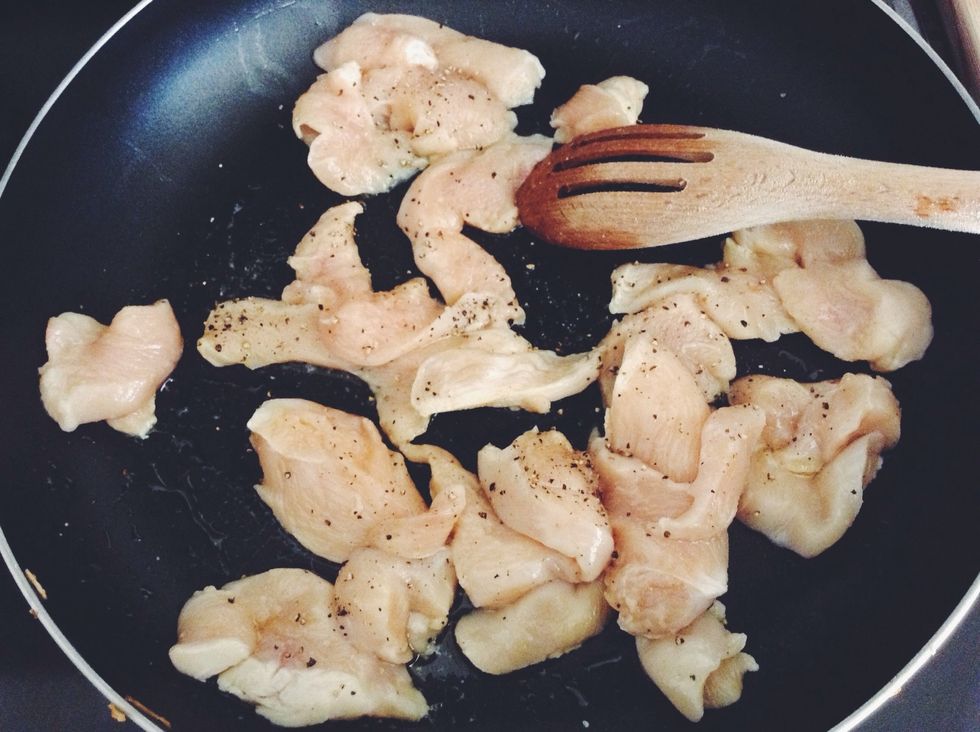 Add to the pan with one tablespoon of olive oil, salt and pepper to taste. Cook on medium heat.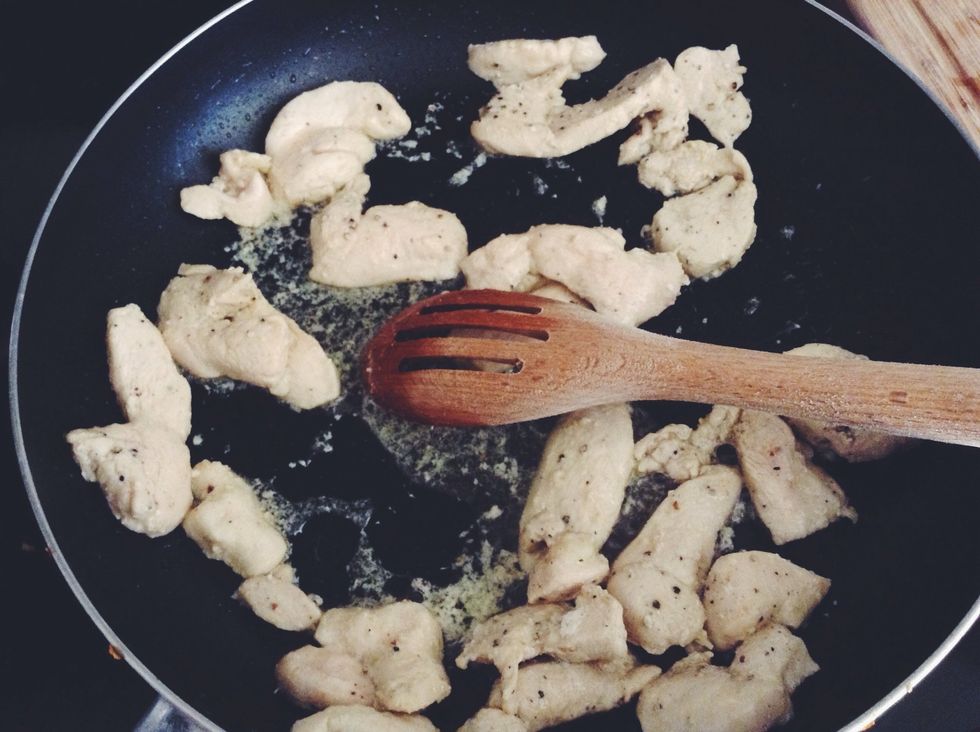 Stir often and cook just until they are just done to help keep in juices. Once finished let the chicken cool. After I let it cool, I sliced it into thin pieces for easier eating.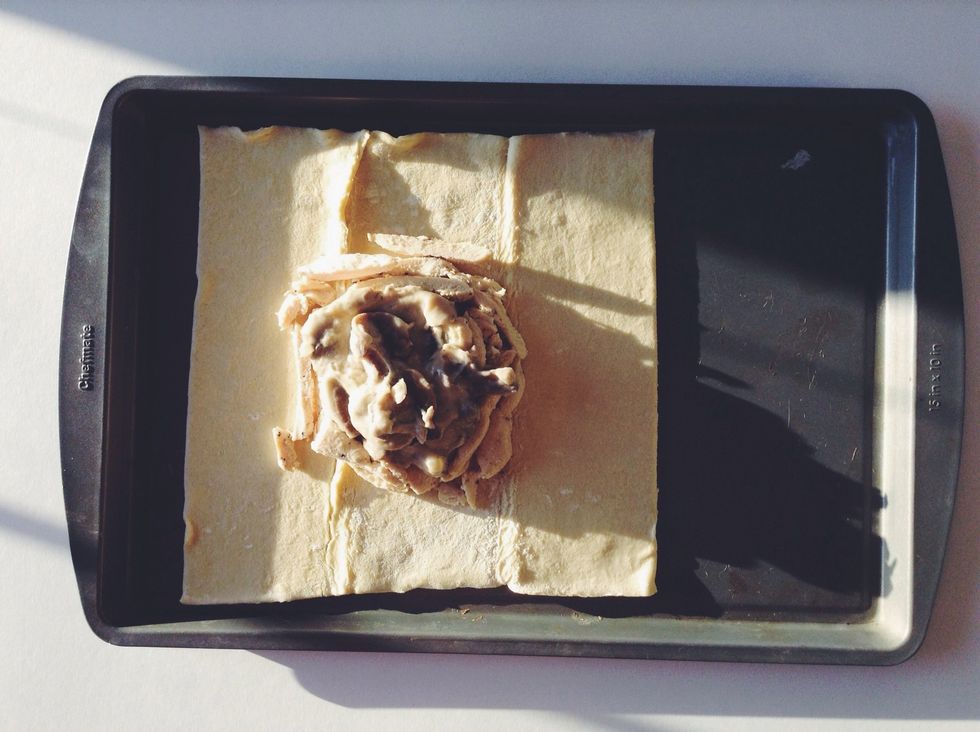 Lay your phyllo dough on a lightly greased sheet pan and in the center add as much or as little chicken as you'd like but try to keep it all in the center. Top with mushroom, about 1/2 cup.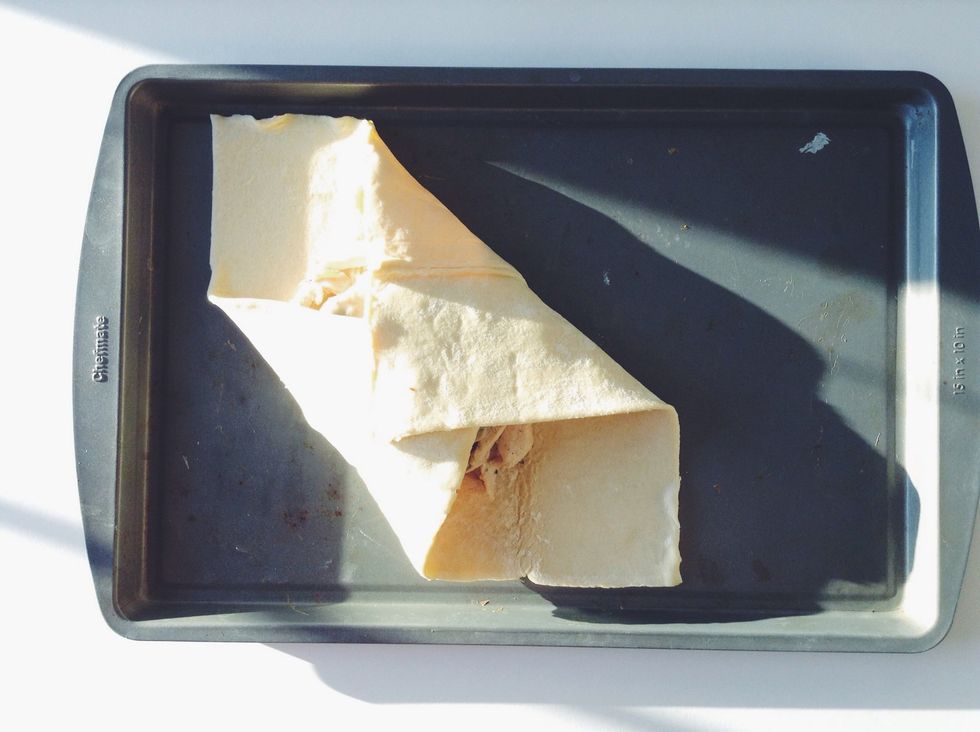 Take the two opposite corners, top and bottom, and fold inward, firmly tap to keep the, together.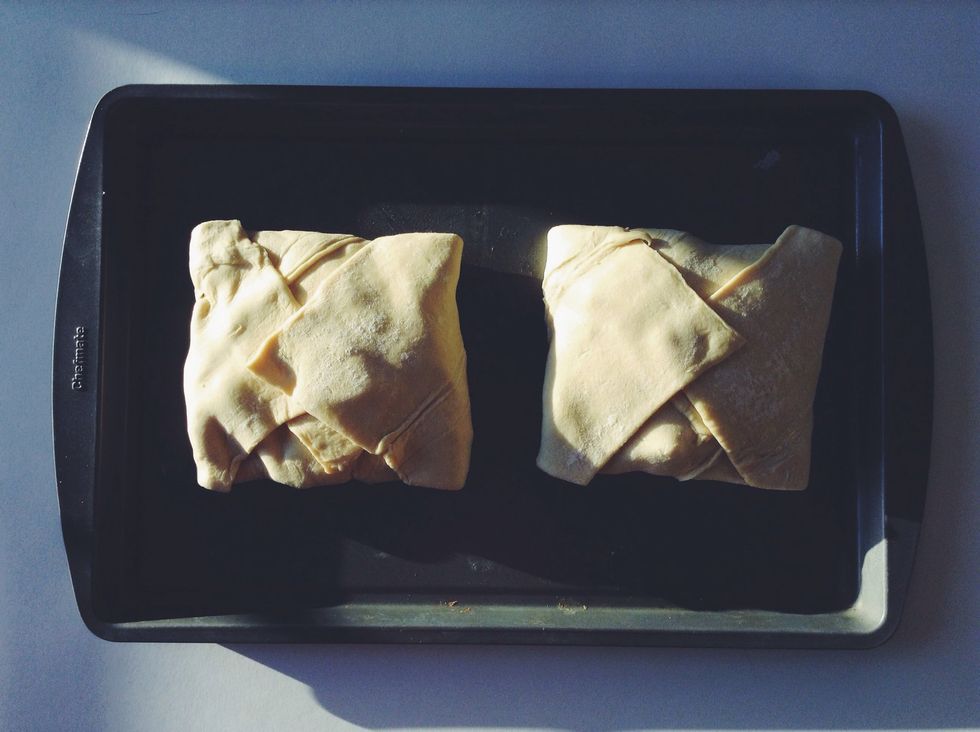 Then fold the last two corners to make a square. Finish your second pastry pocket and cook in the oven at 400 degrees F for 20 minutes! Brush the top with an egg wash to get a nice golden color.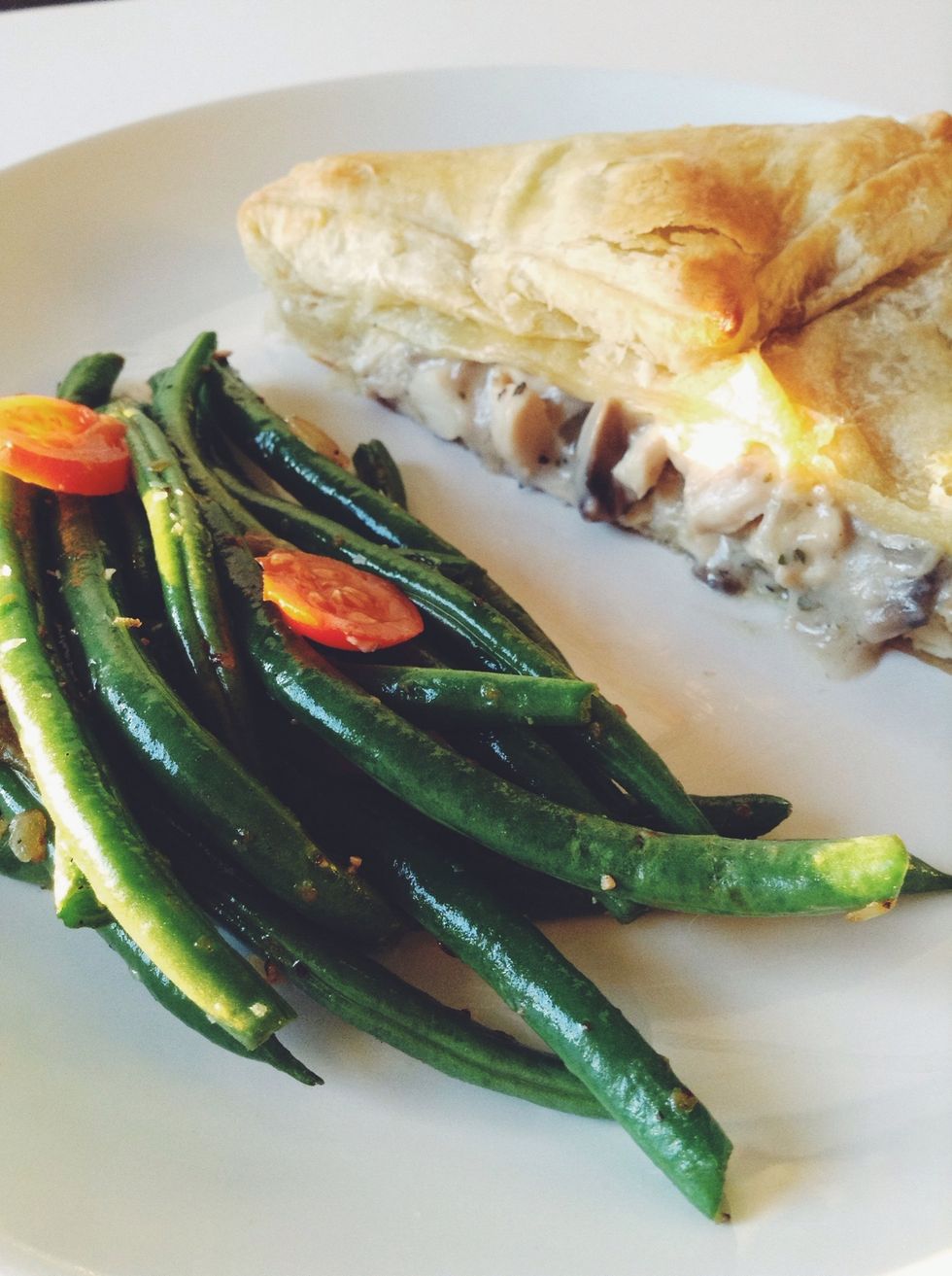 You can serve as a whole or cut diagonally into triangles. This serves 2 large portions when whole, or 4 medium portions when cut in triangles.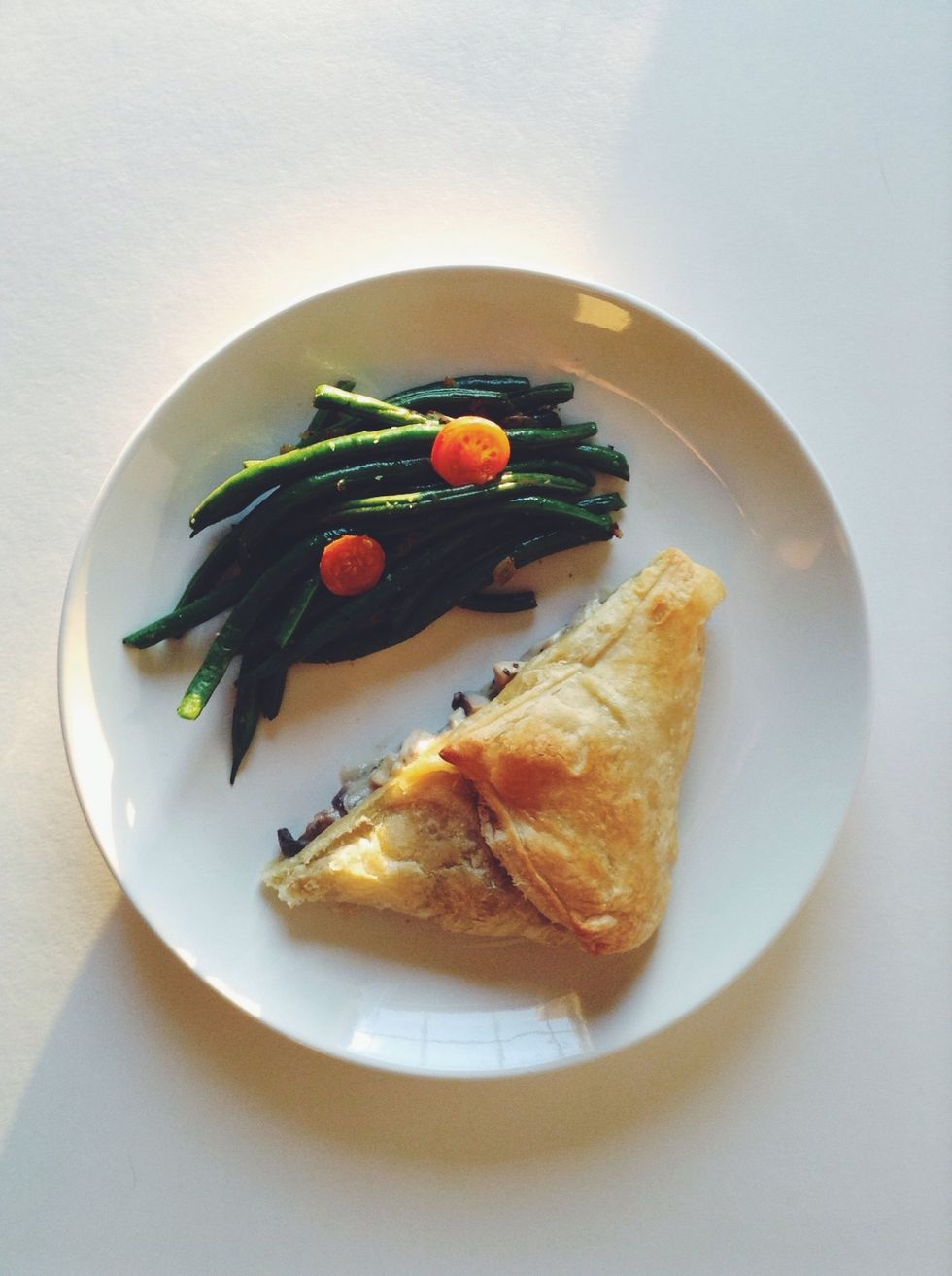 This was a good sized portion, even my boyfriend was full after eating it!
I made this recipe as I cooked it (I didn't even have the phyllo dough yet, had to send the bf) which is why it was a little scattered for me. Nonetheless it was delicious and exactly what I wanted!
In hindsight, I would have cooked the chicken in the oven! I forgot that I had to turn the oven on anyway in the end to bake the whole thing so my initial though of saving energy, meant nothing. 😁
Options: at the beginning of cooking, bake whole chicken breasts (drizzle with olive oil) in the oven at 325 for 25 mins. Then slice into thin pieces. Meanwhile cook mushroom sauce and green beans.
You could substitute making your own sauce with canned cream of mushroom. Not a fan of shrooms? try cream of chicken, broccoli or even celery!
1.0 Phyllo dough (2 sheets in one box)
6.0 Button mushrooms
6.0Tbsp Unsalted butter
0.0c Onion
2.0bnch Fresh Green beans (measure by serving per person)
2.0 Chicken breasts
Salt & pepper
0.0c Flour
0.0c Chicken broth
0.0c Milk
1.0tsp Minced garlic
Sherry Williams
Love to cook bake and create. Owner of the blog I AM PISCES. All my guides are featured on my blog with better pictures!