How to make braised beef shank fettuccine
This recipe may seem like a lot but it's really not that hard. Season some meat, brown it, sauté some veggies, add some liquid, then slowly cook it. Toss with pasta and voila, Beef Shank Fettuccine!
330
I suggested in the ingredient list that you use 1.5 tablespoons of Italiano Pronto. 3 teaspoons = 1 tablespoon. I use the seasoning in 1 teaspoon incriments. Usually 2 pinches for me = 1/2 teaspoon.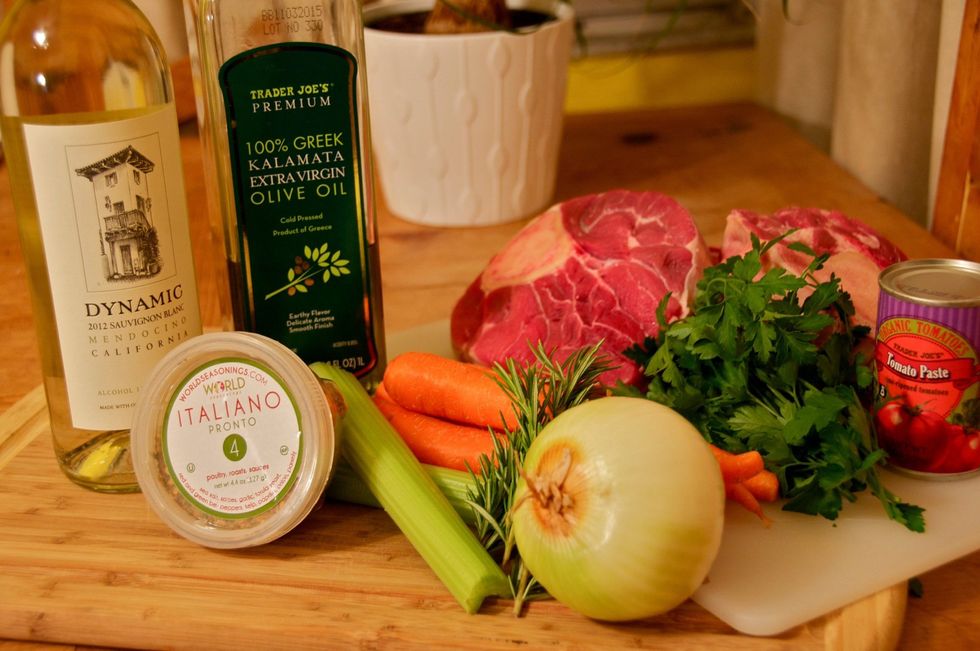 The only ingredients missing here are the broth, garlic and pasta. I used organic everything for this recipe. It cost me less than $45 and it made enough to feed 4 people with left overs.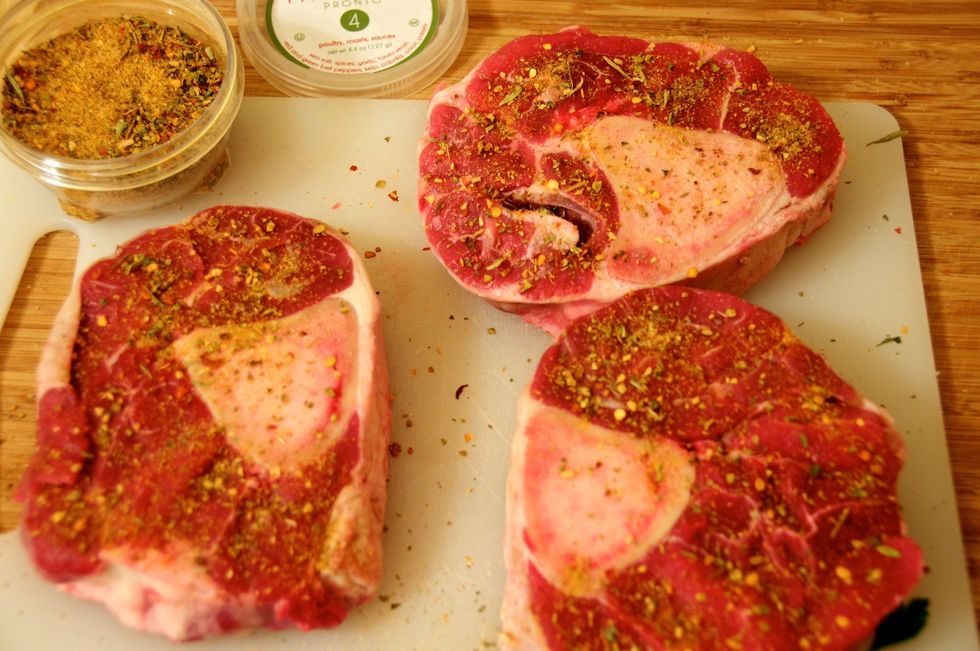 Use a couple pinches of #4 Italiano Pronto on each side of the shank, let them sit at room temperature for 20 minutes or so before browning. It gives the herbs and spices time to release the flavor.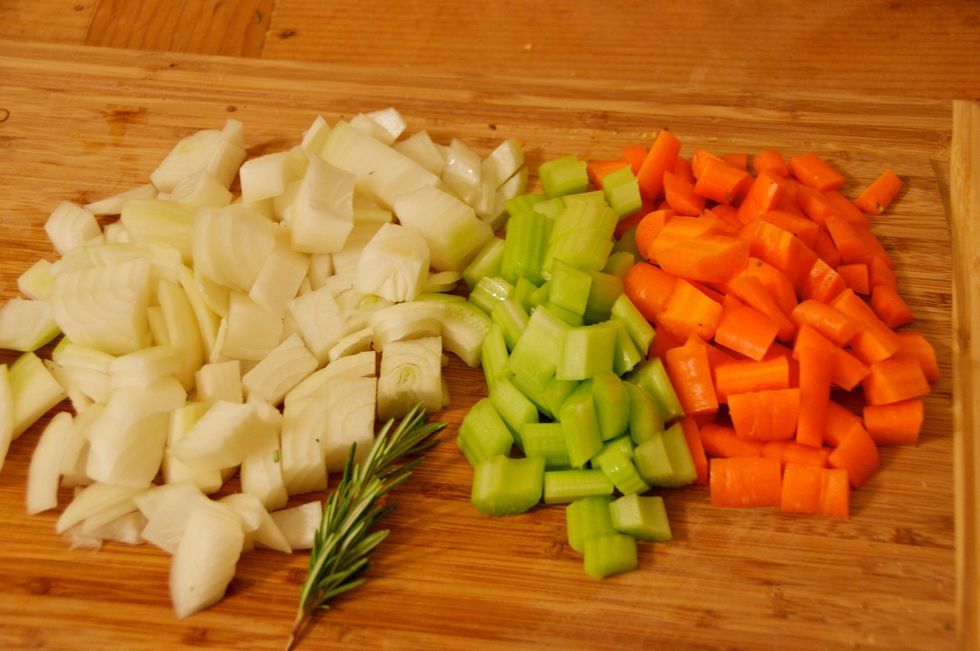 Roughly chop the onions, carrots and celery about in 1/2" chunks. They will be blended into the final sauce so don't worry about making them pretty. You can even leave the skin on the carrots.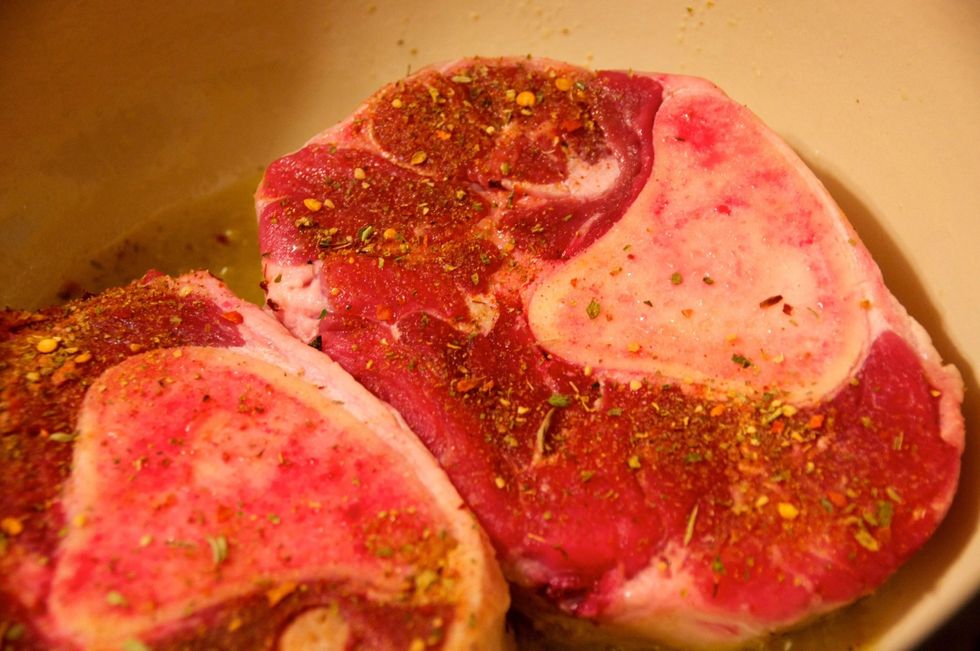 Place your dutch oven over high heat and add 1 tablespoon olive oil. Once the oil is close to smoking, add the beef shanks and brown on all sides. Usually about 3 minutes per side.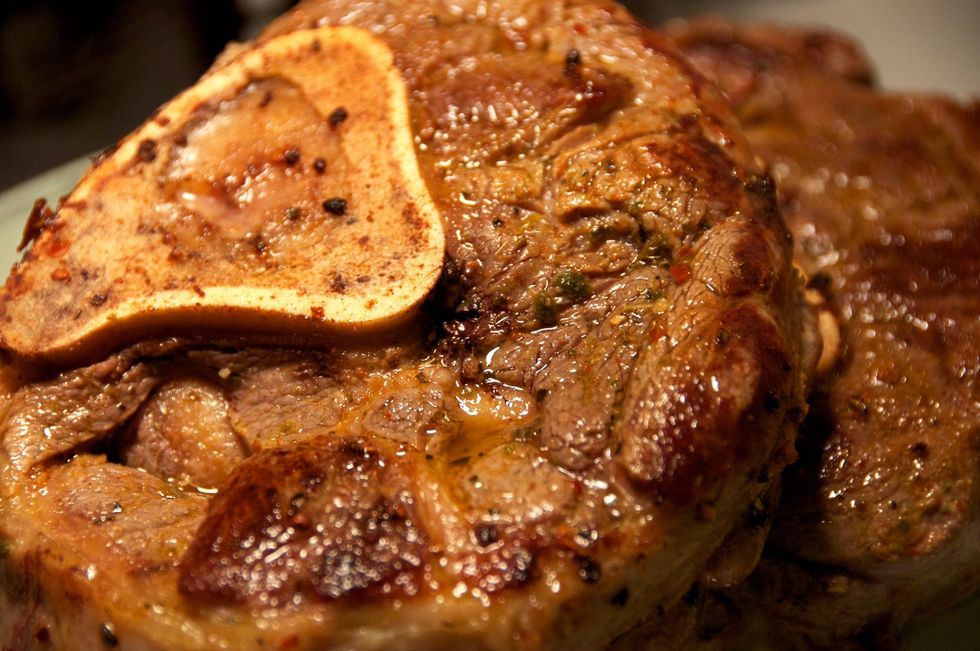 This is how they should look. After you browned all sides, remove from the dutch oven and set aside. Keep the heat on medium to high because you have to cook the veggies next.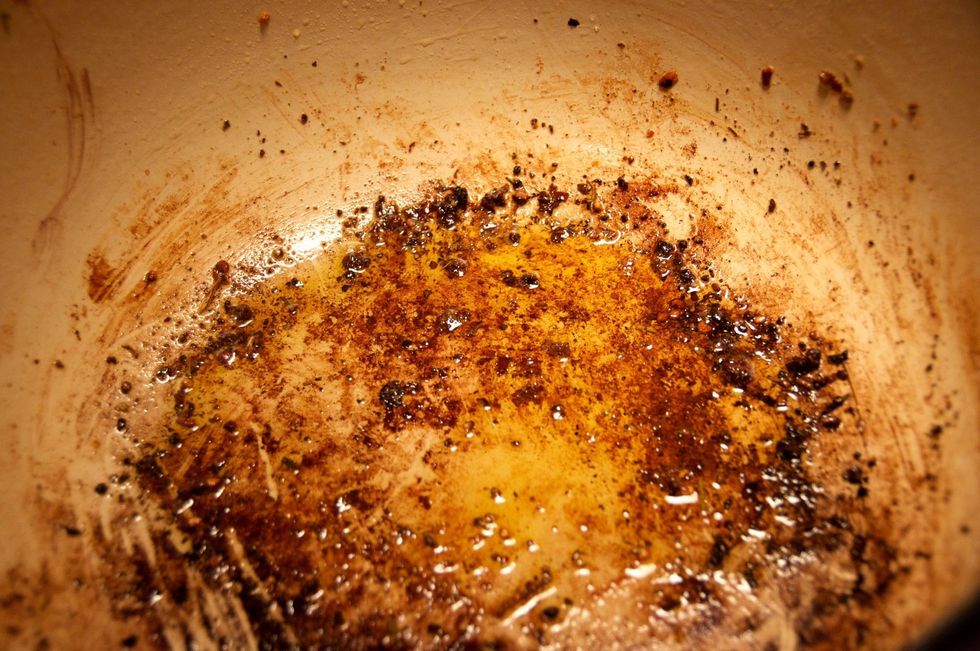 Don't worry about all the charred little bits and pieces. They will help by adding a layer of flavor once you add the wine and deglaze the cooking pot. Make sure your pot is big enough for everything!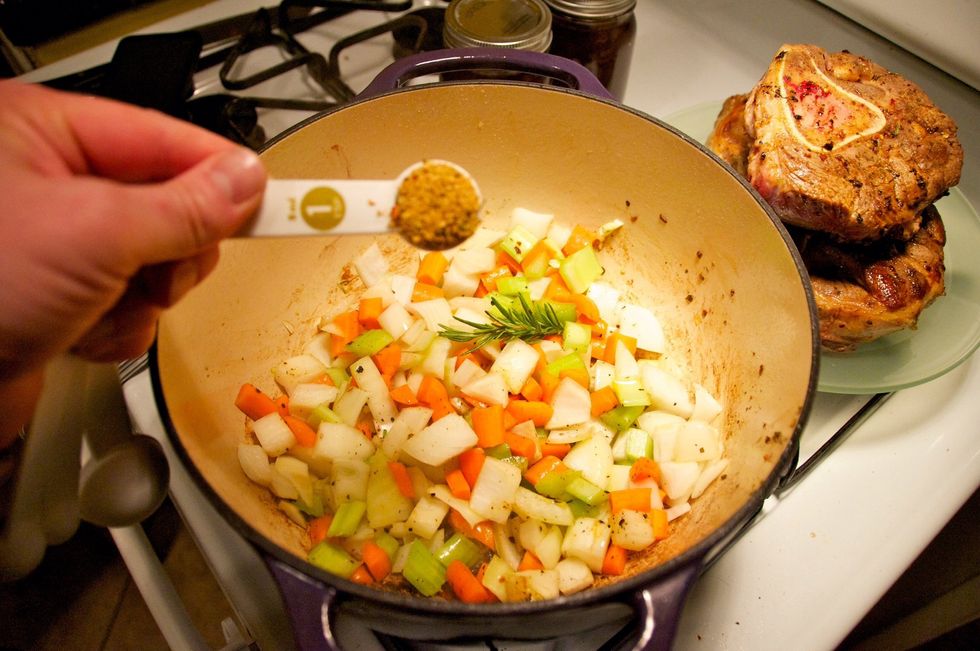 Add 1 more tablespoon of olive oil, the veggies, 1 small stem of rosemary, and 1 teaspoon of Italiano Pronto. You can order the seasoning at www.worldseasonings.com. Use "snapguide" code to save 20%.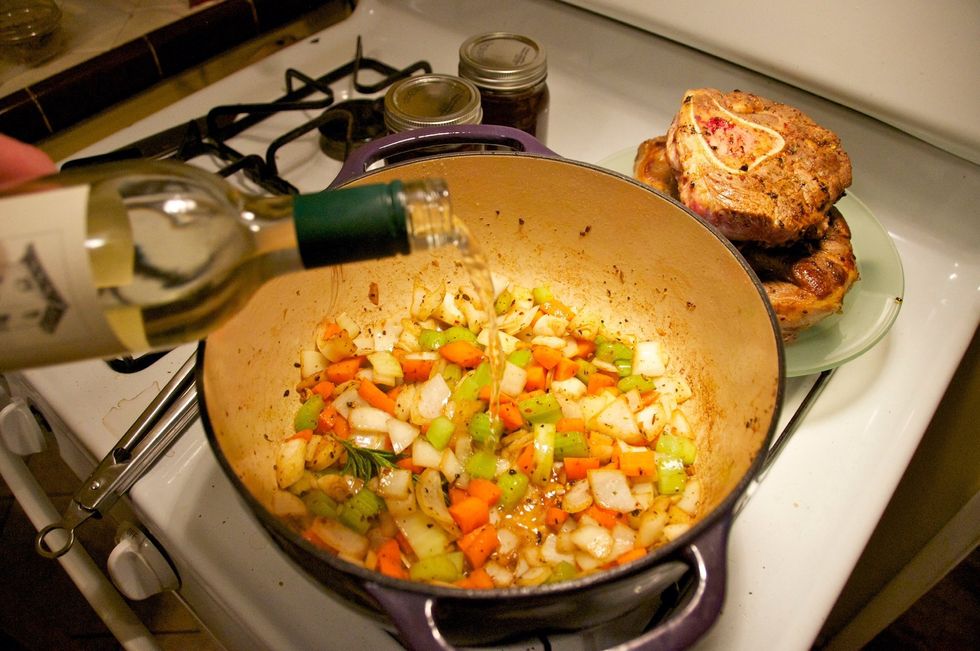 Cook down the veggies for about 8 minutes then add 1 cup of a good dry white wine. Make sure to scrape the bottom of the pan with your spoon to release the charred bits of goodness. Reduce by 50%.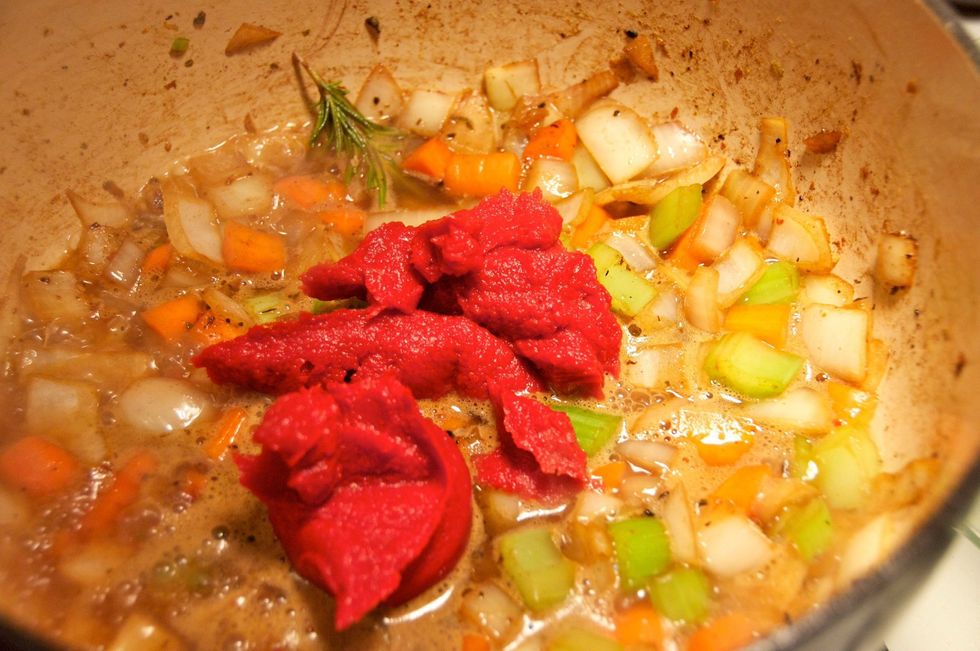 Next add the tomato paste and mix well. Add the second teaspoon of the seasoning blend.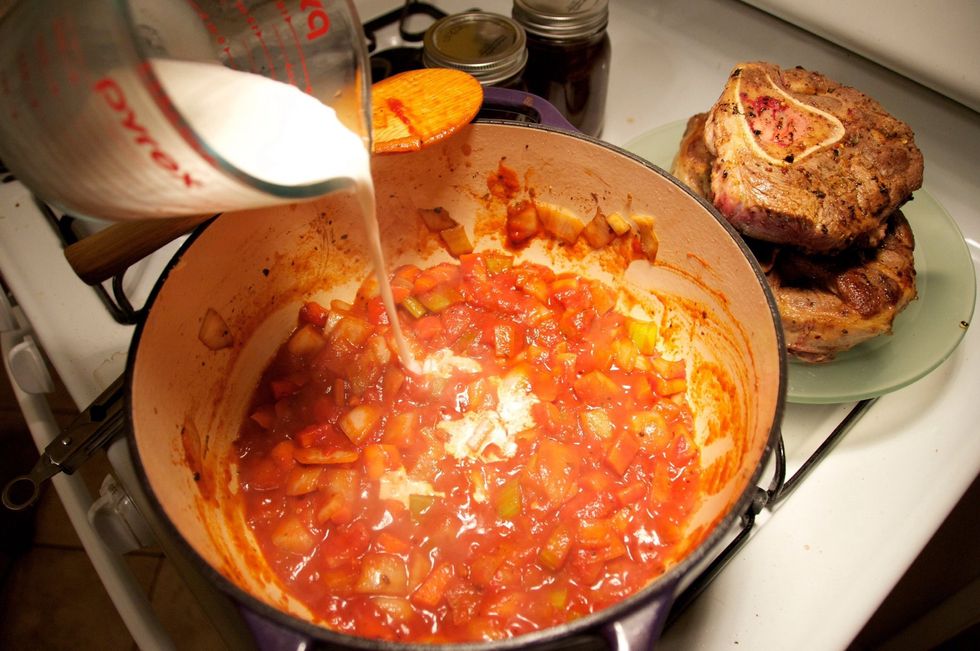 Now you need to add the half n half and the beef broth. The half n half may look like it's breaking down into small pieces but thats okay. Just blend it well into the wine, tomato and veggie mixture.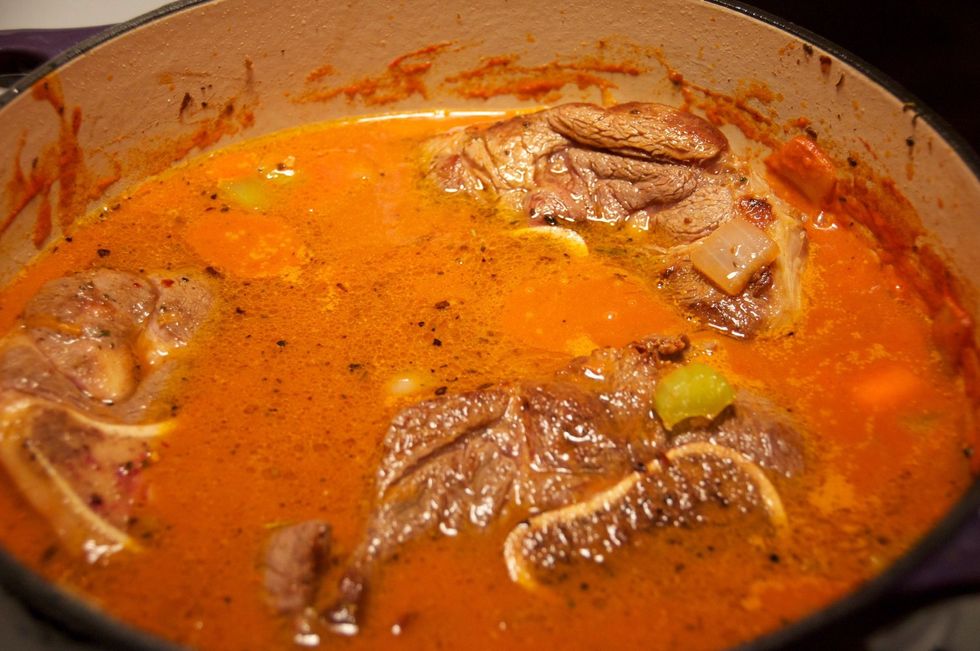 Add the broth then bring the pot to boil. Once boiling, cover the pot and reduce the heat to a simmer. Set your timer for 2 hours, making sure to stir the contents in the pot every once and while.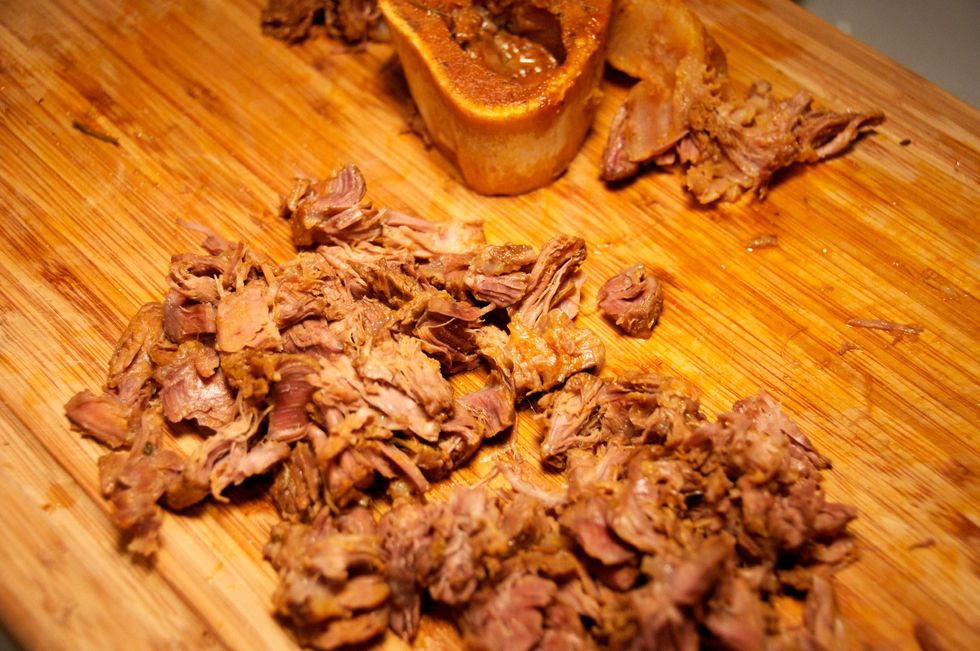 After about 2 hours of cooking, check to see if the meat is falling off the bone. Remove the shanks to a cutting board and use 2 forks to shred/pull the meat apart, like in the picture.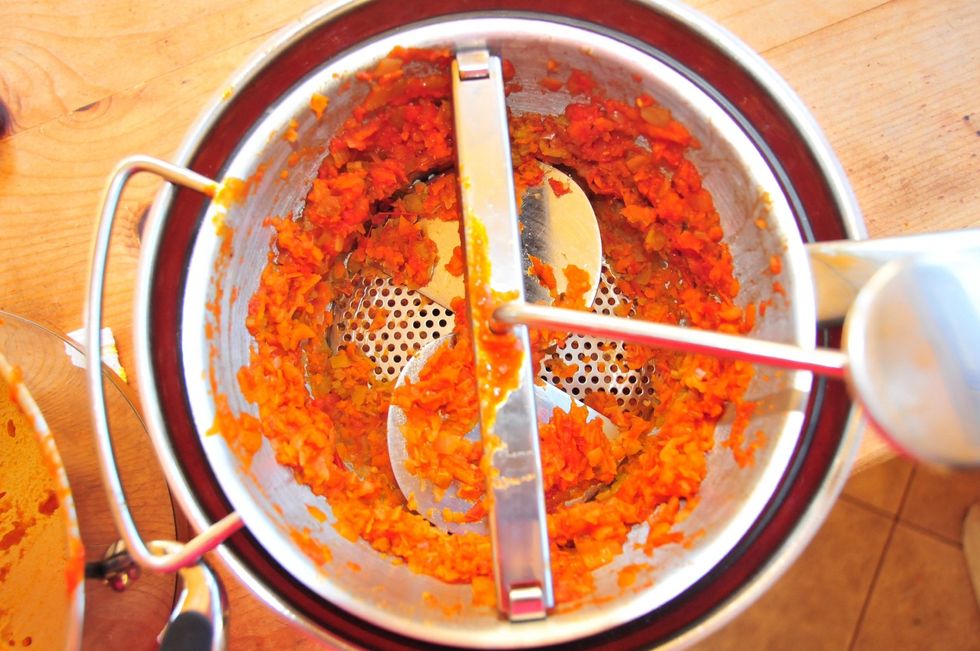 After you shred the meat, take the sauce remaining in your pot and add it to a blender or a food mill. I prefer a food mill but use what you have. Add the blended sauce back to your cooking pot.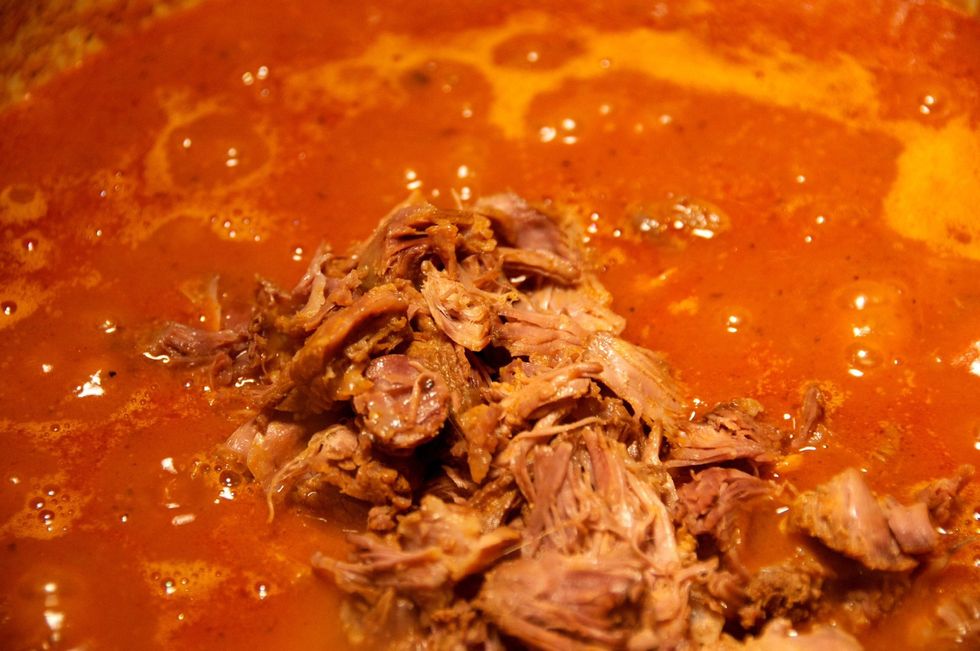 Add the meat back to the sauce, bring to a boil then reduce to simmer while the pasta is cooking. Taste - add the 3rd teaspoon of the Italian seasoning blend if you desire and a pinch of salt n pepper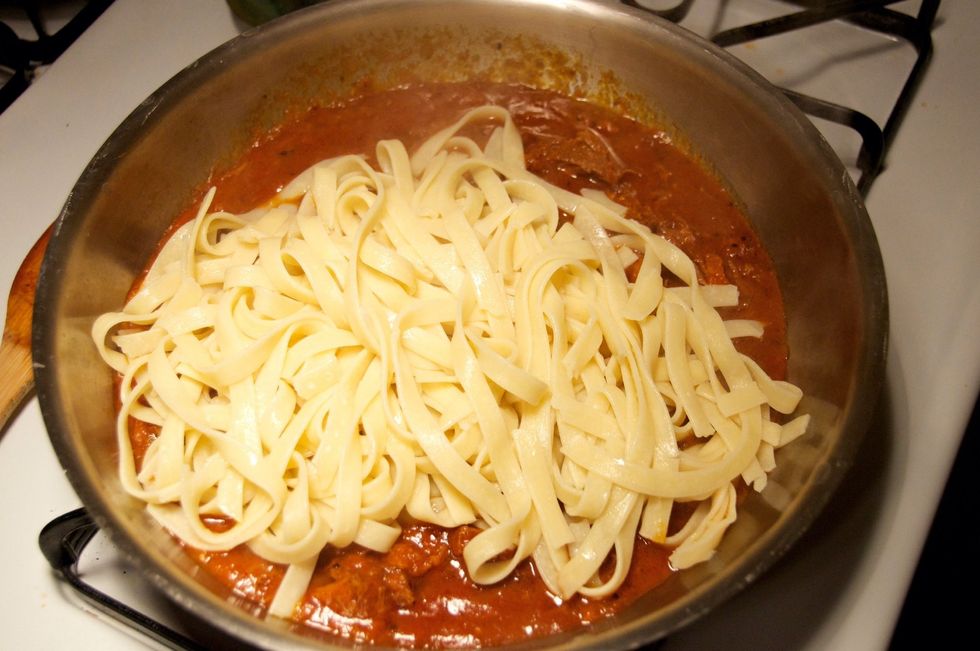 Take a couple ladles full of the meat sauce and add it to a large sauté pan. Add the pasta and gently toss them to mix. (This pasta was fresh, gluten free, pasta. So this is great for GF diets too.)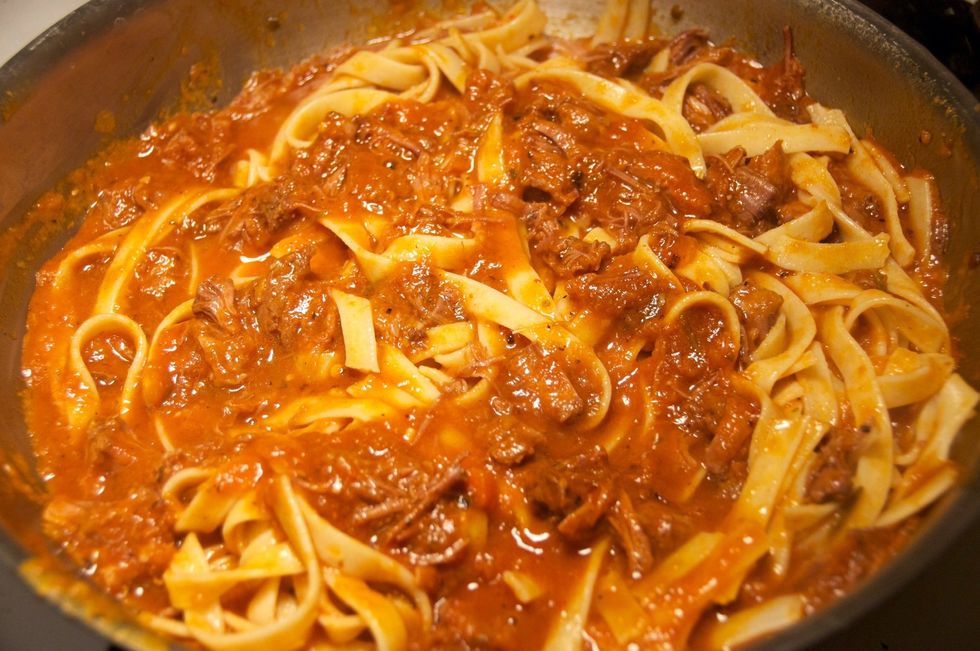 Once the meat and pasta is evenly mixed, add some freshly grated parmesan and some freshly chopped parsly, toss and serve immediately!
Enjoy! This recipe really is simple to make. I promise that you, as well whomever you're feeding, will think this came straight from the best Italian restaurant in your city! It is THAT GOOD!
1.5Tbsp #4 Italiano Pronto Seasoning Blend
3.0lb Beef shank (3 shanks, 1 pound each)
3.0 Carrots, diced about 1/2 inch
2.0 Stalks celery, diced
1.0 Large white onion, diced
1.0 Small stem fresh rosemary
1.0 Small can tomato paste
1.0c white wine
1/2c Half n half ( or whole milk)
1.0 Large clove of garlic, diced
2.0 Pinches salt and fresh cracked pepper
3.0c Beef broth
World Seasonings
World Seasonings offers 9 amazing gluten free, kosher and all-natural seasoning blends that will make breakfast, lunch and dinner extraordinary.
San Diego, CA - everywhere