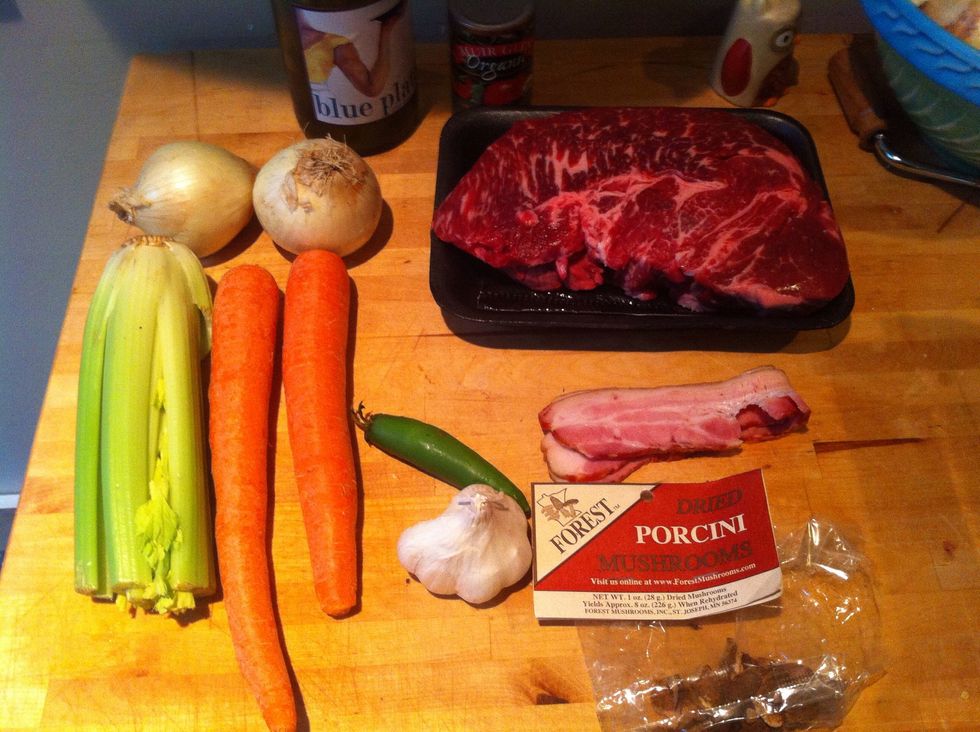 Prep your braise ingredients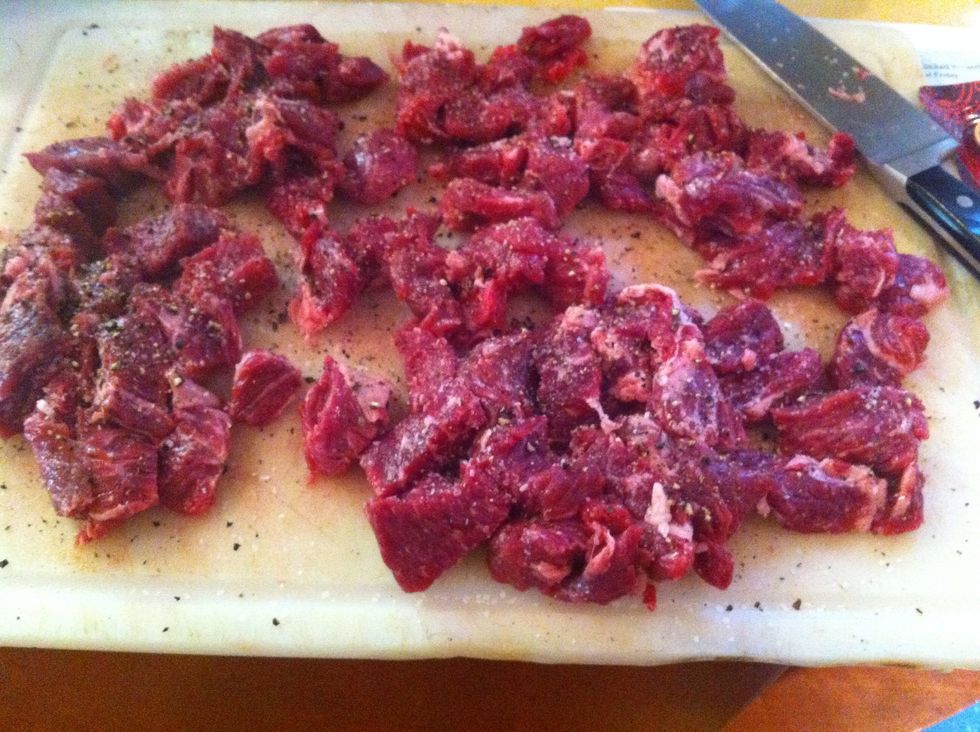 Cut chuck roast into roughly 1" cuts and season with kosher salt and fresh crack pepper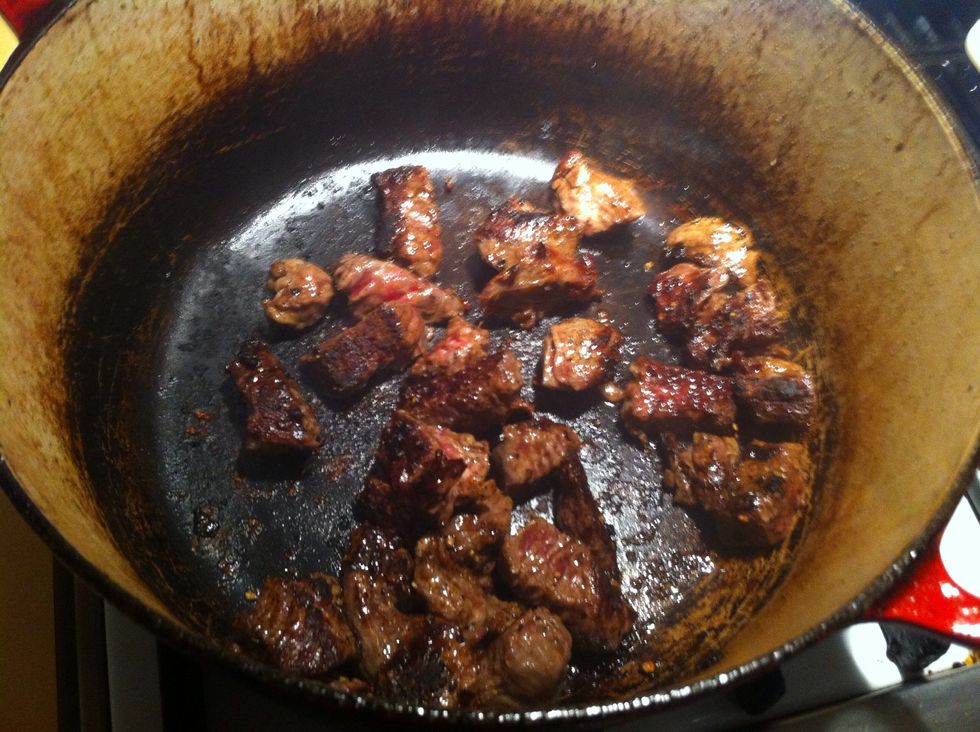 Add a tbsp of Oil to medium high temp Dutch oven. Add 1/2 of beef to pan and don't touch for 3-5 minutes until seared with crust then turn and brown on all sides. Repeat with other 1/2 of beef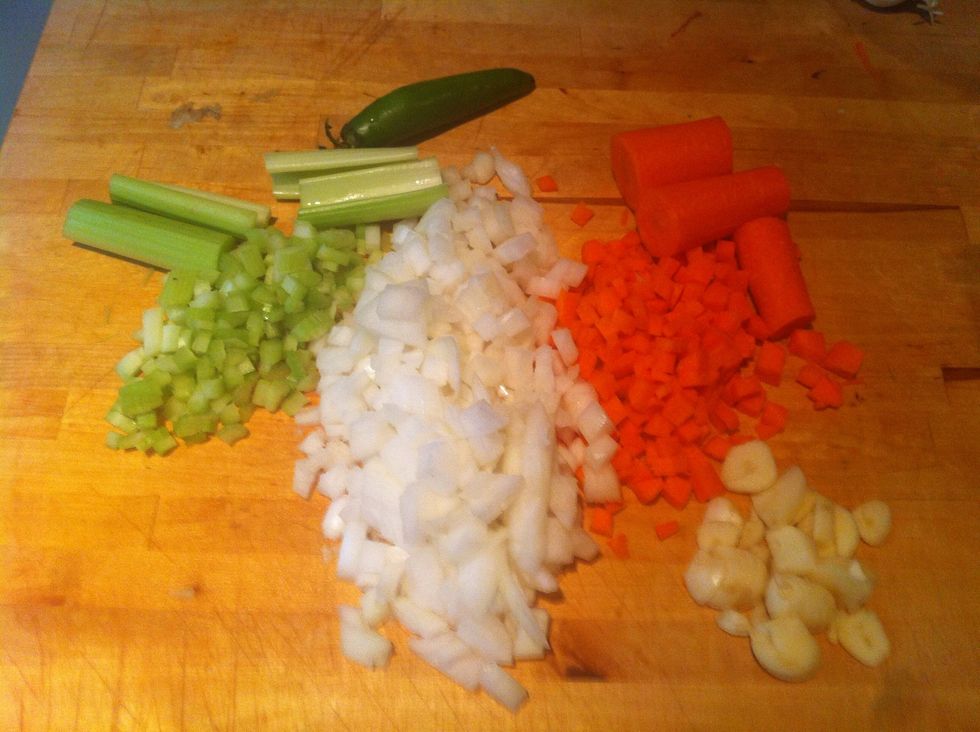 Chop veg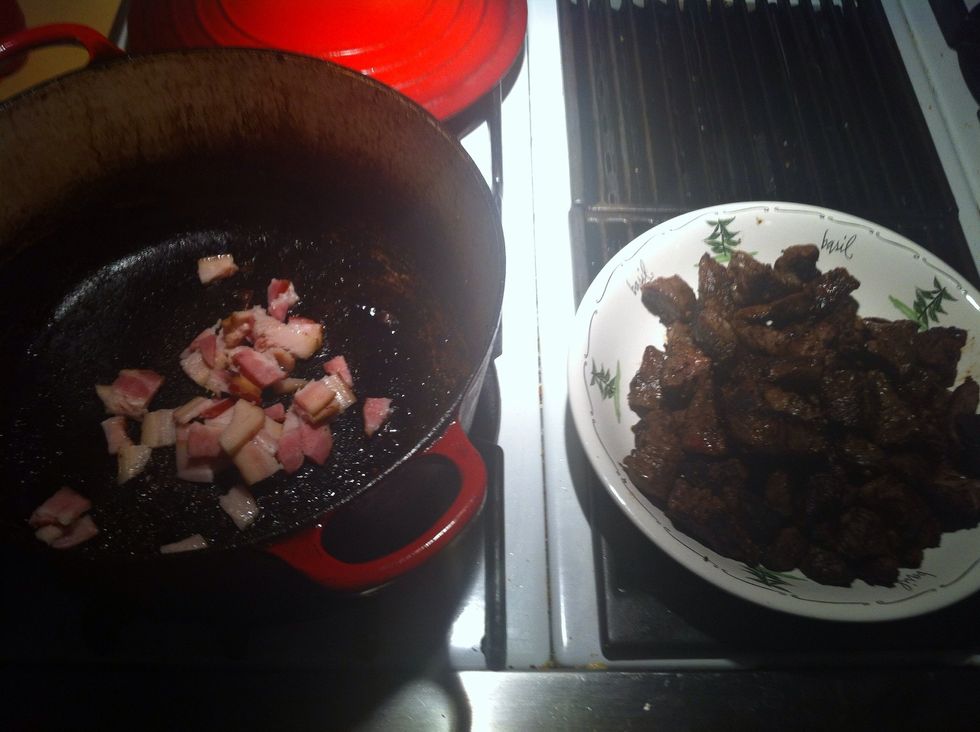 Reserve beef in a bowl. And start rendering bacon fat on medium low for 10 min until brown and crispy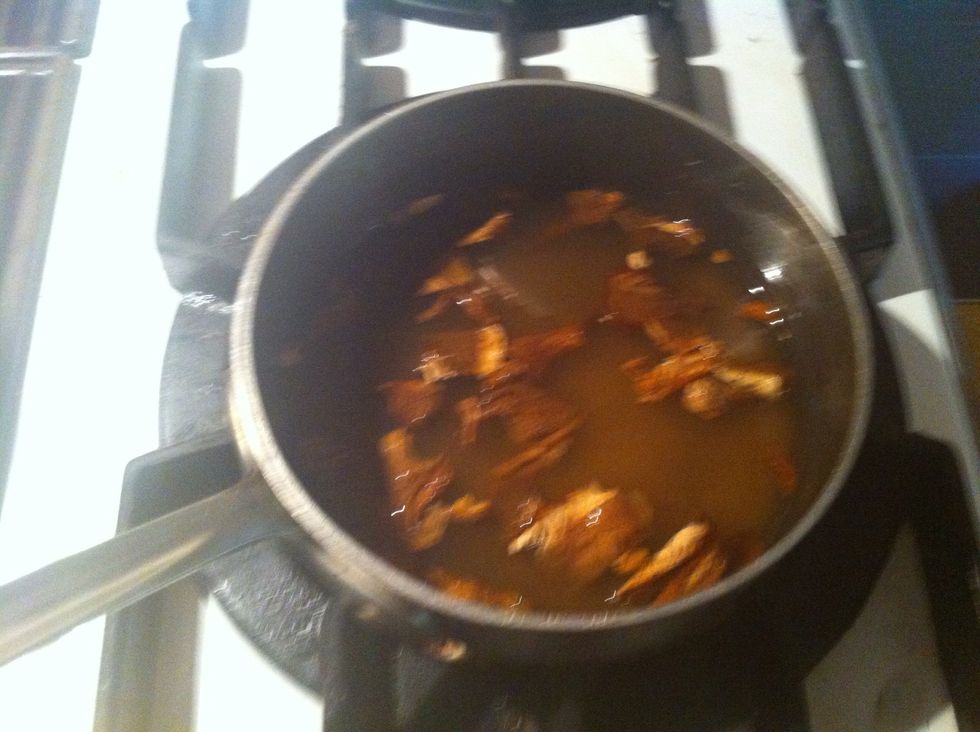 Add dried porcini to 1C of stock and simmer on medium for 20 min. Strain and reserve liquid. Chop porcini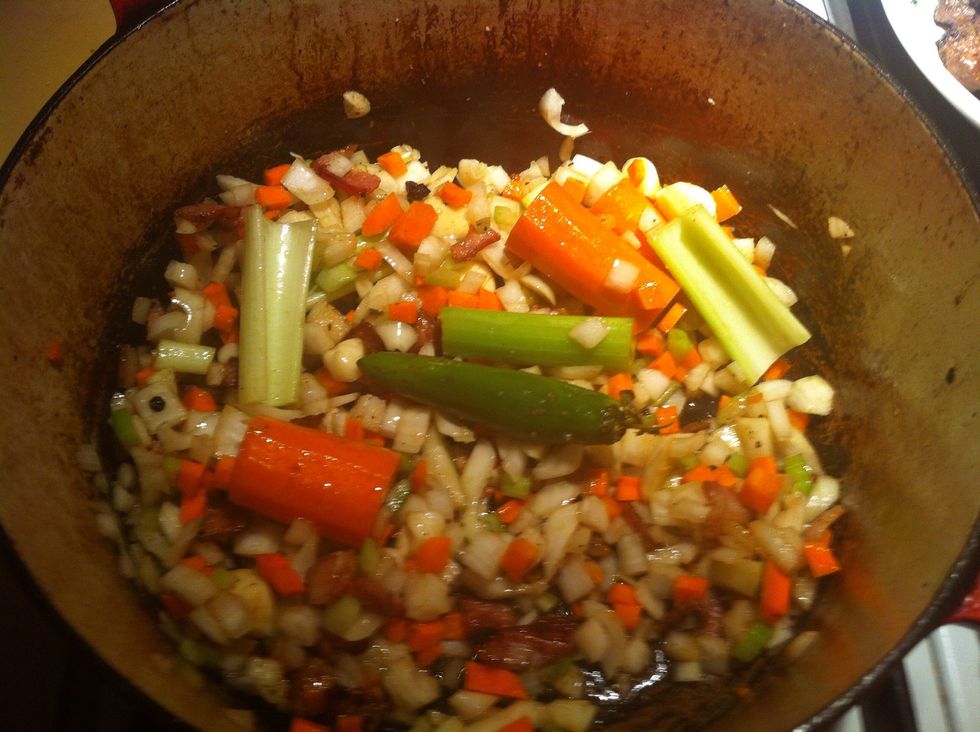 Sauté veg and porcini dice in bacon fat and extra tbsp of olive oil over medium heat. Season with kosher salt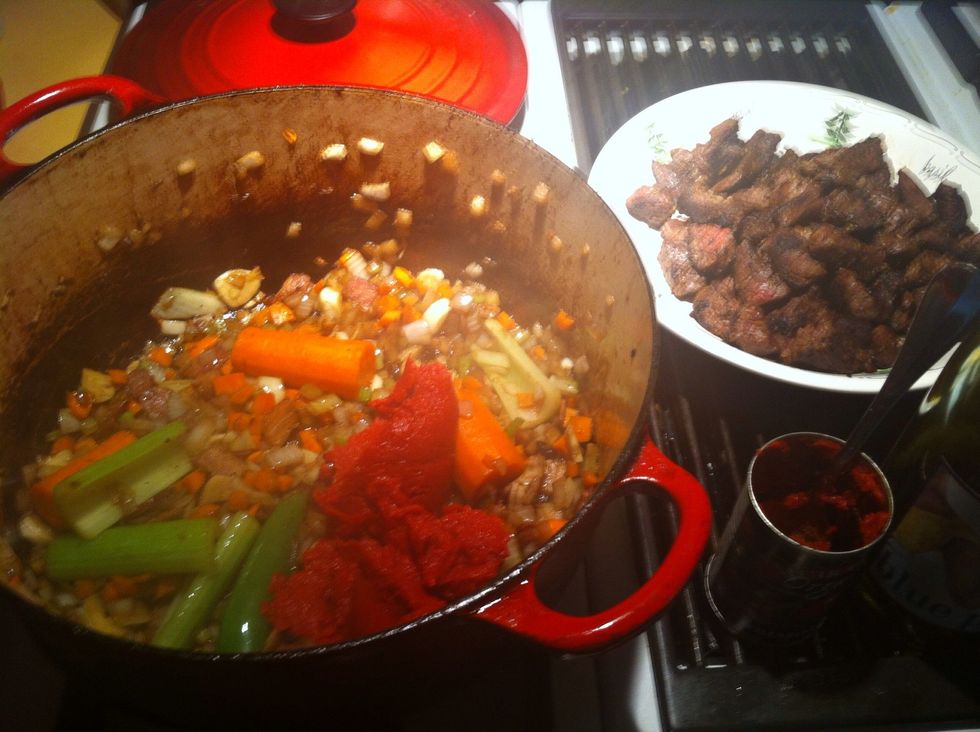 Add tomato paste and sauté over medium for 5 min. Stirring occasionally. Caramelization is cool.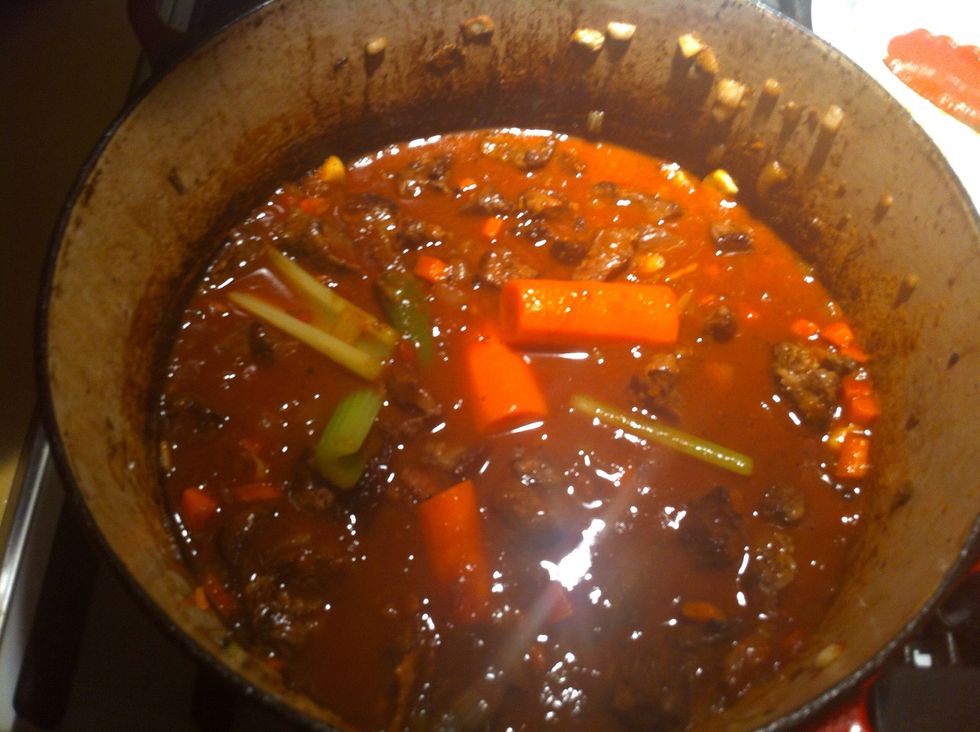 Return beef to pan & add white wine and porcini/chicken stock to cover beef. Cover with lid and simmer on low for 3 1/2 hours. Until beef is falling apart with flavor flaves.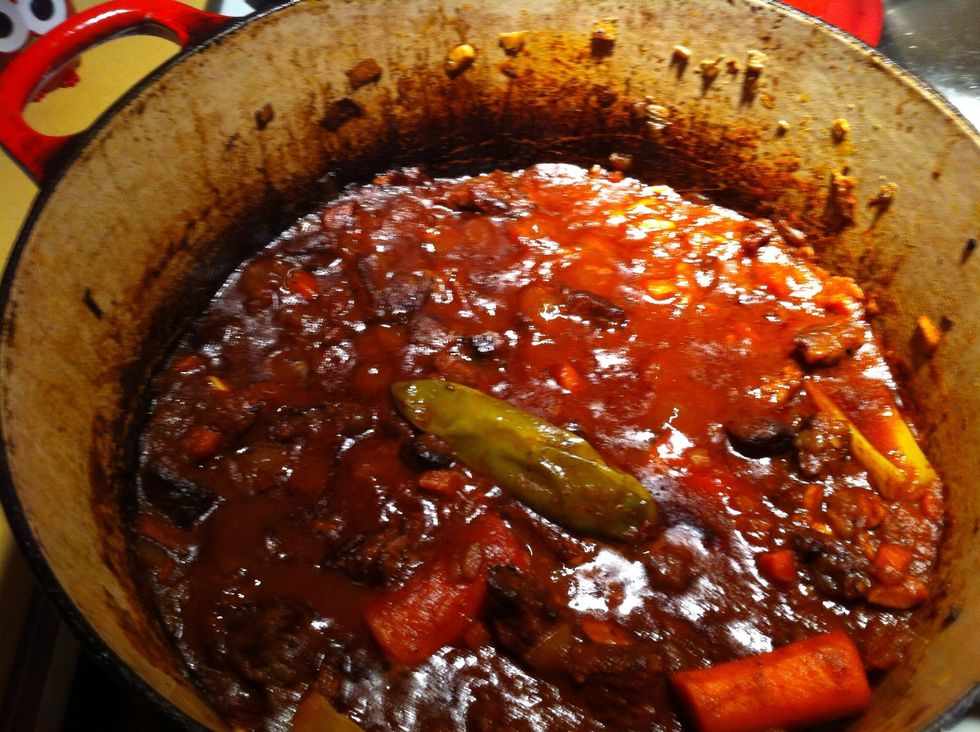 Let cool. Pull out big chunks of veggies and pulse in food processor 5-6 times to make a semi smooth filling texture for agnolotti. Add grated nutmeg and 1/2 of parmigiano reggiano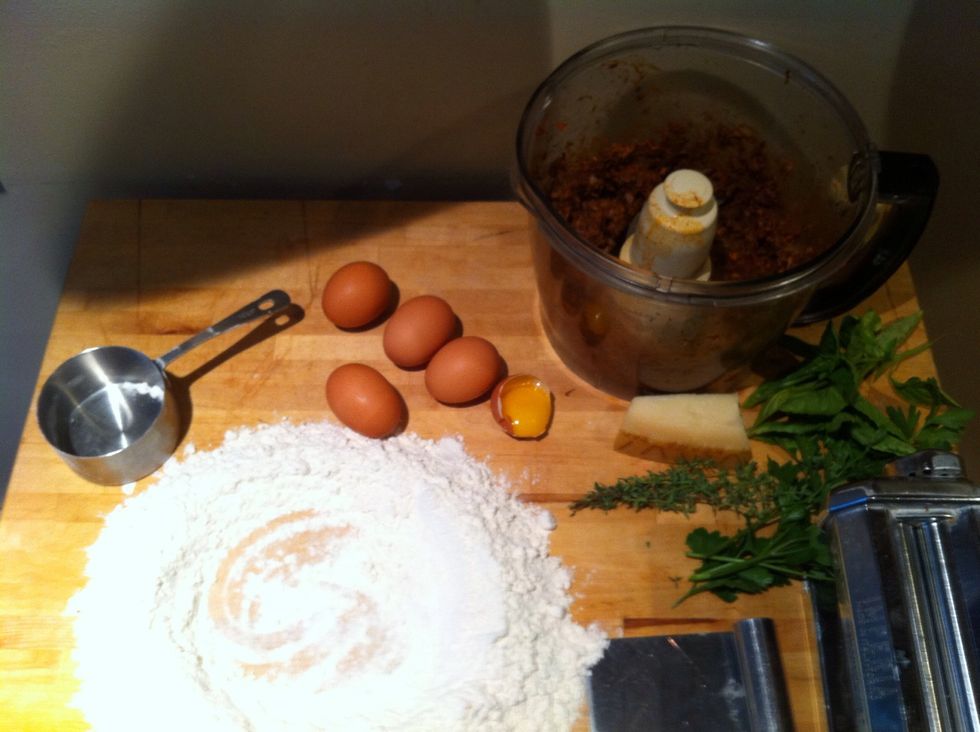 Make a well of flour and get ingredients ready for pasta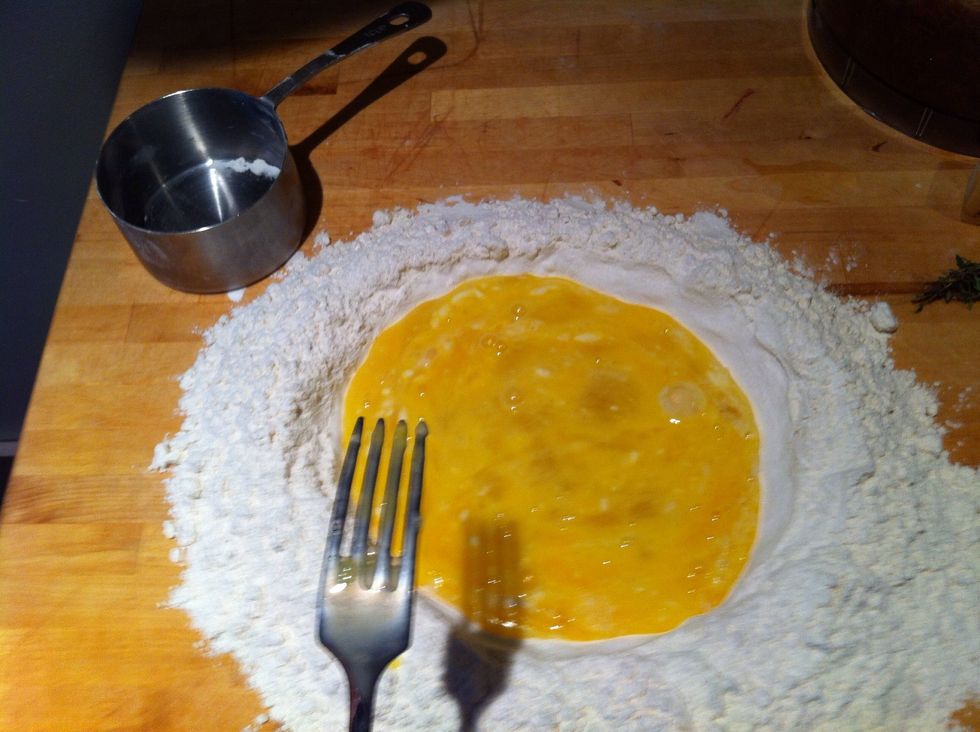 Mix eggs in well and incorporate into flour slowly using a fork to pull flour into egg mixture. Once you have a mass of dough together, knead for 10-15 min until you have a smooth ball of pasta dough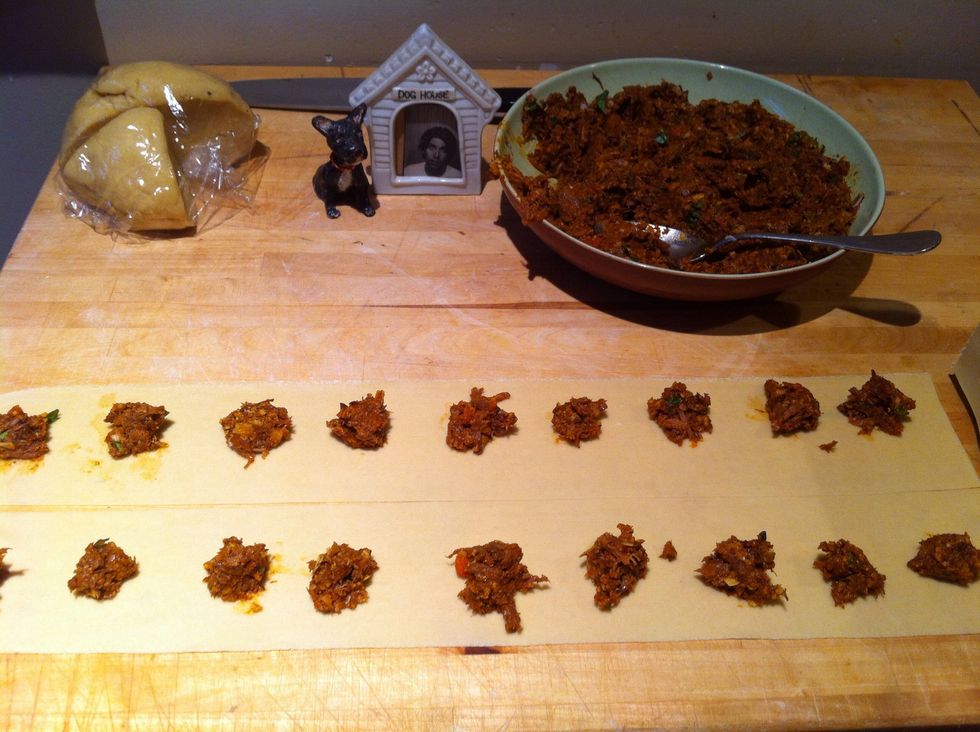 Roll out dough to thinnest setting and add tsp of filling in 2 rows on pasta sheet. Cut down the middle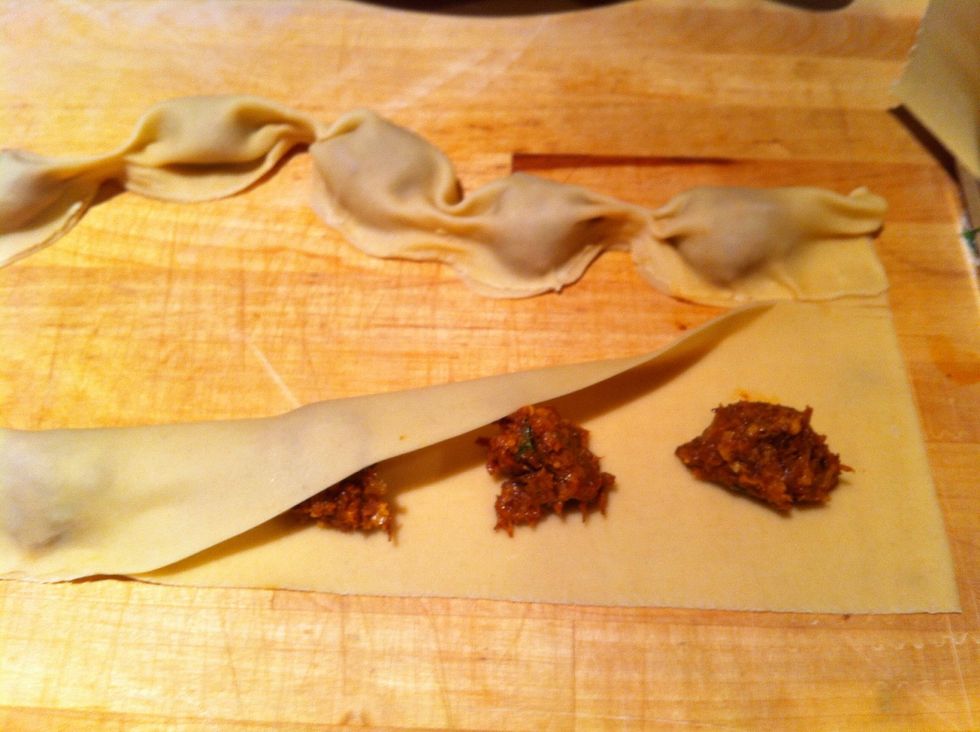 Fold over cut pasta and seal the edge. Press fingers in between each filling to let out air in pasta. Cut at each agnolotti with pasta cutting wheel by twisting pasta together and cutting at the seam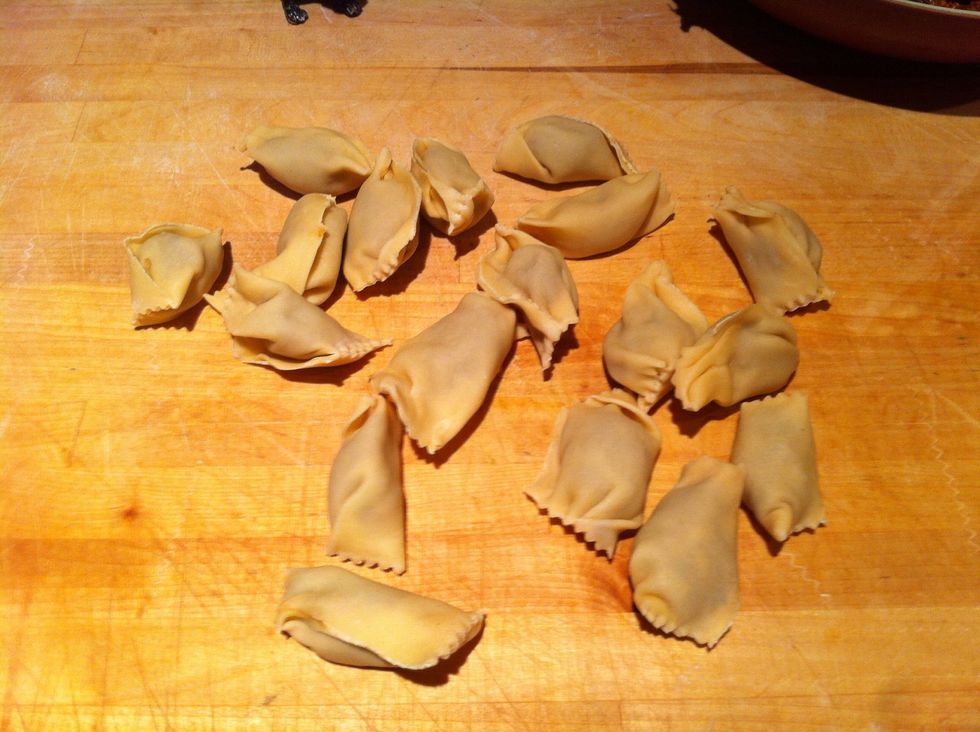 Finished agnolotti. Place on a towel lined sheet pan so that they are not touching. Cook in boiling salted water or store in the freezer for later use.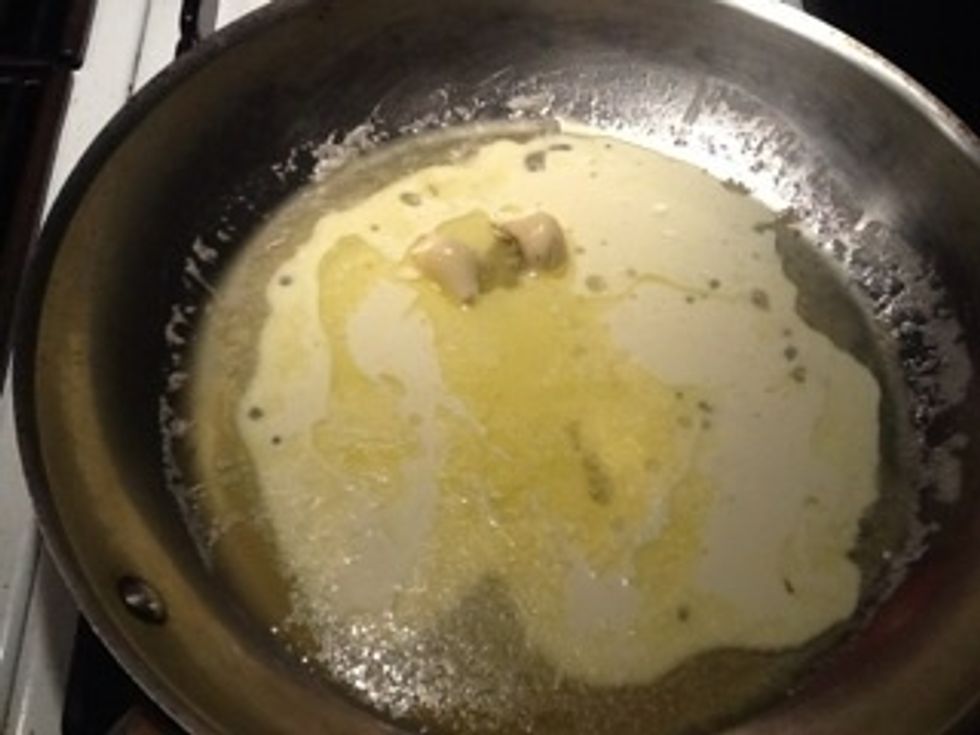 Add butter and 2 garlic cloves to med-low pan. Sauté for 2-3 minutes. Add cream and 1/2 c parmigiano. Salt to taste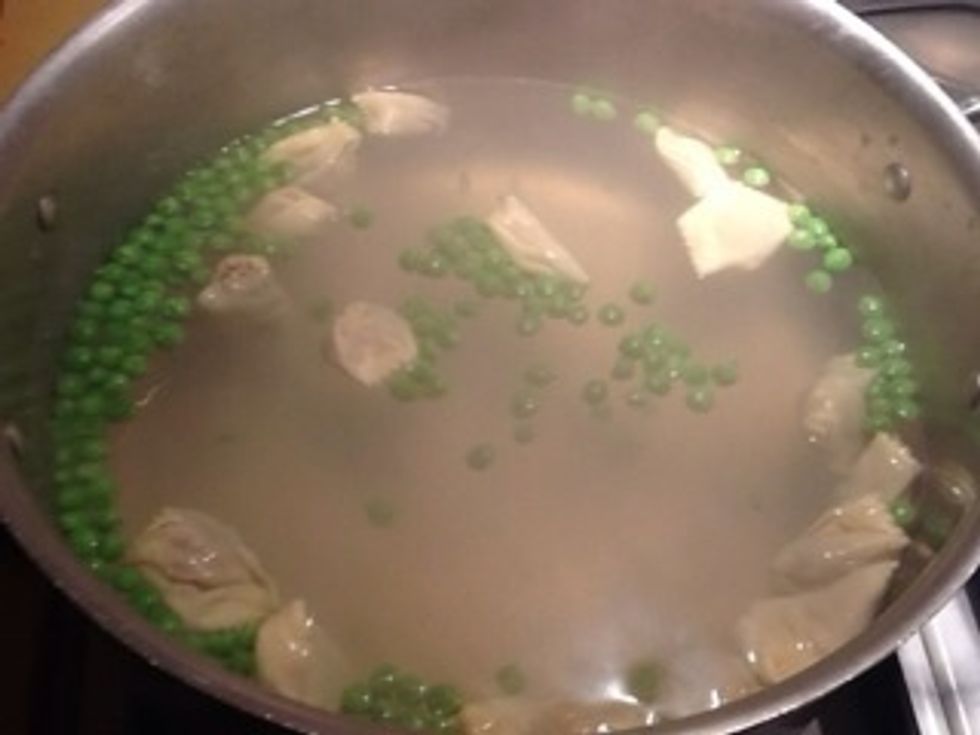 Cook pasta in salted water add peas for last minute or so
Return pasta to cream/butter and simmer for 2-3 min over medium heat. Remove garlic cloves. Add fresh herb mix an parmigiano off heat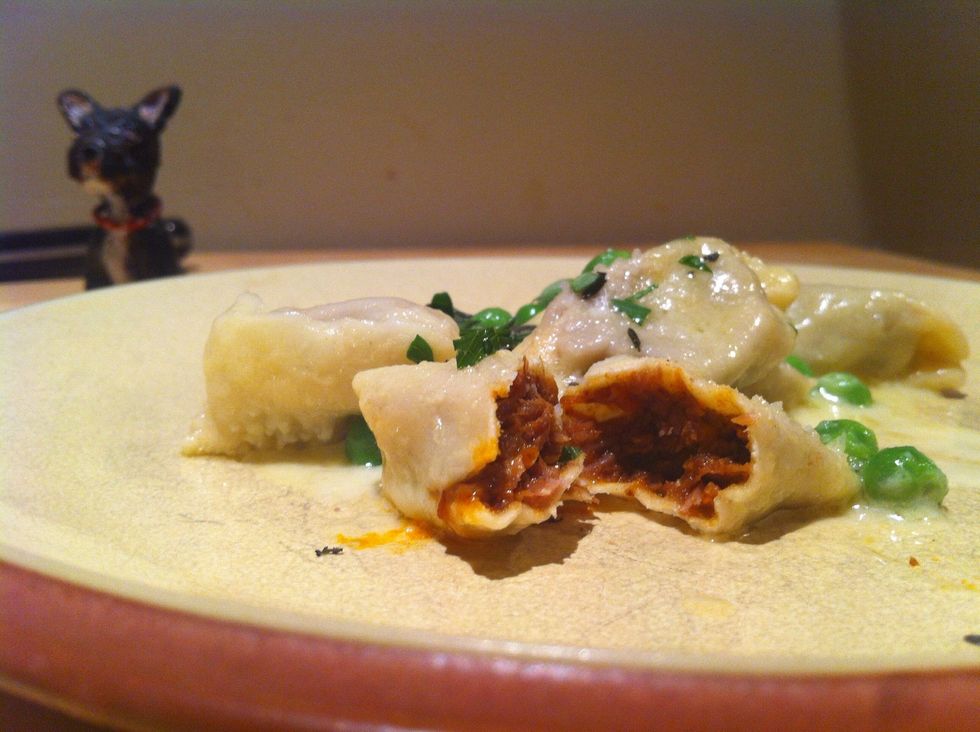 Plate and serve to people you love!
3.0lb Chuck roast
1.0 Large Onion or 2 small
2.0 Carrots Diced and chopped
2.0 Celery Diced and chopped
6.0 Garlic cloves 4 sliced, 2 whole
1.0 Serrano
2.0 Smoked Bacon strips
1/2c Dried Porcini
2.0c Chicken stock
2.0Tbsp Extra Virgin olive oil
1.0 can of Tomato paste
1.0c White Wine
1.0c grated Reggiano
1.0tsp Grated fresh nutmeg
1/2c All purpose flour
4.0 Eggs plus 1 yolk
4.0Tbsp Unsalted Butter
1.0c Heavy cream
1.0c Frozen sweet peas
Kosher salt
1.0bnch Herbs (parsley, thyme, basil)