Start with a large pot. Fill with 4 qt water. Turn heat to High. Add you 1 lb dry black beans ( the ones in a bag). Bring to boil.
In the meantime, on cutting board using a sharp knife to chop 1 sweet onion and peel 6-8 cloves of garlic.
Once pot of beans has come to a boil, add the onions & garlic cloves. Cover and boil for 90 minutes, or until beans are soft & tender. Stir on occasion, to help prevent sticking. **add water as needed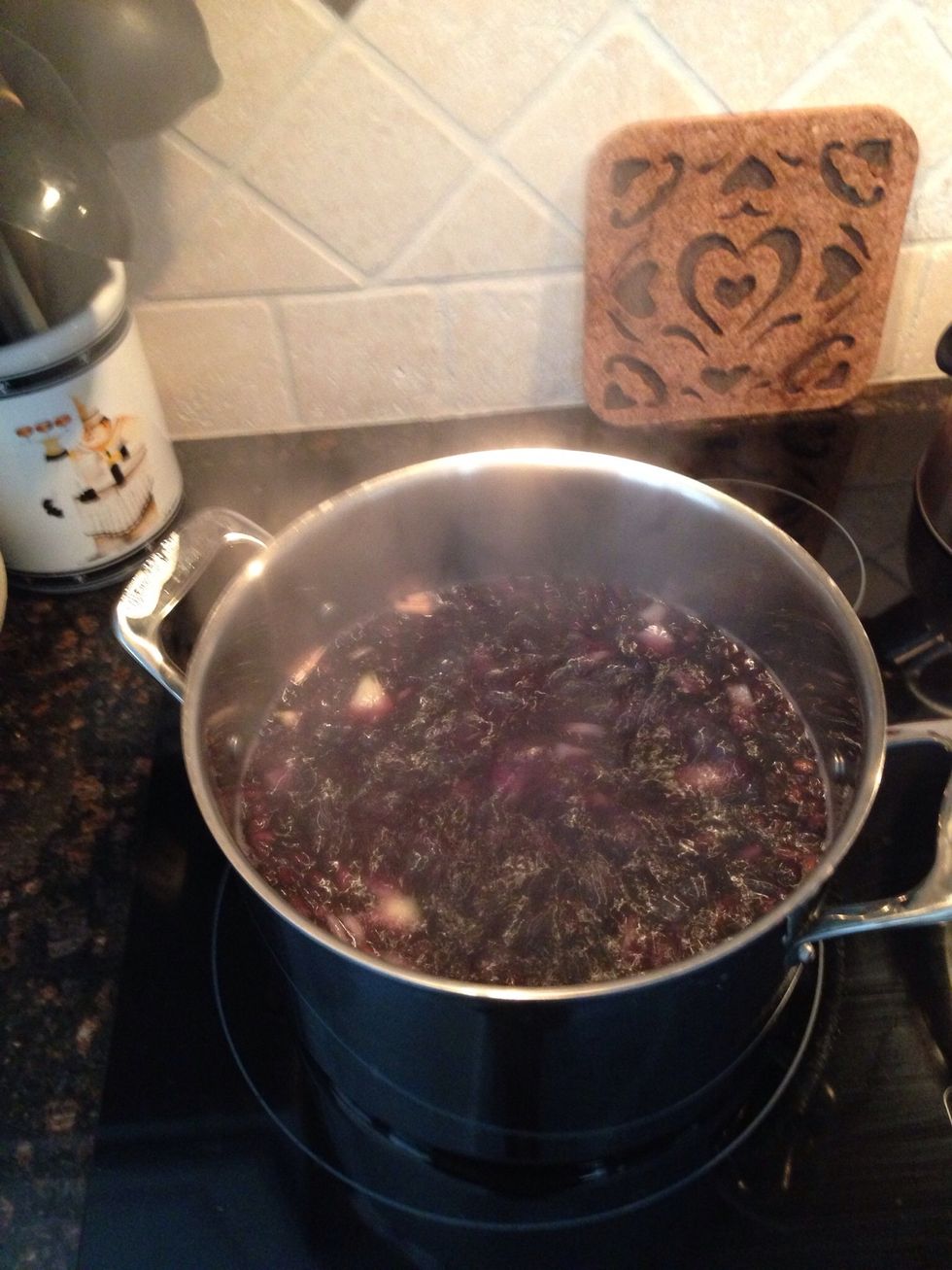 Boiling Beans
While bean mixture is cooking, chop up 1 large tomato & 1 green bell pepper.
In large nonstick skillet, add 1 Tbsp olive oil; heat med-high. Add tomato & pepper to skillet, sprinkle with 2 tsp Sea Salt and fresh ground pepper to taste. sauté until veggies are tender.
Boiling beans & Sauté veggies
When beans are soft, it's time to add the sauté veggies to the boiling pot. Stir till well blended with wooden spoon.
Now crack 1 egg at a time and gently pour into boiling pot of bean mixture. You can use 6-8 eggs. I used 8 for family of 4 (we each will get 2 eggs).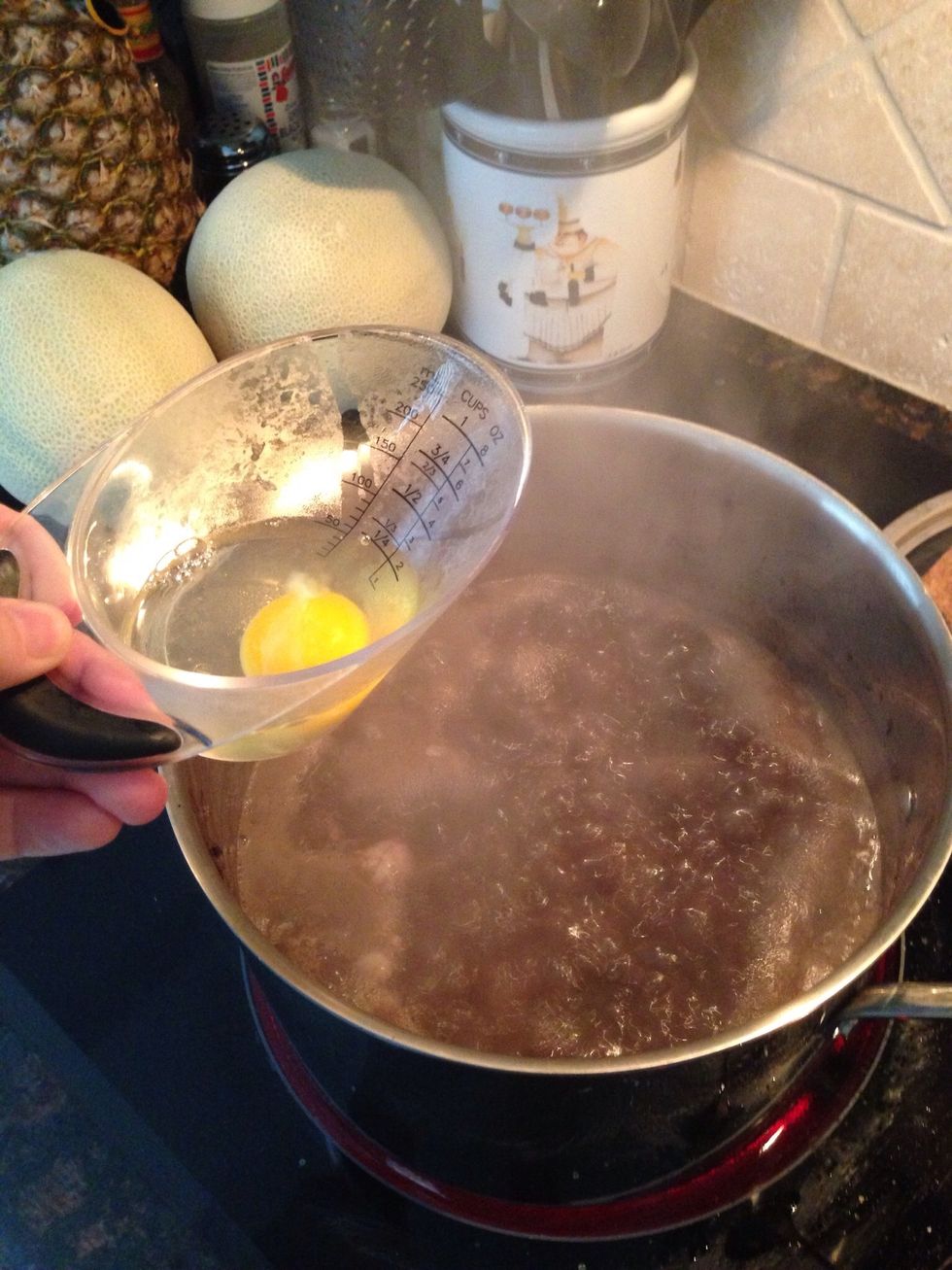 Add 1 egg at a time gently.
Let eggs cook for 10 minutes in the pot of boiling bean mixture. They will float to top when ready.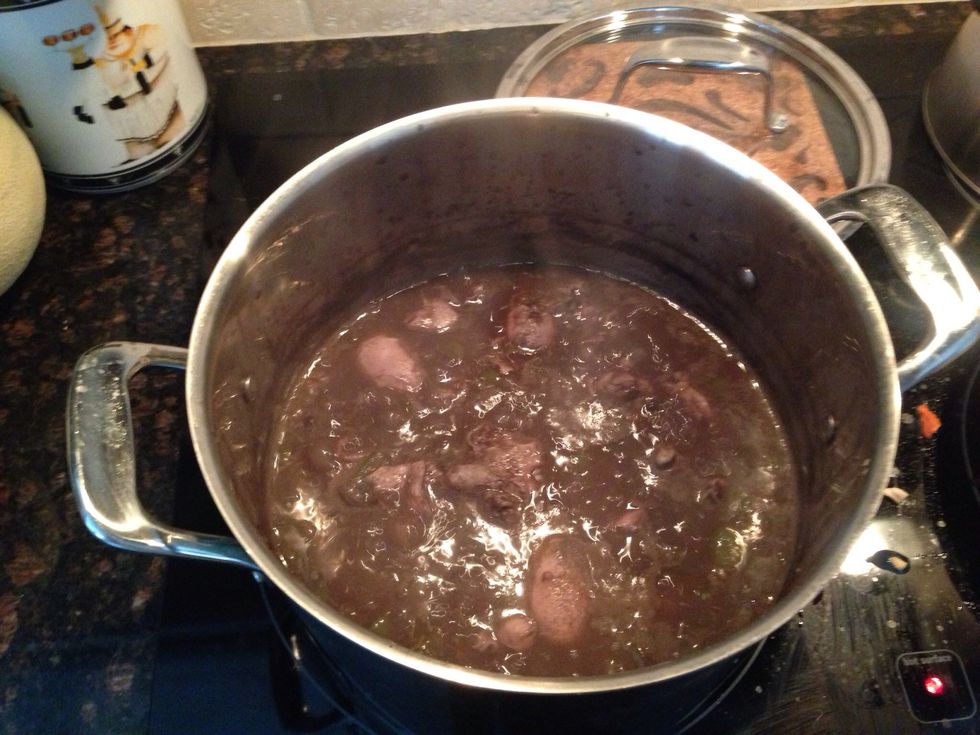 See eggs floats when finished.
While eggs are cooking, on a clean cutting board chop 2 scallions and a small bunch of fresh cilantro. Set aside for garnish.
Once eggs are done, ready to serve. Garnish with cilantro & scallions. Serve warm.
1.0lb Black beans
4.0qt Water
1.0 Sweet Onion
6.0 Garlic Cloves
1.0bnch Cilantro
2.0 Scallions
1.0 Green bell pepper
1.0 Tomato
2.0tsp Sea Salt
Fresh ground black pepper
1.0Tbsp Olive oil
6.0 Eggs