Traditional Armenian Easter bread is enjoyed by many, especially if it is homemade and delicious. This recipe makes a lot-because we share it with just about everyone. Feel free to divide the recipe.
127
Measure 2 cups sugar and place in your blender.
Crack 10 eggs (in room temperature) to the sugar in the blender-and blend!
Measure remaining 2 cups sugar, with 4 cups milk in a large pot.
Remove wrapping of your 1/2 stick butter (8 oz) and your 4 margarine sticks (4 oz each, 16 oz total). I like to use Challenge Butter and Fleischmann's margarine.
Melt butter, margarine into the sugar and milk mixture.
Add 3, 1/4 oz packets (3/4 oz total) of yeast into warm water with a pinch of sugar. Just add enough water to make it wet.
Mastic-something quite unusual found in International and Mid-Eastern markets. It is somewhat like incense and will make your Easter bread quite fragrant.
Another fragrant spice, Mahleb. Again, most likely only available at specialty Middle-Eastern stores. You may omit mastic and mahleb, but replace with 2 tbsp of vanilla or almond extract instead.
Crush mastic with Mahleb on the bottom of your large bowl to ensure well incorporation.
In the meantime, allow butter-milk-sugar mixture to return to room temperature.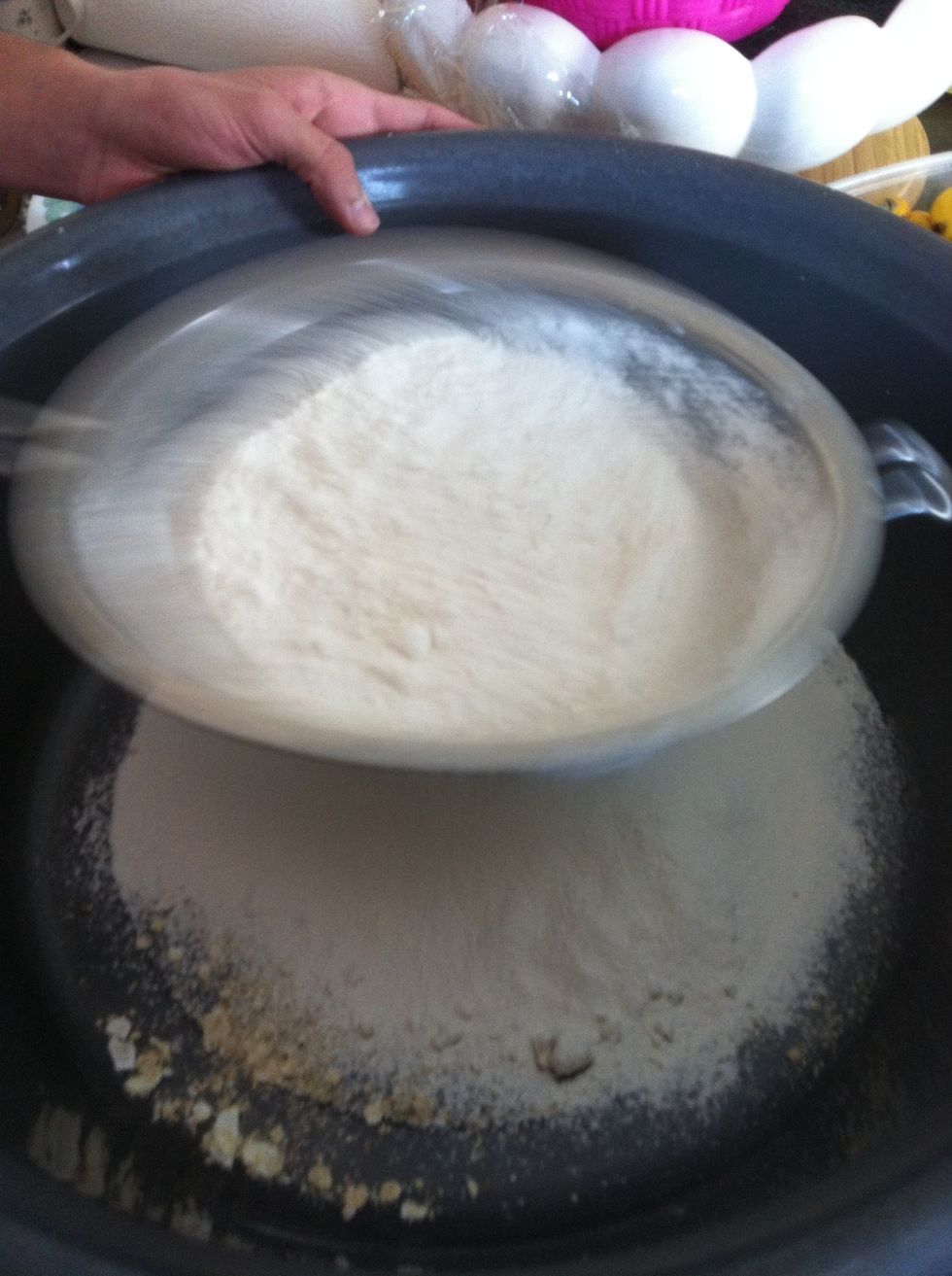 Sift a 5 lb bag or about 12 cups of all-purpose flour into your large bowl.
Once the butter-sugar-milk mixture has arrived to room temperature, slowly add egg mixture to it, and stir to combine.
Slowly pour liquid into your flour, mixing together to form a thick dough. Consistency is key. Knead dough until it is just as soft and squishy as your ear lobe cartilage. Cover in plastic wrap.
Cover with towels to insulate, and let dough rise for 4.5 hours. I like to keep mine in the oven (of course turned off!)
We've waited and our patience is now rewarded. Take about 1/2 cup dough and form smooth balls, oiling your hands if necessary.
They should look similar to this.
Easiest way to cook these is in cupcake liners in a cupcake tin. Use an egg yolk and (optional 1/4 tsp whiskey) to make an egg wash to brown your Easter bread. The whiskey will help brown the top.
Traditional Cheoreg has black and white sesame or caraway seeds sprinkled on top.
For extra special Cheoreg, slivered almonds are a great addition!
Bake in the oven at 350° F for 45 min to 1 hr. Enjoy with hot tea or just by itself!
You may also roll out dough into long worms, and braid together to make a different shape. However you make this Armenian Easter Bread, Cheoreg is absolute family tradition! Enjoy!
1.0 Large Bucket/Bowl
10.0 Eggs, room temperature
4.0c Sugar, divided
4.0c Milk
2.0 Stick unsalted butter, softened
16.0oz Unsalted Margarine, softened
3.0 1/4 oz packets of Fleischmann's Rapid Rise Yeast
1.0tsp Mastic
2.0Tbsp Mahleb
5.0lb All-purpose Flour
1.0c Black/White Sesame Seeds
1/2c Slivered Almonds (optional)
1.0 Egg yolk