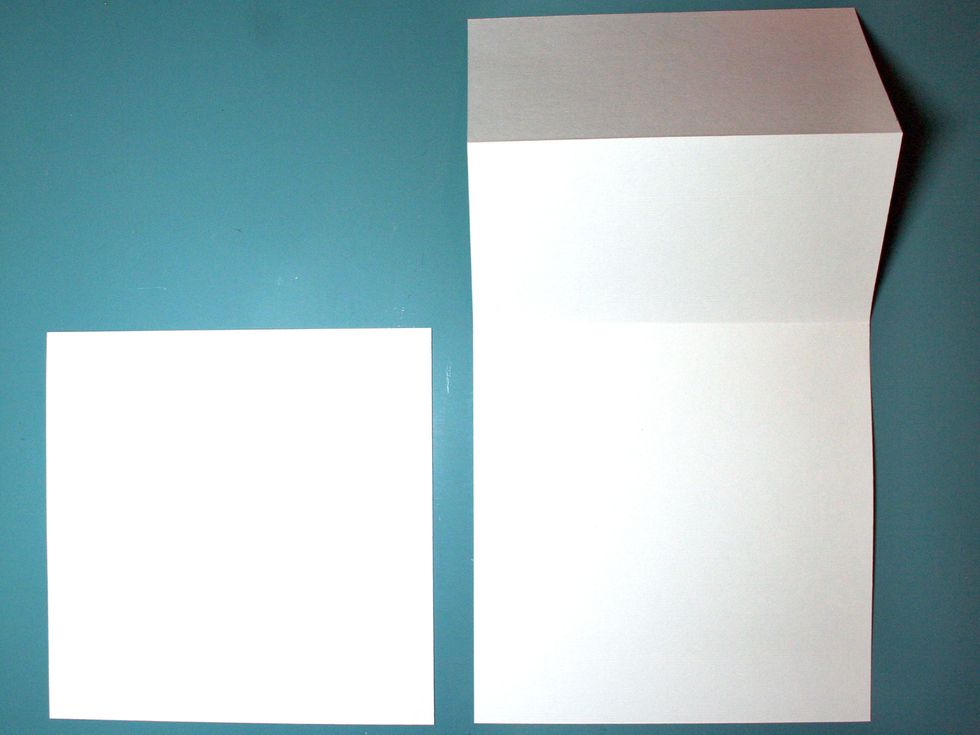 For the base of the card, cut a piece of cardstock 6 x 12". Score at 3" and 6". Cut another piece of cardstock 6 x 6". I've used Bazzill french vanilla for my cardstock.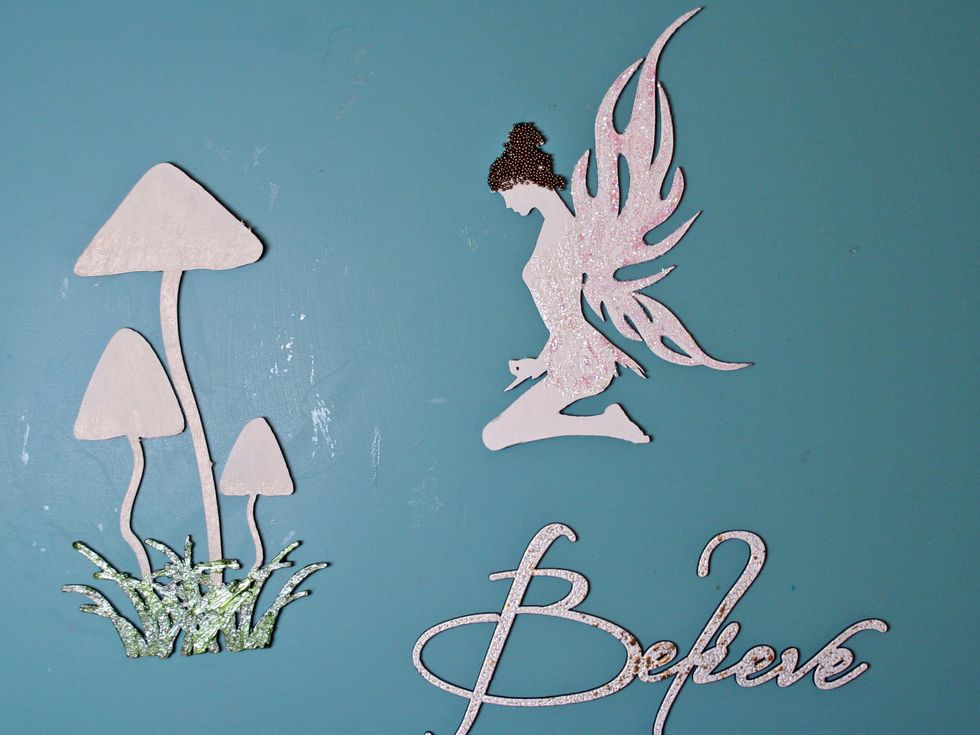 To prepare the Creative Embellishments chipboard, paint the fairy and mushrooms with ivory paint. Darken the mushroom caps with just a wee bit of brown. Paint the grass blades green. Con't.
Cover the area of the fairy's hair w/ clear drying glue & sprinkle with micro beads. Use glitter or stickles to add shimmer to her wings and body. Heat emboss the title w/ aged ivory embossing pwdr.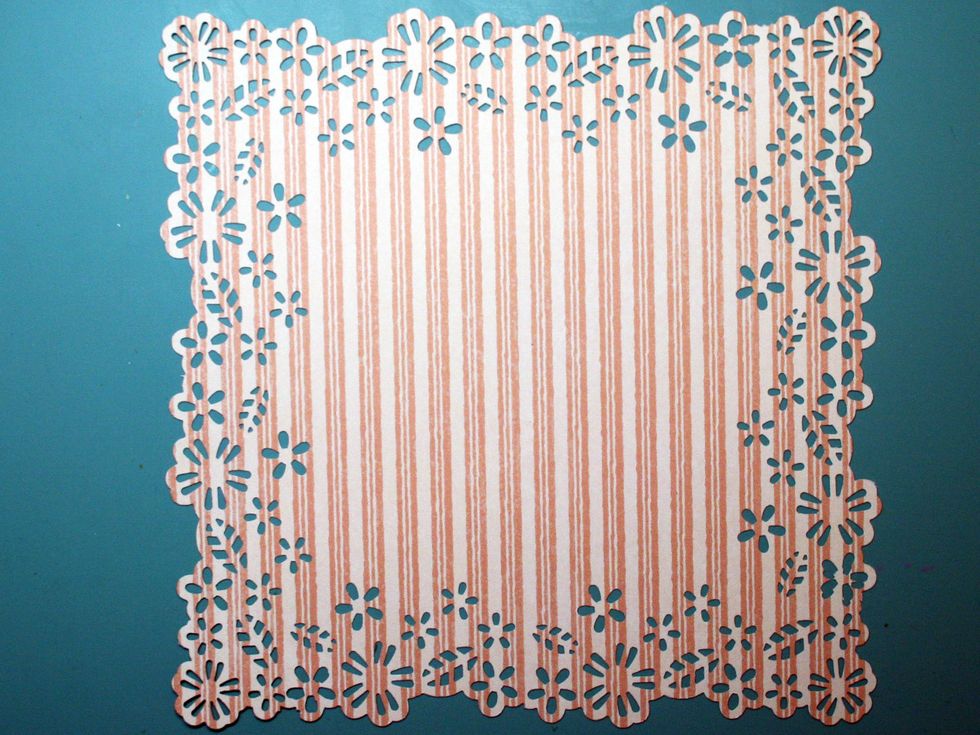 Cut a 6x6" square from Once Upon a Springtime and border punch the edges. You could leave this plain if you don't have border punches.
Adhere the punched paper to the 6x6" square base.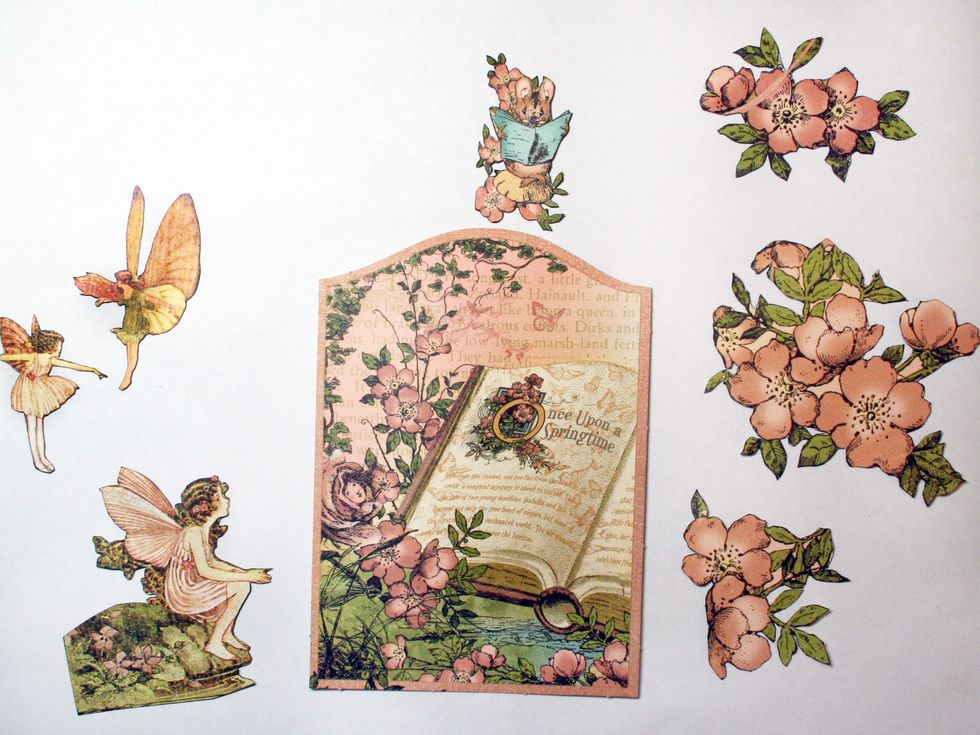 Fussy cut the storybook image, flowers and images as shown. I think the little fairy and the reading rabbit came from the original collection but you will find something similar in the Deluxe Edition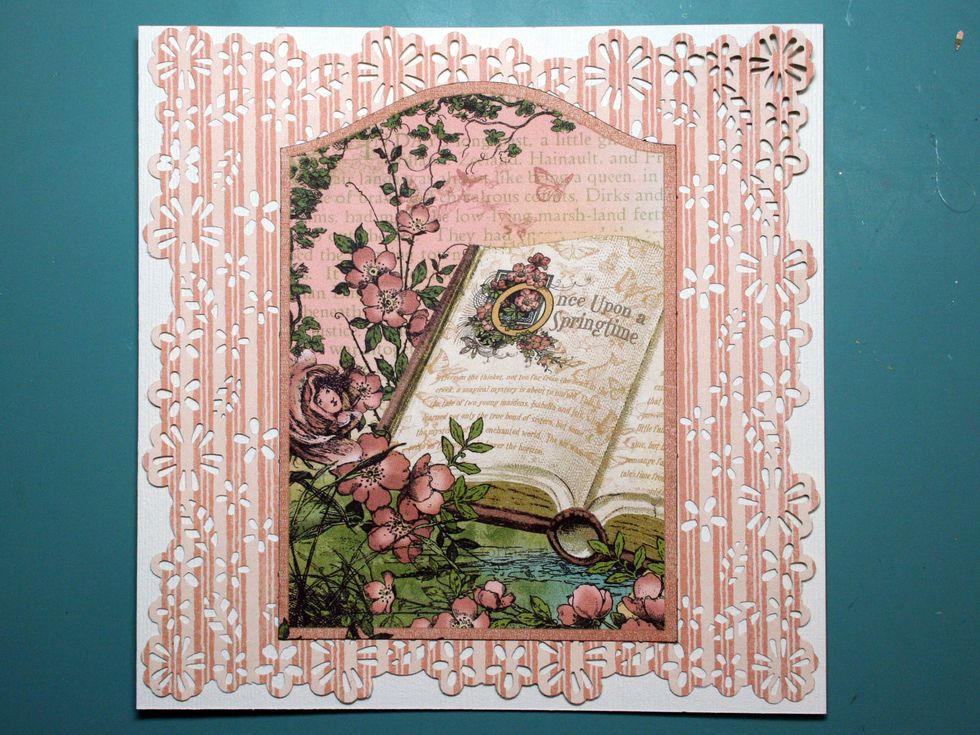 Add the storybook piece to the center of the 6x6 square.
Take the 6x12" cardstock & fold the flap up on the 3" score line as shown. Glue the 6" square aligning the top of the square to the top of the 3" folded piece.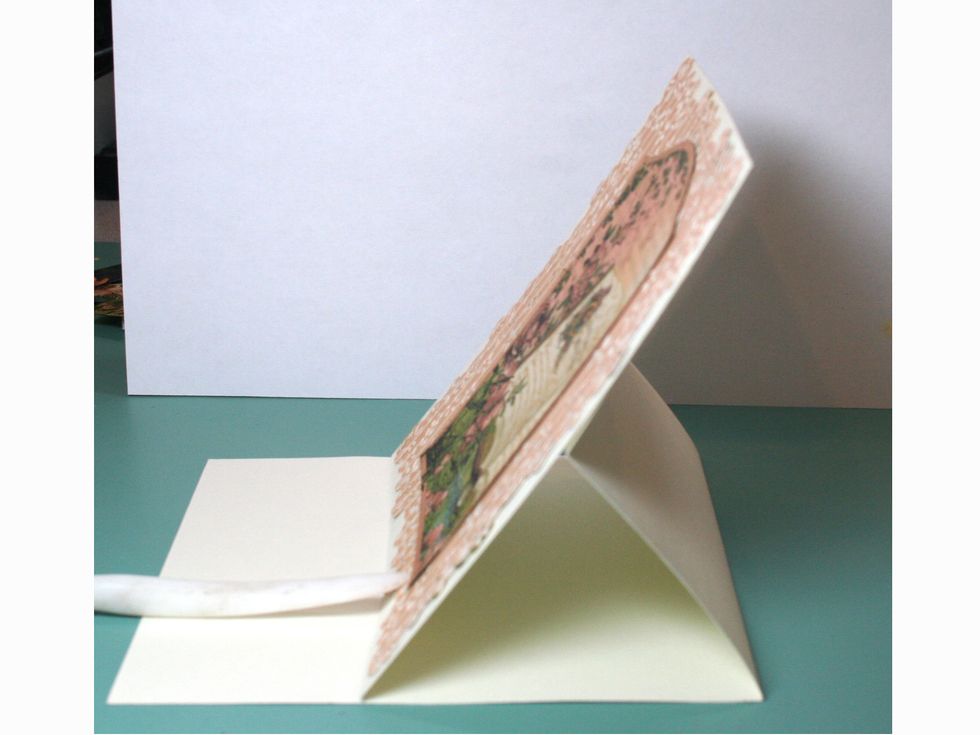 Here is a side view where you can see how the 6" square is attached to the larger piece at the top of the 3" folded piece.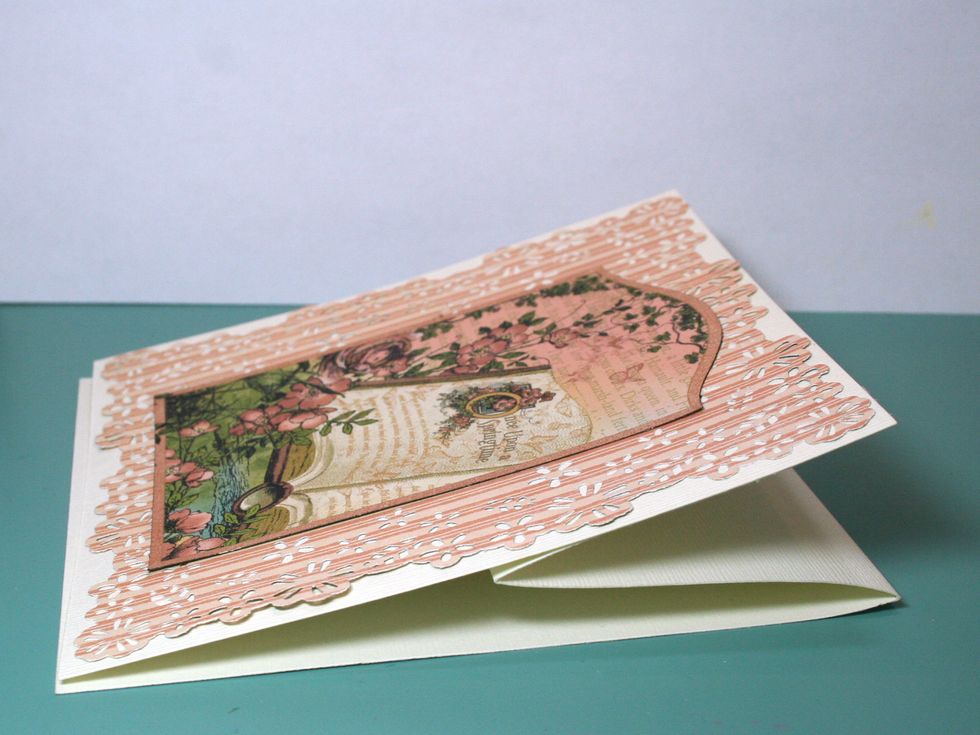 Another view with the card folded down.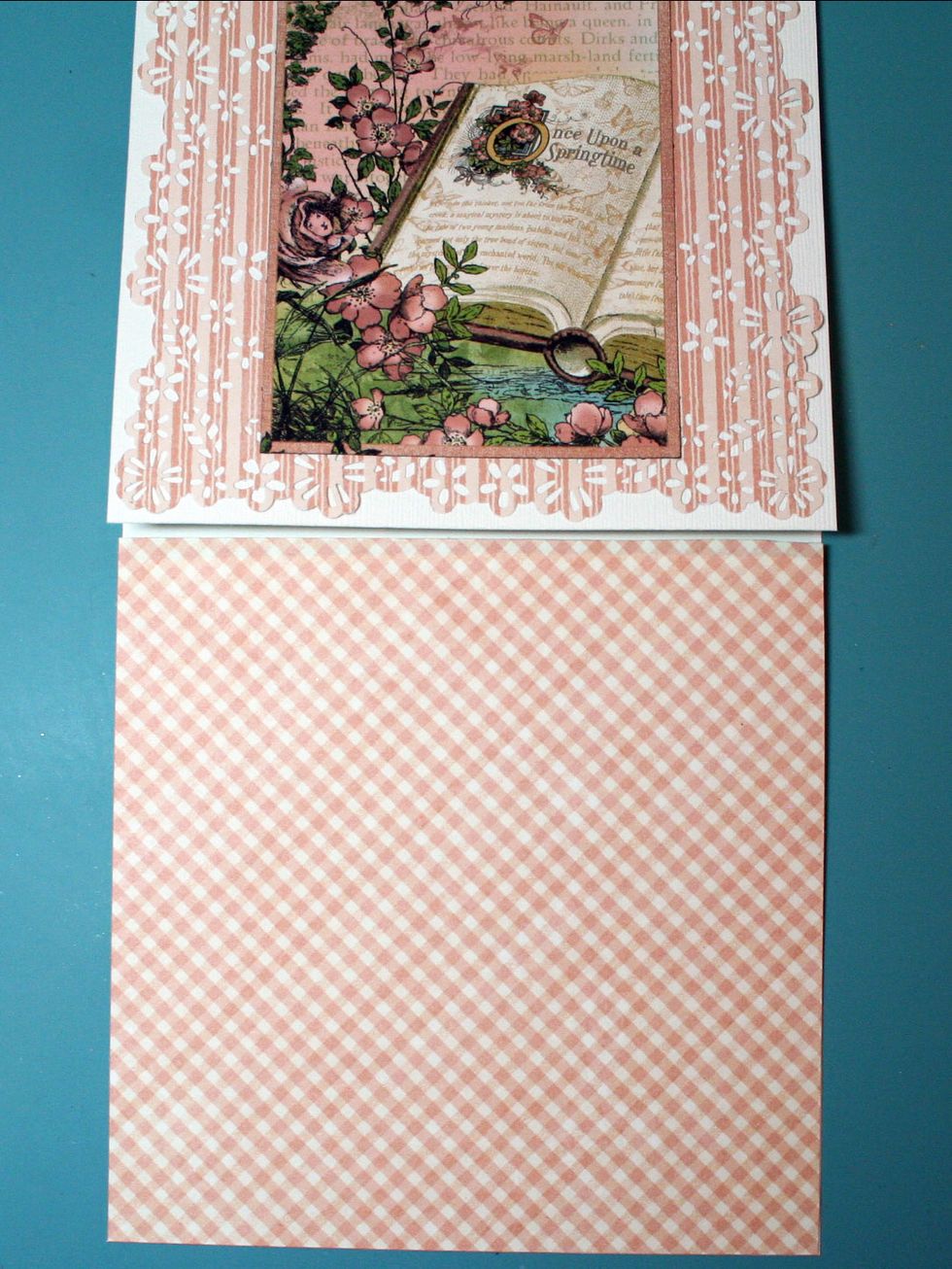 Cut a 6x6 square and adhere to the bottom of the 6 x12 card base. In this view the card is lying flat with the inside of the card showing.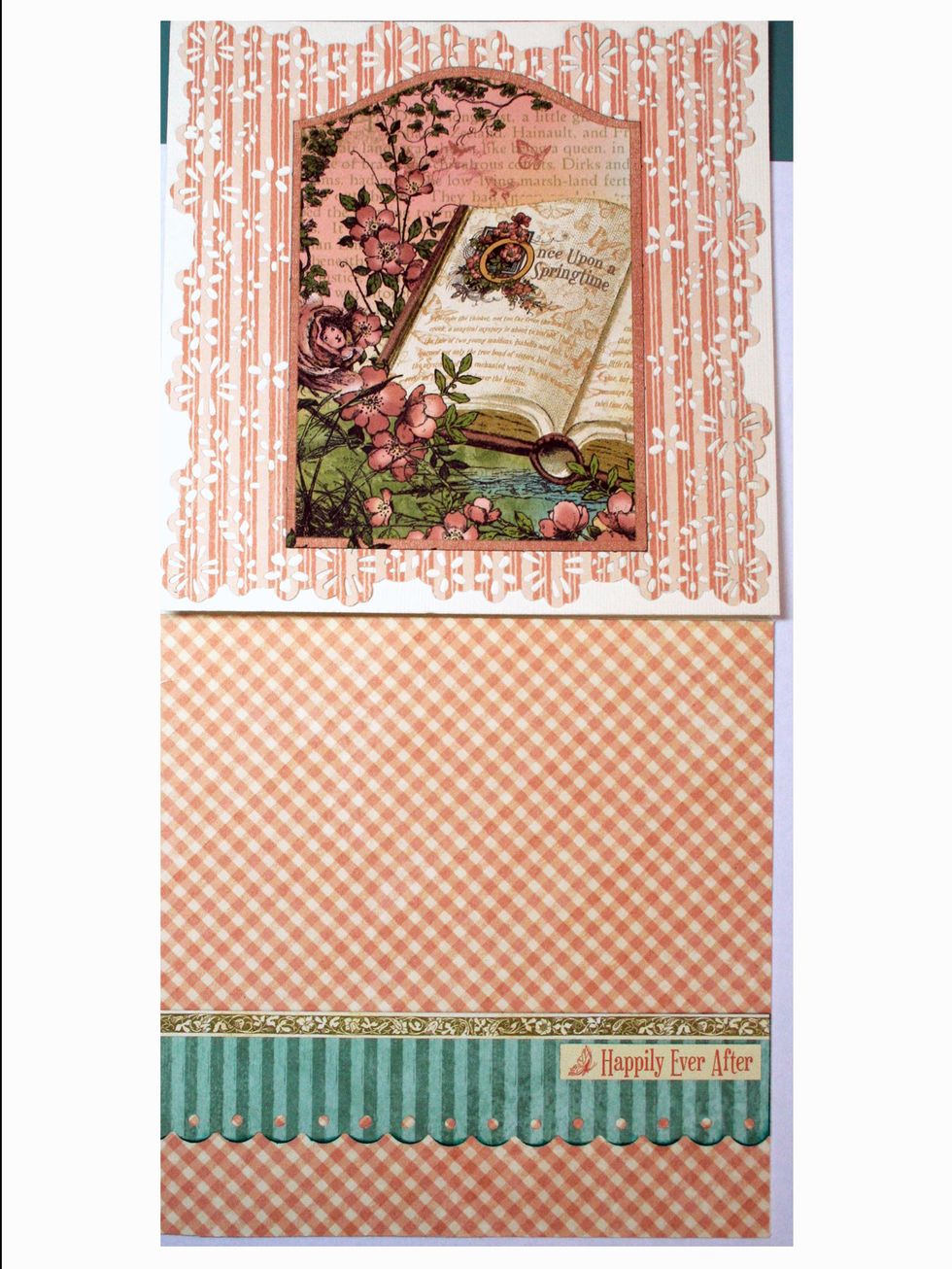 Cut a 1.5 x 6" strip from Butterfly Kisses and border punch the edge. Add a 6" sticker strip and Happily Ever After sticker from the sticker sheet 2" from the bottom.
Add the title and mushroom chipboard pieces as shown. Add fussy cut flowers on the right and pop them up with foam.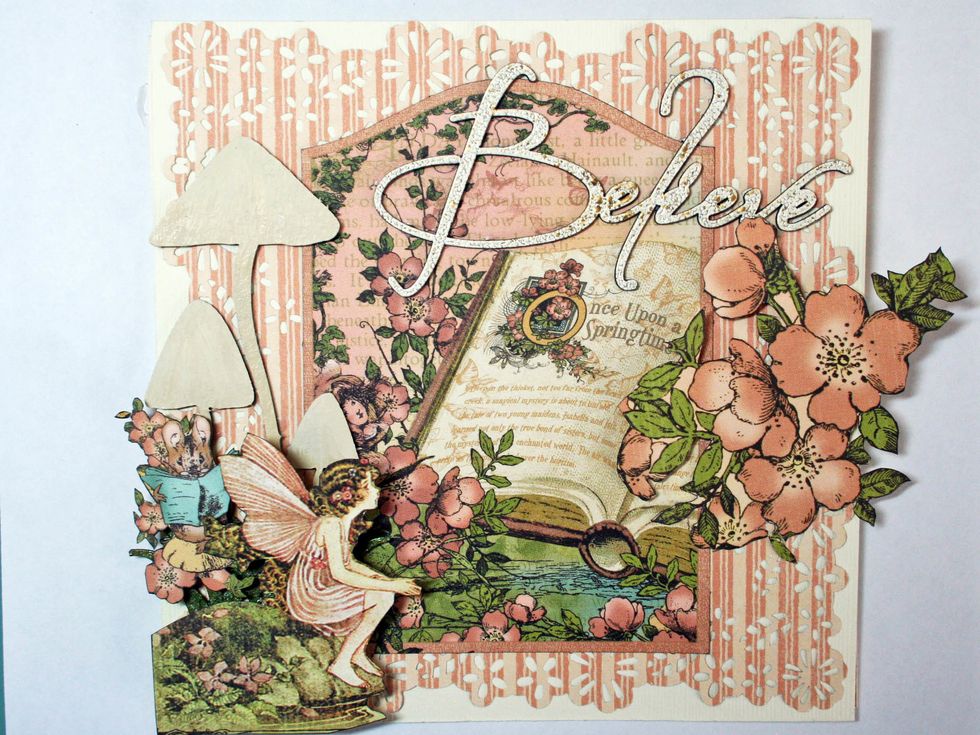 Add the reading bunny and sitting fairy on the left as shown. Use a double layer of foam to pop up the fairy higher than the bunny.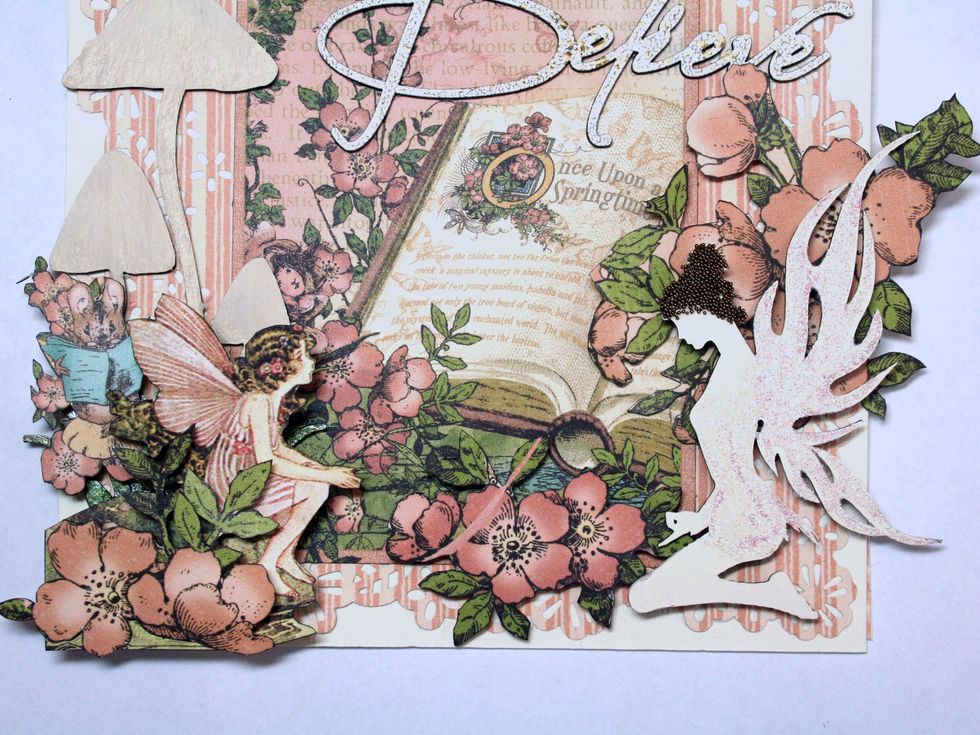 Add the chipboard fairy on the right and more fussy cut flowers in the center and overlapping the fairy on the left.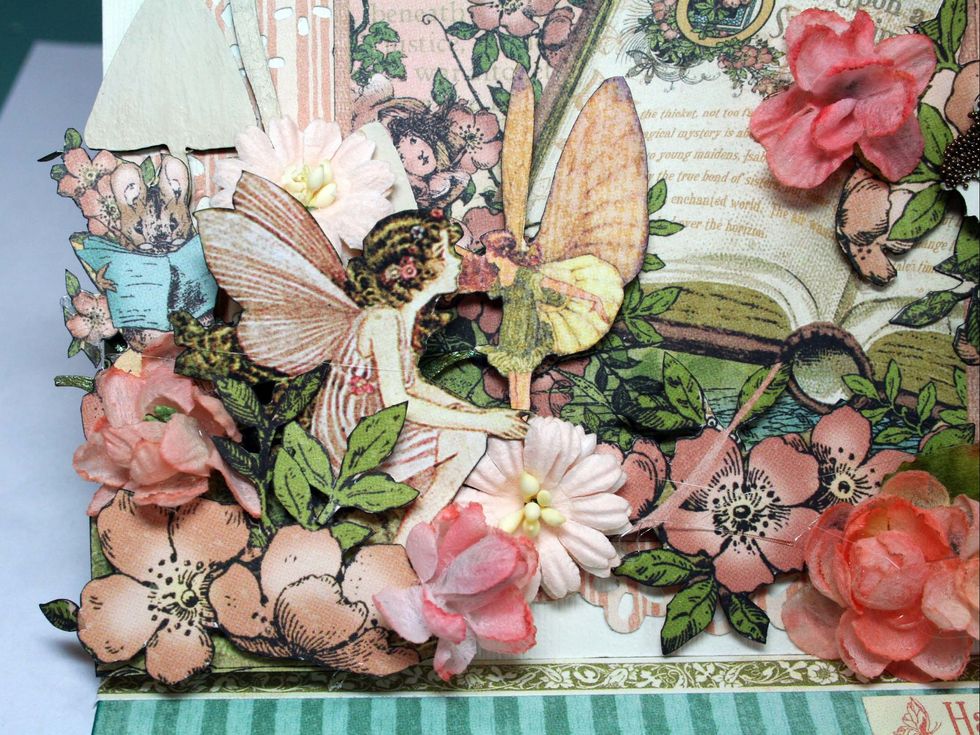 Add the small fairy as shown.
Add a fairy on the title.
Embellish with flowers.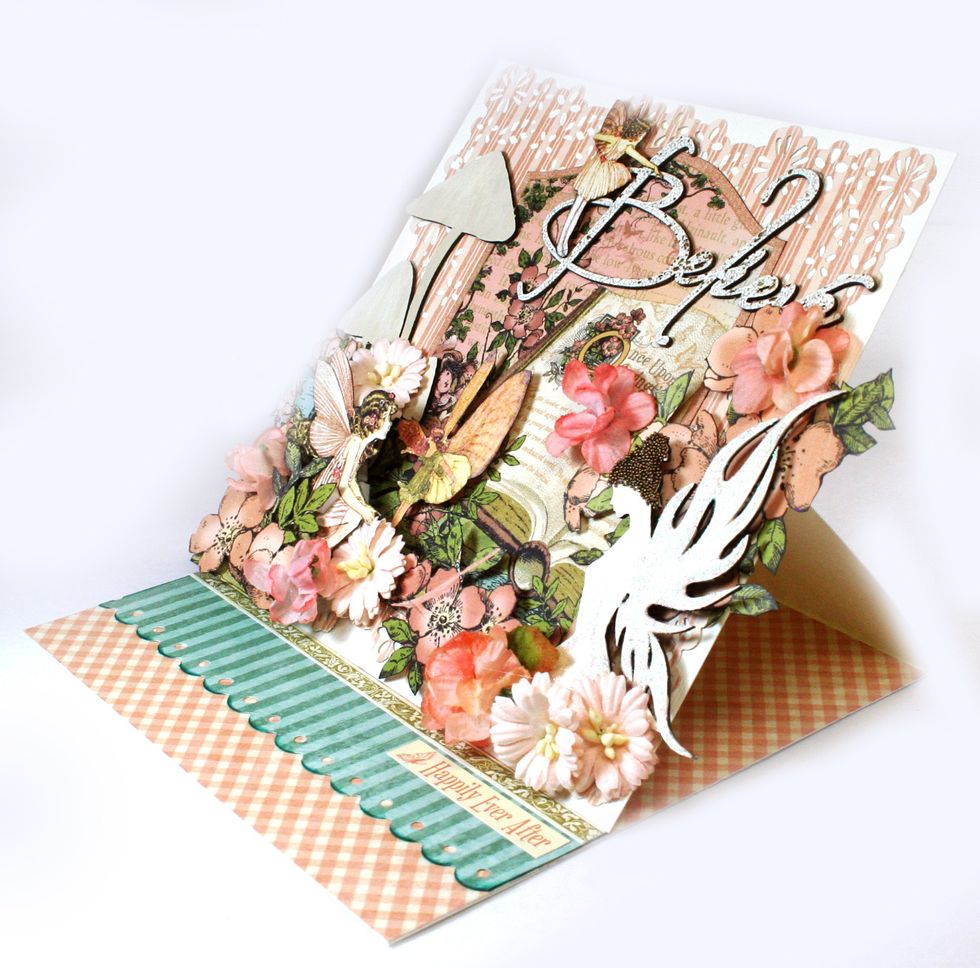 Finished card in the easel position. The "easel" folds down flat so that you can put it in an envelope.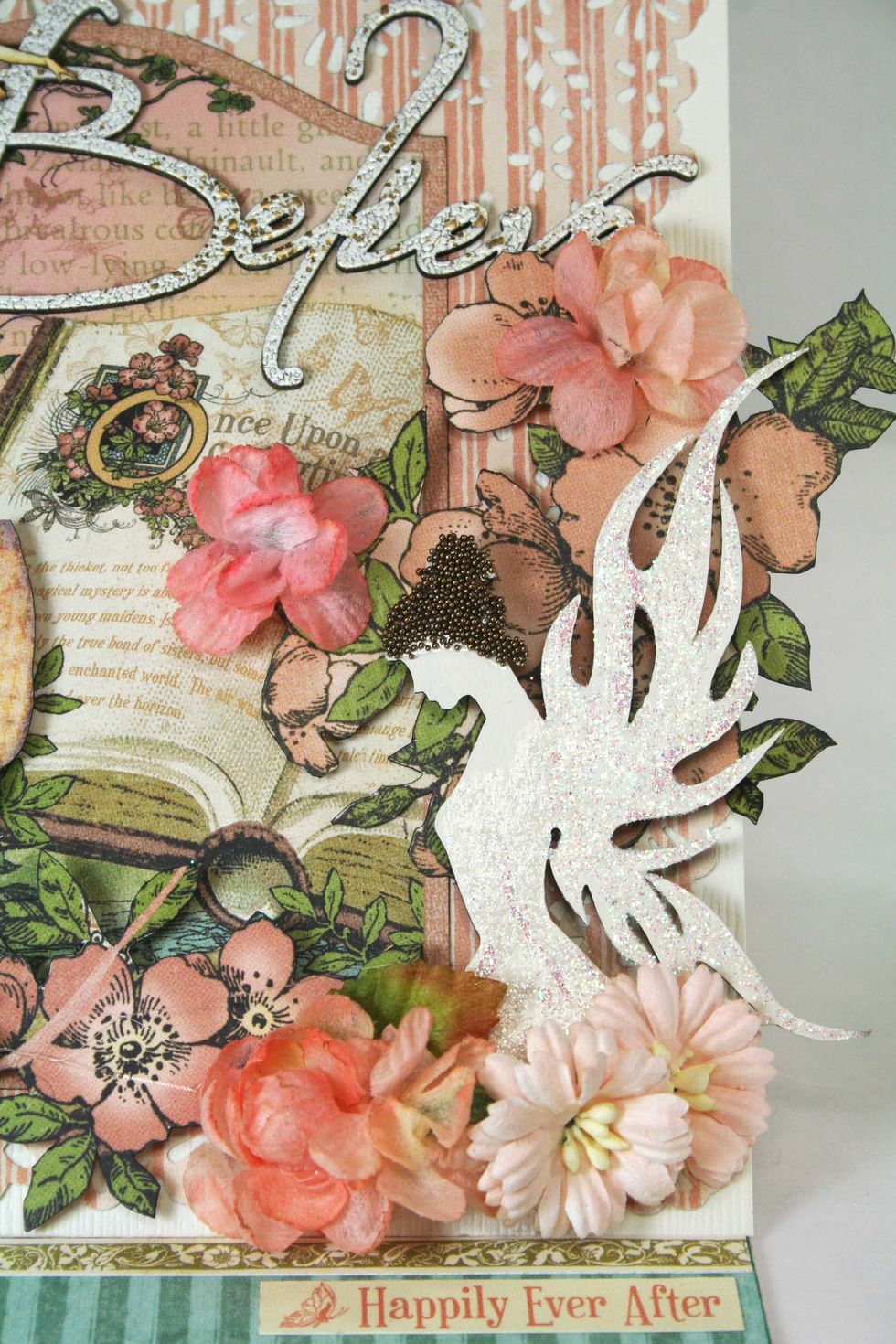 Closeup right side of card.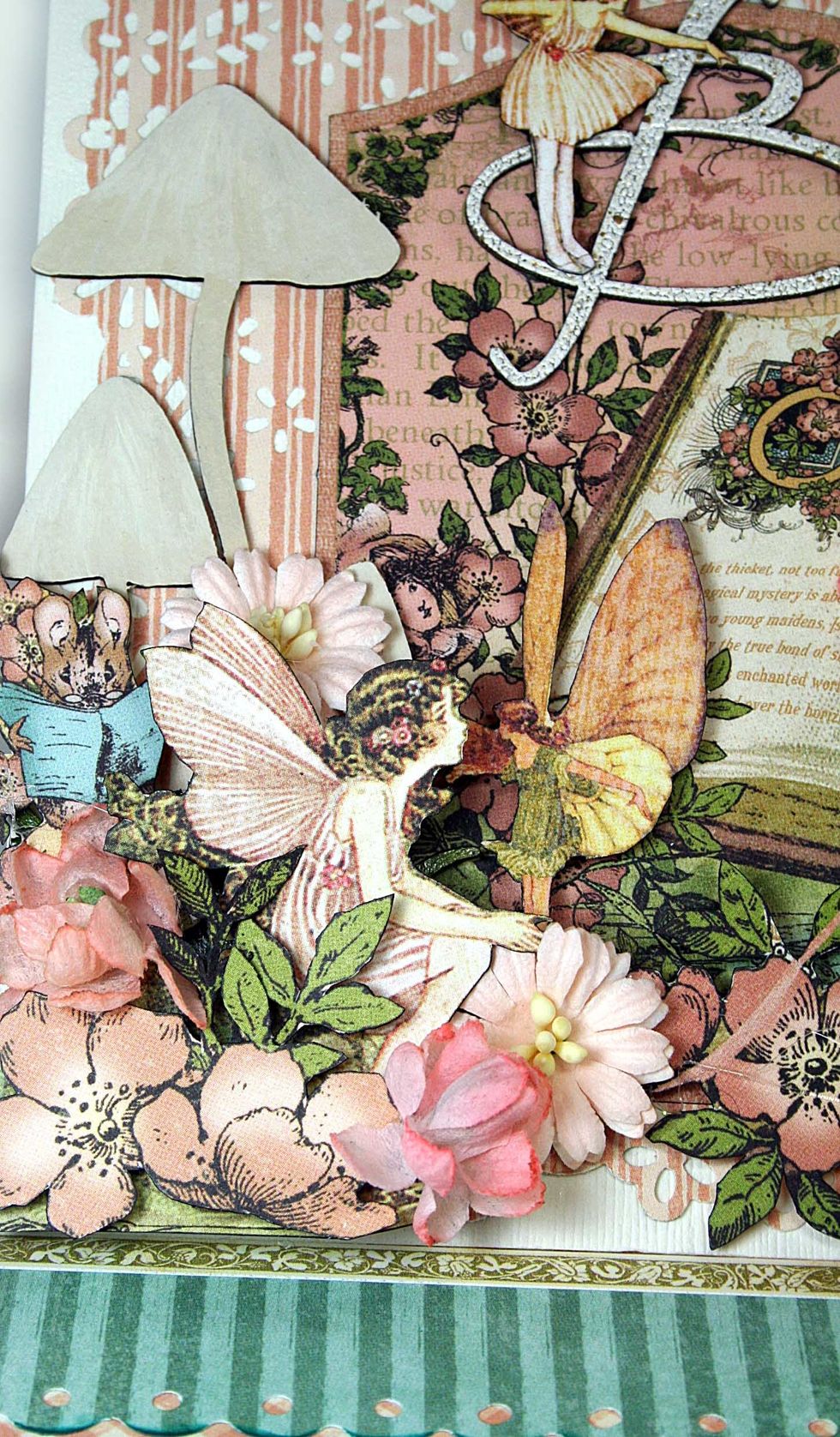 Closeup left side of card.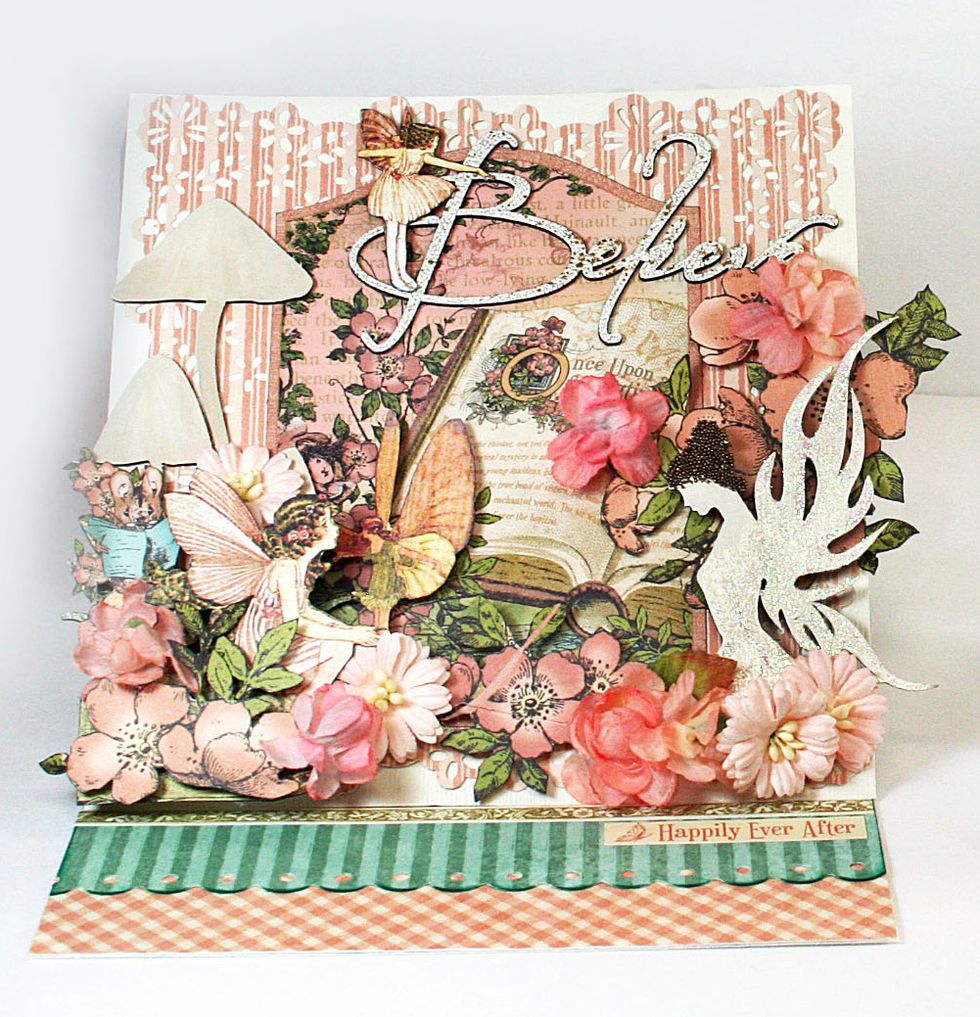 Finished card. Thanks for joining me today! Stop by my blog where I have more tutorials. http://scraptravelbark.blogspot.com/
G45 Once Upon a Springtime Deluxe Collector's Ed:
Once Upon a Springtime
Once Upon a Springtime Frames
Primrose Cottage
Butterfly Kisses
Woodland Fantasy
Flight of Fancy
Once Upon a Springtime Classic Stickers
Bazzill French Vanilla Cardstock
Creative Embellishments Mushroom Set 1
Creative Embellishments Inspire Word Set
Creative Embellishments Fairies
Stampendous Aged Ivory Embossing Enamel
Ivory & brown paint
Fine glitter
Stickles - frosted lace & crystal
Martha Stewart Wild Flowers around the page punch
Petaloo Botanica Minis Apricot
Microbeads - antique copper
Maggi Harding
I am a paper crafter and I like to do it all, tags, layouts, cards and altered art. Follow me on Pinterest: https://www.pinterest.com/maggi43/