Make an Art Journal With Cottonwood Arts Canvas Notebooks
27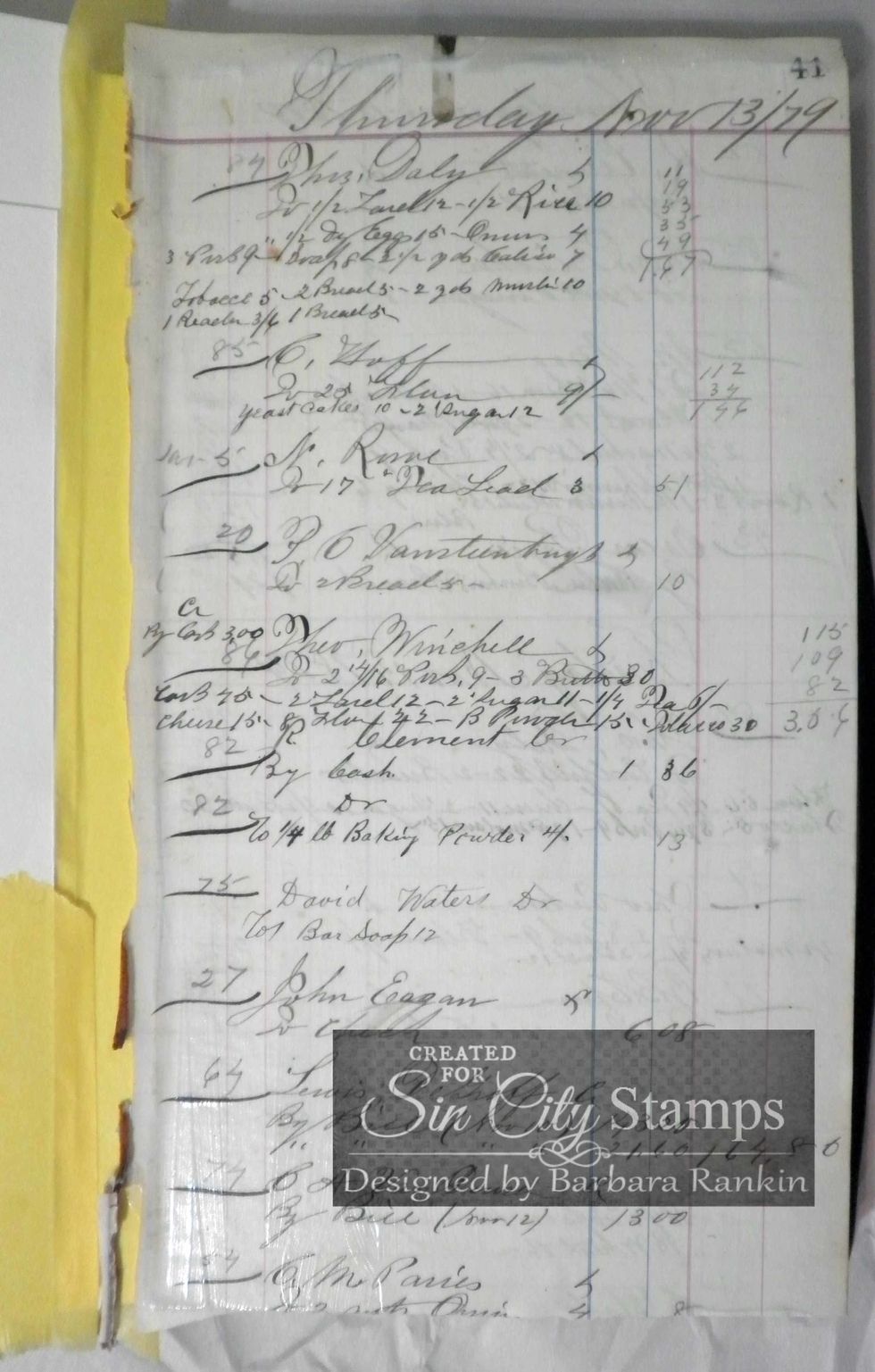 Tape opposite page to protect it. Adhere vintage journal page to canvas using mixed media adhesive. Cover writing with the adhesive to seal and protect the ink from smearing during the next steps.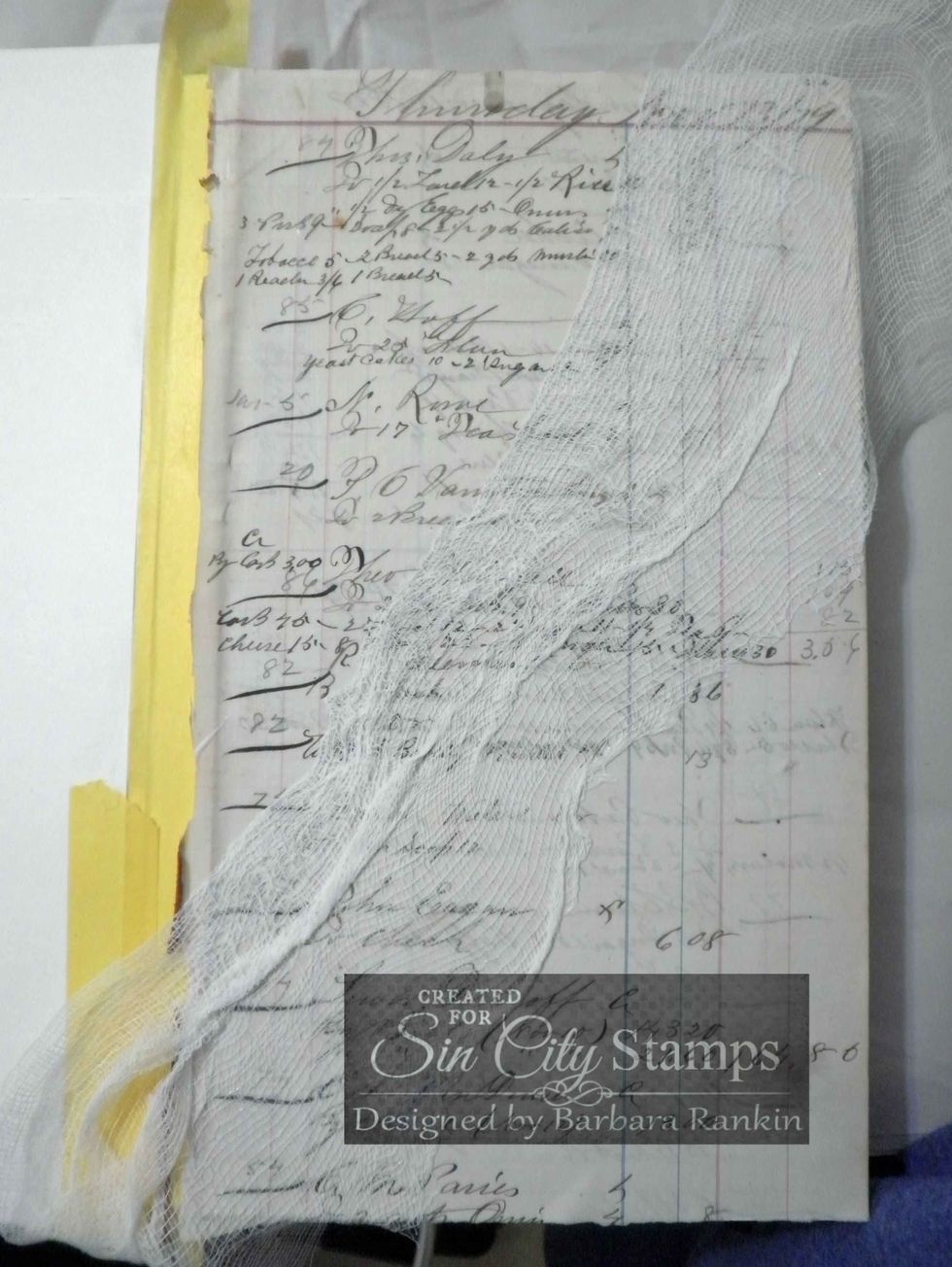 Adhere strip of cheese cloth across page diagonally, as shown, using mixed media adhesive.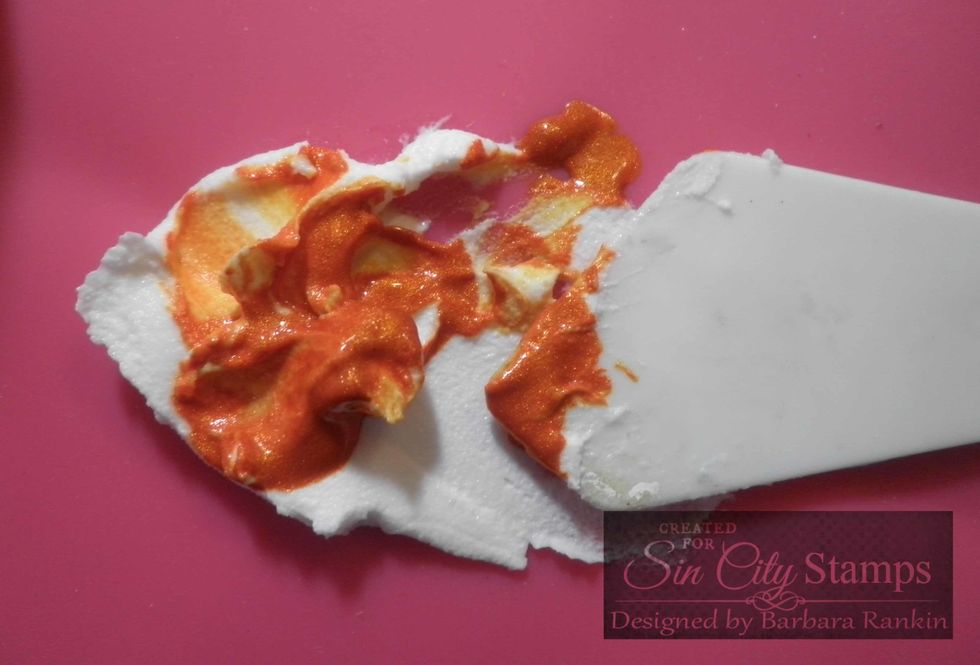 Mix Ginger Peach acrylic glaze to light molding paste with spatula.
Spread colored molding paste through flower stencil.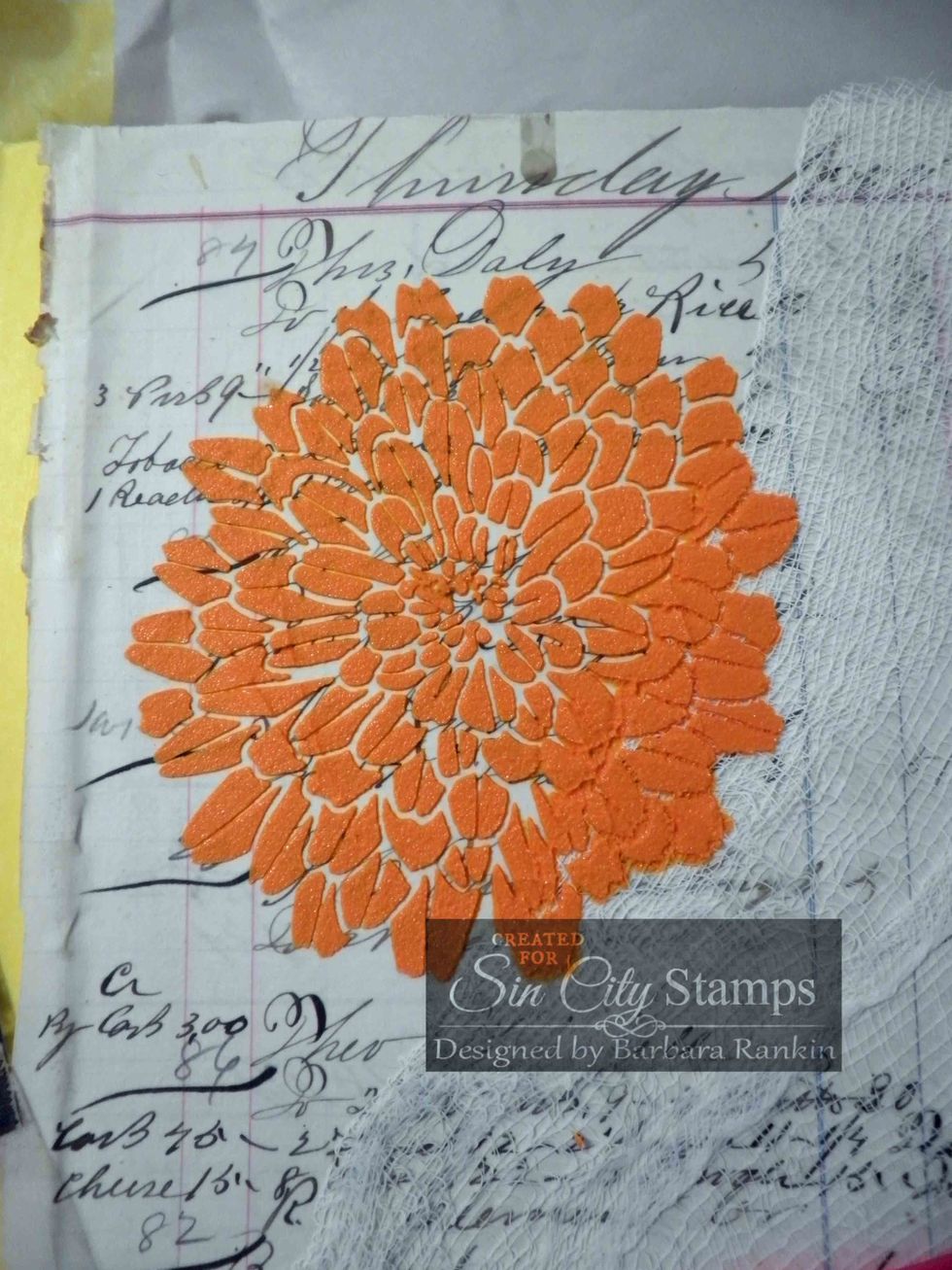 Remove stencil to reveal flower texture.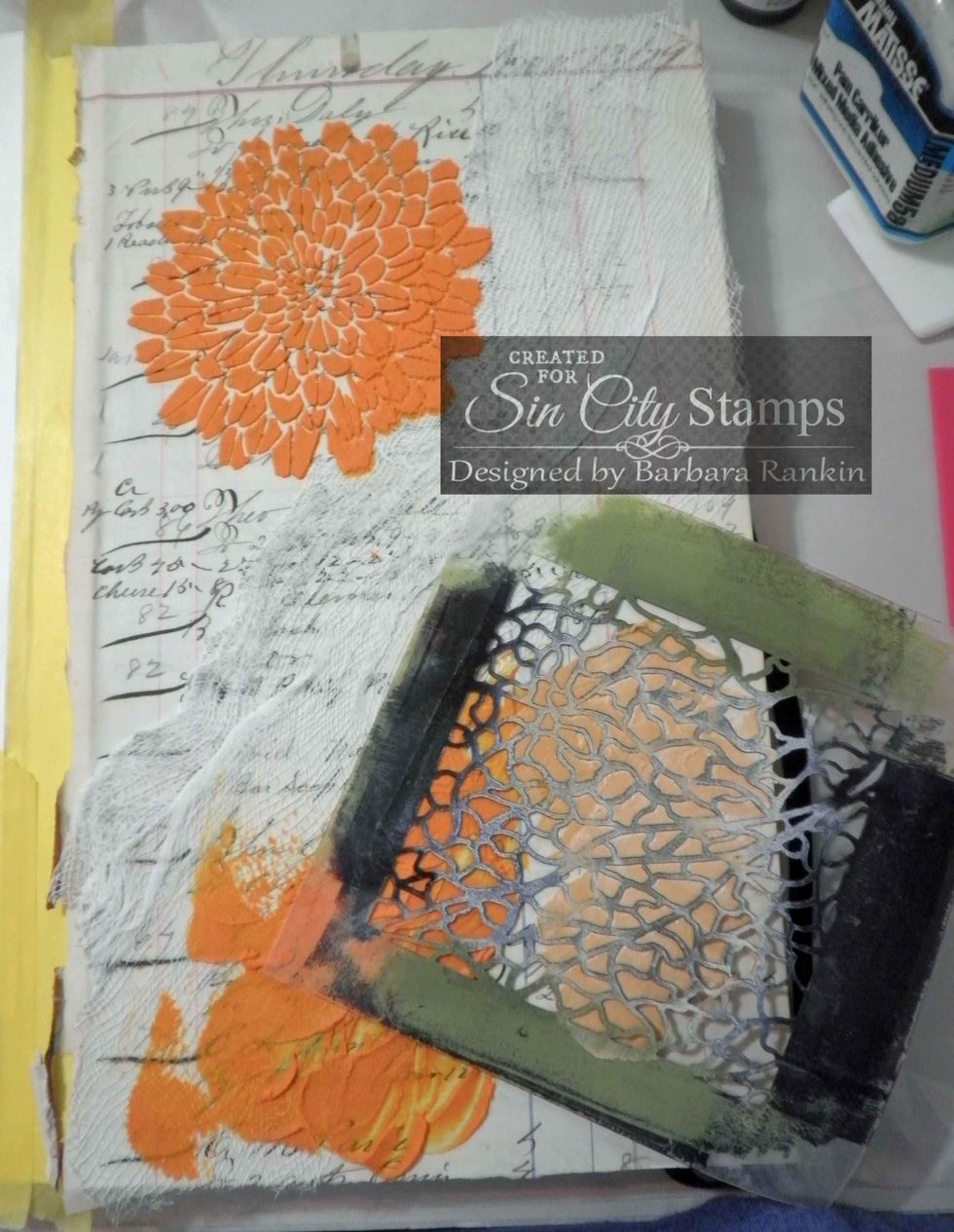 Mix molding paste with Emperor's Gold acrylic glaze and spread through Entangled stencil. Do not cover entire opening, but rather randomly, as shown.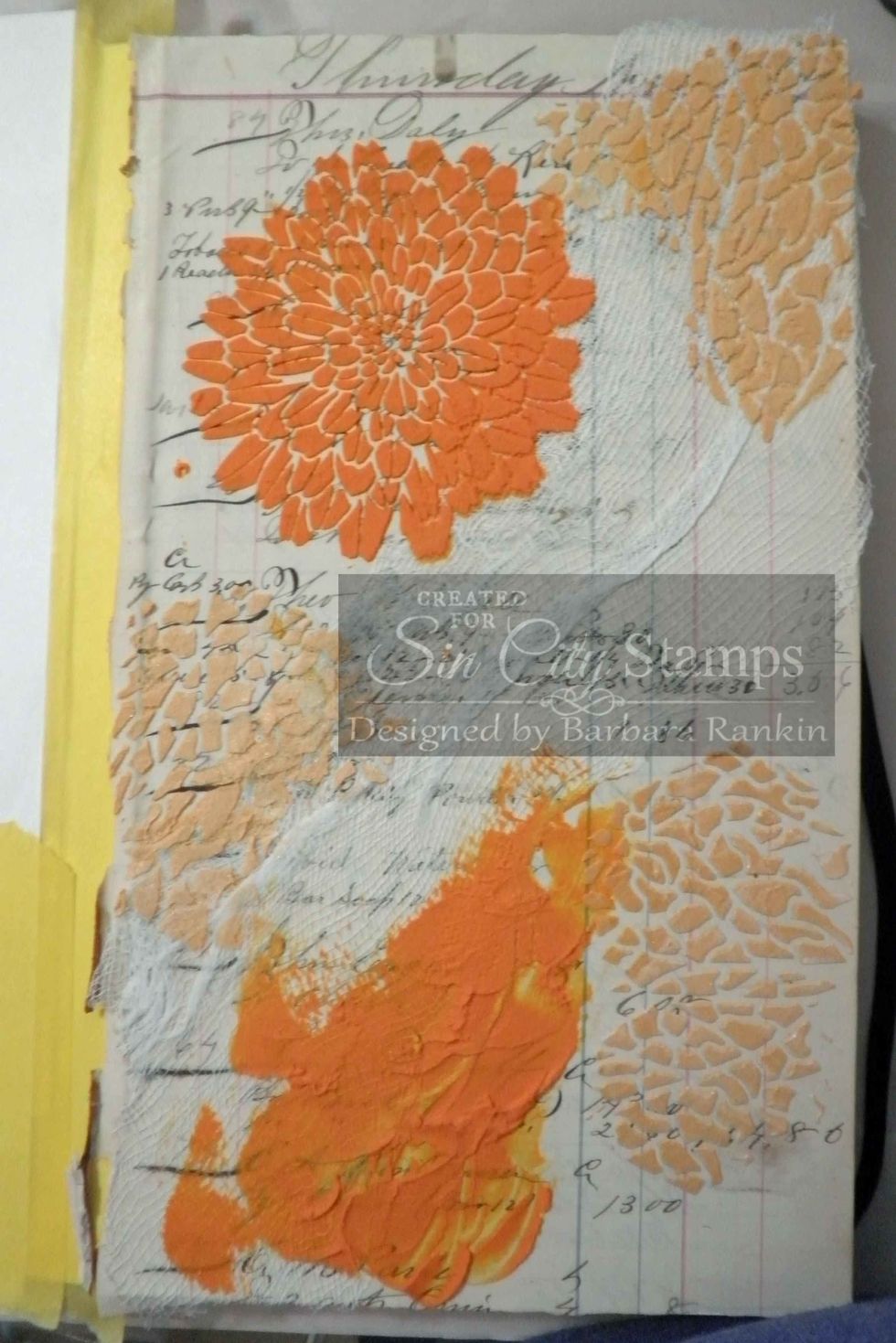 Molding paste added through stencil in three places. Excess peach molding paste was smeared at the bottom of the page.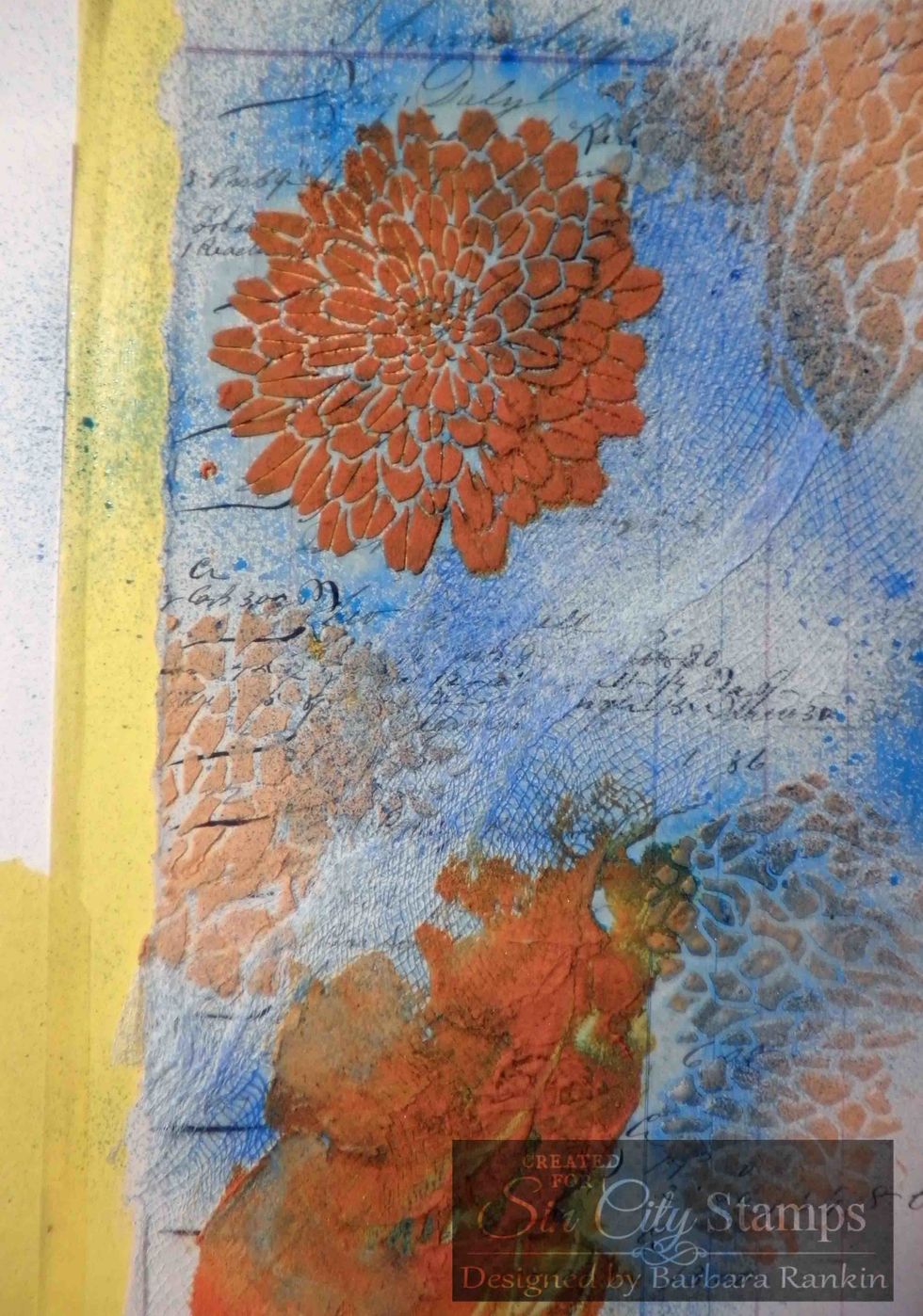 Begin spraying page, first with blue, then green handmade ink sprays. Add one part Liquitex ink, 1 part Retarder, and remainder of 2 oz spray bottle with water. Vary color strength by adding more ink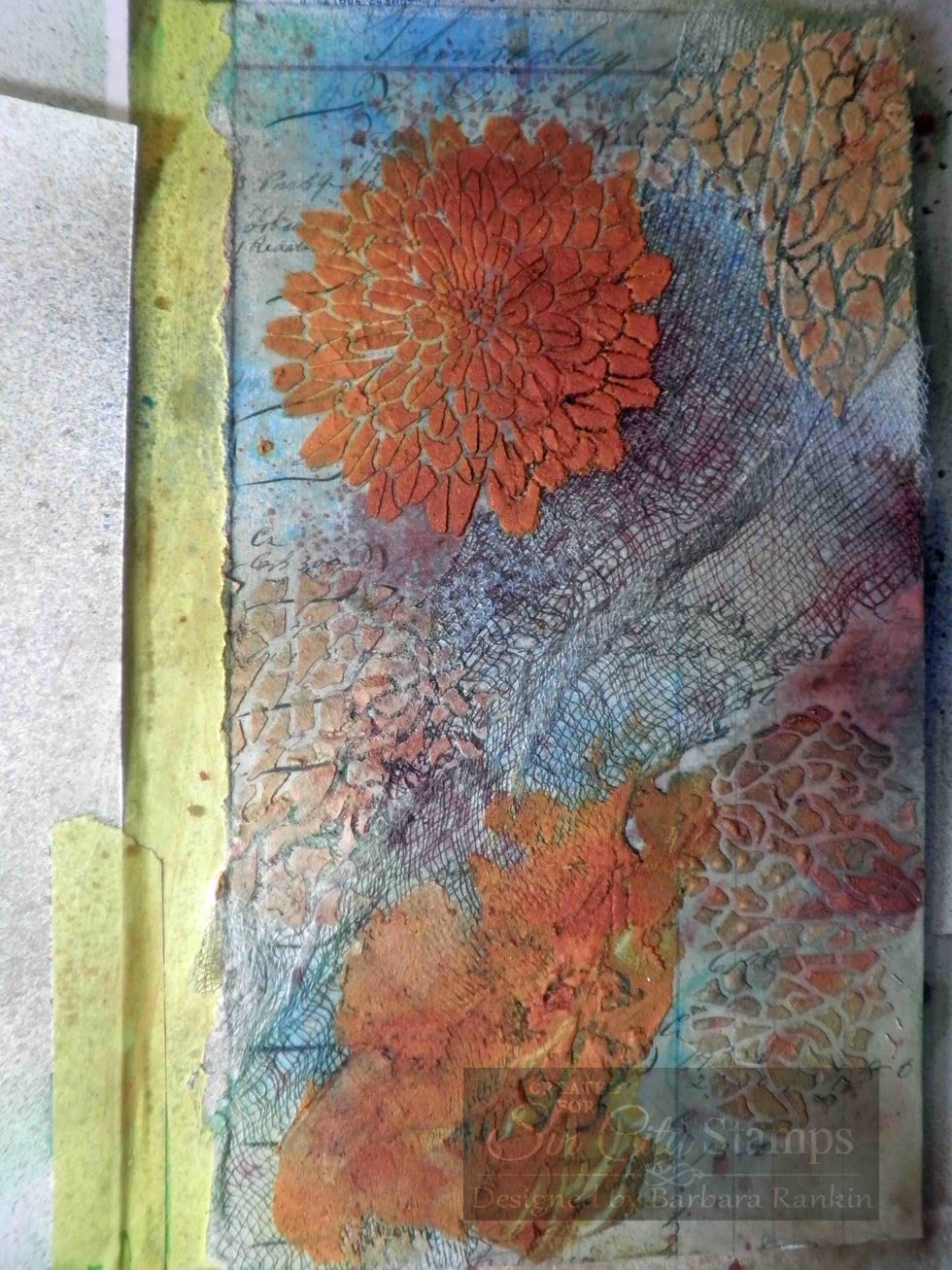 Spray Indian Corn and Cork glimmer mists over the page, dabbing with paper towel or baby wipe.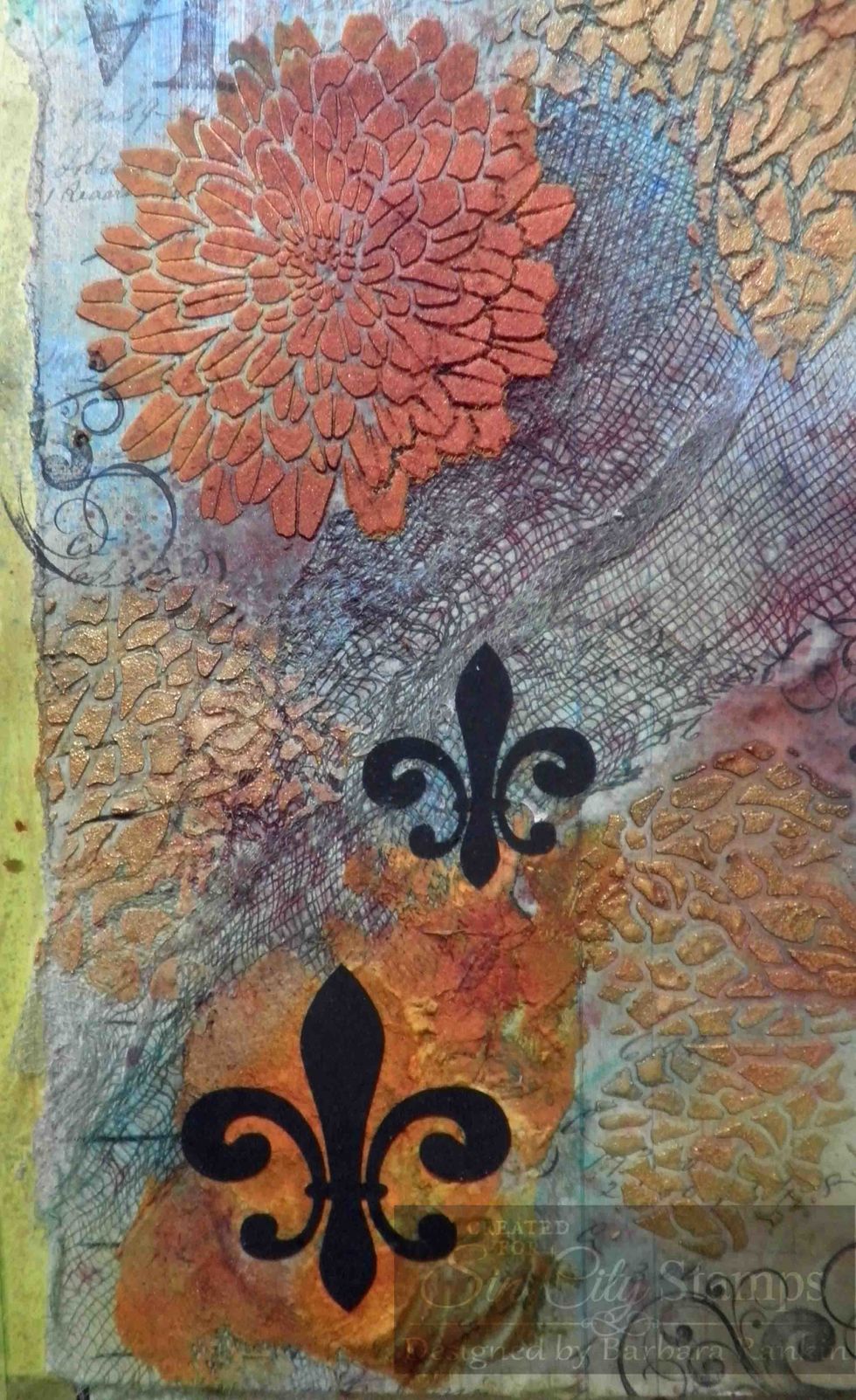 Adhere two fleur de lis die cuts (black card stock) from Sin City Stamps to page, as shown.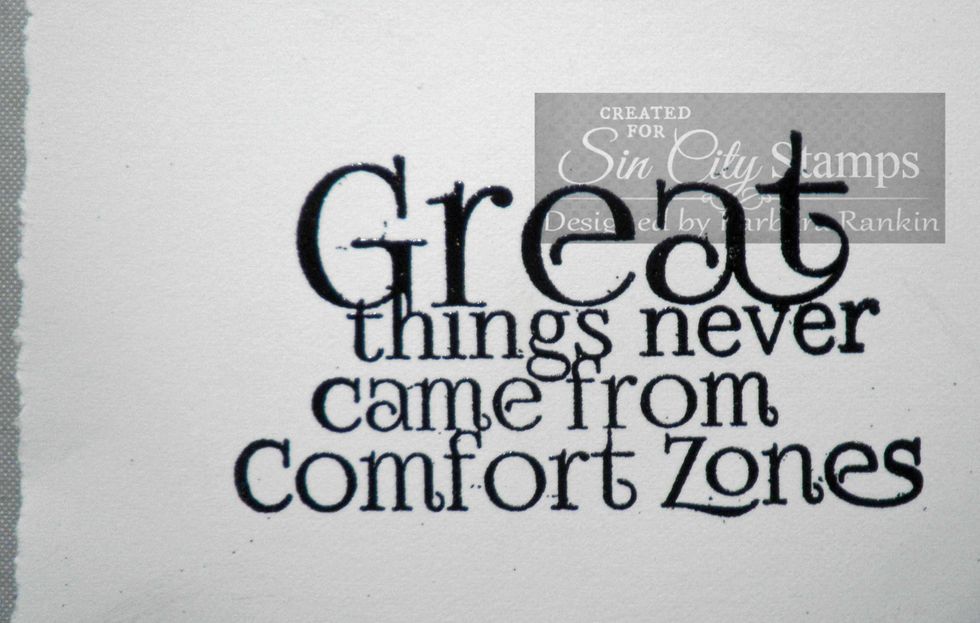 Stamp sentiment from Sin City Stamps Art Journal 3 set onto a scrap of watercolor paper with Versamark ink and heat emboss with black embossing powder.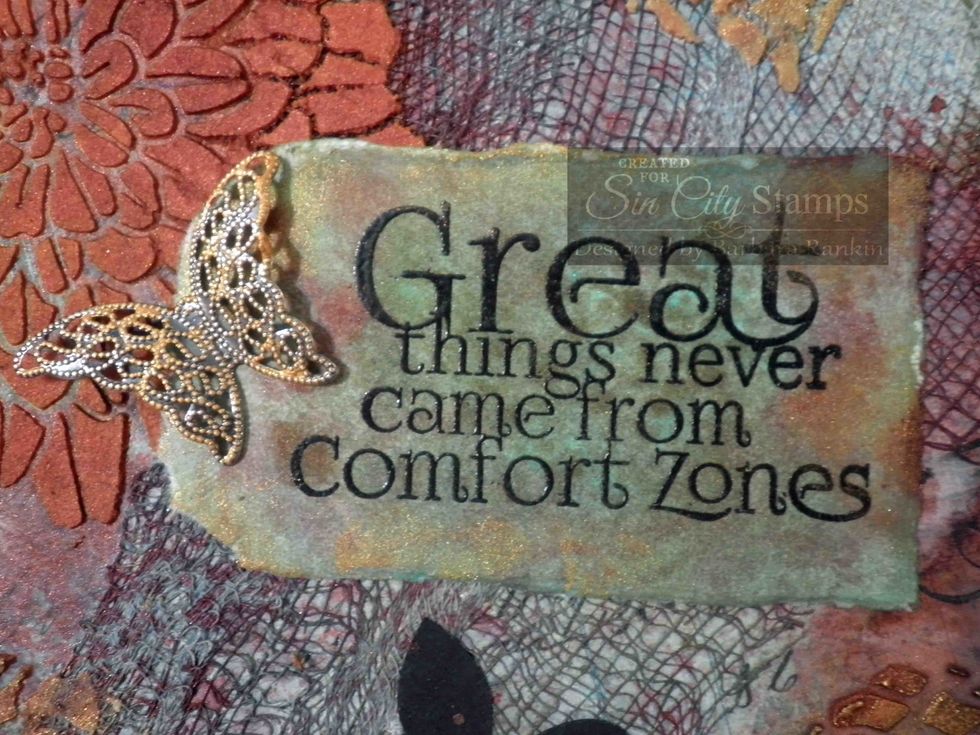 Tear into a tag shape and spray blue, green, Indian Corn and Cork mists over all. Apply Emperor's Gold acrylic glaze sparingly with your finger to the tag. Adhere tag to center of page.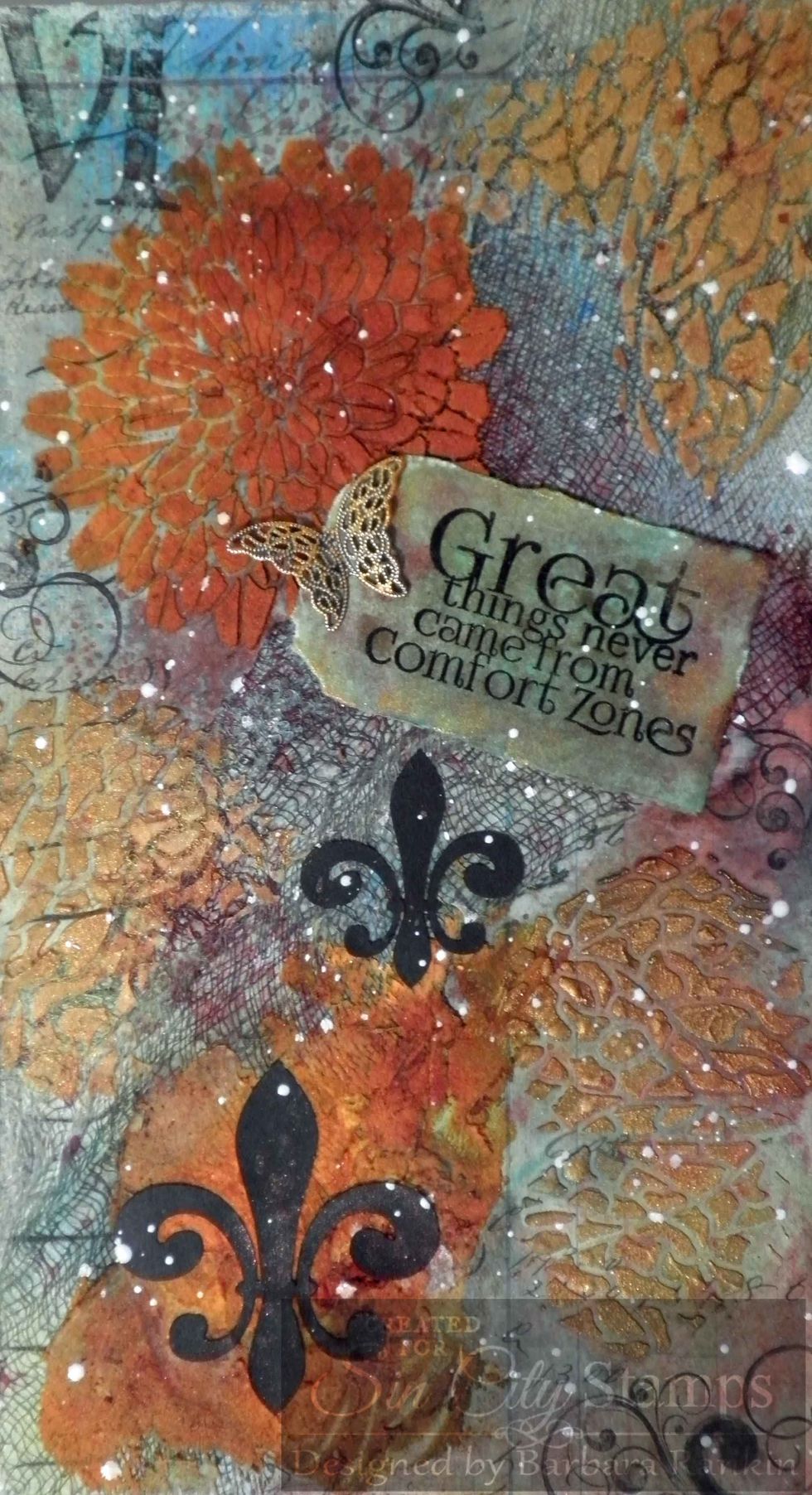 Spritz Wedding Dress IrResistible texture spray over the entire page.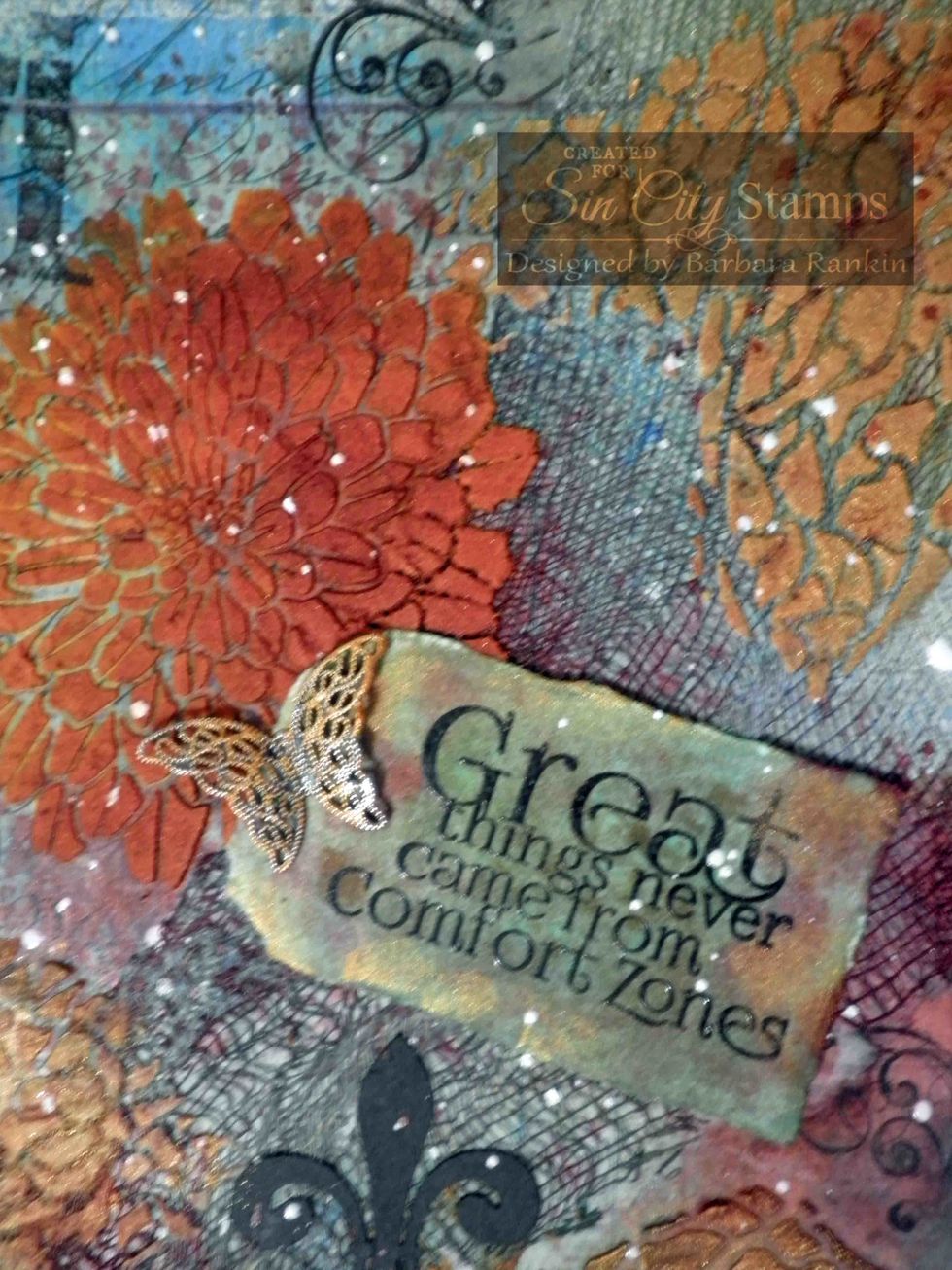 A close up of the sentiment on the tag.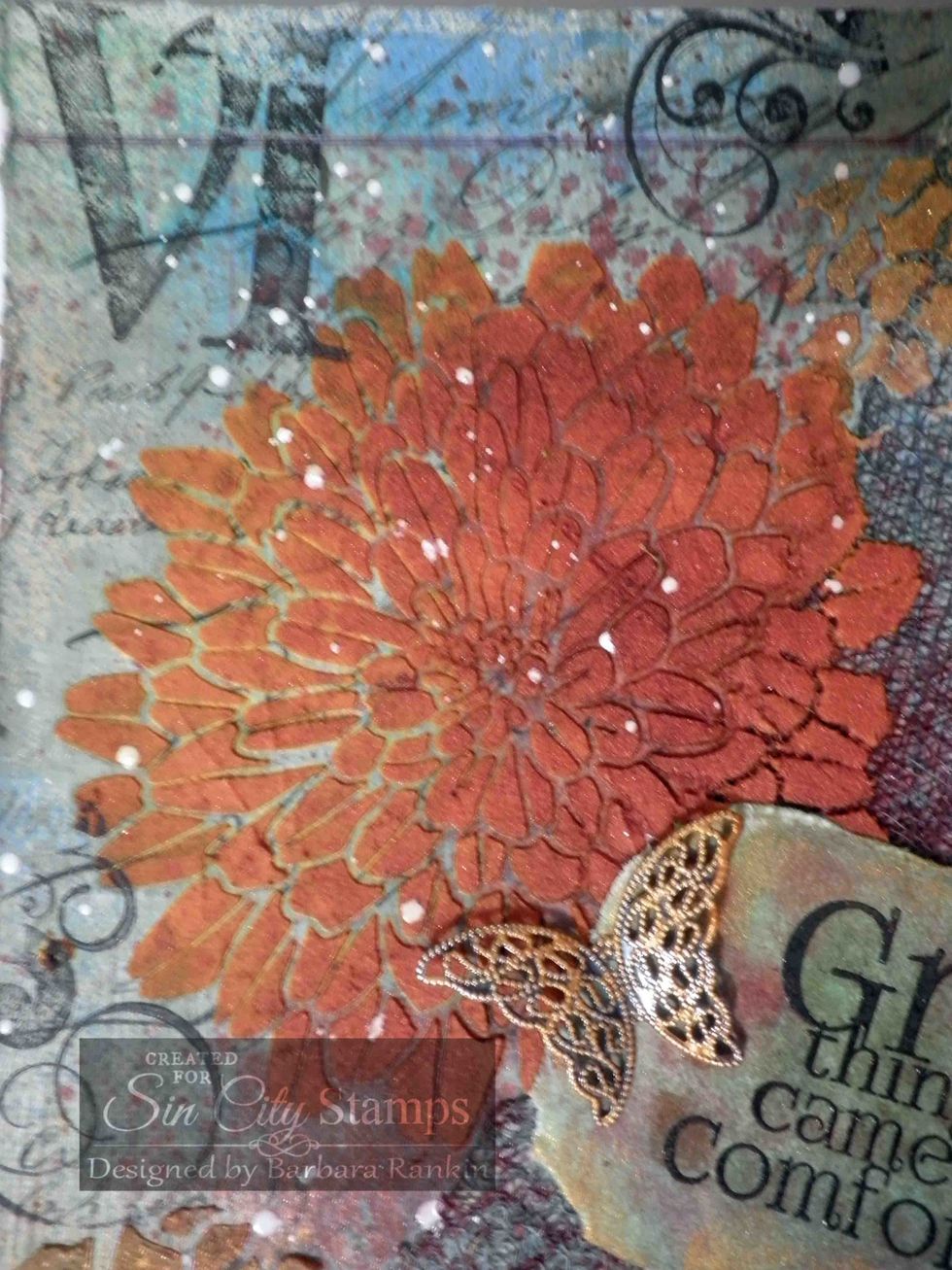 Stamp "VI" from Sin City Stamps Clockworks Inspired by Terri Sproul set in black StazOn at the top of the page,.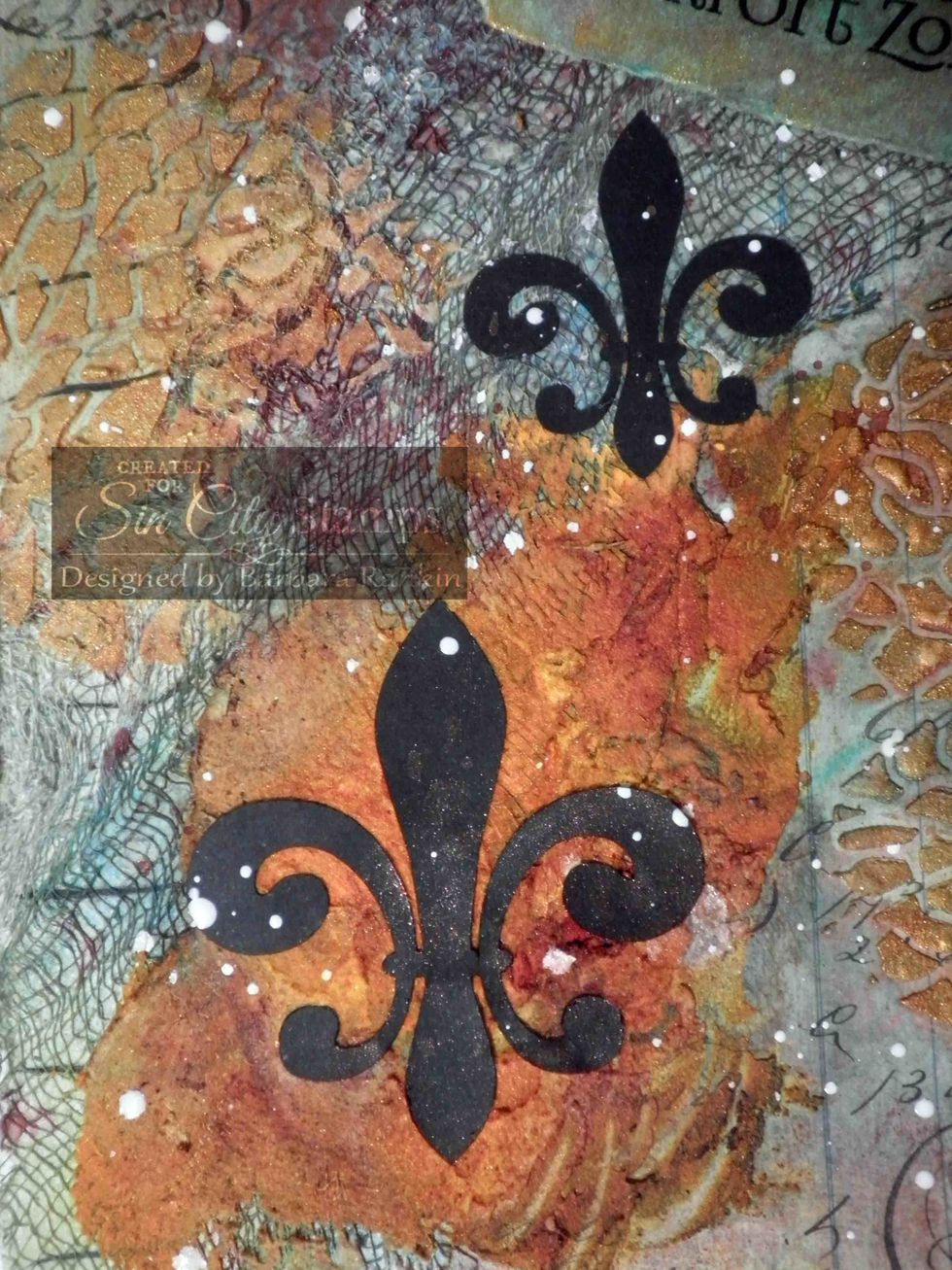 Another close up of the great texture achieved with the stencils and molding paste.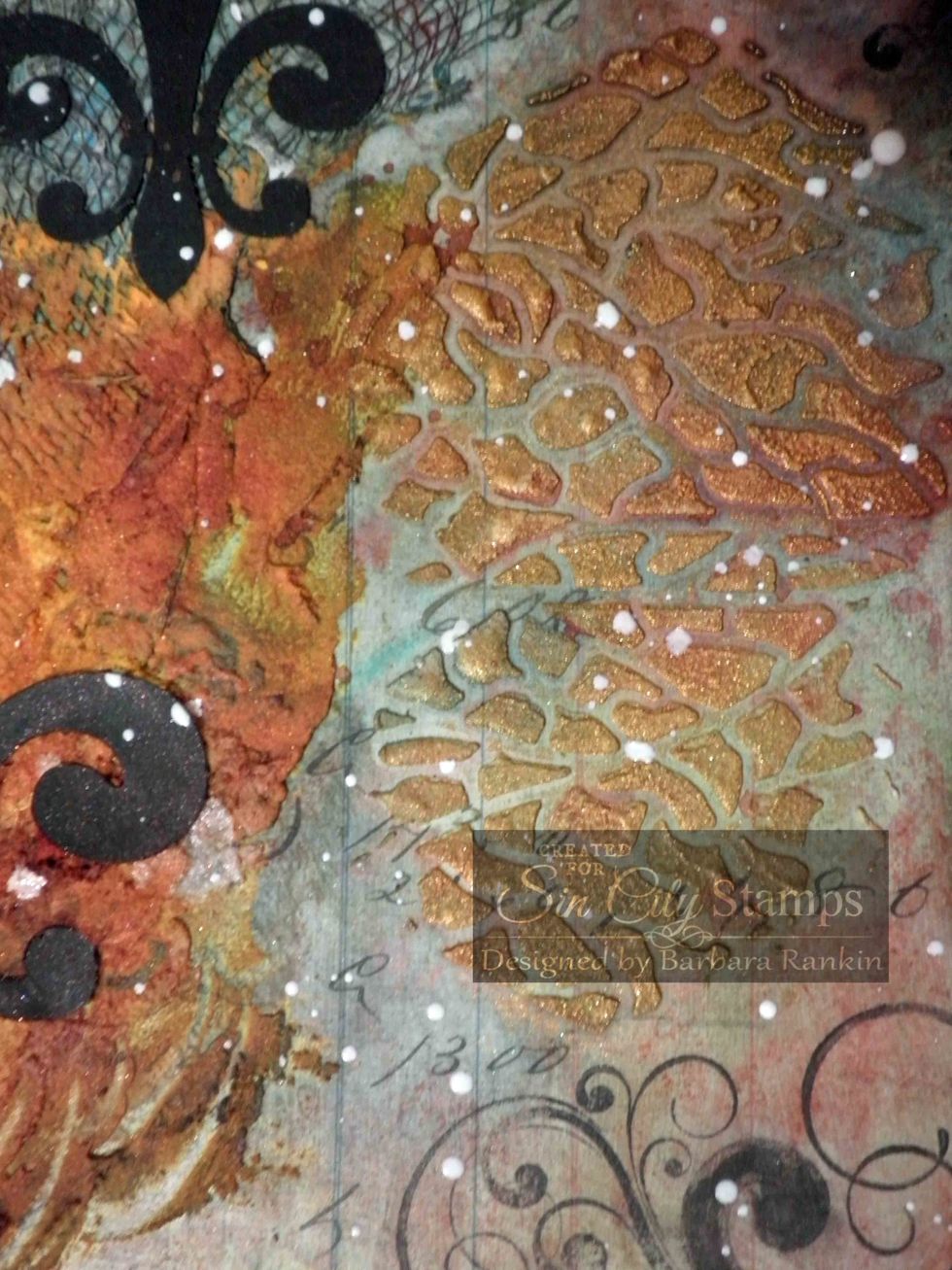 Close up view lower right corner.
Close up of center area.
Entire page finished.
For more information on purchasing these products, please visit www.sincitystamps.com and www.cottonwoodarts.com
Thanks for stopping by. If you would like to see more of my work, please visit my blog at http://blackholeartstudio.blogspot.com
Sin City Stamps Art Journal 3 set
Sin City Stamps Clockworks set
Sin City Stamps Flower and Entangle Stencils
Sin City Stamps Fleur de lis die cuts
Cottonwood Arts Canas Notebook (6.75" x 12")
Homemade Liquitex ink sprays
Indian Corn & Cork Glimmer Mists
Wedding Dress IrResistible texture spray
Ginger Peach, Emperor's Gold acrylic glazes
Light Molding Paste, Cheesecloth
Mixed Media Adhesive
Metal filigree butterfly charm
Barbara Rankin
Designer, mixed media artist. Currently a Design Team Member for Altered Pages and Sin City Stamps.