Make an Art Journal Page With Oil Pastels
18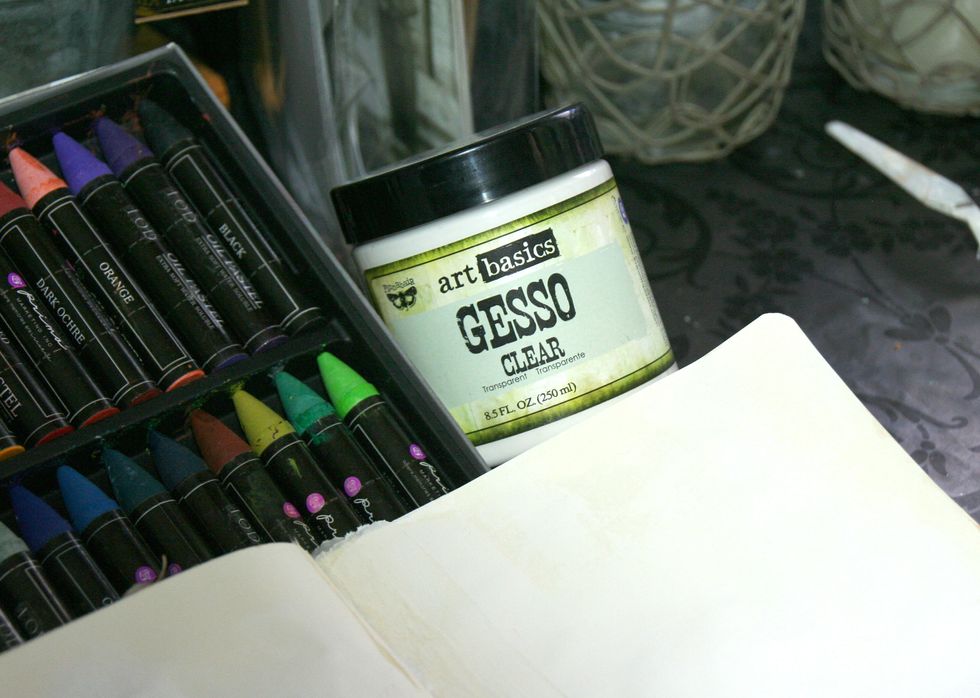 To protect my page and have a rigidity (but flexible) I applied Clear Gesso. Let it dry. Add randomly Heavy Gesso White. Let it dry.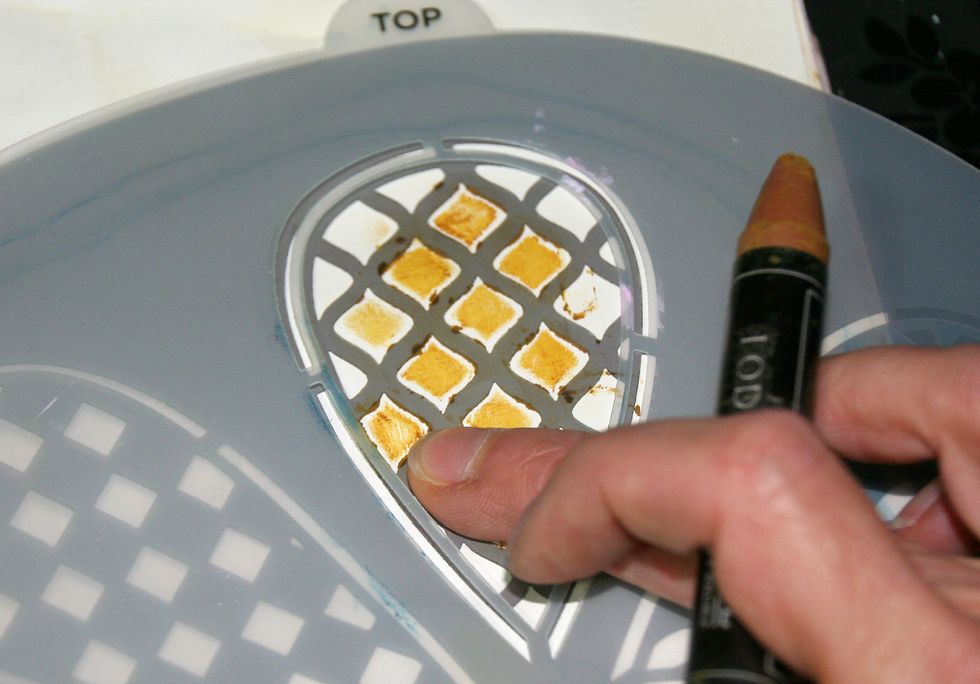 On the right page, I applied Ochre Oil Pastel then I rubbed the color. I did the same step in the left page (on the bottom).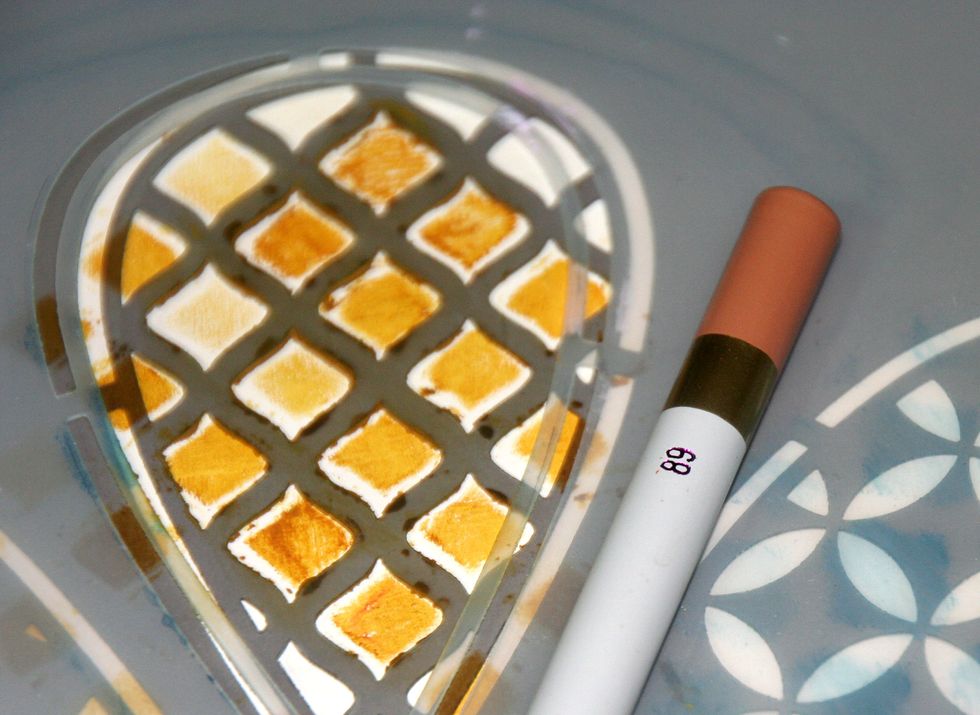 I also used a watercolor pencil to have darken spots.
I sprayed water on my pages and let the water color run and drip.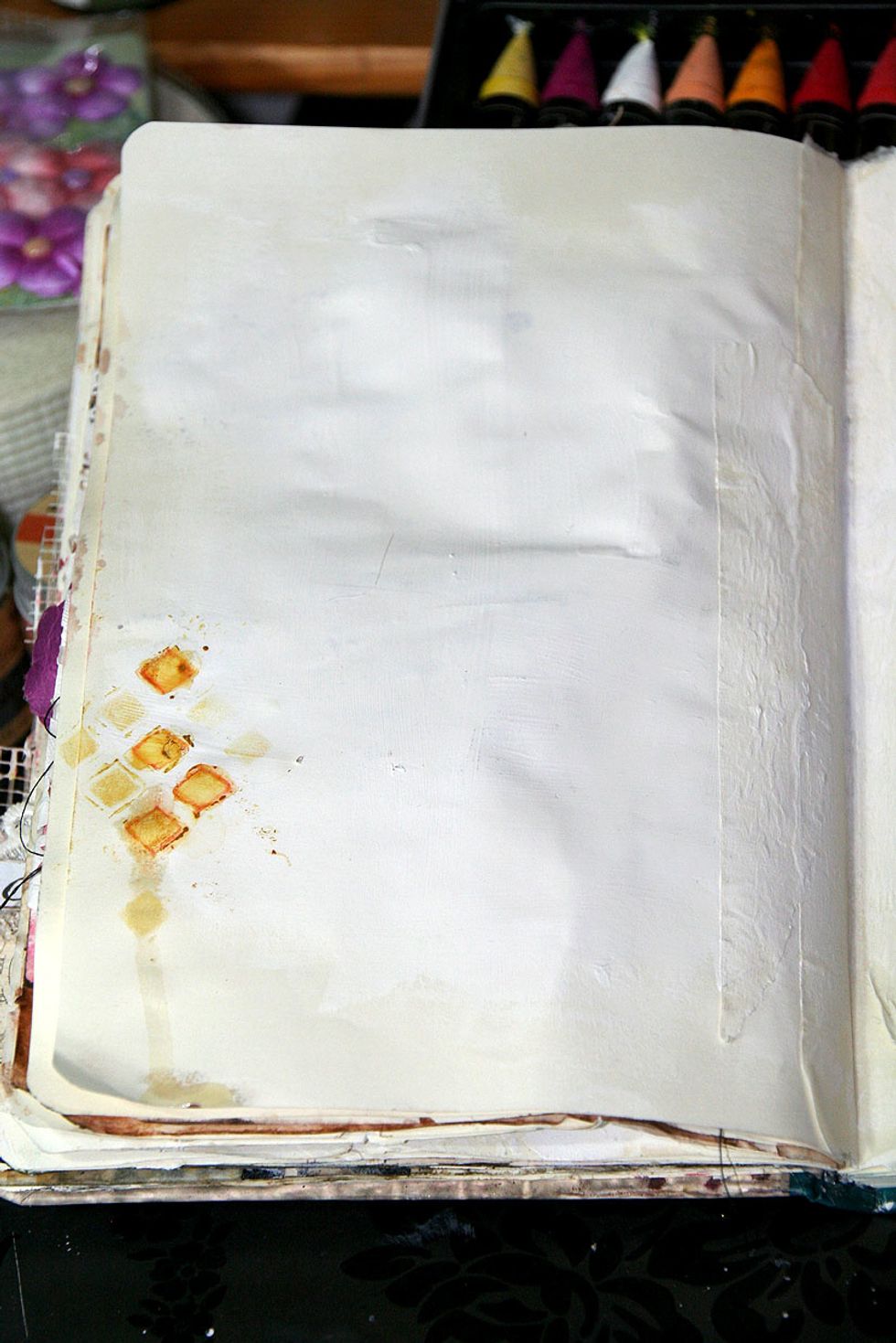 Same process on the left page.
I continued on my background with old paper and Soft Gloss Gel.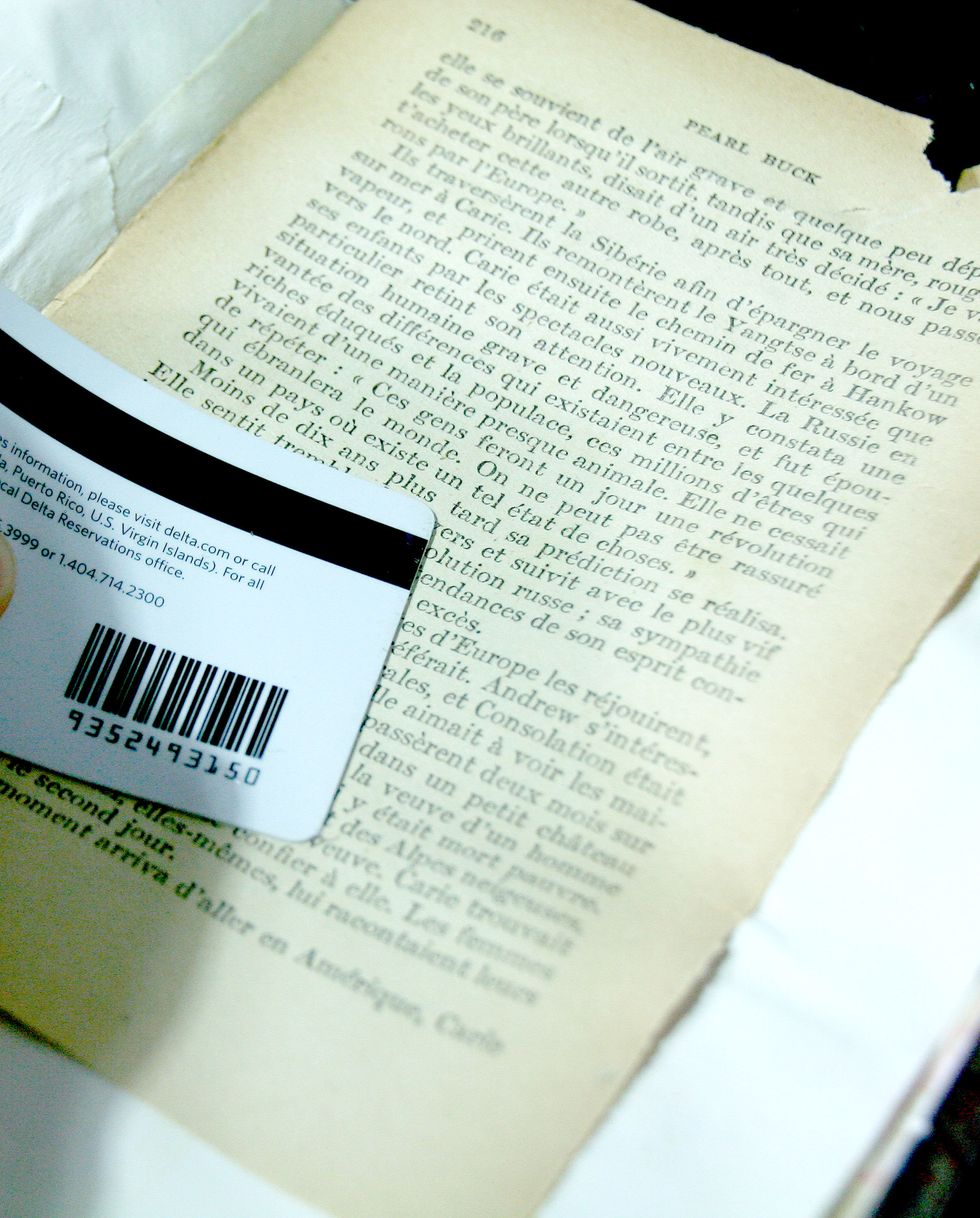 I applied randomly soft Gloss Gel with the 3/4 paintbrush and glued the old paper, I pressed strongly the old paper on my background, waiting for a few minutes and remove the old paper.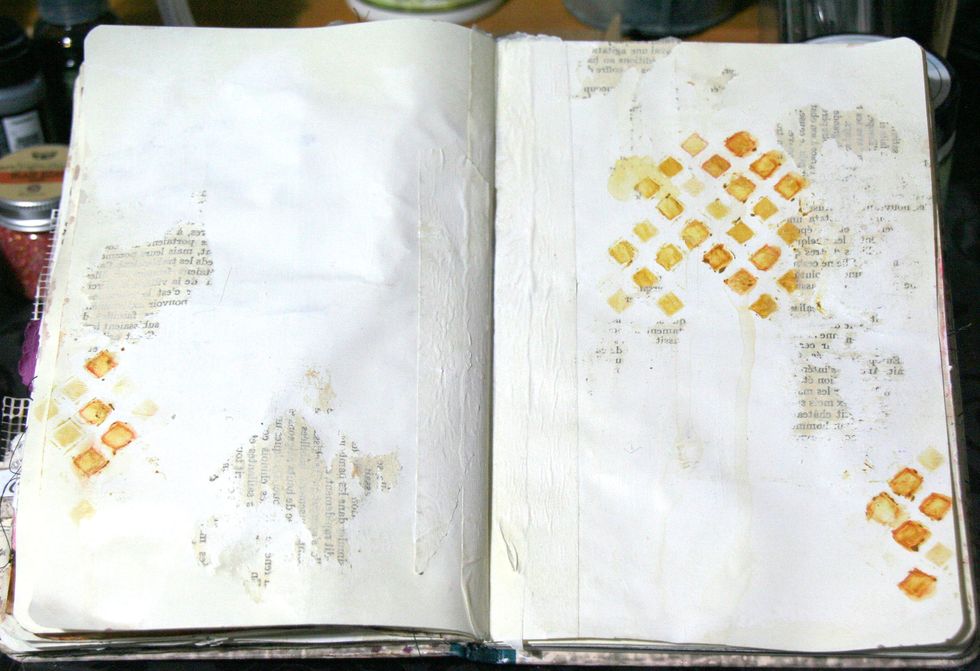 I added Heavy gesso white and this step is done :)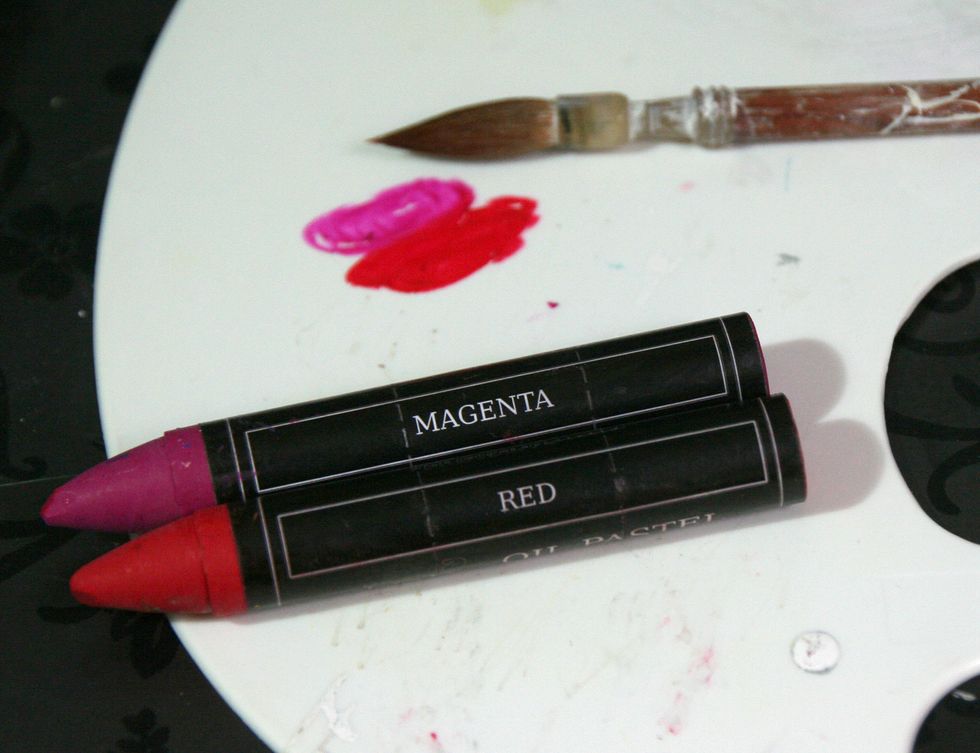 Put on a palette, Oil Pastels Magenta & Red.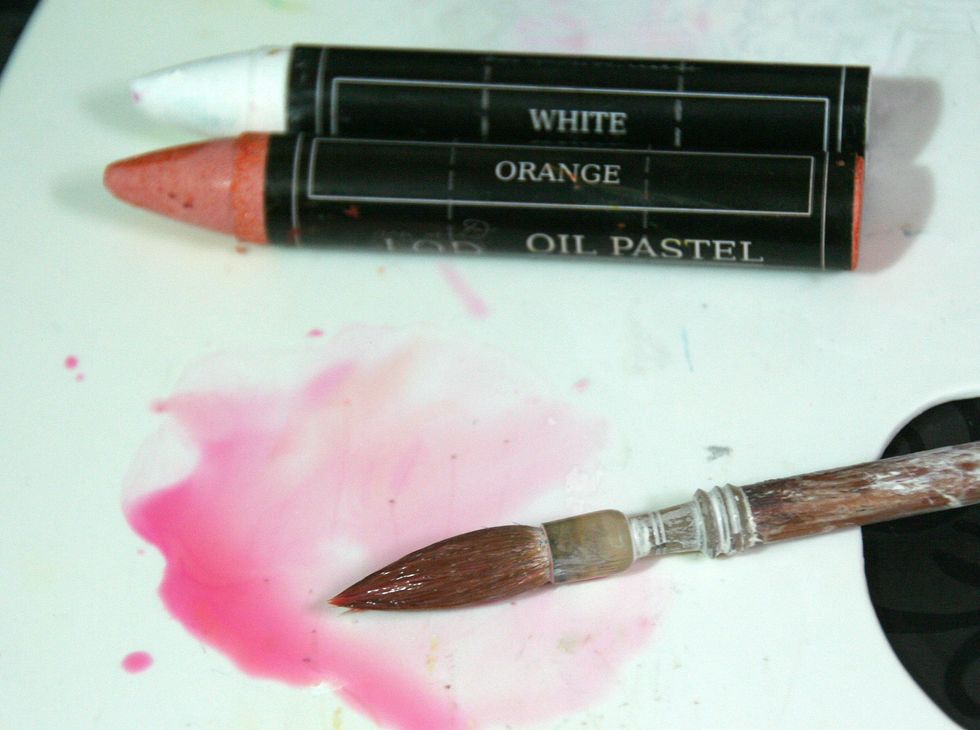 Add Orange & white colors and water.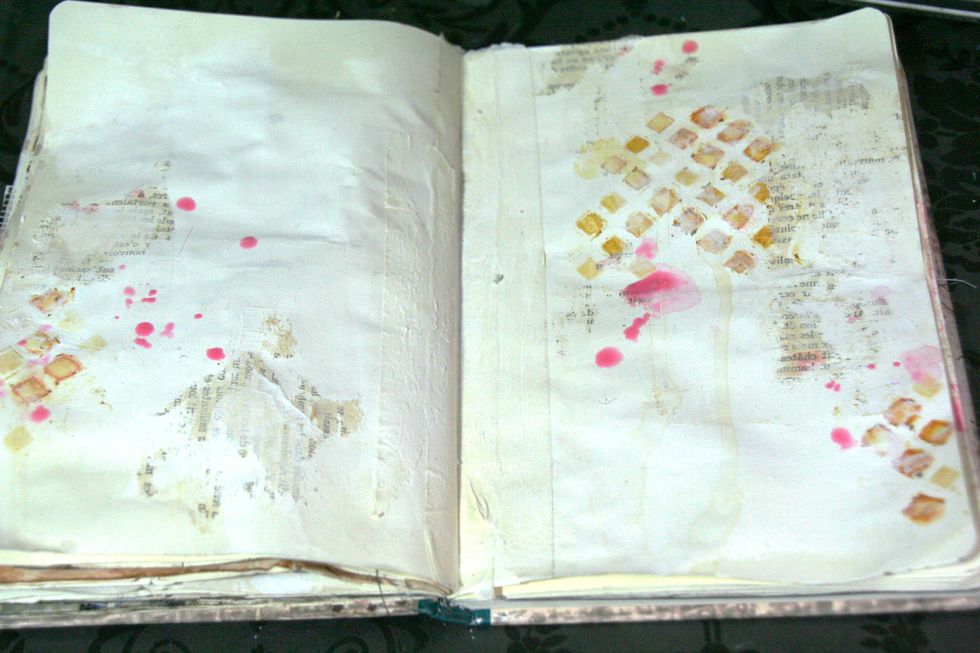 Add on your Art Journal pages the "pink"obtained from the last step.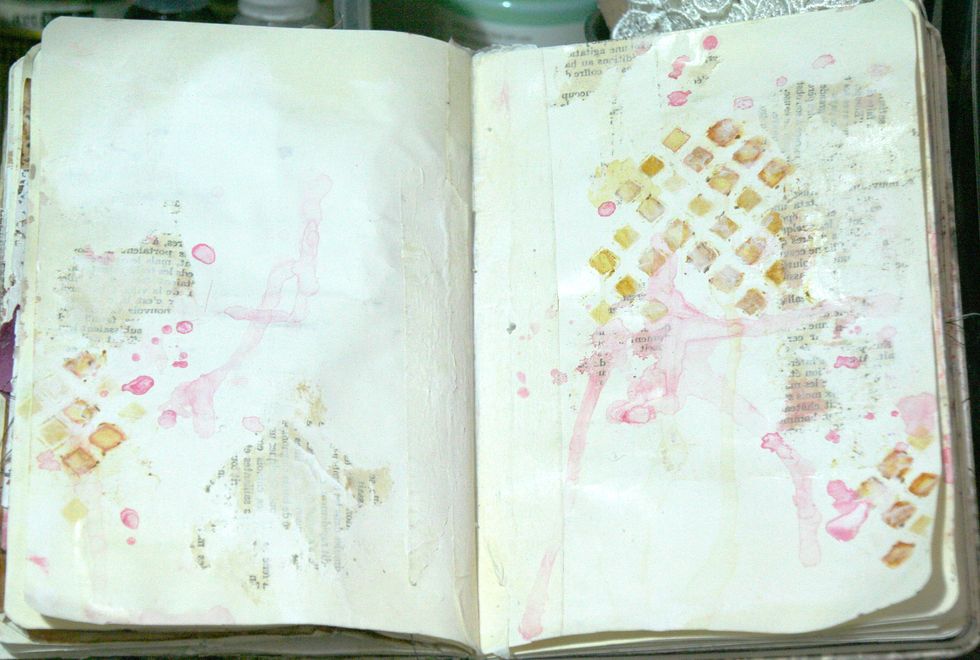 I played with water and the color, I dried it with a heat gun.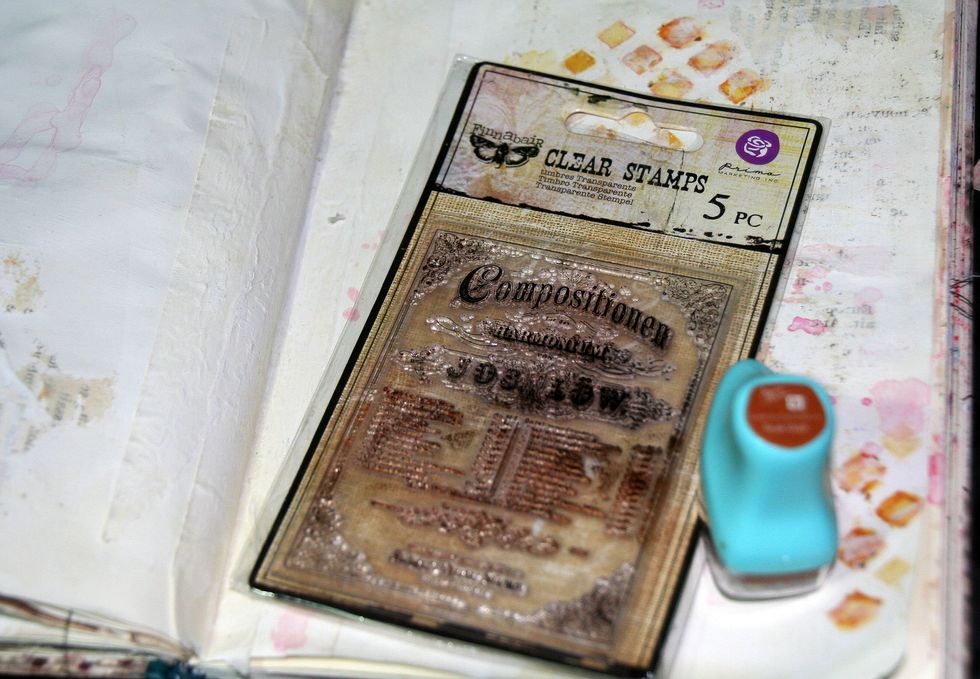 I randomly added stamp with Chalk ink Teak Wall.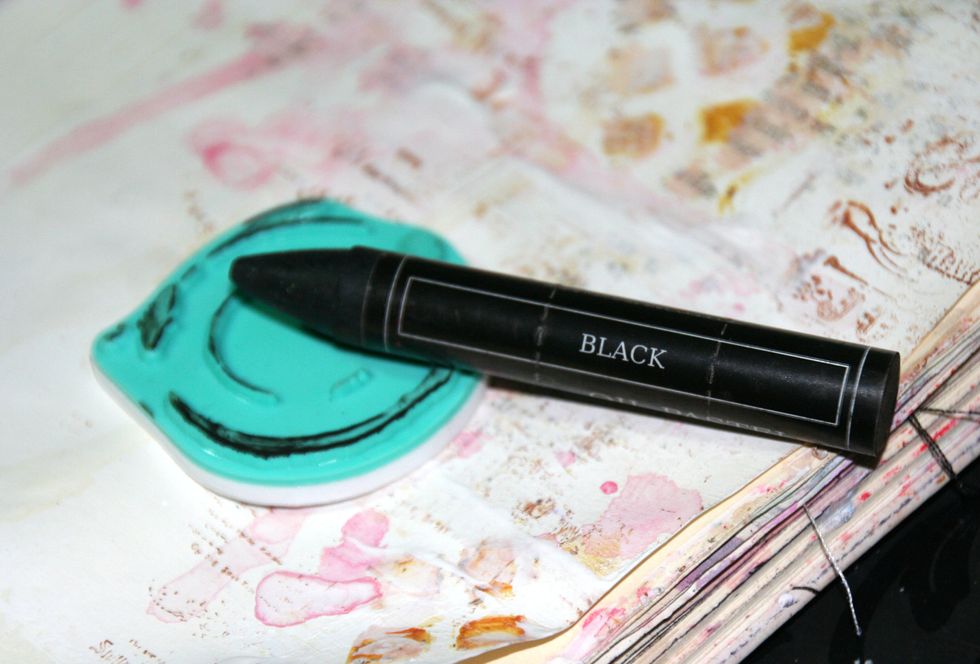 Then a stamp with Oil Pastel Black .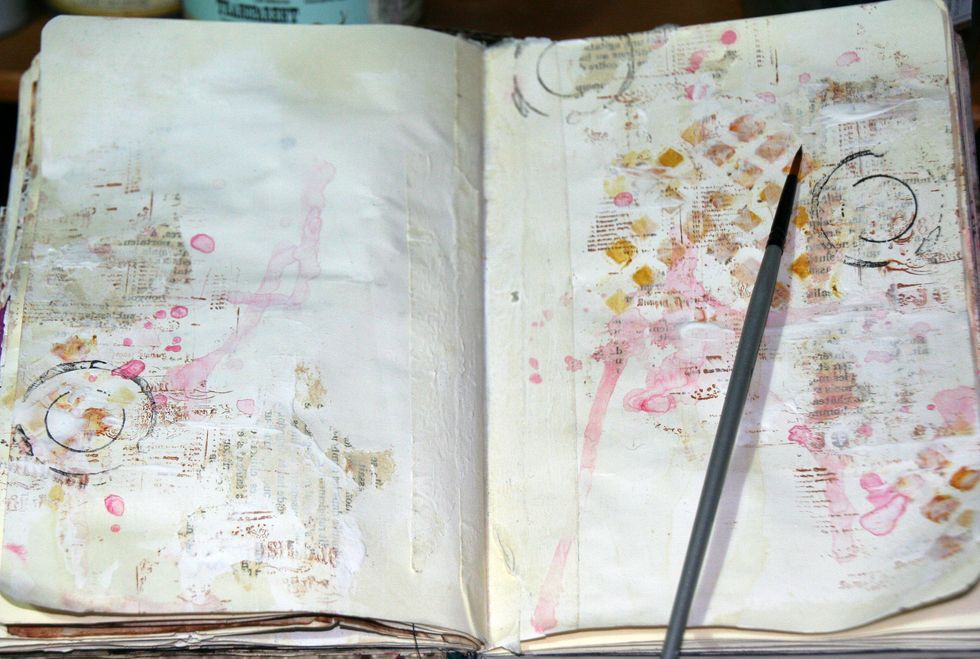 I added water on the stamp to have a watercolor effect.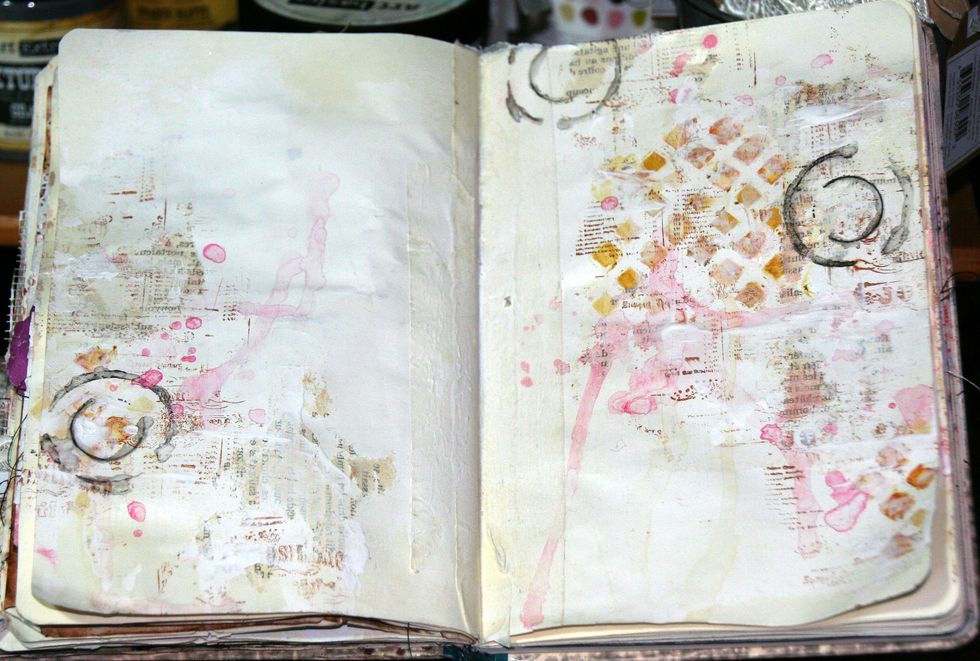 The background is done !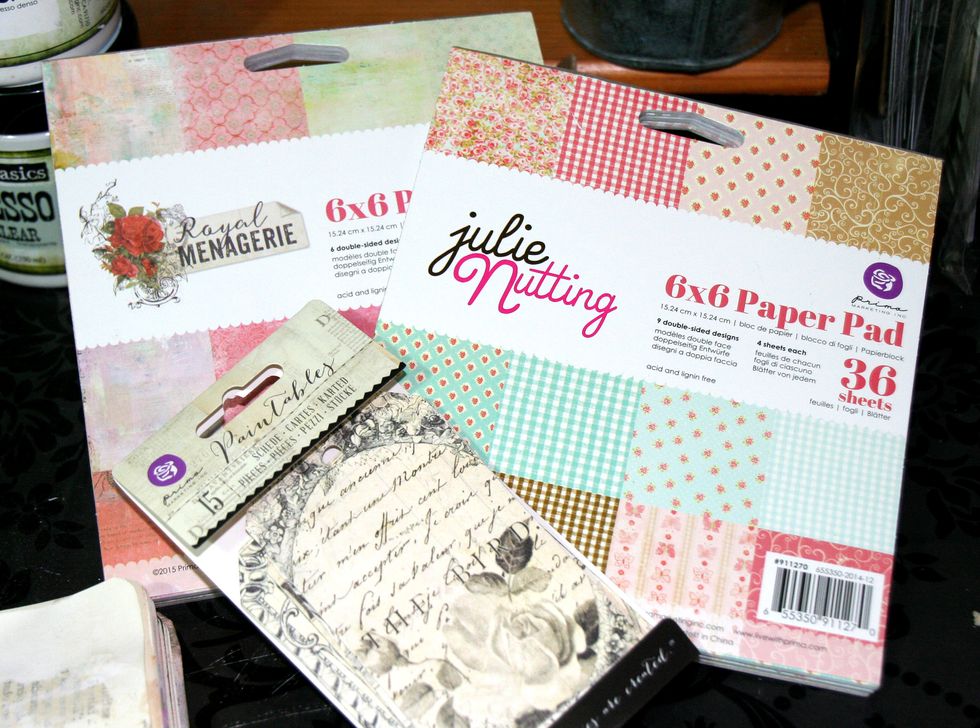 I chose Royal Menagerie 6x6 Paper Pad, Julie Nutting Paper Pad and Paintables Parisian Tags.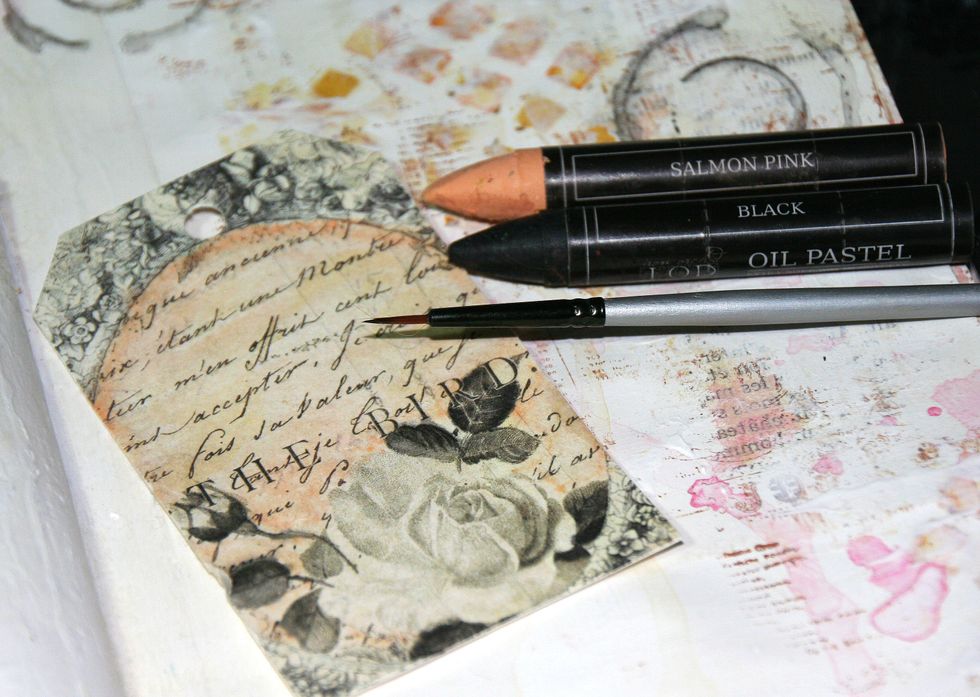 I used Salmon Pink and Black Oil Pastel and water to color the background and leaves.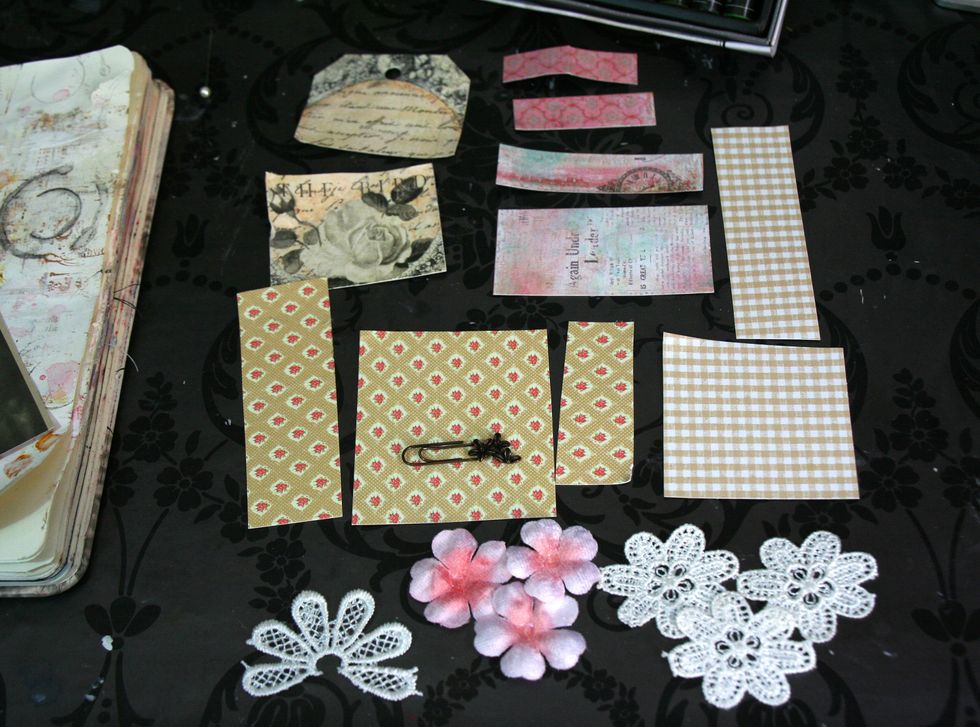 I randomly cut papers and prepared embellishments : flowers, flowers from Trims, Paper clip…..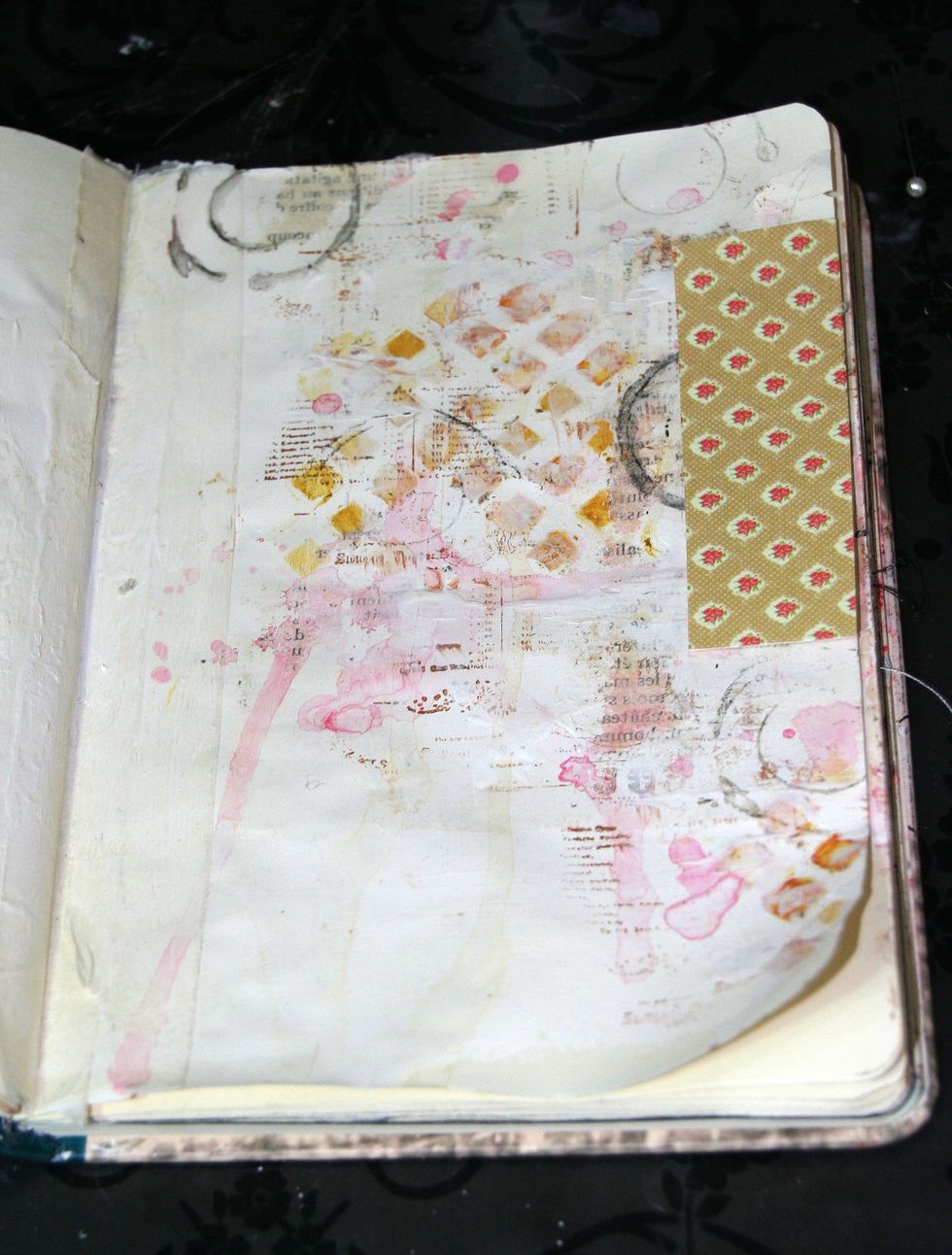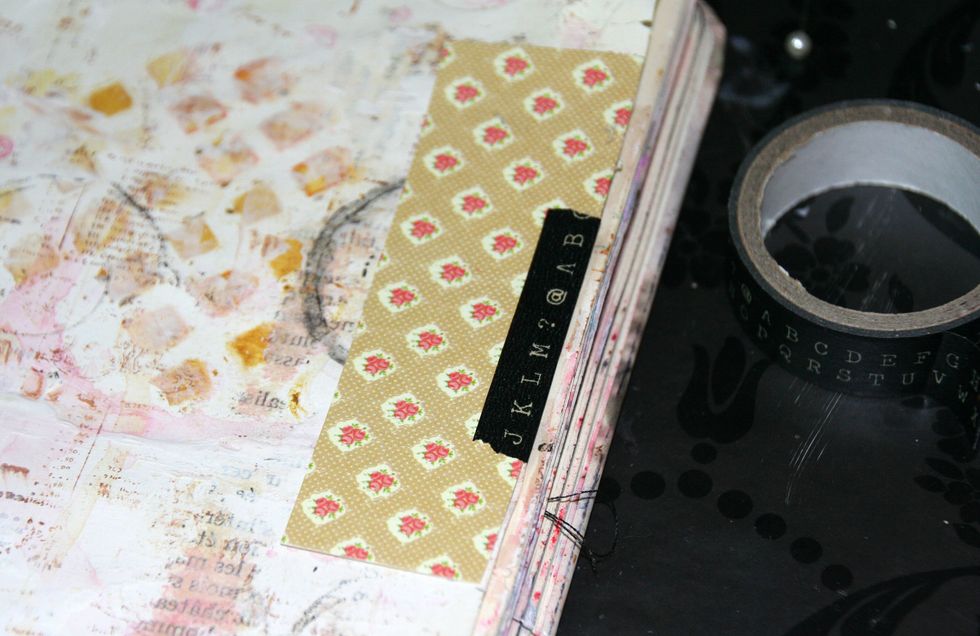 I added wash tape.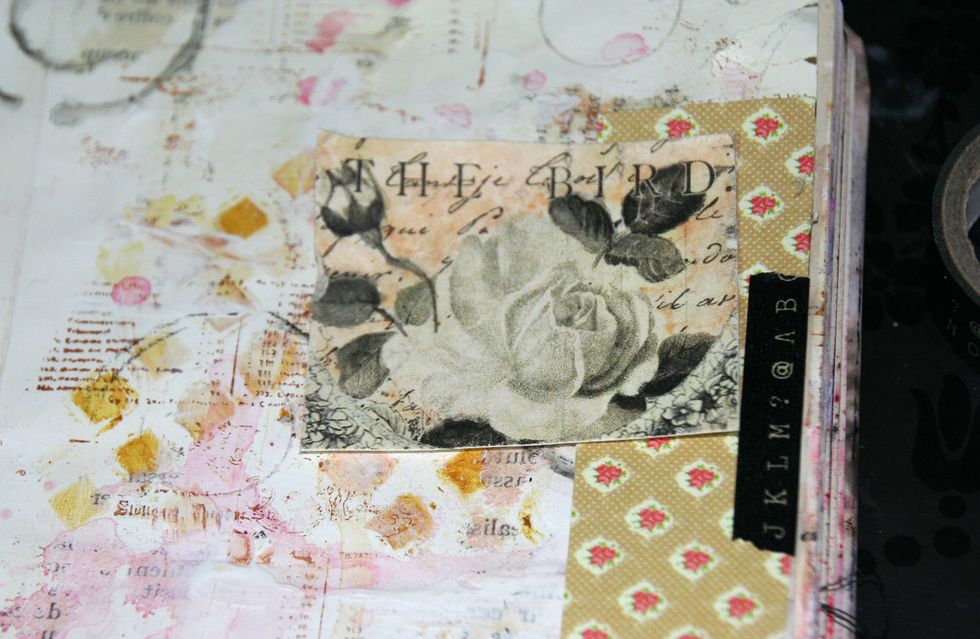 I glued the half tag.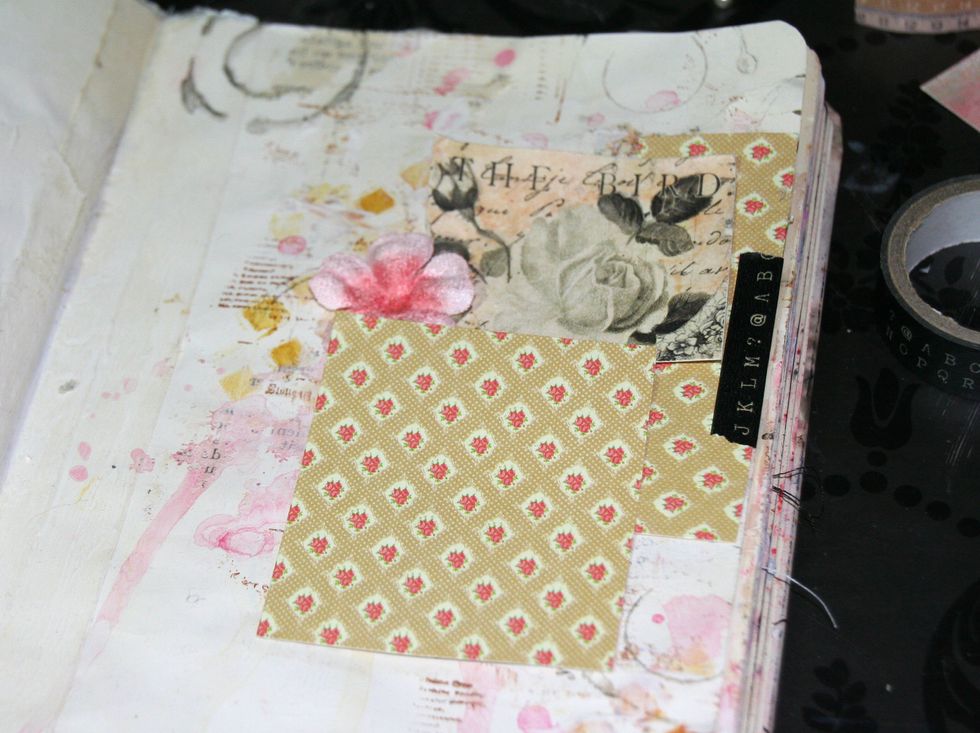 I glued papers and a flower.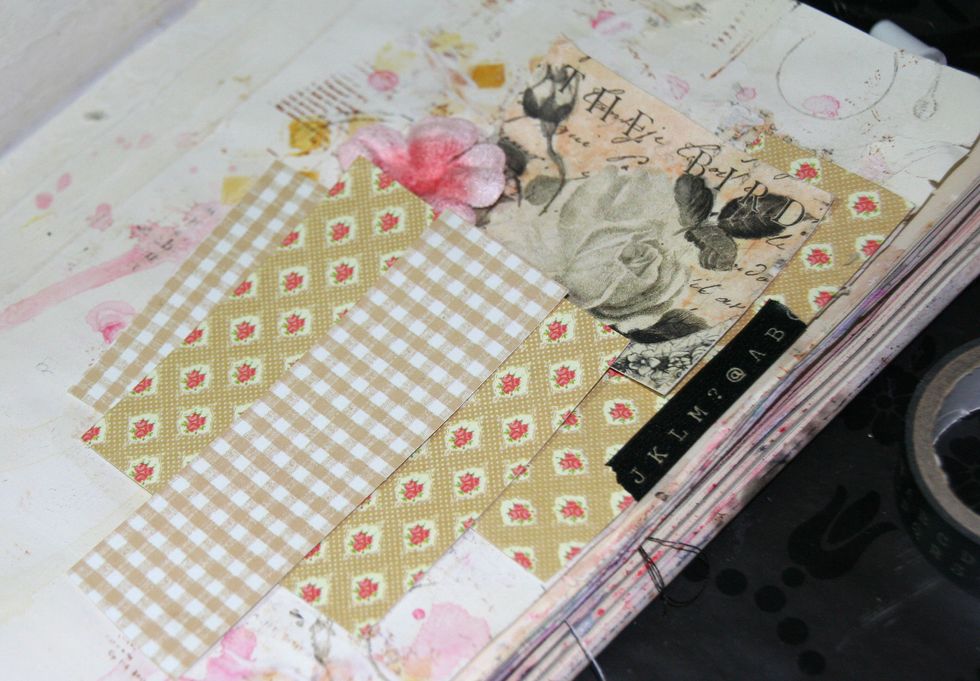 I glued more papers...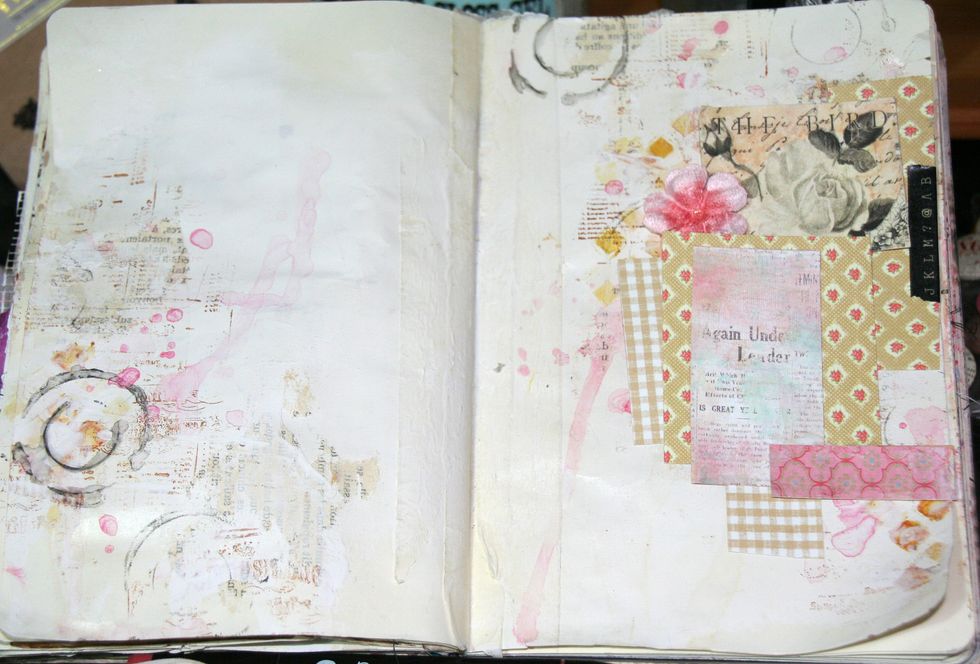 Last papers on the right page.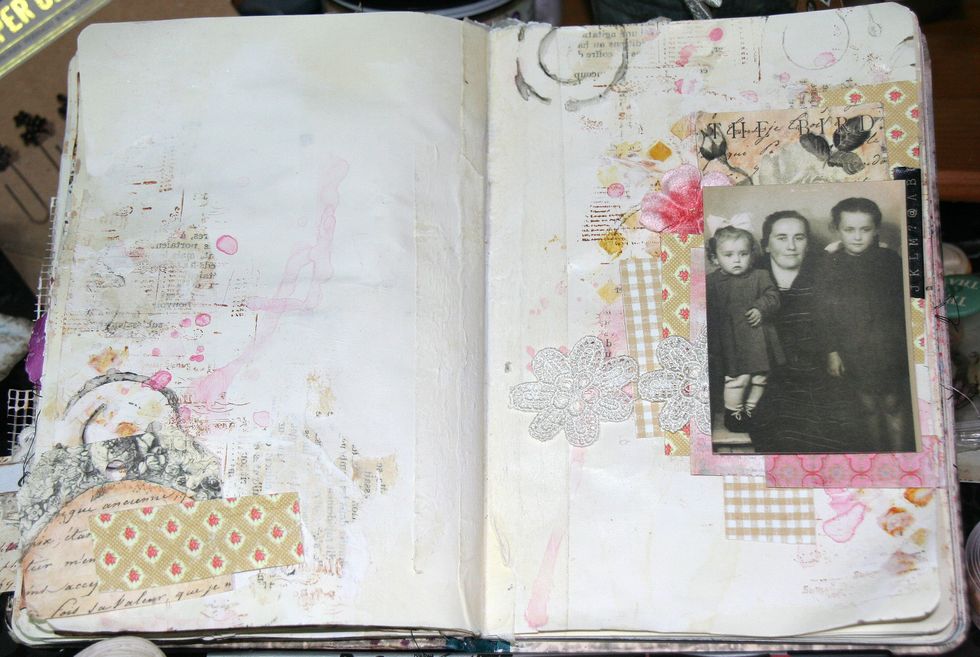 I glued lace and the photo on the right page and papers on the left page.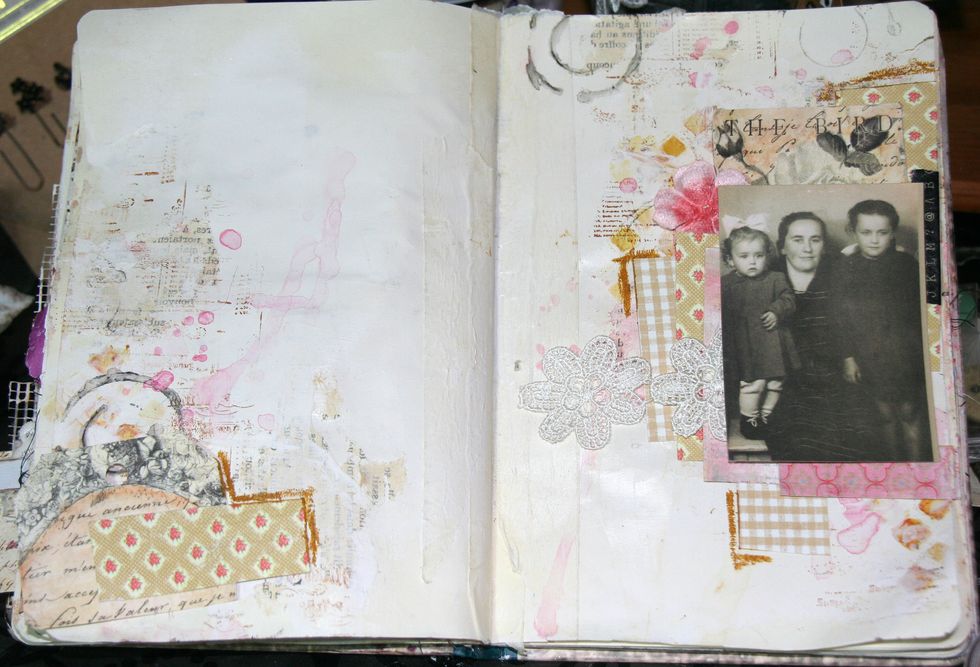 I applied Ochre Oil Pastel as seen on my Art Journal.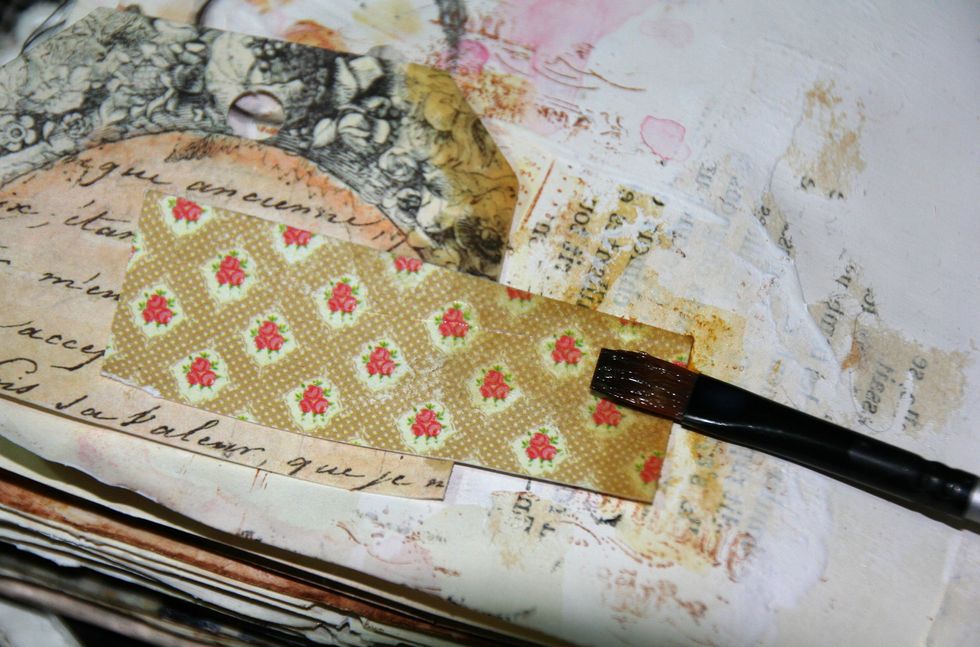 I applied water to have a watercolor effect.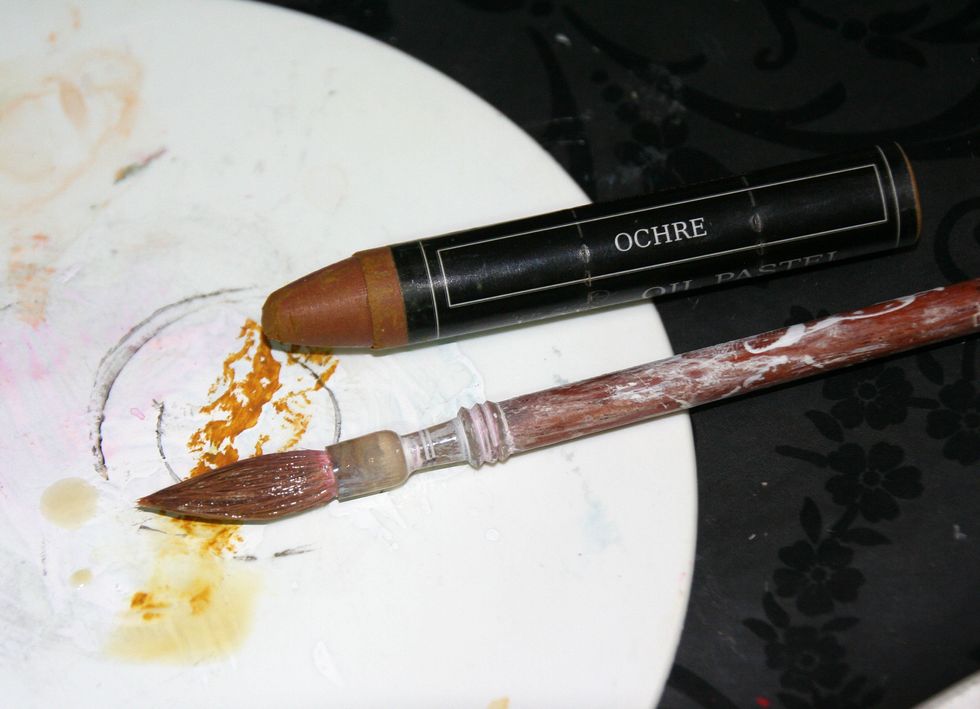 I applied Ochre Oil pastel on my palette + water.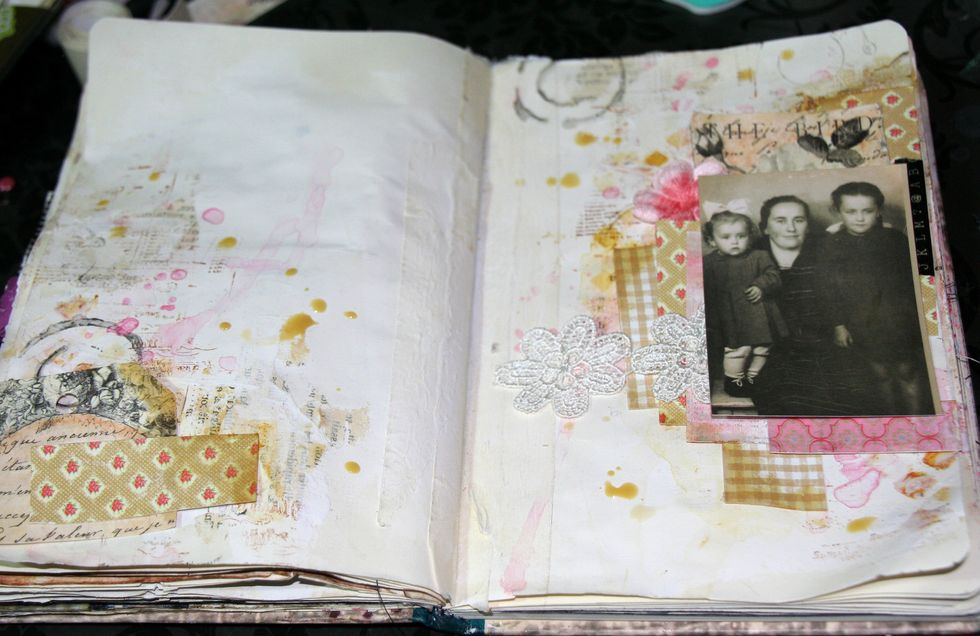 I tapped my brush to have drops onto my pages.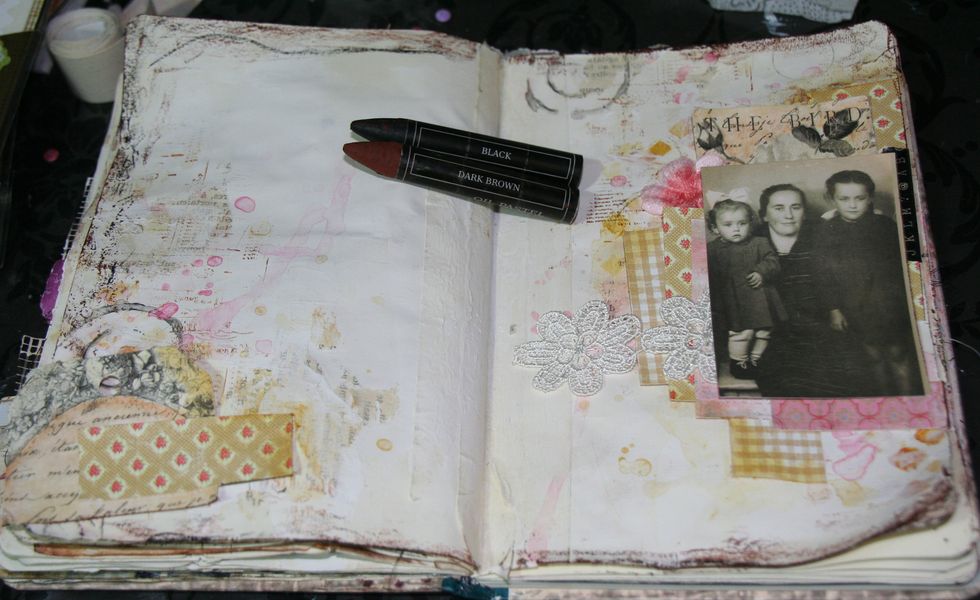 I colored all around my pages with Oil Pastel Black and Dark Brown.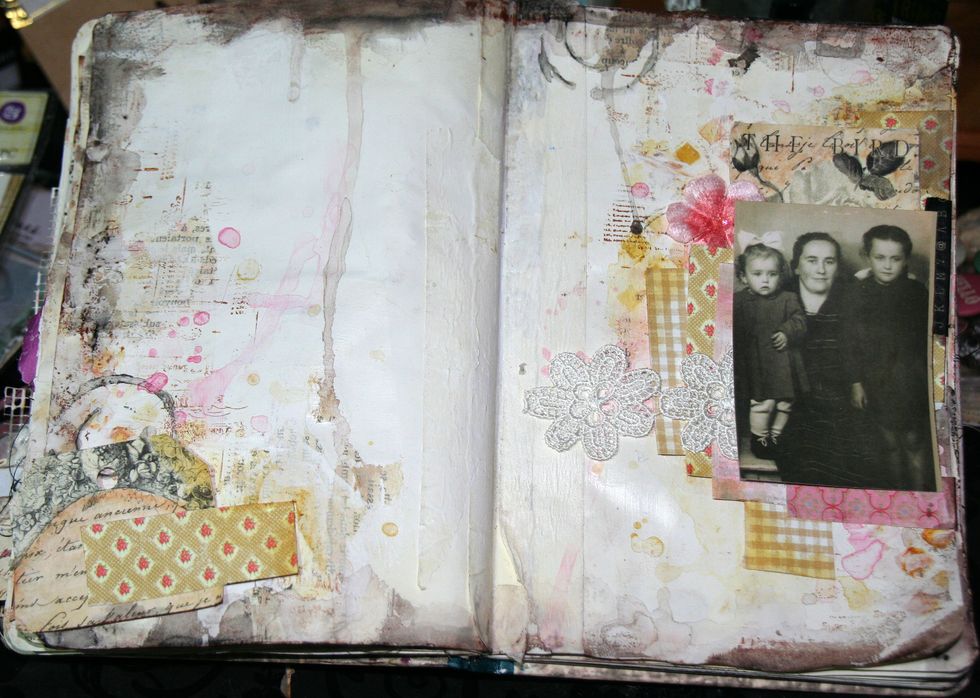 I added water. Let it dry or dry with a heat gun.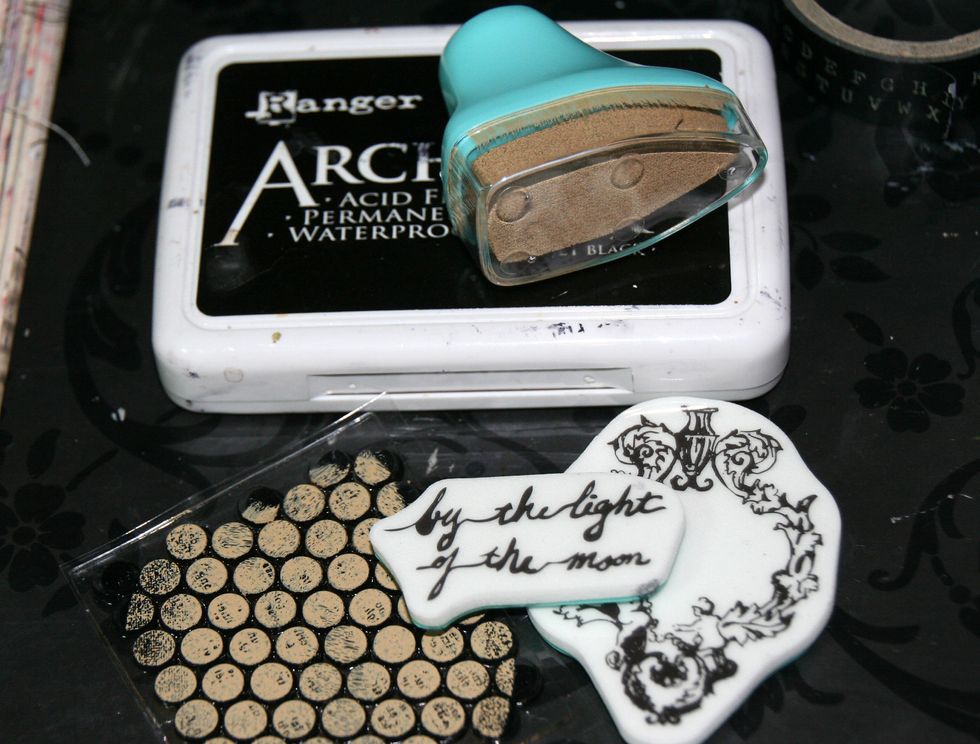 I chose stamps from Garden Fable, Epiphany and Finnabair Collections.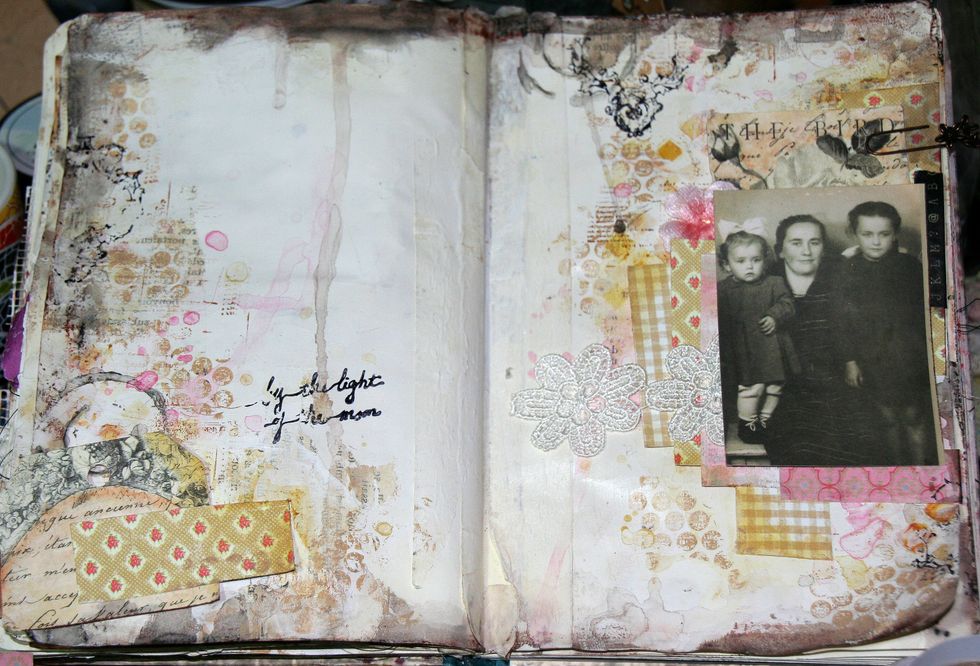 I start with the "big dots" stamp with Chalk Edger Shabby Tote then other stamps with Archival Black ink.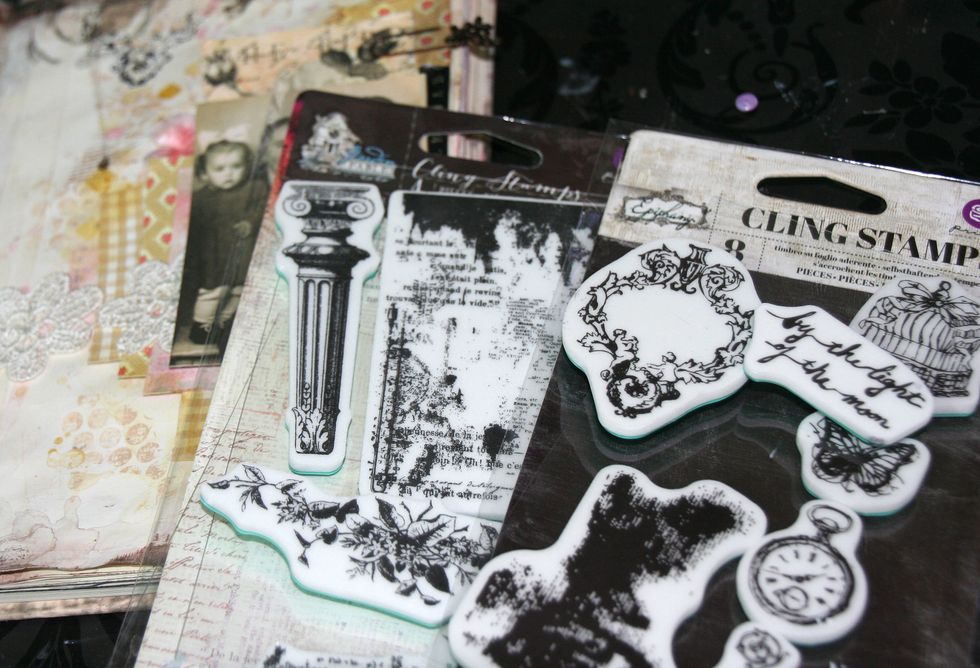 Add more stamps….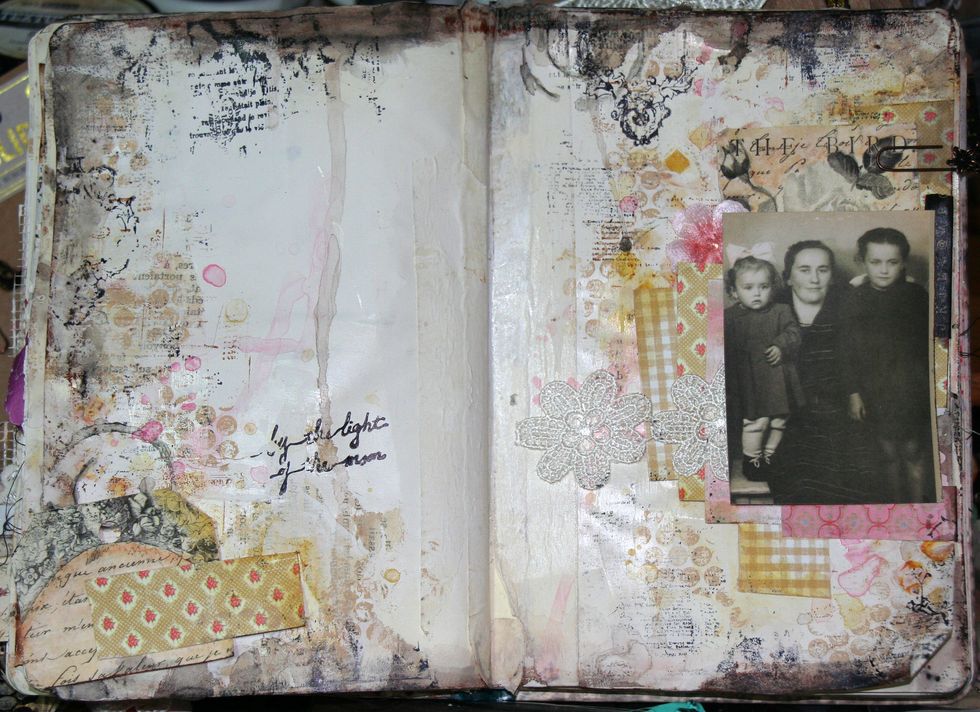 I really like the Vintage look I've done ! but something is missing !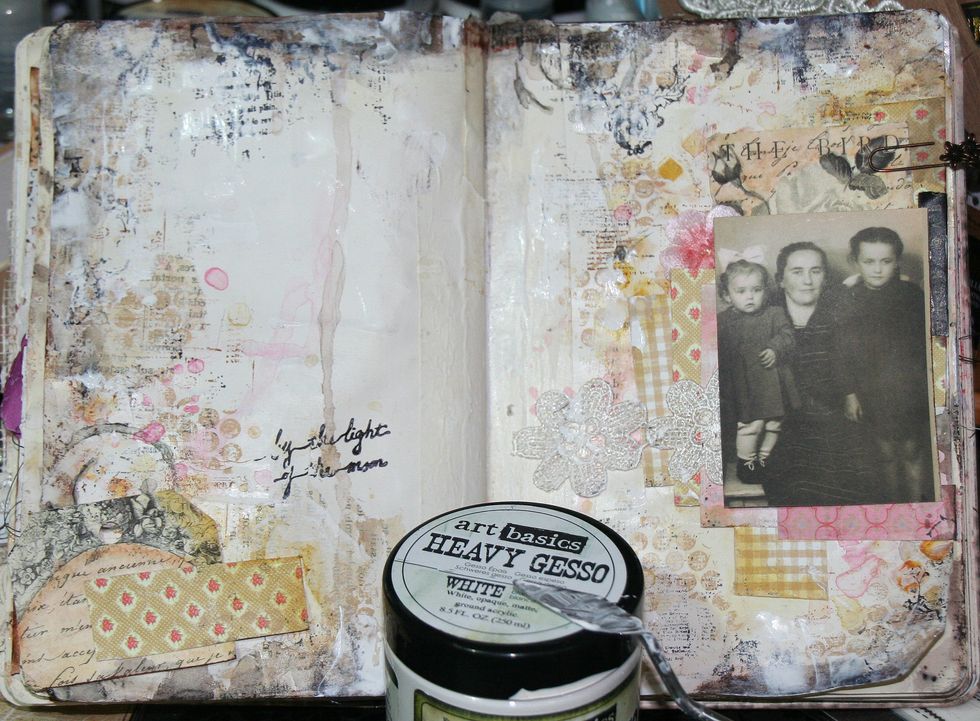 Yes Gesso, this White Gesso is so easy to use, not too liquid, not too heavy, the best for all creations !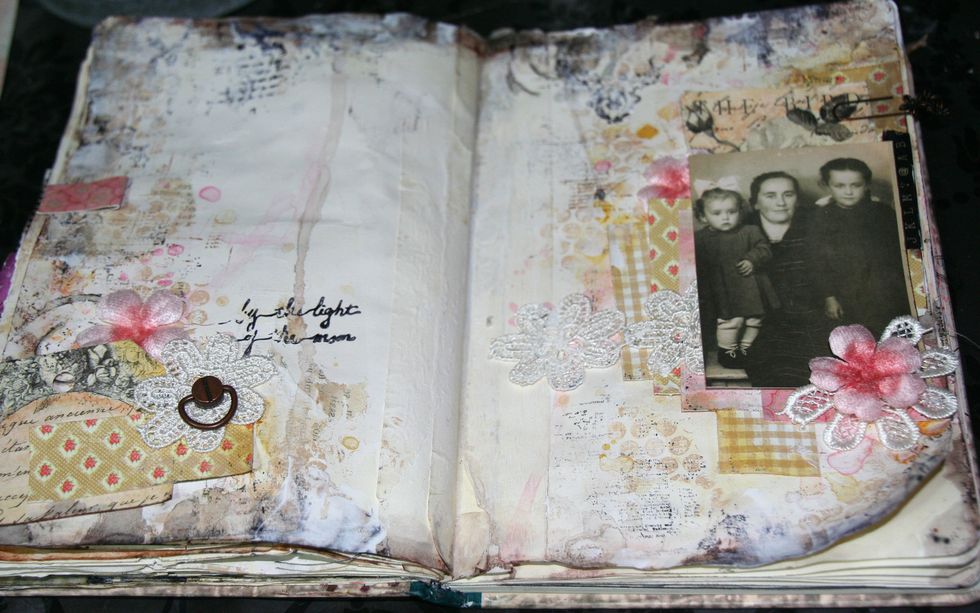 Last step I glued my embellishments : flowers, flowers from trims, metals and I used my sewing machine. Created by Céline Régnier for Prima.
961435.0 Soft Gloss Gel
961442.0 Heavy Gesso White
576738.0 Watercolor Pencils
576004.0 Stencil flowers
814328.0 Water Soluble Oil Pastels
962760.0 Finnabair Brush Set
580247.0 Cling Stamps
960933.0 Finnabair Cear Stamps
891268.0 Chalk Edger
Celine Regnier
Hello, \nMy name is Céline, I'm a Frenchy girl, I like scrapbooking, mixed-media, photography, and traveling. I enjoy creating Art Journal Pages and layouts.