How to make adorable, warm-hearted sugar cookie people
Make Adorable, Warm-Hearted Sugar Cookie People
174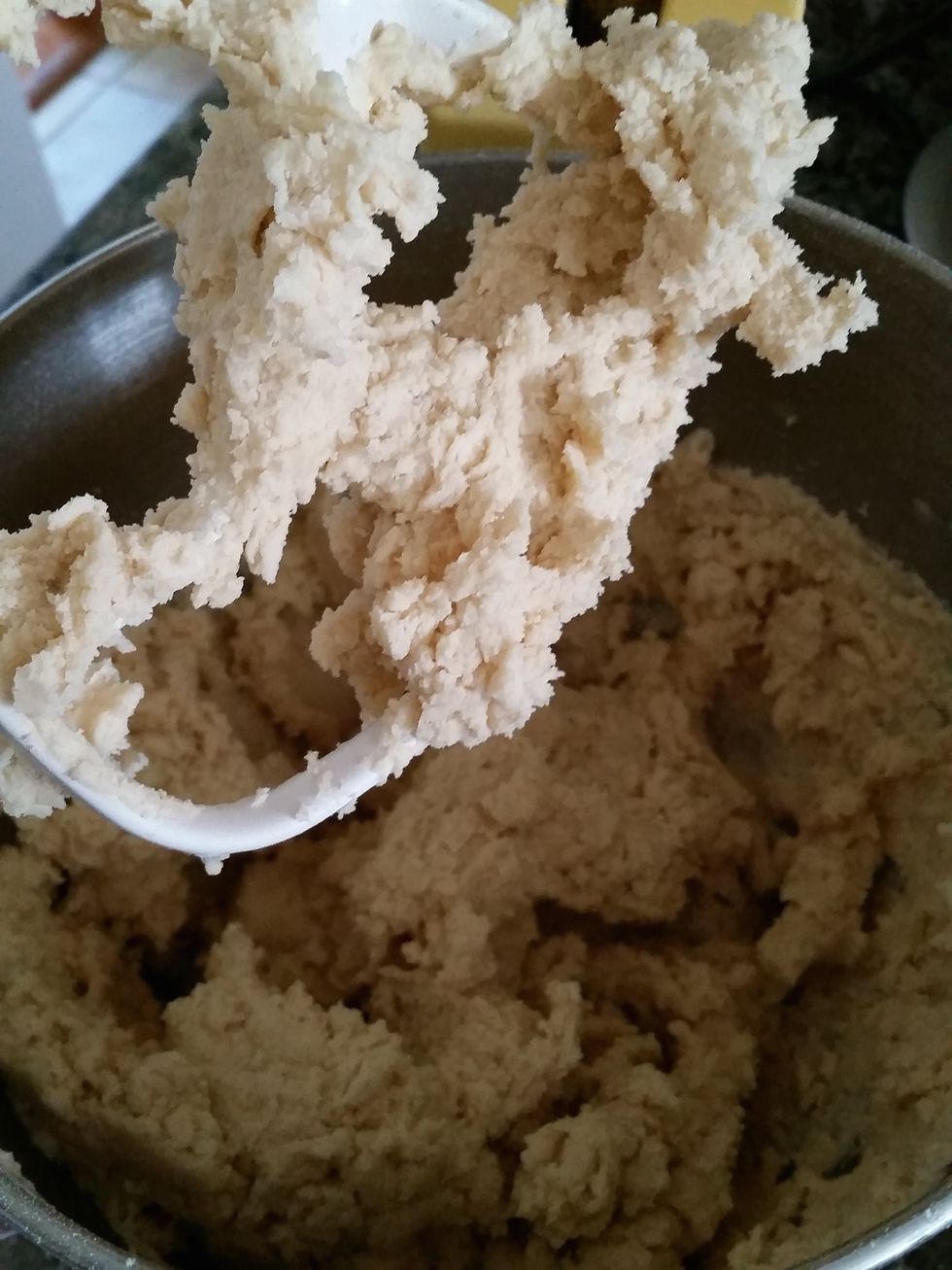 In a mixer beat butter until smooth. Add in sugar and then eggs. Mix in vanilla, followed by baking soda, salt and all purpose flour.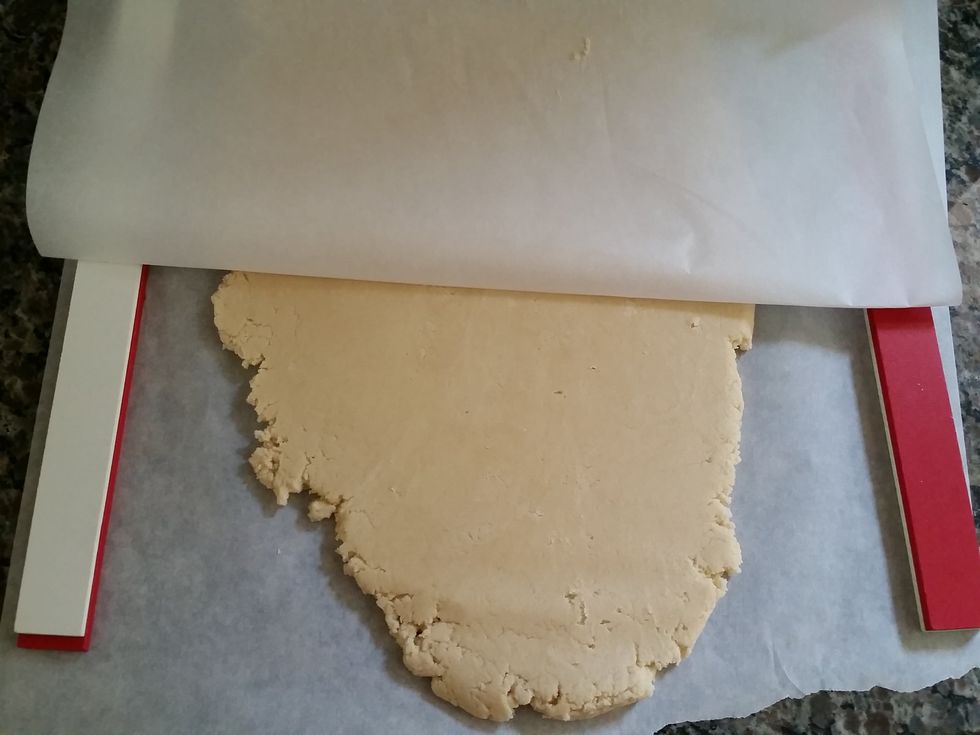 Roll sugar cookie dough 1/2" thick between two pieces of parchment paper. Place in refrigerator for 10-20 minutes to make cutting shapes easier.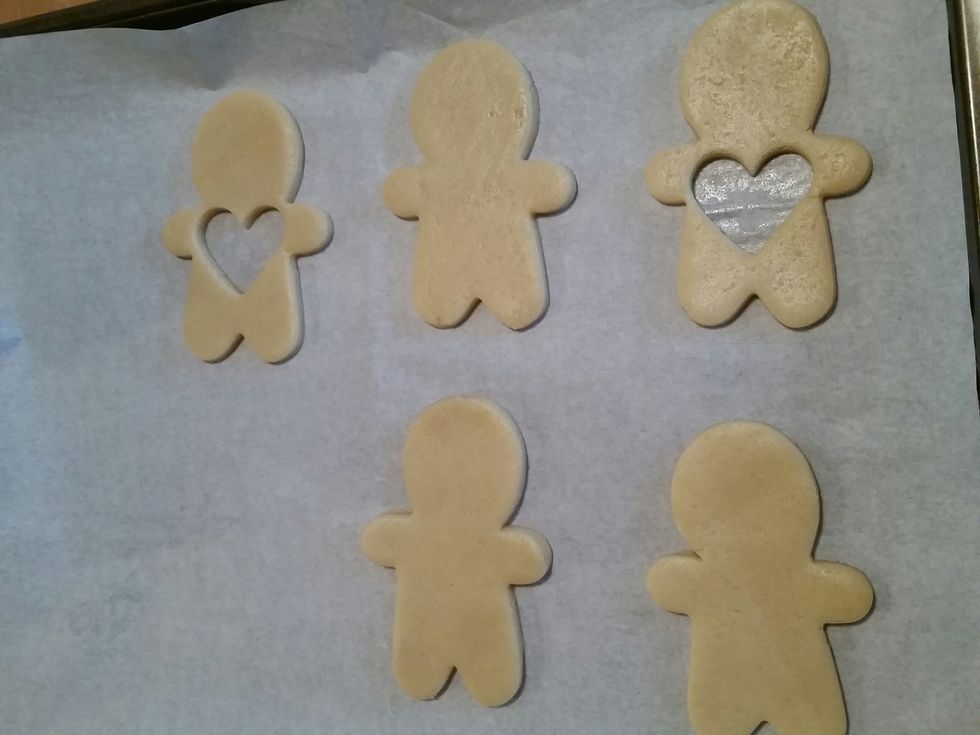 Cut out shapes. 3 cookies are needed per serving. 2 of the men need to have a heart cut out to hold the sprinkles and the clear lollipop. Bake 375 degrees 8-10 minutes.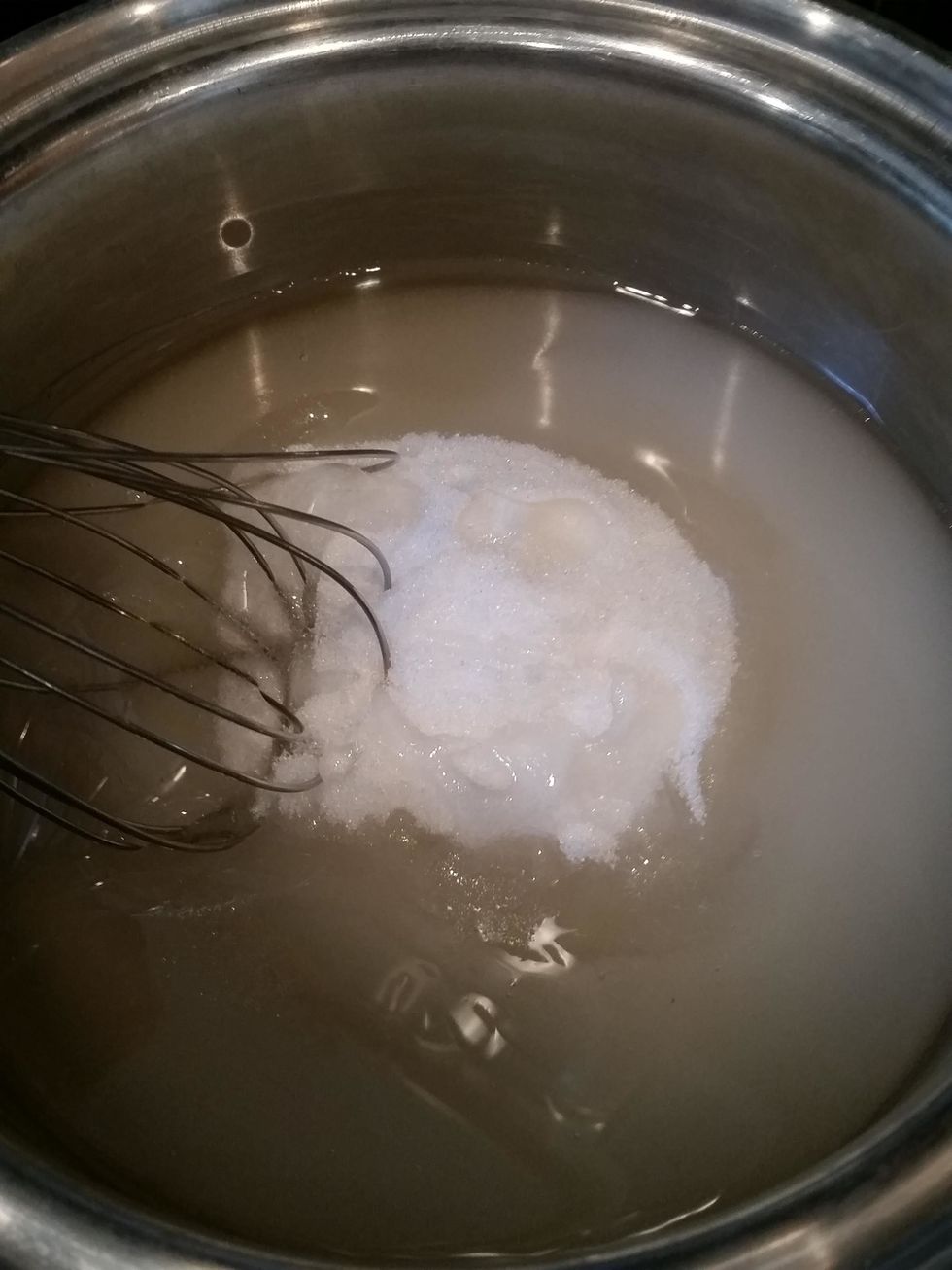 Clear lollipop. In a pot, medium high heat, sugar, corn syrup, and water to a boil. Brush down sides of pot to help rid of the crystallization with cold water use a pastry brush. Boil to 310 degrees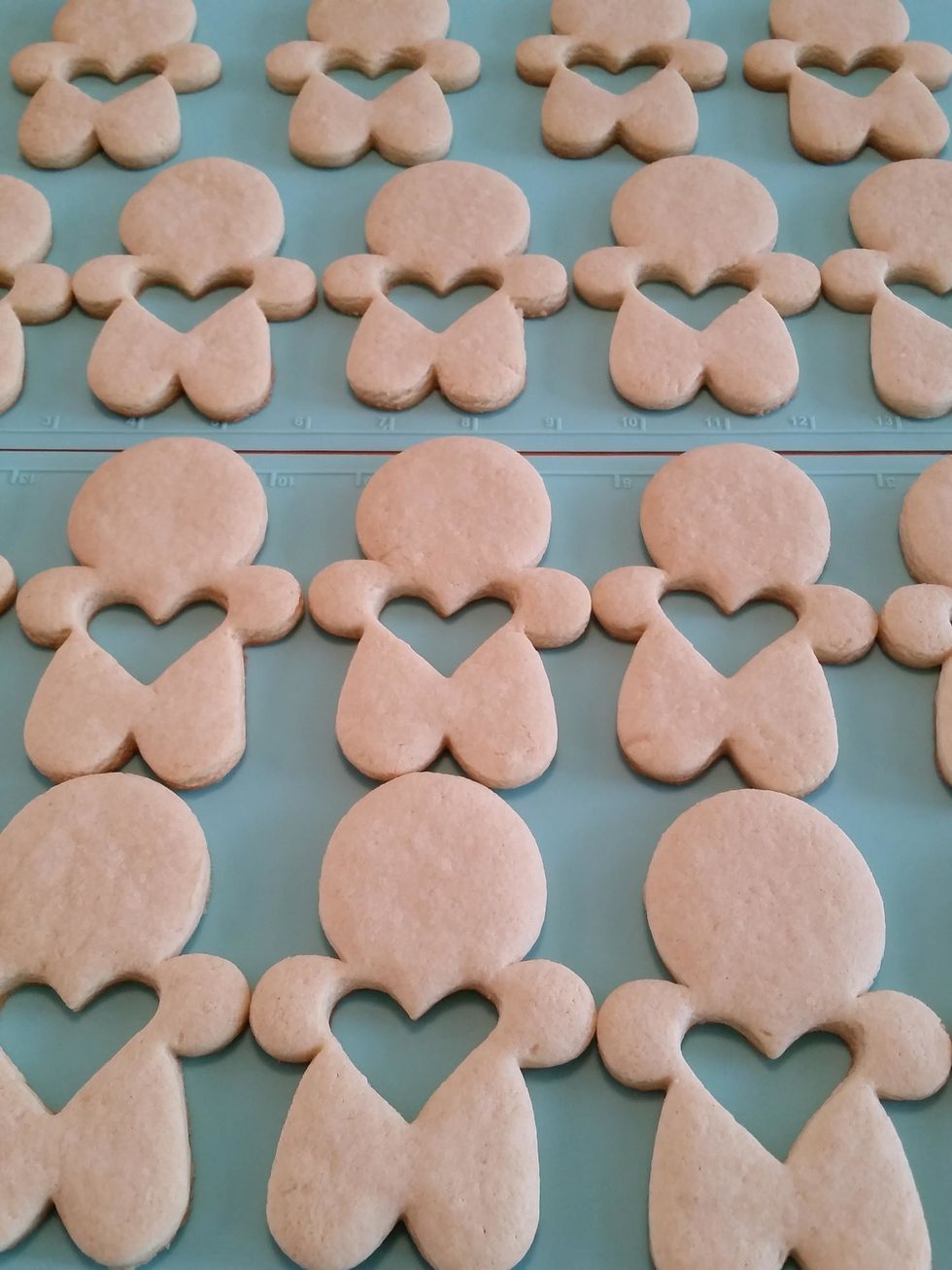 Place the cookie men on a silicon mat. Pour the hot, clear, lollipop mixture into 1 heart per serving (remember 3 cookies per serving-2 heart cut outs men and one solid man) Allow to cool completely.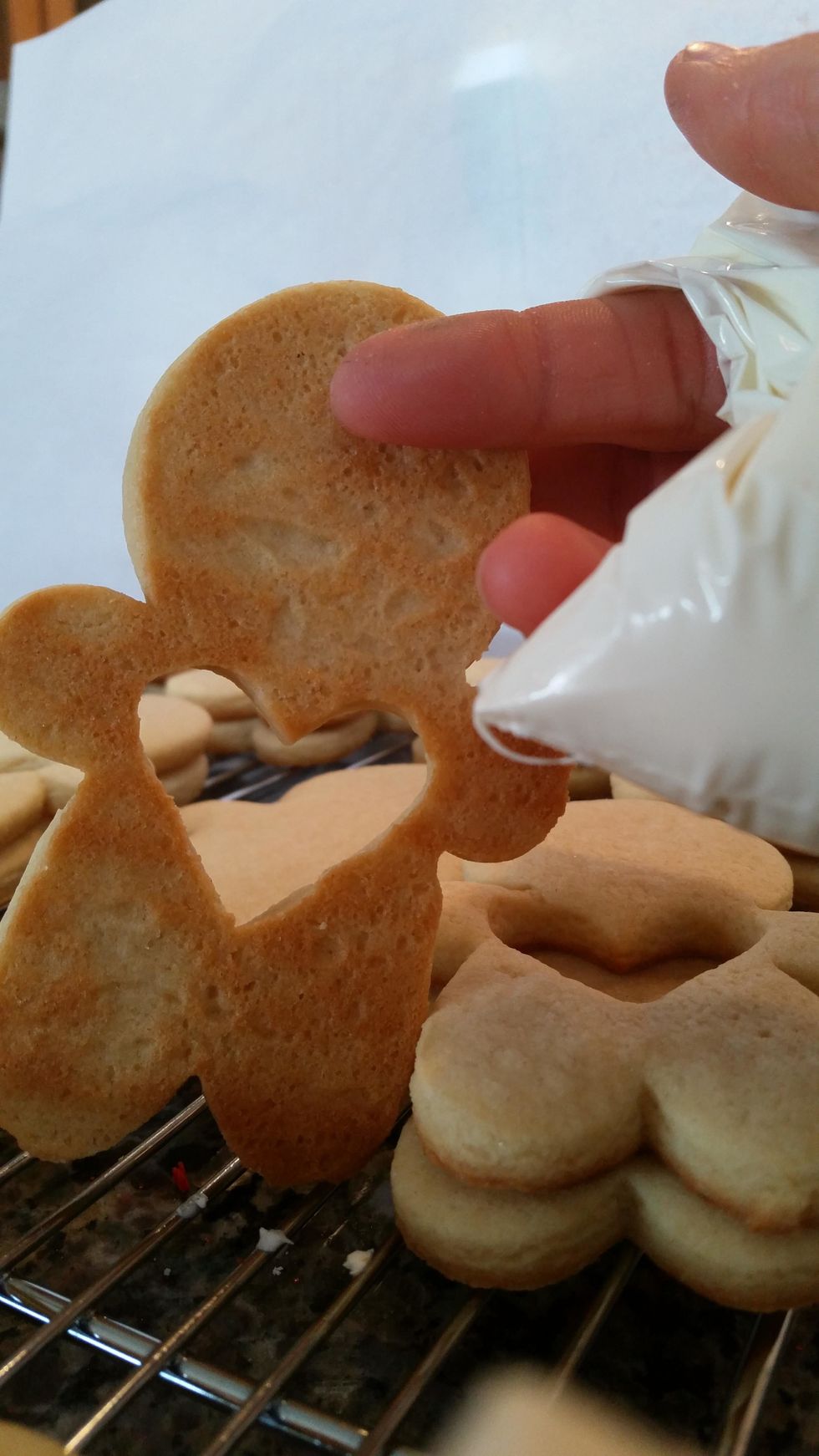 Melt candy melts according to package and put in a baggie. Snip off end and with a non lollipop filled heart, line the back of the cookie with the melted candy and glue it down to the solid cookie man
Royal Icing, in mixer ,beat powdered sugar, meringue powder, water, and vanilla for 10 minutes until thick. Use the thick royal icing to trace borders on cookie. Thin out royal icing to "flood cookie"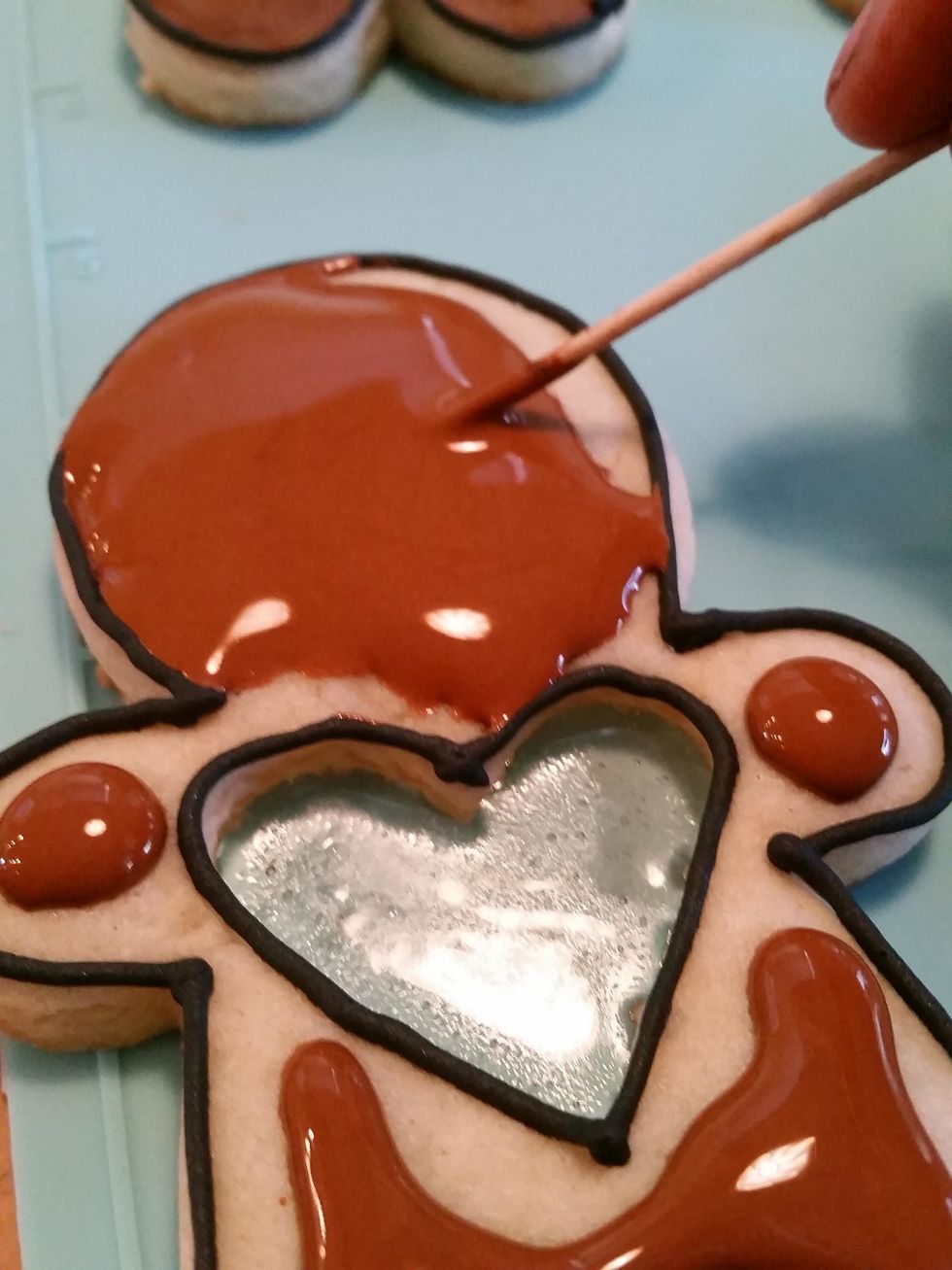 Outline the cookie with the lollipop window and allow the icing to harden. With the thinner royal icing, flood the cookie. Use a toothpick to get into the small areas. May take up to 24 hrs to dry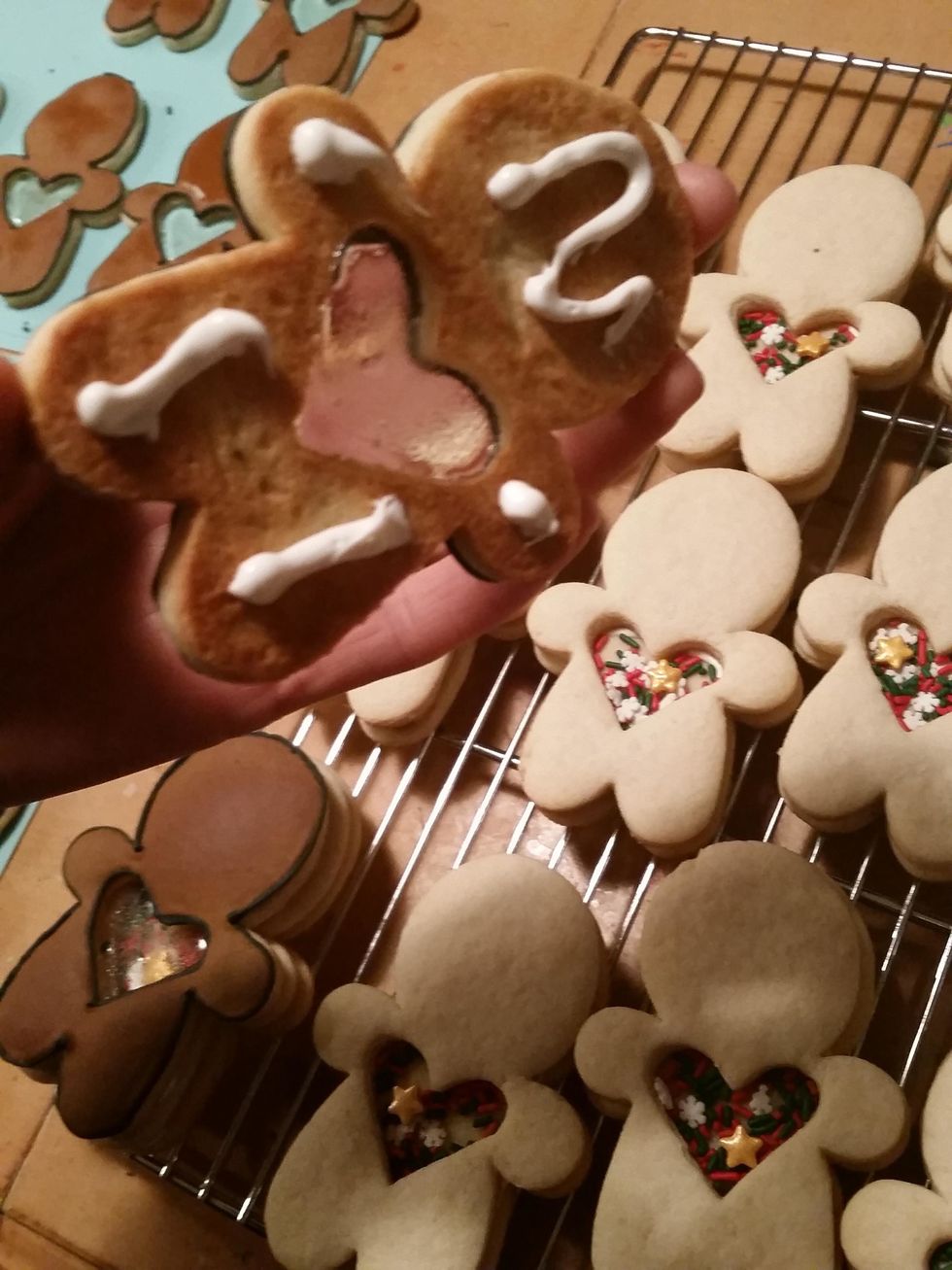 Fill the bottom half of the cookies with holiday sprinkles. When the window cookies are dried, use the melted candy wafers to glue this part of the cookie on top of he sprinkle filled bottoms.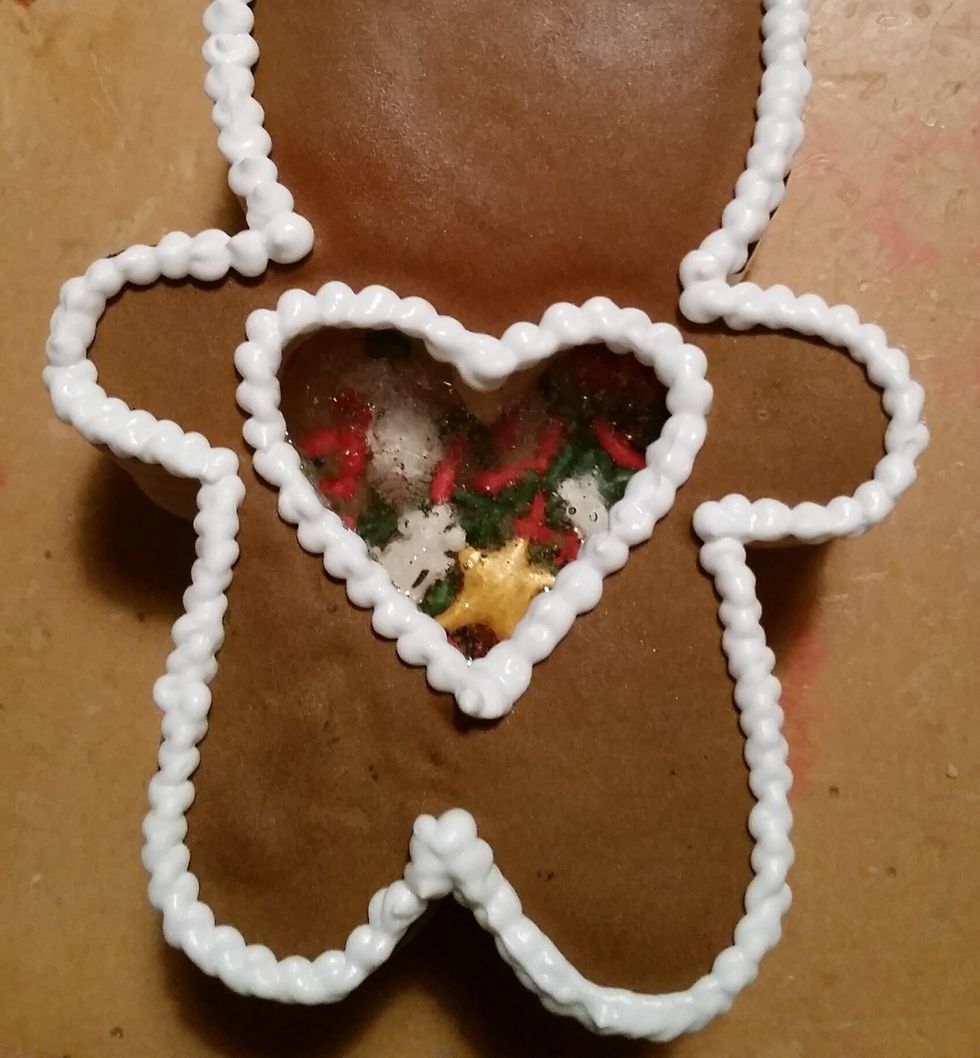 Finish decorating the cookie people with details. Place the different color royal icings in piping bags with tips and decorate until your content :) Look how cute!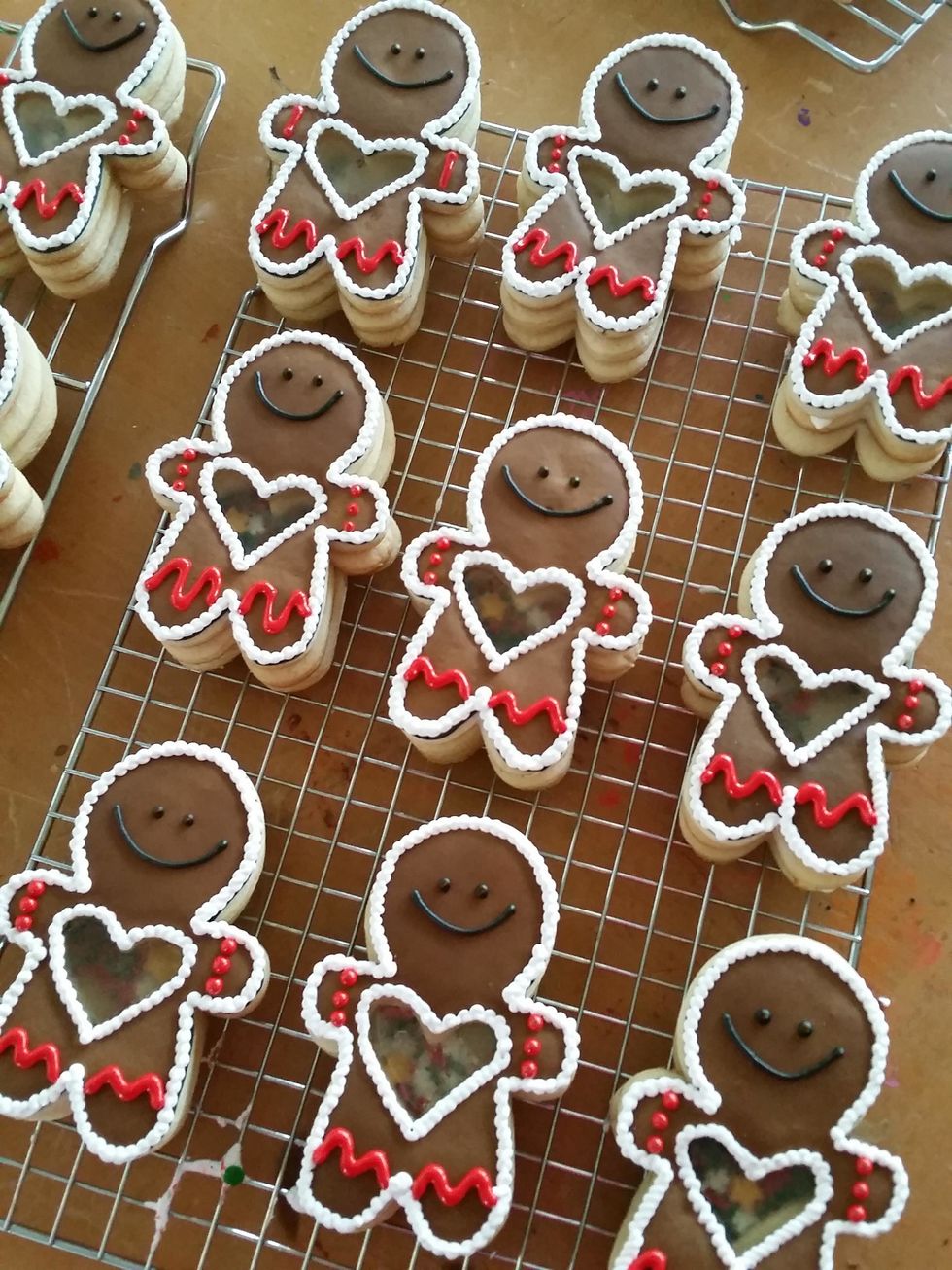 Allow these guys to dry completely before wrapping up as cookie gifts. They will keep for a long time.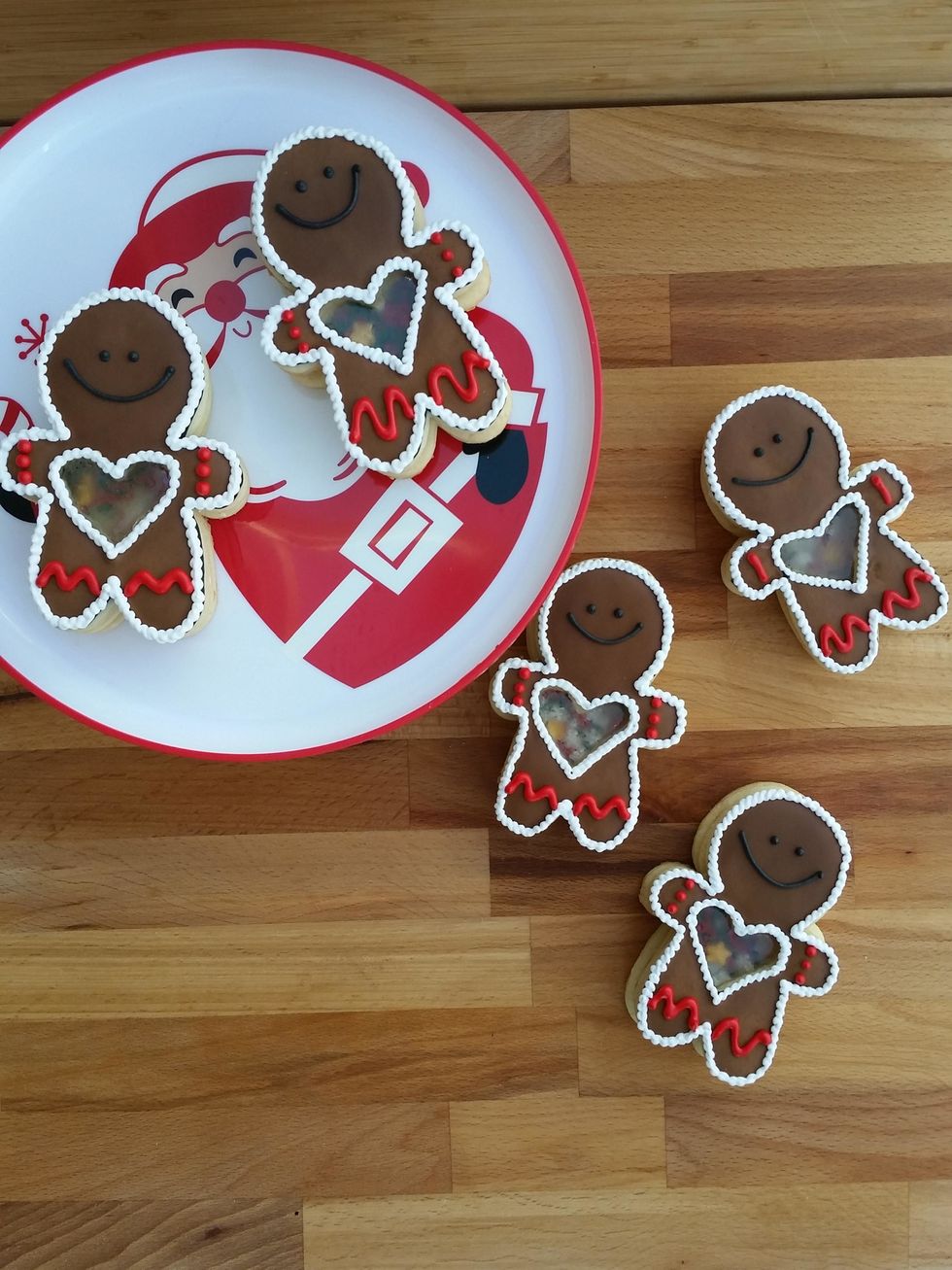 Shake, shake, shake until you can't resist the cuteness anymore. The flavors can easily be changes with different clear extracts. And you can add extract to your royal icing. I hope you enjoy
1.0c unsalted butter, softened
1/2c granulated sugar
2.0 eggs
2.0tsp pure vanilla extract
1/2tsp baking soda
1/2tsp salt
4.0c all purpose flour
parchment paper
gingerbread man cutter
1.5" heart cutter
2.0c granulated sugar
2/3c light corn syrup
1/4c water
pastry brush
4.0c powdered sugar
3.0Tbsp meringue powder
6.0Tbsp water
food gel colors
piping bags
piping tips
1.0c white candy melts
holiday sprinkles
clear vanilla optional for lollipop mixture