Includes 9 recipes. The links to the recipes are at the end. There are 2 that don't have recipes (slides 13-17). I include what you need in the demonstration.
390
The following slides will show you how to create a weeks worth of prepped ahead meals. 2 Saturday, 2 Sunday, and 1 dinner per day for Monday - Friday. The 4 hrs is from start-finish including shopping
The recipes are: Ham Sandwiches, Beef Noodles, Forgotten Chicken, Frito Pie, Chicken Cheesesteaks, Dijon Chicken and Potatoes, Pork chop dinner, Pork Tenderloin, and Marinated Shrimp and Artichokes.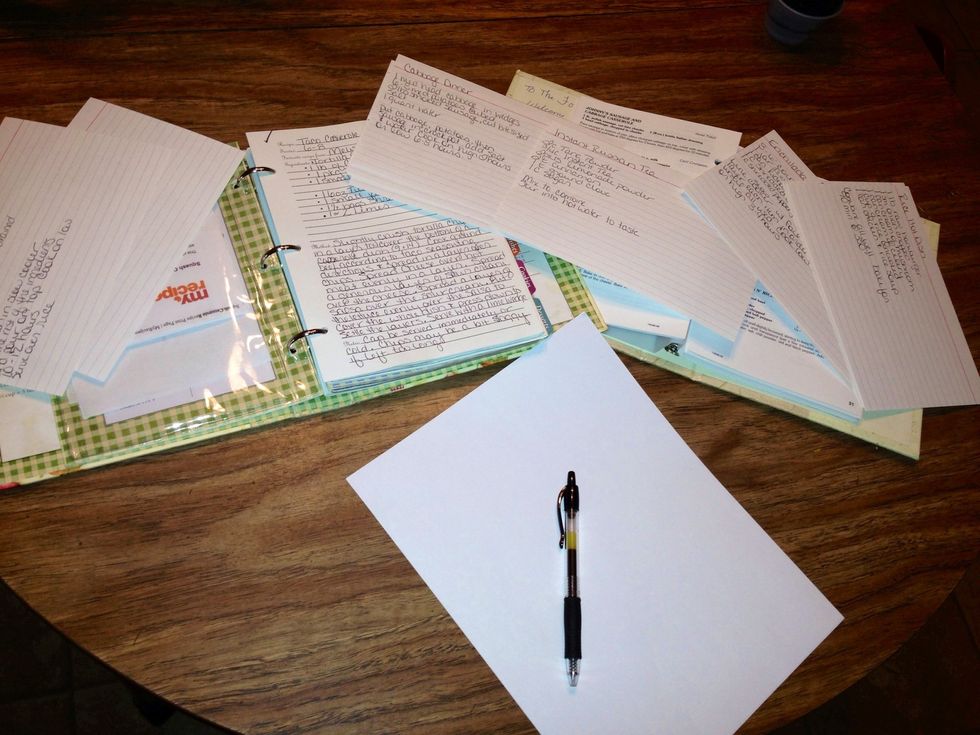 Gather all of your recipes a pen and a piece of paper. Make sure to print out all recipes at the end of the tutorial if you are using this plan.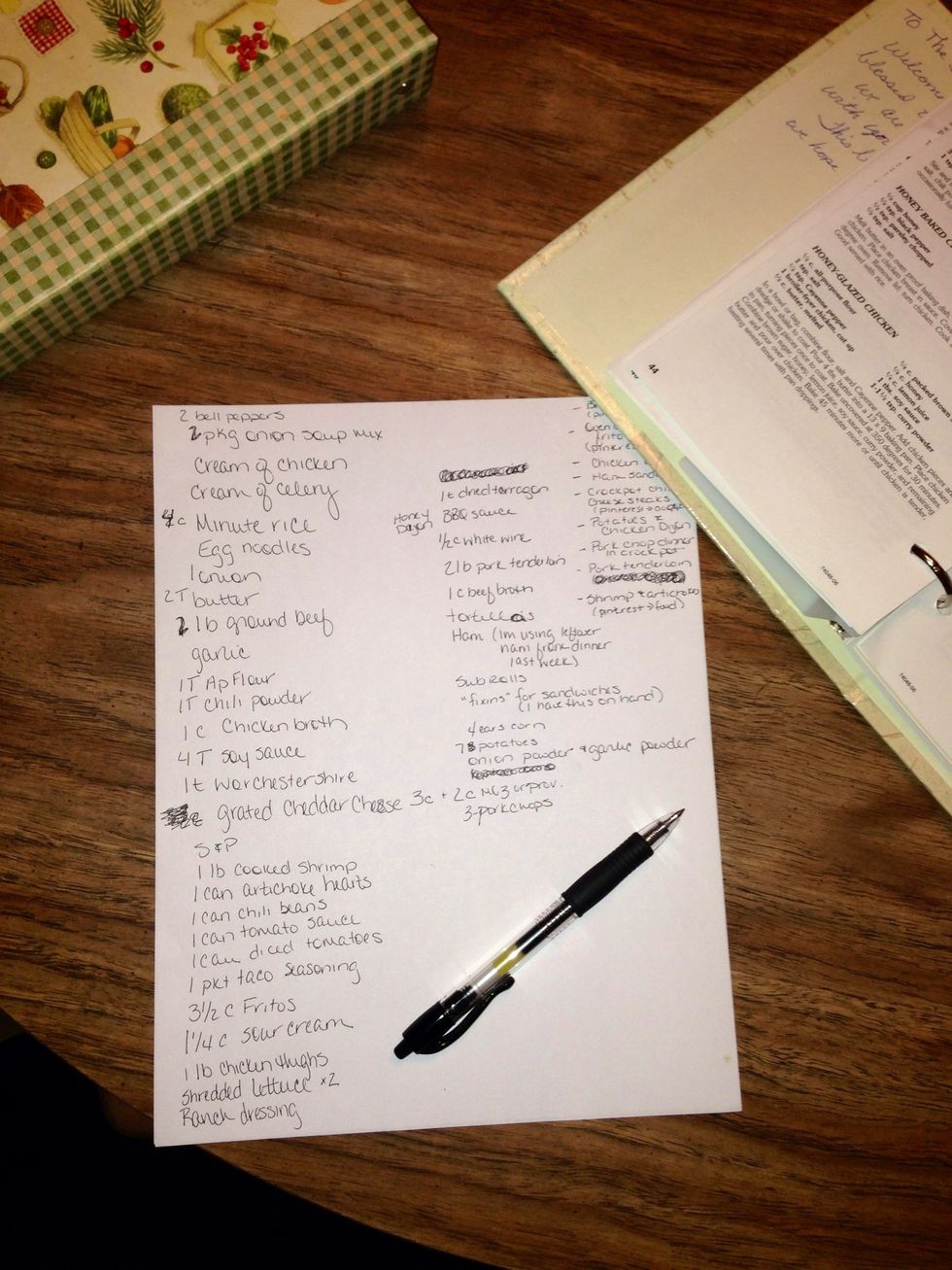 Write the names of the recipes at the top to ensure you have all you need. Figure out what you're making and write the ingredients down. (Or copy and paste in word doc). Combine all like ingredients.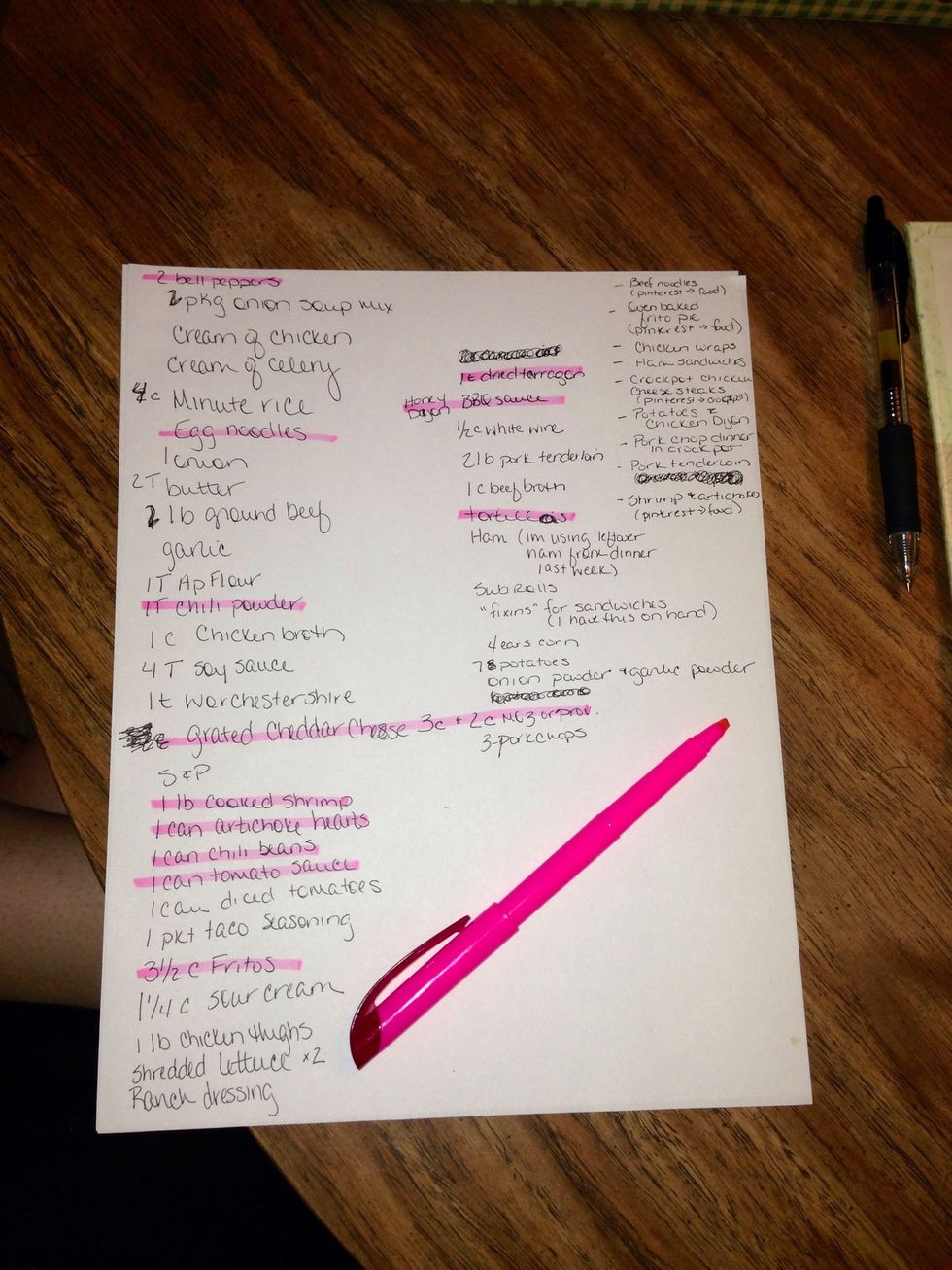 Go through your cabinets and freezer to see what ingredients you lack. Highlight what you need to buy.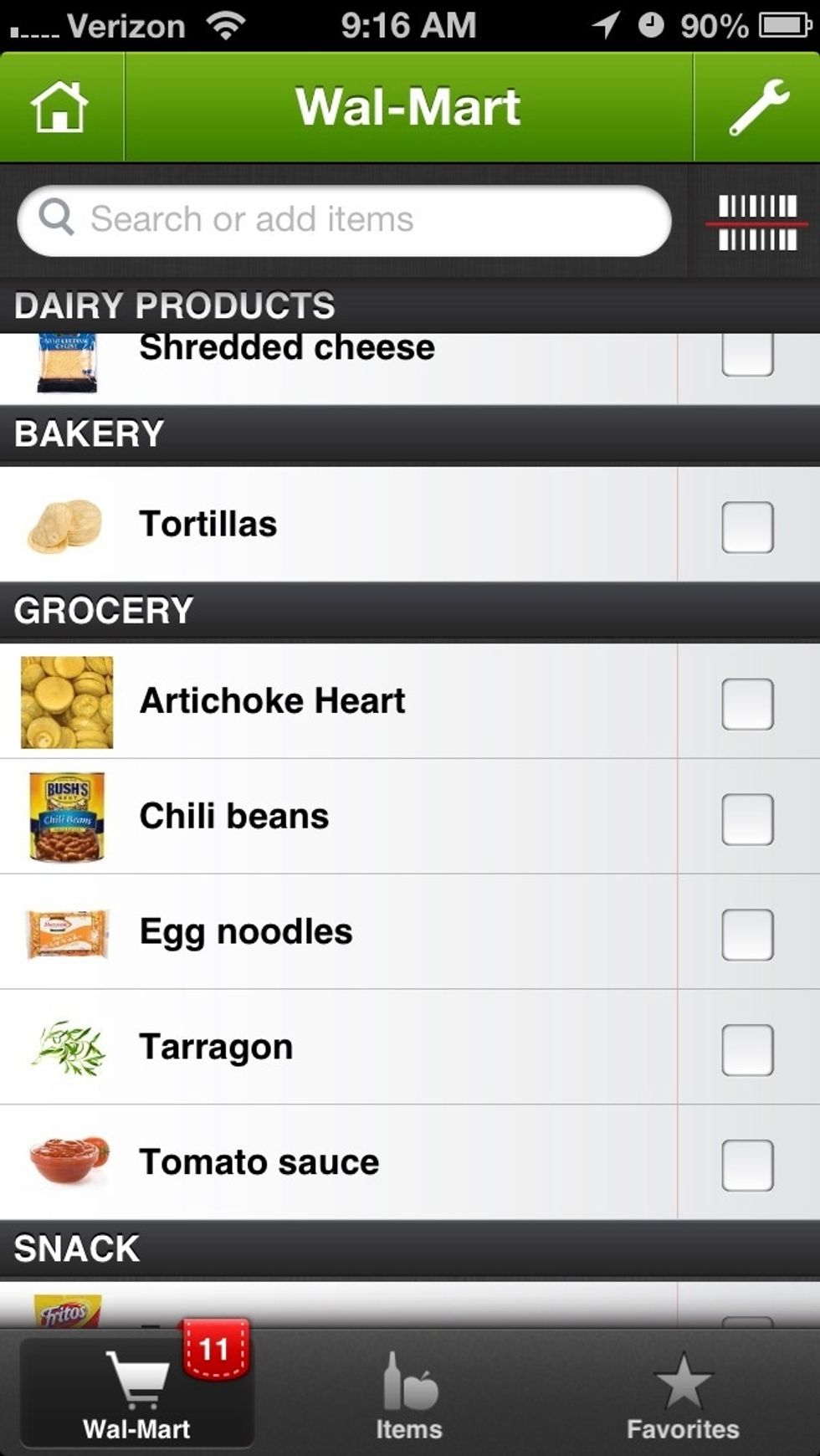 Make a list! I use an app on my phone called MyShopi. I have also used Our Groceries. I like that one too.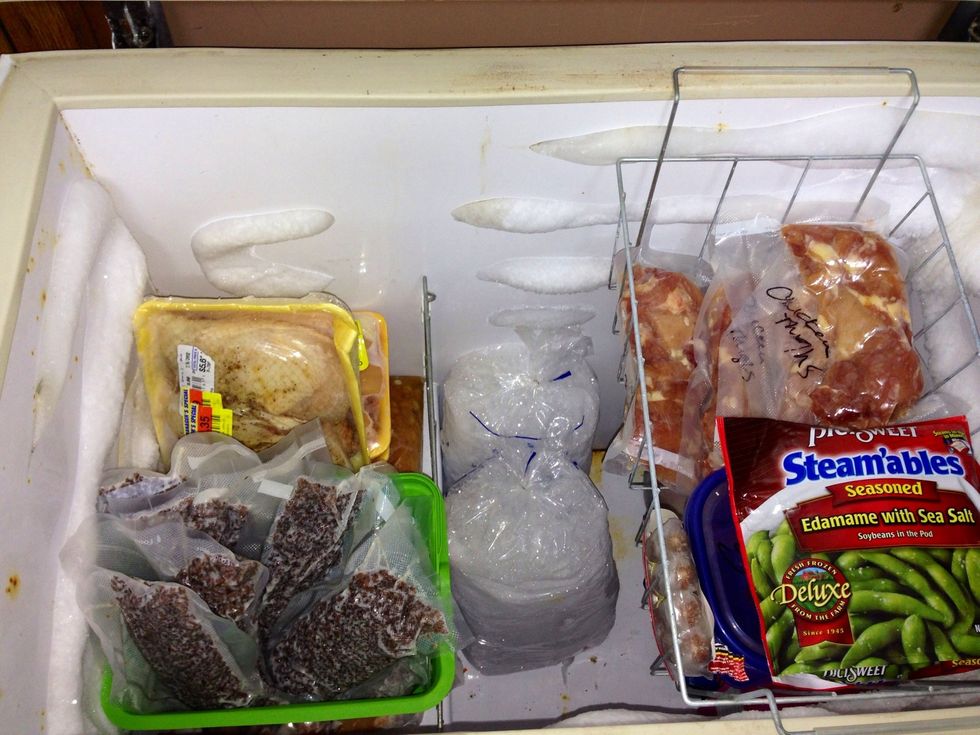 Pull out the frozen meat to begin thawing I pre-brown my ground beef and put into 1 lb packs. All recipes will skip the browning part because of this. Just ensure your beef is browned in all recipes
Someone asked if I browned, froze, thawed, cooked with, and refroze my meat. The answer to that is no. I don't cook for more than a week at a time so there is no need to refreeze.
If you are going to make these into freezer meals, just brown all your ground beef that day. Then it's safe. Food safety first! ;)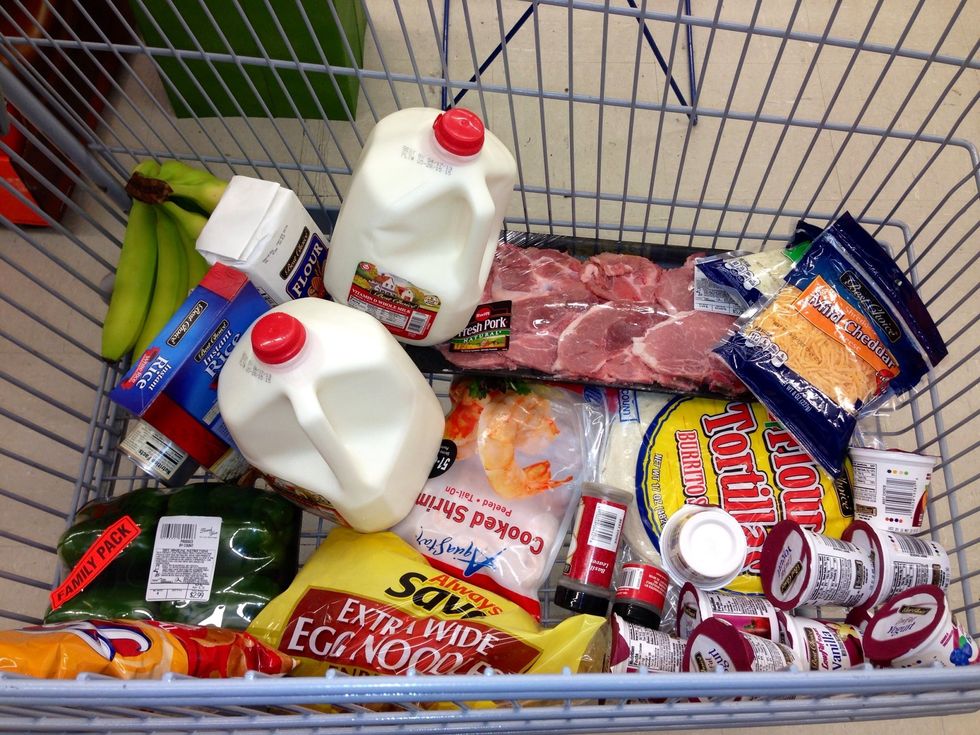 Shop for what you are missing.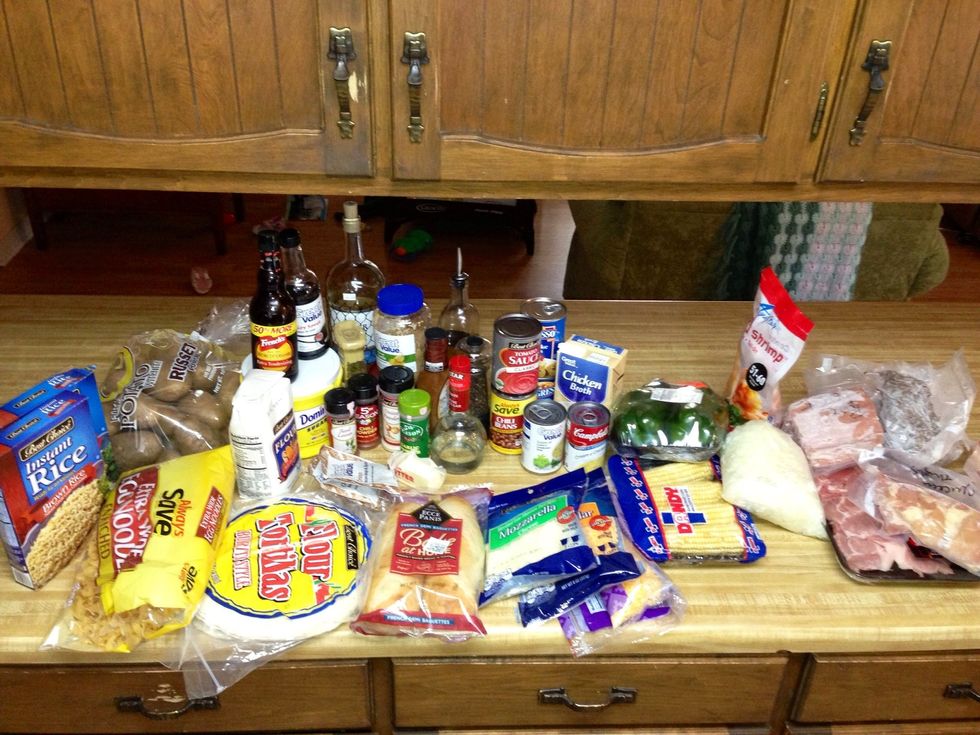 Gather all of your ingredients on the counter or table. It's easier and faster if everything is at your fingertips.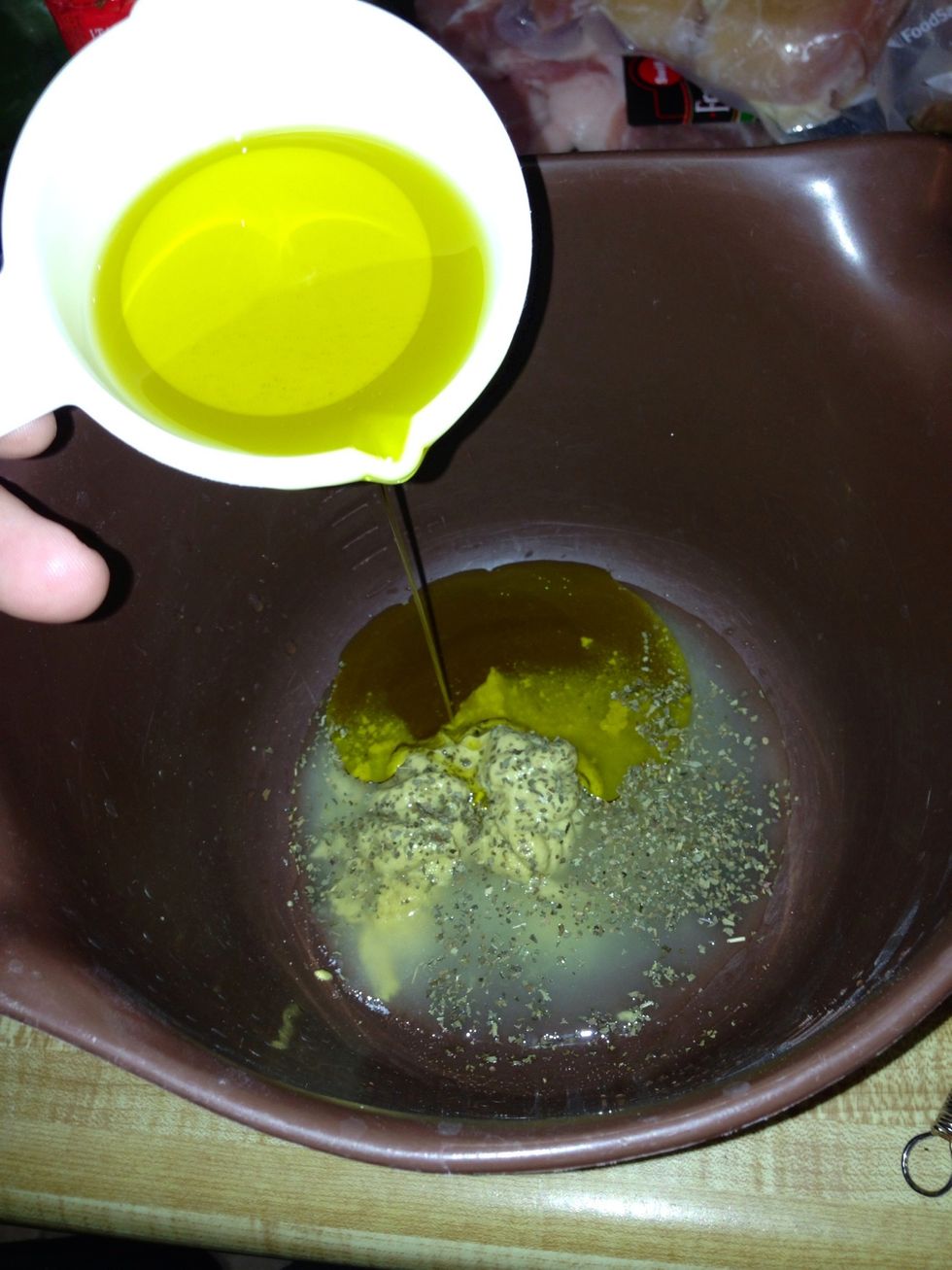 MARINATED ARTICHOKES AND SHRIMP In a small bowl, whisk together the Dijon, vinegar, sugar, salt, and pepper. Slowly drizzle in the oil, whisking constantly, until thick and creamy.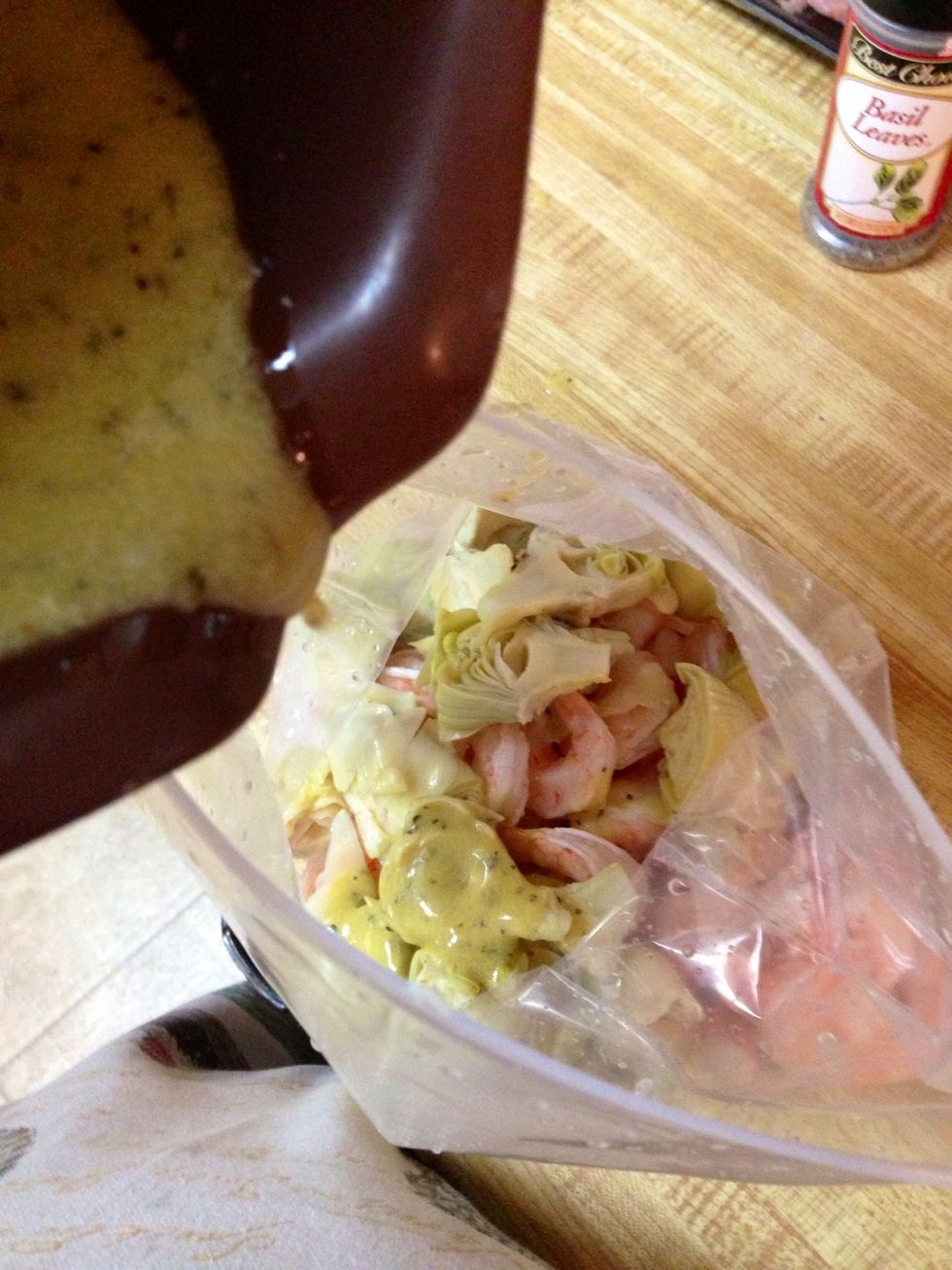 Take the tails off the shrimp, drain the artichokes and cut them in half. Pour the dressing over the shrimp mixture and toss well. Cover and refrigerate. Done.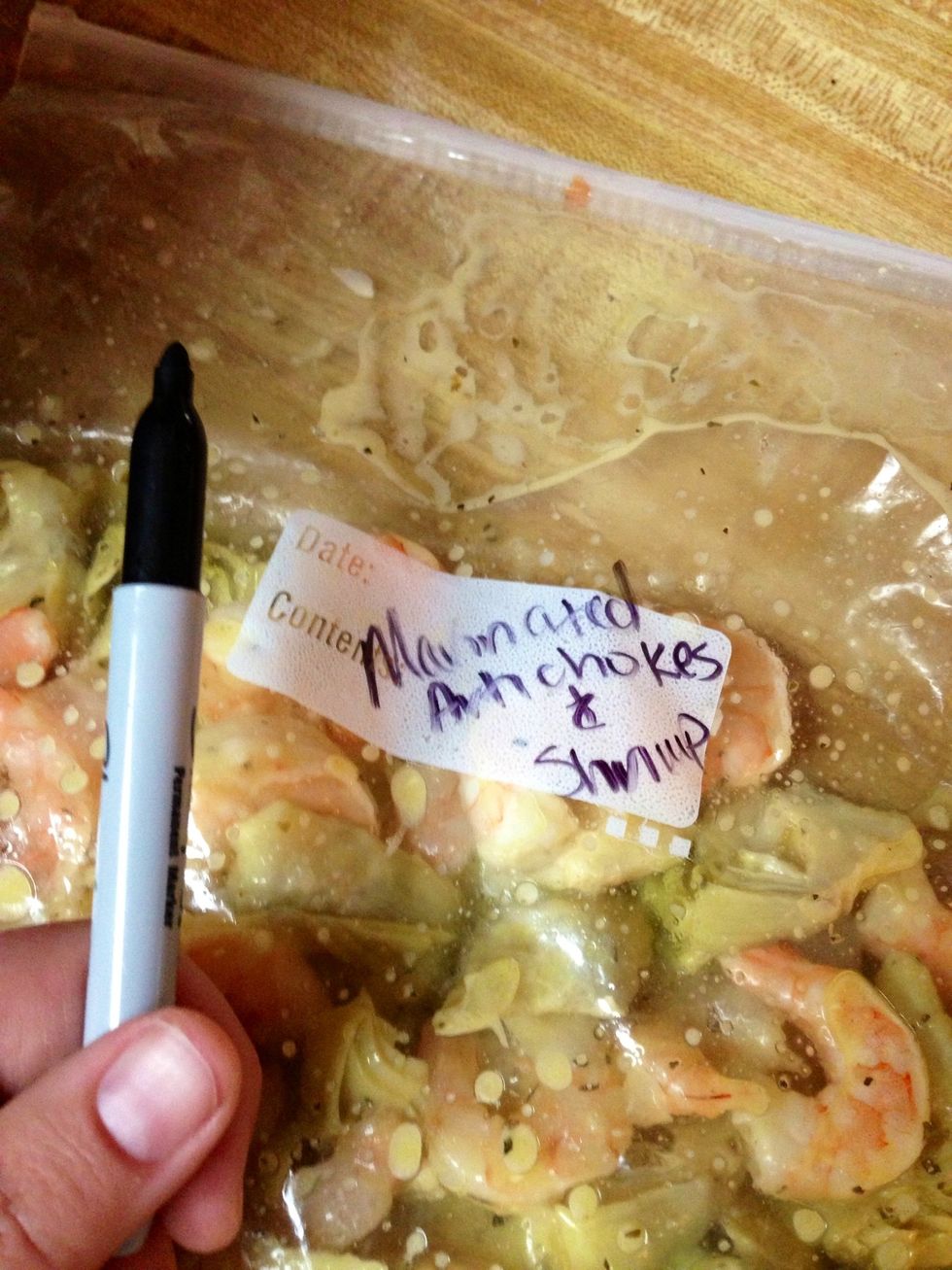 Don't forget to label your bag!!!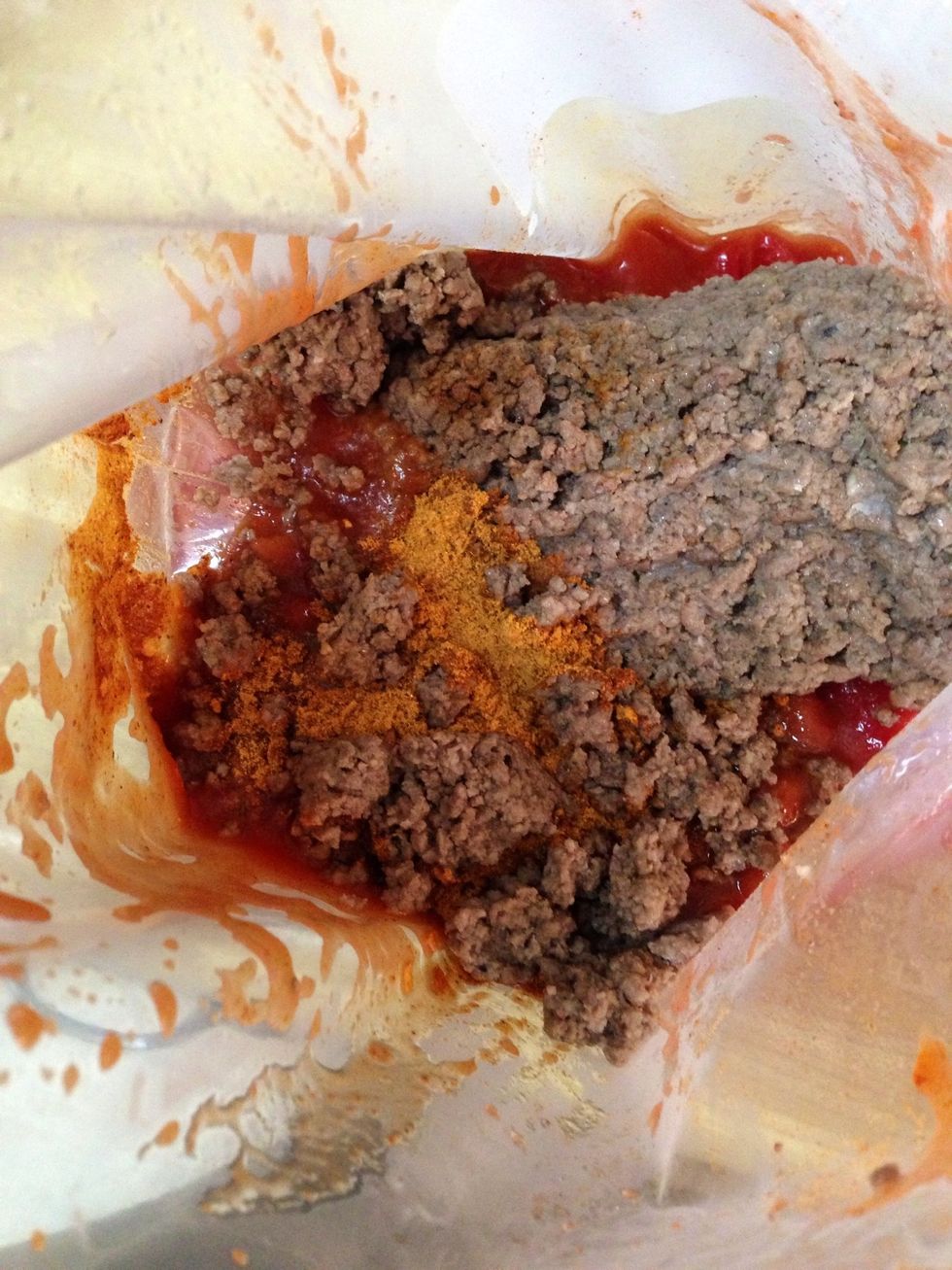 FRITO PIE Pour the beef, tomato sauce, chili beans, diced tomatoes, and taco seasoning into a ziploc bag. Push the air out and mush all of the ingredients together to combine. Label your bag.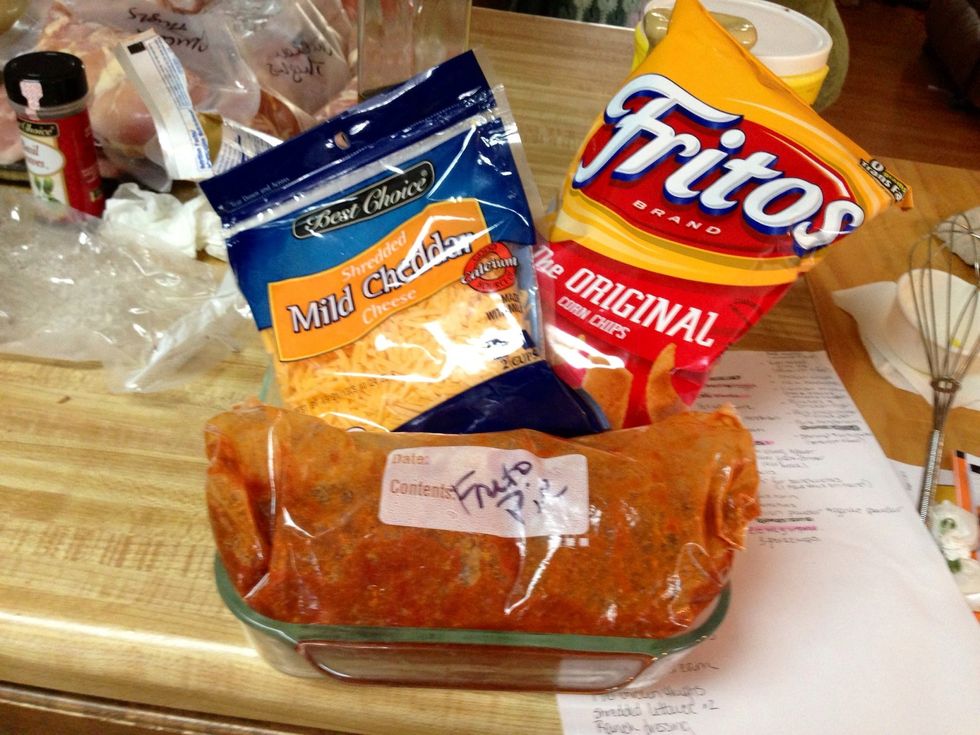 Put that together with your dish, chips, and cheese in the fridge. When you go to make it you will assemble the ingredients and bake. (You can't preassemble this one because the chips get mushy. Done.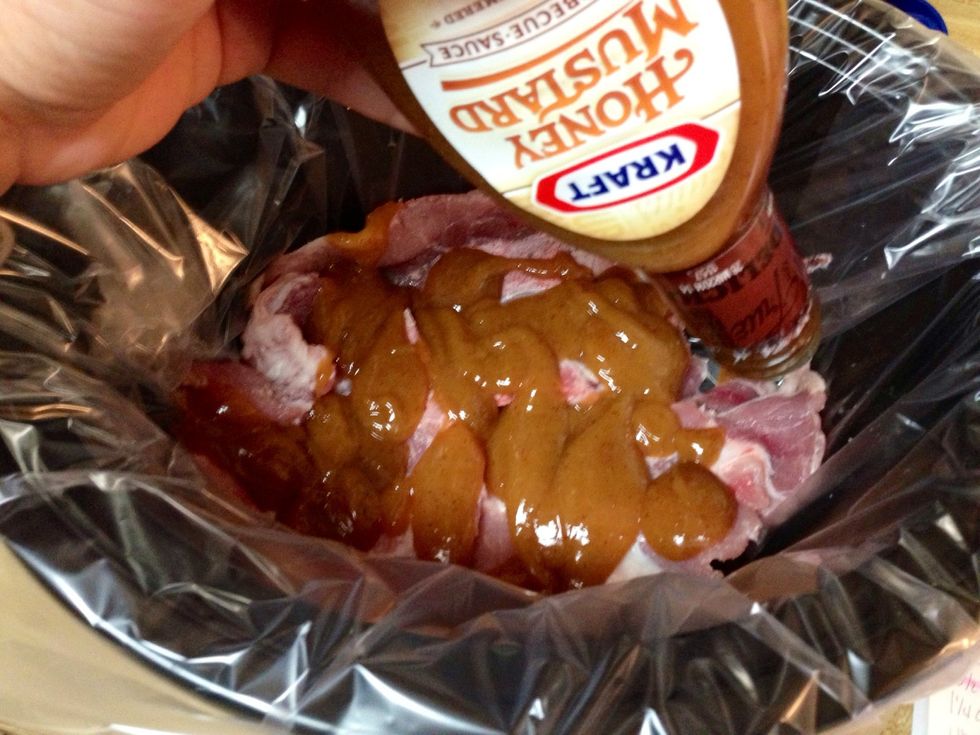 PORK CHOP DINNER (no recipe) Put 3-4 chops in the bottom of a crockpot. Pour BBQ sauce on them and spread it around to cover chops.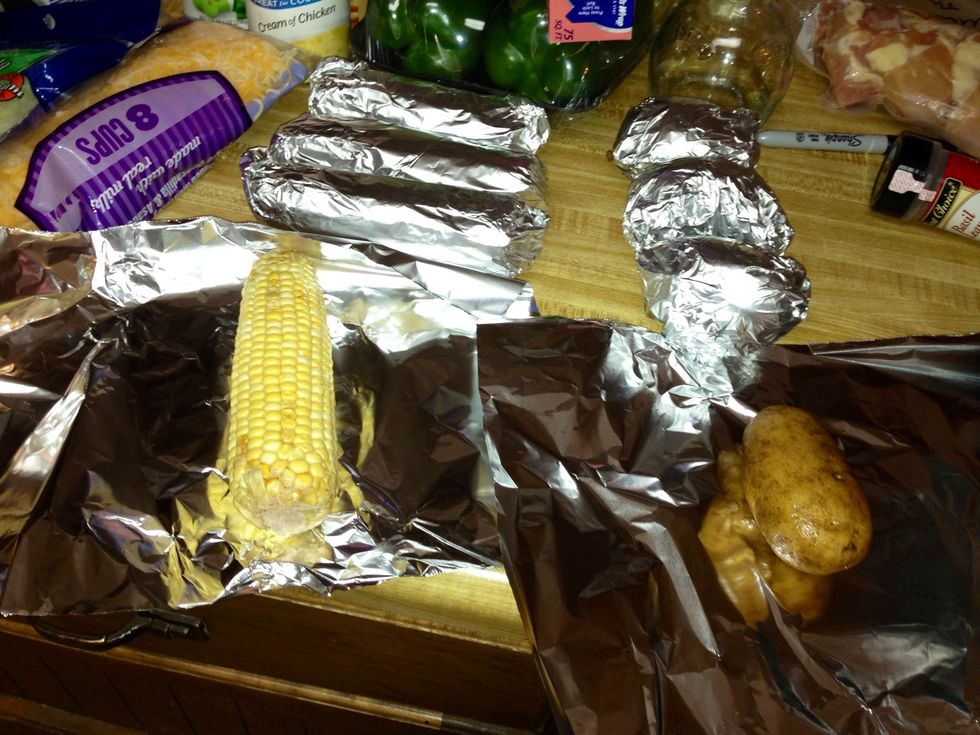 Take 4 corn on the cobs and 4 washed potatoes and wrap each in foil.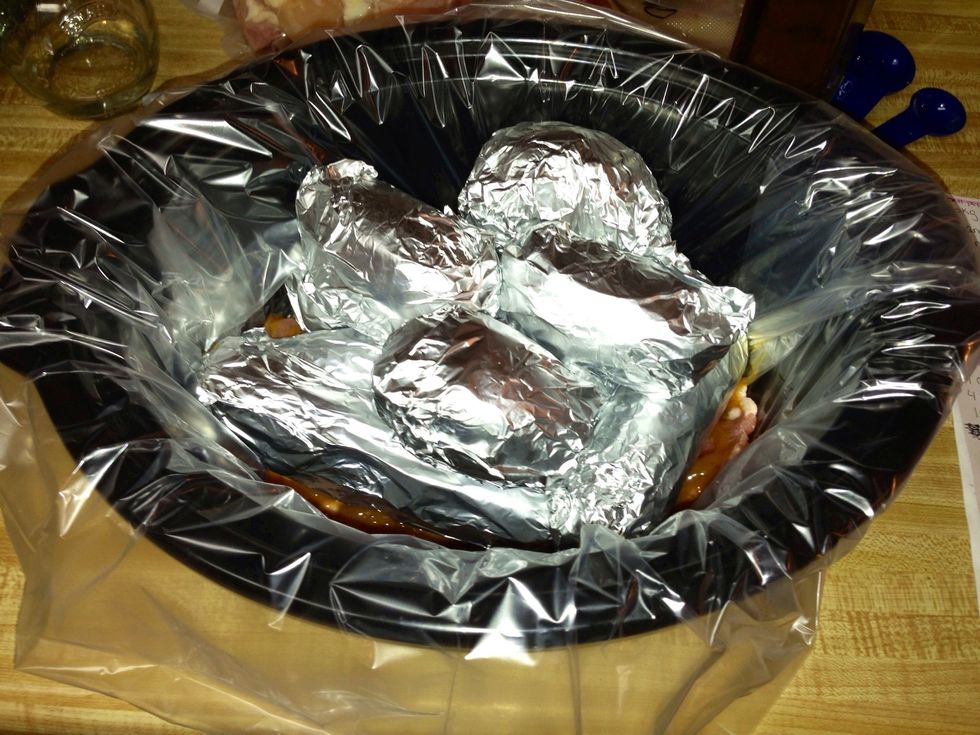 Put them on top of the meat. Yes On top of the sauce. It won't matter. You will have baked potatoes corn and pork chops just like they were cooked separately. Cook on hi for about 3-4 h or lo 5-6 Done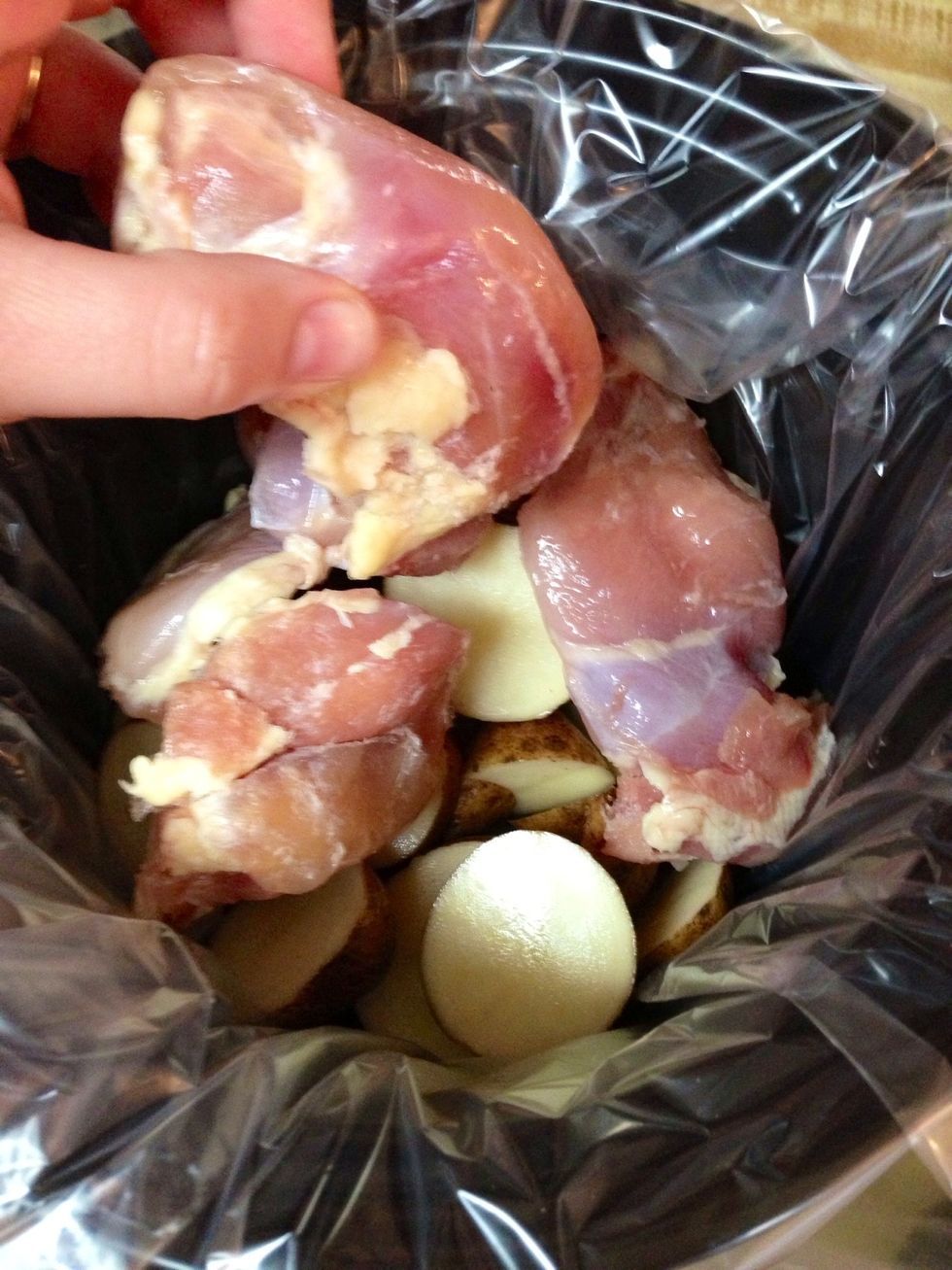 DIJON CHICKEN & POTATOES (no recipe) slice 4 potatoes and put them in the bottom of the crockpot. Then place 4 chicken pieces on top (I used thighs). Salt and pepper the chicken.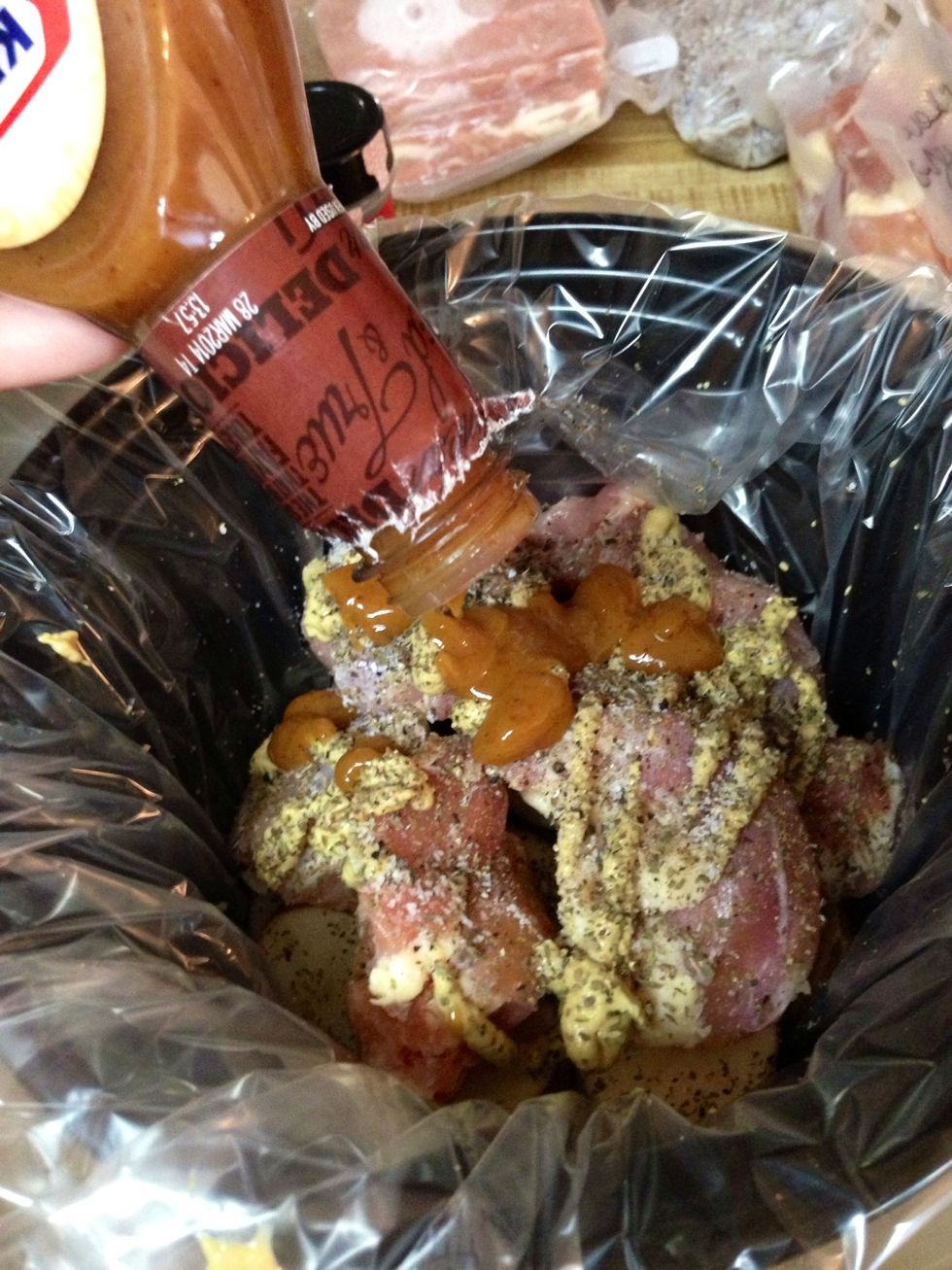 Then pour over Dijon mustard, tarragon, and honey Dijon BBQ sauce. Spread to coat. DO NOT add any liquid. It will make plenty. Put the lid on and put in the fridge. Done!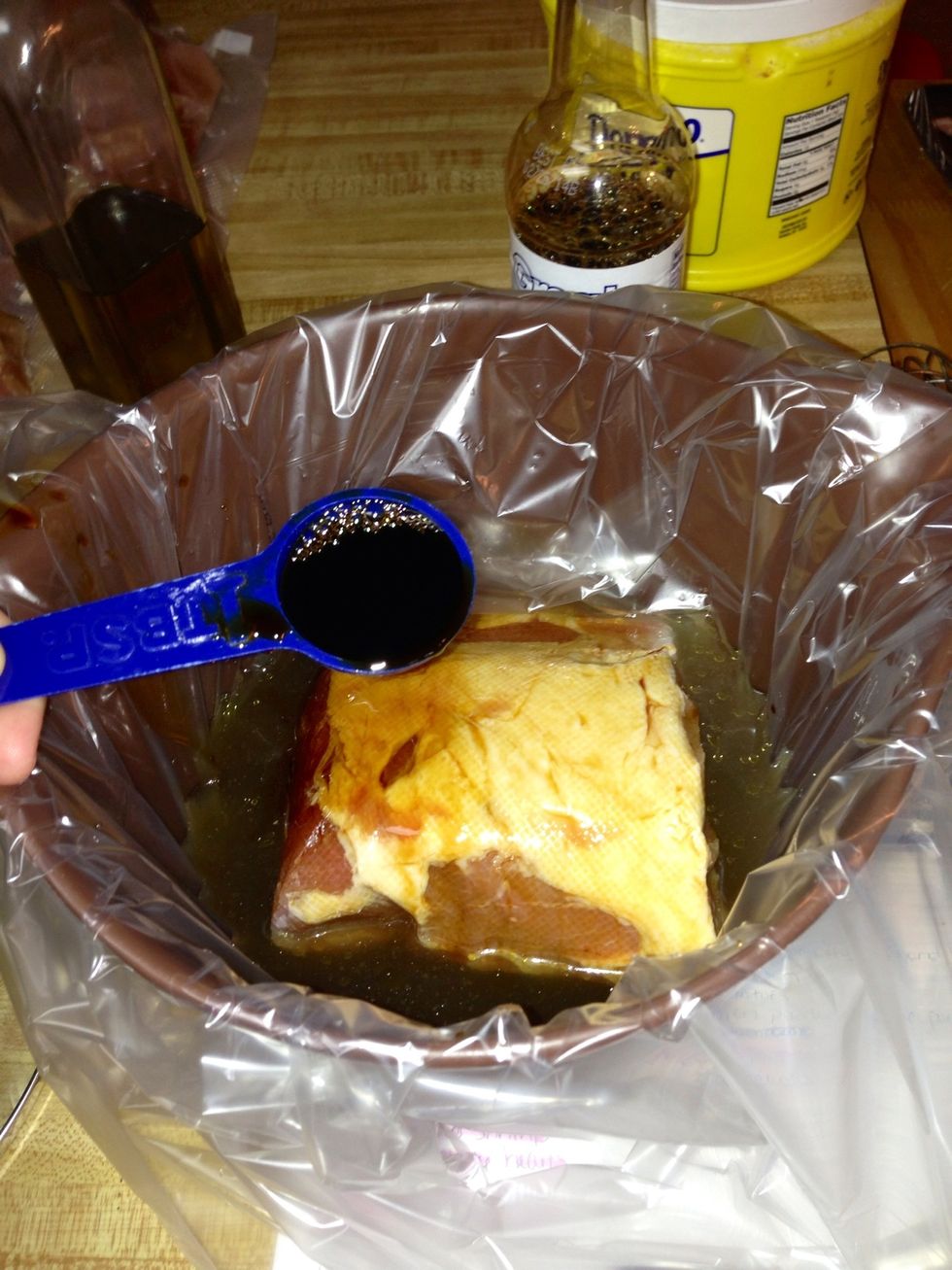 AMAZING PORK TENDERLOIN if you don't have 3 crockpots, you can put a crockpot liner in a big bowl and assemble as if it was in the crock. Add the pork and pour the soy sauce, broth and wine over it.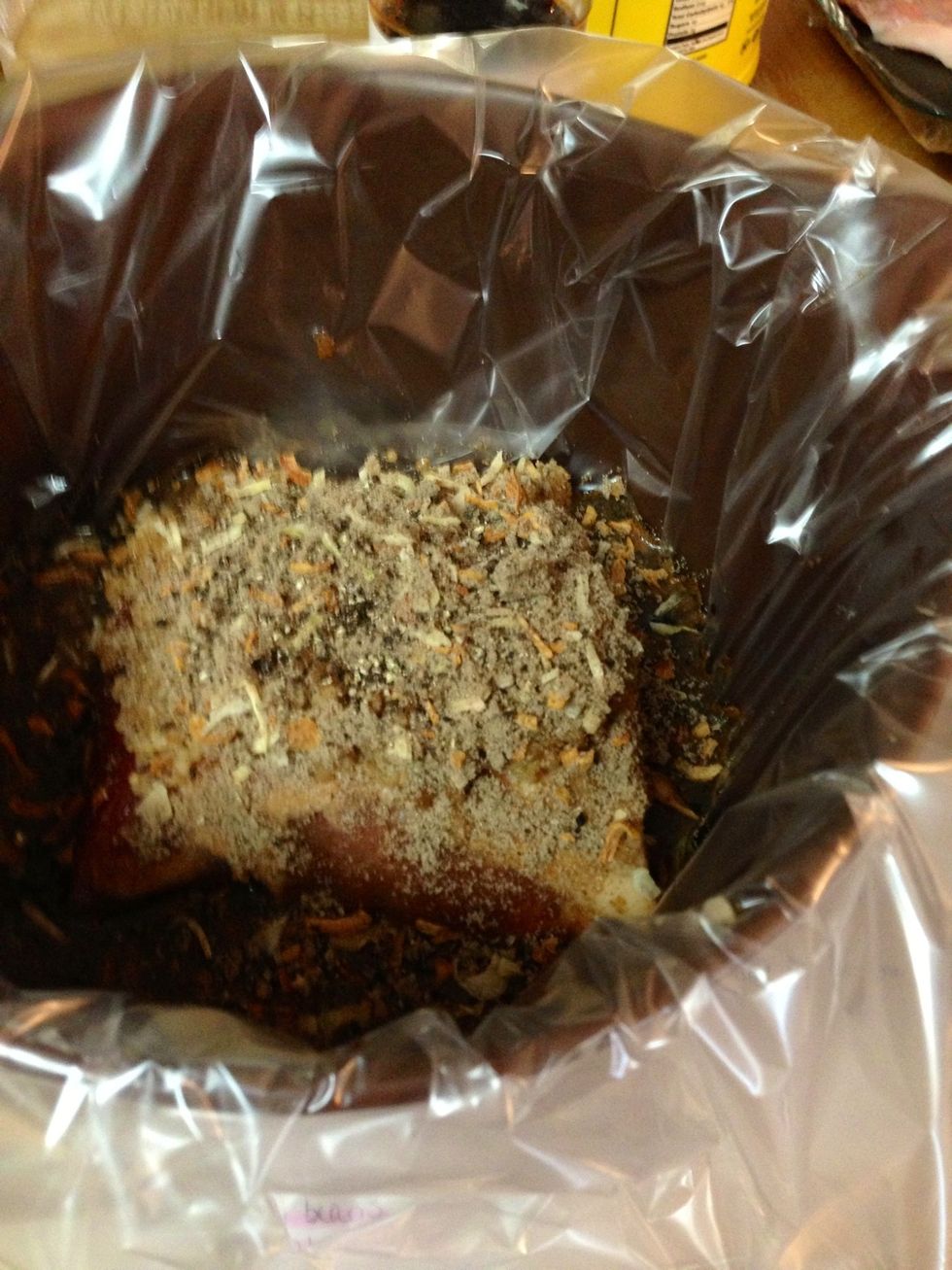 Coat the top with the minced garlic and sprinkle with pepper and minced onion.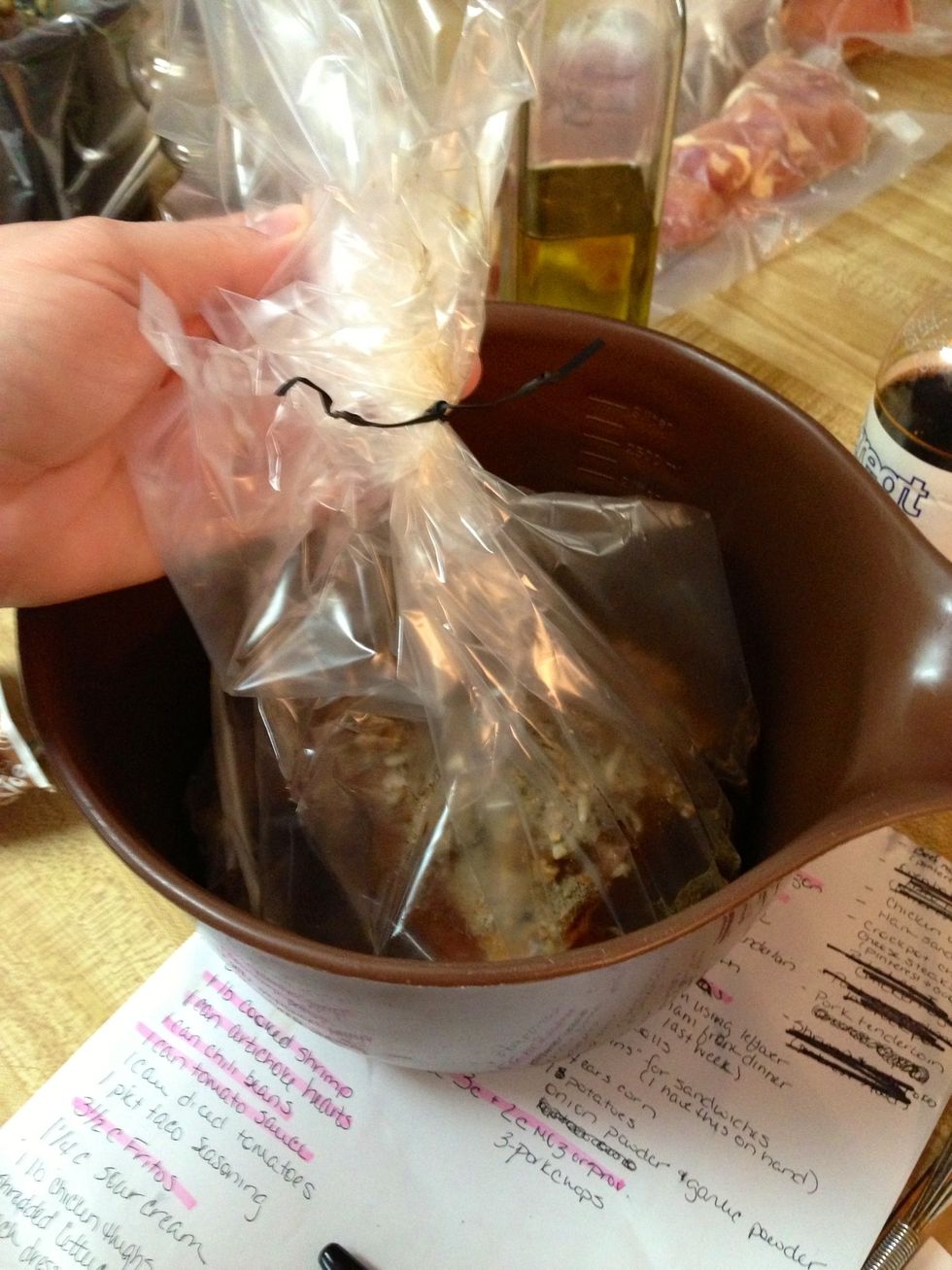 Pull the liner up and secure with a twist tie. Refrigerate. Done!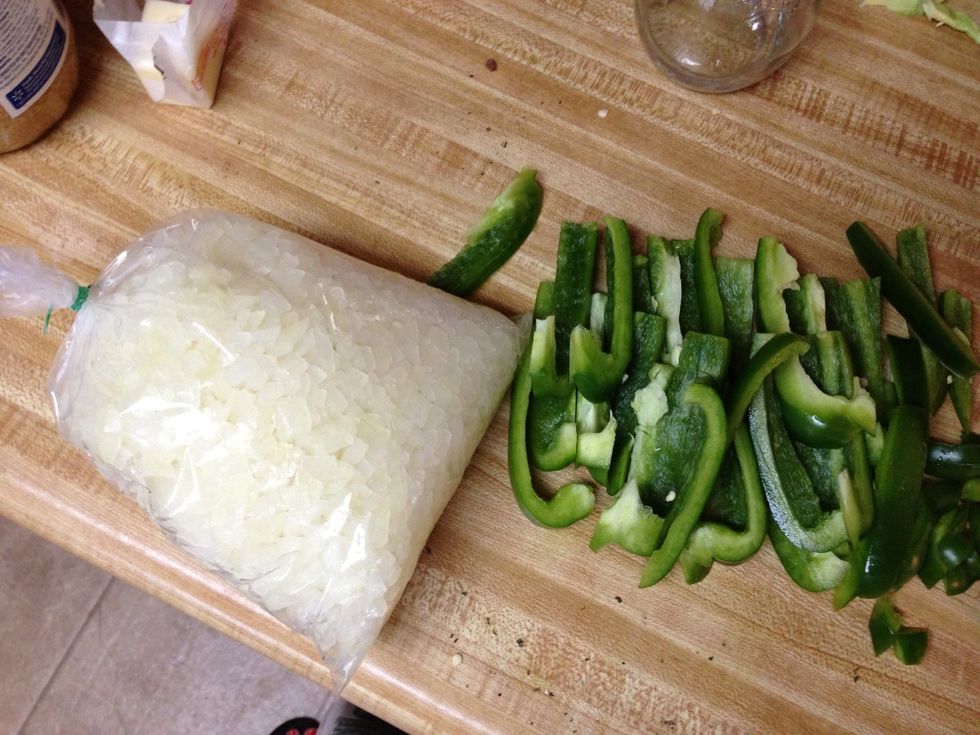 CHICKEN PHILLY CHEESE STEAK slice onions and peppers.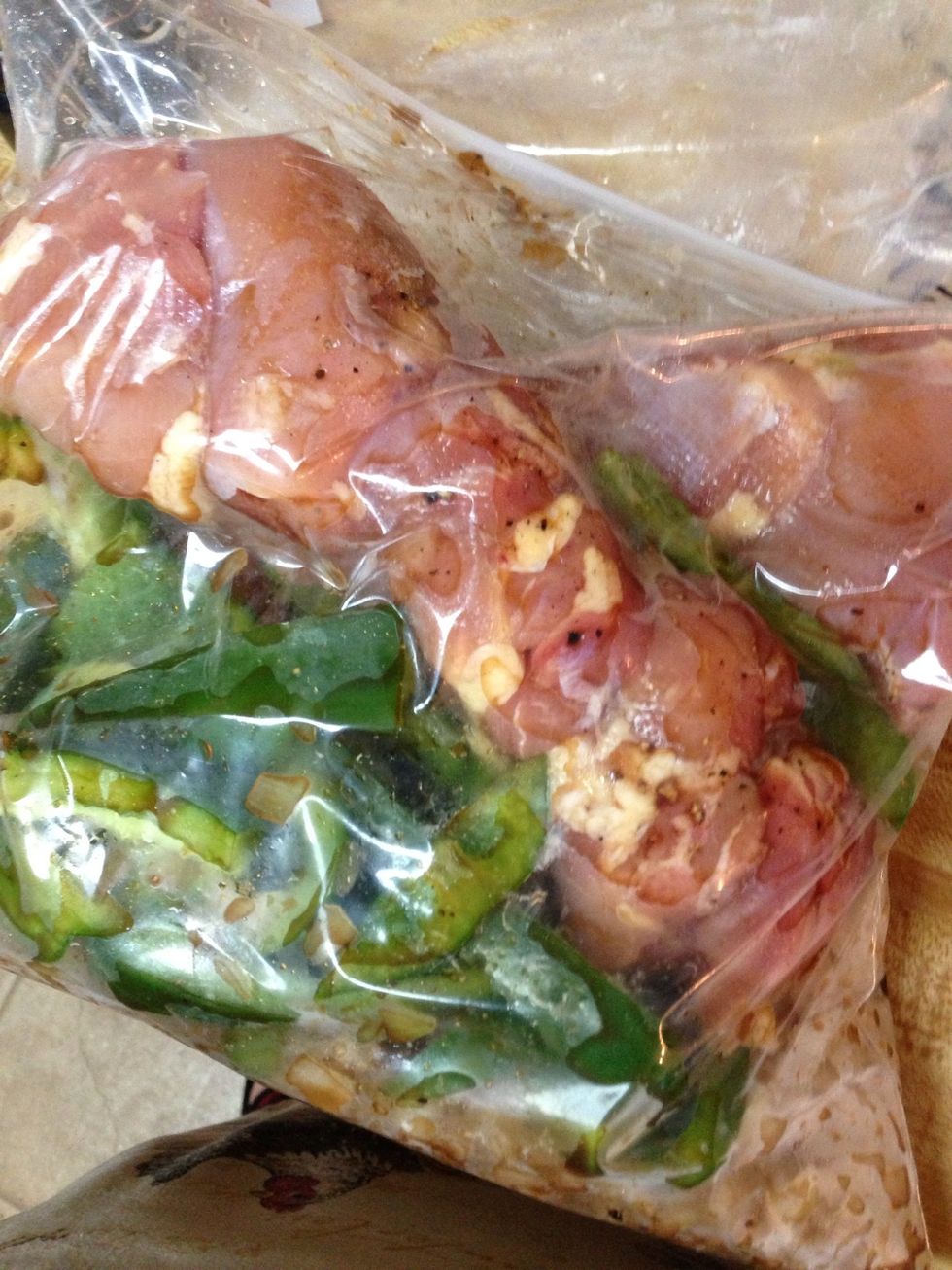 Put all ingredients into a ziploc. (I would have done the same thing as the last one and used a crock pot liner but I'm out :'( ) Done! You will put it in the drive with the mozzarella and sub rolls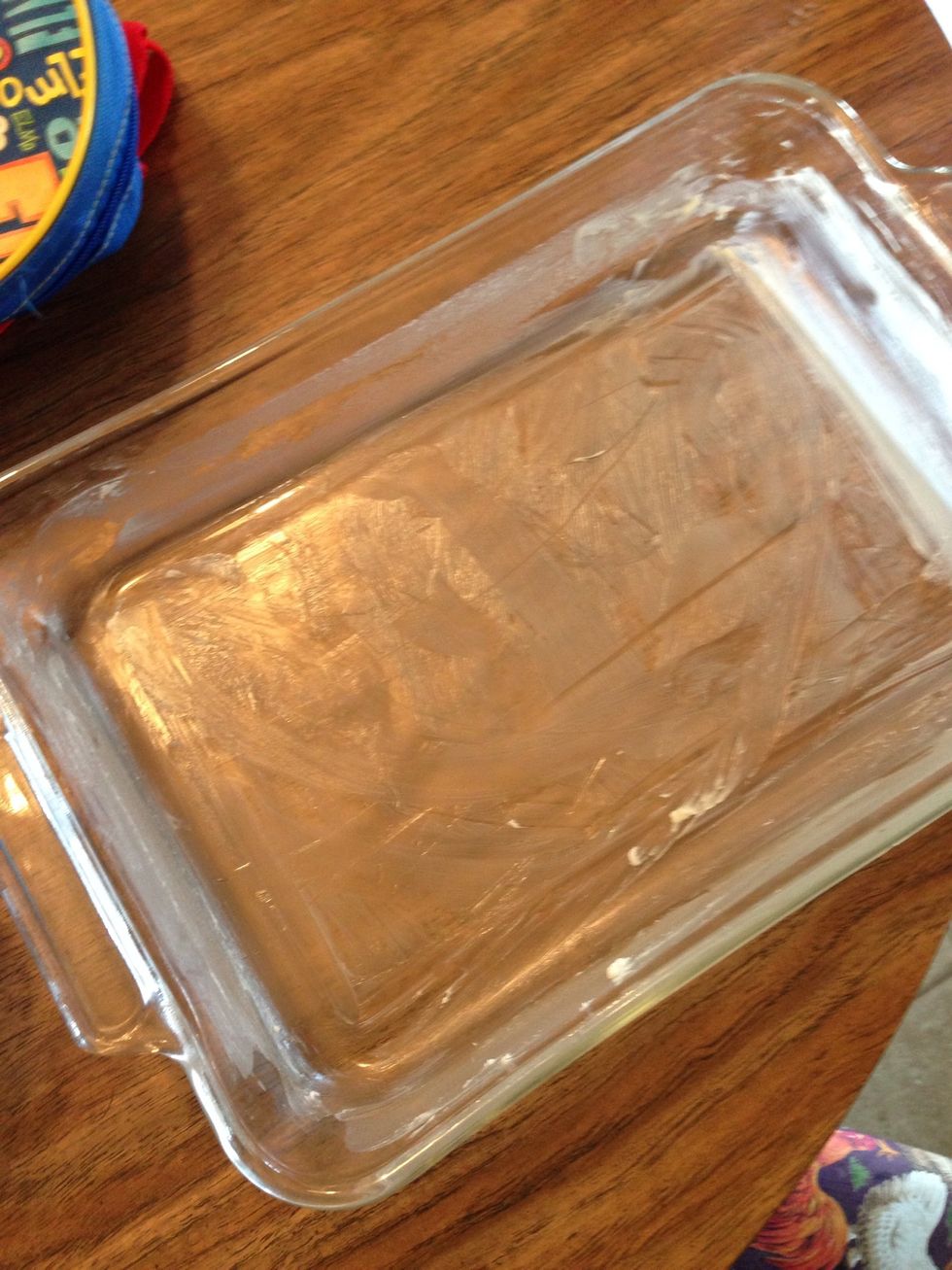 FORGOTTEN CHICKEN Butter a 9x13 baking dish.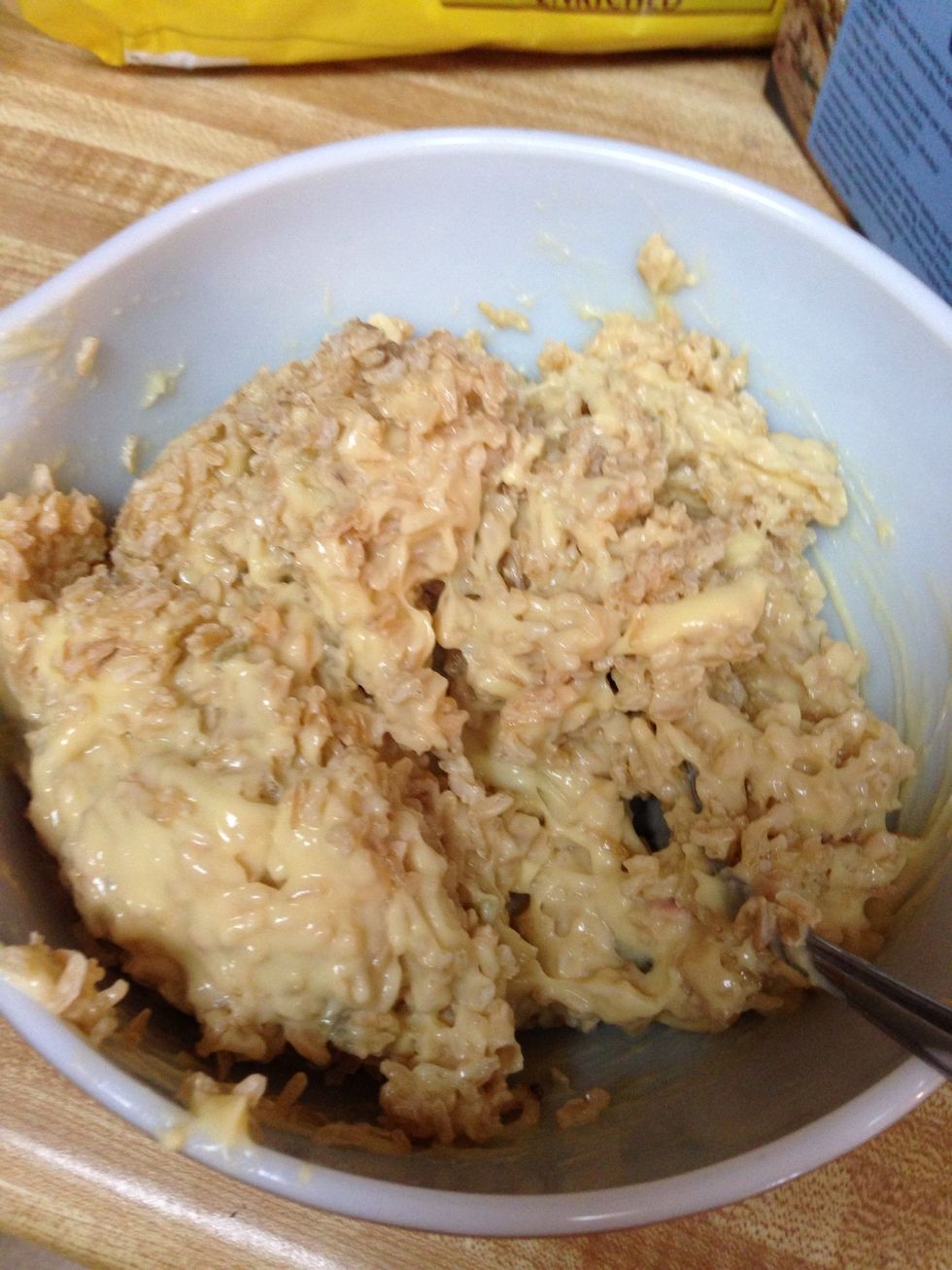 Mix together rice and both cream soups.
Spread in the dish and lay the chicken on top. (I recognize these are pork chops. I wanted to use what I had instead of pulling out more chicken. That's a tip for saving money!)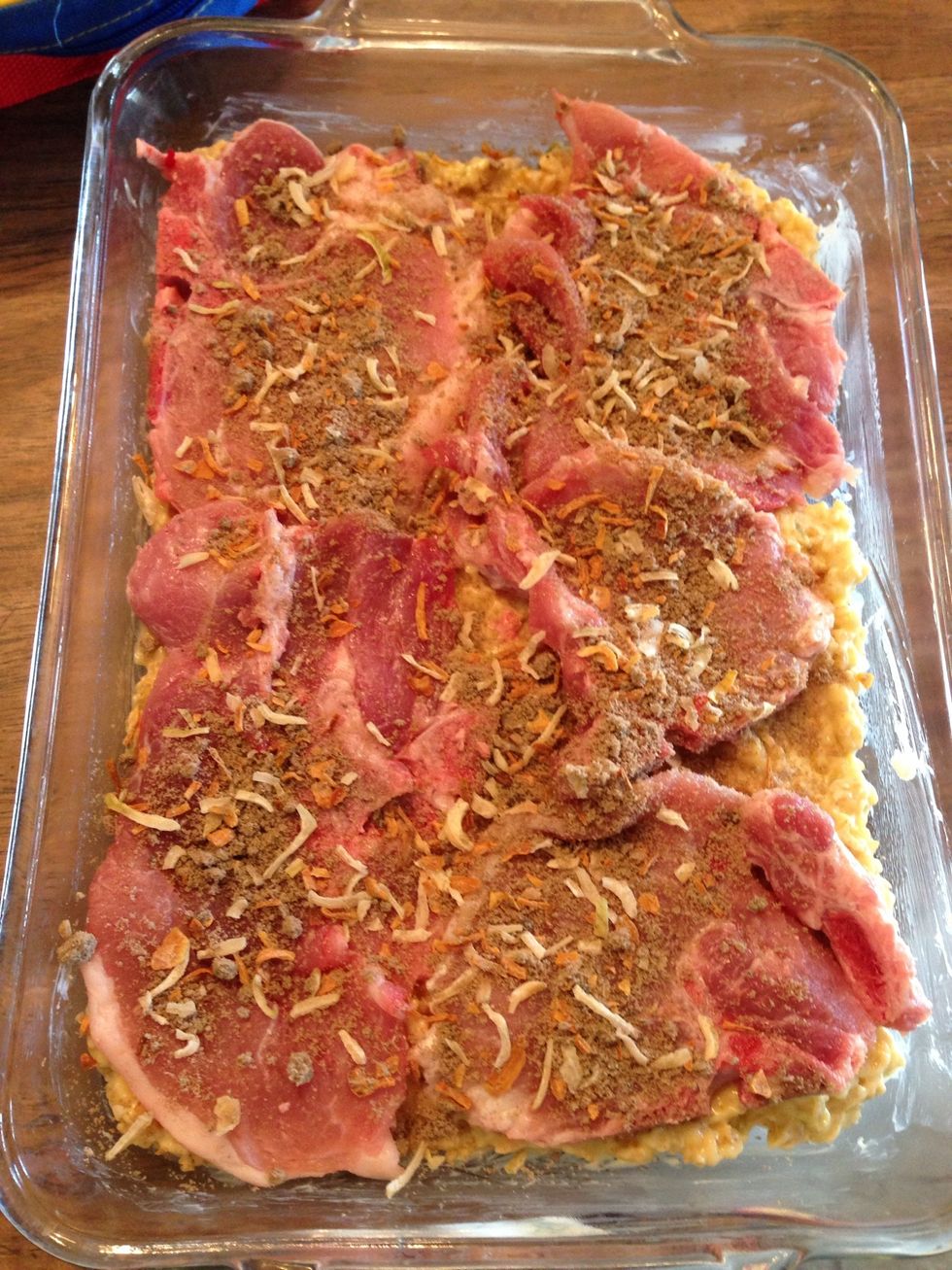 Sprinkle the onion soup mix on top. Top with foil and refrigerate. Done!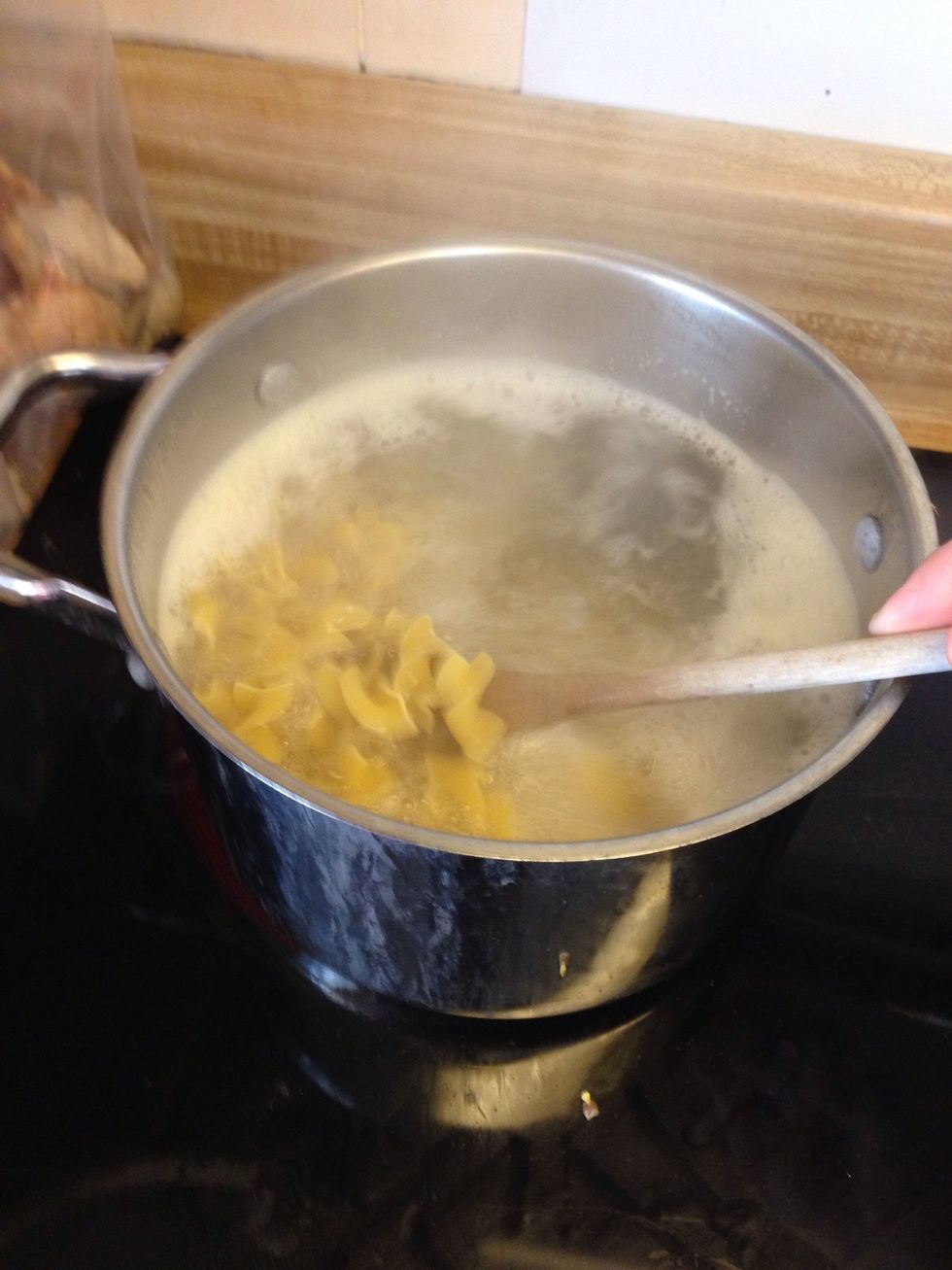 Boil your egg noodles in salted water. Stop cooking one minute before they are completely finished. They will finish cooking in the sauce and not get too mushy. In the meantime you can make the sauce.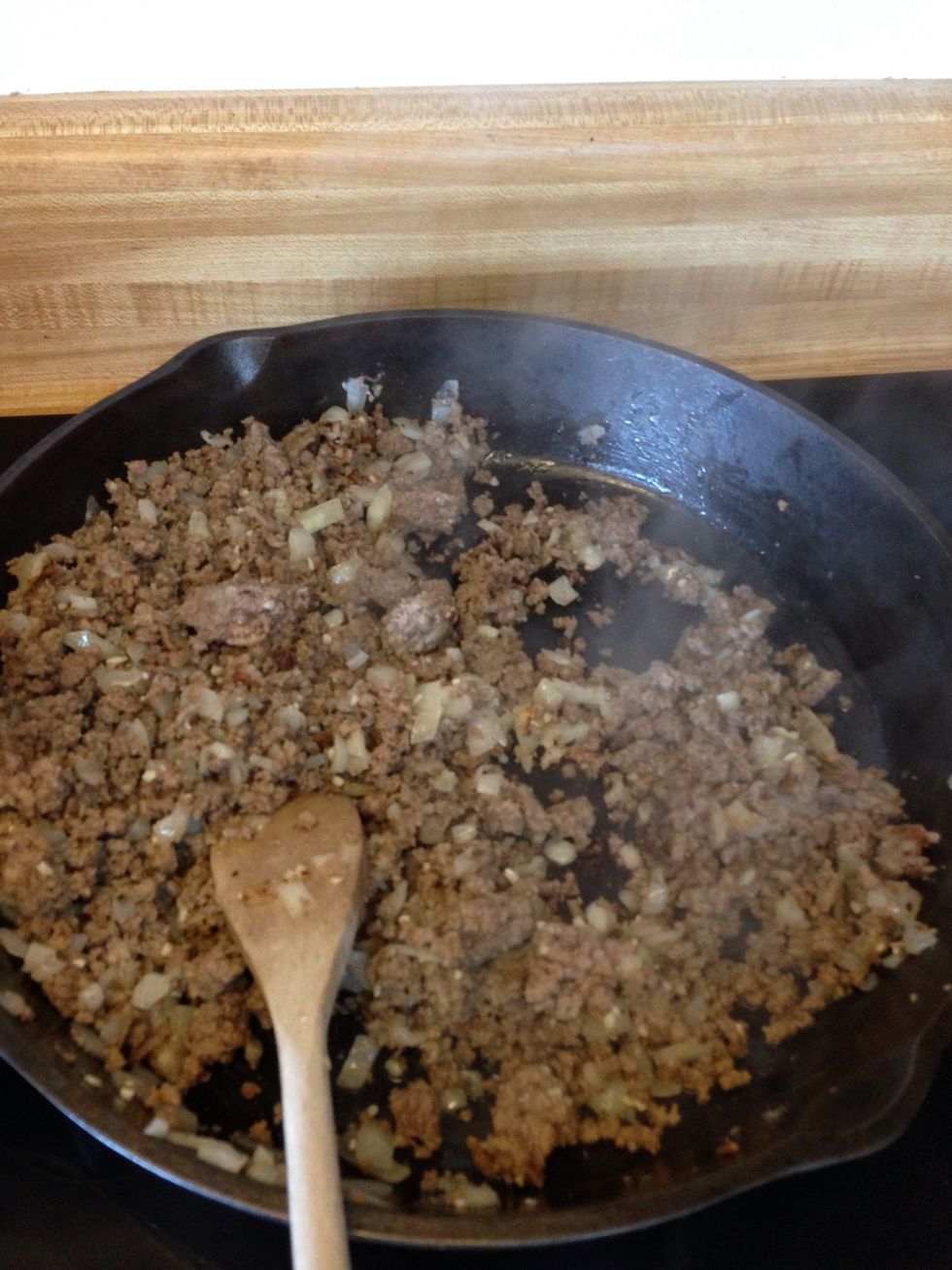 Cook your beef, onions, and garlic. I omitted the butter.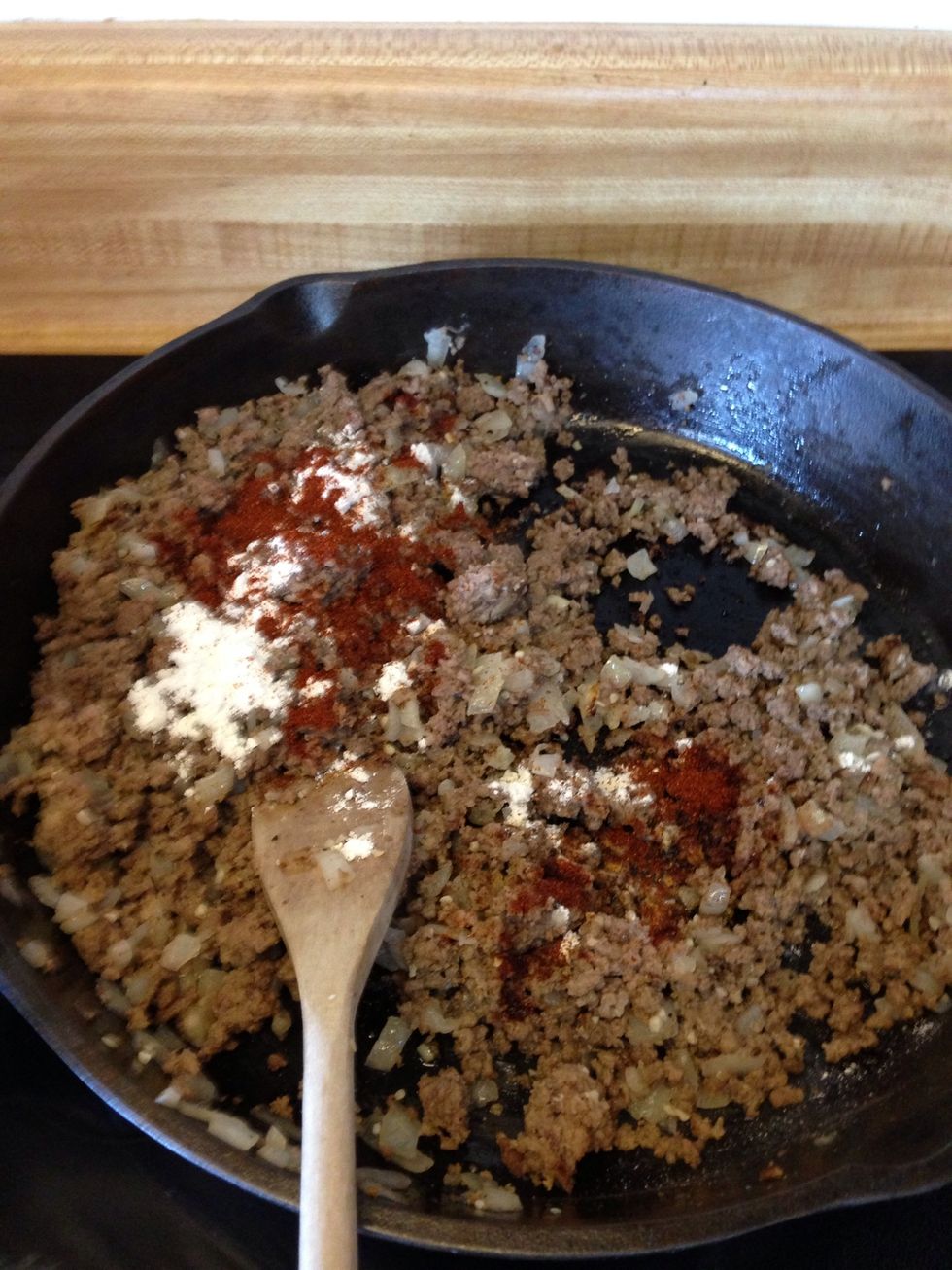 Sprinkle with the chili powder and flour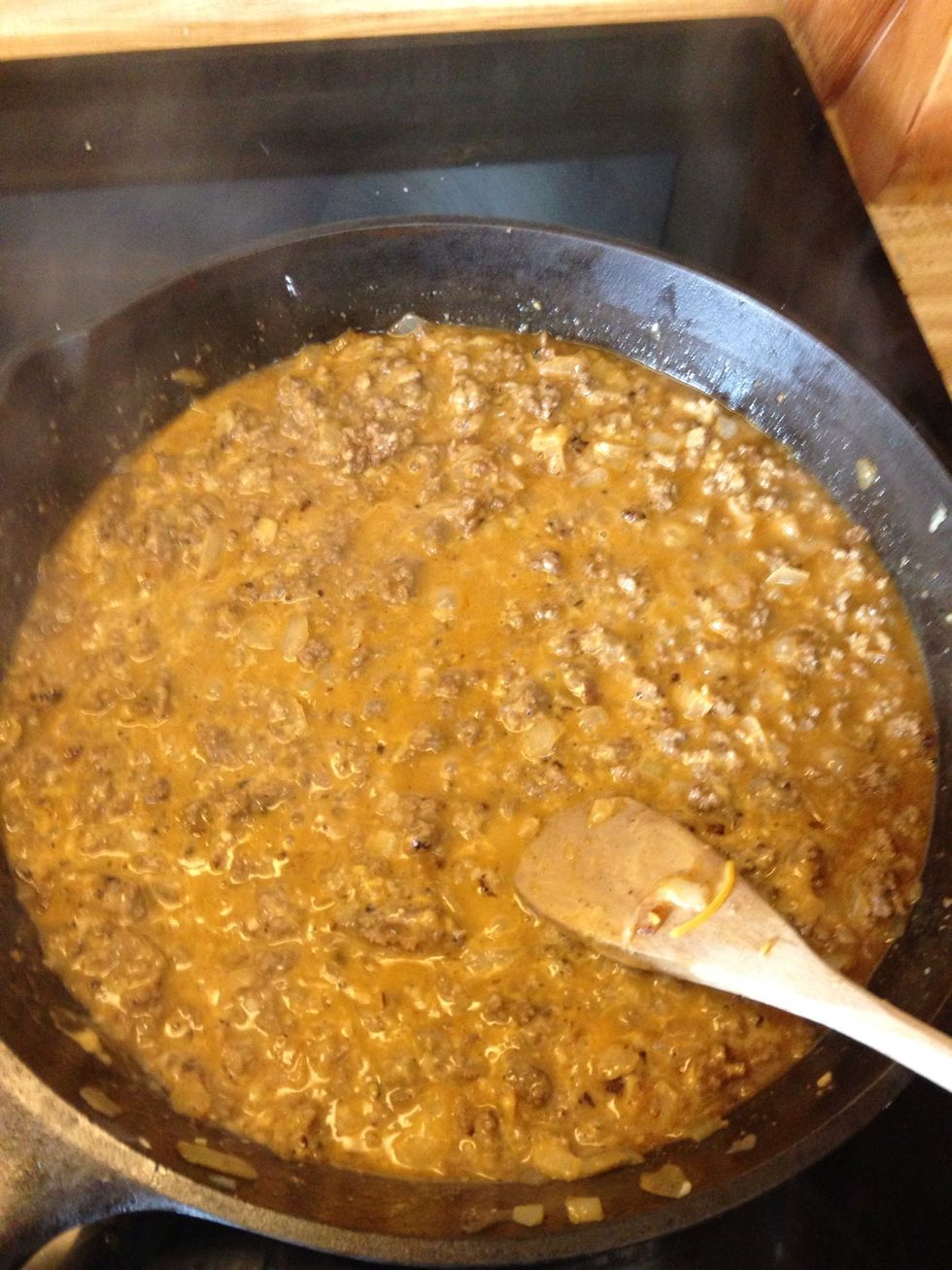 Add the soy sauce, Worcestershire sauce, broth and cheese. Stir until it makes a sauce.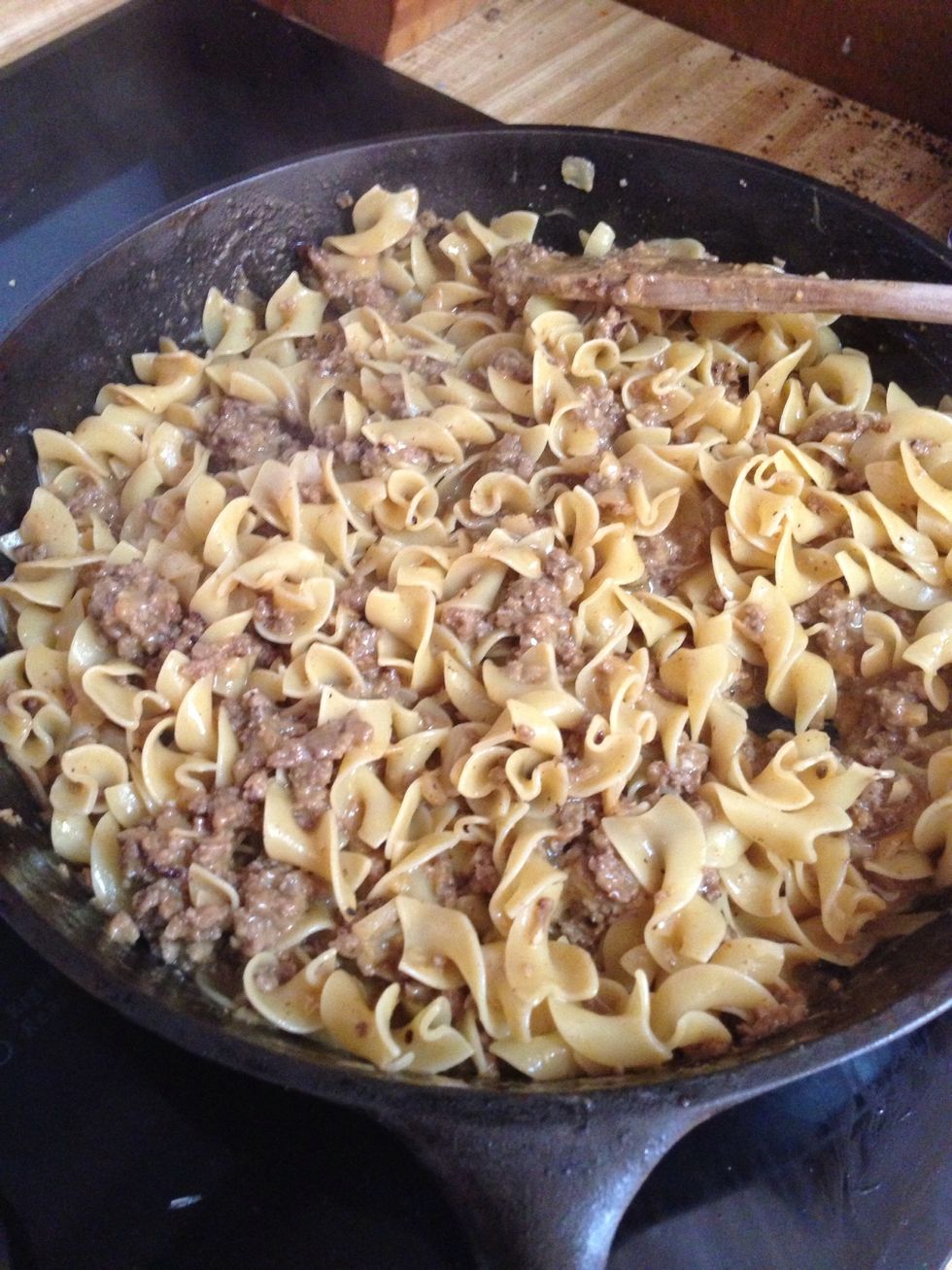 Stir the cooked noodles into the sauce. Done and dinner is served. Add a nice salad or some carrot sticks to any of the recipes that don't include veggies.
For the ham sandwiches I used leftover baked ham, leftover shredded lettuce and those sub rolls you saw with the supplies. No pic for that. I would really hope you know how to make a ham sammich. :)
Credits BEEF NOODLES http://m.ricardocuisine.com/recette-detaillee.php?id=4704〈=en FRITO PIE http://www.myfamilymealplan.com/2010/01/oven-baked-frito-pie.html?m=1
Credits FORGOTTEN CHICKEN http://darlingdoodles.blogspot.com/2012/04/forgotten-chicken.html? MARINATED ARTICHOKES AND SHRIMP http://www.foodepix.com/2013/03/14/57702/
Credits CHICKEN CHEESESTEAKS http://foodfamilyfinds.com/slow-cooker-chicken-philly-sandwiches-recipe/ PORK TENDERLOIN http://blog.texasfitchicks.com/2011/12/10-skinny-crock-pot-recipes.html?m=1
9.0 Recipes
Food supplies (depends on your recipes)
Cooking items like crockpot and baking dishes.
Counter space :)
And about 4 hours.