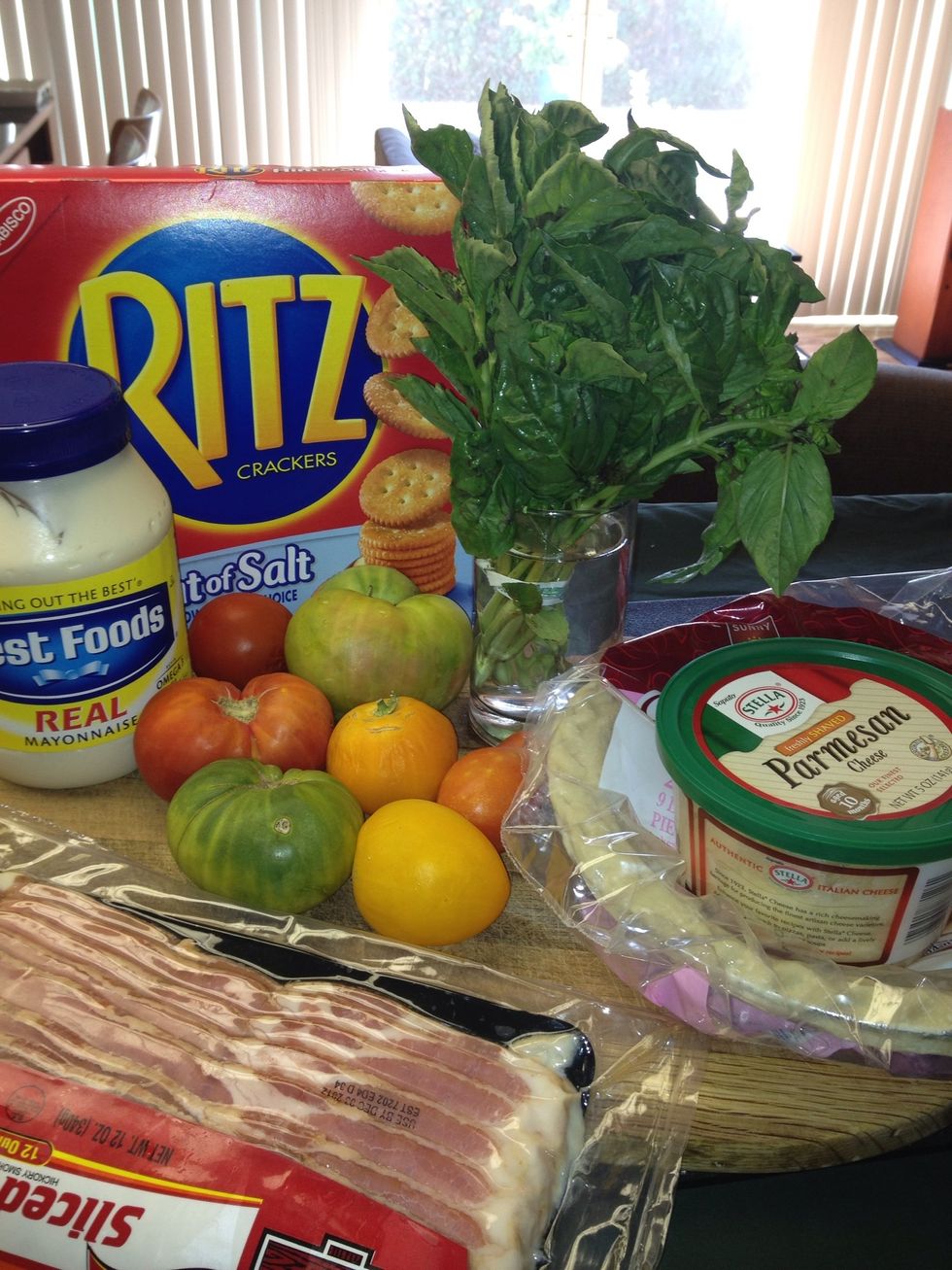 (Ingredients are listed on tab for shopping list)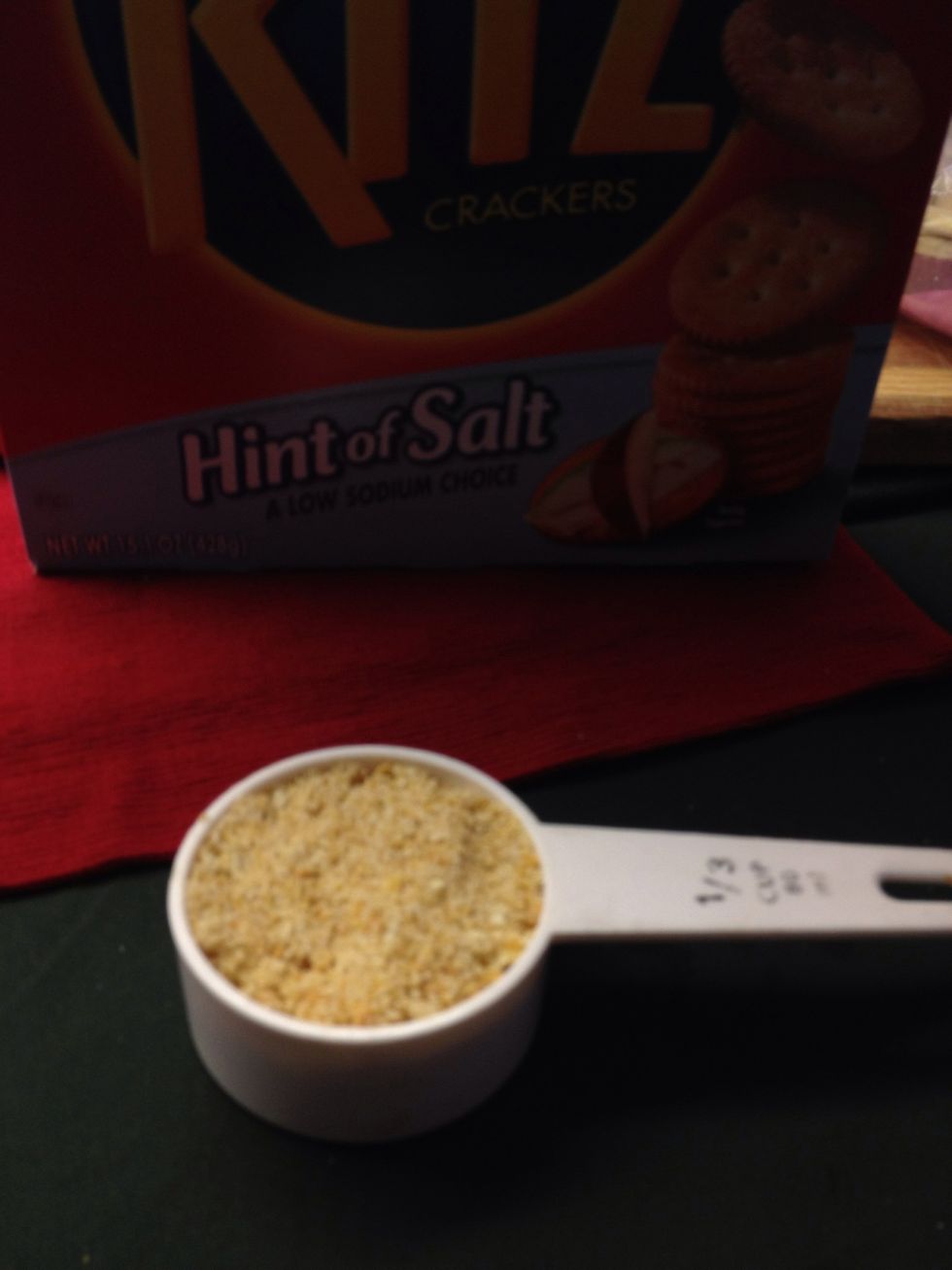 1/3 cup crushed Ritz crackers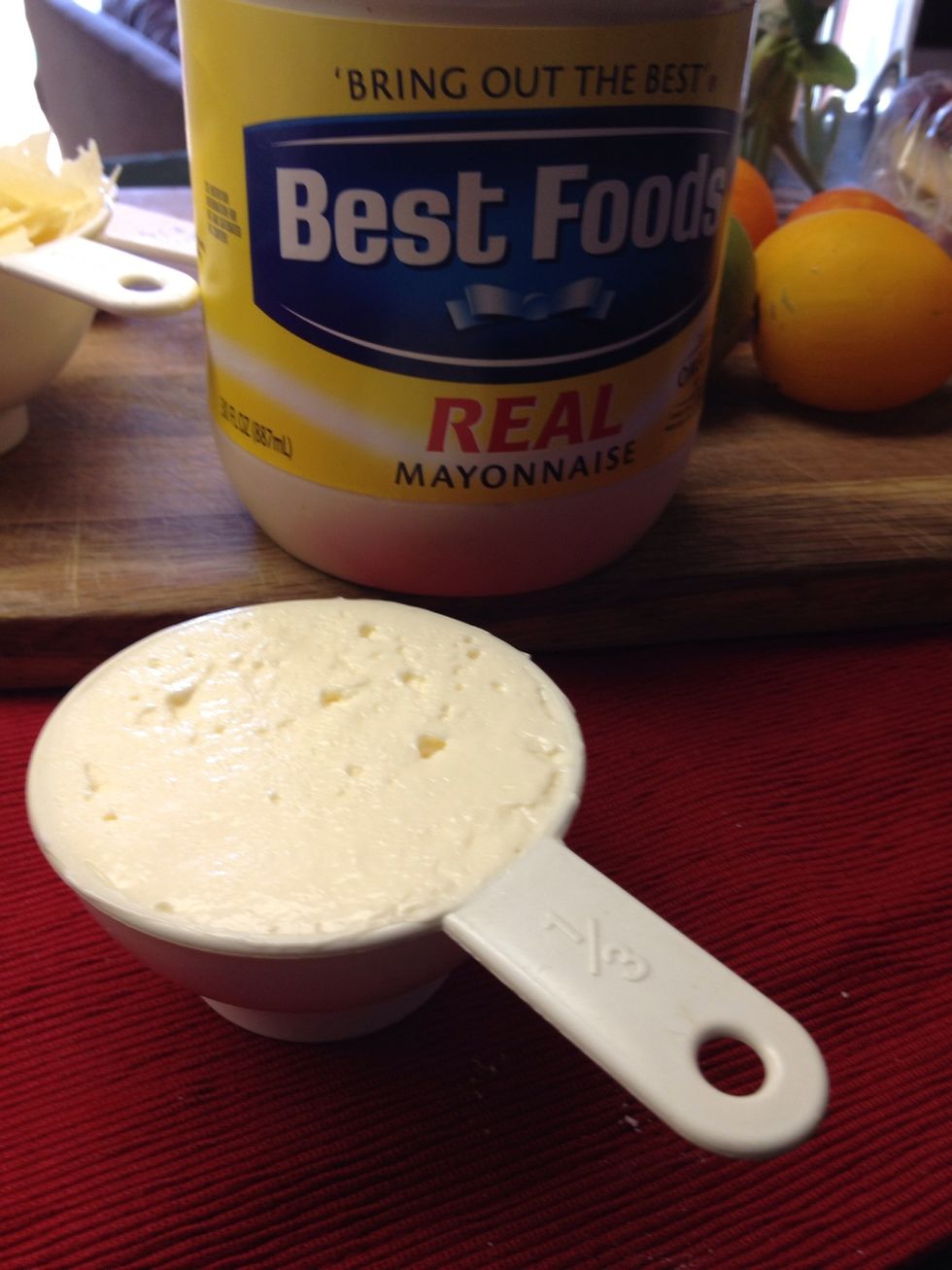 1/3 cup mayonnaise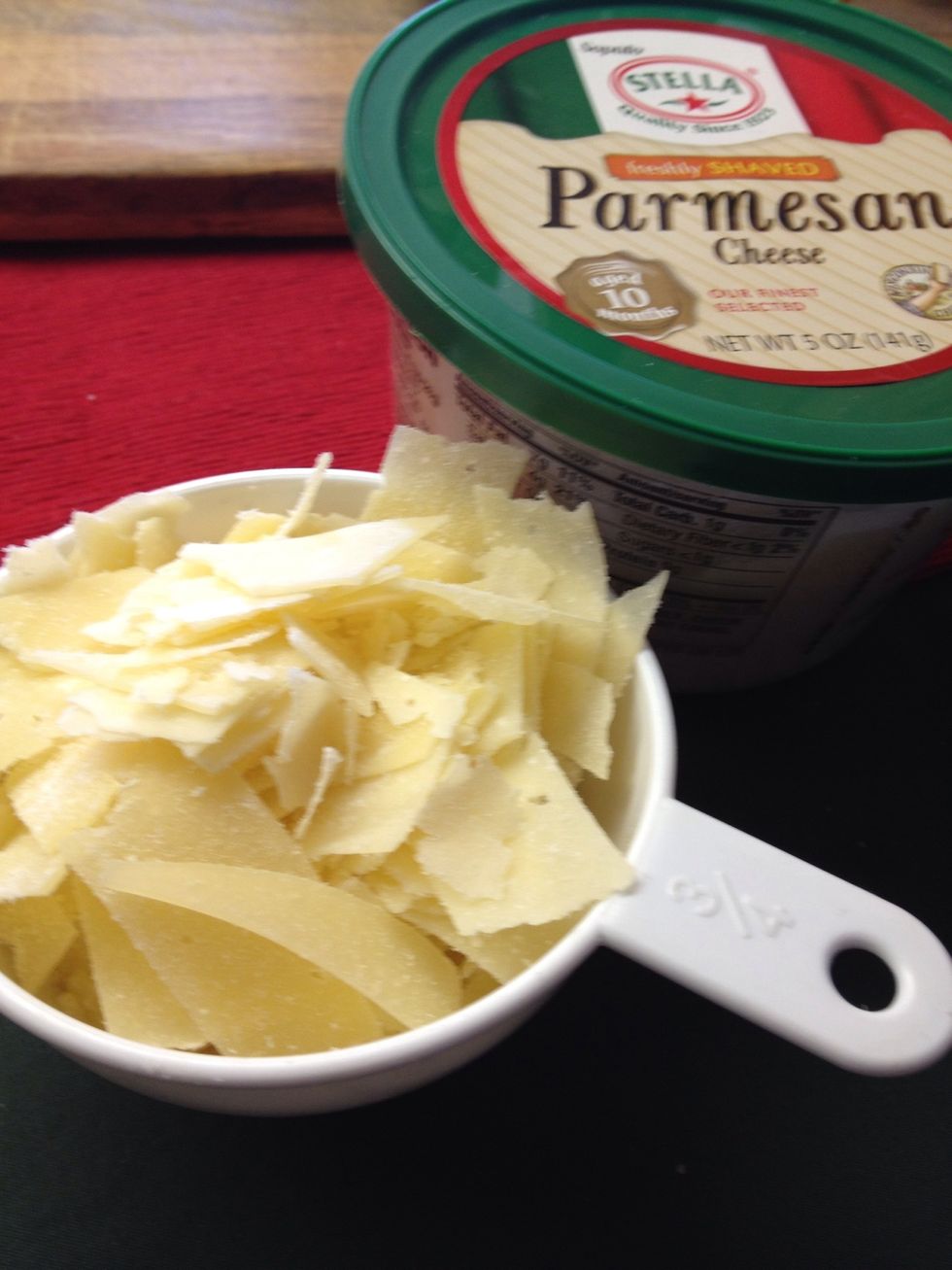 3/4 cup Parmesan cheese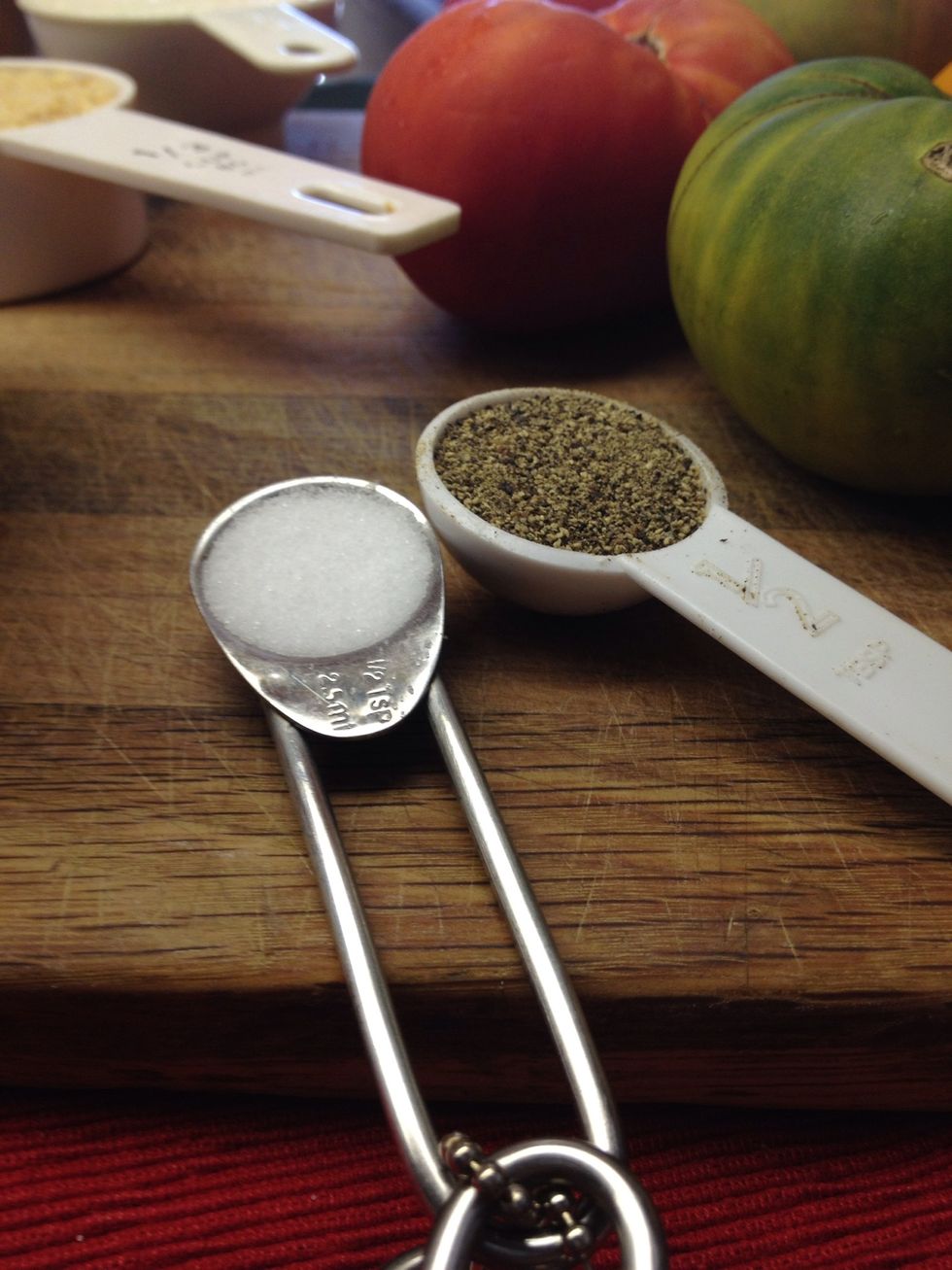 1/4 tsp salt and 1/4 tsp ground pepper
About 8 to 10 basil leaves
Sliced into strips to equal 1/4 cup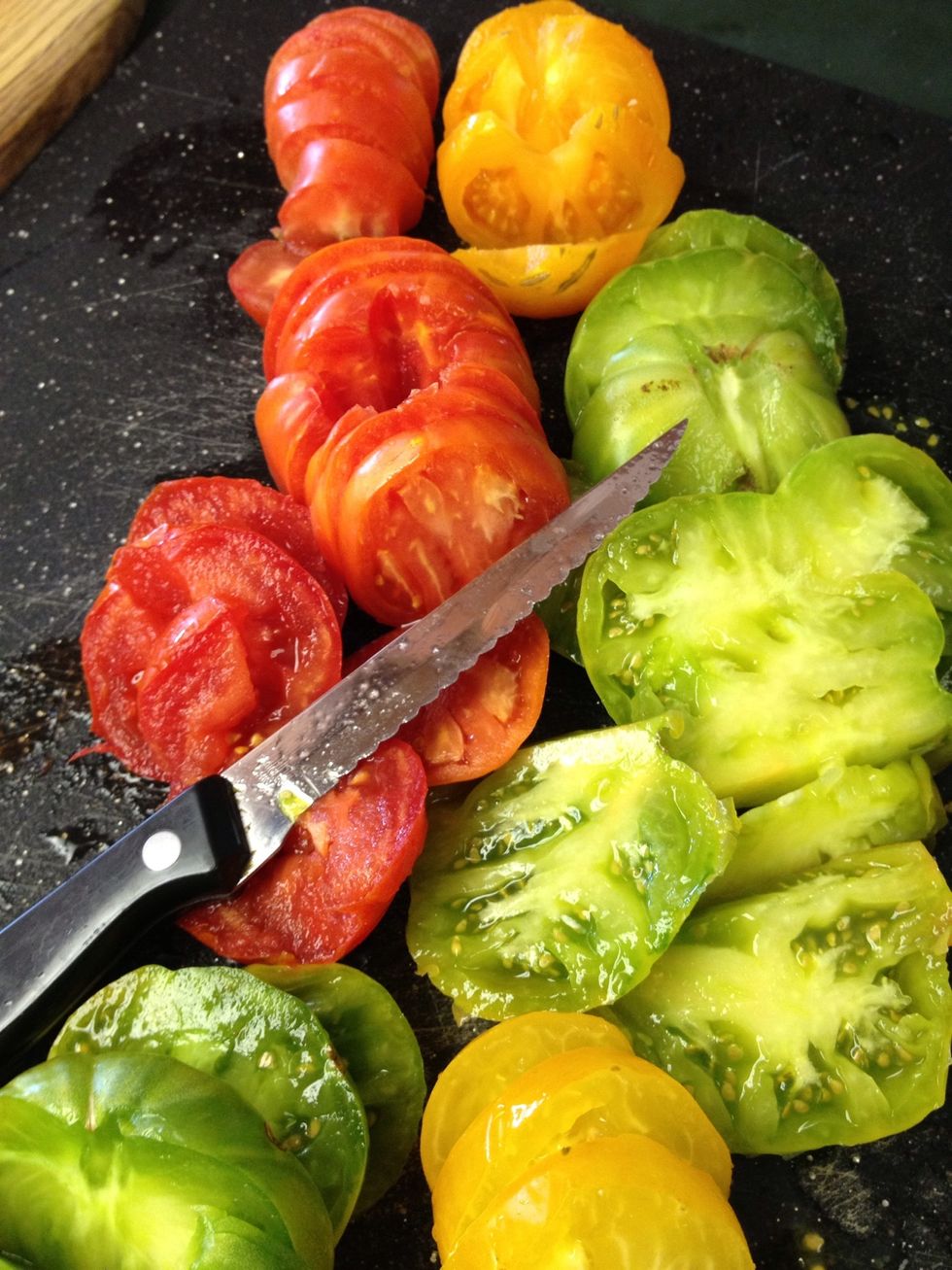 About 7 tomatoes, cored and sliced. The recipe calls for Roma tomatoes which are firmer and less juicy but I wanted to use our sweet Farmer's Market selection.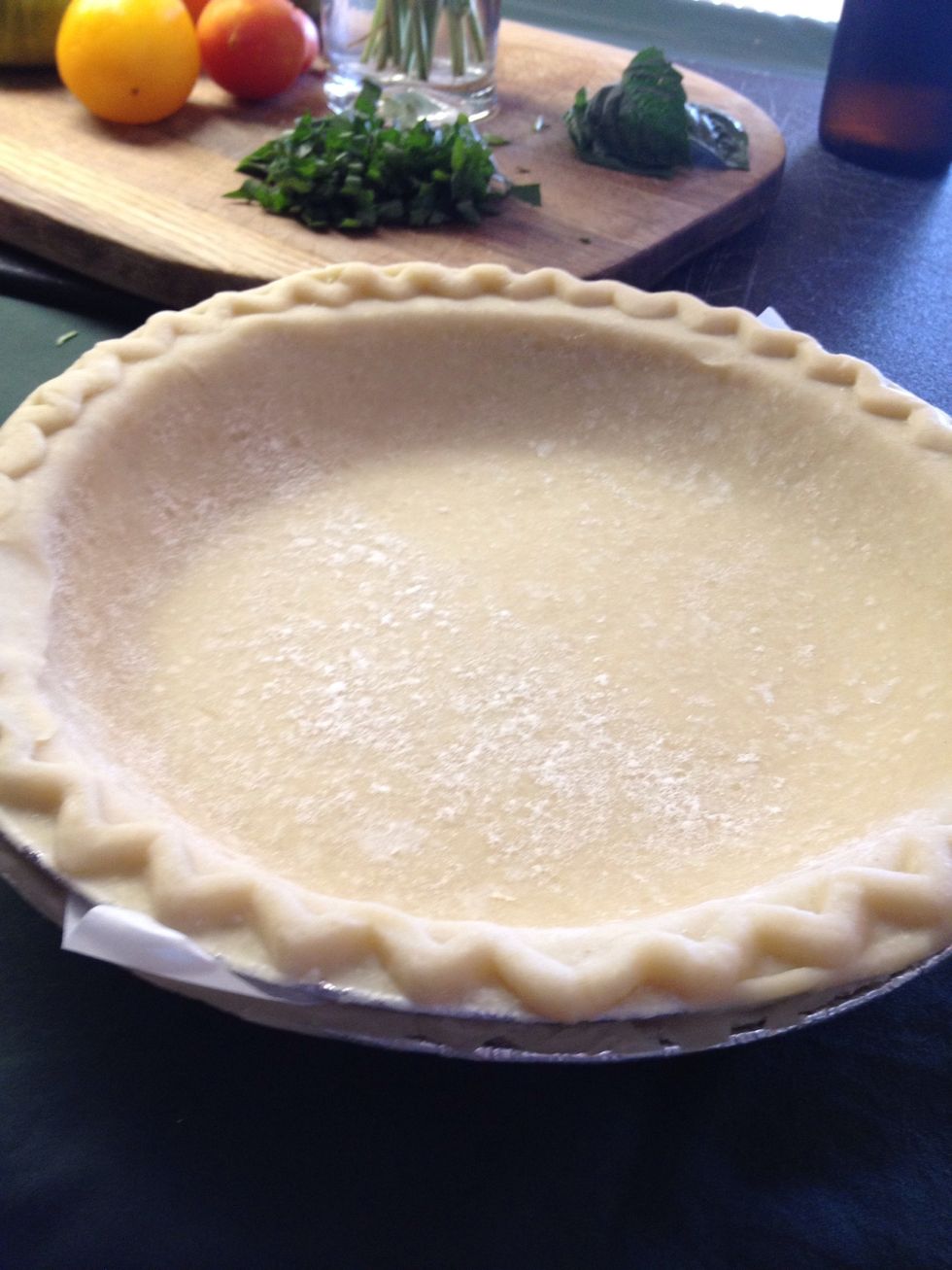 Set out the pie crust until room temperature. This is a store brand crust. I wasn't able to find the Pillsbury brand. (sorry Pillsbury)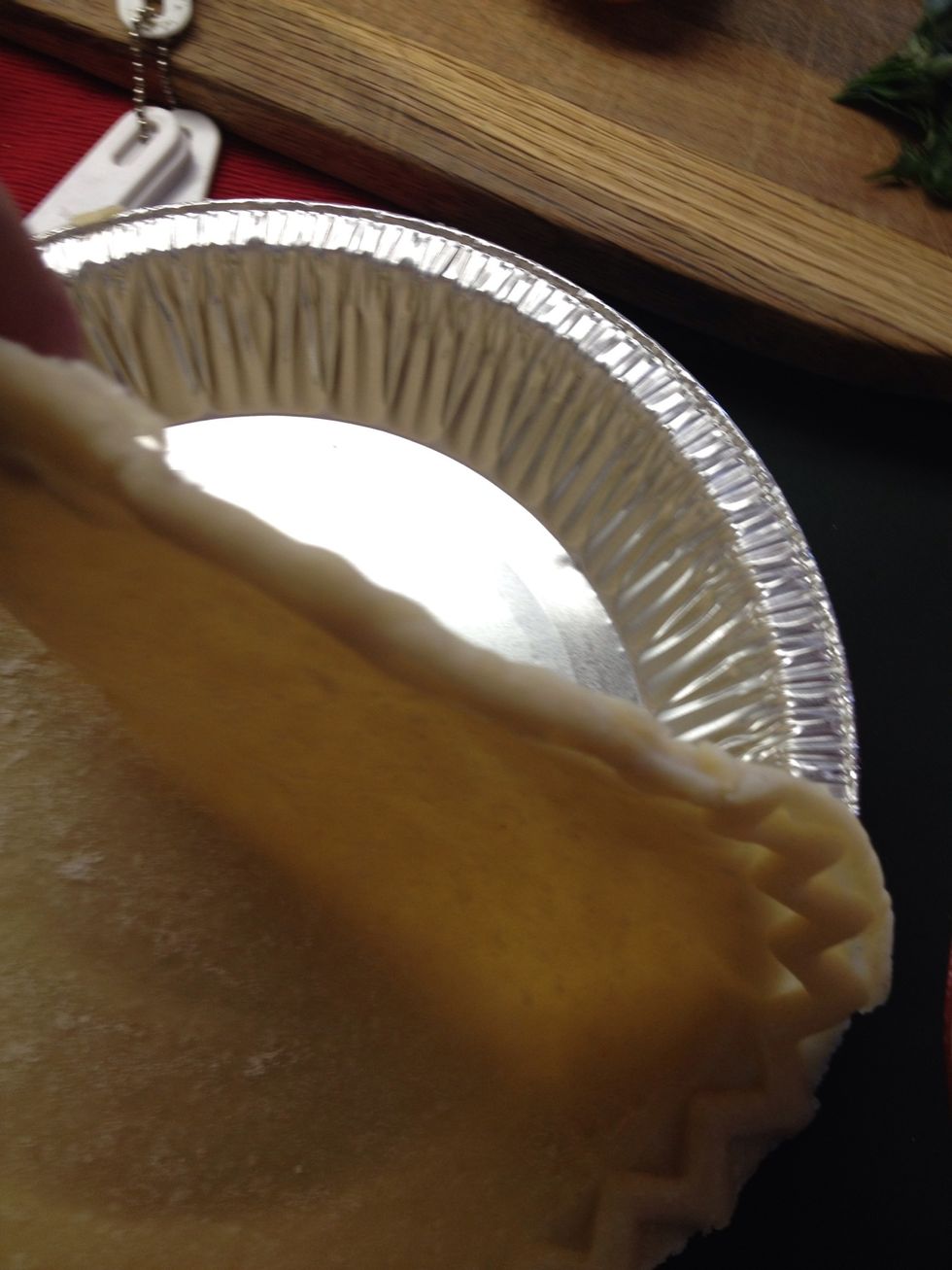 You can cook in the pie pan provided or put it in a prettier 9" oven proof pie plate. The recipe calls for a square tart pan with a removable bottom but I didn't have one.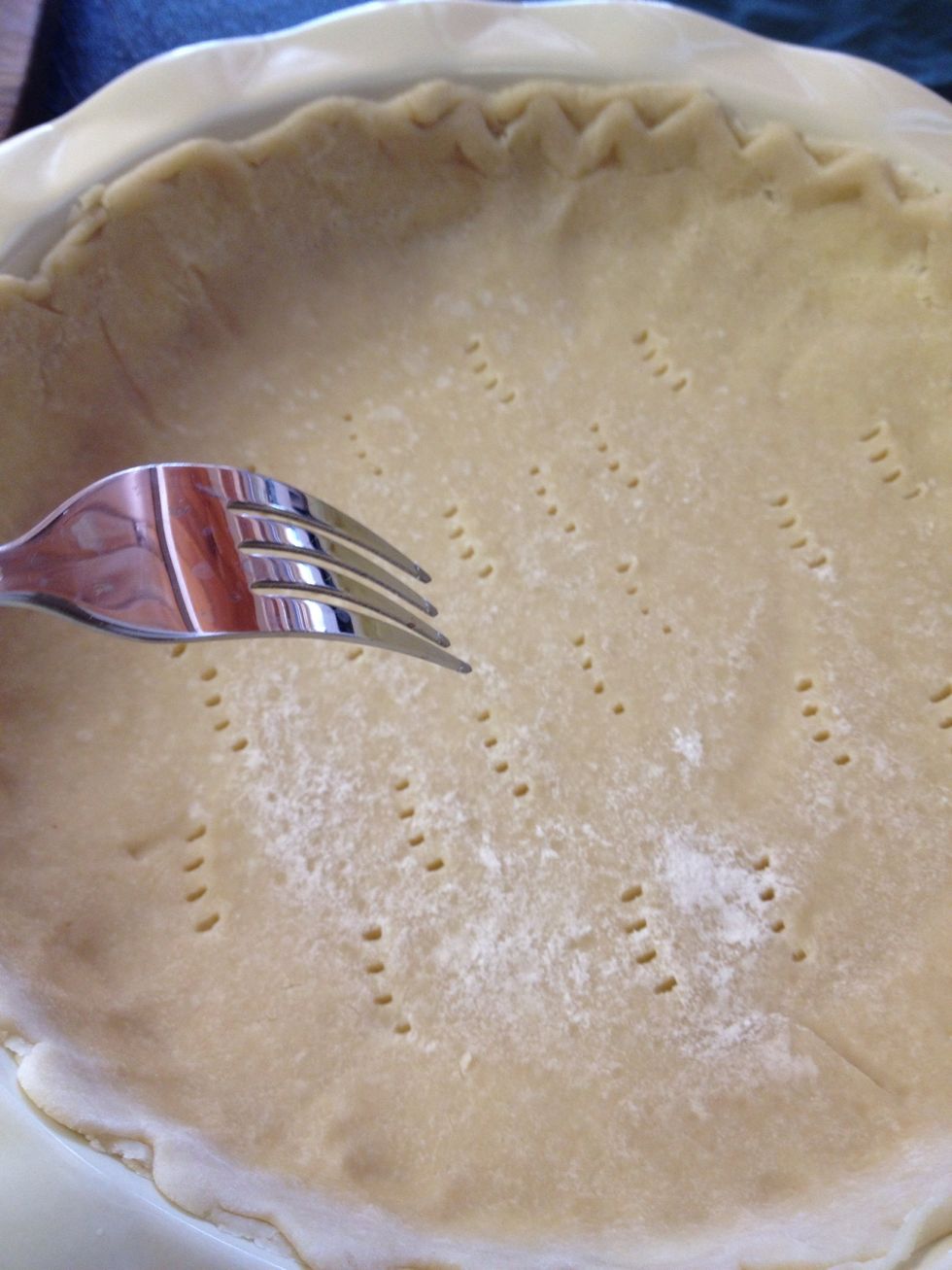 Poke holes in the crust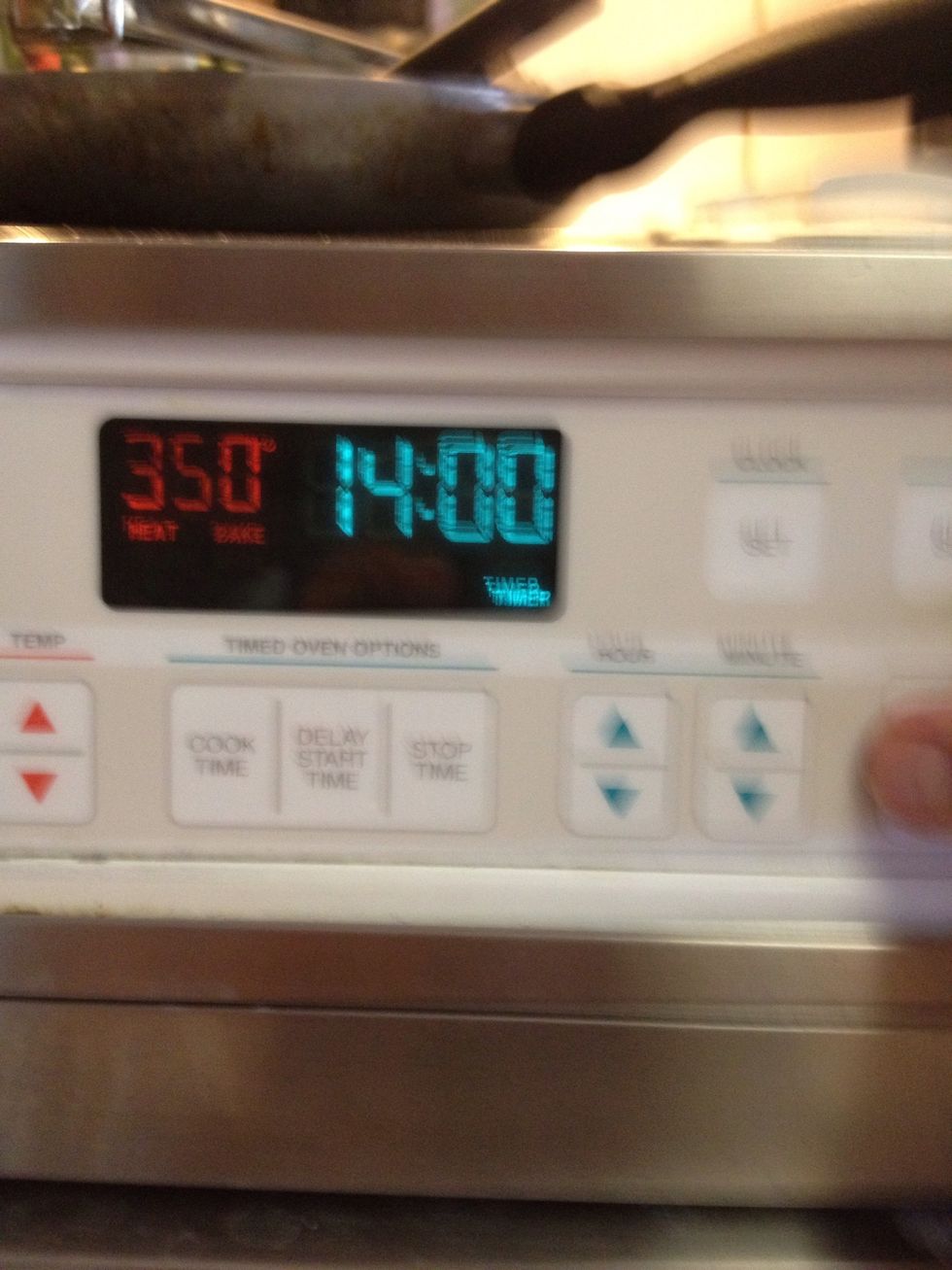 Heat to 350 and bake crust for 14 minutes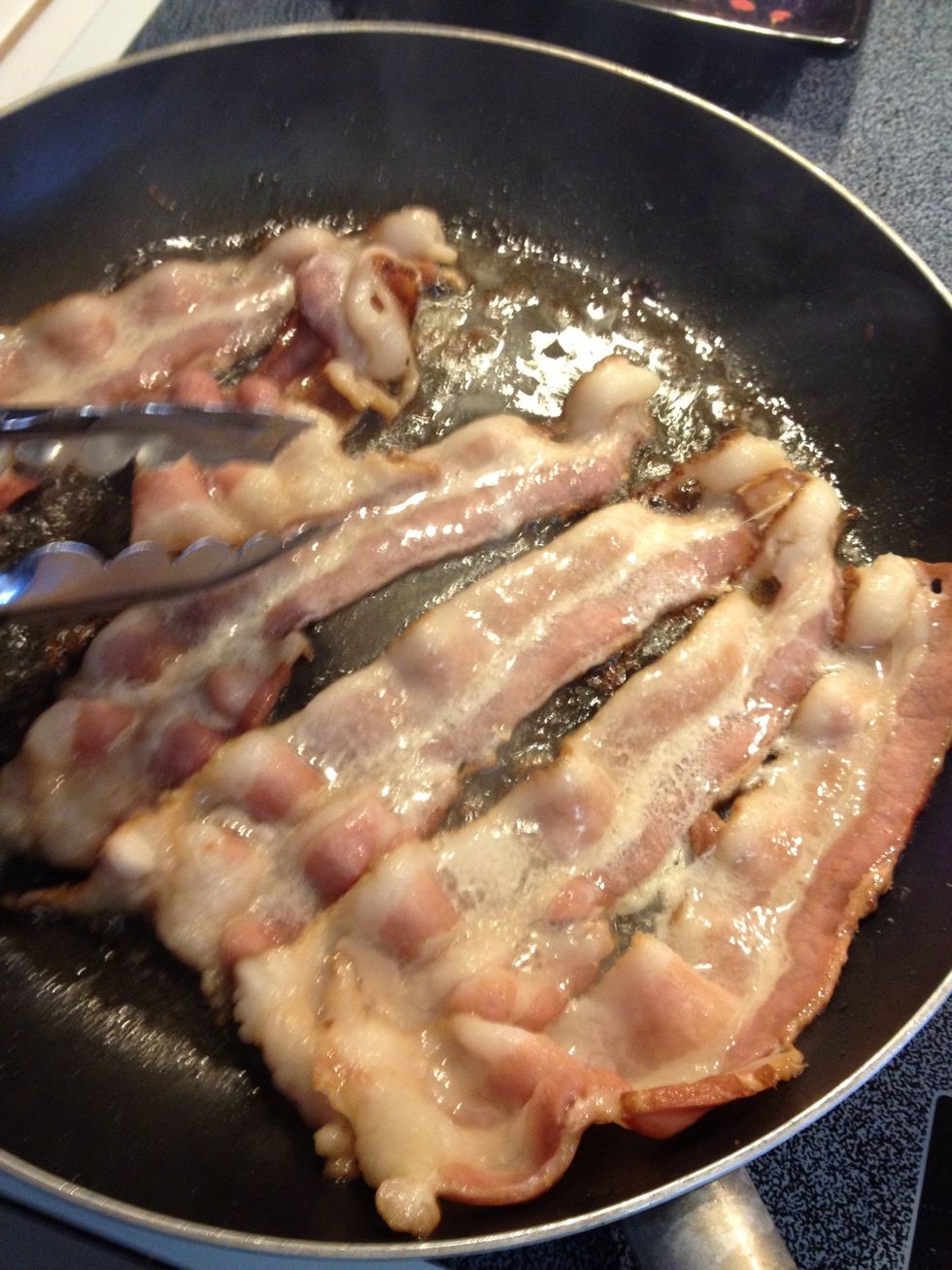 In the mean time fry the bacon and drain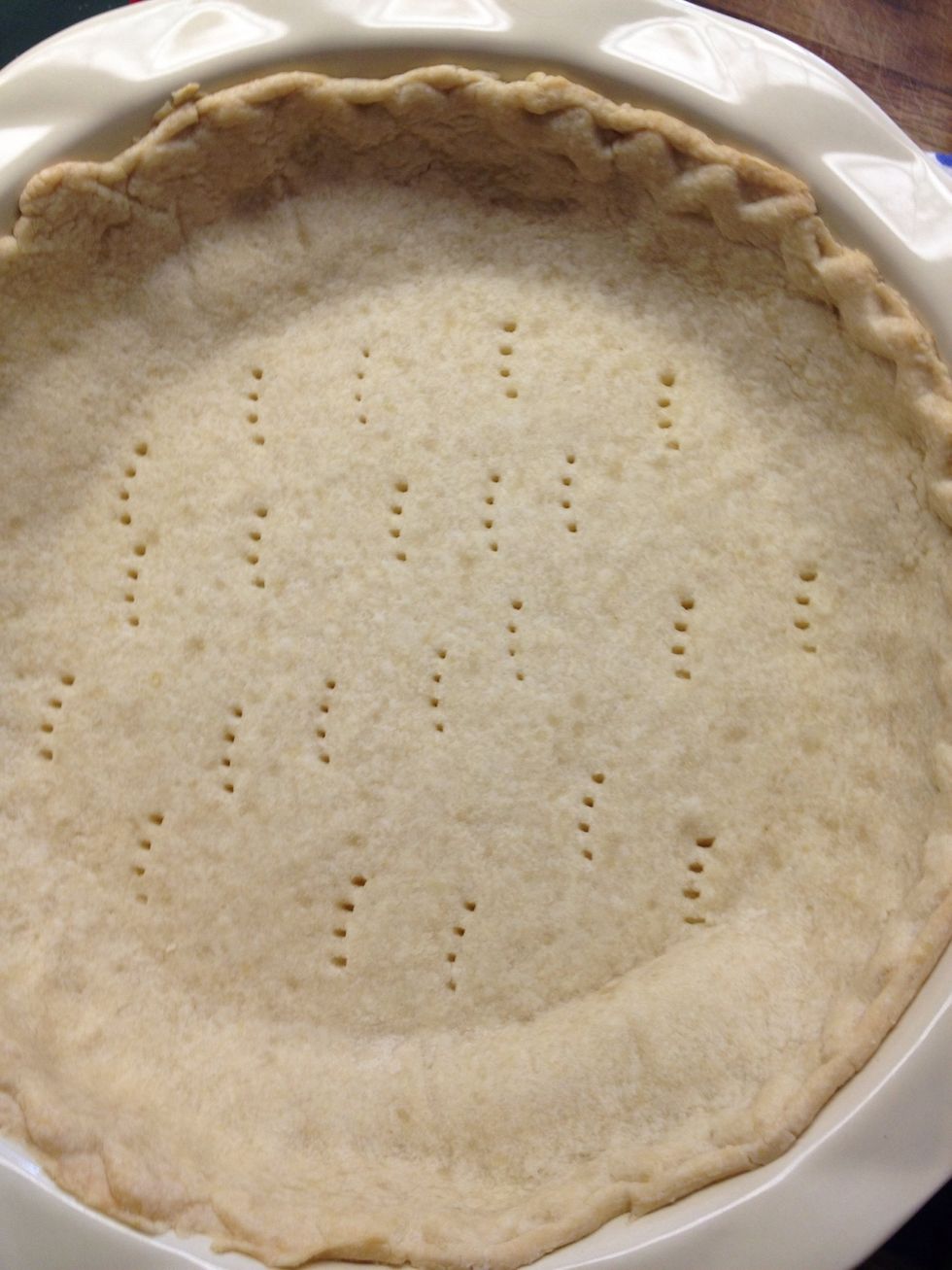 Crust will be slightly golden when removed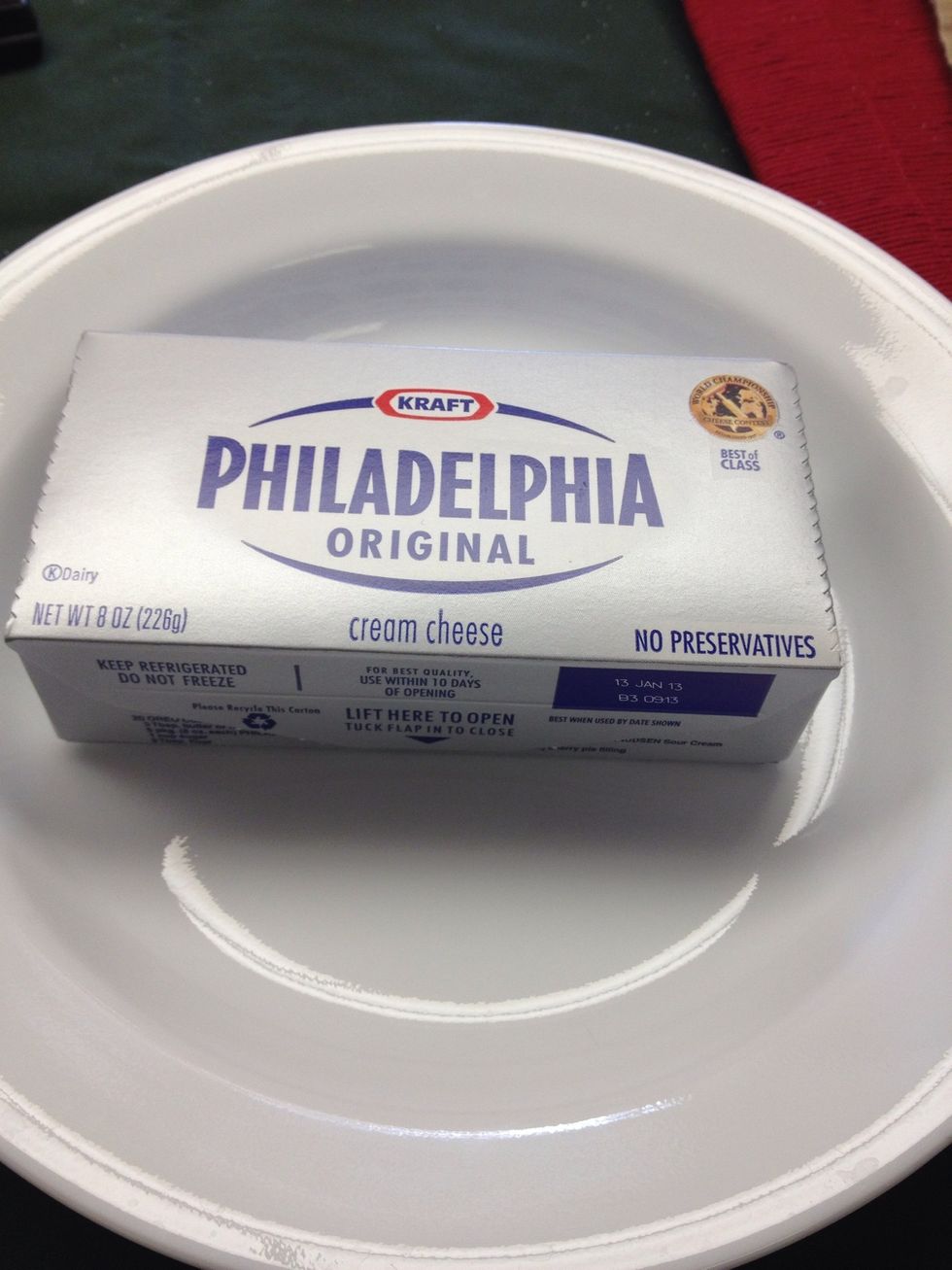 I add my own touch because I like it to be extra savory (dinner and desert all in one!)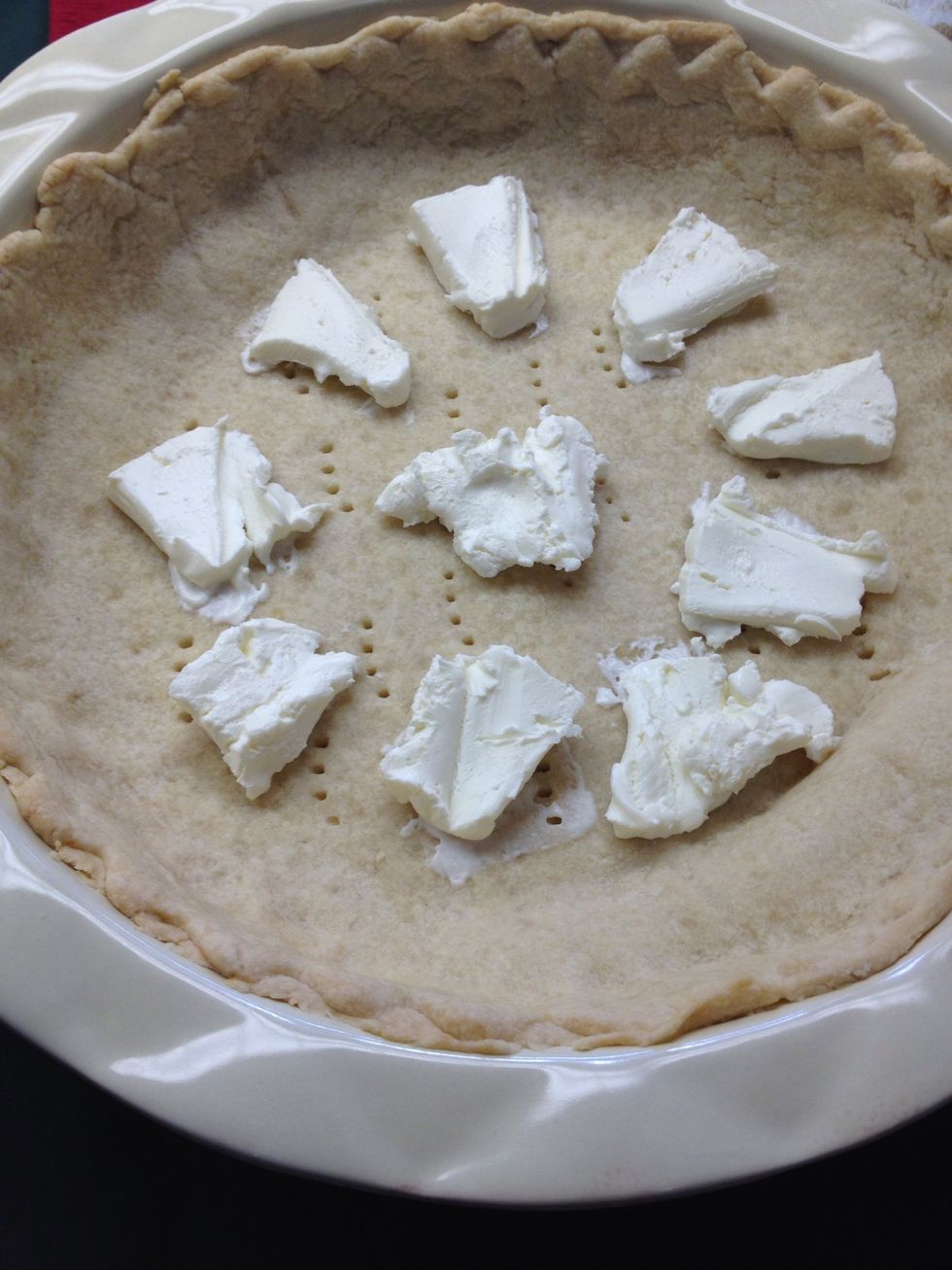 Using about 1/3 of the cube put a dollop of cream cheese on each slice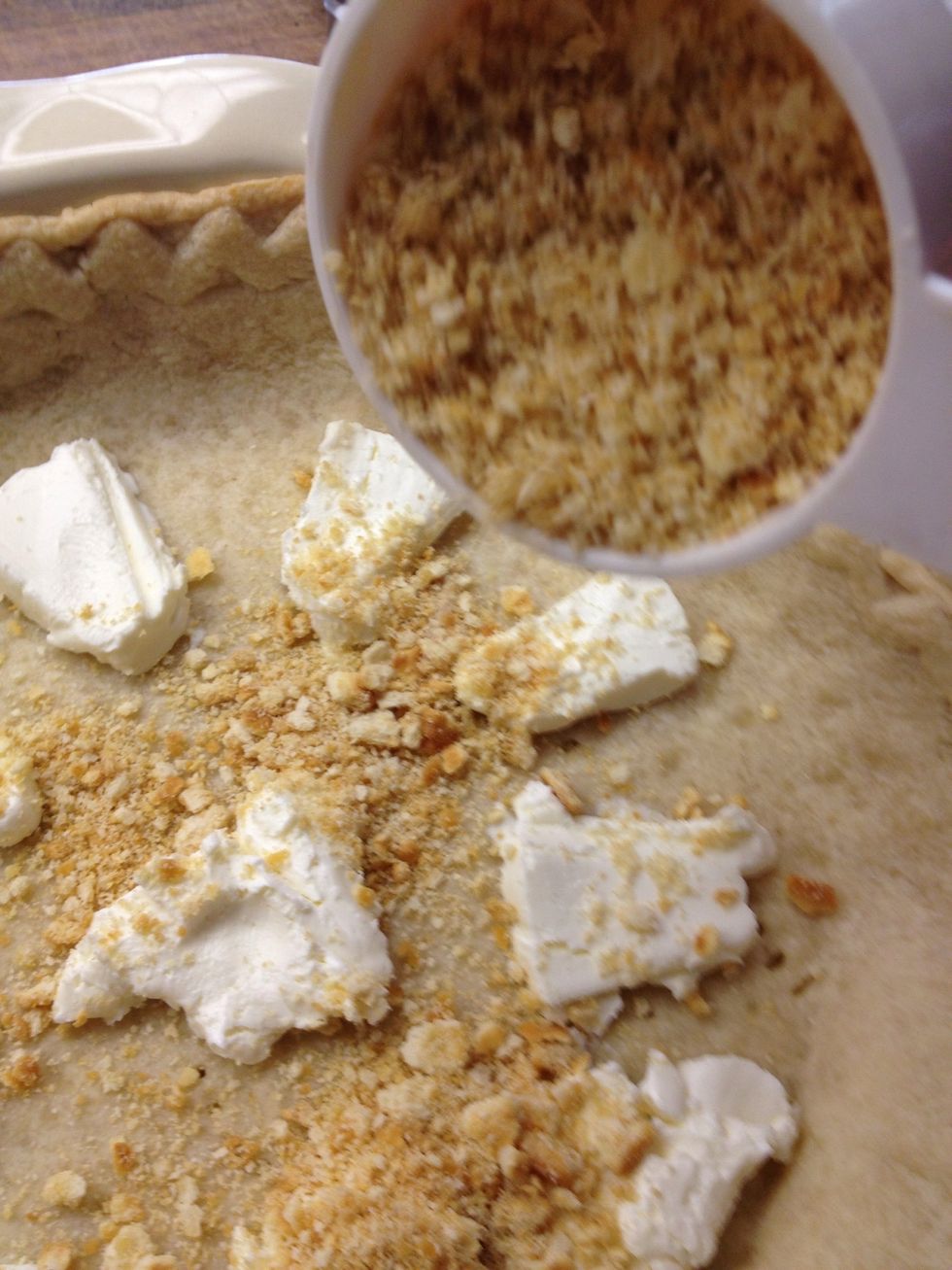 Sprinkle in only half of the 1/3 cup crushed crackers (saving the other half for the top)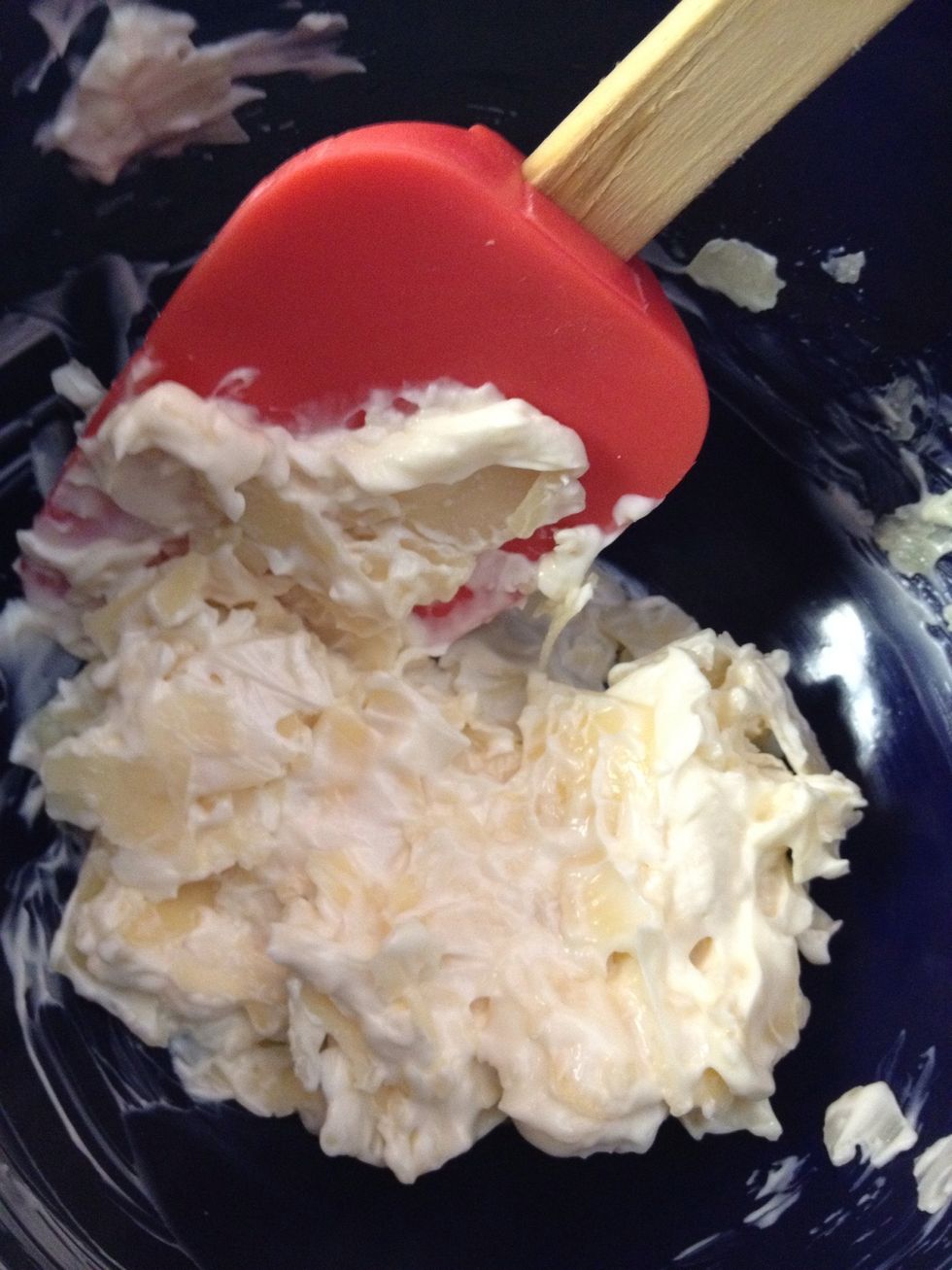 In small bowl mix together the 1/3 cup mayonnaise and the 3/4 cup parmesan cheese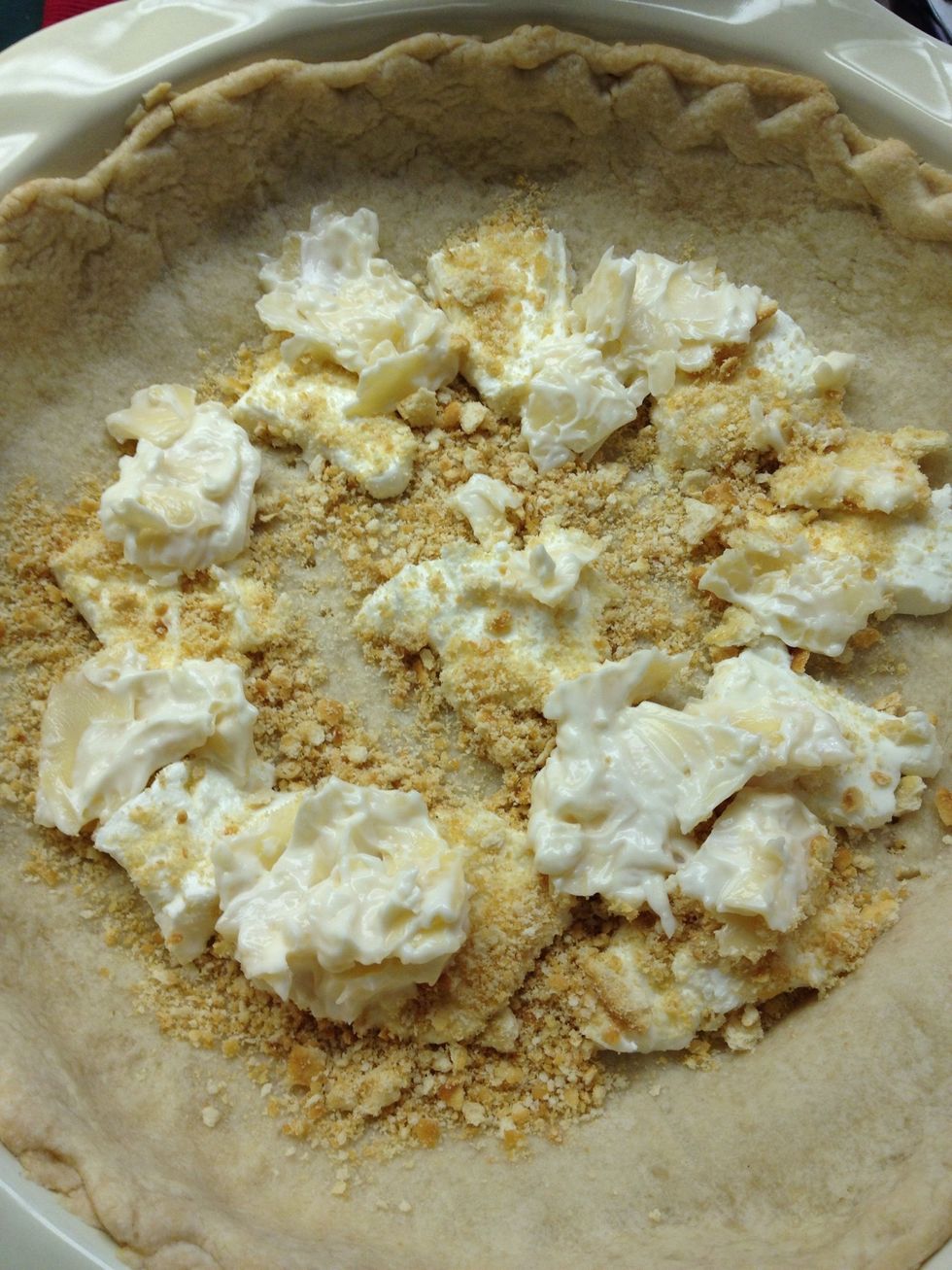 Add in only half the mayonnaise - parmesan cheese mixture by spoon size drops (saving the other half for the top)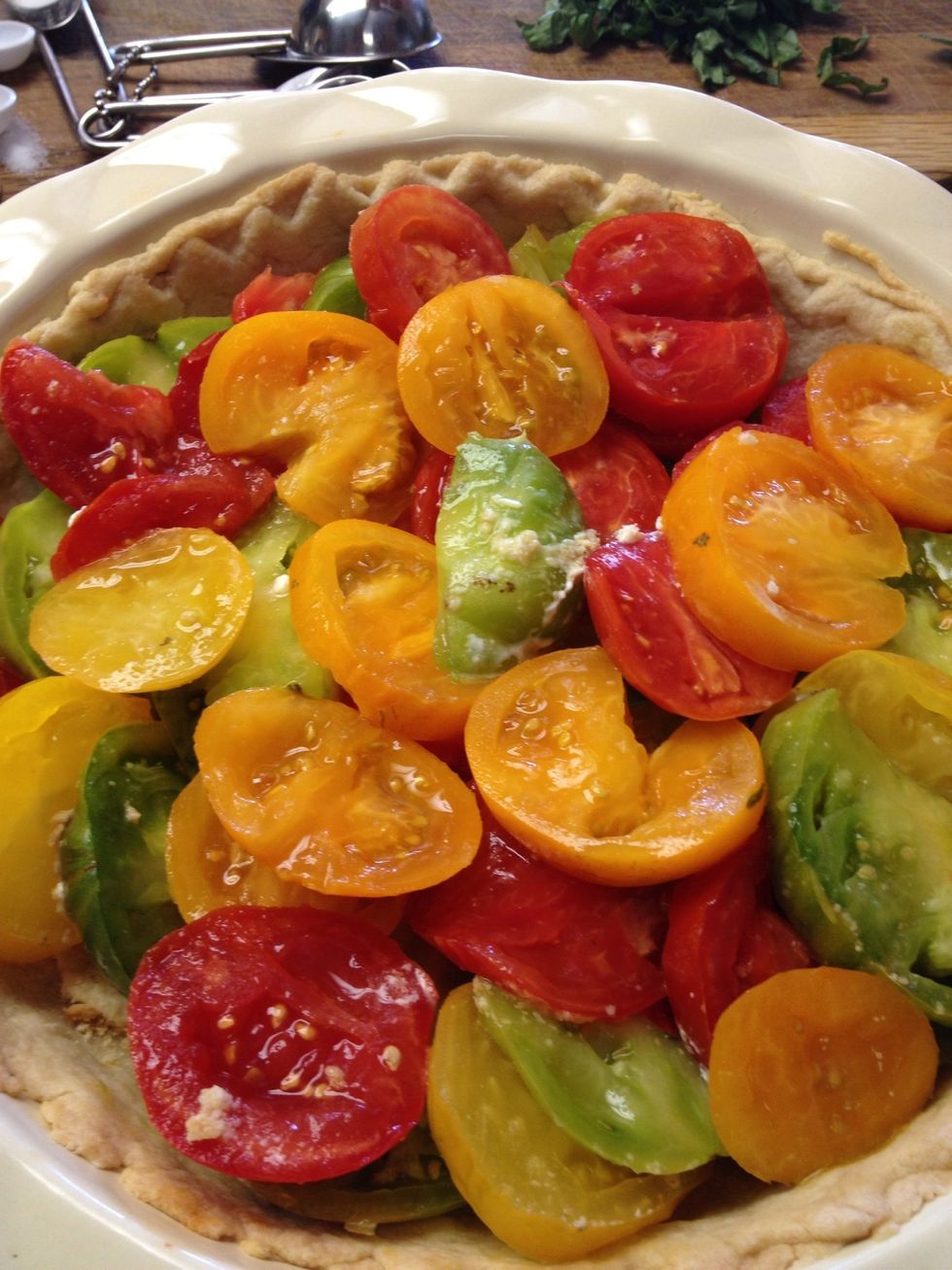 Layer in the tomatoes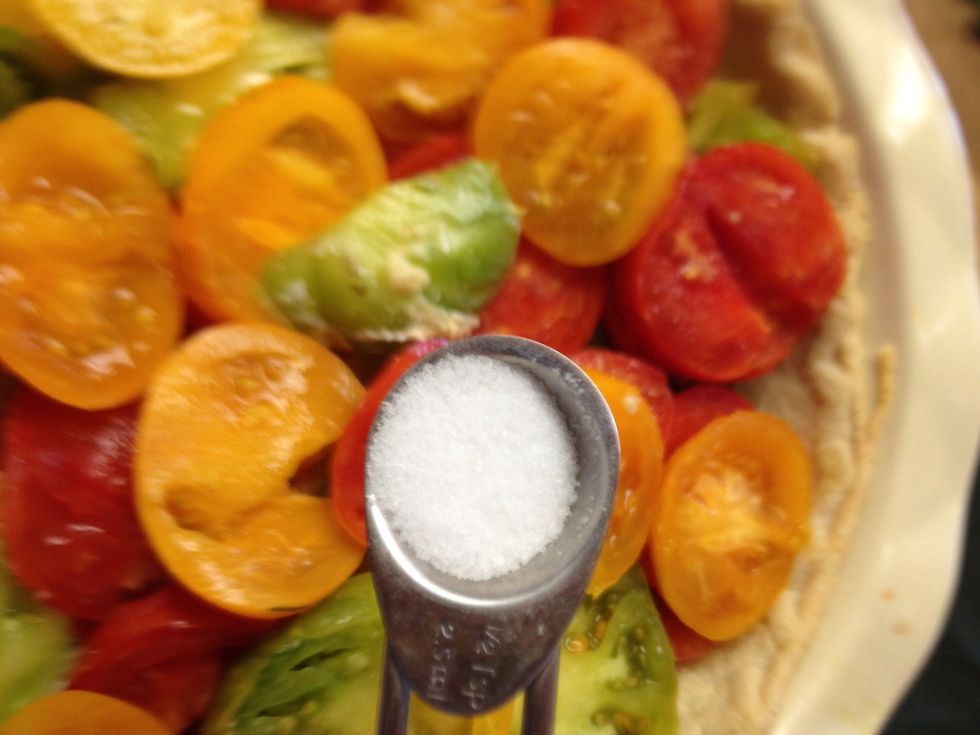 Sprinkle with 1/4 tsp salt and 1/4 tsp pepper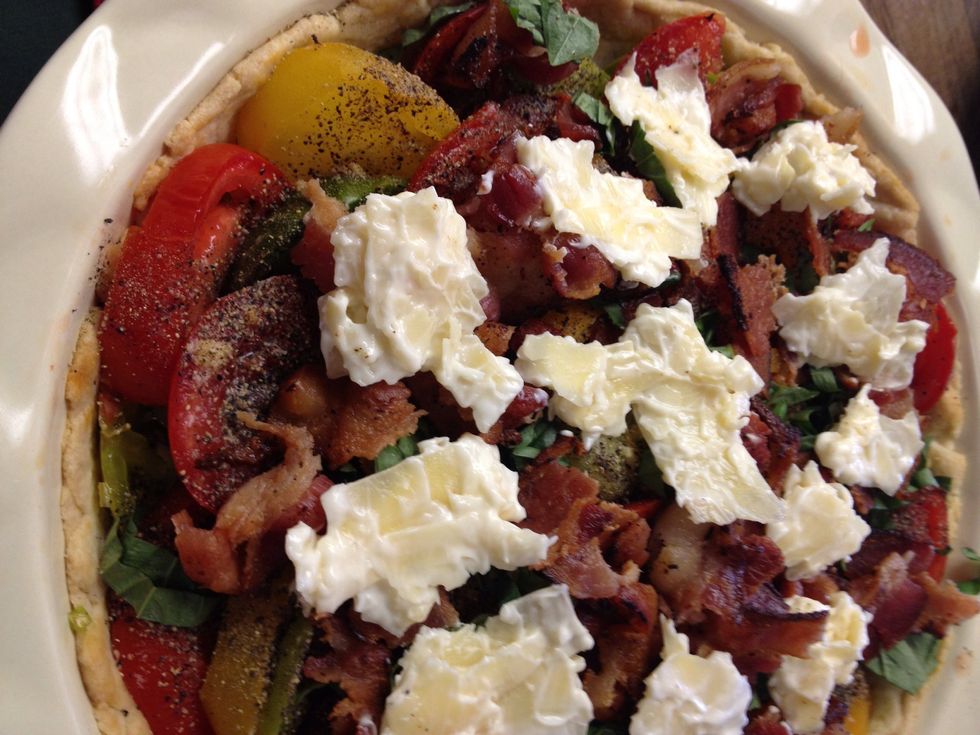 Crumble in the bacon and the basil. Top with spoonfuls of the remaining half of the mayo - parmesan cheese mixture.
Sprinkle the remaining crackers on top and garnish with a few extra basil leaves.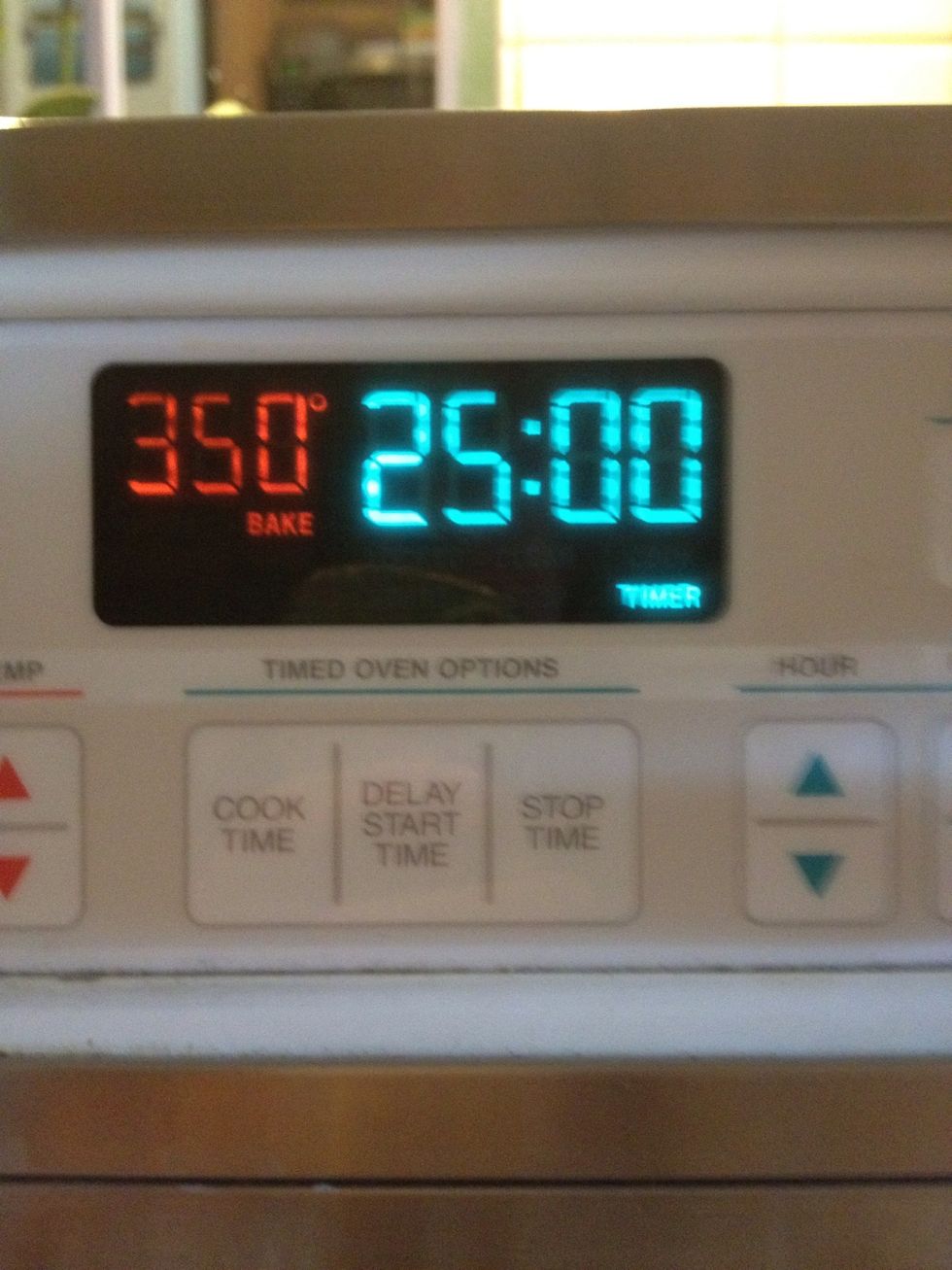 Bake for 20 to 25 minutes on center rack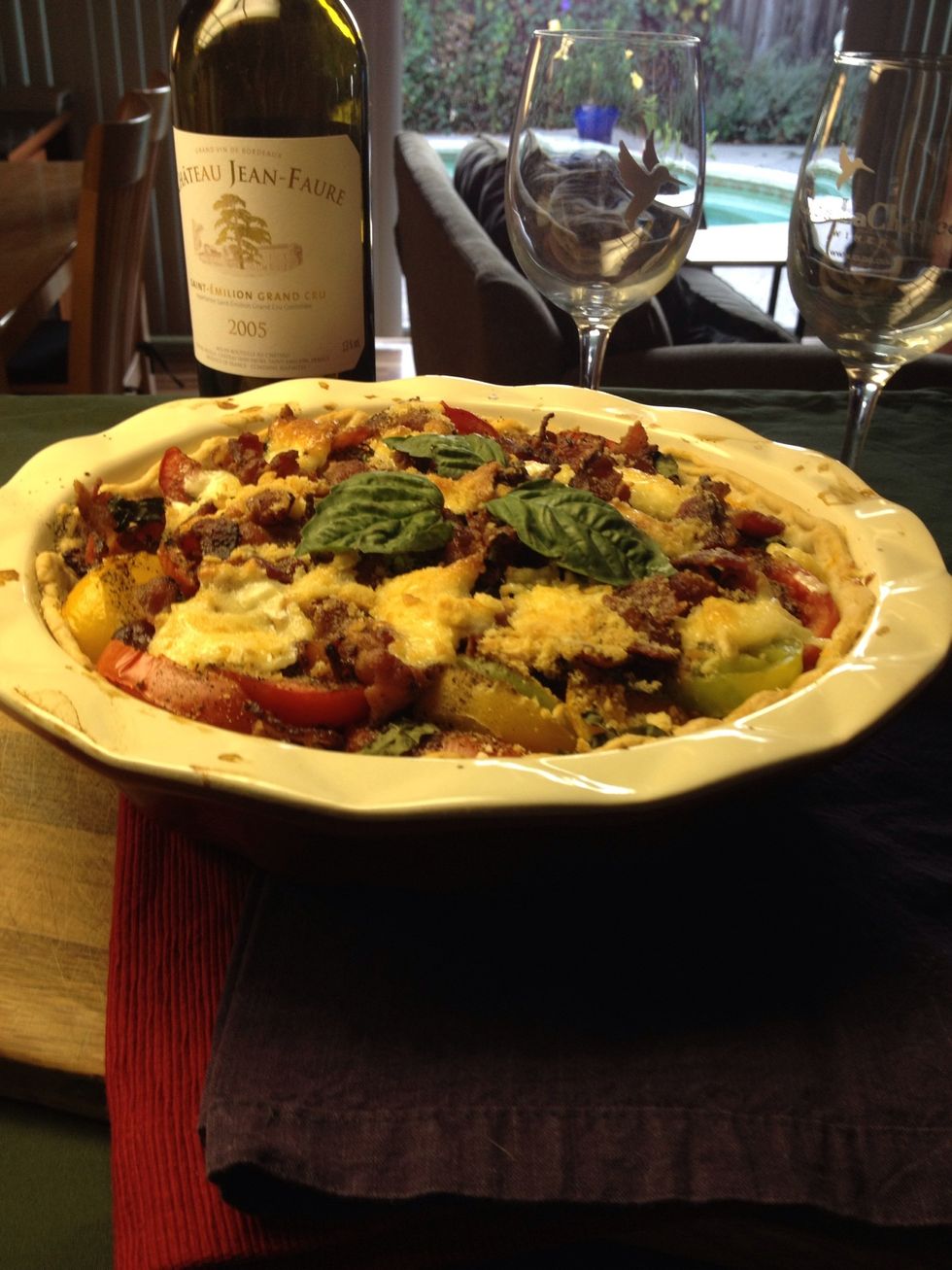 And here is your tart. Well, actually it is a pie because I didn't have the right pan :)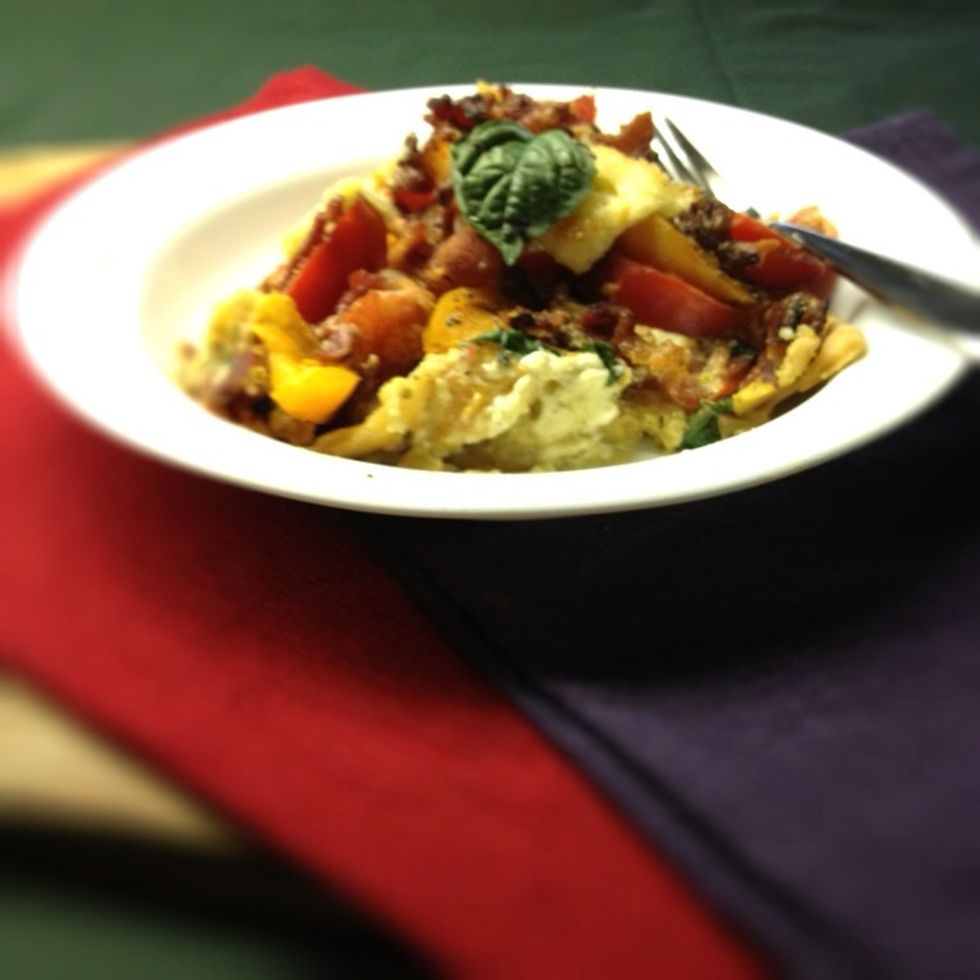 Slice and serve...lifting out with a spatula. With the firmer Roma tomatoes and the right pan the slices will hold together better looking more like a tart. But this was just as tasty!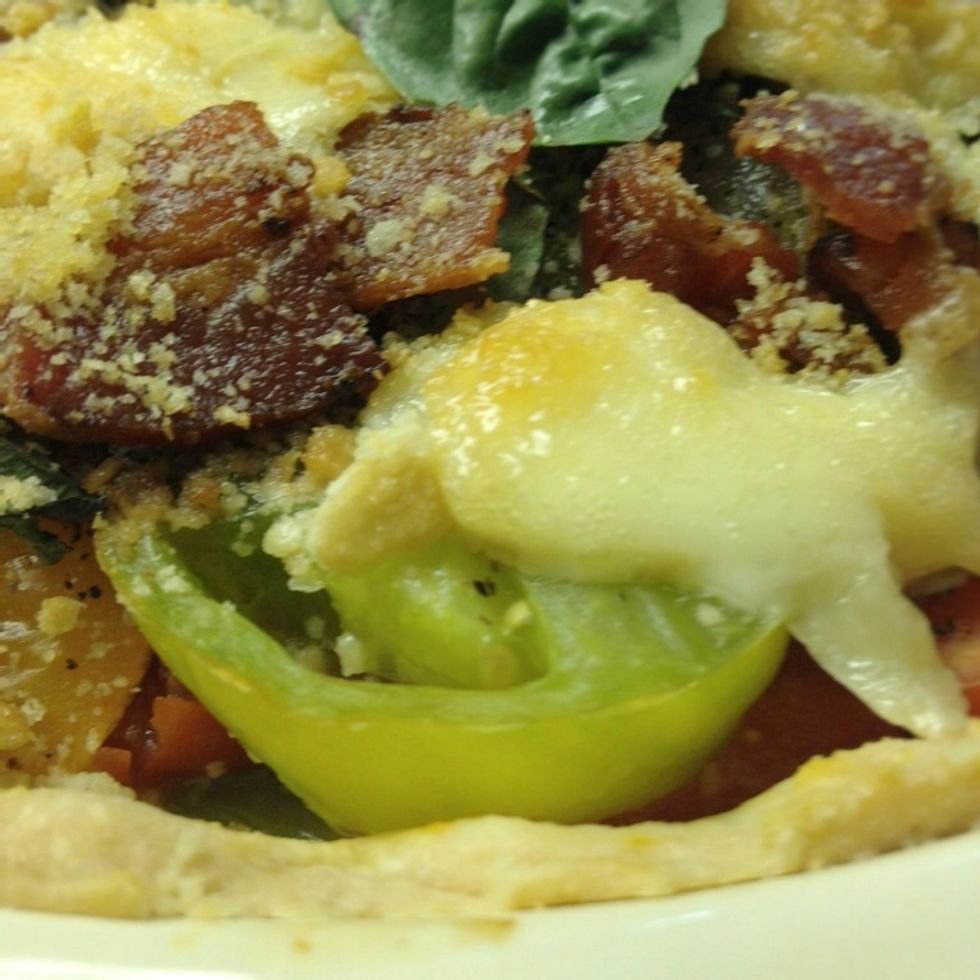 I hope you will enjoy this savory treat :)
For a healthier version use light mayo and crackers with half the fat and omit the cream-cheese. Thanks to all of you who are following me! Feel free to check out my other guides :)
7.0 Roma tomatoes
1/3c Ritz Crackers
1/3c Mayonnaise
3/4c Parmesan cheese
1/4tsp Salt
1/4tsp Pepper
1.0 Frozen pie crust -Pillsbury
1/3c cream cheese (if desired)
6.0 Strips of bacon
Victoria Abel
I enjoy simple pleasures like coffee table picnics, pretty flowers, and photography. Most my guides are 5 ingredients or less or semi-home made.