Make a Step Card With Graphic 45 Christmas Carol
14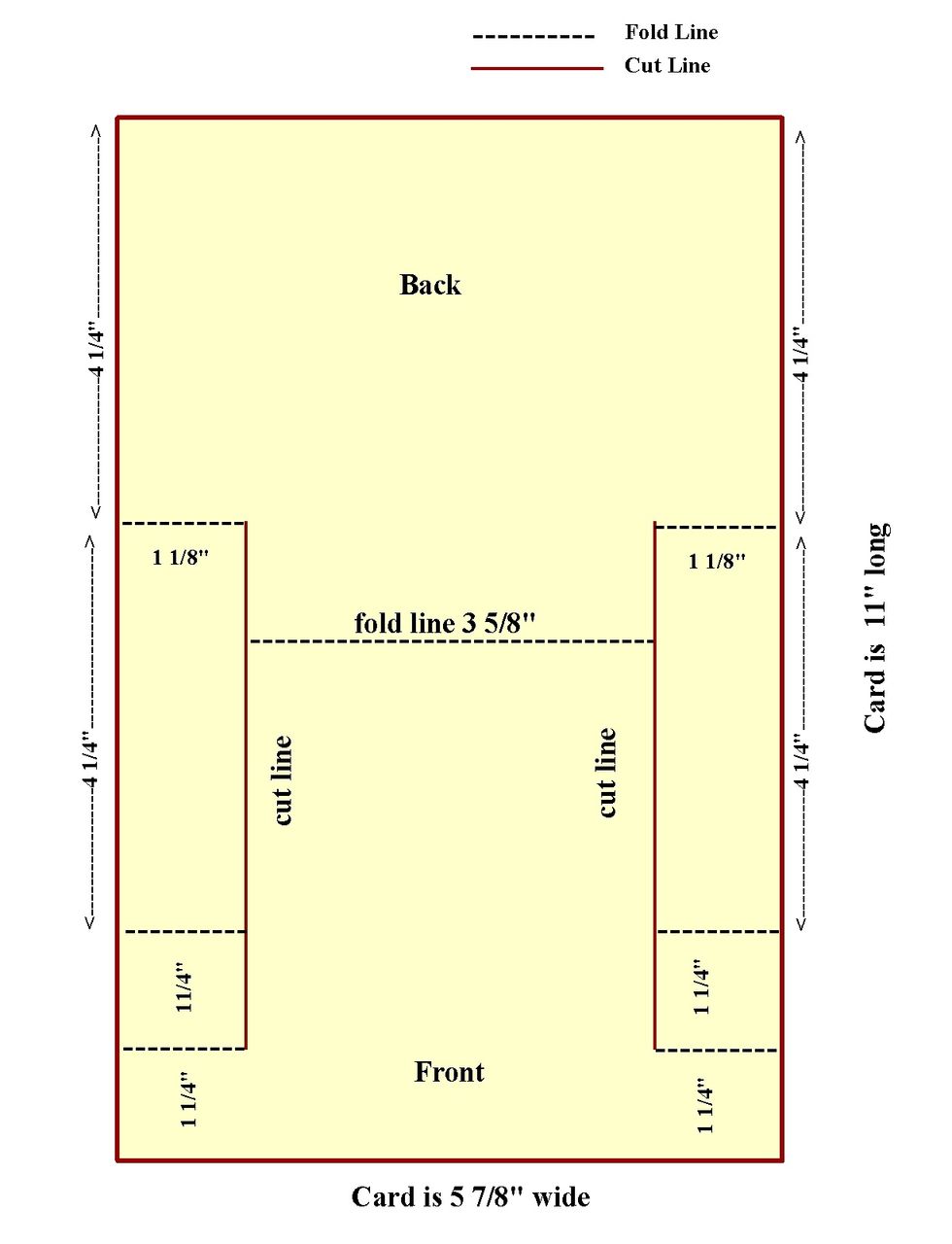 Cut a card base 5 7/8"w x 11 7/8" L following this template. See the next page for a picture of the cut out card. Printable template on my blog.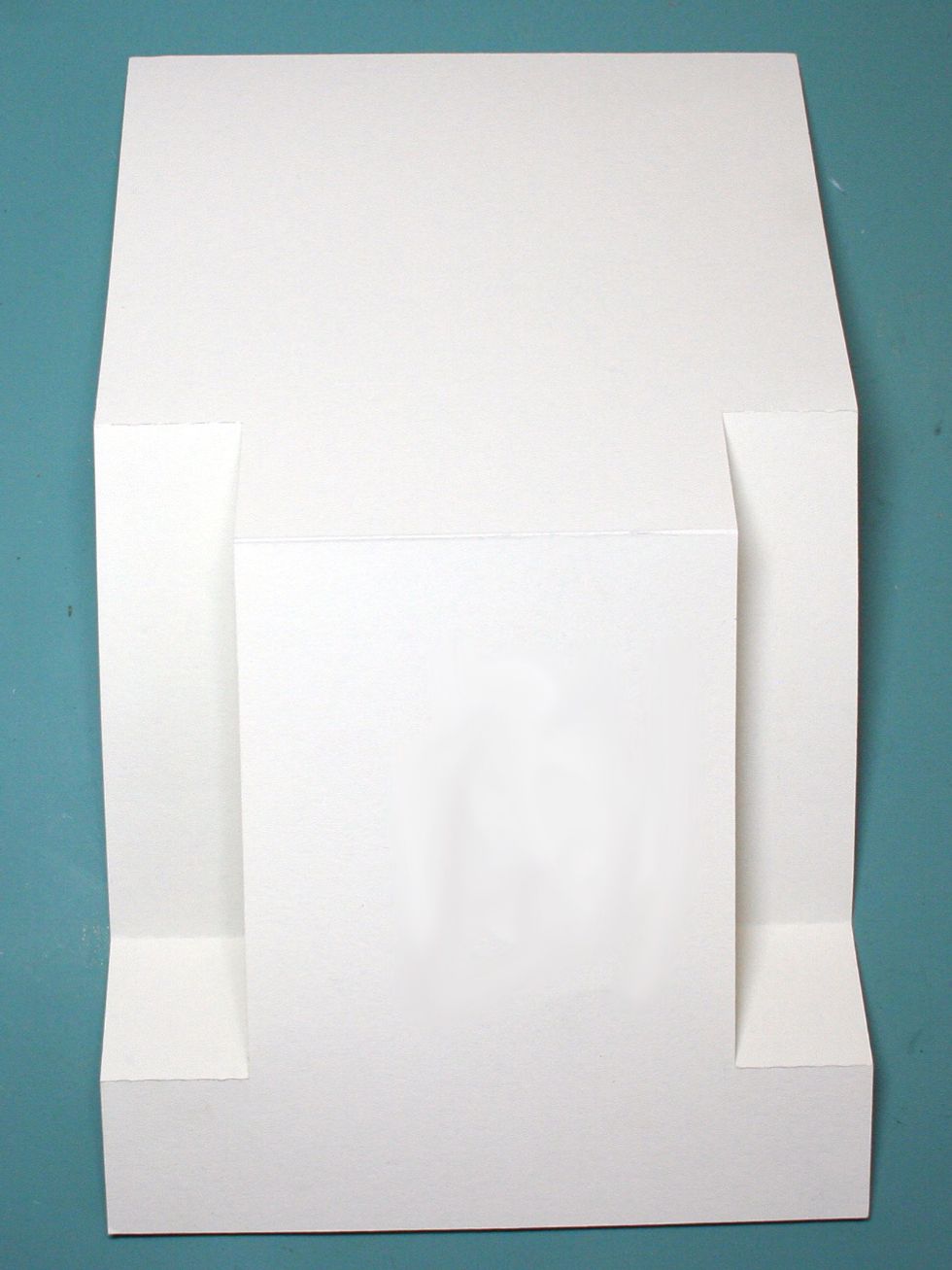 This is what the card should look like after you have cut it out and made the appropriate folds.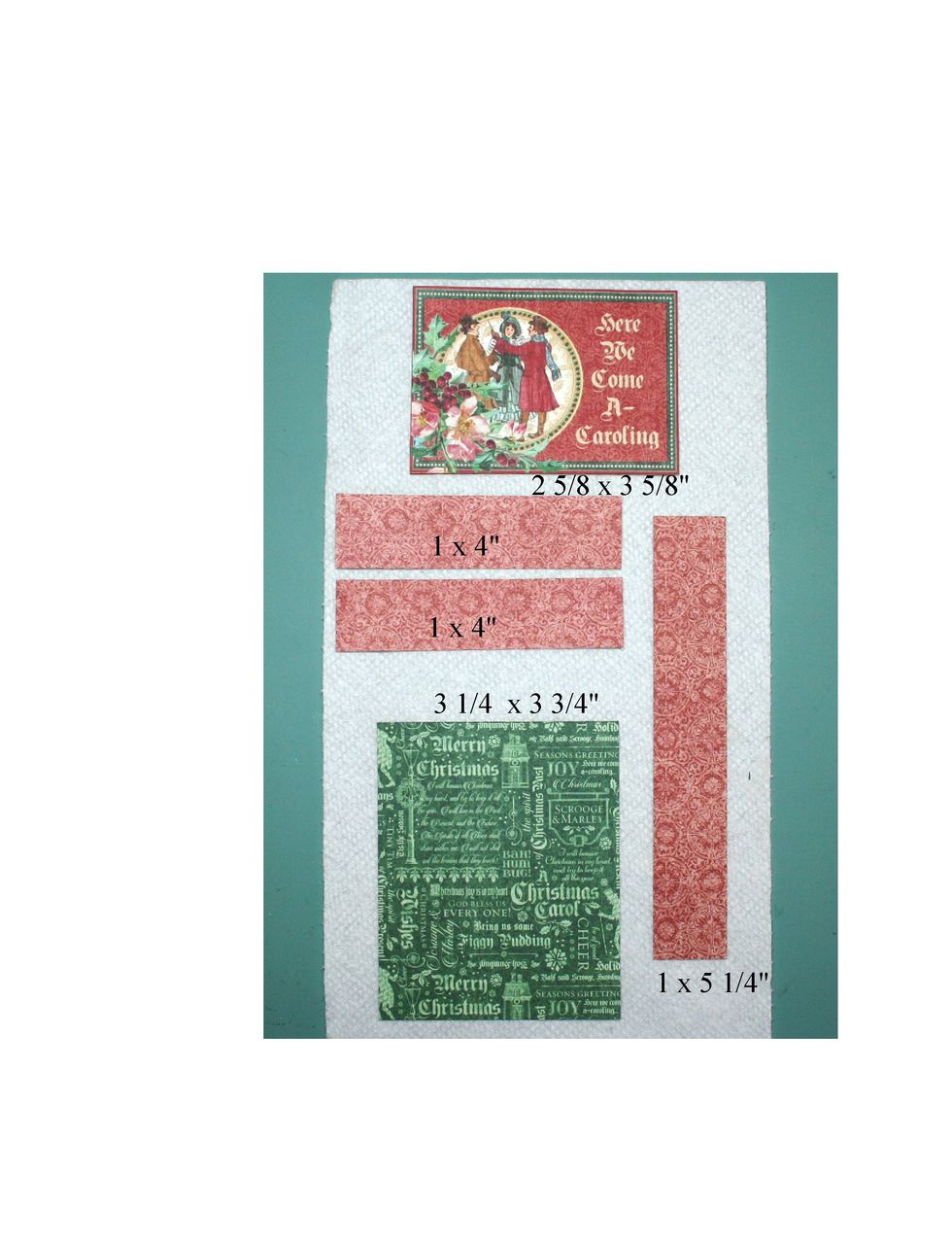 Cut strips as shown from the 6 x 6 Patterns & Solids pad. Choose an ephmera card & trim the edges as shown. You won't need the green patterned rectangle if you use a diecut pediment shown in step 8.
Dimensions of cut papers: Red strips - 2 @ 1 x 4", 1 @ 1 x 5.25". Green rectangle - 3.25 x 3.75", cut apart: 2 5/8 x 3 5/8"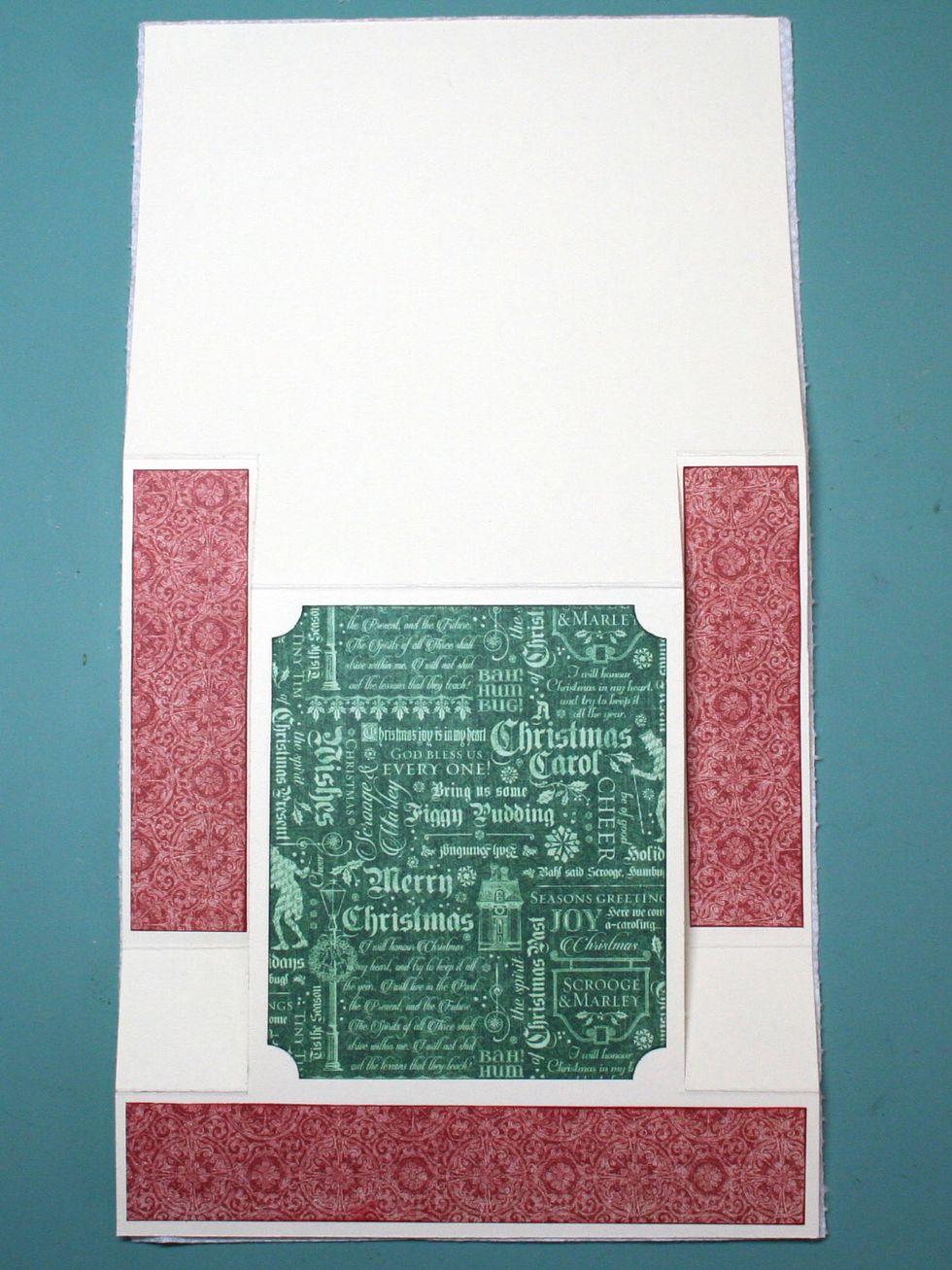 Glue the red strips to the card as shown. The vertical strips are centered on the strip between the fold lines. Omit the green pp if you chose to use a pediment as I did in step 8.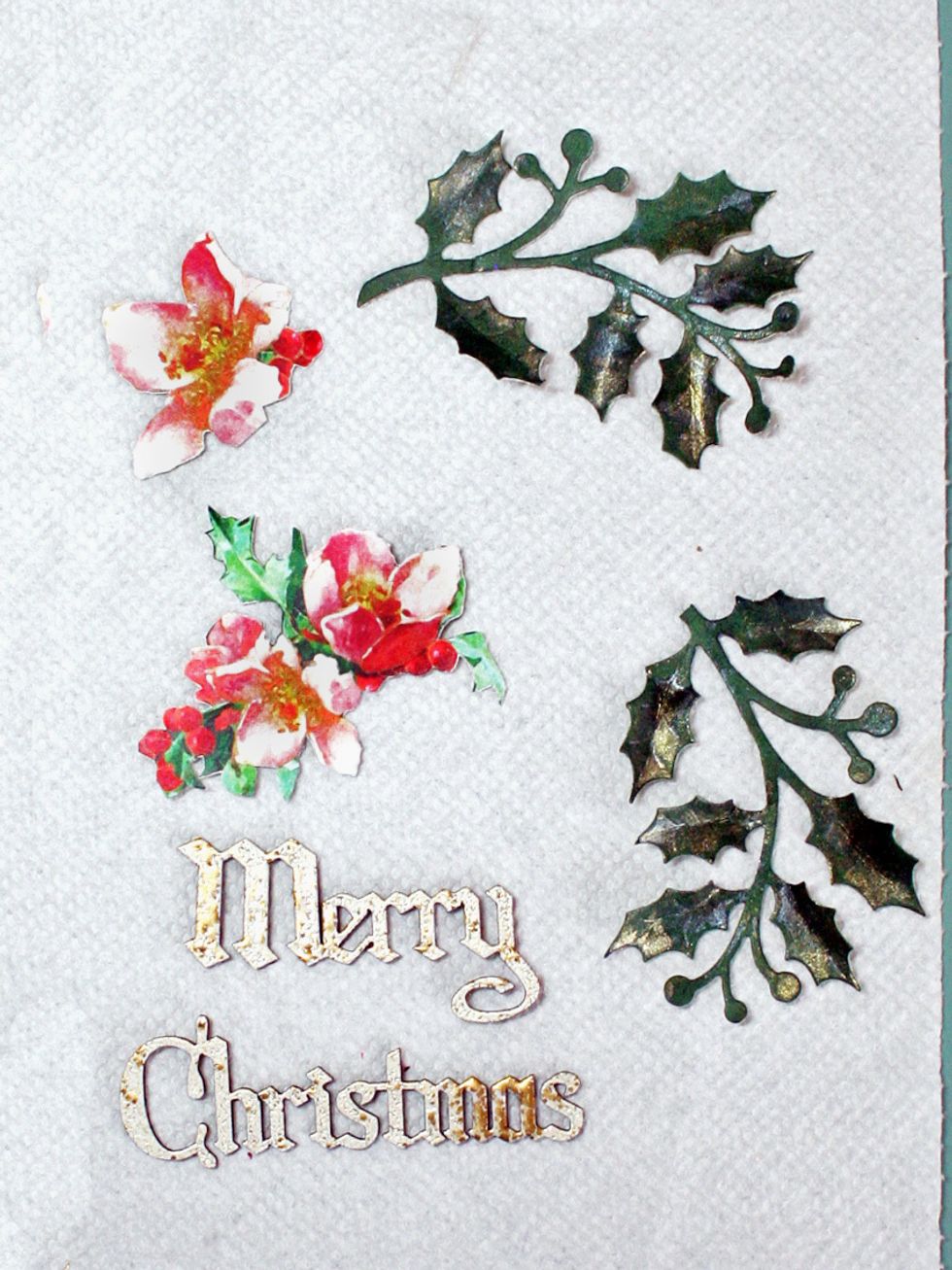 Fussy cut flowers from Graceful Garland paper & diecut holly leaves. Dab Lindy's mist on the leaves for interest. The sentiment is done with Creative Embellishments chippys. Use whatever you like.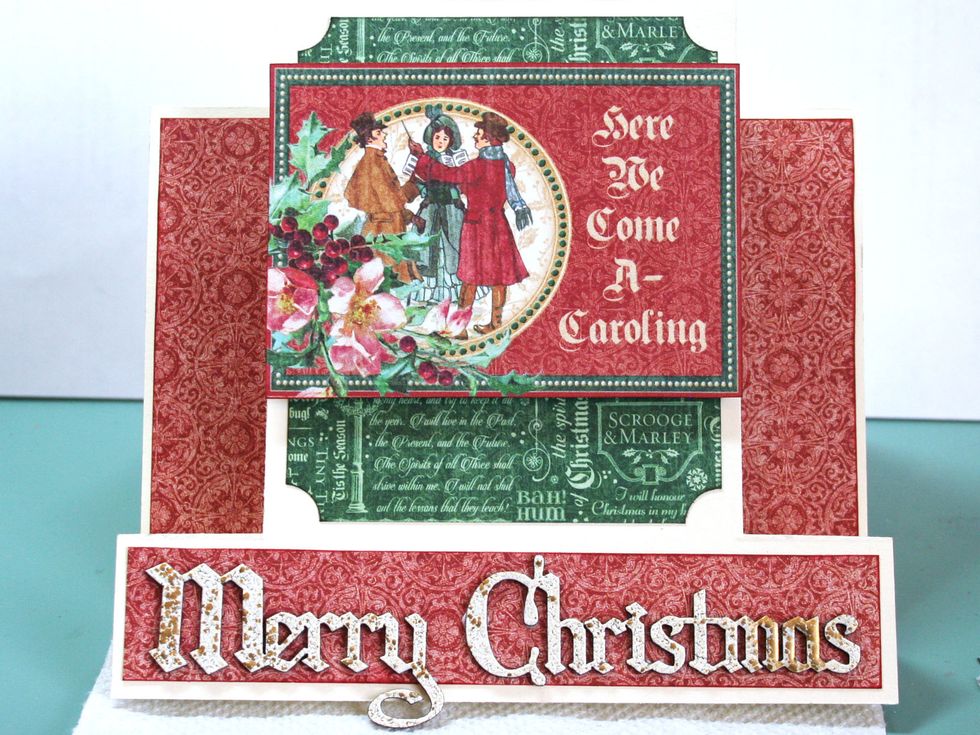 Pop up the ephemera card with foam tape or something similar and adhere about 5/8" from the top of the card as shown.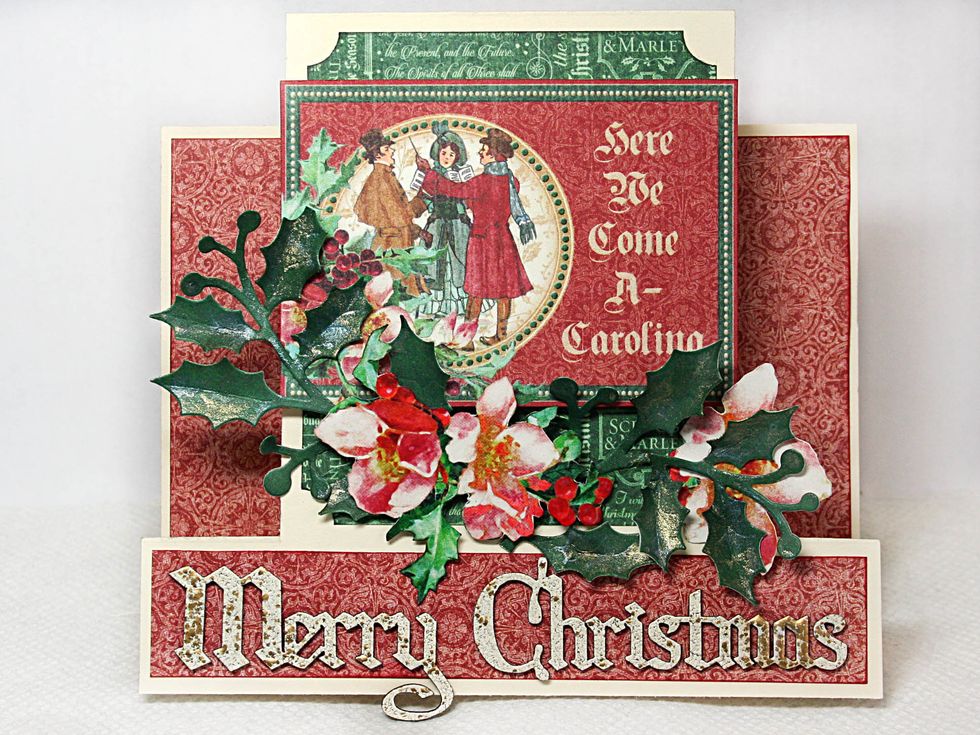 Add the fussy cut flowers and leaves using foam dots to pop up some of the leaves and flower petals. Adhere your sentiment centering in the bottom strip.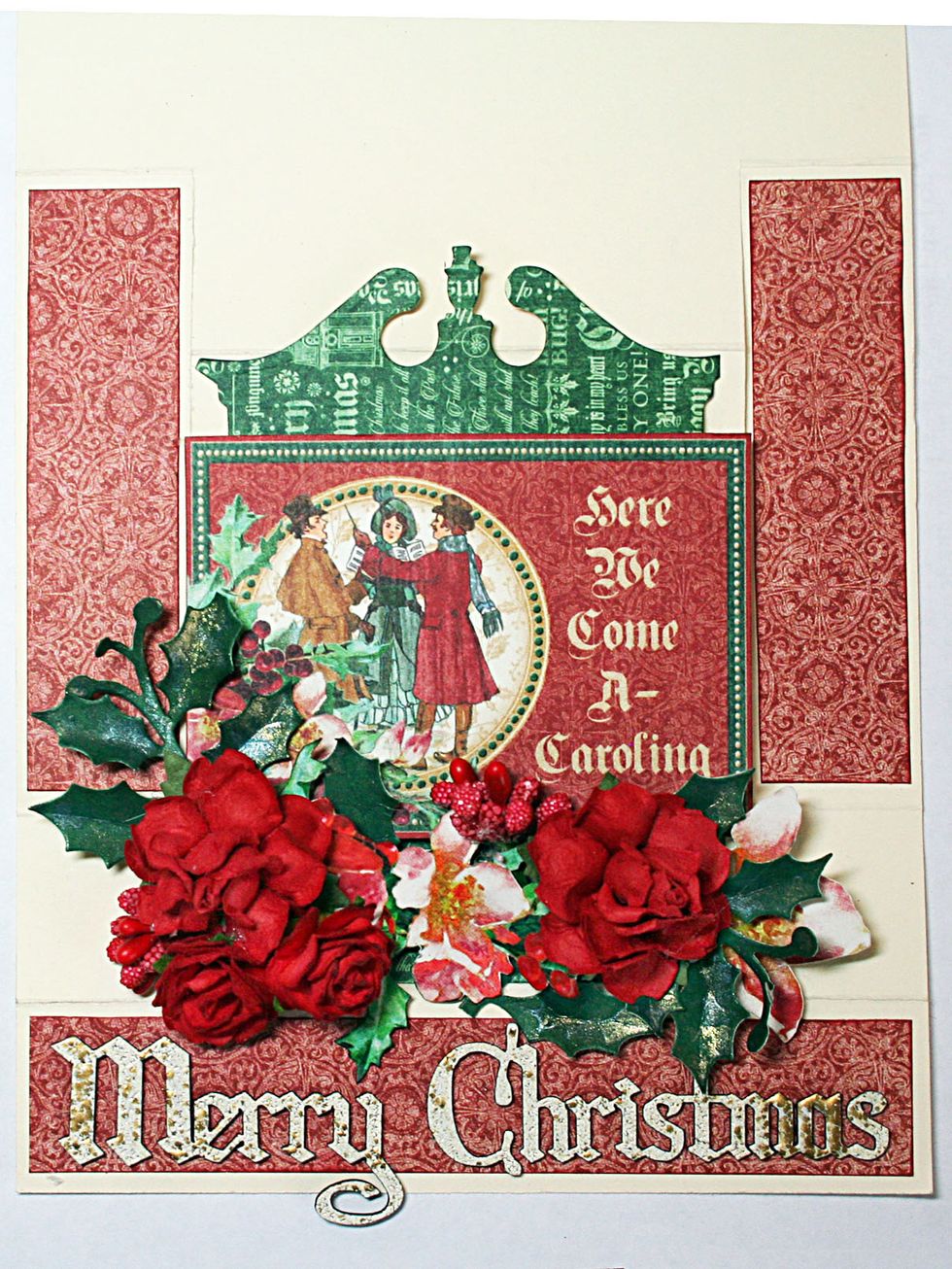 Add a diecut pediment from green patterned paper and attach at the top of the card such that it stands up higher than the height of the card. Adhere flowers & berries over the holly leaves as shown.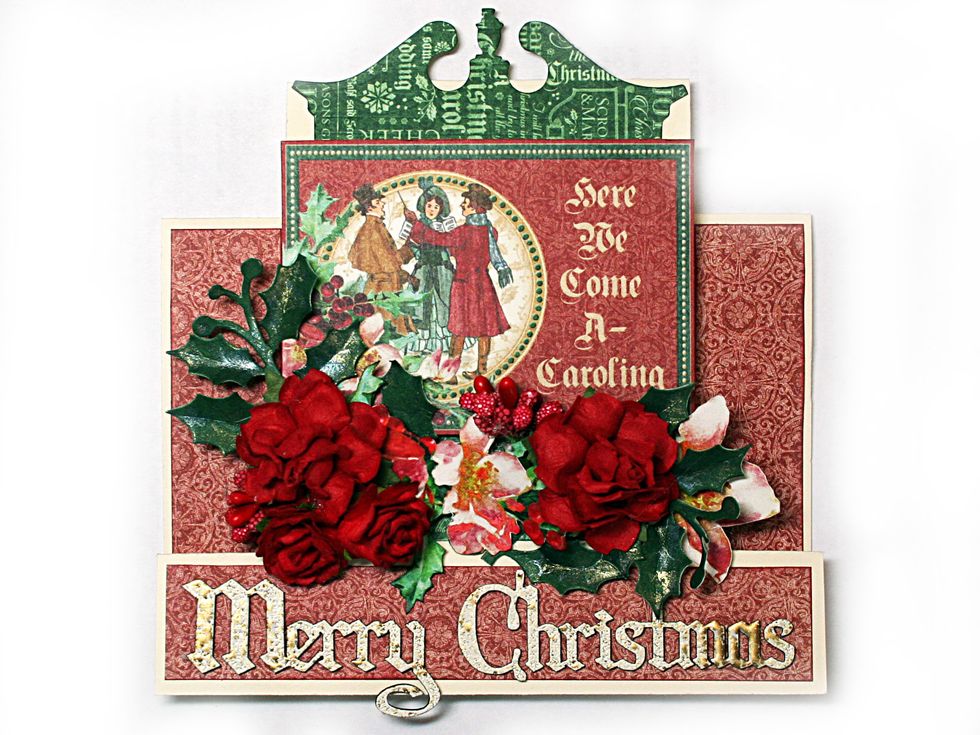 This is a closed view of the card before adding the ribbon at the top.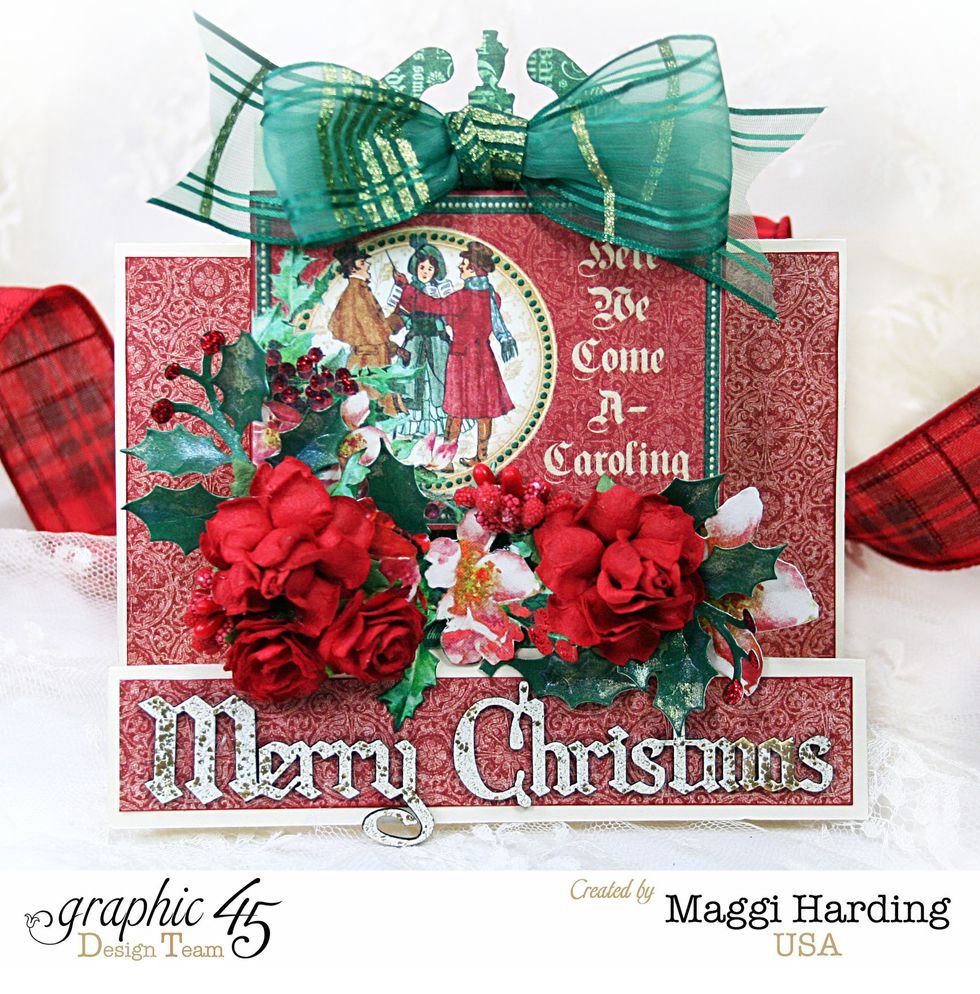 Add a pretty bow at the top of the card. Add some red stickles to the holly berries and set the card aside to dry.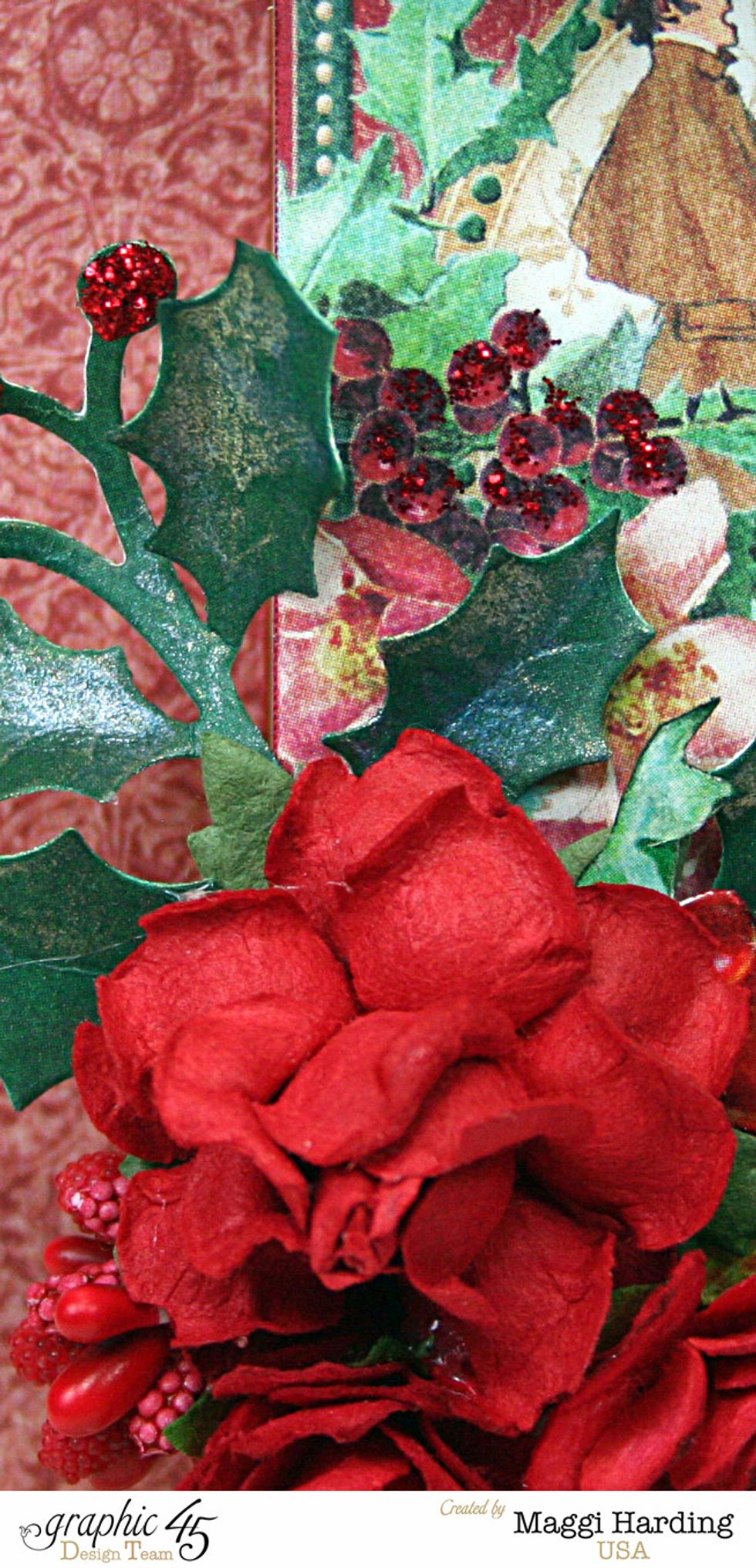 Closeup of stickles detail.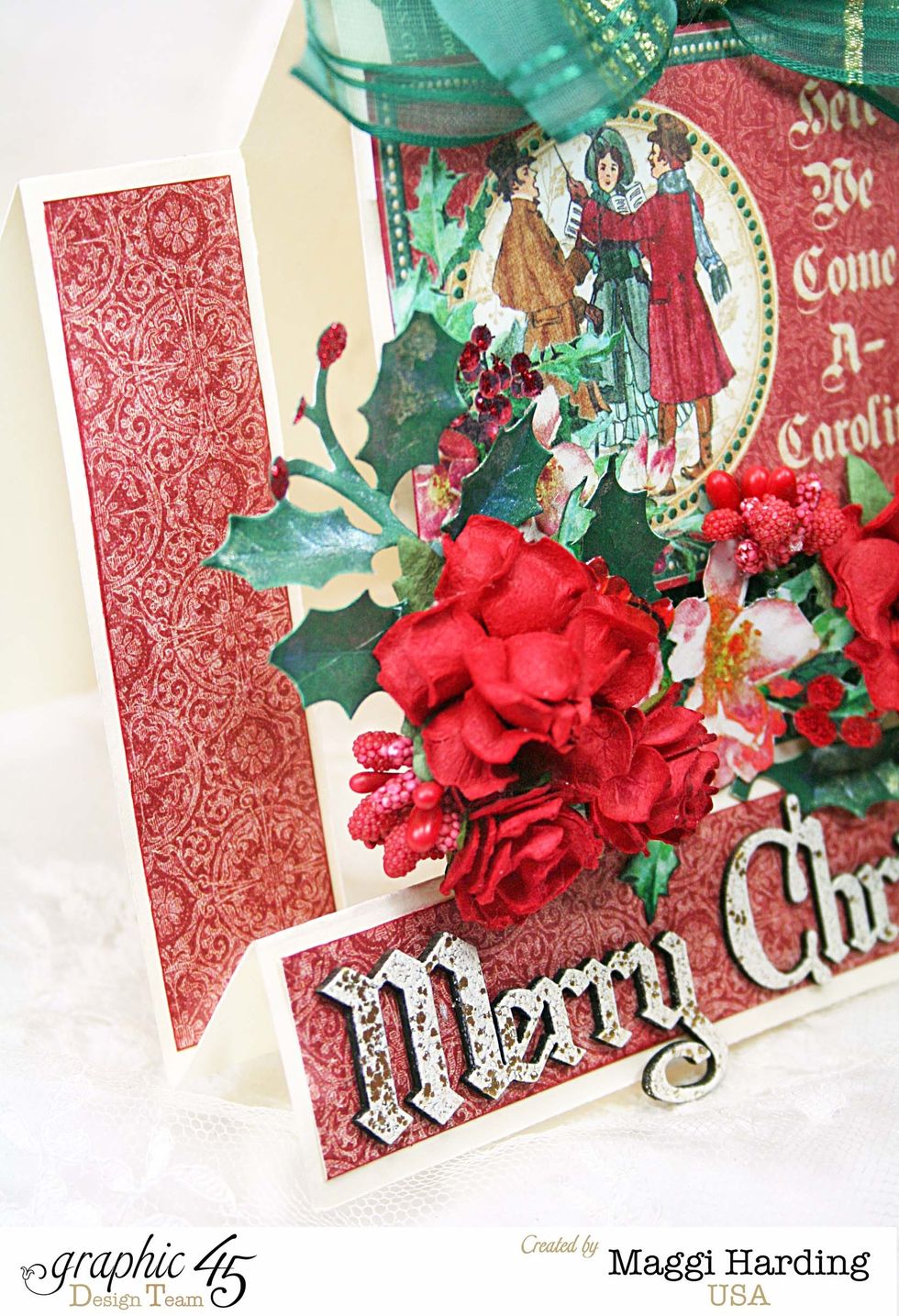 Side view showing the step.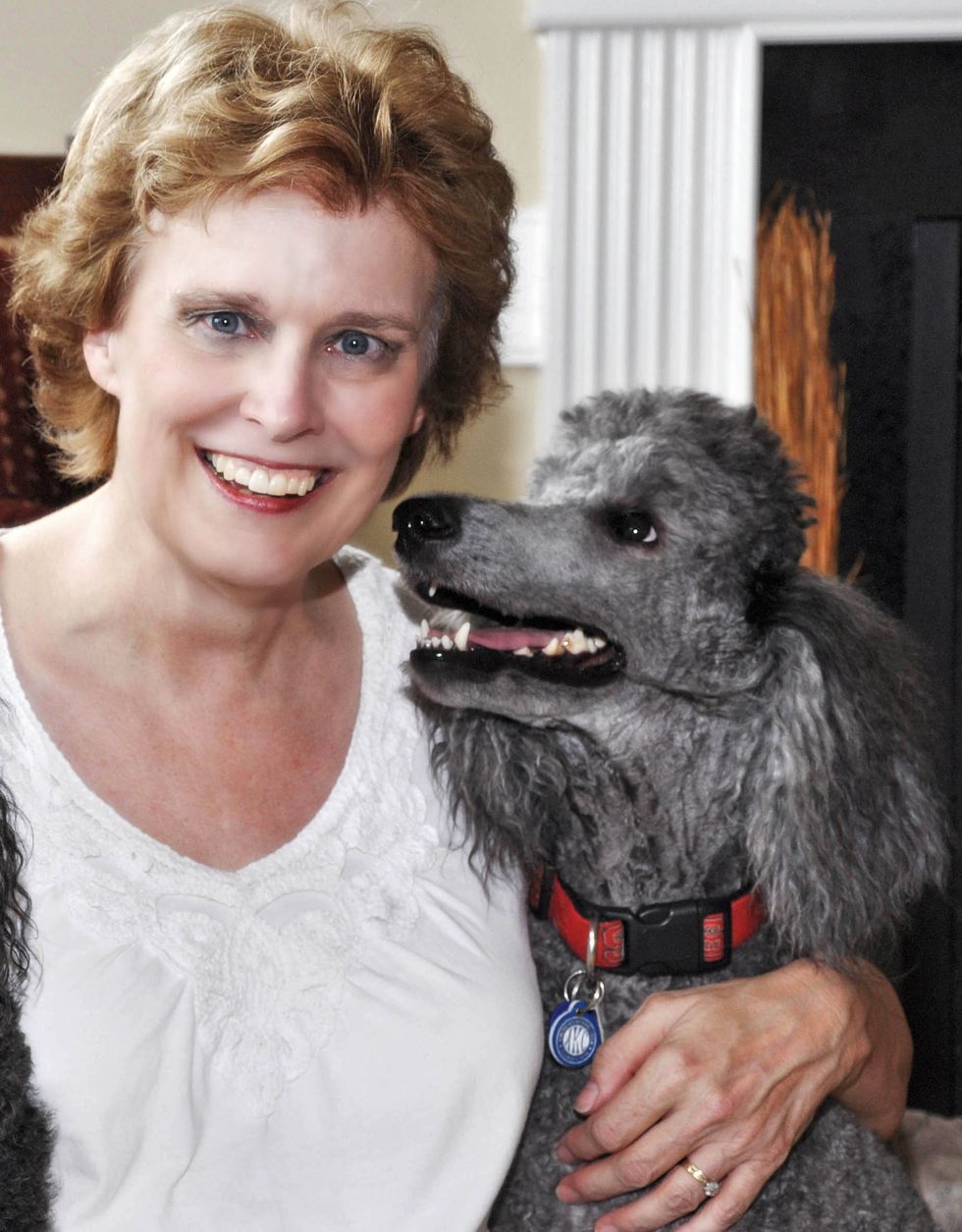 I currently design for Graphic 45, Creative Embellishments, Fabscraps, & Flying Unicorn. Tutorials on my blog: http://bit.ly/1Sem2J0. Follow me on Pinterest: http://bit.ly/1HhWvOx Thanks so much!
Graphic 45 Christmas Carol Collection:
Ephemera Cards 6 x 6 Patterns and Solids pad
Graceful Garland for fussy cut flowers
12 x 12 sheet ivory cardstock
Creative Embellishments Merry Christmas title
Stampendous Aged Ivory Embossing Powder
Ribbon
Die-namites Holly Branch Die
Sizzix Alterations Pediments Die
Red Stickles
I Am Roses - red roses
Wild Orchid Crafts - berries
ColorBox Graphic 45 Decades Triumphant Red Ink
Uline foam tape
Lindy's Frosty Forest Green
Maggi Harding
I am a paper crafter and I like to do it all, tags, layouts, cards and altered art. Follow me on Pinterest: https://www.pinterest.com/maggi43/