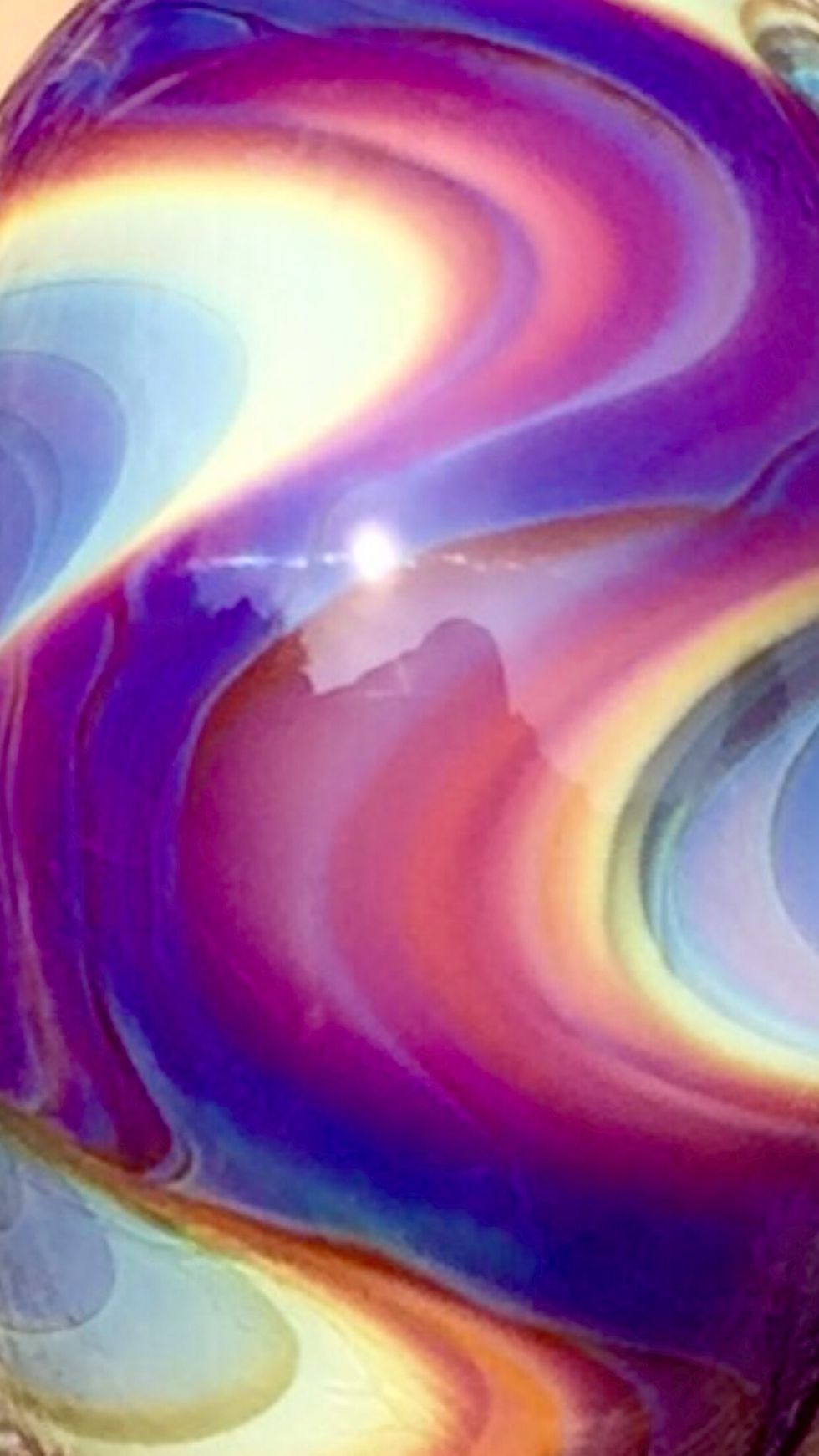 Skiron cooling and striking times. Surface; reset, cool for 30 seconds, strike for 30-45 seconds. Encased; encase then reset, cool for 45 seconds, strike for 45-60 seconds.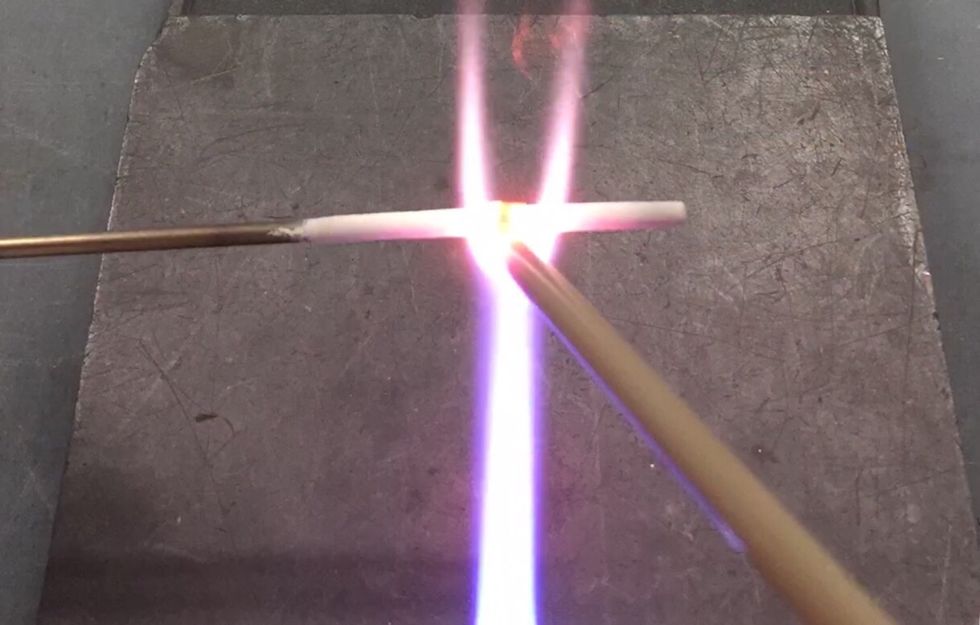 Begin by winding a disk of Skiron onto the mandrel.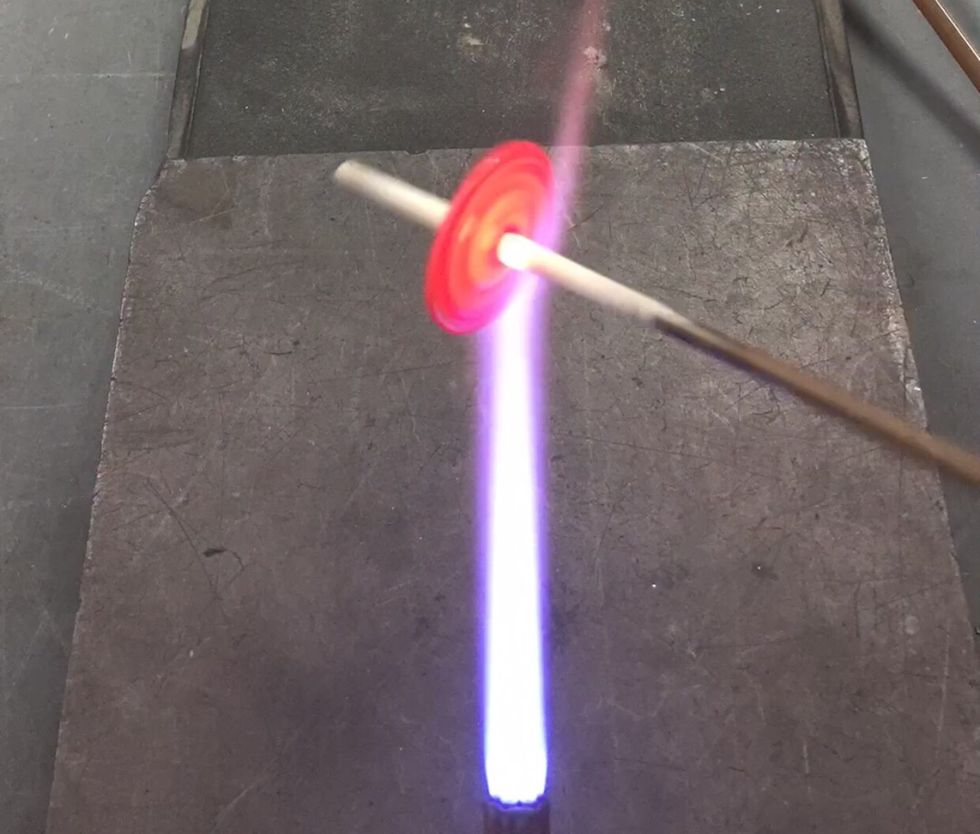 Once the disk is the size you want, apply a bit of heat to one side to even out the heat base and decrease strain.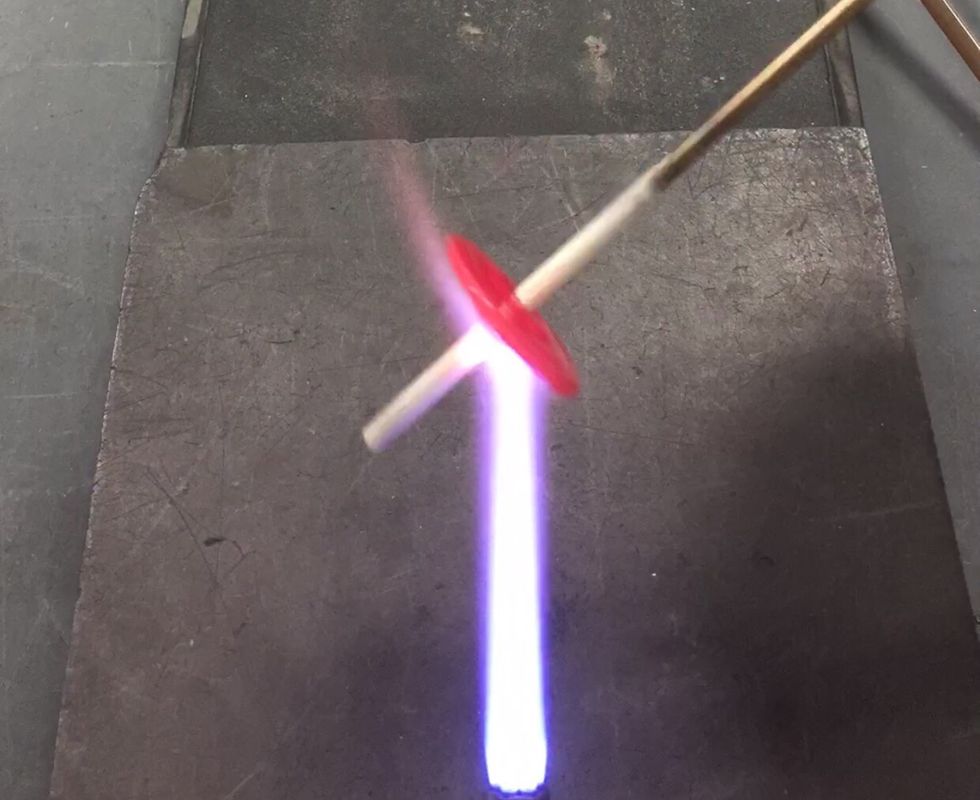 Then do the same to the other side.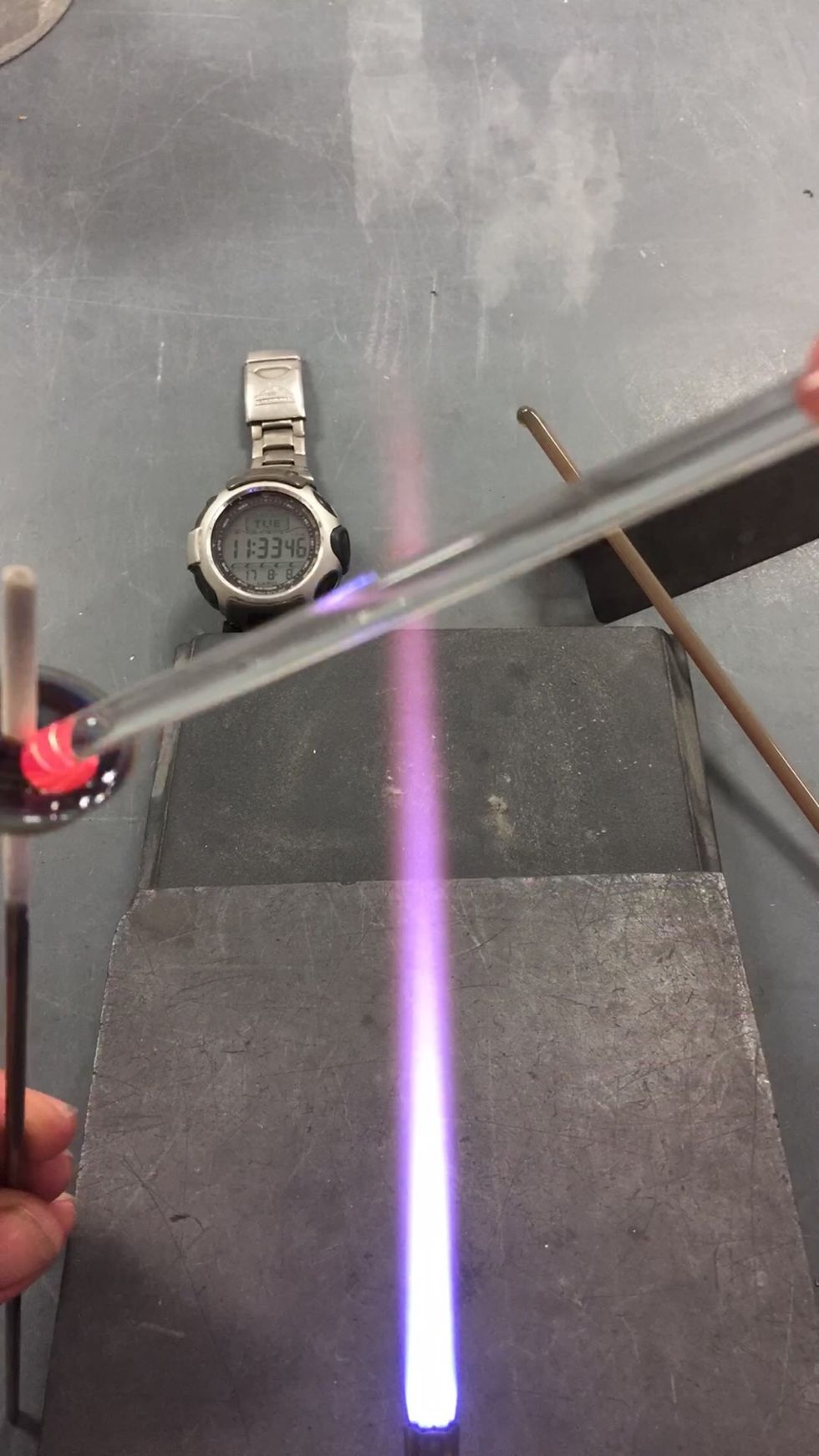 Apply a stripe of Aether to one side of the disk.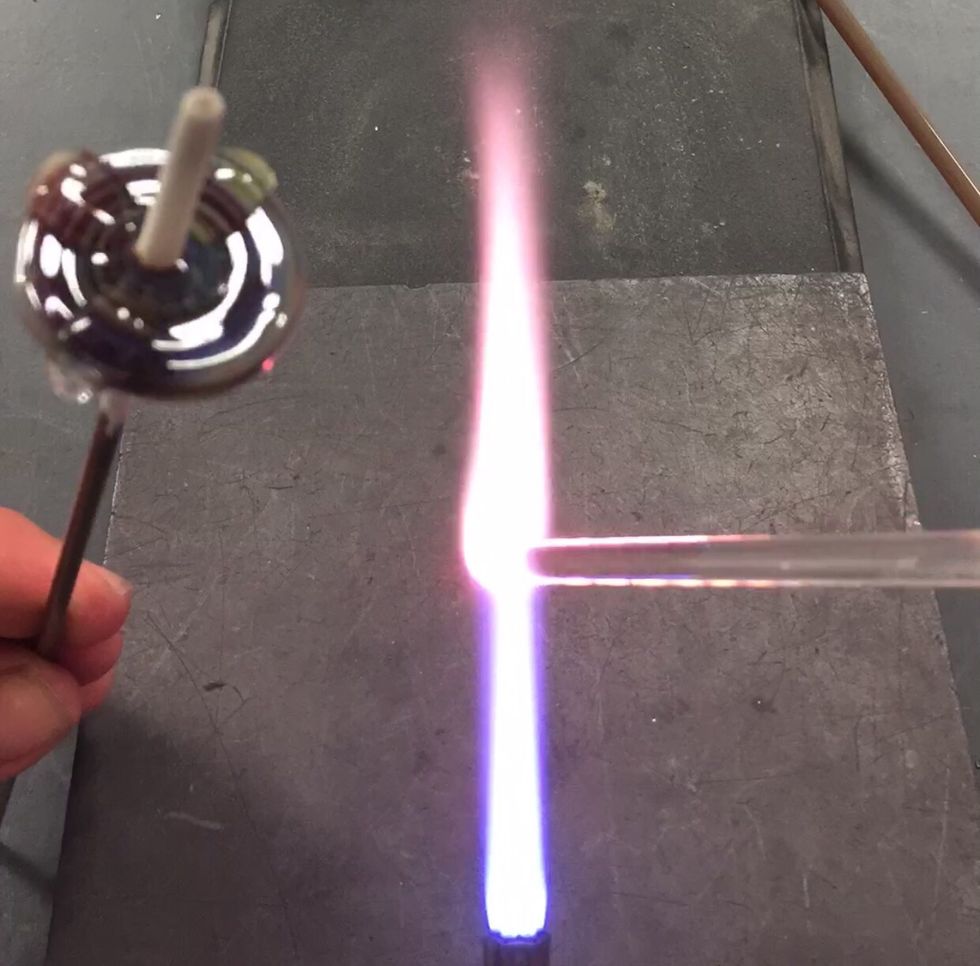 Working symmetrically, apply more stripes to the disc. I like to use four stripes per side.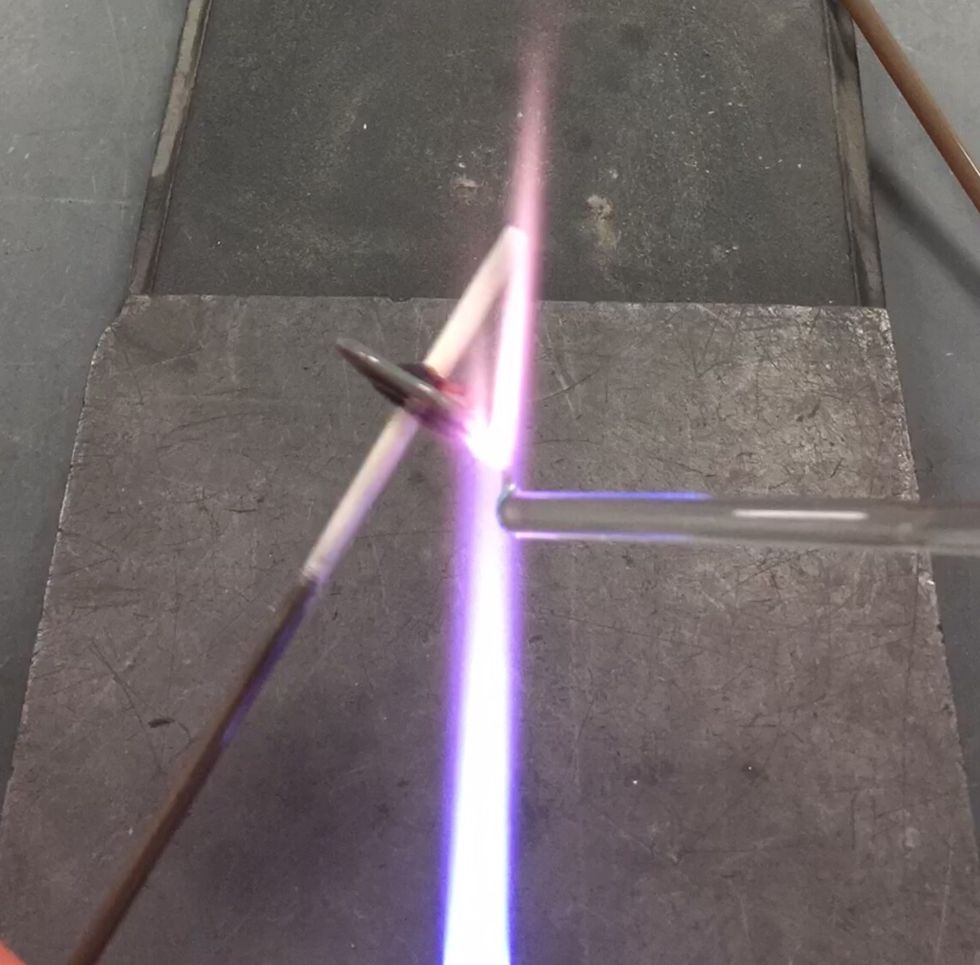 Even, symmetrical stripes will yield an even, symmetrical finished pattern. Apply and melt off the clear the same way each time.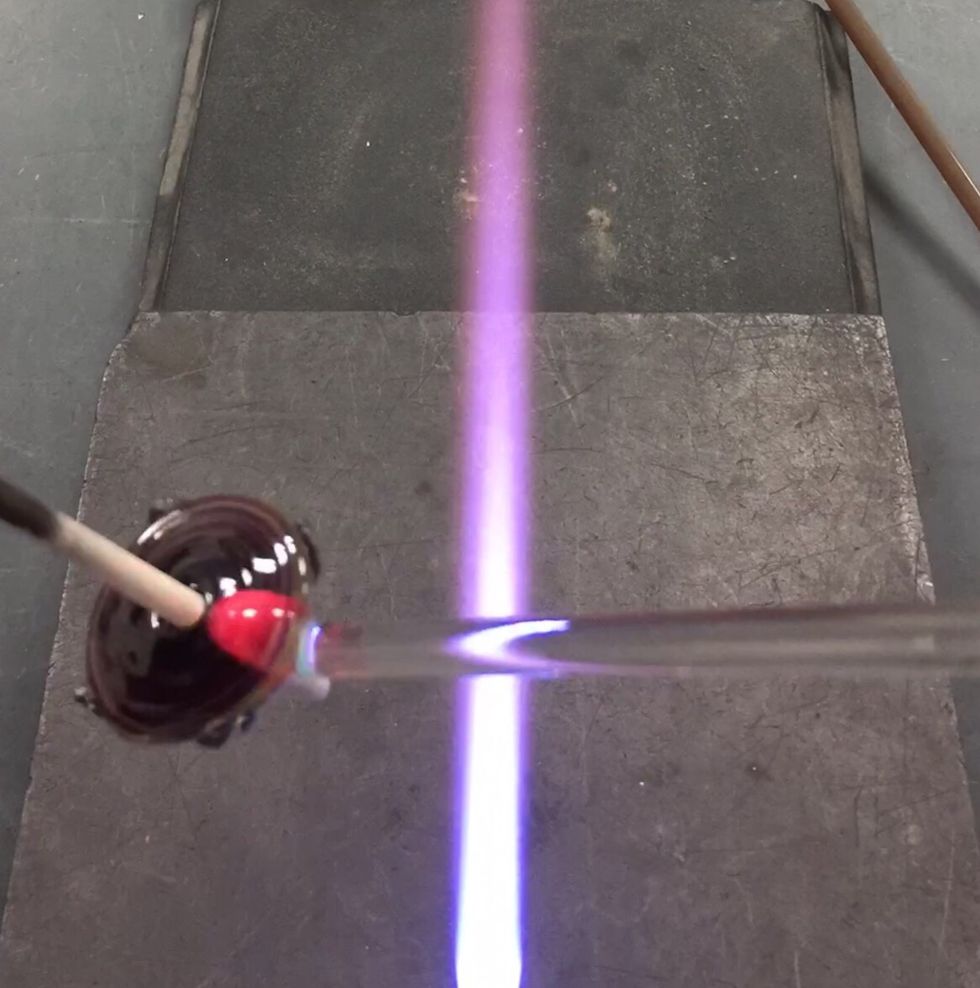 Repeat on the other side of the disc, creating an alternating pattern by placing the new stripes between the stripes on the first side.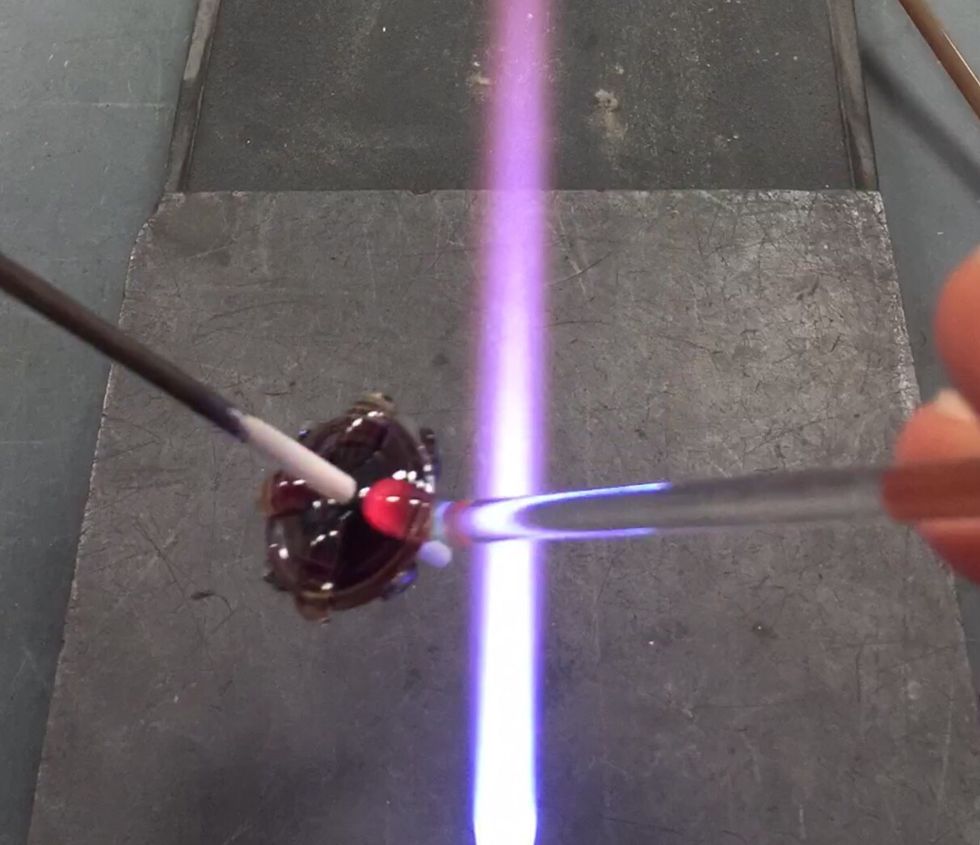 Like so.
Heat the bead in the flame to melt in the clear and round out the bead.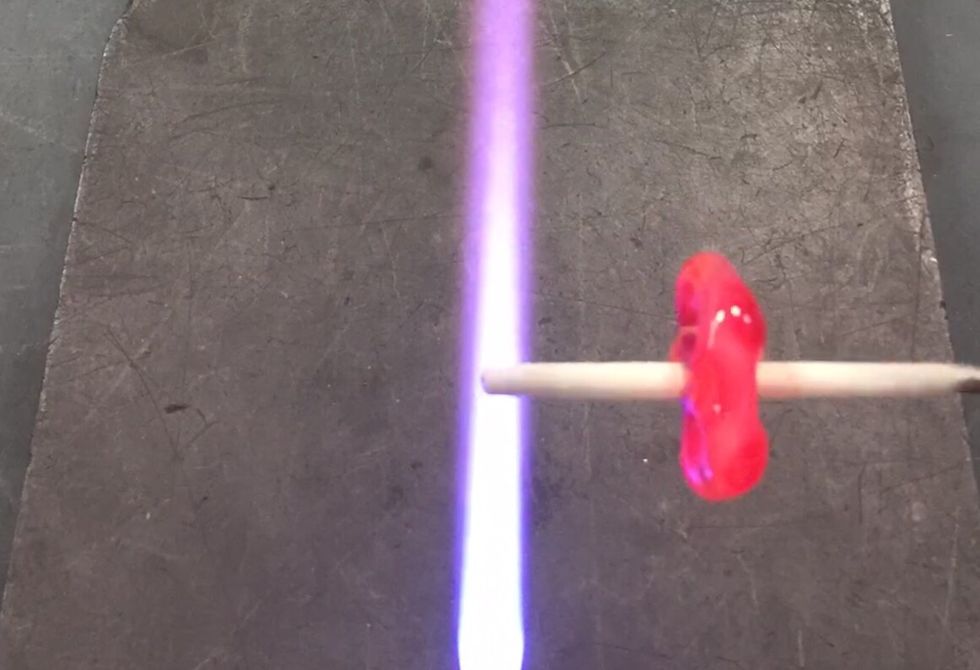 If it gets too floppy, take it out and allow it to cool for a bit while continuing to rotate the mandrel.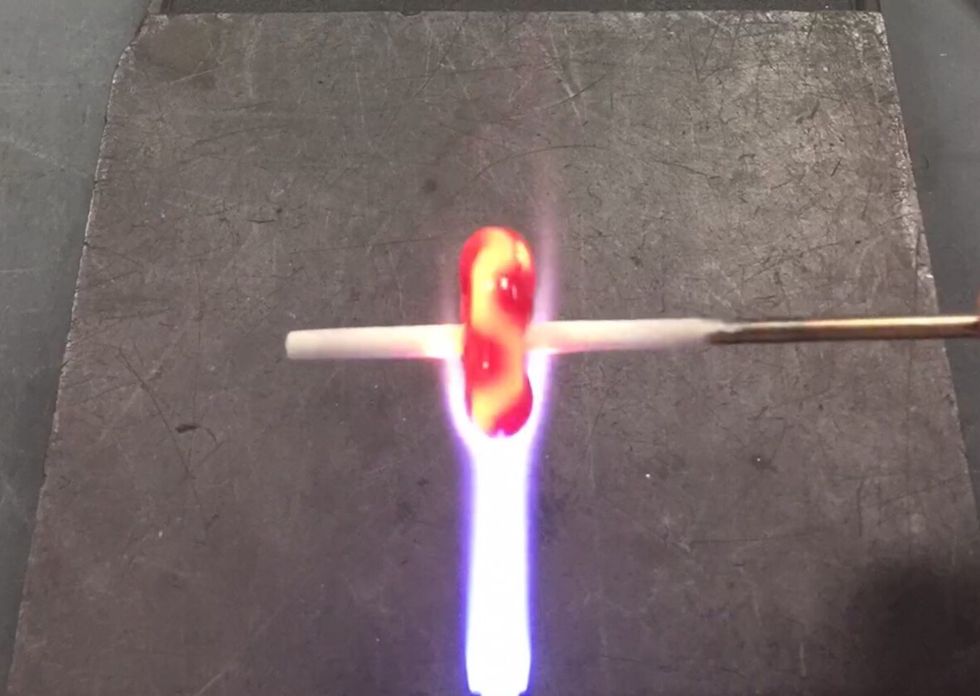 Continue heating the bead. It will slowly melt down to a more compact, rounded shape, and the clear stripes will cause a "wig-wag" pattern to form.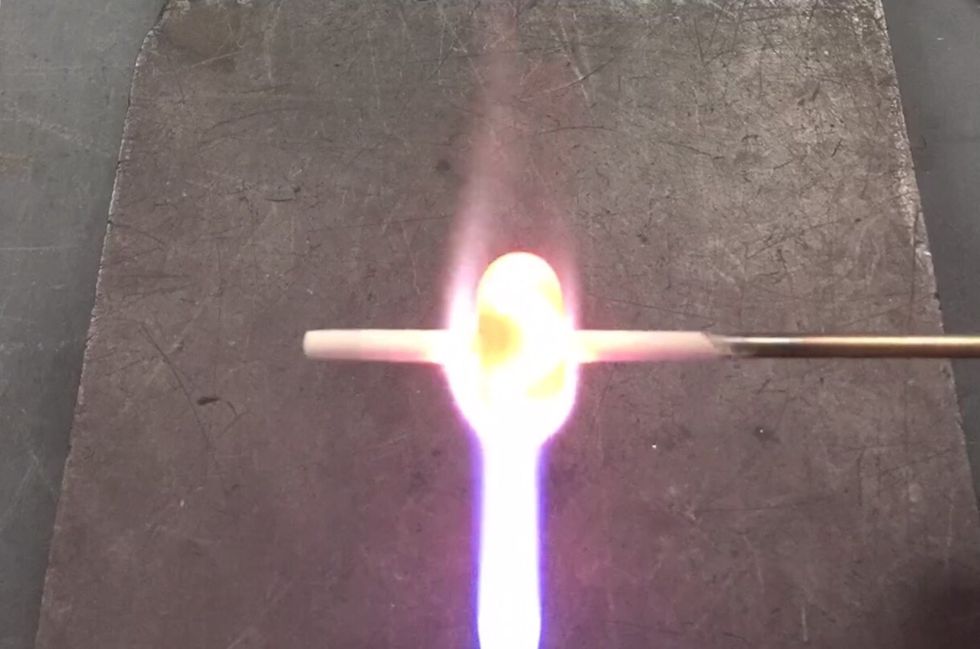 Almost there.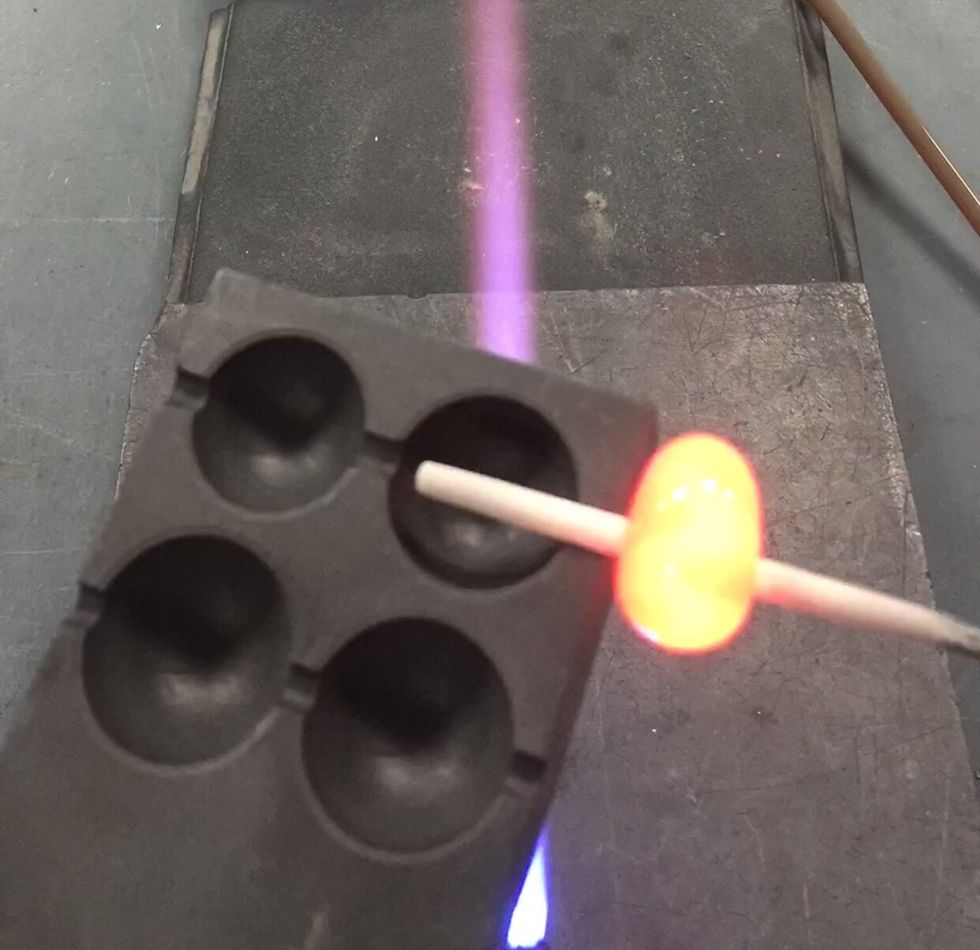 If necessary, use a graphite tool to tidy up the sides.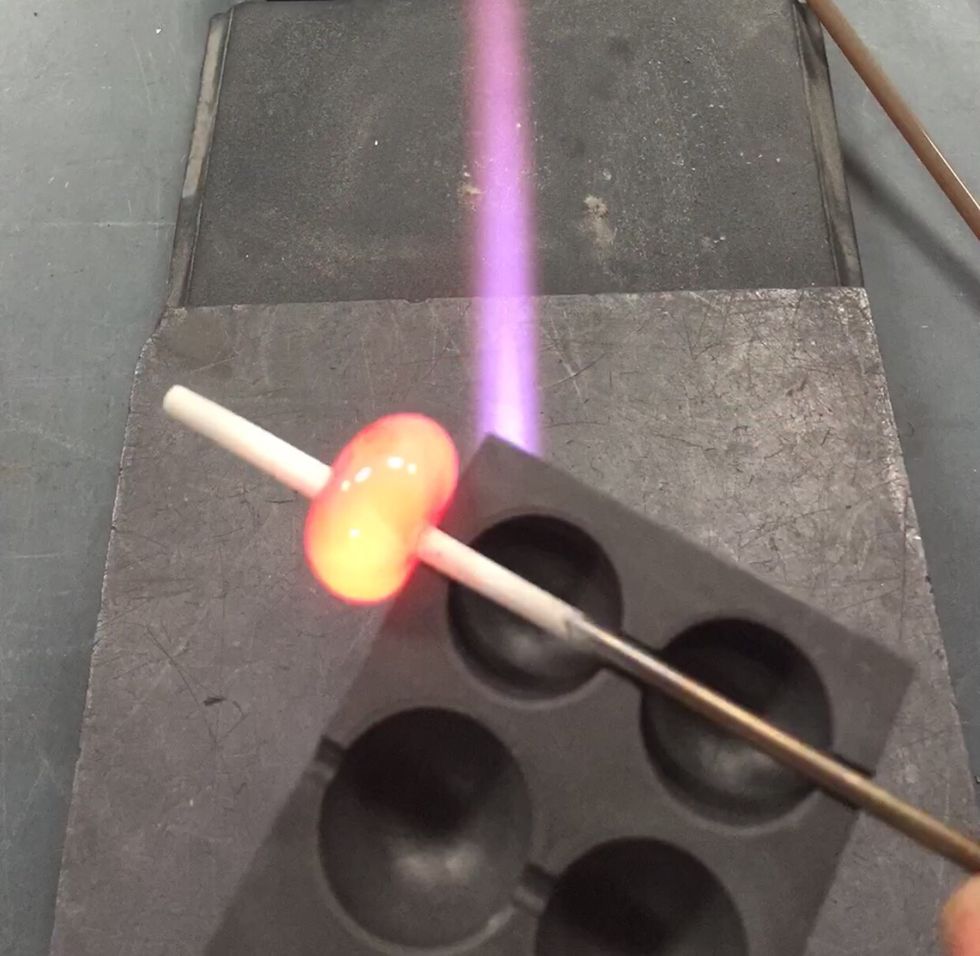 Like so.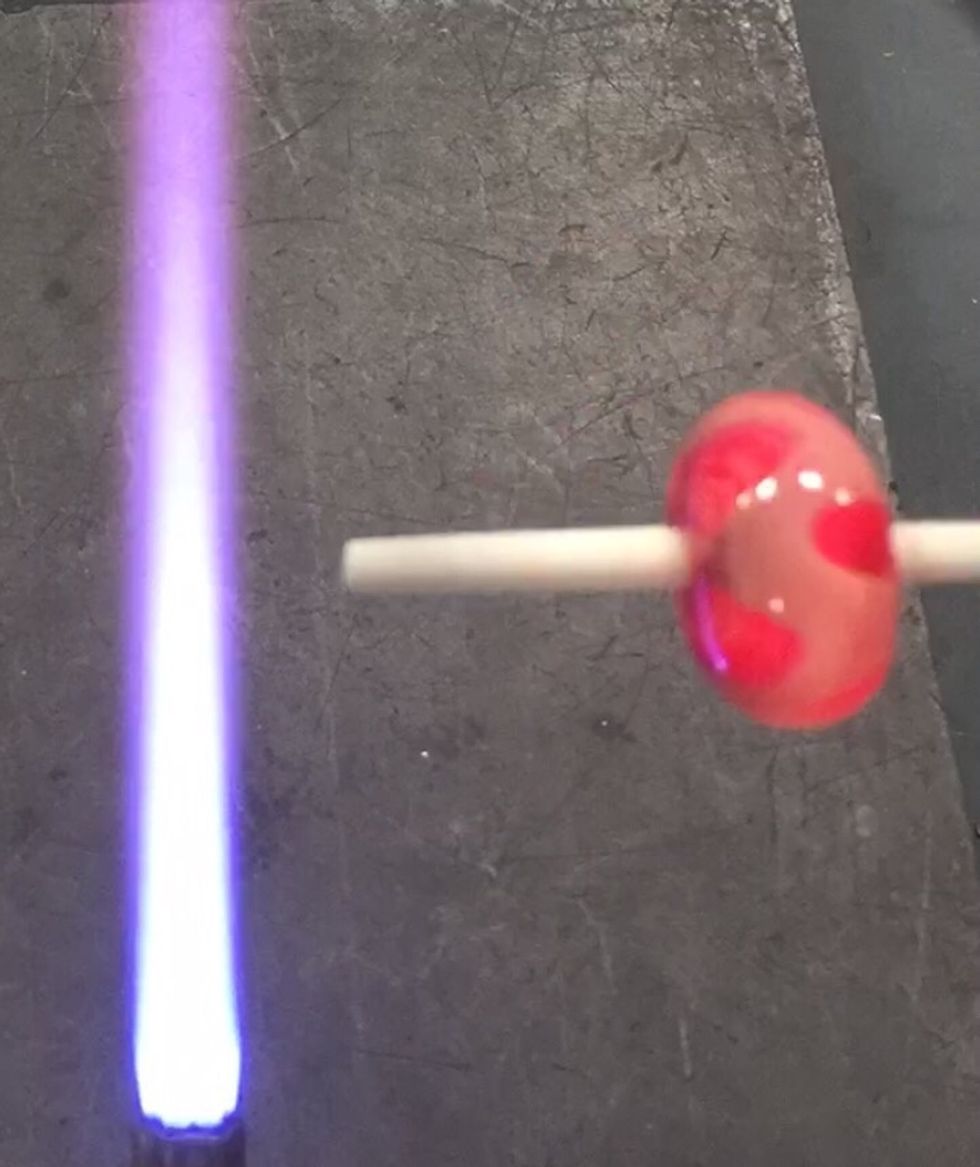 Here's how the bead will look at this stage. Now we're ready to "reset" the Skiron, heating it until the Skiron becomes clear and transparent.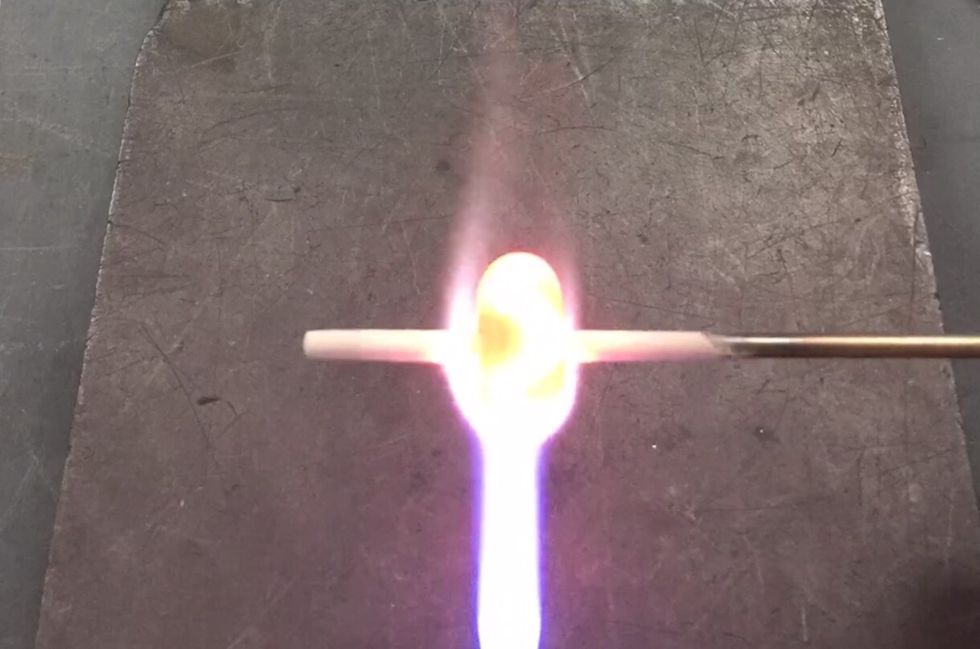 Heat the bead in a hot flame. This will dissolve the silver in the Skiron, and the Skiron will turn clear.
You may find that the Skiron doesn't reset all the way to the the core. That's ok.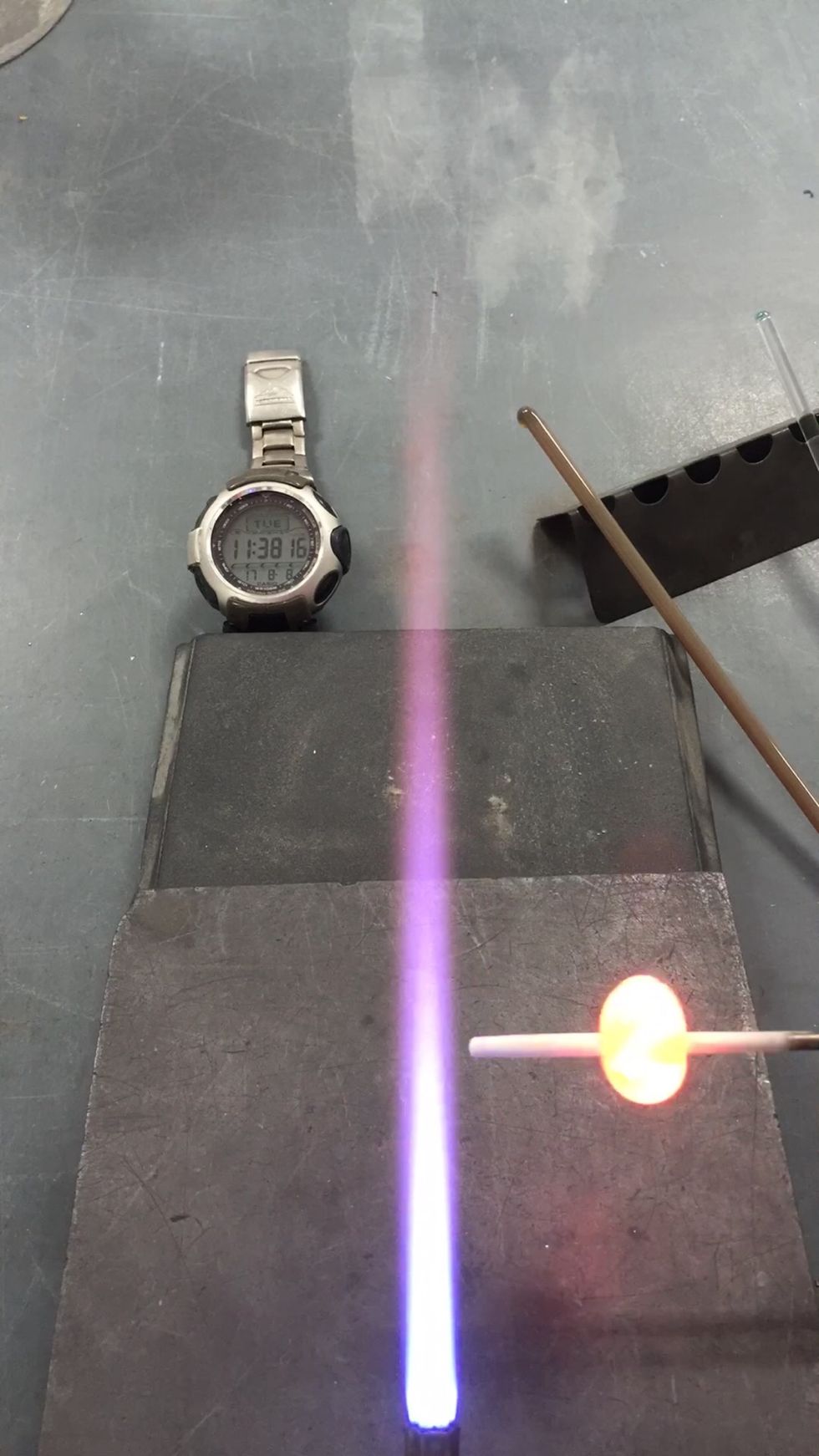 Now the cooling cycle begins. I've placed my watch in the photo so you can track the cooling and striking times. Since this bead is mostly encased, I'm going to cool it for 45 seconds.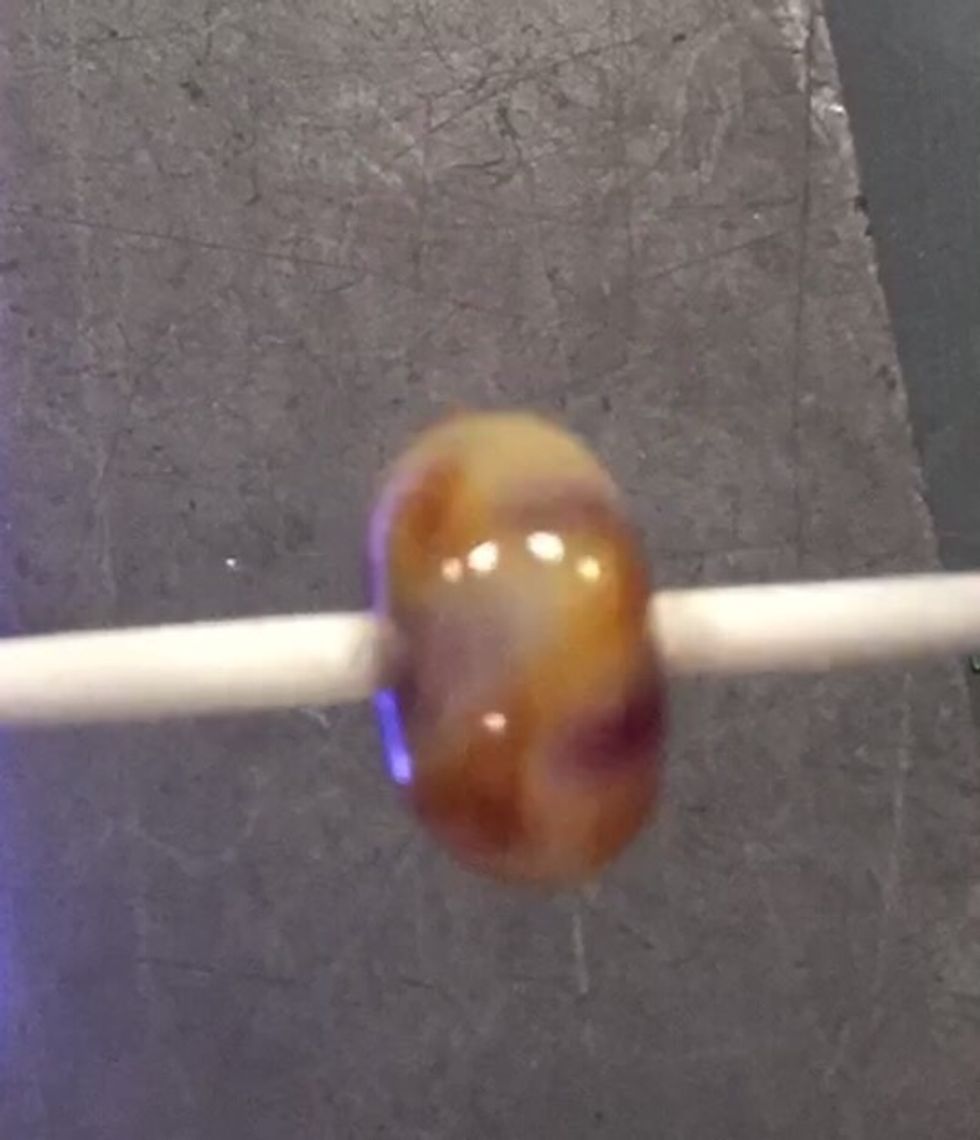 Here's a blurry photo of the bead after 45 seconds of cooling. Notice the light Amber color developing on the surface.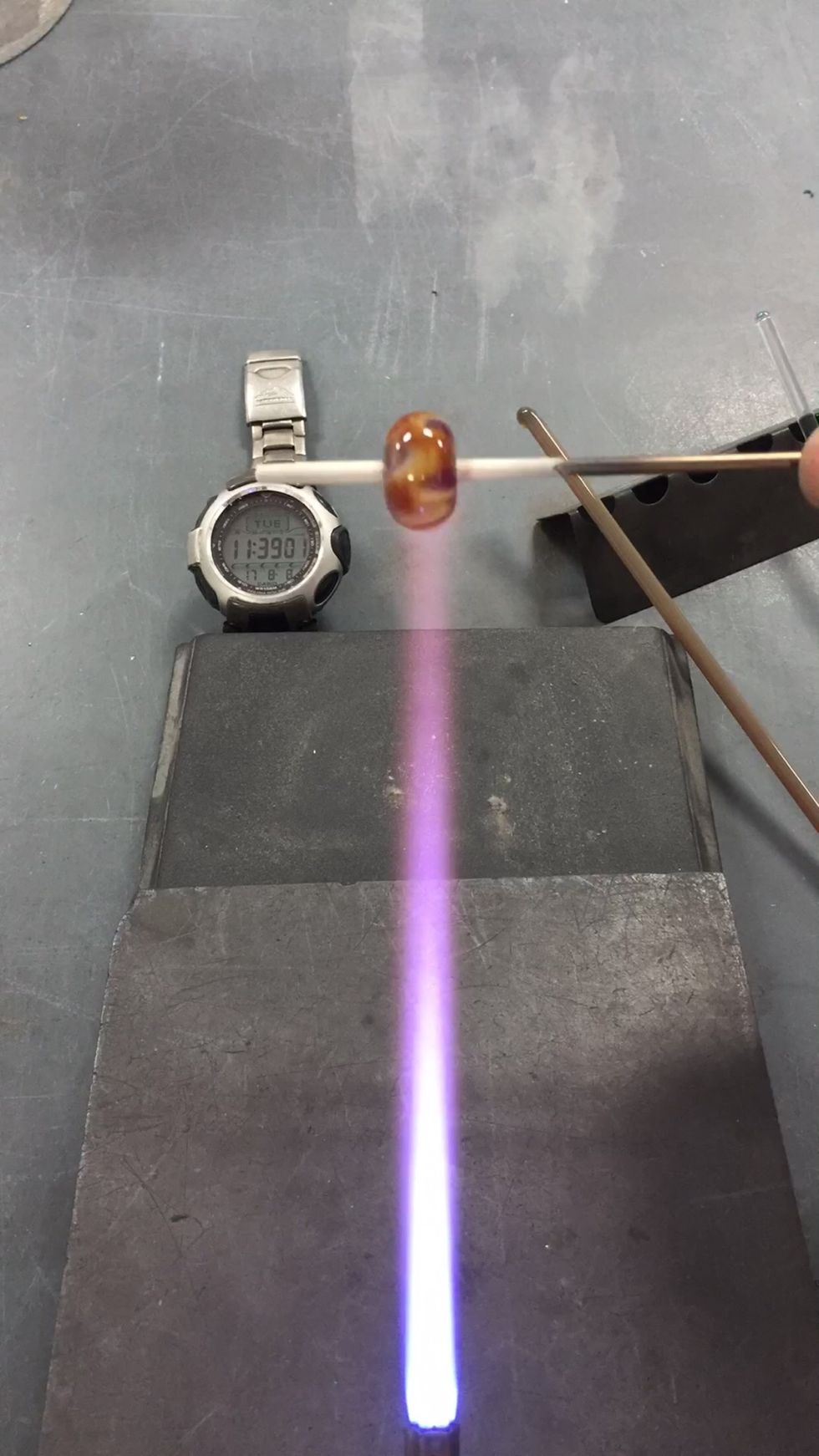 Now it's time to strike the Skiron. Use the tip of the flame. You are not trying to melt the glass, just apply some gentle heat.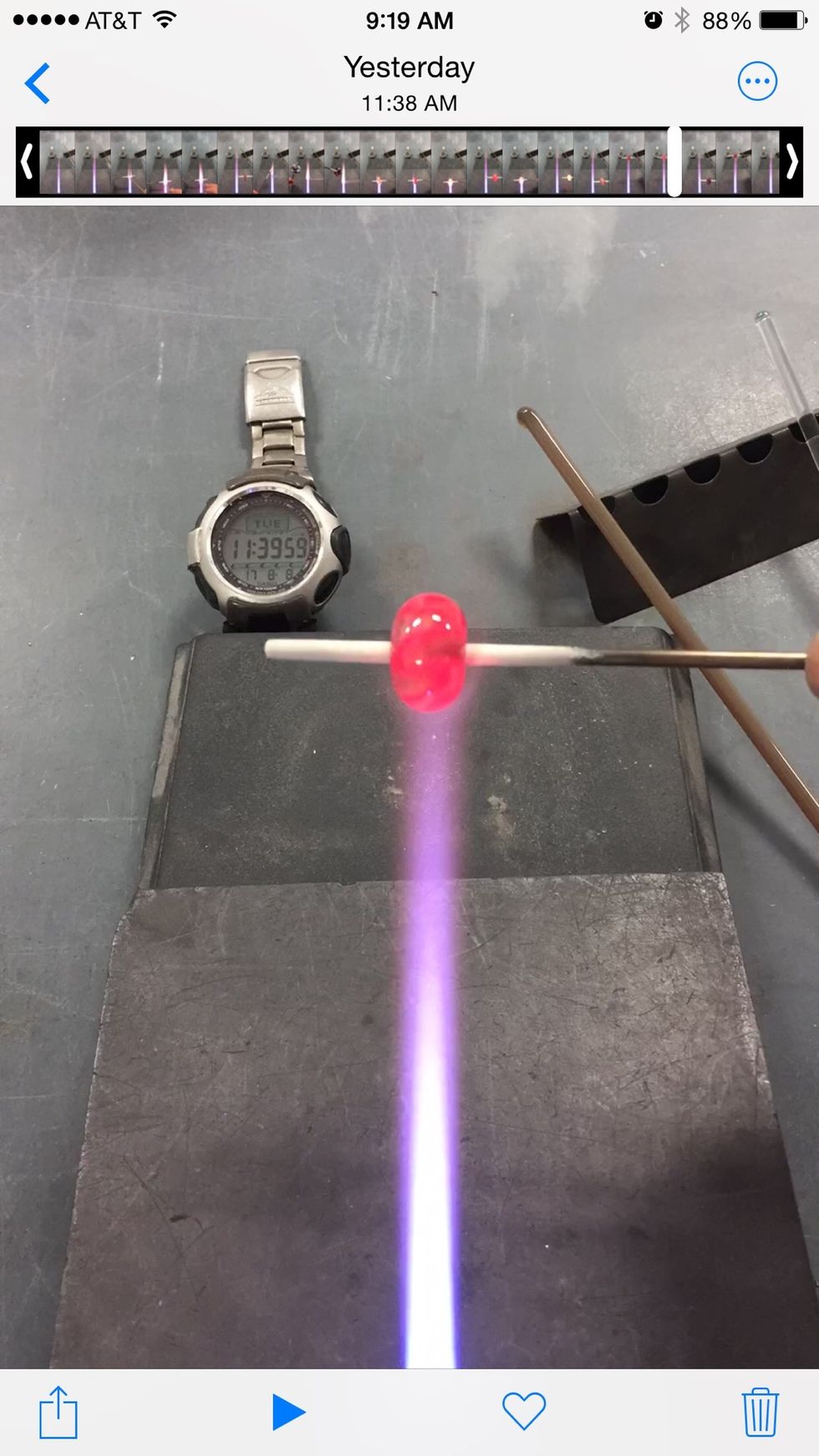 This bead has been struck for about 60 seconds.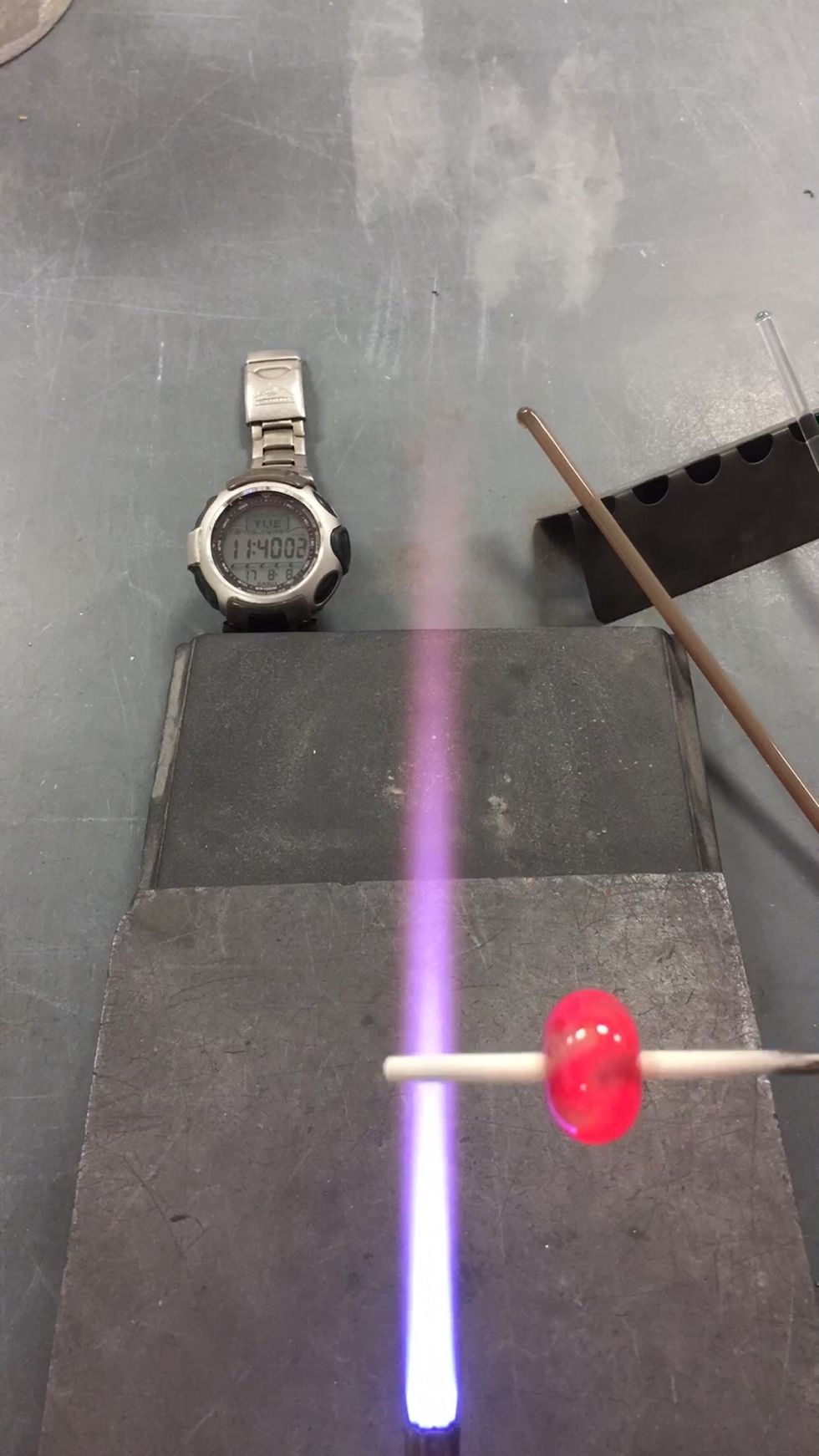 Let the bead cool a bit, and see if it is struck to your satisfaction.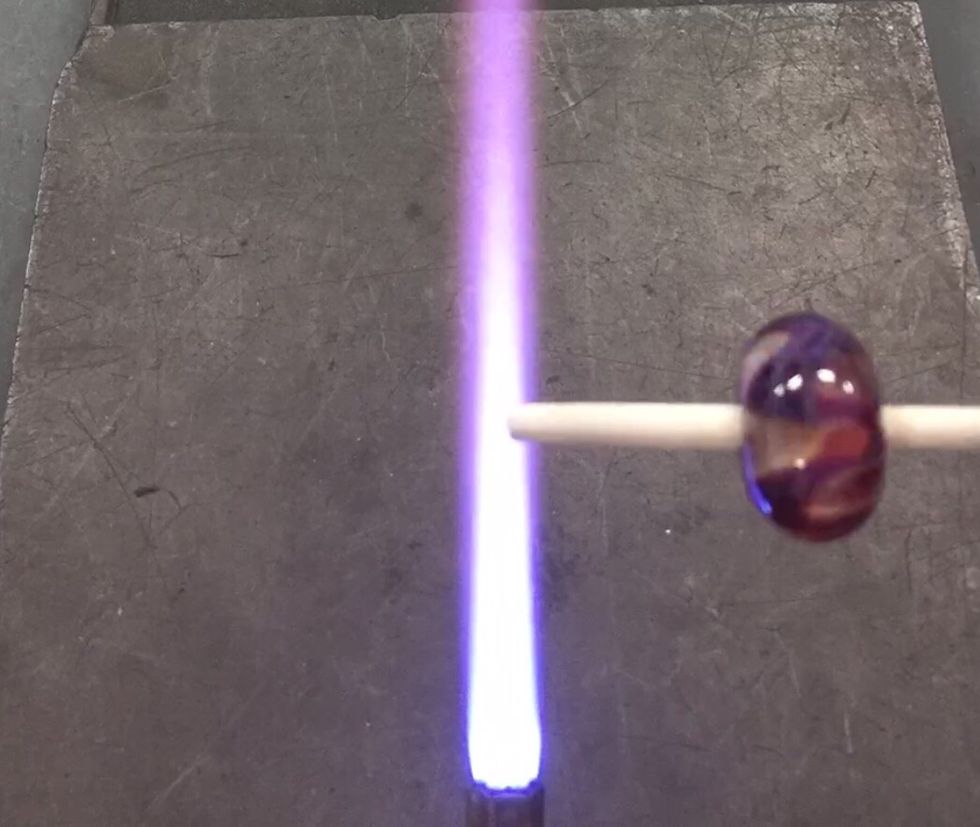 It's purple, but I think I'll strike it a bit more.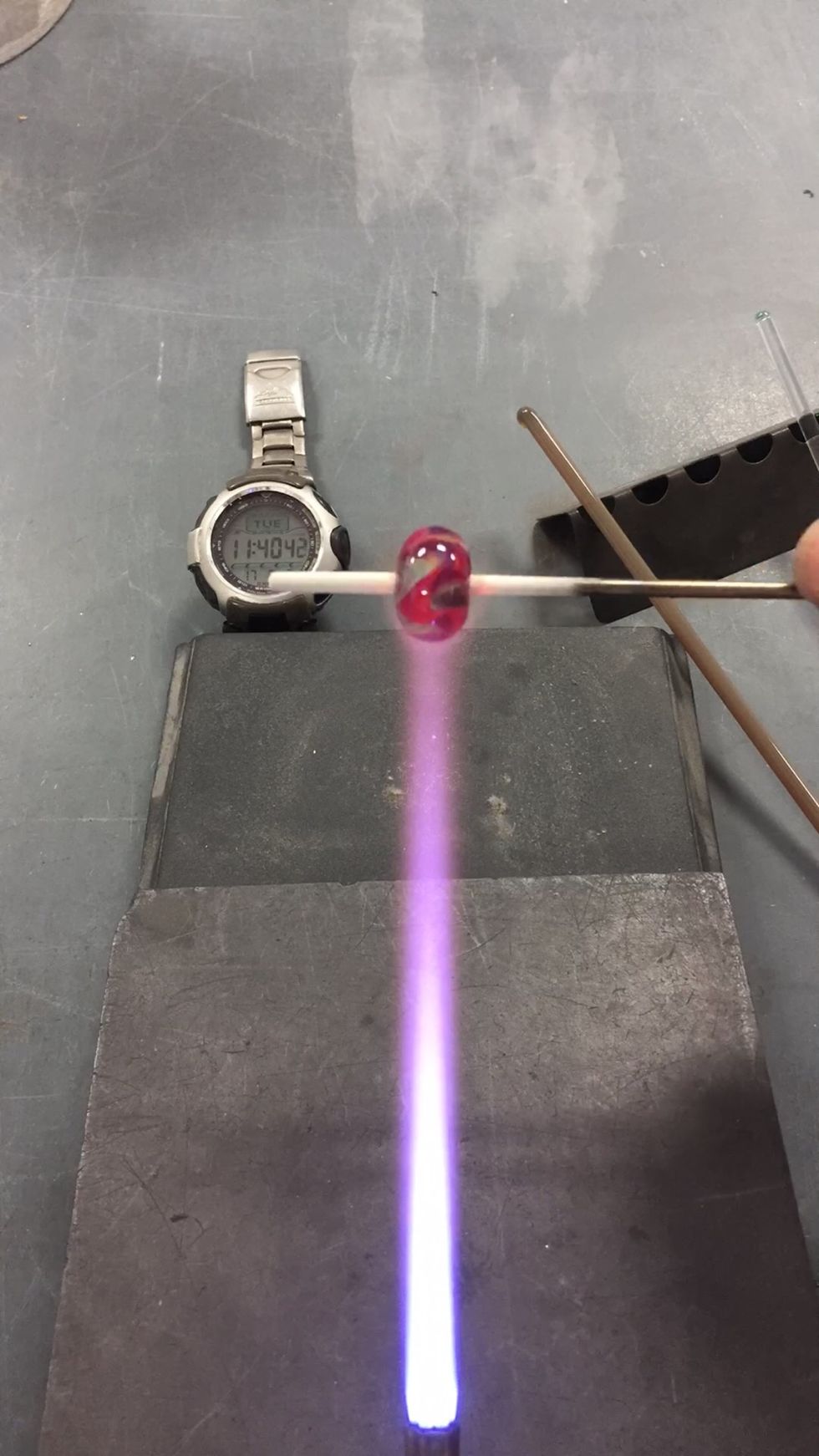 Perhaps another 25-30 seconds.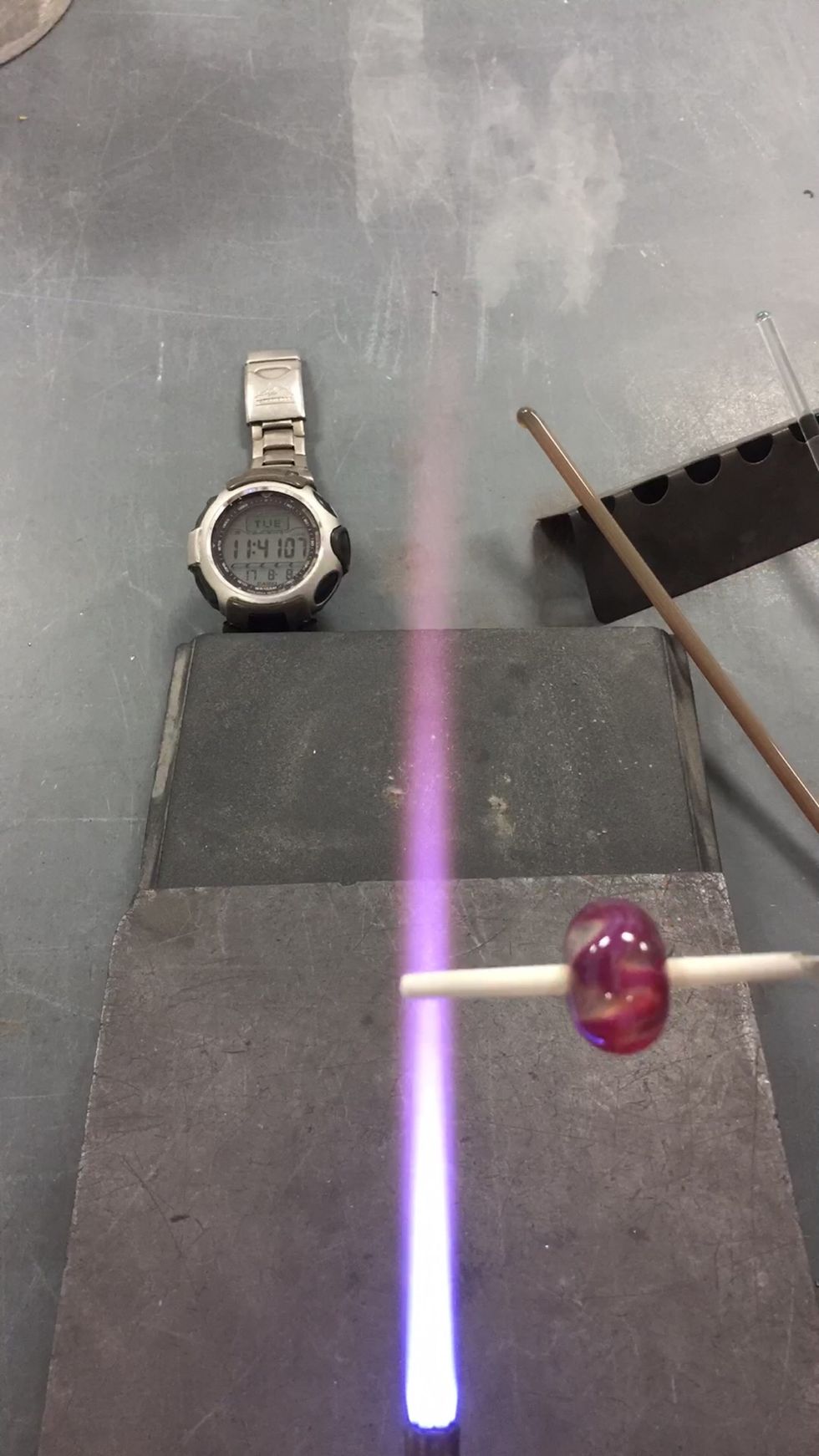 There we go...I like that. Into the annealer it goes.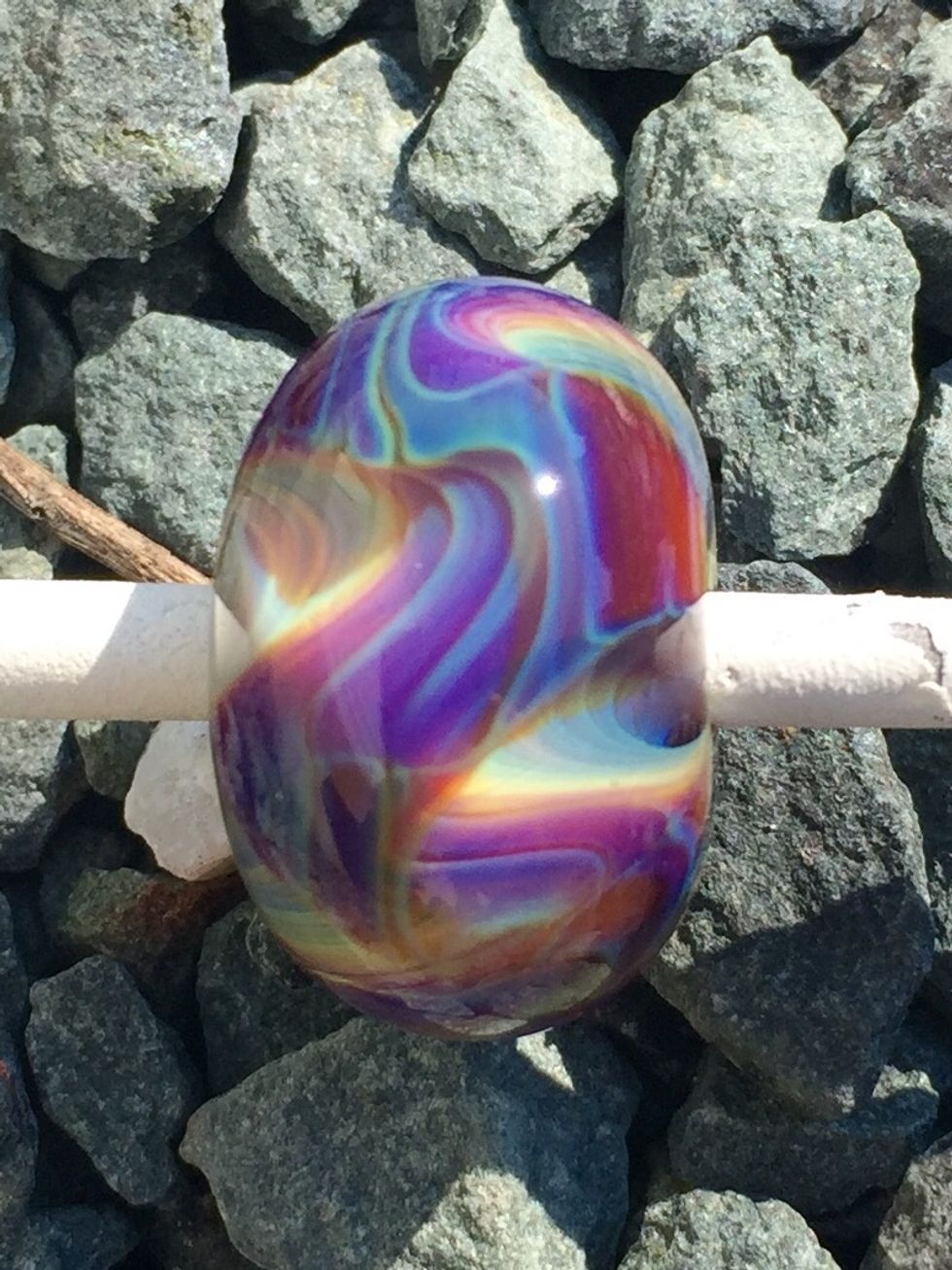 Here's what the finished bead looks like. Give it a try!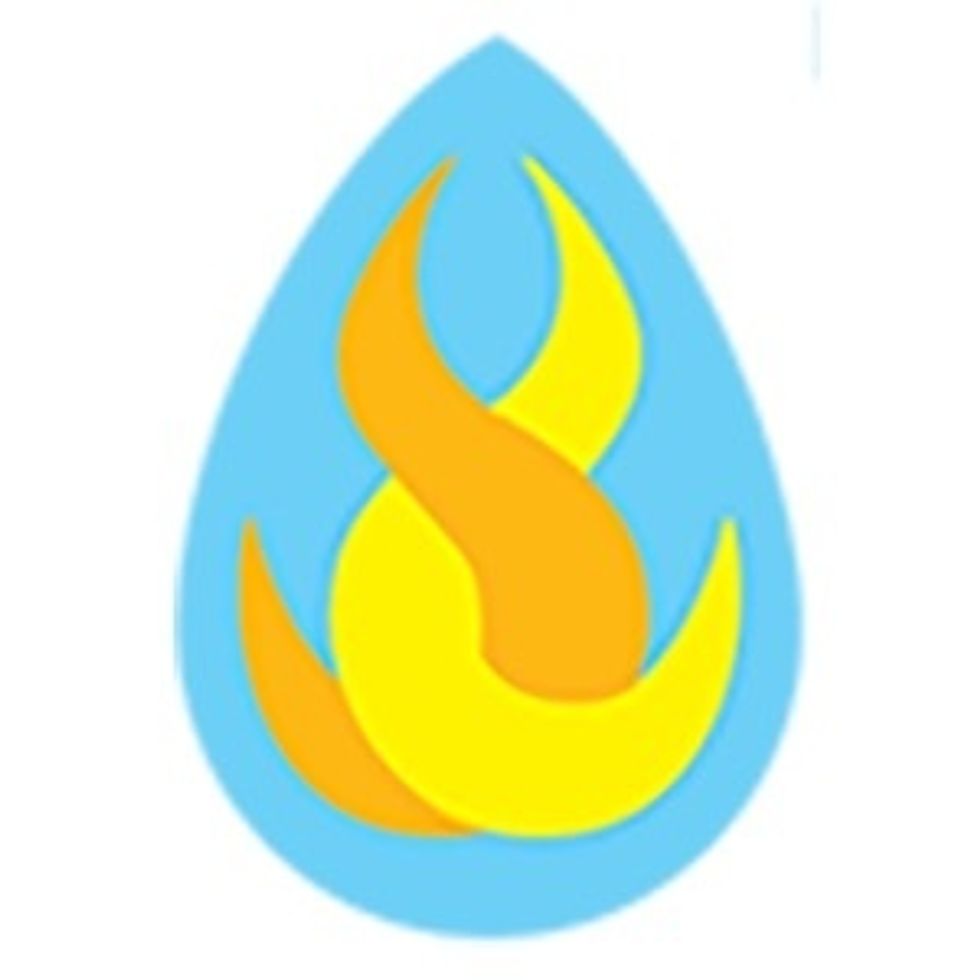 Visit our website at doublehelixglassworks.com for more exciting glass colors and tutorials.
1 rod Double Helix Skiron
1 rod Double Helix Aether
Torch. I use a Nortel Arrow
Mandrels, etc
Graphite tool. I use CG Beadrollers.
Charlottesville, Virginia