How to make a simple (but authentic) paella on your bbq
Because paella is awesome, and practice makes perfect.
710
Paella requires a lot of food prep, so bring your "A" game. Chop the chicken and sausage and set aside in a bowl. Chop up the 2 onions and set aside in another bowl.
Chop the 2 bell peppers and set aside in a bowl.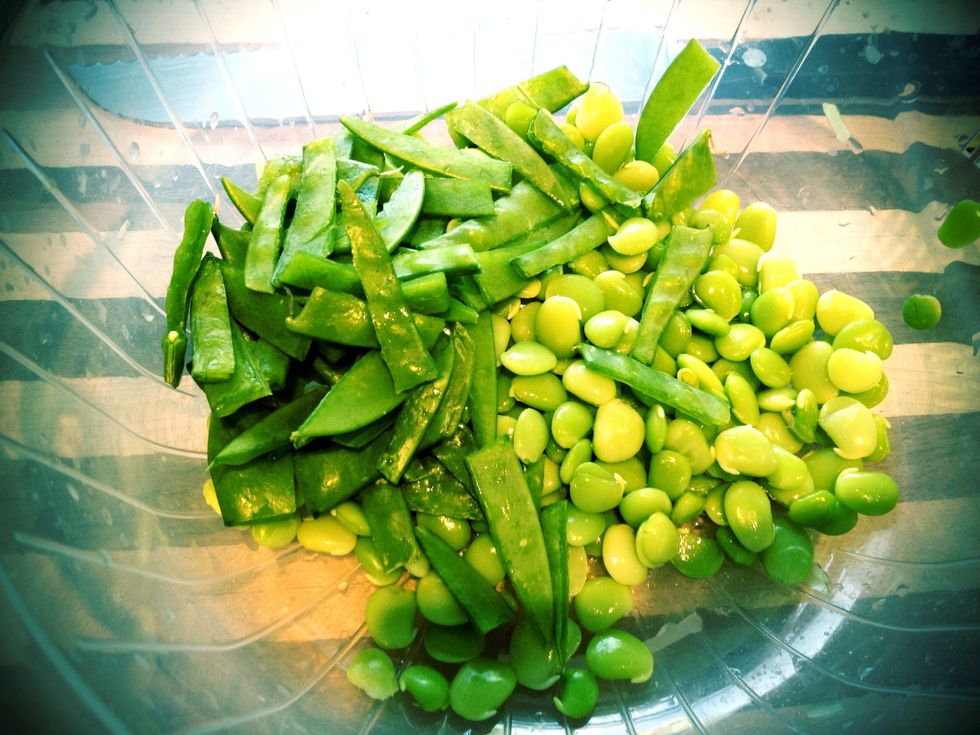 Get a loved one to peel the Lima beans by simply pinching them while wet. Slice the green beans and set both aside in a bowl. You have bowls, right?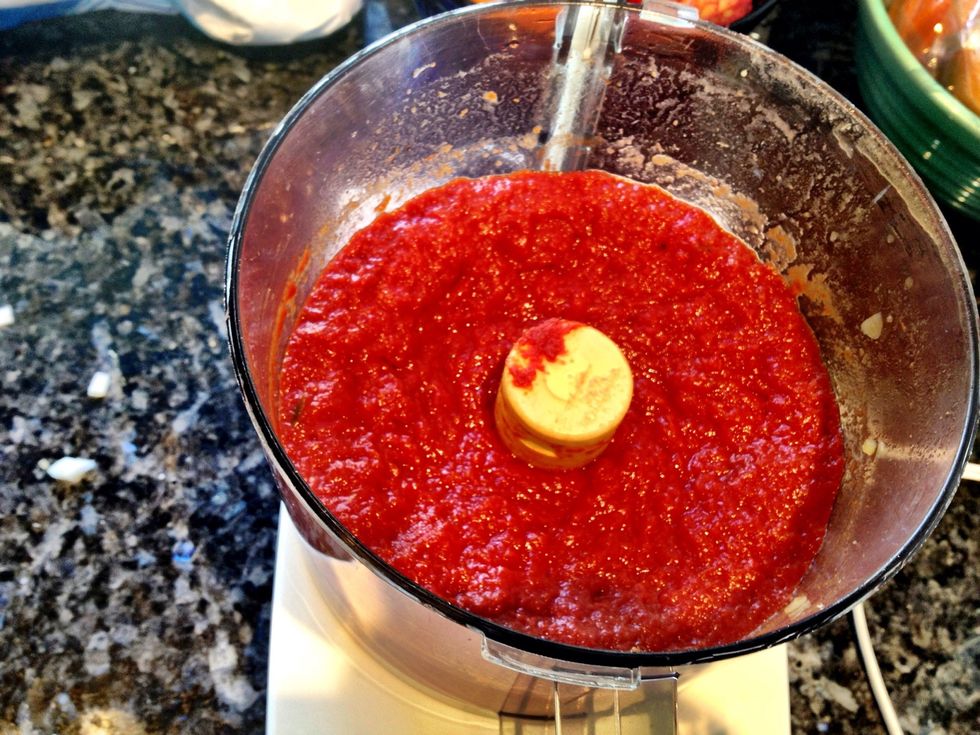 Purée the stewed tomatoes and roughly two cans of tomato paste. In Spain, this stuff is called "Tomate Frito" and is readily available everywhere. Your mixture is not as awesome but will get close.
Heat 8 cups of chicken broth on your stovetop. Add 2 tsp Saffron and mix well. Real Spaniards use water here, but I'm betting you're not from Spain, so you get to cheat.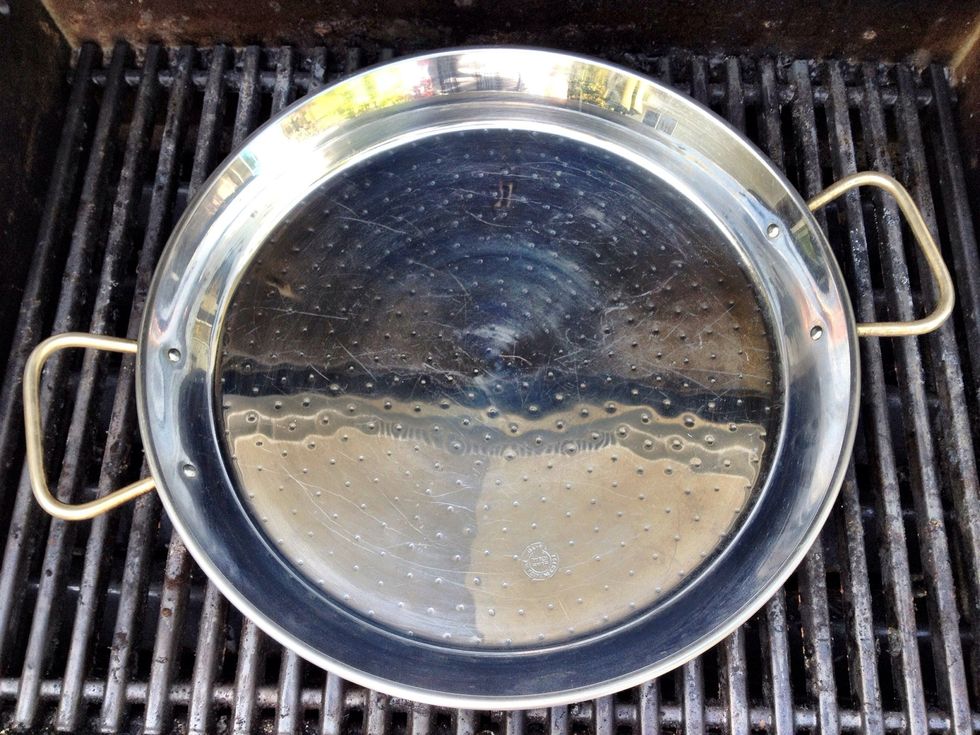 Paella gets its name from the pan that it is cooked in, also called a paella. Throw that bad boy on your grill. You *did* preheat the grill, right?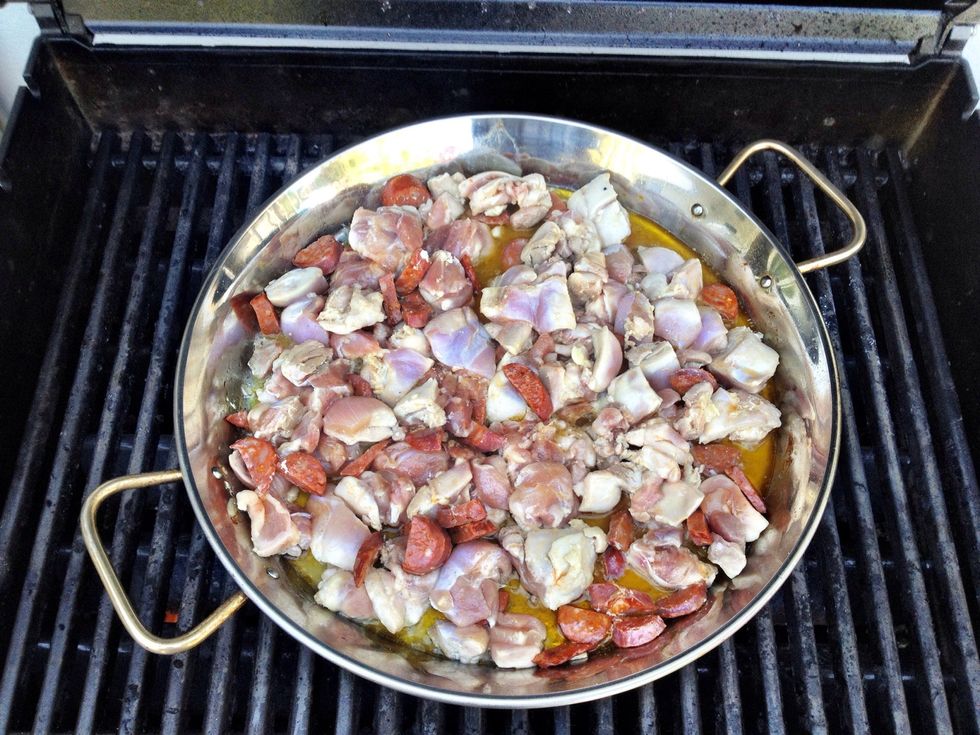 Heat a generous amount of olive oil and add the chicken to give it a good browning. Add linguiça for some extra kick. Once everything is mostly cooked, set the meat aside in a bowl, leaving the oil.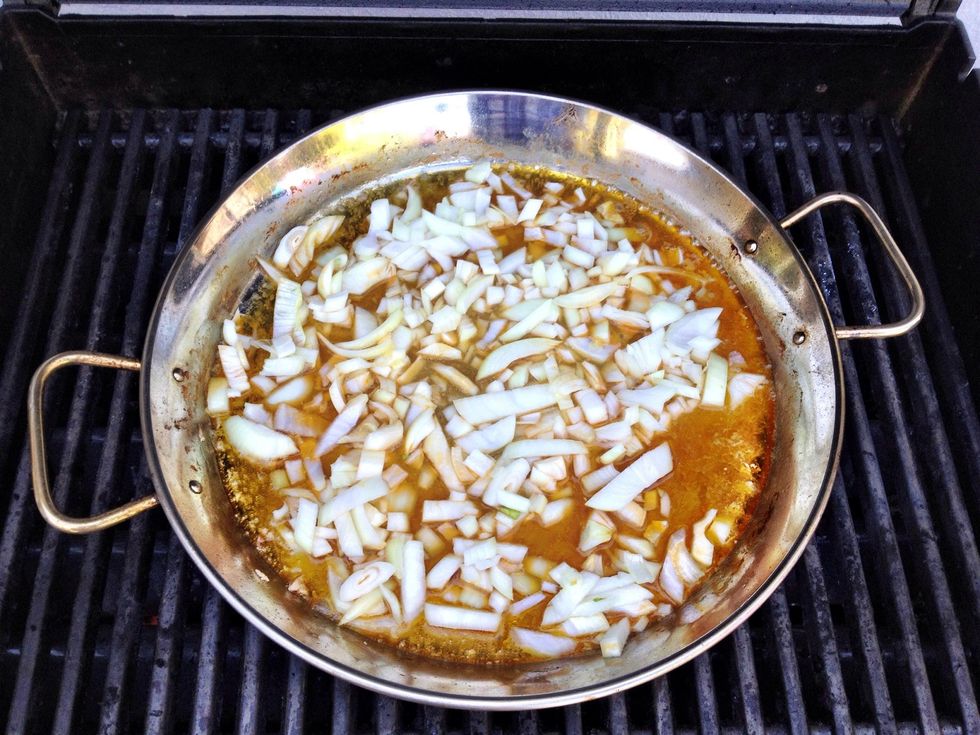 Throw in your onion and cook until clear and soft.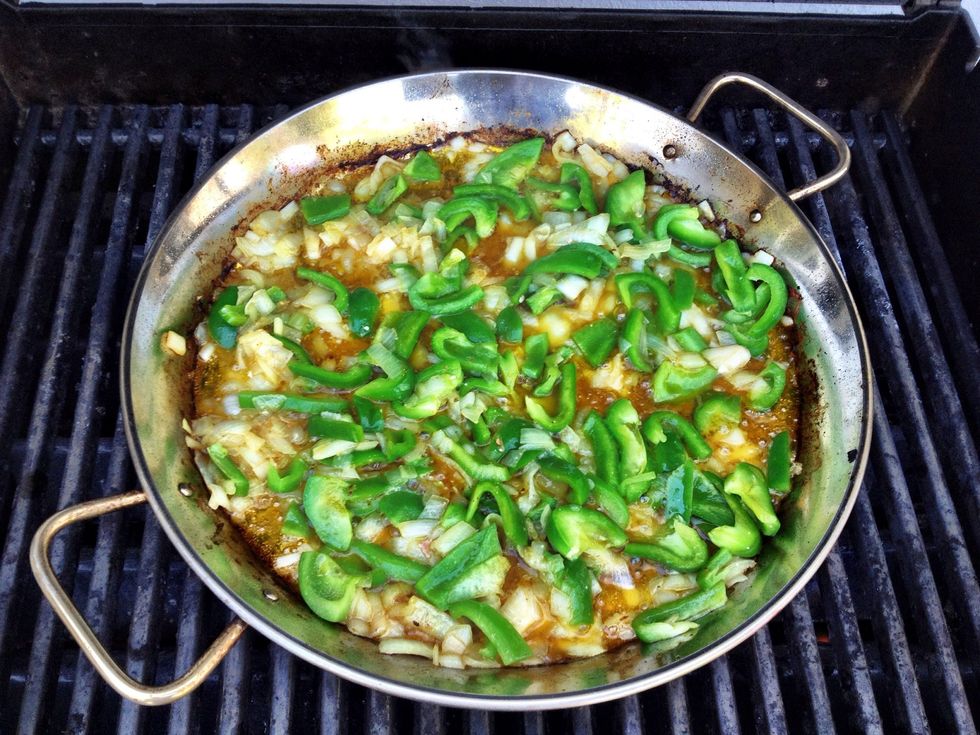 Add the bell peppers and mix through. Some add red peppers here for color; Your call.
Add beans. Monitor your oil level; you may need to add some here. Again, liberally. Spaniards are not afraid of olive oil, so why should you?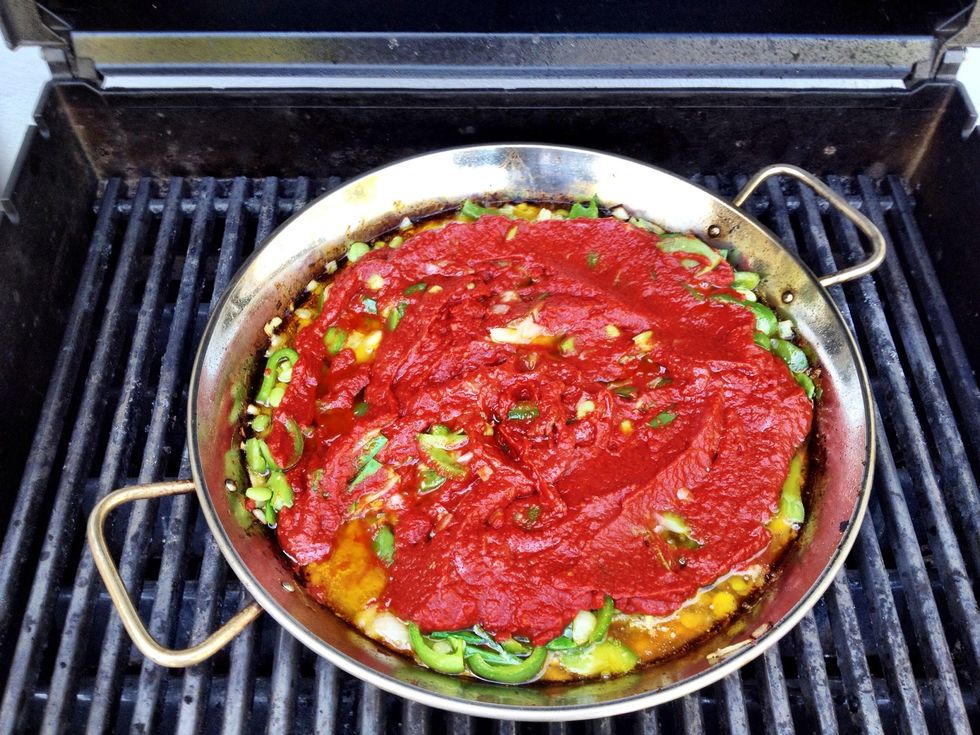 Once the vegetables have cooked a while and are starting to soften, add your tomato mixture and garlic to your taste.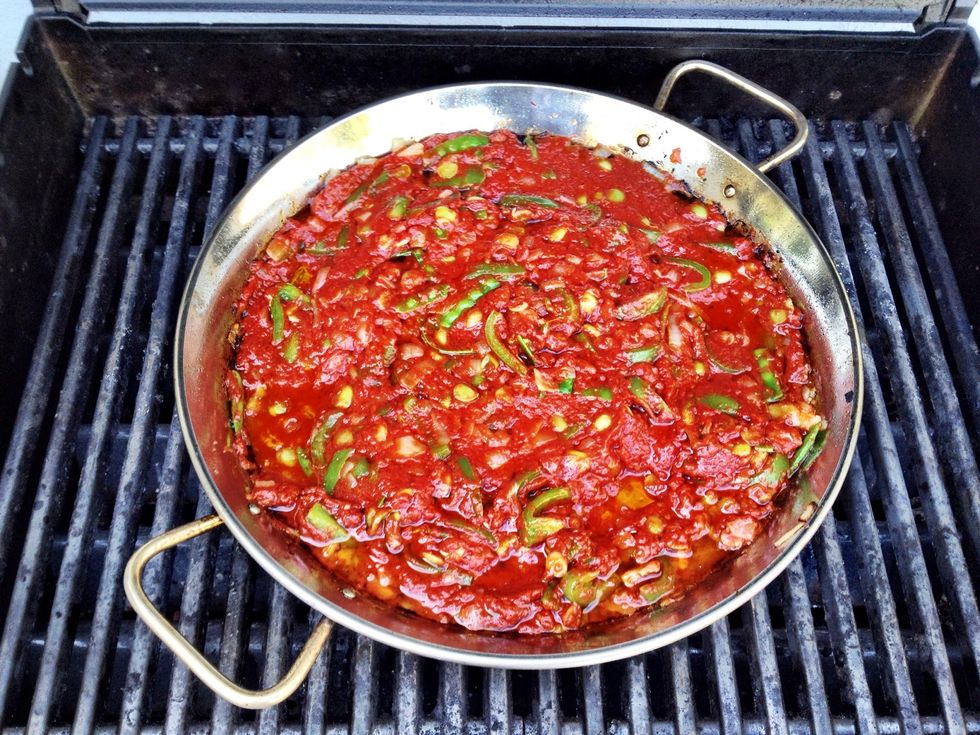 Mix well and allow to cook this way for 20 minutes. Waiting can be the hardest part of making paella. Quantities and timing are vague. It's all about trial and error to see what gets the best result.
Add 4 cups of rice in a cross to keep the paella demons at bay.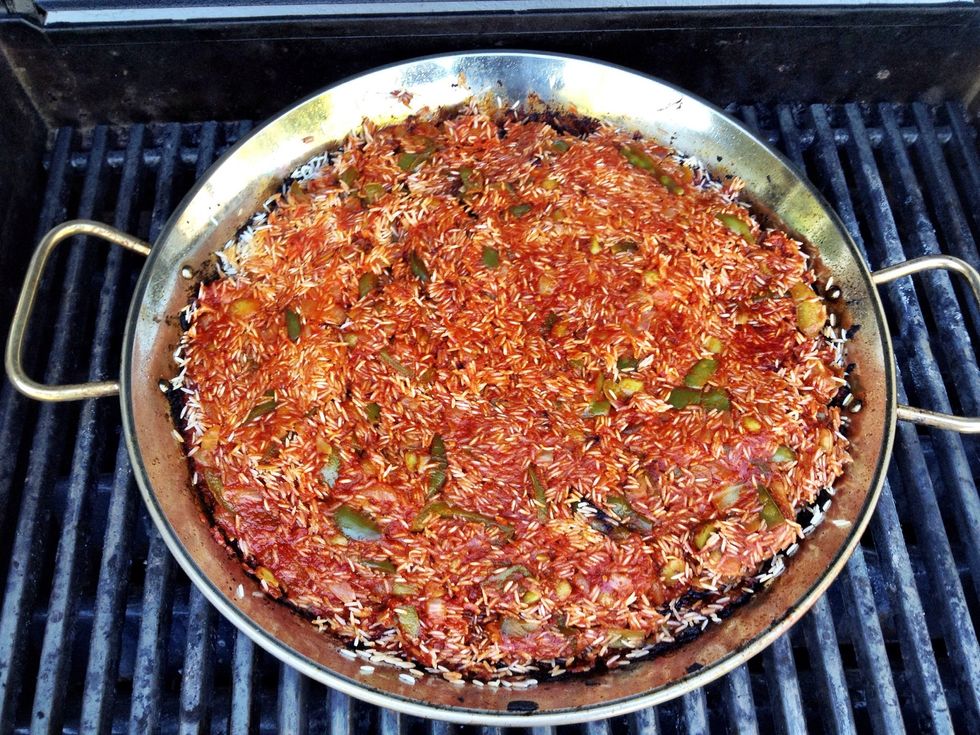 Real Spaniards would never do this, but mix your rice around to make sure it has even coverage. Simmer for a few minutes. This is the last time you're allowed to stir the paella. No, really.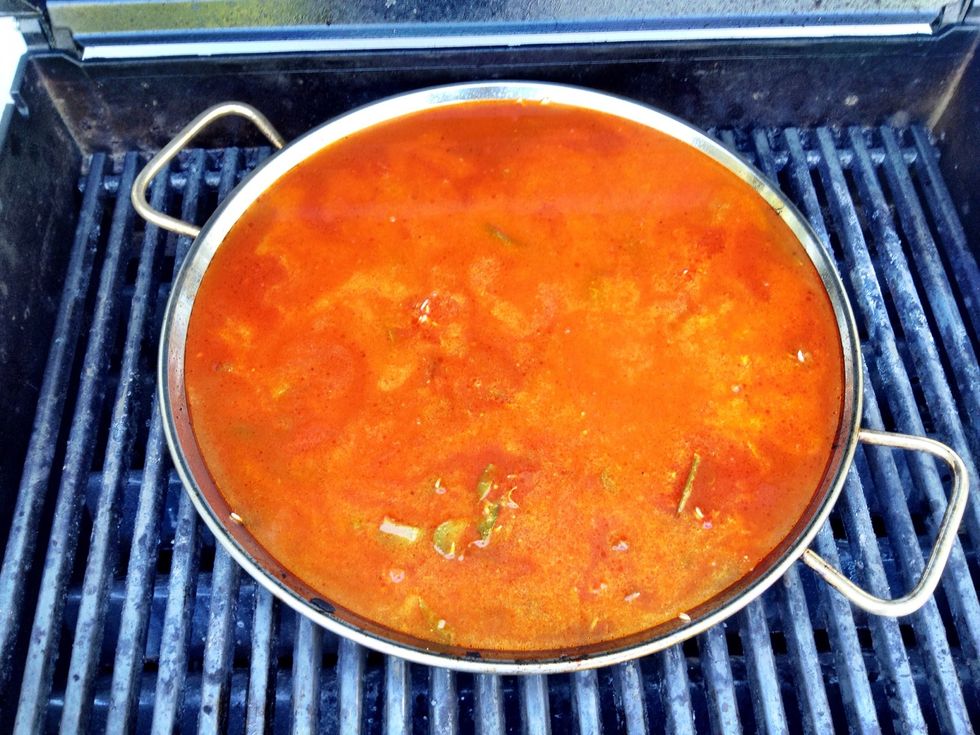 Add the broth, carefully pouring to get maximum coverage. Most Paella recipes leave out the most crucial ingredient: prayer.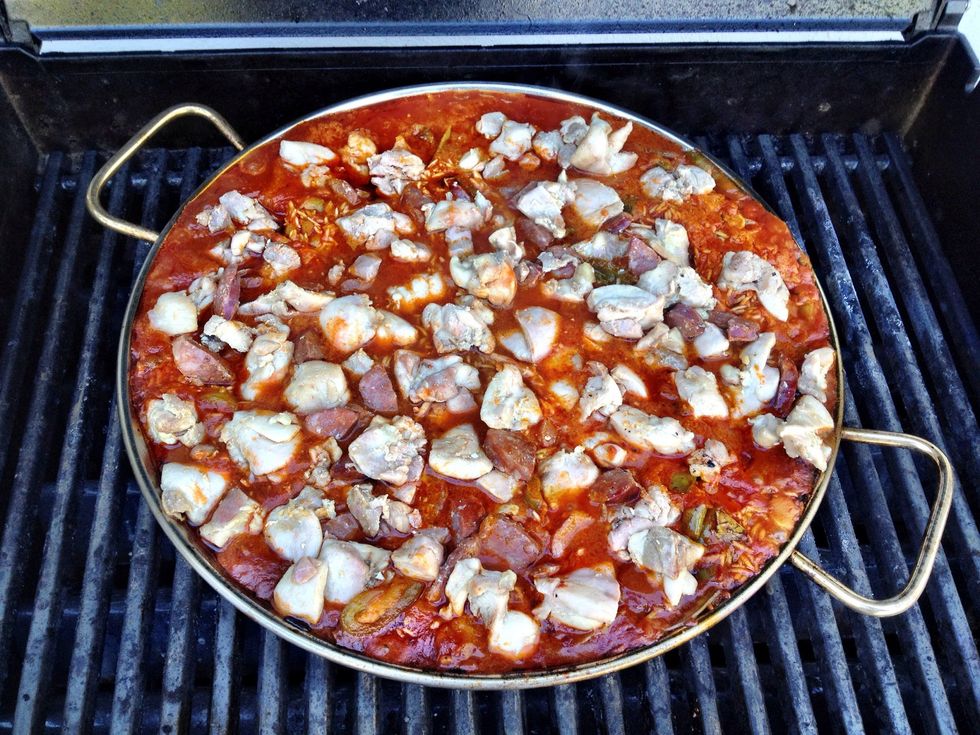 Give it 5 minutes or so, then add the meat back in. Real Spaniards use seafood, but I've always preferred paella de pollo (chicken) or conejo (rabbit).
Let cook at a low-medium temperature until the broth is absorbed. Watch the rice carefully; you may have to add extra broth if there are areas where the rice isn't fully cooked. Pray. A lot.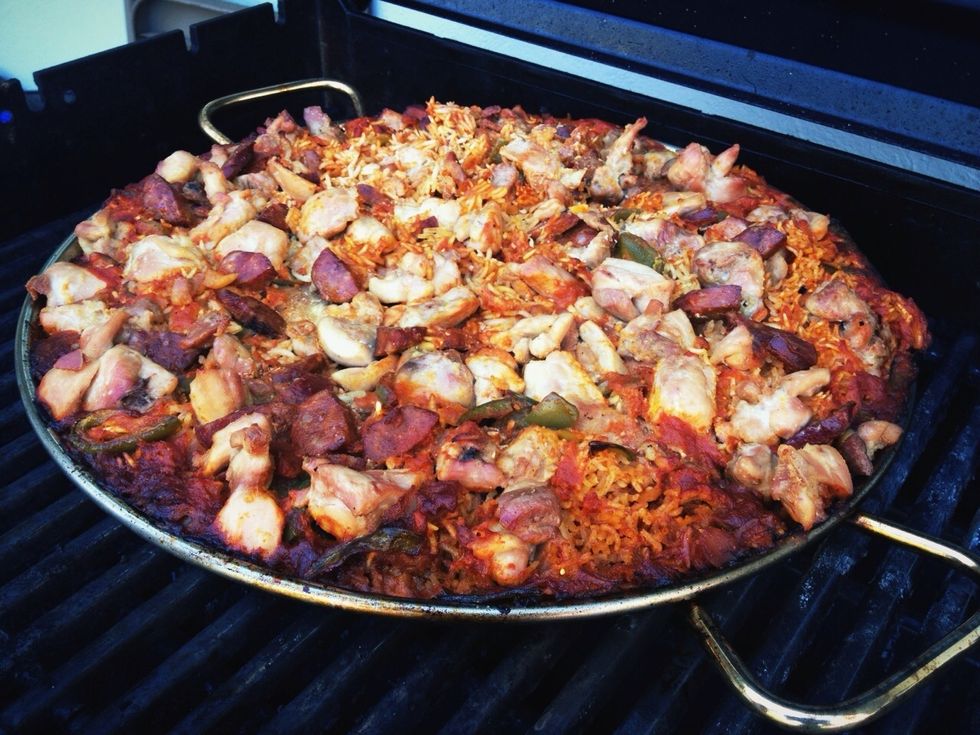 Invite 12 of your hungriest friends over to hang out during your 3-hr paella adventure. This is what it all ends up looking like before your ravenous friends descend on it. (photo: @andrewcrow)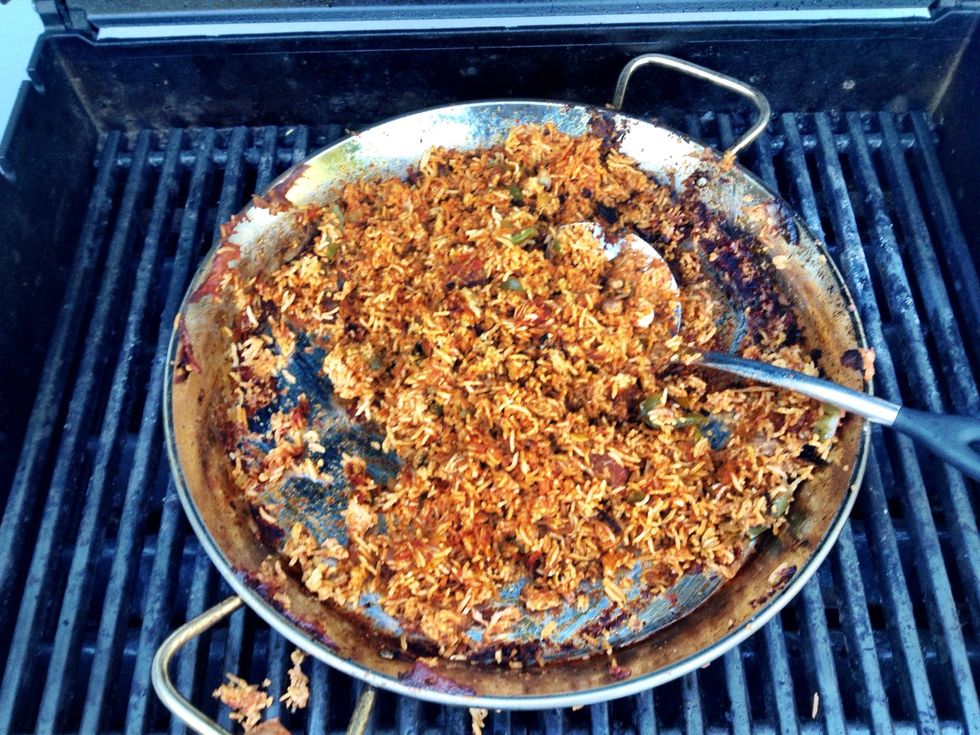 Squeeze a wedge of lemon over each plate. Serve with a slice of sweet baguette. To the victor go the spoils, and remember- the burnt spots have all the best flavor!
12.0 Boneless thighs
1.0 Spanish Chorizo (or) Linguiça Sausage
50.0 Lima beans, peeled
1/2oz Stewed Tomatoes
12.0oz Tomato Paste
15.0 flat green/string beans
2.0 Onions
4.0c Rice
8.0c Chicken broth
2.0tsp Saffron
2.0 Green bell peppers
2.0 Garlic
Jared Benson
Executive Creative Director at mobile interface design firm @Punchcut. Lived in Spain 1992-1994.