Make a Poseidon Paintbrush With Chrissy Colon
1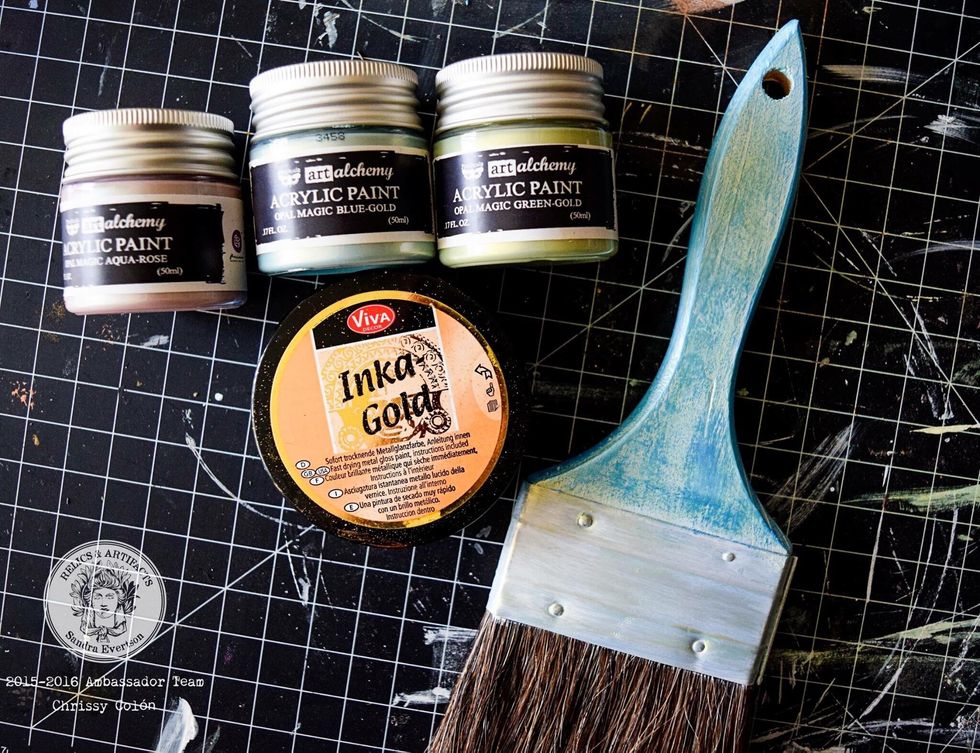 Paint the brush with gesso. Apply Finnabair paint in Blue-Gold all over. Go crazy with it! Dab Opal Green-Gold with finger and smear, When dry, use fingers and lightly rub on Inka Gold paint.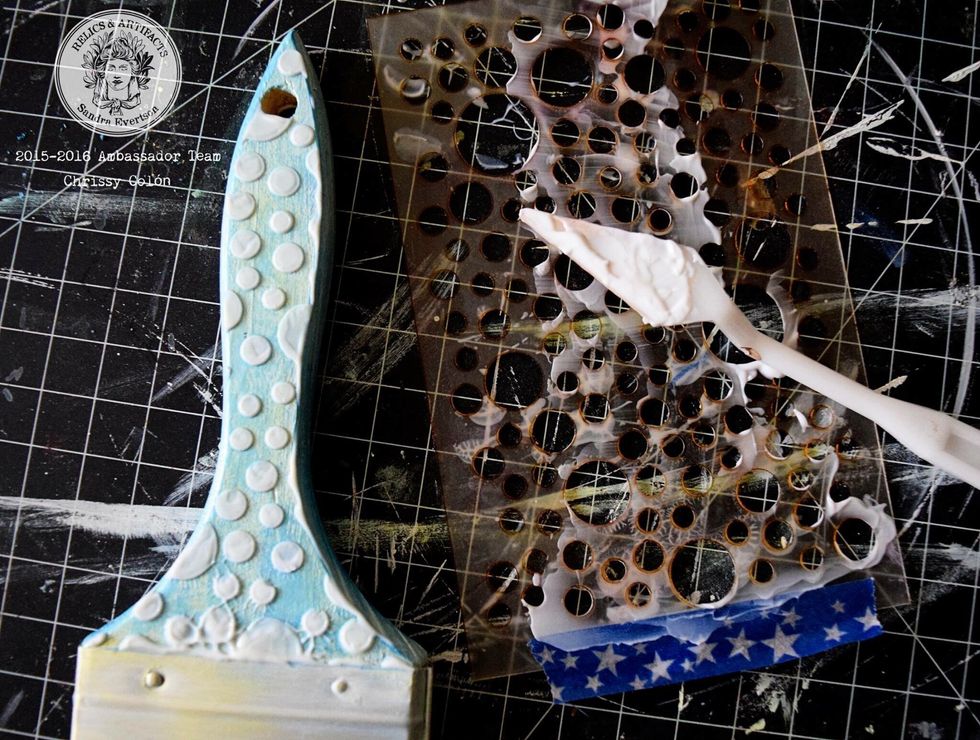 Use a gel medium through a stencil, any stencil. Whatever floats your boat is perfectly acceptable. I used one that reminded me of bubble because, you know, ocean theme and all.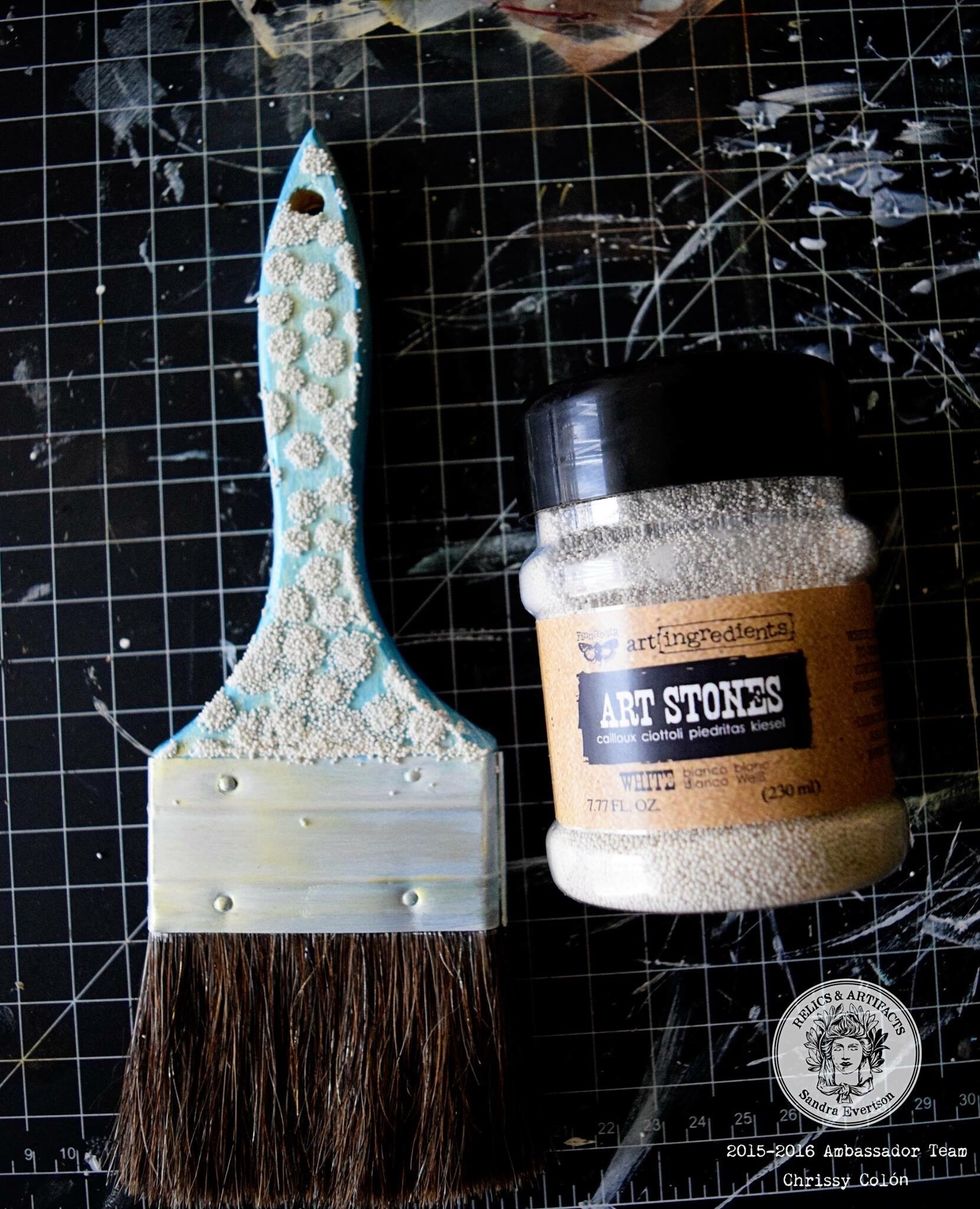 Sprinkle on Finnabair Mini Art Stones while playing Def Leppard's "Pour Some Sugar On Me". When it's almost dry, use a spray mist wand and drop ink onto the stenciled pattern to give the stones color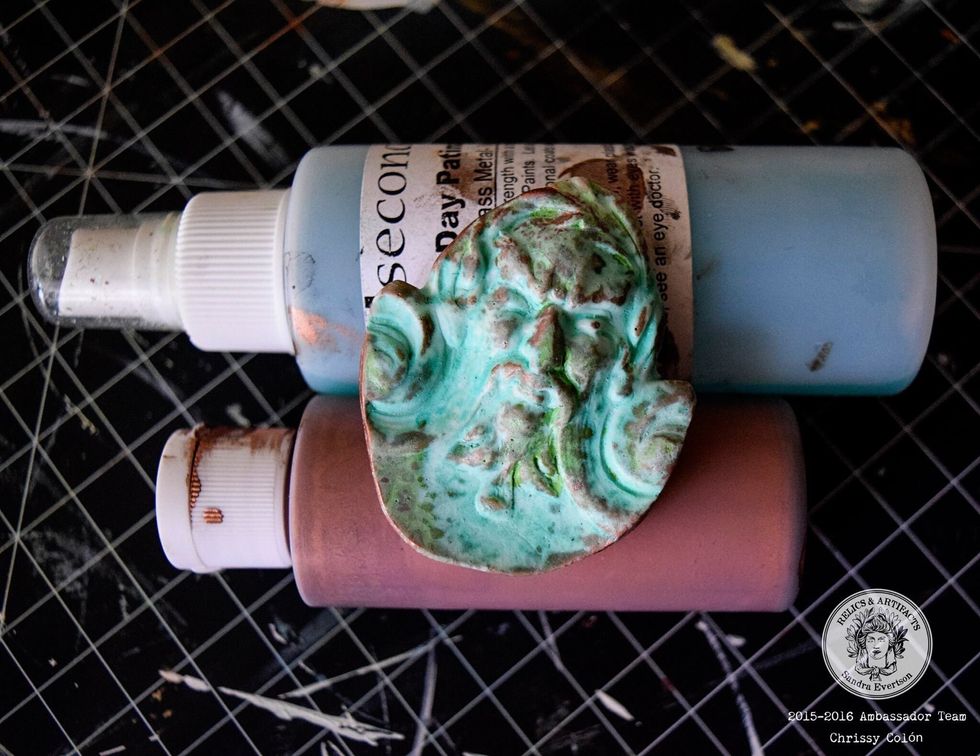 Apply VerDay copper paint and patina according to the directions. Set aside to dry . Once dry, use green mica powder and water to highlight the details on Poseidon's lovely mug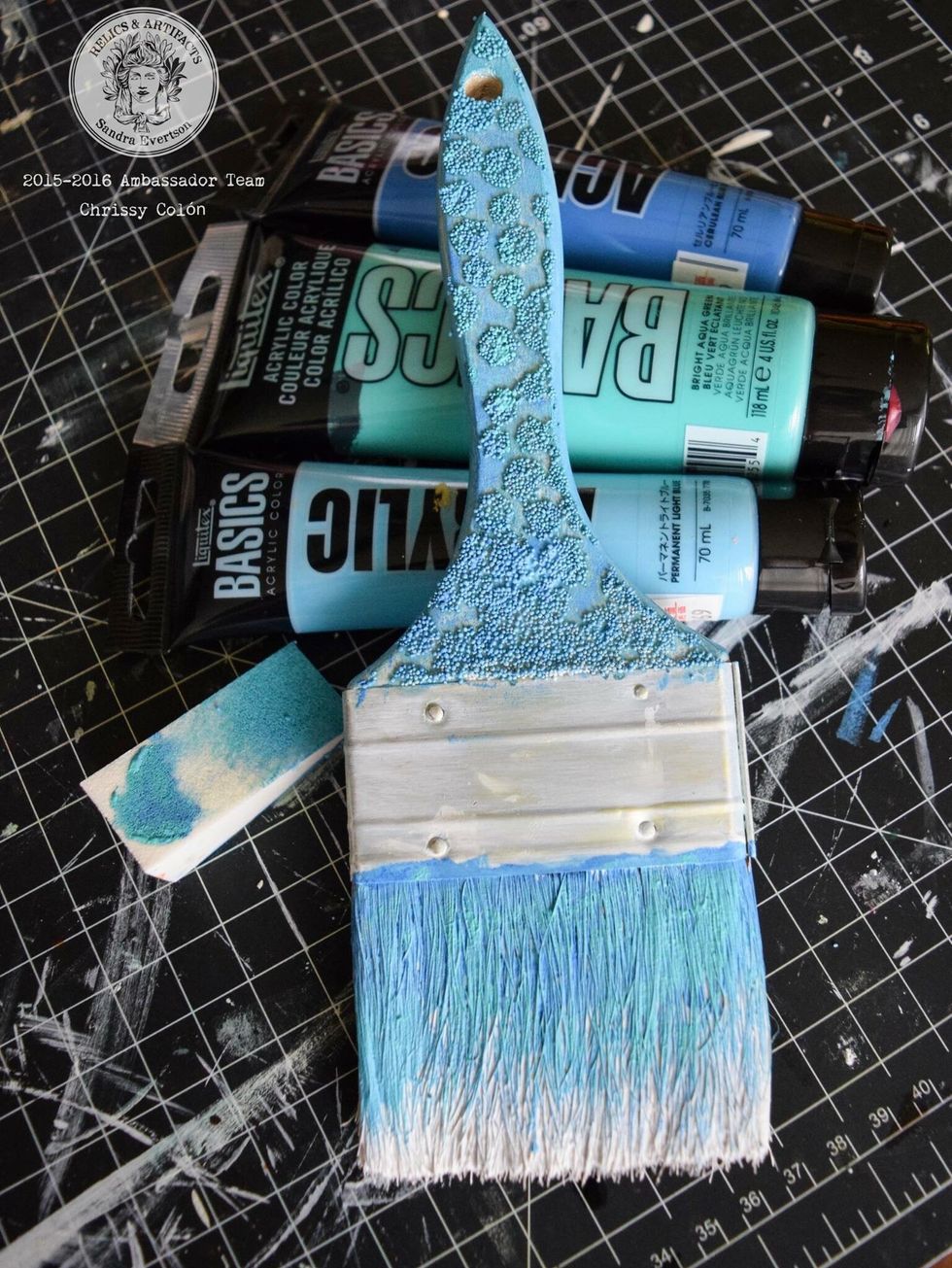 Apply a heavy coat of gesso to the bristles cover completely. Once dry, mix acrylic paints & apply using make up sponge and a dabbing motion. Add highlights and lowlights wherever your heart desires
While the bristles dry, paint up your chipboard embellishments. I used acrylic paint and a spray mist. I like keepin' it simple, y'all!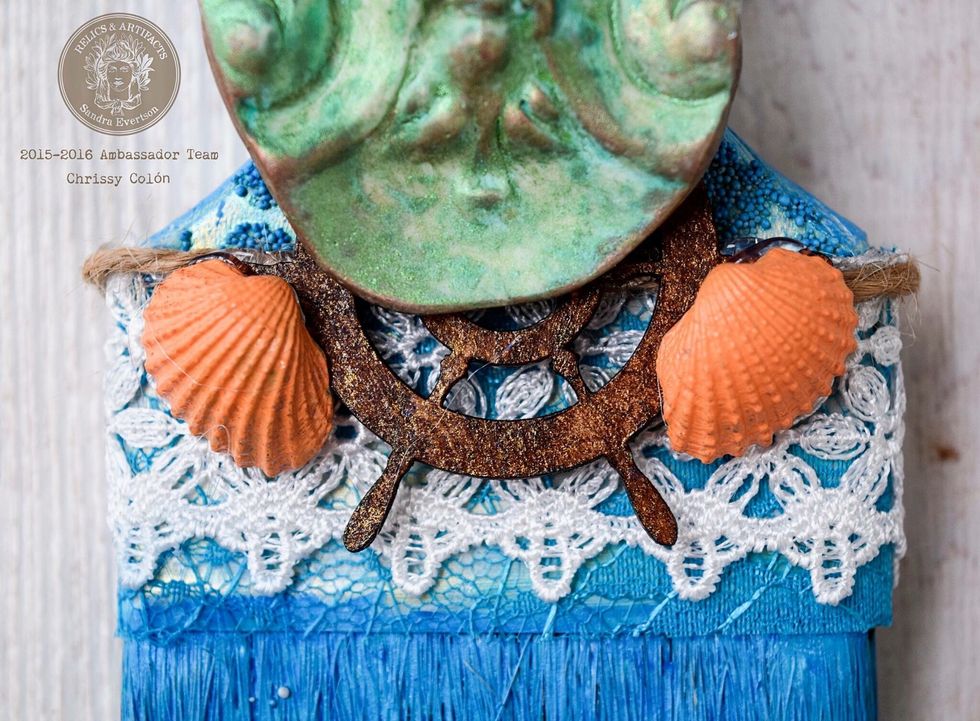 Glue your lacy bits and trims onto the brush. Once they are all settled into their new homes, glue on your newly prettied embellishments include Poseidon's regal visage.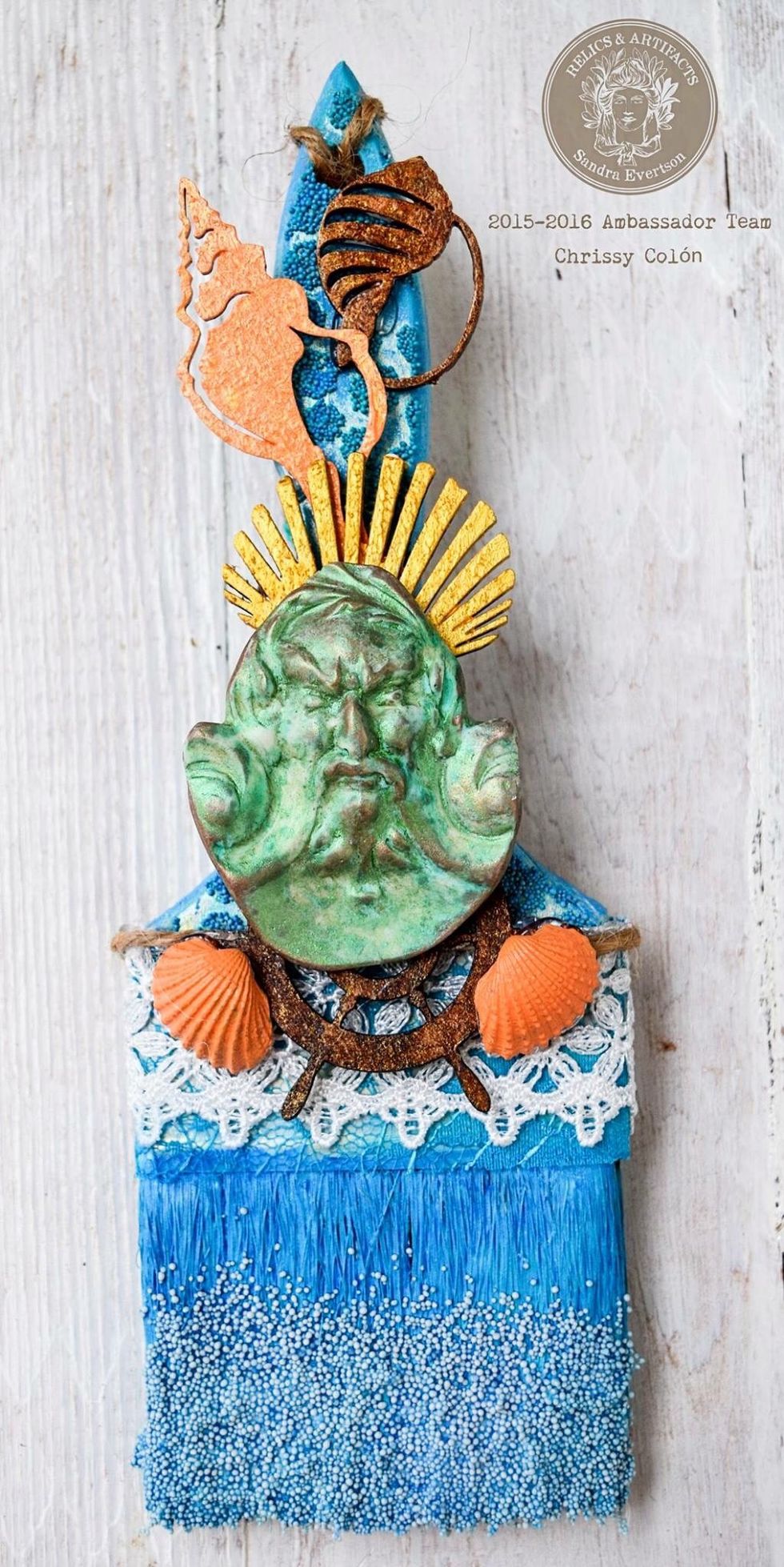 Prop that bad boy up, pour yourself a tasty beverage (margaritas are perfectly acceptable), sit back and just "ooooh" and "aaaaaah" at all of your creative awesomeness.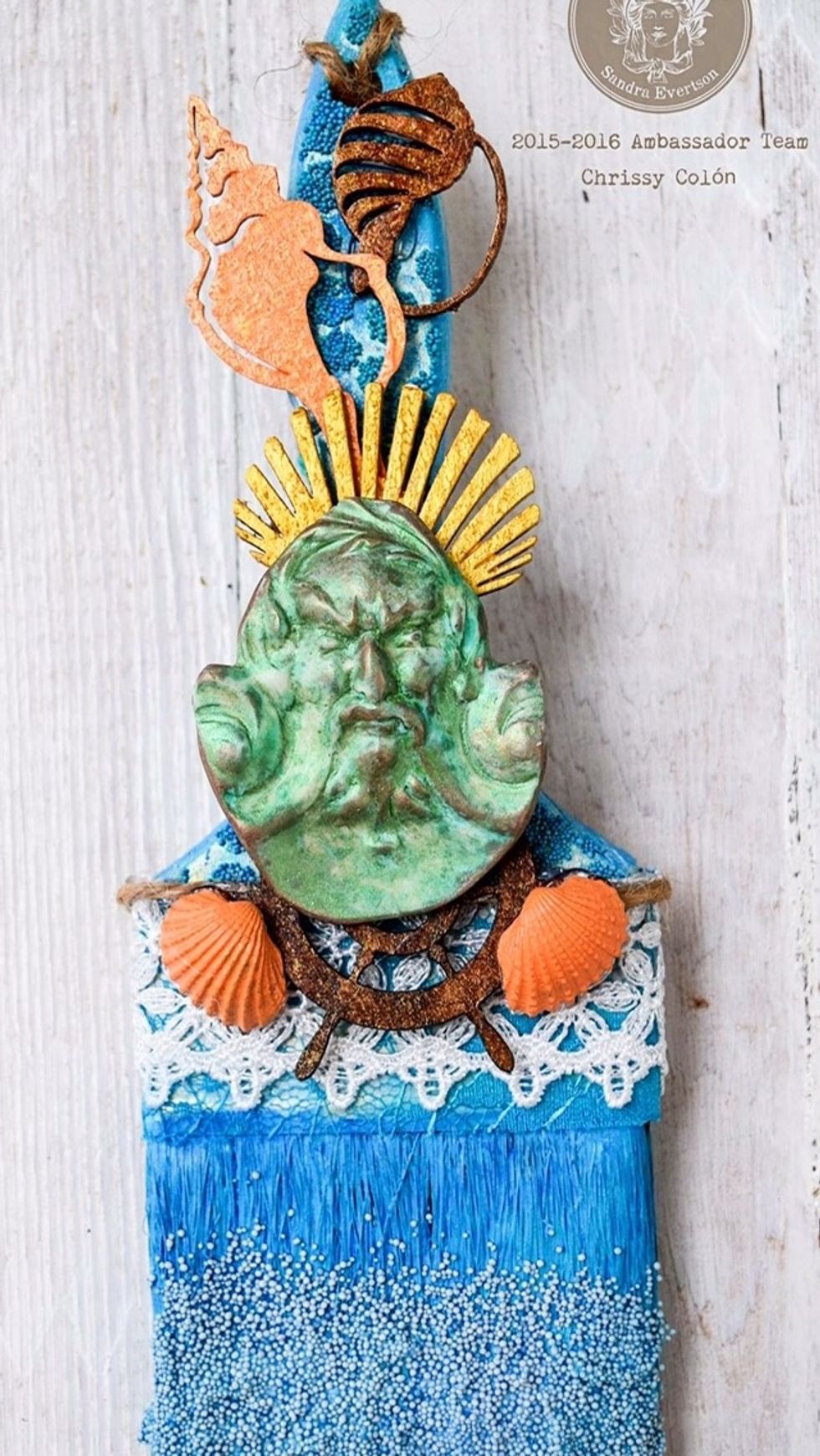 Visit the Muse at www.sandraevertson.com to read about Ambassador Chrissy Colón inspiration behind this awesome artwork!
Relics and Artifacts Mythos
Verday Paint kit
Finnabair Opal Magic Paint "Blue-Gold"
Finnabair Opal Magic Paint "Green-Gold"
Finnabair mini art stones
UmWowStudio Stencil "Bubbles
UmWowStudio Chipboard "Seashells"
UmWowStudio Chipboard "Shipwheel (small)"
Paintbrush
Gesso
Gel Medium
Acrylic Paint
Spray Mists
Mica Powder, light green
Lace and Trims
Found Shells
Relics & Artifacts
RELICS & ARTIFACTS ® matte white resin craft blanks by designer Sandra Evertson for Prima Marketing Inc.