Make a Pirate Treasure Chest Birthday Cake
759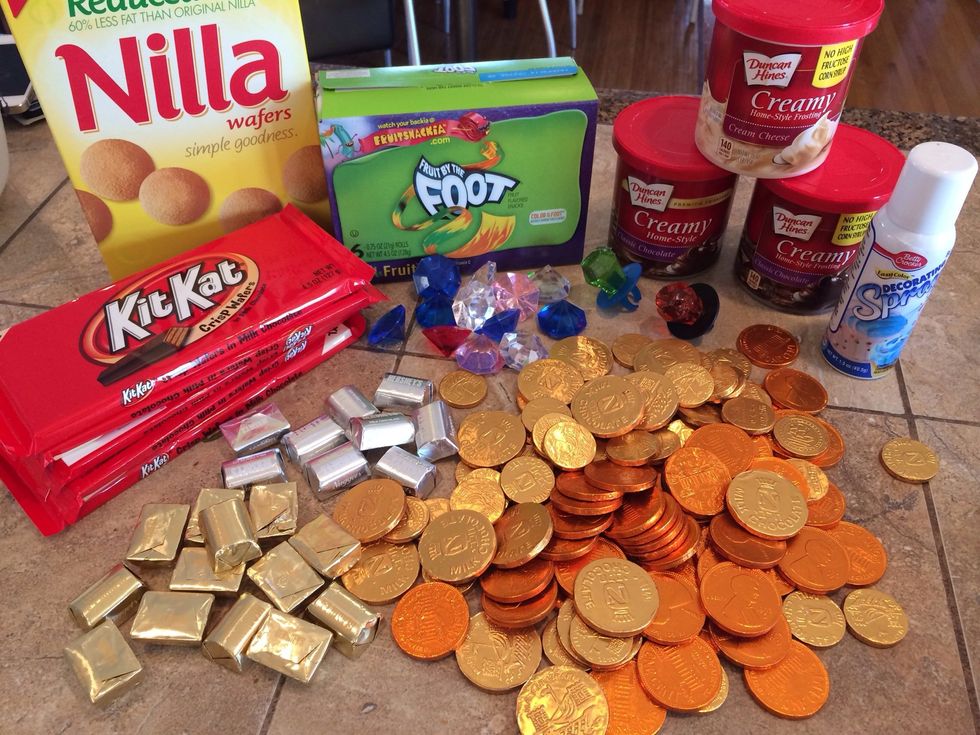 Gather supplies! I got chocolate coins & plastic jewels on Amazon.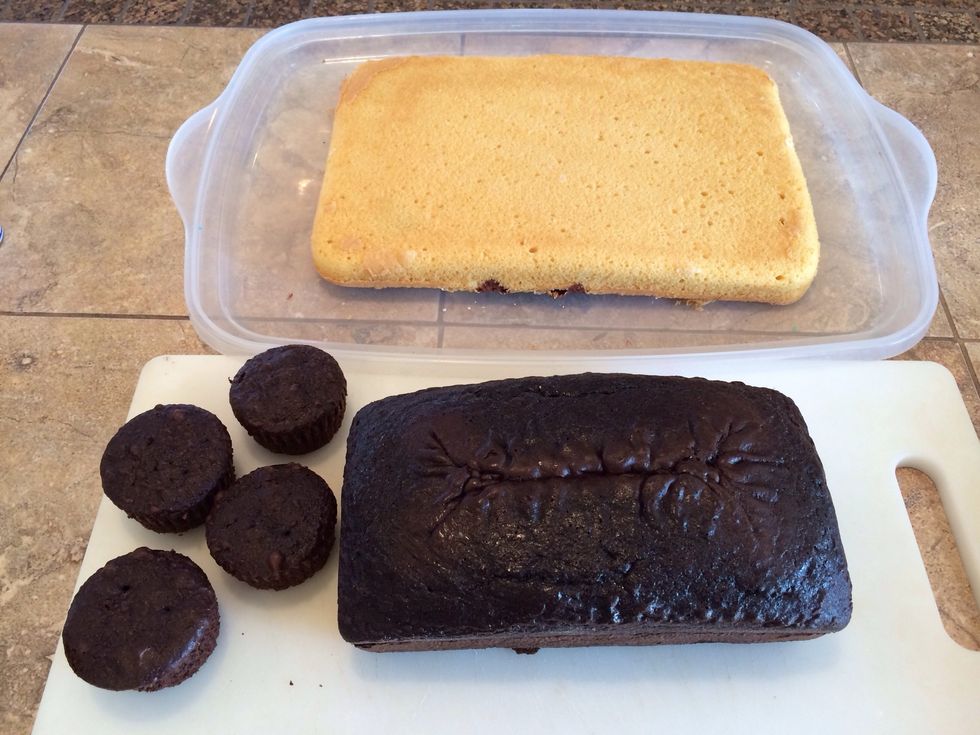 Bake a 9x13" cake for a base (I did a marble cake), and another in a loaf pan (I did chocolate), making some batter into 4 cupcakes. I like to freeze them before working with them.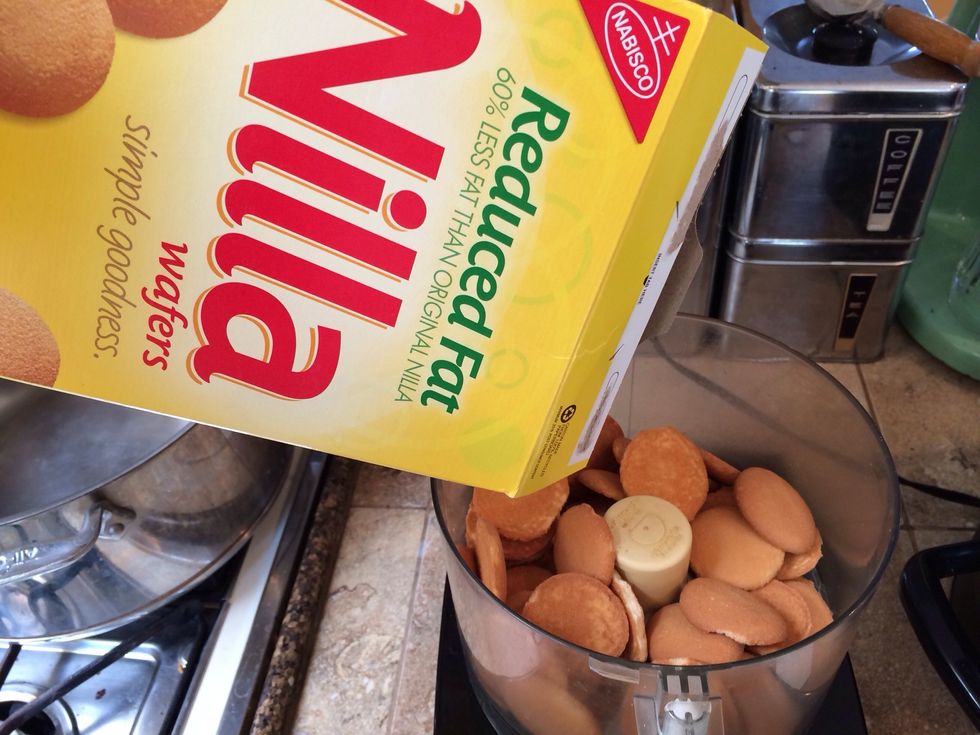 Pour a few Nilla Wafers or graham crackers in the food processor or blender.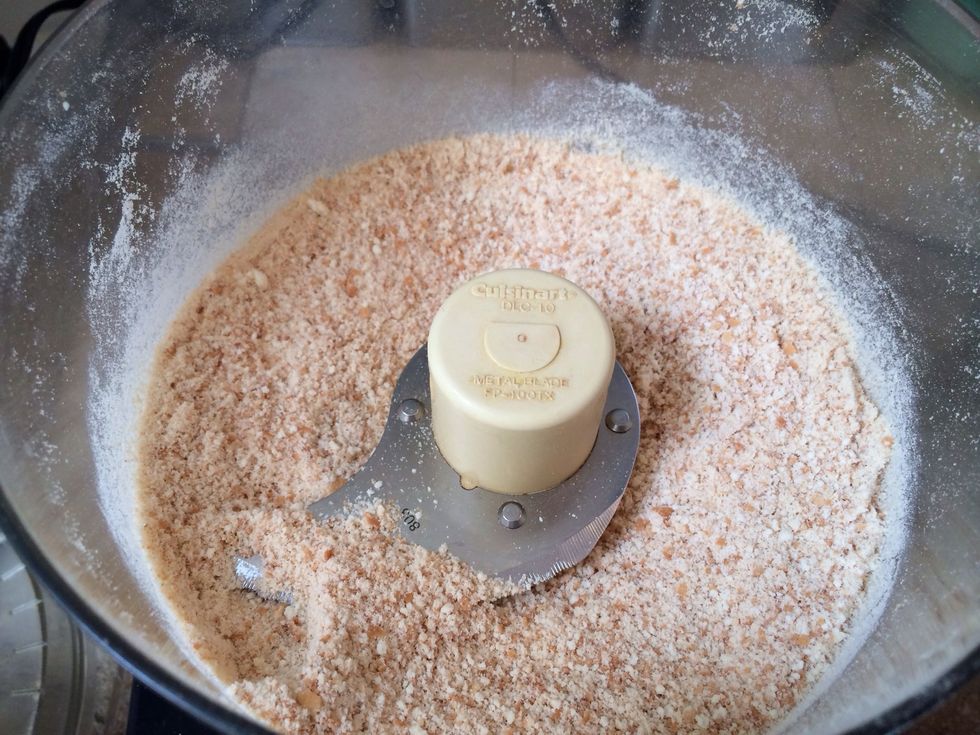 Chop to make your edible beach sand!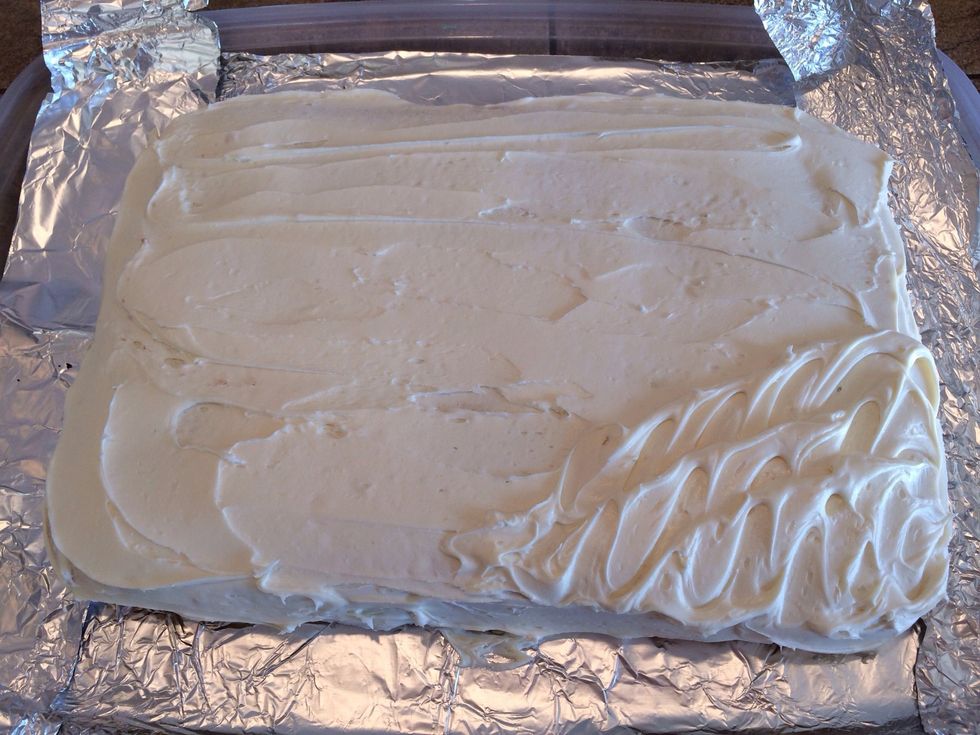 Frost the base cake, making some "waves" in one corner. I used cream cheese frosting.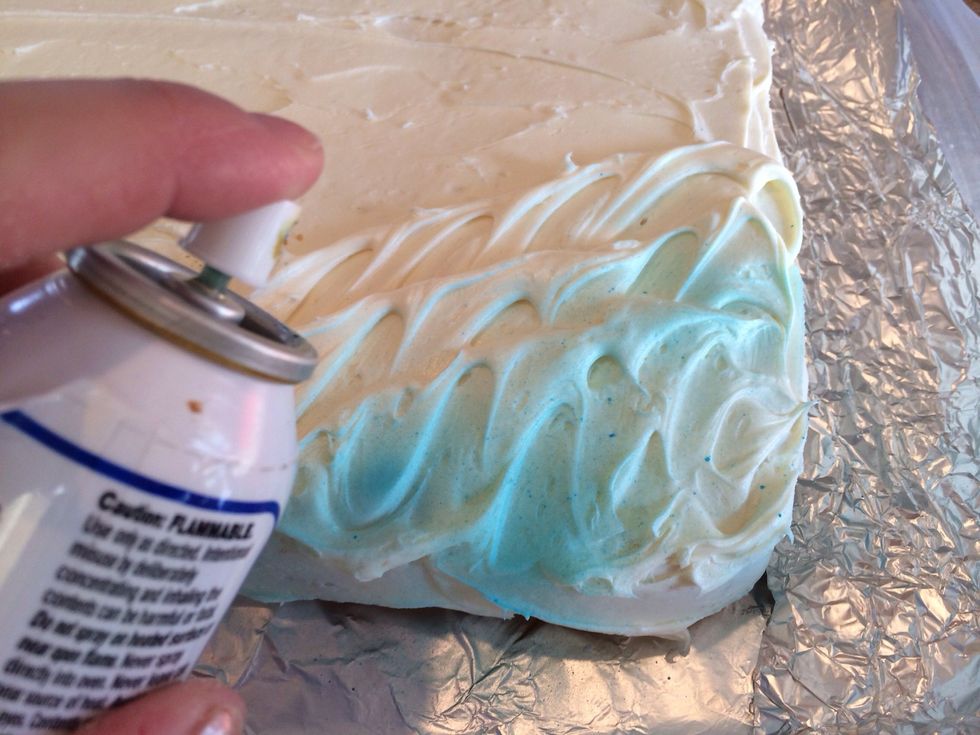 Spray blue food coloring on the waves. If you can't find the spray, coloring the frosting before spreading works too!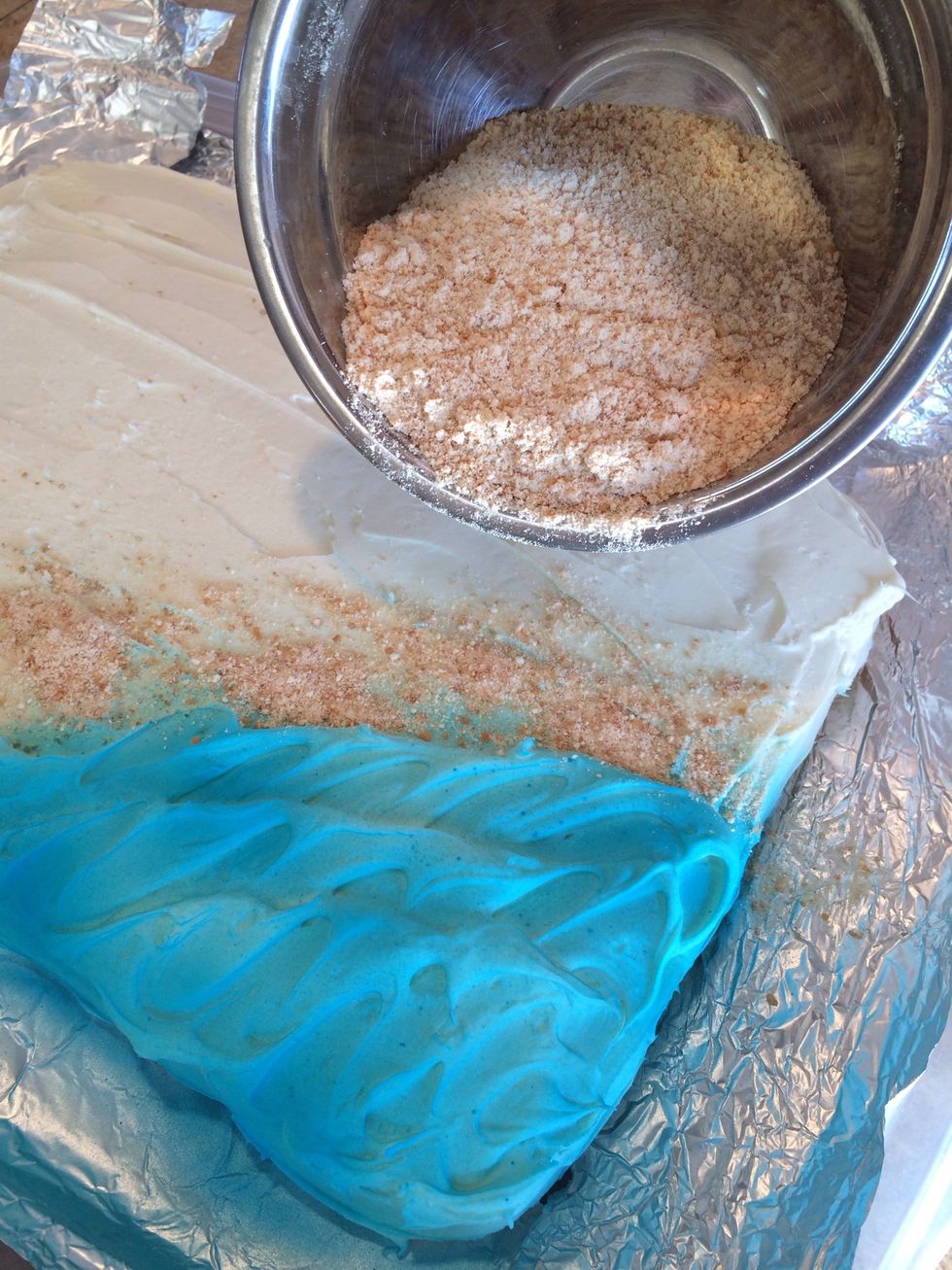 Sprinkle your "sand" on the rest of the cake.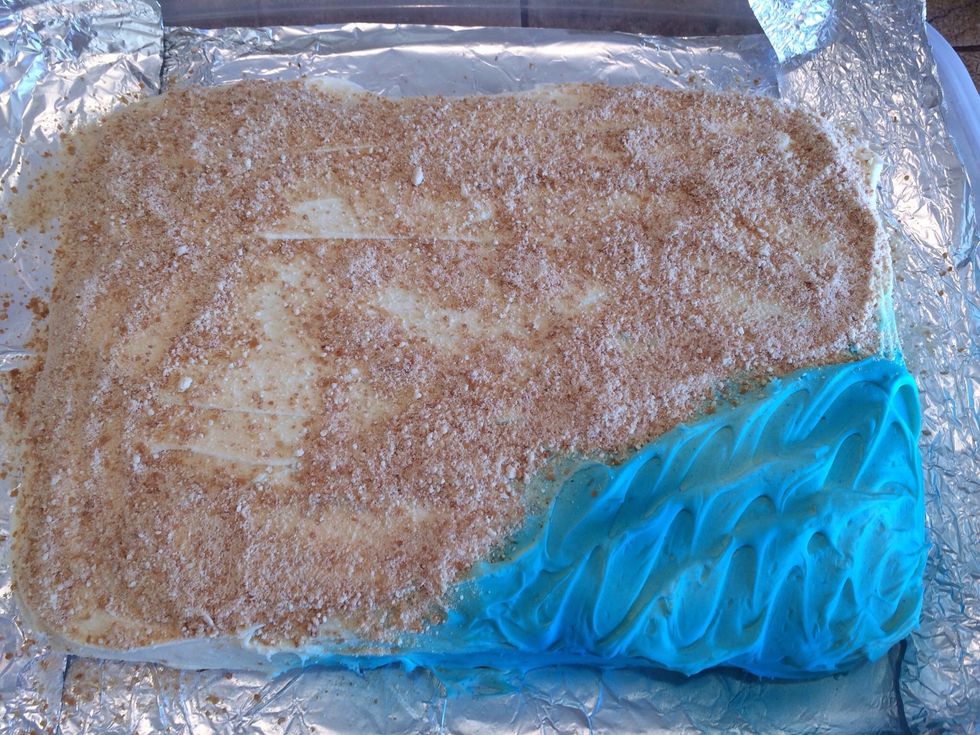 Top view of sandy beach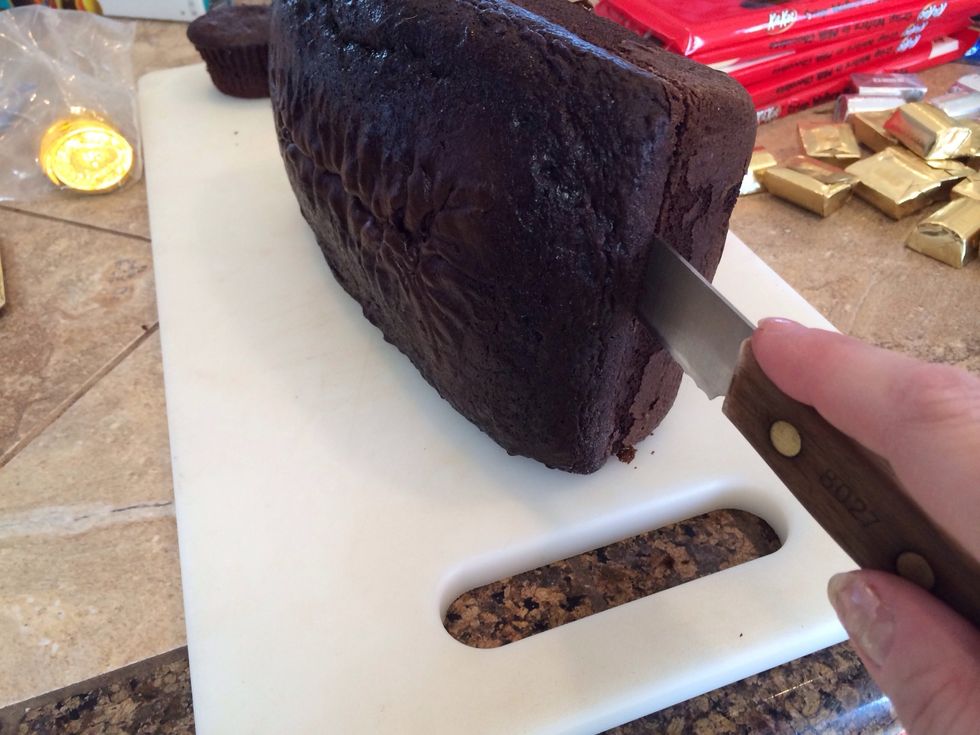 Slice the top off your loaf cake.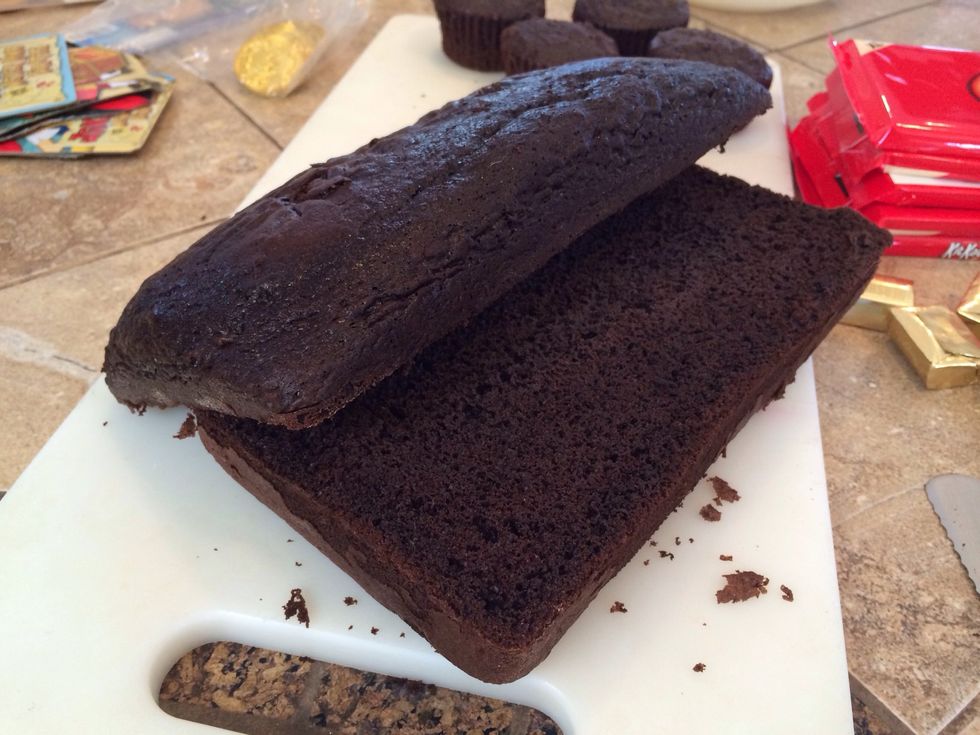 Sliced open treasure chest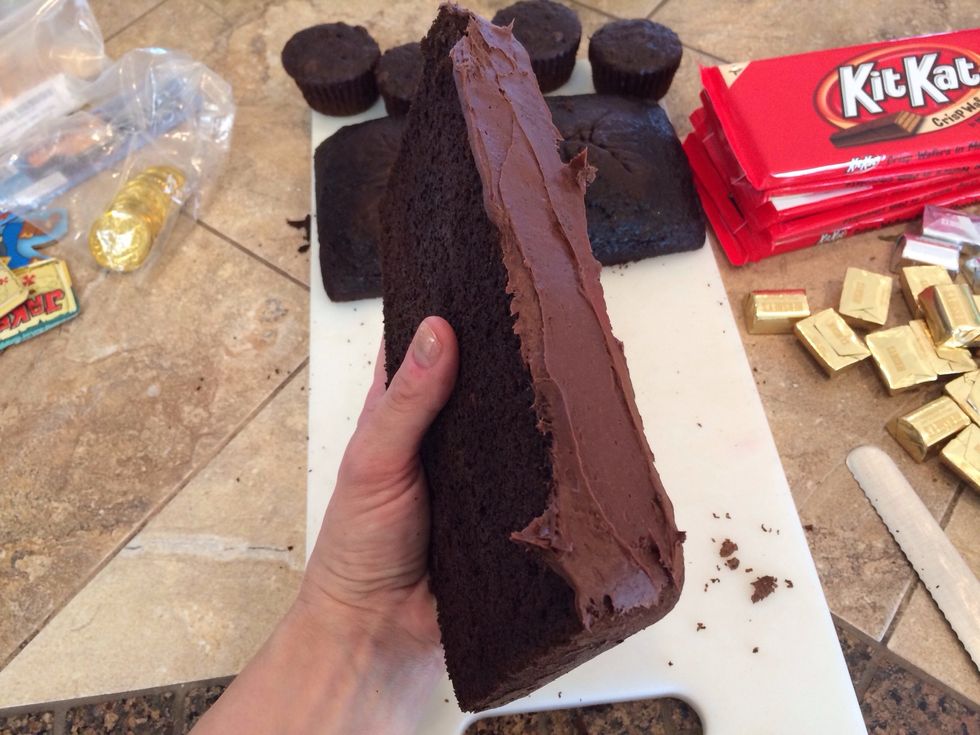 Pick up the loaf cake base and frost the edges with chocolate.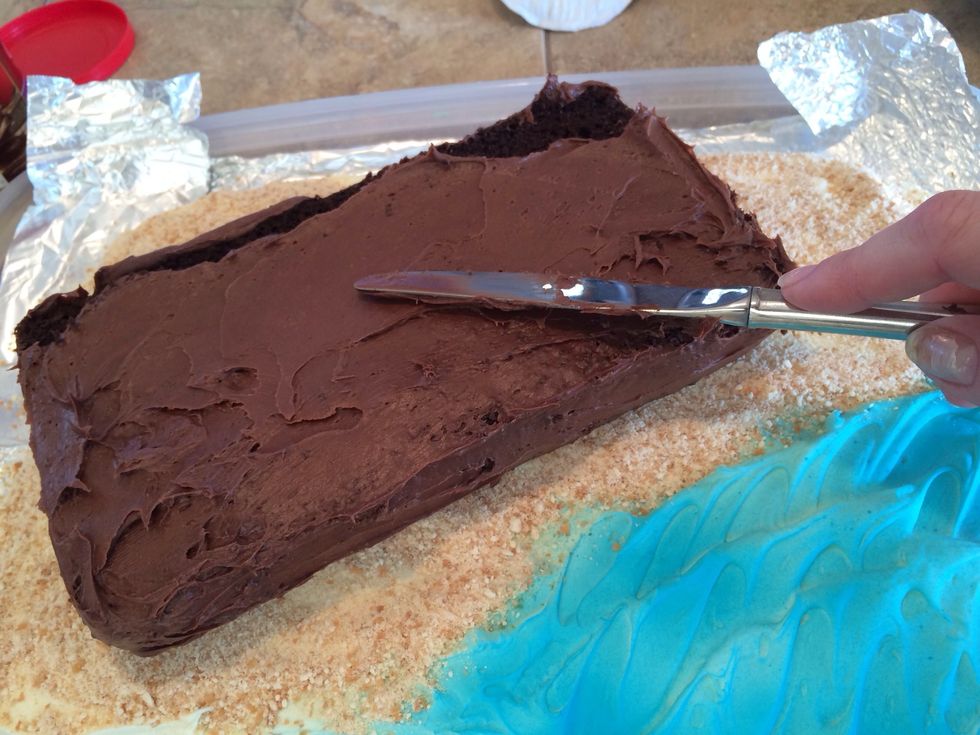 Set it into place on the base and frost the top.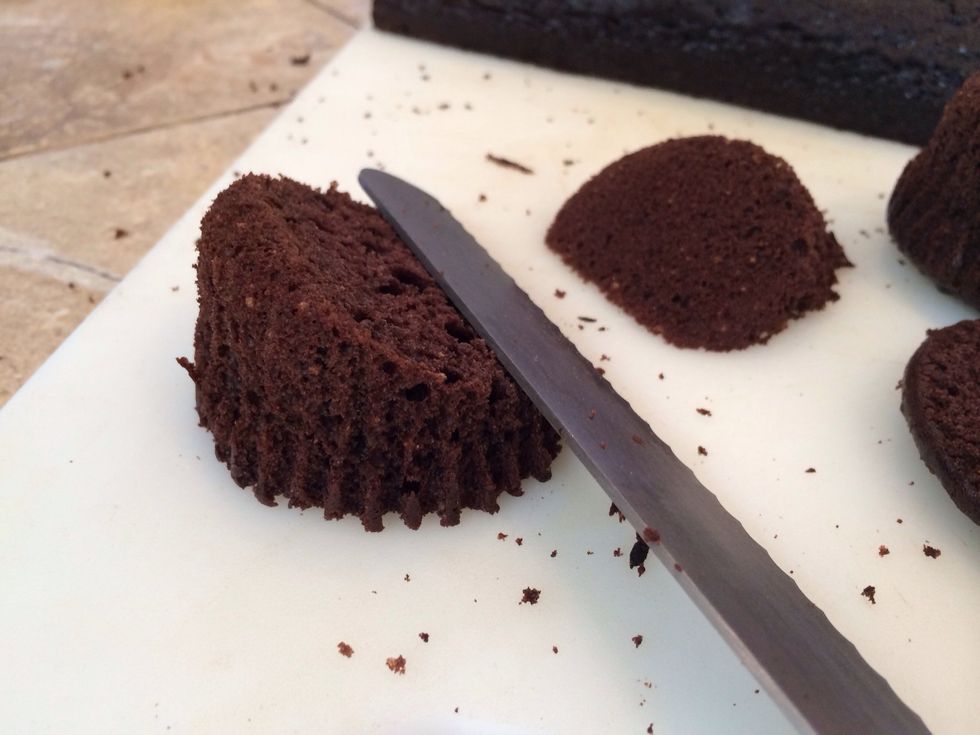 Cut the 4 cupcakes into wedges.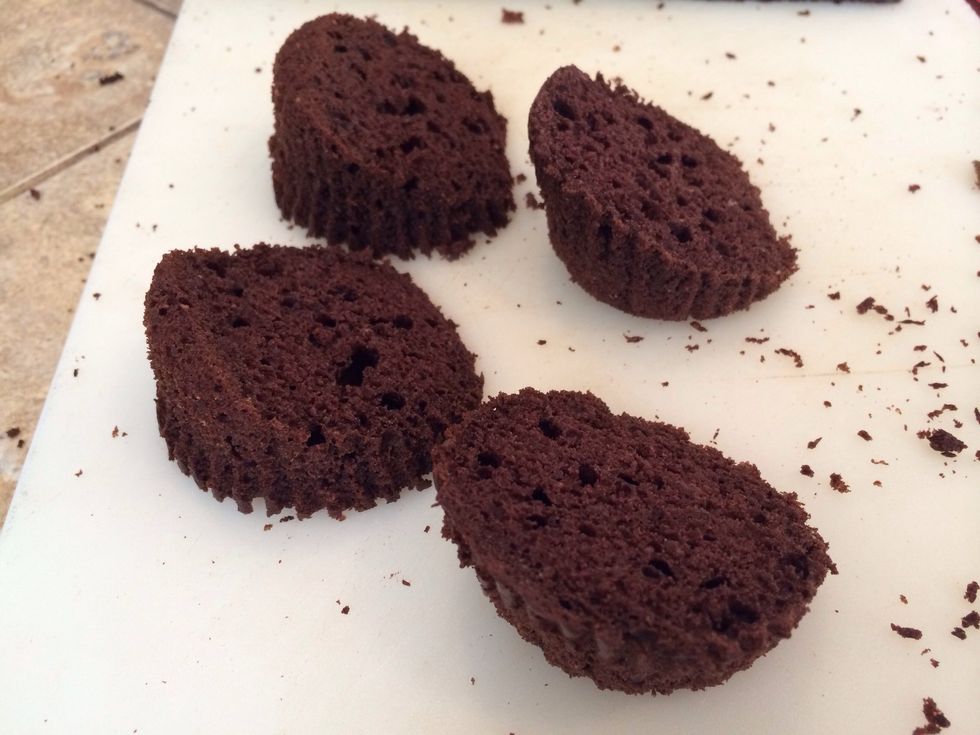 4 sliced cupcakes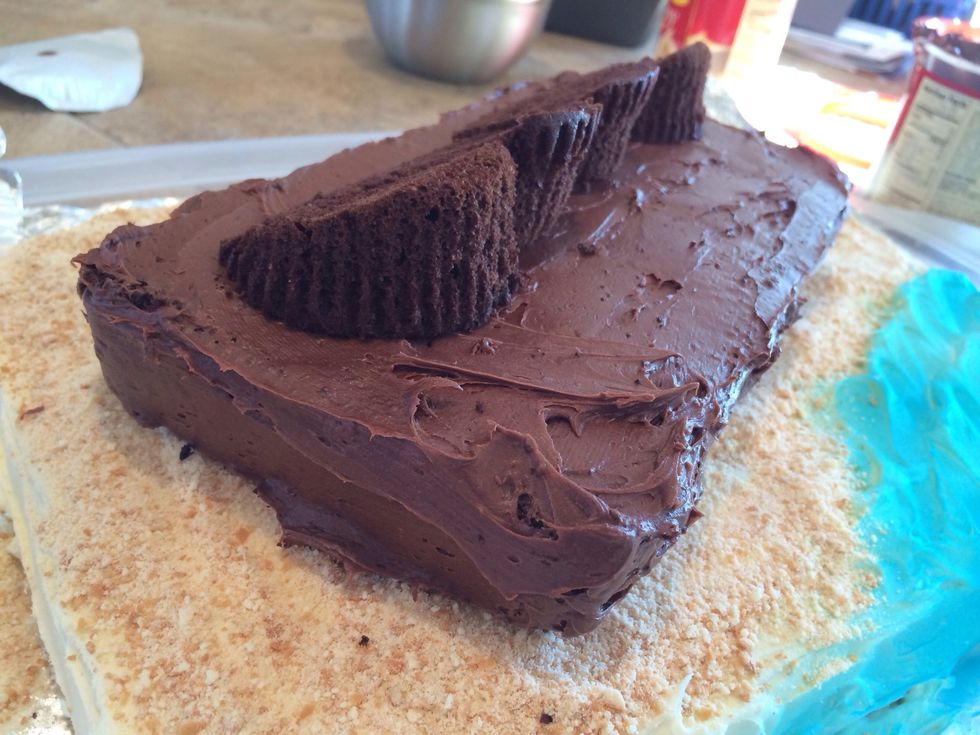 Line them up along the back edge. This will prop open & support the treasure chest lid.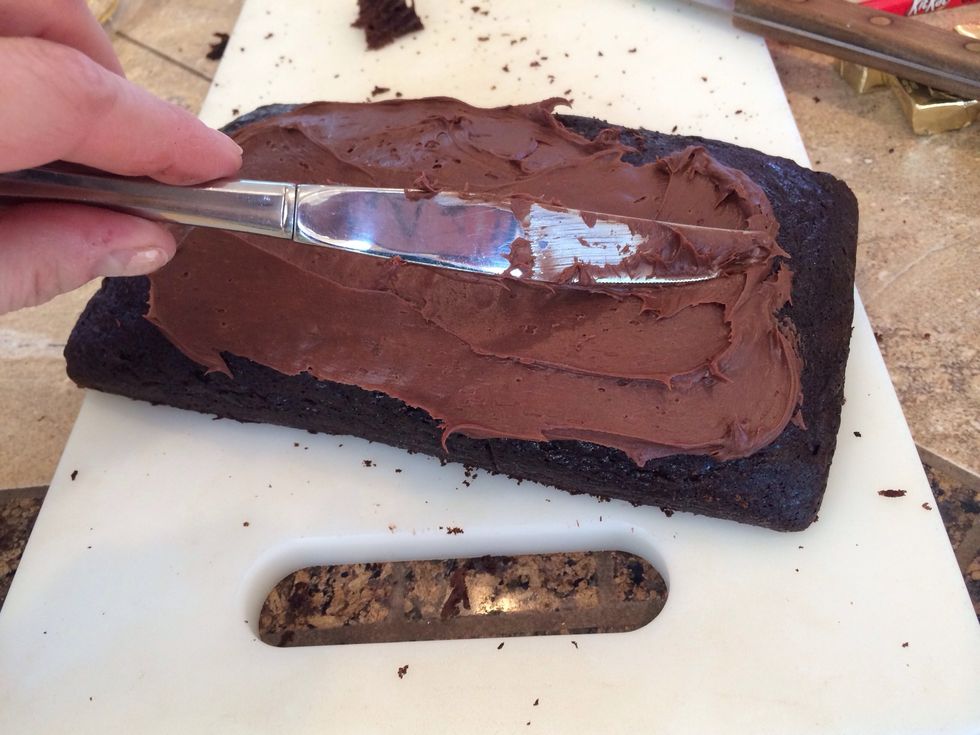 Frost the lid.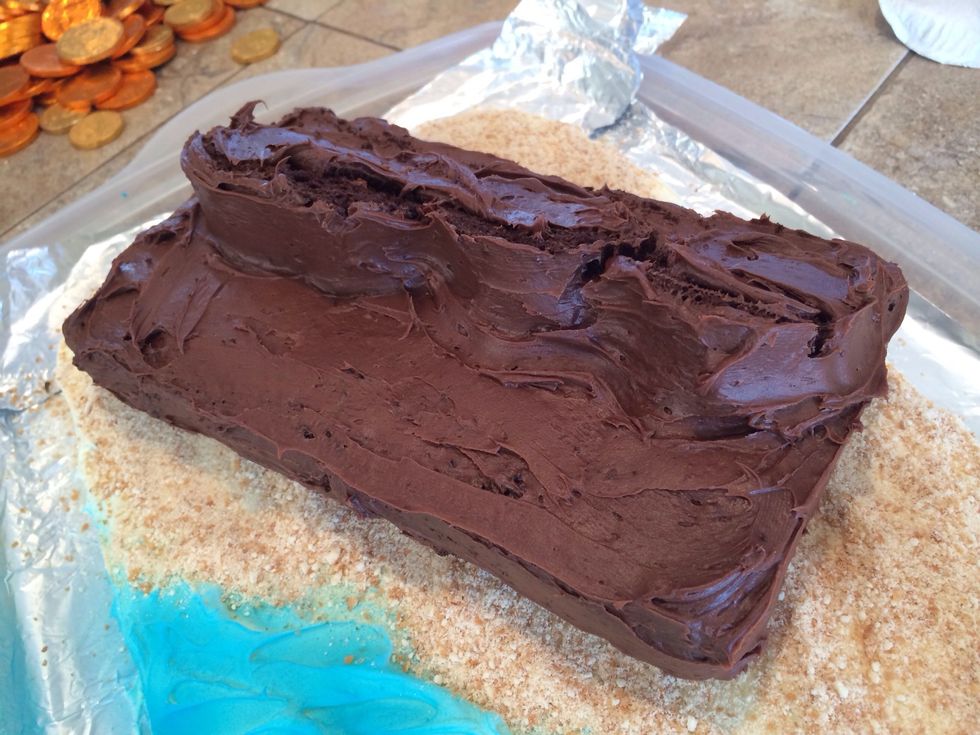 Frost the cupcakes.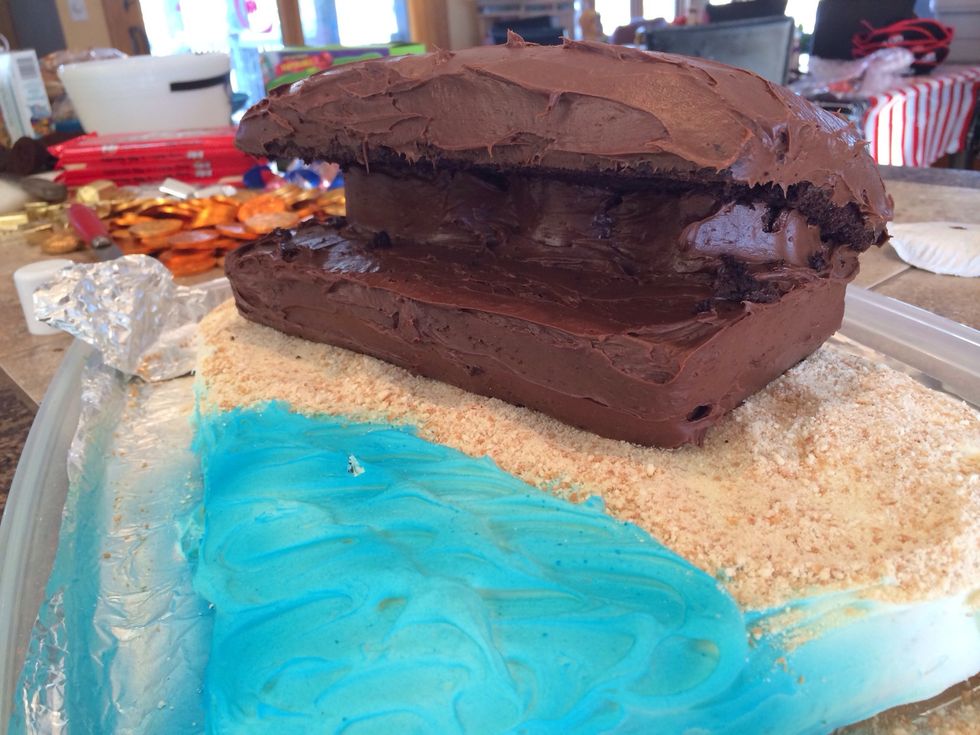 Set the lid into place.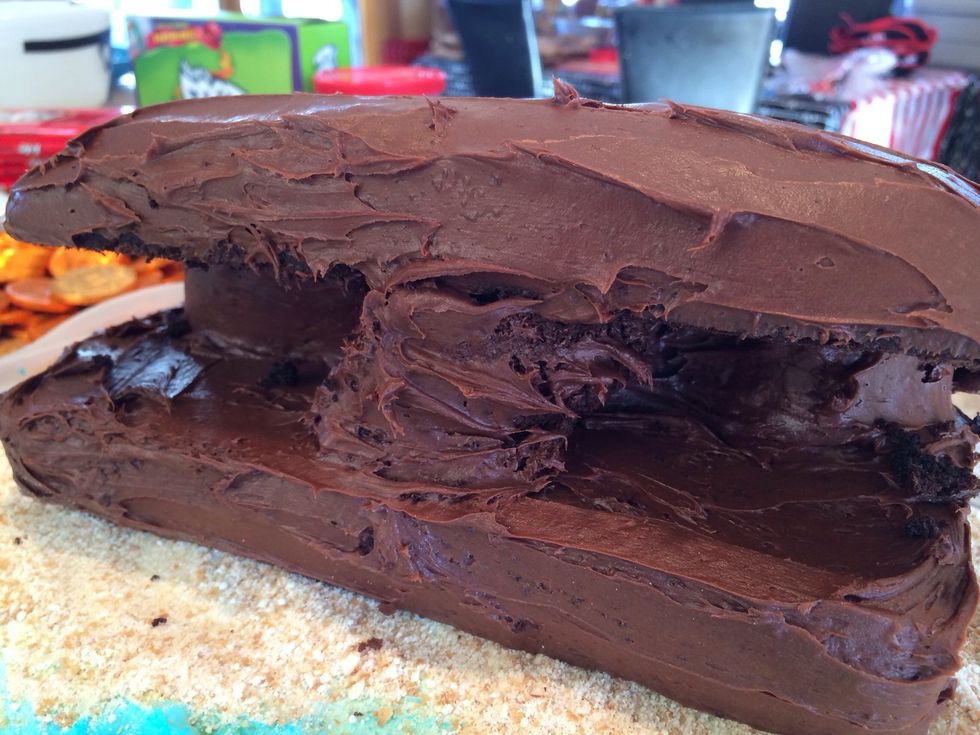 Add another cupcake if needed for support.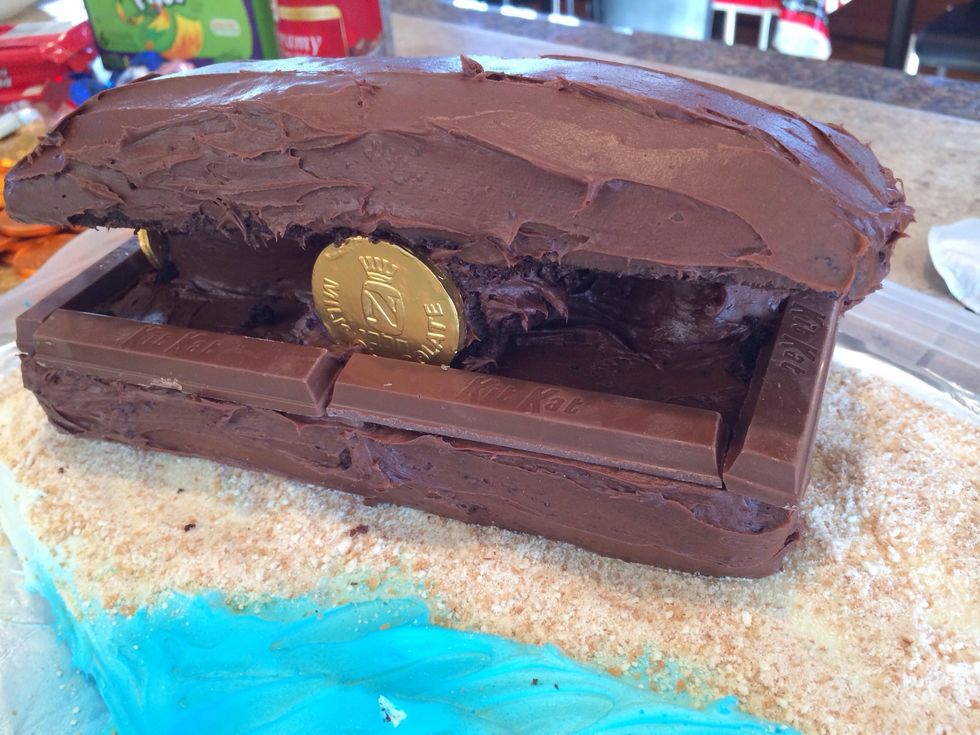 Use coins to hide supports and add Kit Kat edges.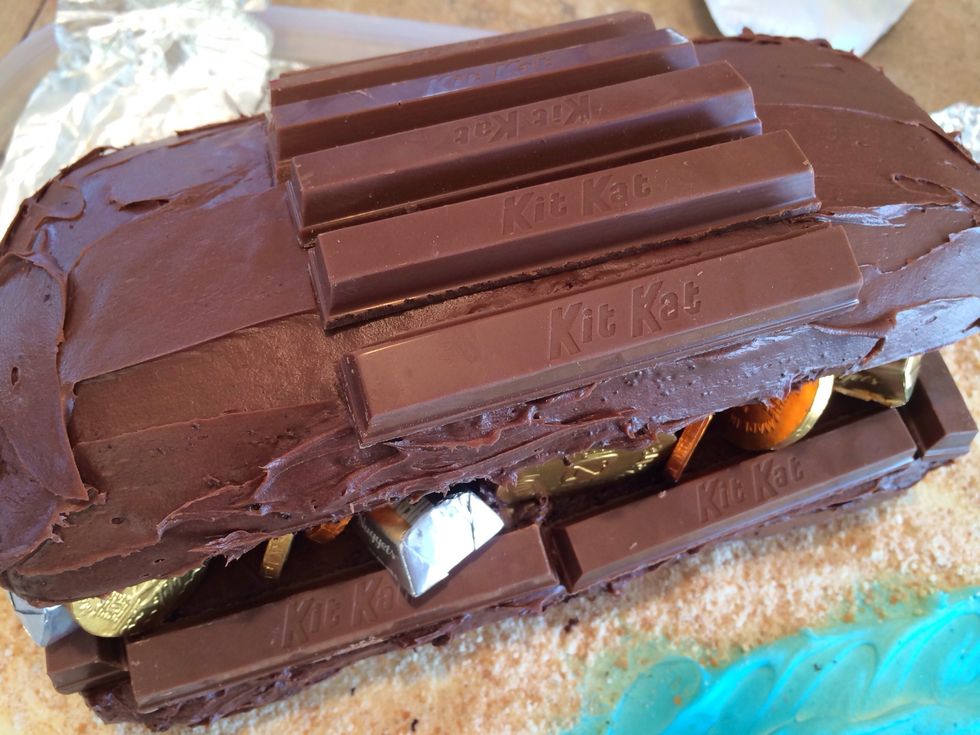 Add some treasure inside. Place a row of centered Kit Kats on the lid.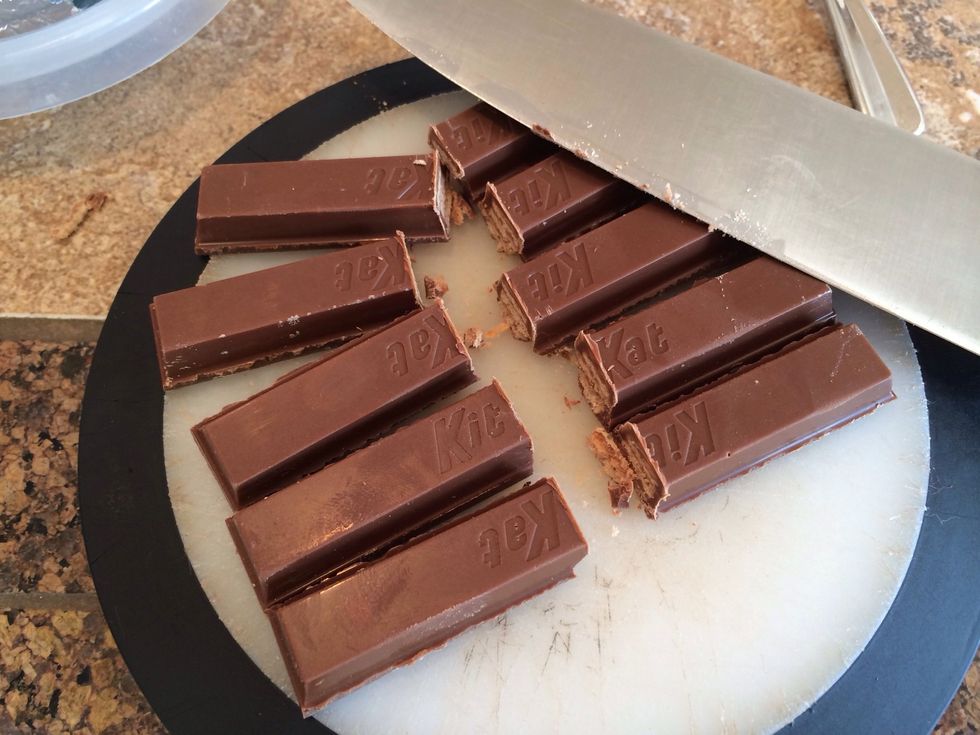 Cut some in half. Sneak a few bites yourself...I won't look!!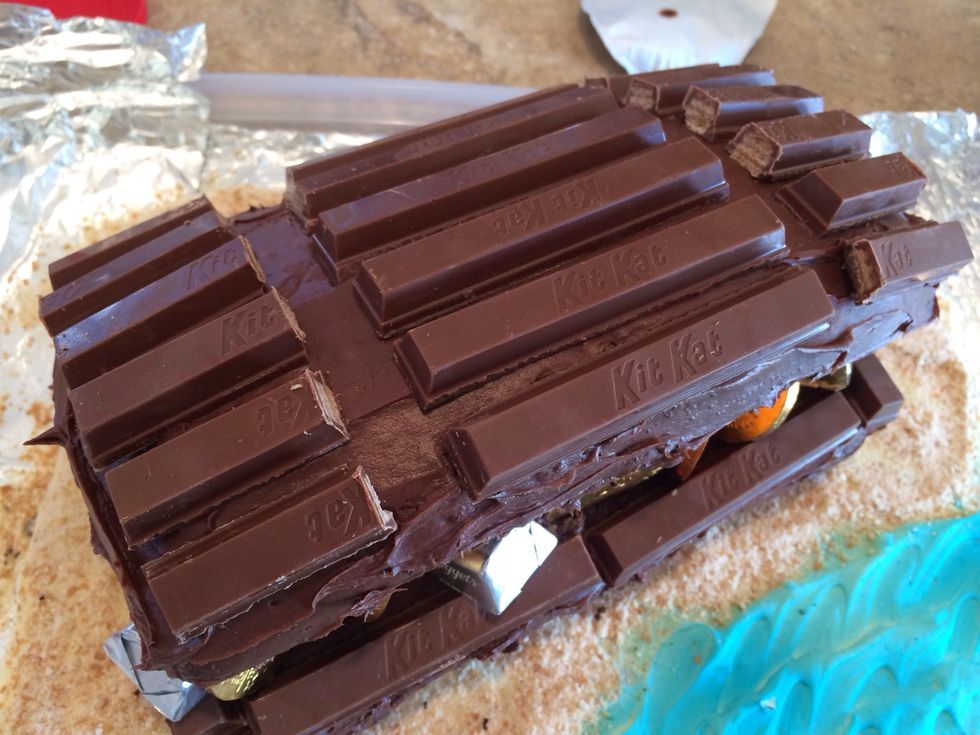 Put the cut kit Kats on the edges of the lid.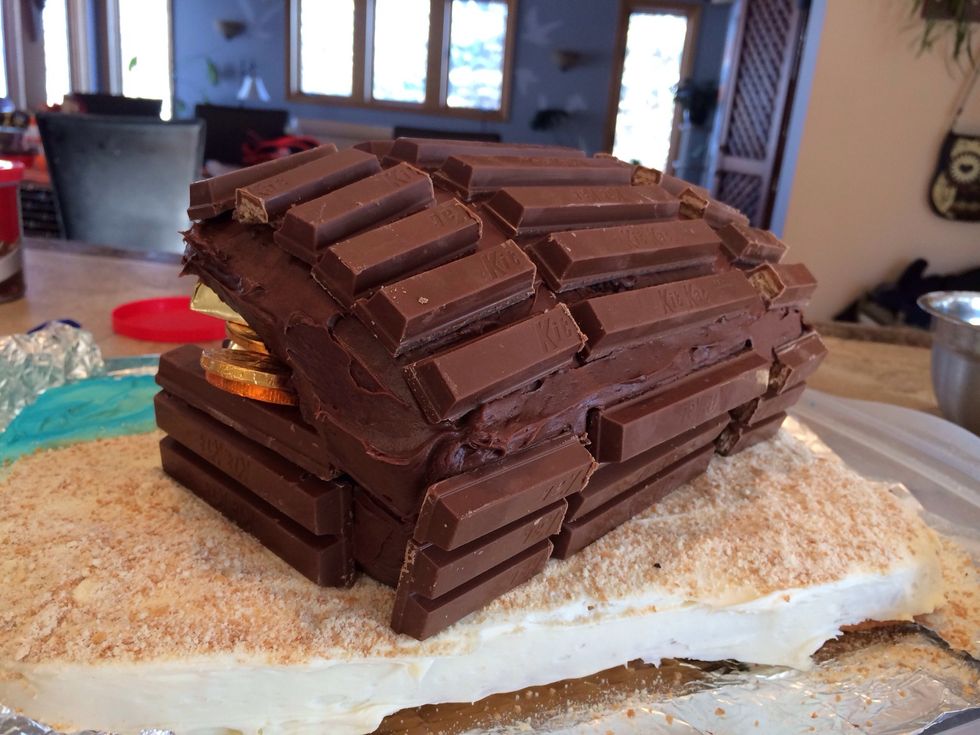 Add more "planks" on the sides, front and back.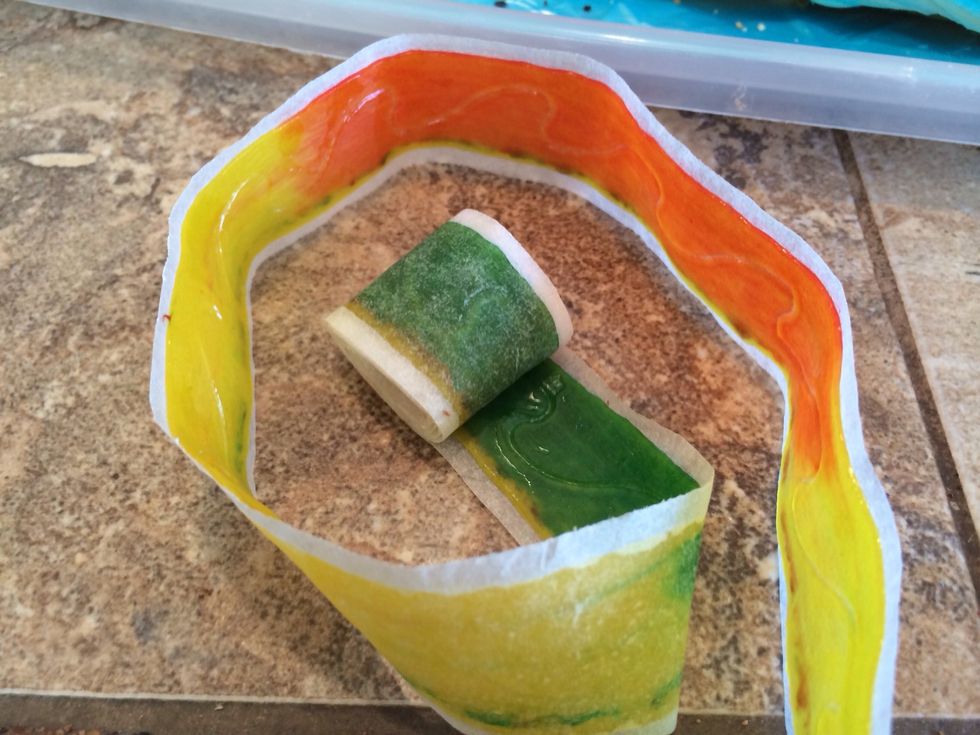 Unroll some Fruit by the Foot. I only used the yellow/orange areas.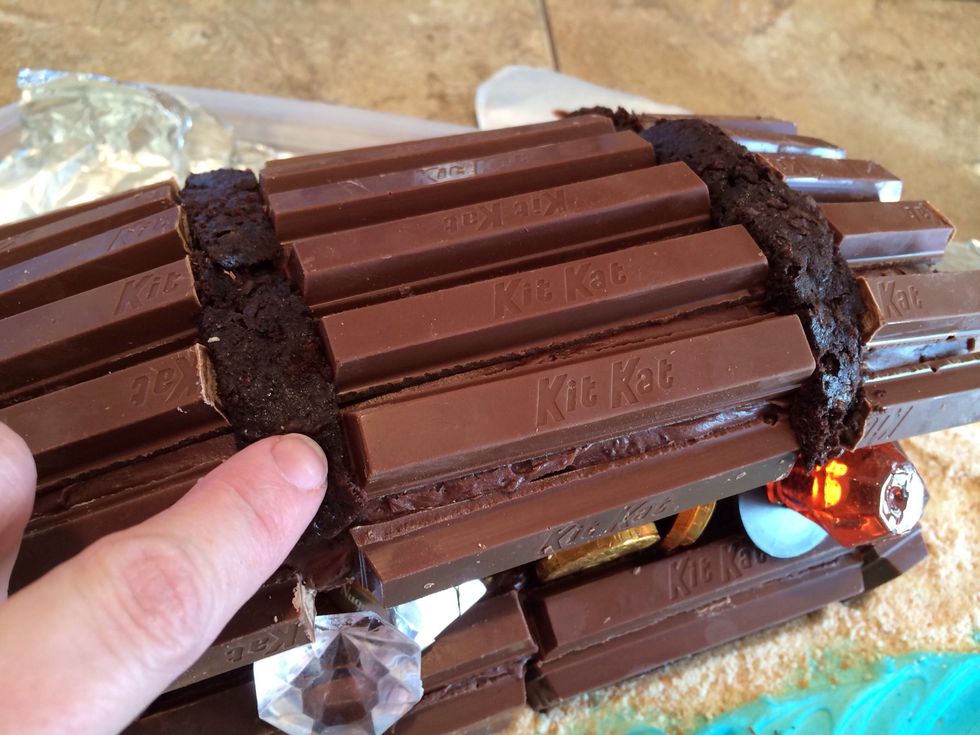 Put cupcake scraps in the spaces between rows of Kit kats.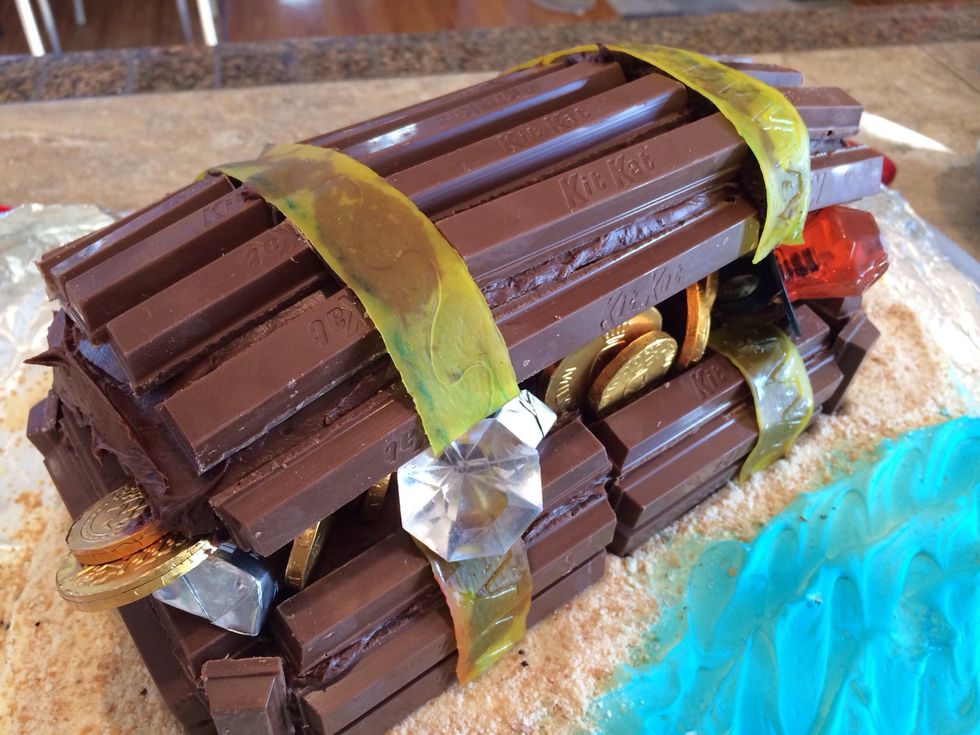 Use frosting to stick on Fruit by the Foot bands. I'm thinking in hindsight, a lighter frosting would have looked better and not shown through as much.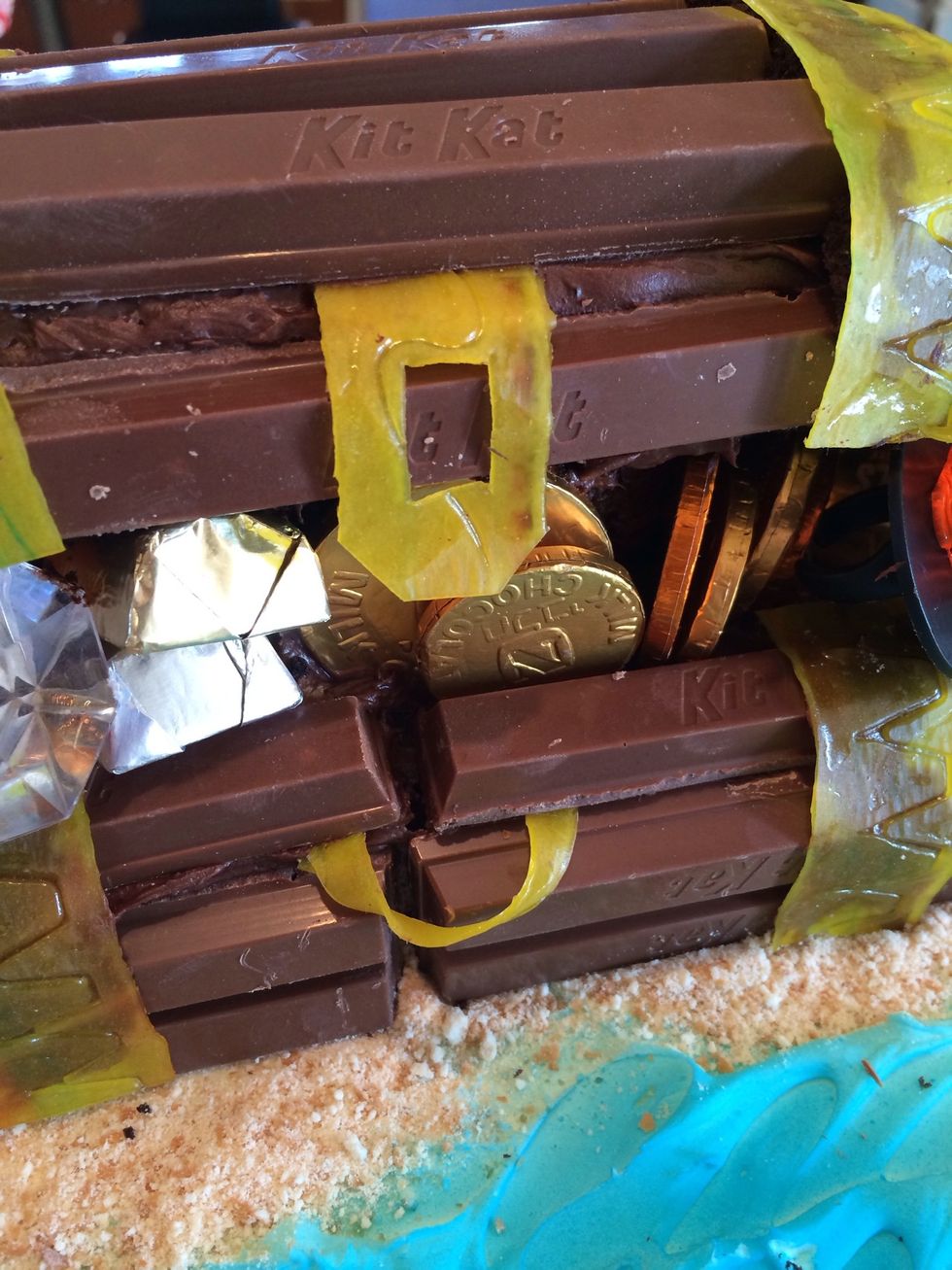 Cut some latch/lock pieces out of the Fruit by the Foot. You look famished...you really should eat the scraps. Do it for the children!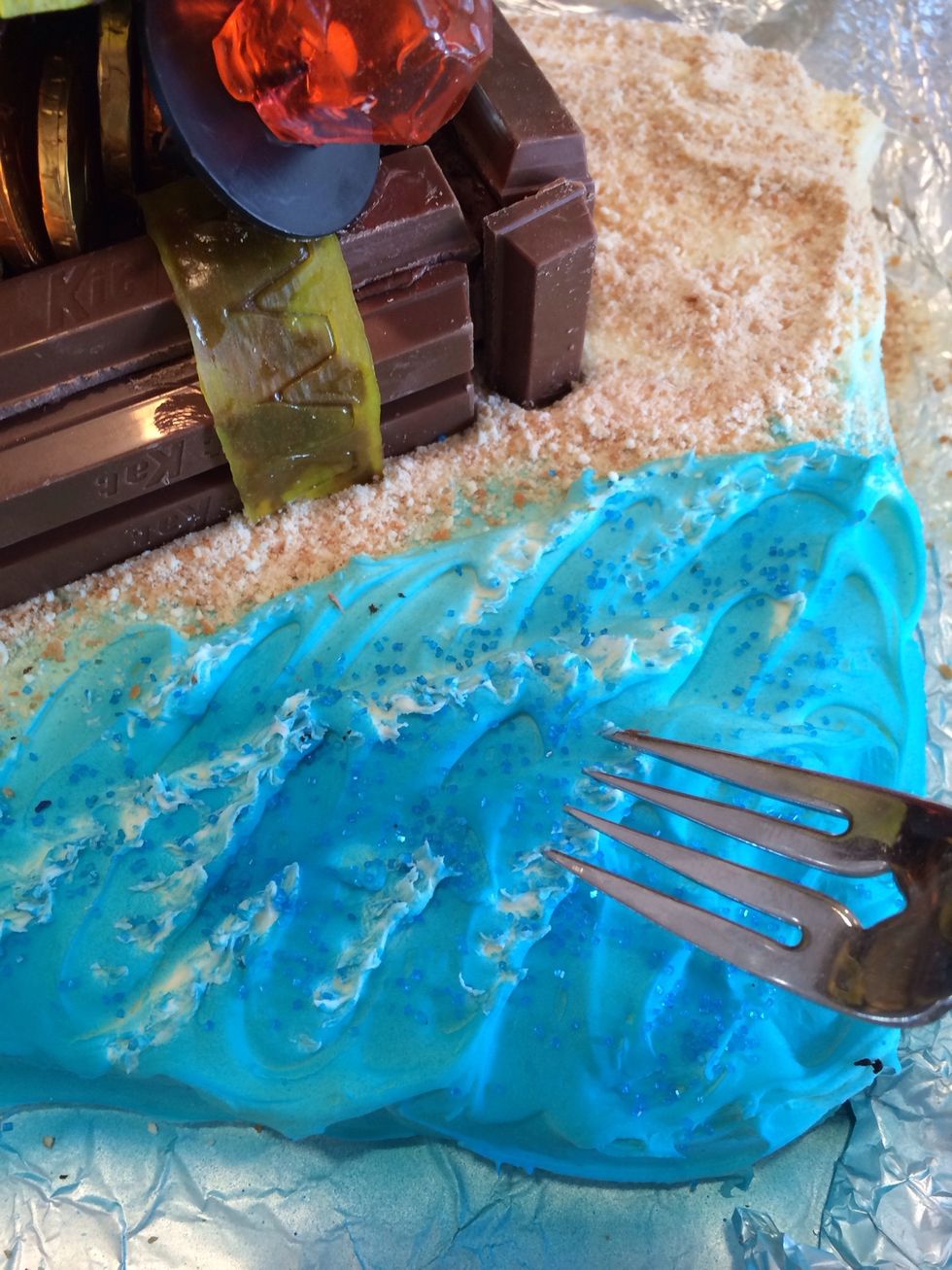 Use a fork to add white caps to the waves, and add blue sprinkles.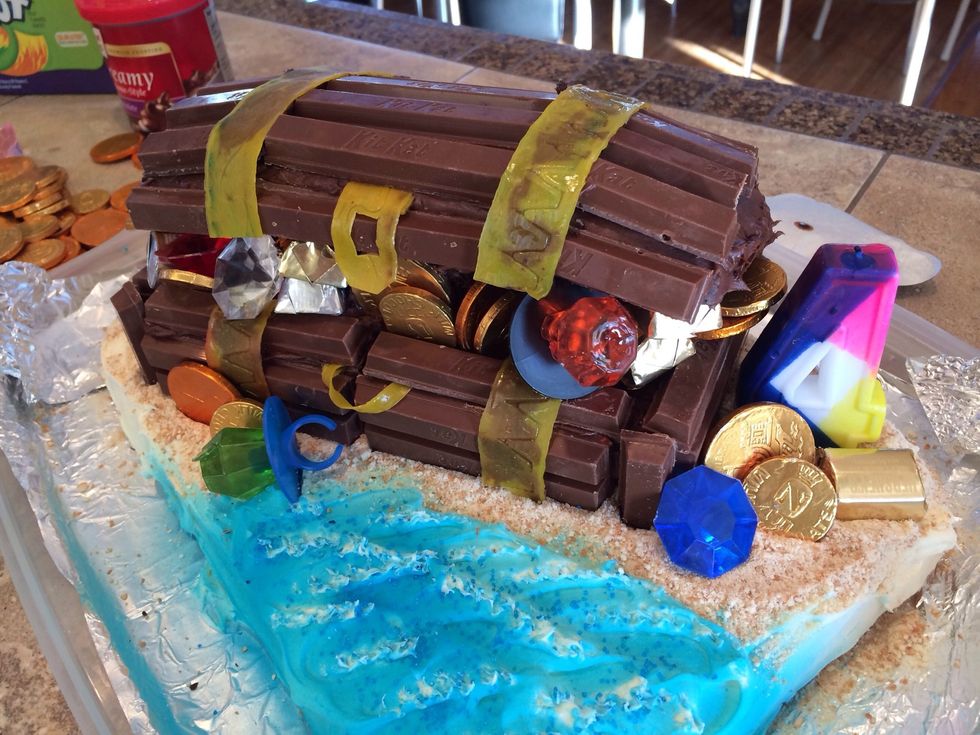 Stuff it with gems and add candles!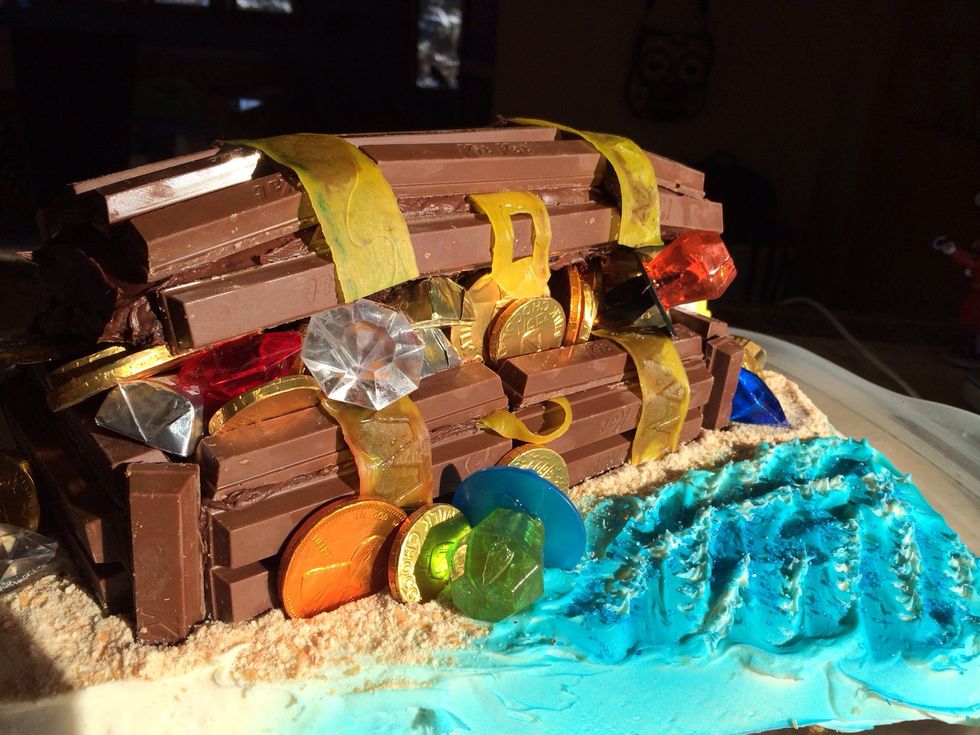 Ooh, sparkly!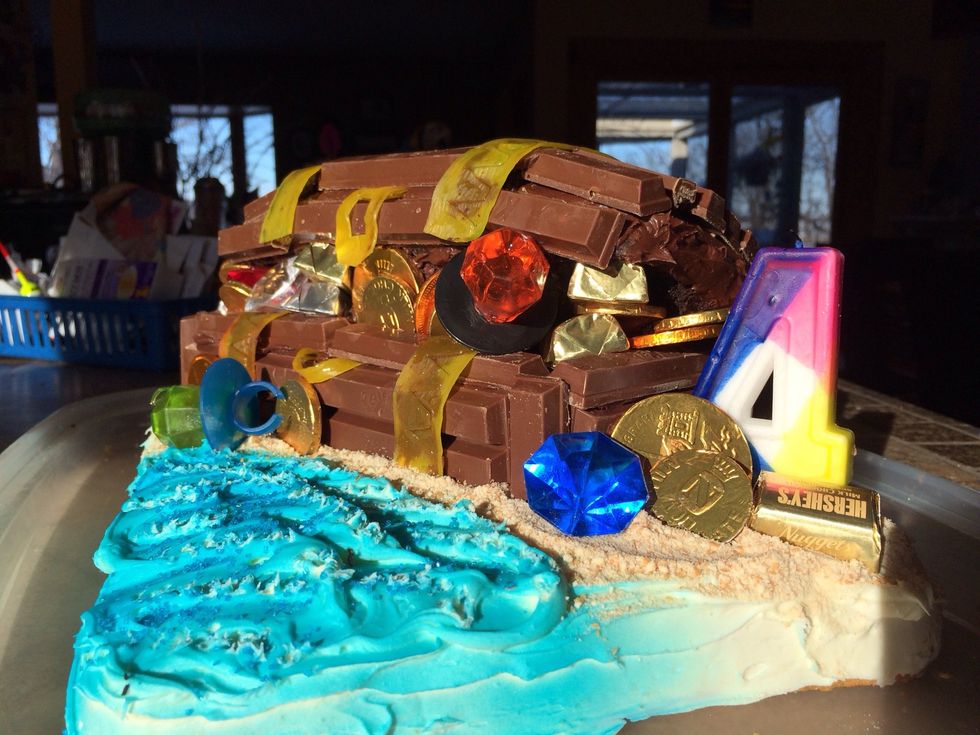 All done! It's best to eat it the same day, as the Kit Kat's don't stay as nice and crispy the next day.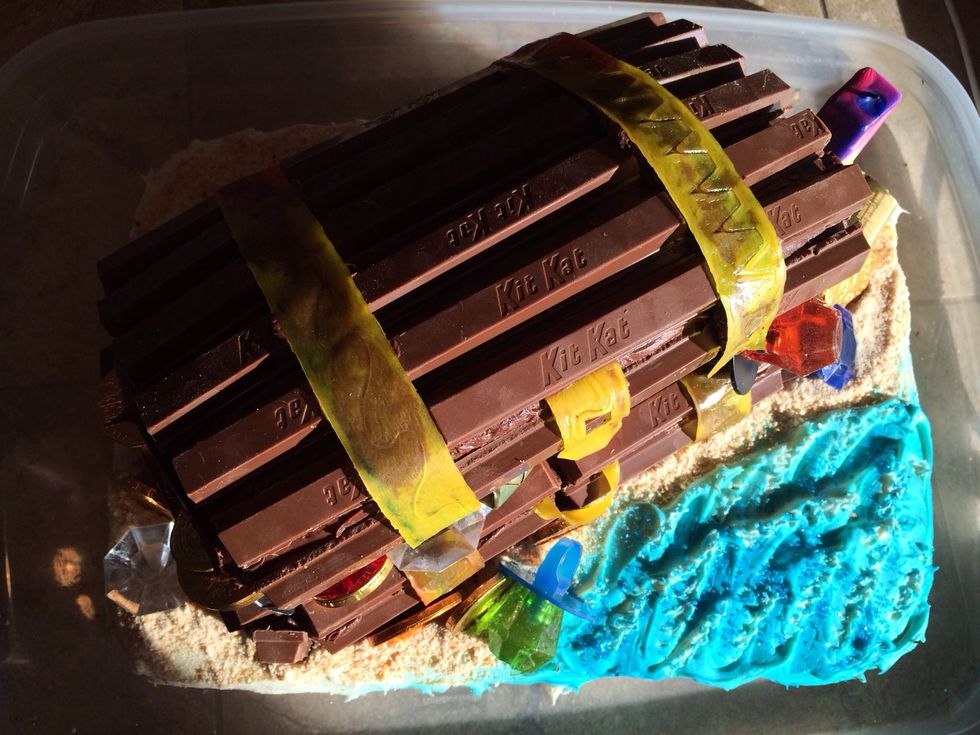 Top view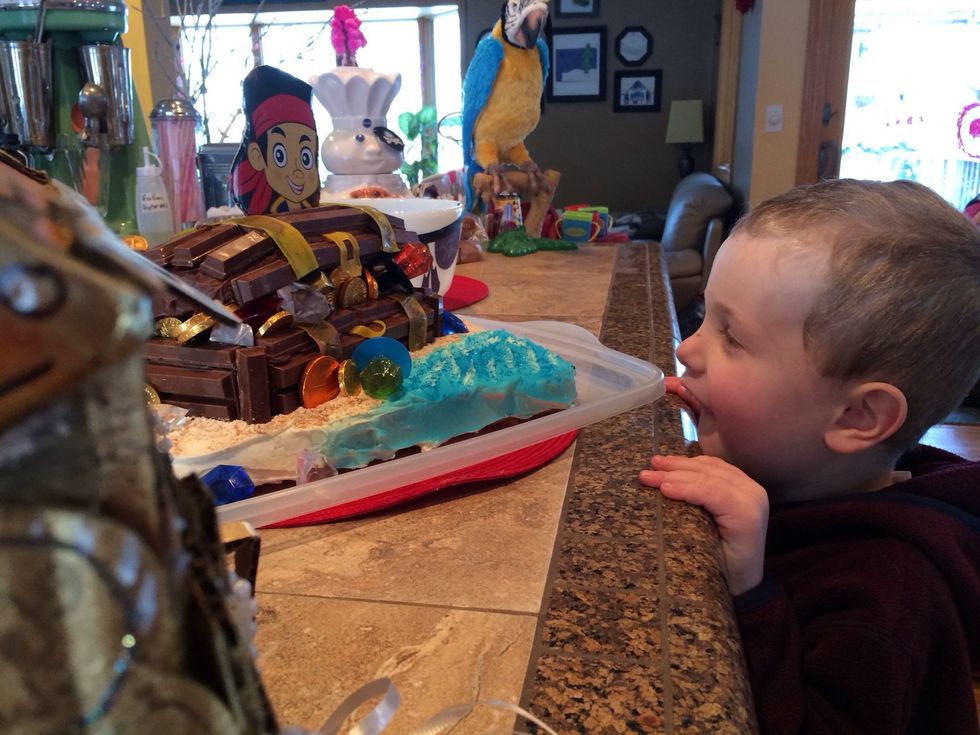 Reveal to the birthday boy! Check out his reaction and realize that you've fully earned any nibbles you may have enjoyed along the way!
Chocolate frosting
Vanilla frosting
9x13" cake
Loaf pan sized cake
4-5 cupcakes
Spray cake coloring (blue)
Nilla wafers or graham crackers
Kit Kat bars
Fruit by the foot
Ring pops
Chocolate coins
Hershey nuggets